Simple Steak Grilled Summer Charcuterie Board
Hosting a summer grilling dinner for friends and family? What better way to share some amazing grilled foods than with a summer char-grilled charcuterie board. In this post, I will show you how to create a simple grilled summer charcuterie board to share.
If you love to entertain and grill, this Char Grilled Charcuterie board is for you!
We are knee-deep into the Summer, and I know with the hot temps in Texas the last thing I want to be doing is cooking inside while everyone is outside. My family tends to take our dinners outside whether it's just the 3 of us or if I am entertaining for a crowd. We love to be outside on Summer evenings enjoying our backyard and playing games so why not cook and eat out there too. Grilling is for everyone and you can grill so many things; meats, veggies, seafood even fruits! I have created a summer char-grilled charcuterie board with something for everyone, you can pull one of these together just as easily!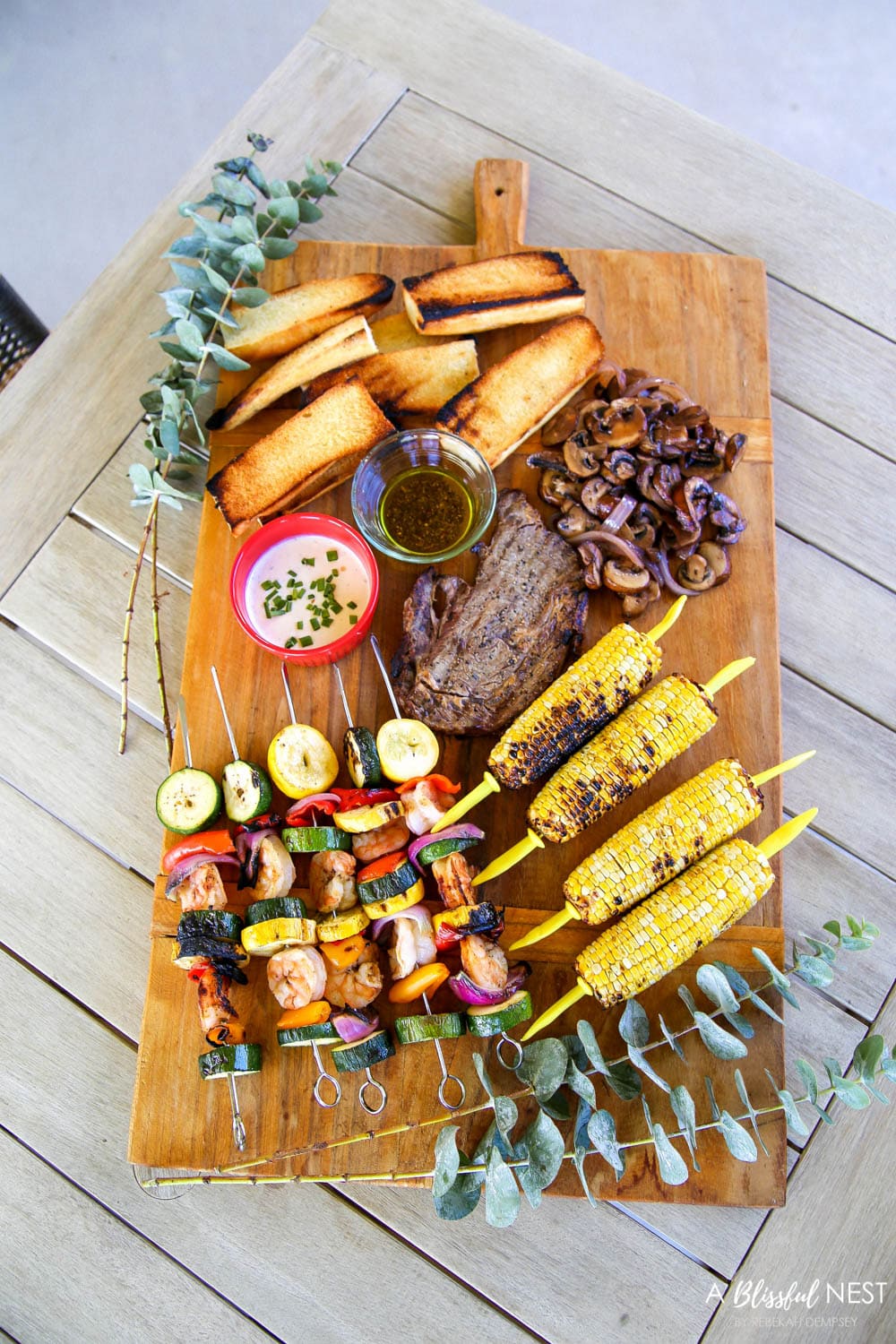 Grilled Summer Charcuterie Board:
A grilled board can consist of anything you enjoy grilling on the bbq. You can add all of your favorites to a nice cutting board or platter to share. Creating a grilling charcuterie board makes sharing food with friends and family easy.
Can you put steak on a charcuterie board?
Charcuterie boards can be made for any occasion, if you are having family and friends over for a cookout why not make a steak charcuterie board! This will allow you to showcase your beautifully grilled steak and your side dishes all in one place. Steak is so easy to grill on the bbq making it such an easy ingredient to add to an outdoor charcuterie board.
What cheese is best for steak?
A great cheese pairing for steak is blue cheese. You can add blue cheese crumbles to the top of the steak for a delicious creamy taste. You could also have a wedge salad with your steak with a nice blue cheese dressing. This would make a great side dish for your grilled steak.
There are many other great kinds of cheeses that pair well with steak and typically the light creamy ones are the best.
How far in advance can you make a charcuterie board?
Making a charcuterie board in advance is a great idea, but keep a few things in mind. Make sure to wrap the board tightly to ensure it stays fresh. For this grilling board, it is best to make the steak just before serving to get the best flavor, texture and keep hot. Also, make the bread right before serving so it will be crispy and warm.
Can a charcuterie board be served for dinner?
Serving a charcuterie board for dinner with your family is a GREAT idea! A charcuterie board is all about balance, you want to make sure there is something for everyone on your board. So many other great dinners can be served charcuterie-style such as tacos, nachos, cobb salad, and even burgers.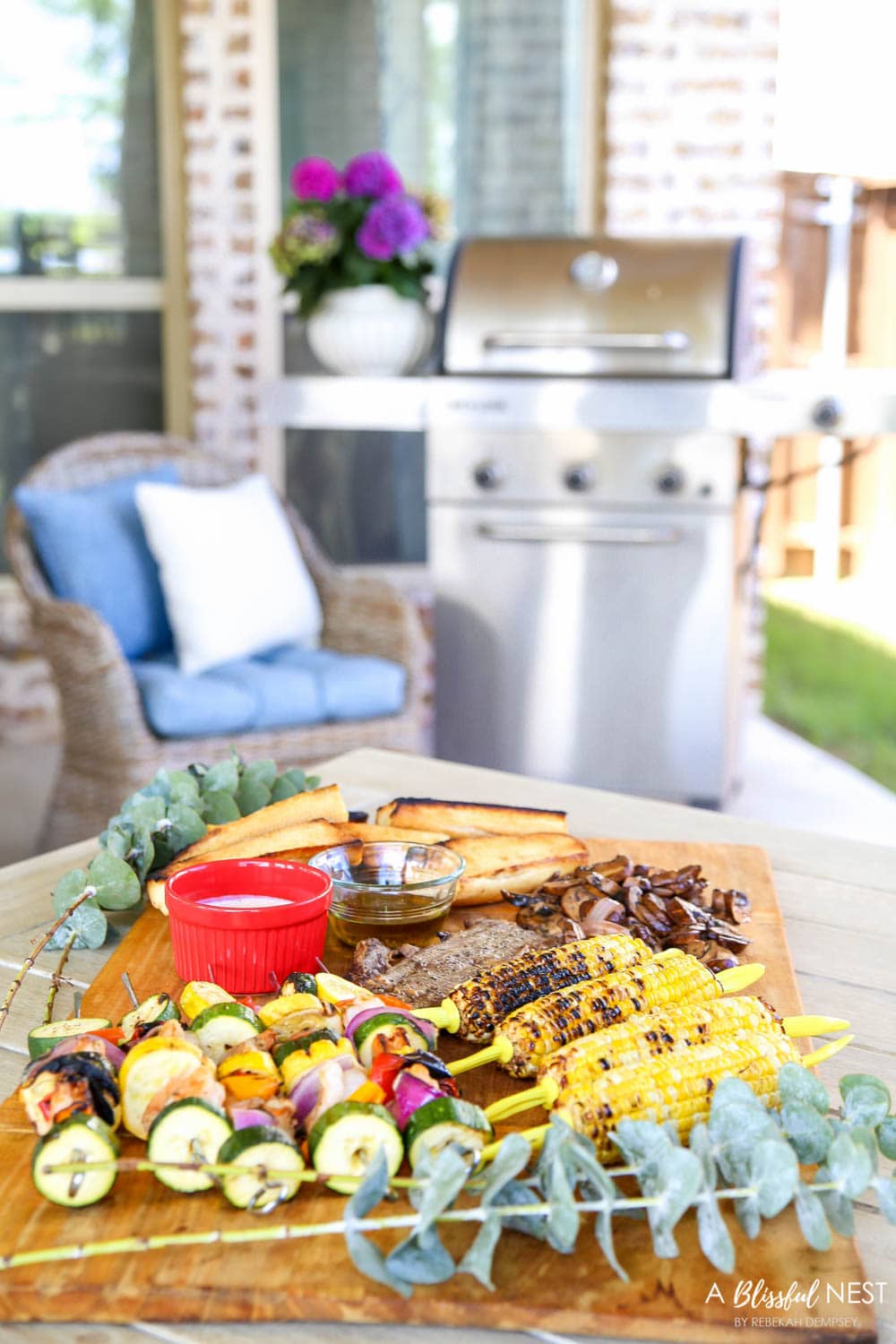 Grilled Charcuterie Board:
If you are ready to serve this board to your guests or family here is a list of ingredients you will need!
Ingredients:
Ribeye Steak season with salt and pepper
Corn on the Cobb; 4-5 Pieces-brush with olive oil
2 zucchini cut in 1/4″ slices
2 yellow squash cut in 1/4″ slices
1/2 lb shrimp peeled and deveined
Loaf French Bread
For Bread Dipping Oil
1 C Olive Oil
1 Clove minced garlic
salt and pepper to taste
1t Italian seasoning
1t rosemary
For Mushrooms & Onions:
8oz mushrooms sliced
2 shallots sliced thinly
1/2 stick butter
Salt and Pepper to taste
1t Worcestershire
For the Horseradish Sauce:
1 cup

well-drained prepared horseradish

½ cup

sour cream

½ cup

mayonnaise

2T

fresh squeezed lemon juice

1t

kosher salt

¼ t

freshly ground black pepper

2 t

Worcestershire sauce
Few drops of Tabasco sauce
Chopped Chives
How to make a grilled cheese board:
Step 1: Select your steak + grill it
For this board, I choose to use a ribeye, but with that, you can use your favorite cut of meat; tenderloin, sirloin, new york strip, there are so many options. For my steak, I put a little olive oil on it and simply added kosher salt and fresh ground pepper; salt, and pepper are all you need on a steak to get all the amazing flavors out of it! Once it's prepared for the grill and your grill is hot, place the steak on the grill and grill to your desired doneness. I like my steak medium-rare, so 4-5 minutes on one side then flip and cook 3-4 mins longer and that's it!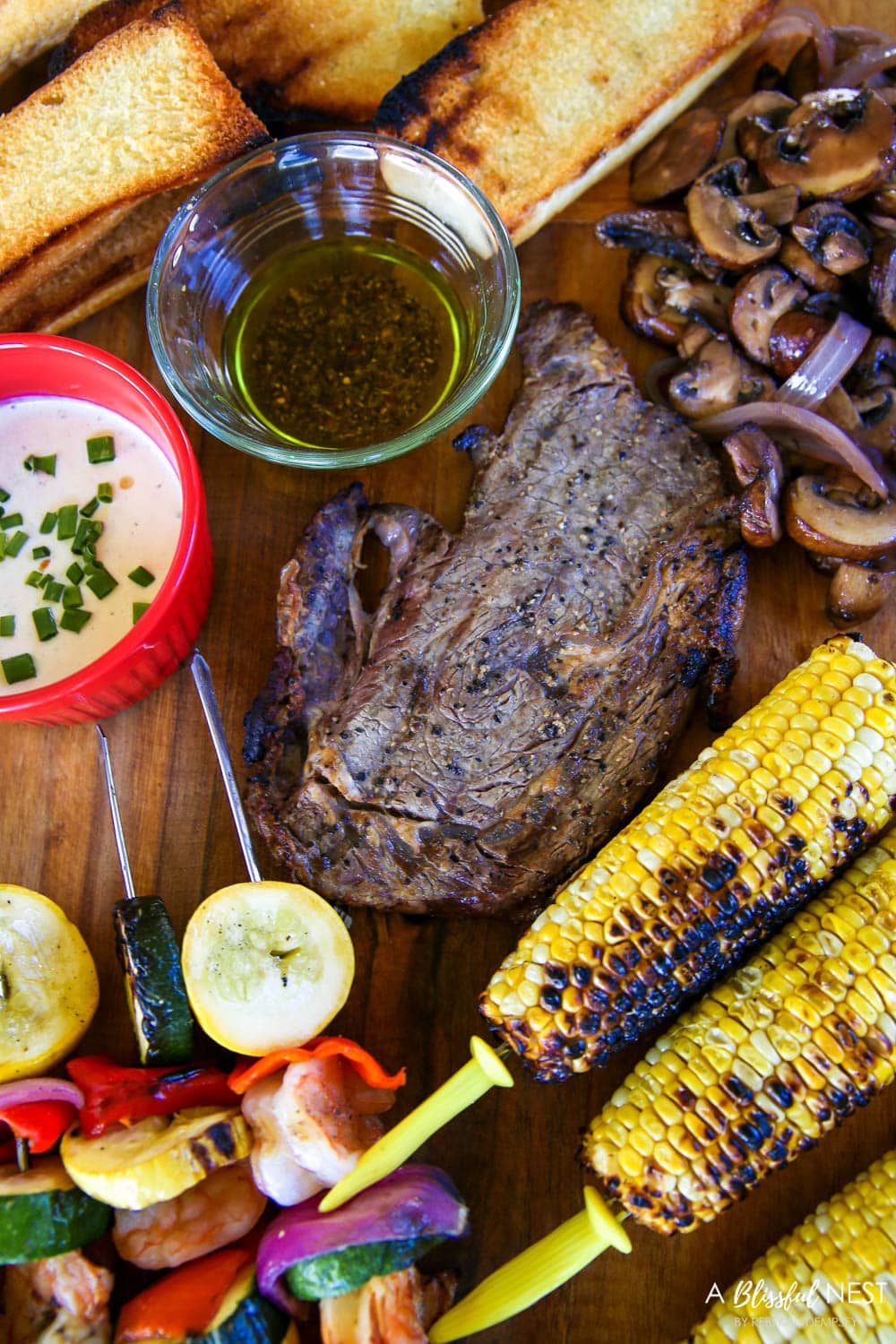 Step 2: Make horseradish sauce + bread dipping oil
I added a nice sour cream horseradish sauce to accompany the steak. Mix all ingredients together and top with chopped chives. Dipping your steak in this creamy sauce will give your bite a little kick! Since I wanted to serve bread on this board with the steak I added an oil dipping sauce, this oil with all the flavorful spices will bring all the flavors on the board together.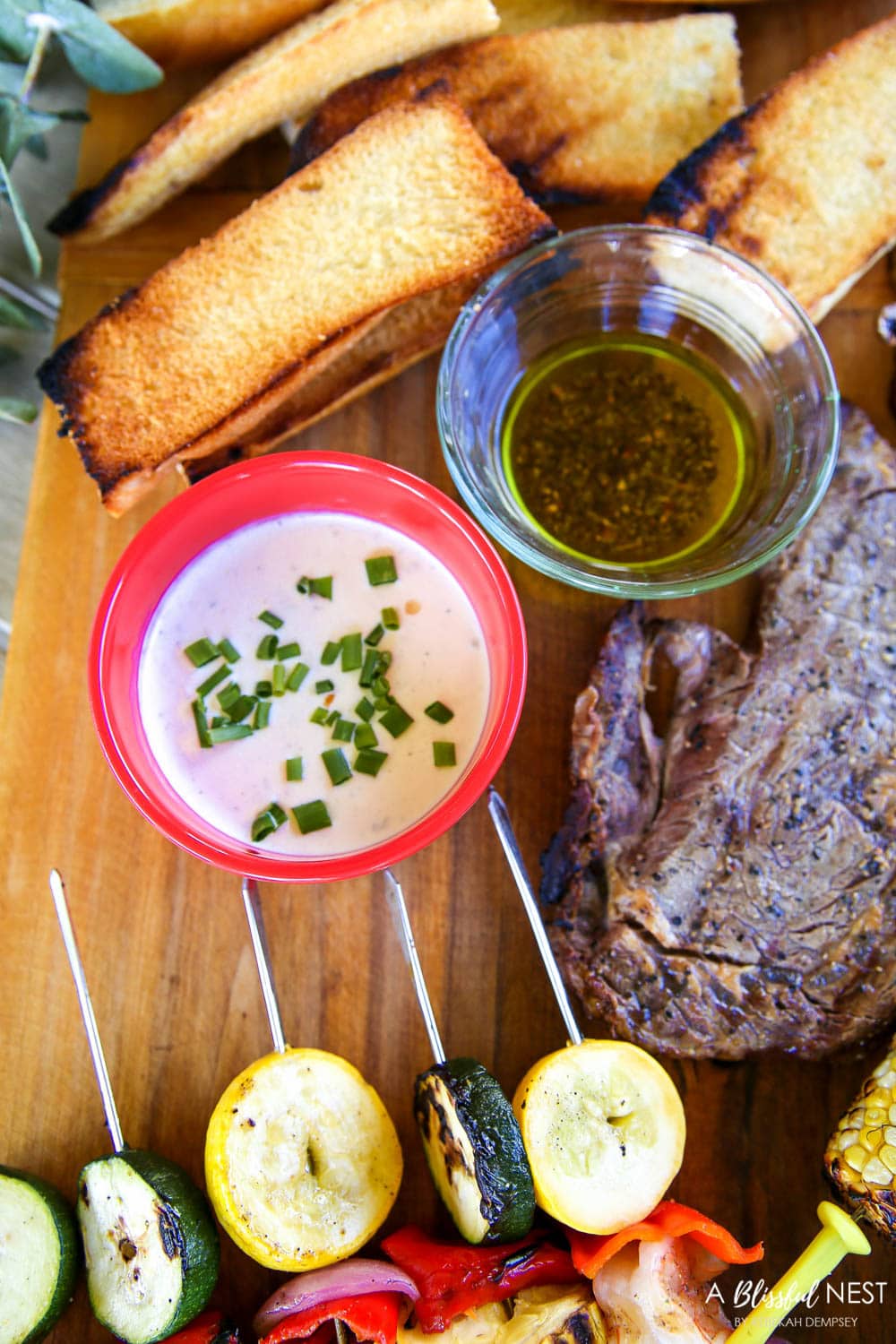 Step 3: Cook mushrooms + onions
Combine the ingredients in a saute pan and cook until mushrooms are soft and onions are tender. For a steak topper, I sauteed some mushrooms and onions in butter with salt and pepper and added those to my grilled steak board.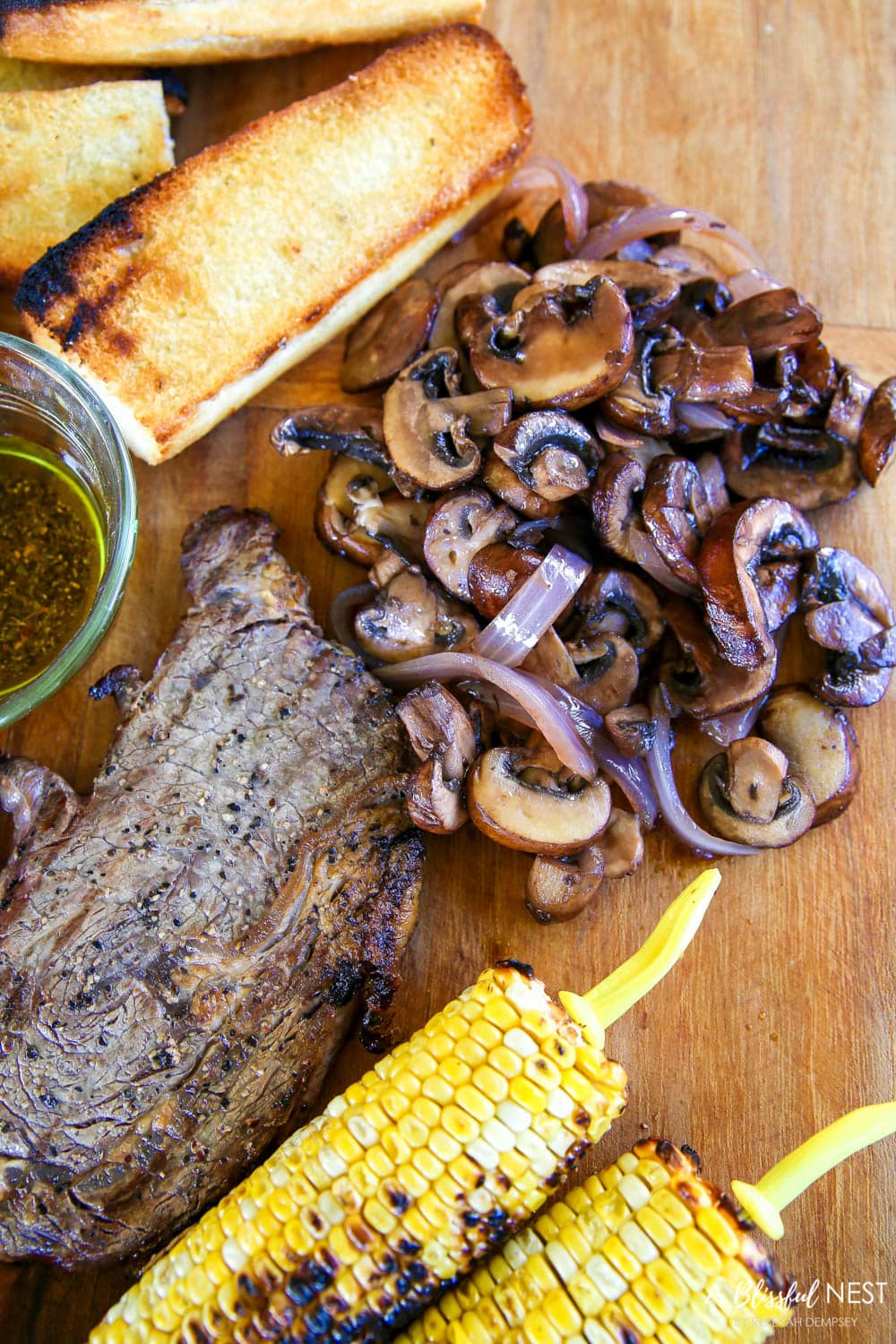 Step 4: Make kabobs
Shrimp and veggie kababs were also a great addition to this board. The idea behind kabobs is layering your foods on a skewer, I love grilled pineapple, squash, onions, mushrooms, peppers, and shrimp (you can use any type of meat/protein). You will want to slice these in mostly equal sizes and layer them on the skewers, almost in a pattern.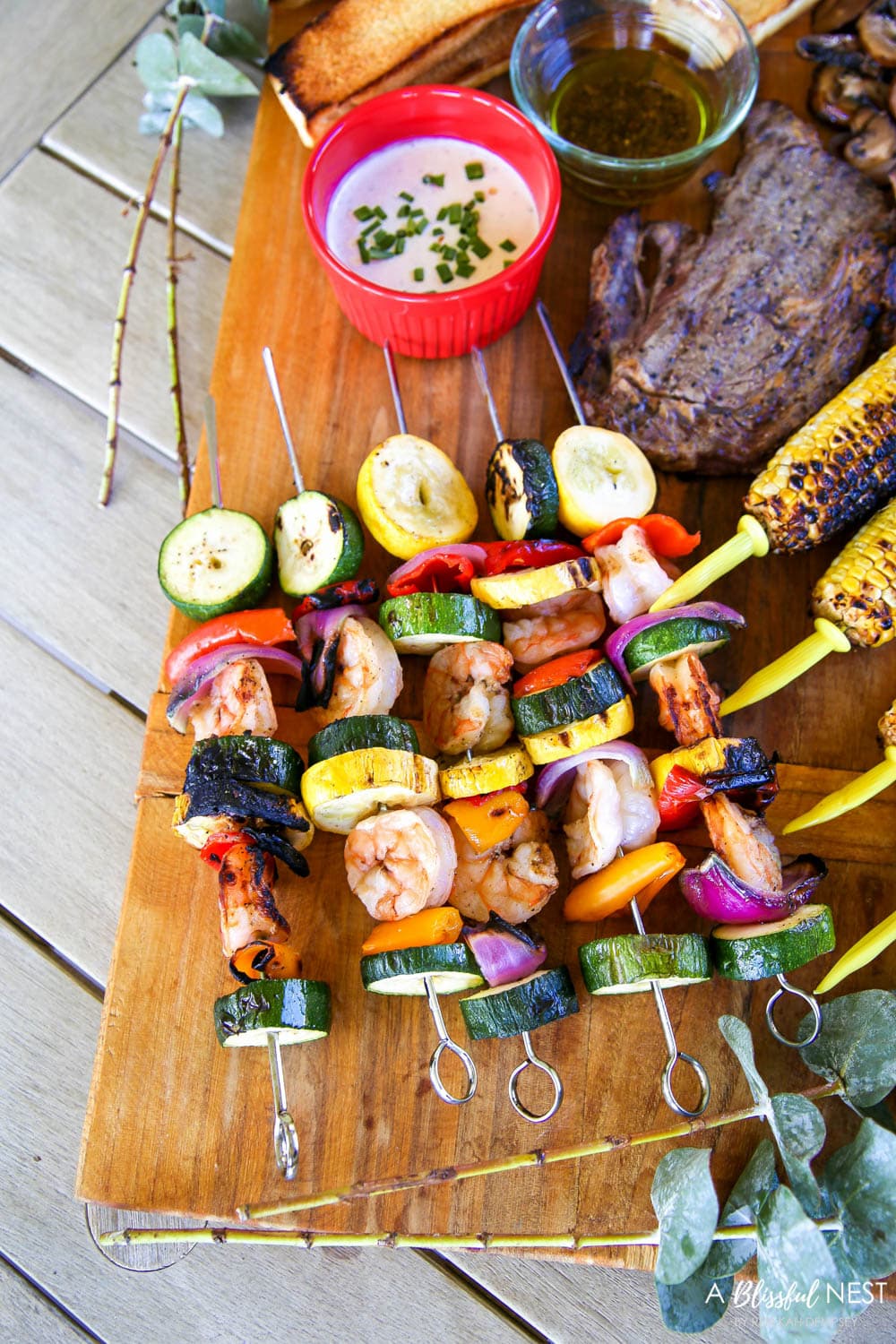 Step 5: Grill vegetables
I choose grilled corn with corn holders for a veggie option. Corn is a good solid veggie to grill. Baste it with olive oil, salt, and pepper, and then grill. As you are grilling it roll it over after a couple of minutes to not overcook it on any side.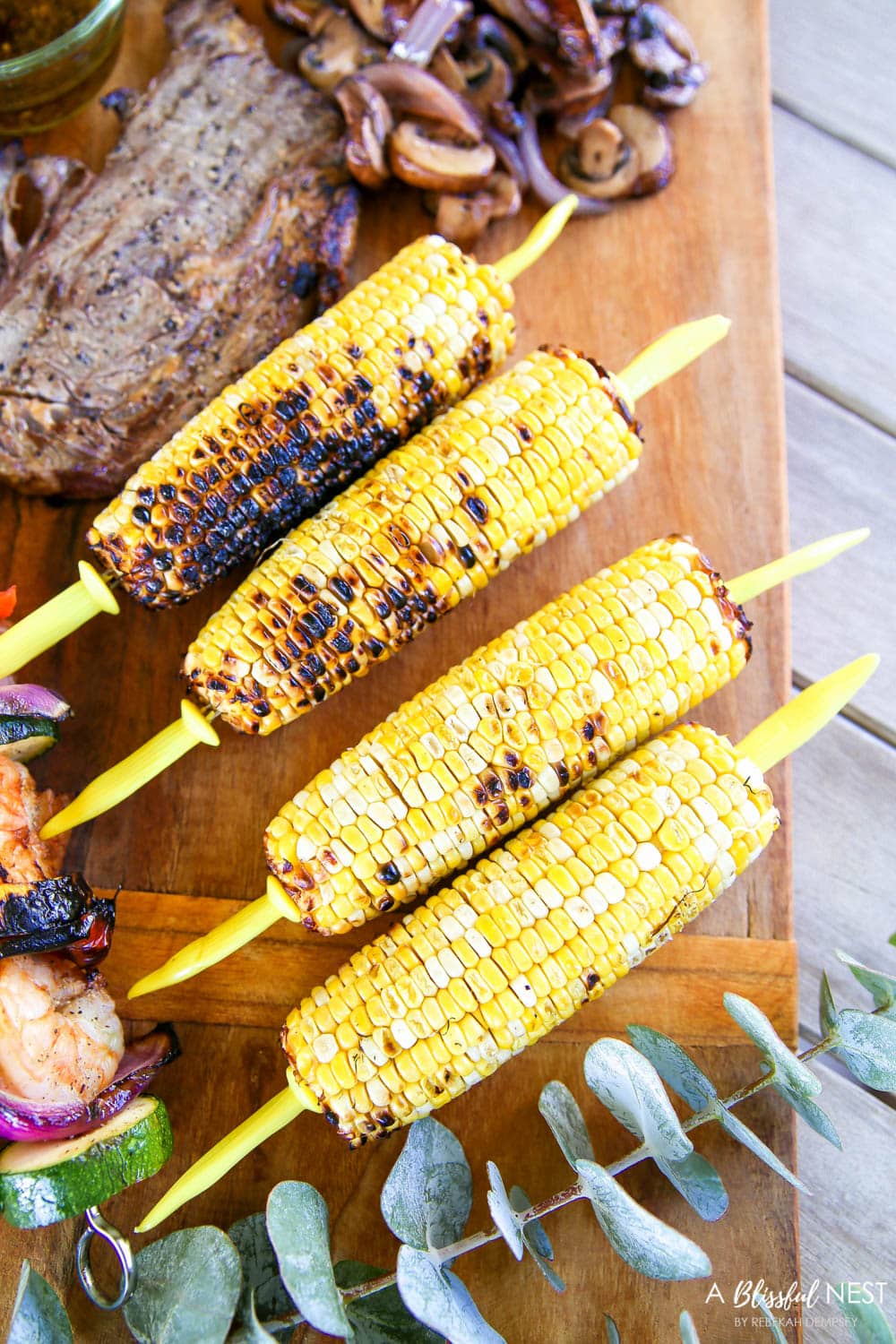 Step 6: Grill bread
Lastly, I sliced and grilled a loaf of french bread with created an olive oil dipping sauce (see recipe above). Add a little olive oil to each side of your sliced bread before grilling and place it on your grill. You will want to put the bread on a cooler side of the grill so the bread doesn't burn or get too charred.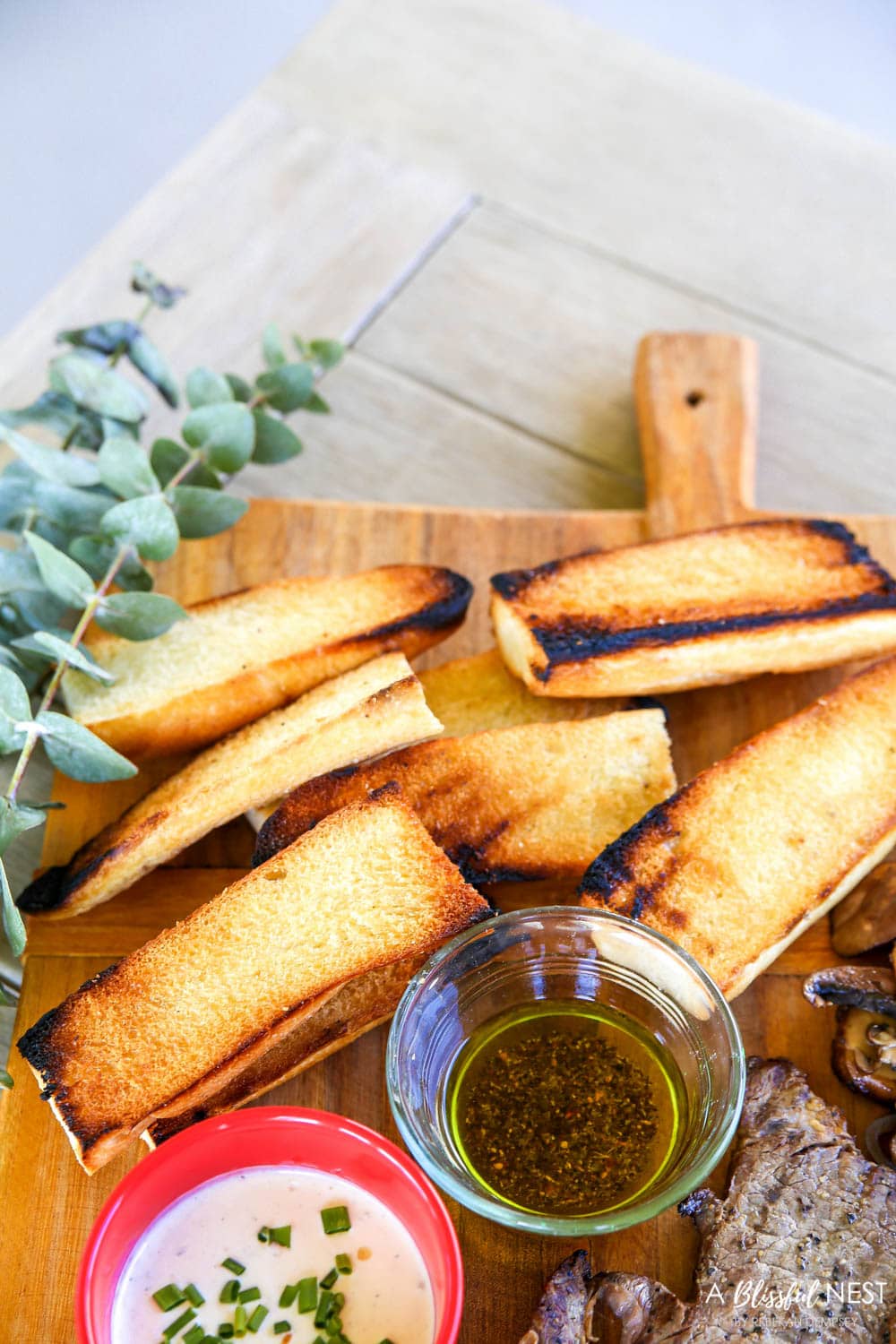 How to make a bbq cheese board:
A BBQ board is great for hot summer days and nights. BBQ is one of my family's favorite meals, we enjoy throwing a beef brisket on our smoker and enjoying it with some amazing sides. There are so many meats to barbeque; pork shoulder for pulled pork, pork and beef ribs as well as a smoked whole chicken. Sides to enjoy with your barbequed meats are mustard potato salad, coleslaw, macaroni salad, homestyle mac-and-cheese, and baked beans. Adding some Colby jack cheese, dill pickles, and sliced red onion to this board will be a great fresh crisp addition. Grilled onions and peppers are a flavorful pairing for any grilled or smoked meats. A variety of BBQ sauces on your board is a great way to showcase different flavors; a sweet bbq sauce, spicy bbq sauce, and maybe a vinegar-based bbq sauce will give your family and guest different sauce options.
Select a nice hearty board to use for serving, you will want a good strong board for this meal since you will be loaded down with meat and all the fixings!
Decide which meat or meat(s) you will serve. If serving brisket you might want to thinly slice it or serve it chopped for sandwiches or even baked potatoes.
Add the sides you want to serve to your board, you can place these in cute little dishes to keep them contained on your board.
Pickles and onions will be a great addition to your BBQ Charcuterie Board, as they pair great with any type of BBQ'ed meats.
Lastly placing a good bread on your board that will pair well with BBQ, like a bun, white bread, or a ciabatta roll.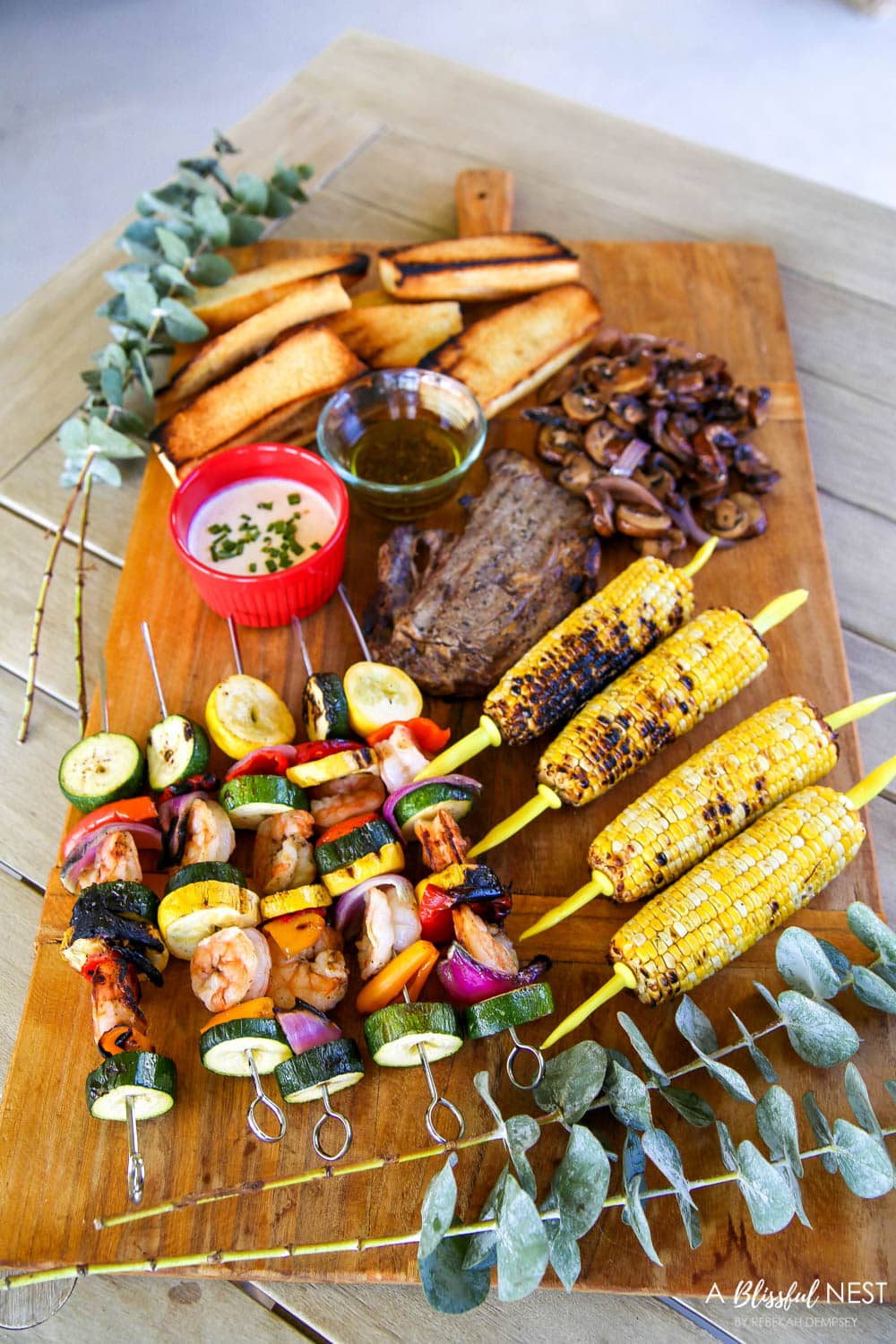 Other favorite ingredients for steak charcuterie board:
Some of my favorite foods to add to a Steak Charcuterie board are grilled onions, grilled mushrooms, the grilled steak of course! You could add baked potatoes with all of the condiments for potatoes. Also, any type of dinner bread is a great addition to a steak dinner.
More Charcuterie Board Ideas + Inspiration
Get even more ideas on charcuterie boards with these other posts. Just click on their titles to go right to the posts.
Pin our image below to save this post for later!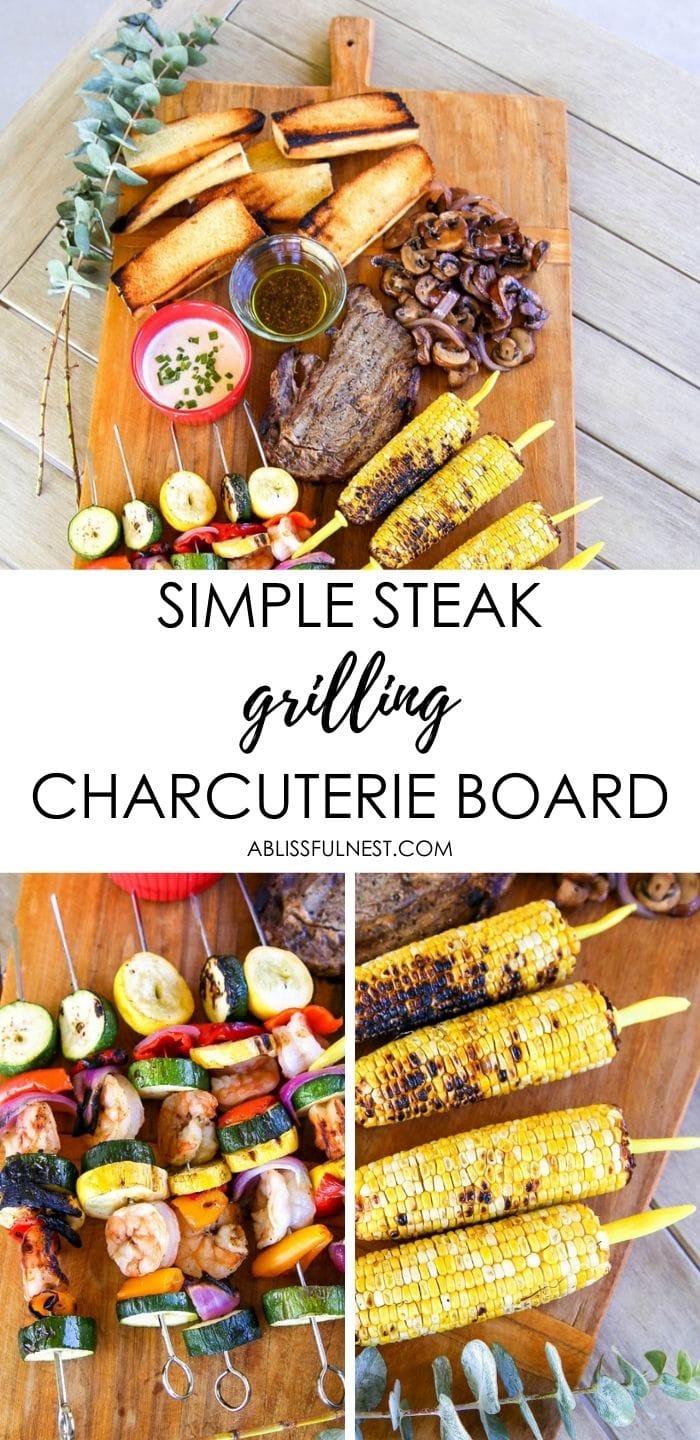 Follow along to get more of my tips on home decor, DIY, and lifestyle on the following: