The BEST DIY Outdoor Game Ideas
Playing yard games is a great way to get the entire family outside to enjoy the warm weather. Let's face it – we could all use a little fresh air these days! Here are 11 DIY outdoor game ideas that you can easily make and start having fun fast.
Ah, the endless days of summer. When I think of summer, I think of being outside: parks, pools, sprinklers, fireflies, and barbeques, to name a few of my favorite warm-weather activities.
Perhaps my favorite outdoor activity in the summertime is spending those warm evenings with my family playing outdoor games, particularly since we finished our backyard makeover! This was one of my family's traditions growing up, and something I definitely have passed along to my own children too.
Today's activities make tomorrow's memories, right?
This site contains affiliate links. Please read our disclosure policy. As an Amazon Associate, I earn from qualifying purchases.
Why Play Yard Games
In today's world, many kids spend more time inside than outside, especially this year in particular. In addition to making family memories, playing outdoor games has many other benefits, including:
Getting kids active, which improves their fitness level and physical stamina

Helping them learn new things such as problem-solving and strategy skills

Lets them explore the world around them

Helps build a lifelong love for nature
11 Fun and Easy DIY Outdoor Yard Game Ideas To Play
I have scoured the web high and low to find some amazing options for making your own yard games. These DIY outdoor game ideas offer diversity in the types of activities, but they all have one thing in common: they provide a seriously good time.
DIY Outdoor Tic-Tac-Toe Game
I love how this game looks! Plus it's super quick and simple to make.
My family plays tic-tac-toe often, and we love trying to find "sure-fire" ways to win – you know, those moves where you can win two different ways? Priceless.
DIY Ladder Toss
Some PVC pipe and some bolas are all you need to construct a game of endless fun for the backyard. Play individually or in teams for long-lasting fun.
The first person (or team) to reach 21 wins. Who's ready for a little friendly competition?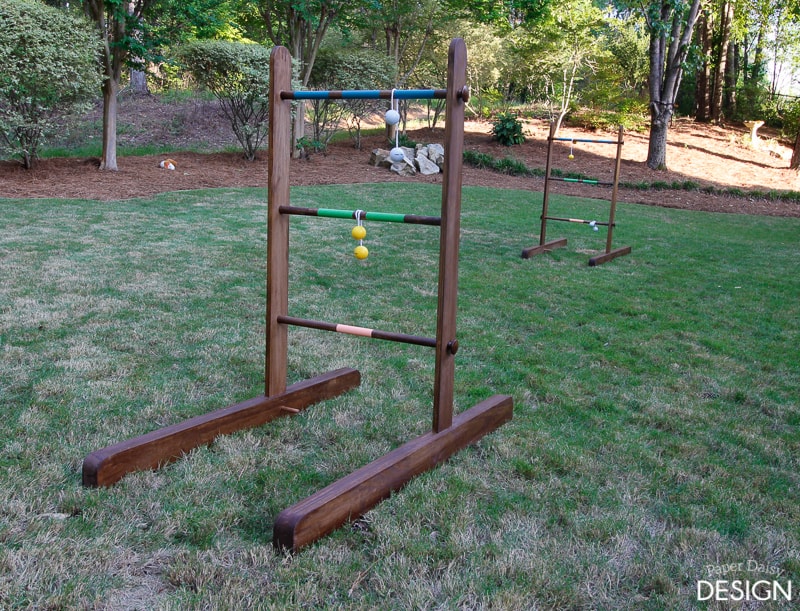 Bigfoot Cardboard Feet
I always like DIY outdoor game ideas that help tire my kids out. Forget about potato sack races or wheelbarrow races. Those are fun, but nothing compared to the thrill of a bigfoot race!
This tutorial gives great step-by-step instructions for this simple DIY outdoor game that will have the entire group in stitches from laughing so hard. Perfect for a birthday party, family reunion, or even just an outdoor family game night.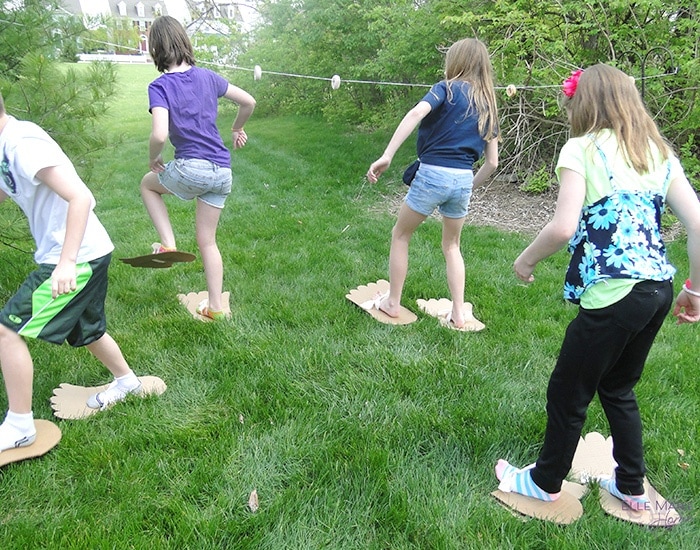 DIY Giant Dominoes
Your favorite game from when you were a kid just got even better. You won't believe how easy it is to make this one.
Playing larger-than-life dominoes is a fun way to spend some time in the backyard, together as a family or when you have friends over for a barbeque.
This can even be a great game for toddlers who are learning their numbers. To keep it simple for them, make all the dots on the dominos coordinate for each number (paint all the one-dot dominos green, all the dominos with two dots yellow, etc).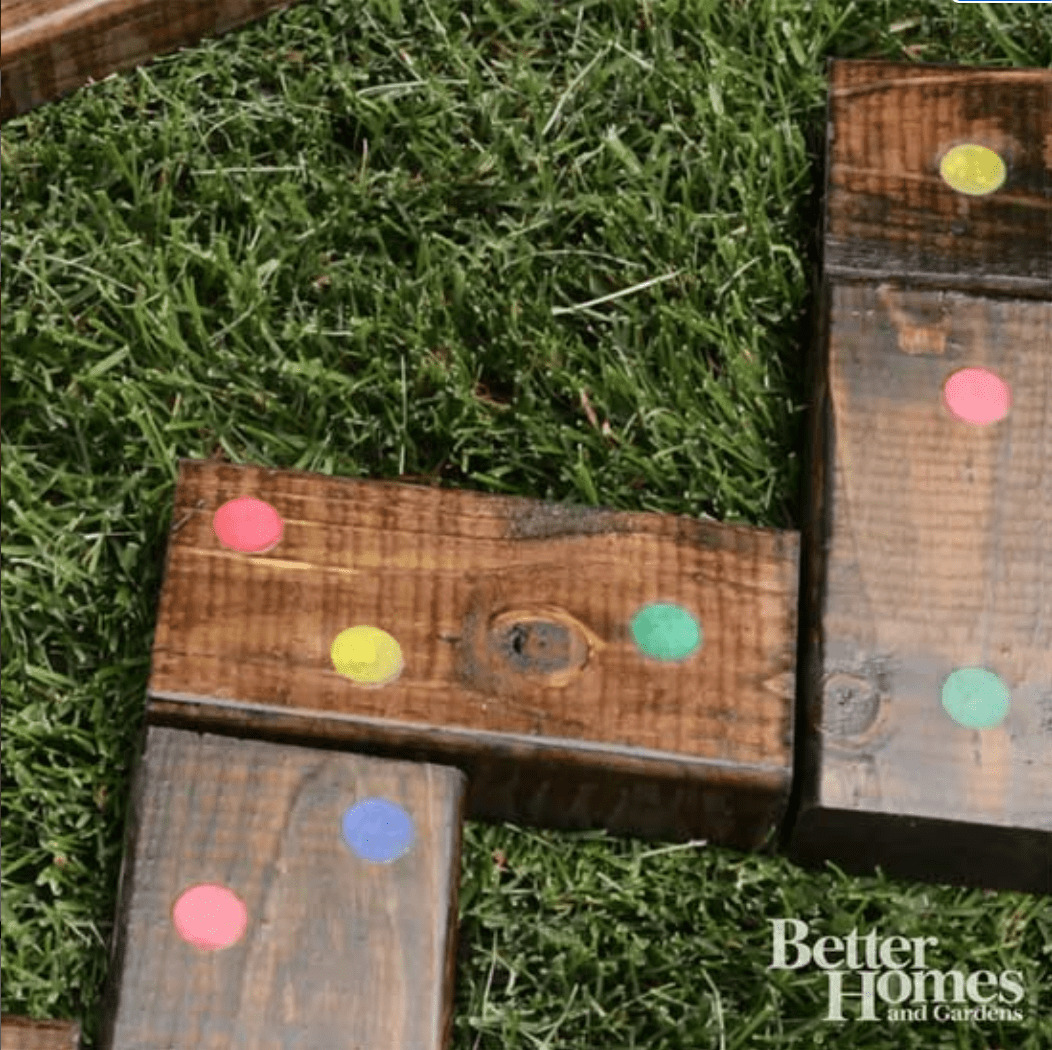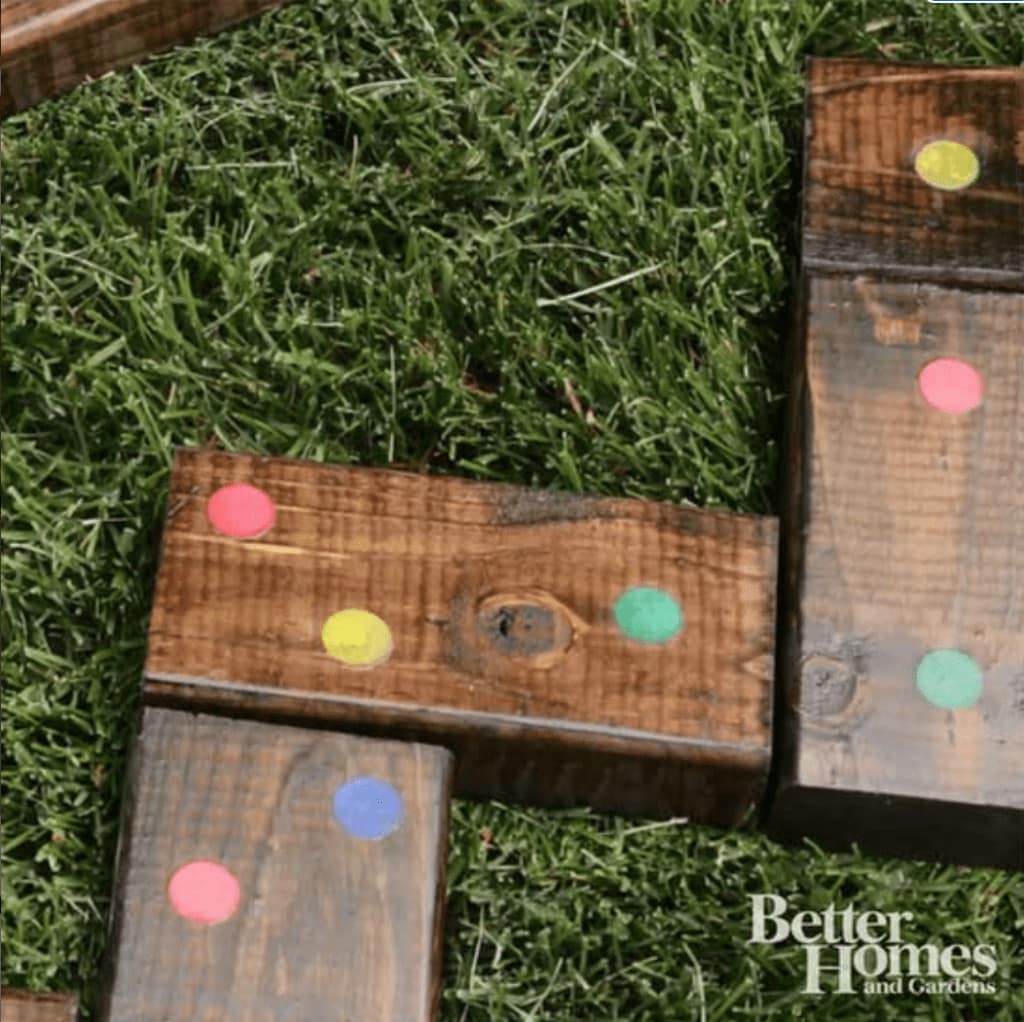 DIY Cornhole Boards
Cornhole is a classic that never gets old. All you need to play are these boards and some bean bags.
It may sound simple, but that's the misconception (and the fun) of playing cornhole. Check out this complete tutorial for making an affordable, lightweight, space-saving cornhole yard game.
I particularly like the idea of DIYing this one because it allows you to make the design something that will coordinate with your outdoor space.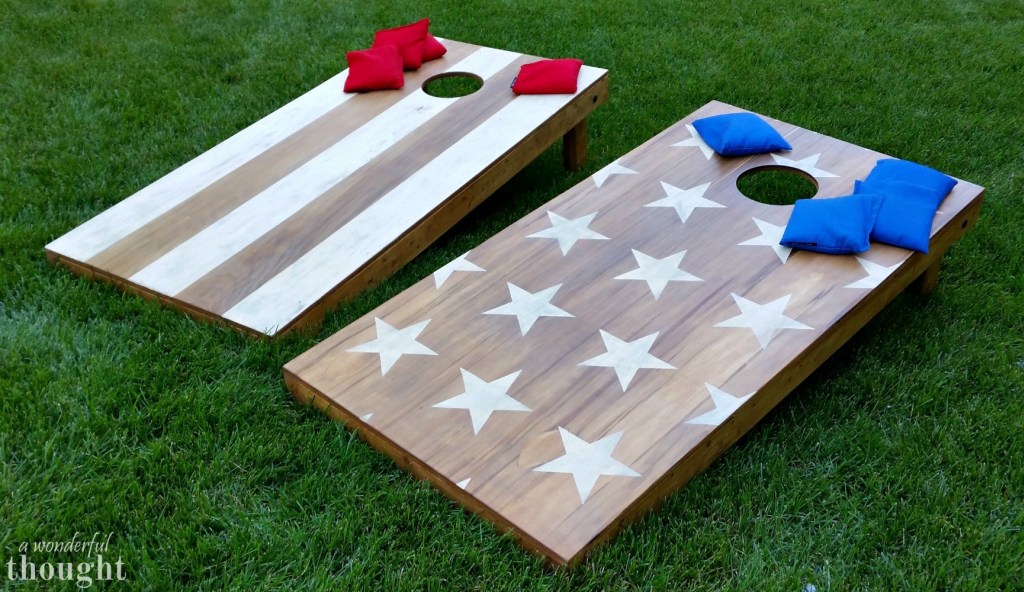 Yard Speed Scrabble
You know how a game of Scrabble can take hours to really play? This version takes a fraction of the time without sacrificing the challenge or the fun you expect from Scrabble.
Plus, because players who only know short words can excel at this one, it's perfect to play with kids.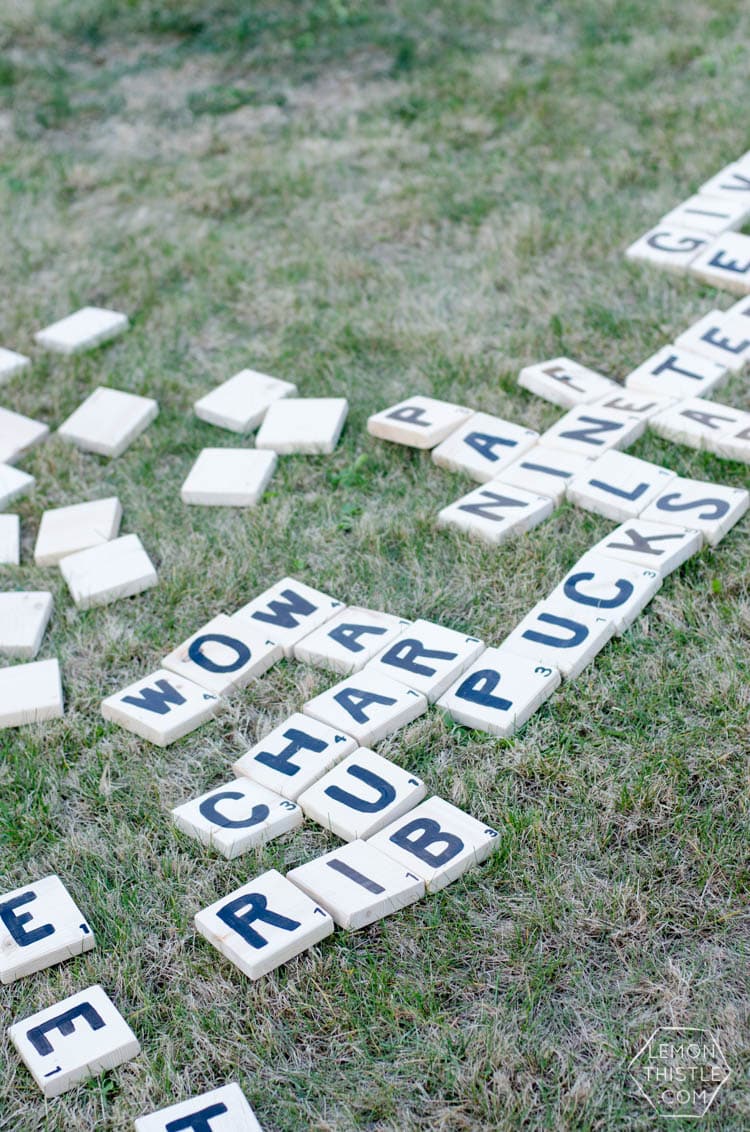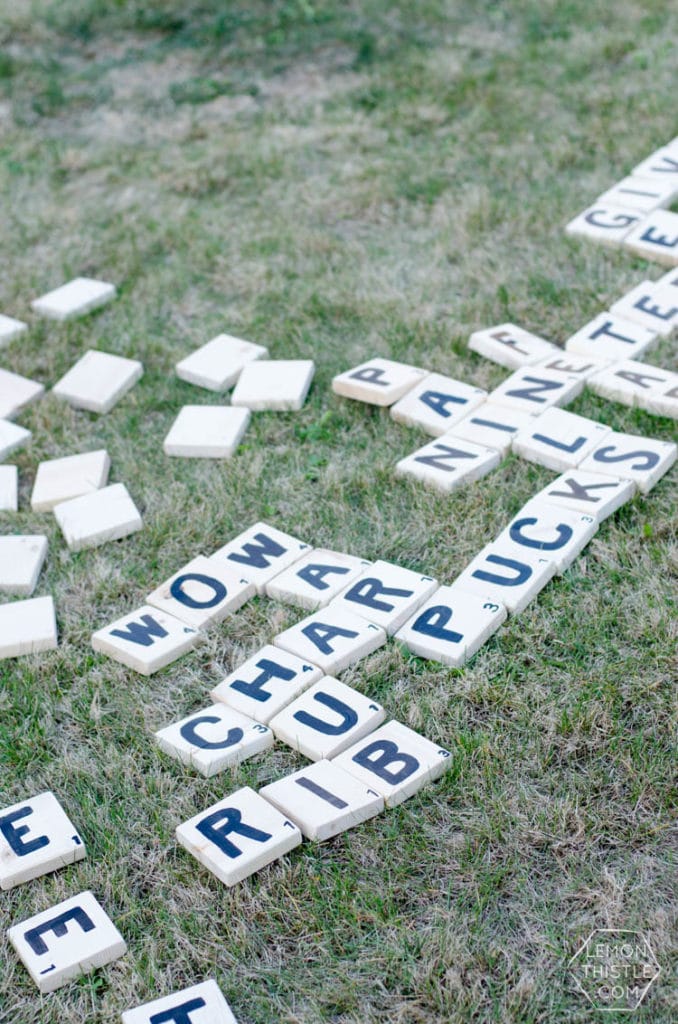 DIY Checkerboard
Checkers is a time-honored fun game that can get quite rowdy! Enjoy hours of implementing strategies against each other and "fighting" to be the last man standing.
If you happen to get tired of checkers (that's not really likely), you could always bring out – or make – some chess pieces to go with the board and change games.
Glow in the Dark Bowling
Bowling is just classic fun, and this DIY outdoor version is so creative! Enjoy a few rounds of this easy DIY outdoor game as the sun goes down and the stars come out. This is one of the most budget-friendly DIY outdoor game ideas out there.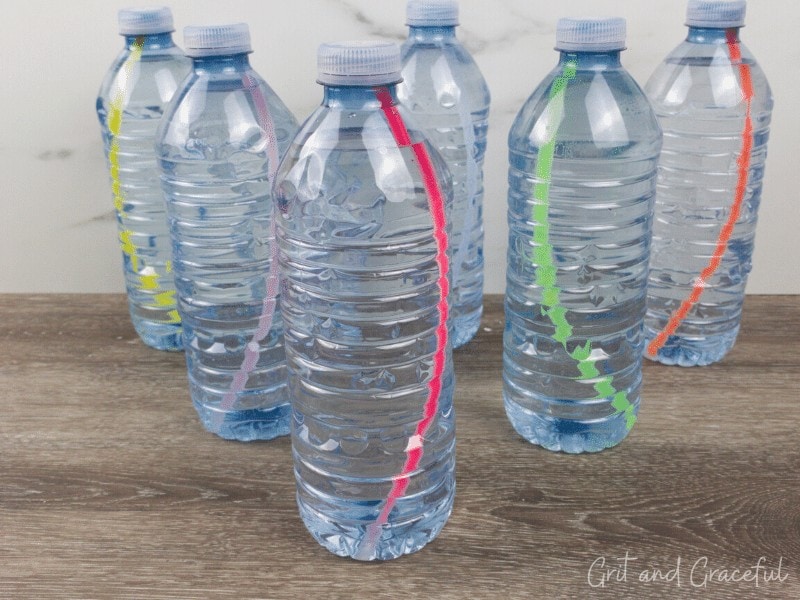 Yard Yahtzee
Another classic family game! If you buy this game in giant yard-size, you'll likely spend more than your entire grocery budget for the week. However, with just a few simple supplies, you can make your own easily on the cheap.
Let the good times roll with this DIY outdoor game.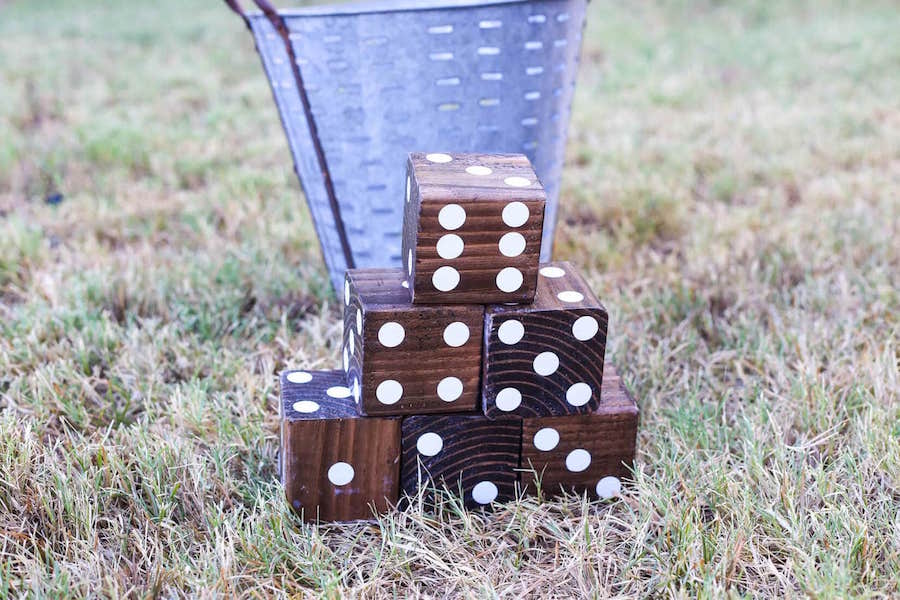 Pool Noodle Obstacle Course
Have some fun and burn some major energy too by building an obstacle course. This is one of my favorite ideas for DIY yard games because it's very affordable and can be as big or as small as you like. Plus, this is another great one for all ages to participate in. A little creativity will keep the kids busy for a very long time!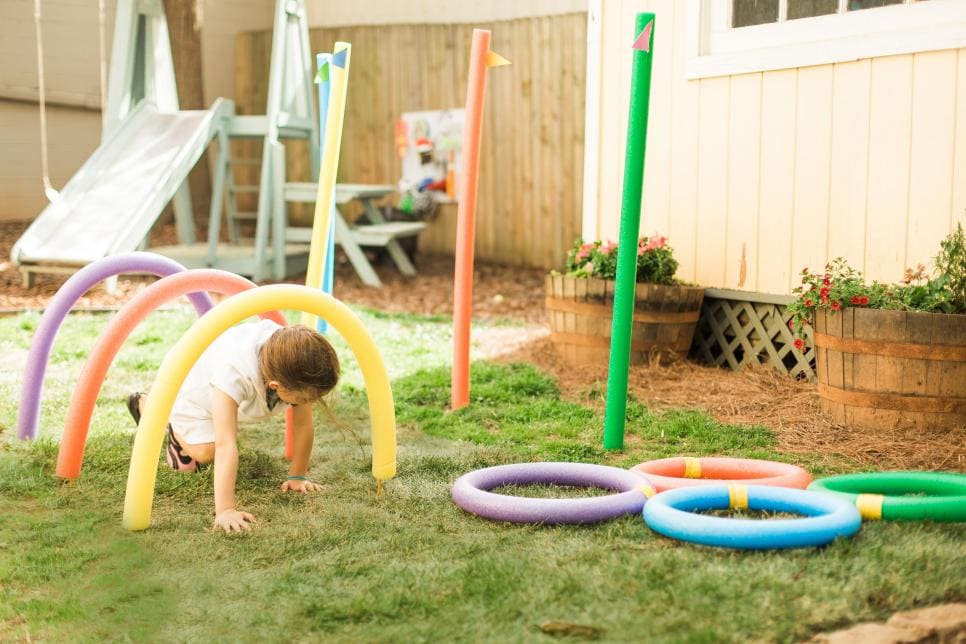 Giant Jenga
Ah, Jenga. One of my favorite party games. It's the perfect kid-friendly combination of simple rules with the thrill that comes from a fast-paced game. Jenga is a natural to bring outside to the yard and can be played by both older and younger children.
Bonus: This is one of the DIY outdoor game ideas that adults can enjoy too! Create your own yard game version (it's easier than you think) and then pull it out whenever you have people over or you just want to have an outdoor family game night.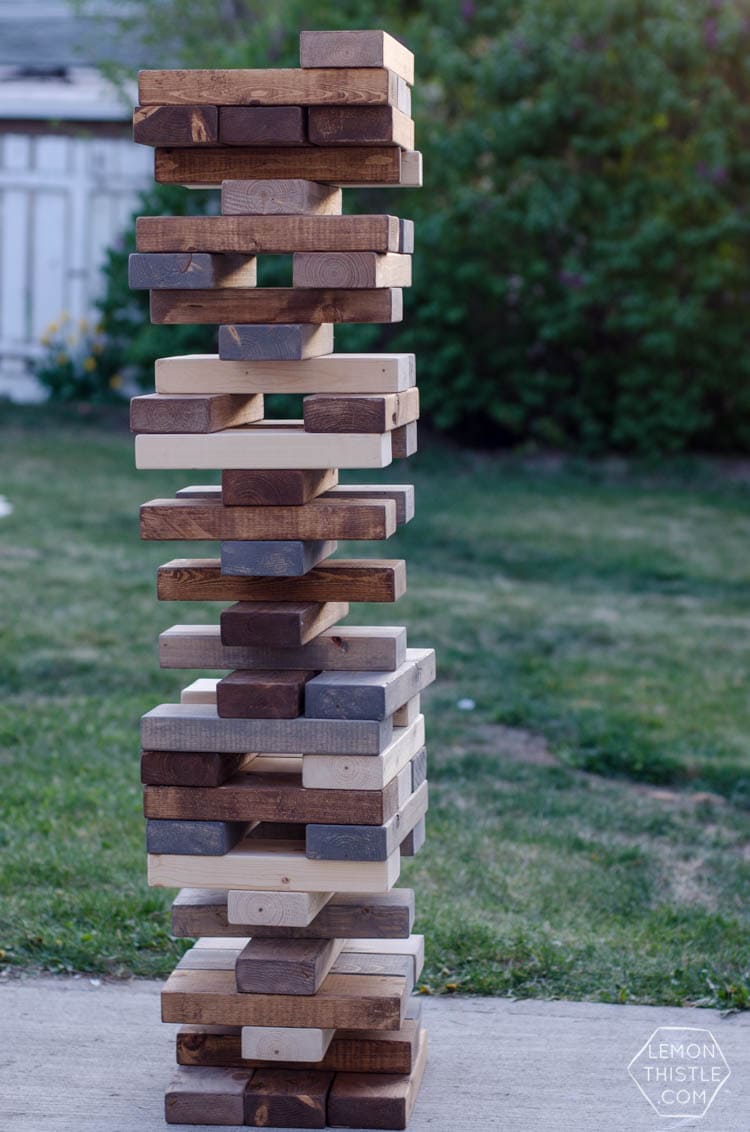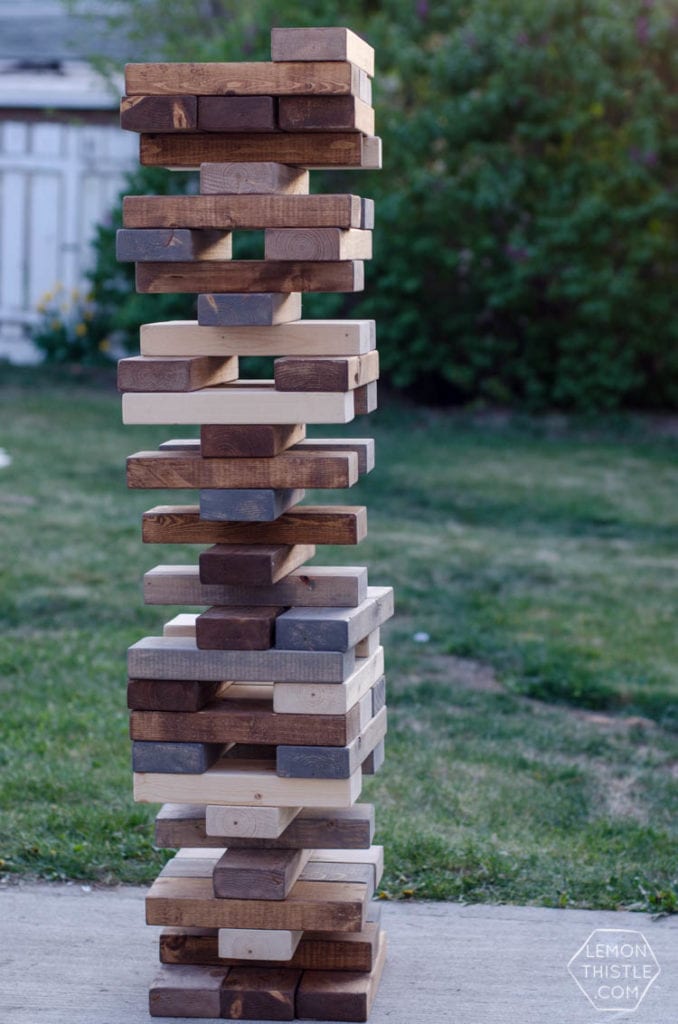 I hope this list of DIY yard games inspired you to create a giant version of your favorite game and take it outside for some good old fashioned family memory-making time.
Here are some of our favorite ready-made outdoor games to snag too:
More Great Posts with Outdoor Ideas:
Get even more ideas on creating and enjoying outdoor spaces with these other posts. Just click on their titles to go right to the posts.
Pin our image below to save it for later!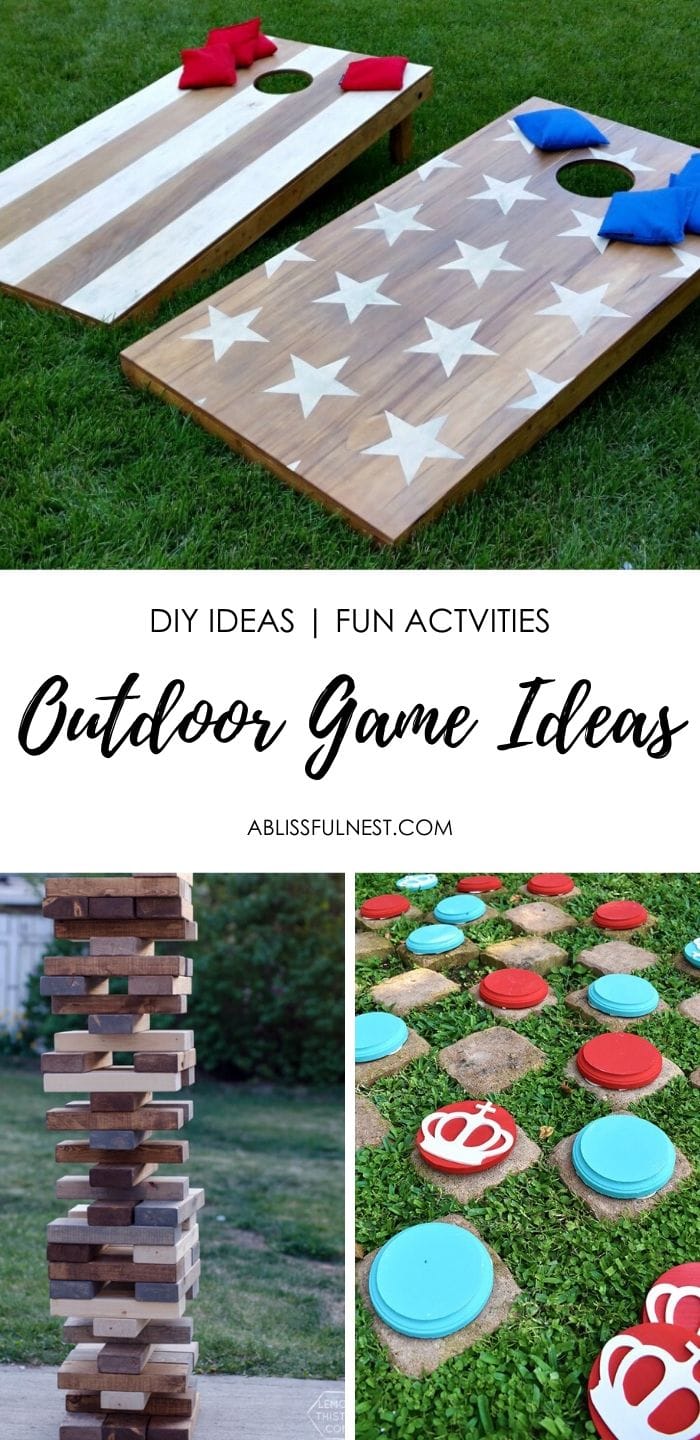 Follow along to get more of my tips on home decor, DIY and lifestyle on the following: