Simple Affordable Summer Decor With Walmart
This post may contain affiliate links. Please read our disclosure policy.
Sharing a collection of new affordable summer home decor finds from Walmart that are stylish and on-trend for the season. This includes patio decor, summer pillows, affordable furniture pieces, and summer bedding essentials.
This post is sponsored by Walmart, but all opinions are my own. This post contains some affiliate links for your convenience. Click here to read my full disclosure policy.
Now that summer is here it is time to make sure your home is set for the season. You know I love affordable stylish finds and Walmart has quickly taken the lead in where I home decor shop lately.
I actually now go to walmart.com and search items (not only home decor) before going to any other site. They have made their product lines so vast that I can literally find everything I need there and the prices are always less expensive than elsewhere. I have been taking advantage of their next day/2 day shipping on select items and their curbside pickup makes it so beyond easy to swing by to grab my order on the way home.
Simple Affordable Summer Decor:
Last month I talked all about how the citrus trend was huge for the spring season and I am here to say it is not going away. Fresh lemon yellow and soft turquoise greens are here to stay for the next couple of months and I'm sharing my favorite finds in this color palette as well as some great decor pieces to go with it.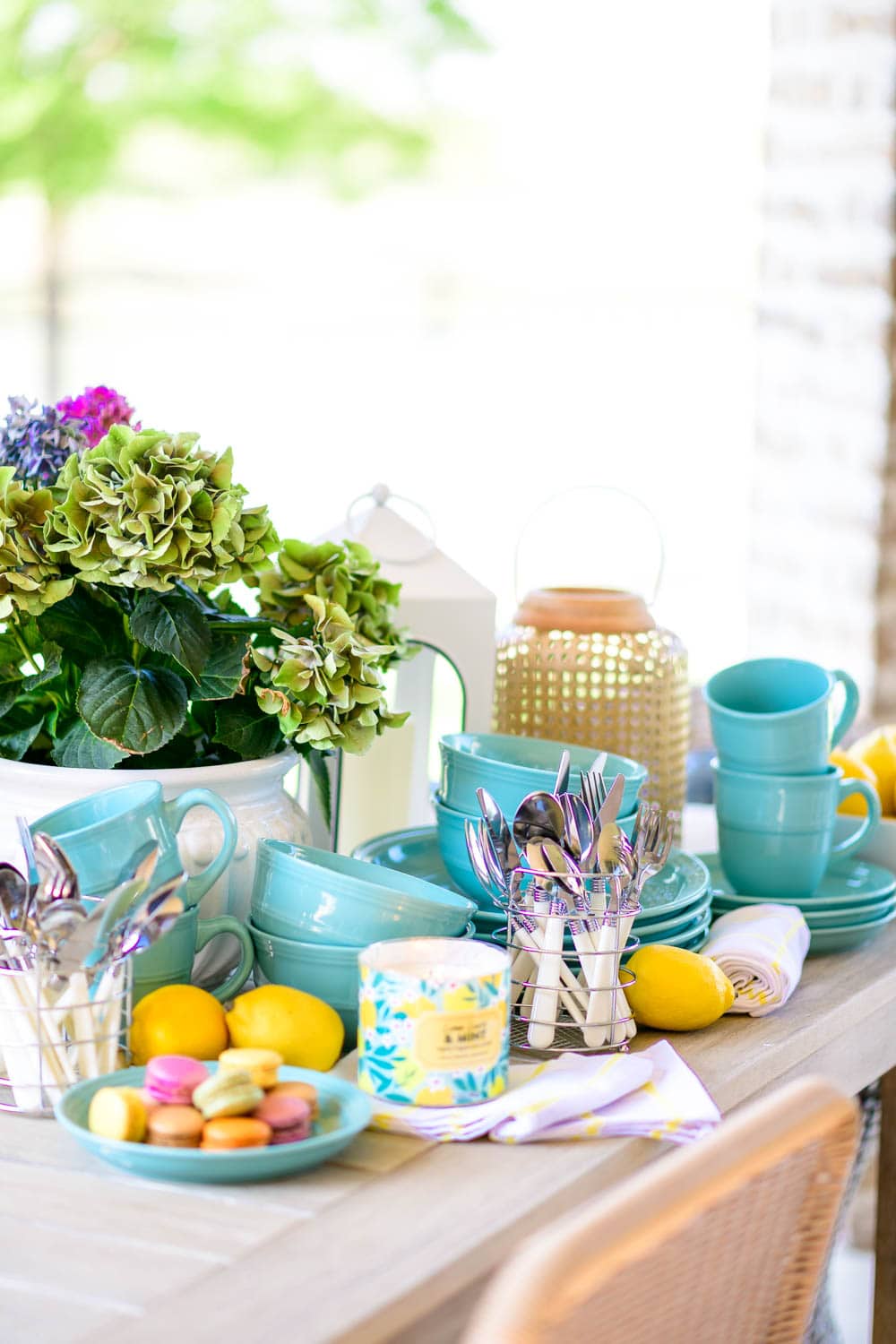 Things have been so informal the last year and a half with having people over and celebrating the holidays and really not a whole lot has changed this summer. So rather than doing these elaborate spreads for when you have people over, I thought it would be great to set it up in a buffet style, so people could grab what they wanted.
Typically we do this with food and why not do it with your summer entertaining pieces too. This turquoise dish set is so rich in color and it comes in a lemon yellow set too. They would be so pretty mixed and matched together.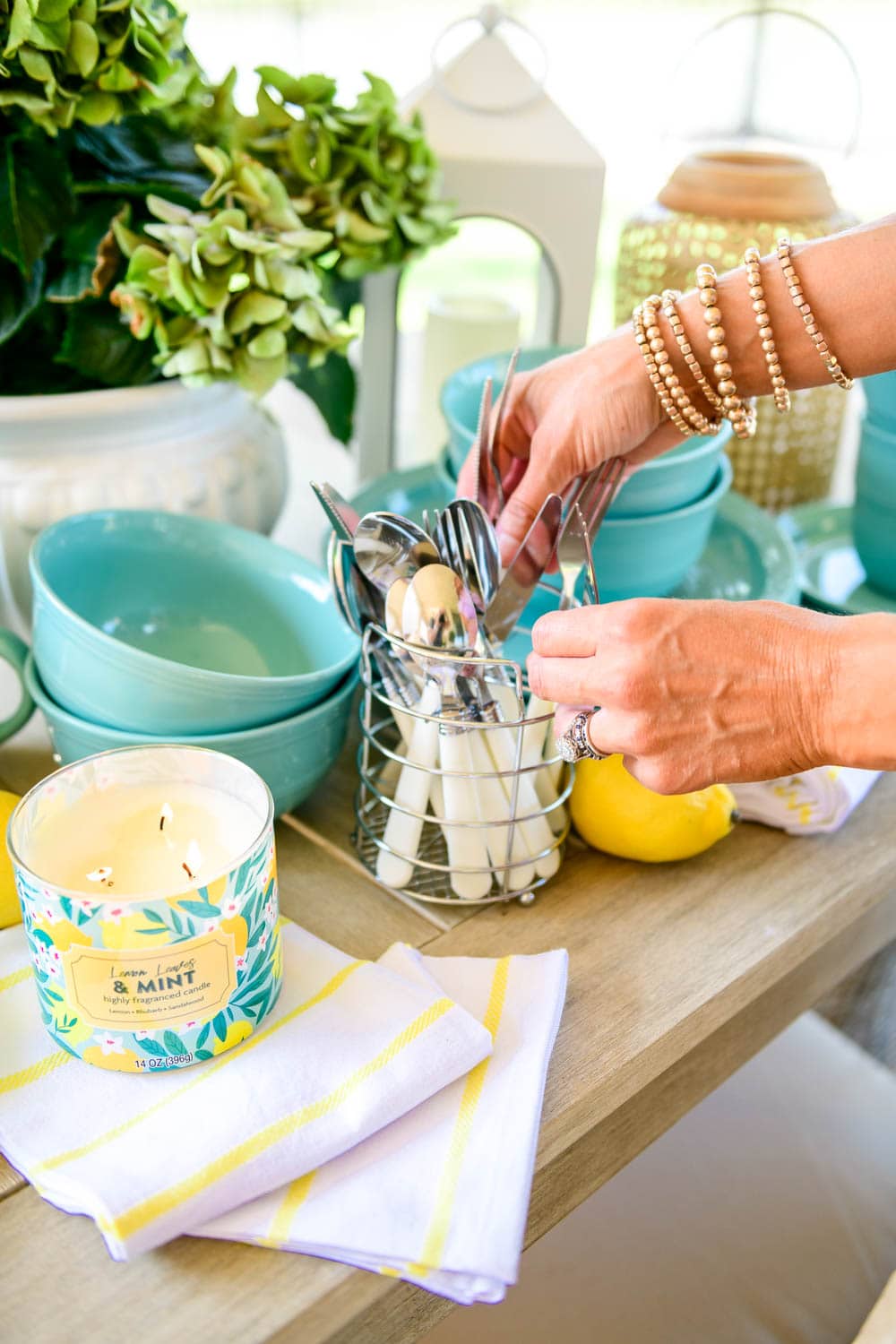 I love this flatware set and so much that I have the red set too. It is so affordable and goes with any dish set. It comes in 4 colorways and is only $11!! Yep RUN and go grab yours.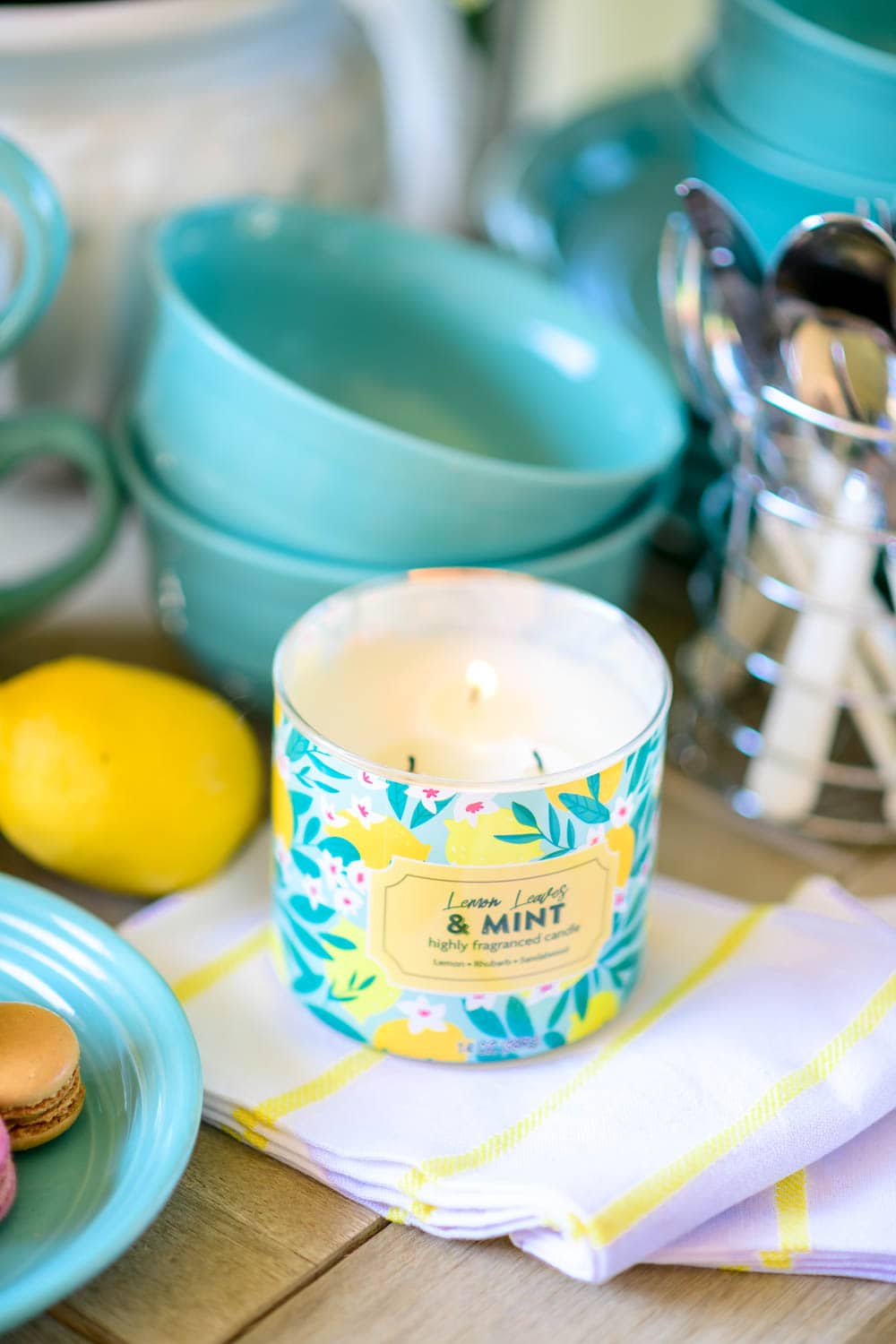 I told y'all about this candle over a month ago and boy oh boy does it smell good. There are so many scents available and I always love to have candles burning out on the patio when we are out there. There is just something so cozy with how it illuminates the space.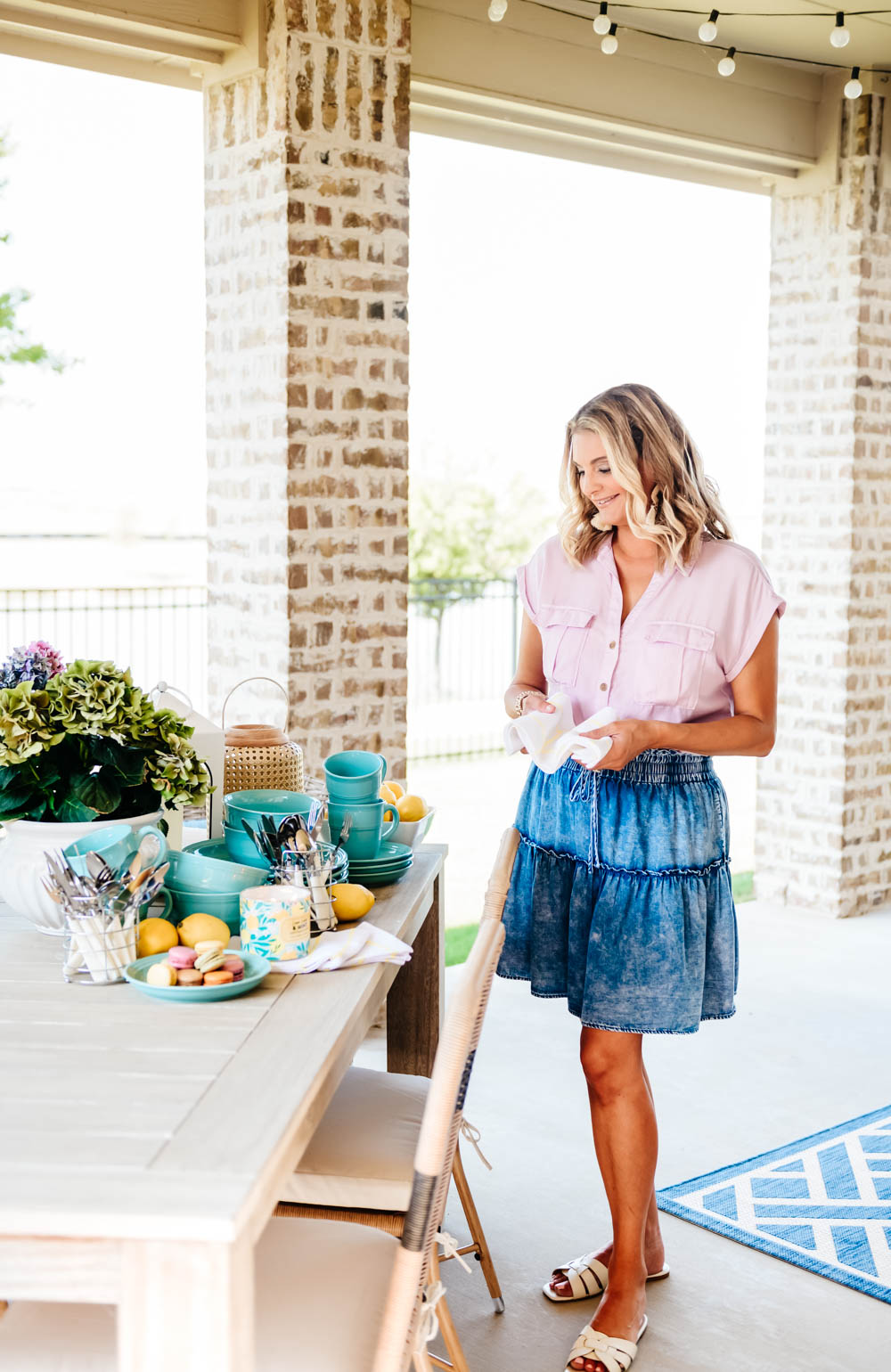 I also love adding lanterns to add to the glow of the patio. These caned lanterns just came back in stock but they fly out the window quickly so go snag them now. I also love these white ones and these black ones are such a classic look.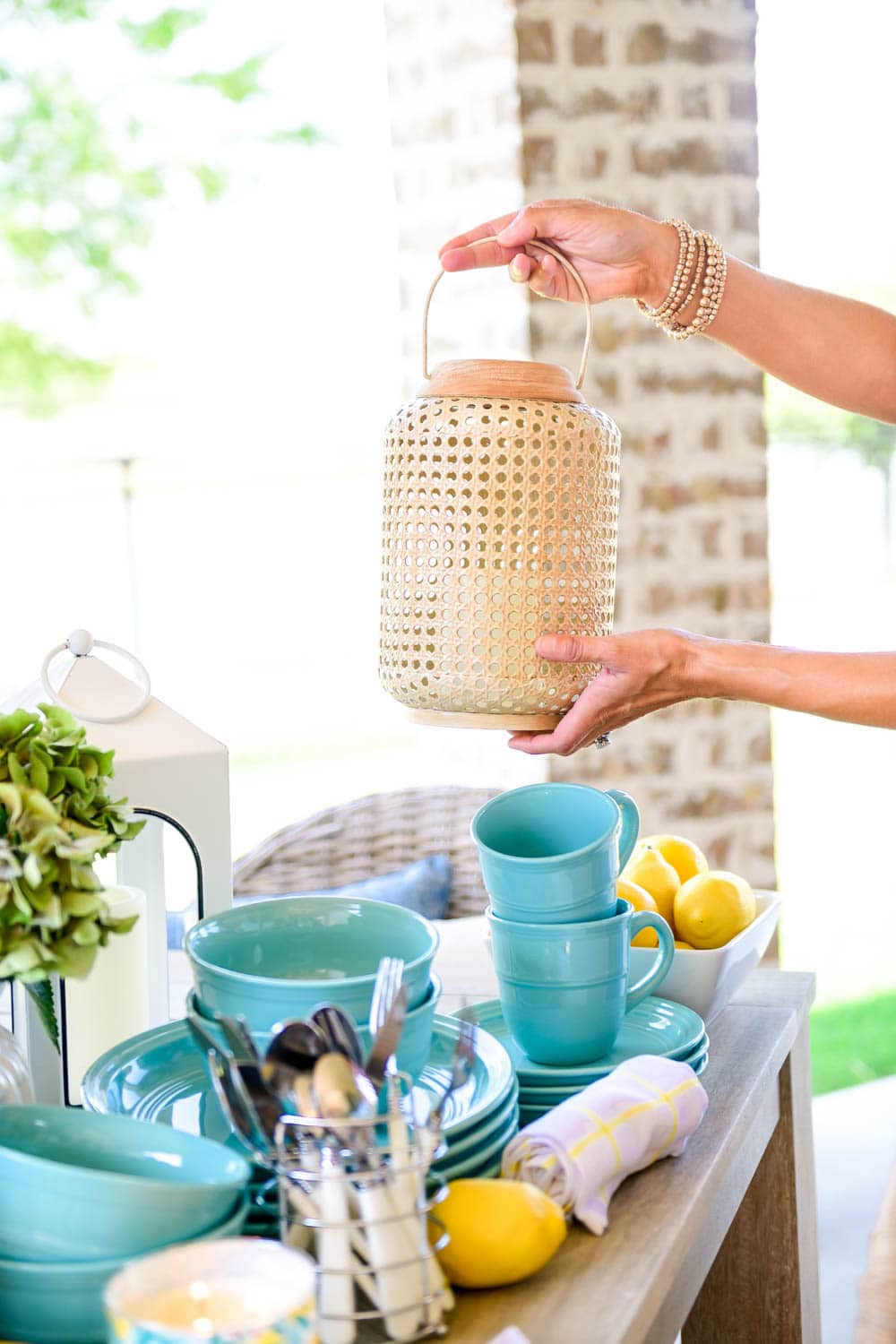 All of these pieces are so fun and summery looking and I love the feel of this color scheme. Grab one piece or all of them to add a little citrus flair to your outdoor entertaining.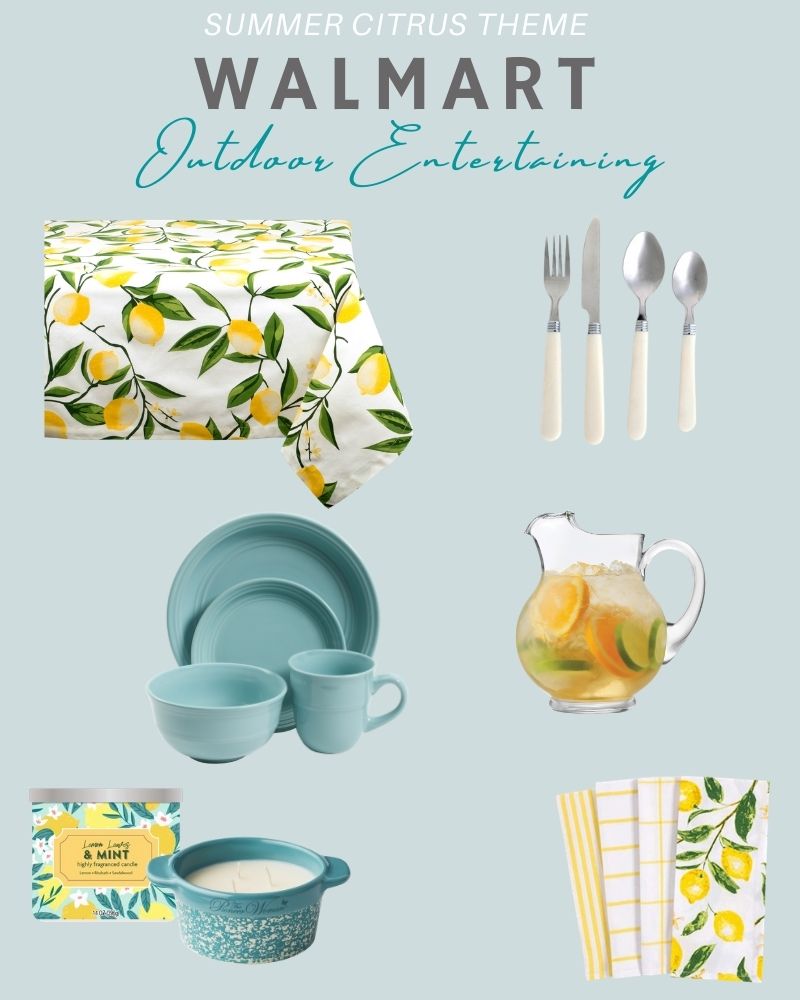 So while I was at it, I created this little drink station. This is a new area on our patio I just set up that has this metal table and barstools so we can have additional seating when we are out here or a place to put food down when BBQing.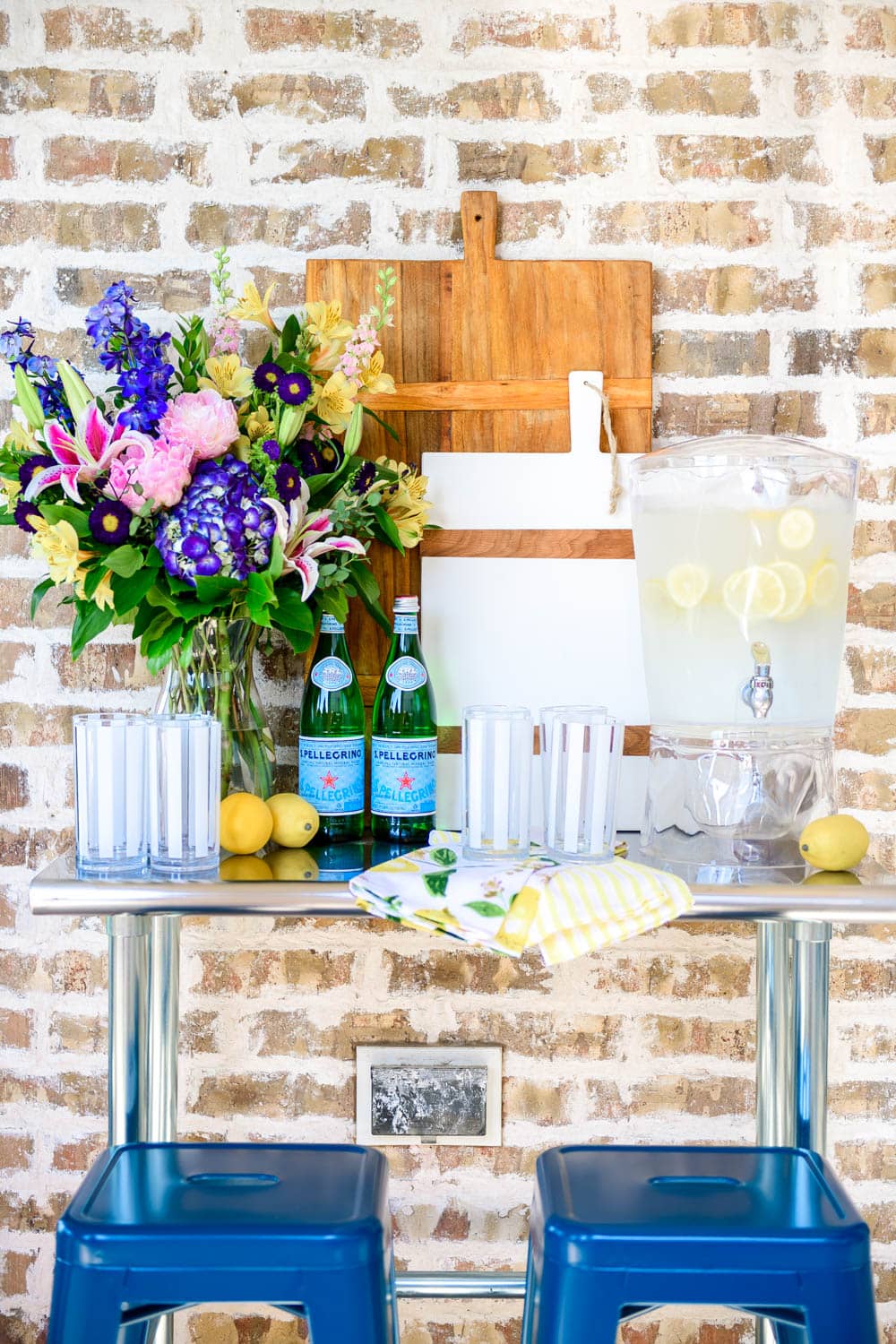 Essential Items to Set Up an Outdoor Drink Station:

I am seriously obsessed with this oversized drink dispenser and wish I could figure out how to have this with fresh lemon water in it in the house all the time. It is super lightweight making it easy to carry once you have it filled up out to the patio. I have had glass ones that get so heavy once filled that I think I'm going to break my back!
It sits on a stand also which helps elevate it to get a cup under the spout to fill it up. Have you ever had those dispensers that you have to move to the edge of the table to get your cup under just so you can fill it? So annoying!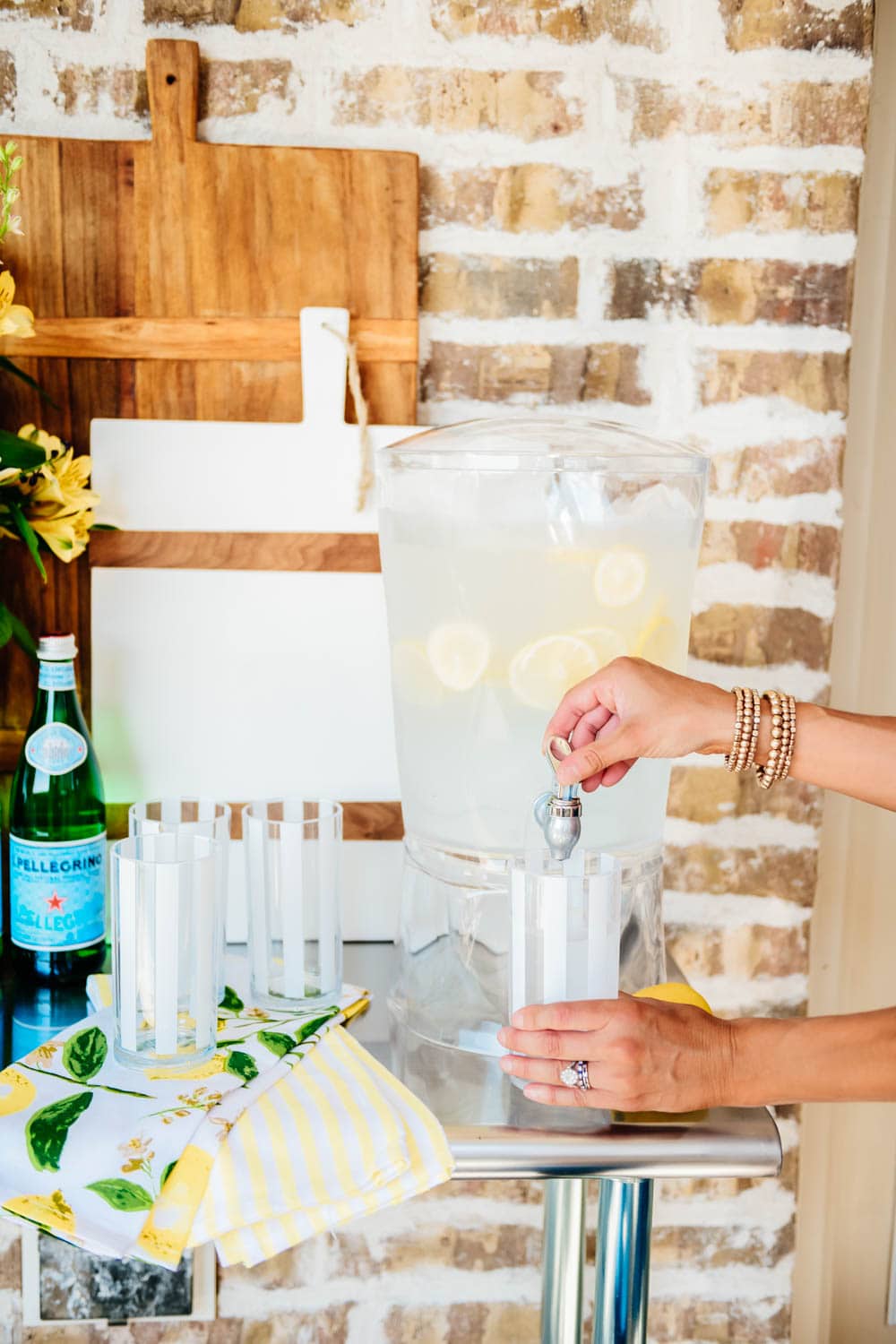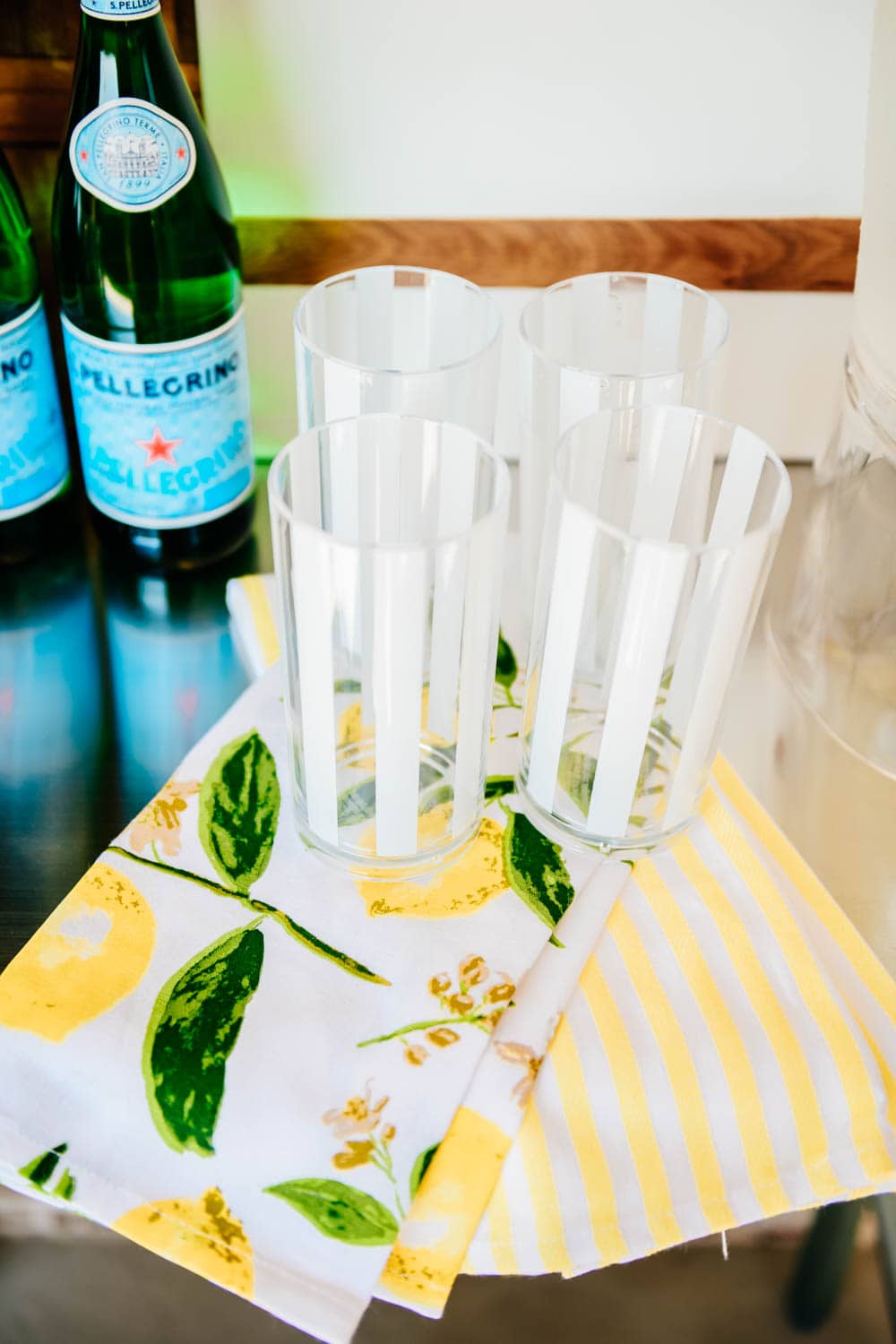 I also snagged some of these white striped cups. They are made from melamine so they won't break and easy to throw in the dishwasher (no handwashing on these guys!). They also come in a bright blue color but I thought these white ones go with everything.
I am in love with these lemon kitchen towels I got last month and use them out on the patio too. So great to have to wipe up spills and add some color to your space.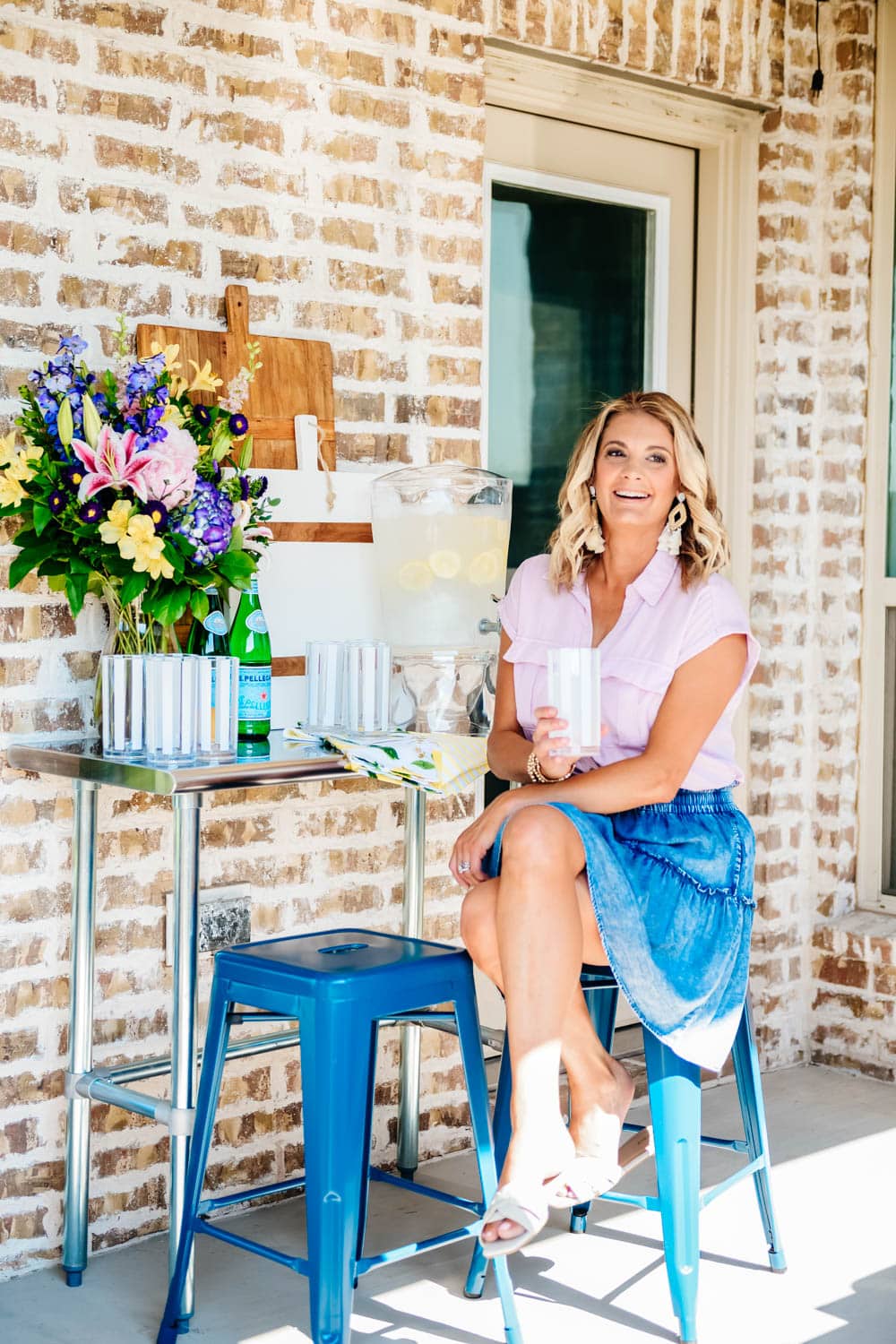 Here are some more of my favorite finds from Walmart for the summer that gives you a cool coastal vibe for your home.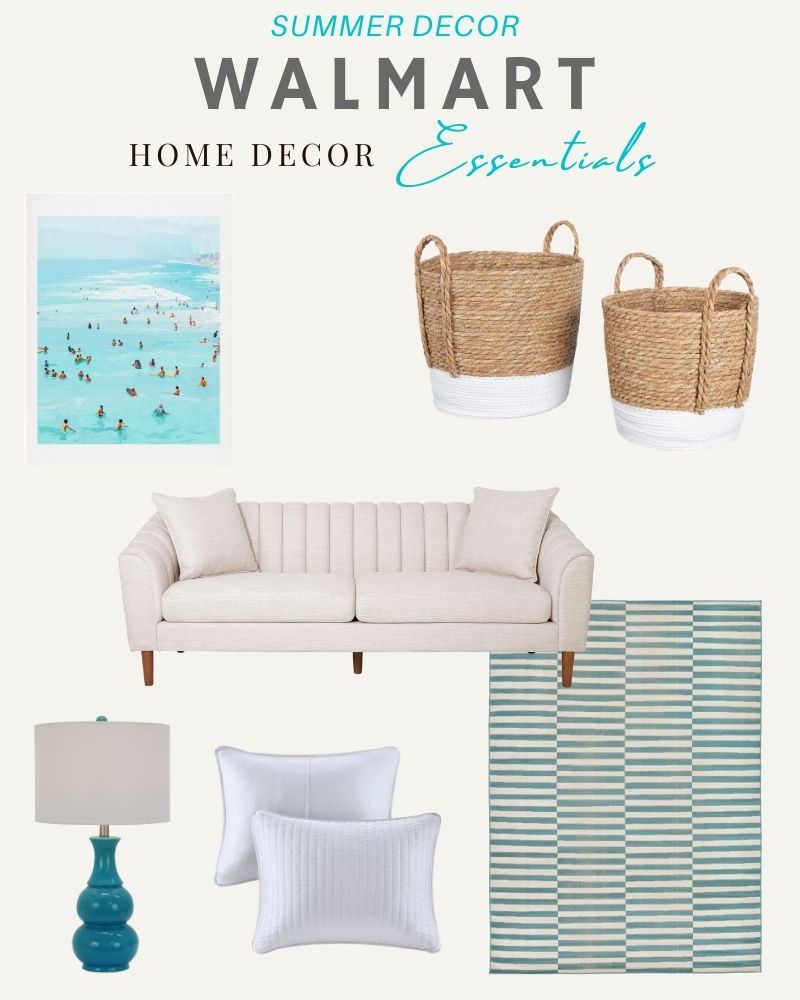 So who's ready to do some summer shopping?!! Shop the full summer decor line at Walmart HERE.
*Photography by Audrie Dollins
THIS IS A SPONSORED POST. A BLISSFUL NEST HAS RECEIVED PAYMENT, TRADE, AND/OR PRODUCTS FROM WALMART IN EXCHANGE FOR PROMOTING. HOWEVER, ALL OPINIONS STATED ARE OUR OWN.
Follow along to get more of my tips on home decor, DIY, and lifestyle on the following: