The Ultimate 4th of July Charcuterie Board
This post may contain affiliate links. Please read our disclosure policy.
Sharing a 4th of July charcuterie board that is easy to make for a small gathering of friends and family. Simple tips on how to layer ingredients and what to serve on a patriotic charcuterie board.
When I think of the summer I think about the 4th of July, this is a holiday that I have always shared with my family. We would have large meals, time on the lake, and beautiful fireworks in the evening. I wanted to share a great way to make a beautiful red, white and blue charcuterie this can be used for Memorial Day, 4th of July, or any patriotic holiday! When I created this board I made sure there was something for everyone to snack on, it is full of fruit, cheeses, candy, veggies, and other snacks! This a great way to share a meal with family and friends.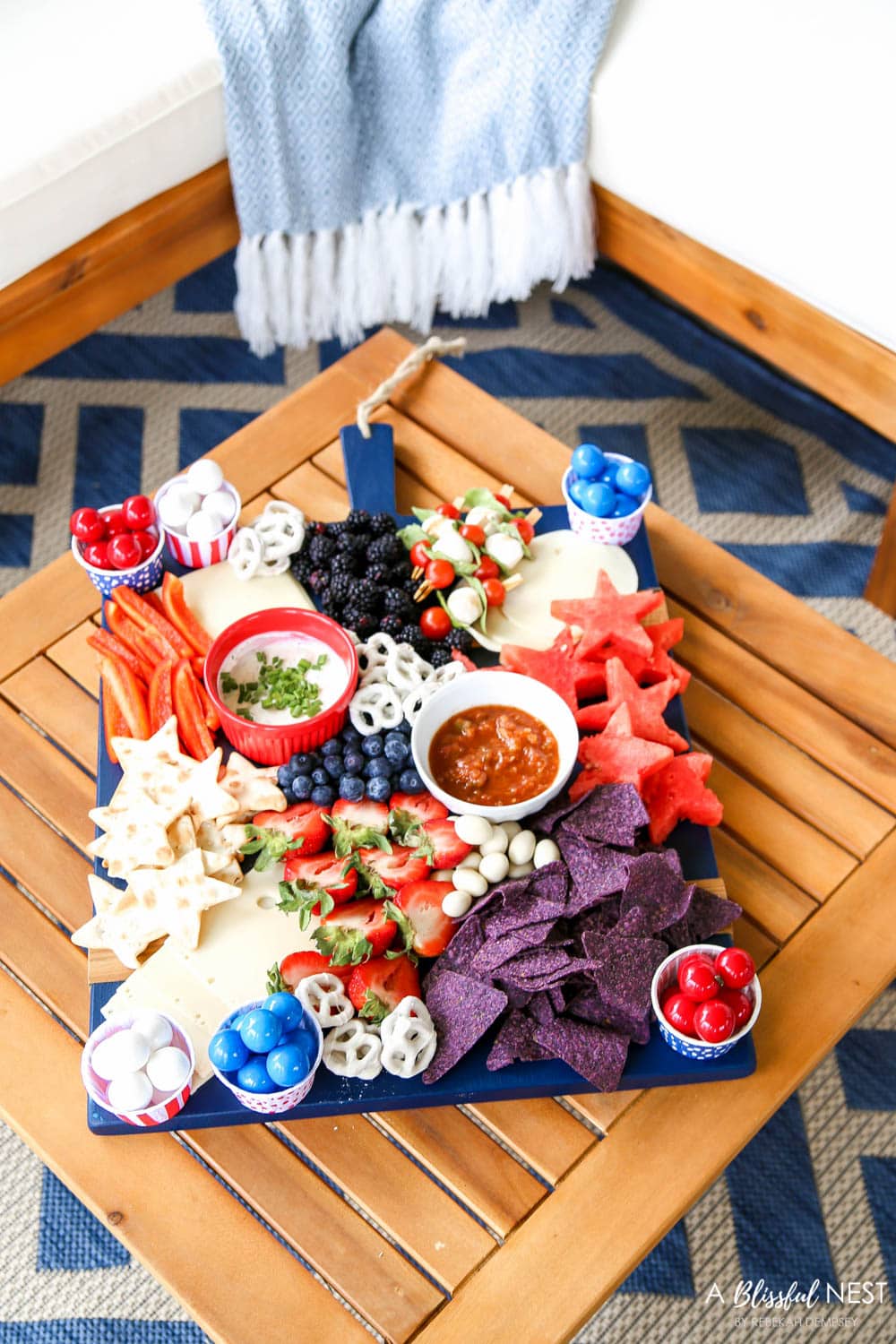 4th of July Charcuterie Board:
July 4th is one of my favorite holidays! It brings family and friends together during the summer months. And what better way to share beautiful food than a July 4th charcuterie board! Pull together any fresh fruits, veggies, and any other red, white, and blue treats you can find to arrange in a beautiful manner.
What is a charcuterie board?
Charcuterie is a French term for a branch of cooking devoted to cold and cured meats. A charcuterie board is an artful arrangement of cured meats, cheese, fruits, and nuts all beautifully placed on a serving board or platter. Usually, you will find meats, cheeses, crackers, nuts, and other grab-and-go food, but the possibilities for a beautiful charcuterie board are almost endless.
Why are charcuterie boards so popular?
Charcuterie boards are fresh and beautiful. Arranging food in an artful manner will always bring people together and create a center for conversation. These boards are something easy to share, you can put them on a counter, a coffee table, or a patio table for all to enjoy! With all the things going on in the world today, it seems charcuterie boards have become so appealing due to people crafting more and becoming more into cooking at home.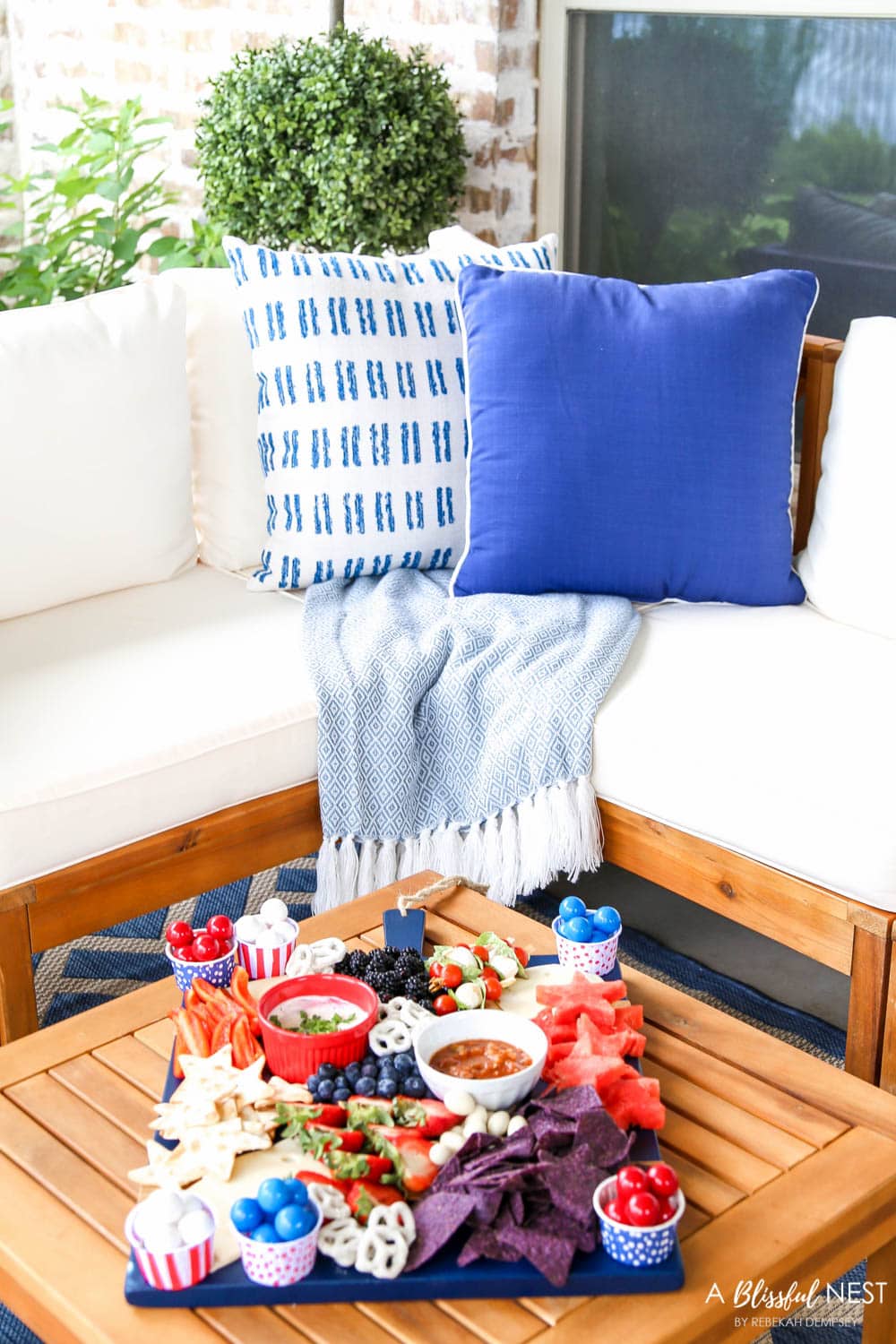 What is the best charcuterie board?
Any cutting board can be used to create a charcuterie board. A good rule of thumb is to select a cutting board or platter that pairs well with the kind of food you are serving, the amount of food to be displayed, and the time of year it is. When selecting a board or platter for your next event you might think about the time of day, where you will place the board, and definitely take into consideration what type of food will be served. Let the event dictate the size and type of board you choose since you will then know how much food is needed for your guests. Think of the board or platter you select as the canvas of your artwork!
Can you make a charcuterie board the night before?
If you plan to make your board in advance, any meat or cheese that is cut will need to be wrapped with plastic securely. Any fruit and veggies on the board will also be fine if they are served the next day. If you are adding crackers or any other ingredients similar to that, it is best to add those just before serving. Prepare what you can the night before to take the stress of entertaining off your shoulders!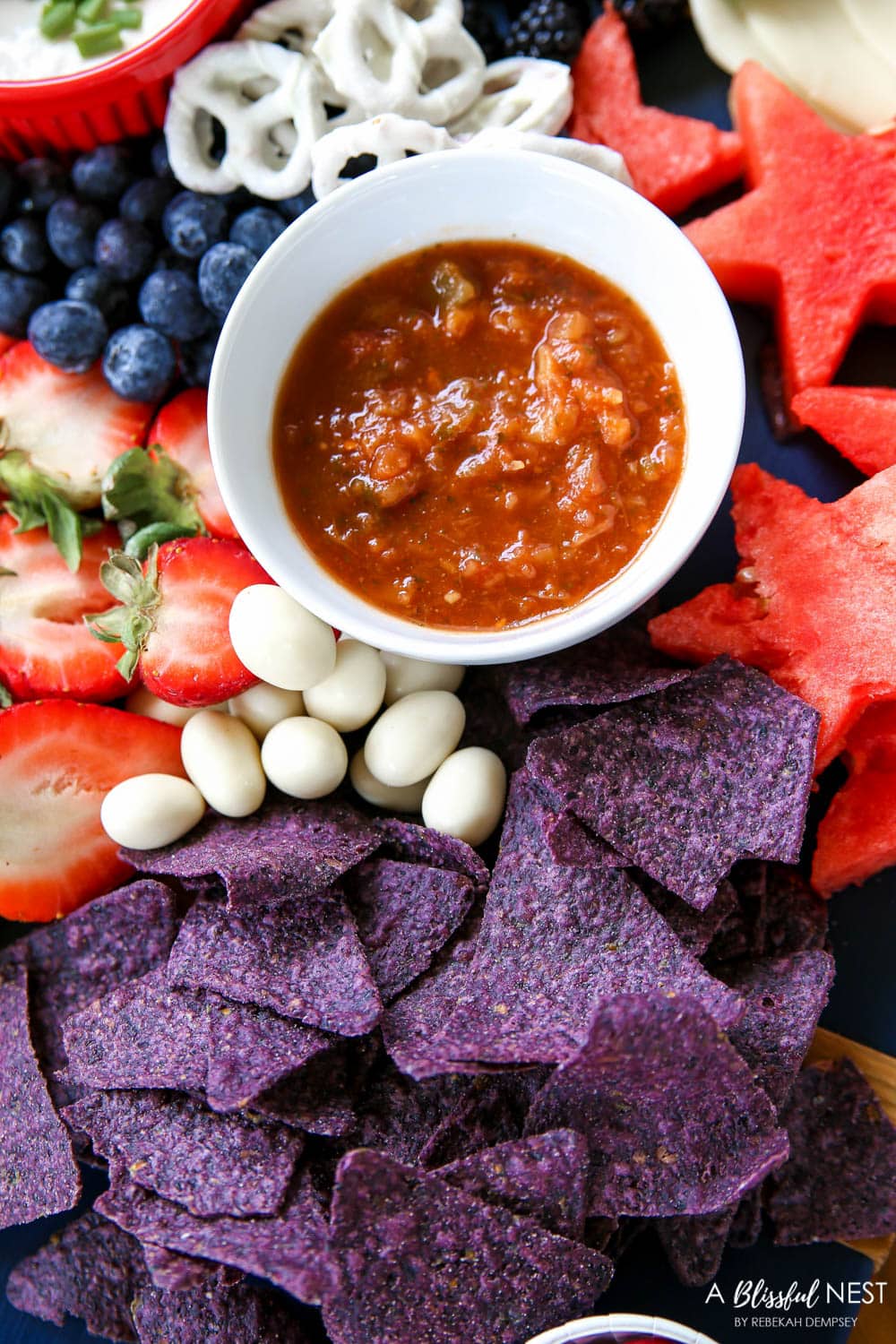 What should be on a charcuterie platter?
Charcuterie boards are so versatile and can be showcased at just about any event. You will usually find cured meats, a variety of cheese, an assortment of nuts, dried fruit, baguette bread/crackers, olives/pickles, and fresh fruits. But charcuterie boards are limitless, you can create a board for almost any occasion.
July 4th Charcuterie Board:
This patriotic board can be made with simple ingredients. For this board I used anything I could think of that was red, white, and blue. I started with fresh summer fruit like strawberries, blackberries, and watermelon. Blue corn chips and red salsa added more color to the board. I found yogurt-covered almonds and pretzels for a touch of white the white will brighten up the board. Caprese skewers with balsamic glaze gave the board a fresh touch. Be sure to use both bold and mild flavors to make sure there is something for everyone.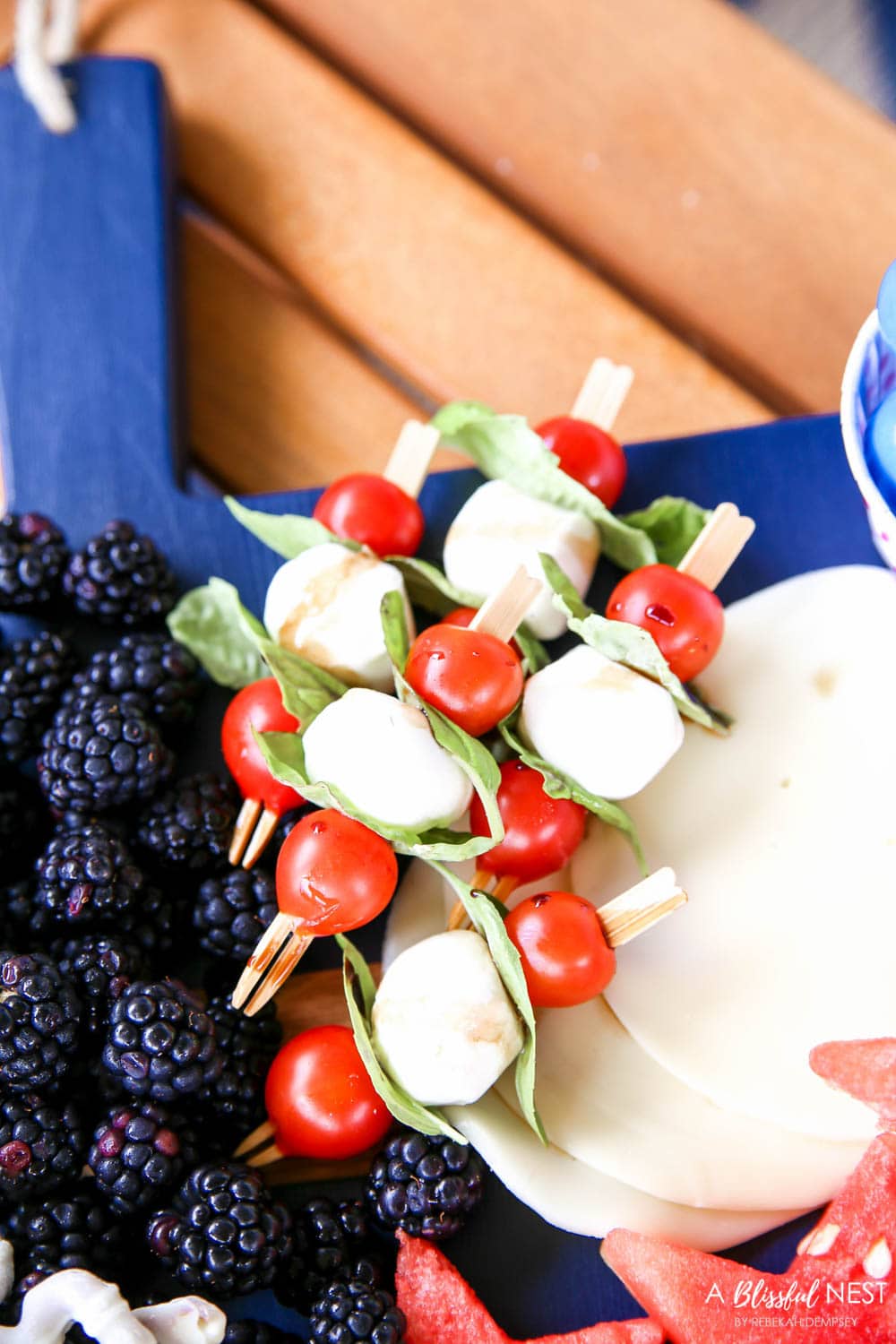 Ingredients used for this board:
Blue Corn Chips

Salsa

Yogurt Pretzels

Almonds

Red/White/Blue Candy

White Cheeses

Caprese Skewers

Red Peppers

Ranch Dip

Blue Berries

Blackberries

Watermelon
Strawberries
Star Crackers
How to make a patriotic cheese board:
Step 1: Choose the Board or Platter for your Occasion
Select which cutting board or platter you would like to use, for this particular board I wanted one with color. I found a board that is blue and white, you can select a board according to your occasion and the amount of food you will be serving. If you are serving just fruit for instance you could go with a smaller lighter board.
My favorite cutting boards: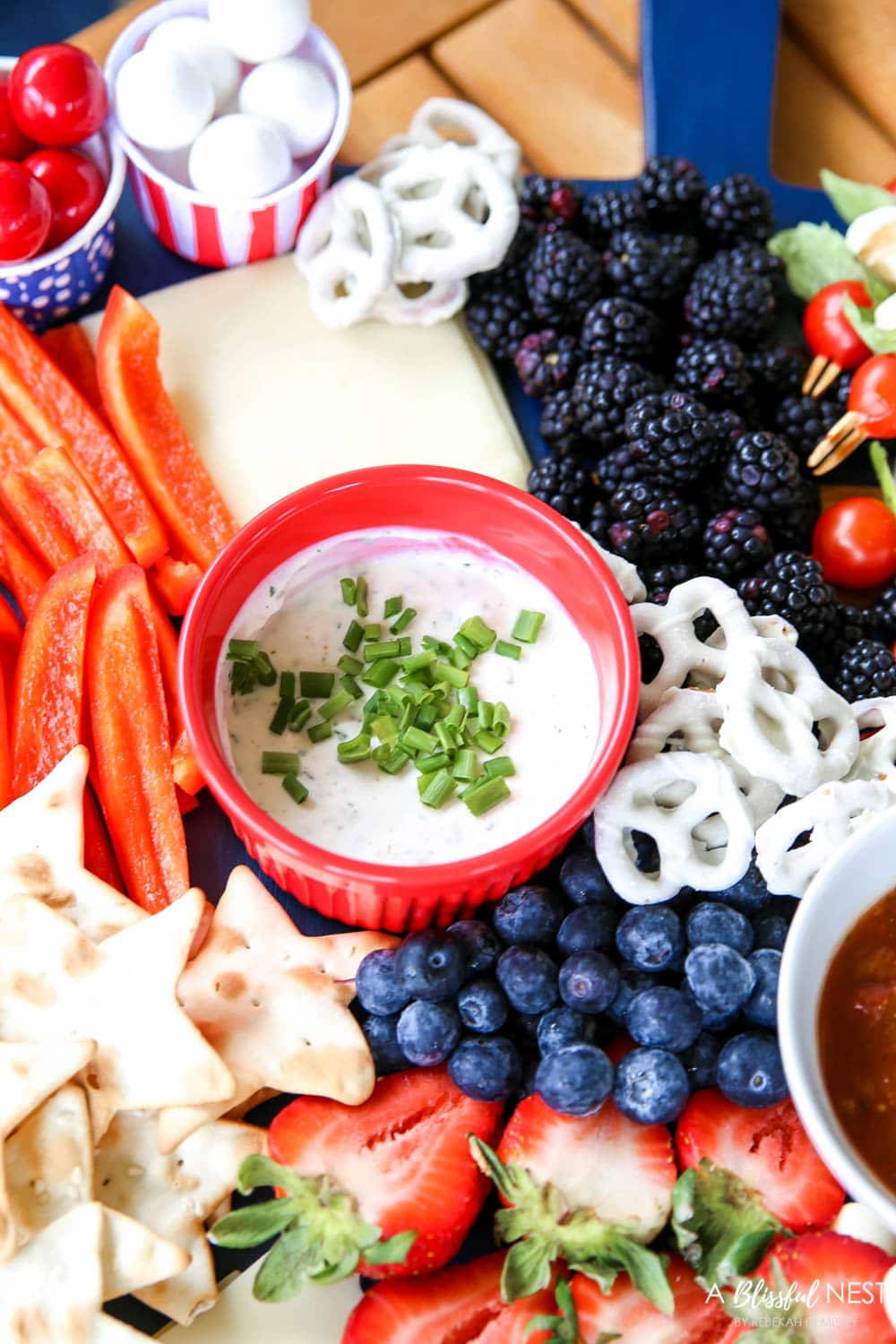 Step 2: Place any sauces and/or dips in ramekins
Choose the ramekins that you want to use, think about the colors and shapes of the dishes. You want to keep it pretty simple to not over-crowd your board. Place the ramekins near the food that those sauces or dips go with. These ramekins can add color and flair to your board.
Step 3: Arrange cheeses artfully
I love to add cheeses next when I am creating a charcuterie board. They are my foundation food. Then I layer the other foods around them. Some popular white cheeses I like to use are mozzarella, swiss, sharp cheddar, and any soft spreadable cheeses like The Laughing Cow cheese, these are easy to lay out on your board. Also, cream cheese is a great option you can add a spicy jelly to the top and offer it as a dip with crackers. And lastly, Bri is one of my go-to soft cheeses, it has a buttery flavor, you can pair it with baguette slices or apples.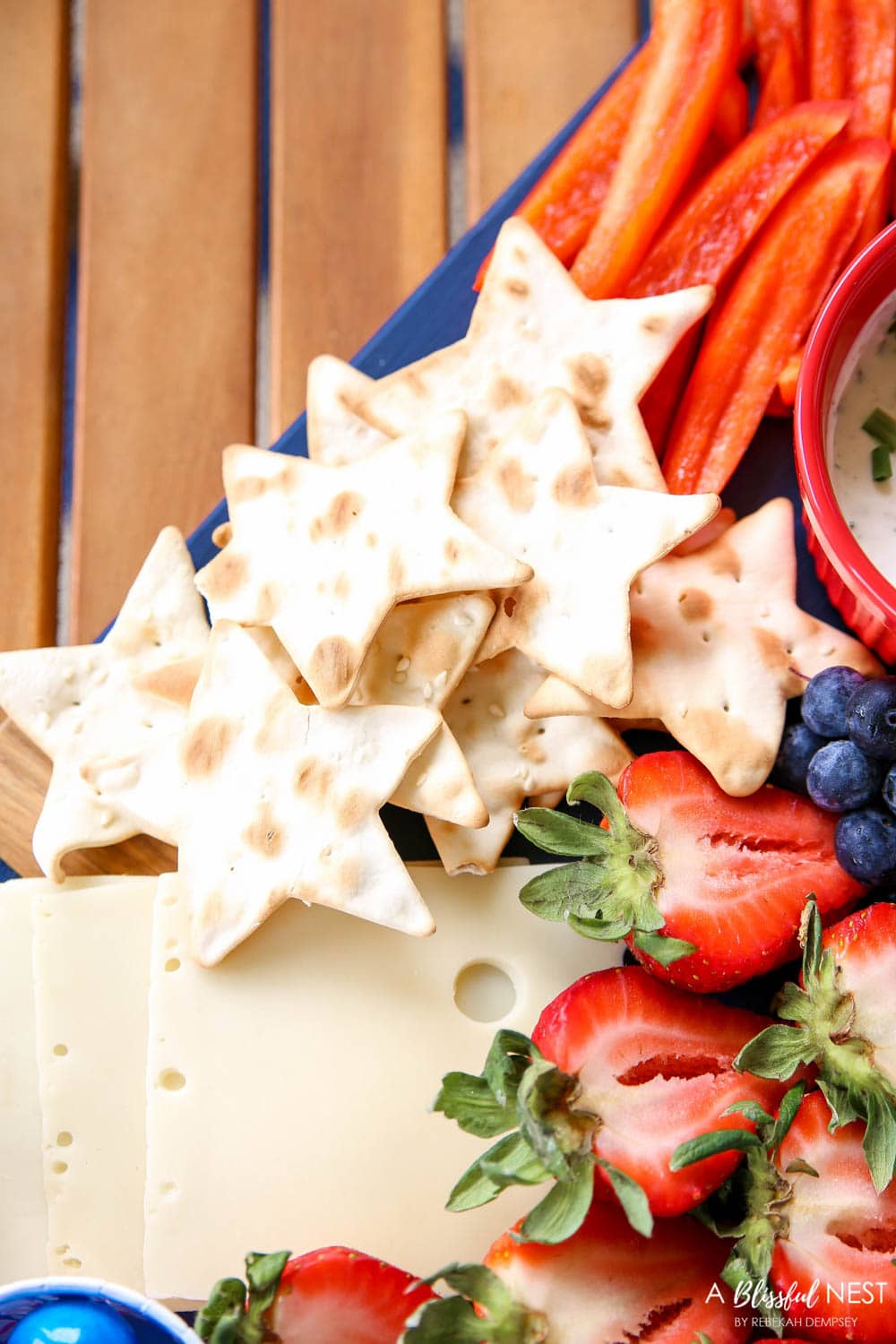 Step 4: Add crackers
Always have an assortment of crackers. There are so many flavors and textures to choose from when selecting crackers for your board. I love to have a plain option and then add ones with different spices to pair with the cheeses I am serving.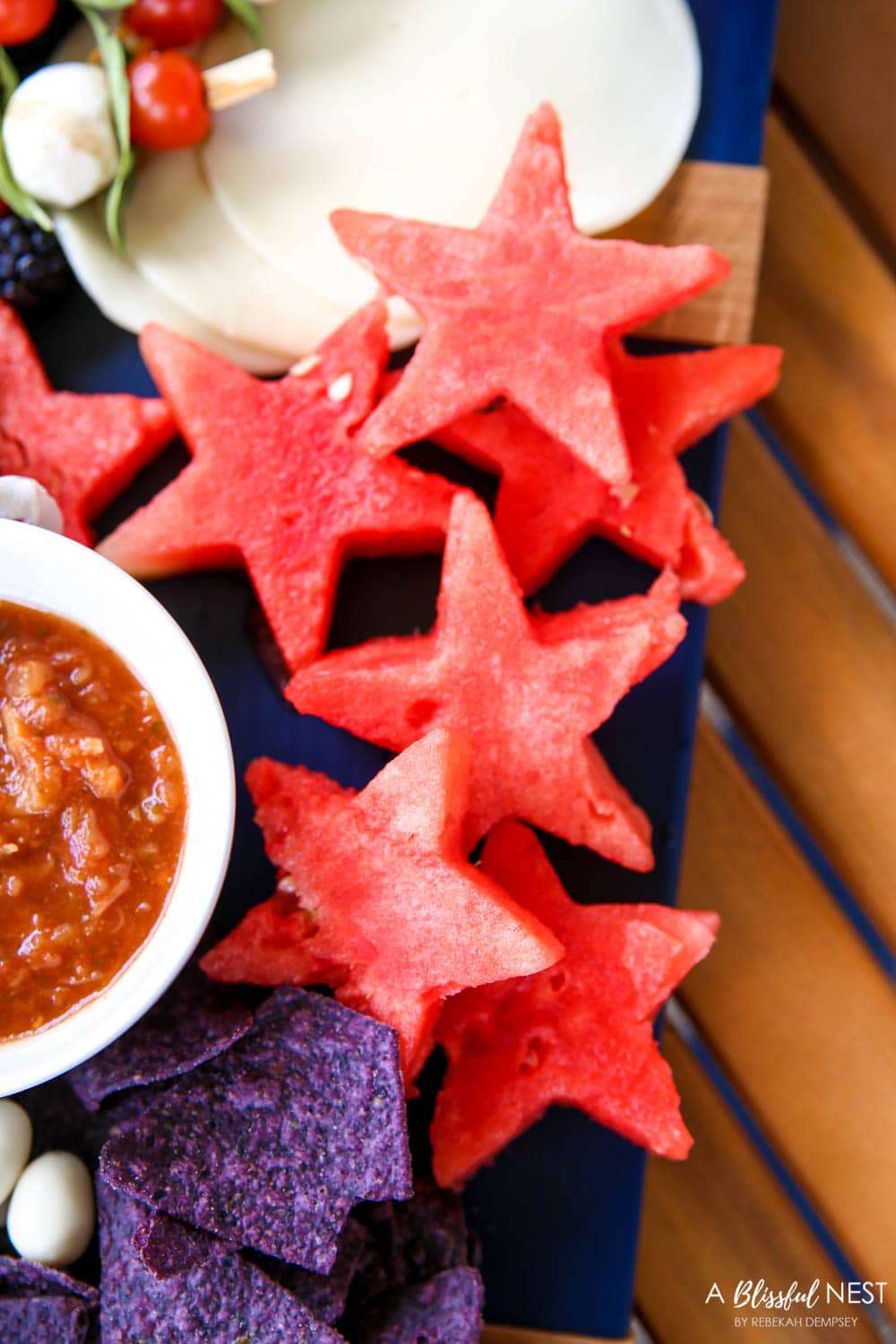 Step 5: Next add in your fruits and veggies
I think about what fruit is in season and what color they are, thankfully for summer strawberries and watermelon are both red. The watermelon can be cut with cookie cutters in fun shapes, I choose stars for the 4th of July. And strawberries cut down the middle to look like little hearts. Blackberries and blueberries give the blue touch to my board, and these flavors pair well with the cheeses.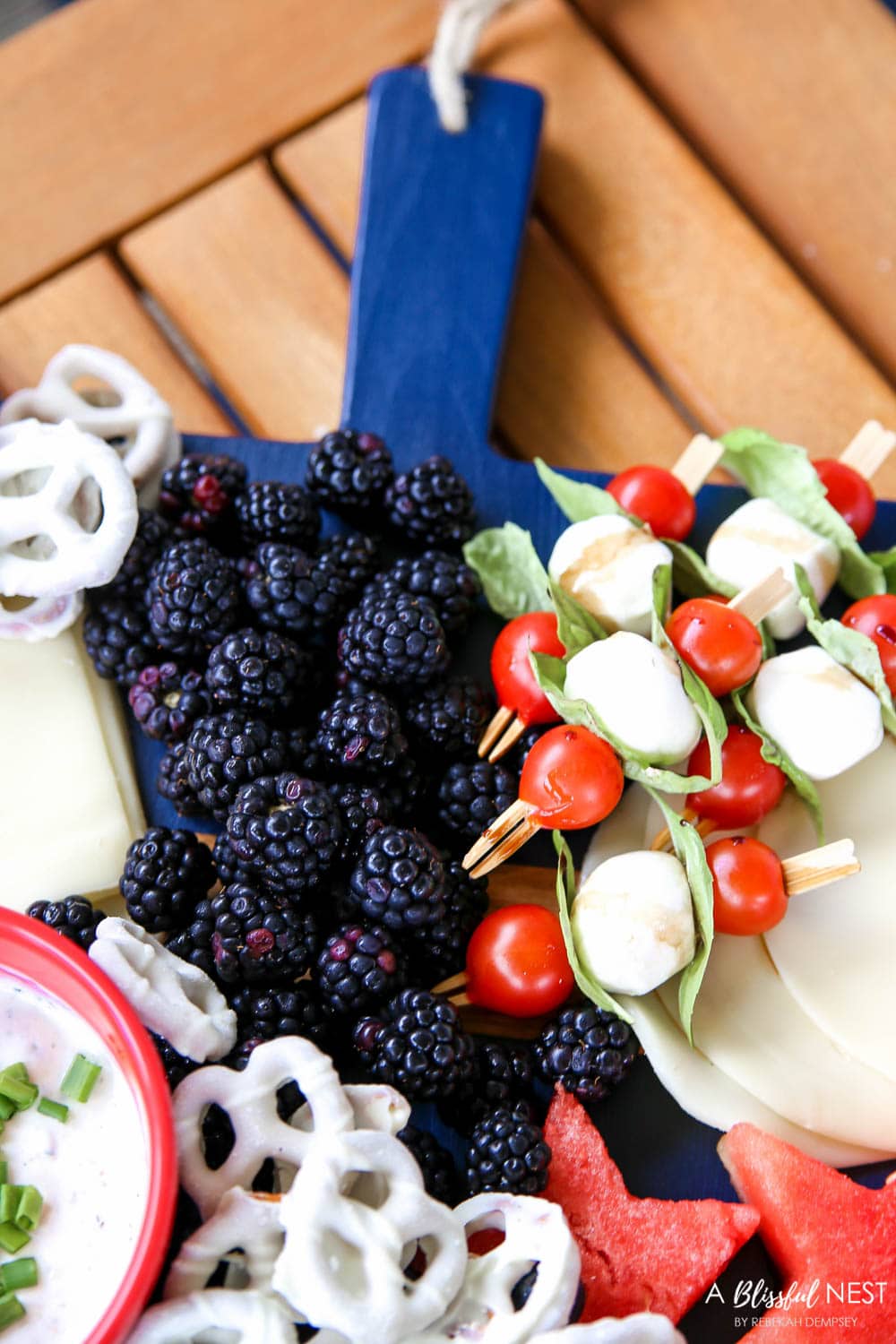 Step 6: Lastly add yogurt pretzels and candy
The filler foods can be any nuts, candy, pretzels, or dried fruits you choose. These can fill in gaps or holes you may have between your meats and fruits. Also to separate crackers from fruit. You can find little paper cups to put the candy or nuts in or even cupcake liners. I do like to place these items towards the middle of the board not on the ends so they do not roll/fall off.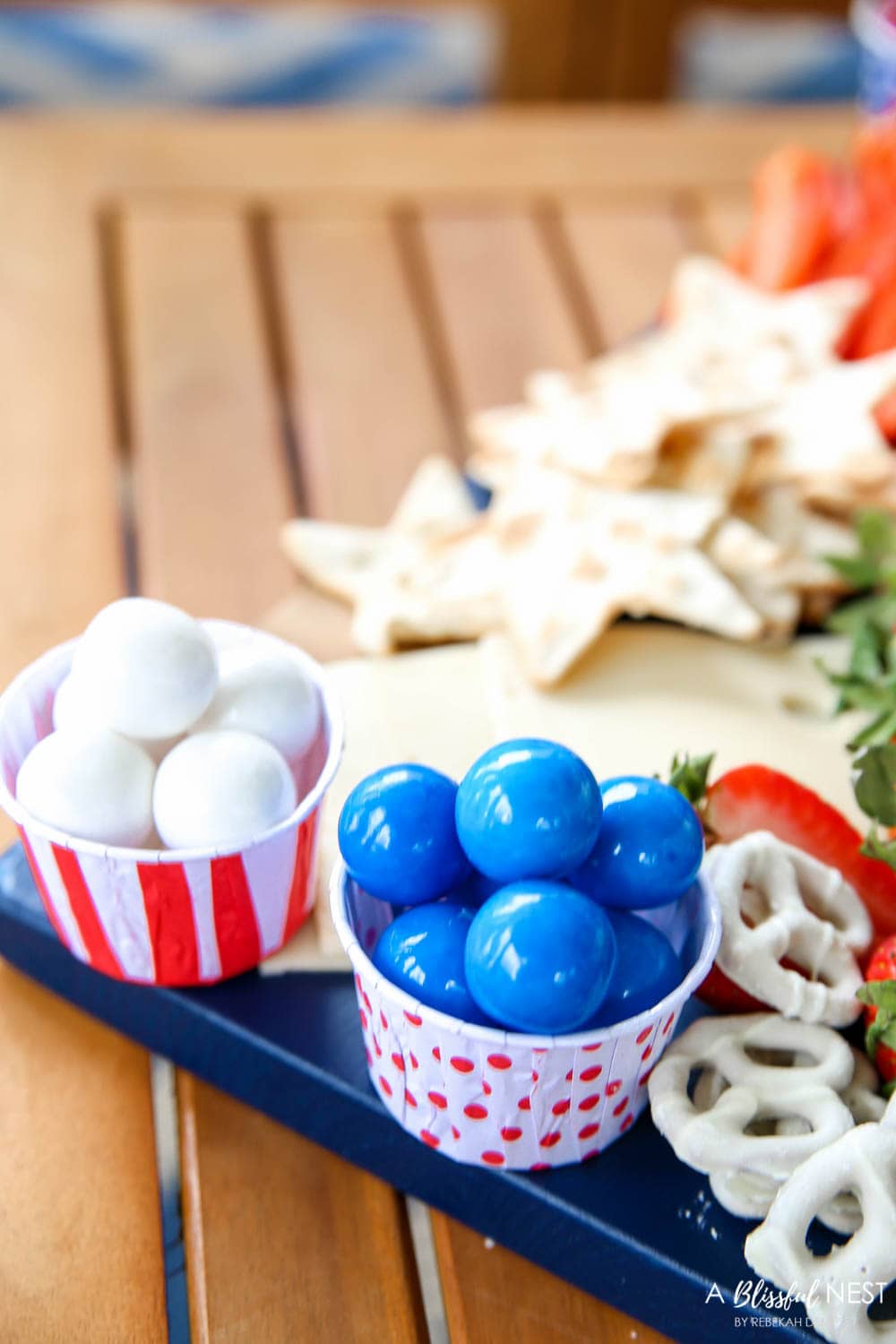 Step 7: Adding seasonal flowers
Adding flowers to your board can give it a fresh and colorful touch. Add flowers that are in season, and go with your occasion. Eucalyptus branches are always a great way to add some green to any board, you can add these at the end and just around the edges of your board.
Step 8: Grab a glass of wine or your favorite beverage
Grab your favorite drink, serve and enjoy with friends and family!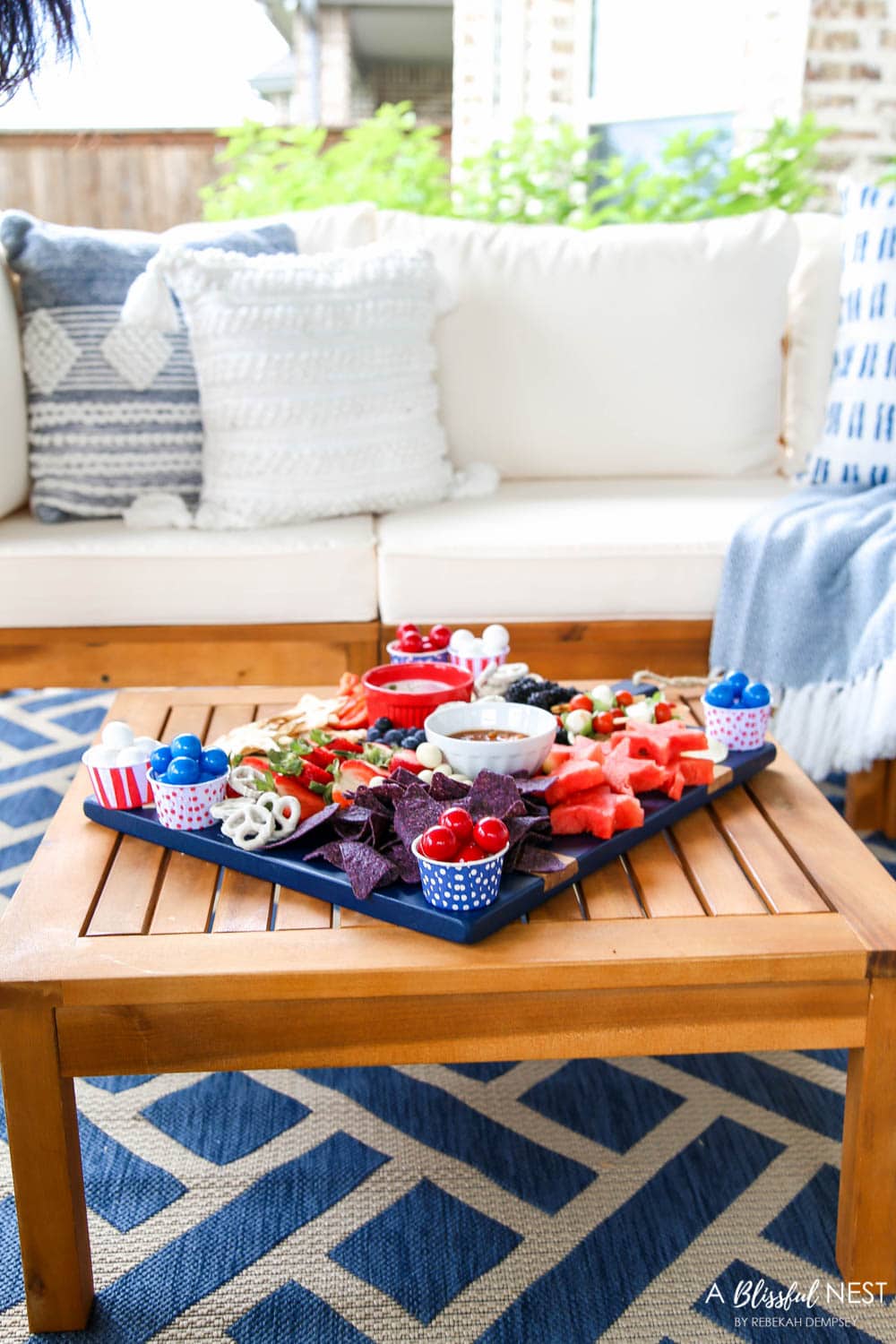 Favorite ingredients for a Memorial Day charcuterie board
If you plan to make a charcuterie board for Memorial Day, you could use many of the same ingredients from the 4th of July board, especially if you want to keep the theme of red, white, and blue. Using white cheeses and any red fruits and veggies that are in season will help fill your board up. Cured meats will add more of a red touch, you can create beautiful roses with cuts of salami like this one here. I also love to add candy for the kids. You can use M&M's, red Skittles, and red Twizzlers to keep the kids happy. The possibilities are truly endless to create a board that suits your family and friends.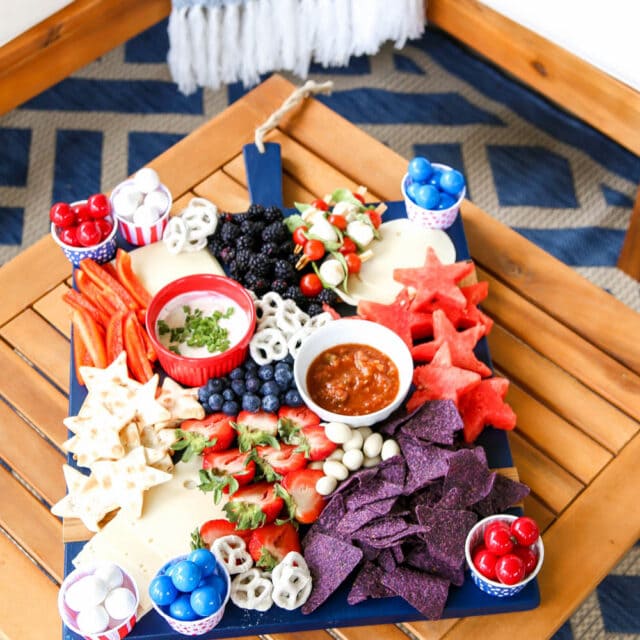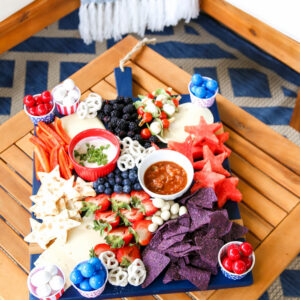 The Ultimate 4th of July Charcuterie Board
A beautiful patriotic charcuterie board with something for everyone to celebrate 4th of July, Memorial Day, and Labor Day.
Print
Pin
Rate
Ingredients
Blue Corn Chips

Salsa

Yogurt Pretzels

Almonds

Red, White + Blue Candy

White Cheeses

Caprese Skewers

Red Peppers

Ranch Dip

Blue Berries

Blackberries

Watermelon

Strawberries

Star Crackers
Instructions
Choose the board or platter for your occasion

Place any sauces and/or dips in ramekins

Next add in your fruits and veggies

Lastly add yogurt pretzels and candy

More Charcuterie Board Ideas + Inspiration
Get even more ideas on charcuterie boards with these other posts. Just click on their titles to go right to the posts.
Follow along to get more of my tips on home decor, DIY, and lifestyle on the following: