Easy Affordable Updates for Your Home for The New Year
This post may contain affiliate links. Please read our disclosure policy.
Happy New Year everyone! I hope you had an amazing New Year's and are refreshed for another fantastic year.
I love to take this time to dream and make actionable plans for our home and our family. One of my favorite ways to do this is list everything I want to accomplish for the year and then back into my goals. Sometimes when it comes to home renovations and updates it can be costly and take time. I love to see progress though so I thought I would share some easy and affordable updates for your home for the new year that you can do now without spending a ton of money. Am I speaking your love language yet??!!
I have never been one with huge budgets and always one to bargain shop so if you are like me and want to see big changes quickly and not strain the pocketbook then take a look below and enjoy!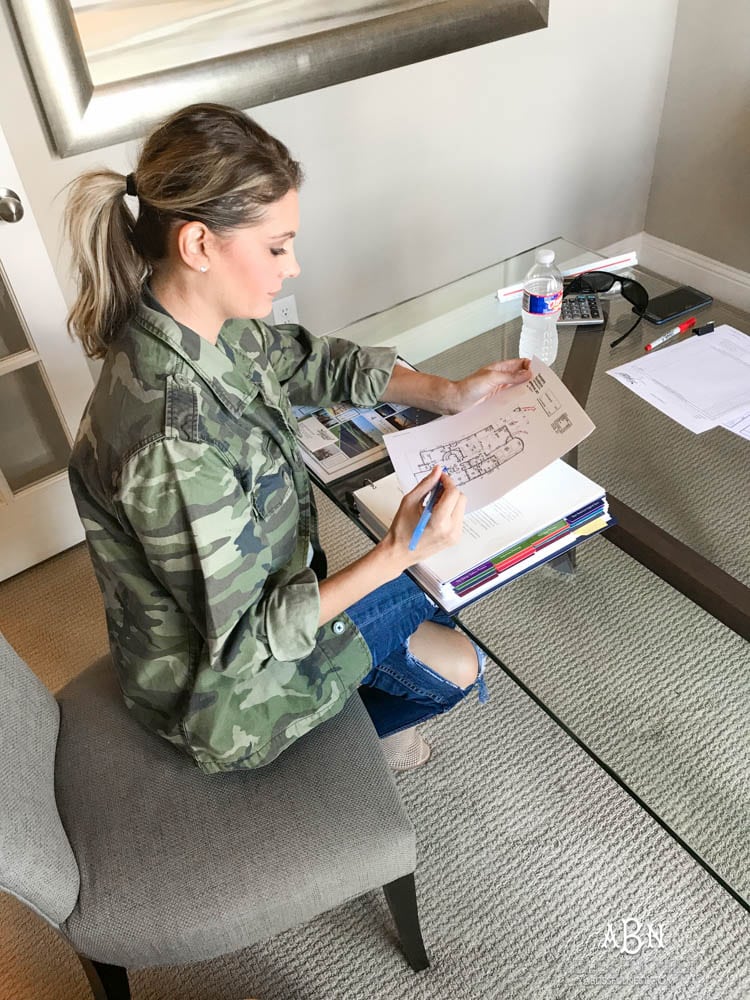 Easy Affordable Updates for Your Home for The New Year:
1. Update Your Paint/Wallpaper
Updating the paint color of a room might be the easiest and most affordable way to get a dramatic change to your space and one fo the least expensive ways. Take the room from a light shade to a dramatic pop with a navy paint color or a red paint shade. I like to think of the ceiling as a fifth wall so this can be a fun element to paint in a room for an unexpected and bold look.
Keep trim updated and repaint and/or touch them up. I've got all my favorite white paint colors for you to select the perfect shade to go with your home.
If you want to go even bolder, then wallpaper a feature wall or the whole room. I love using removable wallpaper so when I want to make a change it is easy to take down like in our powder room project.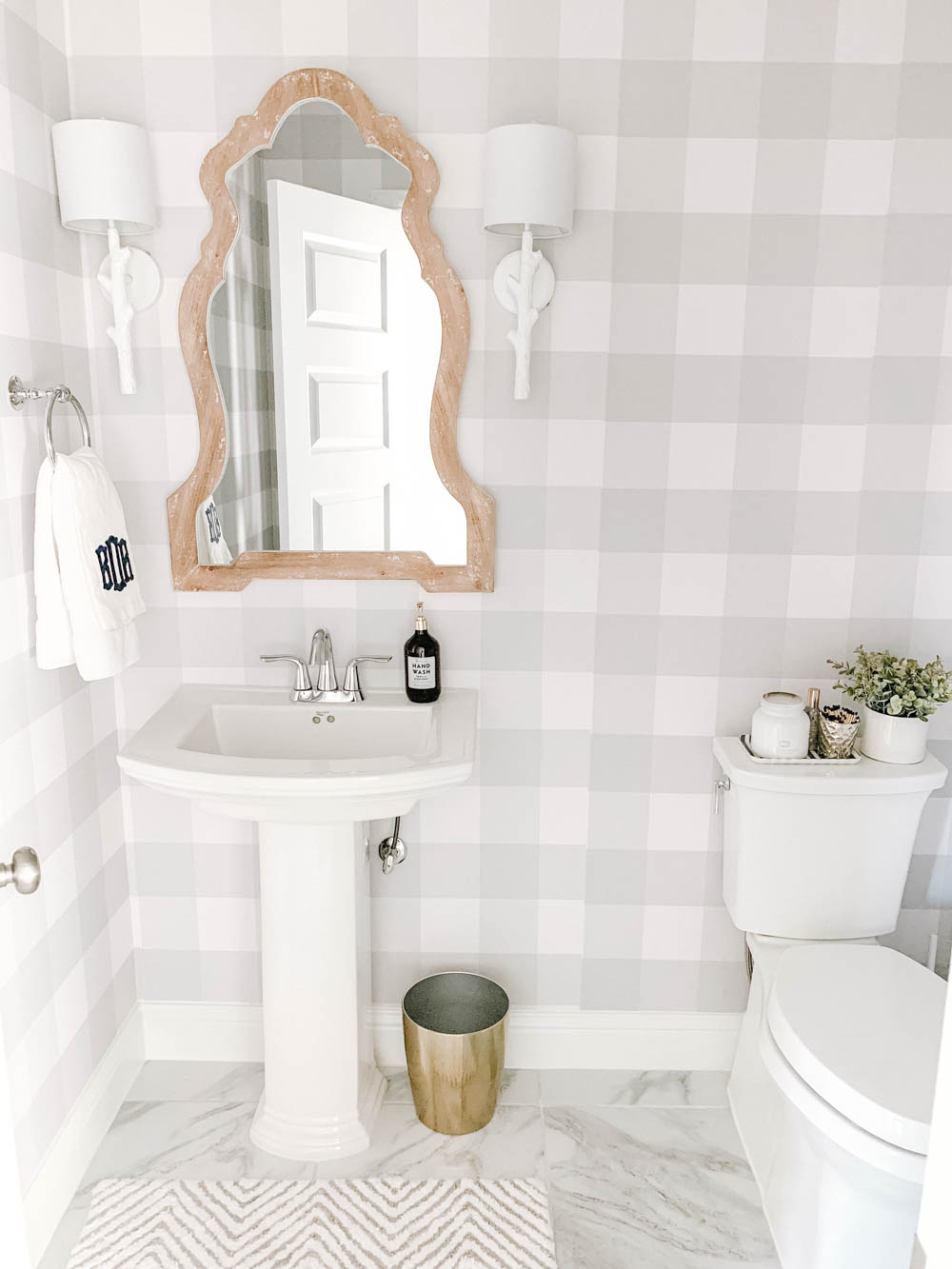 2. Refresh Your Accessories
I love to clean the slate after the holidays and remove all my accessories in a room. Then I reshop what I have or go to one of my favorite discount stores like Tuesday Morning, At Home or Homegoods for new ones.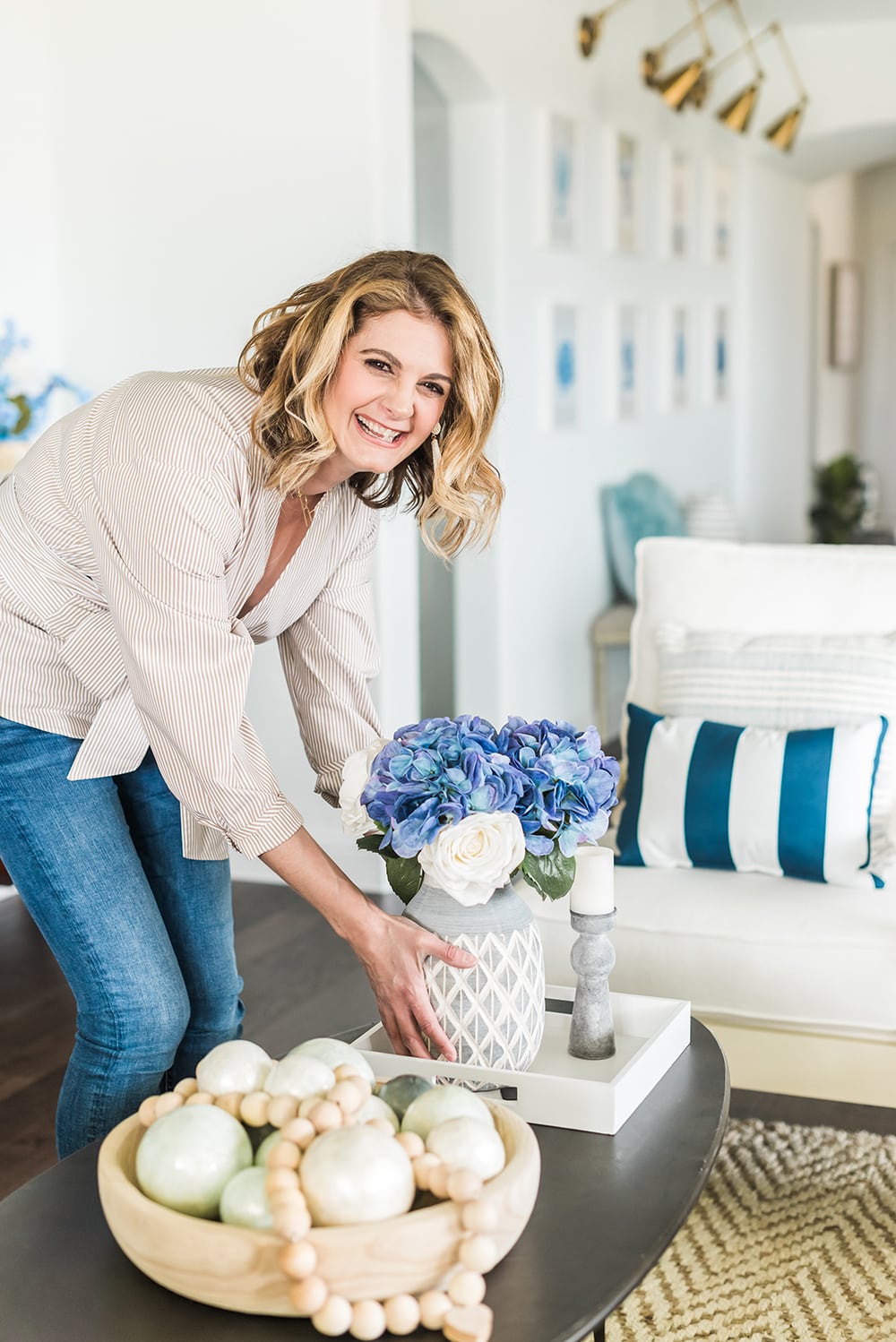 Create a space in your attic or garage to store the accessories you are not using. Last fall I created a space like this with the help of a professional organizer and it made a world of a difference. I can see what I have so I don't spend money buying things that are similar to what I have stored on my shelves. This is a great long term money-saving tip.
Restyle your coffee table, how to decorate your fireplace mantle and/or how to style your console table with my guides to make the job simple and easy!
3. Reconfigure Your Room
Rearranging your room will instantly make the space feel brand new and refreshed. Space planning can be a challenge so use these tips to recreate a new and dynamic space.
Tips to rearrange a room layout:
Select a new focal point
Add a rug to ground the furniture
Swap out chairs from another room
Change the direction the furniture is facing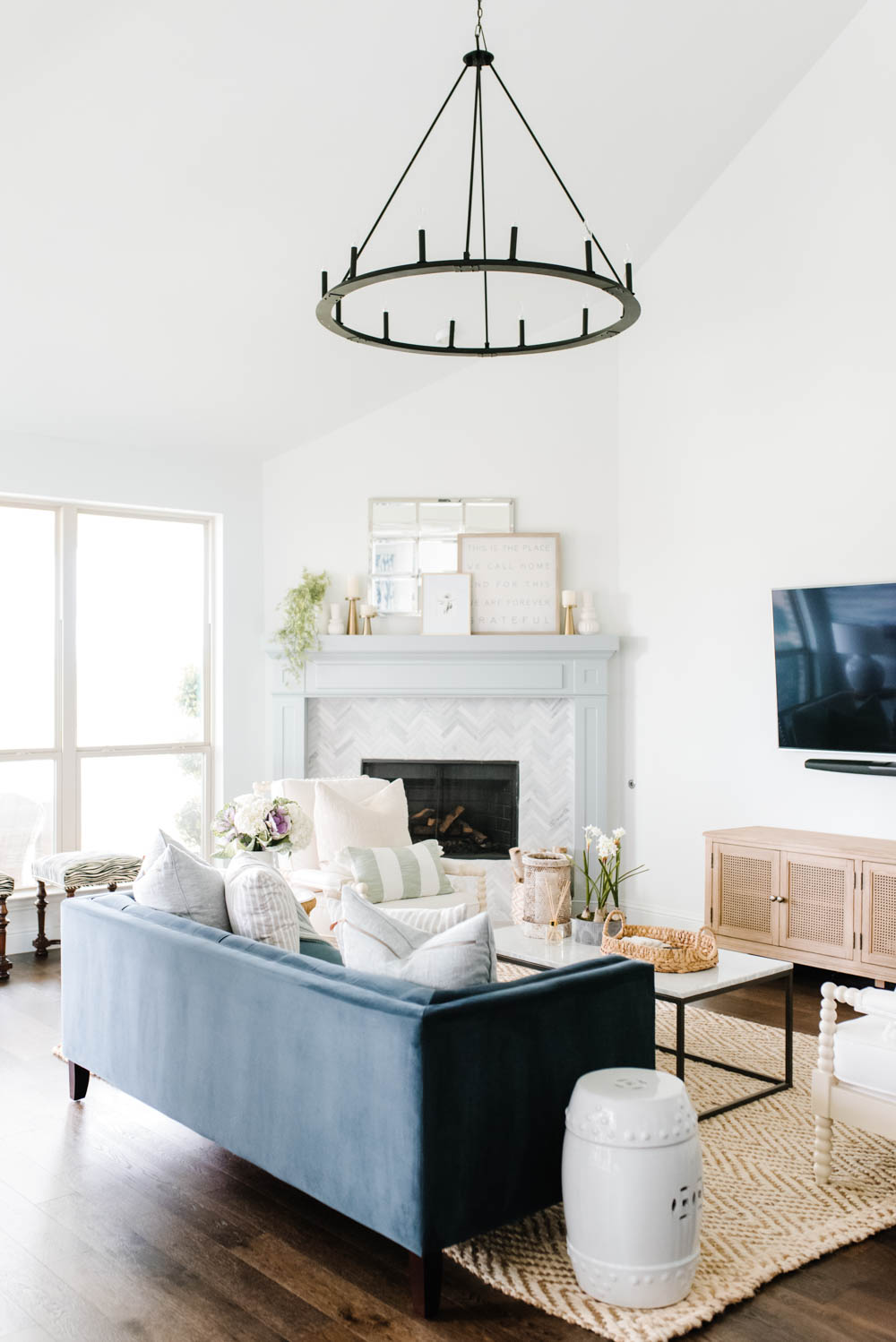 4. Update Your Light Fixtures
This is one of my favorite ways to update a room for the new year! I really think people don't realize the power and dramatic effect light fixtures make to a room. They can take a room from bland to high designer look in a minute.
Selecting lighting can be difficult but staying with the finish selection you already have in the room is a good rule of thumb. Add a little sparkle with some crystals or go for a dramatic masculine look with a matte black finish.
Add art lighting and sconces to a space for extra lighting and to showcase art. I love this lighting hack trick by my friend Brooke so you can add lighting and not have to add wiring through the walls.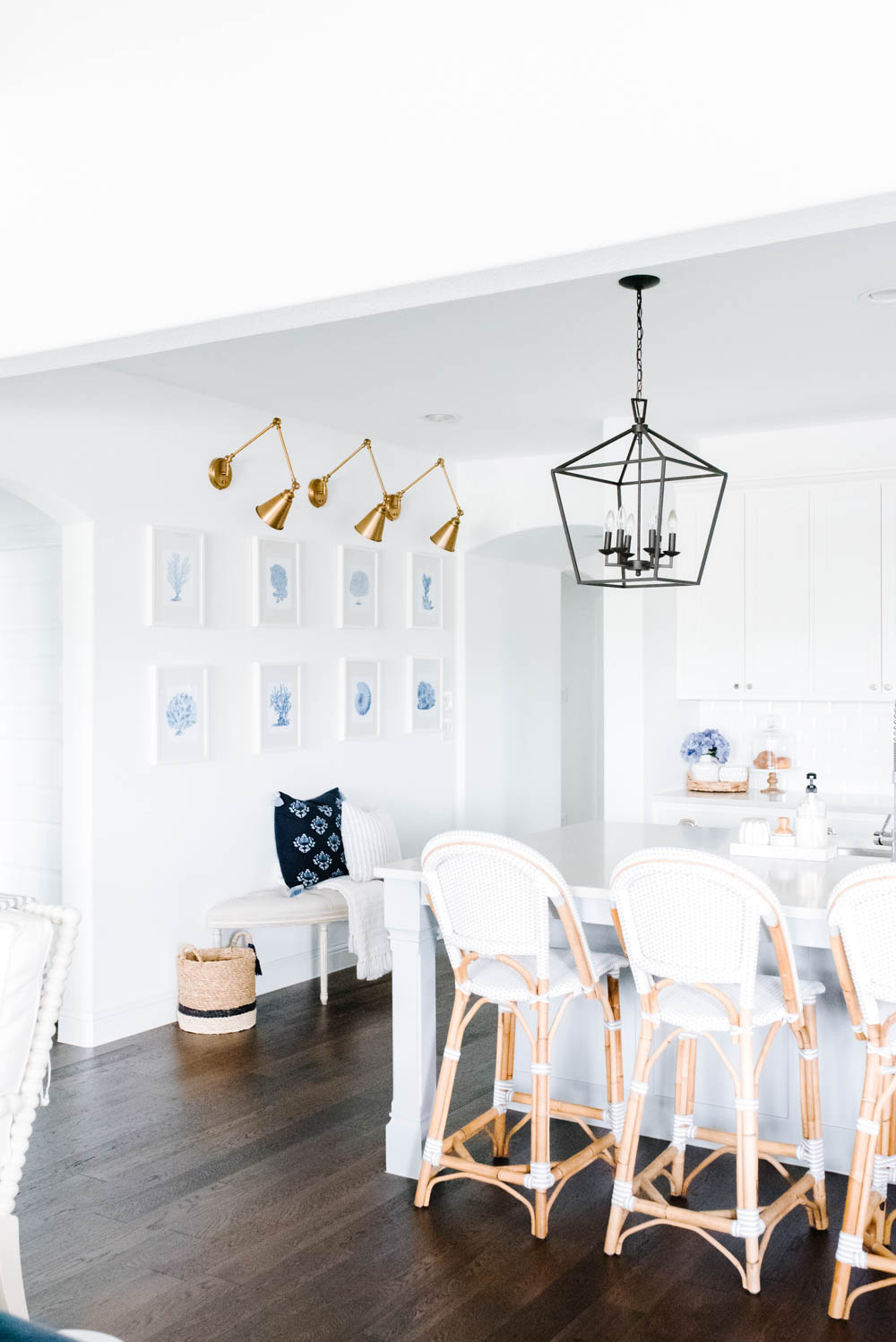 5. Mix in A New Pattern
This might be one you have never thought might refresh a space that much but it really makes a big impact. I love taking out pillows and throw blankets from the holiday season and updating the space with a fresh pattern and design.
You can even do this in a breakfast room with a table runner to change the look. Mix in some contrasting placemats or textured ones for a more layered look.
One of my favorite things to do is mix patterns. This is a fun whimsical look that will make your room look more like a designer styled it. Get my tips on how to do this effortlessly here.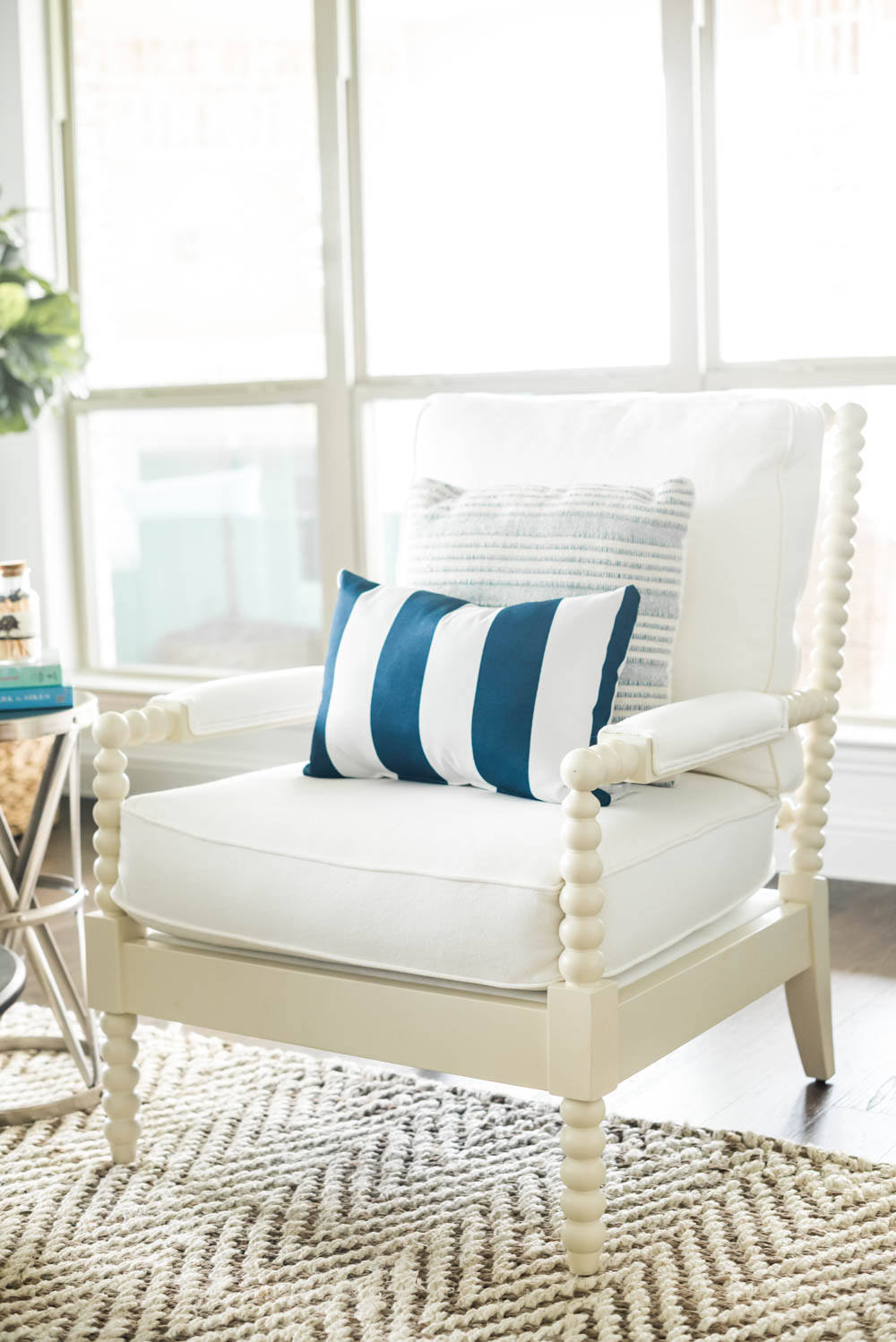 6. Update Your Artwork
Switch out your artwork for a whole new vibe in your room. Create a gallery wall or layer art on your fireplace mantle. Art is a great way to pop in new colors into a space and create a new focal point in a room.
I love to pick new art pieces at antique stores or even Target. They have super affordable and unique pieces. Art can be anything from a canvas to an oversized rattan bowl that you hang on the wall. Think outside of the box when selecting artwork for a whimsical and original look.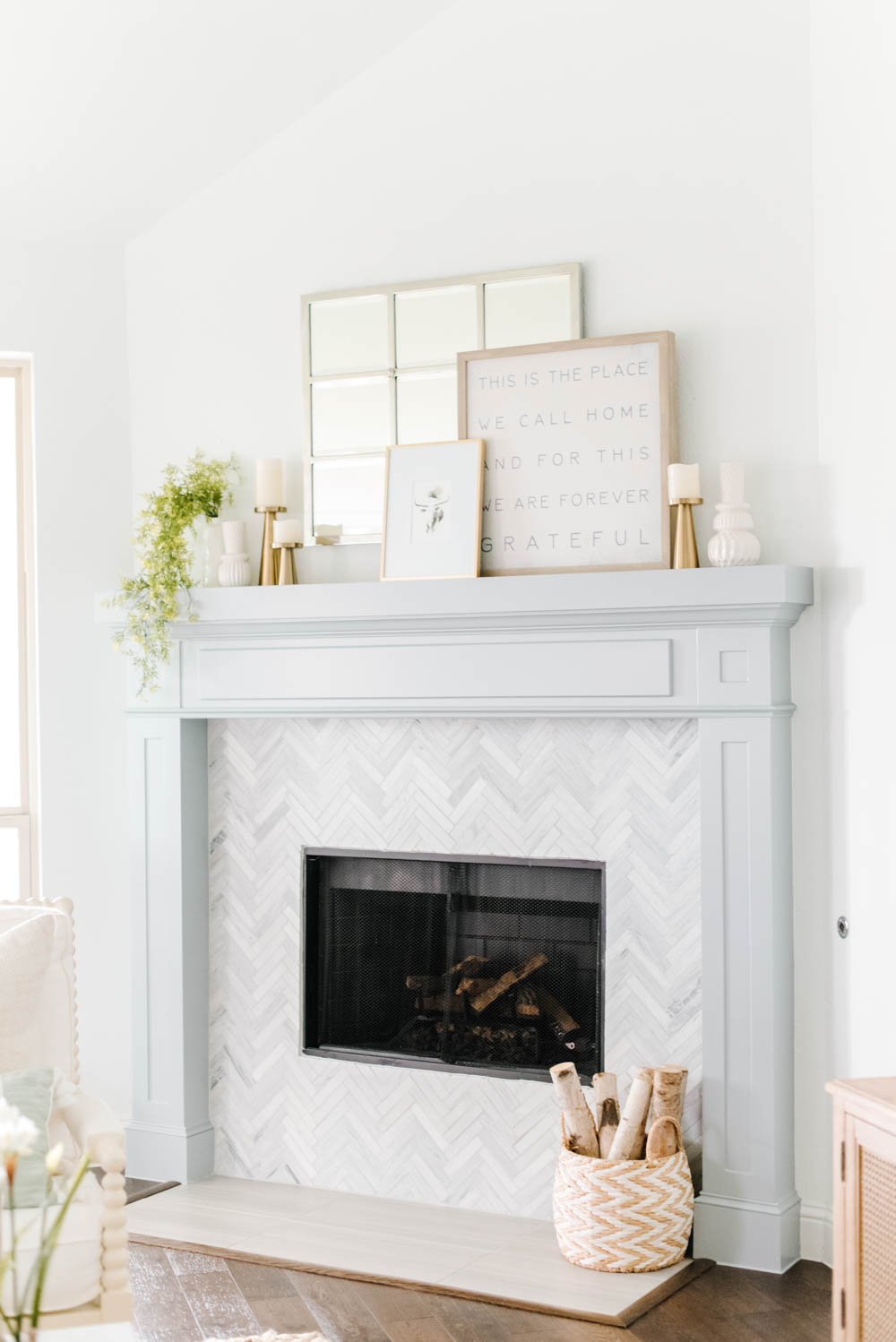 7. Declutter and Reorganize
This might be the one that makes you feel the best! Declutter your drawers, closets, and cabinets and get baskets and storage containers to reorganize them and help keep them clean. I bet there is a lot of stuff you did not use over the last two years or even six months. Those fall in the category of to be purged!
Grab my step by step guide to decluttering your home and all my tips on organizing the different spaces in your home. I broke it down to make it simple and easy to do.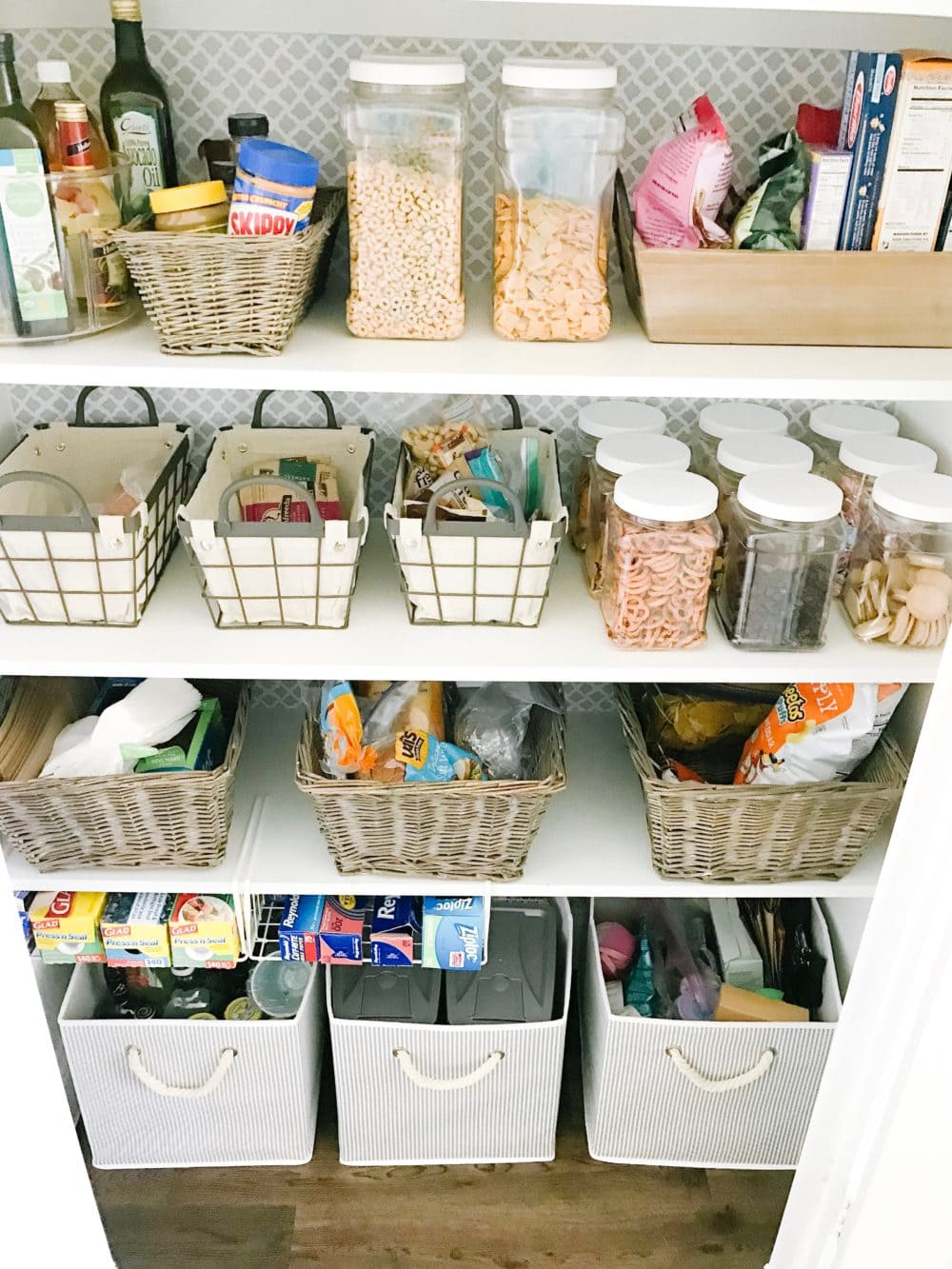 8. Update with New Faux Florals and Greenery
There are so many great faux florals and greenery these days on the market and they have become more affordable. I like to grab mine at Homegoods, Tuesday Morning and At Home. I actually have a stash upstairs in our attic storage that you can see here on how I organize them.
I love to place them in our powder room, kitchen, living room, and entryway. The key is to select florals that are growing in the current season. It makes it look more authentic. So you would not use sunflowers in the wintertime for example.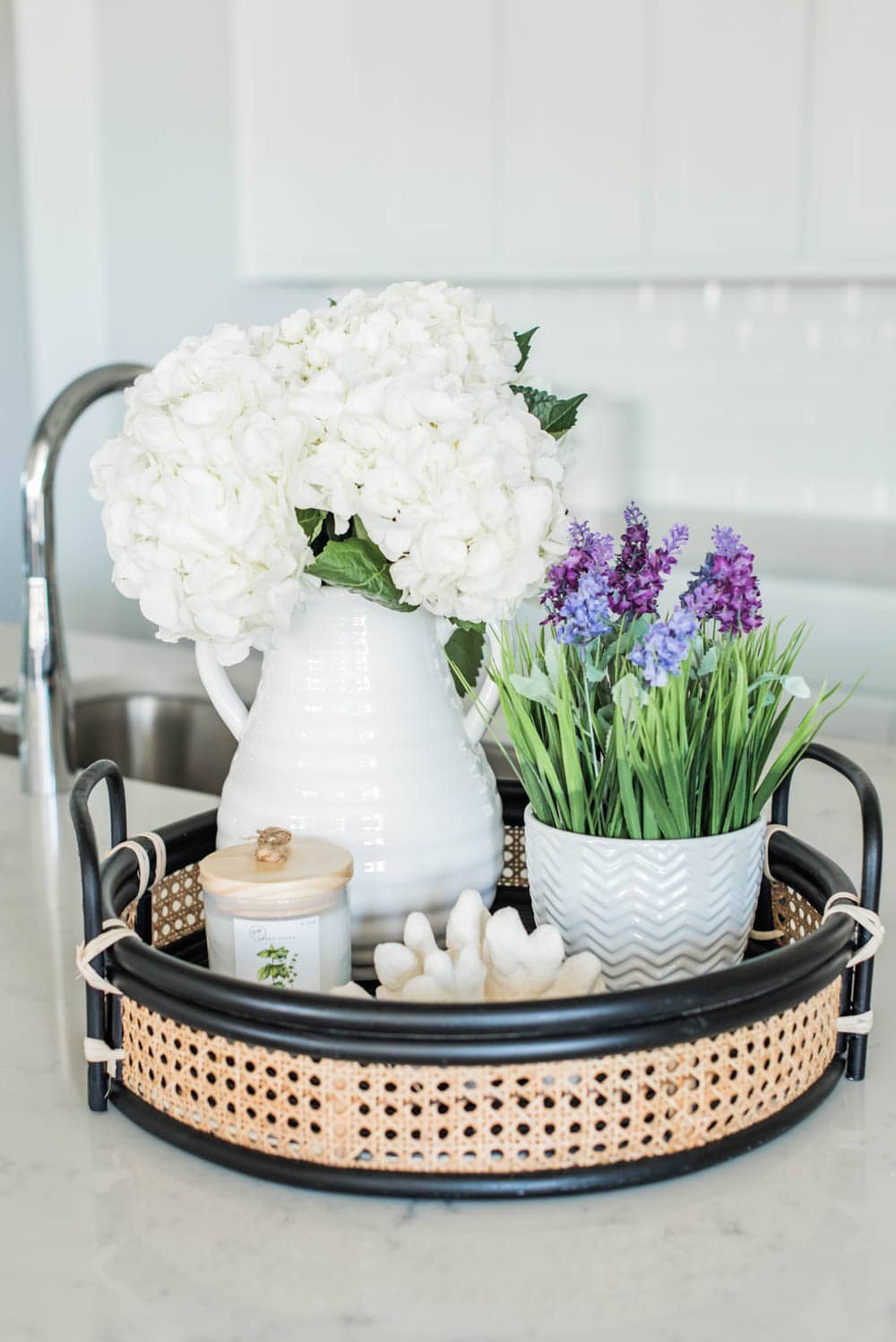 9. Refresh Your Bed Linens
Typically during the winter, I like to add layers of bed linens to our beds. It's always easier to peel back the layers if you get too hot but when it's in the middle of the night and it is cold there is no way I want to get out of bed and find more blankets.
During the winter, I like to have a coverlet, duvet cover, another lightweight quilt and then a throw blanket. This seems to be the perfect mix no matter what climate you are in.
Some of my favorite places to get good quality bedding are Pottery Barn, Serena & Lily and ——-.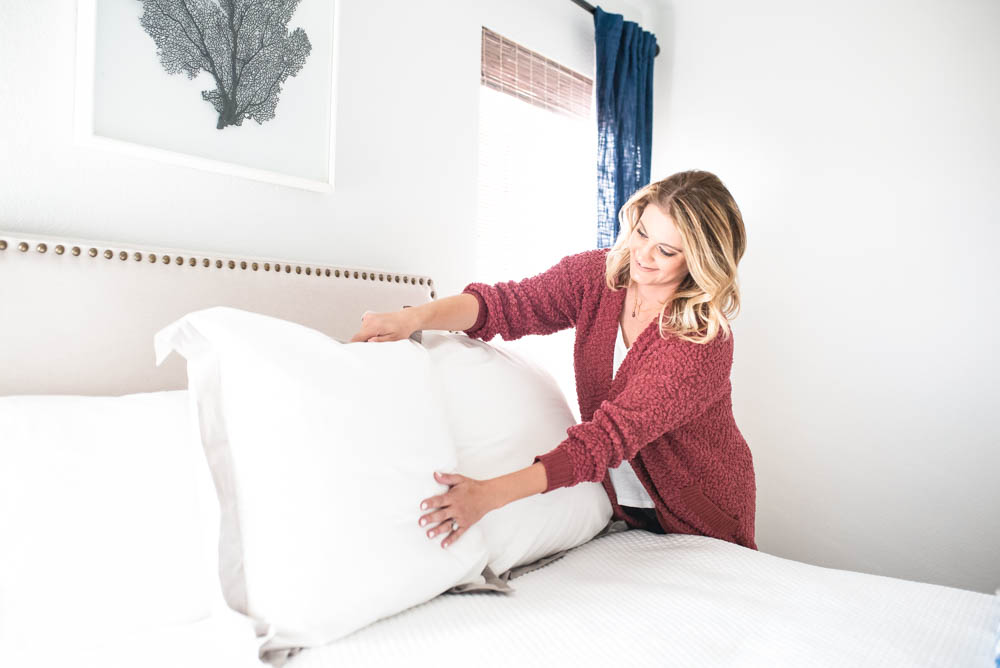 10. Update Your Curb Appeal
This last tip may sound like it would cost a lot of money but it actually is one of the most affordable updates for your home for the new year. With a few simple additions and an extra couple hours on the weekend, you can totally transform the front of your home and add value to your property.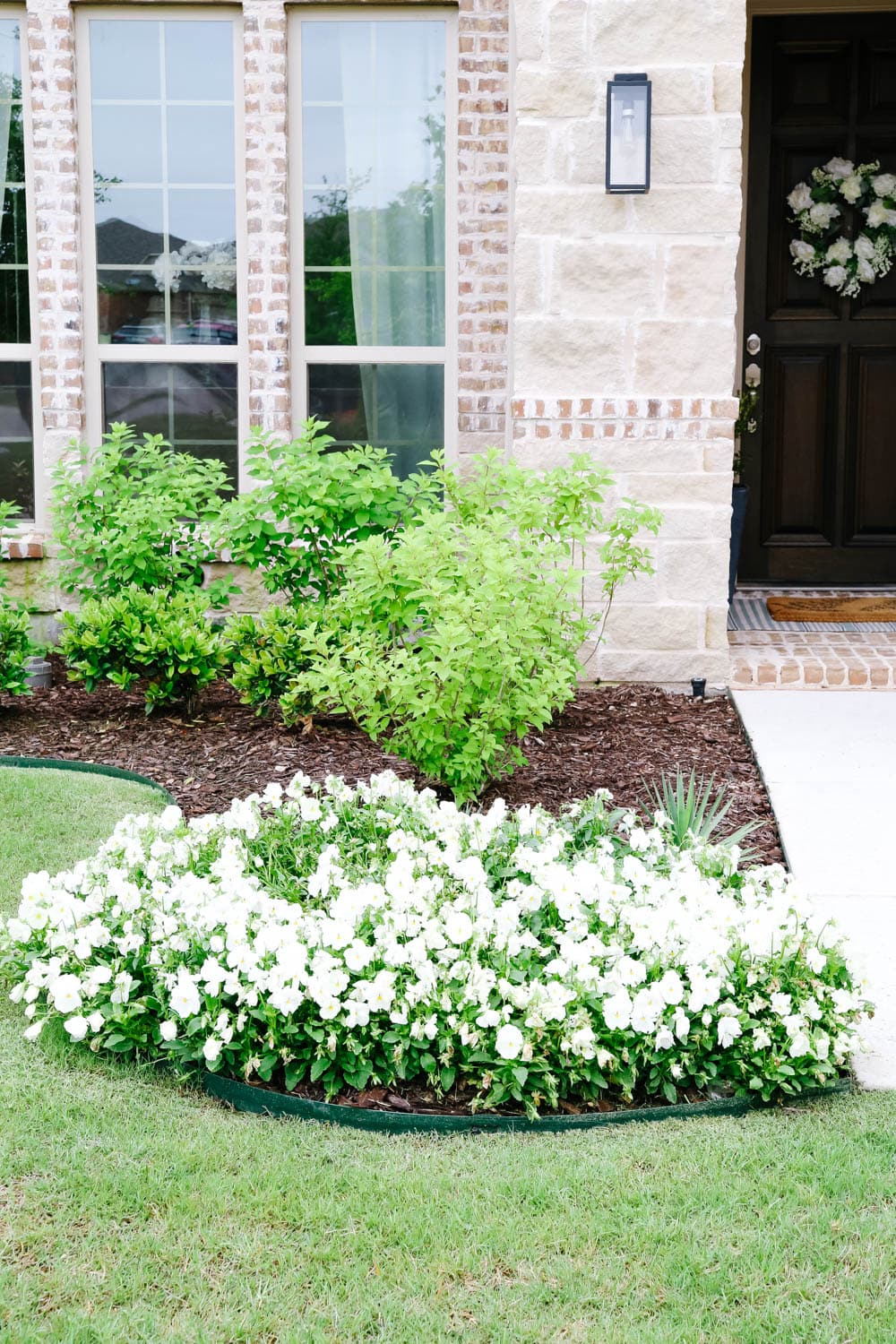 I hope you've gotten some simple and affordable ways to update your home and refresh your spaces. I can't wait to hear what is on your list to accomplish around your home this year!
Need to bookmark this for later?
Pin Our Image: