Last Minute Christmas Gift Ideas
Still, working on finishing up your Christmas shopping, or haven't started yet? Haha! Either way, you're in luck because you still do have a bit of time to get gifts in time and there are sooo many great gift ideas out there. If you missed it, be sure to check out my timeless gift guide for him, cozy gifts for her, gifts for her under $50/100/splurge, and gifts for the hostess for even more ideas, but today I wanted to round up some of the hottest gifts still available (and that you can easily still get in time for the holidays) if you're still shopping!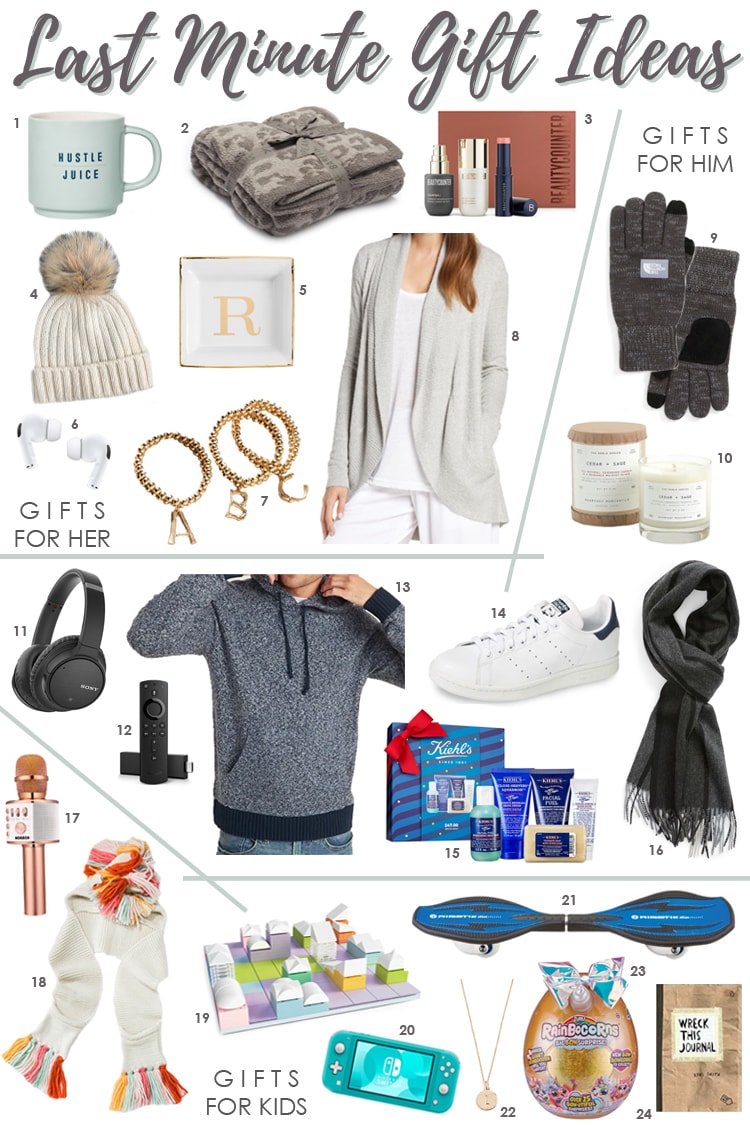 1 | 2 | 3 | 4 | 5 | 6 | 7 | 8 | 9 | 10 | 11 | 12 | 13 | 14 | 15 | 16 | 17 | 18 | 19 | 20 | 21 | 22 | 23 | 24
This post contains some affiliate links for your convenience. Click here to read my full disclosure policy.
Gifts for Her:

1. 'Hustle Juice' Mug: how cute is this?! Perfect for the girl boss in your life, and also would be a great stocking stuffer idea.
2. Barefoot Dreams Throw Blanket: this is the absolute softest, coziest blanket out there. It's so popular and currently in stock in all color combos, which is rare, so act fast! You may want to even get yourself one while you're at it – it's THAT good.
3. Beauty Counter Glow Getter Trio: if you are looking for the best beauty gift to give, this is IT. Whether she's familiar with Beauty Counter already or not, she will fall in love with this set and the brand. They make the best, clean skincare products and also have a variety of makeup products (prettiest lip shades ever!) that you will LOVE. This set comes with the Overnight Resurfacing Peel, Instant Glow Illuminating Cream and Illuminating Cream Highlighter. Everything you need for a natural, beautiful, bronzy glow!
4. Pom-Pom Ribbed Beanie: another fun find that comes in so many colors and is a classic, perfect gift idea for any woman on your shopping list.
5. Initial Jewelry Catchall Tray: cutest catchall tray that's affordable, dainty and perfect to gift.
6. AirPods: whether she multi-tasks, works a ton, loves to workout or just is always on the phone or listening to music, podcasts, etc., these AirPods are the best gift to give. They've been super popular for a few years now and this is the newer version that everyone raves about – such a perfect gift idea for any woman, or anyone on your shopping list!
7. Monogram Beaded Bracelet: something so different, dainty and beautiful! Perfect to add to her bracelet stack.
8. Barefoot Dreams Cardigan: this cozy and cute cardigan comes in a ton of colors and is seriously the softest. You can't beat this cardigan and it's the best gift to give!
Gifts for Him:
9. The North Face Tech Gloves: nothing better than still being able to type and text while keeping your hands warm in the winter! There's also a spot in these gloves to store your phone which can really come in handy.
10. Cedar and Sage Candle: this scent is a classic and something the men will love. He can keep it on his desk or nightstand and burn it while he works or relaxes!
11. Noise Cancelling Headphones: some of the best noise-canceling headphones I've ever seen! They work so well. They play music loud and clearly and you really can't hear anything else around you which is SO nice. They have a 35-hour battery life and the Bluetooth technology is the best part!
12. Amazon Fire Stick: the best streaming device out there! So affordable and you can do so many things on it – watch TV shows, movies, stream live sporting events, play games and so much more.
13. Sweater Hoodie: the material of a nice, great quality sweater with the cozy feel of a sweatshirt! Men love nothing more than being comfortable and this is the best of both worlds.
14. Adidas Sneakers: these sneakers are simple and classic and a pair he can wear with every outfit!
15. Men's Grab & Go Essentials Kit: this skincare kit includes Kiehl's best face wash, shave cream, moisturizer, hand salve, and soap. Everything he needs daily in a ready-to-gift gift set!
16. Striped Cashmere Scarf: this beautifully made cashmere scarf is 25% off right now! It also comes in blue and is such a nice gift to give him, he'll love it and get tons of use out of it!
Gifts for Kids:
17. Bluetooth Karaoke Microphone: the funniest gift for kids of all ages! They'll love playing karaoke music and this Bluetooth microphone makes it so much easier to move and dance around with.
18. Unicorn Hooded Scarf: such a fun cold-weather accessory the girls will love!
19. Little Architect Model Kit: okay, this is SO cool. It's a 130-piece set that lets the kids re-design and re-organizes the buildings and build their own little cities. It's a block kit that they can mix, match and play with. I love this idea, it's perfect for the little designers and architects out there!
20. Nintendo Switch Lite: this is the best gaming system out there for kids to be able to take on-the-go with them. It's so fun and such a classic with a modern spin! Comes in so many fun colors but I'm especially loving the turquoise and I think the kids will too.
21. Razor Ripstik: this is like a hybrid of a skateboard and scooter in one and it is under $50! Get them outside, moving and playing more by gifting them this. They will love it.
22. Initial Pendant Necklace: such a beautiful necklace for your girls no matter how old they are!
23. Rainbowcorns Big Bow Surprise: this is one of the hottest gifts out there this year! Get your hands on this while it lasts.
24. Wreck this Journal: your young pre-teens (and even teens!) will absolutely LOVE this journal. It's basically filled with tons of small activities that you do and it comes a piece of their own art. So fun for them and something they'll love to do by themselves or with friends!
I hope these gift ideas help you to finish up all of your holiday shopping!
You can check out all the Holiday Gift Guides for even more gift-giving ideas!