Holiday Gift Guide 2019: Timeless Gifts for Him
Do you struggle with finding the perfect gift for the man on your shopping list? If so, you are not alone! Men can be very hard to shop for but in my search I always like to look for gifts that are timeless… Things he'll have for years, can use a lot (or year-round even) and for a variety of reasons – to wear, to use, to enjoy, that kind of thing. If you are searching and need some help in finding the perfect gift for him this holiday season, look no further! Here are the best, timeless gift ideas out there for men.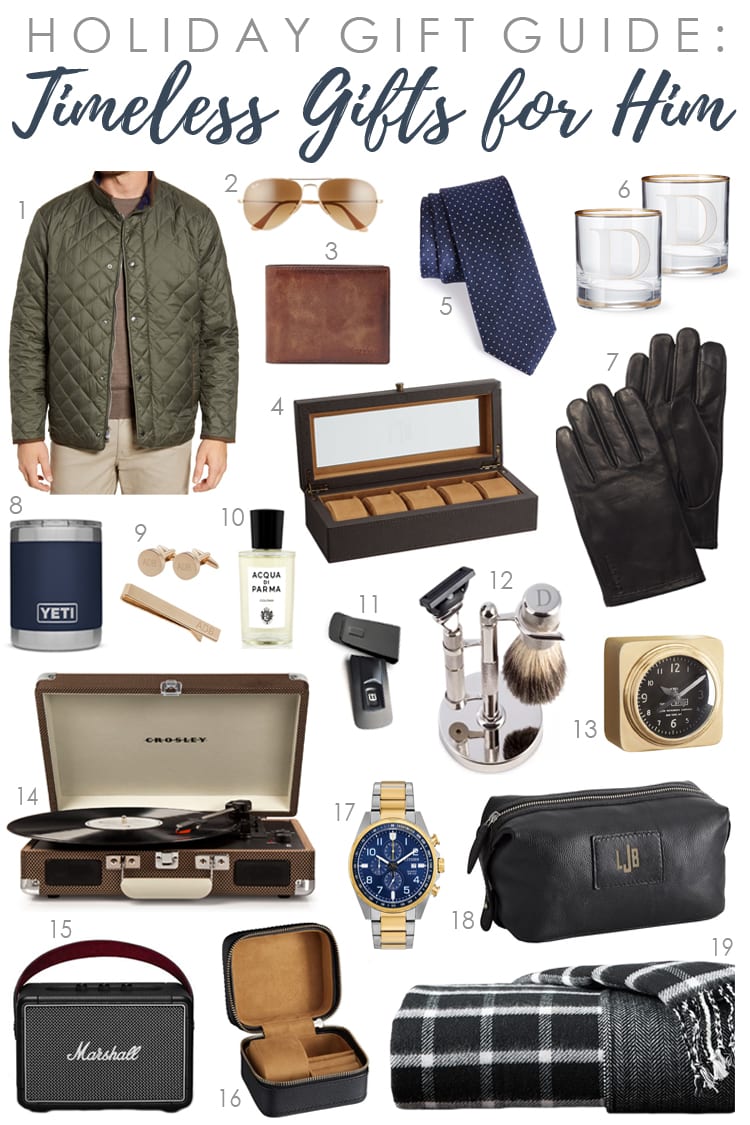 1 | 2 | 3 | 4 | 5 | 6 | 7 | 8 | 9 | 10 | 11 | 12 | 13 | 14 | 15 | 16 | 17 | 18 | 19
This post contains some affiliate links for your convenience. Click here to read my full disclosure policy.
1. Quilted Jacket: this jacket reminded me of a lot of Burberry or Barbour coats which is why I initially loved it so much. It's very well made, water-resistant and also comes in black.
2. Ray-Ban Sunglasses: these aviator sunglasses are a true classic and are one of the first things that came to mind when thinking of the very best timeless gift ideas.
3. Leather Wallet: it's pretty likely that he can use a new wallet… And if that's the case, this is a great option! The cognac leather is a classic color and is under $50.
4. Monogrammed Leather Watch Box: here is a truly timeless gift because it's something that he can pass down one day. The monogram is optional and it's such a nice piece for him to add to his dresser to store his watches in!
5. Navy Dotted Tie: a classic, under $30 tie for him to add to his collection! These ties are incredibly well made, SO affordable and come in such a large variety of colors and patterns. They are the best – I highly recommend them for gift giving.
6. Monogram Double Old-Fashioned Glasses: how stunning are these?! I LOVE the gold rim. They are so classic! They're really affordable (and on sale right now) and you can buy them separately so you get to choose how many you need or how many to gift. The best part is, they're a set you wouldn't mind keeping in a glass-doored cabinet in your kitchen – they're that beautiful! Am I right ladies??
7. Leather Touch-Screen Gloves: this pair of leather gloves is so well made. The leather is so soft and durable, so they'll last, and they have the touchscreen fingers so that he can still access his phone while staying warm! This is a really affordable pair for how great the quality is!
8. YETI Tumbler: for a man who leaves early for work, likes to take long drives or just enjoys a hot or cold drink (and who doesn't?), a YETI tumbler is a must-have and a great option for you to gift him this year! They come in so many colors/styles/sizes and really do work even better than you'd expect.
9. Personalized Cuff Links & Tie Clip Set: there are a couple of finishes available for this set to choose from, and it's such a timeless set that he'll have forever and will wear every time he gets dressed up!
10. Acqua di Parma Cologne: this cologne is freshly scented and traditional, making it the perfect cologne to gift this holiday season. It's clean, fresh and something everyone will love.
11. Money Clip: this money clip makes securing cash without having to carry a wallet around secure and easy. Money clips are always a nice gift to give, especially if you're all out of ideas because it's something that every man can always use.
12. Monogrammed Razor & Brush Set: this set is classic but modern and the monogram, again, adds such a special touch. It comes with the razor, brush and stand and is a perfect gift for men.
13. Aviator Desktop Clock: my favorite part about this desktop clock is that it was inspired by WWII. It comes in a gold or silver finish, is battery operated and just a really nice gift he can look at every day on his desk.
14. Bluetooth Compatible Turntable: a classic turntable that's built for today's times with Bluetooth compatibility, what better gift for the old soul, or the man who loves old-time music? It's the walk down memory lane everyone loves to go down once in a while!
15. Portable Bluetooth Speaker: these days, Bluetooth speakers are a must-have. They make playing music and such so much easier! This one is one of the best on the market and has incredibly long battery life. This would make such a great gift!
16. Leather Travel-Zip Box: another monogrammed gift that's perfect for the guy who travels! This compact case is perfect for him to store his watch, cuff links or anything else small he wants to keep safe in while traveling or just to keep on his dresser or nightstand.
17. Two-Tone Watch: watches are exactly what I think of when I think about what a great timeless gift would be to give! This one has a modern blue face that I just loved the moment I saw it and it's on MAJOR sale right now.
18. Monogrammed Leather Toiletry Case: as you probably already know, I LOVE to gift monogrammed/personalized items. There's just something extra special about a personalized gift! This toiletry case is made with the softest leather and is available in both brown and black – the perfect gift for any man you're shopping for.
19. Reversible Plaid Throw Blanket: this cozy, reversible throw blanket is perfect for him to keep on the couch or use while he sleeps. It's extremely soft and under $50!
We hope these gift ideas help to inspire you while shopping for your significant other this season! Let us know if you have any other awesome gift ideas for men!
You can check out all the Holiday Gift Guides for even more gift-giving ideas!