Holiday Gift Guide 2021: Stocking Stuffers for Him, Her, & Kids
This post may contain affiliate links. Please read our disclosure policy.
If you are almost done with your holiday shopping, don't forget those oh-so-hard to buy stocking stuffers!
Does anyone else find it hard to buy stocking stuffers that are both affordable and things that they'll love and use?! You're in luck here – I rounded up all of the very best stocking stuffer gift ideas for him, her, and for kids of all ages.
They are all so affordable and definitely things everyone you're shopping for will love to open! Just scroll down to see all of the best stocking stuffer ideas for him, her, and for kids!
This post contains some affiliate links for your convenience. Click here to read my full disclosure policy.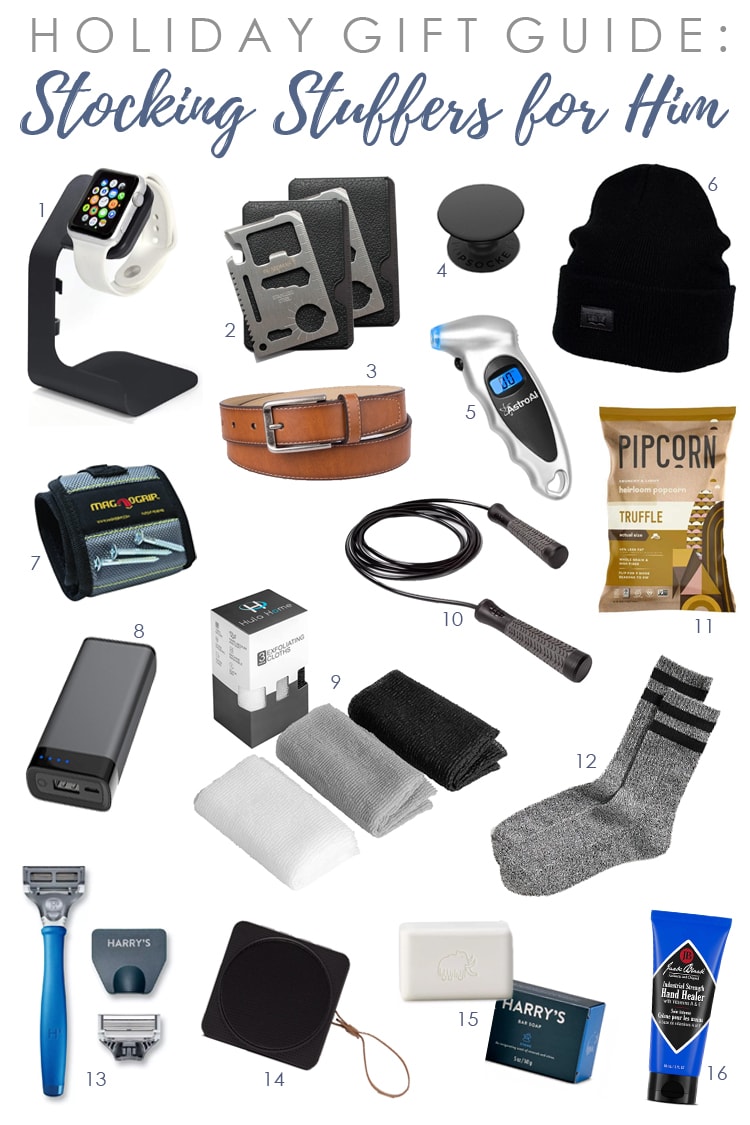 1 | 2 | 3 | 4 | 5 | 6 | 7 | 8 | 9 | 10 | 11 | 12 | 13 | 14 | 15 | 16
Stocking Stuffers for Him
1. Apple Watch Stand: so great for his nightstand if he wears an Apple Watch and this one is under $10!
2. 11-in-1 Multi-tool: he can keep this in his wallet since it's the size of a credit card, and it serves as 11 very useful tools that you never know when you could need them!
3. Cognac Belt: can you believe this is under $10?! It's a great option for him to wear daily and great for his stocking!
4. PopSocket: I always add these to stockings! They're great little tools for balancing your phone, using it as a stand and so much more. They are great for everyone too!
5. Digital Tire Pressure Gauge: a must-have for everyone! He will love to have this in his car.
6. Black Beanie: so practical and a super nice option if you want to add a hat into his stocking!
7. Magnetic Wristband: if he is handy or even if he works in construction, you HAVE to add this to his stocking! It's great for keeping track of small nails, bolts, etc.
8. Portable Charger: can you believe this portable charger is under $15?! It has great reviews too!
9. Exfoliating Cloths: a pack of 3 for under $10 – great stocking stuffer!
10. Jump Rope: this is under $6 and perfect for him to add to his workout – he'll love it!
11. Mini Popcorn: perfect to keep in his car or take to work with him!
12. Gray Crew Socks: I looove the style of these socks! You can never go wrong adding these to their stockings either.
13. Harry's Razor Set: these are great to stuff in their stockings!
14. Mini Bluetooth Speaker: this is such a practical stocking stuffer gift for him!
15. Harry's Stone Bar Soap: he will love this soap and it is perfect for his stocking!
16. Jack Black Hand Healer: perfect for the winter months and works so well for keeping his hands soft!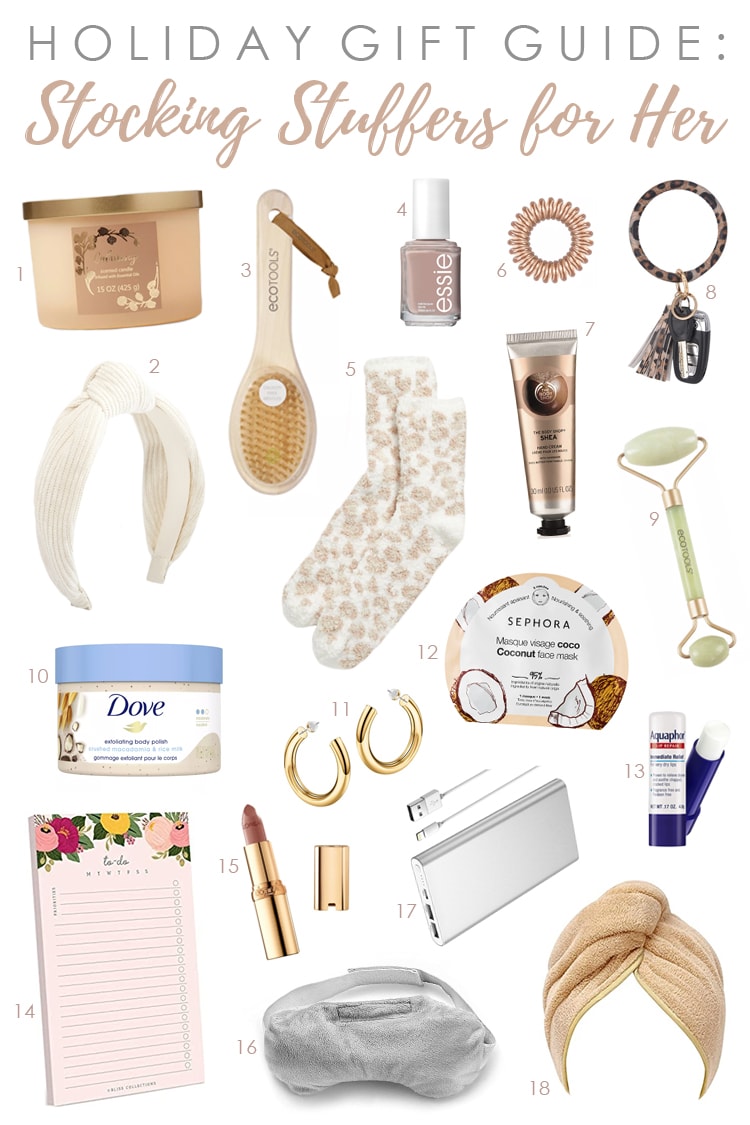 1 | 2 | 3 | 4 | 5 | 6 | 7 | 8 | 9 | 10 | 11 | 12 | 13 | 14 | 15 | 16 | 17 | 18
Stocking Stuffers for Her
1. Cashmere & Birch Candle: this scented candle is SO pretty! Not too much but just enough – candles are great stocking stuffers!
2. Knotted Headband: this super cute under $10 headband is a great stocking stuffer and one she can and will love to wear!
3. Foot Brush: this foot brush is the best scrubbing brush! It's perfect to add to her stocking too.
4. Essie Nail Polish: isn't this shade of nude so pretty? You can never go wrong with putting nail polish in a woman's stocking!
5. Cozy Leopard Printed Socks: I love these cozy socks! They're so cute and cozy and the print is just too fun.
6. Invisibobble Hair Elastics: get a pack of these and split them up if you have multiple stockings to fill!
7. The Body Shop Shea Hand Cream: an incredibly scented hand cream that she'll carry around with her all winter long! No time for chapped hands!
8. Key Ring Bangle: a must-have for everyone! Free up your hands without burying your keys at the bottom of your bag. Genius!
9. Jade Roller: if you haven't tried one of these yet, get one for yourself and as a gift! They feel incredible on your skin and this one is only $9.
10. Exfoliating Body Scrub: this is one of the best scrubs in terms of reviews and it is under $7!
11. Gold Hoops: these under $15 hoops have awesome reviews and look so real! They're a perfect stocking stuffer that you know she will just love.
12. Coconut Face Mask: so luxurious and so affordable! She will LOVE getting face mask(s) in her stocking!
13. Aquaphor Sticks: one of the best chapsticks out there! These are also great to get a pack or two of and split up amongst stockings.
14. To-Do List Notepad: perfect for her desk or to keep in the kitchen!
15. L'Oreal Lipstick: under $10 and the prettiest shade!
16. Weighted Sleep Mask: such a great gift idea – she will love and use this nightly!
17. Portable Charger: I love the idea of adding portable chargers to stockings for everyone!
18. Microfiber Hair Towel: these are great stocking stuffer additions – this pack of 3 is under $20 and you could split these up amongst stockings too!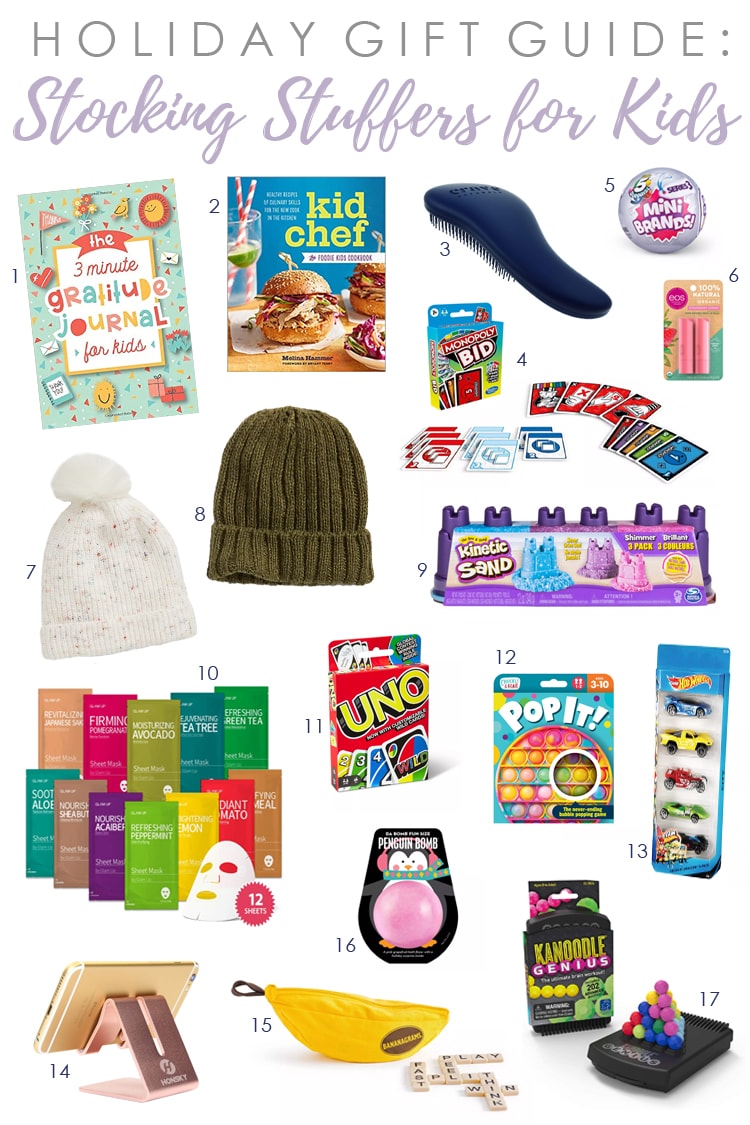 1 | 2 | 3 | 4 | 5 | 6 | 7 | 8 | 9 | 10 | 11 | 12 | 13 | 14 | 15 | 16 | 17
Stocking Stuffers for Kids
1. Gratitude Journal for Kids: how cute is this?! I LOVE this idea, it's a great way to get your kids journaling and feeling thankful.
2. Kid Chef Cookbook: such a great cookbook for kids! If they already like to cook or are showing interest, get them this under $10 cookbook for kids and stick it in their stocking this holiday season.
3. Detangling Brush: perfect for your girls with long hair! This gets knots out so easily and pain-free.
4. Monopoly Bid Card Game: this card game is great for everyone to sit around and play – under $10 and a perfect stocking stuffer!
5. Surprise Brands: all little kids love these! Perfect under $10 stocking stuffer for kids.
6. EOS Lip Balm: lip balms and chapsticks are a great stocking stuffer!
7. Pom Pom Beanie: so cute for the girls and only $12!
8. Sweater Knit Beanie: this super cute beanie is gender-neutral and a perfect, practical gift idea to stick into their stocking!
9. Kinetic Sand: the cool part about this is you could split these up if you have multiple kids! Kinetic sand is SO cool and something all kids enjoy – you'll enjoy it too! LOL.
10. Sheet Mask Gift Set: perfect for your pre-teen/teen girls, they will LOVE this mask set!
11. UNO Card Game: this is one that will be fun for the whole family!
12. Pop It Fidget Game: these have become super popular and are great little toys to keep them busy. Perfect sensory game stocking stuffer!
13. Hot Wheels: this pack of 5 hot wheels is under $5!
14. Phone Stand: perfect for their desk or nightstand! It comes in a bunch of colors to choose from too.
15. Bananagrams Game: another fun game that the whole family can enjoy!
16. Penguin Bath Bomb: they will love this adorable bath bomb and enjoy using it in the tub! Great for your little kids and big kids!
17. Kanoodle Puzzle Game: another great game that'll get them thinking, keep them busy and that they will love to play with! We hope you love these stocking stuffer gift ideas and can finish up your shopping for everyone on your list with these gift ideas!
Gift Guides to Help You Shop this Holiday Season:
Follow along to get more of my tips on home decor, DIY and lifestyle on the following: