Holiday Gift Guide 2019: Great Gift Ideas for the Host + Hostess
This post may contain affiliate links. Please read our disclosure policy.
It's that time of year, holiday gift-giving season! I'm kicking things off with a roundup of the very best gift ideas for a host or hostess for you to bring to all of your holiday parties this season. The best part is, every gift idea here is under $50! From home decor to kitchen must-haves and more, these ideas will have you set for gifting for all of the parties you're attending this holiday season.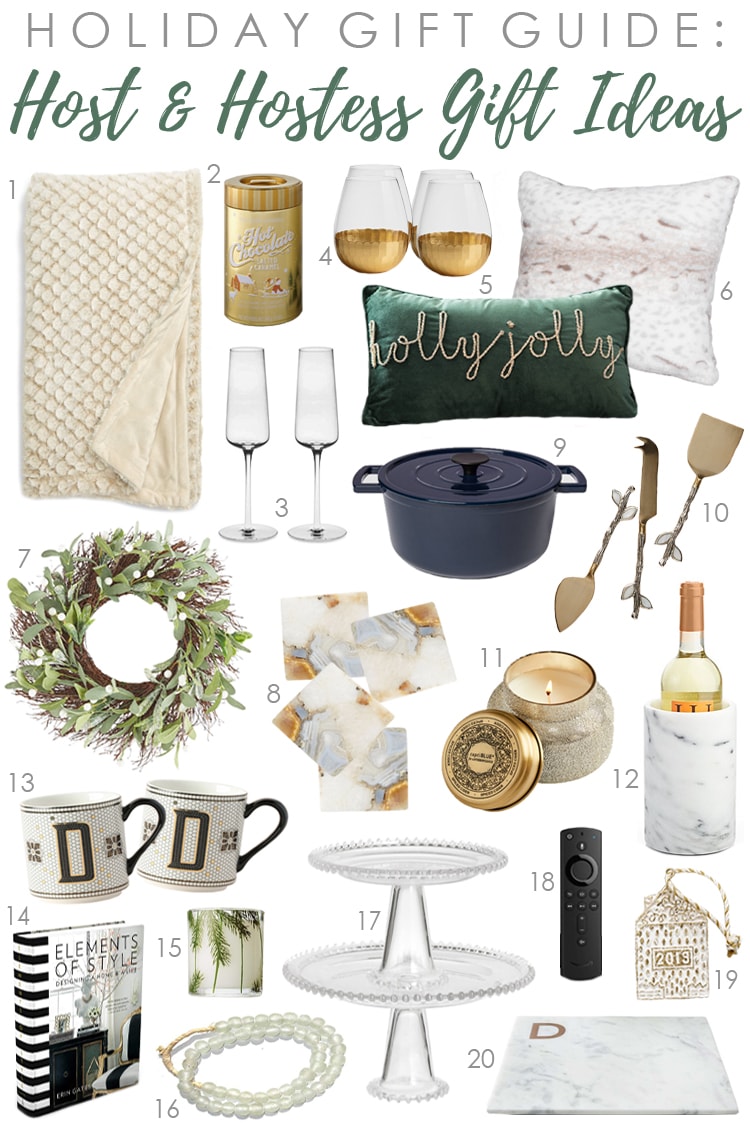 1 | 2 | 3 | 4 | 5 | 6 | 7 | 8 | 9 | 10 | 11 | 12 | 13 | 14 | 15 | 16 | 17 | 18 | 19 | 20
This post contains some affiliate links for your convenience. Click here to read my full disclosure policy.
1. Plush Throw Blanket: this cozy throw blanket looks so luxurious but is under $40! It comes in three colors and is perfect to display on a couch or bed – definitely a gift a hostess would love to receive.
2. Hot Chocolate Gift Tin: I LOVE this as a gift idea. It is a tin of salted caramel hot chocolate and even comes with marshmallows. I think it's something so different as far as gifts go – you could even purchase a set of glasses and add them to the gift.
3. Champagne Glasses: you can purchase these individually or in a set of two and wait until you see how affordable they are! The set is under $40 and they look very high end. You can never go wrong gifting new glasses, they're always something that can be used!
4. Gold Stemless Wine Glasses: this set of wine glasses is so different and I love them. I think I may get myself a set as well this season! They're a perfect gift for a host.
5. 'Holly Jolly' Lumbar Pillow: you will not believe how inexpensive this pillow is! It's absolutely beautiful – I'm loving the idea of putting a set of pillows together as a gift. I think it's something so unexpected.
6. Faux Fur Pillow: I paired the lumbar pillow above with this white "snow leopard" faux fur pillow and love how they look together. They are both affordable and something fun to gift for the holidays.
7. Faux Mistletoe Wreath: you will NOT believe the price of this wreath! It's simple but fits the purpose and has the most beautiful, subtle shimmer to it. It's the perfect size to hang as a part of a gallery wall or even display against a mantle.
8. Agate Coasters: coasters are always a no-brainer gift idea if you're on the hunt. This set is so gorgeous. They have a beautiful blue and gold grain to them.
9. Cast Iron Dutch Oven: it's hard to believe, but this dutch oven is just under $50! It's so hard to find a really affordable dutch oven so I was excited to find this one. It comes in multiple colors and it's one of those kitchen items that everyone should have – they are so useful!
10. Cheese Knives: while a classic set of silver or gold cheese knives is practical, these are SO different and I cannot wait to gift them this season. They have a really pretty pearl detail to them and you can even get a matching set of serving spoons.
11. Capri Blue Jar Candle: have you smelled this scented candle yet? If not, you are missing out! It's the best scent and since becoming super popular, it comes in all of these different styled jars now. This gold is stunning, it's hard to pass up beautiful packaging!
12. Marble Wine Cooler: this marble wine cooler is a practical gift but also something that a host may not already own which makes it something they'll love to receive at a party they're hosting! It is $29 and can double as a vase.
13. Bistro Monogram Mugs: how FUN are these mugs?! They're so cute and personalized gifts are among the best to give. The best part is they're only $12 each!
14. 'Elements of Style' Coffee Table Book: aside from being a great addition to a coffee table setup, this book is actually a great resource for design tips! One of my favorites so it's a no-brainer to gift.
15. Frasier Fir Candle: if you love the smell of live Christmas trees, you NEED this candle. It is the most realistic, tree smelling candle ever. One of the best gifts to give no matter who the host is, and you could even stock up on these to have as an on-hand gift option. They're the best!
16. Recycled Glass Beads: while these glass beads are something different and very unique, that's what makes them such a great gift! They may not be for everyone but if the recipient loves beachy decor of any kind or just likes something unique, they're a great pop of color for a living room! They look beautiful on a coffee table, draped over a vase or anything else you may think of.
17. Beaded Glass Cake Stand: these cake stands are affordable (under $20!), come in two sizes and are great gifts to bring to a party. They're something pretty generic too, which is great to give even if you don't know the host or hostess that well.
18. Amazon Fire Stick: do you have a Fire Stick yet? It's one of the coolest gadgets out there. It's very inexpensive considering all of the things it can do and if the host doesn't own it, it's absolutely something they need and would love to receive as a gift.
19. 2019 Ornament: sentimental ornaments are always a fun gift to give and to receive. This is an especially great idea if it's a new couple or the host lives in a new home!
20. Marble Monogrammed Cheese Board: doesn't this look like a piece that had to be so expensive? Thankfully, it's $39 and almost always on sale! It's a beautiful, marble board that is perfect to serve on or cut food with.
What do you like to bring a host during the holidays as a gift? We hope you love all of these fun gift ideas and that they inspire you for your gift buying this holiday season!
You can check out all the Holiday Gift Guides for even more gift-giving ideas!