Tips To Create a Family-Friendly Media Room + Design Board
This post may contain affiliate links. Please read our disclosure policy.
Sharing tips to create a family-friendly media room and our media room design plans, including paint, lighting, accessories, and art for the space! Also highlighting my favorite removable wallpaper sources.
Back in September, I shared the state of our media room. It was not pretty and had been used as a storage room from when we moved in. We had a professional organizer come and help us clear the clutter. It felt amazing to have the space free and clear of all the boxes.
Of course, then I started dreaming of how we would use the media room and wanted to share my design plans with you. I think these ideas are perfect even for a spare room. I love having a dedicated space to spend quality time with family and creating a beautiful media room is just the spot.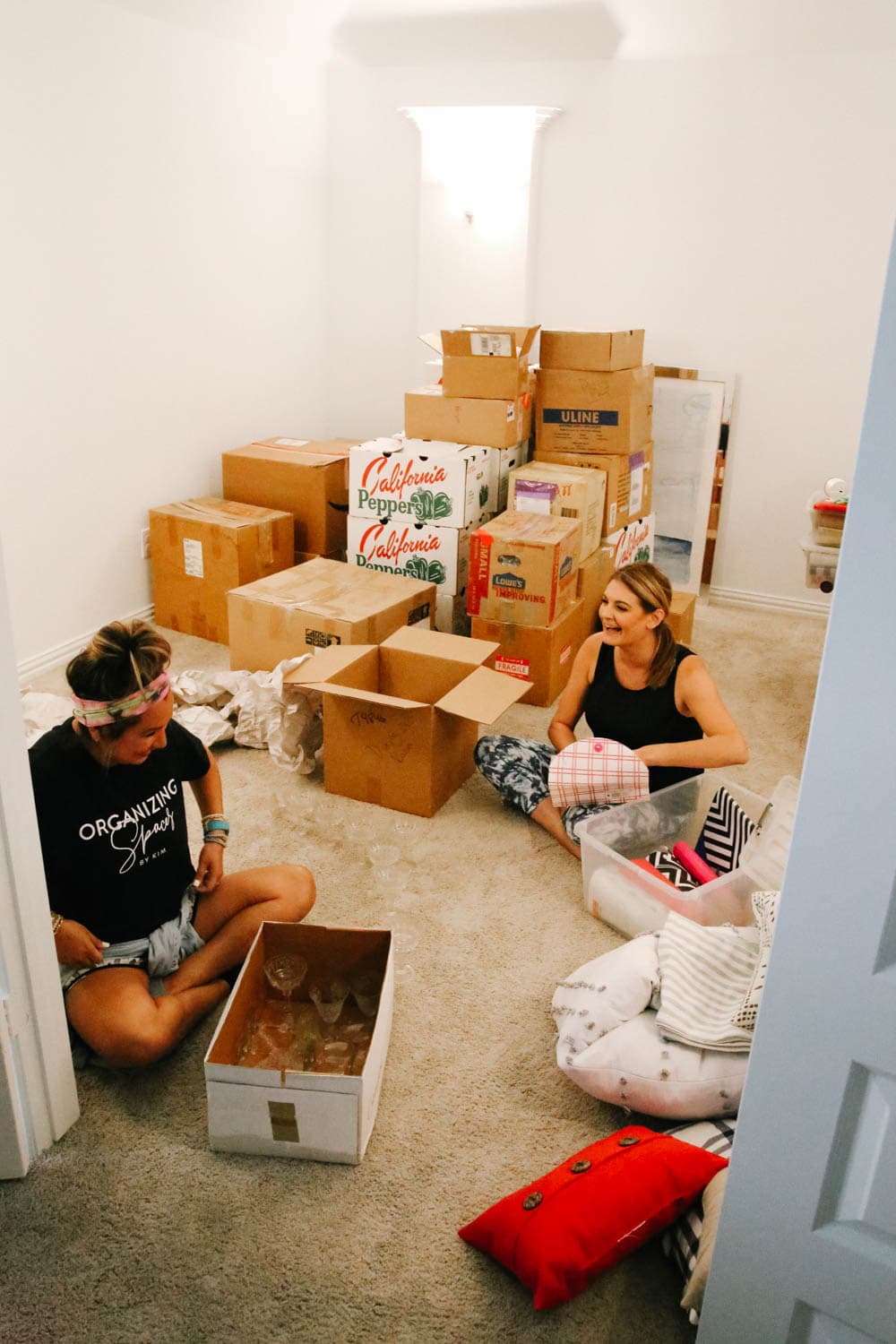 This is a quick refresher of what it looked like when we were purging the space. It was full of boxes and then became an empty shell of a room.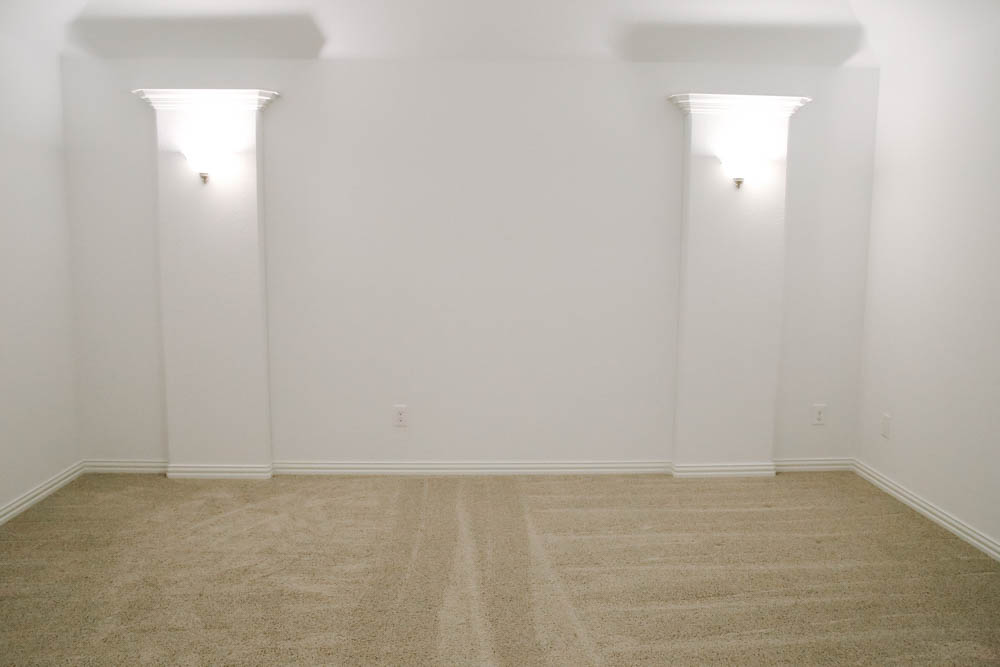 To the left is where there is a media closet for all the equipment for surround sound and tech stuff. There are four columns as you see above each with sconces in them. To the right is where it is wired and the wall is reinforced to either hang a projector screen or tv on the wall. We have wall-to-wall carpeting in here that will stay as of now.
Earlier this year, I toured the HGTV Smart Home and saw this gorgeous media room. You can read more about that home and see more pictures of the house HERE.
I love the rich navy color and modern decorative sconces. I also loved their use of chairs and sofas that are not typical media room furniture pieces. They look not only stylish but very comfortable. I like the more relaxed look similar to a living room feel and want to do the same in our media room.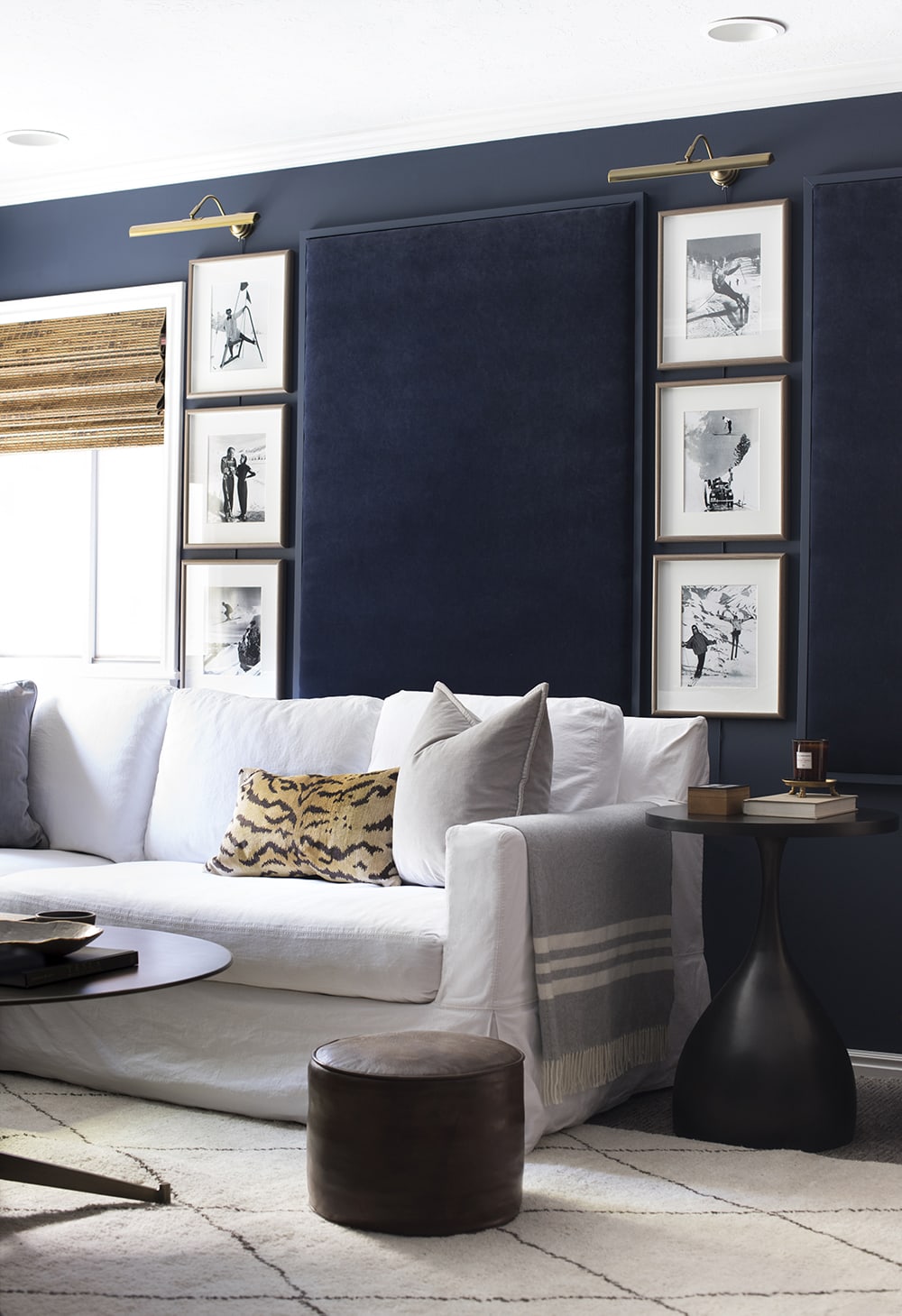 I absolutely loved this makeover by Room For Tuesday of their basement turned media room. Again it has that rich blue color and feels cozy with a mid-century modern flair. I haven't decided if I want to do a white sofa or not but this space might just talk me into it.
I also love the gold lighting accents and will be doing something similar in our space.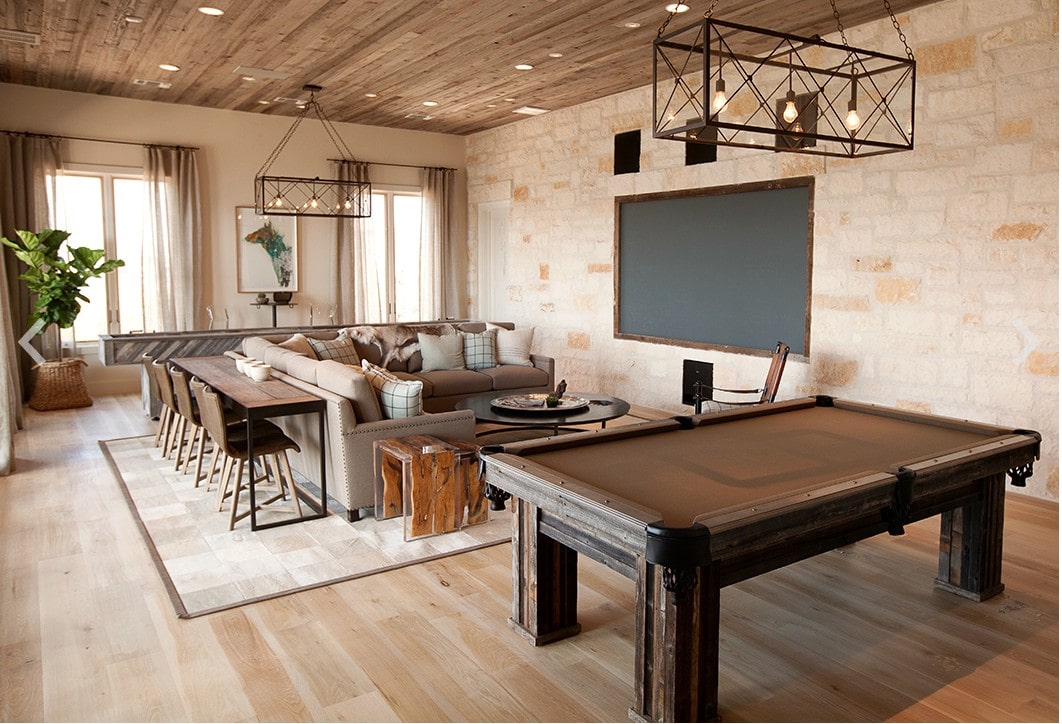 Industrial Farmhouse Media Room
So this room looks more like a game/media room but what I love is the unique rustic accents. That ceiling is amazing. Ours would be difficult to do that with since it is vaulted with cutouts for surround sound but I am absolutely loving that stone wall. It really fits into the Texas vibe here and is so unique looking.
Tips to Create a Family-Friendly Media Room
So here are my quick tips to create a family-friendly media room.
1. Use a rich dark color
Going dark will make your space feel cozy and make you want to cuddle up on the sofa for movie and popcorn. Look for colors that have a warm tone to them like rich navy, warm browns, and even hunter green.
2. Use ambient lighting
Use sconces and table lamps to create a warm and soft atmosphere in your room. You can highlight decorative art, built-ins or just symmetrically spread them out on your walls to illuminate the space.
3. Select comfortable seating
You don't necessarily need actual theater seating in your media room. Using a sectional and other comfortable side chairs will make your space feel less formal. Mix and match your pieces for a whimsical and eclectic look.
4. Add a feature wall
Choose either the back wall or the wall the tv/screen will be on and use materials like stone, moldings or shiplap and create a feature wall. This adds visual interest and texture to the space
So are you ready to see what I have planned??!!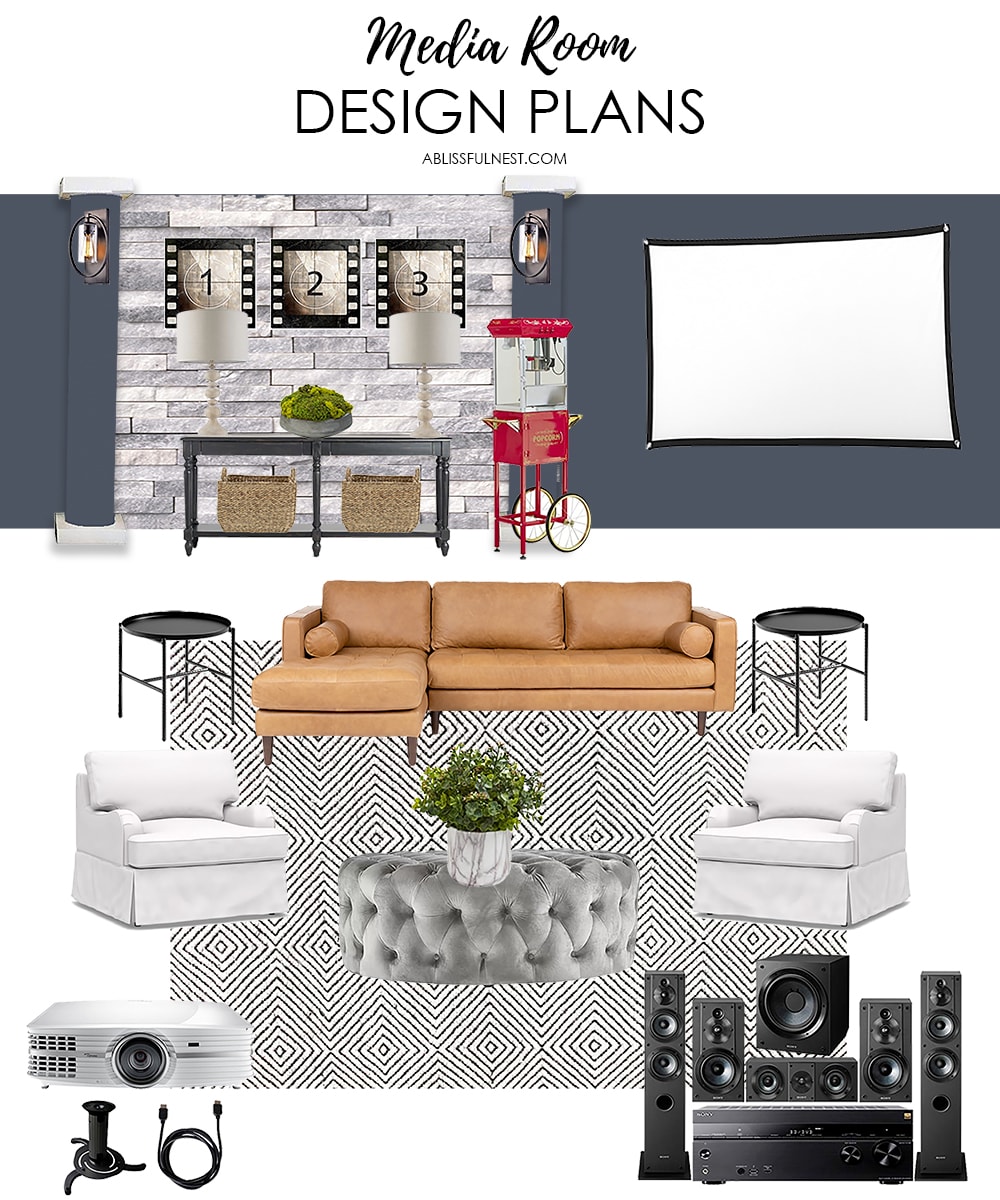 Sources: Industrial Sconces | Countdown Art | Table Lamps | Black Console Table | Popcorn Machine | Side Tables | Leather Sofa | Upholstered Side Chairs | Tufted Ottoman | Projector | Screen | Surround Sound Equipment | Area Rug
As you can see I added all the elements from above and decorated in a mid-century modern style. I love the masculine look and rich contrast the dark navy walls and light-colored furniture creates.
We will be doing this room in stages but I think it is so important to have your full design plan done on the front end. It saves time and money with letting you budget and shop the sales on the pieces you know will work for your room.
I can't wait for you to see the next step in our media room makeover which will be coming soon!