Holiday Gift Guide 2022: Stocking Stuffers for Him, Her, & Kids
This post may contain affiliate links. Please read our disclosure policy.
One of the hardest things to shop for each holiday season is those oh-so-hard-to-buy stocking stuffers!
The thing is… shopping for stocking stuffers doesn't have to be hard! When you think about who you're shopping for, I always like to pick a price point and find smaller things I think they'll love or that remind me of them.
If you're struggling to find the perfect stocking stuffers though, you're in the right spot!
I rounded up all of the very best stocking stuffer gift ideas for him, her, and kids of all ages. They are all so affordable and definitely things everyone you're shopping for will love to open!
Just scroll down to see all of the best stocking stuffer ideas for him, her, and for kids!
This post contains some affiliate links for your convenience. Click here to read my full disclosure policy.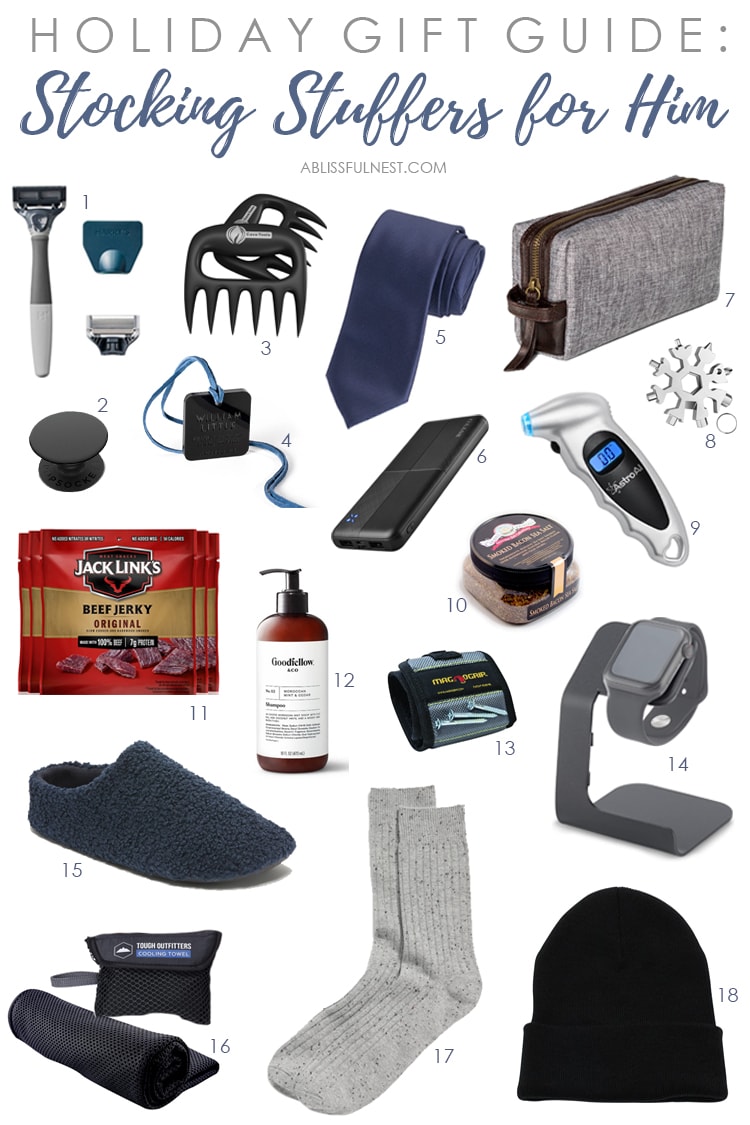 1 | 2 | 3 | 4 | 5 | 6 | 7 | 8 | 9 | 10 | 11 | 12 | 13 | 14 | 15 | 16 | 17 | 18

Stocking Stuffers for Him
1. Harry's Razor Set: the perfect under $20 razor that would be great to add to his stocking!
2. Pop Socket: these pop sockets are so useful and a great stocking stuffer for anyone!
3. Meat Claws: if he loves to cook or barbecue, these meat shredders are a MUST-have.
4. Personalized Luggage Tag: this is under $15 and SO useful and thoughtful as a stocking stuffer!
5. Solid Navy Tie: if he works in an office setting or needs to wear ties often this Amazon find is a great stocking stuffer!
6. Portable Charger: you can never have too many external batteries laying around!
7. Compact Dopp Kit: every guy needs one of these and this one is under $10!
8. Snowflake Multi-Tool: a genius little tool that everyone needs around!
9. Digital Tire Pressure Gauge: everyone needs one of these in their cars! The perfect under $10 stocking stuffer!
10. Smoked Bacon Sea Salt: doesn't this sound delicious?! The perfect stocking stuffer for the food connoisseur in your life!
11. Beef Jerky Packs: the perfect on-the-go, healthy snack that he can take with him for during the day!
12. Moroccan Mint Cedar Shampoo: something useful that you know he can and will love/use to add to his stocking!
13. Magnetic Wristband: if he's super handy or has a lot of tools this magnetic wristband is a genius gift that he will love! Screws, nails, etc all stick to this magnetic wristband and make it impossible to lose small pieces.
14. Apple Watch Dock: if he has an Apple Watch this would be perfect for his nightstand or desk!
15. Sherpa Slippers: how cozy do these look?! And would you believe that they are only $8?!
16. Cooling Towels: great for the guy who loves to get a workout in or likes to hike, be outdoors, etc.
17. Cozy Socks: what guy couldn't use more socks?!
18. Black Beanie: this looks so cozy and warm – a beanie is the perfect finishing touch to a guy's stocking this holiday season!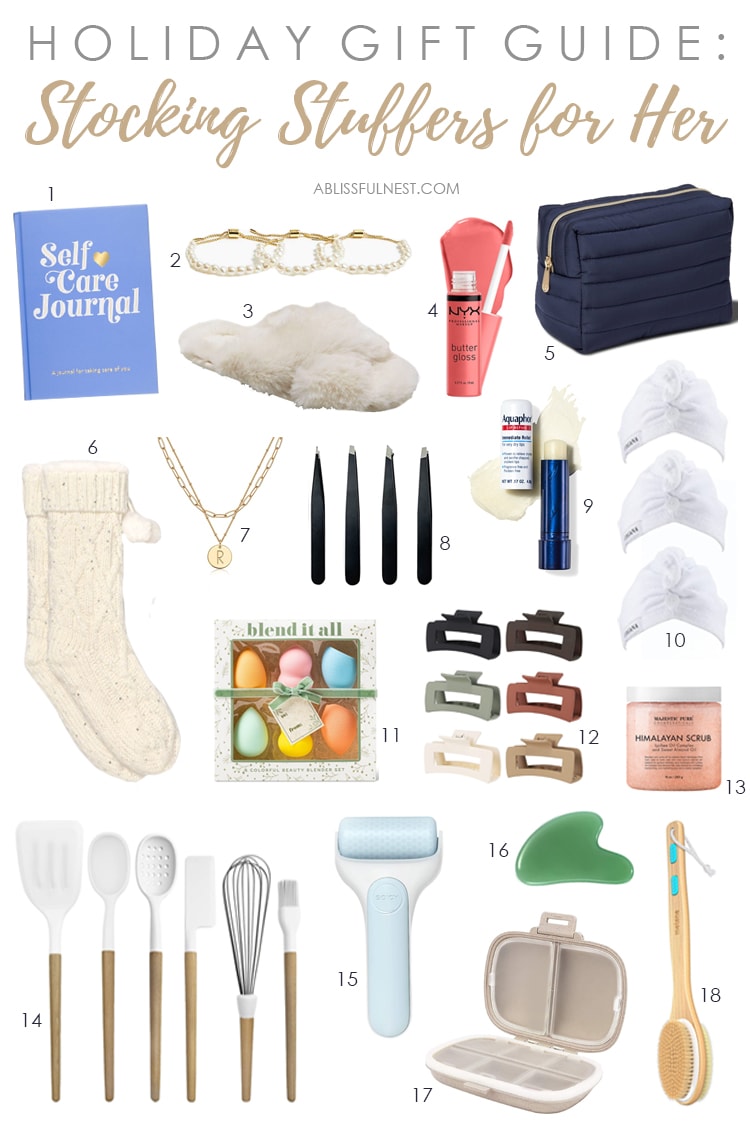 1 | 2 | 3 | 4 | 5 | 6 | 7 | 8 | 9 | 10 | 11 | 12 | 13 | 14 | 15 | 16 | 17 | 18
Stocking Stuffers for Her
1. Self-Care Journal: a thoughtful, useful gift to add to her stocking that she probably wouldn't think to buy herself.
2. Pearl Bracelets: this set of 3 pearl bracelets are SO pretty and I cannot believe the price. The most perfect – and most beautiful – stocking stuffer for women!
3. Crossband Slippers: these are so cute and comfy, come in a bunch of colors, and are only $10!
4. Lip Gloss: this is under $5 and has amazing reviews – plus the colors it comes in are stunning!
5. Makeup Bag: cute, practical and under $15!
6. Cable Faux Shearling Lined Slipper Socks: these look sooo cozy and are only $10!
7. Gold Initial Layering Necklace: can you believe that this gold initial necklace is an Amazon find?! The perfect stocking stuffer and you won't believe the price!
8. Tweezer Set: this set of tweezers has amazing reviews and tweezers are a great, useful idea to add to her stocking this season!
9. Aquaphor Lip Balm: the best lip balm ever and this pack of 2 is under $10 and something you know she can and will use every single day.
10. Microfiber Hair Towels: these are perfect for hair washing days and they're also great to travel with!
11. Beauty Sponge Set: this set has amazing reviews and it's only $10! You could even split the set up if you have multiple stockings to add to.
12. Hair Claw Clips: this set of claw clips are perfect – she can keep one in her car, bag, bedroom, desk, etc! You can never have too many hair clips!
13. Himalayan Salt Body Scrub: this exfoliant scrub (or any of your choosing!) is the perfect stocking stuffer for her.
14. Silicone Utensil Baking Set: for the chef or baker on your list, add a set of kitchen utensils to their stocking!
15. Ice Roller: one of the very best things is taking an ice roller out of the freezer each morning and waking up your skin (and yourself!) while de-puffing your face. The BEST! Everyone needs one of these and stuffing their stocking with one is a perfect gift.
16. Gua Sha: these are game changers for facial massages – trust me, any woman will LOVE one of this gua sha's in her stocking!
17. Pill Organizer: perfect to keep her daily pills, vitamins, etc with her on-the-go!
18. Exfoliating Brush: a shower essential and the perfect finishing touch to her stocking!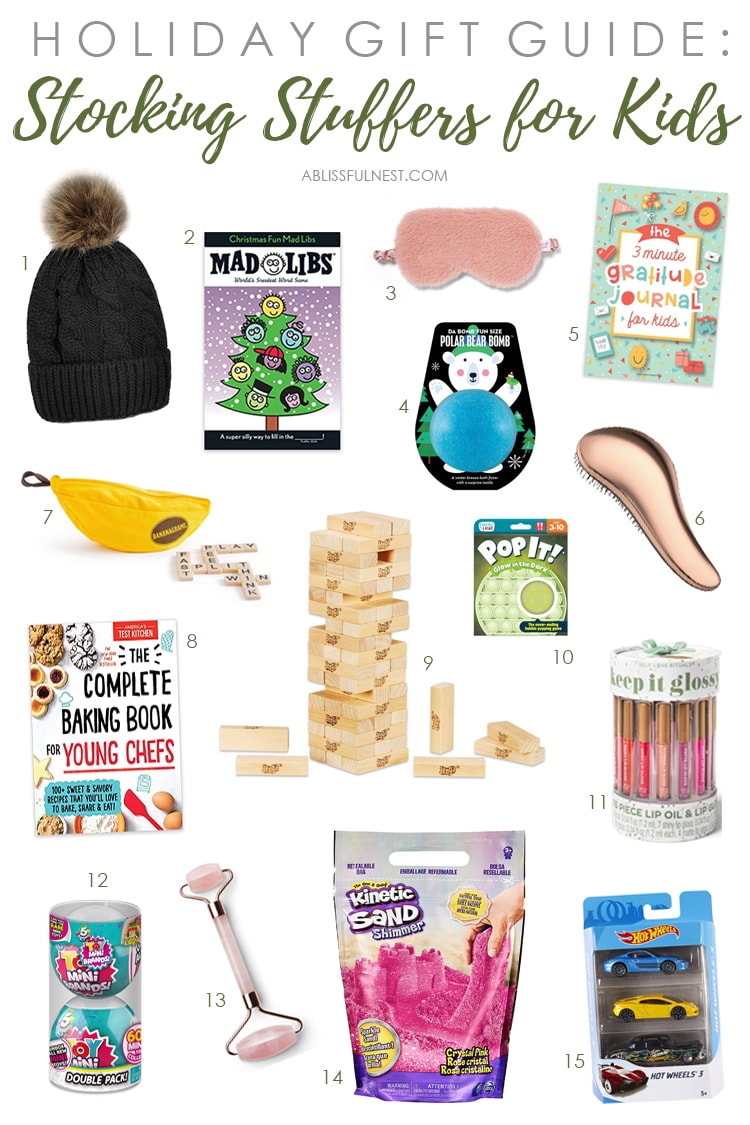 1 | 2 | 3 | 4 | 5 | 6 | 7 | 8 | 9 | 10 | 11 | 12 | 13 | 14 | 15
Stocking Stuffers for Kids
1. Pom Pom Beanie: isn't this so cute? I love a cute and practical gift idea, even if it is just for their stocking! It comes in a bunch of colors and is perfect for both boys and girls.
2. Christmas Mad Libs: the perfect stocking stuffer for every kid!
3. Sleeping Eye Mask: what little girl wouldn't love seeing this sleep mask in her stocking?
4. Polar Bear Bath Bomb: bath bombs like this one are a perfect topper to a stocking!
5. Kids Gratitude Journal: I love the idea of a gratitude journal for kids! This one is so cute and comes with prompts to get them started.
6. Detangling Brush: this brush has awesome reviews and is perfect for the girls with long hair!
7. Bananagrams Game: such a fun game for the whole family to play!
8. Baking Cookbook for Kids: if your kiddo loves to cook or bake, adding a cookbook or book of baked good recipes like this bake book has is the perfect finishing gift for them!
9. Jenga: a classic game that everyone loves!
10. Pop It Fidget Game: add a couple of these to their stockings as a fun little gift they'll love to use.
11. Lip Gloss Set: for the girls who are starting to get into makeup, this $10 lip gloss set is perfect to add to her Christmas stocking!
12. Surprise Mini Brands: these are all the rage and a perfect gift to add to their stockings!
13. Rose Quartz Face Roller: your older girls will love this and in fact may be asking for one of these! They really do work wonders for puffiness but also just feel SO great on your skin.
14. Kinetic Sand: have you ever seen the way this sand works? It is incredible! Kids of all ages will love this stuff and keep them so busy. This bag is only $8!
15. Hot Wheels Set: the perfect under $10 stocking stuffer for boys!
I hope these stocking stuffer ideas for the family help you to finish up the hardest part of your holiday shopping!
Follow along to get more of my tips on home decor, DIY and lifestyle on the following: