Winter Green Christmas Home Tour
This post may contain affiliate links. Please read our disclosure policy.
Sharing a fresh winter green Christmas living room and kitchen with silver accents and lots of blue and white decor details. A simple neutral Christmas home tour to inspire your holiday decorating this year!
Welcome to our Loveliest Looks Of Christmas Tour hosted by Summer Adams & A Blissful Nest! We're so glad you're here to join this talented group of bloggers as we share our winter fashion and Christmas decor with you. Make sure to check out their home tours linked at the bottom of this post.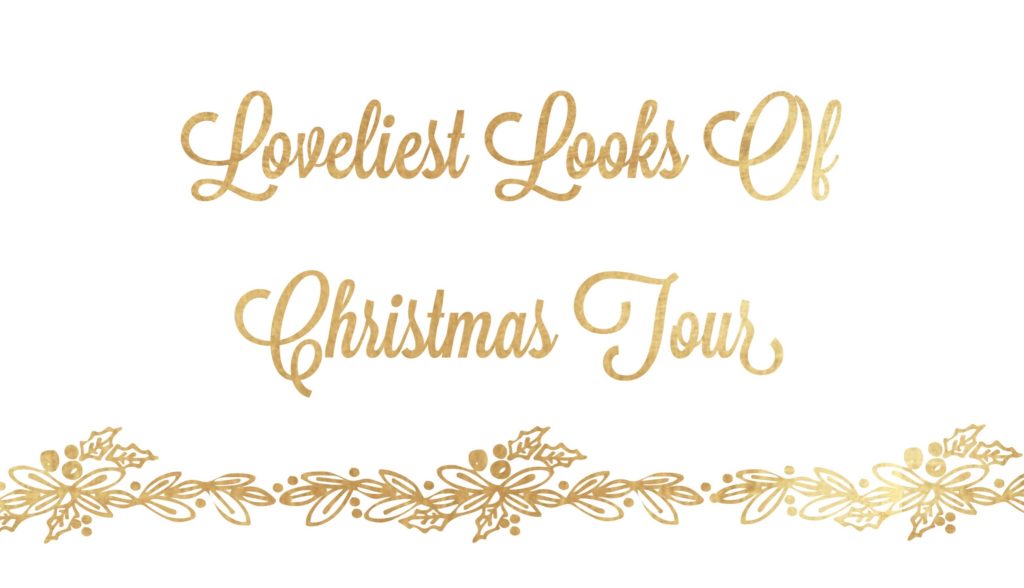 I am so excited to share my Christmas home decor with you today and welcome if you've never popped over here before. Here is a little about myself for all you new visitors. My name is Rebekah and I have been an interior designer for over 15 years. I am originally from California and moved to Texas 7 years ago where I live with my husband, my 11-year-old daughter and a couple of fur babies. We finished building our home almost 2 years ago and this will be our second Christmas in our new home. You can read more about our home build HERE.
This year I was really inspired by the outdoors and wanted a more simple look than last year's decor. With there being less time between Thanksgiving and Christmas this year, it made me panicked to put up so much and have to take it all down so soon. I actually put up 2 trees less than I normally do this year and to be honest it felt good. Sometimes less is more and in this case it was perfect for us this year!
This post contains some affiliate links for your convenience. Click here to read my full disclosure policy.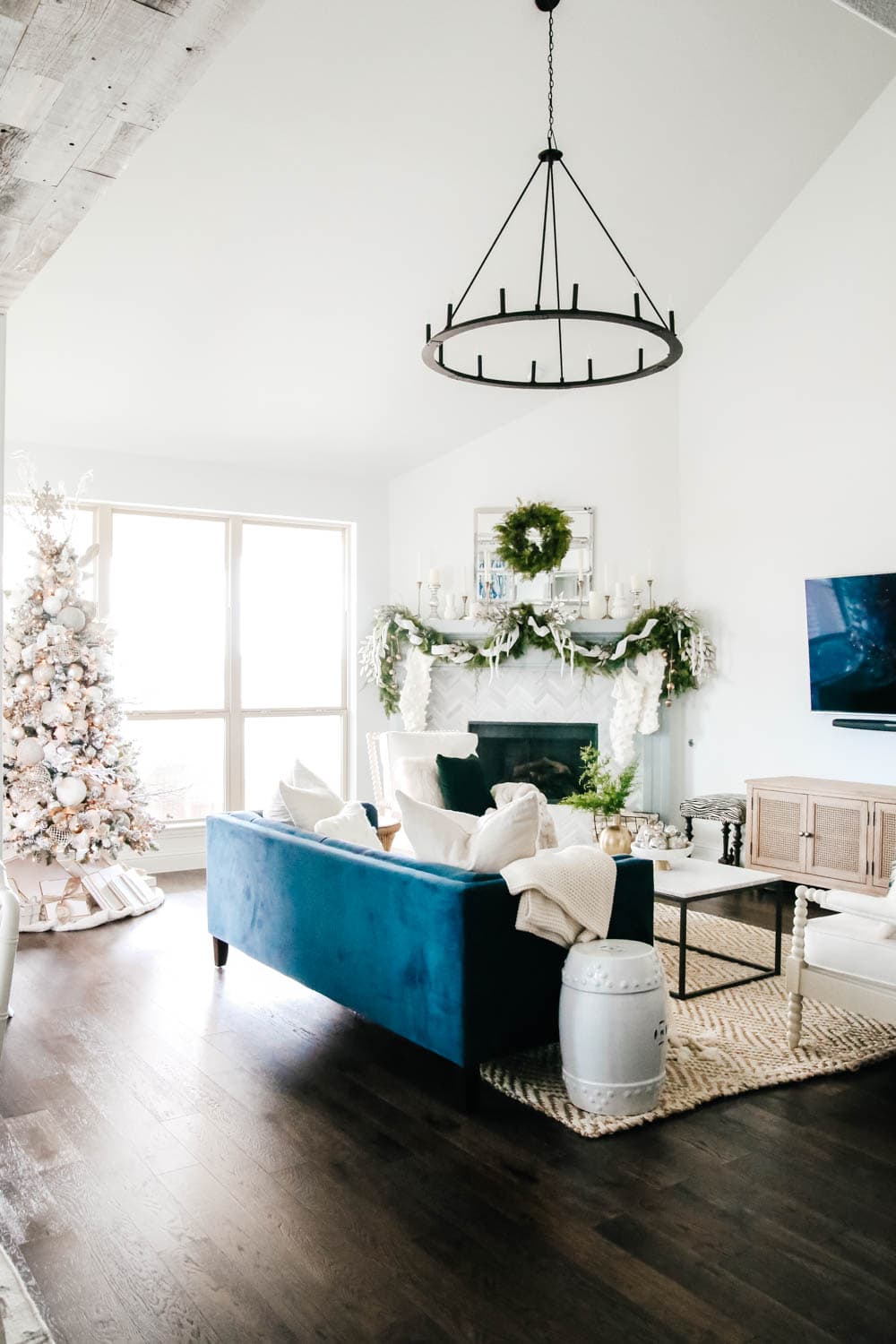 When we were building and designing this house, I wanted the kitchen, living and breakfast room to all open into each other. I love an open concept home and wanted to feel like you were socializing with people even if you were cooking in the kitchen. This is the view of our living room from our kitchen. I chose a new location for our tree this year and more on that in just a minute.
This space gets so much light with all the windows on this side of the house. It makes it so bright and airy in here. Since we finally have the right paint color on the fireplace, the decor looks even crisper and perfect for the space.


I chose this year to do a double garland on my mantle and make large swags. I will be sharing the tutorial on how to recreate this tomorrow.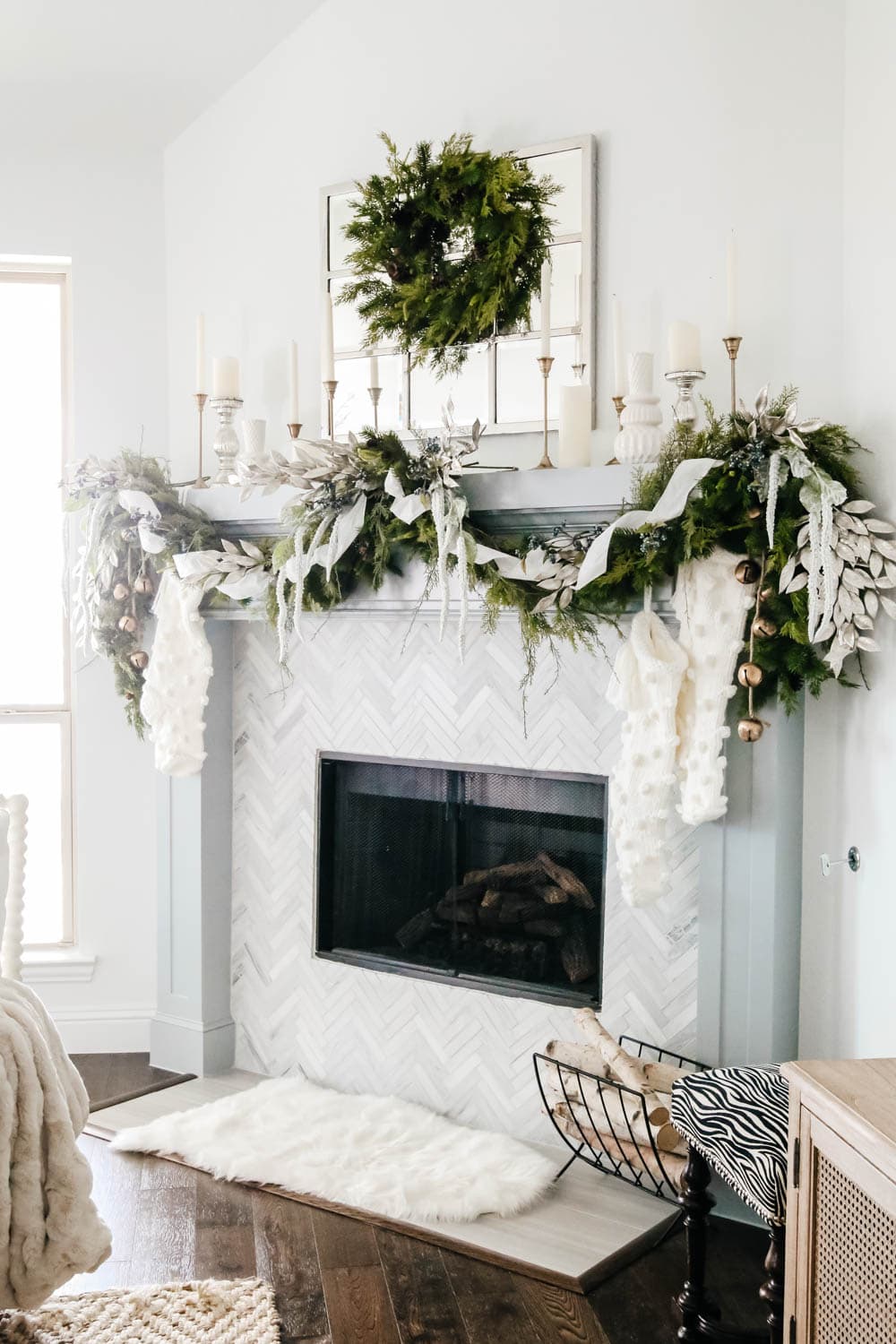 I have a BIG little trick to achieving the perfect swag that I can't wait to share with you soon!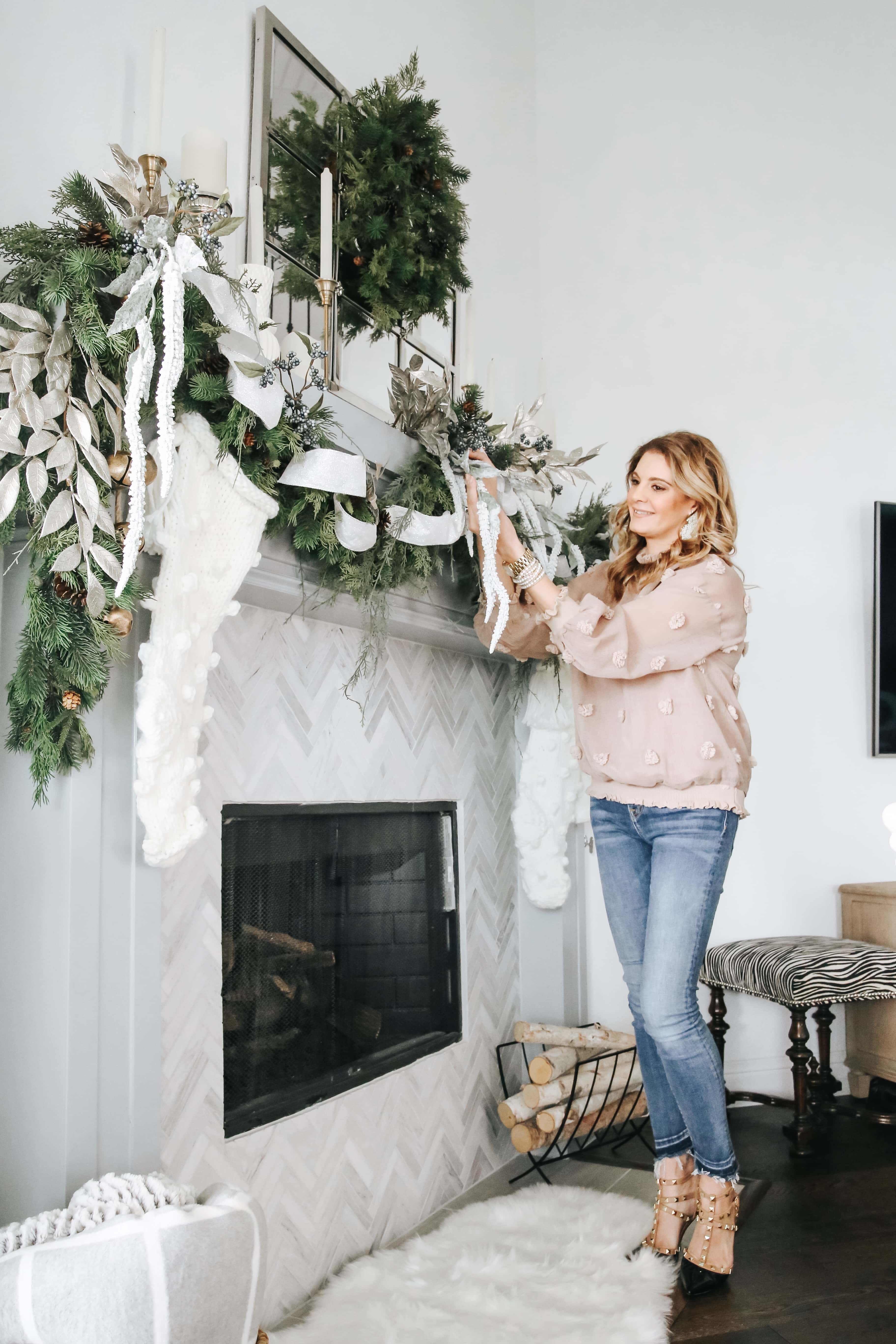 I love to cluster candles and since the garland is so ornate I wanted a more simple display on top. I used my gold candlesticks and mercury glass ones with flameless candles on remotes and it makes the most beautiful glow at night with the fireplace on.
I picked up these new pom pom stockings and love the fun texture they add. I found some similar ones HERE for a fraction of the price.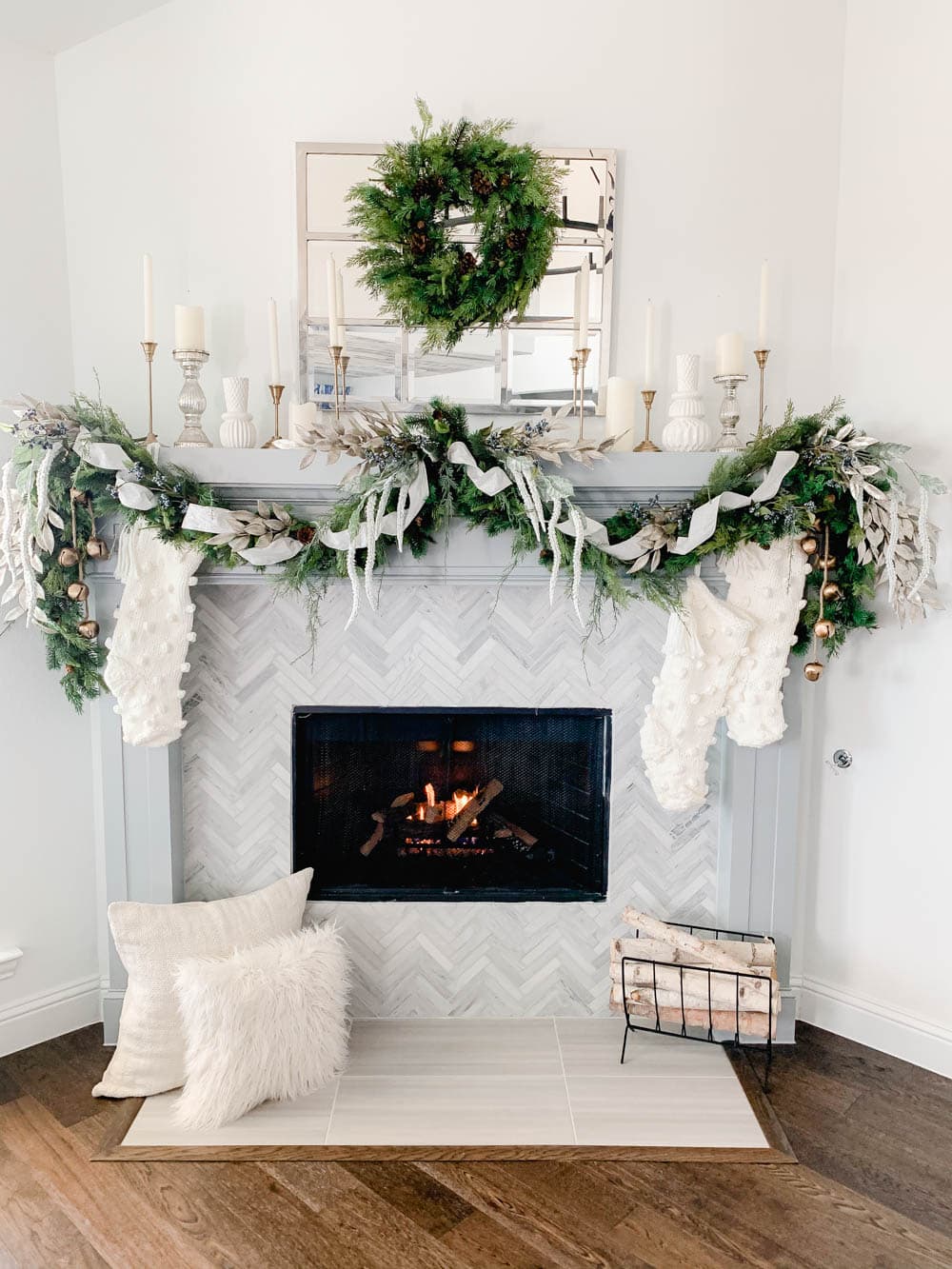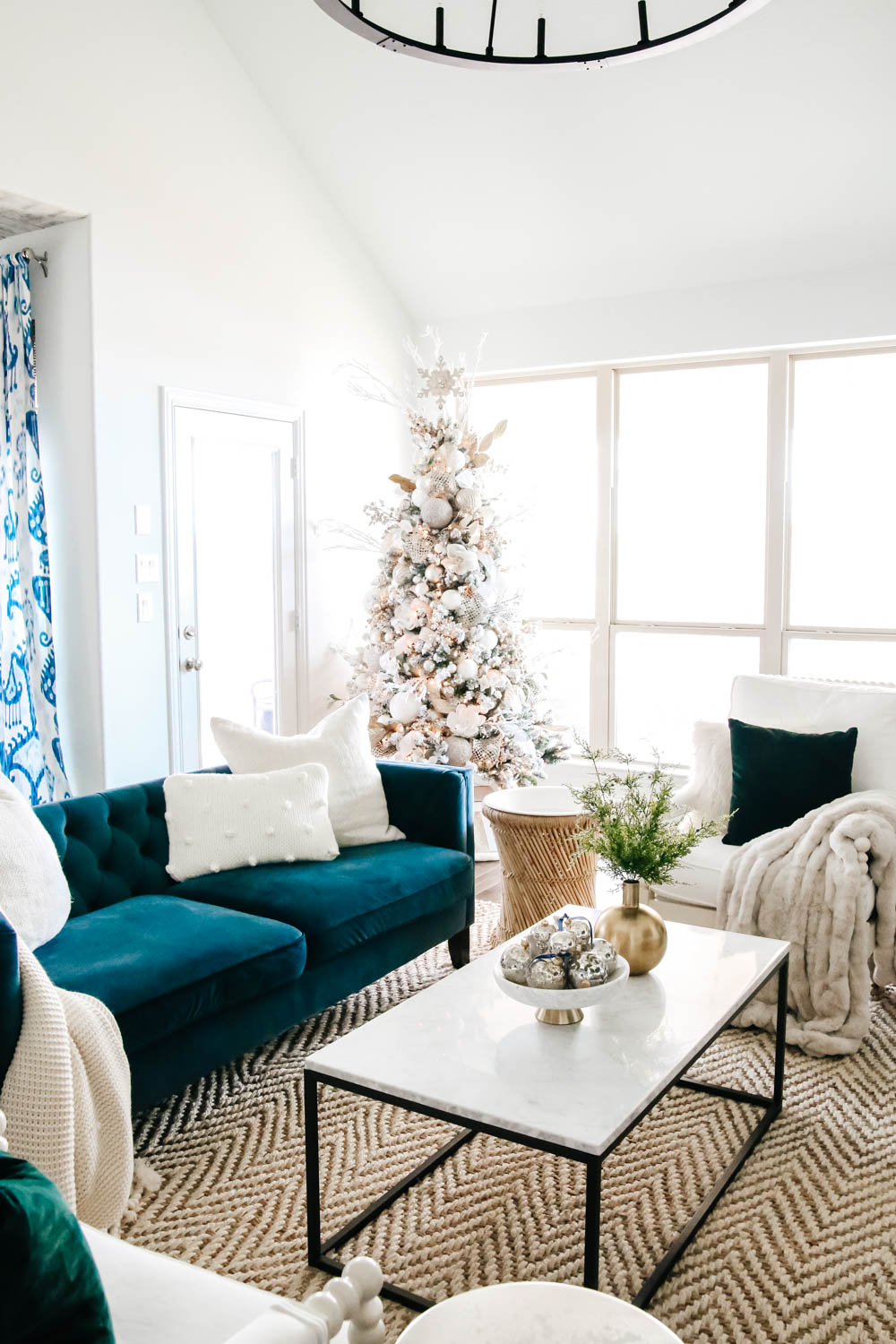 I also found a coordinating pom pom pillow and love how it ties in the pattern from the mantle. I went for more texture than color this year and paired it with my favorite linen pillows. I have these in two colors and different sizes and they are the perfect neutral pillow to transition through all the seasons.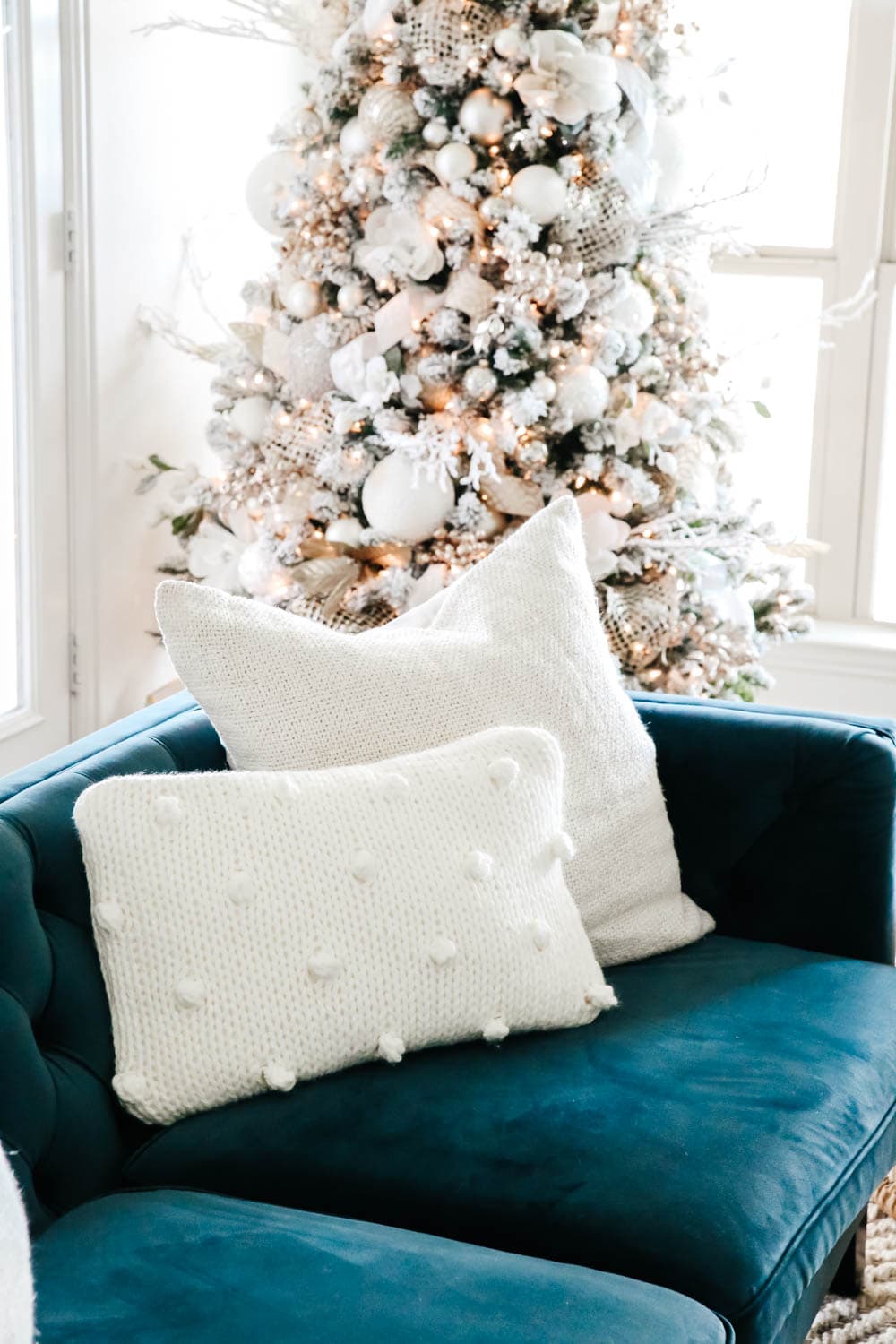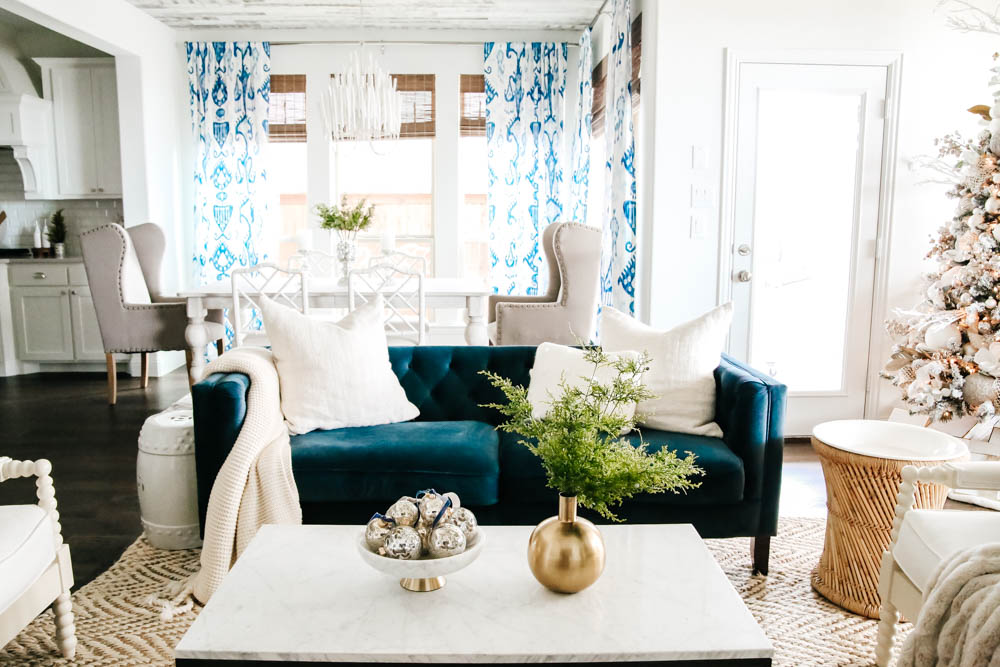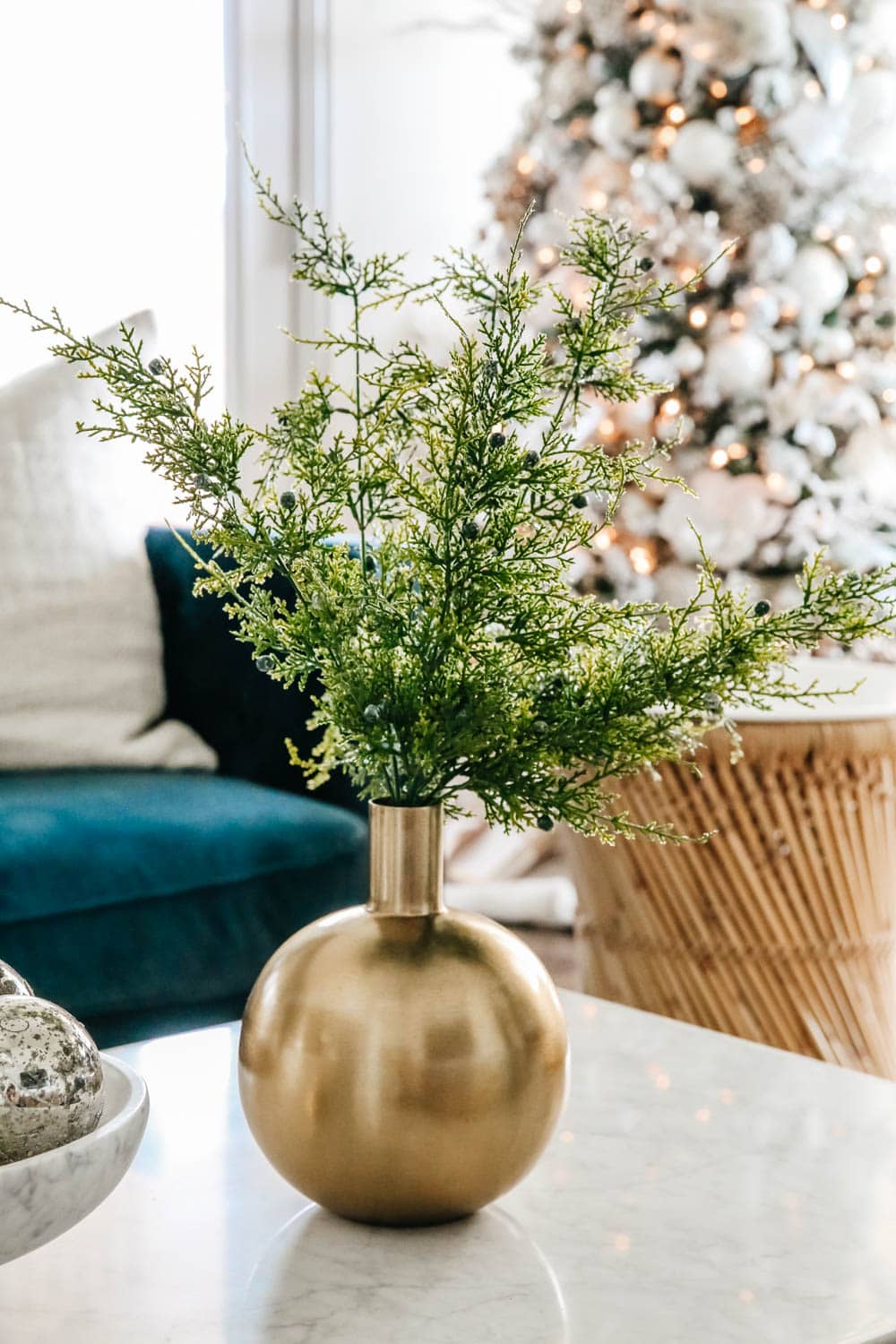 So a funny story. I actually put up the wrong tree in here this year. I was telling my daughter that now since we moved the tree by the windows it feels so short and how mommy had to "build up" the base to make it feel taller and she goes "Well you did put the upstairs tree down here this year so maybe that's why it is shorter." Um, what?!! She was so right. For two weeks I have stared at this tree, decorated it to the nines and lived with it down here all the time not realizing I put the game room tree up down here. Ugh!
So long story short, this is not the tree we normally put in our living room and it does feel shorter. BUT you fake it till you make it right?!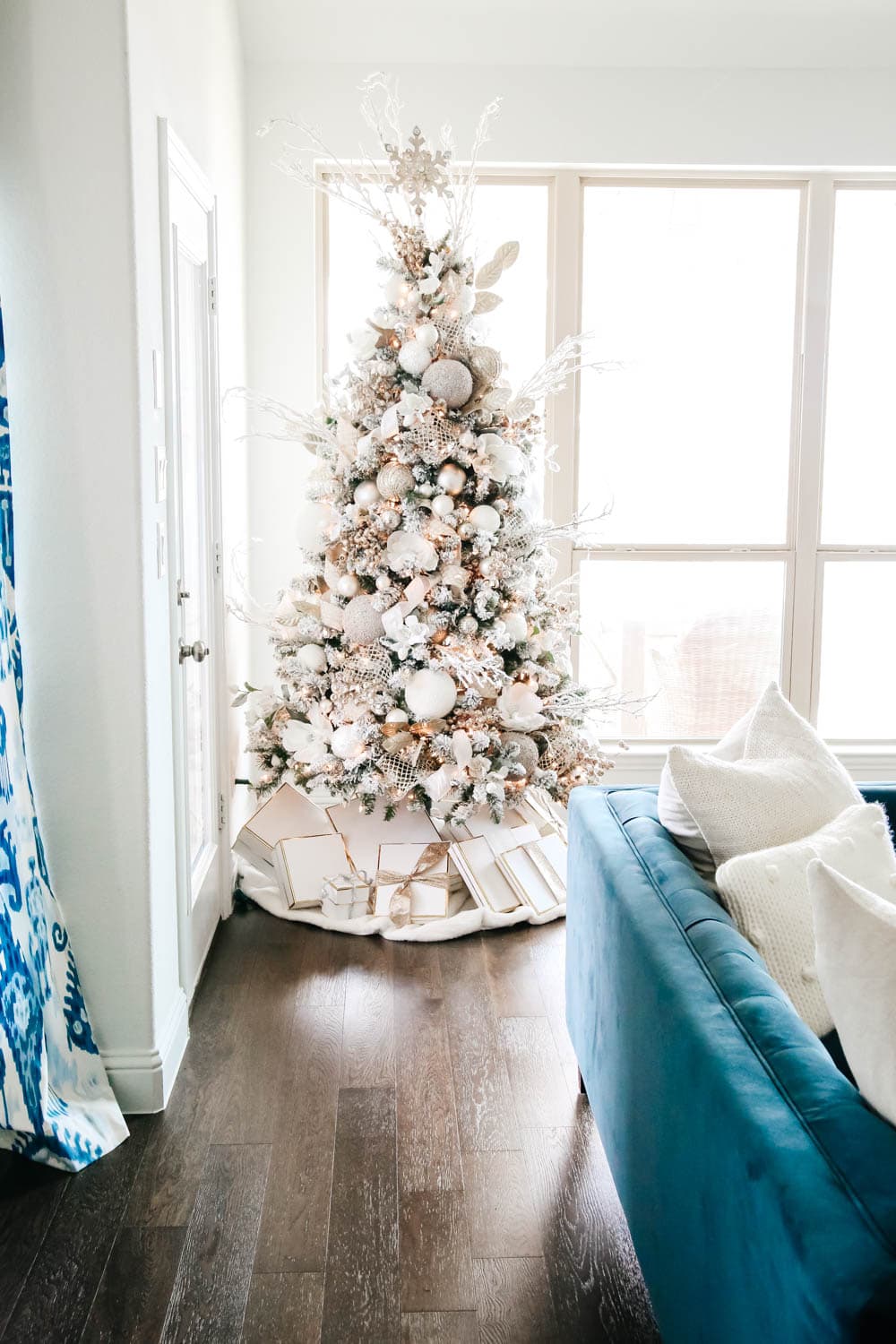 I built up the bottom with the stand sitting on bricks, covered the base with a tree skirt and added tons of presents to the bottom to fill in the extra gap. I love to decorate with these white and gold-trimmed boxes every year before the "real" presents arrive and I just add new ribbons each year.
Then I added 6 different floral picks this year and two different ribbons to the body of the tree for fullness.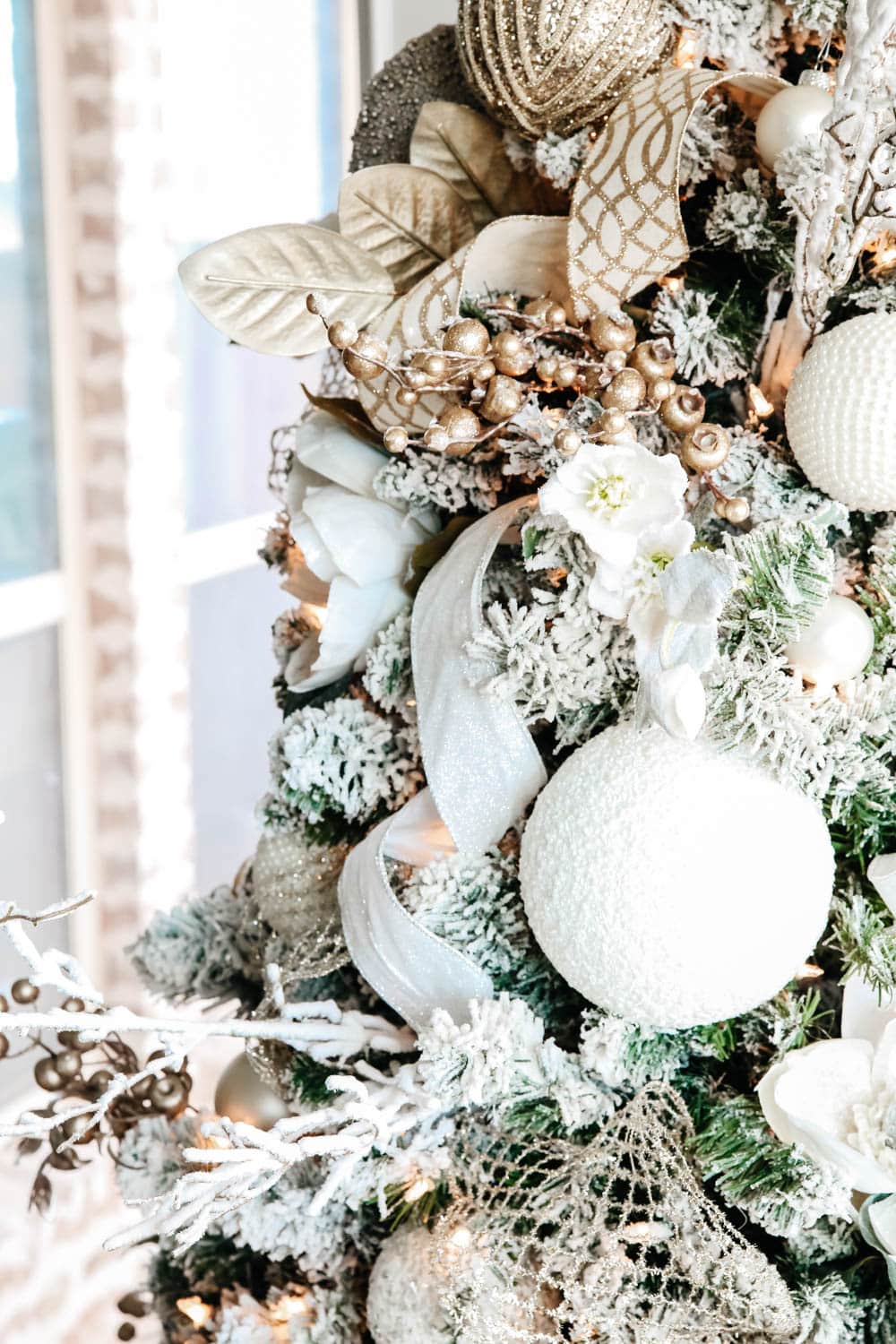 For the top of the tree, I have the snow-covered branches coming up the top of the tree and then added in the tree topper to give it even more height. If budget is an issue and you just can't get a new tree, these are such easy ways to fake height and fullness to a tree.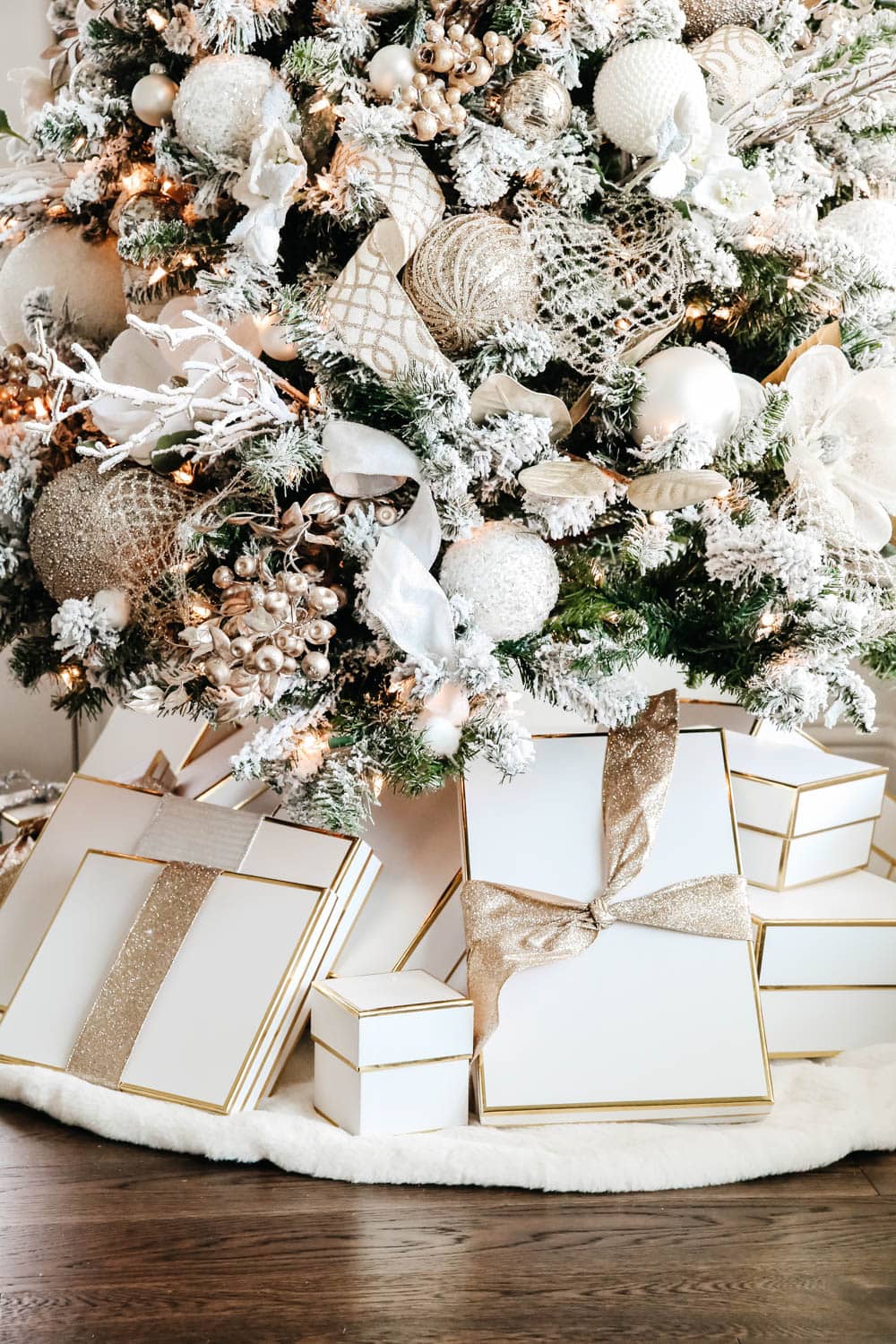 It clearly ended up being fine and the tree looks so beautiful but it is so funny she noticed and I didn't.
So most of my Christmas ornaments are from years past but I got these new ones this year that are stunning in person. They add just a little sparkle to glam the tree up a bit.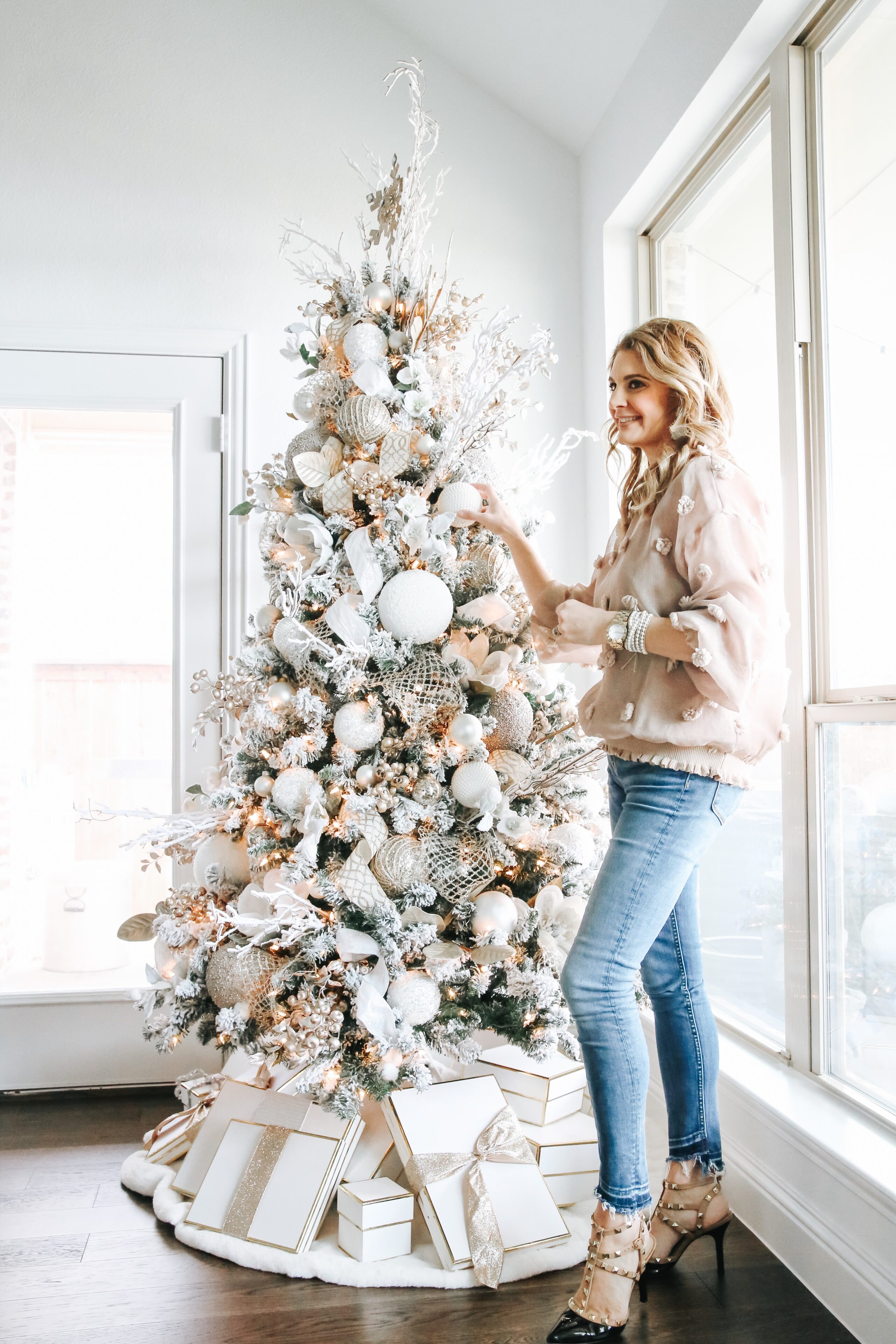 This is another favorite view of this space and you can see how the living room and kitchen area flow together. The kitchen island is the softest shade of grey-blue and matches the fireplace color.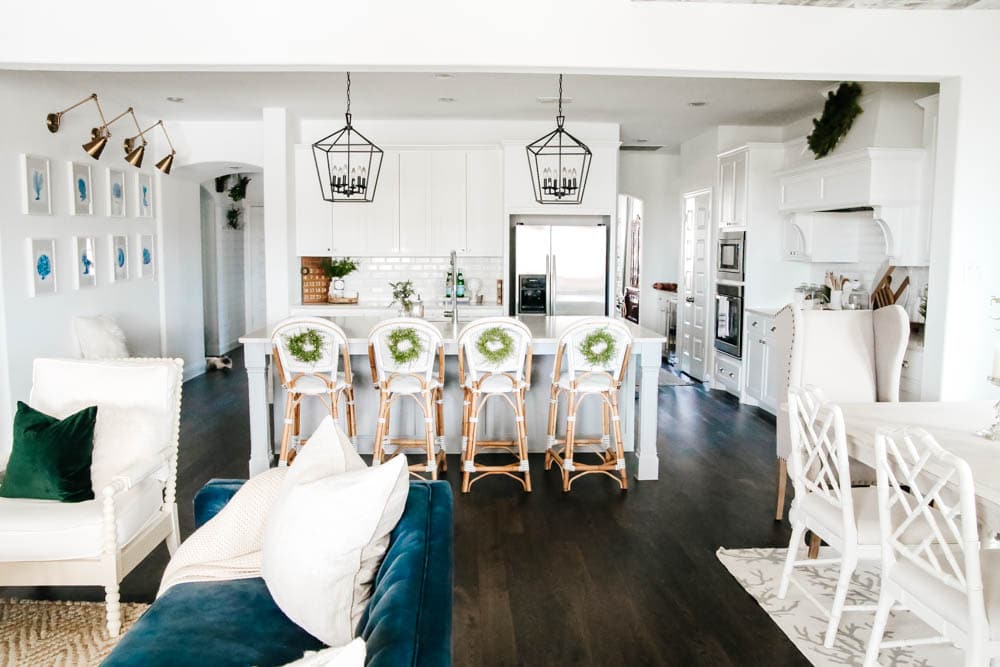 I added my mini wreaths back to my barstools again this year but kept them simple with no ribbon. I love the less dressy look and more natural feel.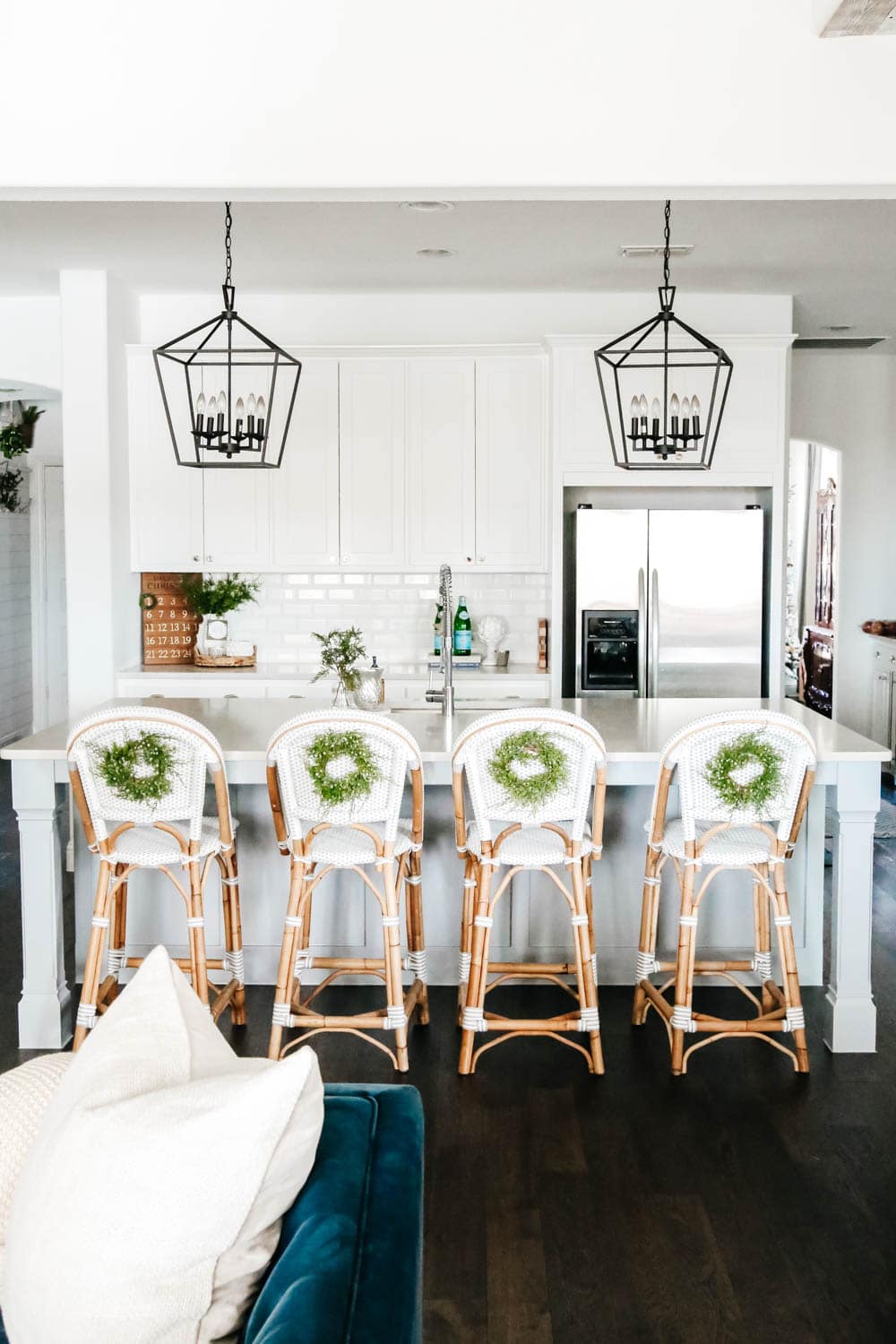 Last year I used thin floral wire and just weaved them through the wreaths and the back of the chairs. They were super secure and did not damage the chairs at all. This year I am trying small Command hooks to the backs and hoping they stay. Command hooks are my favorite to use when I decorate for the holidays.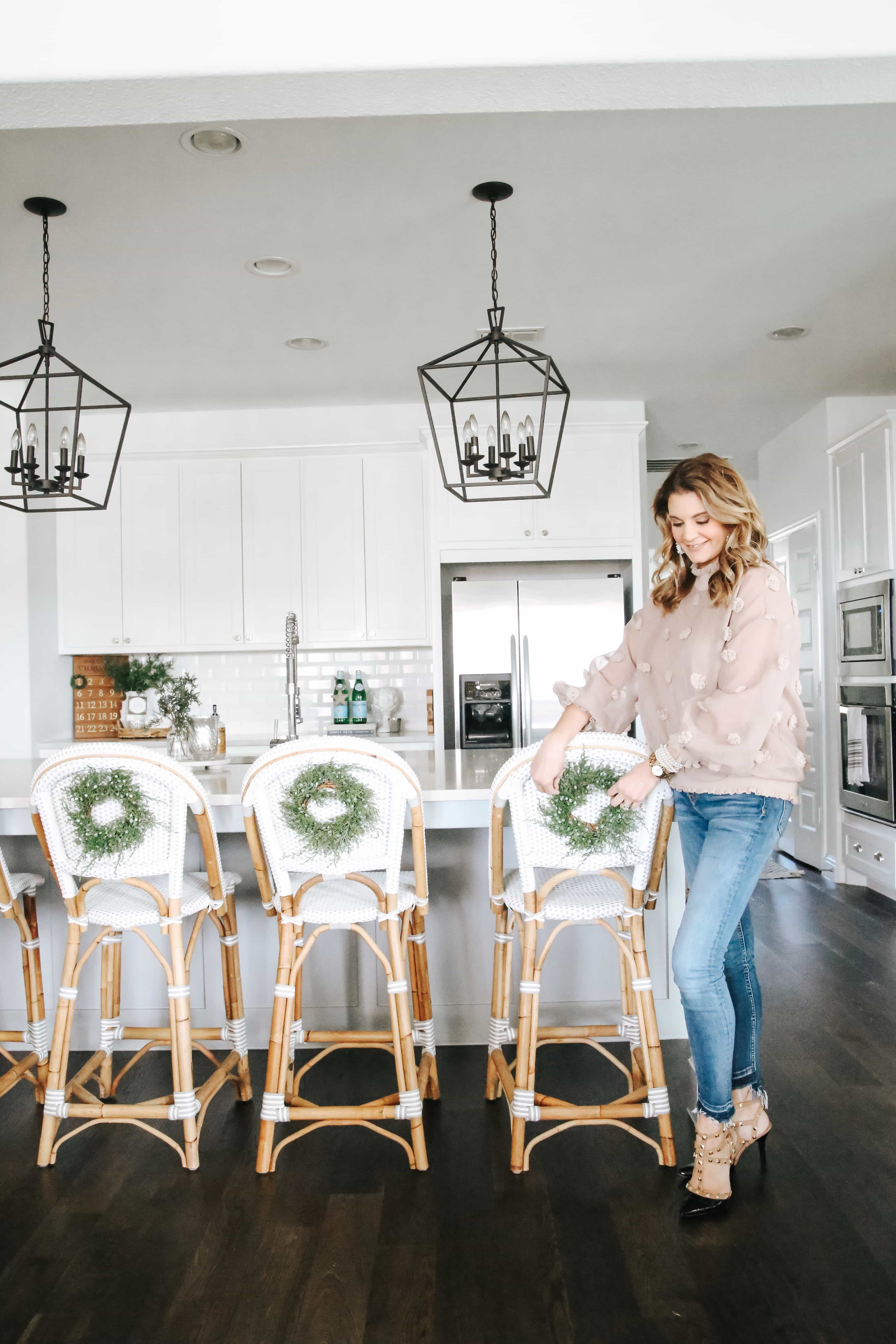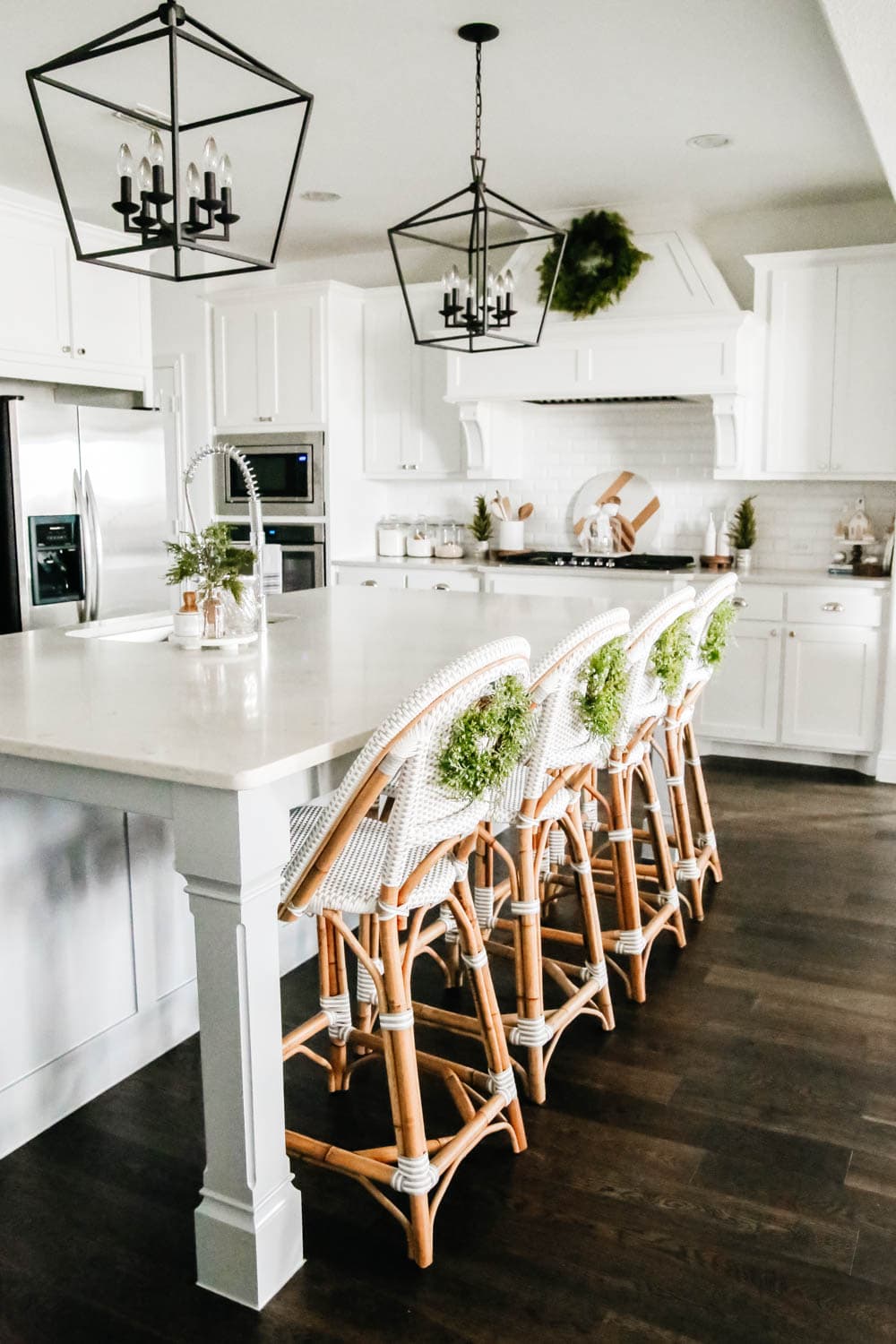 I added just a few greenery to the kitchen this holiday season to warm it up and bring in some color.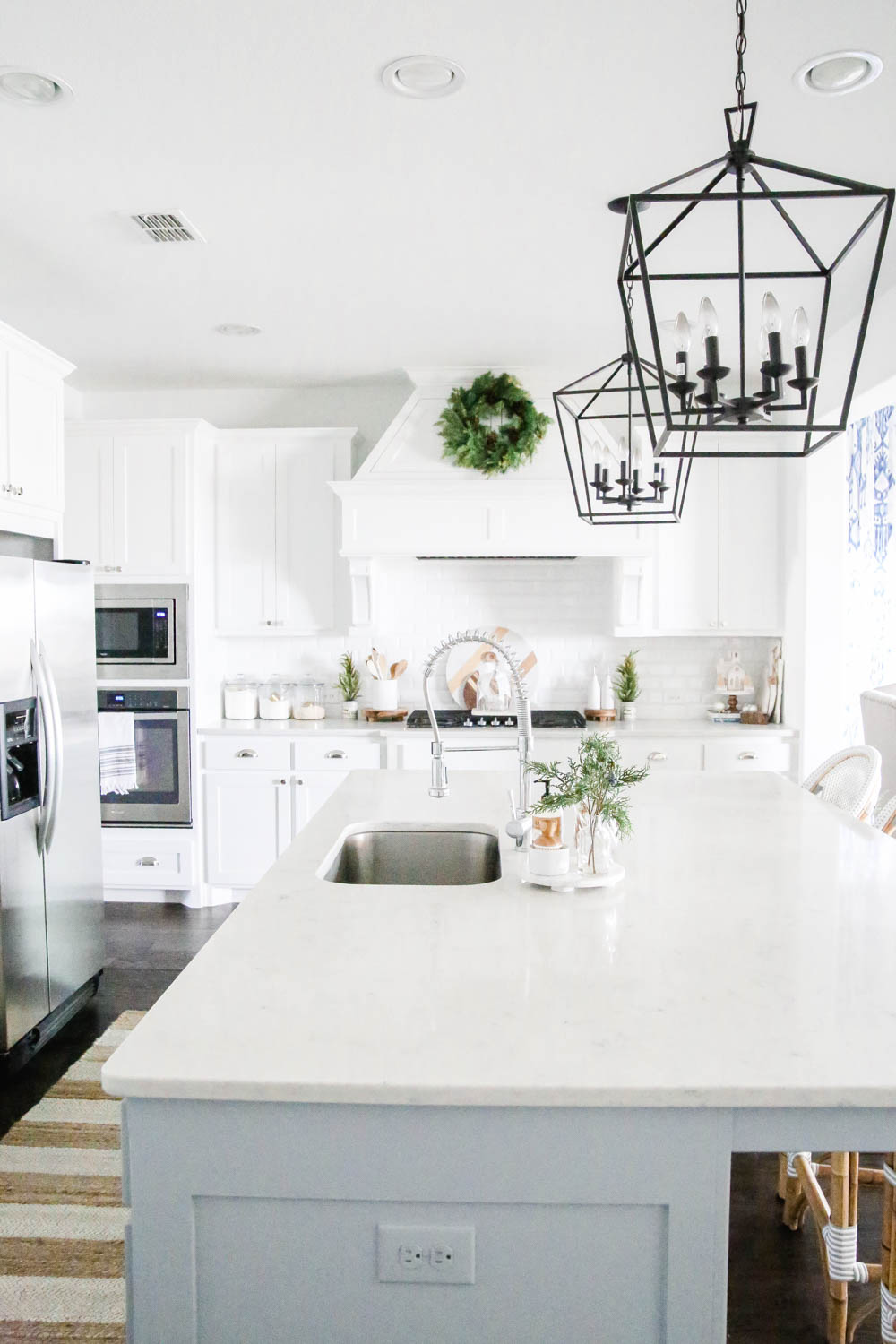 I added this wreath to my hood using a command hook and these little potted pine trees I got at Tuesday Morning years ago.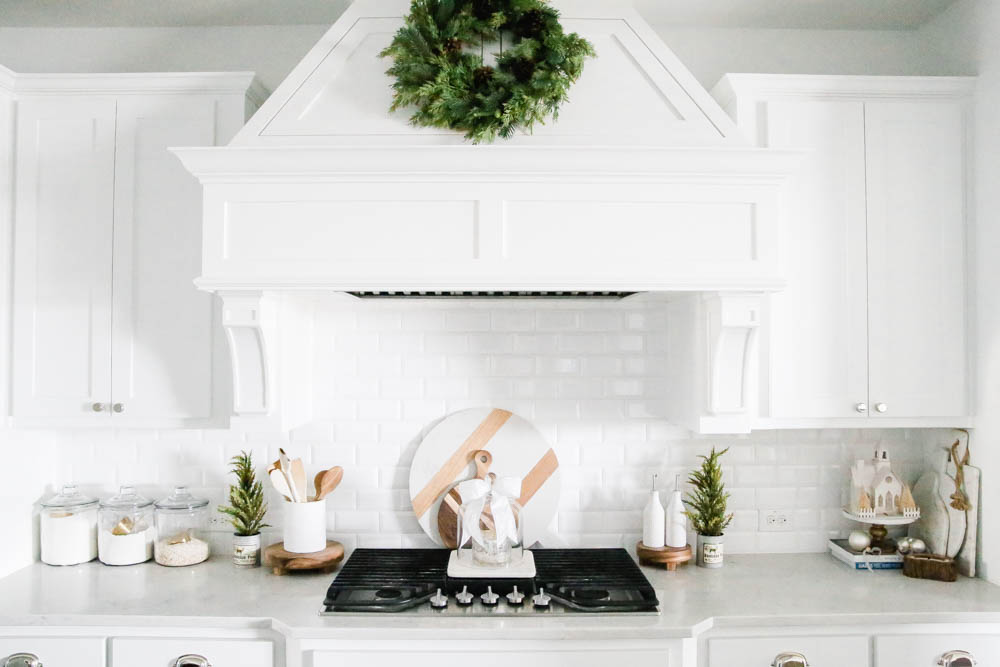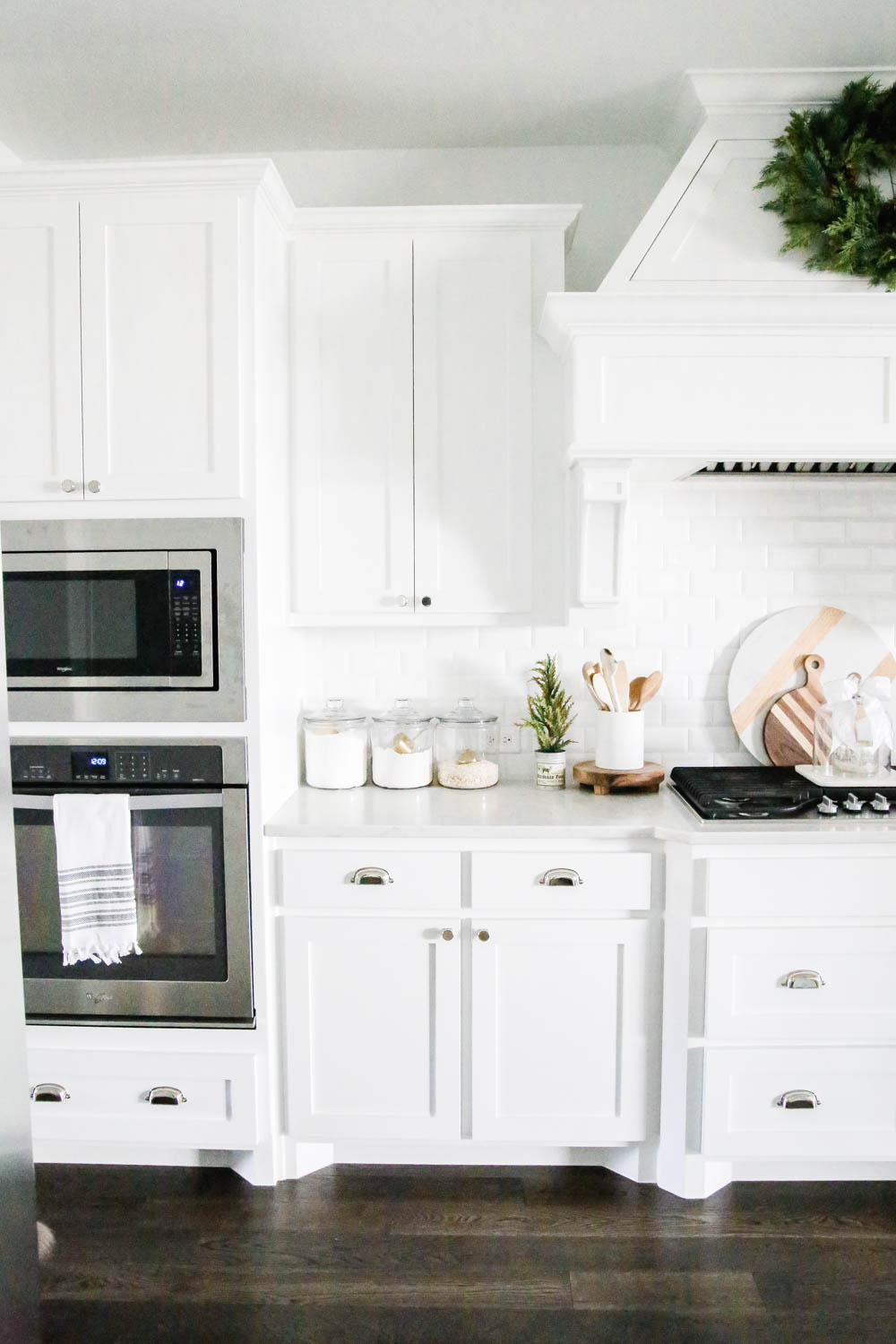 I bake A LOT during the holiday season and I hate pulling it all out of the panty each time. So this year I got these large canisters and have it all out on my counter ready to use. It was super convenient when I was cooking Thanksgiving dinner and I am thinking they may become a permanent fixture to my counter now.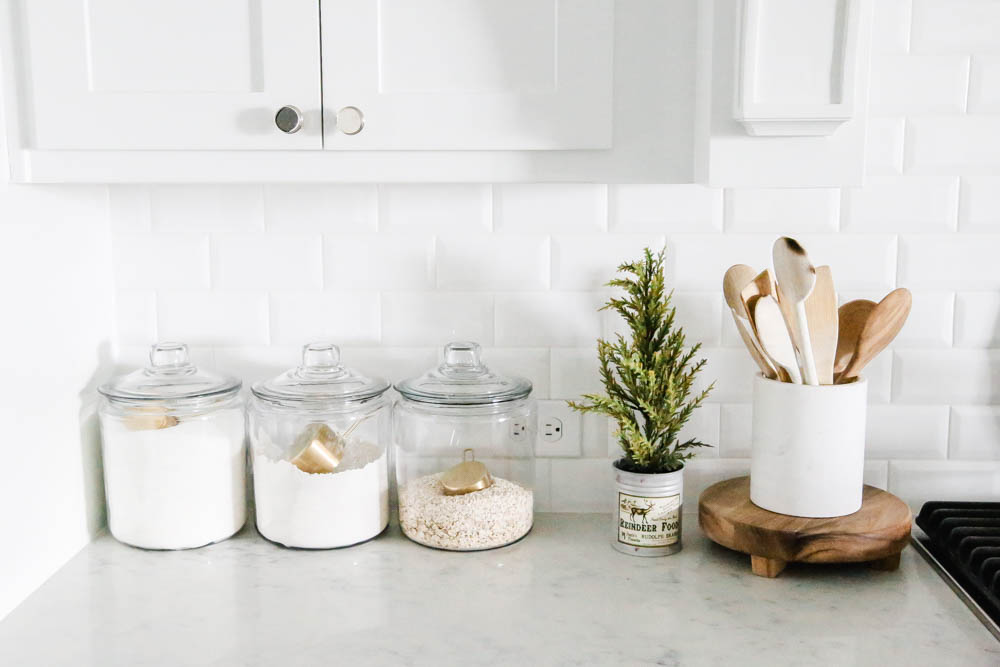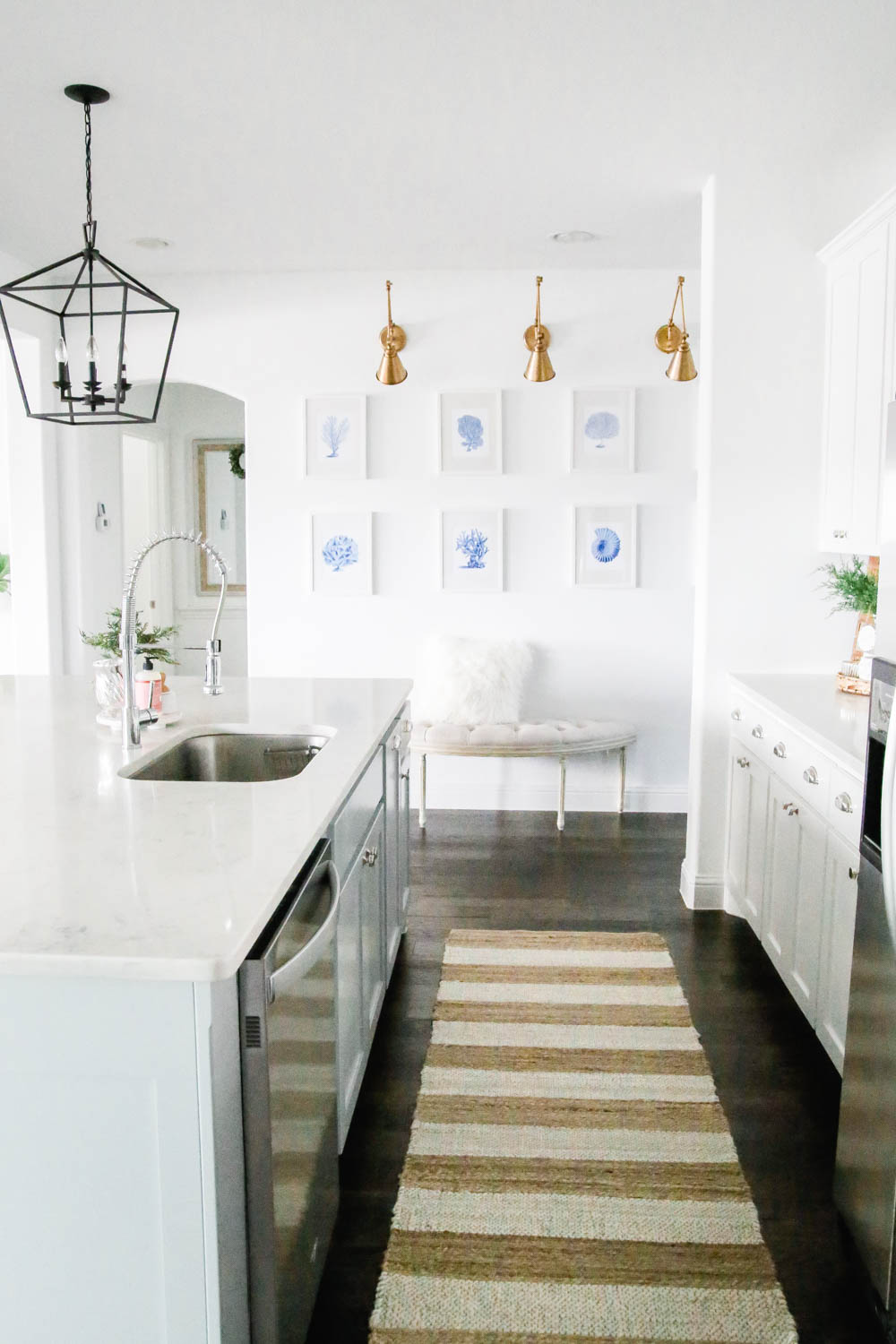 I added small touches of sparkle to my counter with ornaments and little votive jars with candles.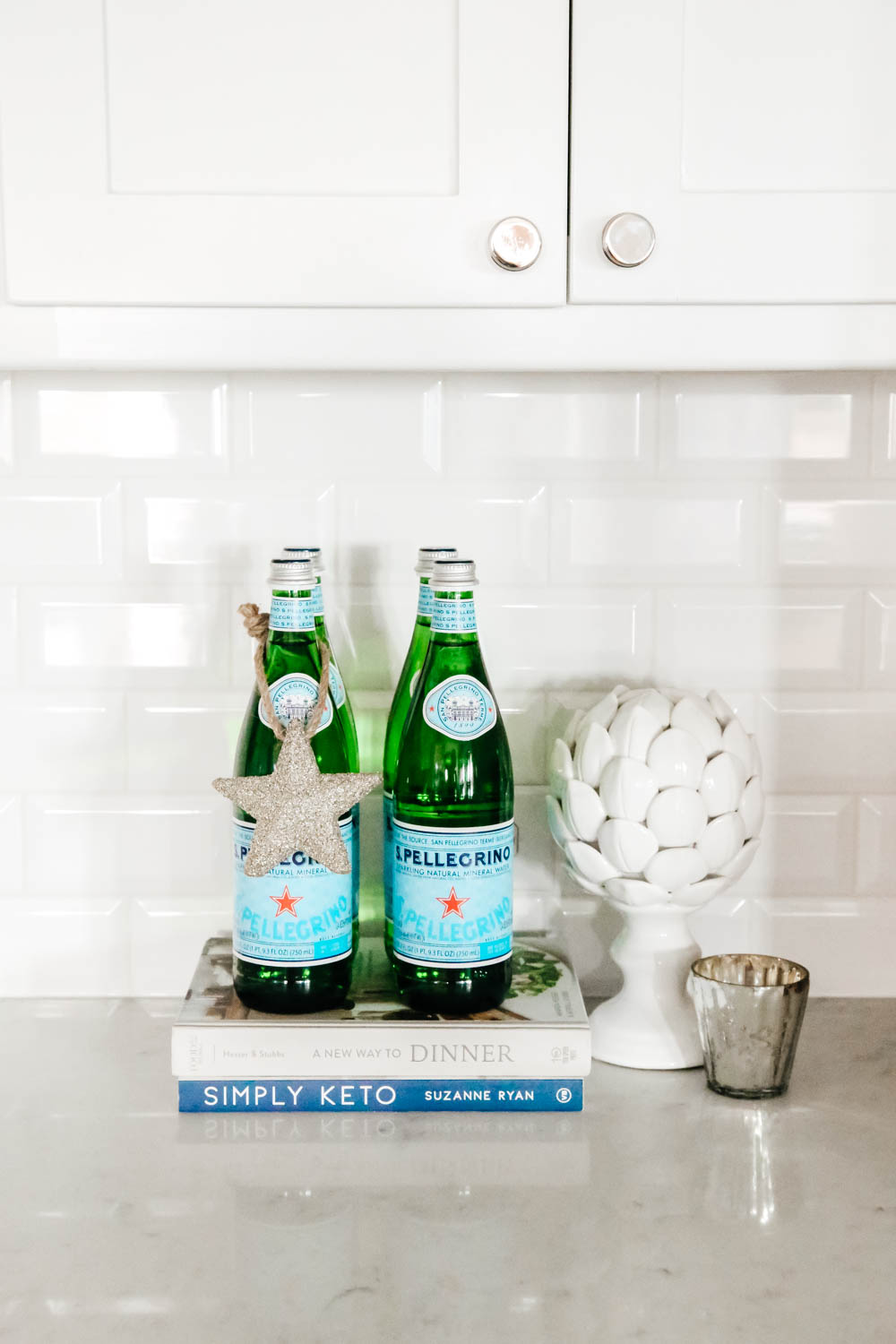 We love doing advent calendars for the season every year. I found this one last year and then I also have a little chocolate one for Lauren. Do your kids love doing these too??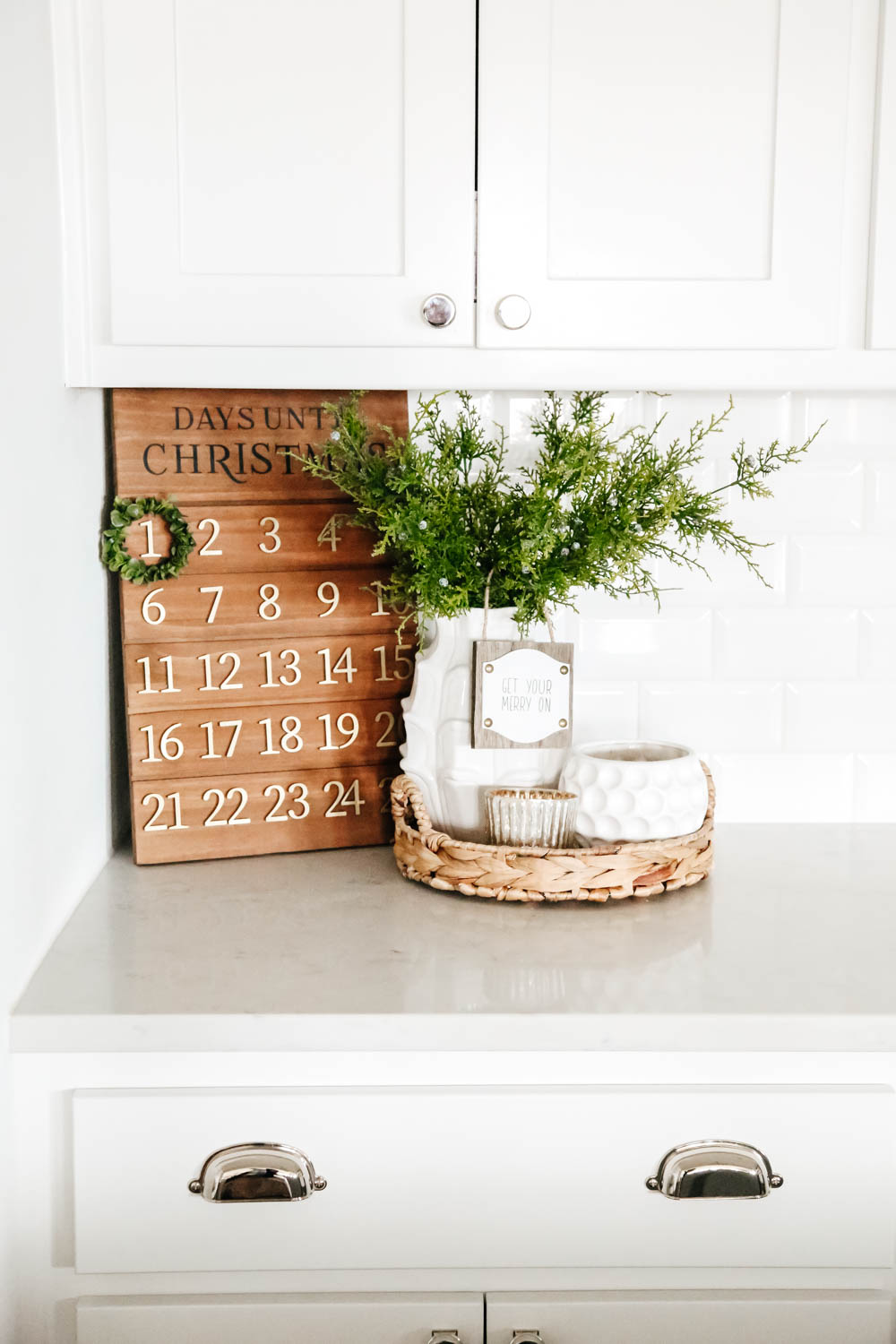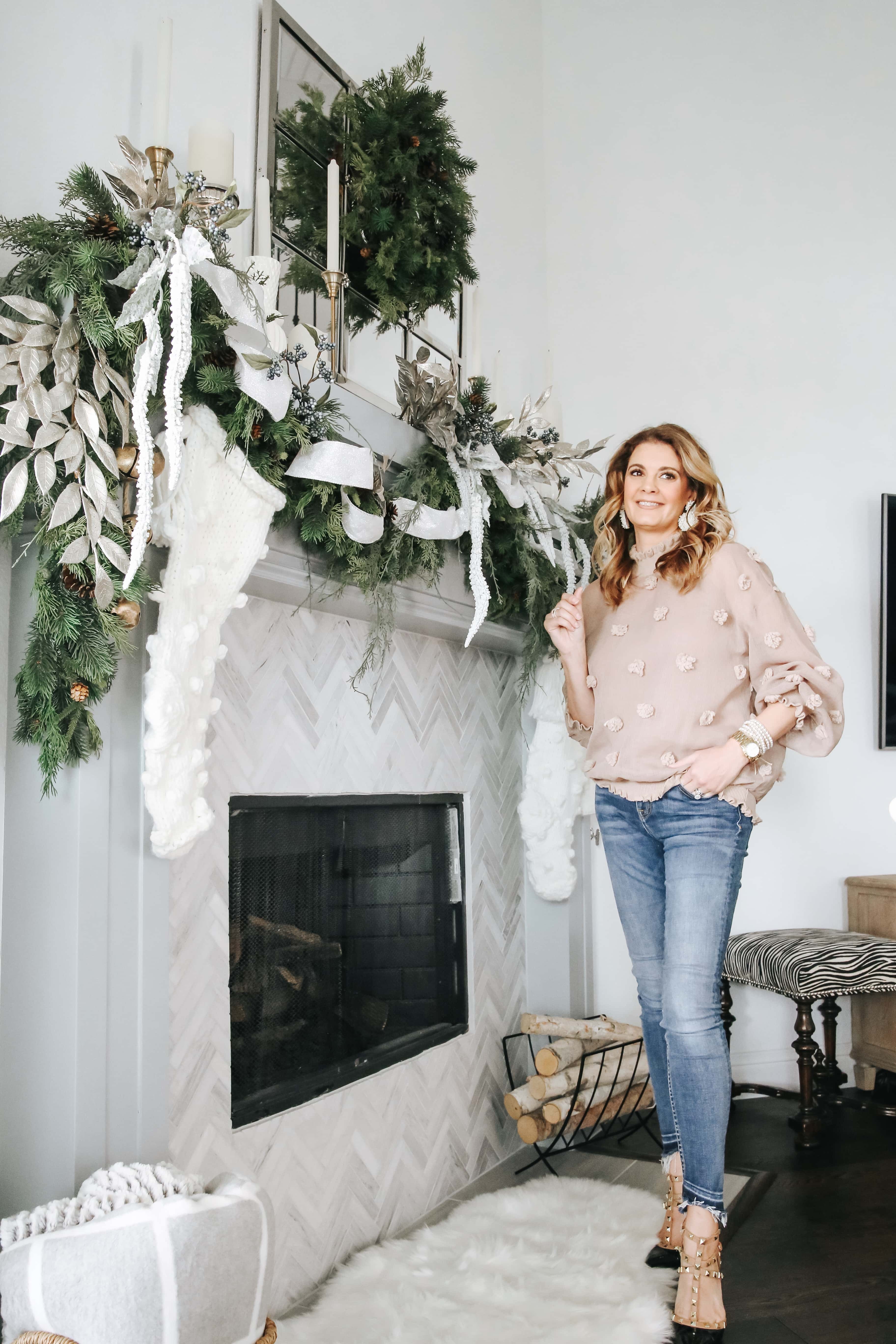 I also wanted to share the details of this cute holiday outfit with you. I am absolutely obsessed with Mallory's new shop and swear that is where all my money has been going lately. She has a fabulous assortment of holiday outfits and I snagged this top from her just a little while back. Make sure to go check it out!
I live in jeans and think they are appropriate even for holiday parties (at least the ones in my neck of the woods). I love these ones for all their stretch and paired with studded heels this is the comfiest dress code for seasonal parties.
And that's it my friends! You can shop all my holiday and home decor below.




Now, please hop on over to each of the other bloggers below to see what they are sharing!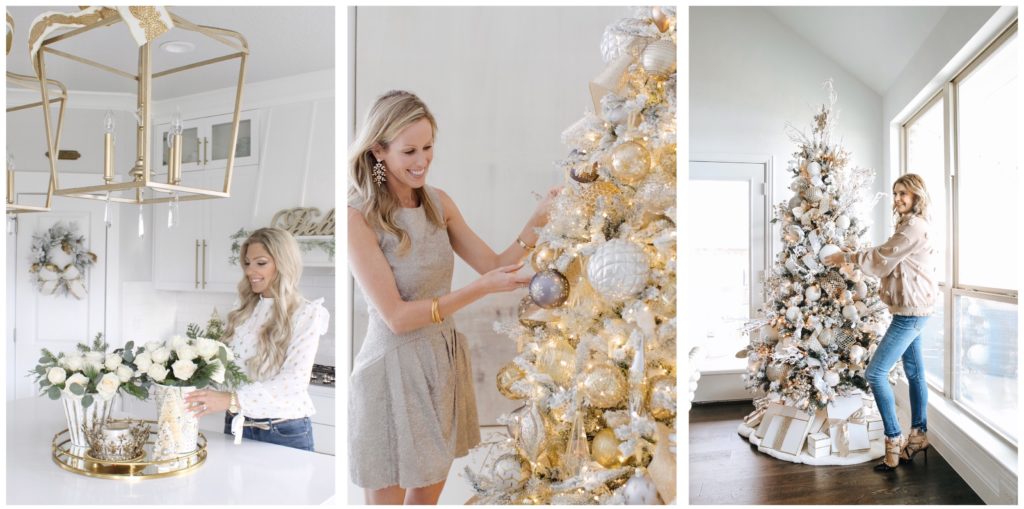 Summer Adams | Fashionable Hostess | A Blissful Nest