Blue and Silver Christmas Living Room Tour 2018
Welcome to our Loveliest Looks Of Christmas Tour, sponsored by Pottery Barn and hosted by Summer Adams & A Blissful Nest! We're so glad you're here to join this talented group of bloggers as we share our winter fashion and Christmas decor with you.
It truly is the greatest time of year and if you are new here welcome! A little about myself for all you new visitors. My name is Rebekah and I have been an interior designer for over 15 years.
I am originally from California and moved to Texas 6 years ago where I live with my husband, my 10-year-old daughter, and a couple of fur babies.
We just finished building our home 6 months ago and you can read more about our home build HERE.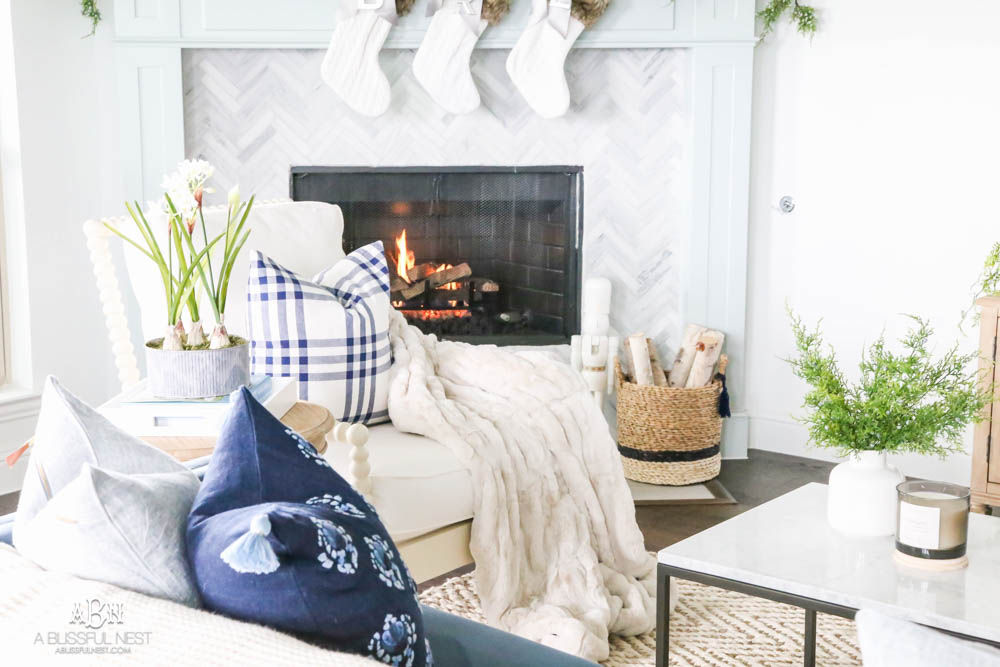 This is such a special time for us as we are celebrating our first Christmas in our new home. It has been so much fun pulling out all our decor and adding in some new pieces to create a new fresh holiday decor look in our home.
My inspiration came from some key pieces from Pottery Barn and of course all of our blue furniture we have in our living room.
I think it is a bright and cheery coastal Christmas look in our home which I absolutely love. I may never take it down! Ha!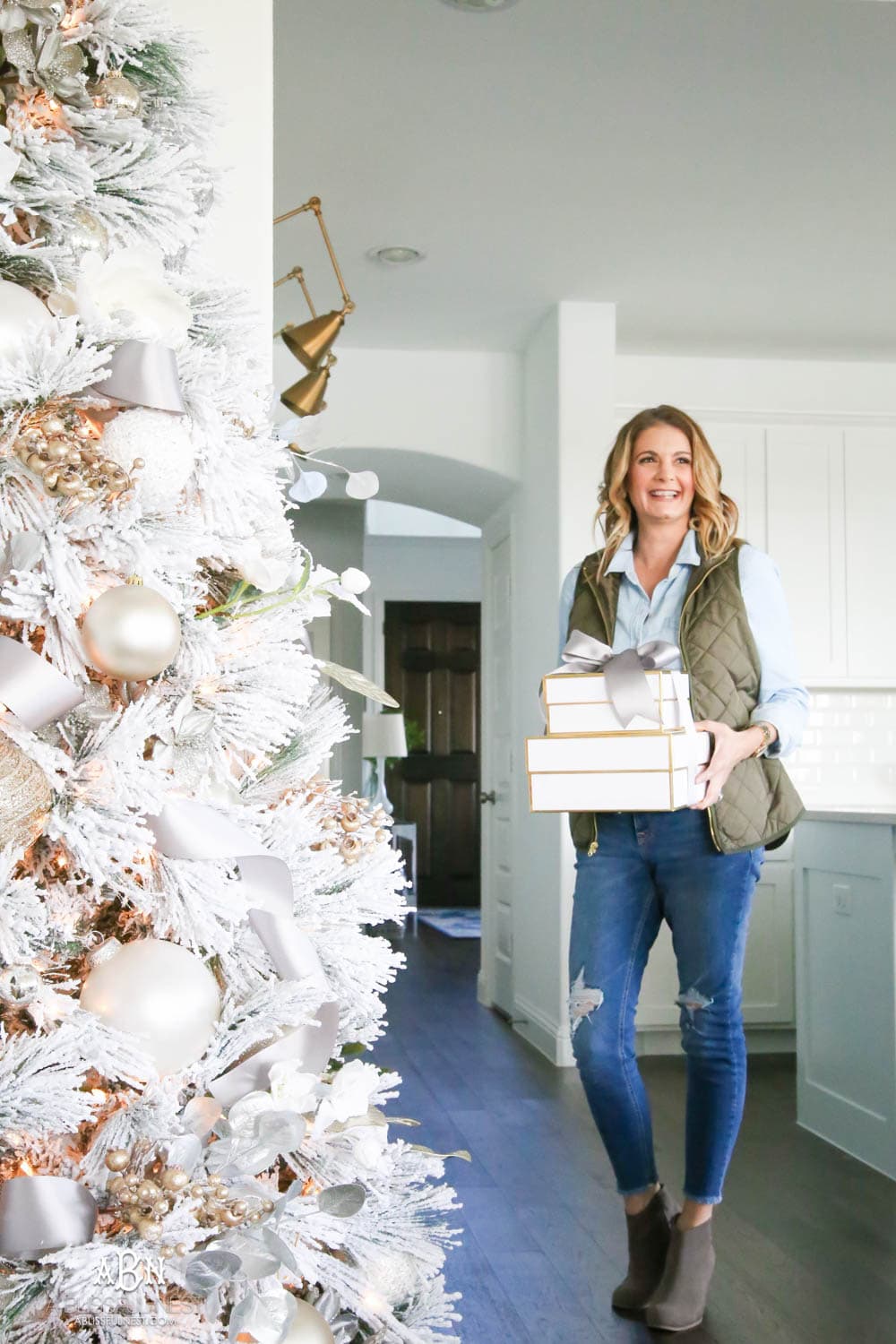 We have an open-concept home where our kitchen, living room and breakfast room all open into each other.
It is defined by large openings in the ceiling and then I have added area rugs in the living room and breakfast room.
This is one of my favorite views standing from the back of the house looking into the large space.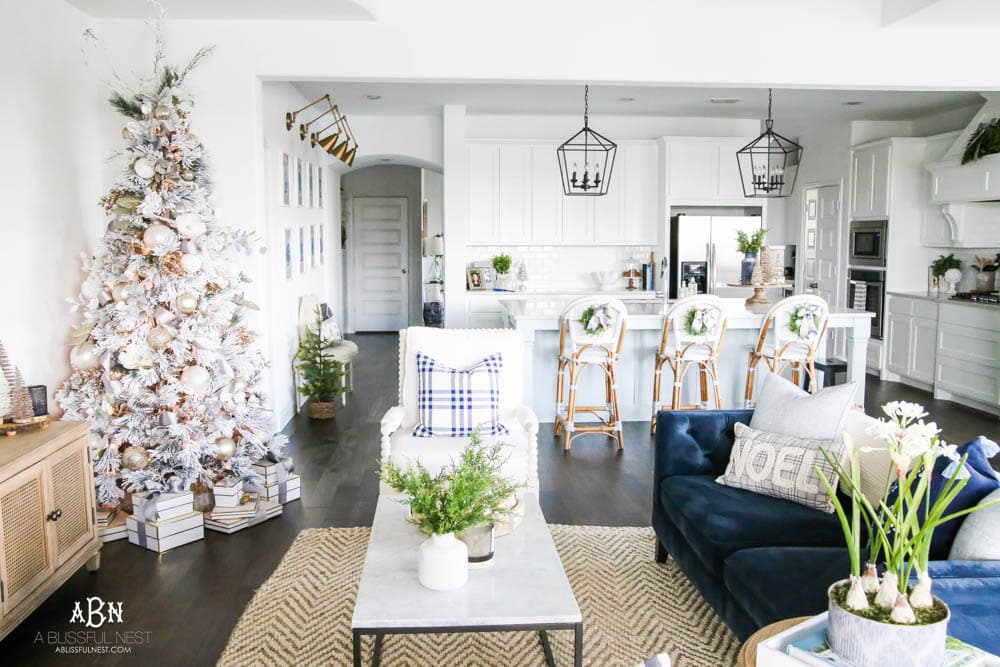 I decided to place the Christmas tree in the corner so you can also see a peak of it as you come in the front door which is just past that door on the left in the background.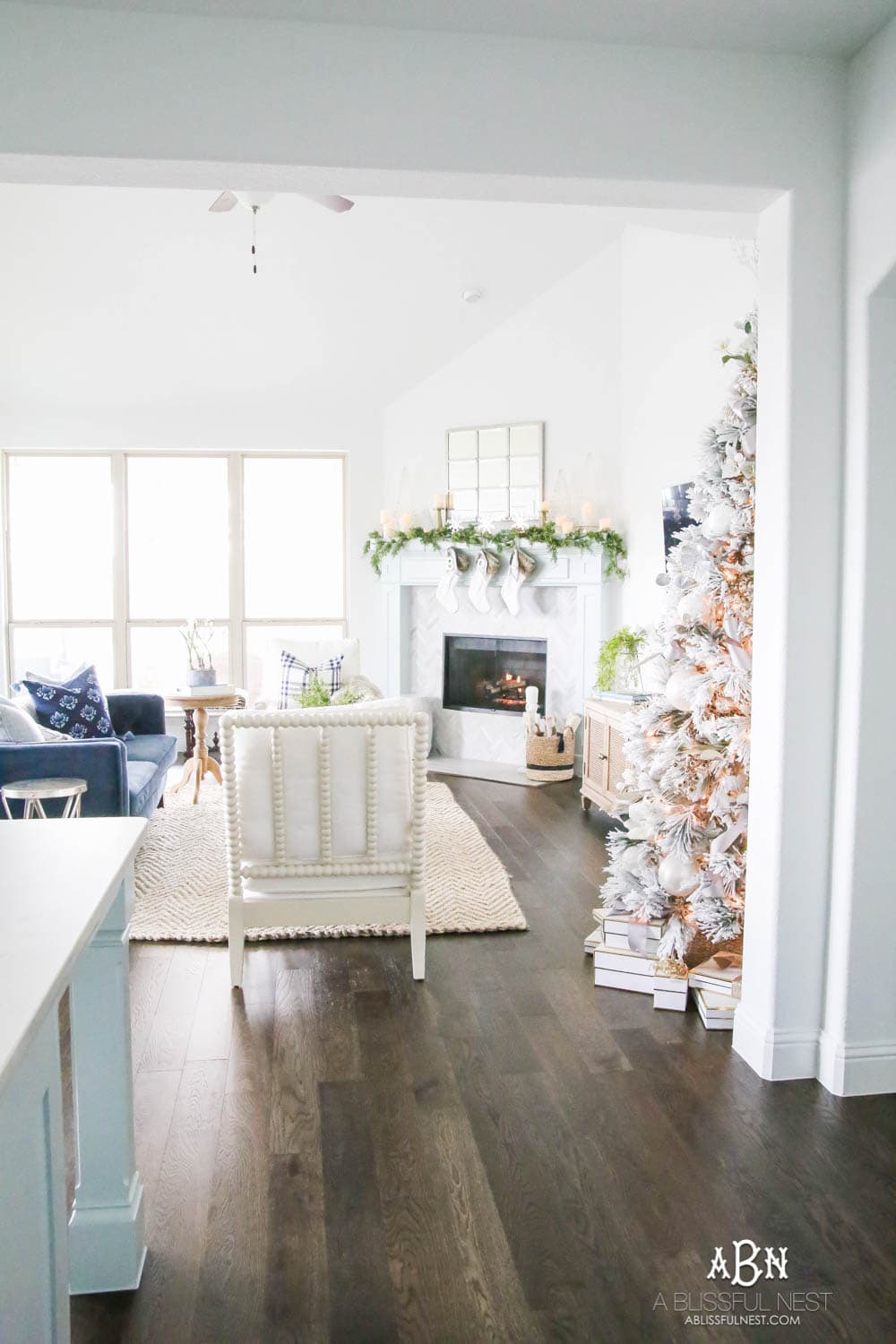 We have a corner fireplace, so I planned the room to be centered on the wall to the right of it which holds our tv.
I love the soft blue pop on the fireplace with all the gorgeous holiday greenery. It is so subtle but makes it feel warm and festive.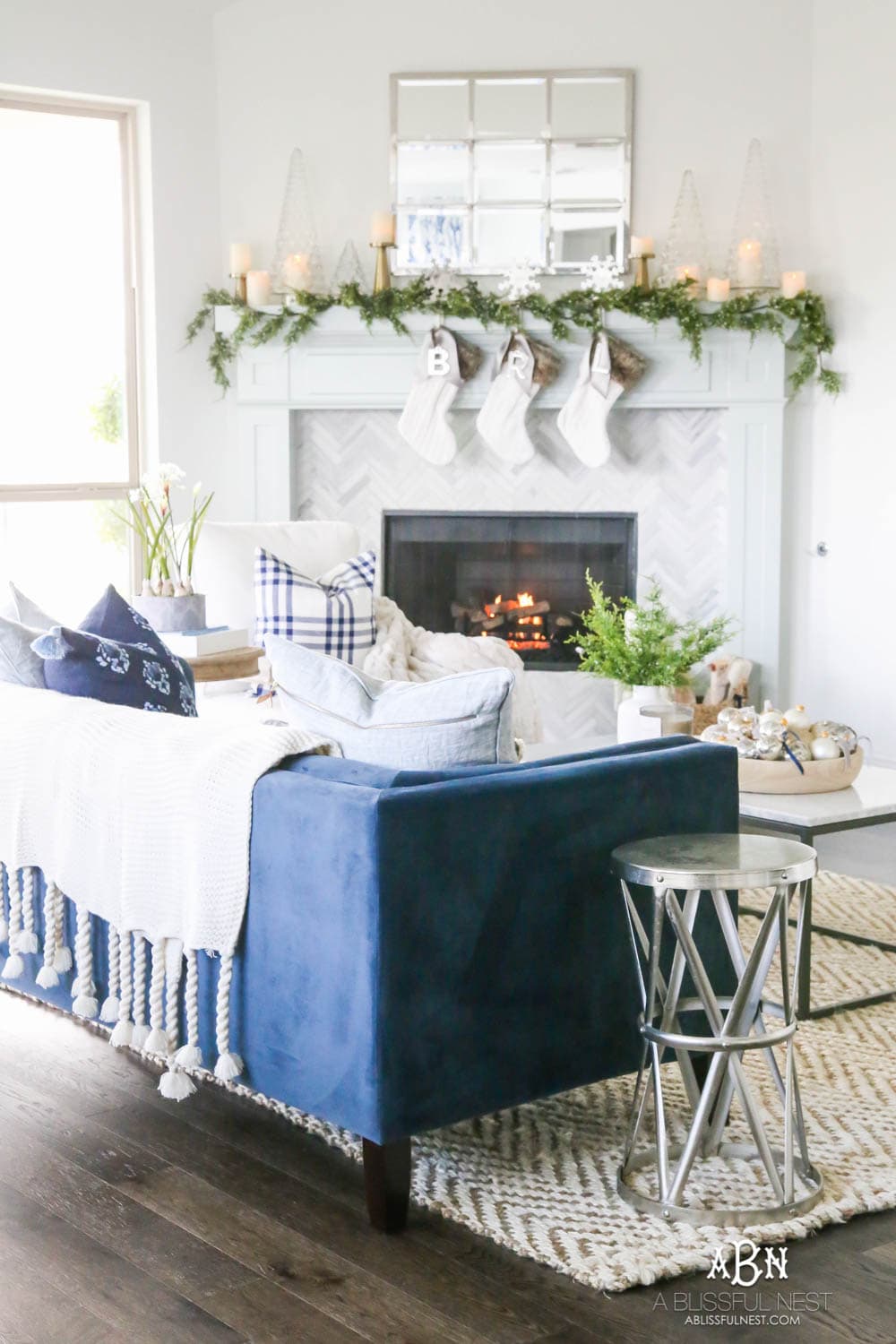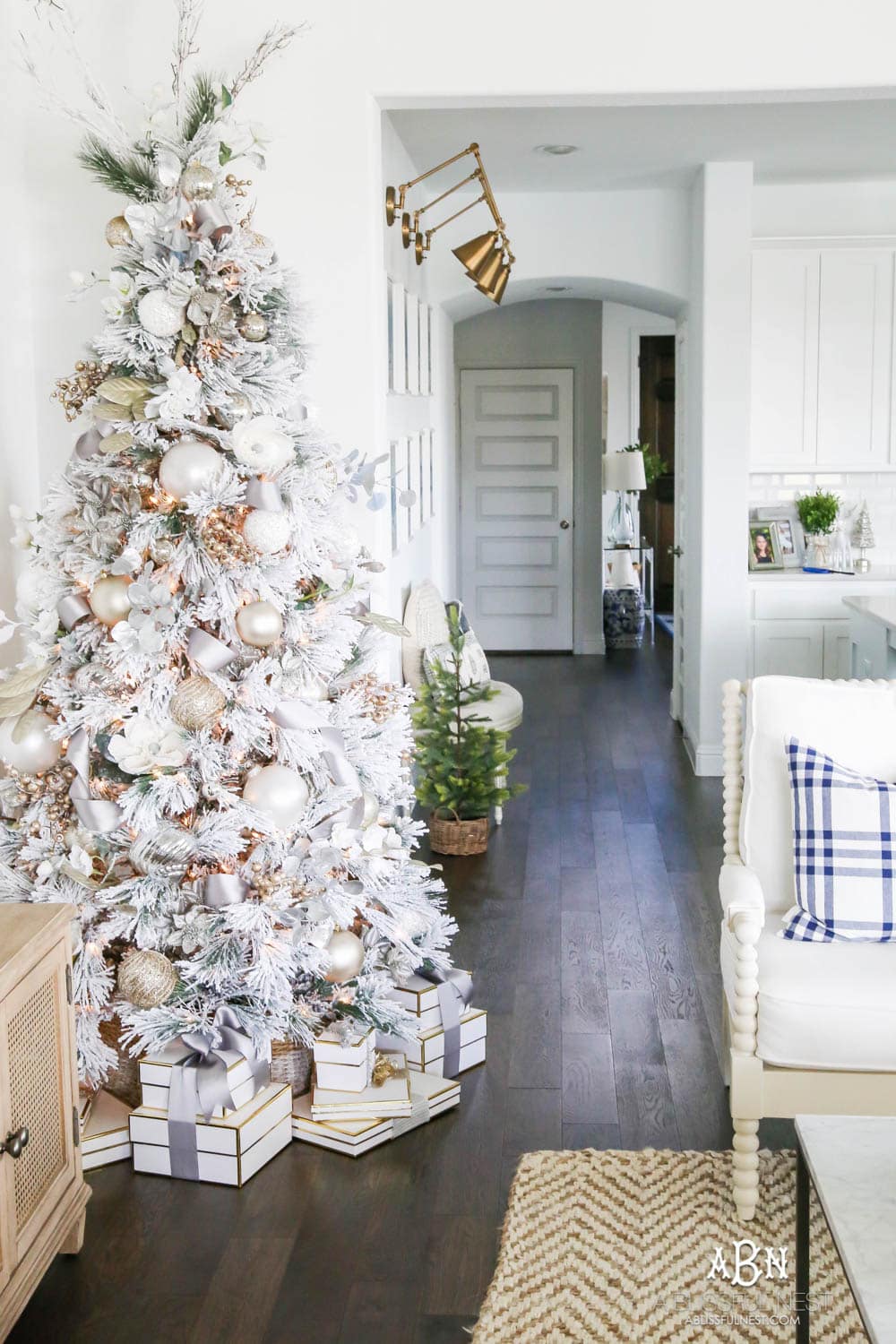 You will never believe but I found this flocked tree at Walmart and I saved my reviews of the trees I found there over on my Instagram highlights for you if you want to check them out.
Here are also a few of my favorites I saw in person that are very affordable.


This one is a 7.5 foot tree and was under $200. I needed something not too tall since we have the Juliet balcony right above this space.
My large tree from last year will be going in the entryway so stay tuned for that!
This site contains affiliate links. Please read our disclosure policy. As an Amazon Associate, I earn from qualifying purchases.
My color palette is white, silver and taupe to accent the existing blue decor.
I chose mercury glass, silver, white and taupe colors for accents in this space. Pottery Barn has the most gorgeous ornaments that are classically beautiful. You can check more of them out HERE.
I love this neutral color palette so it accented the blues I already had in my room.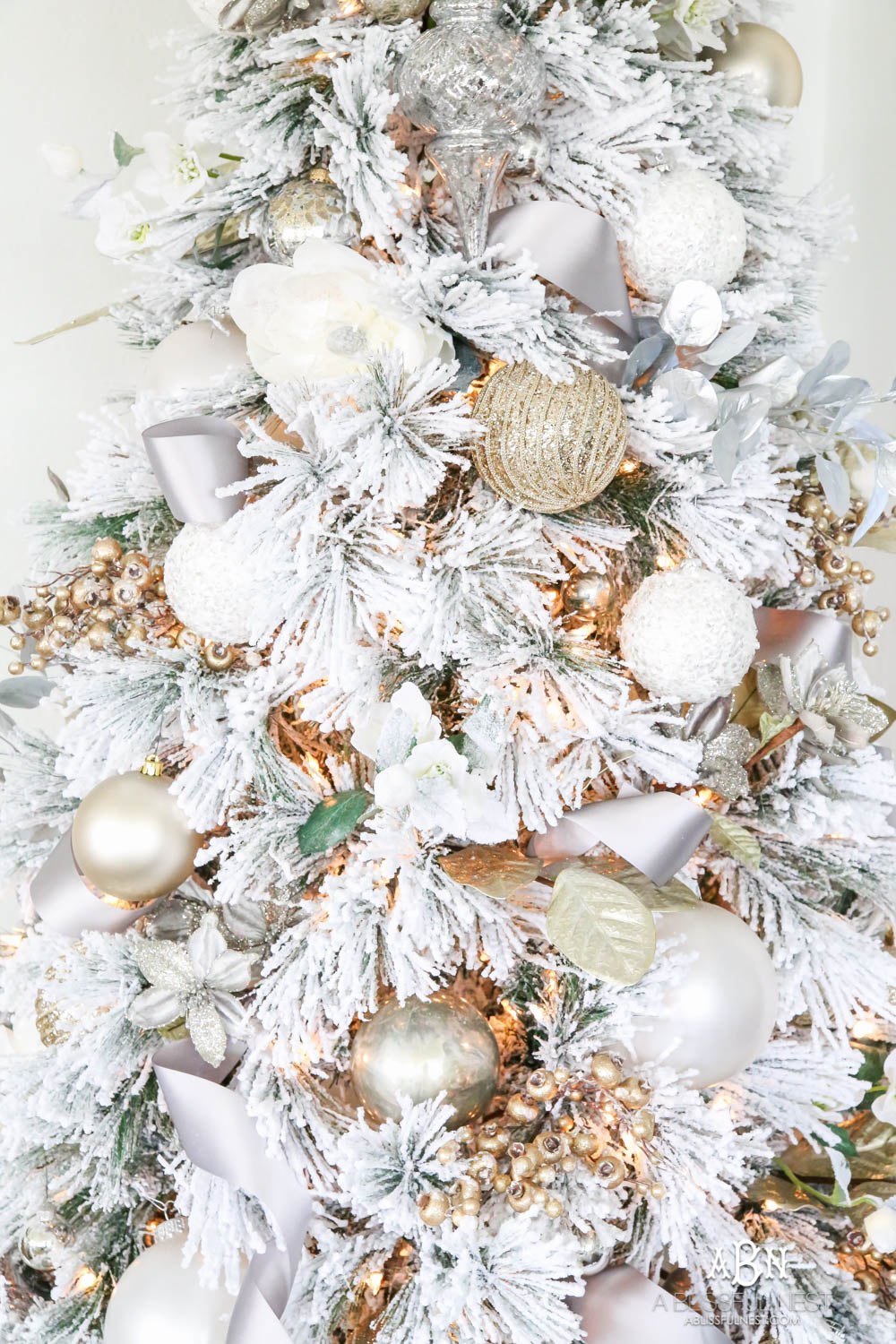 Steps to decorate a Christmas tree:
First, select the floral stems you will be using.
I used six different floral picks.
silver eucalyptus
large white flowers
silver glitter flowers
gold leaf clusters
gold glitter berry clusters
small white flower picks
I actually like starting with the picks first because you can really make the tree feel fuller looking. I start at the base and wrap around and work upwards.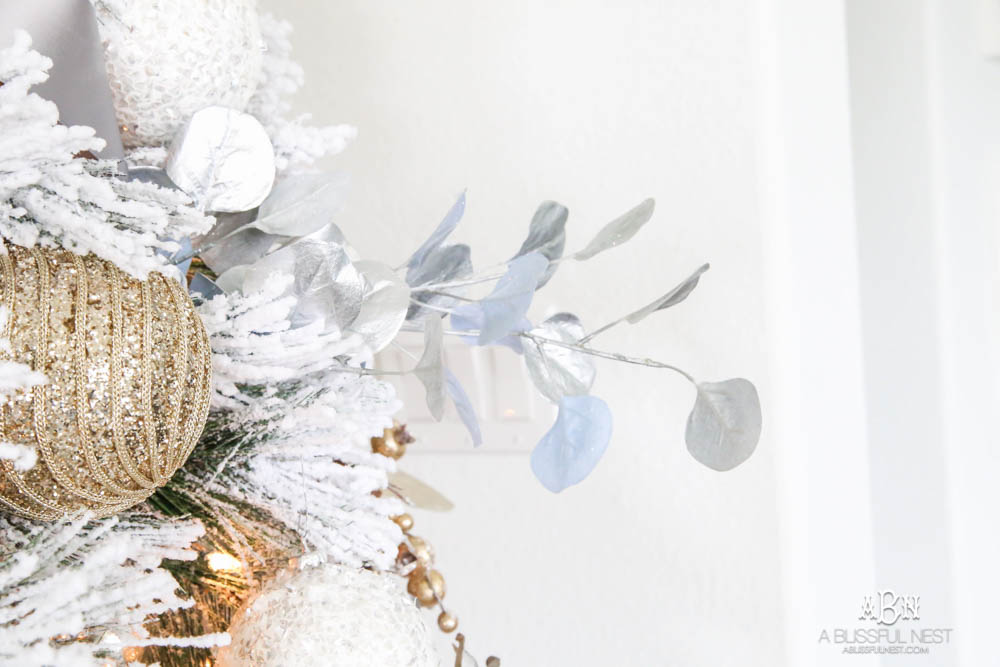 Place your largest ornament balls next.
Then I start by placing the largest ball ornaments I have on the bottom, which this year were these oversized white ones.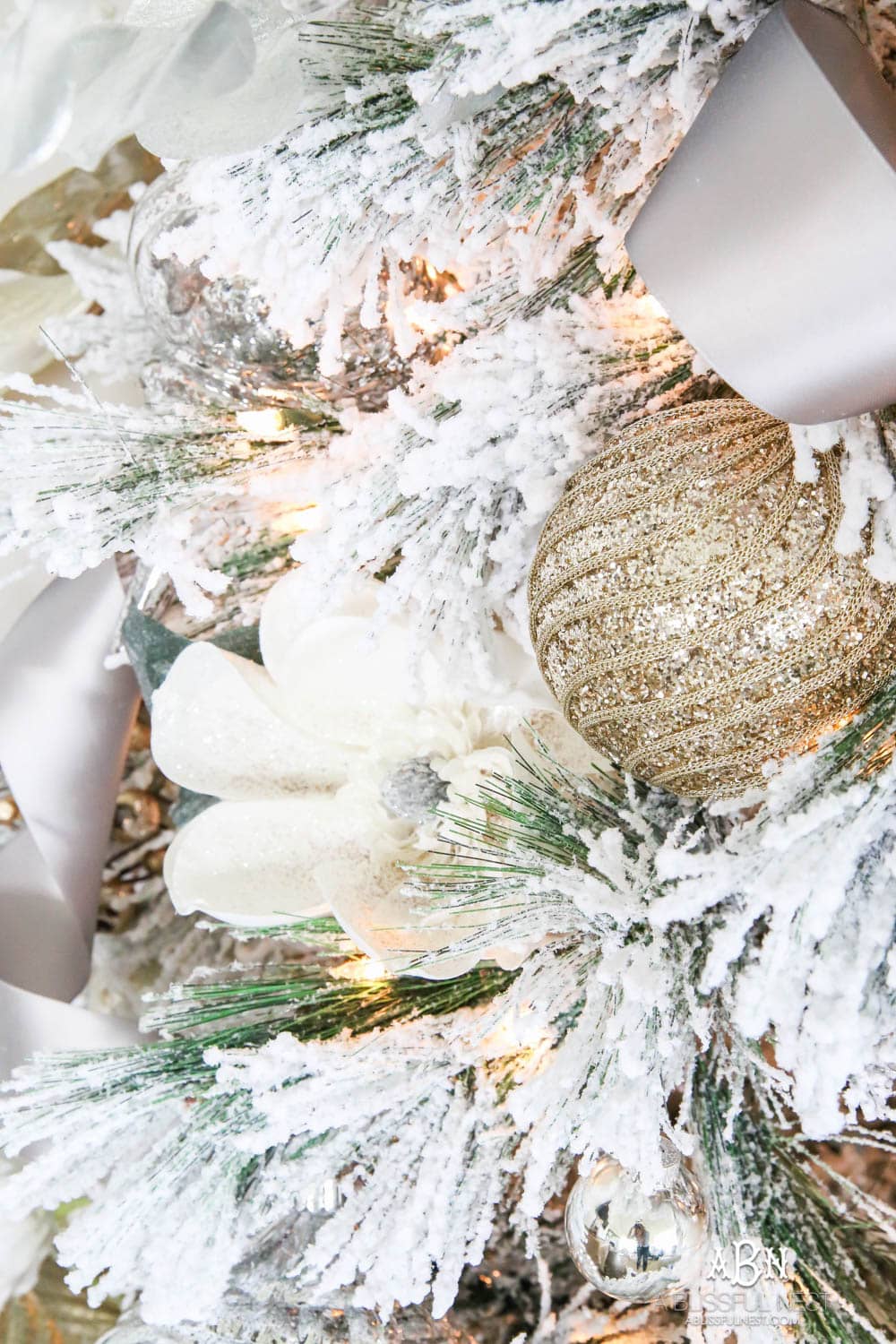 Follow with the medium sized ornament balls.
Then I add my medium-sized ones like these taupe glitter balls and mercury glass balls. Typically I add them more to the lower middle and middle sections of the tree so the sizes graduate upwards.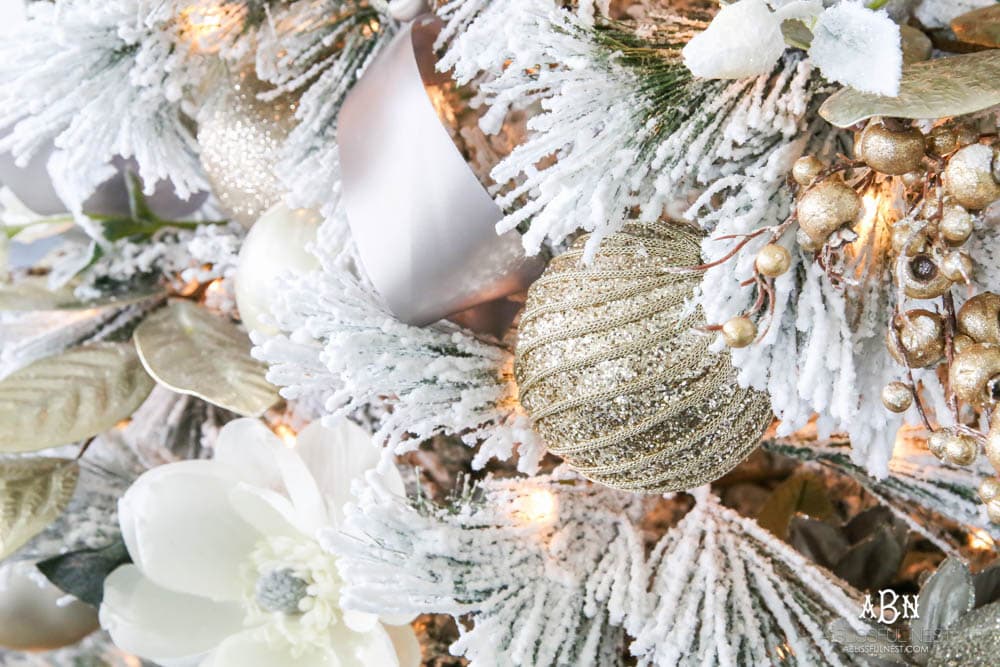 Add in the smallest ornament balls to fill in any holes.
I typically like to place small ornament balls where I have holes in my tree. This helps fill in these sections and add in some variation in sizing.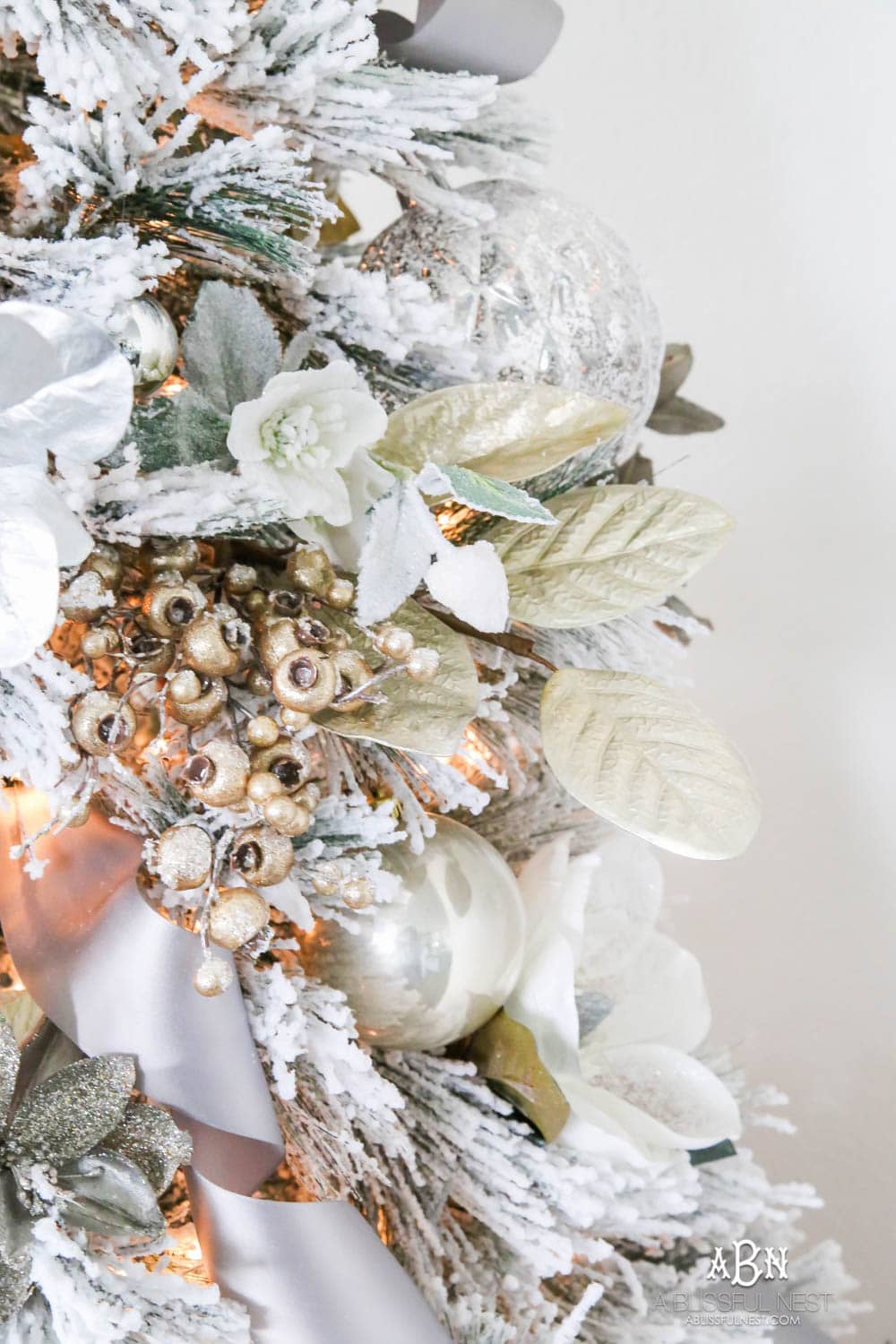 Last, add in ribbon.
I like to cut a couple different sized pieces and either fold over so it poufs out and then tuck that in between the branches or twist it (like below) and have it waterfall down.
I think I will do some Instagram stories on it so you can see exactly what I am talking about.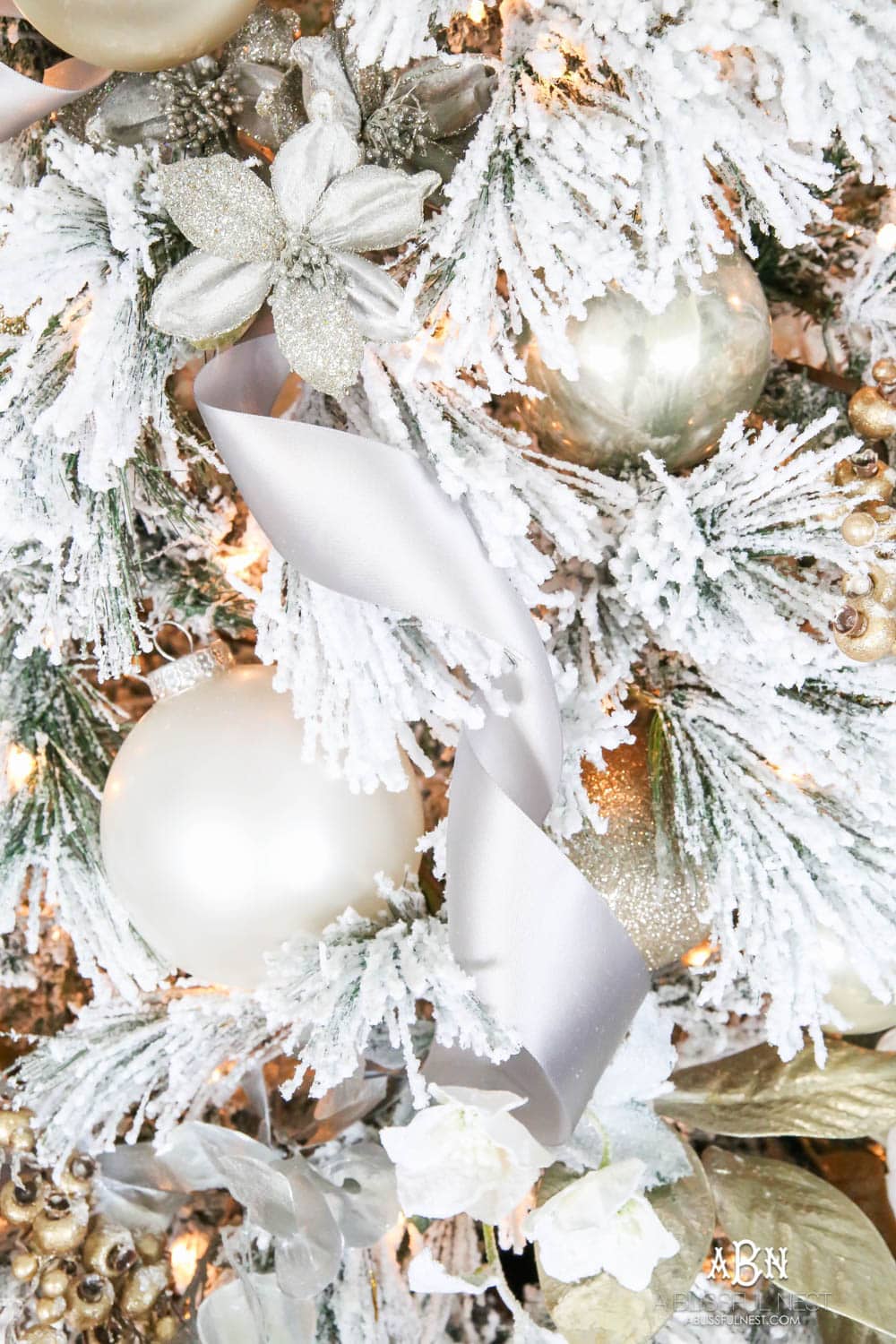 For the top this year, I kept it simple. I had these flocked branches from last year and just stuck them into the top to add in some height.
This is a great way to make a tree seem taller than it is.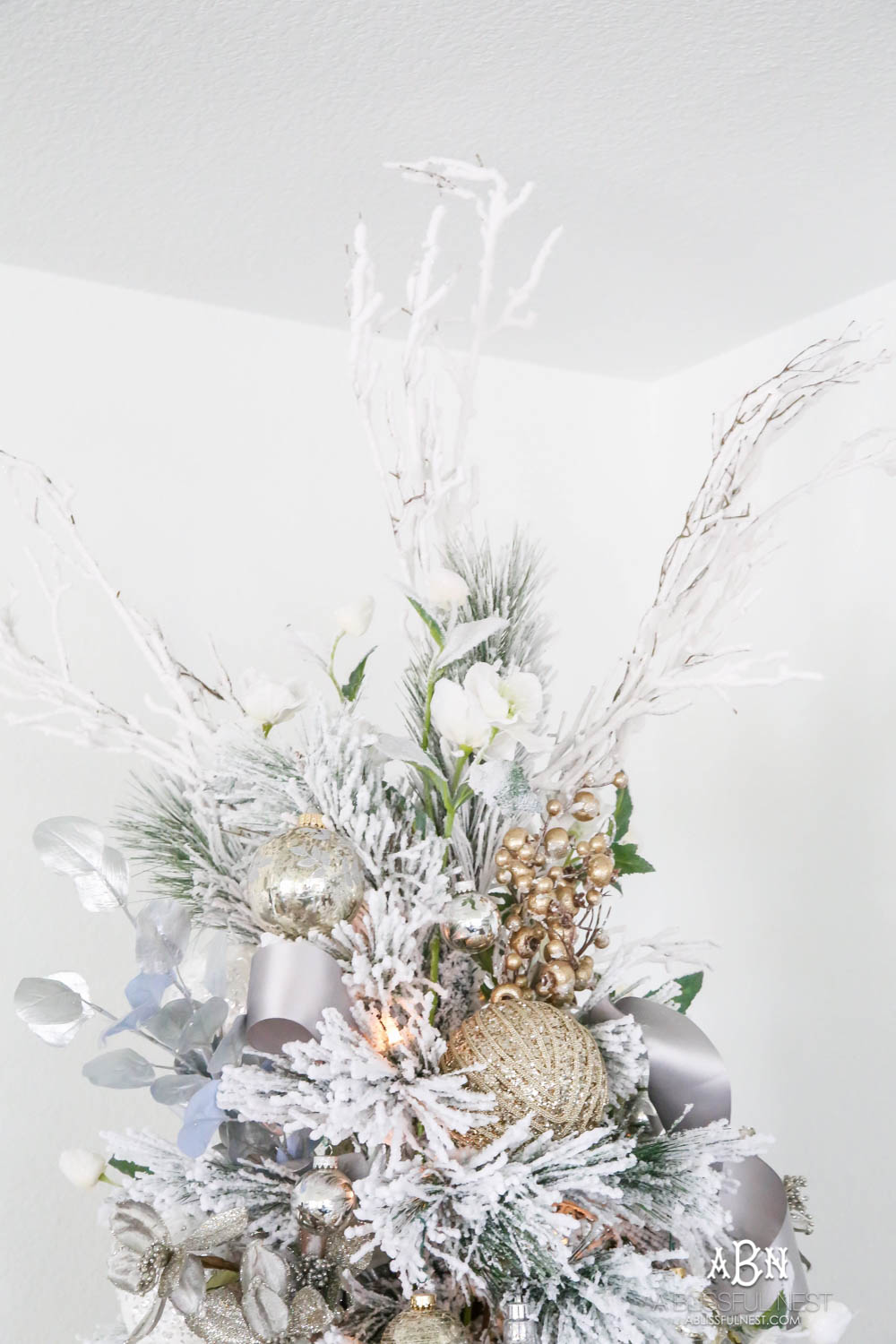 Here are some of my favorite items to get a similar look with your tree.


A lot of times I start shopping once Black Friday has hit so in the mean time before I start wrapping presents and putting them under the tree, I have these beautiful decorated boxes I pull out from the attic and add some pretty coordinating ribbon to them.
I love the fullness it brings to the base of the tree and they are so pretty to look at. You can snag some of these beautiful boxes HERE and HERE.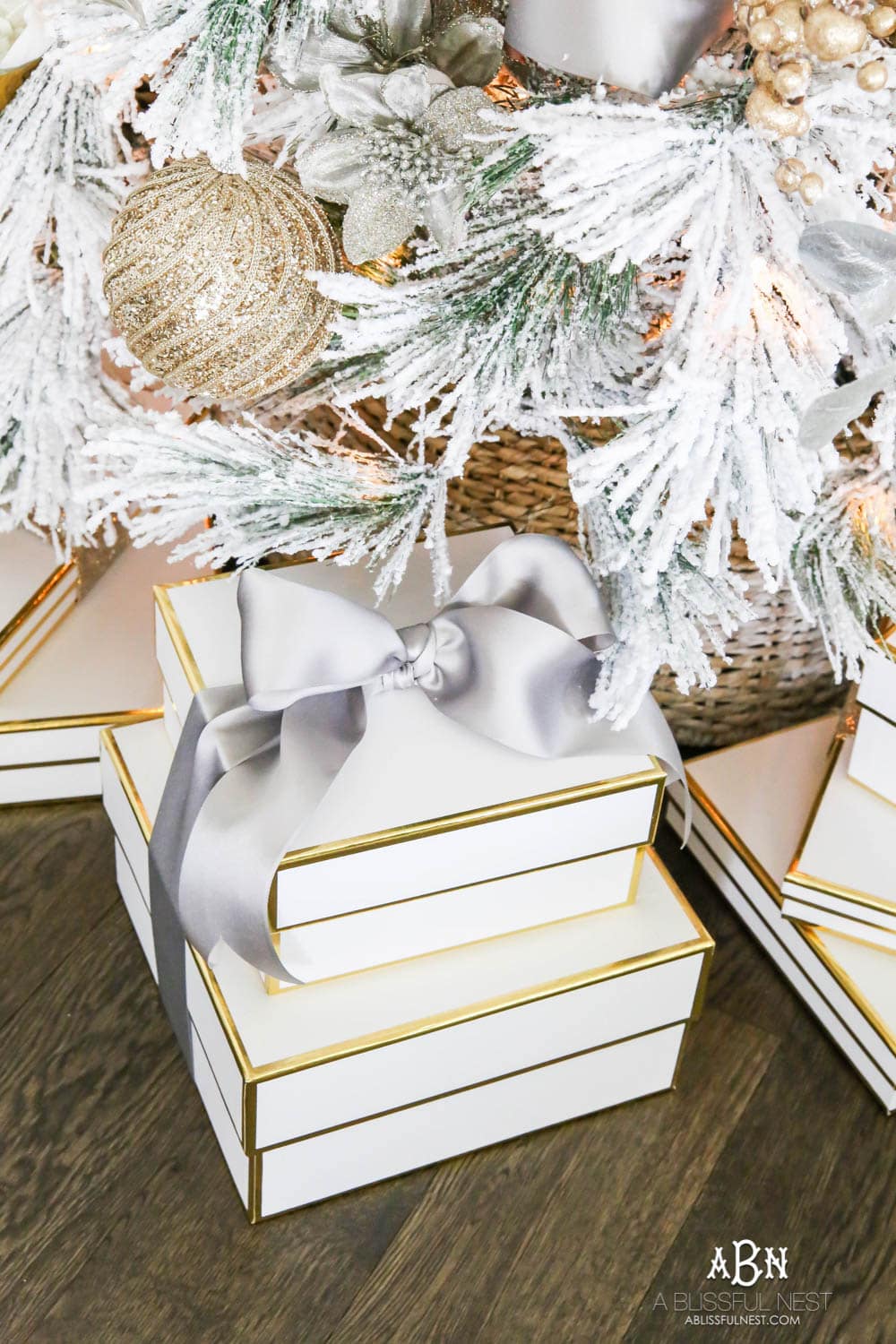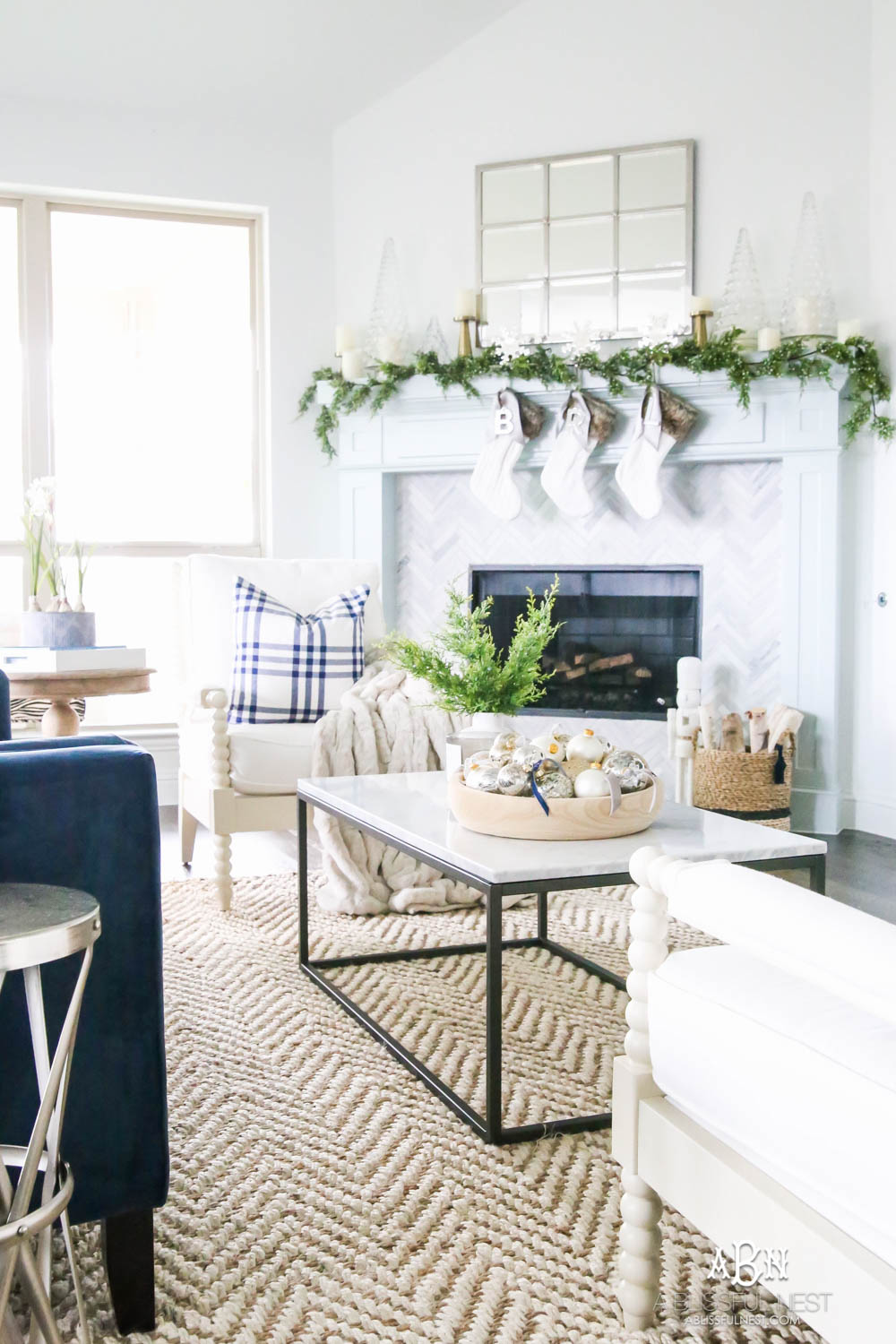 One of the big stepping points in designing my Christmas living room was this gorgeous fur throw blanket from Pottery Barn.
It is JUST as yummy feeling in person as it looks if not more. I have been cuddling up with it next to the fireplace now that the temperatures are really cooling off here and getting chilly in Texas.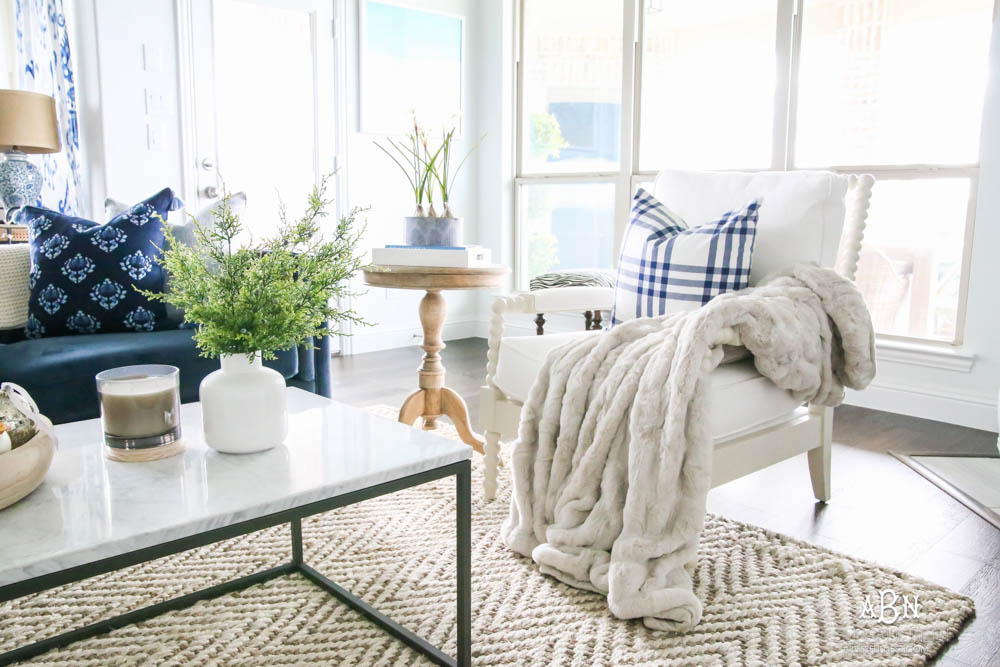 The underside is a soft plush and so warm and cozy. Lauren's been trying to steal it from me but I wont let her!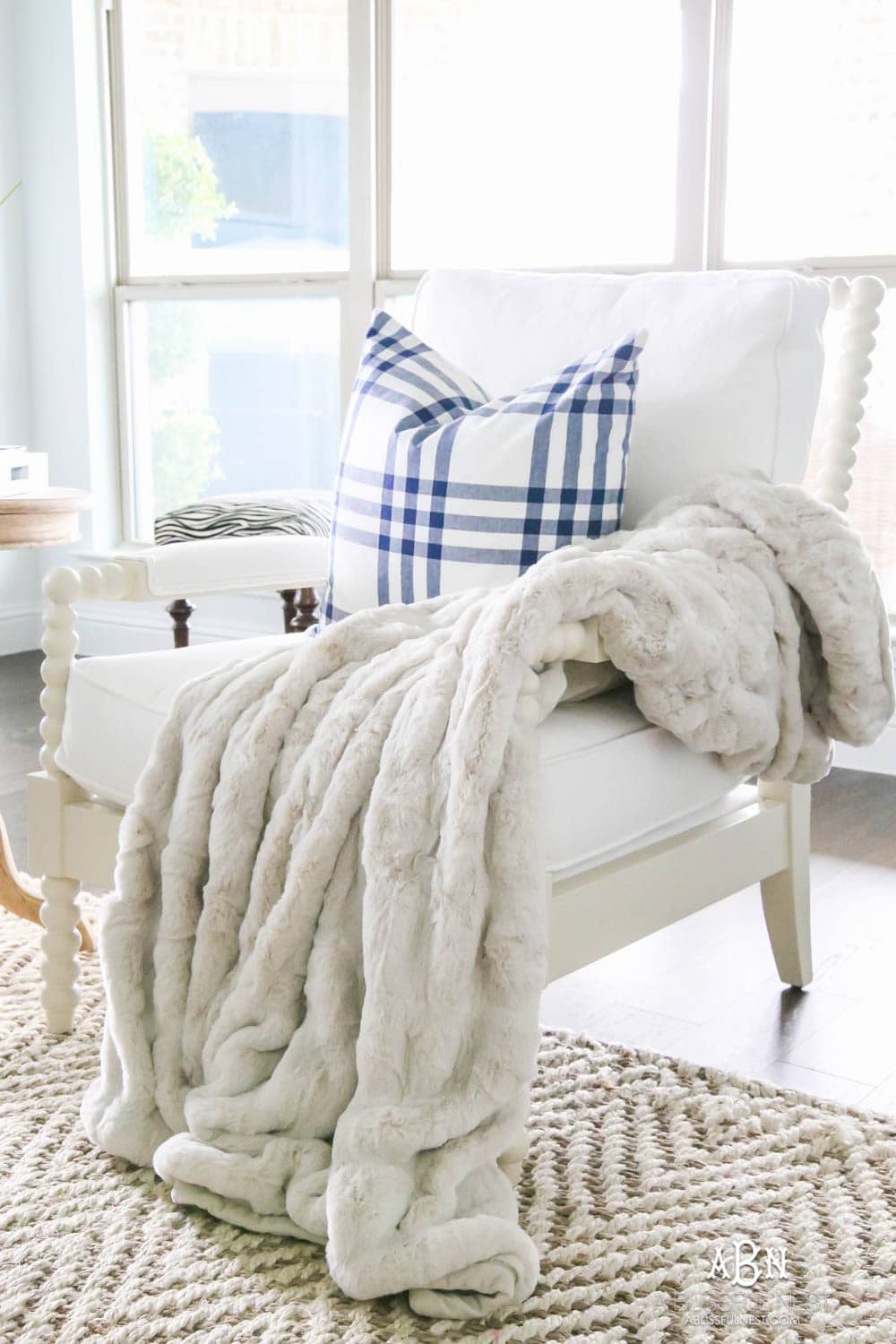 I found these beautiful plaid striped pillows and thought they popped the color from the sofa and added in a warm feel to the neutral decor. I love that I will be able to transition them to my winter decor once the holidays are done.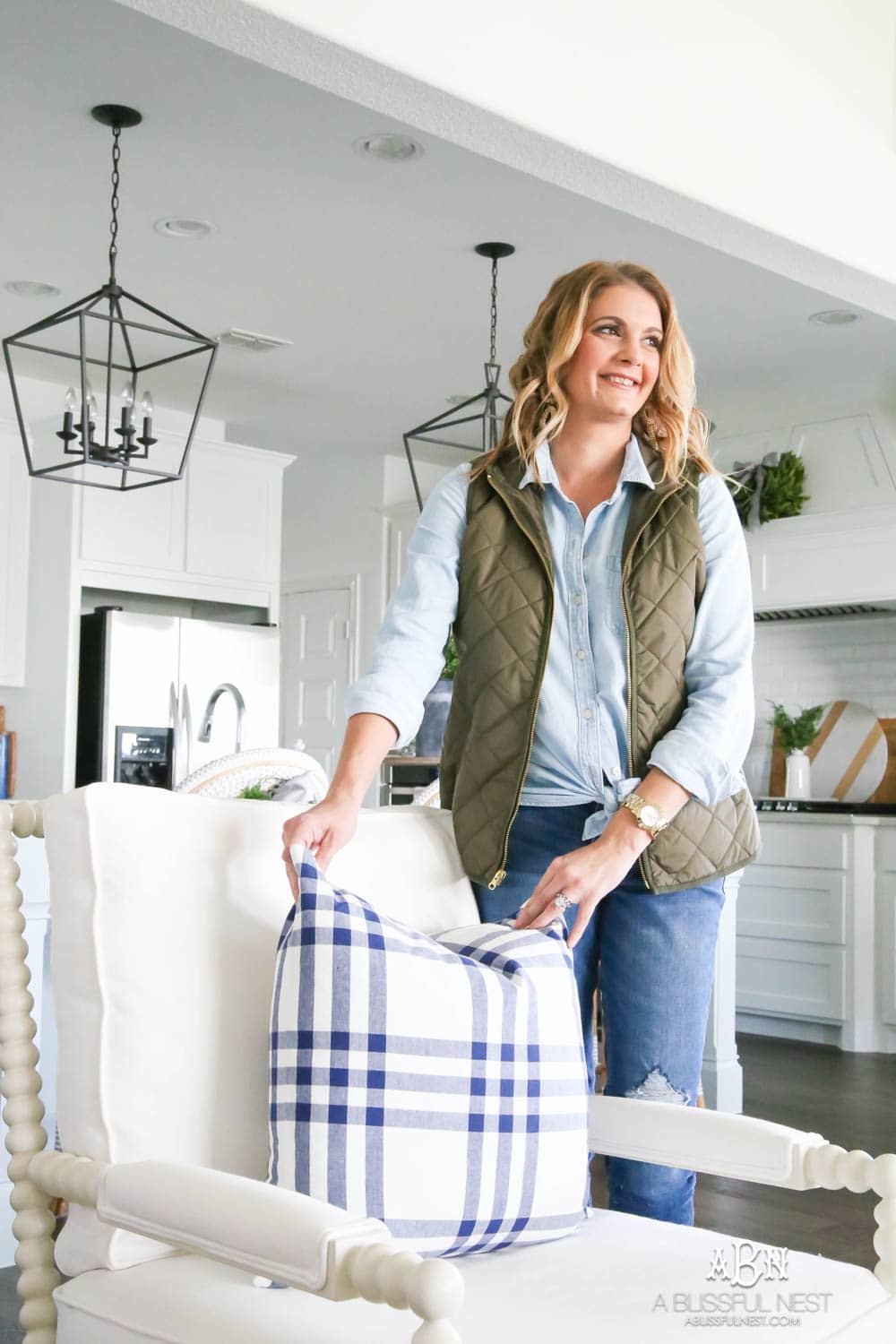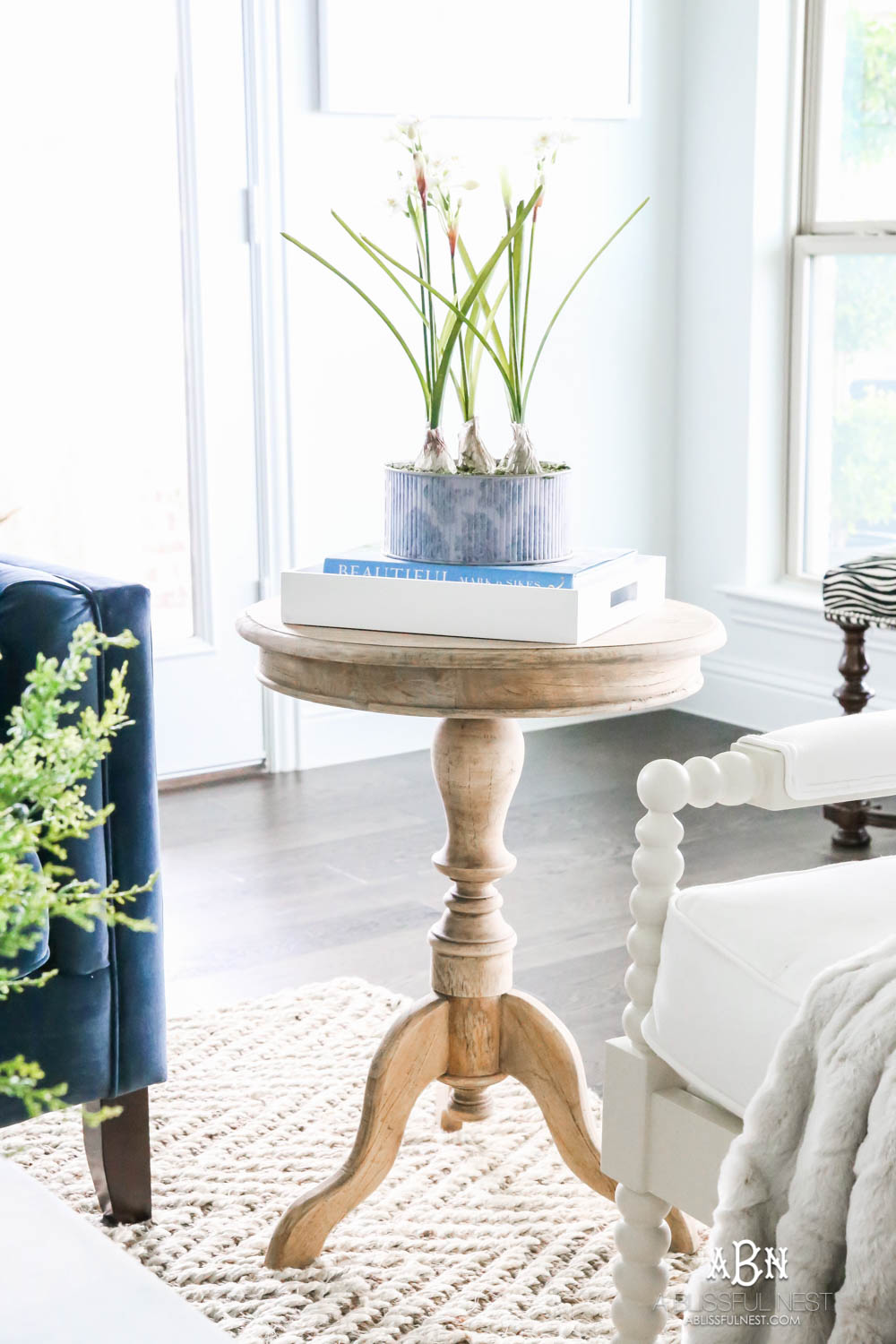 Paperwhites are one of my most favorite winter flowers yet I have never grown them on my own yet. I will have to try that next year.
But I am loving these gorgeous ones and I think even when it is winter, a room should always have some flowers in it.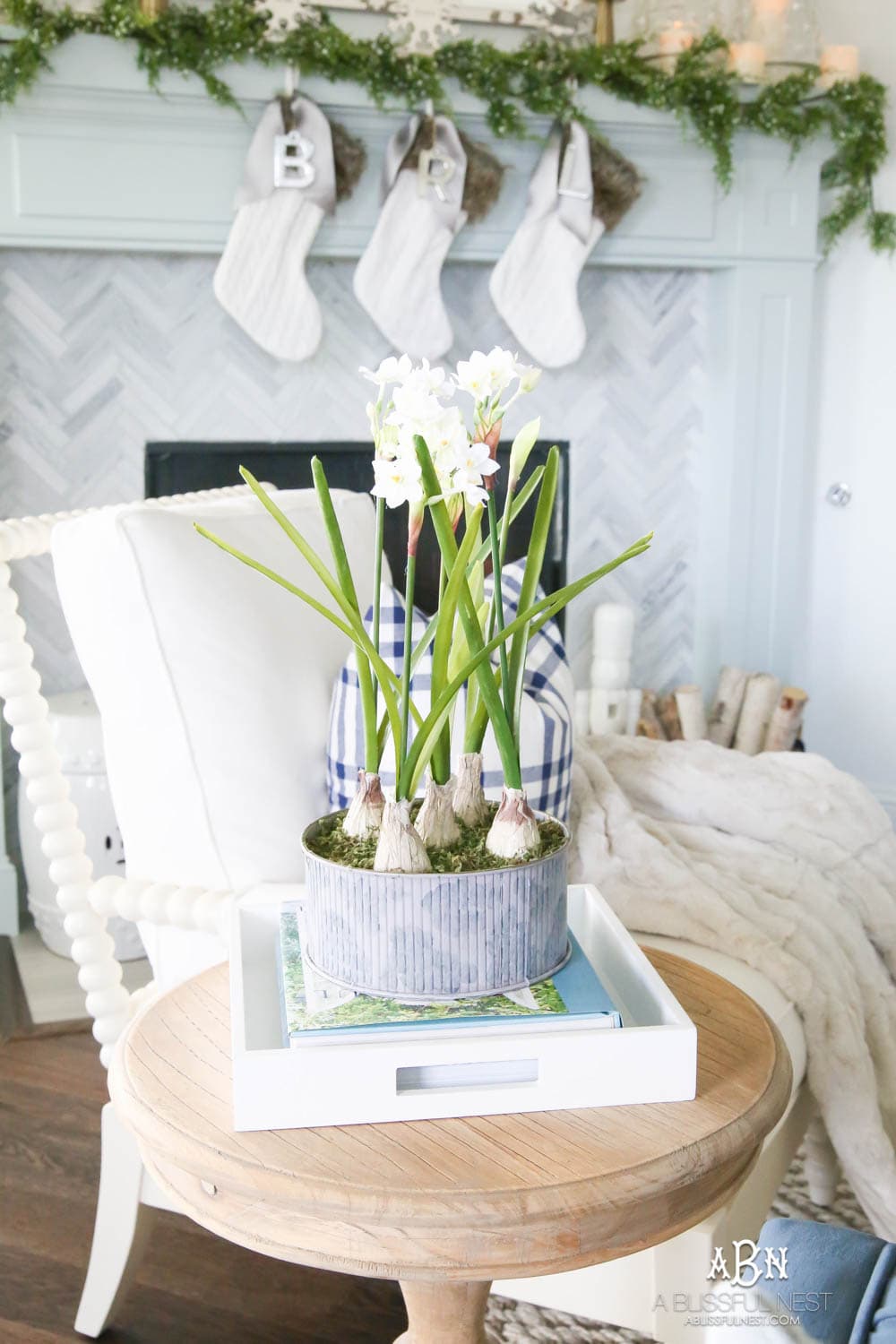 I love the beautiful industrial style tin they come in too with the gorgeous fluting. I placed them on some of my design books and in this white tray on our side table.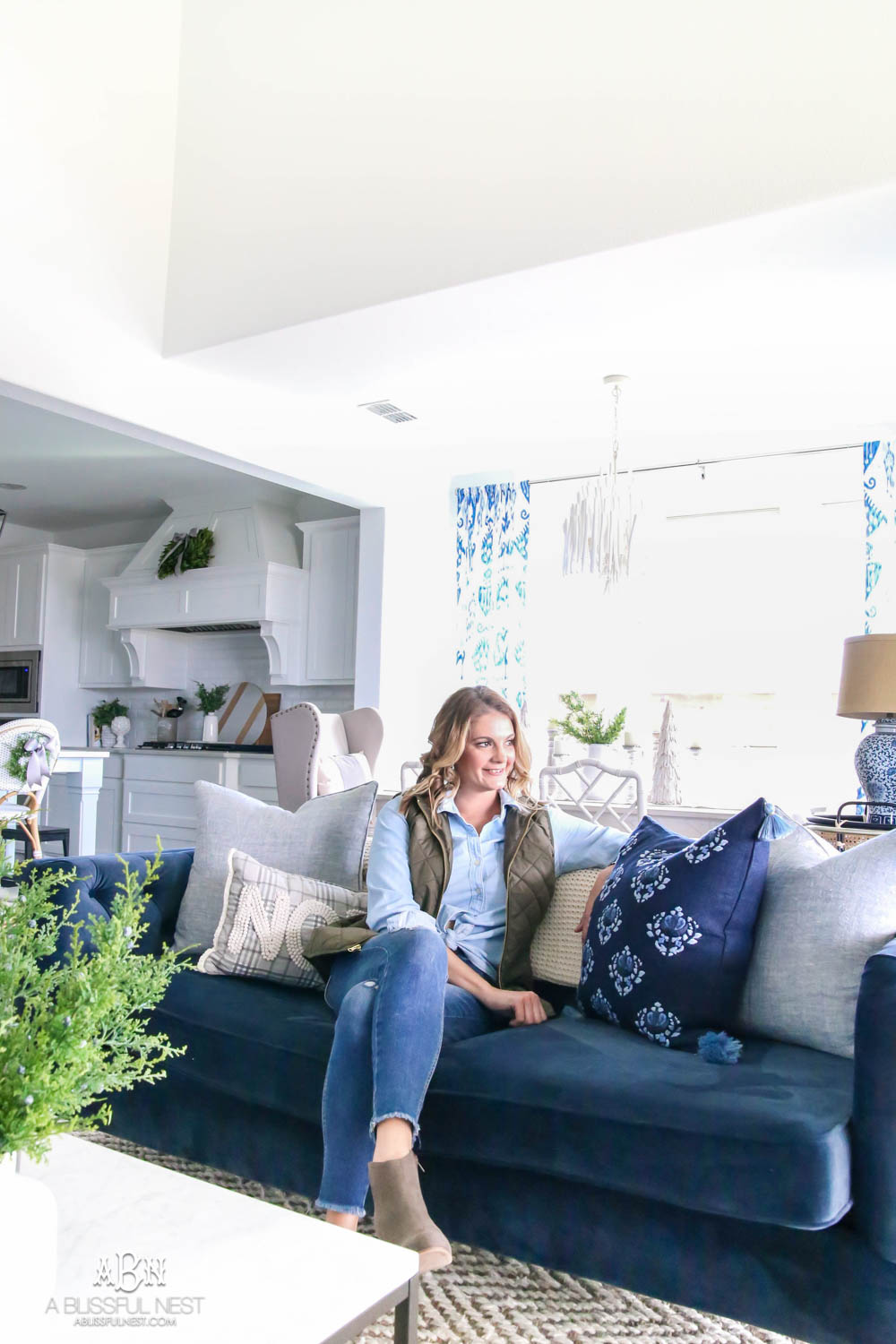 This has to be the most gorgeous navy color ever on a sofa. I love that it sets the stage for the whole room. Adding winter style pillows is so easy too.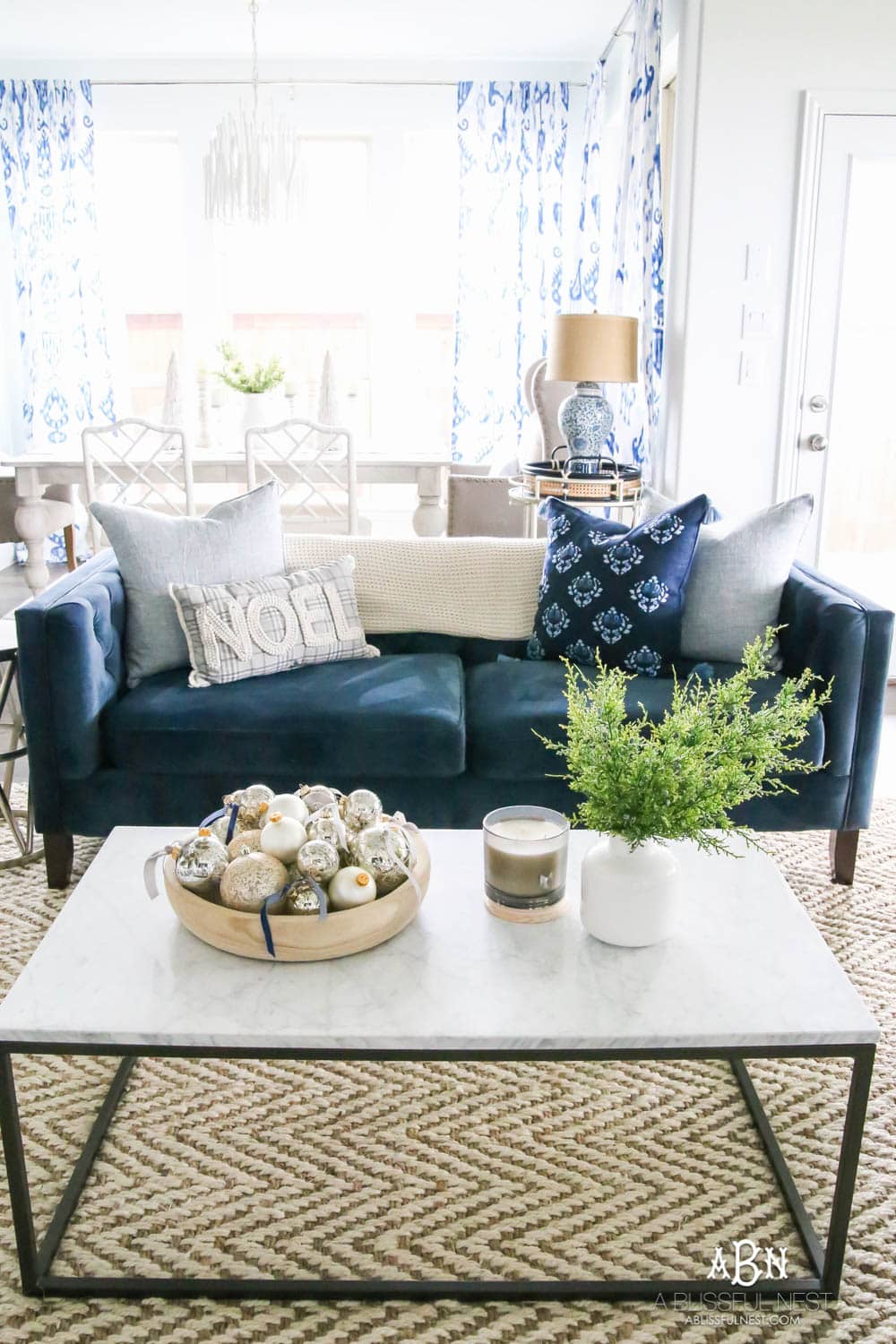 I typically treat my navy sofa just like a neutral color base in this room. When you think of it that way it is so easy to add in shades and tones rather than being afraid of them clashing.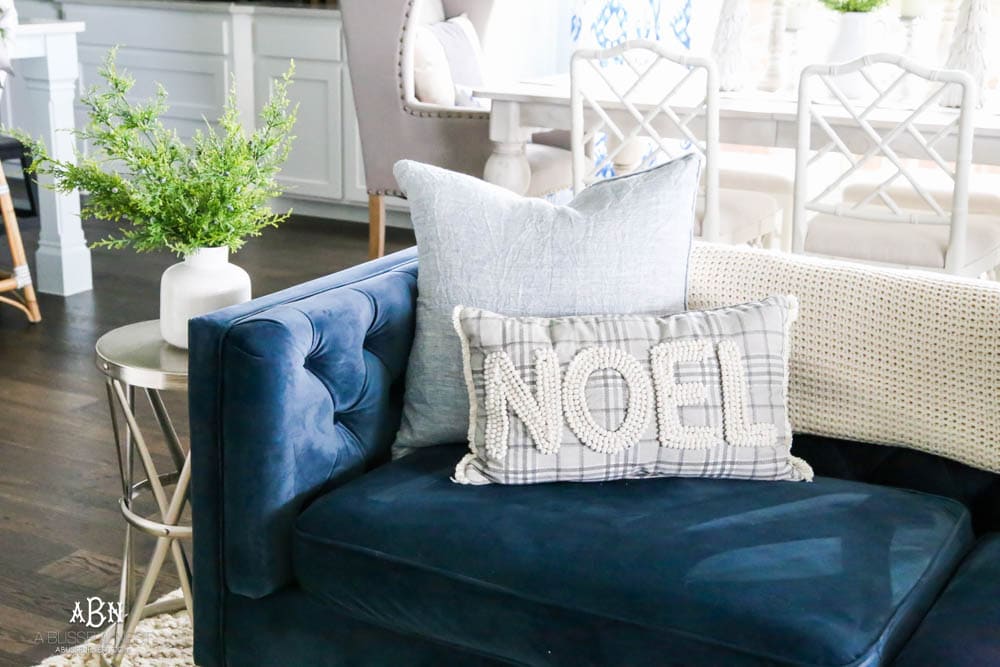 Since I wanted to stay in shades of blue to go with my silver, white and taupe holiday decor, I picked these light denim colored pillows and a rich navy embroidery pillow. I found some fun NOEL pillows for a pop of holiday decor. I am loving THESE ONES and THIS ONE too.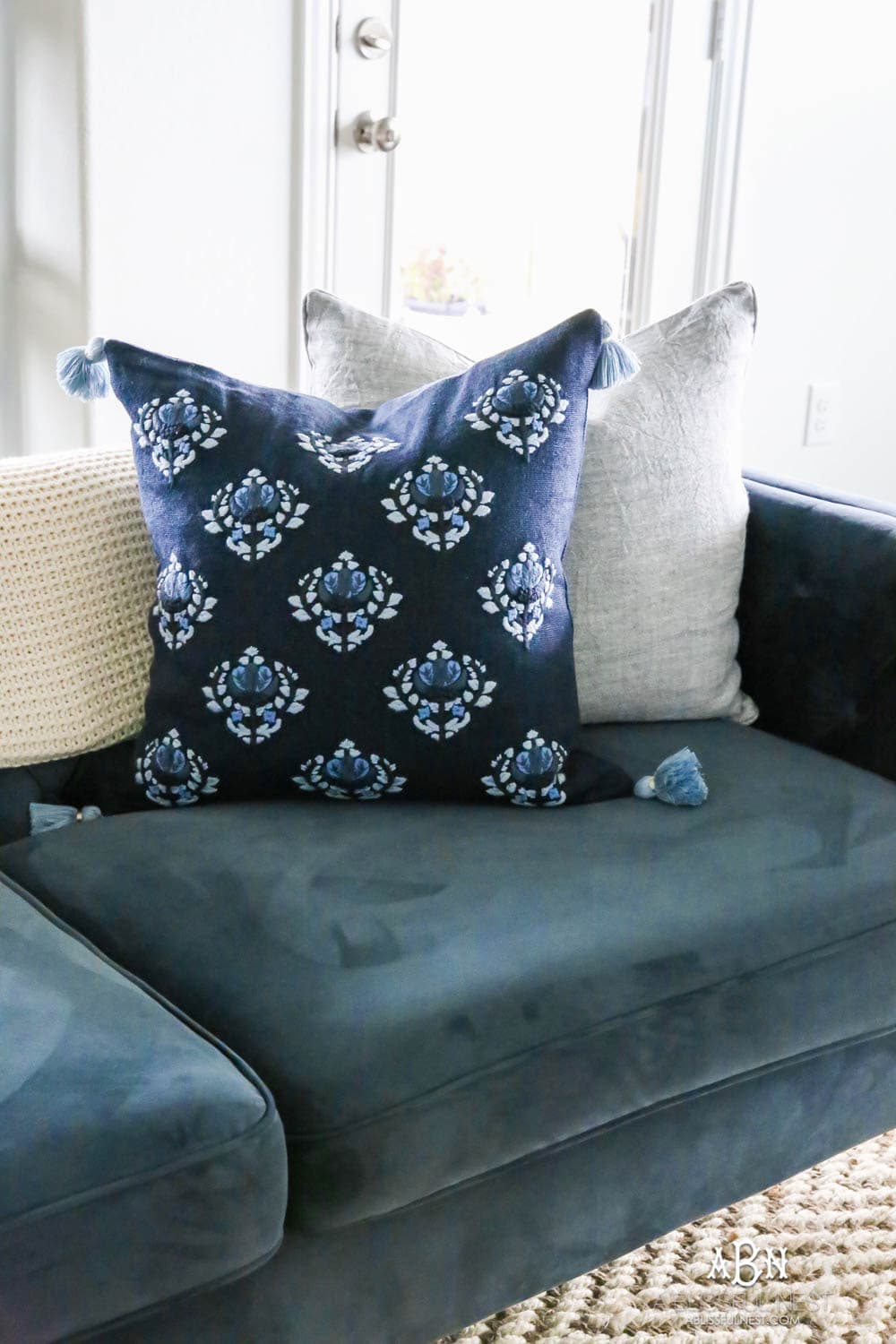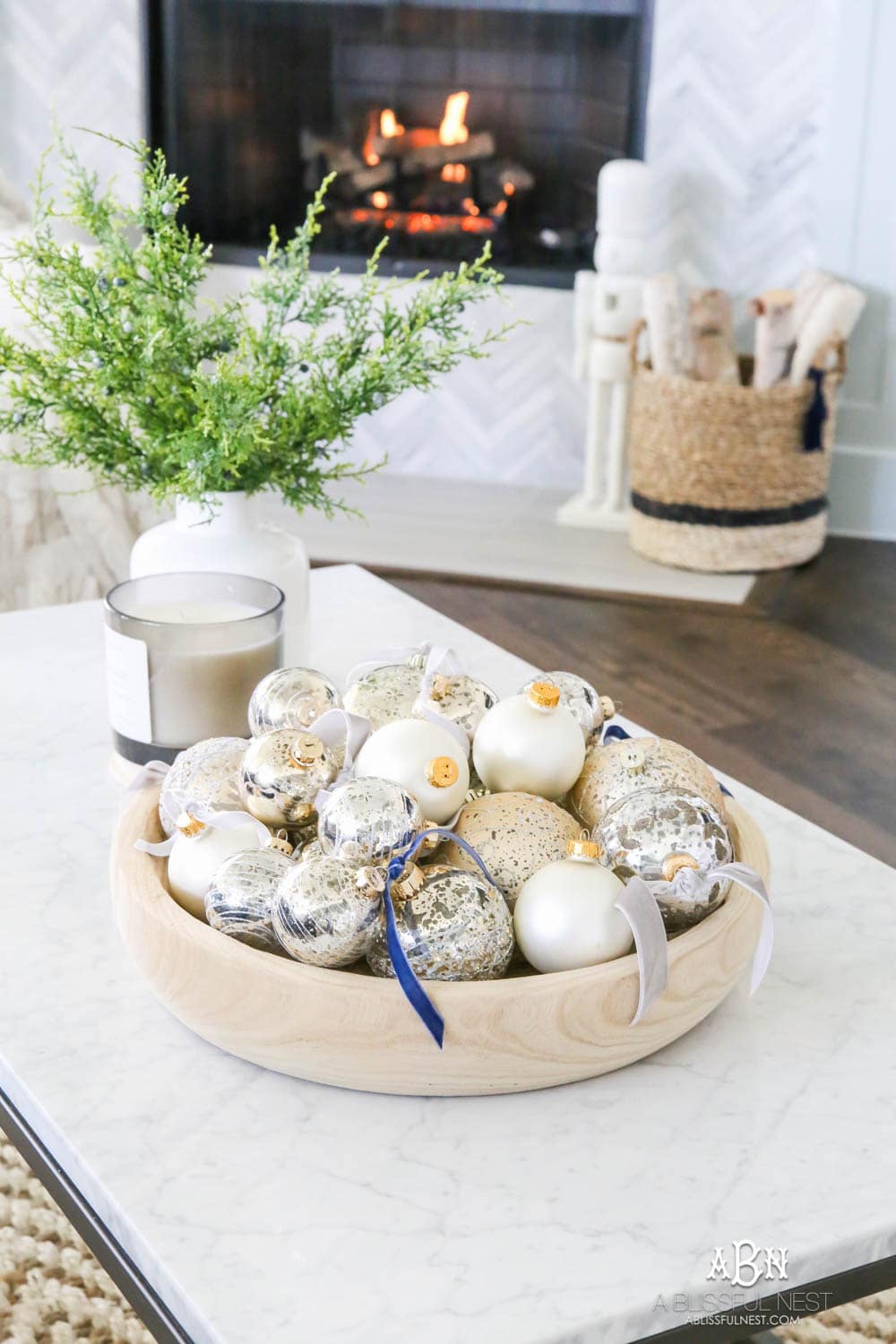 I love the gorgeous faux floral stems from Pottery Barn and these juniper berry ones are incredible. I trimmed the stems and added them to this little white vase (similar) for my coffee table.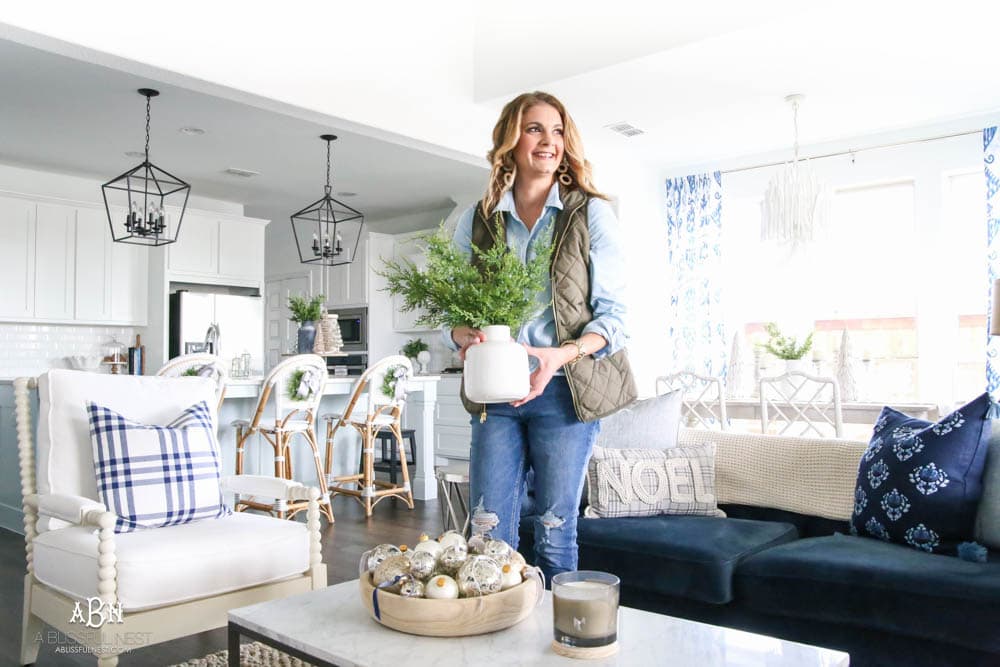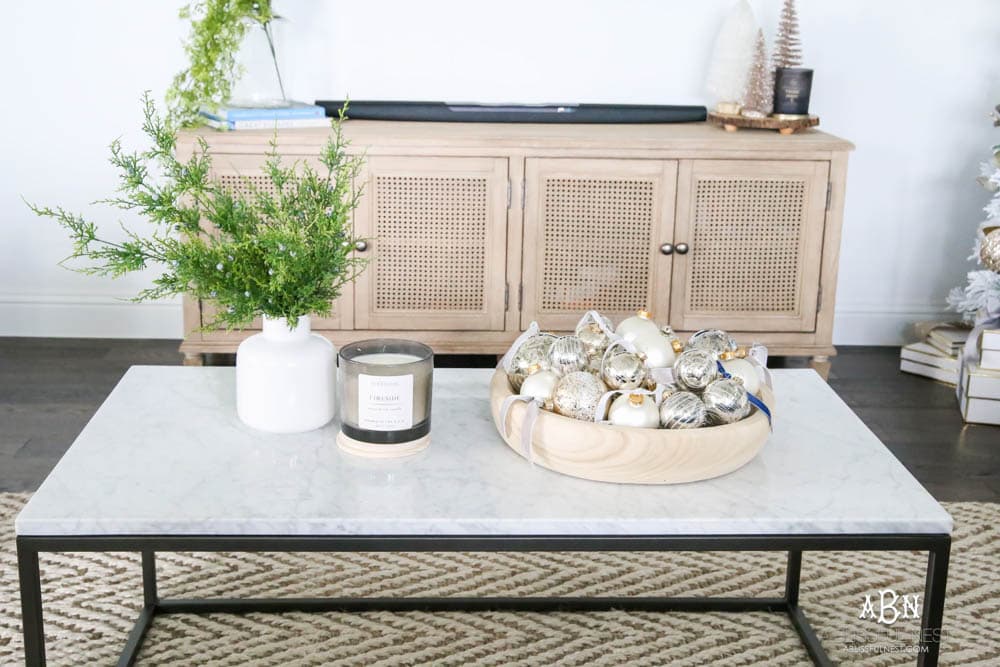 I wanted all my decor to match my gorgeous new glass Christmas tree lanterns, so I took ornaments I already had and added them to this wood bowl. Then I tied on various velvet ribbon trim for a vintage feel.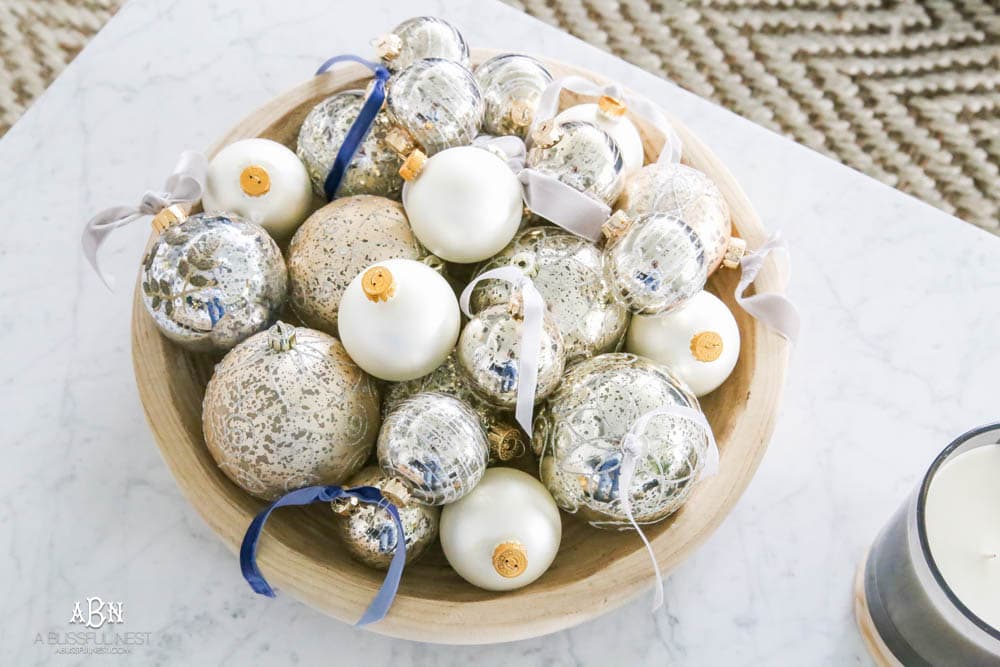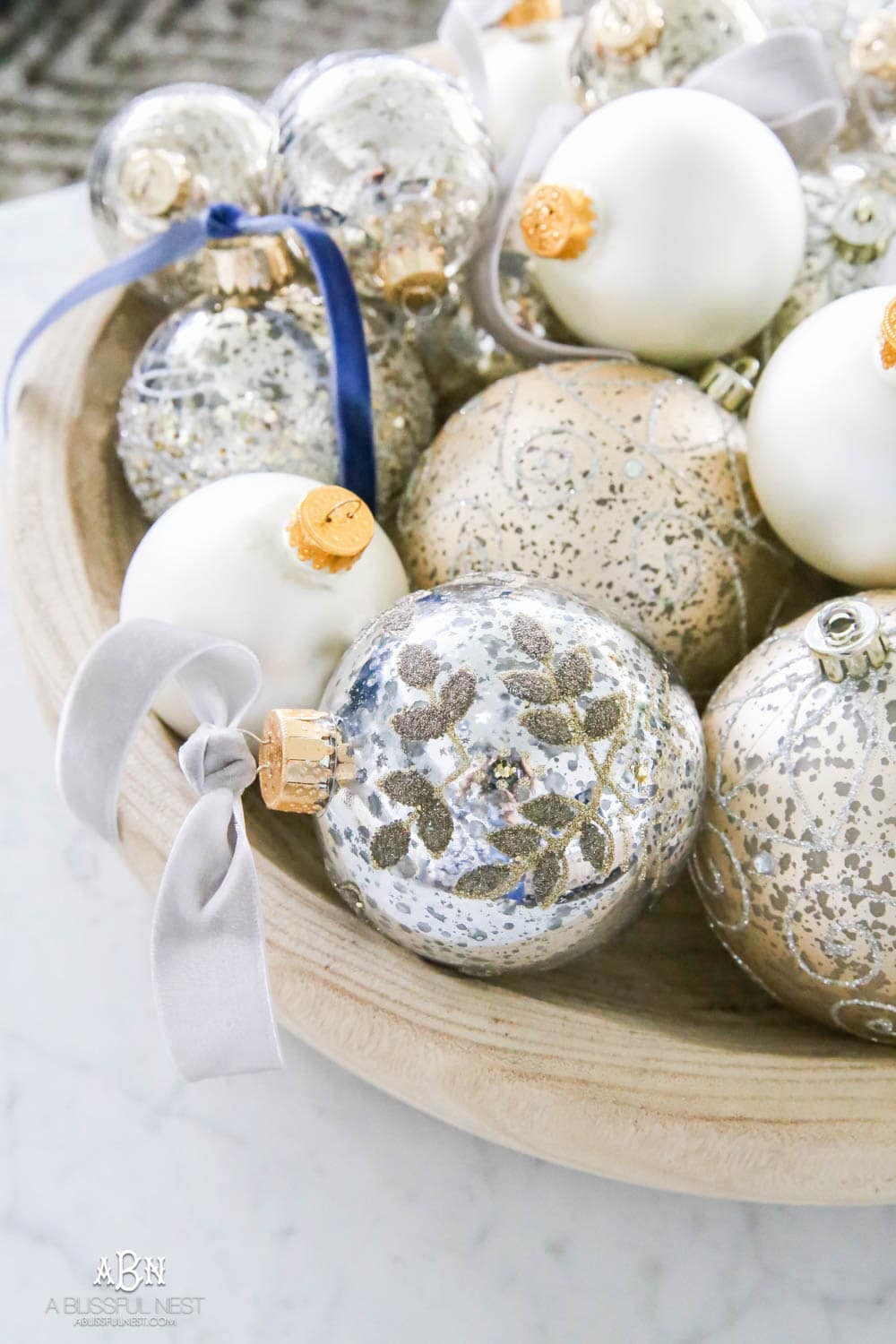 If you've been following me for awhile then you know the new paint on our fireplace was not exactly what I was going for when it was done. But I decided to live with it for awhile and try to work with what I got.
Now that I have decorated it for Christmas, that beautiful blue is really growing on me and I love the subtle color pop.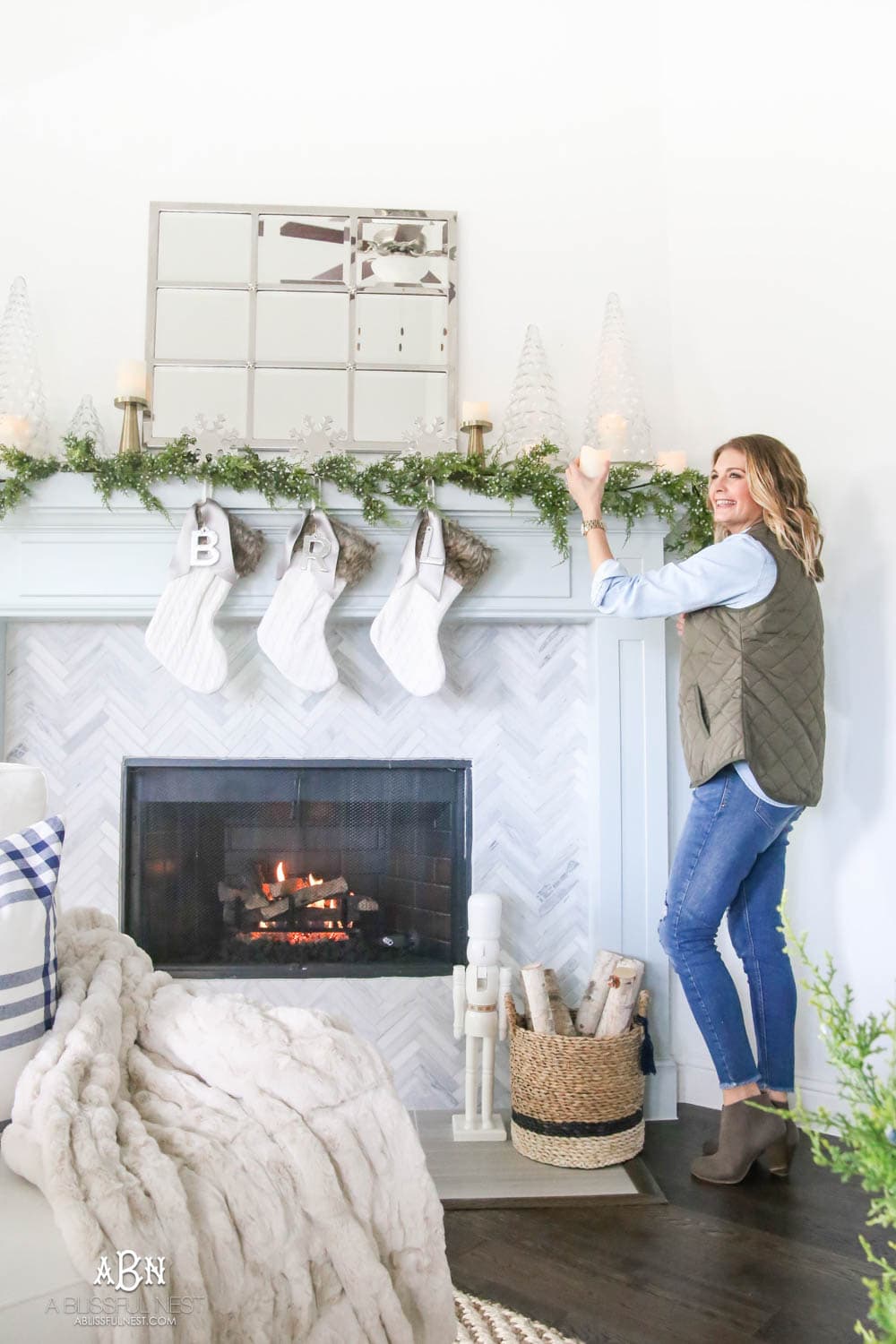 Of course these amazing glass Christmas tree hurricanes really are show stopping. I clustered them like a wintery forest on my mantle with some juniper berry garland.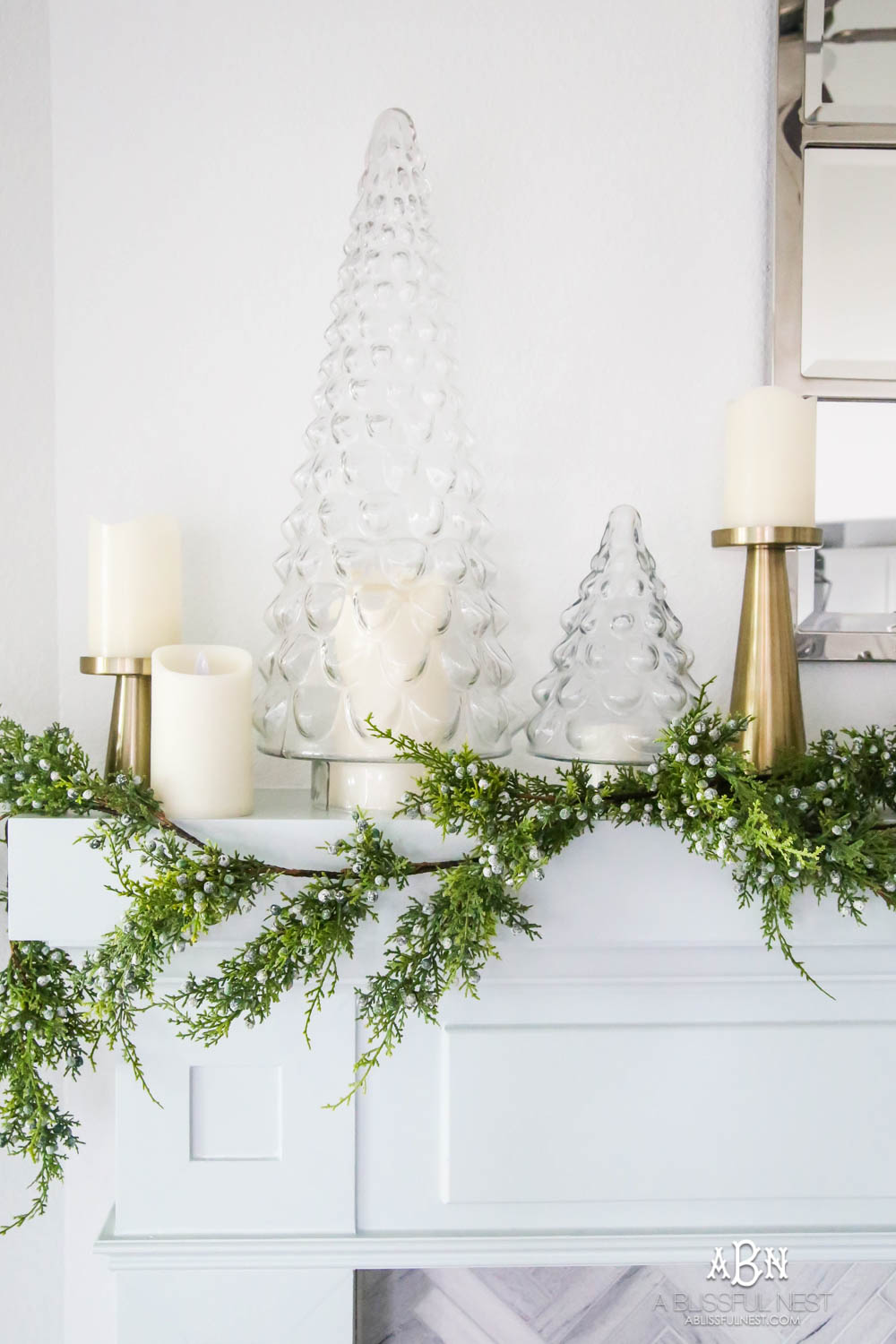 I added in more layers of candles so at night the whole mantle glows. I promise to share a view of it at night on Instagram stories soon so make sure you are following me HERE.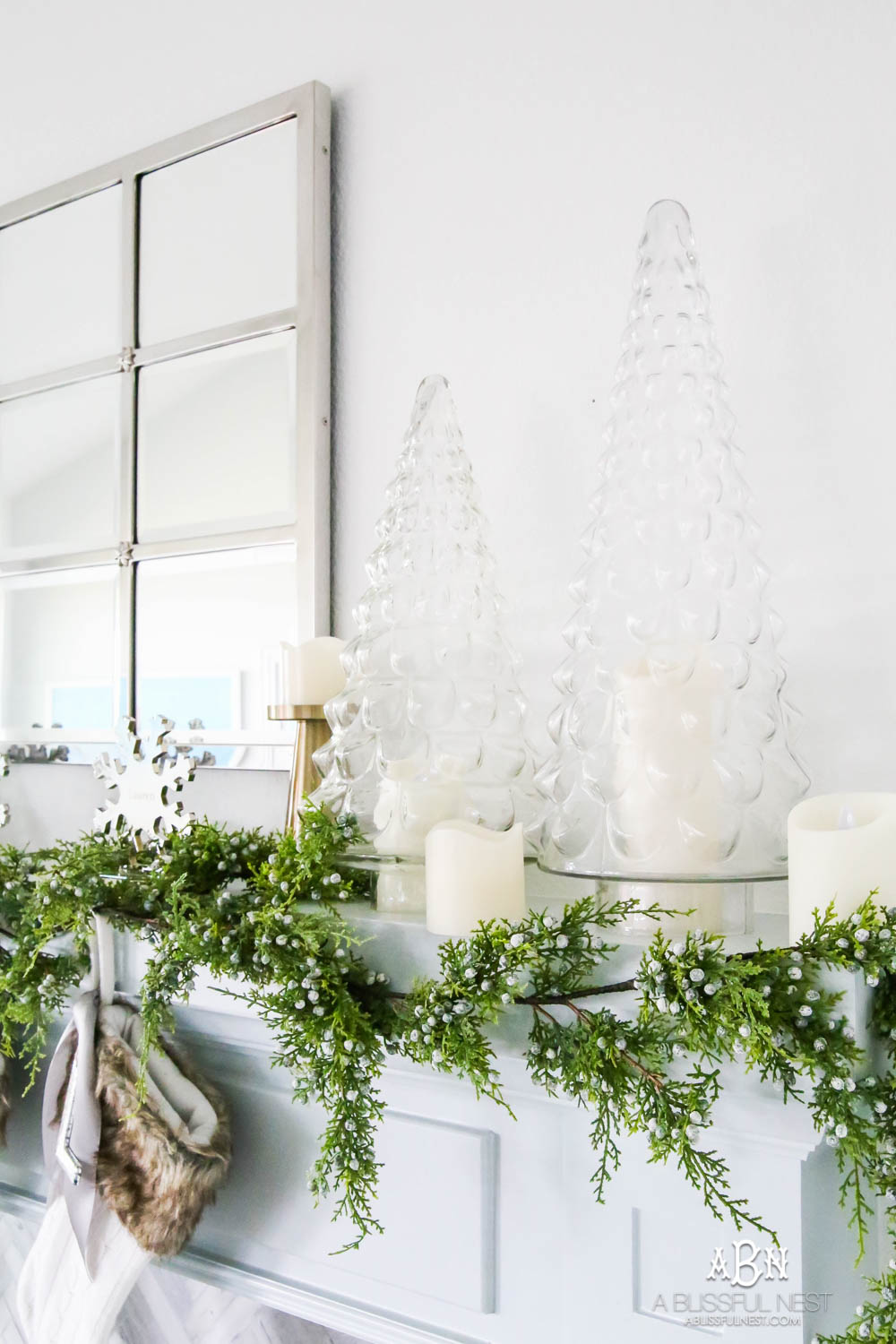 All of the candles can be turned on with a remote (as well as our Christmas tree) and it makes it so easy to turn them all on.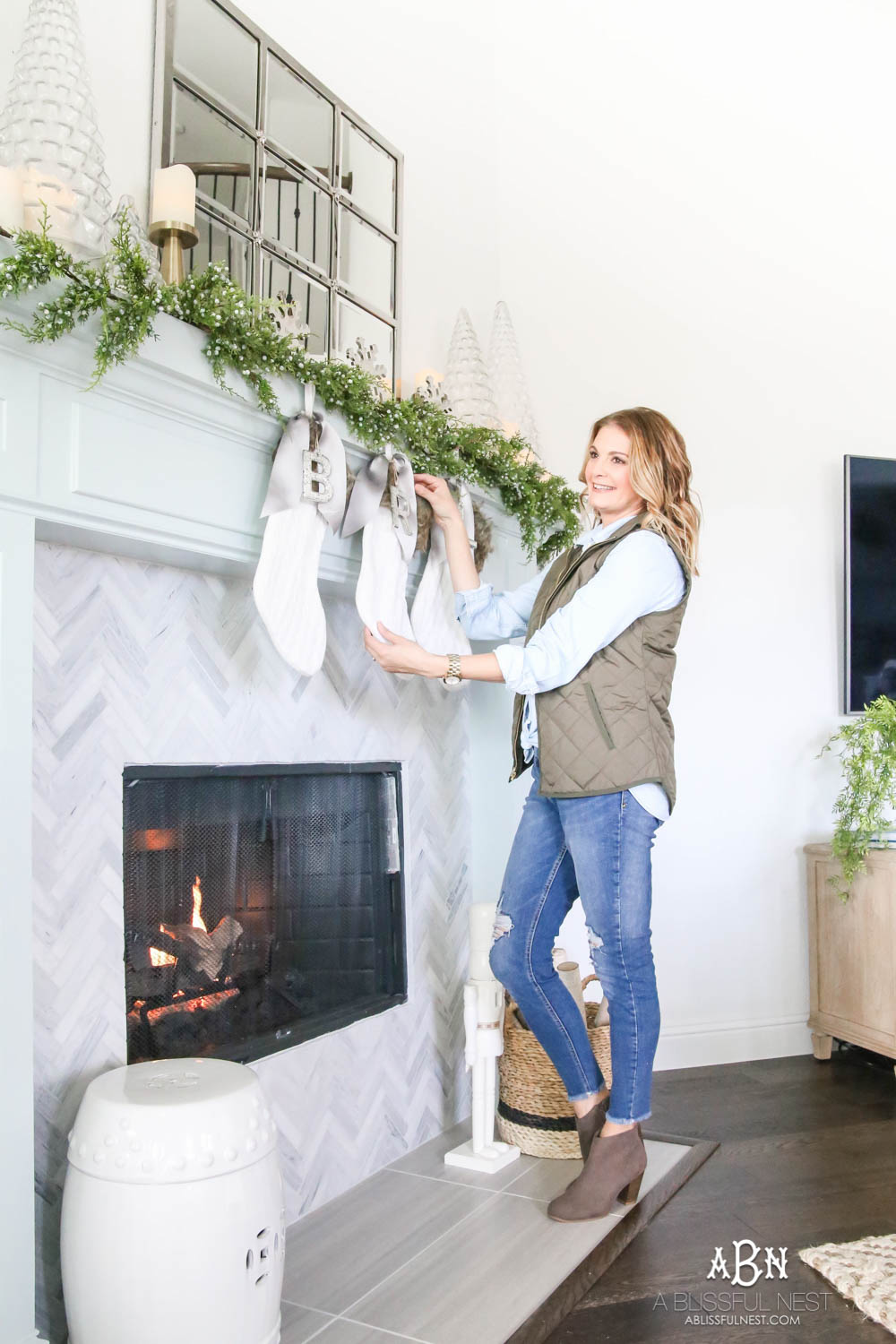 I had these stocking holders from a couple of years ago and they are monogrammed with our names on them. They are simple and so pretty. I love anything monogrammed and personalized and think the more the better! This ONE and this ONE are similar options.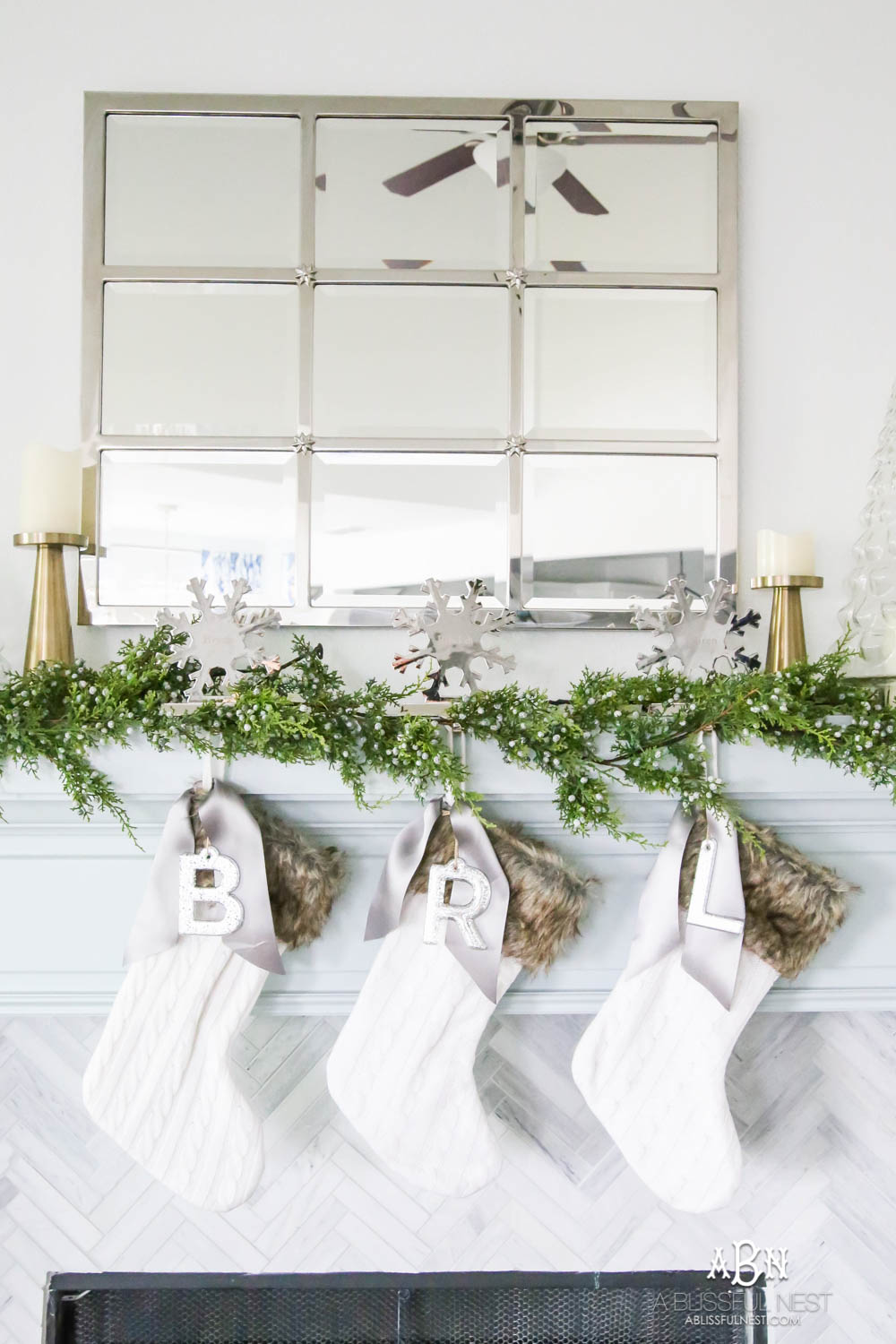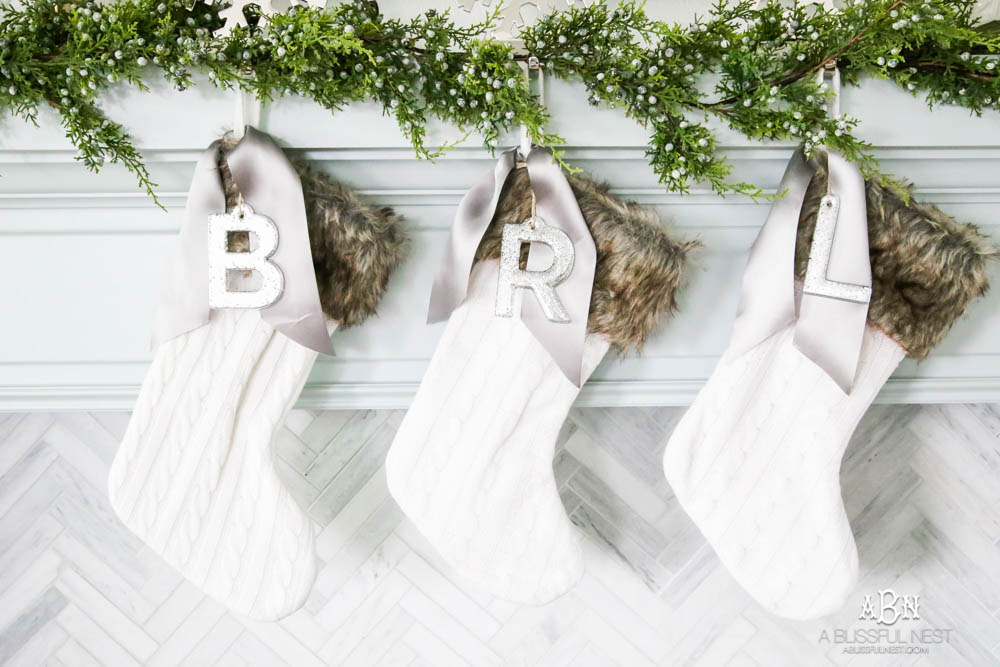 I reused our stockings from last year and then just added on these mercury glass letters (you can get them HERE) and some coordinating grey ribbon from our Christmas tree.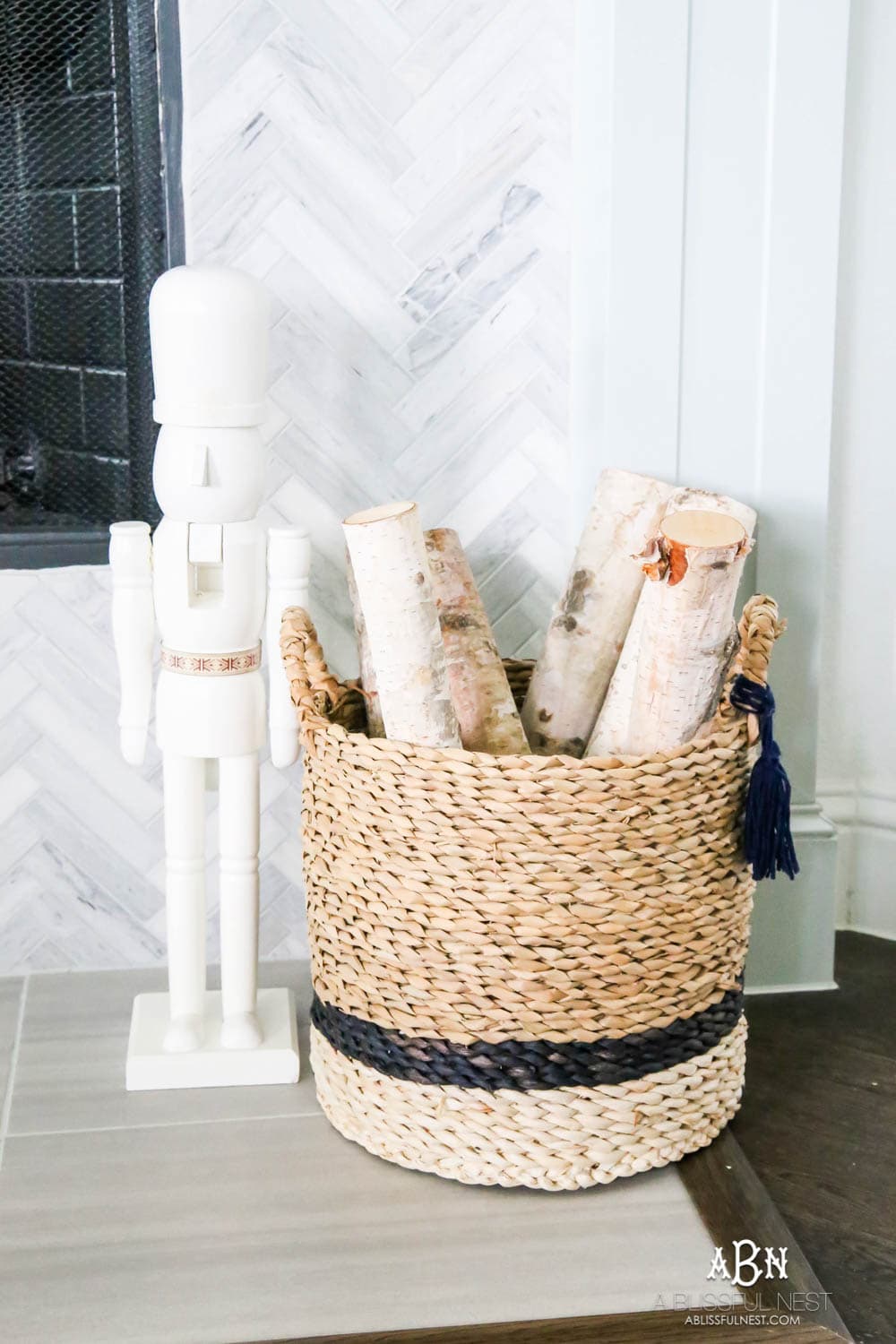 So there you have it! It feels so warm and inviting when you walk in especially at night.
I love that the gorgeous view of the lake is through those windows and it is the perfect backdrop to this blue and silver Christmas living room.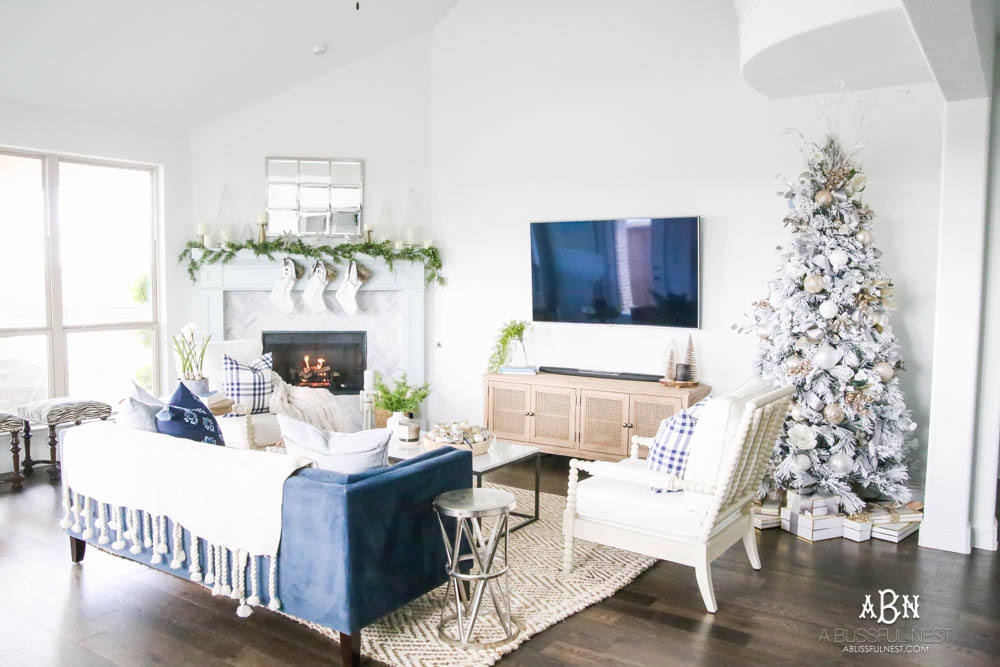 Here is a quick sneak peek of my Christmas kitchen that will be on the blog next week!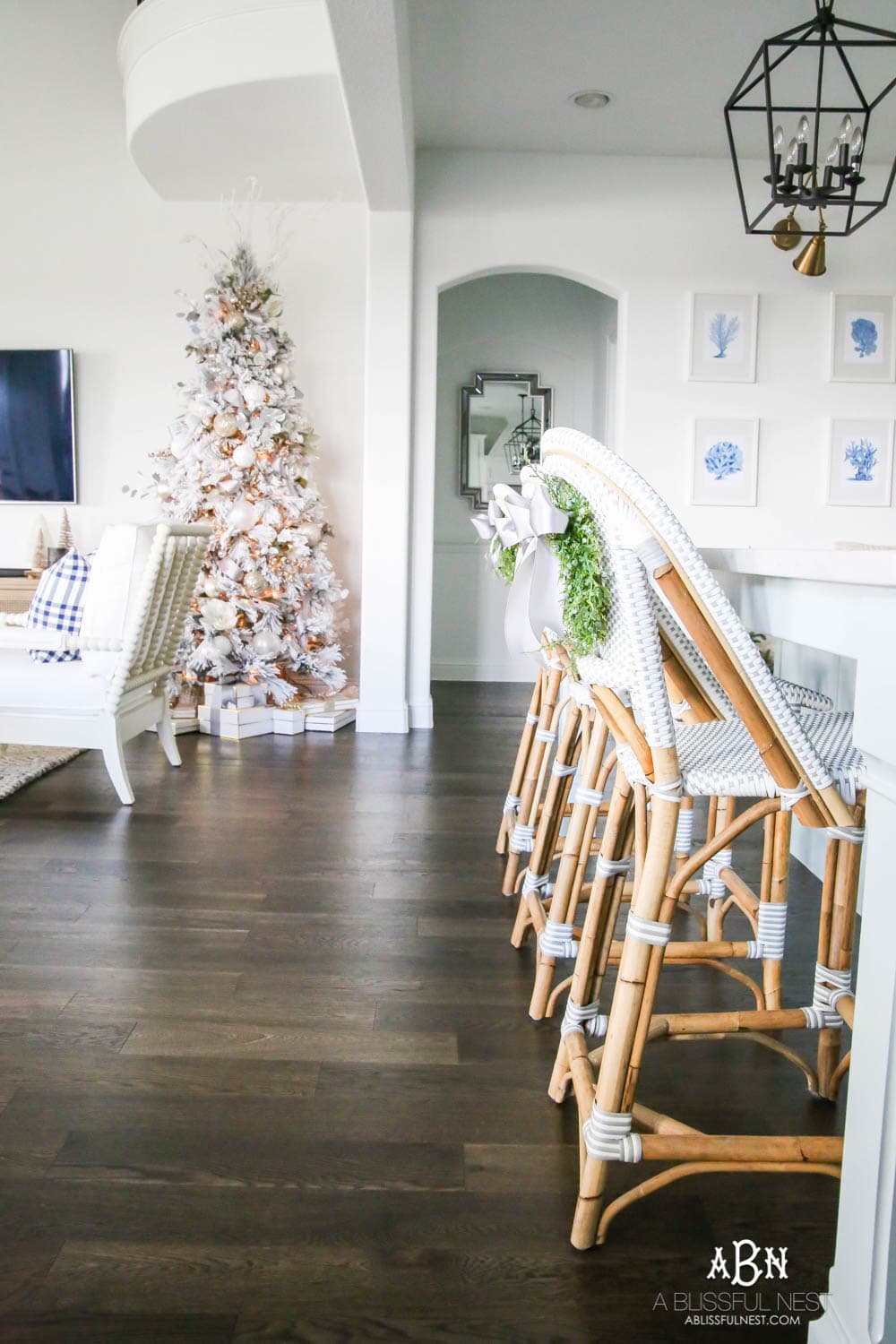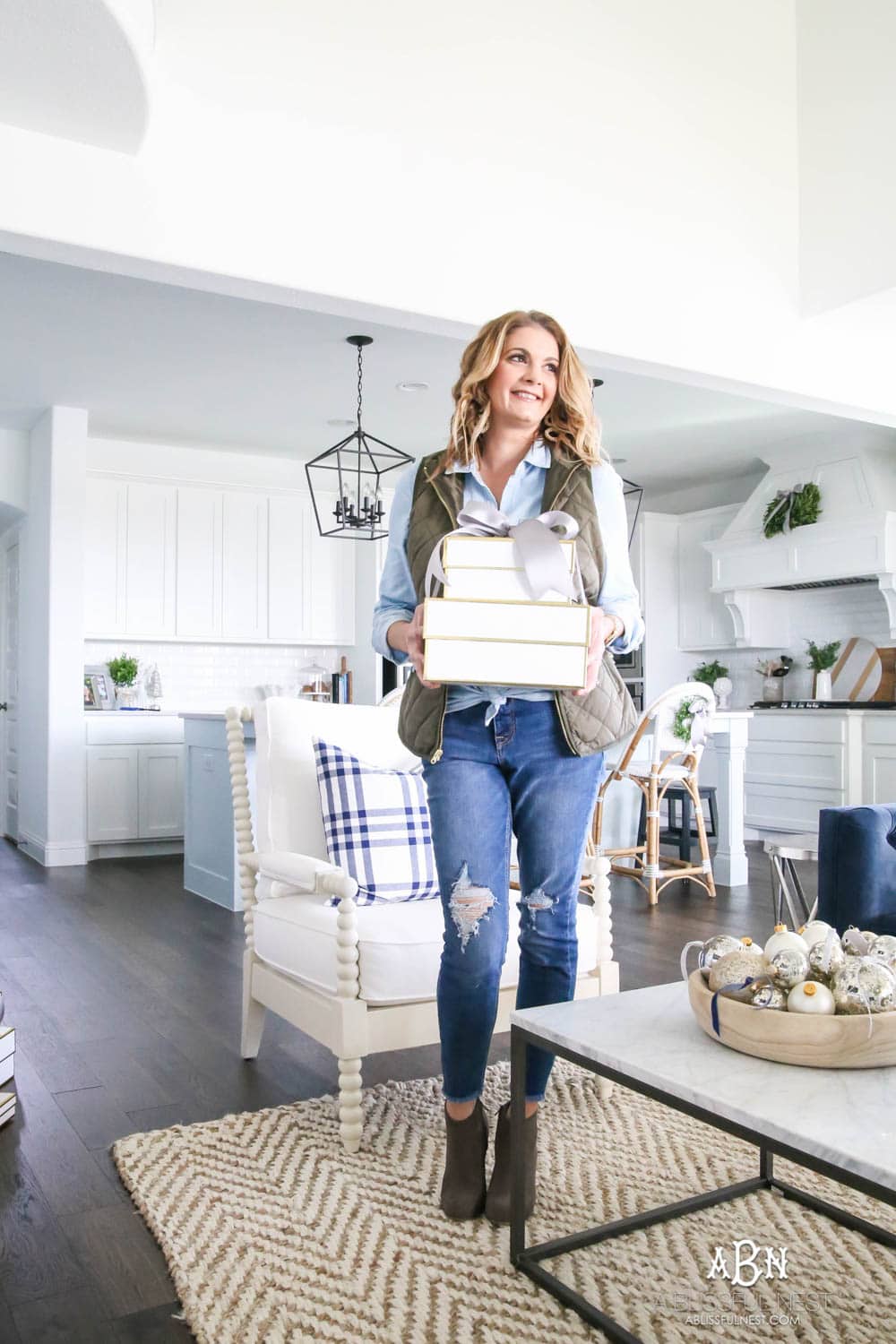 Also, there are a few staple items I have in my wardrobe that are perfect essentials I think everyone needs.
First, is a great pair of jeans. I am not a big spender on jeans and have tried a lot of them on over the years. So when I found these ONES and they are on sale for under $25. Yep you heard me right. Typically they are under $50 so even that is a deal. They are so flattering on and I love the frayed hem.
I also think everyone needs a good denim shirt. I have one in dark and light (which I am wearing). I think it is just fine to layer and wear denim on the top and bottom of an outfit as long as you break it up like I did with this light weight puffer jacket.
Speaking of puffer jackets, leads me to the last staple you need this winter in your closet. I have 5 of these ONES in various colors and I put them over shirts and sweaters through the season. They are the easiest and perfect layering piece. The one I am wearing is under $20 and comes in 7 colors.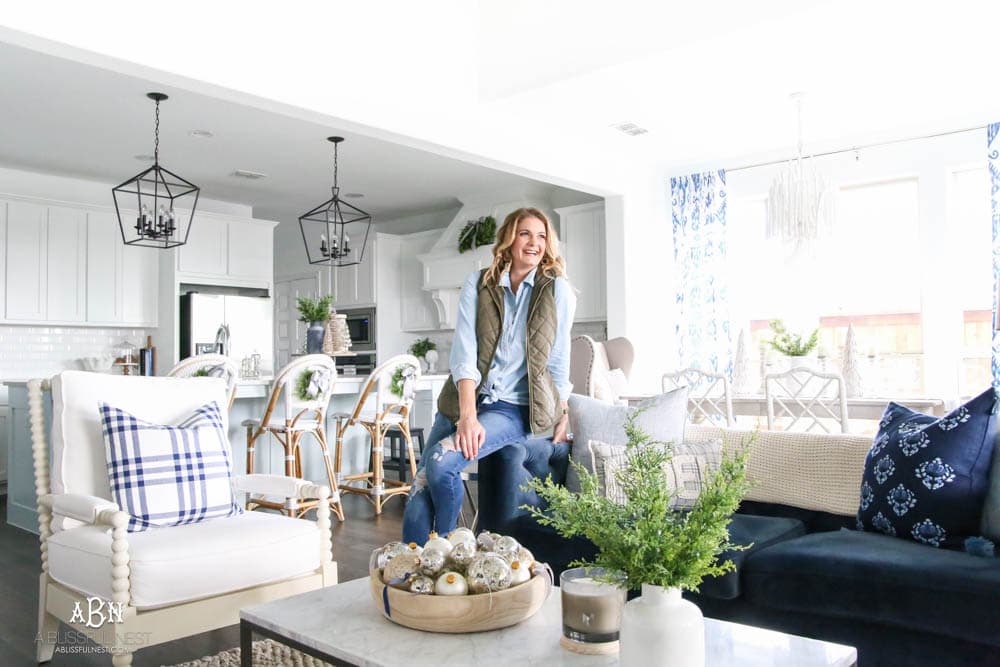 Special thanks to our friends at Pottery Barn for providing us with the items we've featured today!
Now, please hop on over to each of the other bloggers below to see what they are sharing!

Summer Adams | A Blissful Nest | Kristy Wicks | Fashionable Hostess

Palm Beach Lately | The Lush List | Bonjour Bliss Blog | A Touch Of Pink | Jess Cathell
THIS IS A SPONSORED POST. A BLISSFUL NEST HAS RECEIVED PAYMENT, TRADE, AND/OR PRODUCTS FROM POTTERY BARN IN EXCHANGE FOR PROMOTING. HOWEVER, ALL OPINIONS STATED ARE OUR OWN.