We are inching closer and closer to the holidays! If you are starting your shopping list or already have it made, there's a good chance you'll be looking for a great gift for a woman this season – whether it be your best friend, sister, mom, mother-in-law or whoever it may be, we rounded up some of the very best gifts in a variety of price ranges for you to shop! Here is a breakdown of the best gifts under $50, which are great for Secret Santa parties or friends; awesome gift ideas under $100, which are perfect price points for just about anyone on your list, and you won't find any better gifts at an affordable price point like this; and splurge gifts, which are $100+ and perfect if you're looking for something in this category. No matter what you're on the hunt for, this is the ultimate gift guide for all things gift giving!
This post contains some affiliate links for your convenience. Click here to read my full disclosure policy.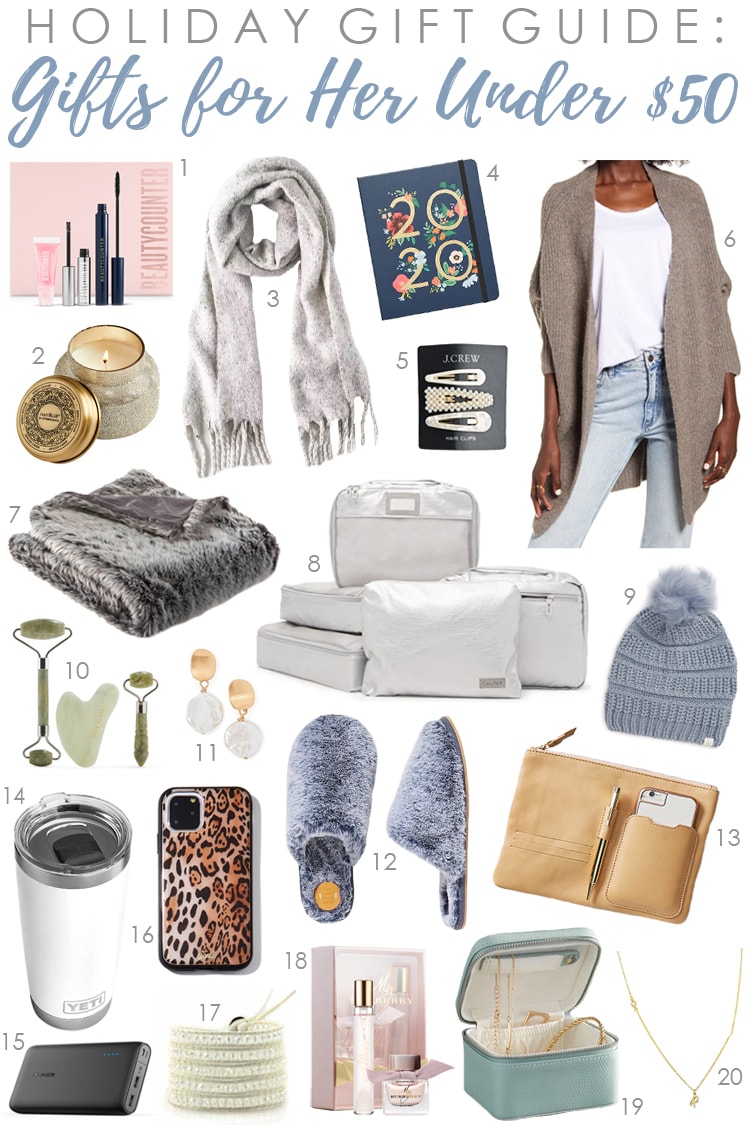 1 | 2 | 3 | 4 | 5 | 6 | 7 | 8 | 9 | 10 | 11 | 12 | 13 | 14 | 15 | 16 | 17 | 18 | 19 | 20
1. Beauty Counter Fresh Faced Trio: this gift set comes with a mascara, brow gel and lip gloss and is a great price for a gift set like this. The mascara is amazing – you may want to get a set for yourself too, you'll be wishing you did once you're gifting this!
2. Capri Blue Jar Candle: you can never have too many candles, right?! This is one of the best candles EVER. It smells incredible and the gold jar is so beautiful! I love gifting these. And if you're loving the idea of gifting a candle, another option I always recommend is this Frasier Fir candle – it's a must!
3. Gray Blanket Scarf: this cozy, oversized scarf comes in three colors and feels so luxurious. You'd never guess it's so affordable as it is! Scarves are another practical gift idea that always are appreciated.
4. 2020 Planner: there's no better time to begin planning ahead than the present! Help her get a head start on organizing for the New Year with this planner – this is one of my favorites because it's a perfect size to be able to write a lot but also isn't overwhelmingly large in size.
5. Pearl Hair Clip Set: these statement hair clips are so trendy right now. They are so pretty and this set would be perfect as a Secret Santa gift.
6. Dolman Sleeve Cardigan: this slouchy, cozy cardigan is just that – oversized and comfortable but it can be worn in so many ways with so many different outfits! I love the possibilities and love the idea of gifting something like this for the holidays.
7. Faux Fur Throw Blanket: I know I'm saying it a lot, but this truly is another fool-proof gift. We all love a good throw blanket! This one is under $30 and SO soft.
8. Packing Cube Set: for the woman who travels a lot, whether it be for work or for fun, packing cubes like these are an absolute must. They are so handy for keeping your luggage organized AND under the weight limit! They come in so many fun colors and patterns and this specifically comes in a set of 5.
9. Faux Fur Pom Beanie: a gift that will keep her warm and looking cute! Loving this color, it's so pretty and perfect to wear all winter.
10. Jade Roller Set: have you tried using a jade roller on your face yet? If not, grab a set for yourself too. You'll be so glad you did! This set comes with a jade roller, sculpty tool and mini eye roller. Jade rollers are meant to help relieve puffiness under your eyes, even out your skin tone and really just to give your face a workout. It's soothing and feels SO good, it's become an essential final step in so many women's skincare routines and needs to be added to yours, too! That being said, this set is perfect to gift the beauty guru on your list!
11. Pearl Drop Stud Earrings: my favorite thing about these earrings is that they are so simple and delicate but also make a statement. They are $32 and such a beautiful gift to give!
12. Faux Fur Slippers: okay, you have not felt cozy slippers until you have felt these! I LOVE this blue color and they also come in white, hot pink and light pink. Give her the gift of walking on clouds!
13. 'Ready for Anything' Leather Pouch: here is a gift that may not be something you thought about gifting or something that anyone may think about asking for, but is so practical and useful. It's basically a simple, organizing pouch to put in your handbag but also has a spot for your phone, a pen and cards placed on the front of the pouch. It's perfect to put right inside a work bag or your everyday handbag to keep cords, papers or anything else you may need with you organized! I love the idea of gifting this to a friend or co-worker.
14. YETI Tumbler: I have talked about loving gifting these before, but they are SO practical and a great gift! These tumblers come in so many colors and sizes and are like magic when it comes to keeping a drink cold or hot. Perfect for the woman who is always on-the-go!
15. External Battery: everyone, no matter who it is, can always use an additional external battery. This is a no-brainer gift idea and something we should all have with us, especially in a time like we are in where we use our phones for everything from work to staying in touch with friends, family, etc.
16. Leopard Printed iPhone Case: this iPhone case is made for the newer set of iPhones and is a great gift if she just upgraded her phone recently! It's one of the best to keep your phone safe – it's thick and made really well and this leopard print is trendy and so super cute.
17. Crystal Wrap Bracelet: these wrap bracelets come in so many colors and styles and truly are one of the prettiest, everyday jewelry pieces you could buy. This one is on sale right now for under $20 and is something any and every woman will love! It's so stunning and fun to layer other bracelets with. This would be perfect for a friend or sister!
18. Burberry Perfume Gift Set: for $25 you can gift two of the prettiest Burberry fragrances and it comes pre-packaged and is ready to gift! I love this as a stocking stuffer or Secret Santa gift.
19. Travel Jewelry Case: this is made for storing the jewelry you travel with, and really is perfect for just that, but it's also great to store your everyday pieces in that you take off before bed and keep on your nightstand or dresser too. It's small and compact but has a compartment for everything! It comes in four colors and is currently on sale!
20. Gold Initial Pendant Necklace: if you don't know what to gift someone, you can't go wrong with a couple of things… One of those being a cute and dainty, personalized necklace like this one!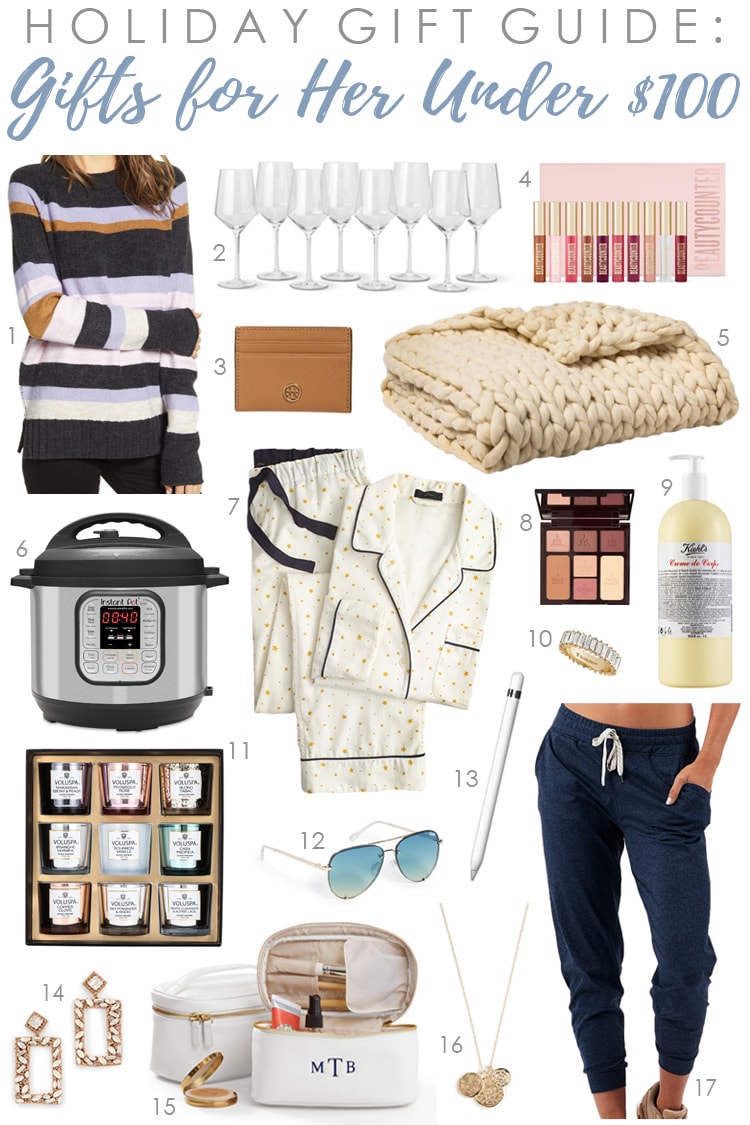 1 | 2 | 3 | 4 | 5 | 6 | 7 | 8 | 9 | 10 | 11 | 12 | 13 | 14 | 15 | 16 | 17
1. Striped Sweater: this striped sweater is so different than most and with how trendy stripes are, that isn't easy to say! This sweater is so cozy and comes in so many colors. It's a great, affordable gift idea!
2. Mixed Set of Wine Glasses: it isn't every day you find a set of wine glasses like this for under $100! The set comes with 4 Cabernet glasses and 4 Sauvignon Blanc glasses – perfect for gifting.
3. Tory Burch Card Case: the cognac color of this card case is so neutral and luxurious looking, it's something every woman will love to use as a wallet!
4. Beauty Counter Mini Lip Gloss Vault: for under $100, you can gift a vault of the very best lip glosses! This set is incredible, it comes with 10 glosses and these are the most beautiful lip products to wear alone or layered with your favorite lipstick. I love them and whoever you gift them to will too!
5. Chunky Knit Throw Blanket: these super thick and warm knit throws are normally VERY pricey. We're talking $200+ in most cases! This one is under $100 and sooo incredibly soft. It is a beautiful blanket and perfect for draping over a bed or keeping on your couch.
6. Instant Pot: if you have yet to try an Instant Pot, you may want to get one of these for yourself, too! Cooking is a breeze in these and for a busy woman, this is the ultimate gift idea.
7. Flannel Pajama Set: pajamas are great to give if you're unsure what to get someone or for the person on your list who quite literally has everything. There are a variety of colors to choose from with these but I thought this gold star printed set was so cute. Nothing better than a cozy, flannel pajama set on a cold night!
8. Charlotte Tilbury Face Palette: other than the shades in this face palette being so stunning, each shade is numbered so you know what's for what and where to use each color. Isn't that so cool? I love the neutral pink tones in this and the compact size is great to travel with or keep in your bag everyday.
9. Kiehl's Jumbo Creme de Corps: while this is a little pricey for body moisturizer, it still falls in the under $100 category and is said to be worth every penny. It's one of the most popular lotions out there and would be a great gift!
10. Gemstone Band Ring: these beautiful and delicate rings come in SO many colors. They are beautiful and a fun way to stack rings with to wear daily or as a special occasion piece. Affordable but beautiful and looks so real!
11. Voluspa Candle Set: for well under $100, you can gift 9 beautiful votive candles in different scents – all of which are STUNNING. Each scent is prettier than the last and you can never go wrong with a fun gift set like this one.
12. Aviator Sunglasses: these look just like Ray-Ban aviators but are much more affordable! A fun gift for someone who loves trendy pieces that can be worn with practically everything. And check out how pretty the blue tint to these is!
13. Apple Pencil: this is more of a fun gift than practical, but sometimes that's exactly what you love! This is a fun way to use your iPad and if you're looking for a gift for someone who uses theirs often, an Apple Pencil is a great addition that they'll love to receive.
14. Gemstone Statement Earrings: how stunning are these? The great thing about statement earrings is that they don't cost a fortune, but make a huge statement for lack of a better word! They add so much to any outfit and often look so real, which is what makes these a great gift to give.
15. Personalized Cosmetic Bag: I LOVE to gift personalized items. Love. It's the best, and this cosmetic case can be purchased with a monogram! It's so large in size and will fit everything she needs to carry around with her. A fun way to bulk this gift up: add some of her favorite cosmetics inside so it's an extra little surprise when she unwraps it.
16. Gold Coin Pendant Necklace: something different, right?! I love how vintage these coins look and how perfect it'd be to layer with a couple other necklaces, as this one hangs a bit longer.
17. Joggers: these might just be the coziest joggers ever. They are incredibly soft and fit so well! They come in a couple of colors and you can't beat a cozy gift like this. If you are looking for some more cozy gift ideas, check out this gift guide filled with the very best cozy gifts for her!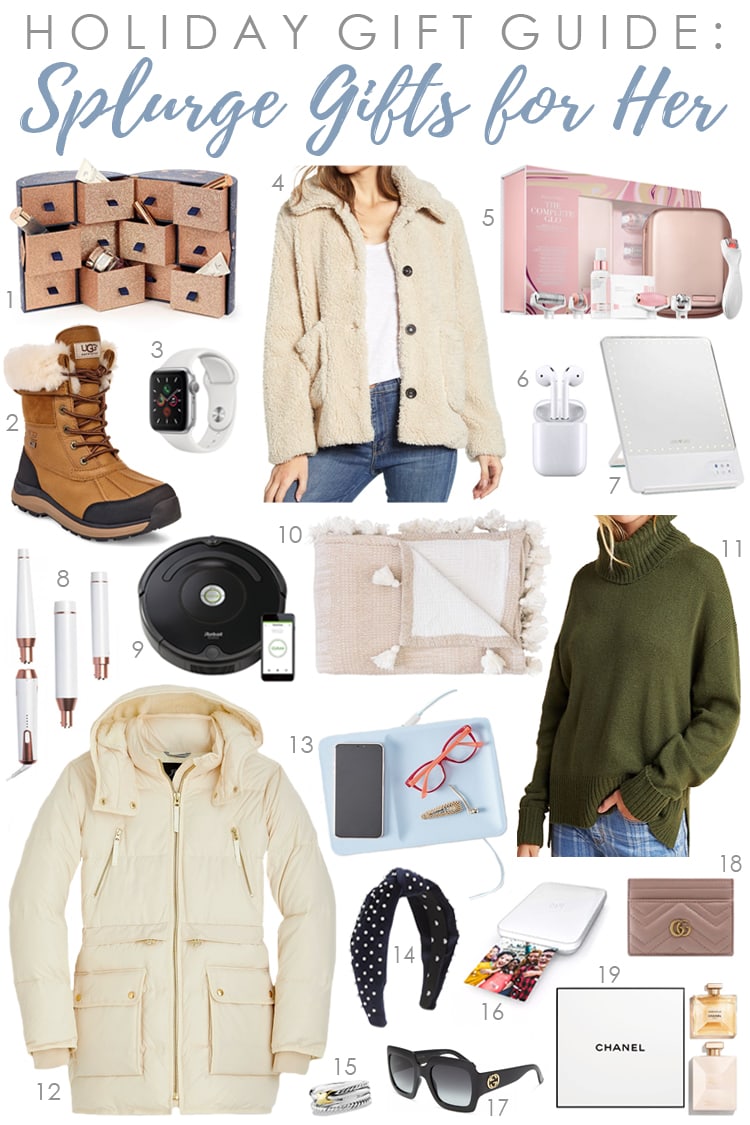 1 | 2 | 3 | 4 | 5 | 6 | 7 | 8 | 9 | 10 | 11 | 12 | 13 | 14 | 15 | 16 | 17 | 18 | 19

1. Charlotte Tilbury Advent Calendar: for the beauty lover on your list, this is a MUST. This advent calendar is filled with 12 of Charlotte Tilbury's best products and each day is like another new surprise! Love this idea.
2. Waterproof UGG Boots: since these are waterproof, they're basically a must-have if she lives somewhere that gets cold and snowy! These come in a couple of colors and are SO cozy and warm inside.
3. Apple Watch: this is one of the hottest gift ideas and has been for a couple of years now, but it really is an incredible piece of technology. It can do SO many things and if you're on the market for something like this, it's something that makes for a really fun holiday present.
4. Faux Fur Teddy Coat: not only is this a warm winter coat, it's so on-trend and SO cute and soft. It can be worn as an everyday coat or more for special occasions (or both!) and is under $200.
5. GloPRO Gift Set: have you tried at-home microneedling yet? This set is amazing… It comes with the microneedling tool, all of the attachments, a travel case and so much more. It truly is a luxurious gift for any woman to receive!
6. AirPods: another fun electronic gift that is great for anyone, but especially so if she loves to workout or travels a lot.
7. Riki Smart Mirror: while this being a Bluetooth enabled mirror, that isn't even the best part… It has customizable LED lighting so you can decide how lit up it is and how much light it gives off to help you see while doing your makeup! It has a rechargeable battery and even comes with a magnetic phone mount. This is a gift she'll love and definitely will not have expected!
8. t3 Curling Wand Set: you've likely heard of this curling iron and for good reason, it's one of the best on the market! This set comes with all three sized interchangeable wand sizes which is perfect for achieving a different type of curl.
9. iRobot Roomba Vacuum: for a busy mom or working woman, this is likely going to be her favorite gift EVER. It's a no-brainer, and being able to control it from an app now is a game changer.
10. Neutral Printed Tassel Coverlet: this embroidered blanket is incredibly soft and SO beautiful – it's perfect for layering in a bedroom and equally as perfect to cuddle up with.
11. Turtleneck Sweater: this sweater comes in 8 classic colors and is the most perfect winter sweater to gift.
12. Ivory Puffer Jacket: a warm and stylish winter jacket is a great gift idea and this is the ultimate winter coat! It comes in so many colors and is a very lightweight yet very warm parka. It's also made with PrimaLoft, and each coat made keeps 15 bottles out of the oceans and landfills which is an extra little bonus as a gift.
13. Wireless Charging Pad: if she has multiple electronics and uses them a lot, it's likely she's going to need to charge a lot… That makes this charging pad a gift she will LOVE! It charges your phone wireless and has a catch-all tray to keep her jewelry, glasses or anything else on that she wants close-by.
14. Pearl Embellished Headband: these pearl headbands are another 2019 trend that I can definitely get behind. These are SO cute and this navy, velvet headband with the pearl embellishments is just so beautiful. I would love to receive this as a gift and I can think of so many other women who would as well!
15. David Yurman Ring: this under $300 little piece of luxury could easily become her newest favorite piece of jewelry – you can't go wrong with a classic like this band that she'll have forever.
16. Mobile Printer: this portable, easy to use printer is pocket-sized and SO handy. It's made with WiFi, Bluetooth and even has the technology to automatically share a photo to Instagram. This is a really cool gift!
17. Gucci Sunglasses: if you're looking to splurge on a gift, what better way to do so than with a pair of Gucci sunglasses? These are a classic!
18. Gucci Card Case: I LOVE the color of this card case. It's a piece she'll have forever!
19. Chanel Perfume Set: this fragrance is a true classic scent and the box that it comes in makes it a really perfect ready-to-go gift idea.
We hope all of these gift ideas for women inspire you to cross off a lot of names on your holiday shopping list this year! At a variety of prices, there's sure to be something here for everyone. Happy shopping!
You can check out all the Holiday Gift Guides for even more gift-giving ideas!