How To Mix Fabric Patterns
This post may contain affiliate links. Please read our disclosure policy.
One of my most favorite things to do as a designer is mix fabric patterns for a unique look. Though I see it as something easy and fun to do, others get stressed out and do not want to go near it with a ten foot poll. Is this you?? Oh my friends, I am going to make it so easy for you today. You too can mix and match fabric patterns like a designer with my simple rule of thumb. I put together some samples for you so you can see the general scale and pattern of the prints and how they go together. I typically use a 3 pattern mix of fabrics. It typically is the right amount to not just sprinkle on pillows but to use on the drapes as well. Ready for my little secret??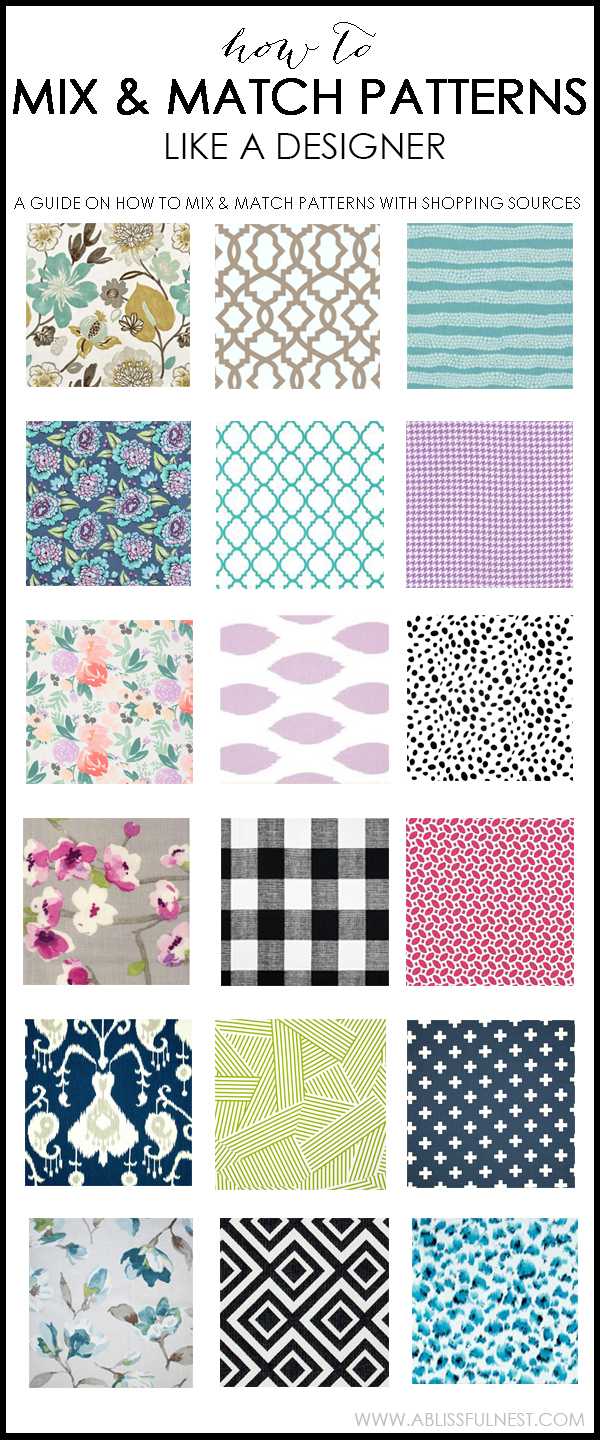 THIS POST CONTAINS SOME AFFILIATE LINKS
How to mix fabric patterns like a designer:
Choose a main fabric either in a floral or multi color pattern as your base fabric
Select a geometric pattern or stripe in a large scale print
Select a geometric pattern or stripe in a small scale print
And that is it my friends! Told you it is not hard. BUT I am a visual person so if you are too here is a little break down.
Step 1:
Choose a main fabric that has a print. It can be a floral or a multi colored fabric. . . whatever you like that will be your main fabric. You want to select a fabric that conveys the mood and tone of the room, has the colors you want not only in the room but that play off of the other rooms it opens into. For instance, if you have a little turquoise in your entry, then you will want to make sure there is a little turquoise in the next room it opens into.

Step 2:
Once your main fabric is selected, you will want to pick a large scale pattern. I tend to always go for a geometric pattern because they are more tailored and structured looking, which I think grounds the main fabric. I tend to like to pick one in a neutral color or you can pick one in the main color you want to pop from your 1st fabric. Whatever your choice make sure the scale makes the main fabric color you want to focus on stand out.

Step 3:
Now we are on to the 3rd fabric! This one is your fun one. Select a fabric that has a small scale pattern to it. Choose a color that is not a focus in the room but it present in the main fabric. This is the fabric that most likely will always give you that touch of whimsy . . . the unexpected! This could be a pin stripe, a dot fabric or some kind of other geometric shape. Great places to put this pattern to good use is on a pillow, on a lampshade, for a seat cushion on a chair, etc. The choices are endless but just remember this is your accent and should not be the main focus of the room.

Bridge City Blooms | Wisteria Lavender | Dalmatian
Here are some of my other favorite pattern combinations.

Fleur, Summer | Black & White Geo | Peta Cheetah

Sakura Floral | Black & White Buffalo Check | Stout Bingo Raspberry

Java Navy Ikat | Manor Stripe Green | Mini Swiss Cross Navy

Tula Pink Astraea Sky | Quatrefoil White/Turquoise | Houndstooth

Braemore Gorgeous Pearl | Lattic | Cloud 9 Organic Landscape Pebble Turquoise
So are you ready to start putting your own fabric combinations together?? Use our simple step by step to mix fabric patterns and you will be doing it just like a pro!