2020 Fall Living Room Tour
This post may contain affiliate links. Please read our disclosure policy.
Sharing my fall living room tour full of fresh seasonal flare, sources to recreate the look in your home, and some DIY tips to save money on your fall decor.
Sometimes decorating for the seasons is such a slow gradual process for me. This year, I have really taken my time enjoying the journey of the different seasons. My fall decorating started off one way and I hated it so much after living with it for a few weeks, that I took it all down and started again. When I asked everyone on IG if that ever happens to them, almost everyone said yes. I loved that because no matter how experienced a designer you are, you may never get it right the first time.
So with that said, here is part two of my fall living room tour. LOL!
This post contains some affiliate links for your convenience. Click here to read my full disclosure policy.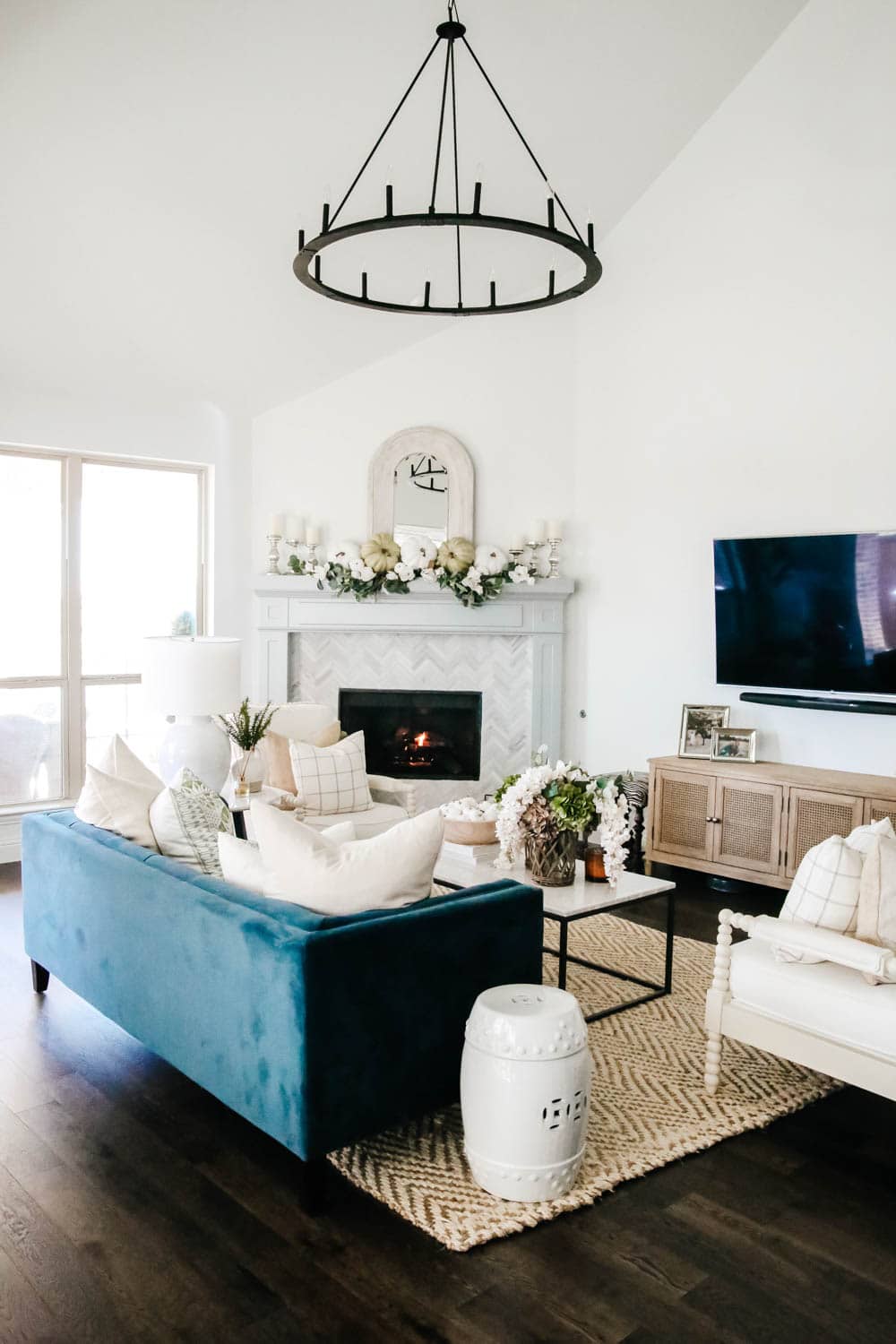 Fall living room decor details:
This year I stayed close to the color palette I had from last year since I loved it so much for my fall living room colors. But went with more lime green colors this time with only a little bit of the wheat color. It has still been hot here in Texas so going full-blown dark saturated colors just didn't seem to fit the bill this time.
I switched things up and changed out my mirror for the one we used to have in the entryway. When we were building this house, that was one of my first purchases and I still love it so much. It is from Wisteria and as you know they closed but I sourced a few similar options (option 1 / option 2)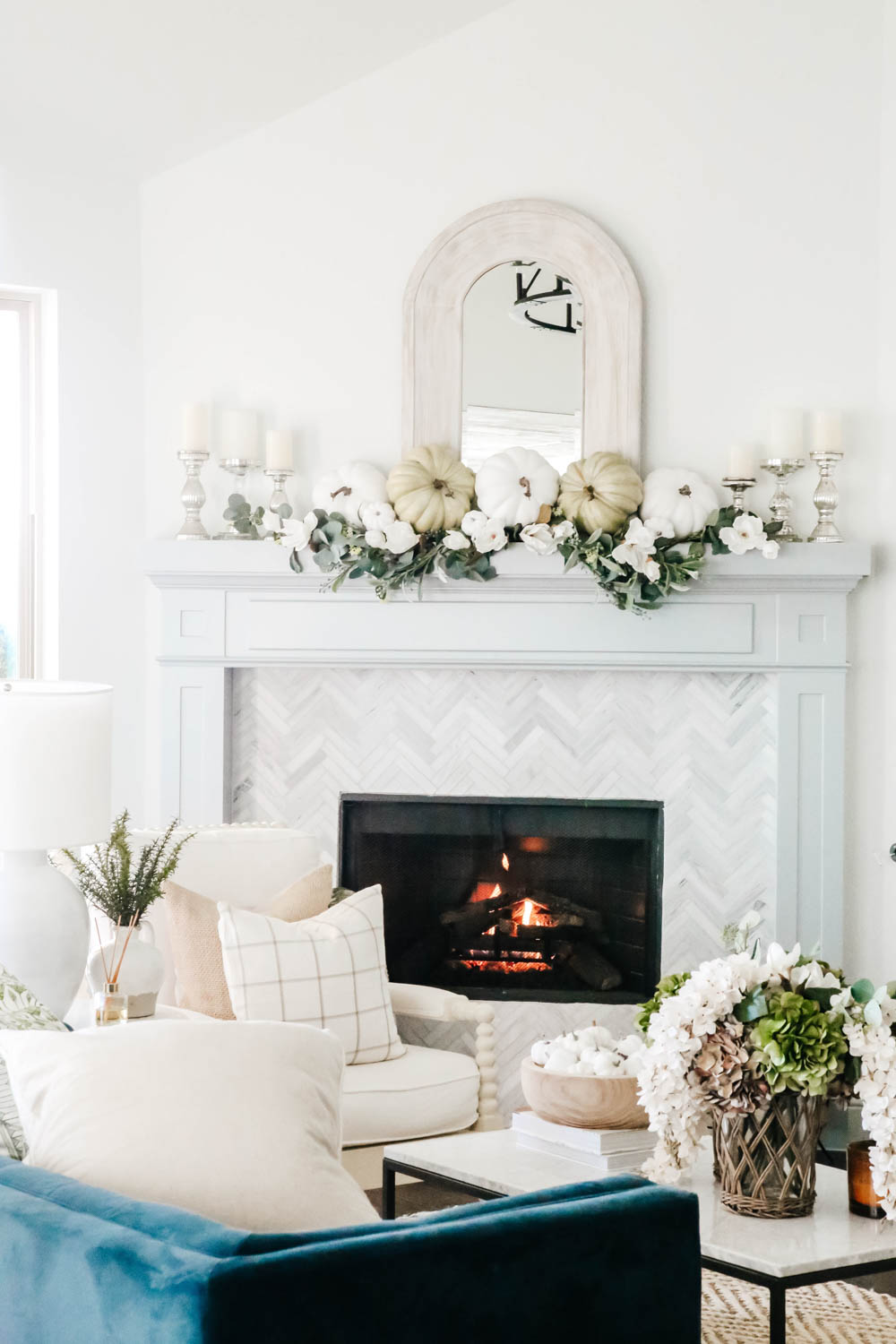 I love to layer pumpkins on pumpkins and start with the largest ones first after I lay my garland down on the mantle. Then I tuck the smaller ones in and nestle them in between all the little gaps. It gives it a more full look.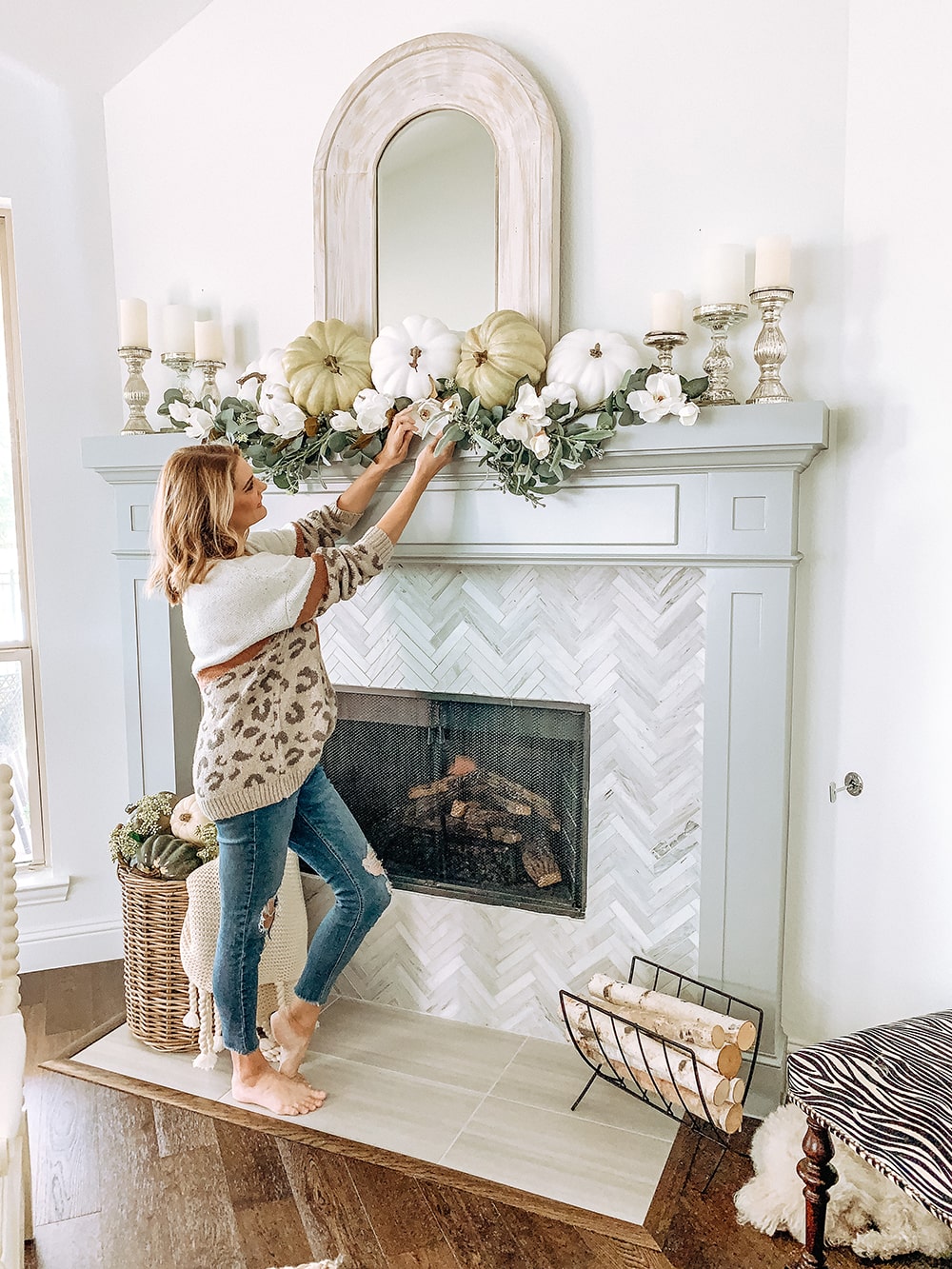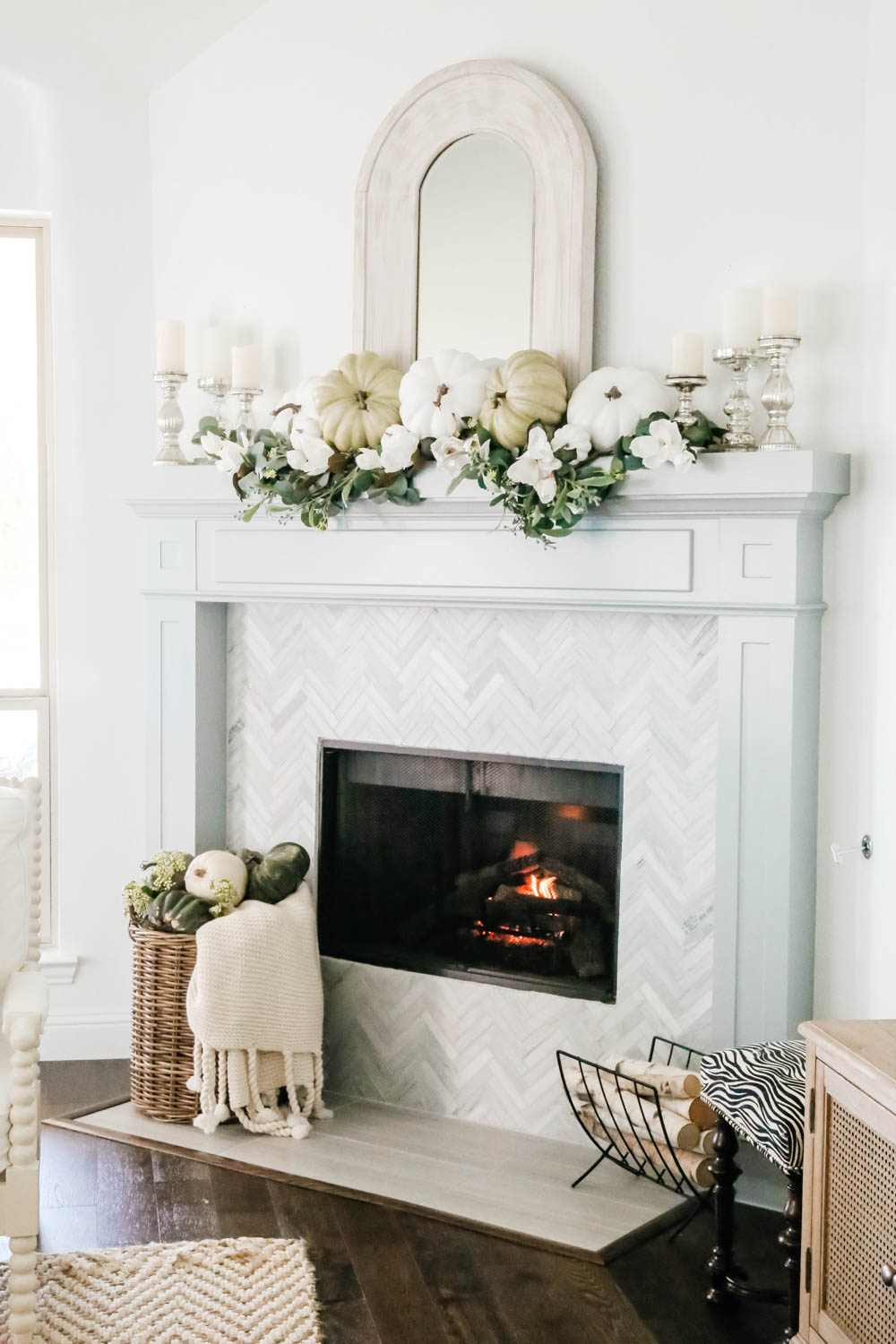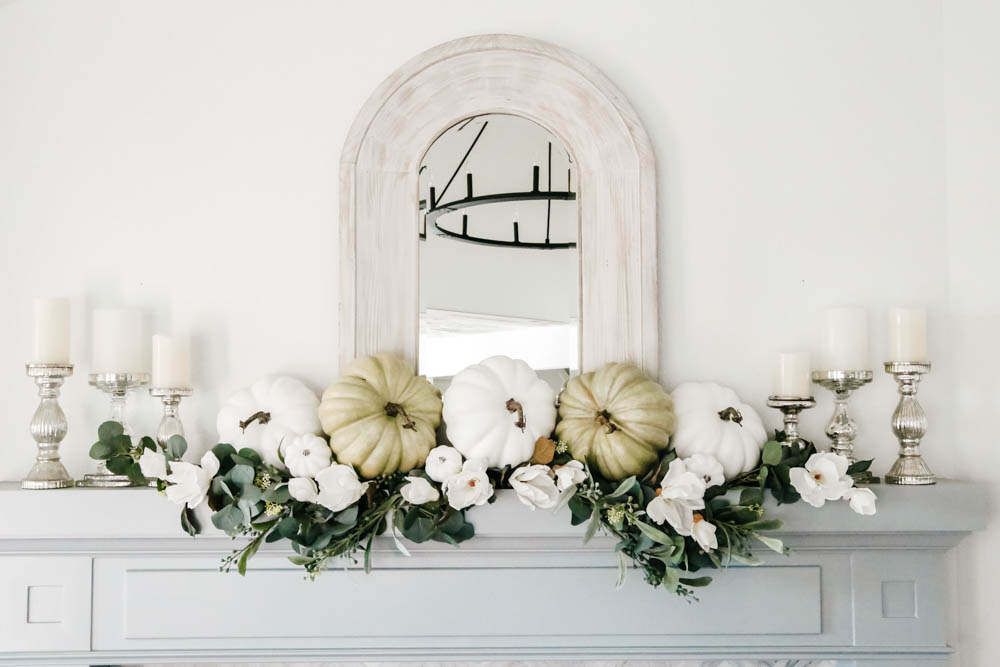 I also used faux magnolia picks in my garland and just stuck them throughout. I used 6 total for a more full look.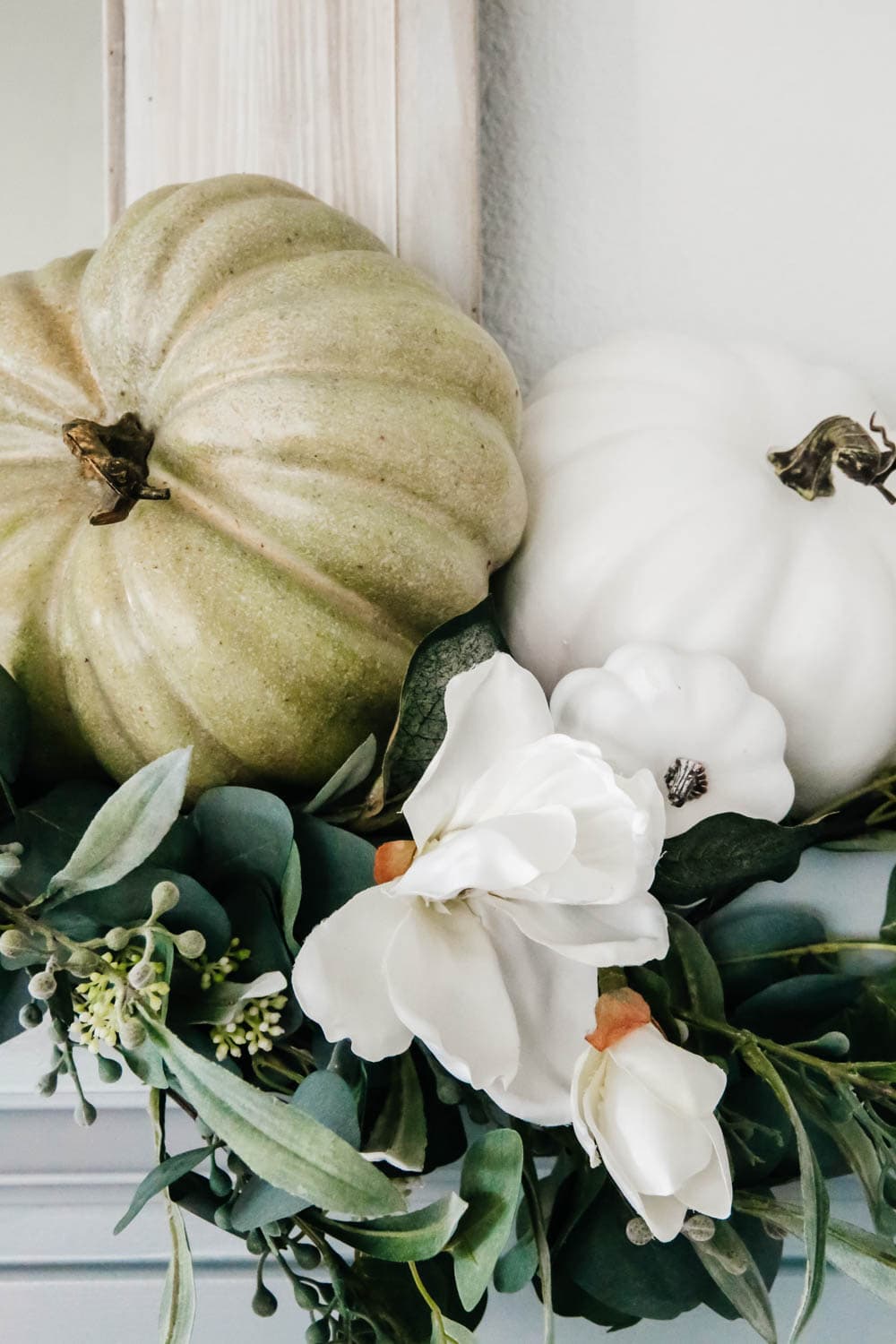 Over the years I have been collecting mercury glass candleholders. I love their simple elegant look. These are from two different sets and I mixed them to create a variation in height.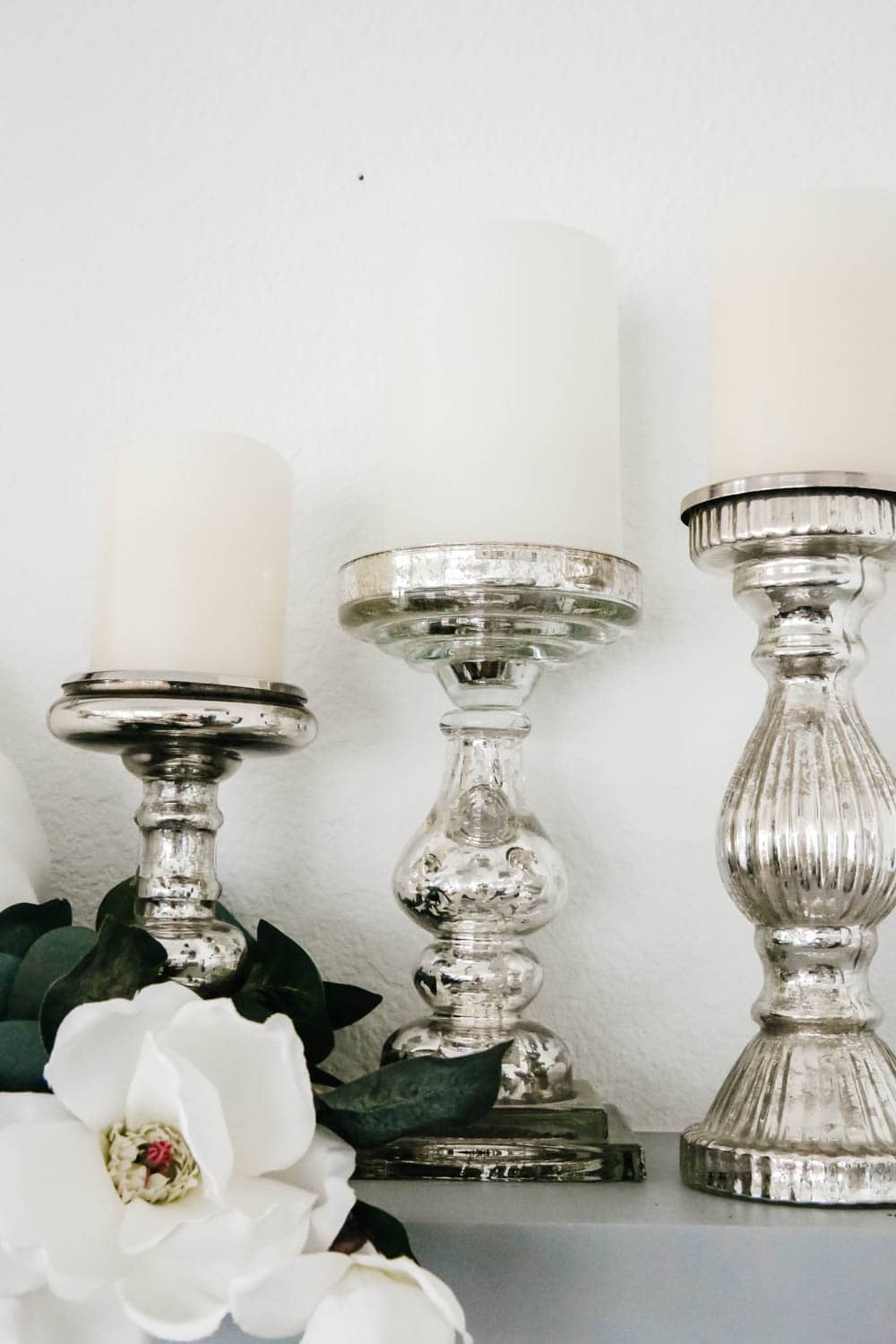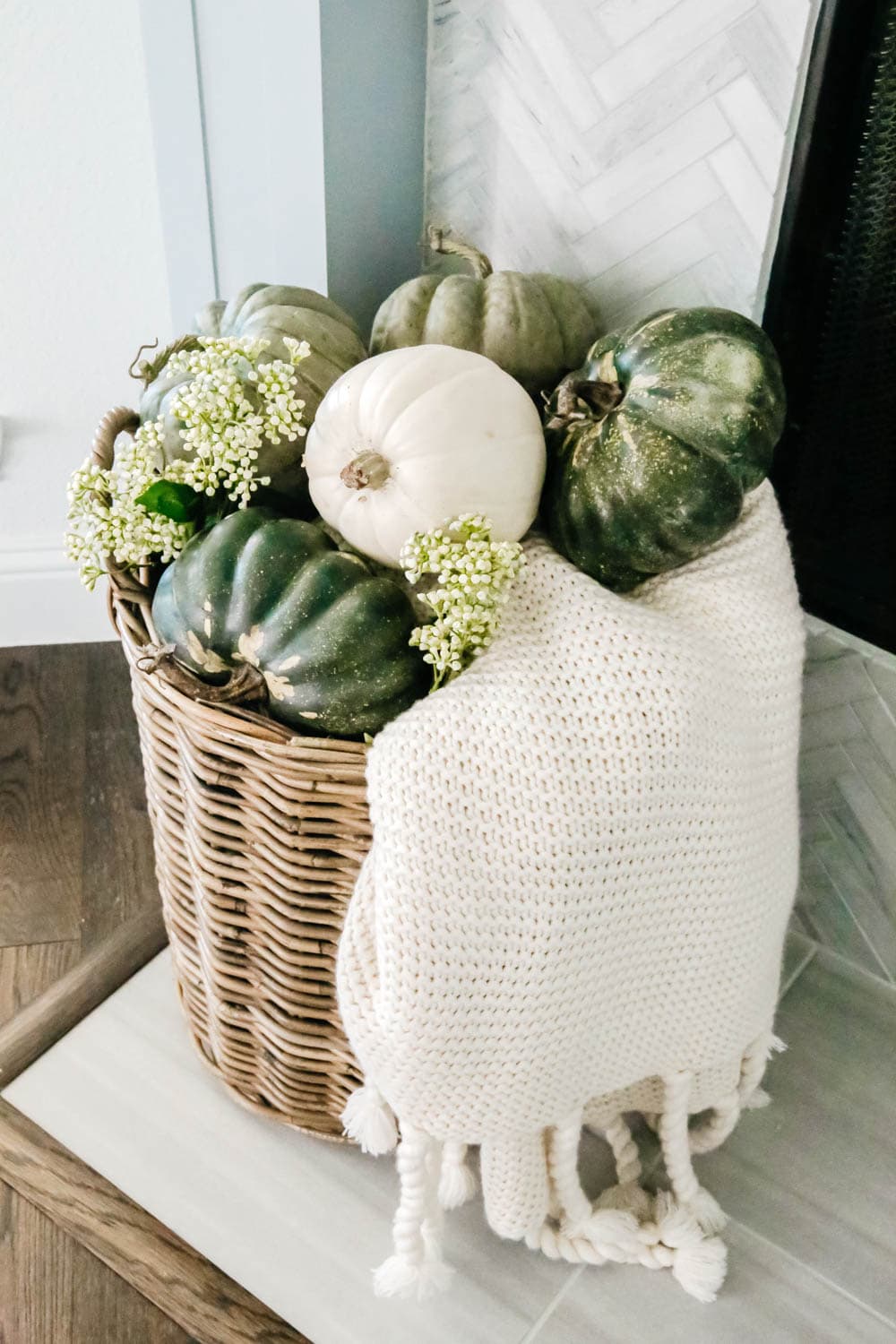 I love having this stack of birch logs next to our fireplace year-round. How I display them changes from time to time but they were totally worth the purchase. They are not that expensive but just a great investment if you want something that can work year-round for fireplace decor.
This might just be my favorite view in this room. I love all the light we get from the windows behind this space and you can see how the kitchen, breakfast room, and kitchen all meld together. I am such a fan of layered textures and you can really see this in the bistro barstools, living room rug, and farmhouse wood paneled ceiling in the breakfast room. I am still dreaming of another space to add that paneling too. It is so so pretty!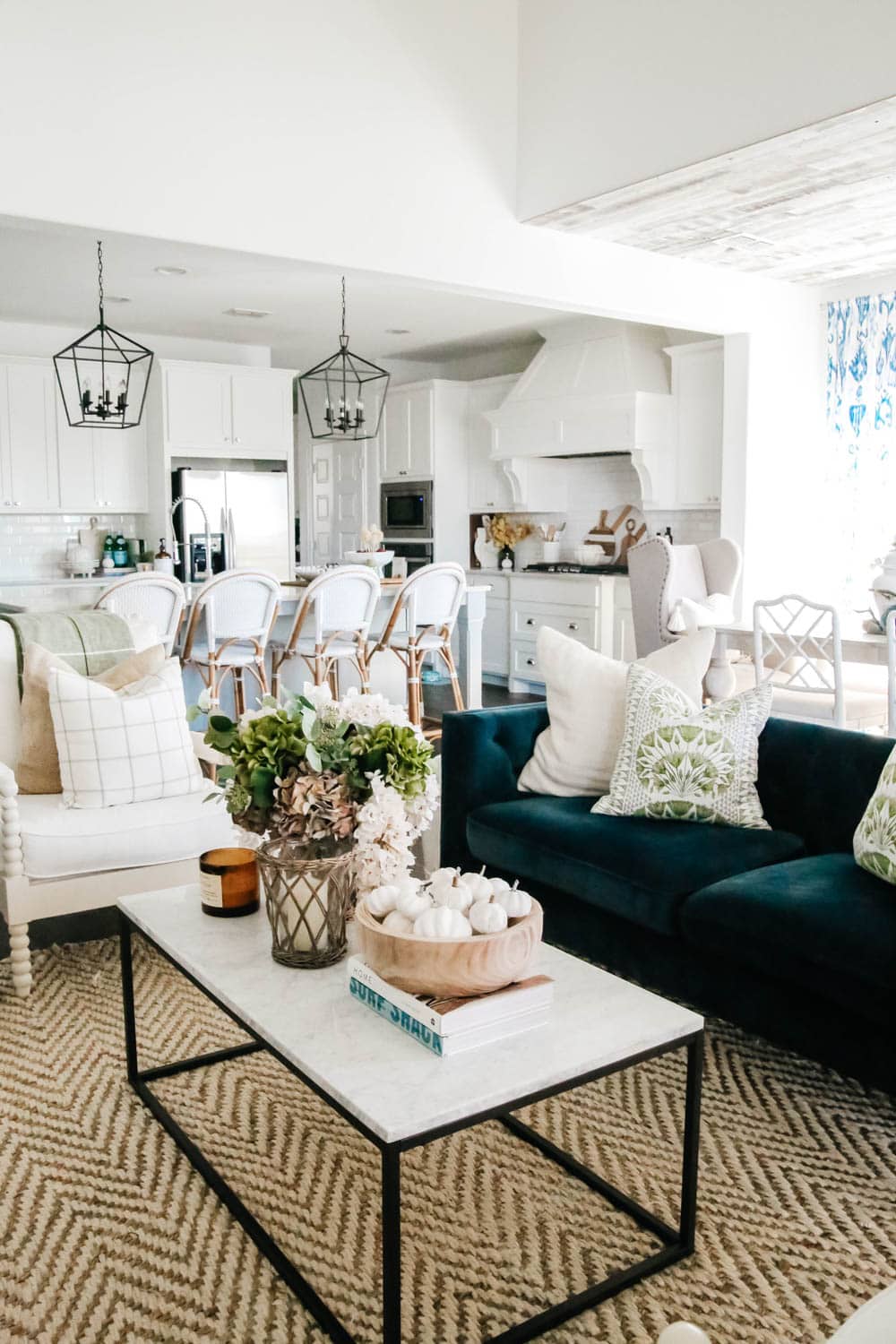 I love to light all the candles at night and these lanterns. I got them last year from Tuesday Morning and originally had them outside. I have not found similar ones online but I will keep looking for you!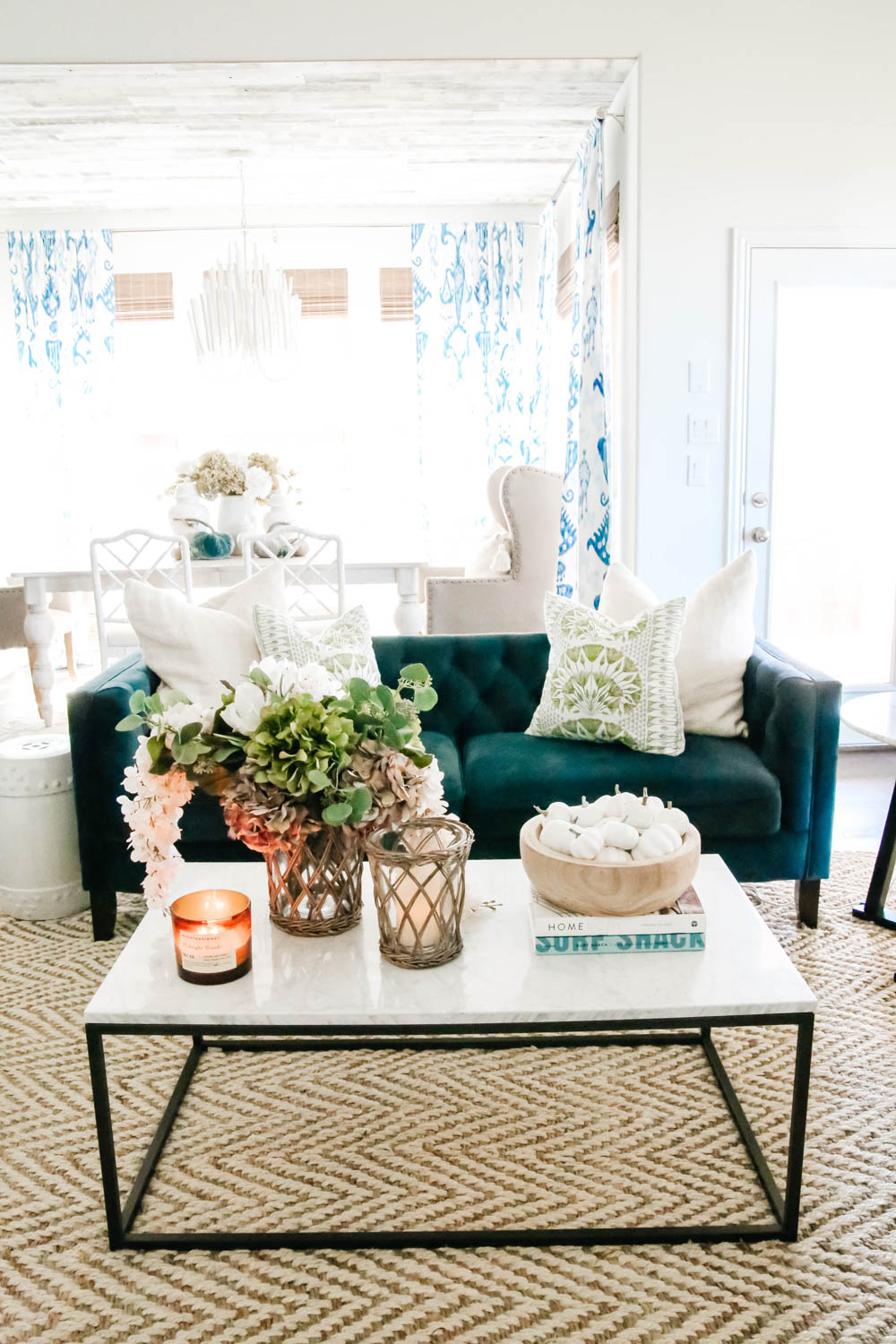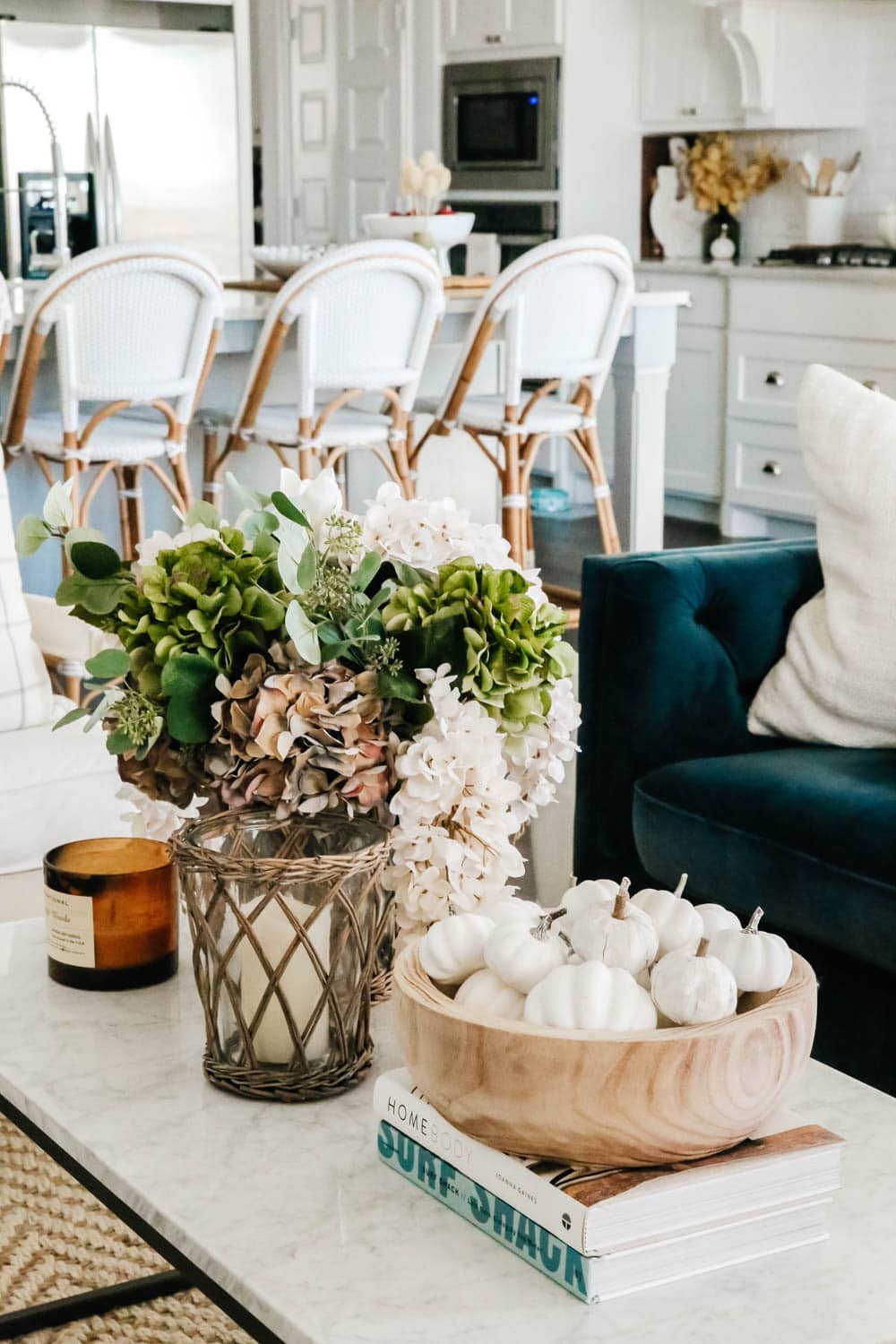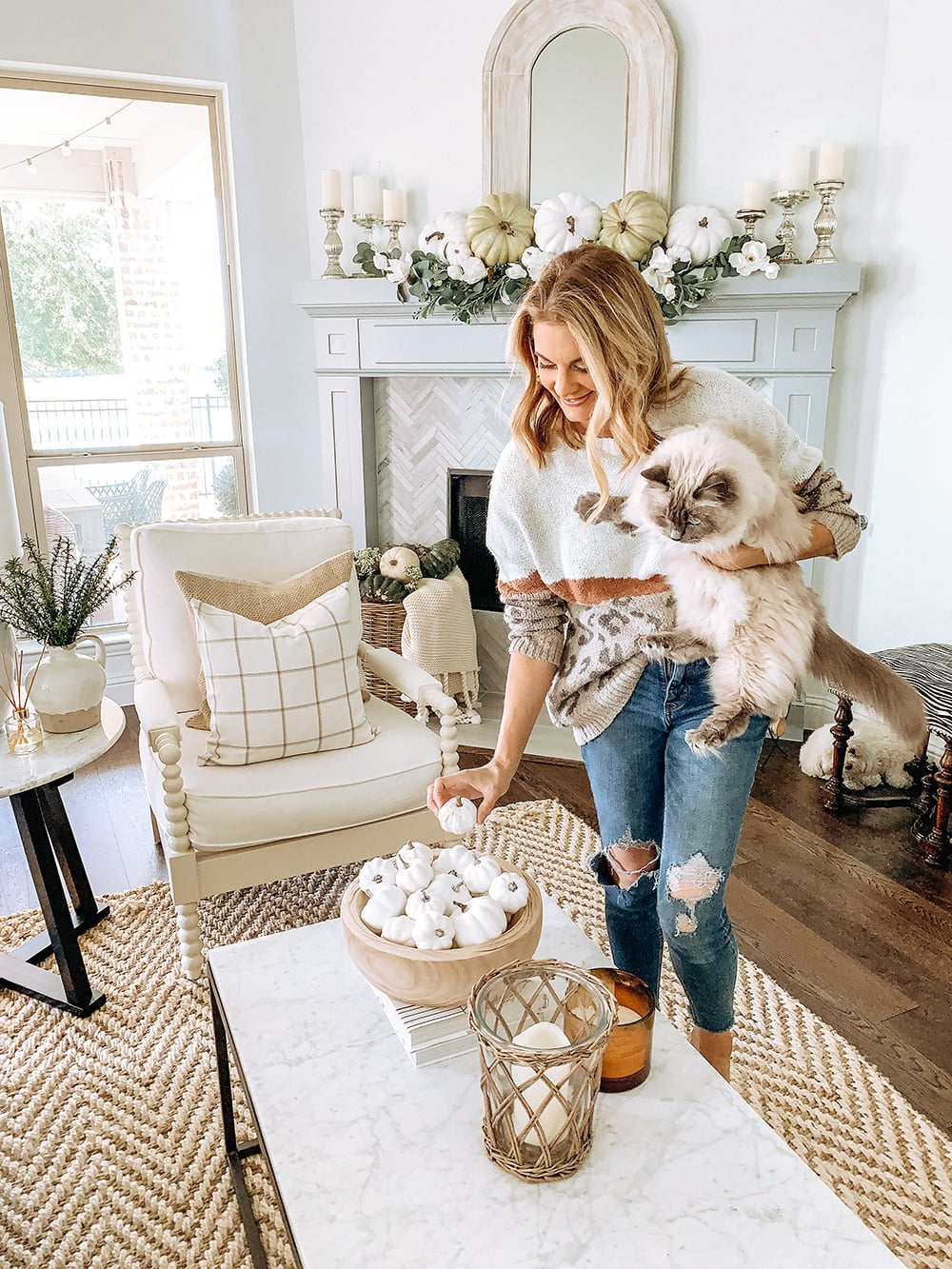 I had a wood bowl like this years ago and it was pretty pricey but recently Target came out with this one that was a dead ringer and I had to get it because the price was so good. You can never have enough wood bowls! Ha! No, really they are the easiest thing to decorate with so when I see them I snatch them up. This year, I filled mine with simple faux white pumpkins (the real ones tend to not last the full season for me).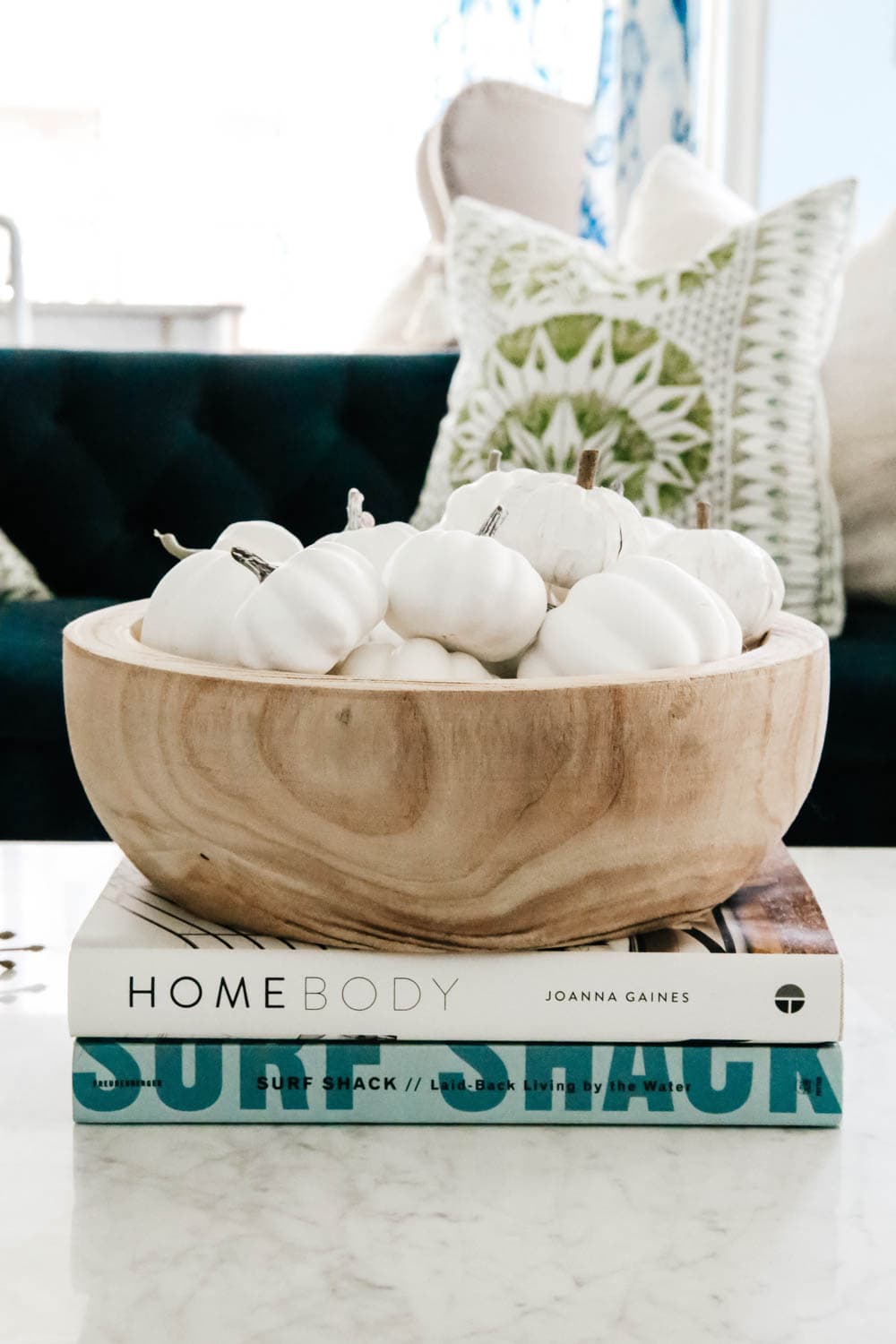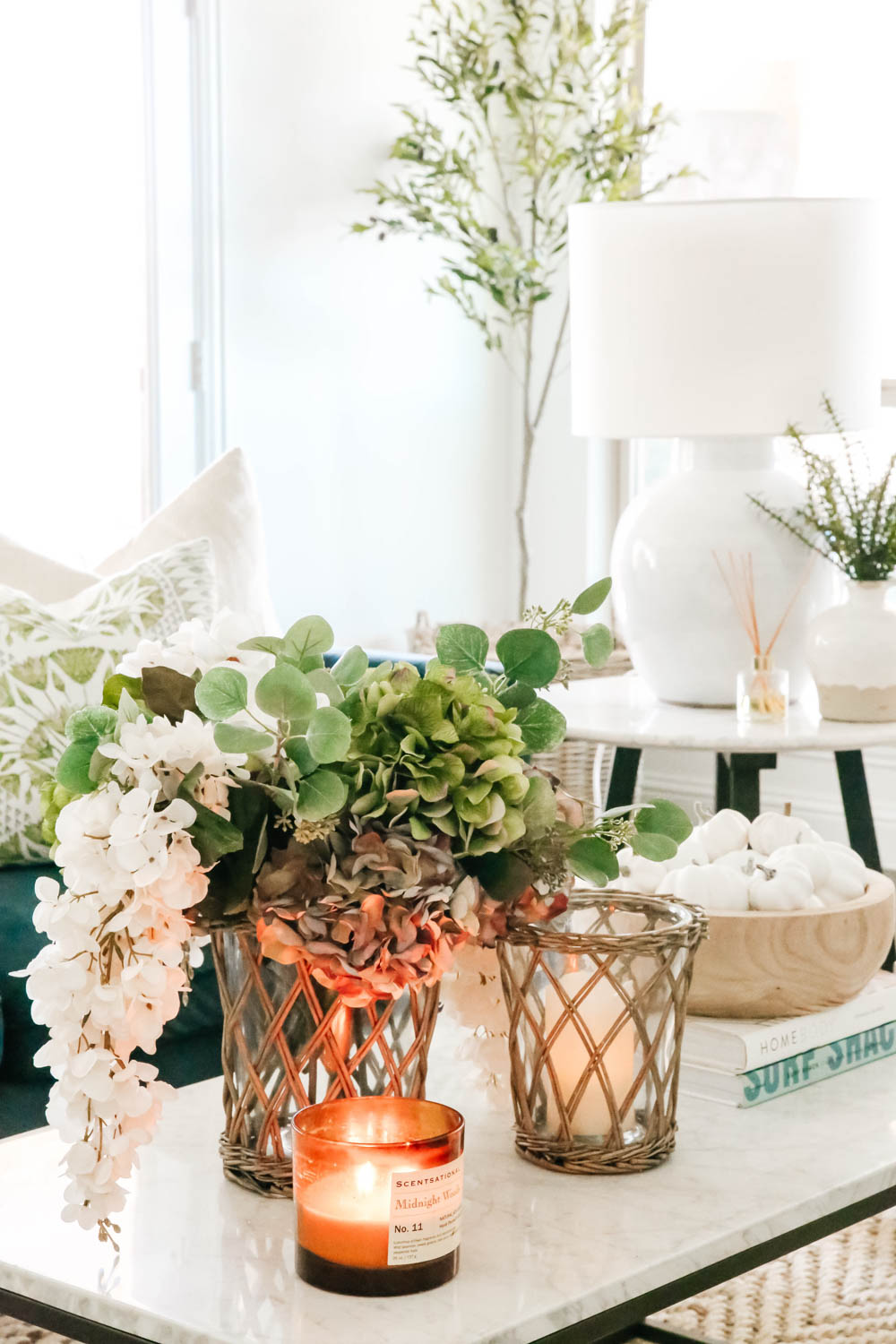 What started as a place holder for the faux flowers I was thinking of using, turned into a pretty little display that I decided to keep. Filled with three different hydrangeas and some faux eucalyptus leaves and bam I had a new arrangement for my coffee table!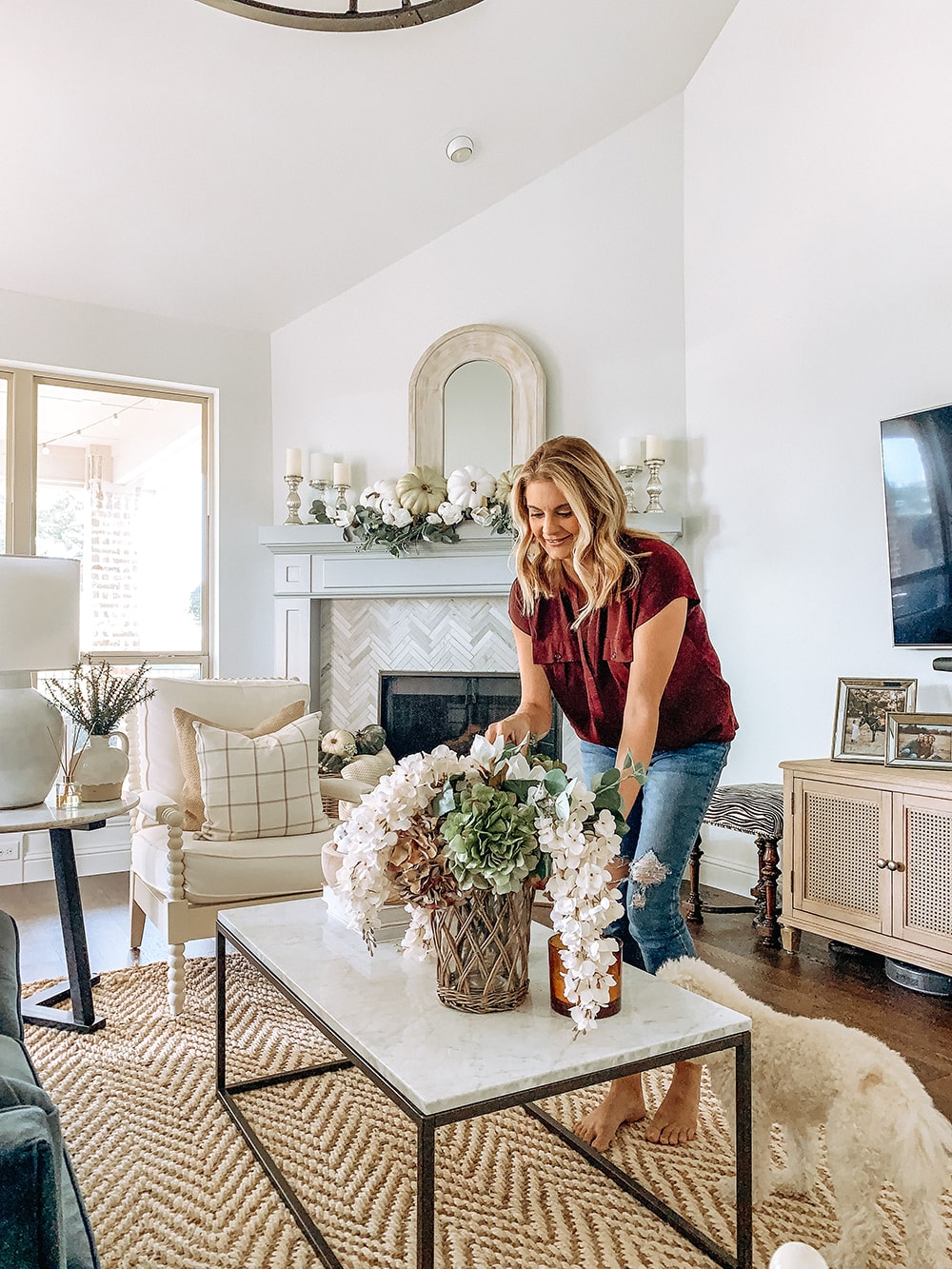 You know I am such a sucker for pillows and have a very extensive collection. But I will tell you this, having staples like these linen-textured pillows is a must. I have them in multiple colors and they are such a great neutral patterned pillow to layer with that gives you texture.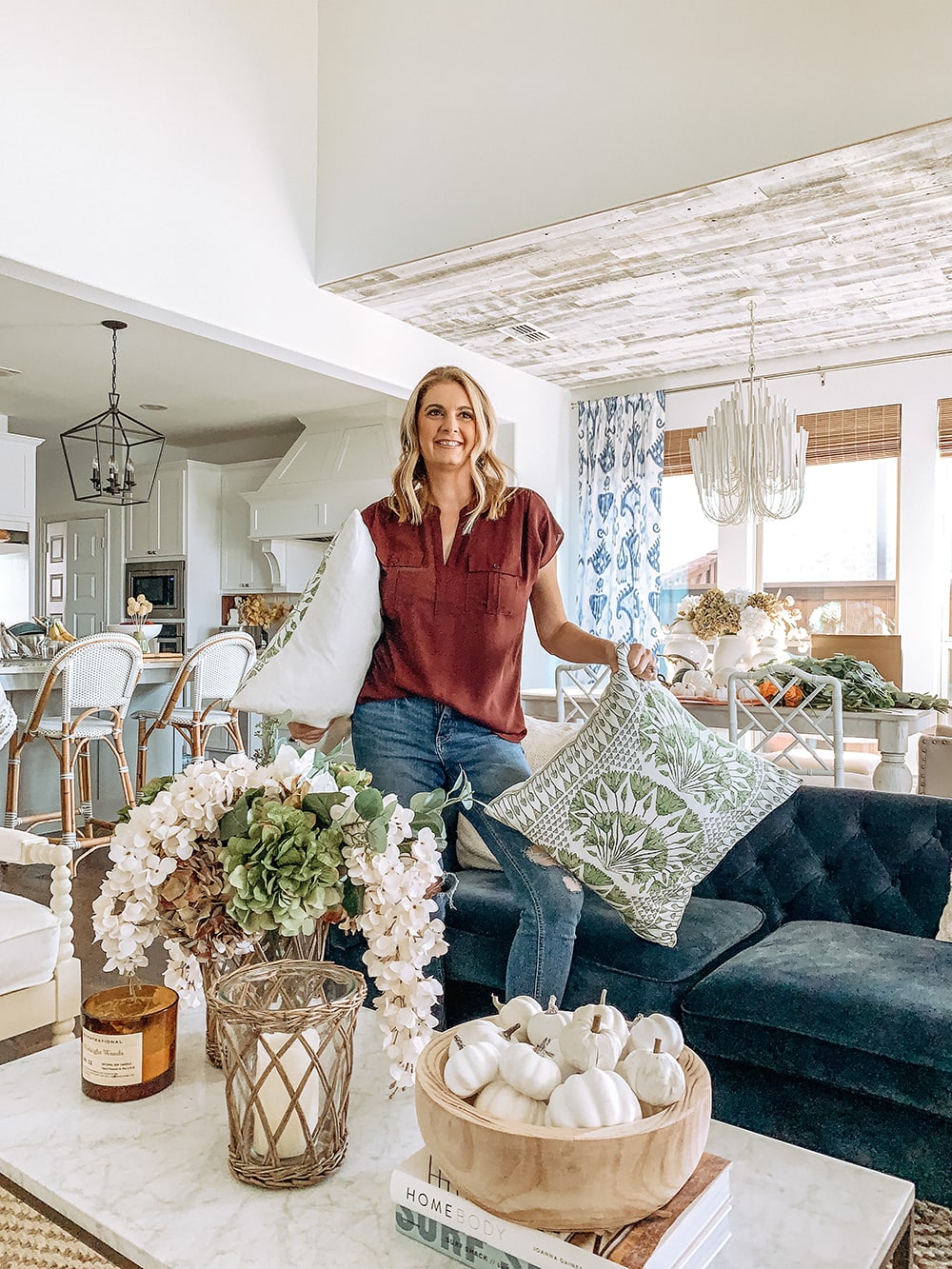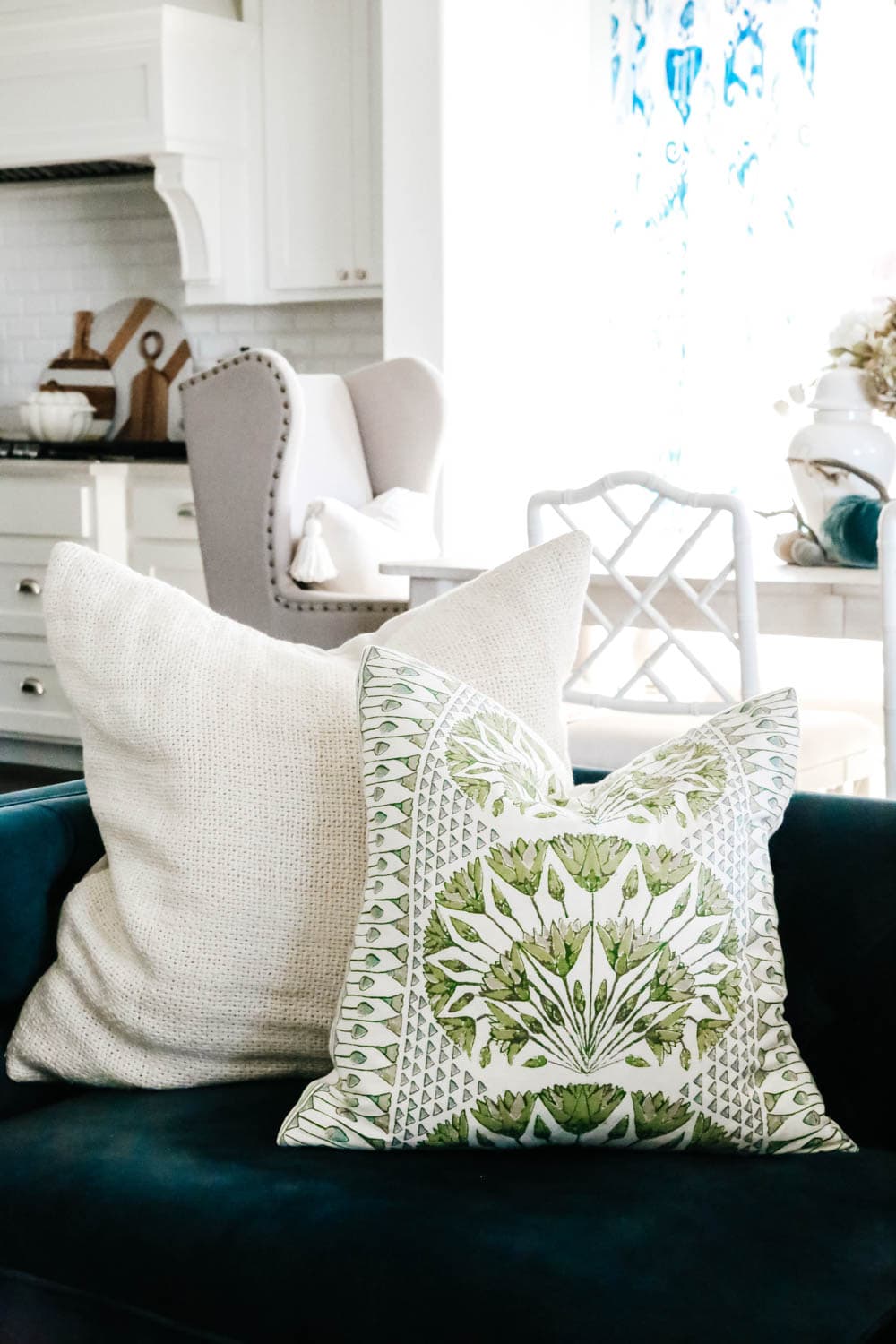 I found this great green patterned pillow from Etsy and I love finding designer patterned pillows there. They usually are pretty affordable and you can cut down on price if you only do the designer fabric on one side.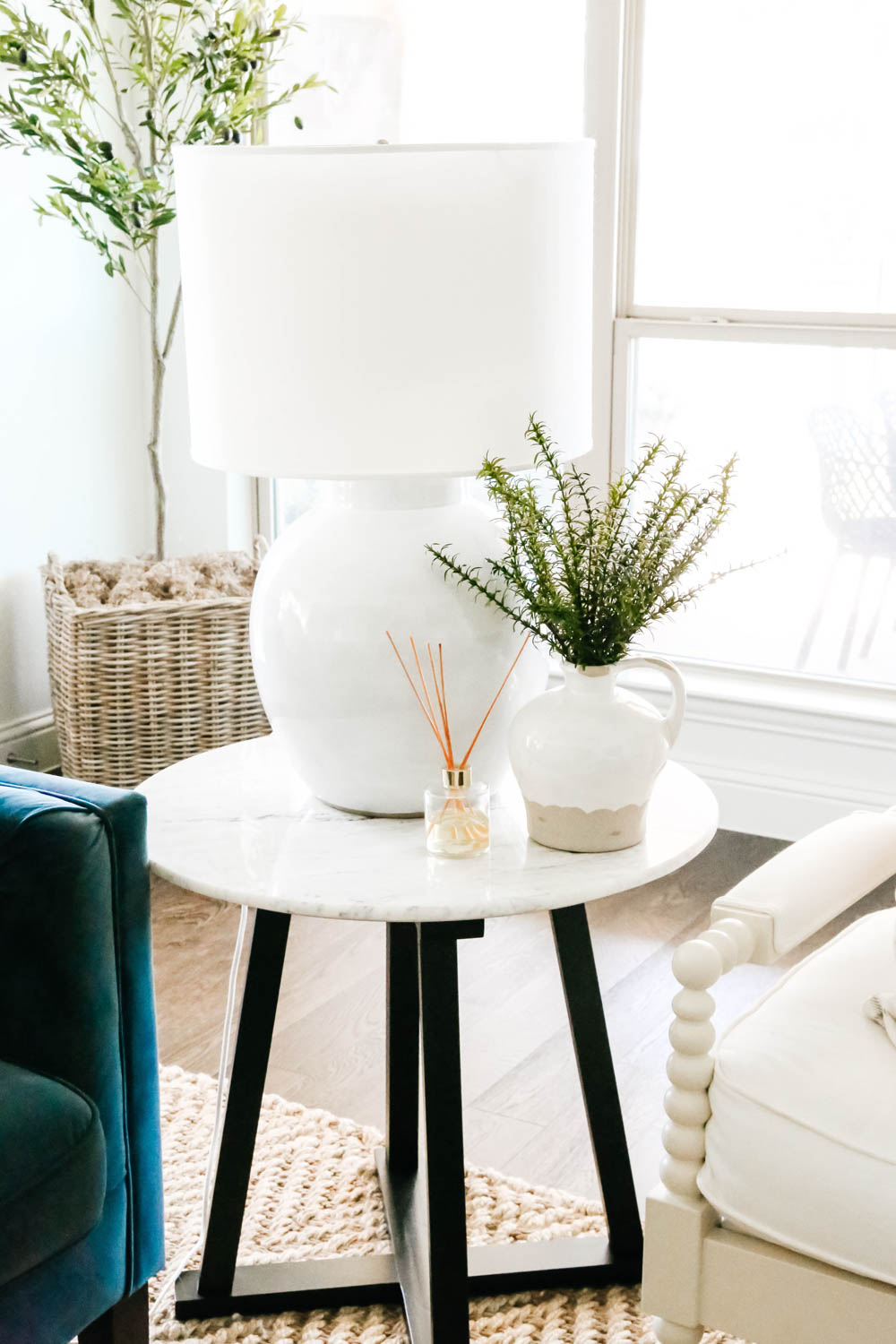 I kept our side table simple with this little urn jug and faux rosemary popping out. I have been pretty obsessed with these little oil diffusers over the last few months and they smell so delicious.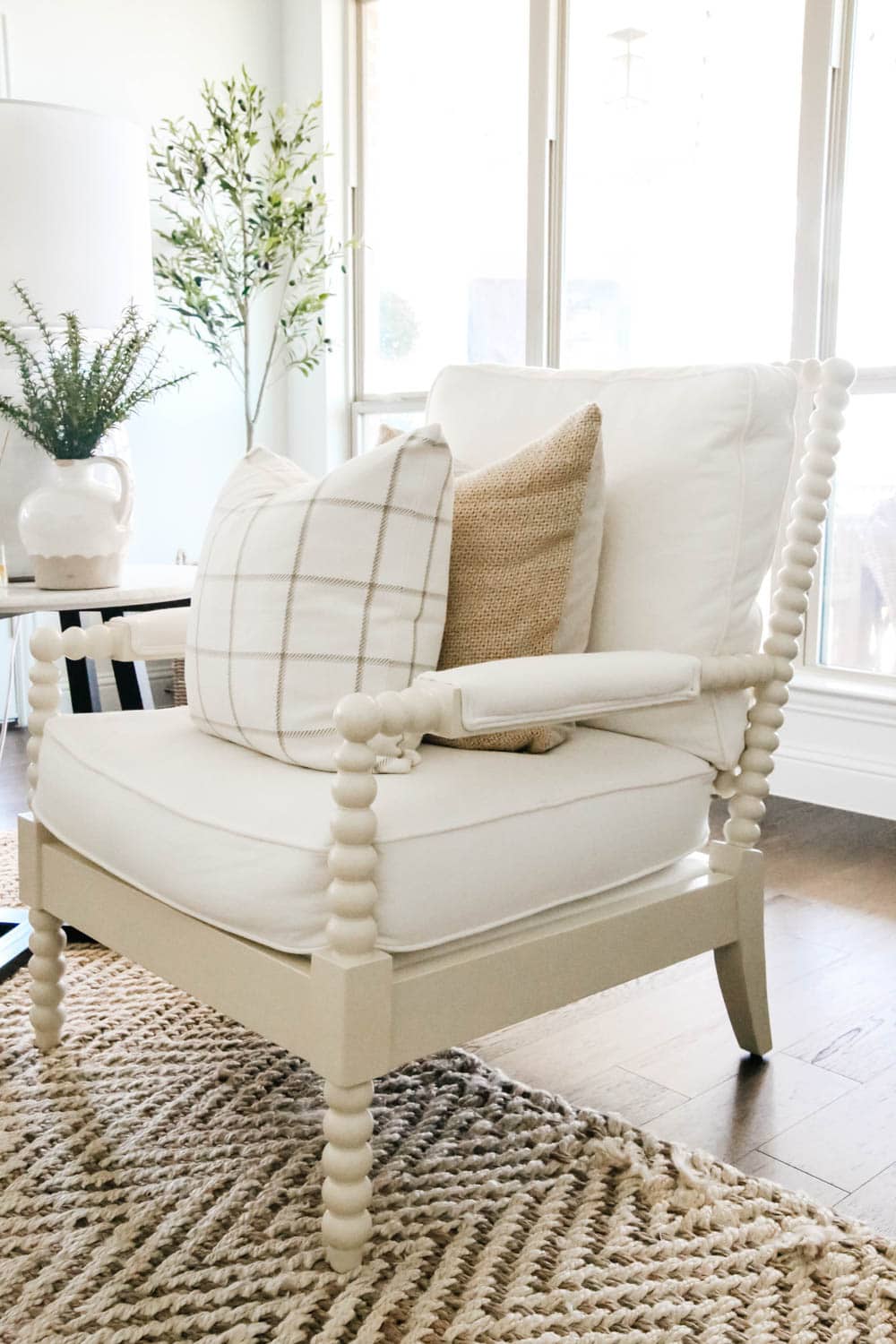 This simple plaid pillow is another designer fabric find that I think you could use in the summer to fall transition. I used the flax color of the linen-textured pillows here on my spindle chairs. As I said, these pillows are the best investment and you can use multiple colors in the same space.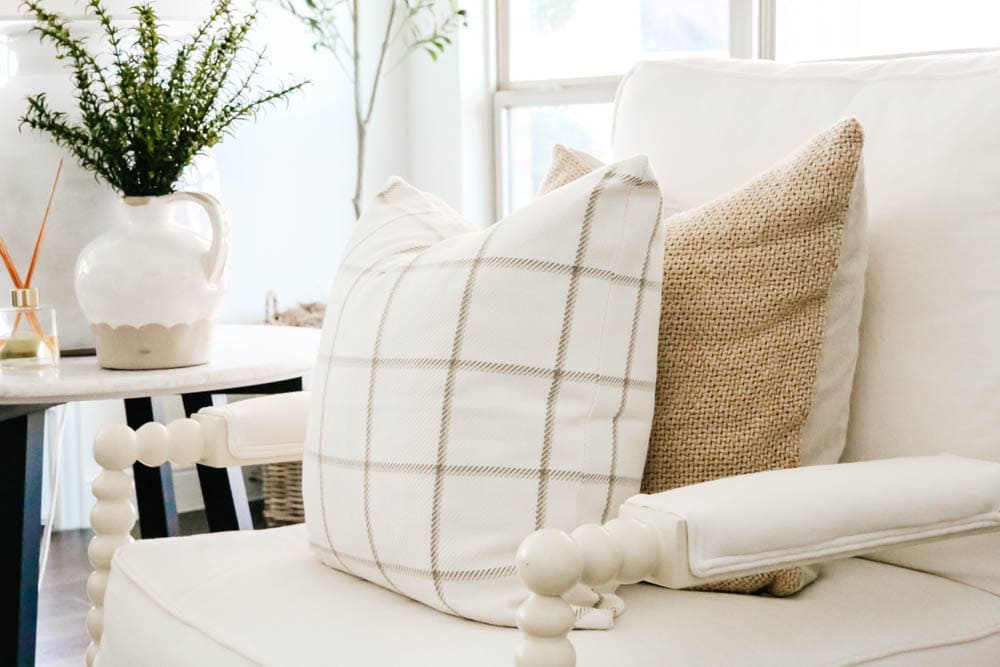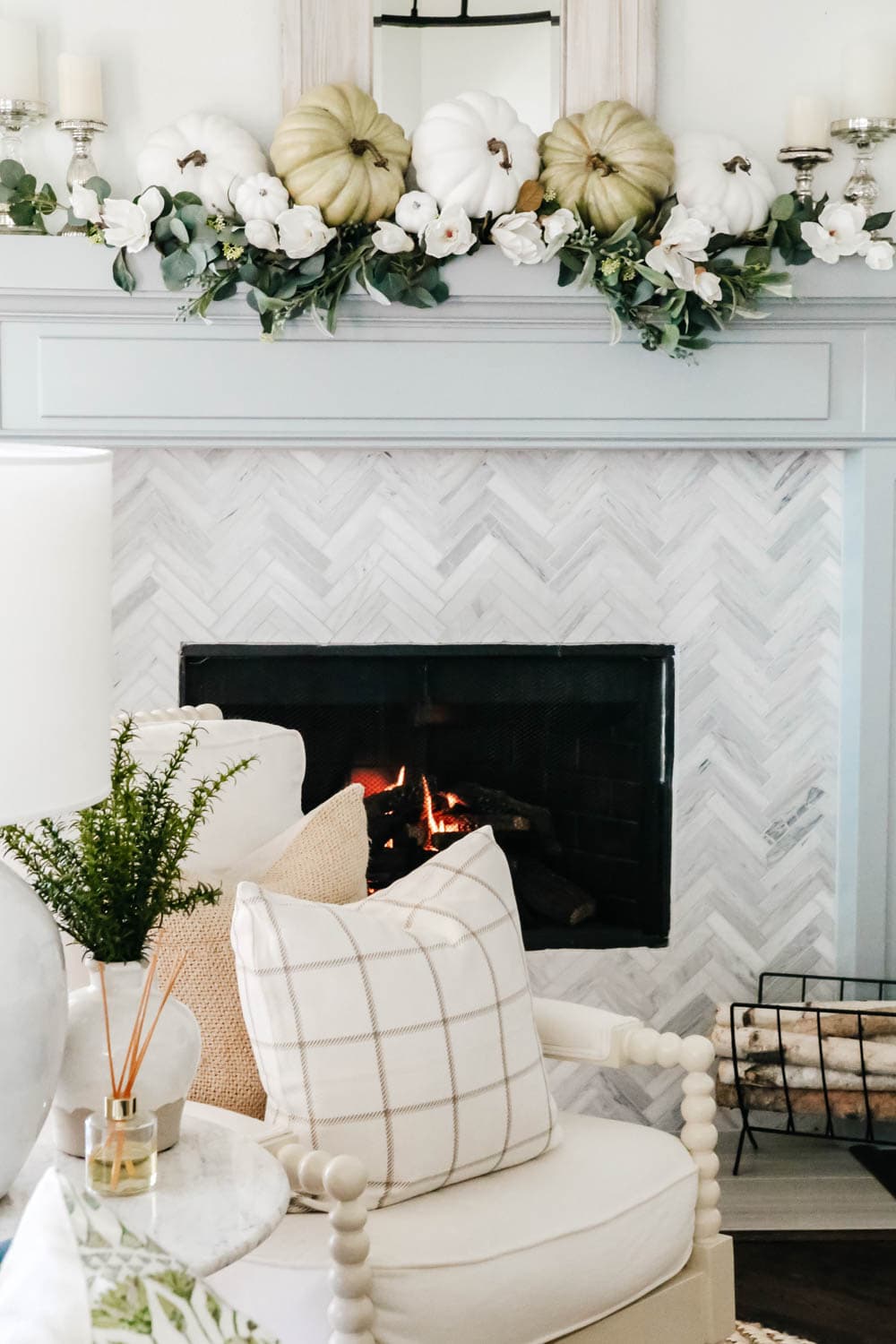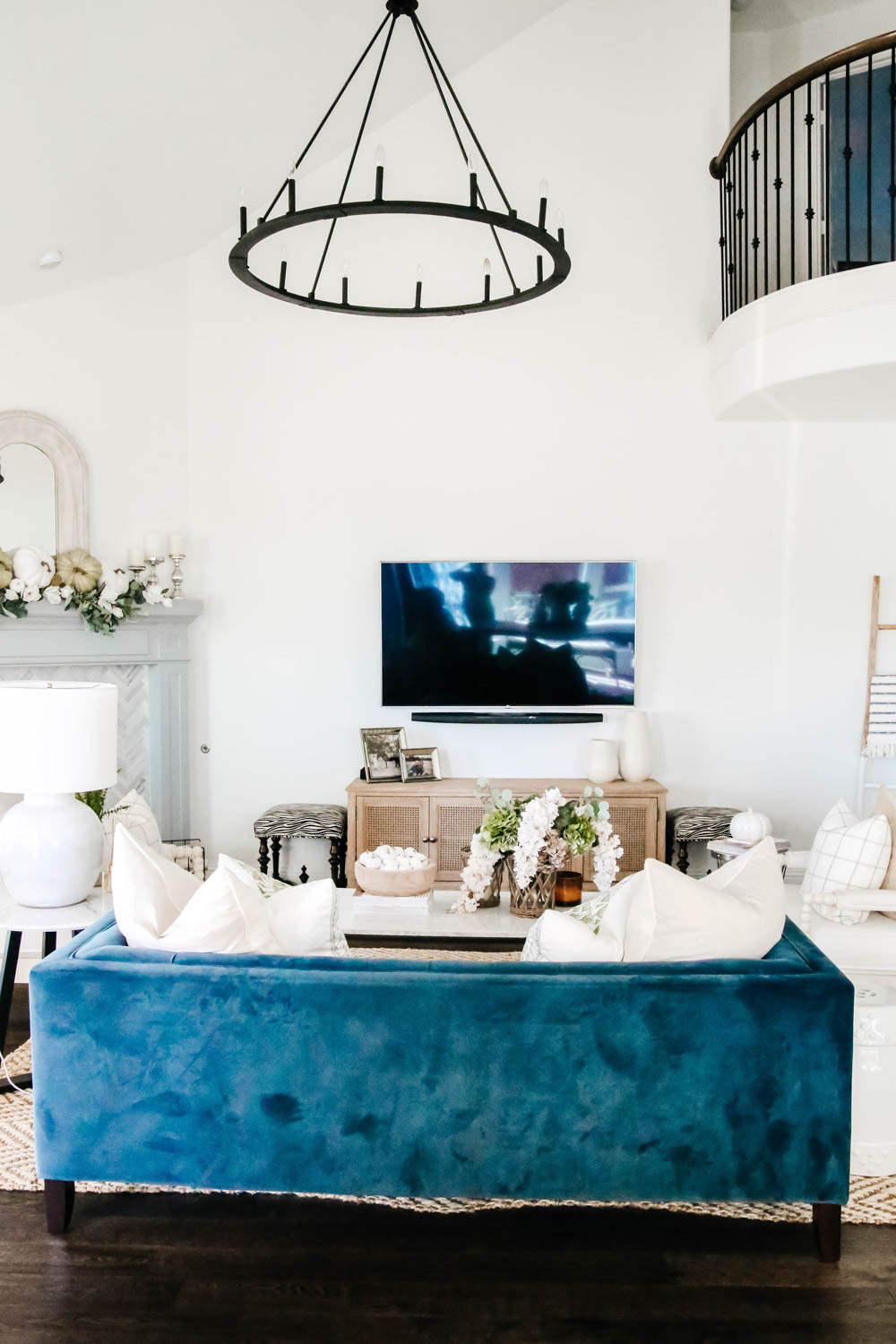 Another recent purchase is the white dipped ladder in the corner of our living room. It is such a great find and a fraction of the cost of the one from Serena & Lily. I still need to add a plant or a chair to that corner but I love having it here for another place to store my blankets. Especially at this time of the year, I pull them ALL out.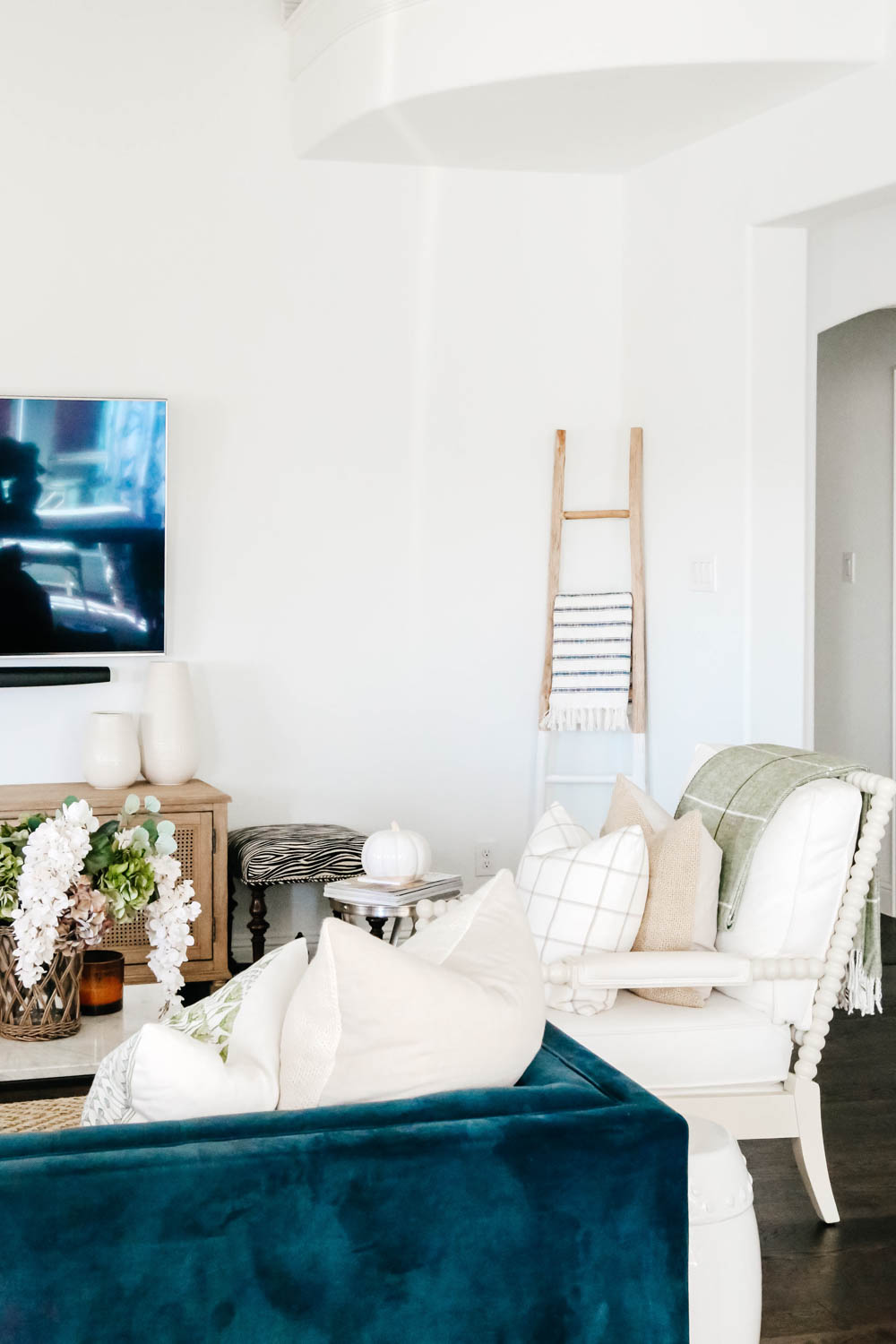 I was so happy to see that they brought back similar glass pumpkins this year to Target and I got the small and large ones last year. I will link them for you and hopefully, you can still snag some.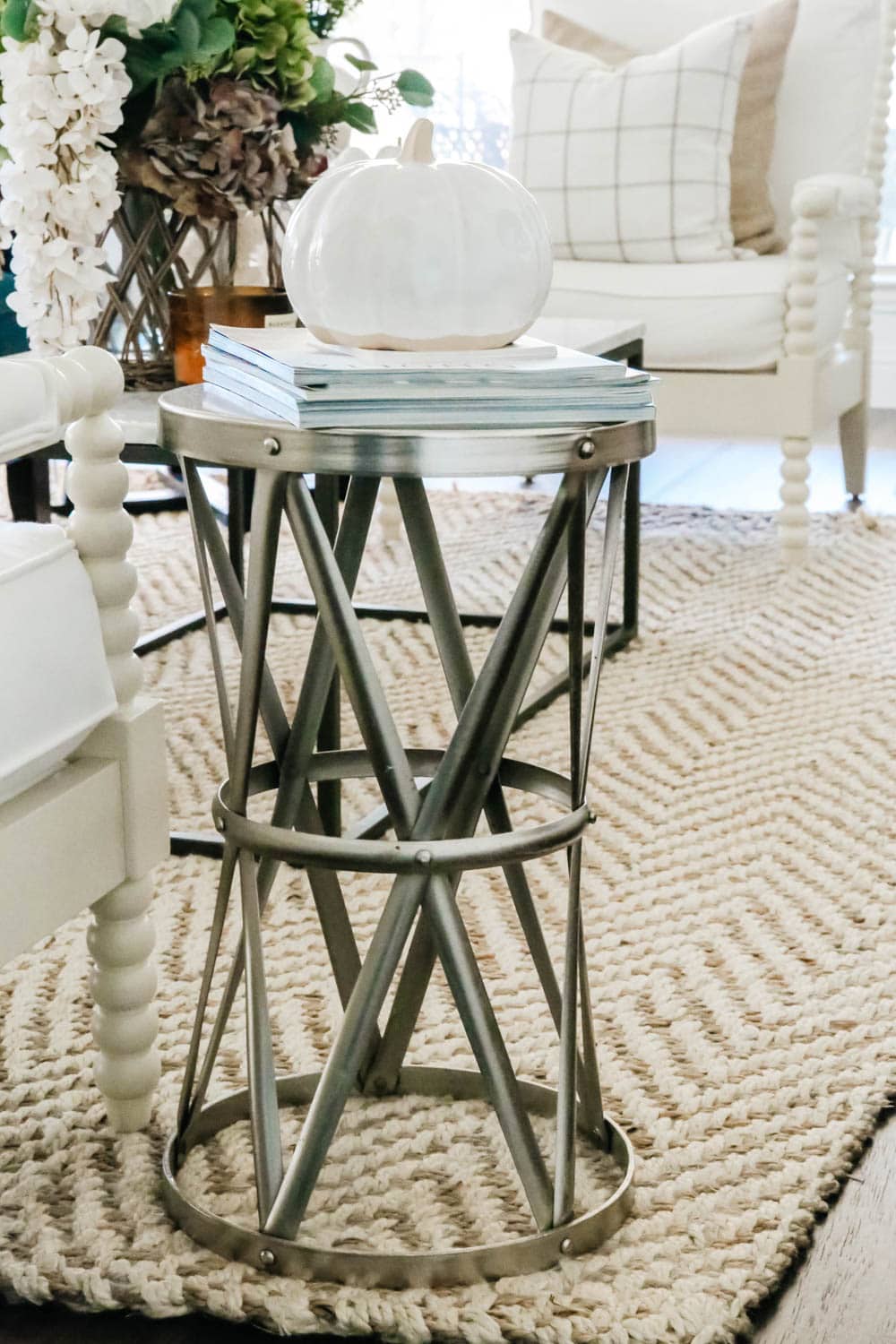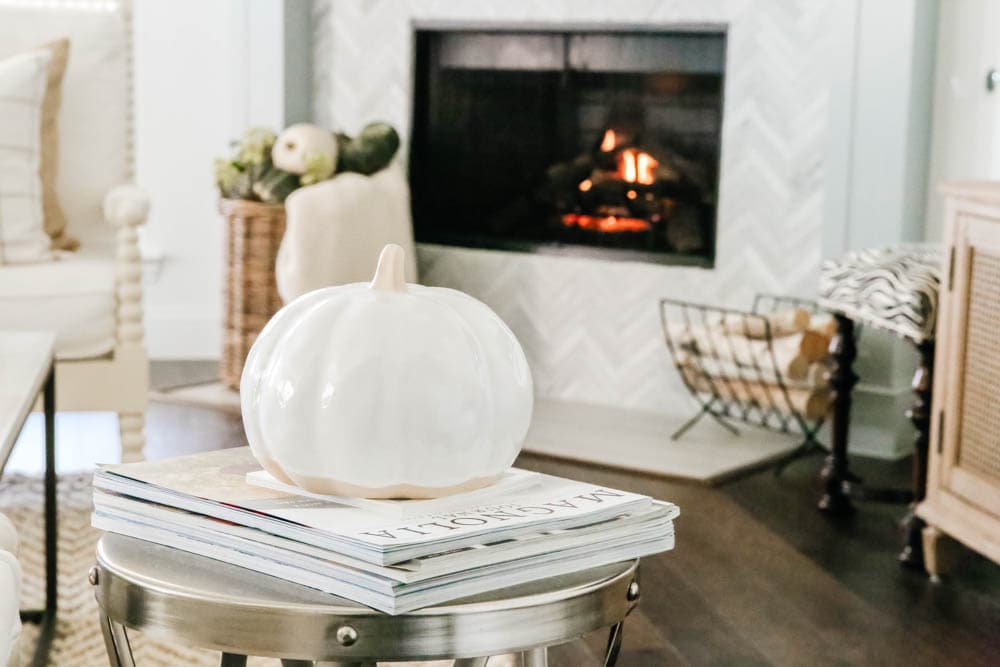 Another blanket I carried over from my summer decor to my fall decor is this gorgeous wool plaid blanket. I bet you will NEVER guess where it is from!!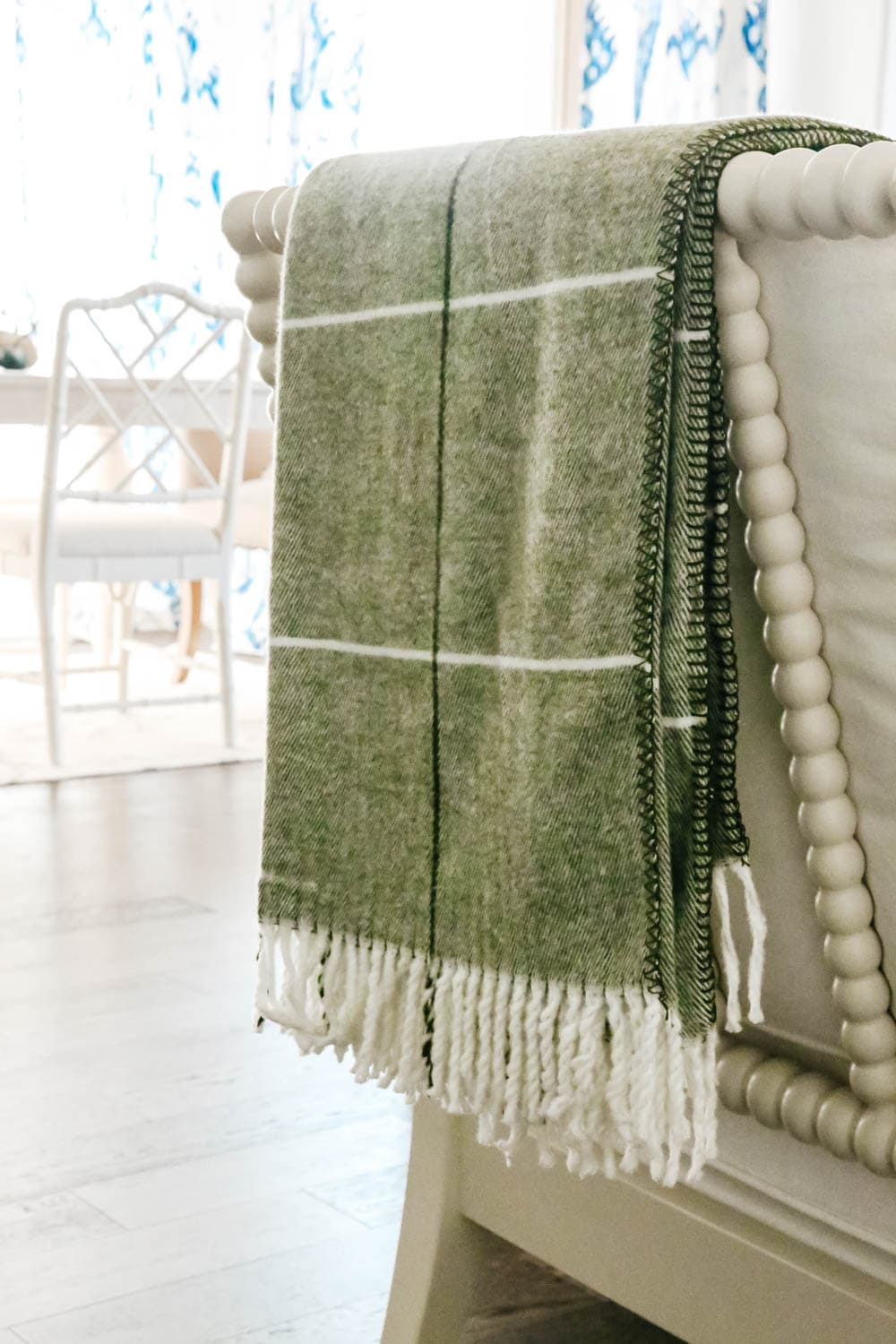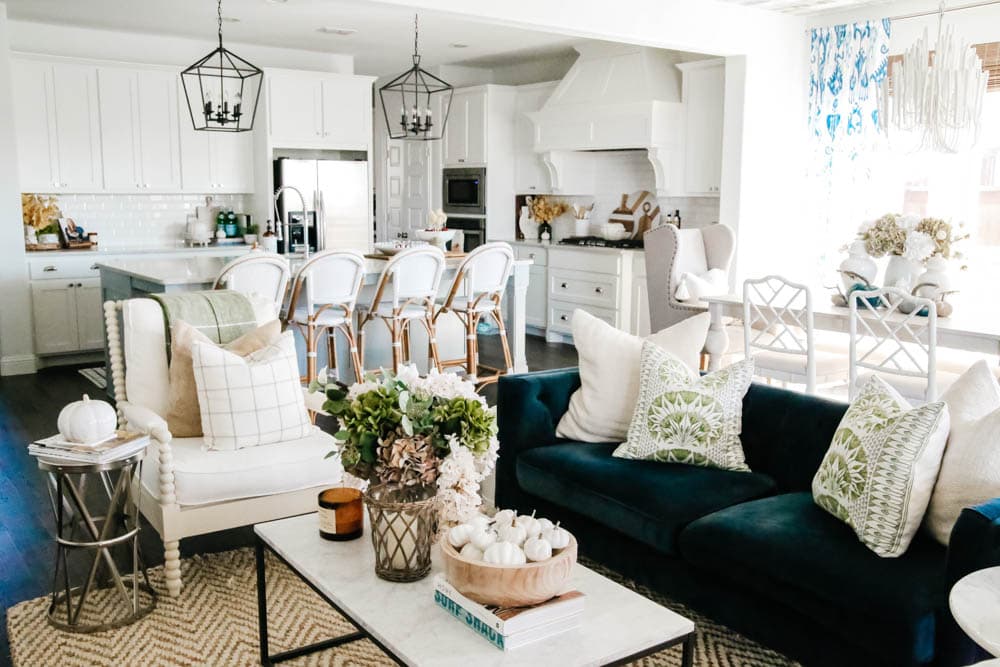 And that's it my friends! I hope you loved my fall living room tour this year! I added a couple of vases with some fall leaves and some white pumpkins to the kitchen but otherwise, it is super simple in there. BUT I have some fun Halloween decor coming to the kitchen so stay tuned!





Follow along to get more of my tips on home decor, DIY, and lifestyle on the following: