Fall Living Room Home Tour 2021
This post may contain affiliate links. Please read our disclosure policy.
When the weather is cold outside this is where you will find us this fall. Our living room is one of the most used rooms in our home so of course, I decorate it for the fall season with some new amazing finds!
I took my time with my decor this year and actually redid my mantle 3 times. I just could not settle on a design I loved. I tend to deliberate over my fall decor a little more because this is the seasonal decor I have up the longest in my home. So I better love it!
Last week I shared our fall entryway and our kitchen decorated for fall. I love the golden warm cozy vibe our home has this autumn.
We are creeping up on Halloween and my decor will make it easy to add in some spooky vibes.
This post contains some affiliate links for your convenience. Click here to read my full disclosure policy.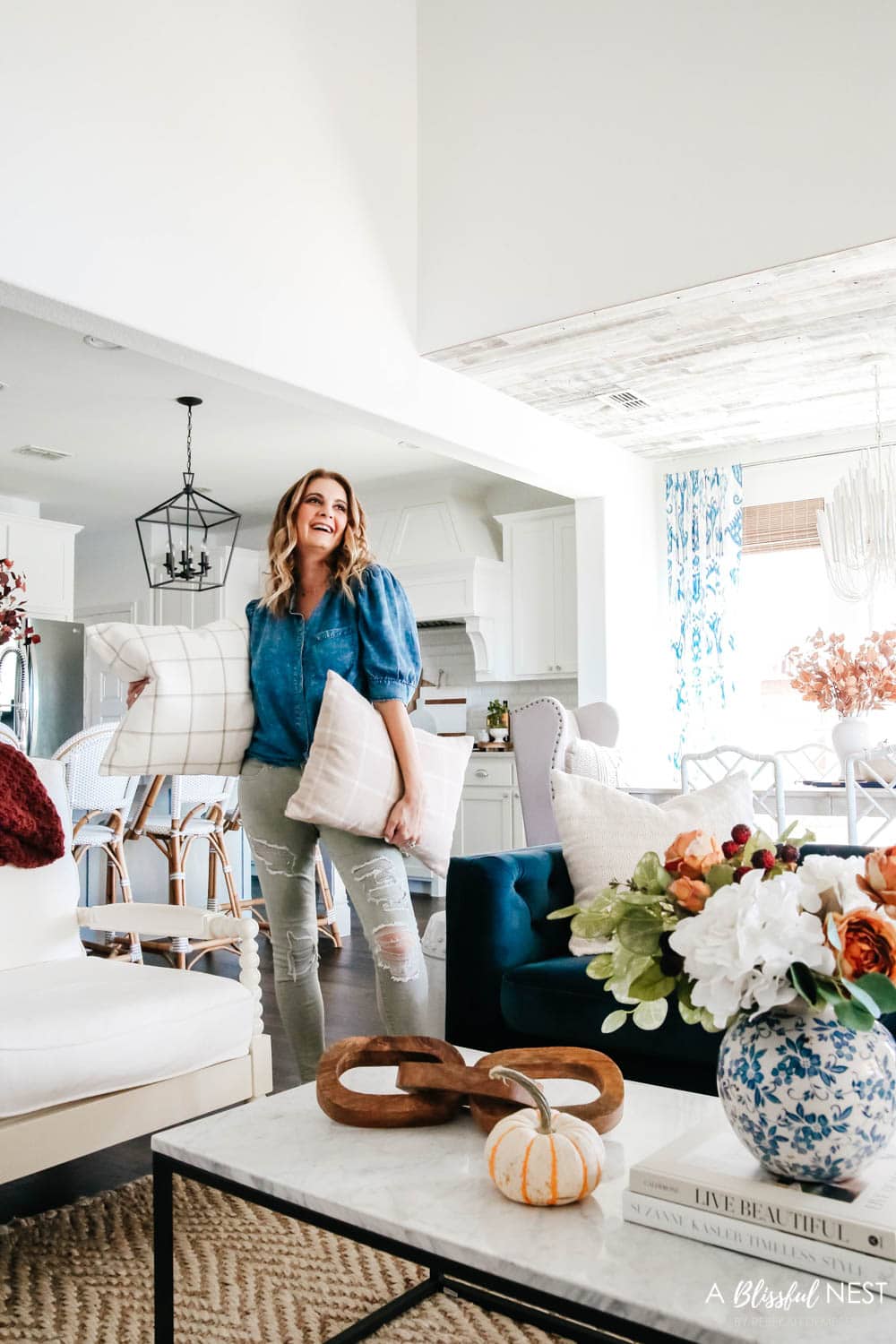 Fall living room decor details:
I always start with a color palette. This year, I went with a burgundy and gold color scheme and you can see it has created a warm glow in the main living spaces.
I tend to stay away from shades of gold but really wanted a golden glow feeling to our decor this year. I would say this definitely looks like a more traditional color scheme.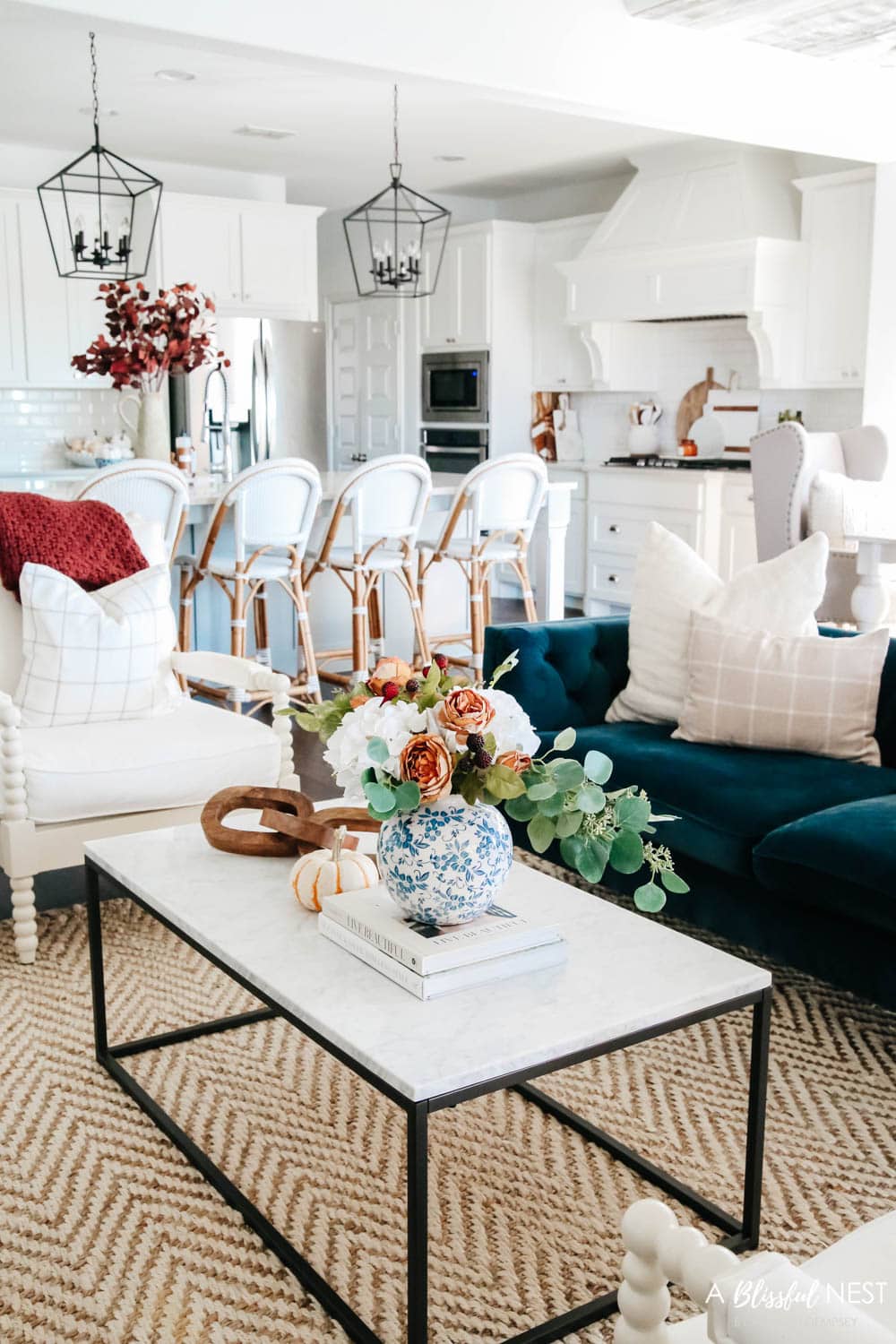 I added in some warm-toned decor to layer in some other shades in baskets, trays, vases, and more items that I will share in detail below.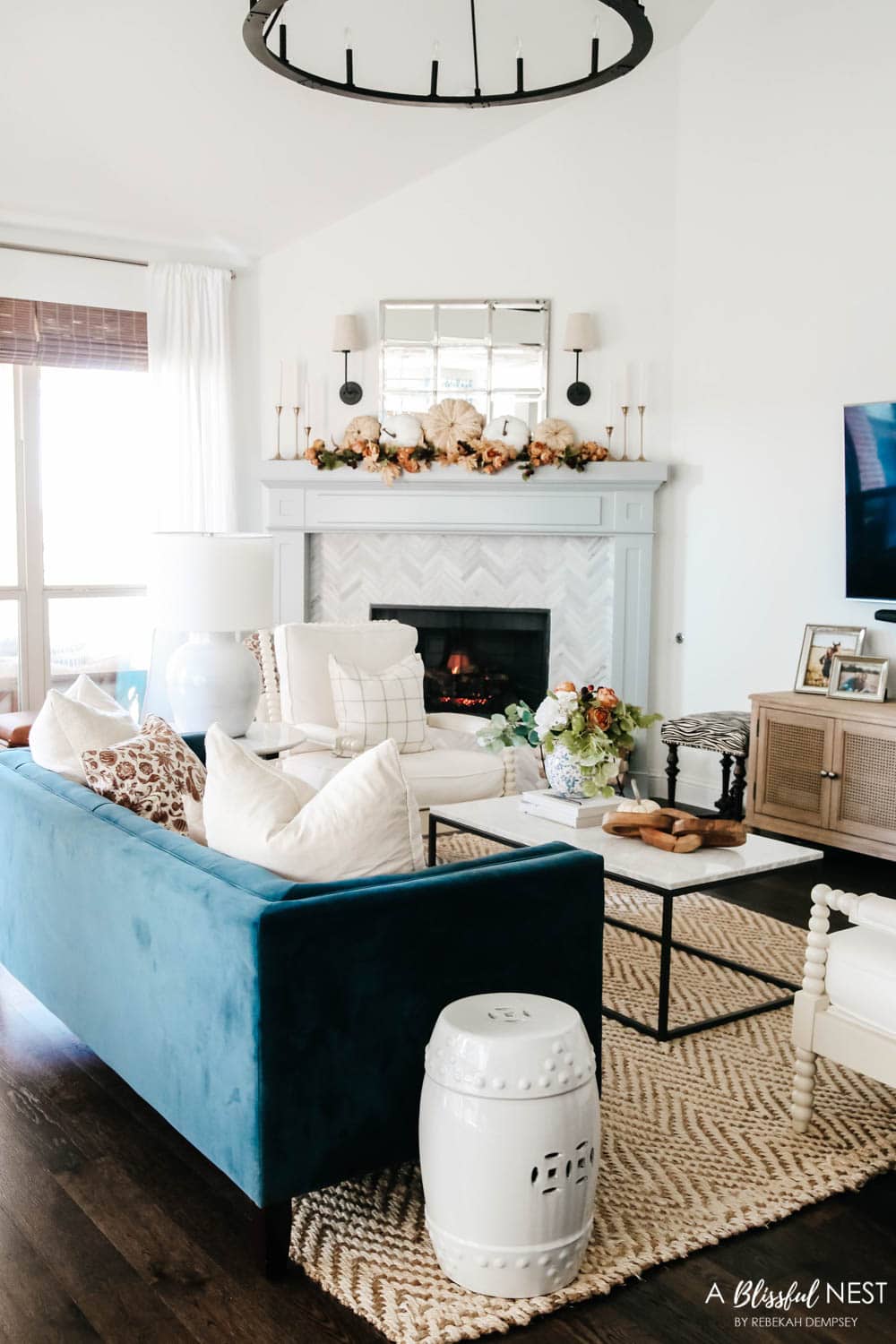 The main focal point of our living room is our fireplace of course. I love to cluster pumpkins on it and add in either garland in faux greenery and/or fall florals and branches to make it more full looking.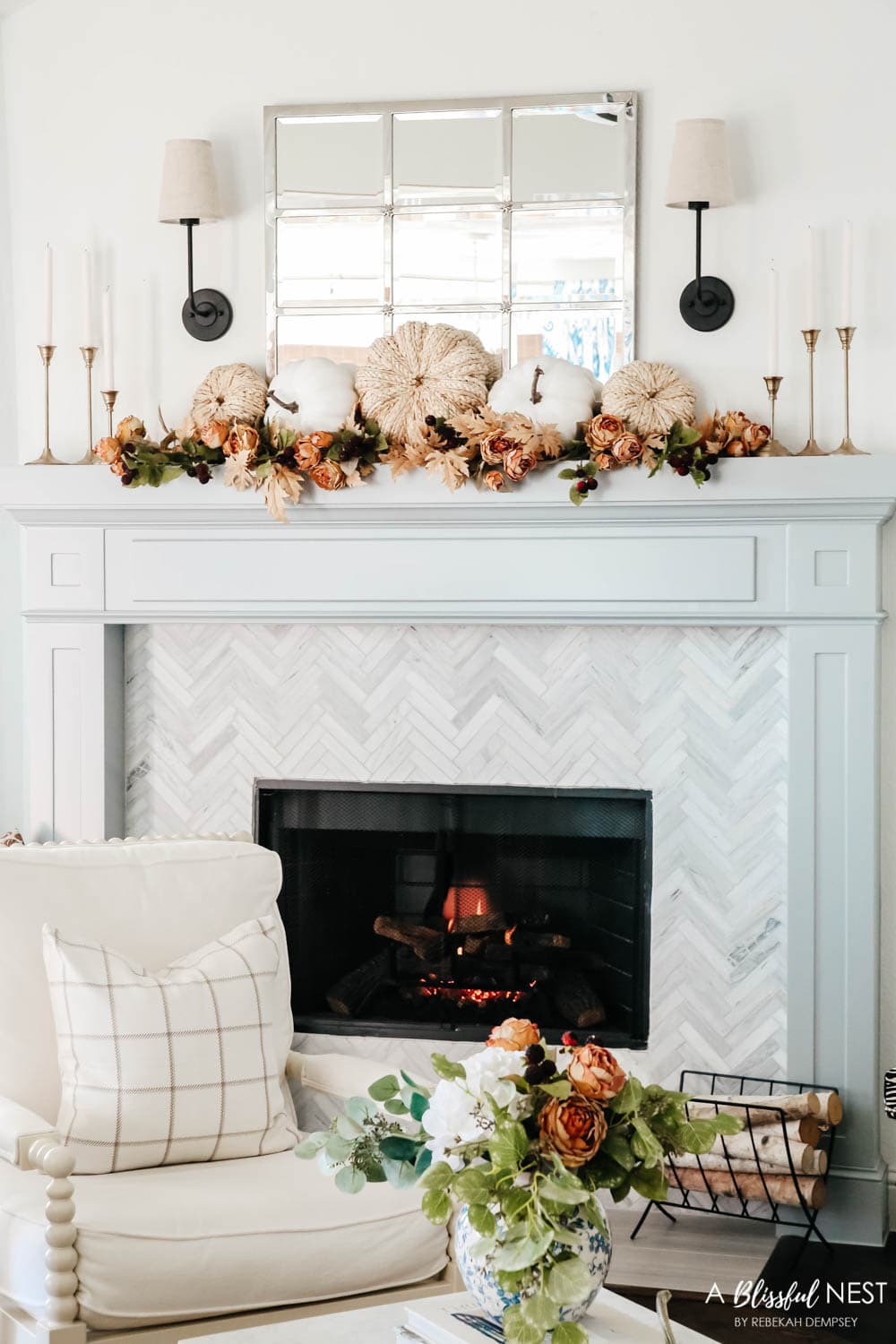 I started with a straw color leaf garland and then added in these beautiful burnt orange roses and berry picks. Typically I will add the garland first, then layer in pumpkins, and then add any other floral picks to make it look more full.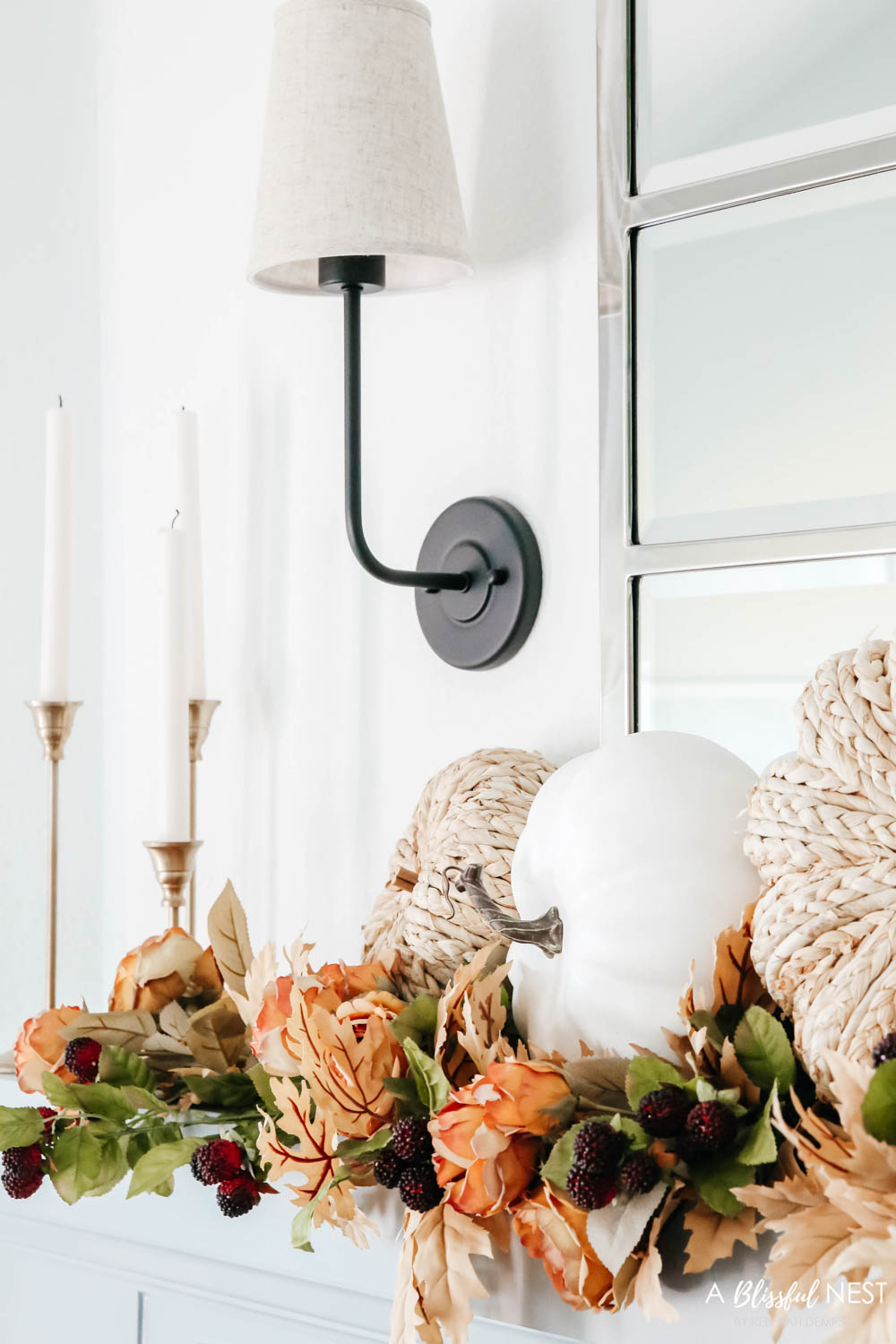 These roses are even more beautiful in person and vary in shades making them blend better with the garland.
The berry picks actually come in a long stem and I just cut them apart to spread them out.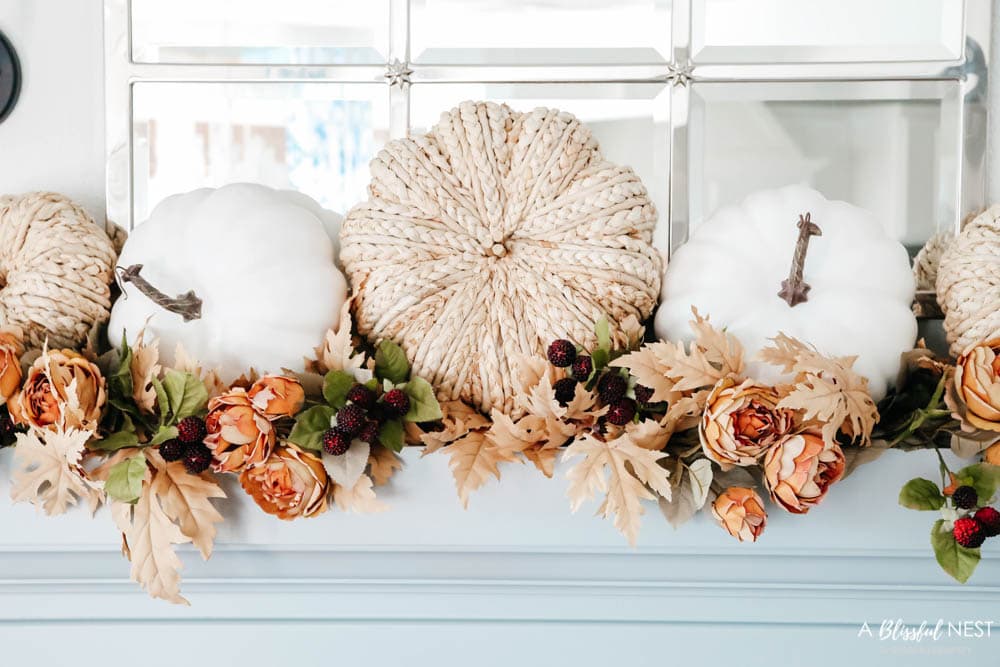 Every year I add to my pumpkin collection so most of these I have had for a while. I love the woven ones and mixing them with the white elevates and enhances their texture and color a bit more.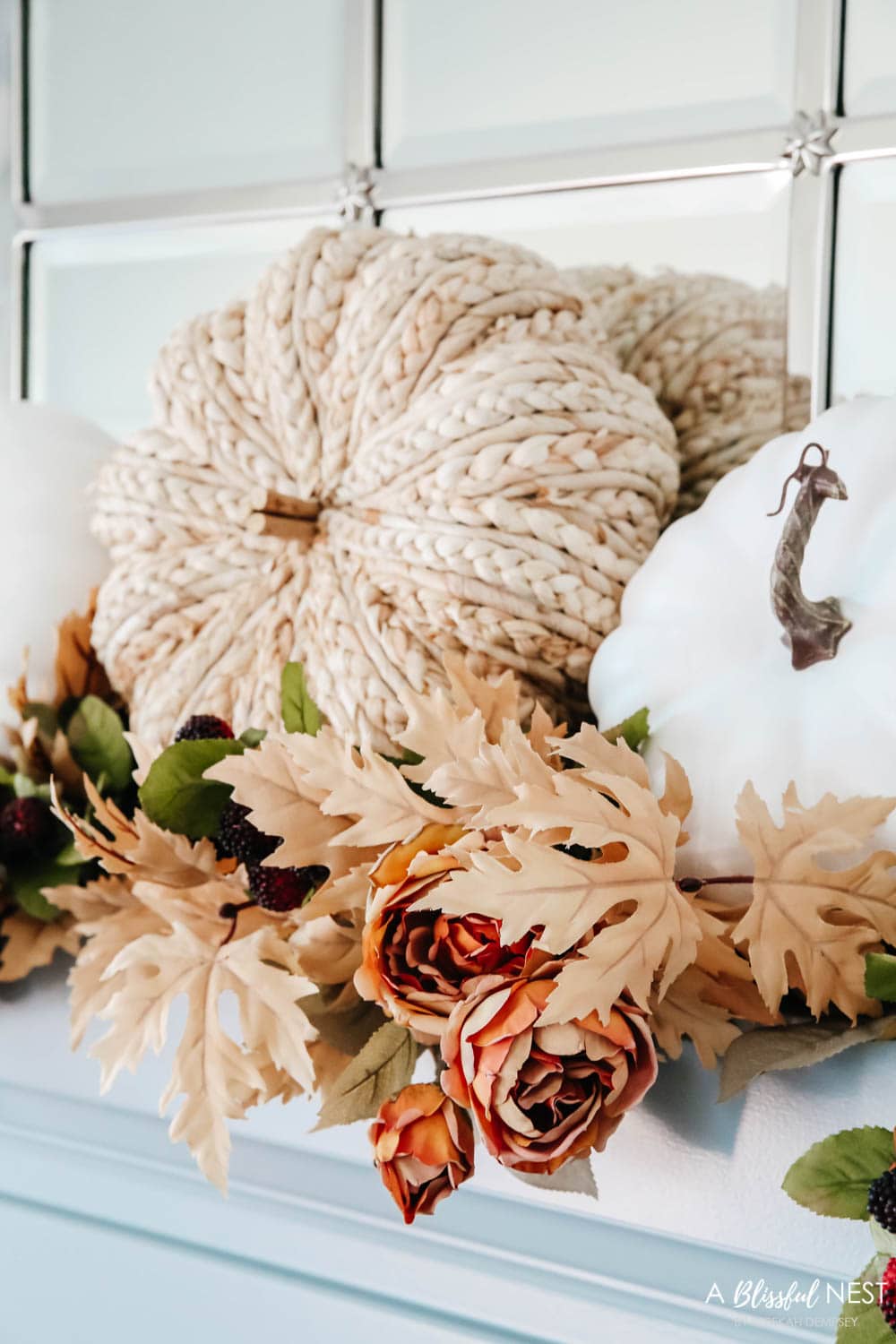 These gold candlesticks are so affordable that I snagged 2 sets of them! I anchored the mantle with a cluster of three on each end.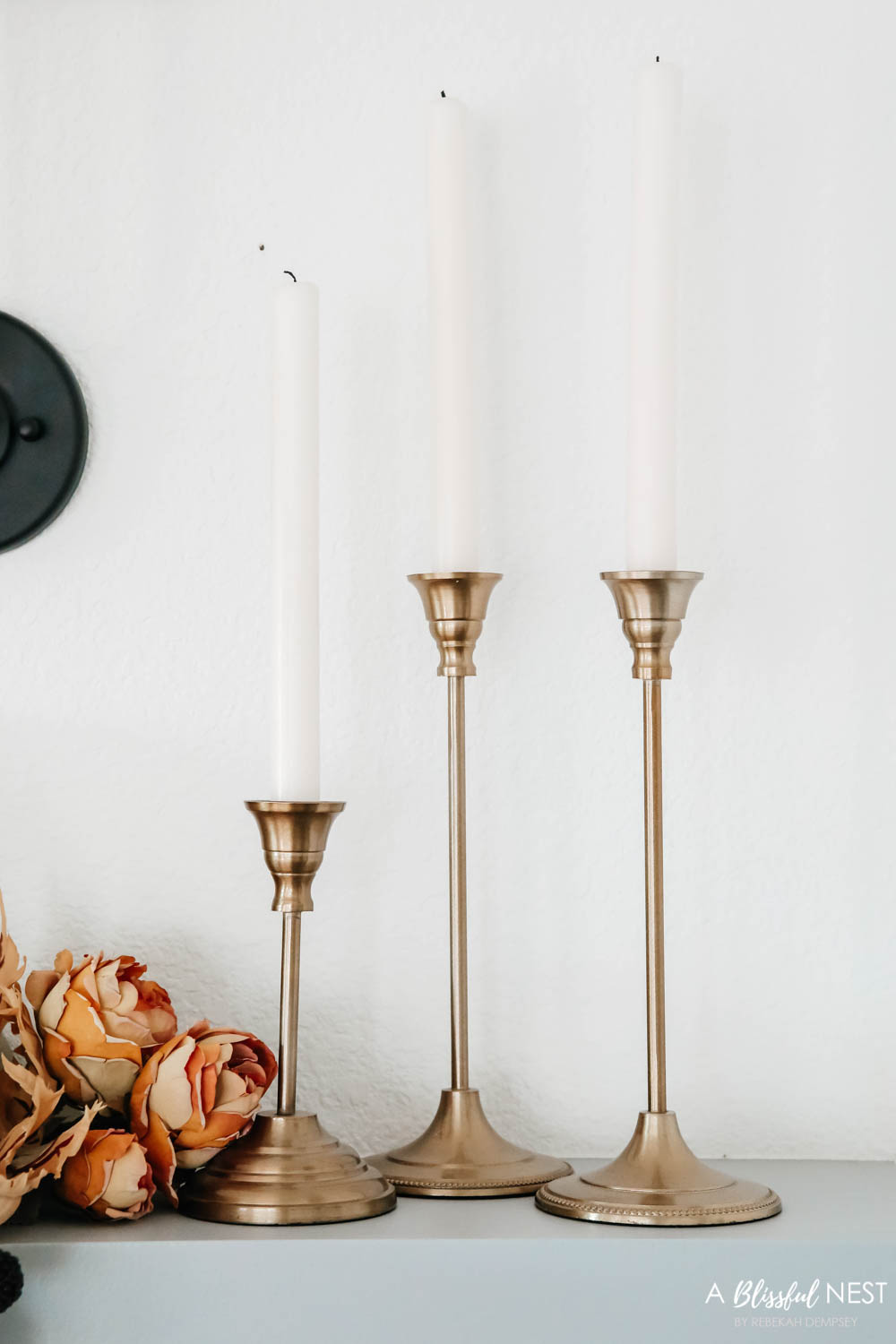 I love to have extra blankets and pillows around to create a warm and inviting space. We tend to throw our pillows on the floor and these inexpensive baskets are a great solution to corral them all.
I am a sucker for a comfy blanket and we just got a bunch of them into the shop this season. This open weave one is only $44 and comes in two colors. I love to just drape them over the edge of baskets or on the arm of chairs.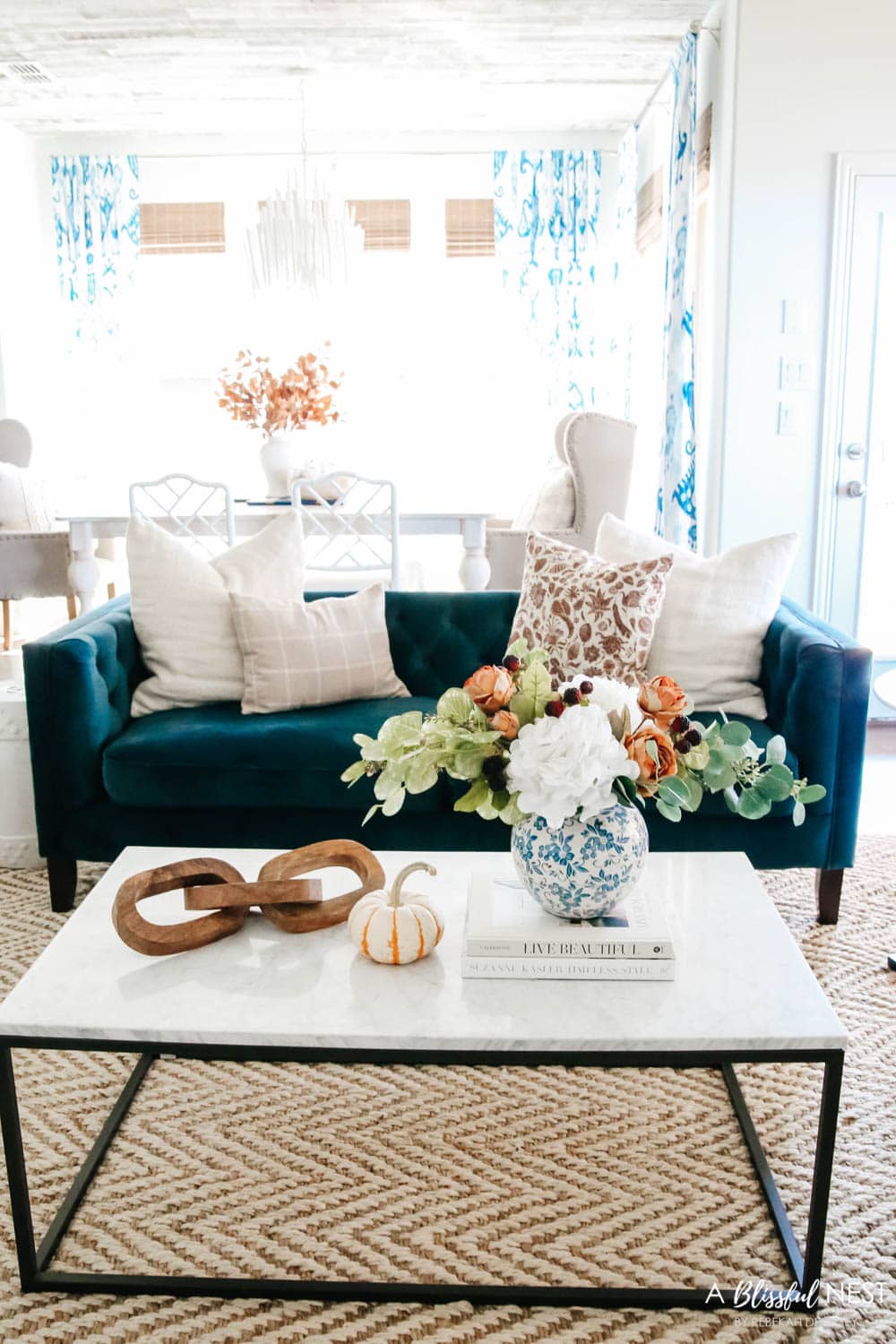 When I pick pillows out to pair together, I look for 1 main pattern and then 2-3 supporting colors/small patterns to enhance the main one and create a cohesive look.
I fell in love with this burgundy floral one and decided to use soft browns and creams to coordinate with it. It also is inexpensive and has a nice hand to the fabric so it doesn't feel cheap. Typically I love down inserts for throws but this one is a polyfill. Still, it really is pretty soft and pliable.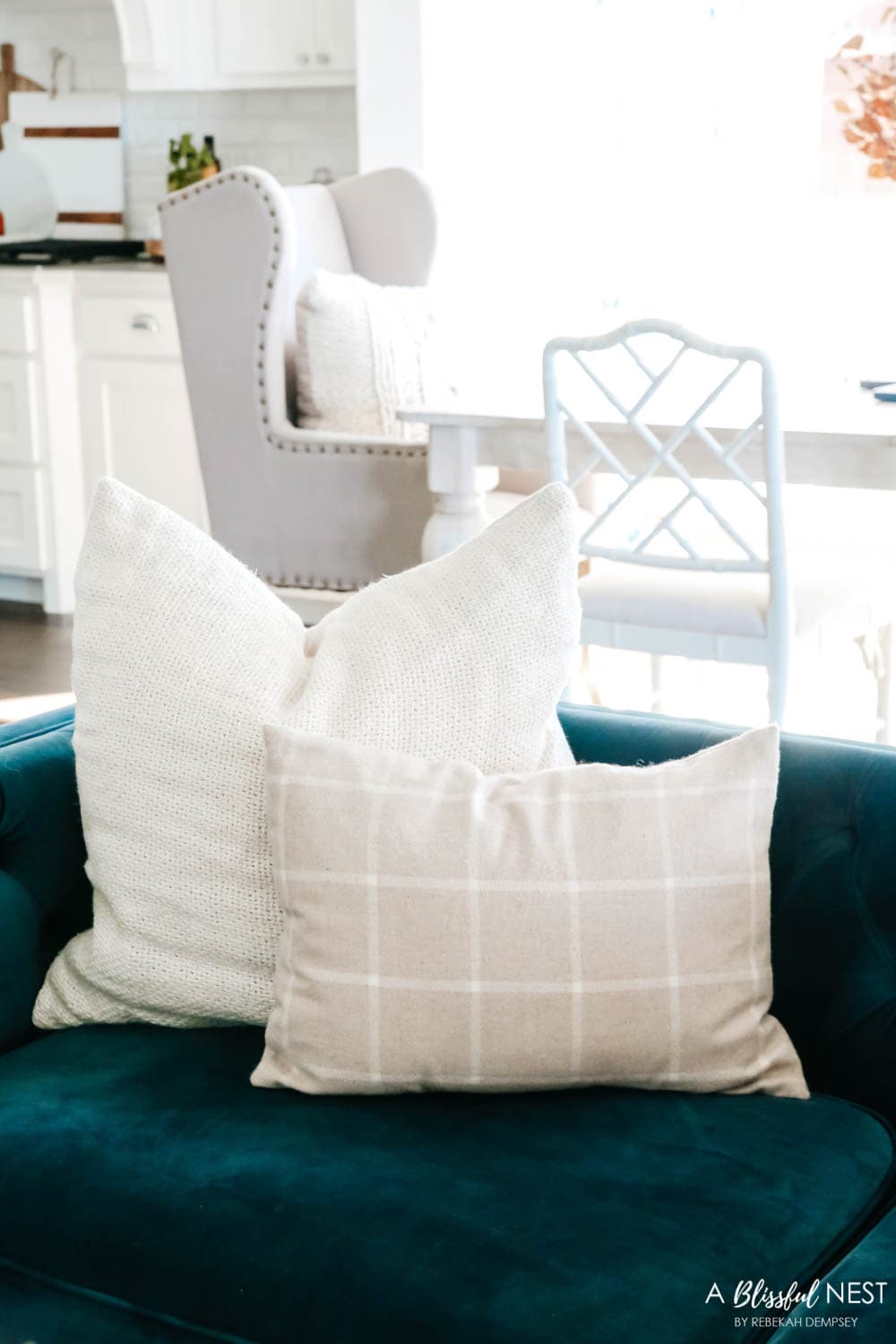 I love to create my own floral displays and created this beautiful one for our coffee table. I found this vase at an antique shop and then added in the hydrangeas first, then the roses (to coordinate with the mantle), and then the eucalyptus leaves and berries.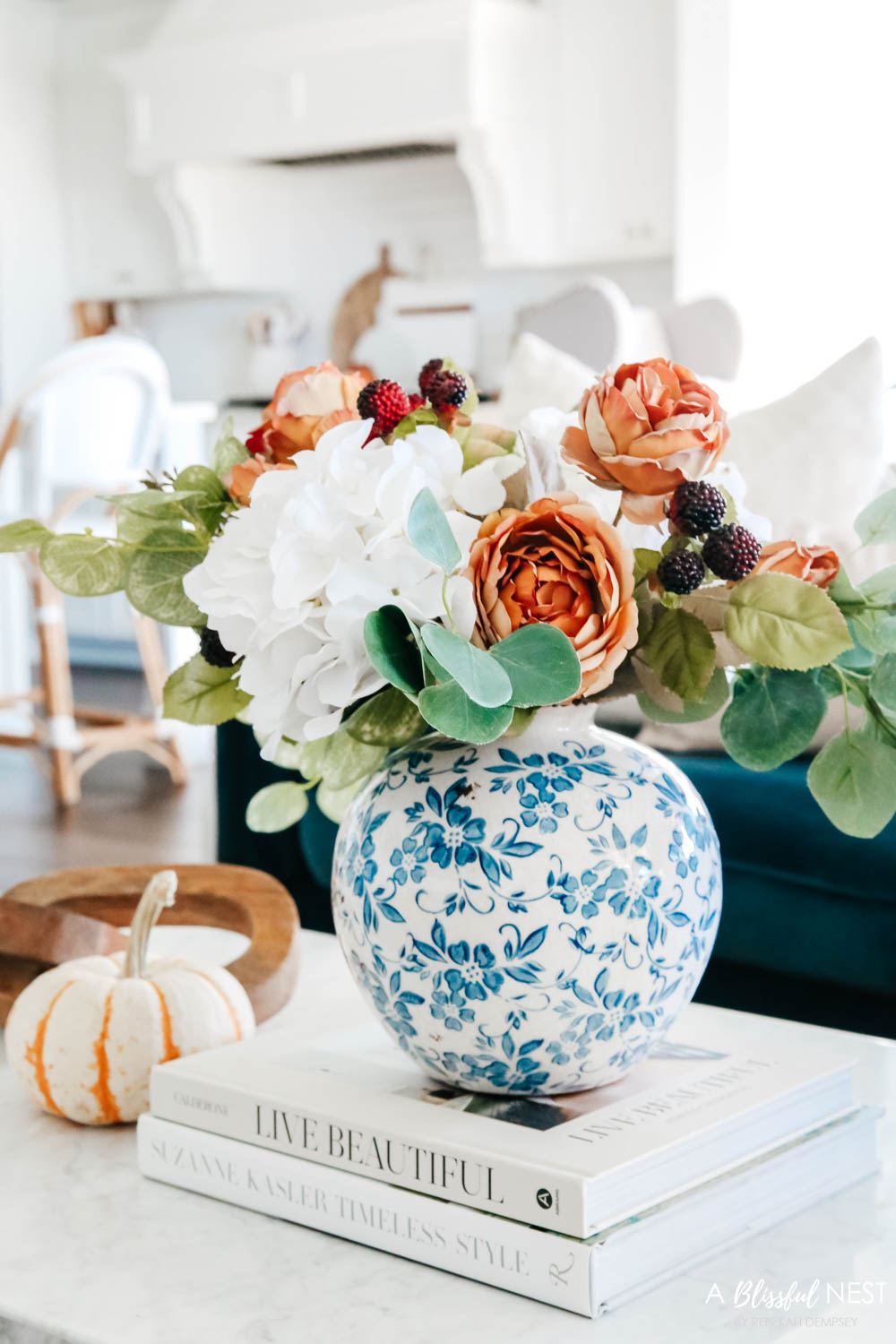 I created layered decor on our coffee table with coffee table books, the floral arrangement, wooden links, and a pumpkin. I think a small stack of coffee table books can go a long way and are one of the easiest ways to add height to a vignette. You can check out all my favorite coffee table books here.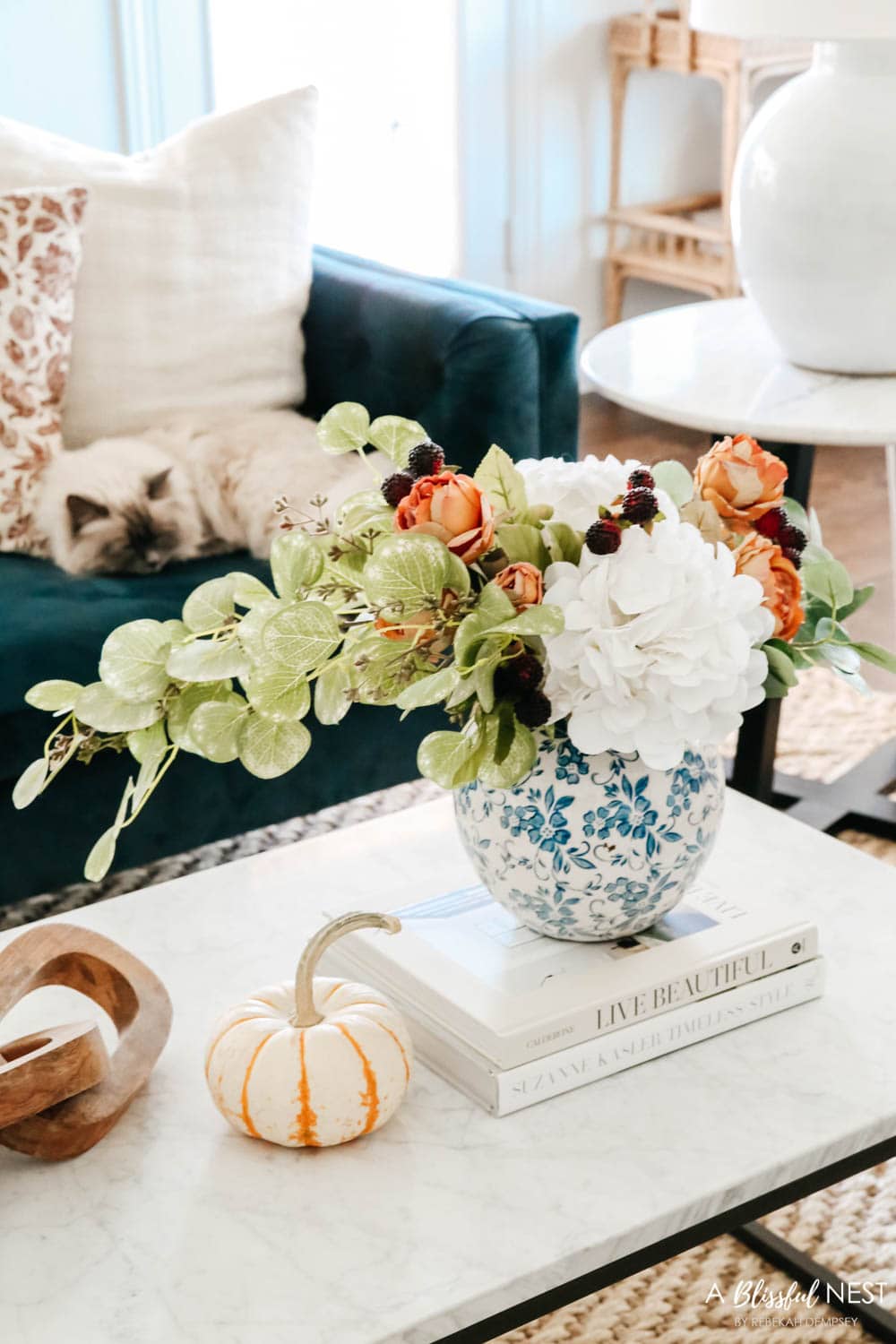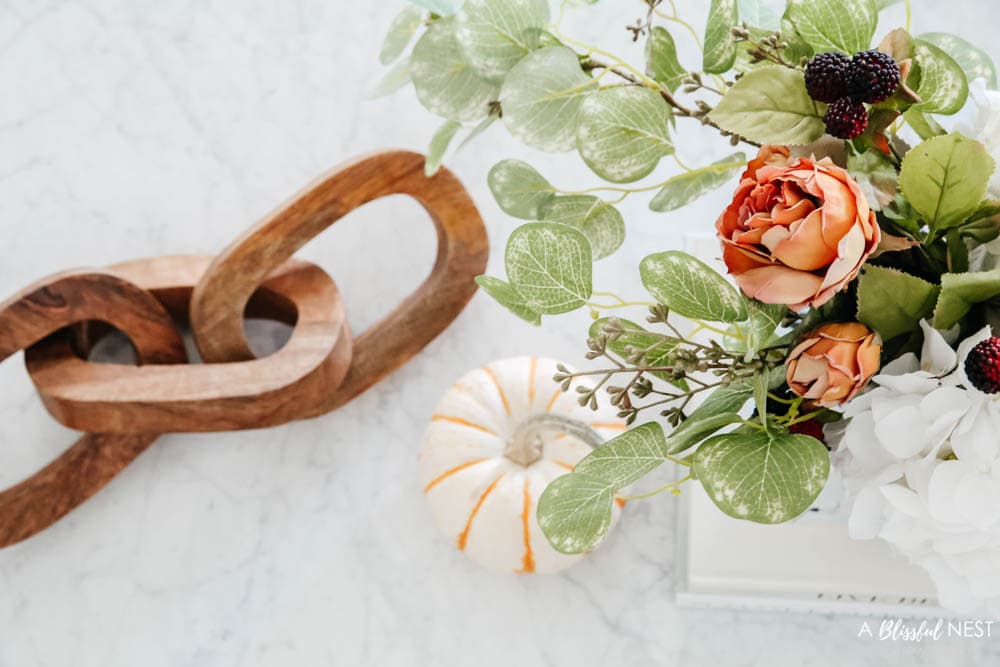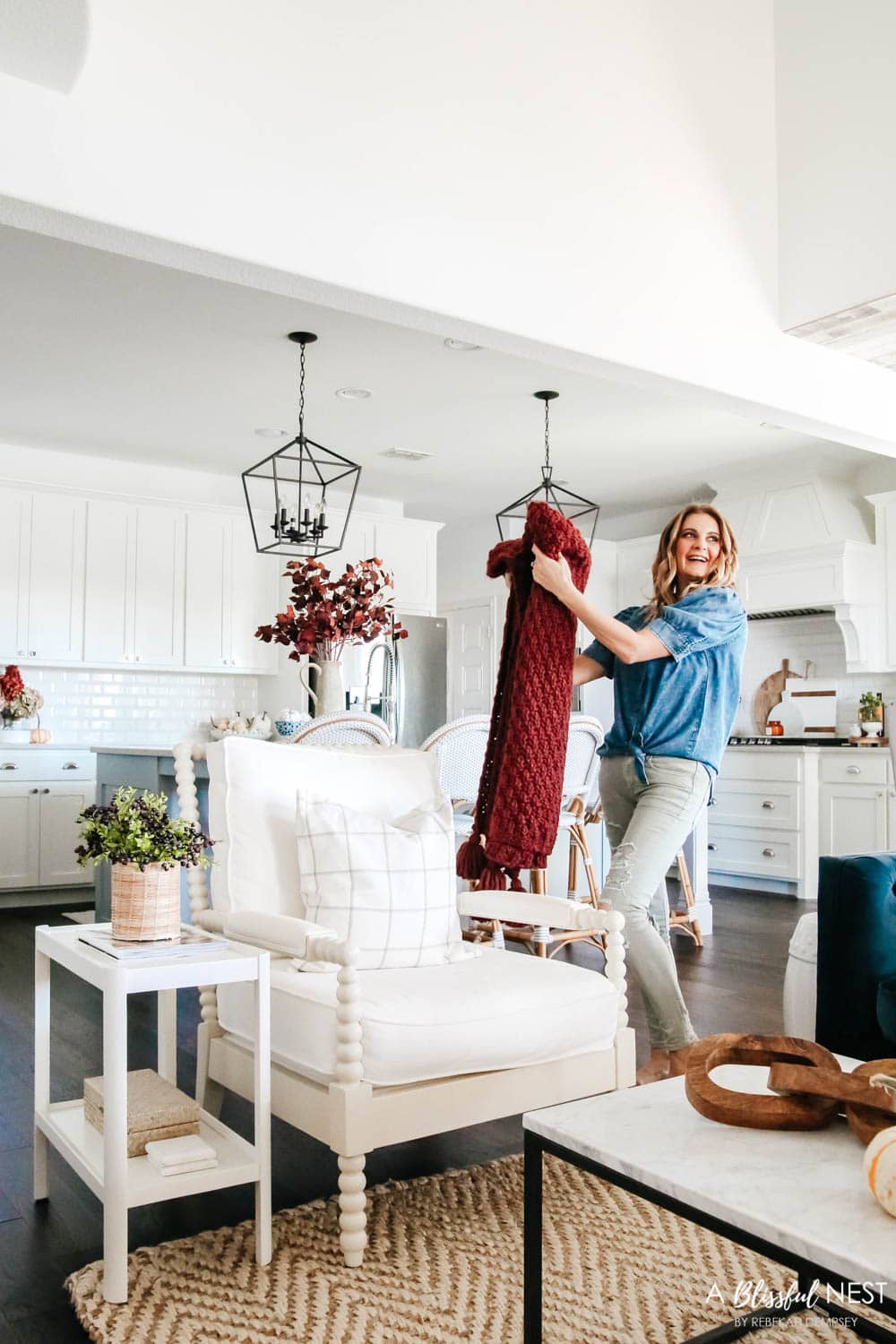 As I mentioned I am obsessed with lots of blankets being readily available to use. I love this burgundy knit one from Target. The saturated color is so beautiful with the other burgundy pieces I have.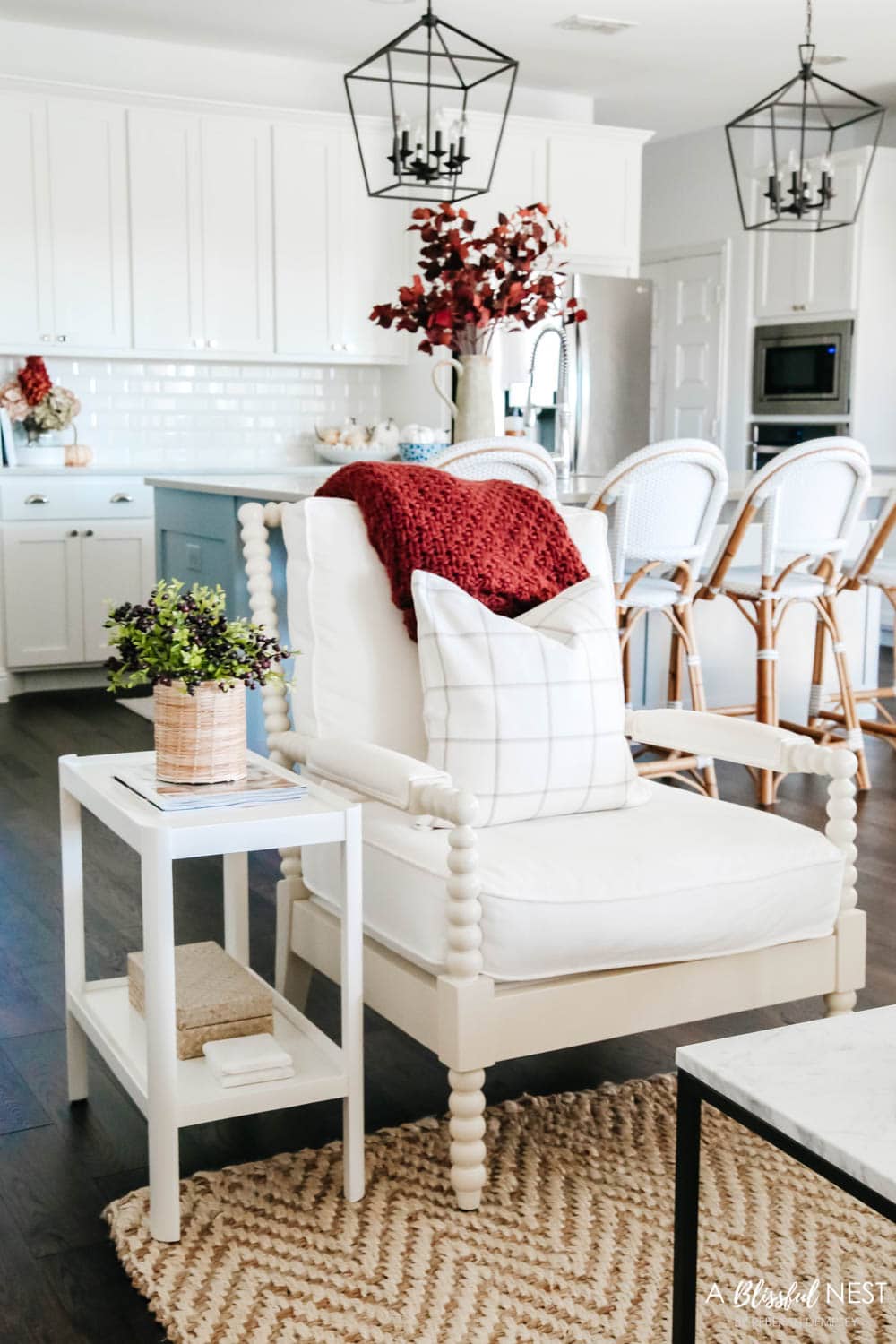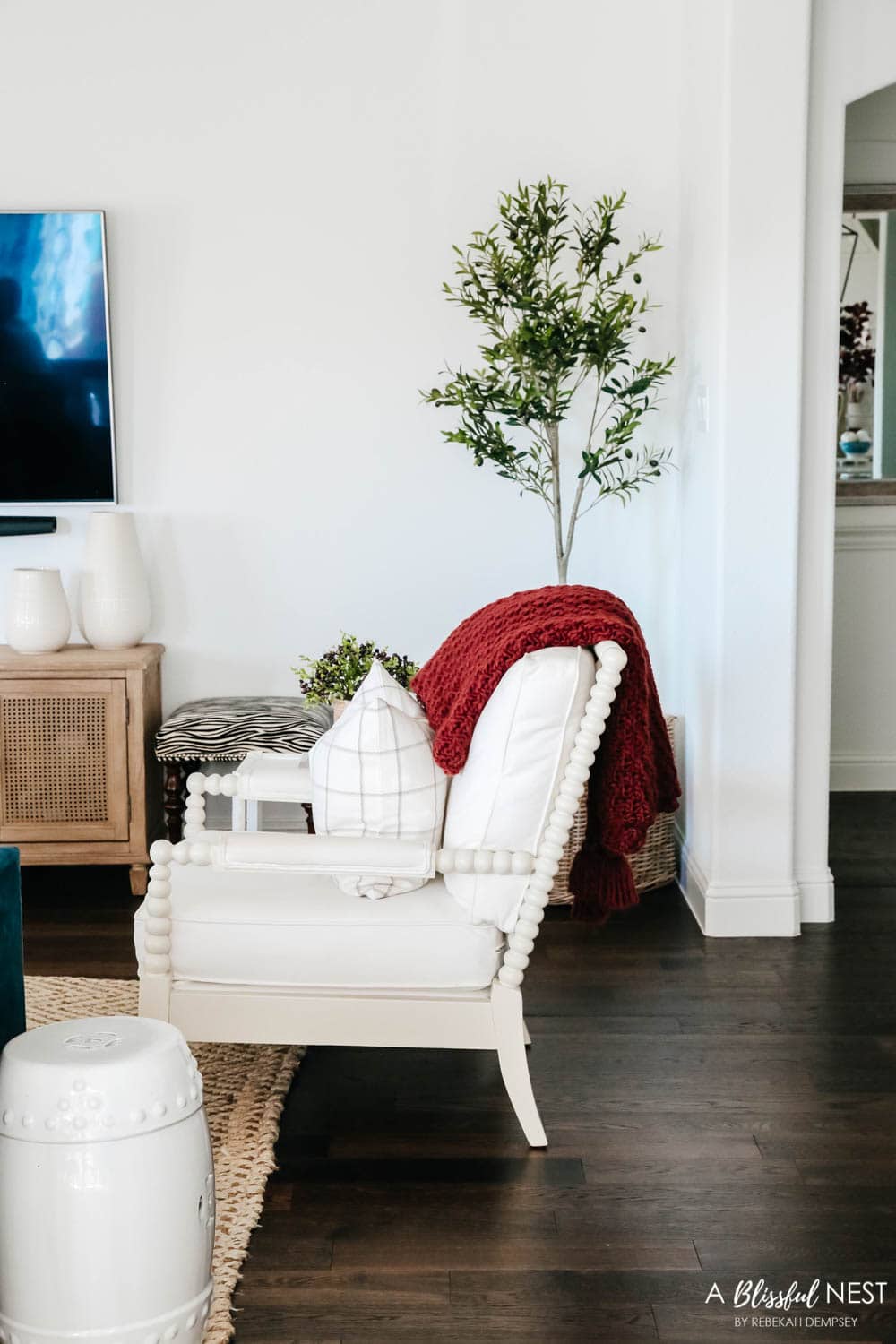 Clearly, this is one of my favorite spots to sit!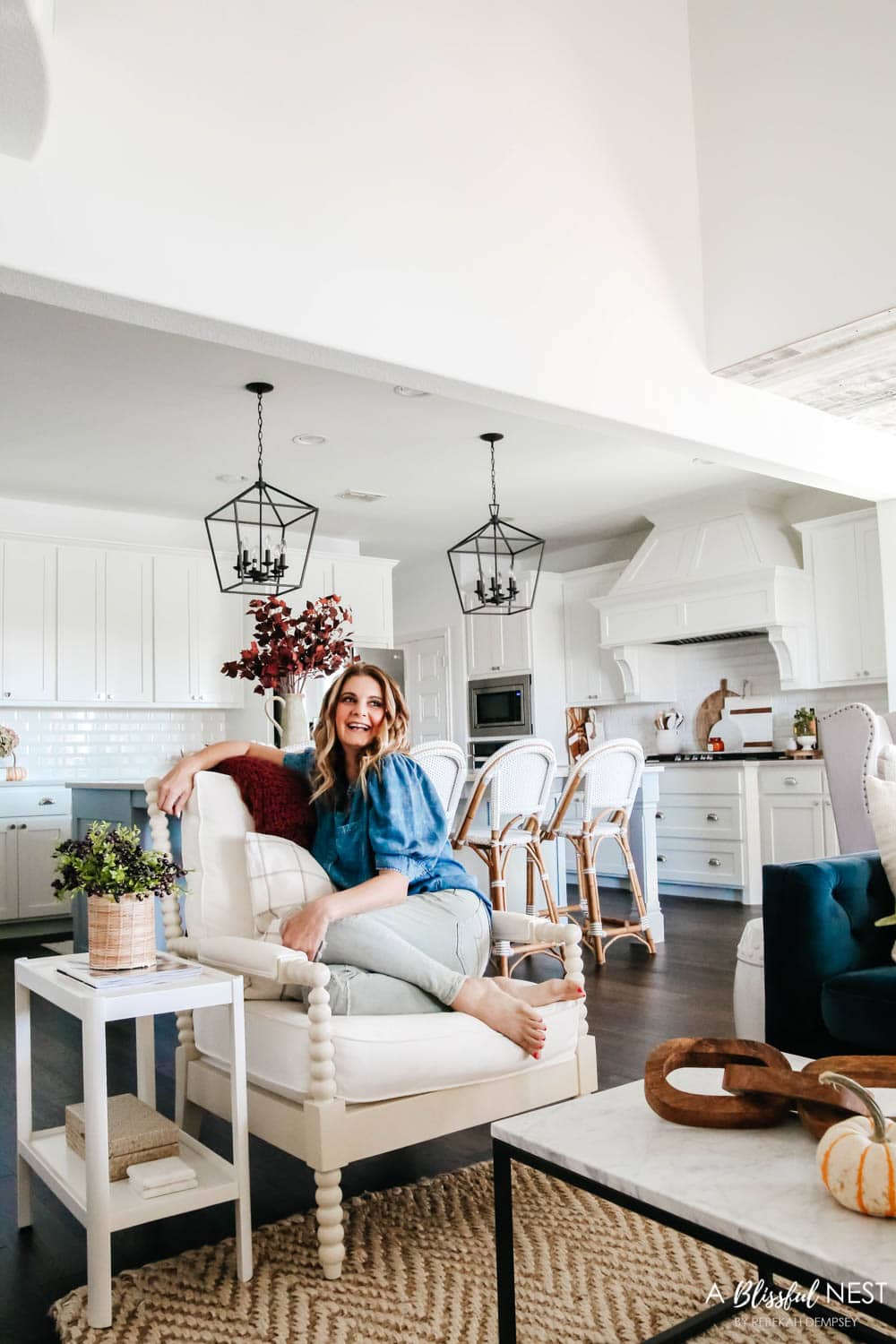 The last little spot in our living room is this little corner by the windows. I have these rattan bar cart and when we are entertaining I add a drink station but otherwise I keep it tucked in the corner.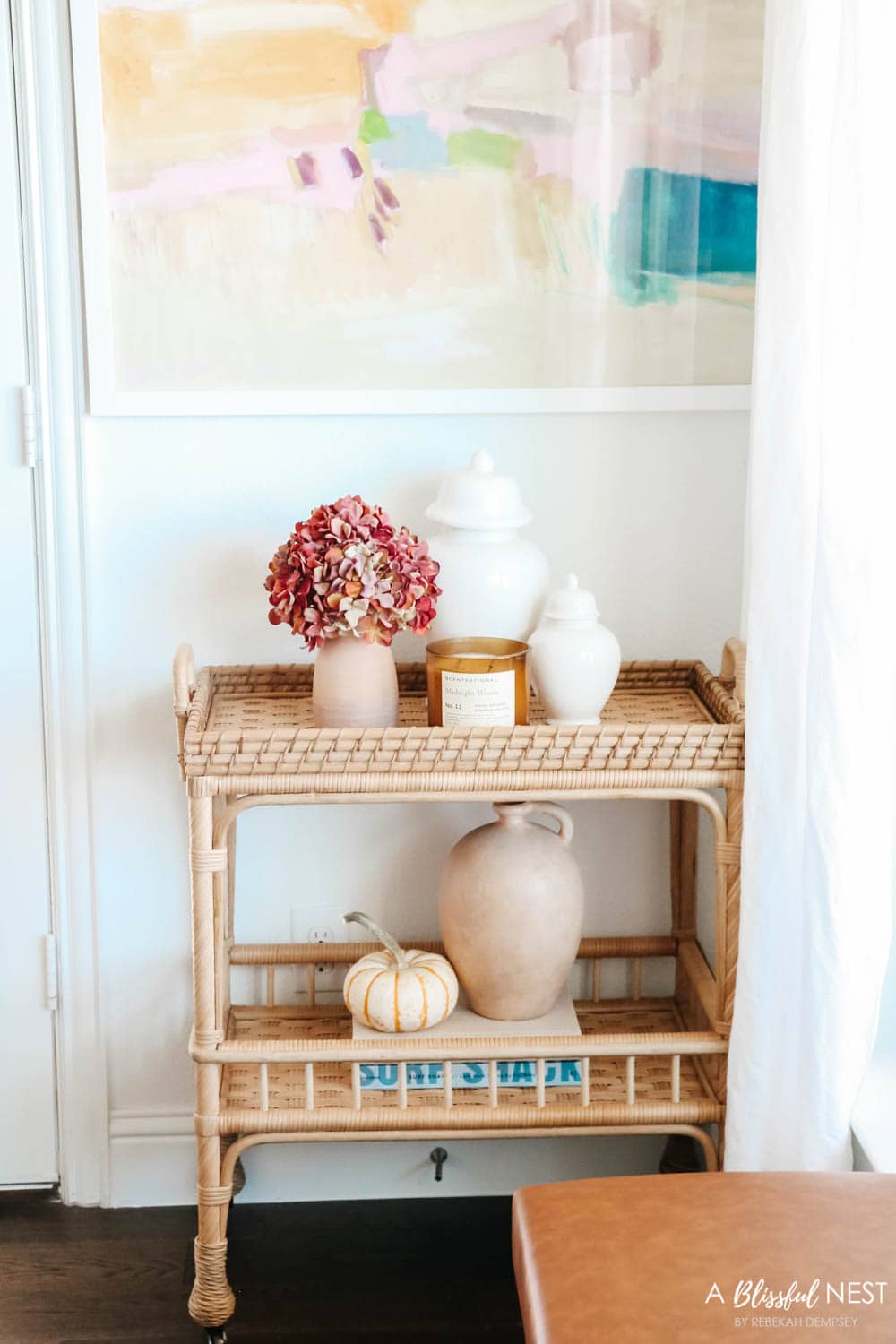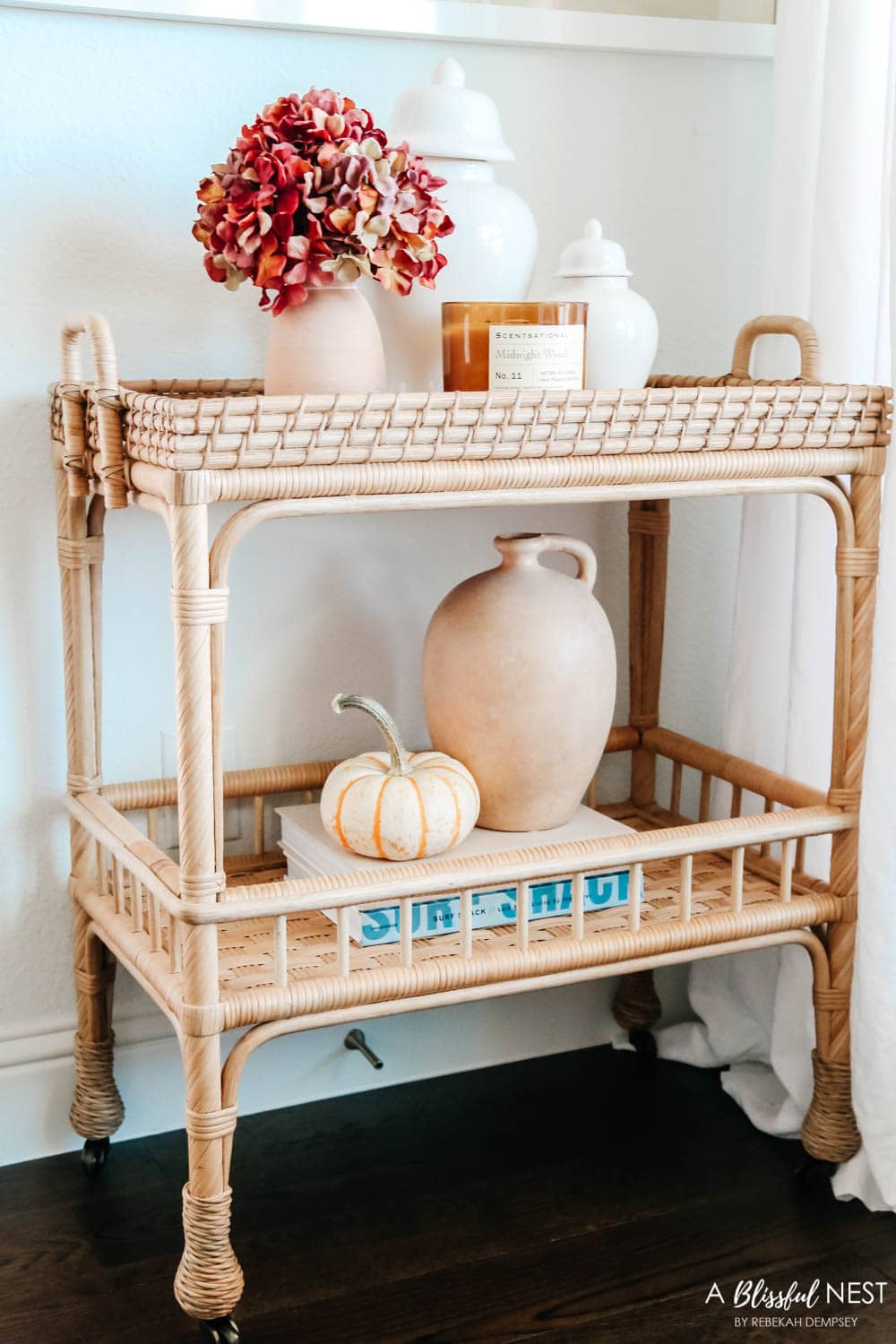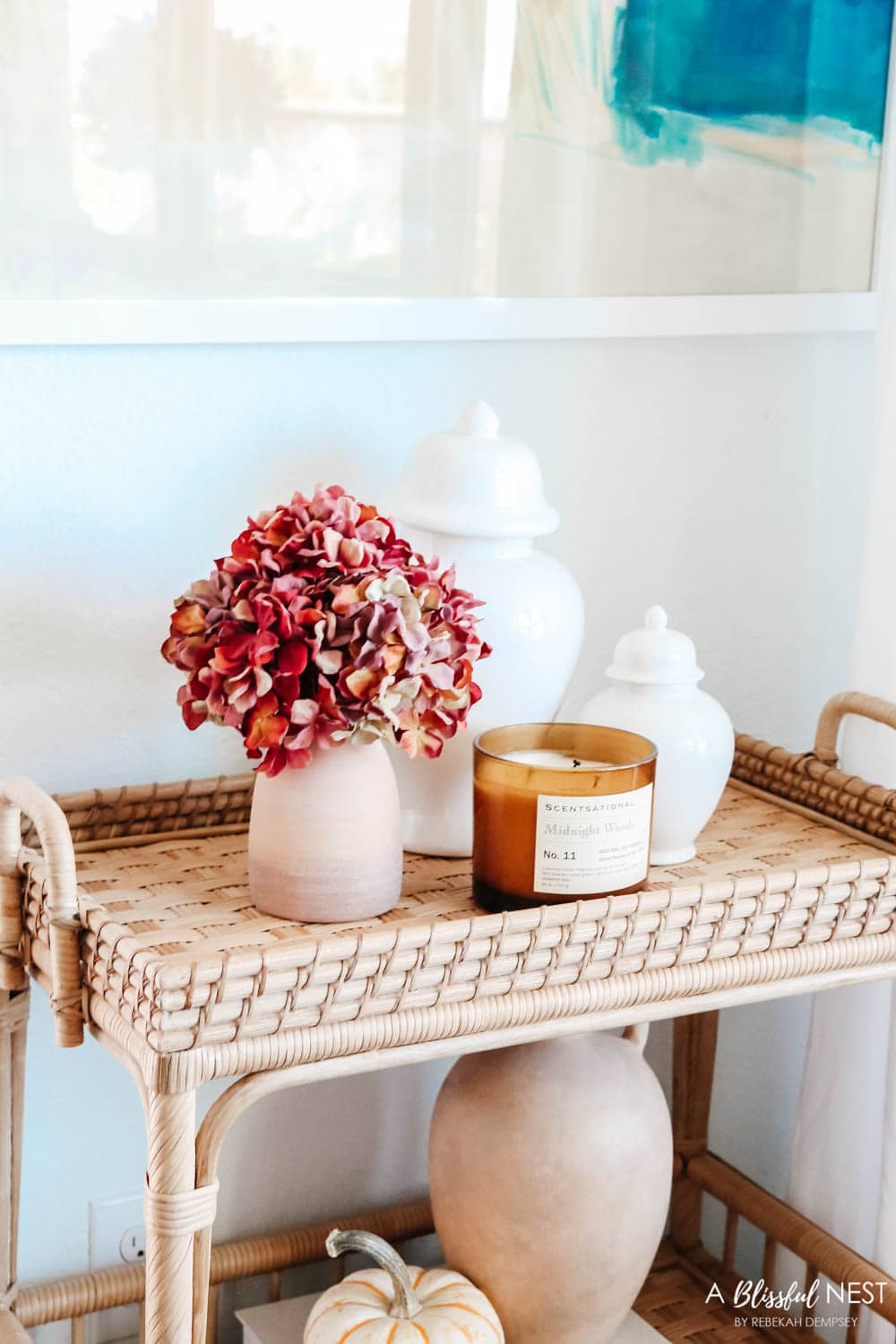 A collection of my favorite white ginger jars and candle with a little grocery store pumpkin is all I used. Really just keeping it simple and in the seasonal colors is all.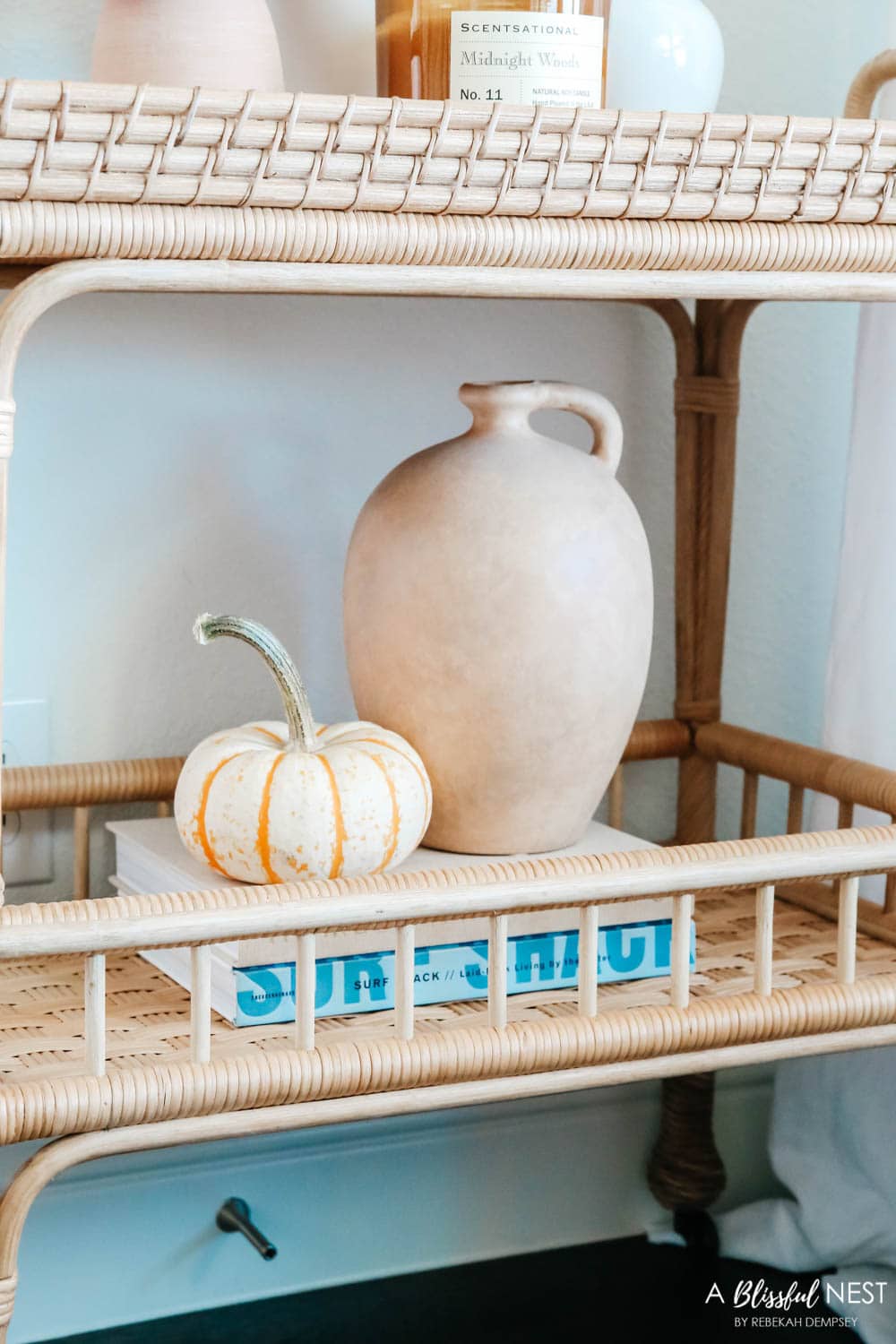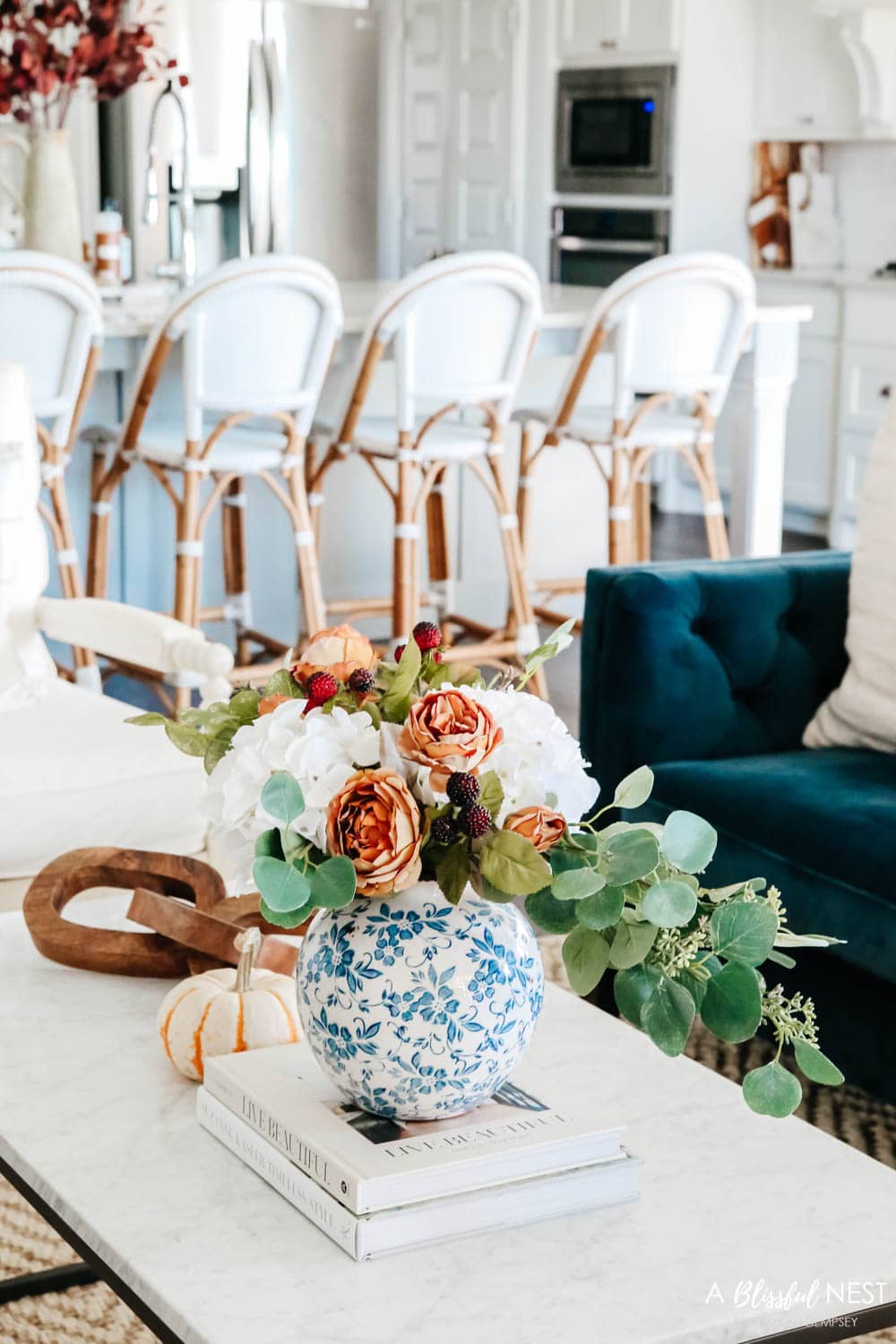 So there you have it and I can't believe decorating for Christmas is right around the corner. But here are a few other posts to help you get into the autumn spirit! And you can shop my fall living room decor below.



More Fall Ideas + Inspiration
Follow along to get more of my tips on home decor, DIY, and lifestyle on the following: