5 Ways to Transition Decor from Summer to Fall
This post may contain affiliate links. Please read our disclosure policy.
Sharing a collection of ideas on ways to transition decor from summer to fall with items you already have in your home and/or affordable decor to make your home feel cozy this fall season.
When September 1st rolls around you should be starting to think about your fall decor transition in your home from all your summer pieces. Generally, my front porch is the first spot I decorate and you can check out my fall front porch to help you get inspired for your own.
It maybe just a tad toasty outside right now but there are some subtle decor changes that you can make now before you transition into full-on pumpkin status.
These may even be pieces you already have which makes this initial fall decor change even easier. But before we go there, let me answer a few common questions I get asked all the time.
This post contains some affiliate links for your convenience. Click here to read my full disclosure policy.
Ideas to transition decor from summer to fall.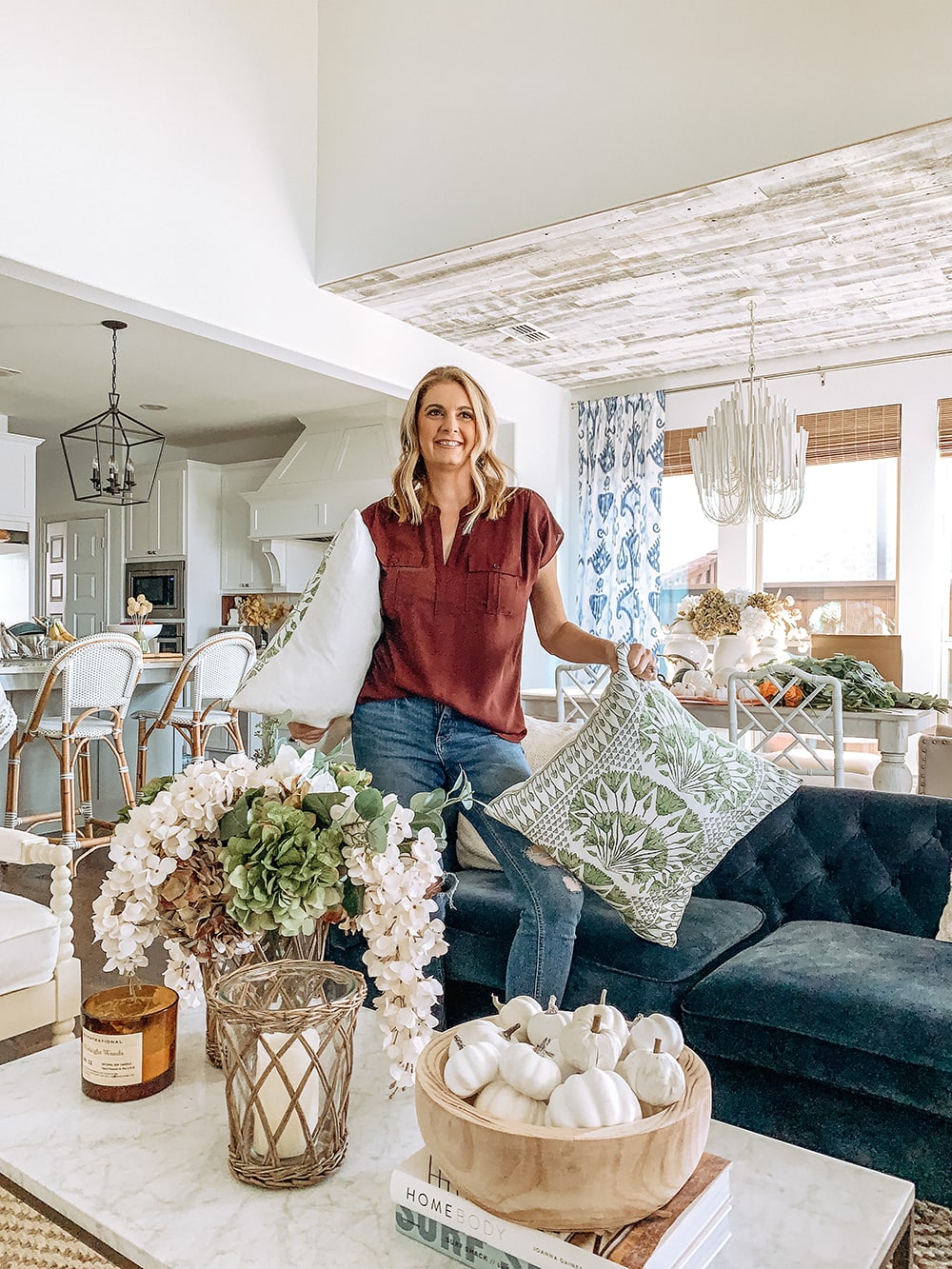 When can you start decorating for fall?
I personally feel you can start decorating for fall in late August and continue throughout the season. I tend to like to start early because I can take a while to finish. The earlier you start the more time and attention you can put into your fall decor.

How do you start transitioning from summer to fall decorations?
The best way to do this is to clear your room of all your summer decor first and put it away. This can be a little time-consuming but I love to see my empty canvas before I start. It makes it easier for me to see the holes that need to be filled in and what decor I am going to need.
Then from there, I start to bring in fall colors in the color palette I am going to use through pillows, throw blankets, and florals.
Next, I like to add small fall decor pieces to bookshelves, countertops, coffee tables, etc. These will be little accents to not make the space feel too full of seasonal decor. You don't want a pumpkin everywhere you turn around!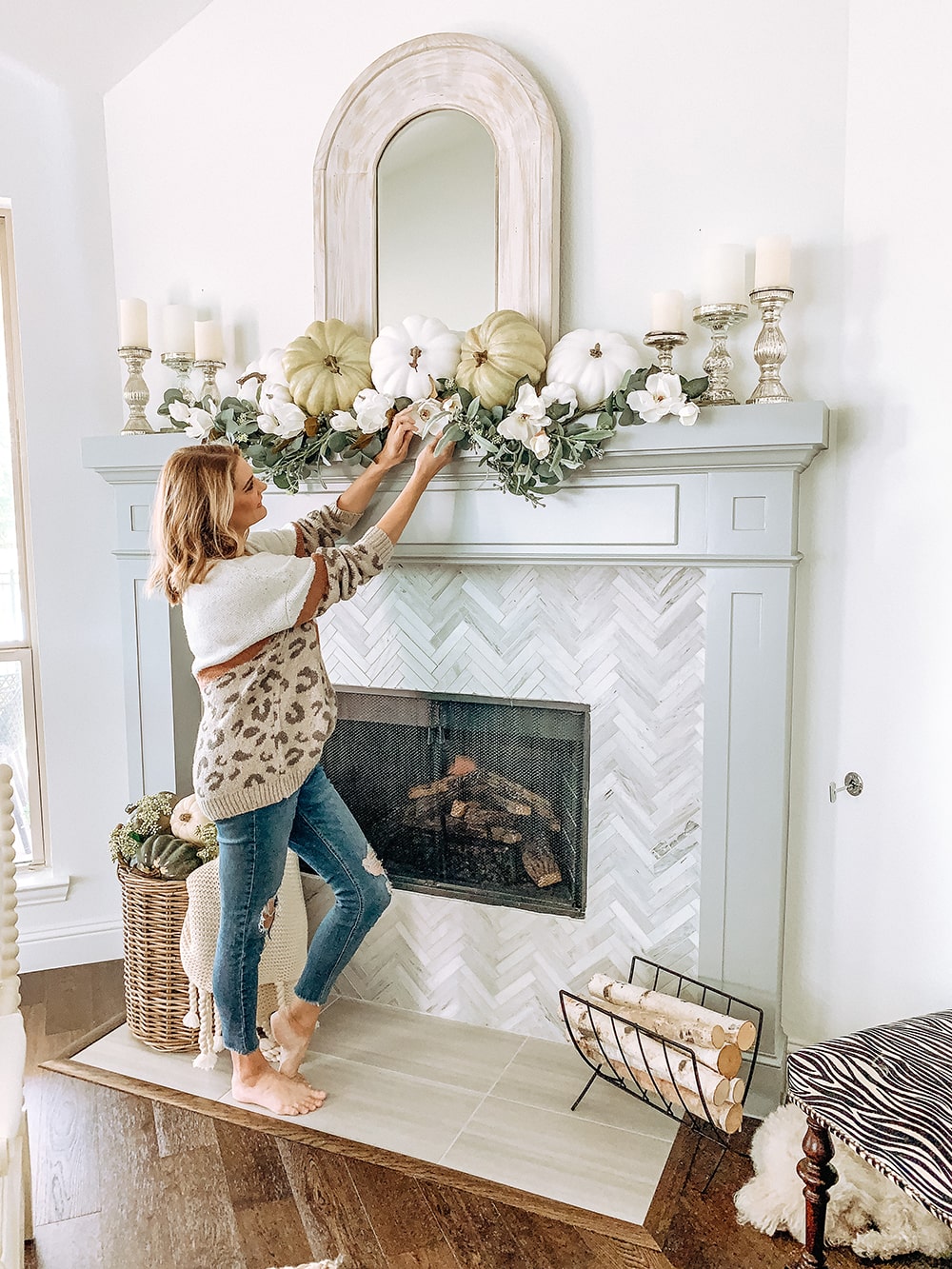 How do you decorate for fall on a budget?
There are a few easy ways to decorate for fall on a budget. There is no need to break the bank on seasonal decor.
The first way is to shop the decor you already have. Pull out things you have in fall colors, unbox your pumpkins and get your fall candles out. Shopping what you already have will save you a ton of money.
Next, get creative and do some DIY projects. Making your fall wreath can be a lot less expensive than buying a premade one. Same with your floral arrangements and if you are good with the sewing machine then make yourself some gorgeous fall pillows!
Use baskets you already have and roll some blankets you have stored in your closet into them. Get out some cinnamon sticks and boil them with some orange slices in a pot of hot water to make your home have a delicious fall smell!
5 Ways to Transition Decor from Summer to Fall:
So here are my top 5 simple ways to transition your home for the fall season now.

1. Switch out fabrics for jewel-toned ones
My favorite colors to decorate with for fall are anything jewel-toned like amber, mustard, gold, red, burnt orange, and soft creams. These colors tend to reflect the landscape outside and I love to make my home feel like an extension of my backyard.
I also love to add in shades of green like I did the other year when I used greens and soft cream/yellow colors. It is a very easy color to use in most seasons and paired with these rich colors, it will make greens feel vibrant and pop in your space.

2. Throw cozy blankets over the side of your chairs
This to me is one of the ultimate ways to make your home feel warm and cozy for the fall/winter seasons. Who doesn't love cuddling up with a warm fire and a soft plush blanket.
Drape the over chairs, roll them up into baskets next to the fireplace, and have them ready to grab as you head out to the patio for some s'mores.
Making them easy to grab and accessible will make you use them more and help layer in the colors of the season you are decorating with.

3. Add fall faux florals
Swapping out your summer florals for some fall-hued ones will elevate your fall decor instantly. I typically select ones that are in the color scheme of the fabrics and pillows I am going to use so they accent and pop the colors in my room.
I love to layer flowers together as well and create unique arrangements. Typically I start with 1 main floral that is a larger size, then add in 2-3 other florals or greenery pieces to make it fuller and add in some accent colors.
Your arrangements do not need to be overscaled and large. Smaller arrangements can be very impactful on a coffee table or in a bookcase. Just little touches to welcome the fall season.

4. Incorporate warm-toned accent decor
This is a great one to shop the existing decor you already have piled up in the closet. Any pieces in warm-toned colors, pull out and add onto your fireplace, nestle on the counter in a corner, and add onto your coffee table.
Just because it isn't a pumpkin or a gourd doesn't mean it won't make your space feel like fall. Sometimes all you need is a little color!

5. Add layered elements
I love layered elements. What this means is building decor pieces on top of the ones you already have in place. This adds visual impact and is a great way to pull in fall accents.
Adding a strand of beads to a table lamp, a set of books under a vase of florals, and a cluster of ginger jars with some candlesticks all are great ways to do this.
Just be careful to not let it look too cluttered. The best way to do this is to stick to 1 color or using neutrals when layering. It will look less busy and actually give it a more modern edge.
So I hope you loved all these simple ways to transition your home for the fall season and also help you save a little money on your seasonal decor!
Follow along to get more of my tips on home decor, DIY, and lifestyle on the following: