Simple and Fresh Summer Kitchen Decorating Ideas
This post may contain affiliate links. Please read our disclosure policy.
Summer is officially here and last week I shared my summer living room reveal HERE so I thought I would keep it going and sharing my summer kitchen decorating ideas with you today.
I continued the theme of a simple and fresh color scheme and decor from the living space.
These two spaces open into each other so it is important to make them flow with the decor too.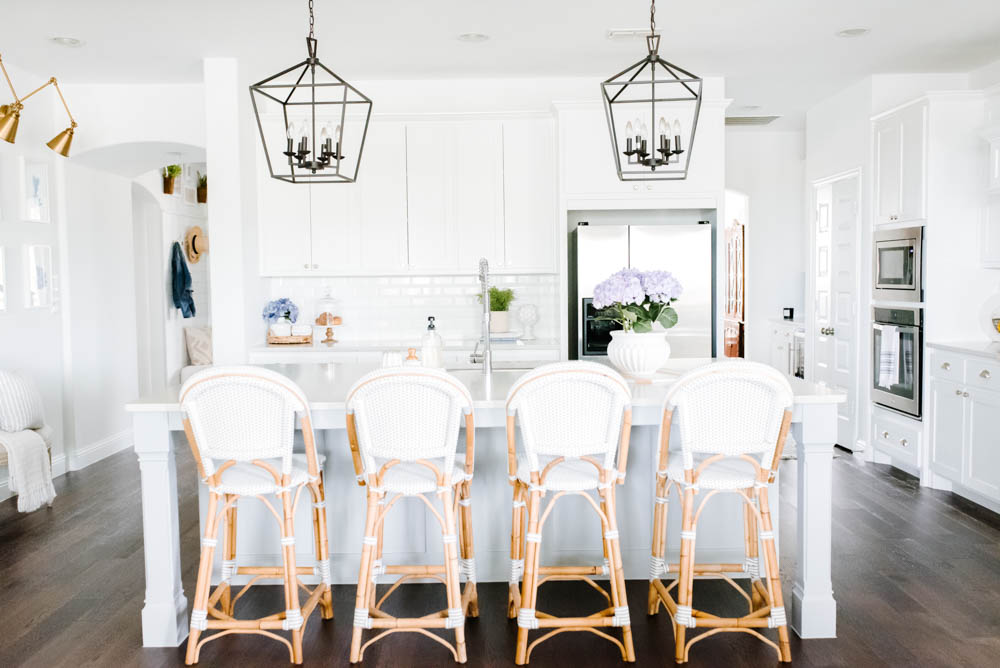 As you know, recently I painted our kitchen island this soft gray/blue shade (same as on our fireplace).
It is just what my all white kitchen needed. I love an all-white kitchen but I wanted just a little pop of color.
It's so funny how it changes throughout the day with the light and it made it fun to play with for summer.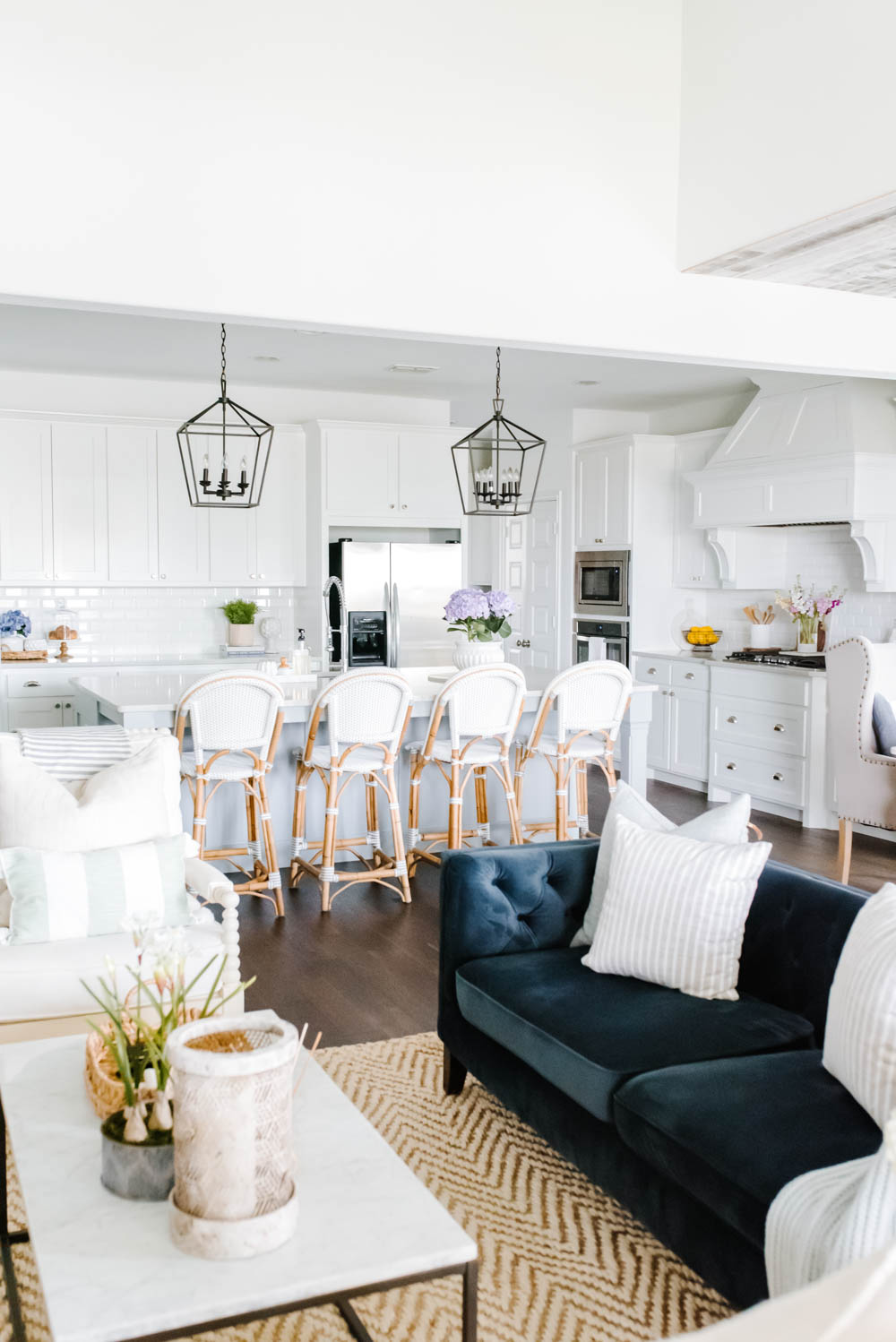 Back in the late fall, I ordered these new barstools. We had upholstered ones and I loved them but they just felt too dressy for me.
These bistro style ones definitely give me more of that coastal look and add some texture to the space.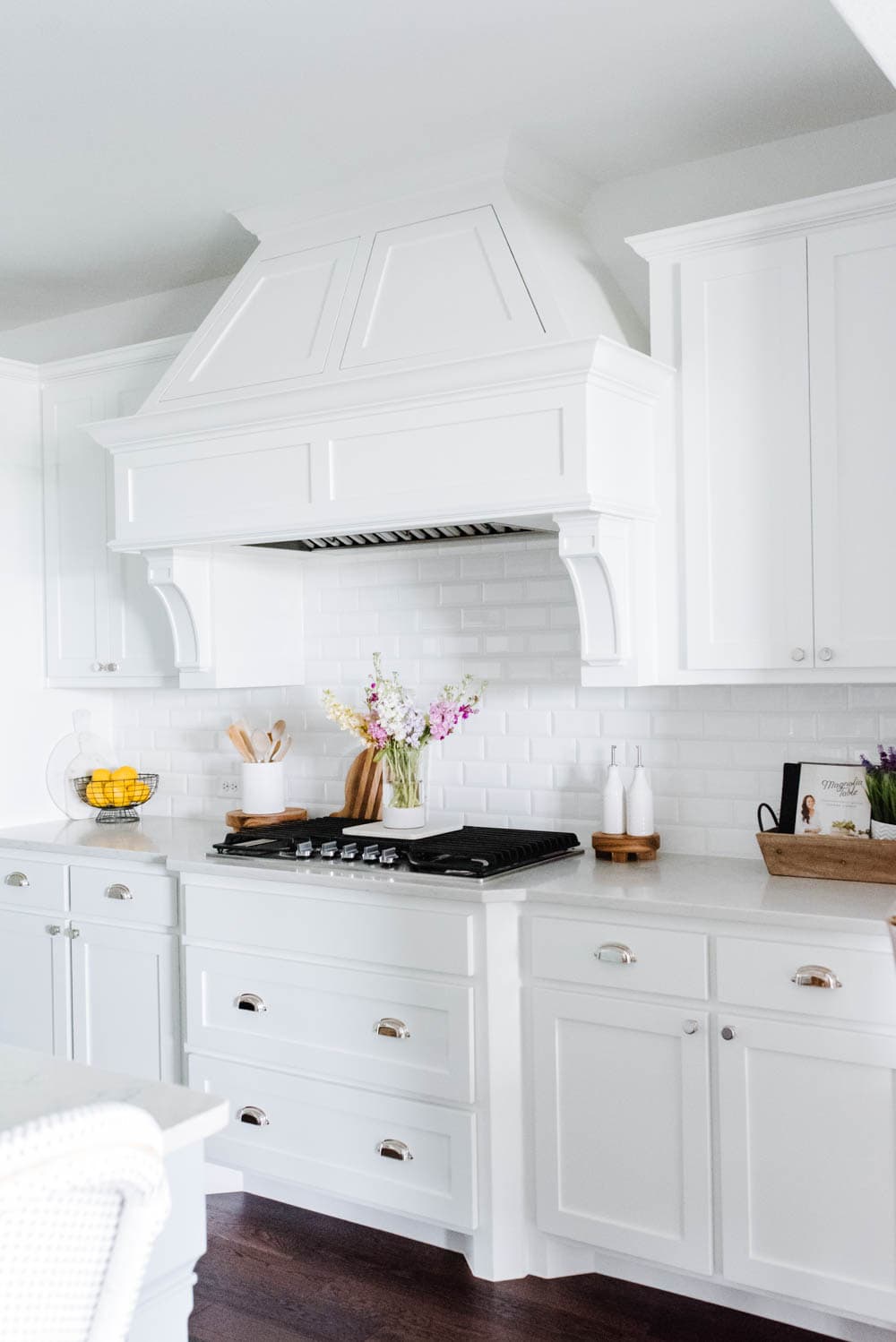 We also added hardware to our kitchen a couple of months ago.
I chose these cup pulls and these knobs in chrome. I love the shiny modern look it gives.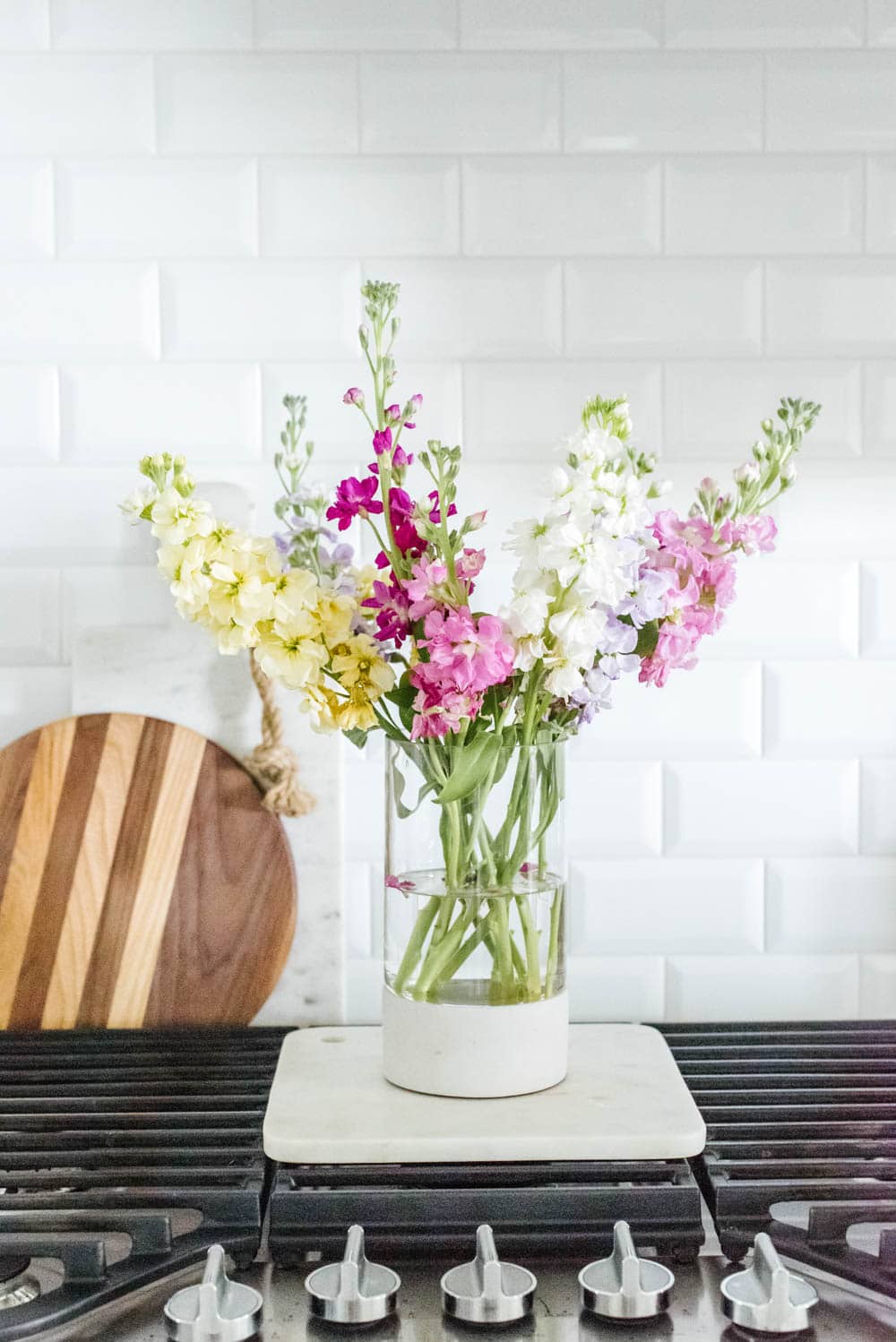 One of my very favorite inexpensive and budget-friendly ways to update my kitchen for summer is to grab flowers from the market.
I have vases stashed in the cabinet above my refrigerator and use them all over in our kitchen and living room when I can grab flowers at Trader Joes, Market Street or Kroger.
They smell amazing and add so much color to the kitchen.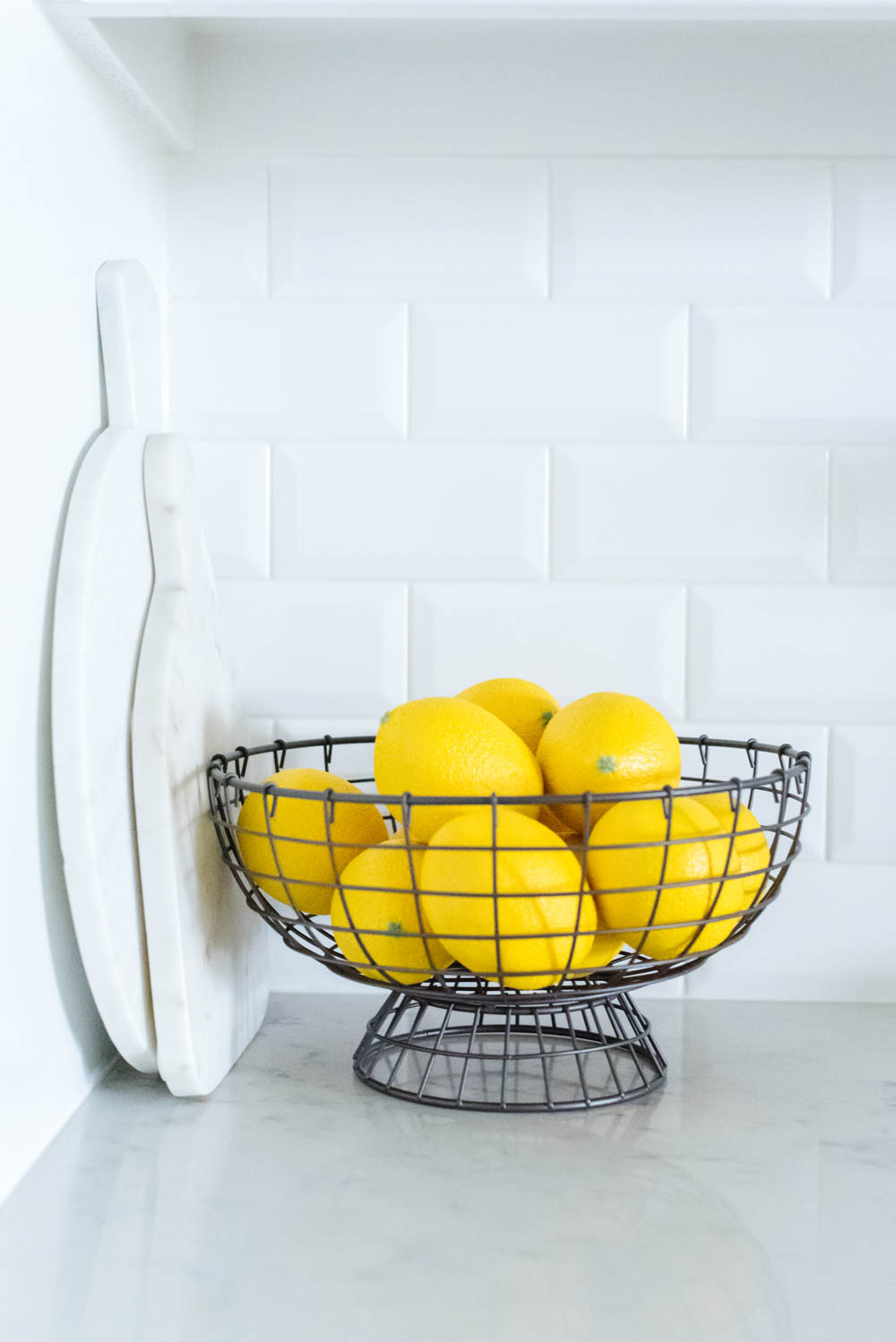 Also, having bowls of fresh fruit is another easy and simple way to add color to your kitchen for the season.
I love to cluster the same fruit for a bigger visual impact.
Now I know what you are going to say . . . that it can get expensive to have to keep rebuying them each week.
BUT, these lemons in my bowl are all fake! I snagged them at Micheals on sale last year and pull them out during spring and summer to decorate with, keeping it very affordable.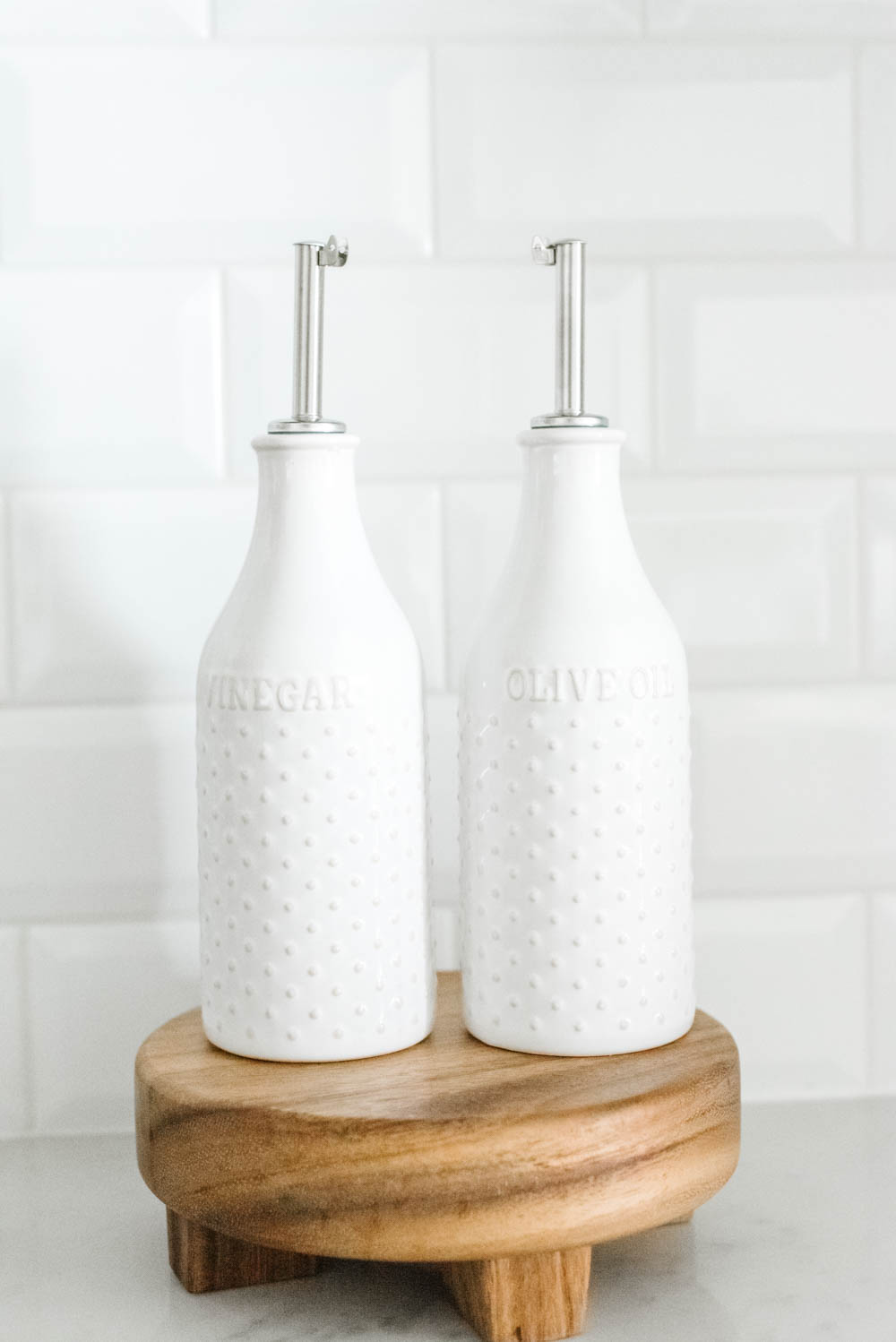 White Oil & Vinegar Bottles (similar) | Wood Tray (similar)
Another favorite decorating idea for summer is to pull out things I actually use to cook with.
I have my vinegar and olive oil in these pretty hobnail looking bottles and even my current favorite cookbooks in a wood basket sitting on my counter.
I feel like if you have it out and see it, it will make you use them!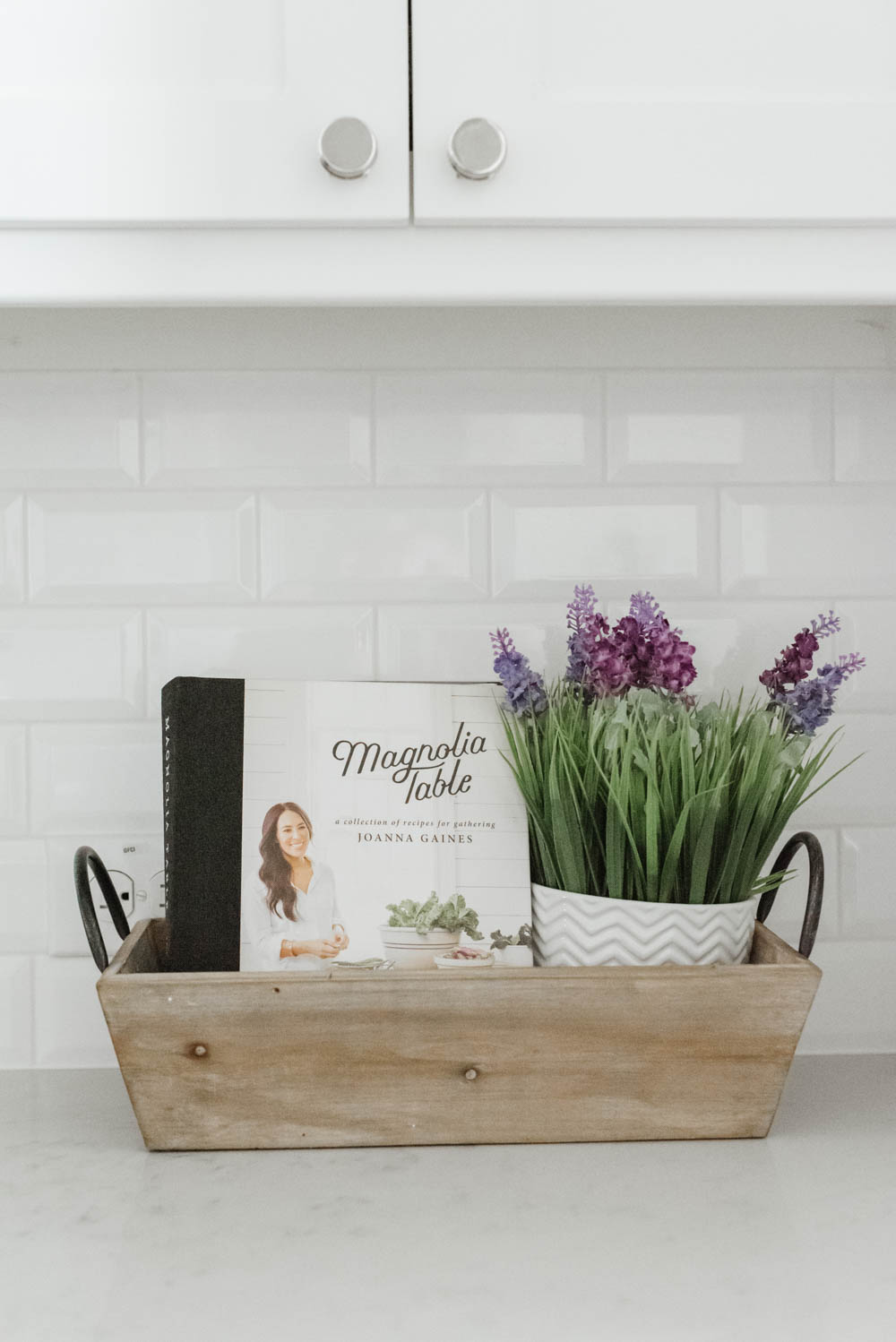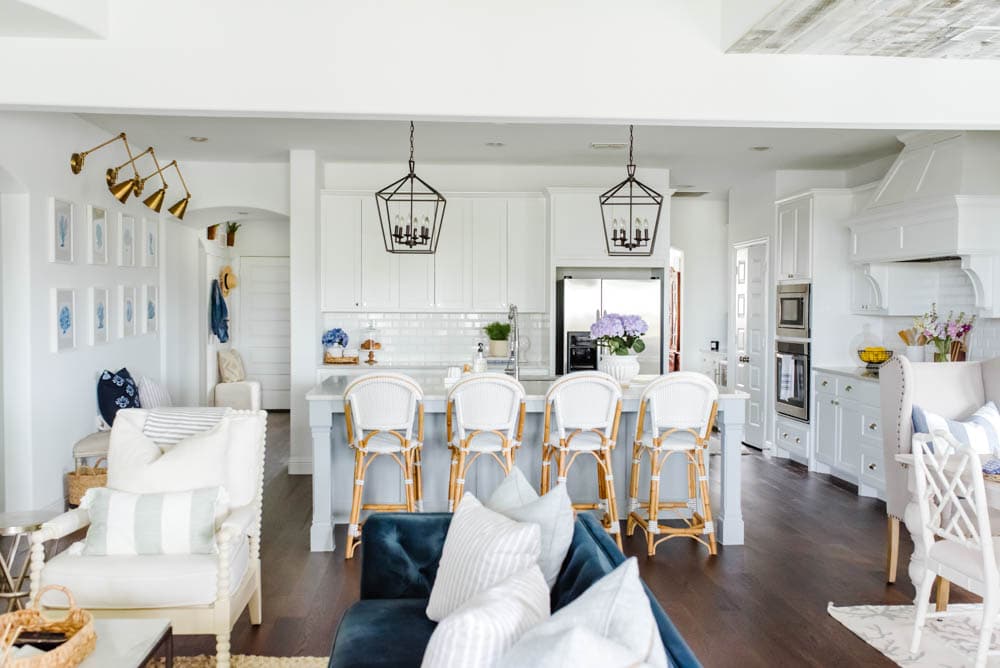 I also snagged recently at Market Street these gorgeous hydrangea plants.
I had the pink in the kitchen for awhile and then moved it to the patio.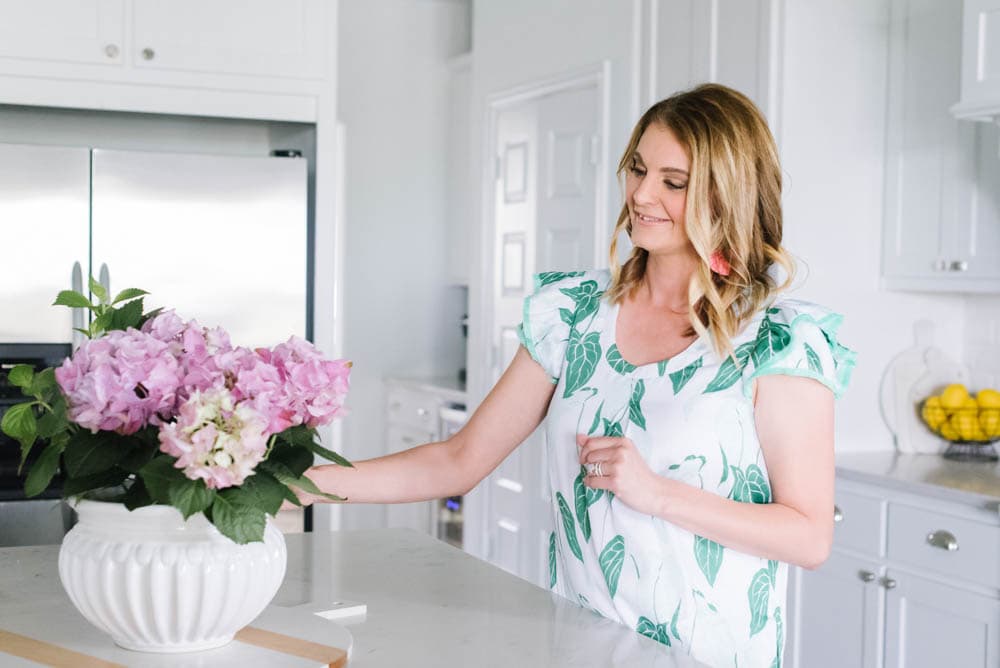 Now I have this gorgeous purple one and I put it in a white pot I had laying around in the garage and then put it on top of this larger marble and wood cutting board.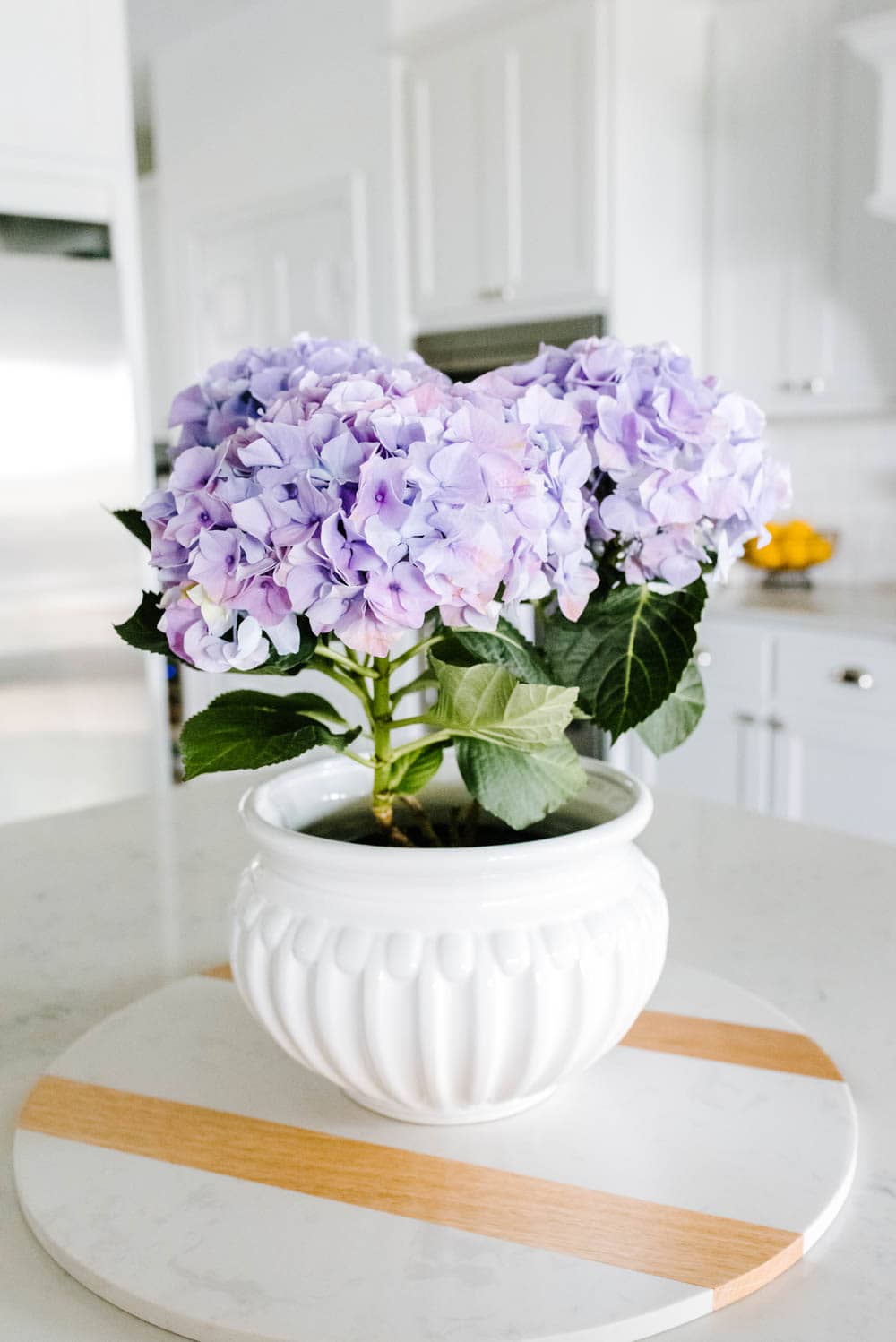 As you can see the decor is rather simple and mostly fresh flowers, things I am currently using to cook with and faux fruit in baskets.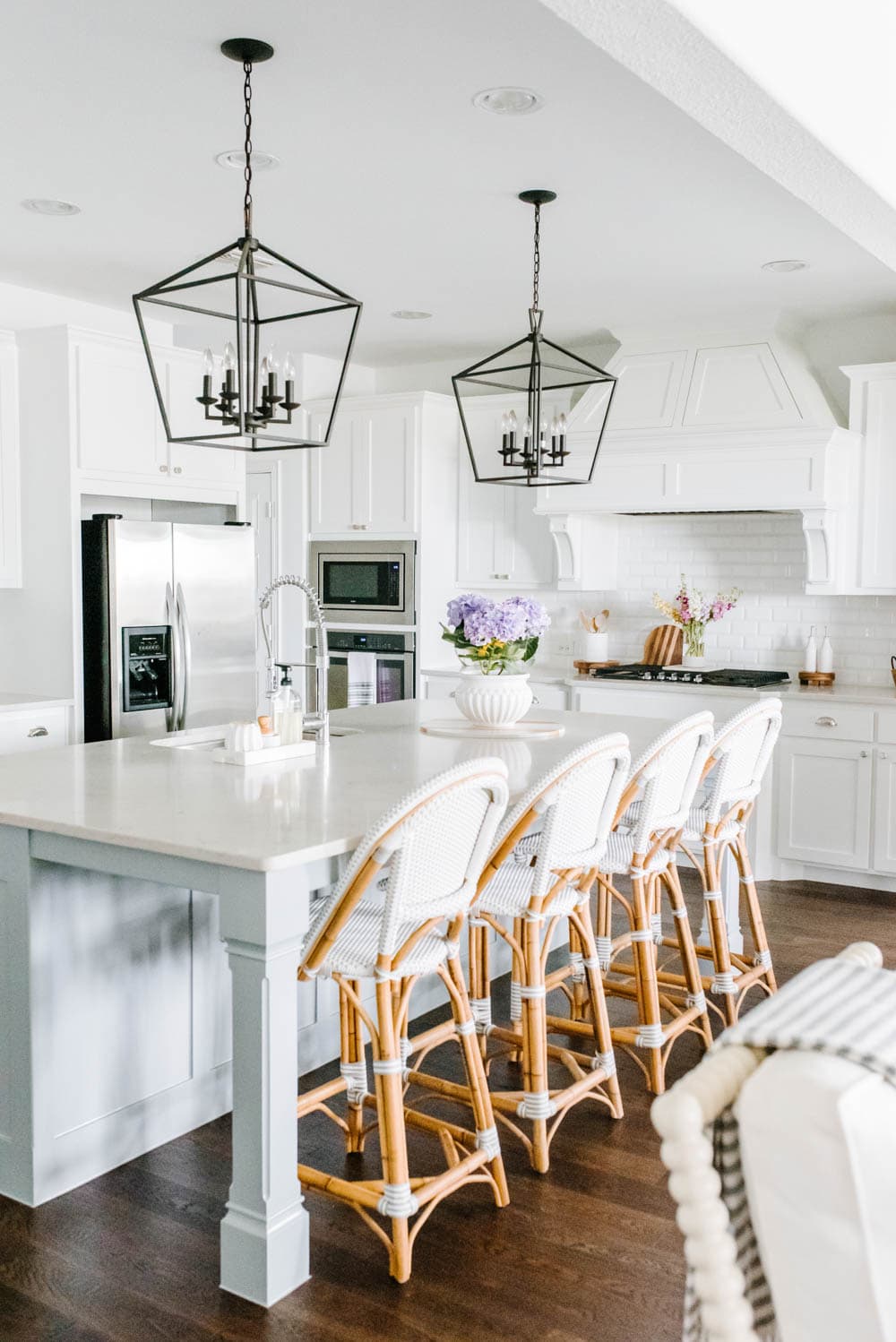 This to me is really when less is more.
With the holiday season right around the corner, this is the last breath of fresh, clean and simple decor until next year.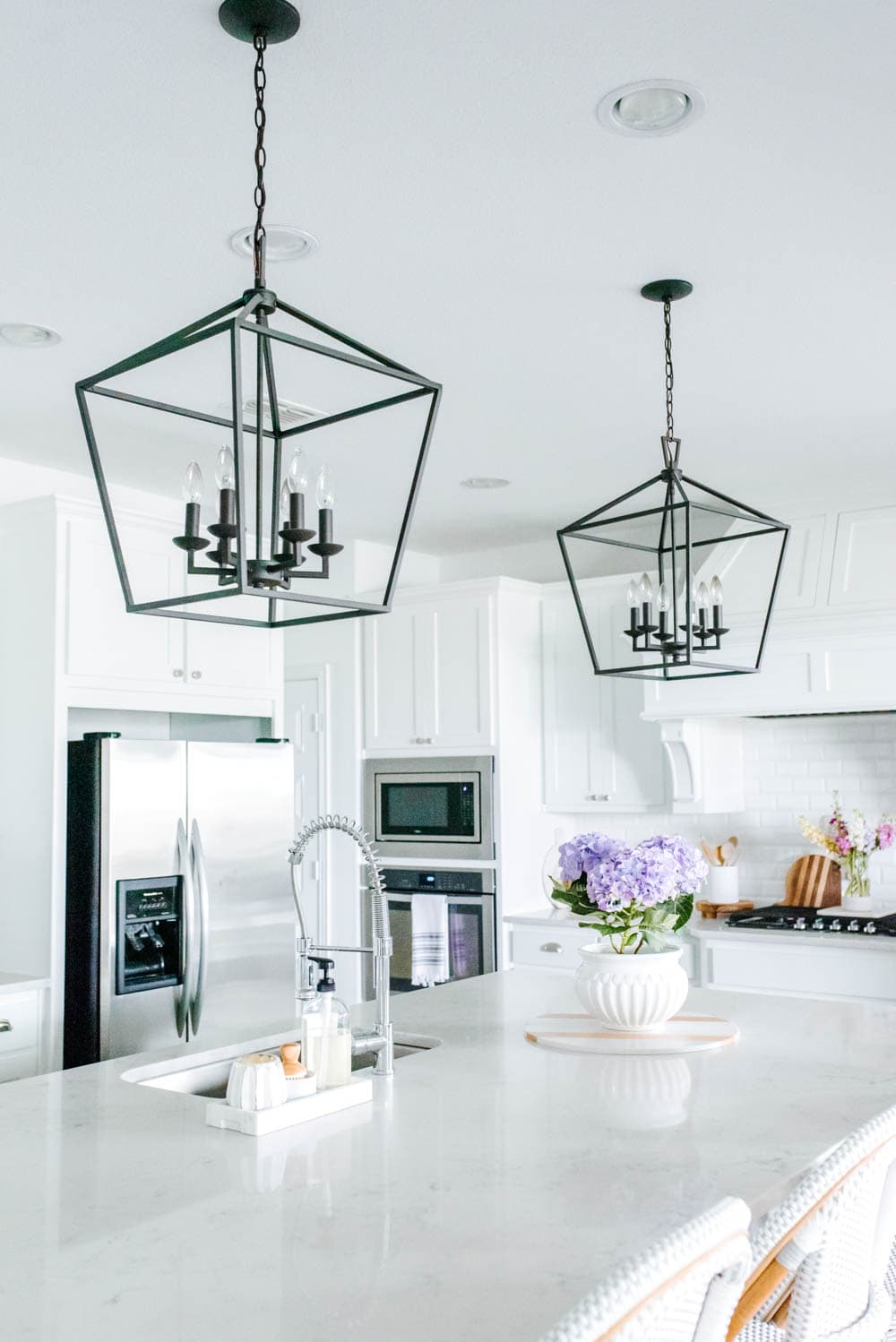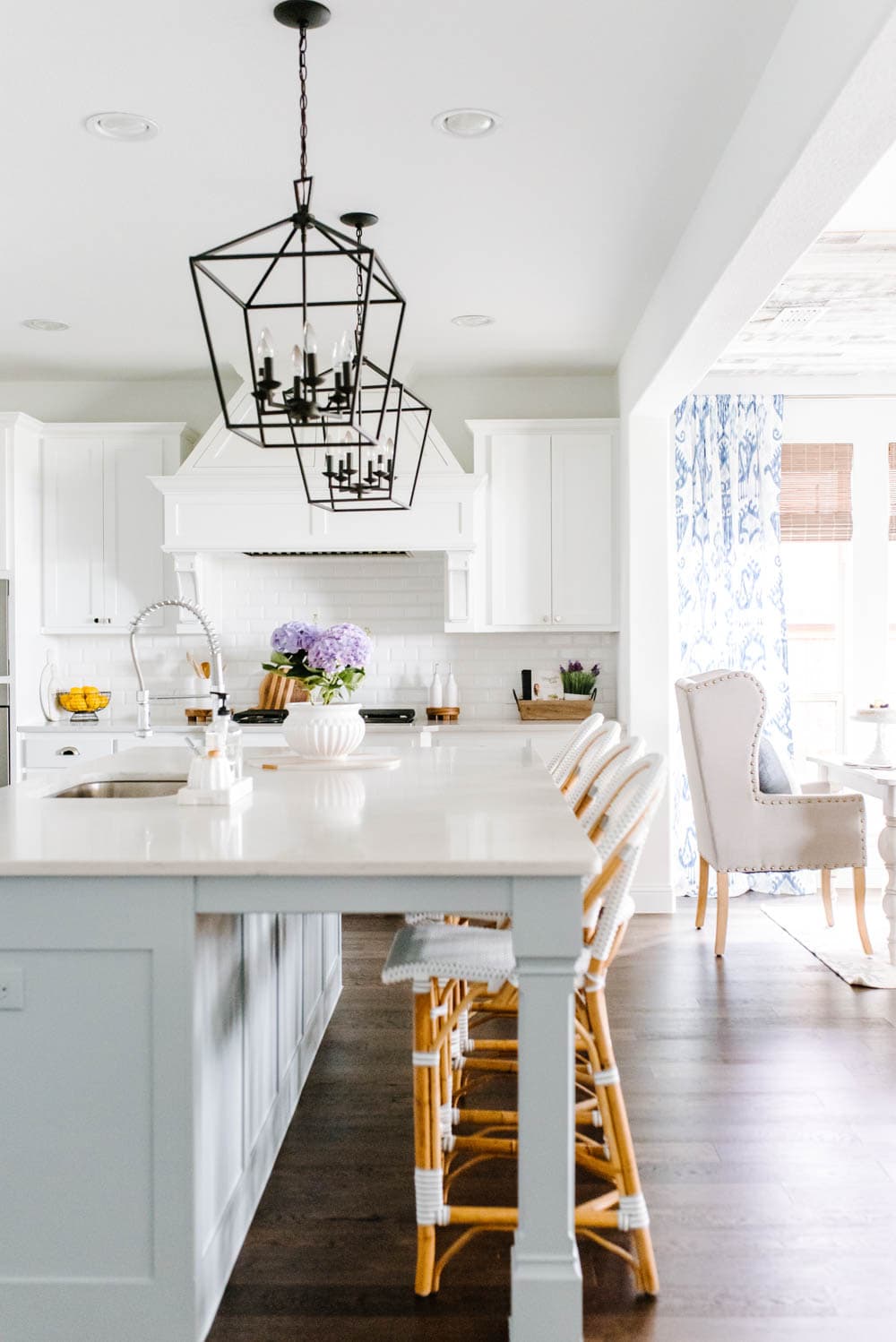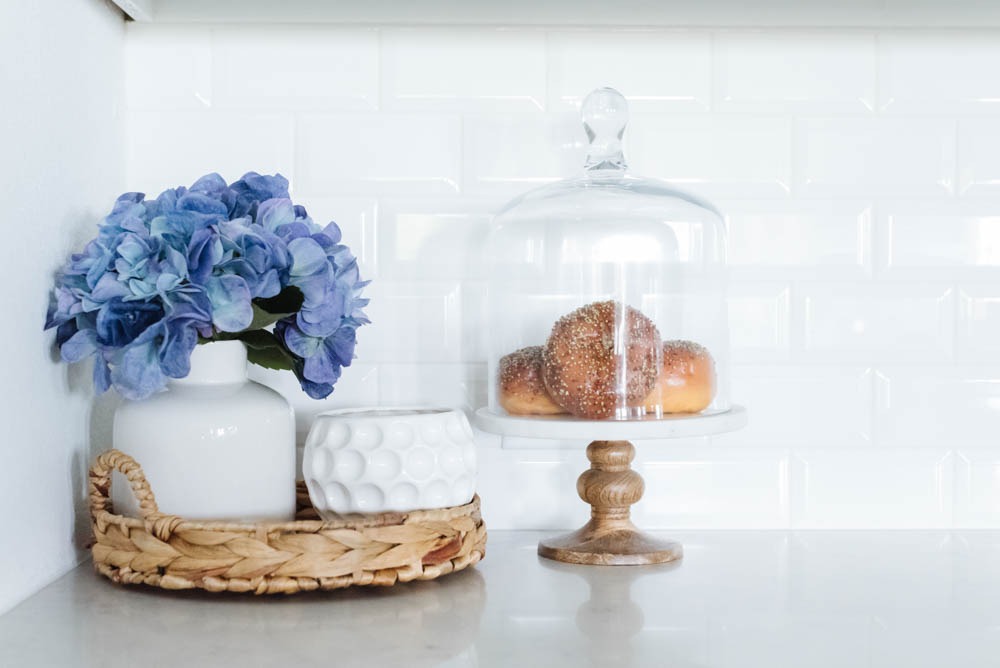 One of my favorite little spots in the kitchen is this gallery wall.
When we were building the house I had envisioned a spot to display my sea art I had created (you can get a similar set HERE) and to be able to sit and put your shoes on.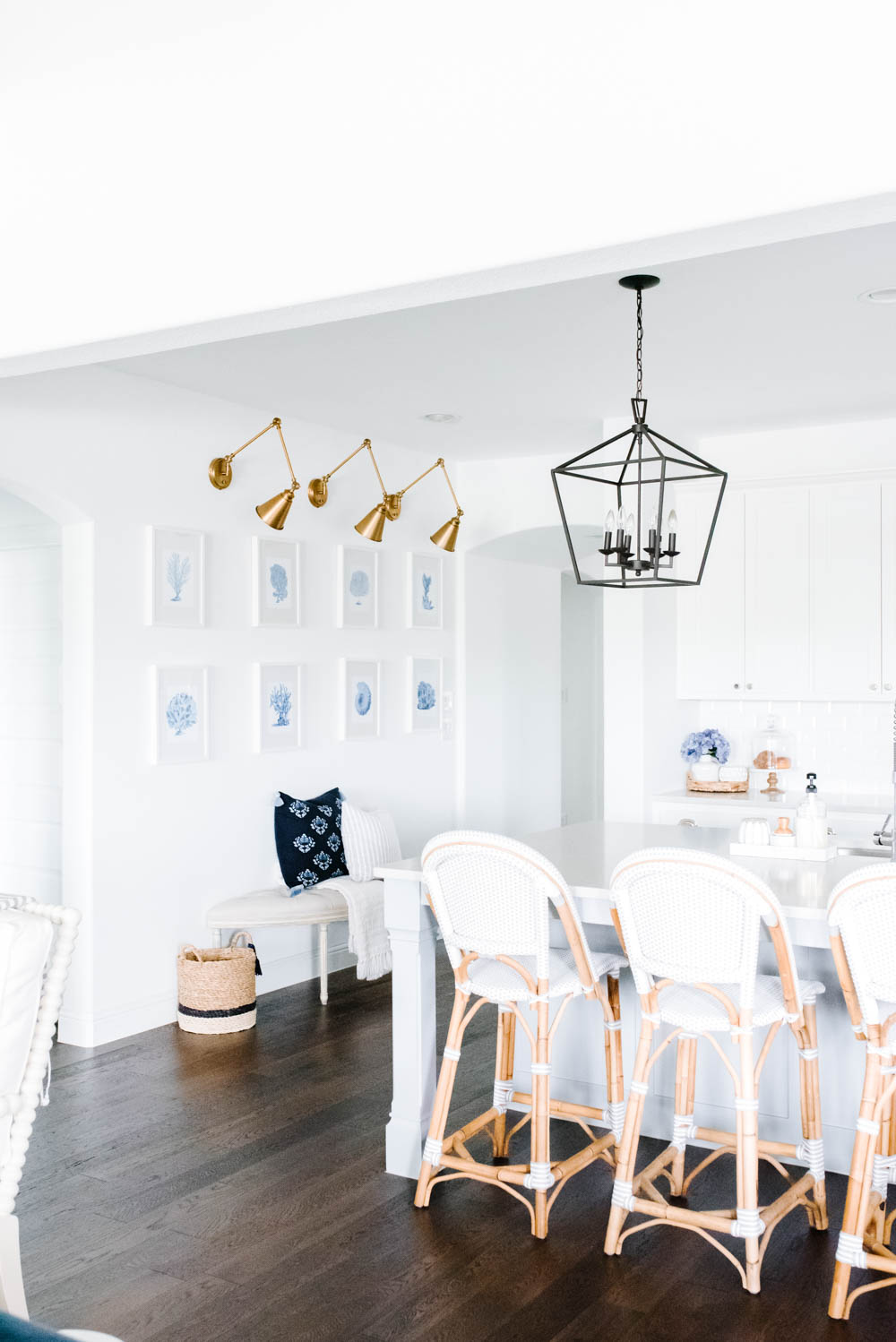 This has become one of my favorite places to look at and I love mixing up the pillows and adding a pretty throw blanket for each season.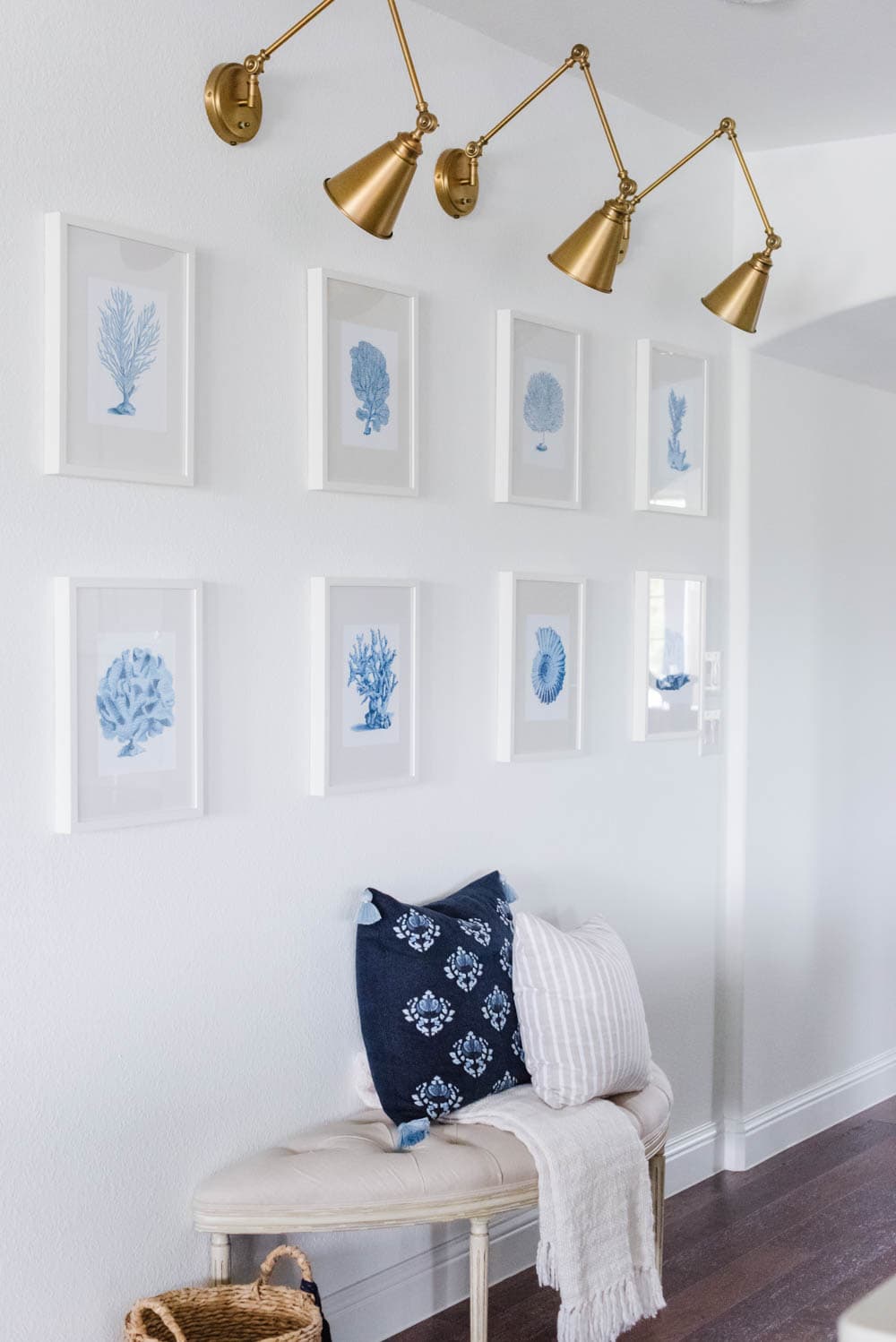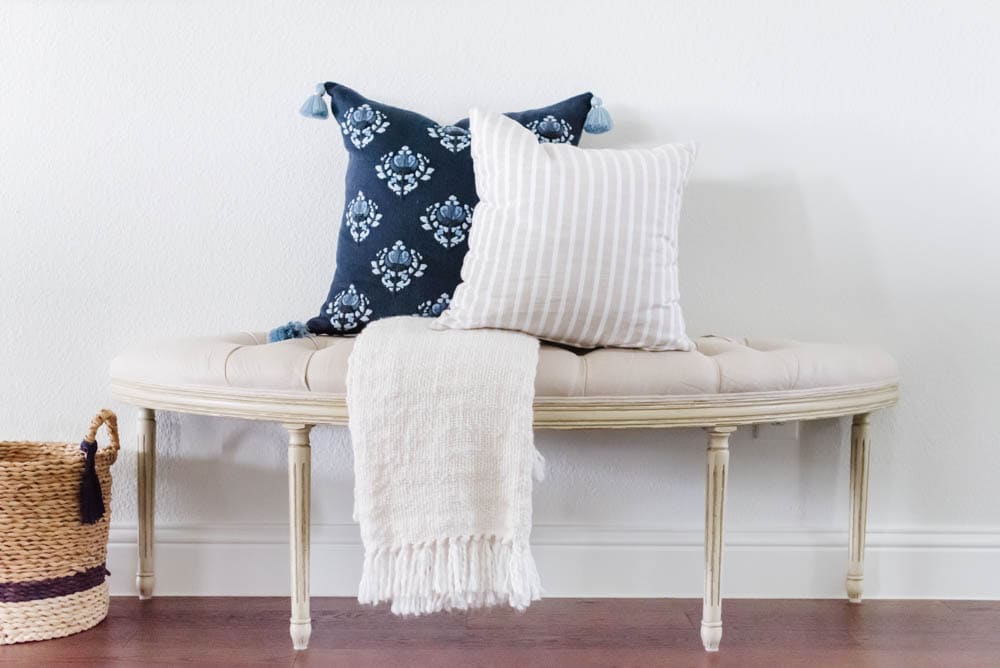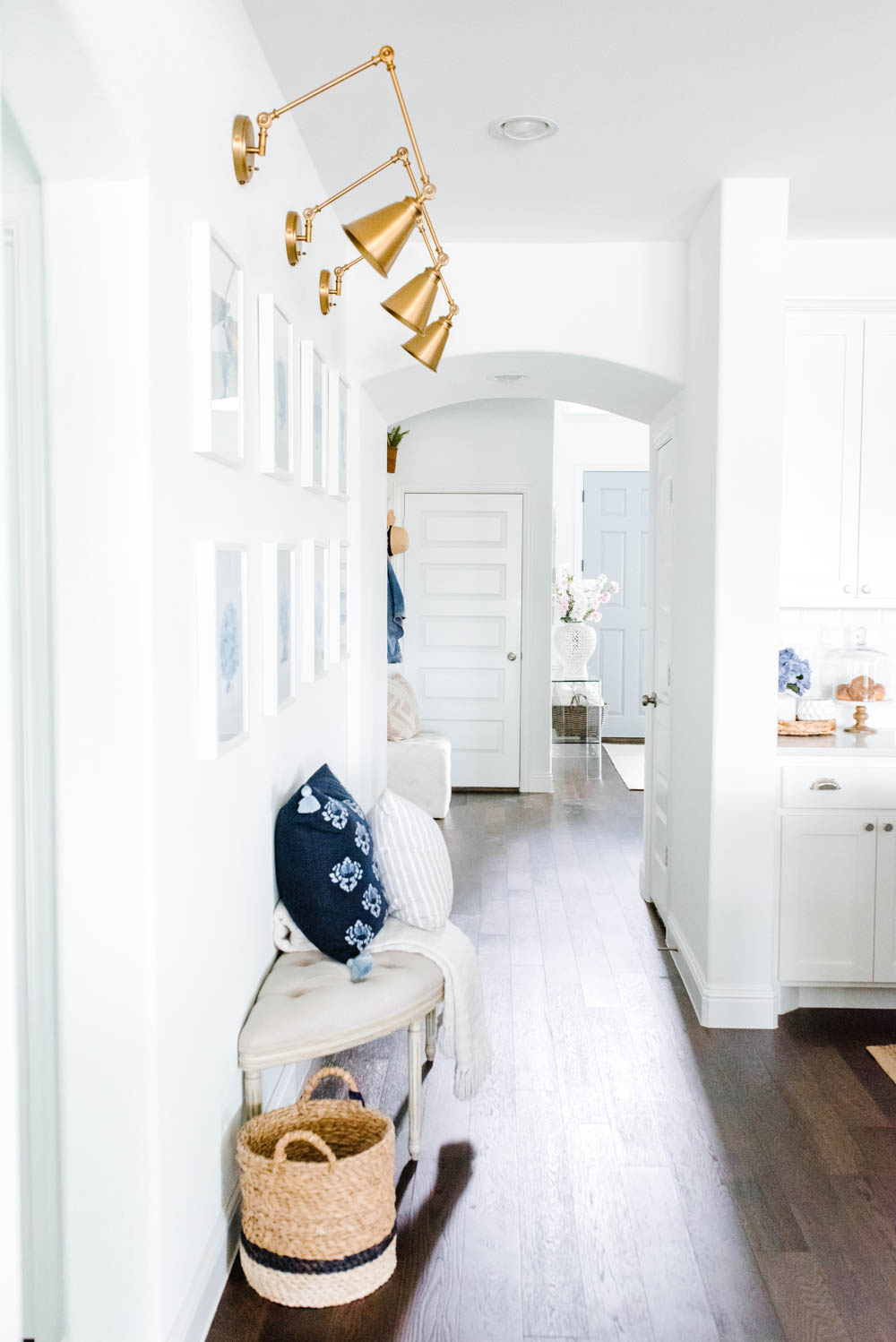 So there you have it my friends!
How are you decorating for summer and what color palette will you be using?
I have sourced everything for you as always so scroll and tap on the pictures of items to go right to the retailer.
Just let me know if there is anything you can't find.