Guest Bedroom Refresh for Summer + Tips
This post may contain affiliate links. Please read our disclosure policy.
Do you refresh your bedrooms for summer?
It's an inexpensive luxury I love to do for the seasons.
I look for a few simple touches that don't cost a lot of money that can transform one of my favorite rooms in my home.
So I thought today I would share what my guest bedroom refresh for summer and so you too can update one of the most important rooms in your home.
Guest Bedroom Refresh for Summer + Tips:
Choose a summer color palette.
Selecting a fresh light color scheme will totally transform your space.
Use colors like soft blushes, baby blues, pale yellows, creams, and soft greens.
Think of colors that remind you of the sky, sunsets, and the garden.
Just adjusting your color palette to include some of these softer hues will drastically update your space.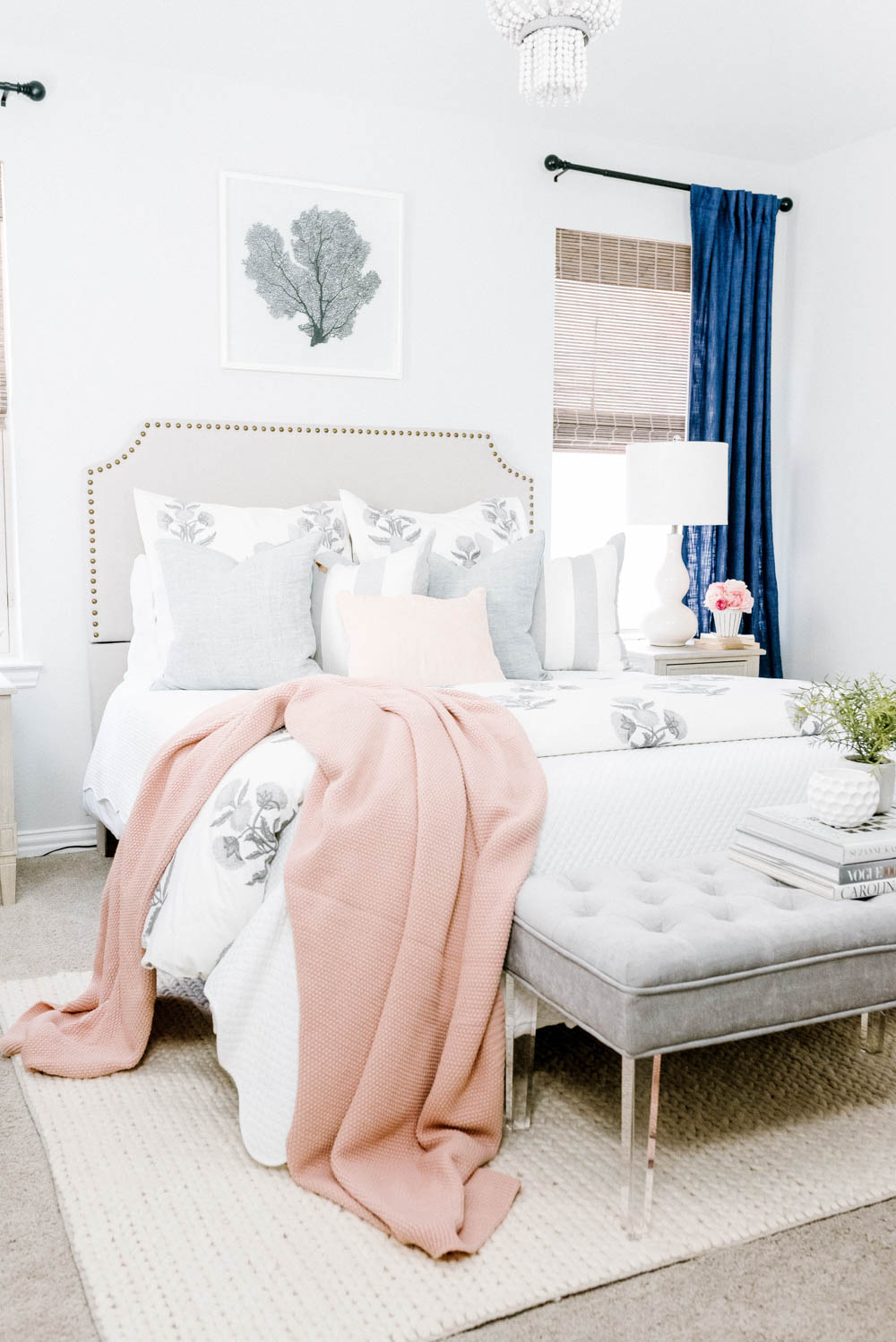 In my guest bedroom, I choose a grey and blush color palette, mixed with soft blue and navy blue.
The navy blue acts as a grounding color since it is darker and makes the other colors stand out more.
Mixing in the lighter shade of blue on the bed helps tie in the rich dark color of the curtains.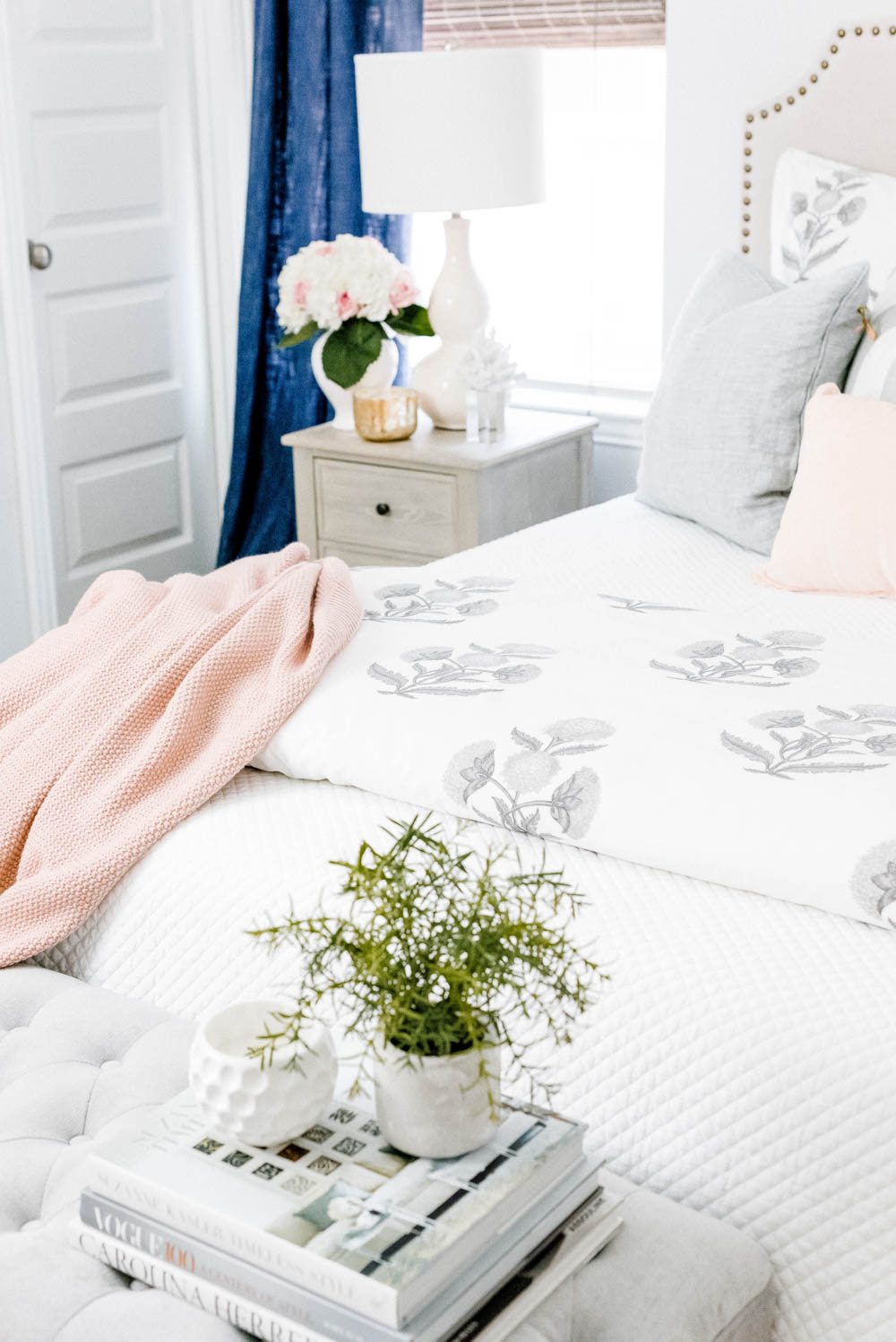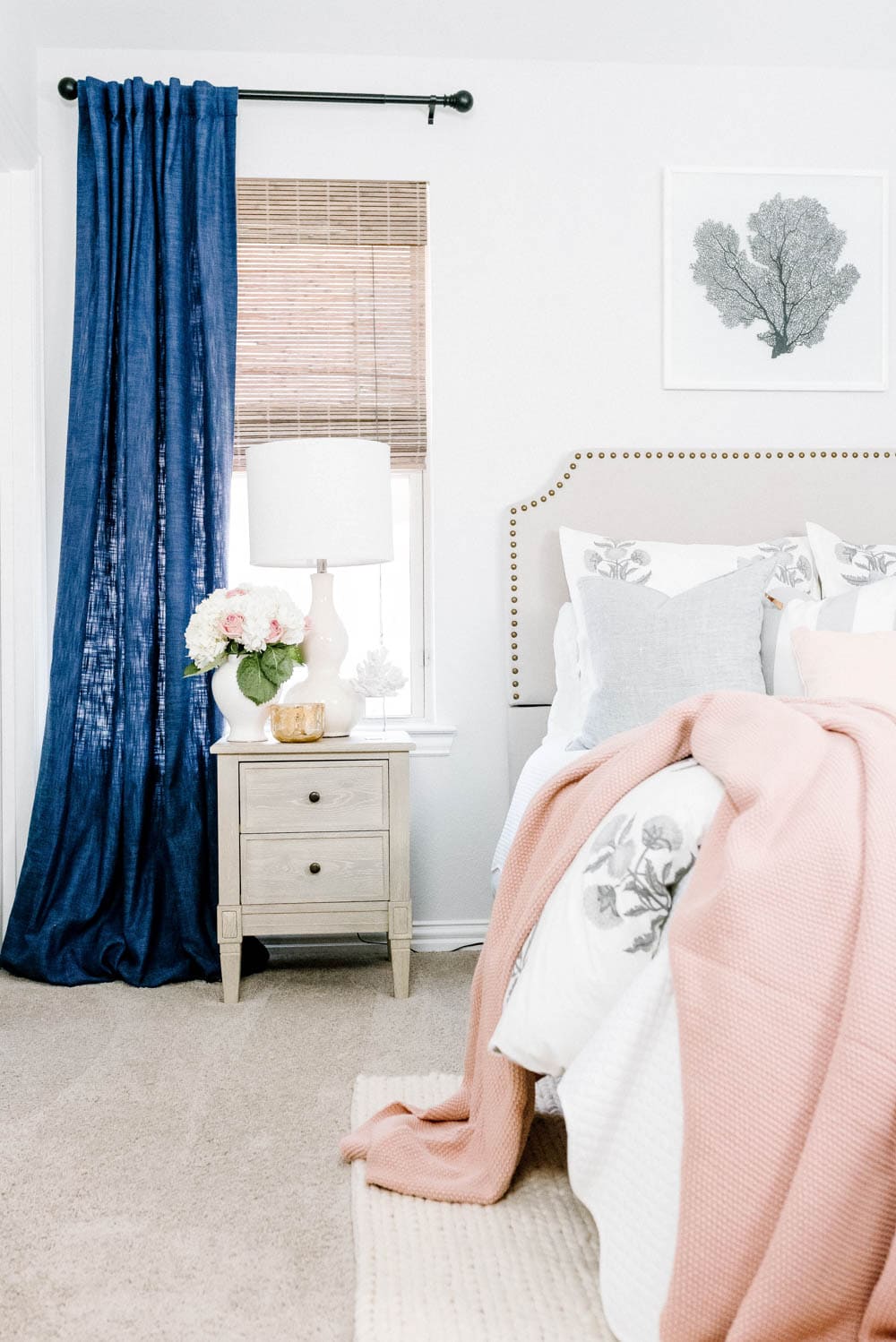 Freshen the space with store-bought flowers.
Especially in the summer months, I like to add fresh flowers from the market.
They are under $10 a bundle and I typically pull the bundles apart and make my own arrangements.
Usually, I have these in the kitchen and living room but it is a little luxury to add them into the bedrooms too.
They smell amazing when you wake up in the morning and really bring life to a space.
This is definitely one of my most favorite tips for a guest bedroom refresh for summer.
I also love to tie the colors of the room into the flowers so they truly complement the space and are soothing to the eye.
I used soft blush-colored roses to match the throw blanket and accent pillows.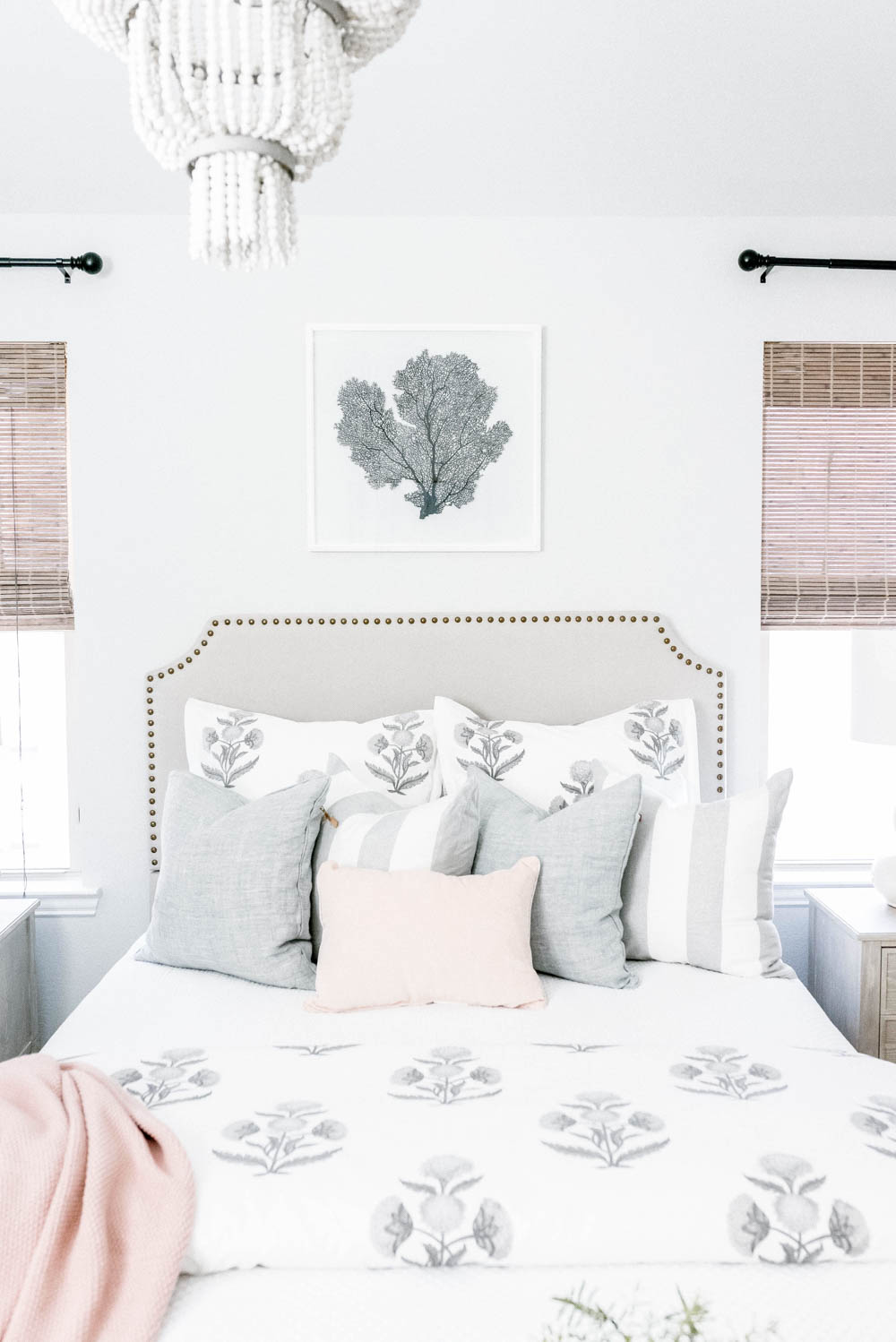 Pick neutral bedding that you can add color to with pillows and blankets.
I typically pick neutral bedding so I can use any accent color I want.
This is a trick of the trade to make a room really transition with the seasons.
I love this soft grey and white bedding and the botanical print just screams summer!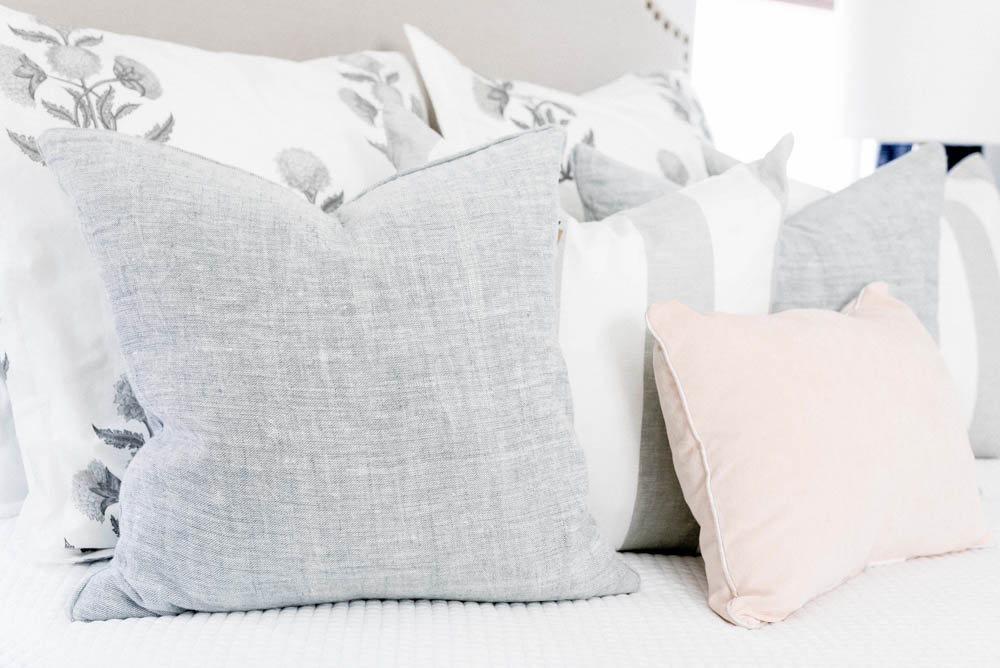 I used these gray-blue pillows to play off of the darker navy drapes.
In this room, those are the drapes that are here year-round.
To make them work in the spring and summer, I use lighter shades of blue.
I also found these pale pink/blush pillows that are super soft.
I used them here and on the chair in this room to pull the color through the space.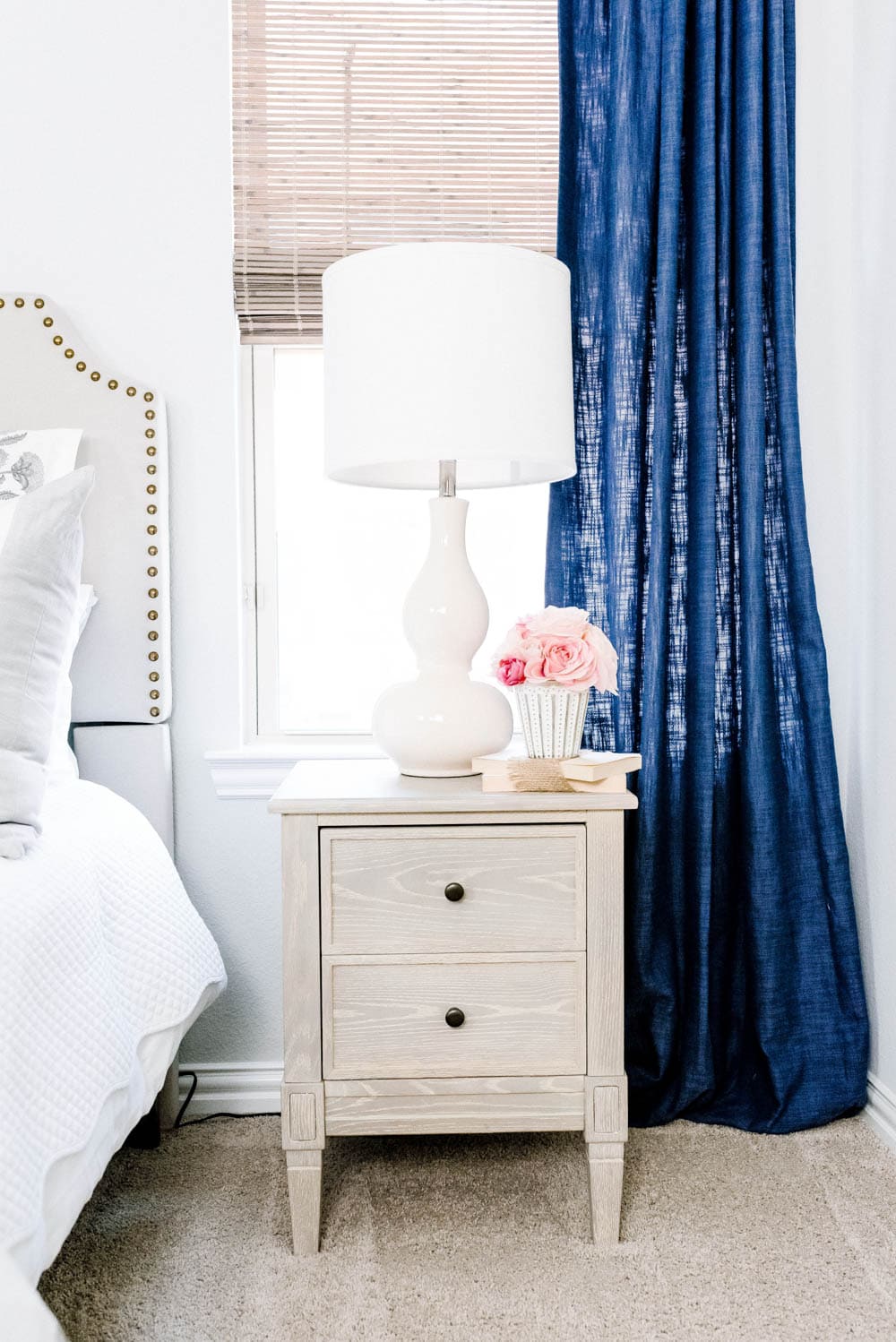 Use vases, old books, and candles for fresh accents.
Some of my favorite pieces to decorate with are candles, books, and vases.
I have a small collection in the attic that I love to pull from.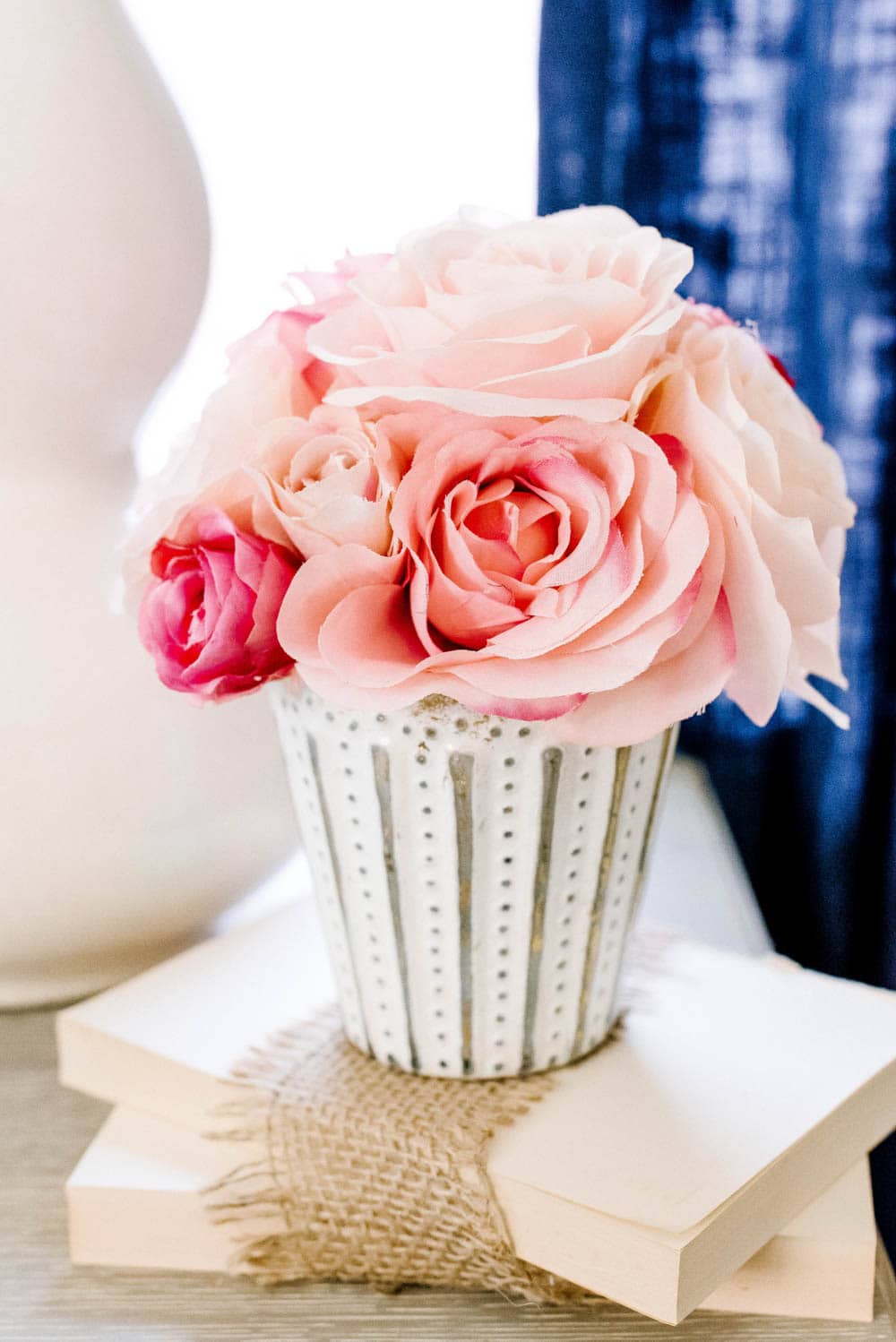 These little votives are currently some of my favorite pieces.
They actually come in larger sizes but I love the votive size so I can make smaller floral arrangements or tuck a little puck candle in them.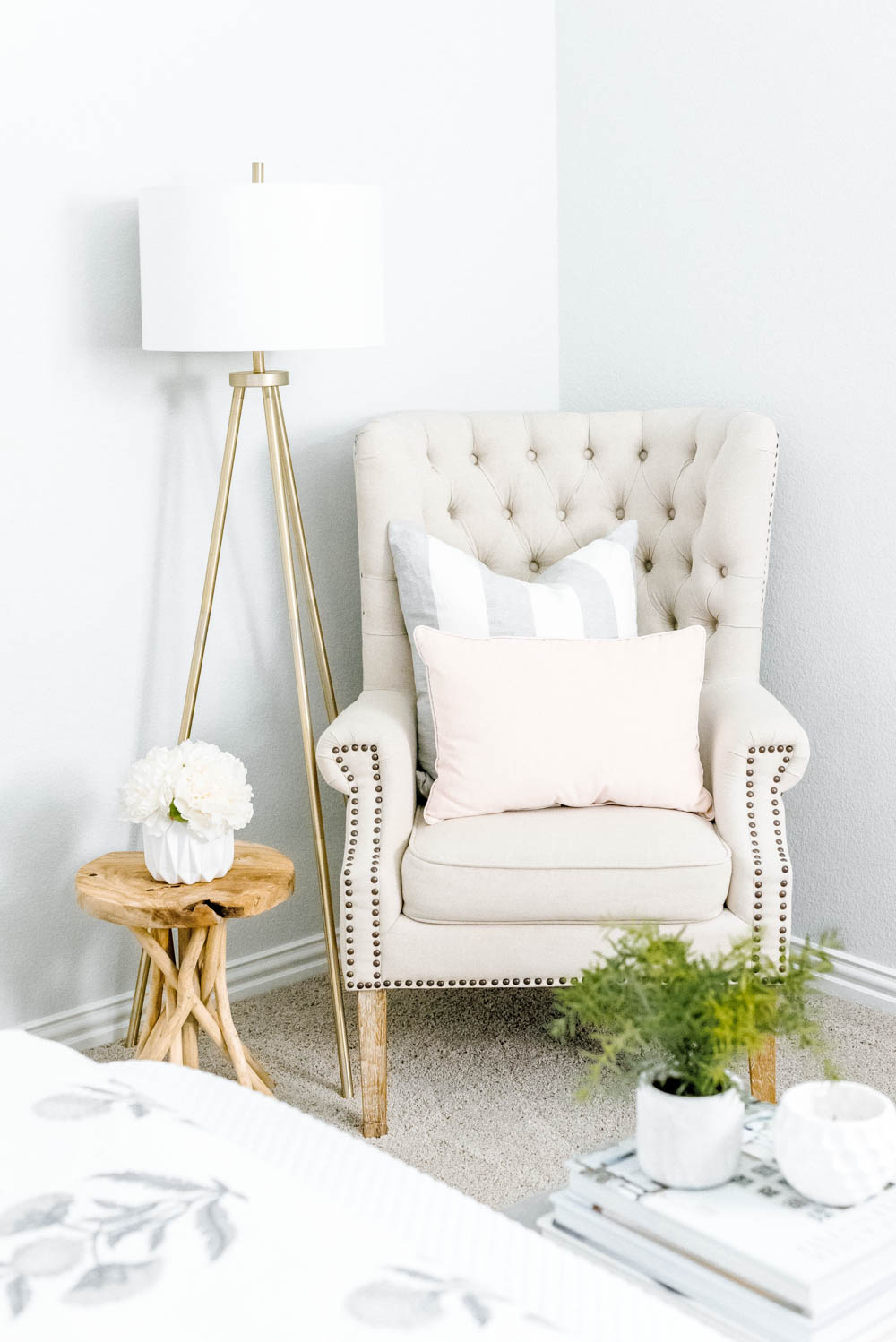 Update throw pillows to match your summer palette.
As I mentioned above, these pink/blush pillows are the softest!
This is truly the easiest way to pull a fresh new color palette into a room.
I look in my pillow closet (ugh yes I have one!) first, otherwise I shop at Homegoods, At Home, and other places like that for inexpensive pillow accents.
I do typically get more of my staple pillows from places like Serena & Lily but those I use year-round and have them out all the time.
I just rotate the rooms they are in. That way I can justify their more expensive price tag.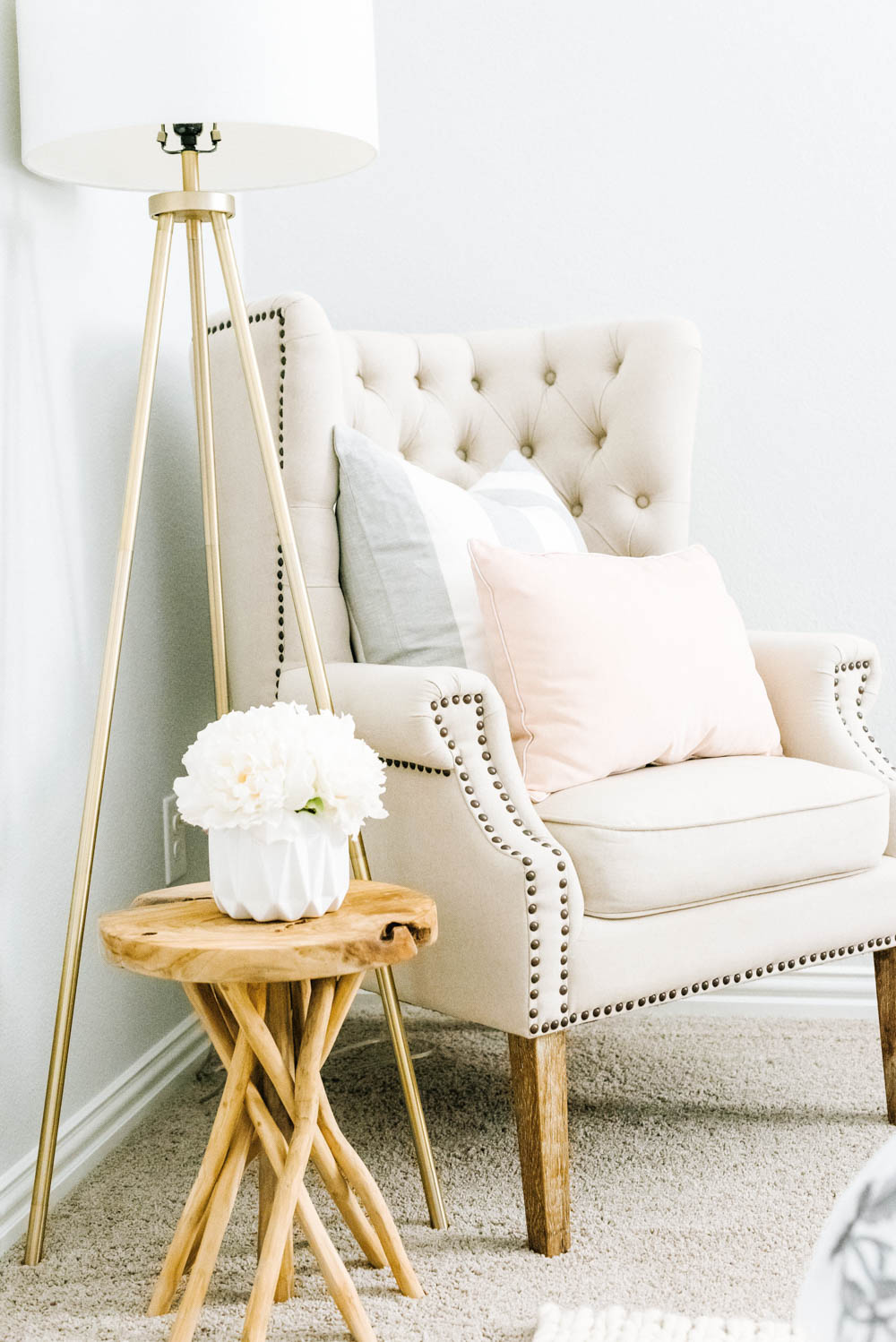 This little seating spot is one of my favorites.
It is such a comfortable chair and I think it is important to give guests a nice upholstered chair to use when they are in your home.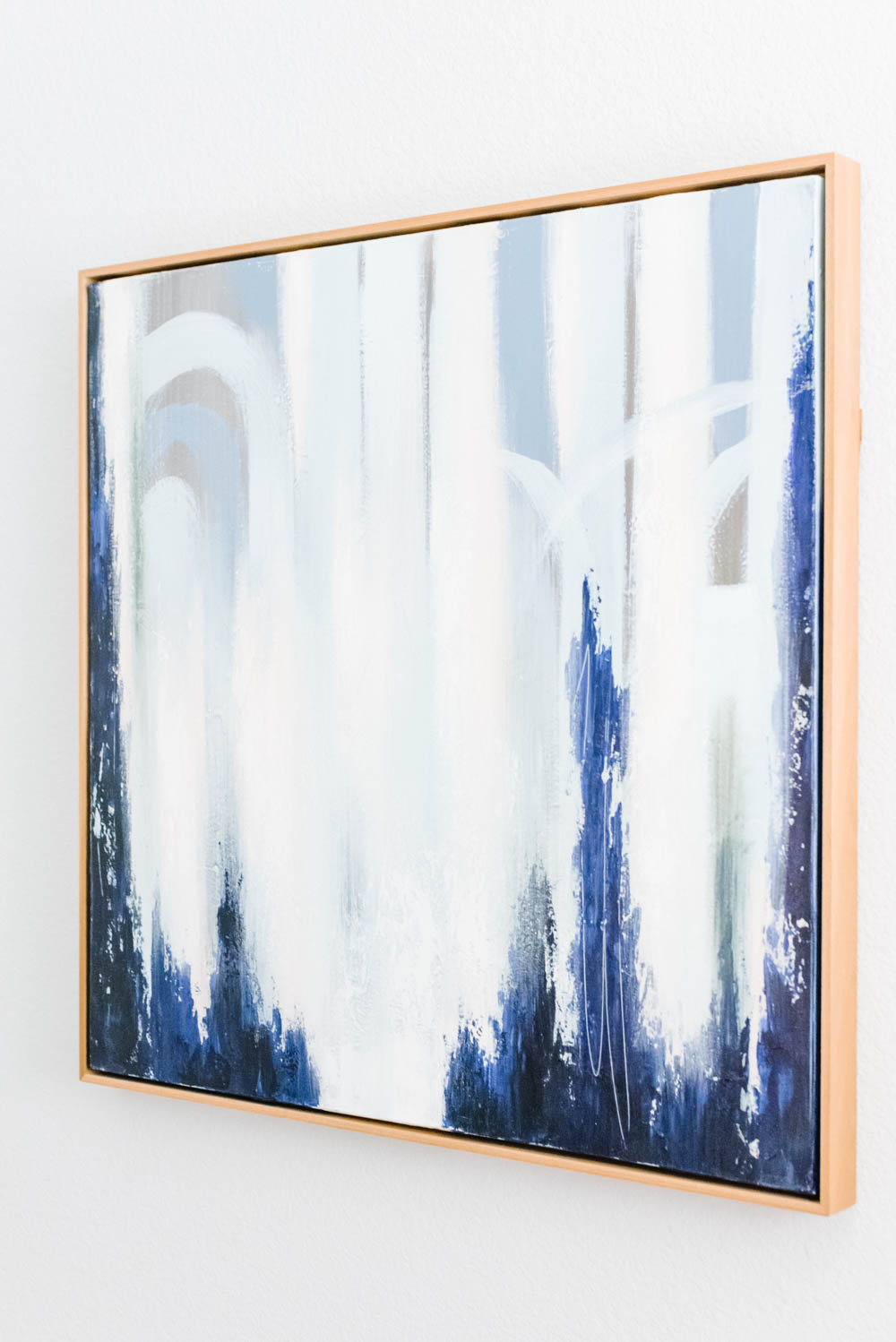 This artwork is on the opposite wall of the drapes and as you can see pulls the navy through the space.
I think it is important to use your base color in multiple spots in the room to make it ground the space.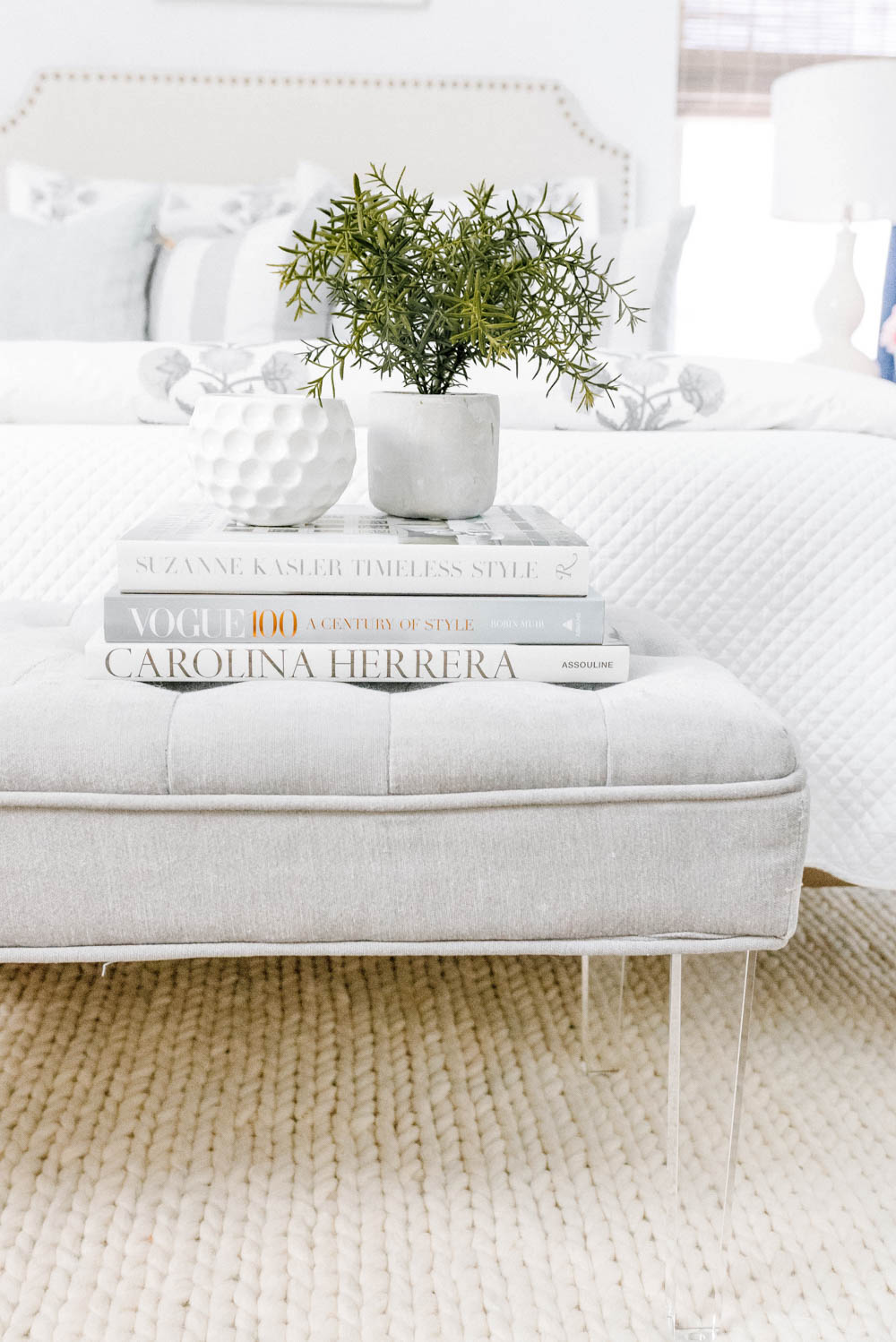 Update books to reflect the season.
I used to have this bench under the mirror on the wall, and have moved to the end of the bed to switch things up a bit.
So I have added some pretty books that I think my guests would enjoy looking at.
I think it is a fun way to share your interests with guests that stay with you.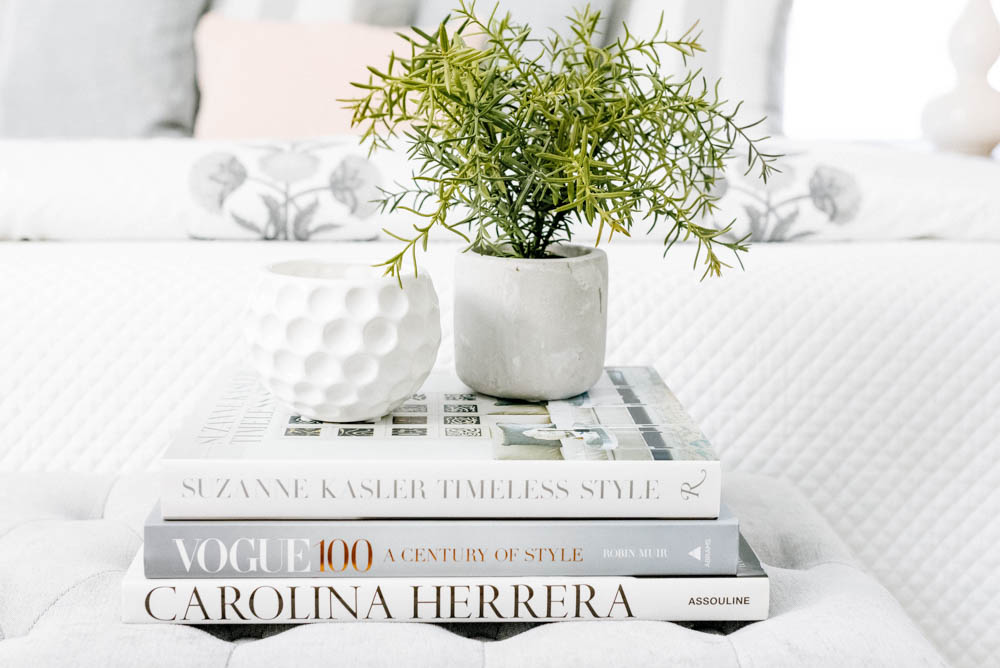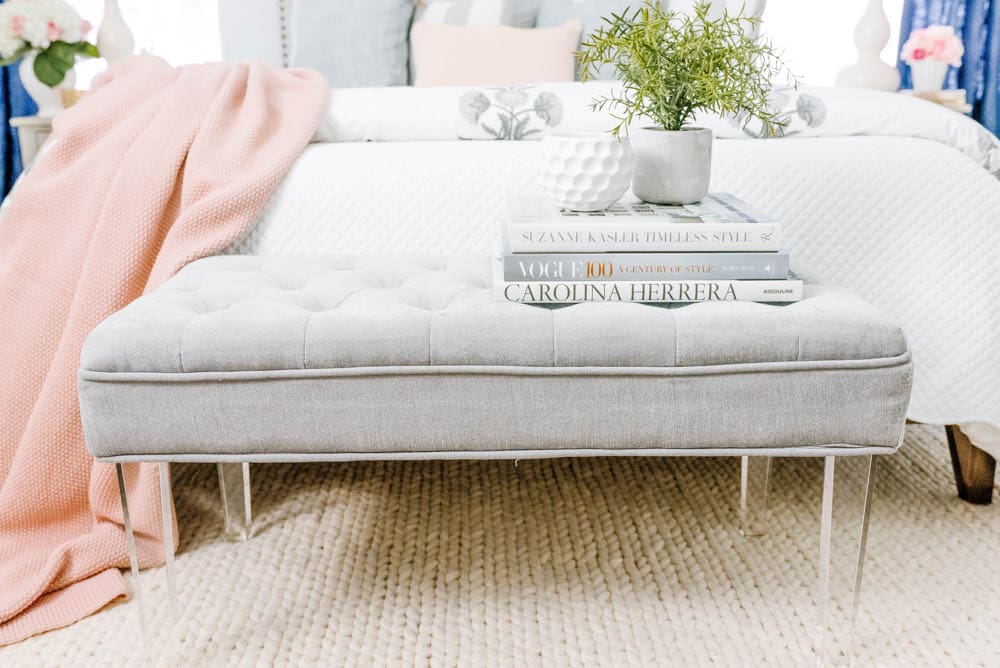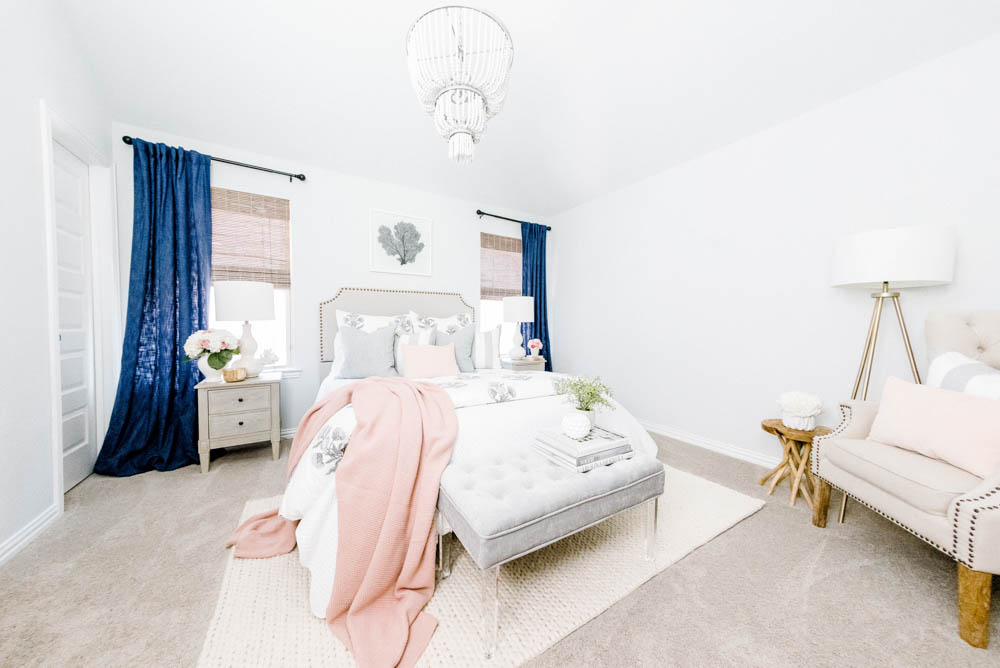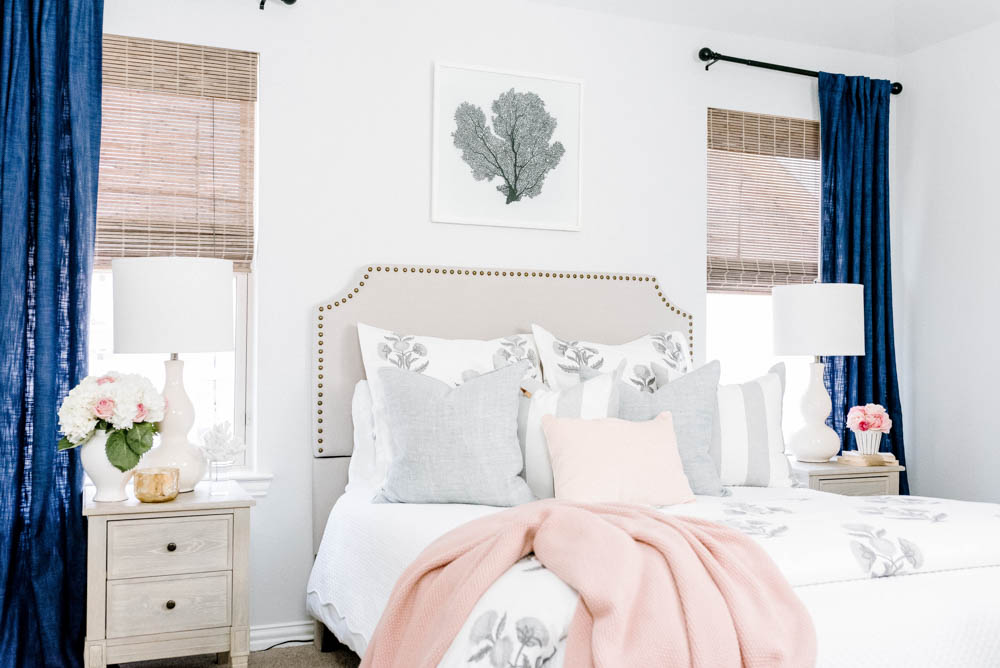 I love this space so much that I might have to crash this space and stay in here soon so I can enjoy it!
I hope you have some fun and easy ideas to now for some summer decor and to update your bedroom or guest bedroom for the summer months.




*Photography by Audrie Dollins