Summer Home Tour + Simple and Fresh Summer Living Room Decor
Happy summer home tour day!!
I am so excited to share my simple and fresh summer living room decor with you!
We finished building our home last year after living in Texas for the last few years and found a property with a little lake in the back.
You can read more about our building process HERE.
We picked this location because I am such a water person and grew up at the beach.
I absolutely love having the lake in our backyard!
Today, I am going to share with you my refreshed living room for summer.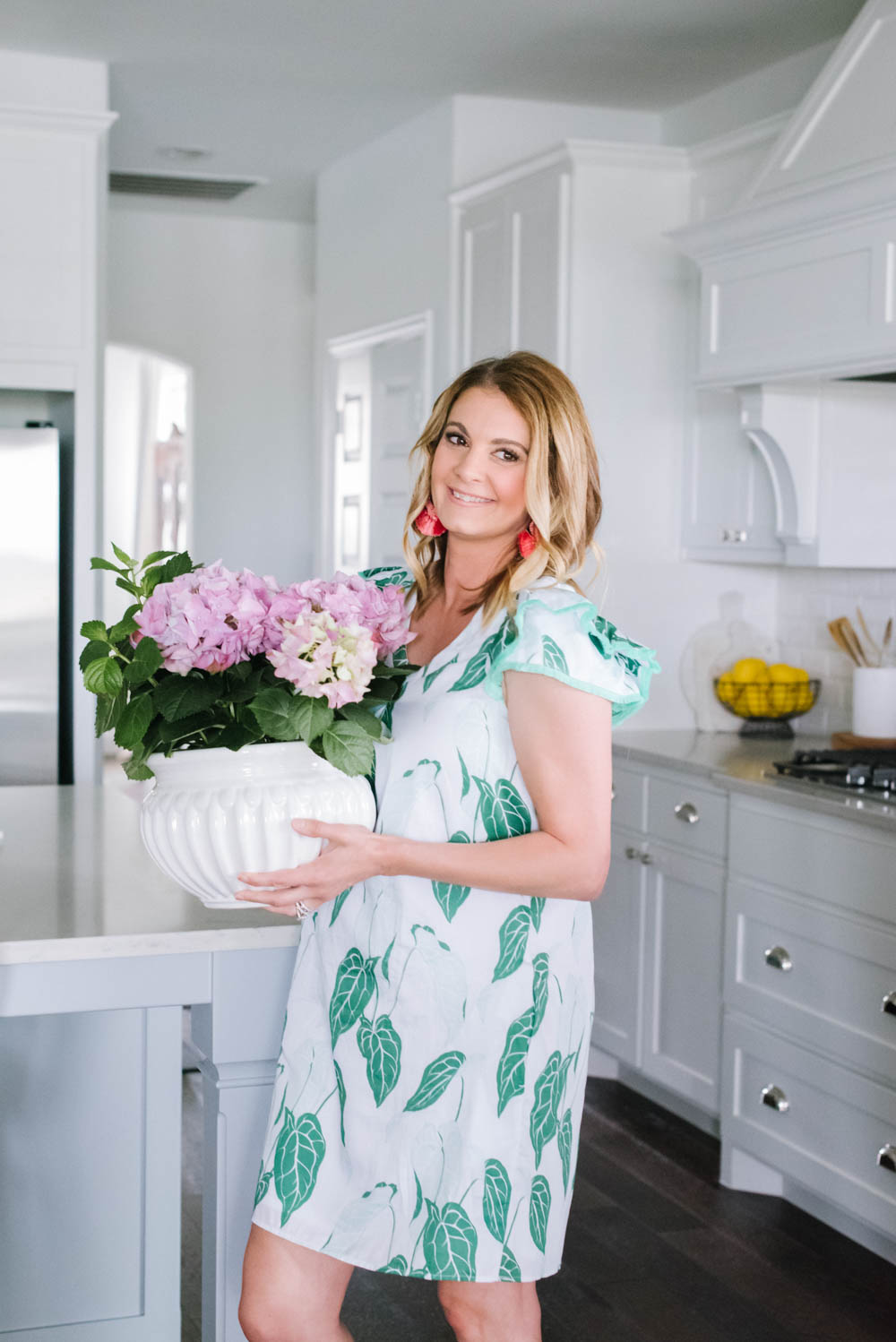 This post contains some affiliate links for your convenience. Click here to read my full disclosure policy.
Just to the left are large windows that look out to the lake.
We have a corner fireplace and a vaulted ceiling in this space.
I recently updated the builder-grade lighting to this large iron chandelier and it made a drastic difference to the room.
The light is over 48 inches wide so if you have a tall ceiling like mine then this is a perfect fit.
Also recently I painted the fireplace this gorgeous blue/gray color.
I wanted something a little different but still coastal feeling.
You can grab all the paint and building sources for our home HERE.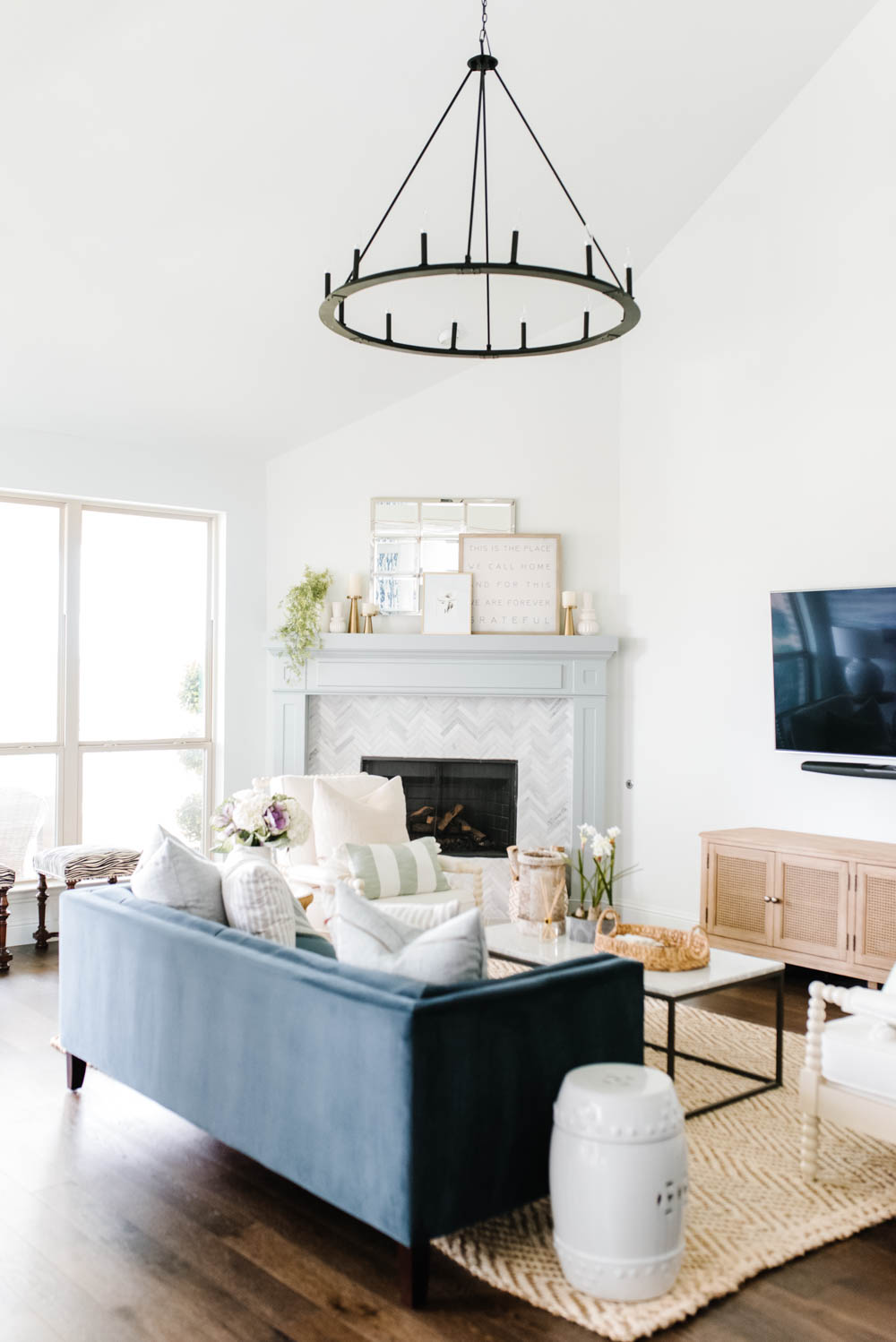 The soft subtle color of the fireplace is so pretty with our rich navy blue sofa.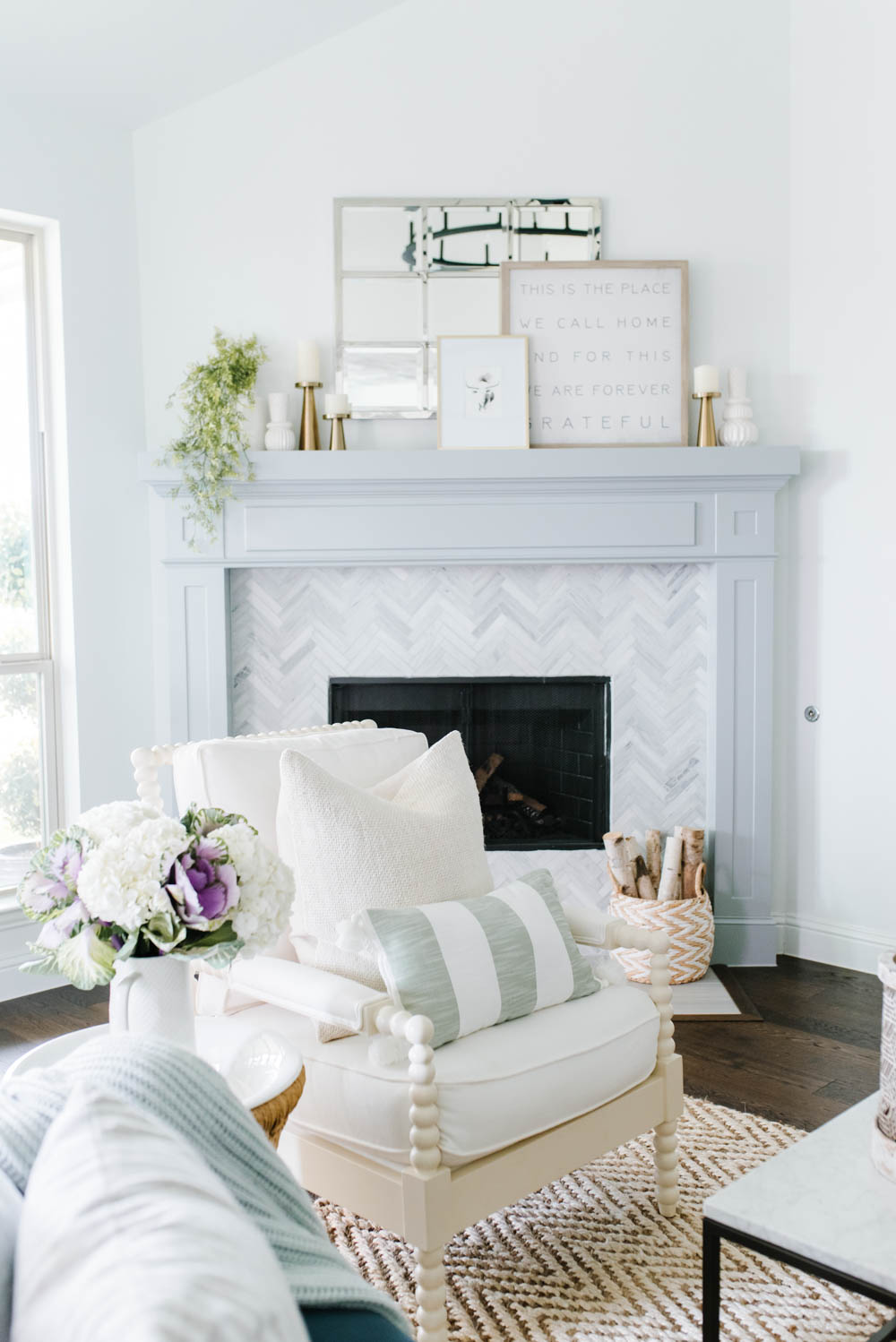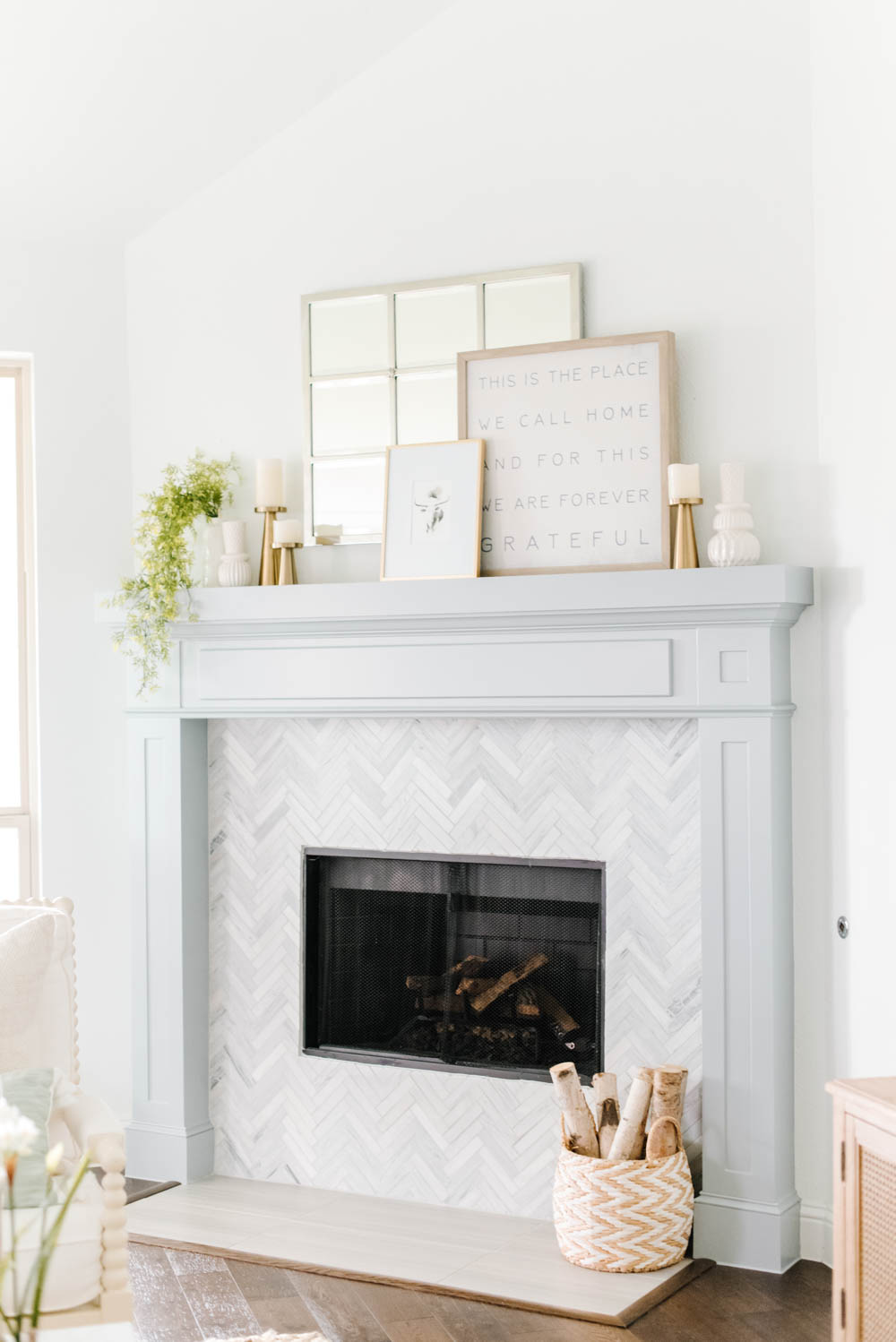 This summer I layered some of my favorite pieces on the mantle for a more eclectic look.
I have had this mirror since we moved in but added in a typography sign I picked up at Hobby Lobby and some art.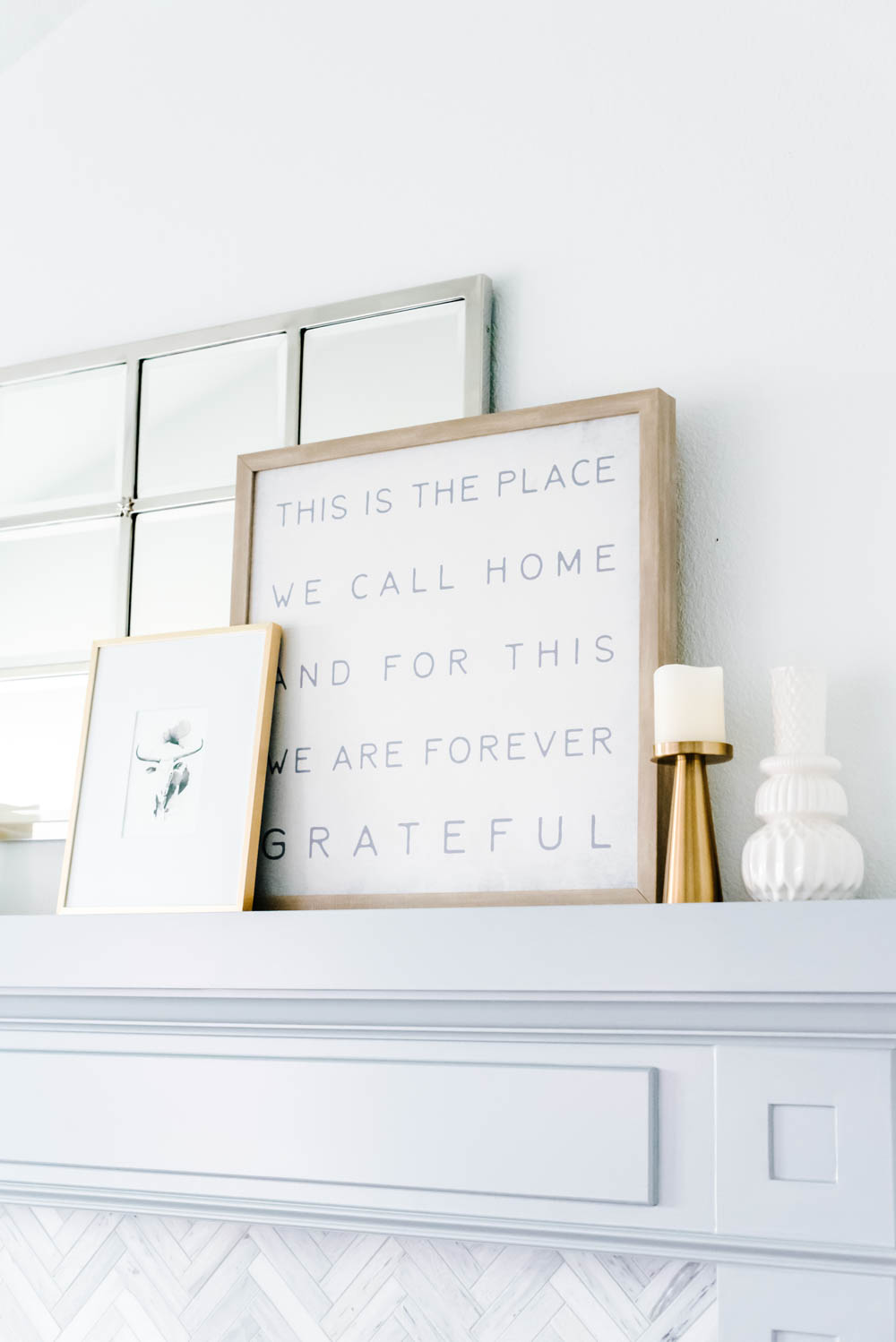 I used a few gold candlesticks with a mix of white vases.
It is simple yet feels fresh and modern.
I used some faux greenery to add a little warmth to one of the vases too.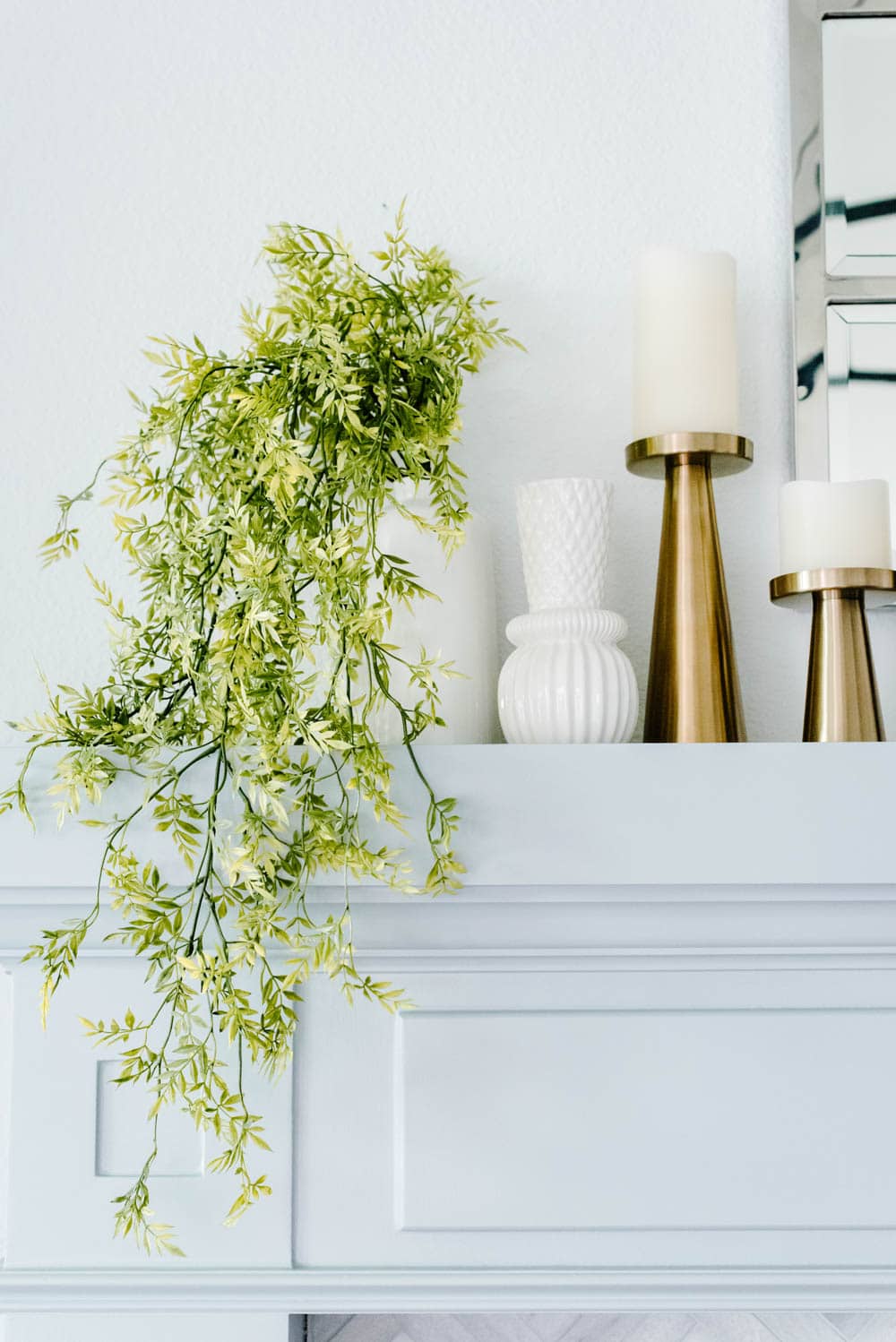 I love my birch logs from the winter and just used a different basket that felt more summery to place them in.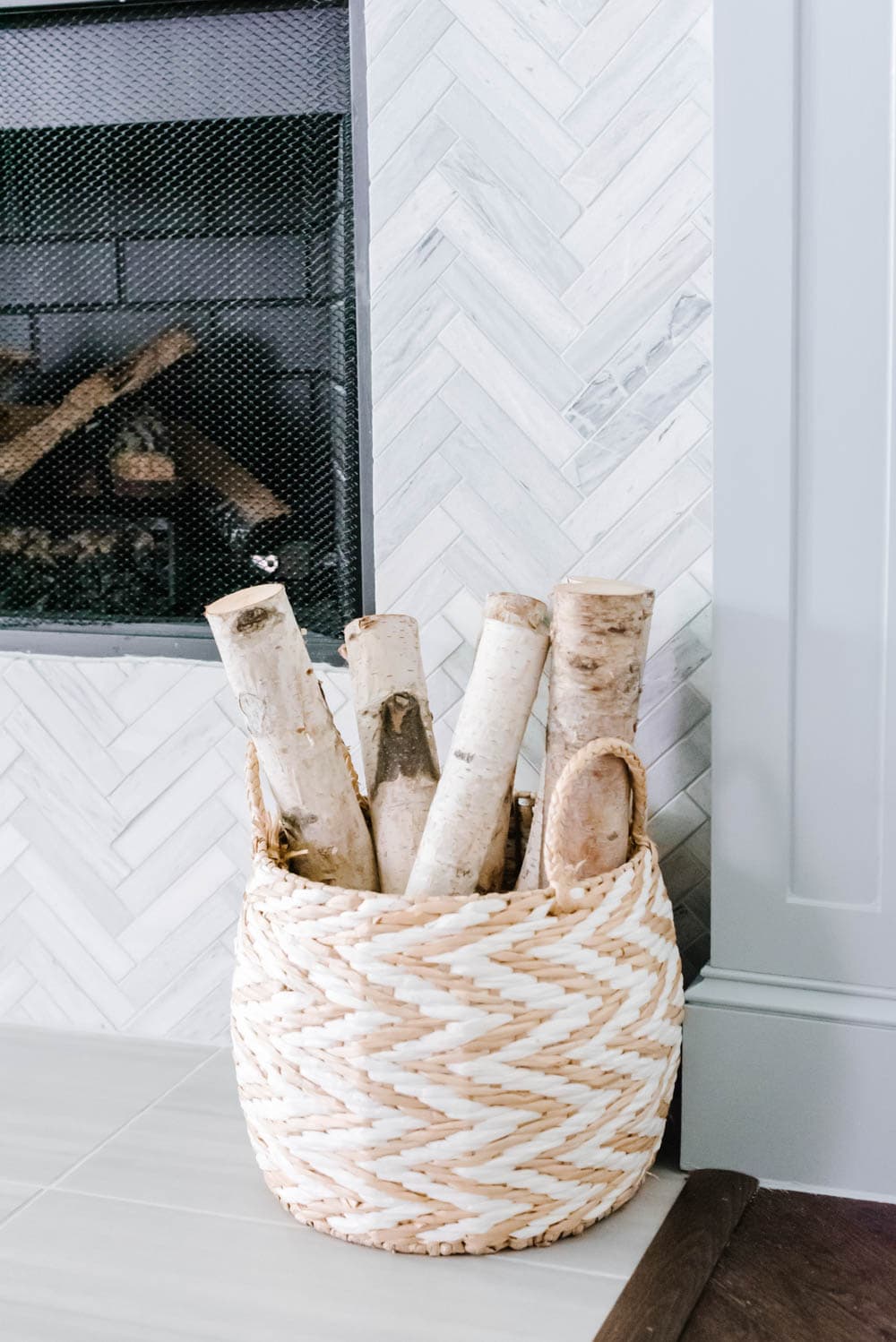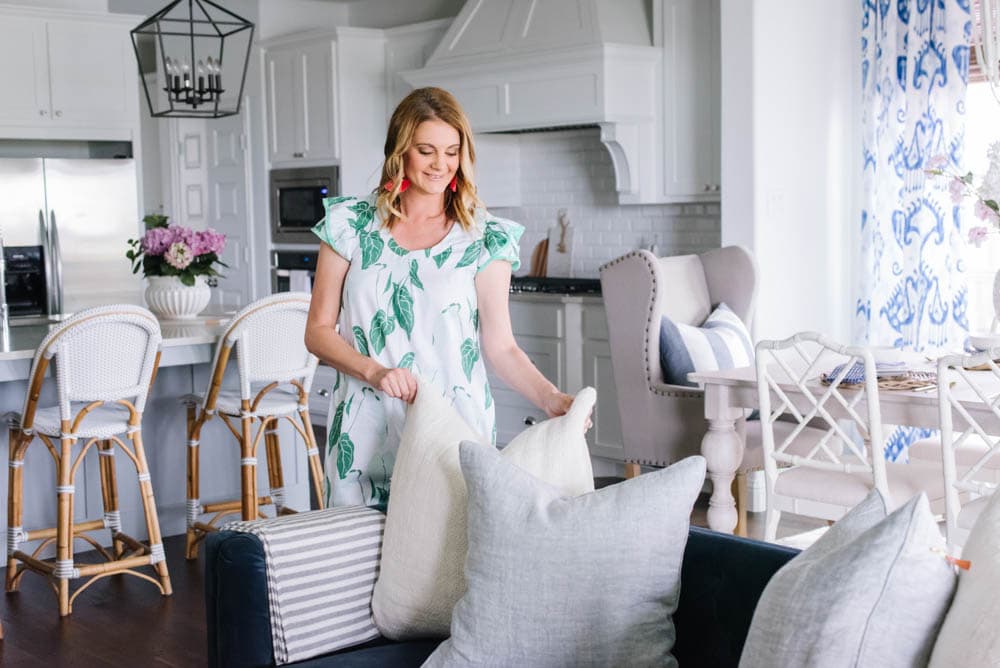 One of my favorite ways to update a space for the season is with pillows.
I love these soft green and white striped lumbar pillows with tassels!
They come in a larger square pillow size too but the lumbar size is so perfect for our spindle chairs.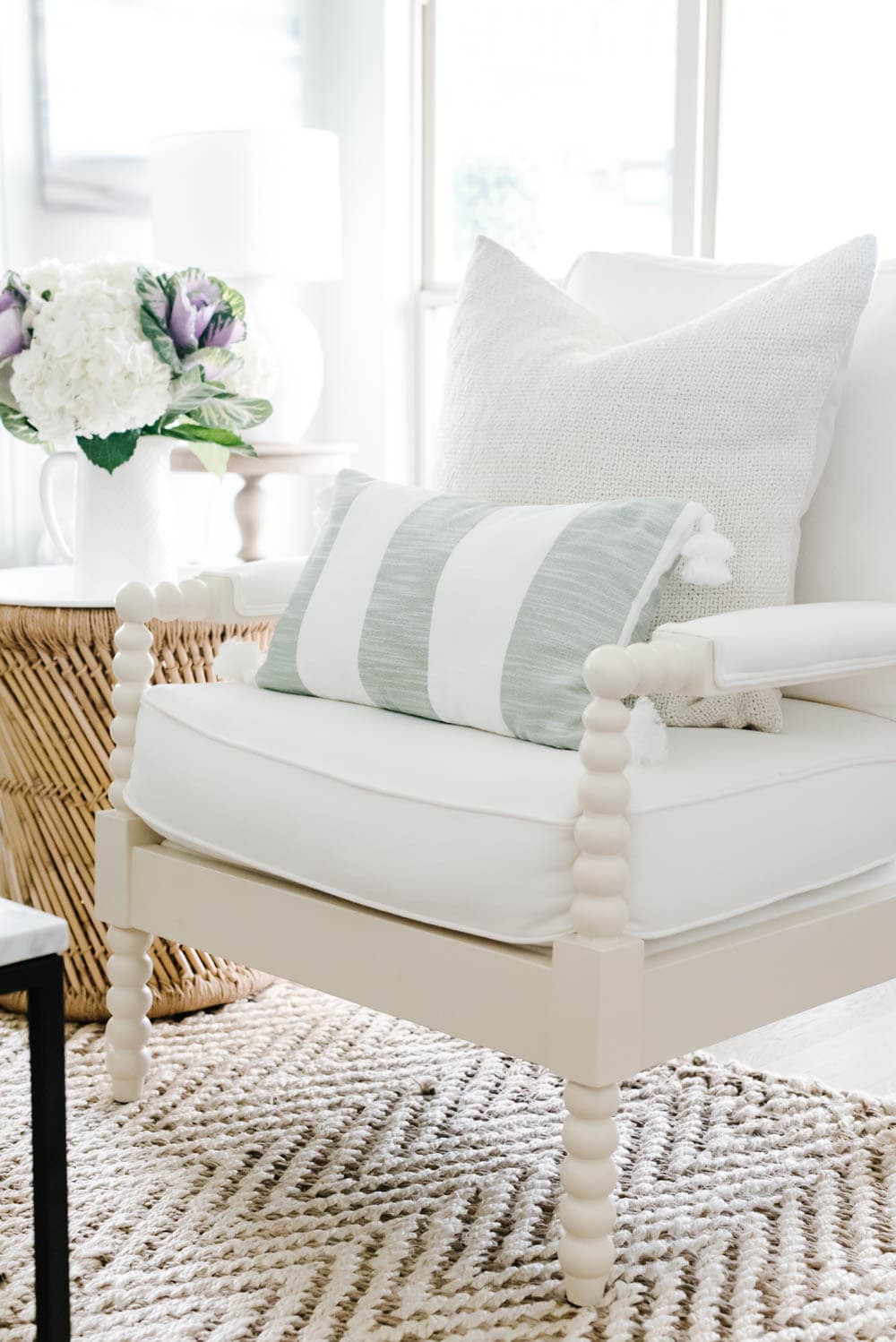 I also recently got this little bamboo side table.
It has a melamine top so it is easy to wipe down.
I just love the texture it gives to my blue and white space.
I grabbed some fresh hydrangeas and cabbage stems from my local grocery store for an inexpensive floral arrangement.
This is one of my absolute favorite things to have in the house during the spring and summer months!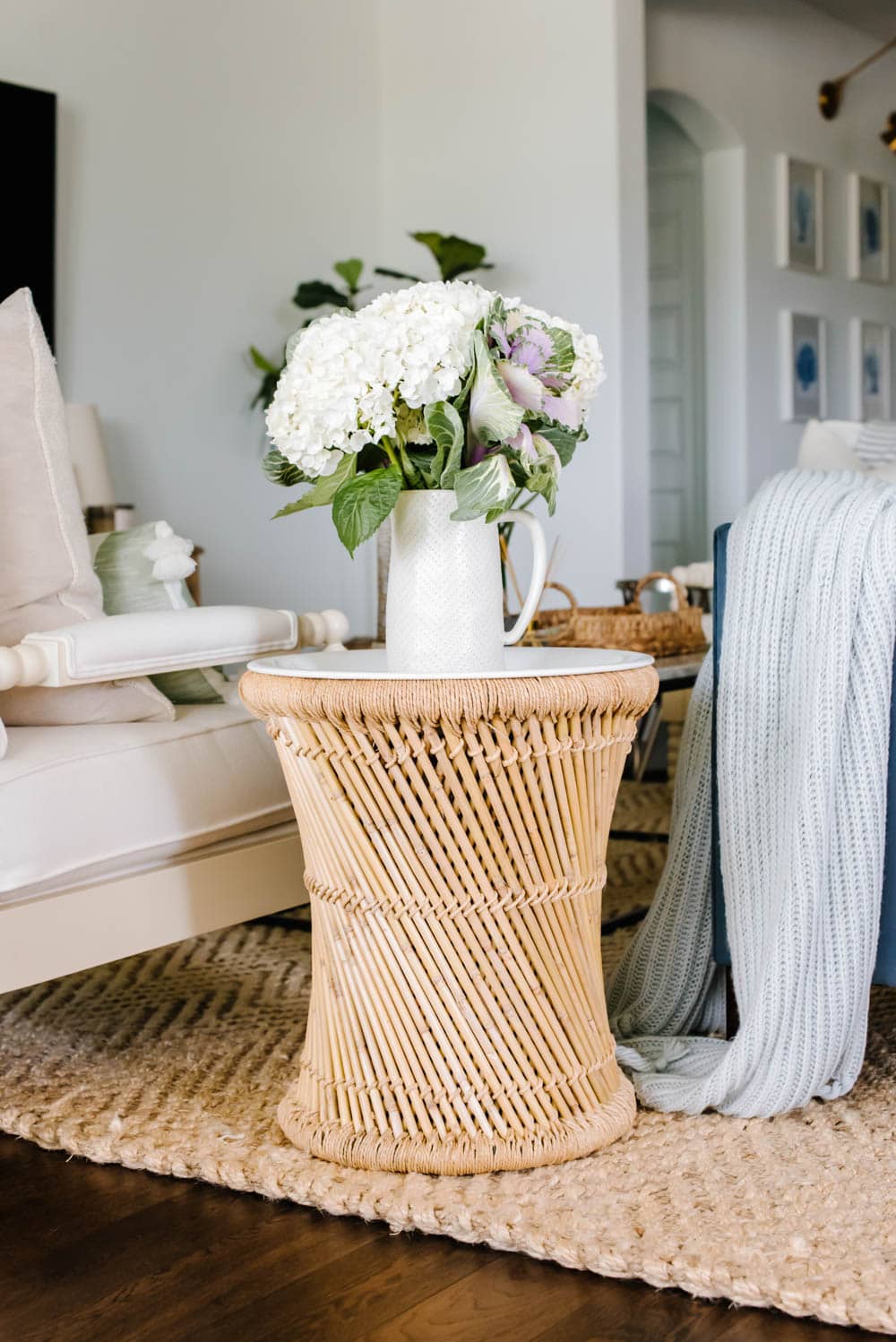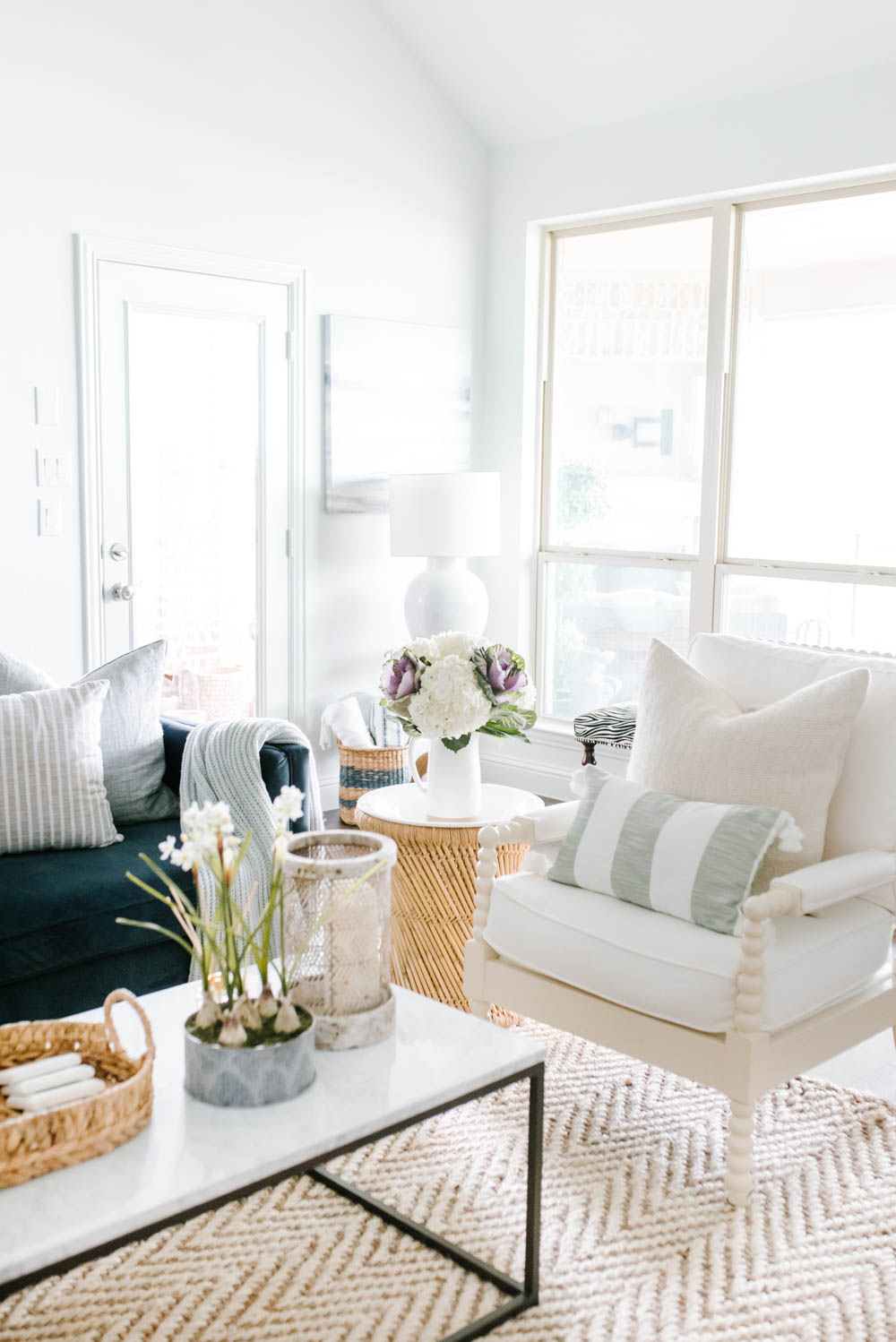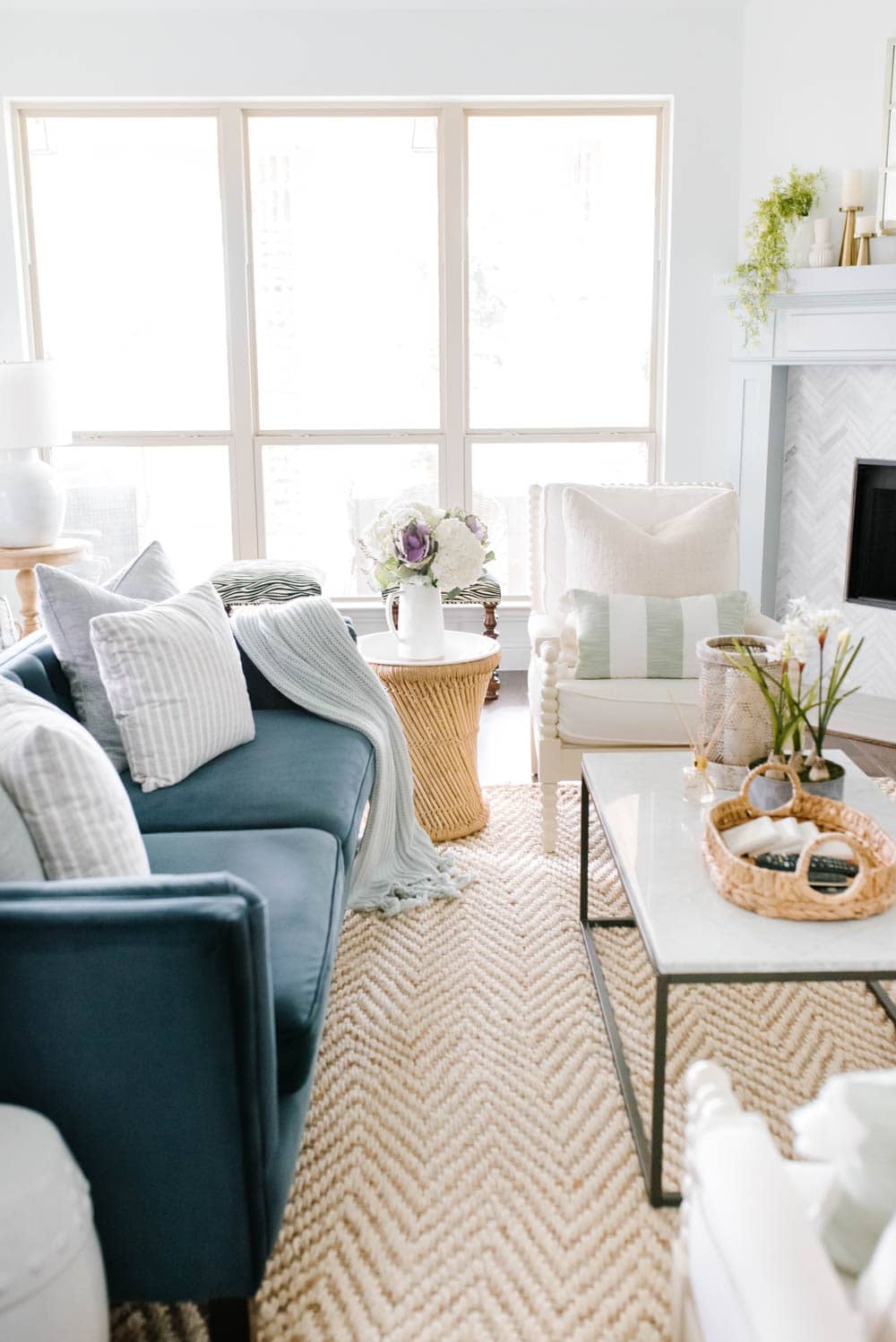 My coffee table decor is rather simple this summer.
I used an antique lantern with a candle inside, my faux paperwhite flowers, and my new favorite diffuser clustered next to my hyacinth basket (similar) of remotes and current magazines I am reading.
I also have on hand some white marble coasters.
I am not one to hide my remotes because we really use this room and watch tv every night as a family here.
I truly believe in spaces being functional and not just beautiful.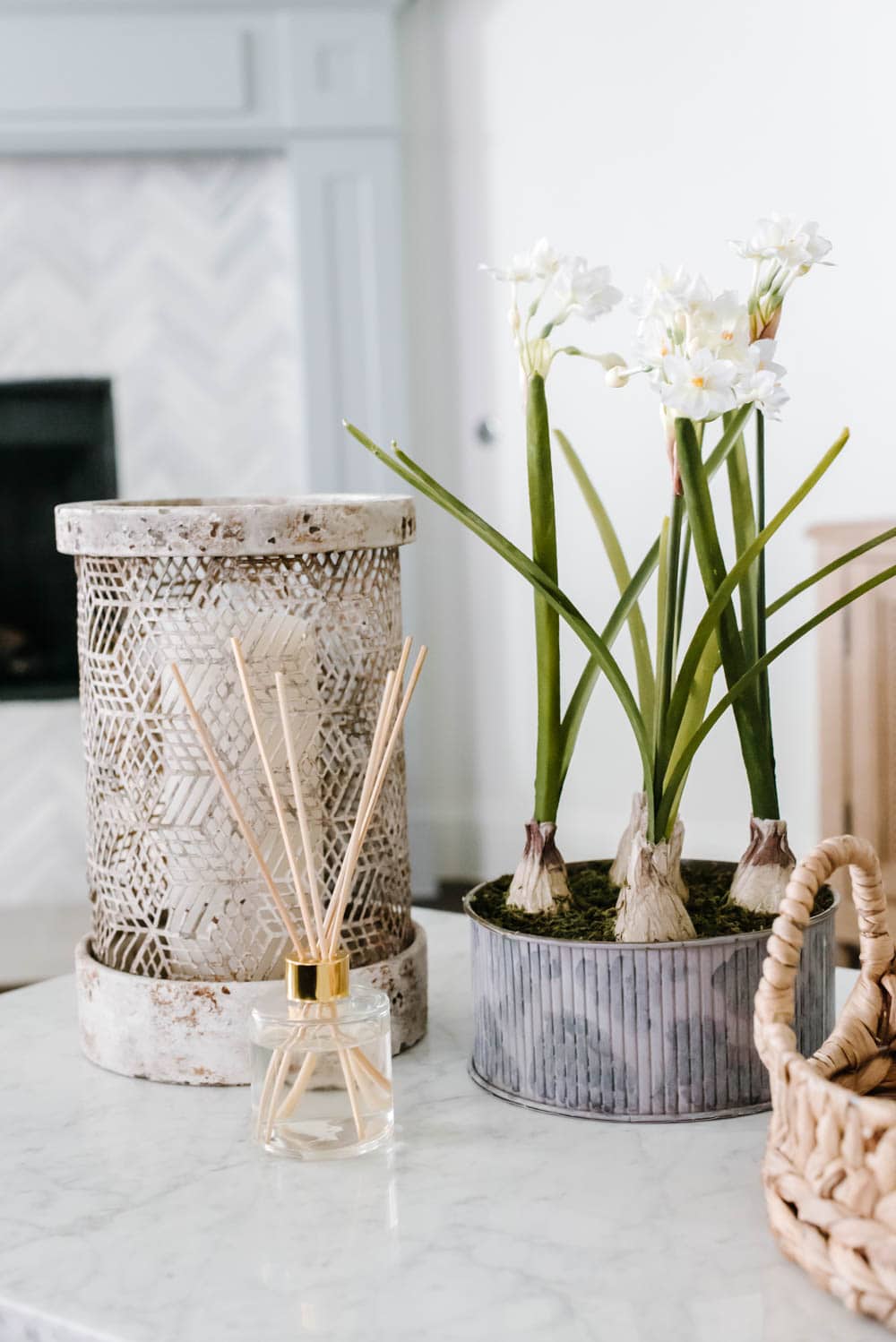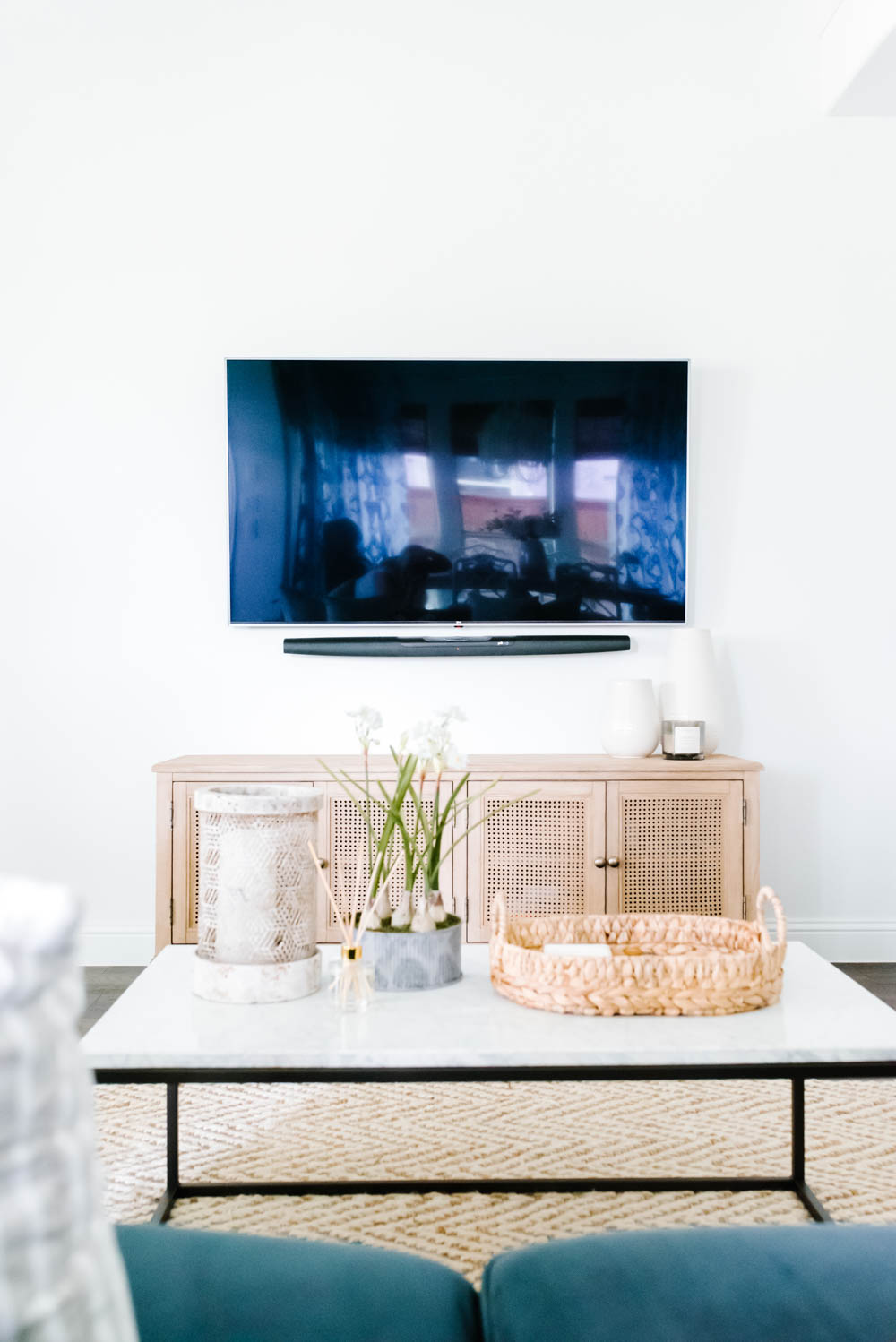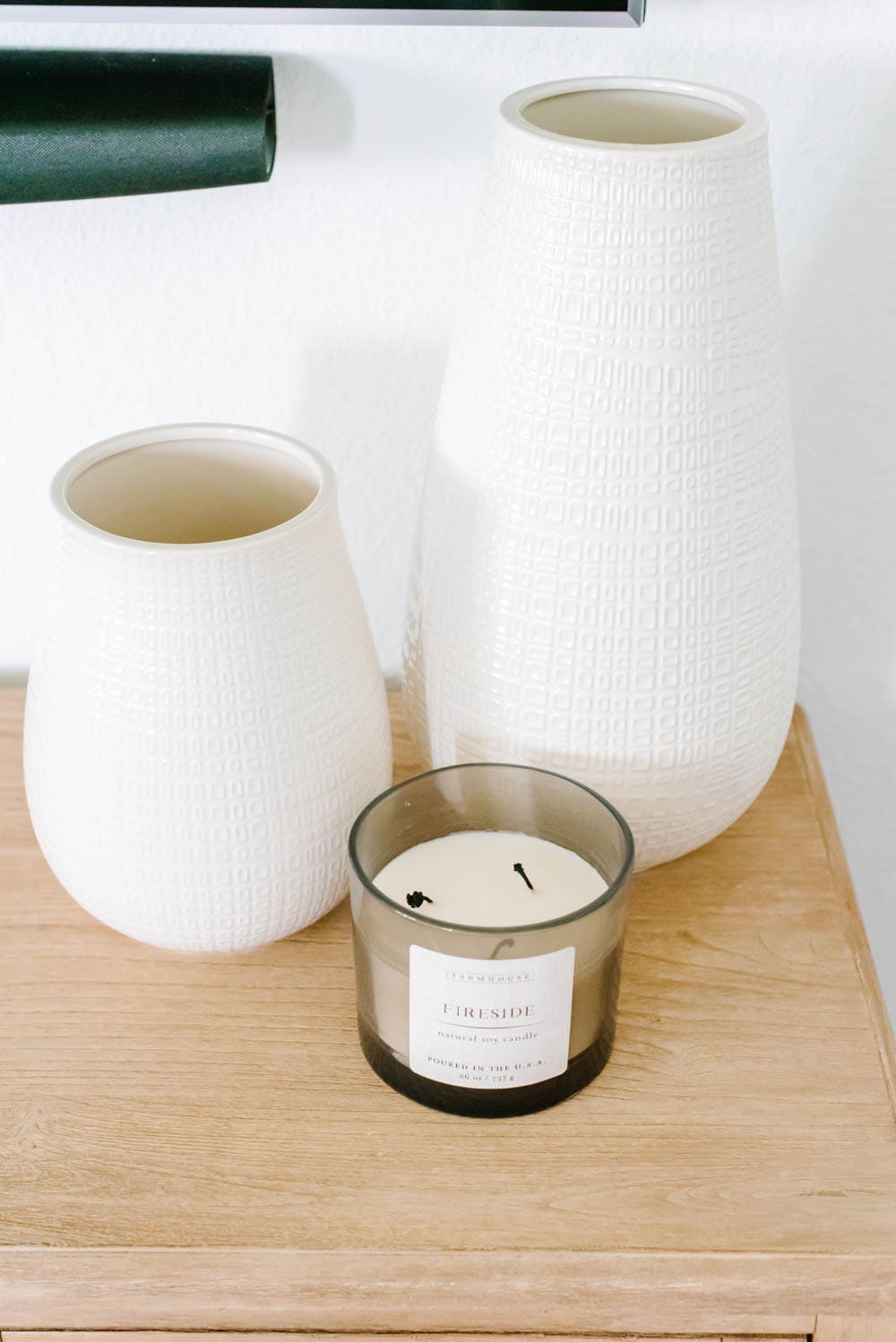 By nature, I am always cold. It is a joke my family says about me all the time.
So I always have on hand lots of blankets.
In the summer months though I switch them out for lighter-weight ones.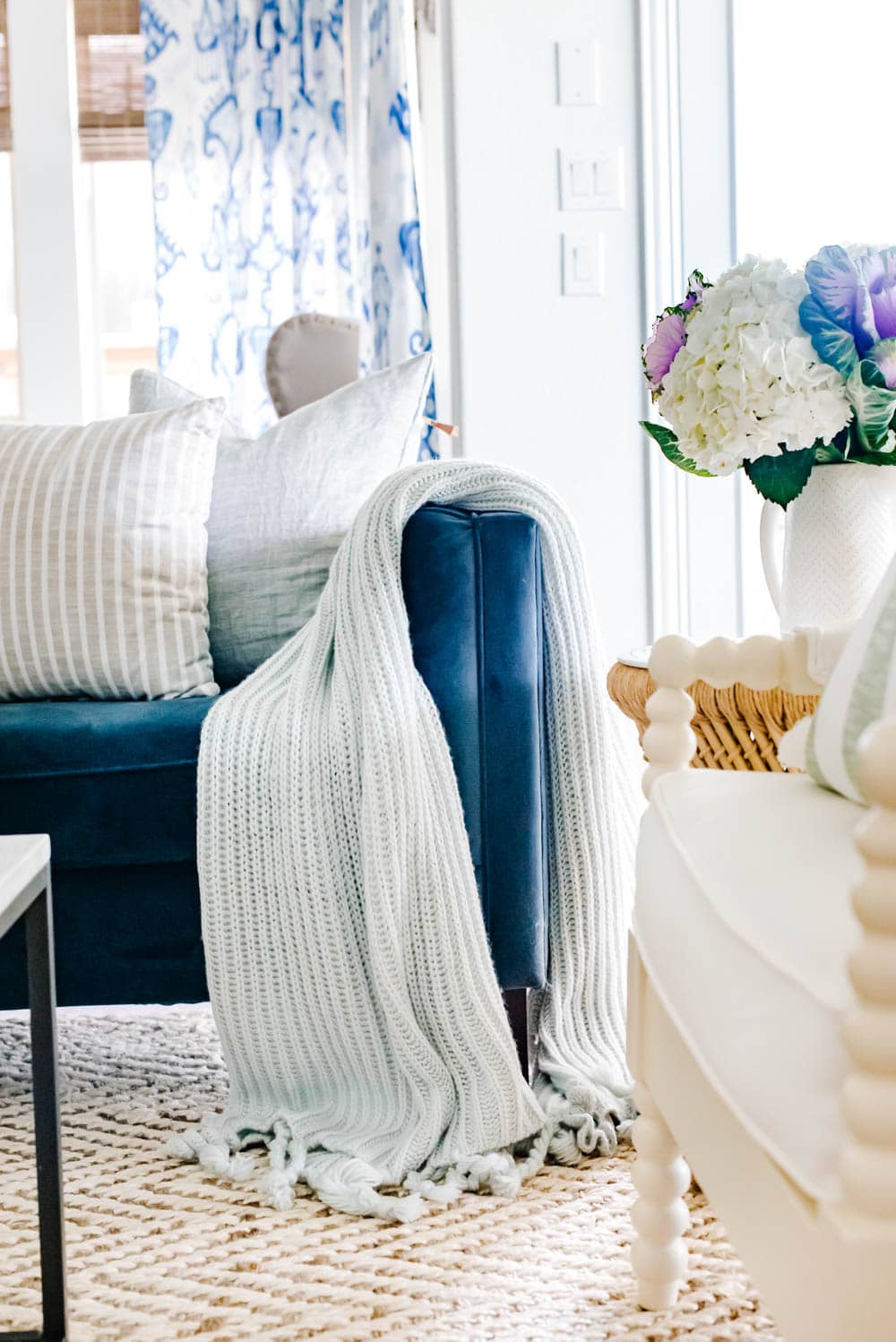 I drape them over the arm of my sofa or fold them up and lay them on the back of my chairs.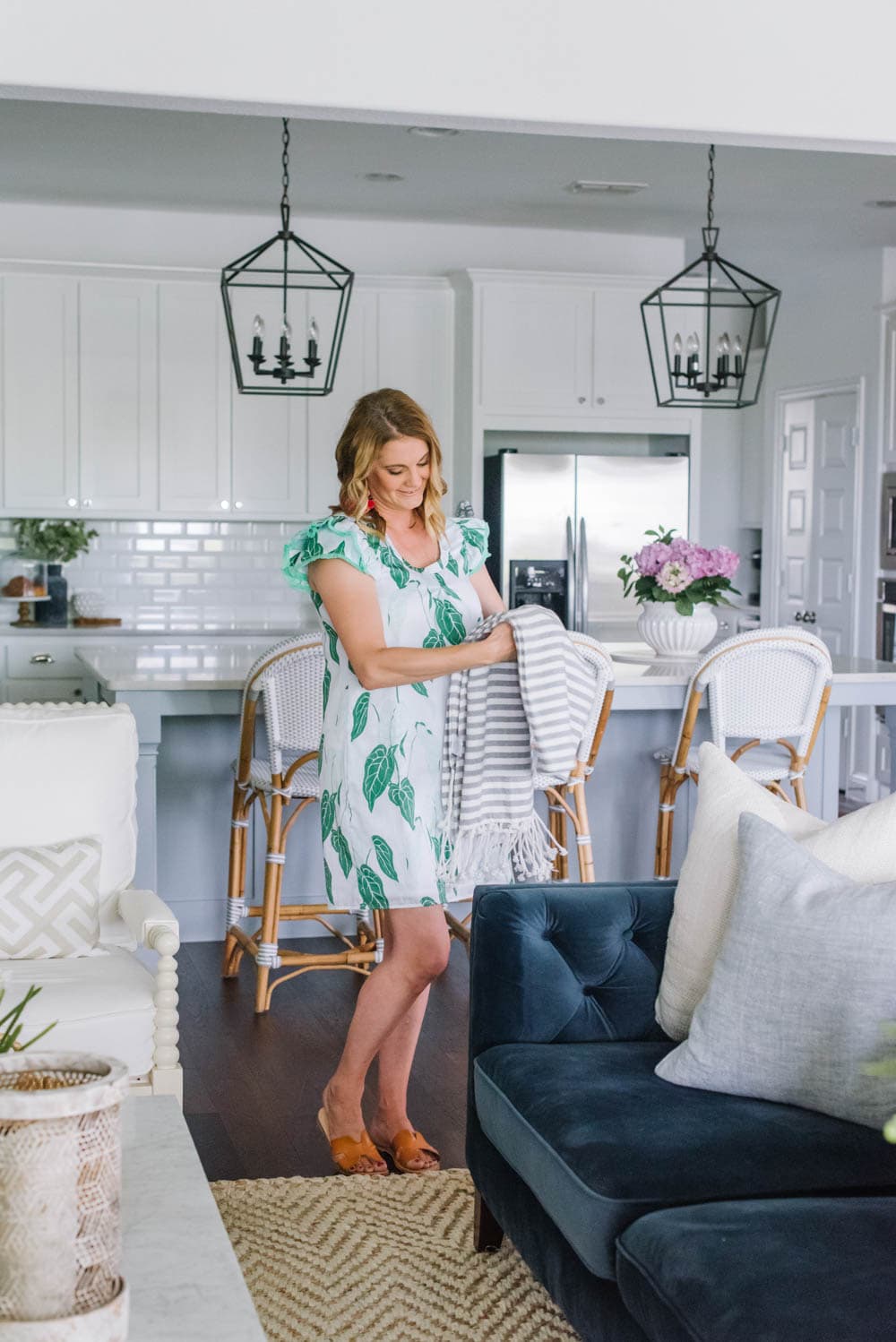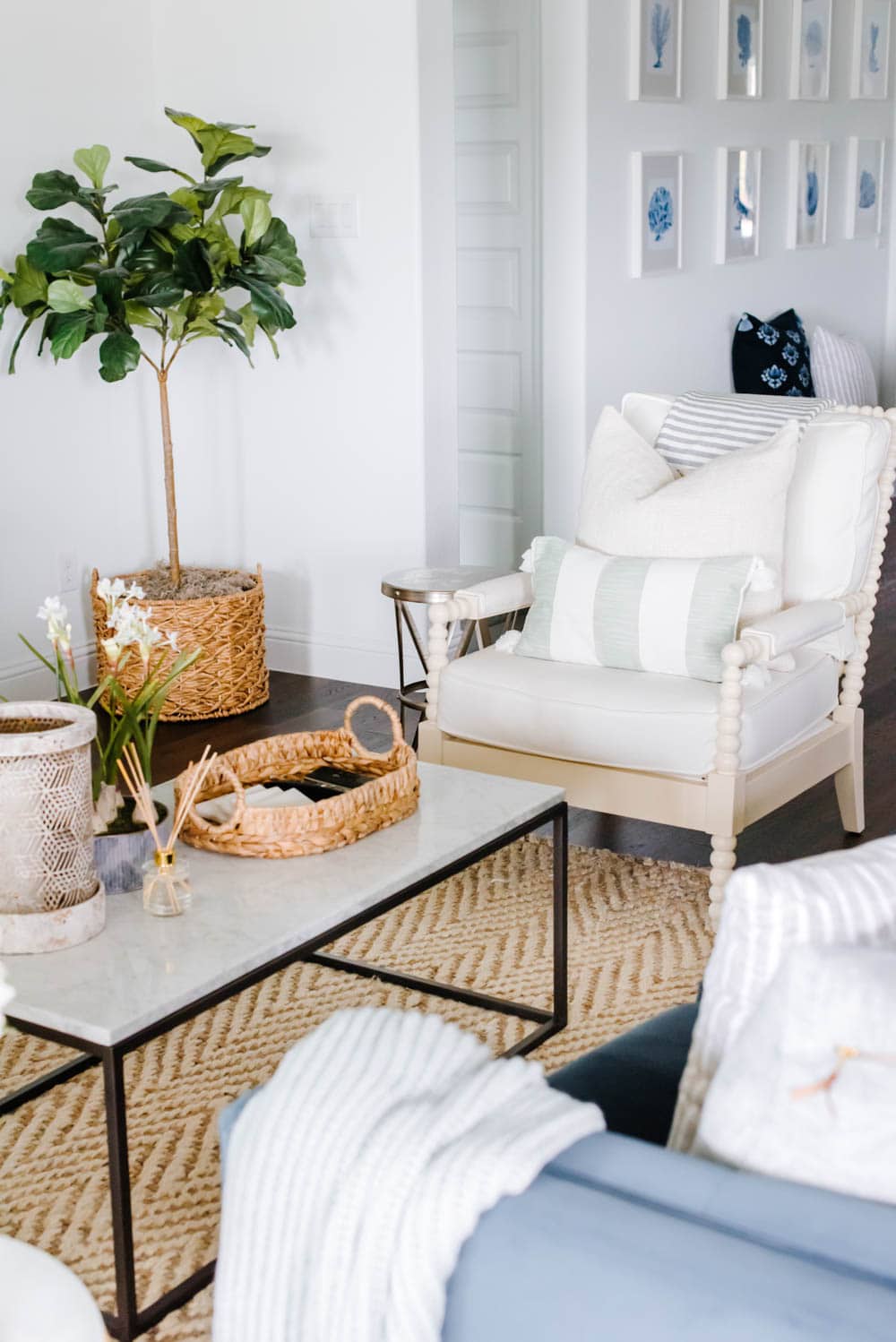 I also have a basket by the back door filled with them so I can easily grab one for summer nights on the patio.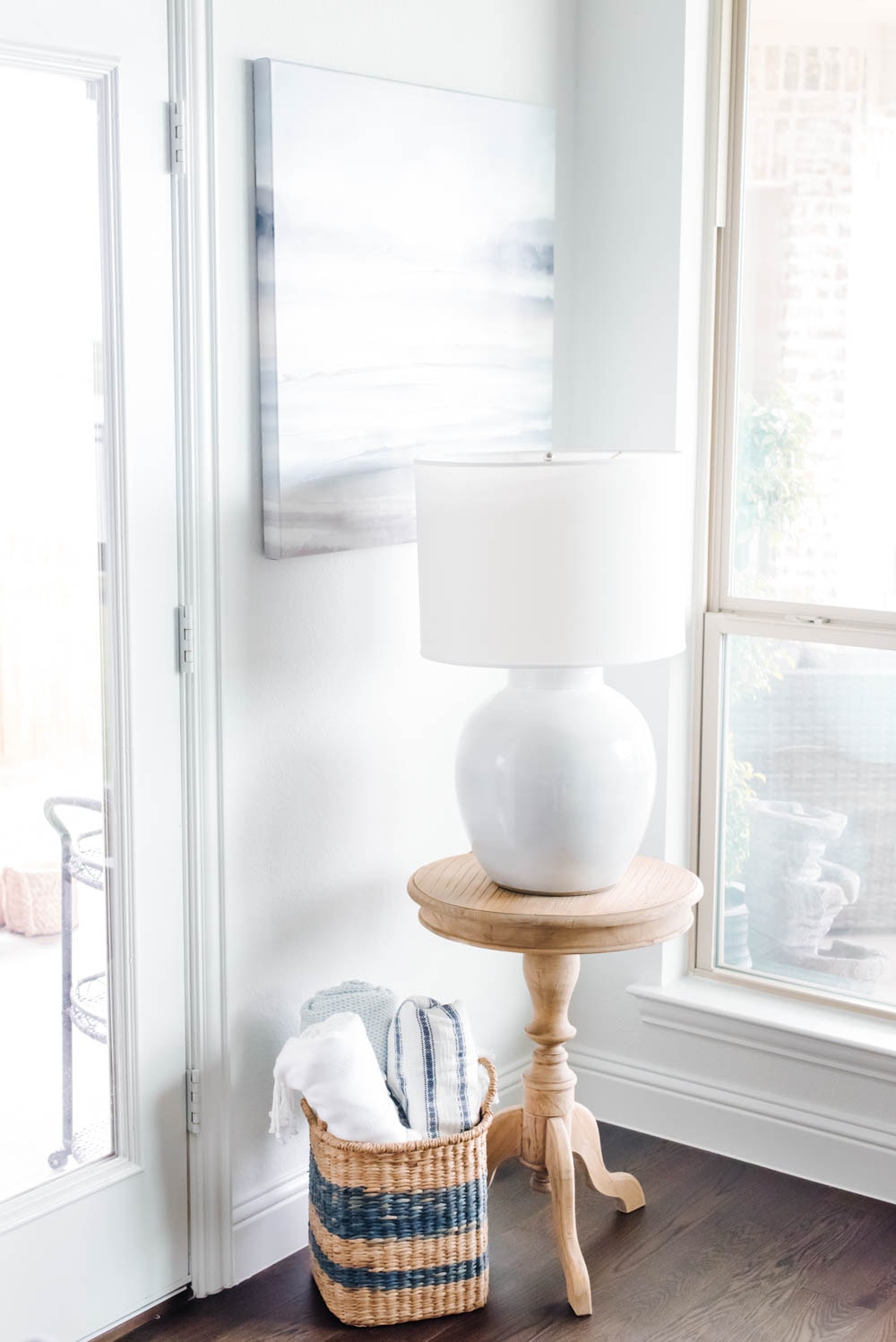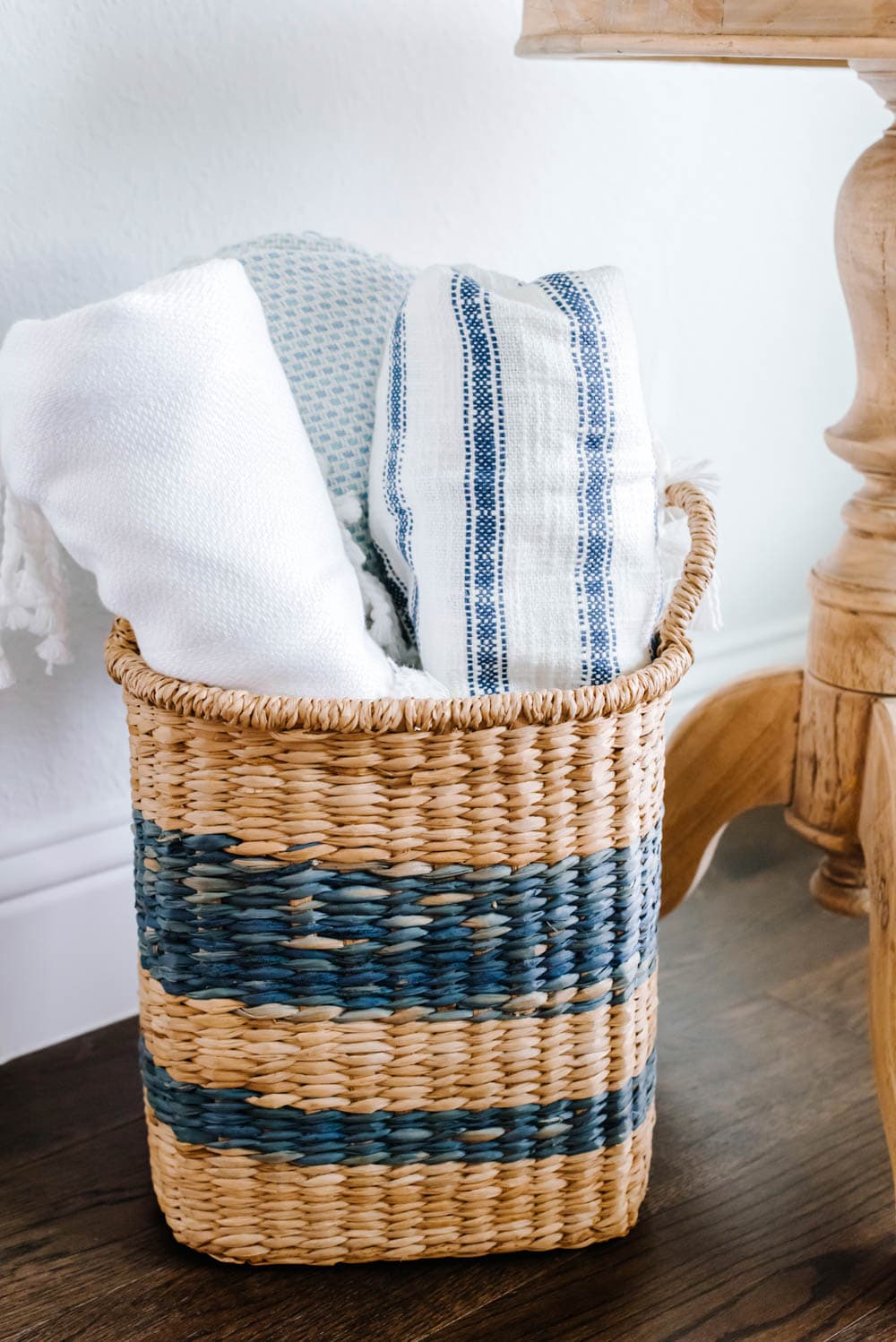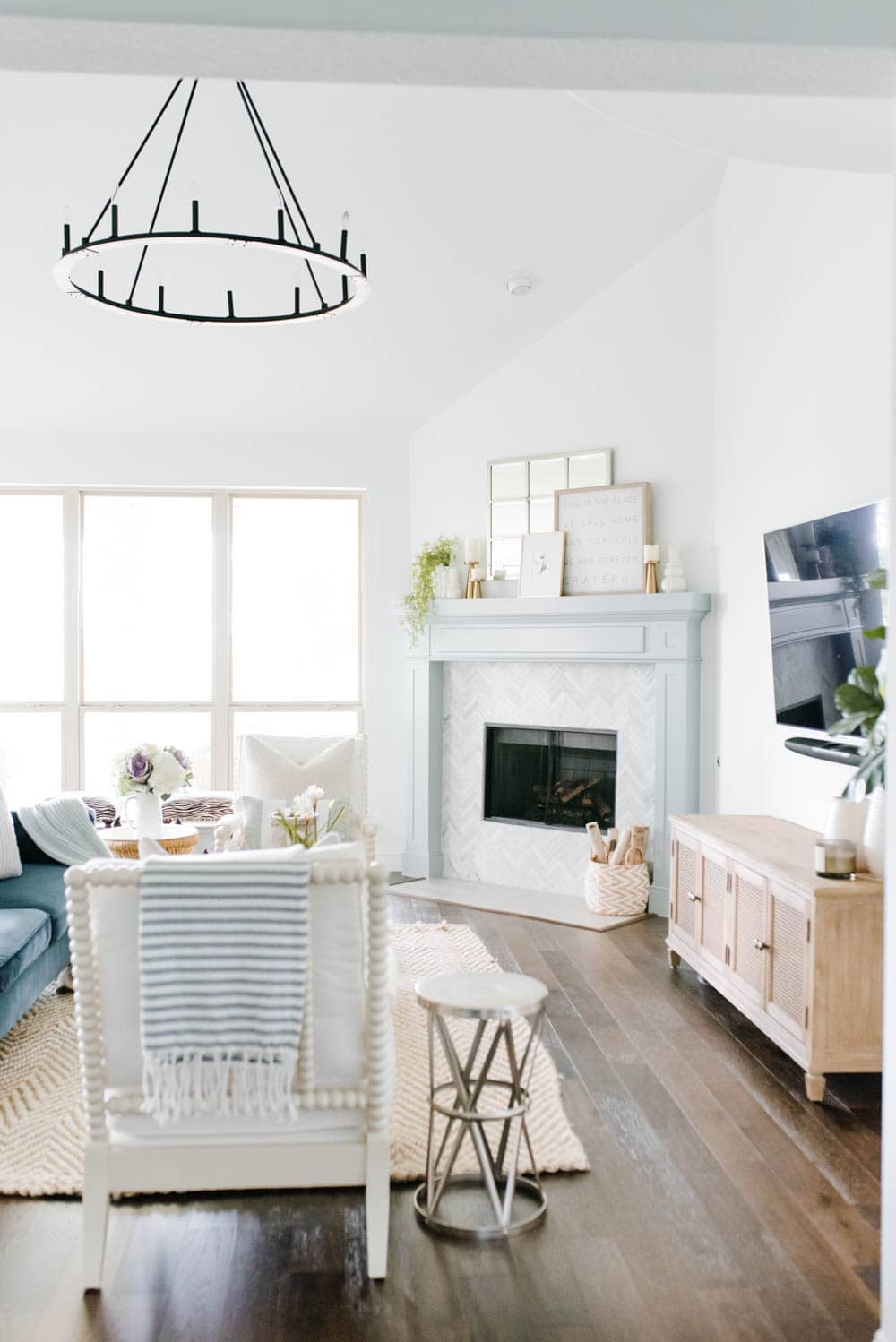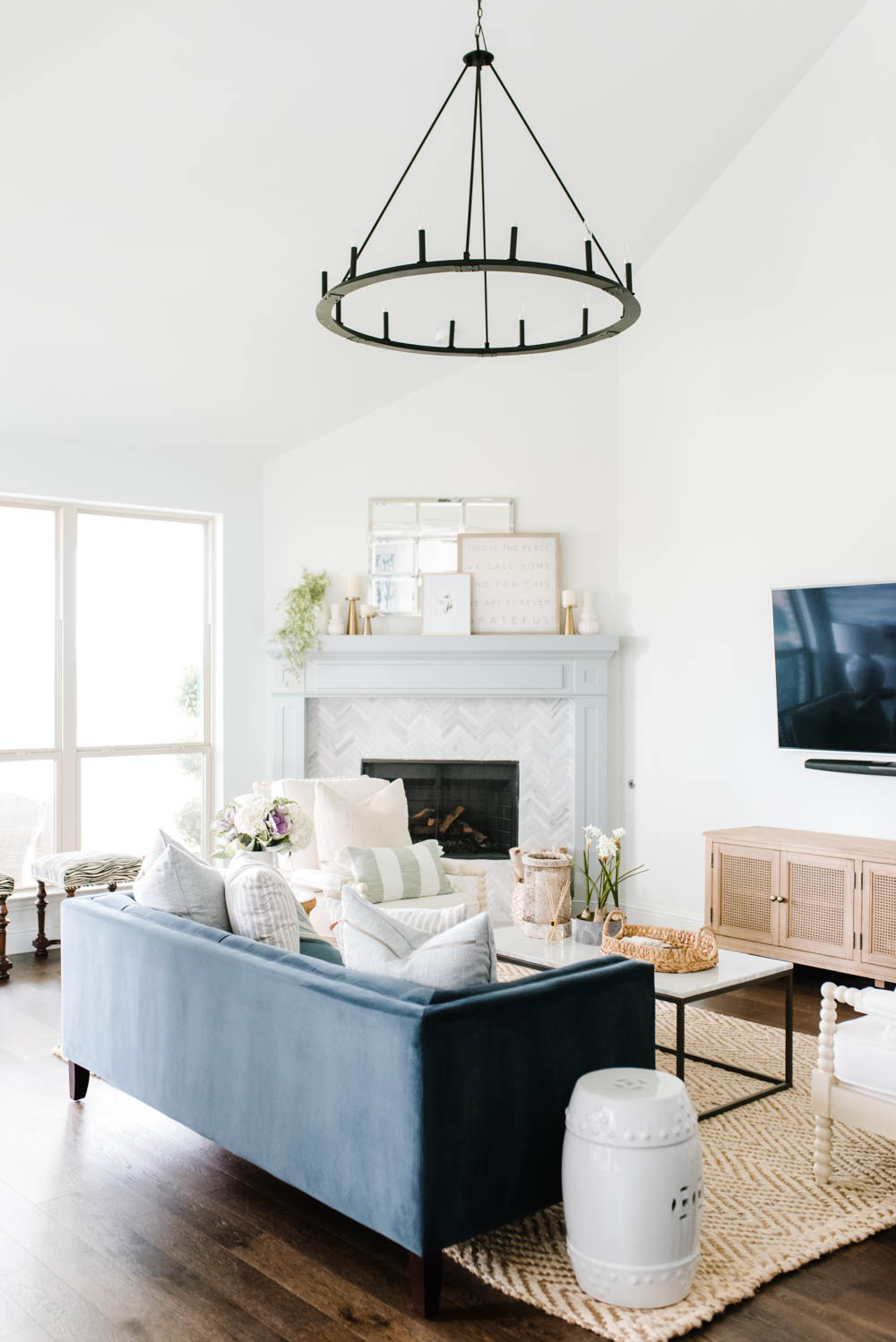 And that's it my friends for my simple and fresh summer living room home tour!



Have you ever heard of how you dress how you decorate your home?
Well, I totally believe that's true.
This is my new favorite dress for the summer and it is reminiscent of some pillows I recently had in my living room this spring.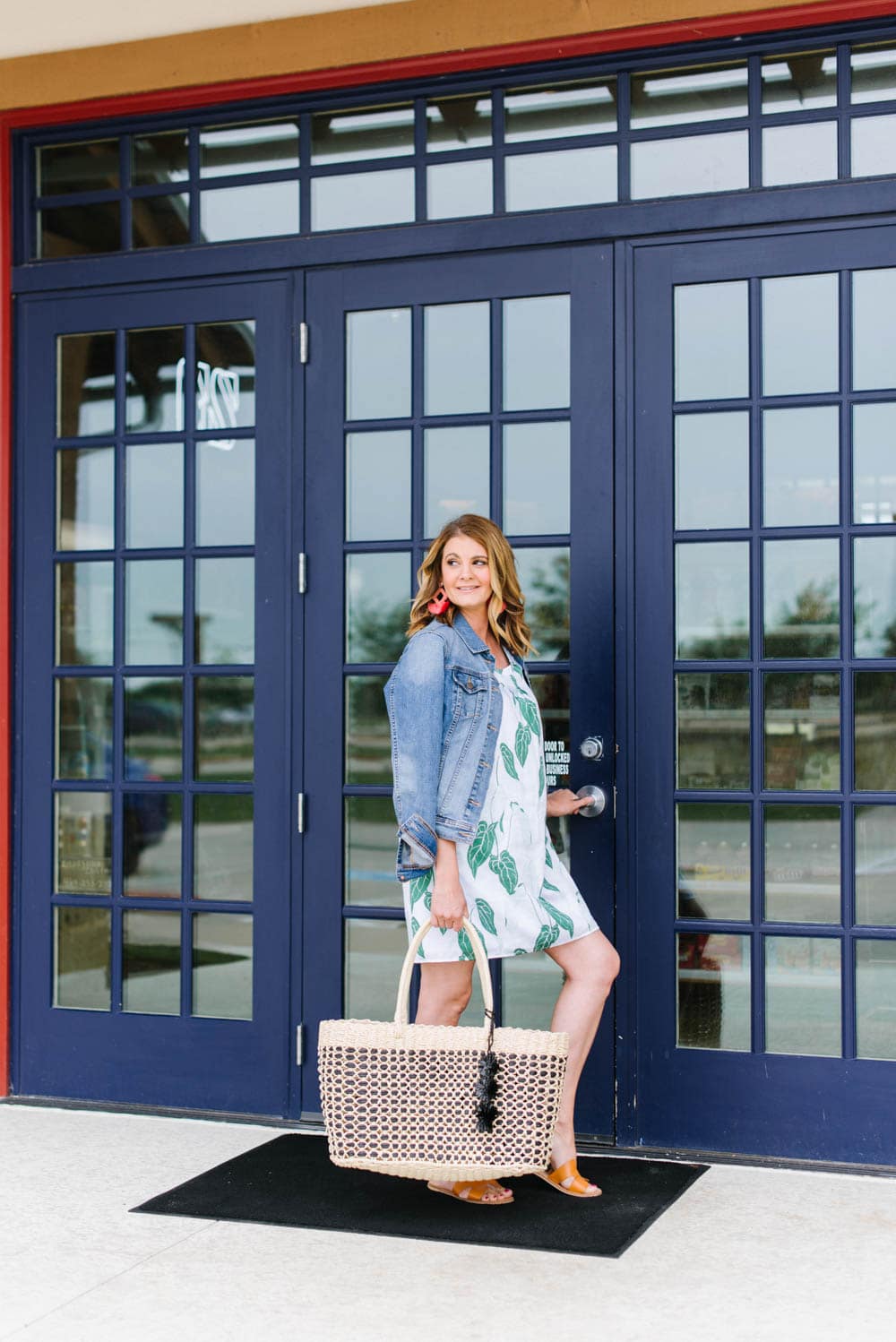 I love leaf prints and this is a soft two-toned green one.
Since it has been rather cooler lately, I paired it with my favorite denim jacket.
I snagged the perfect summer tote recently and if you can believe it is only $39.
I love the little tassels that hang off of it and it is the perfect length to swing over your should and hold beach towels.
You can shop it HERE.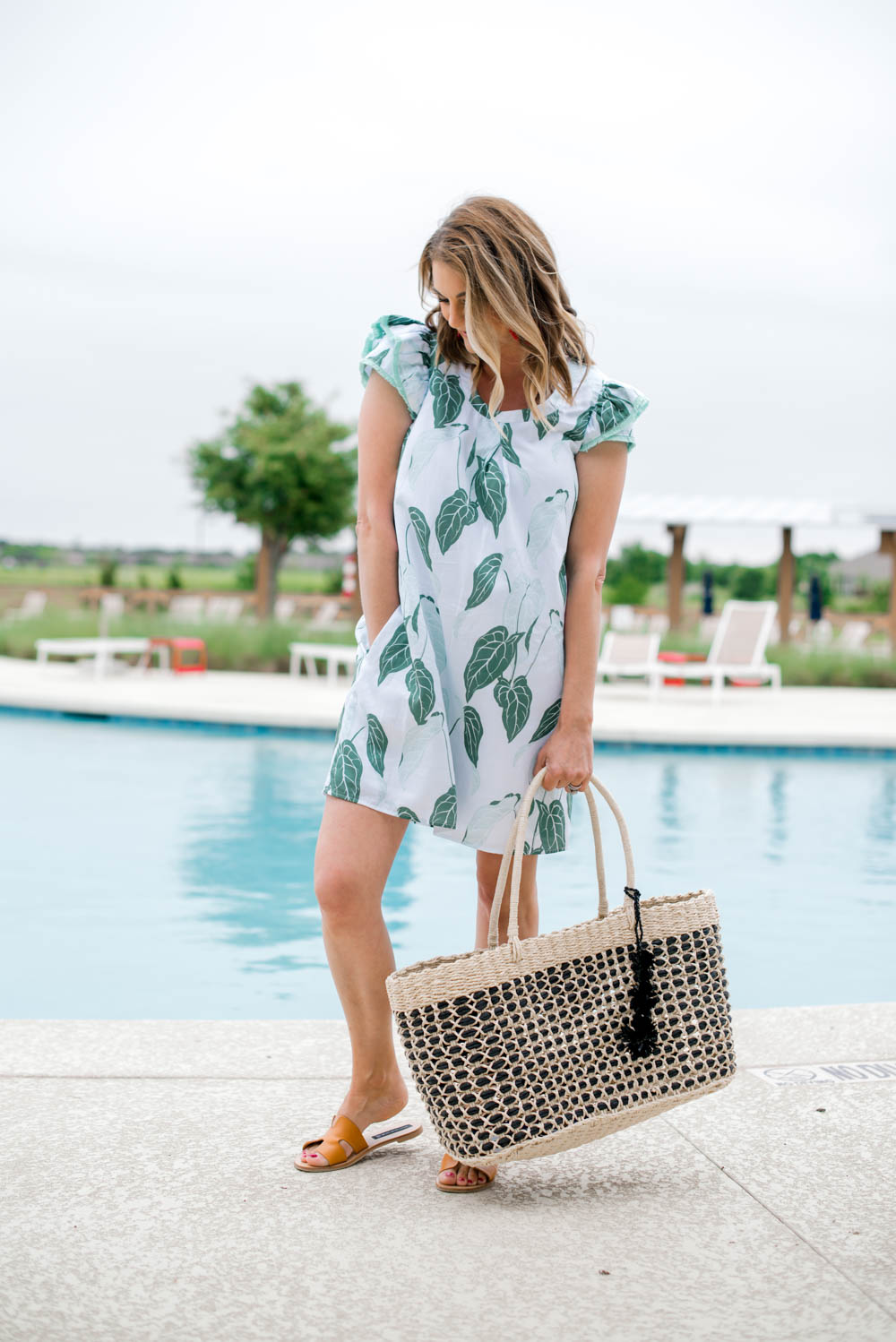 Okay, and I have to point out my Amazon earrings.
Amazon has got it going on lately!
These are gorgeous beaded tassel earrings and are only $15!!
They come in 4 other colors and I think I'm going to grab the turquoise and black ones.
You can shop them HERE.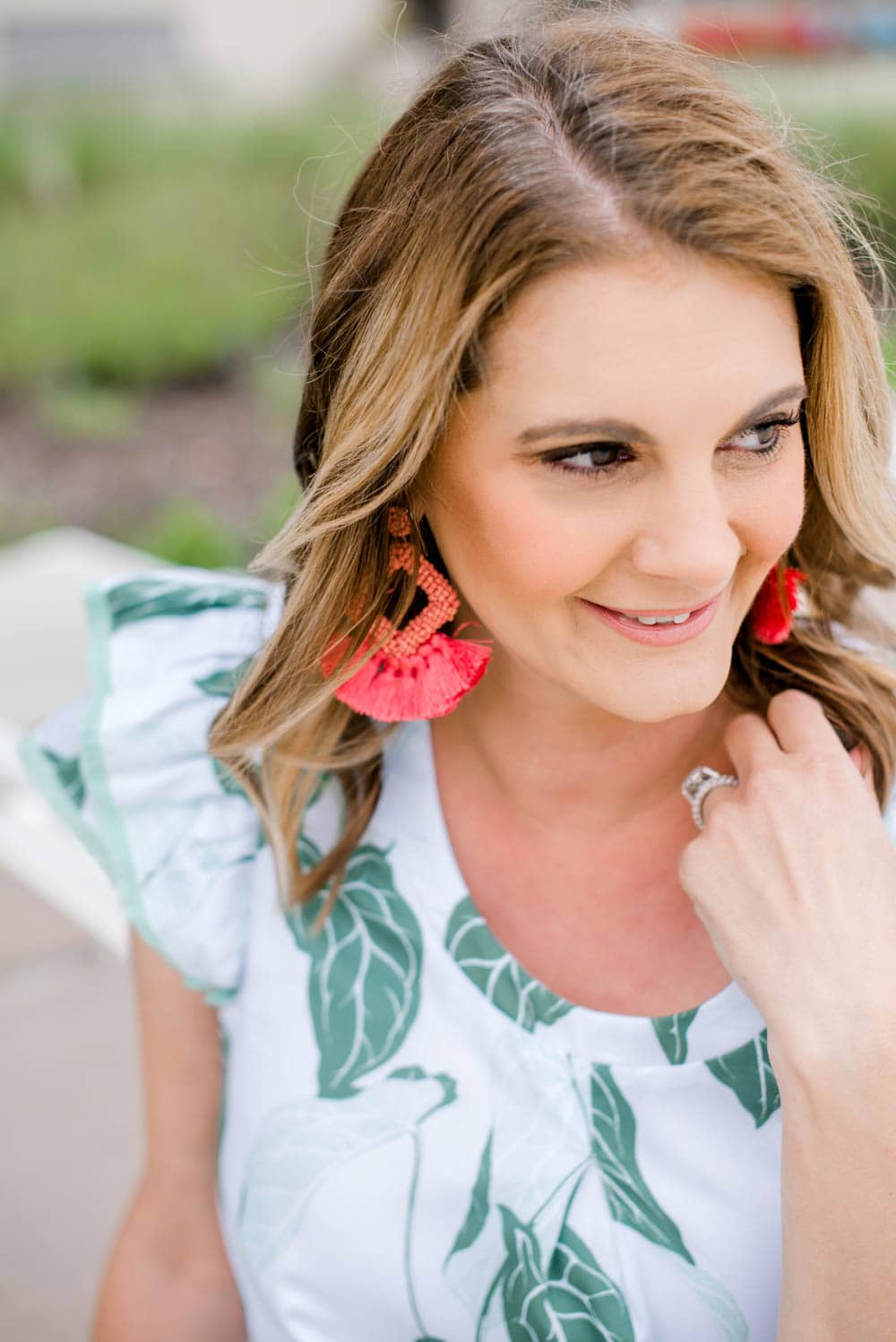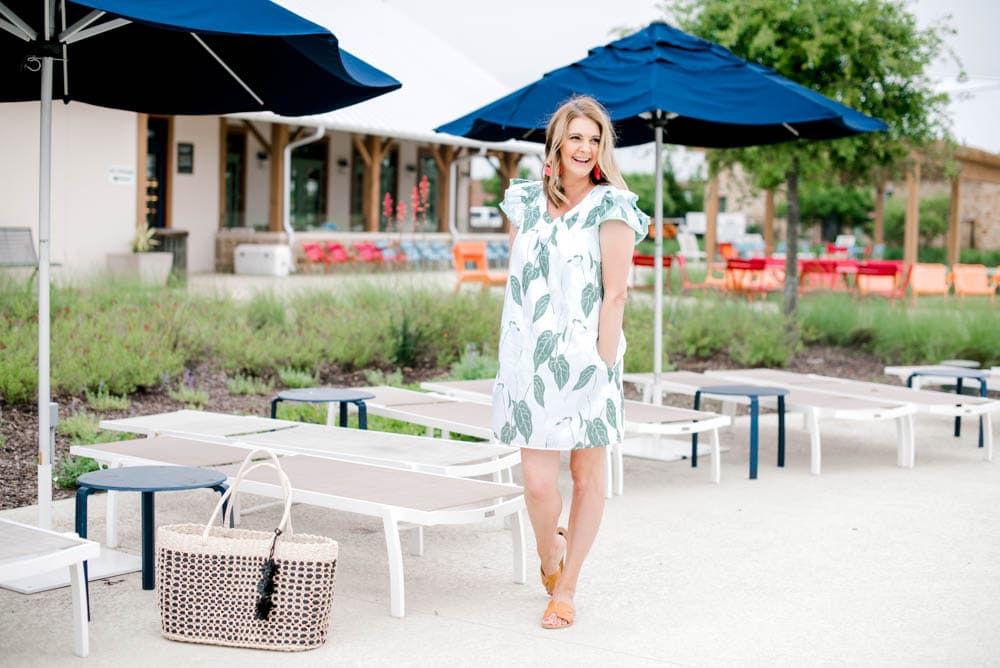 I hope you loved my summer living room home tour and you can check out my summer entryway reveal HERE.
My summer kitchen will be coming later this week!
This site contains affiliate links. Please read our disclosure policy. As an Amazon Associate, I earn from qualifying purchases.
And don't miss my other friend's summer home tours!
Just click the names below the pictures to go right to their tours.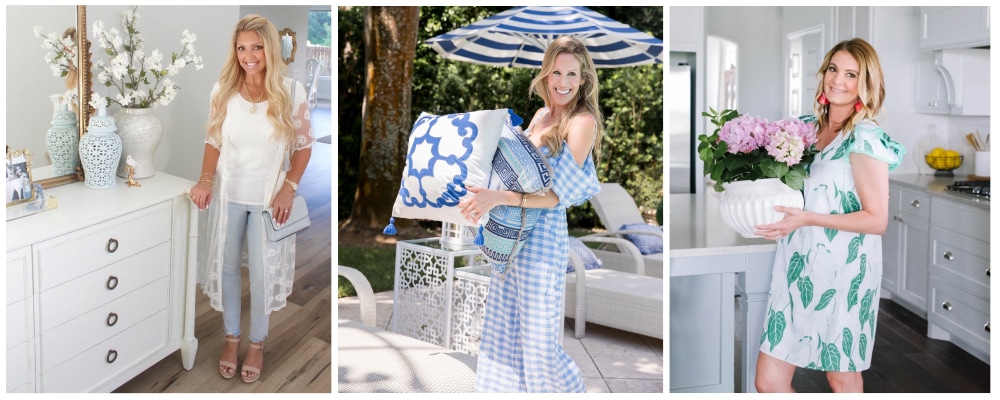 Summer Adams | Fashionable Hostess | A Blissful Nest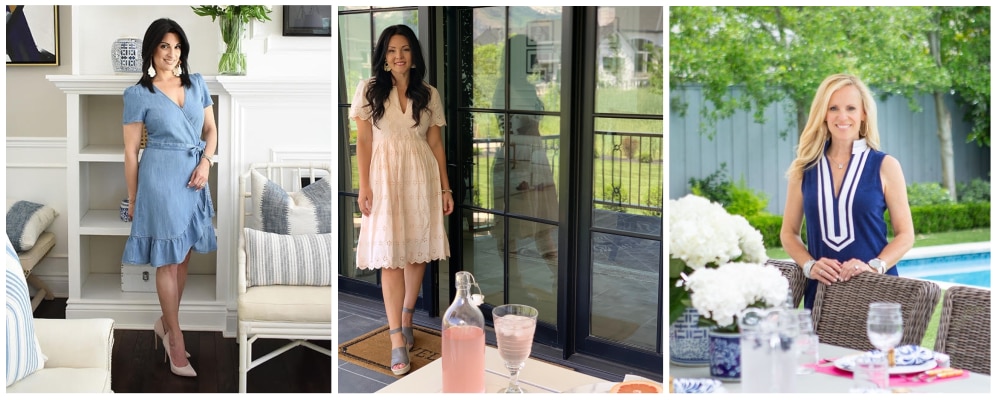 Citrine Living | Remington Avenue | Alicia Wood Lifestyle
*Photos by Audrie Dollins