Summer Decor Ideas for The Entryway
This post may contain affiliate links. Please read our disclosure policy.
As spring fades away into summer and the evenings get longer, your home needs a little refresh for the season.
The first spot I like to tackle is my entryway
It is the first place your guests see, so for me, so naturally, you should start here.
But don't worry if you are not sure where to even begin on how to transition this space! I've got you covered!
Today I'll be sharing some of my favorite summer decor ideas for the entryway.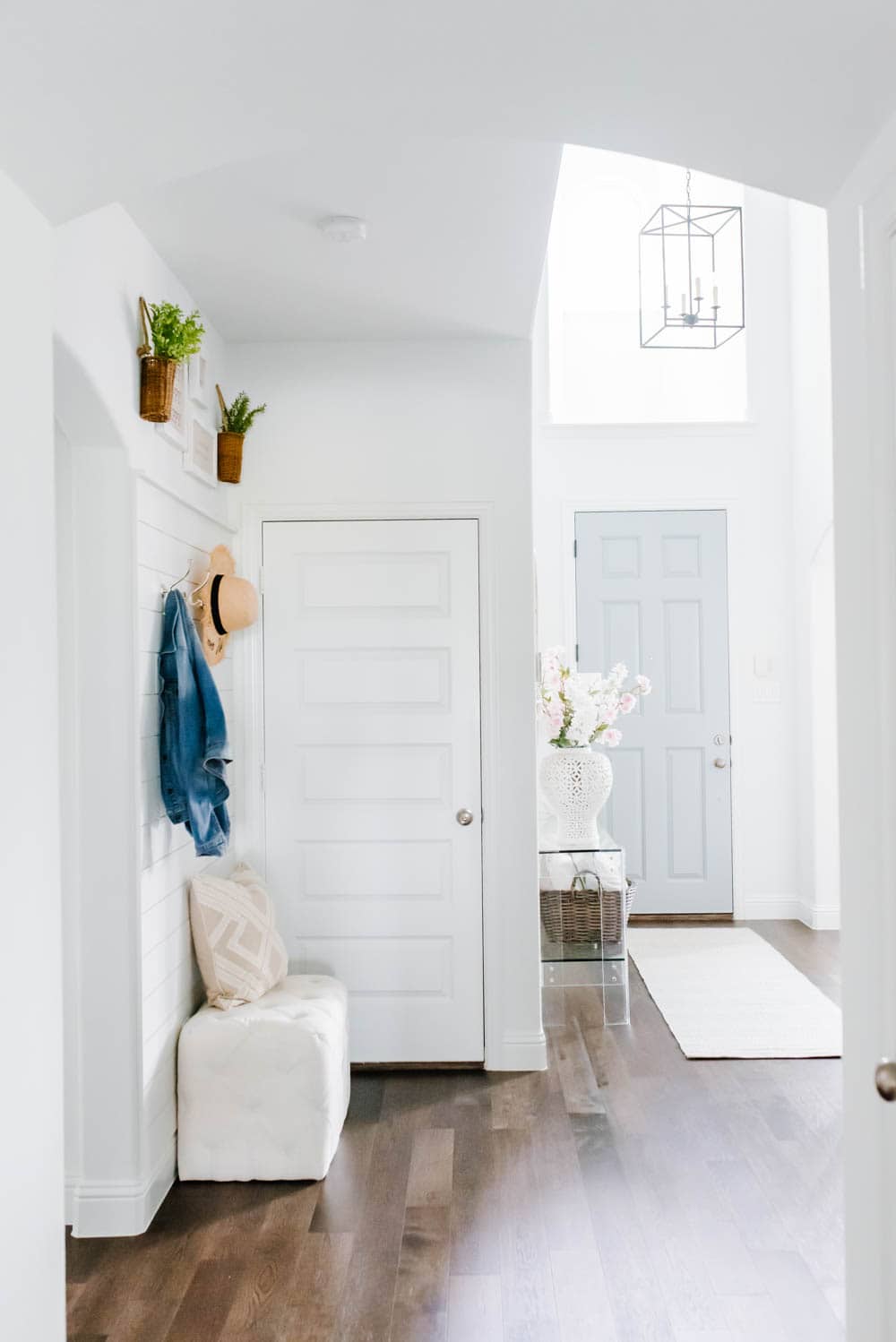 Summer Decor Ideas for The Entryway:
Here is a view looking into my narrow entryway from the hallway leading into the kitchen.
In case you missed it, I shared a few days ago an easy interior painted door tutorial and how something as simple as painting the inside of your front door can truly transform the whole space.
You can read that HERE.
It gave me so much inspiration to see it freshly painted in a soft blue-gray that I think it reflects in my summer decor in the entry.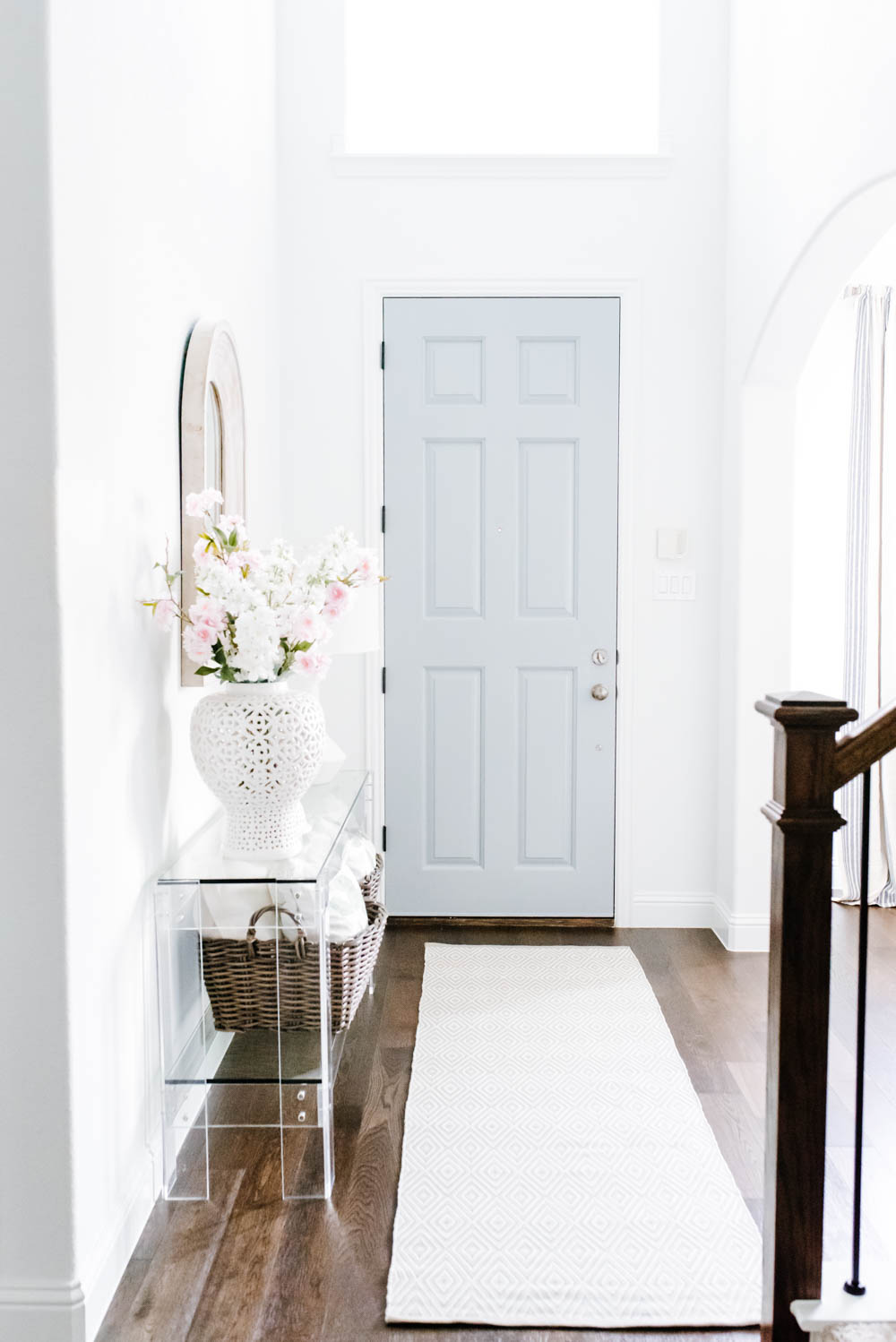 1. Freshen up the space with a new runner
One of the first places I start is with selecting a new runner or a small area rug.
This can be a very affordable piece to get to set the tone of the space.
I recently shared my current favorite runners which I picked the one I decorated for summer within my entry.
You can check that post out HERE.
I wanted something with a subtle pattern and was durable since this is obviously a high traffic area.
I went for a neutral tone on tone color to enhance the color on the door.
I just love the warm and fresh feeling it gives in here.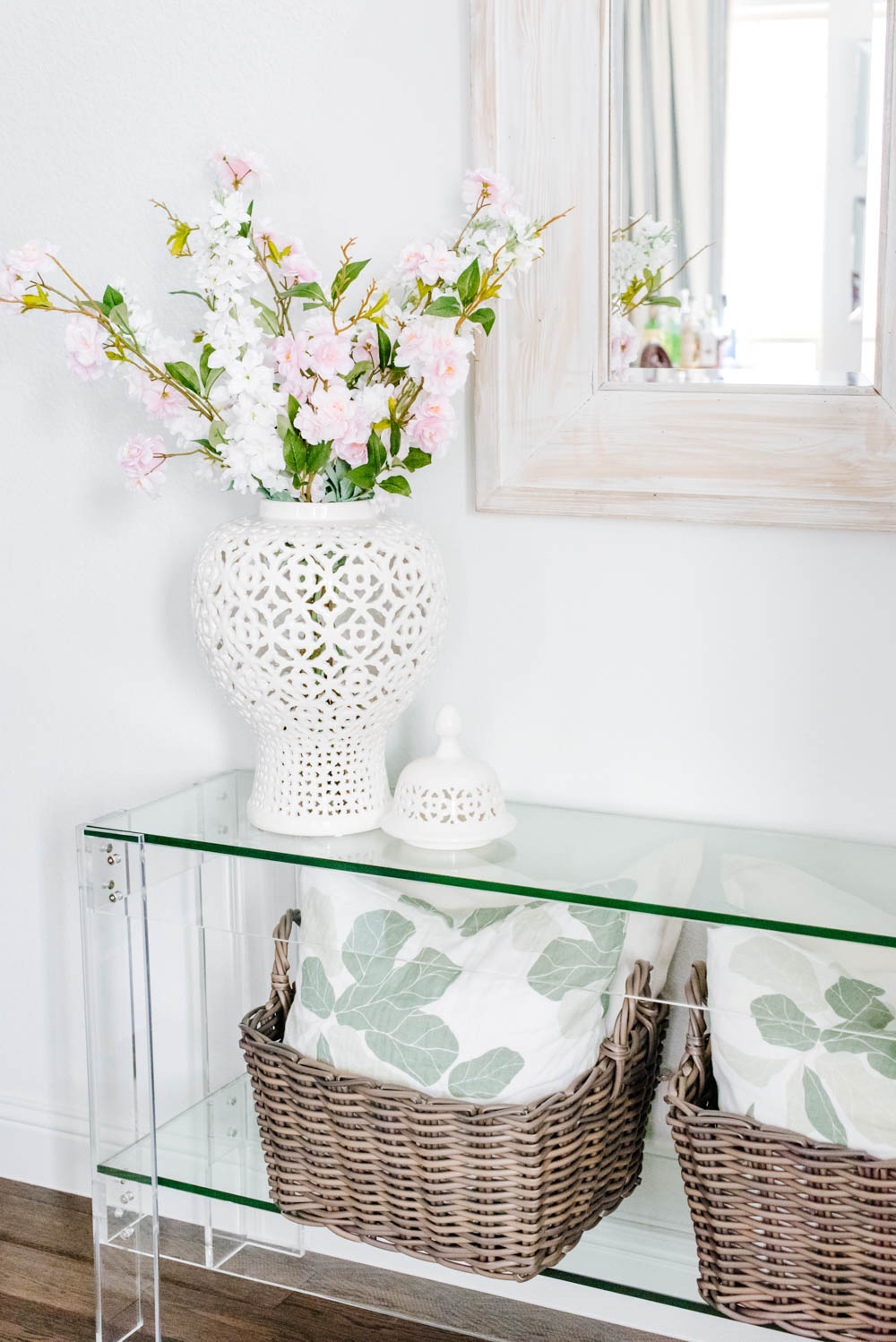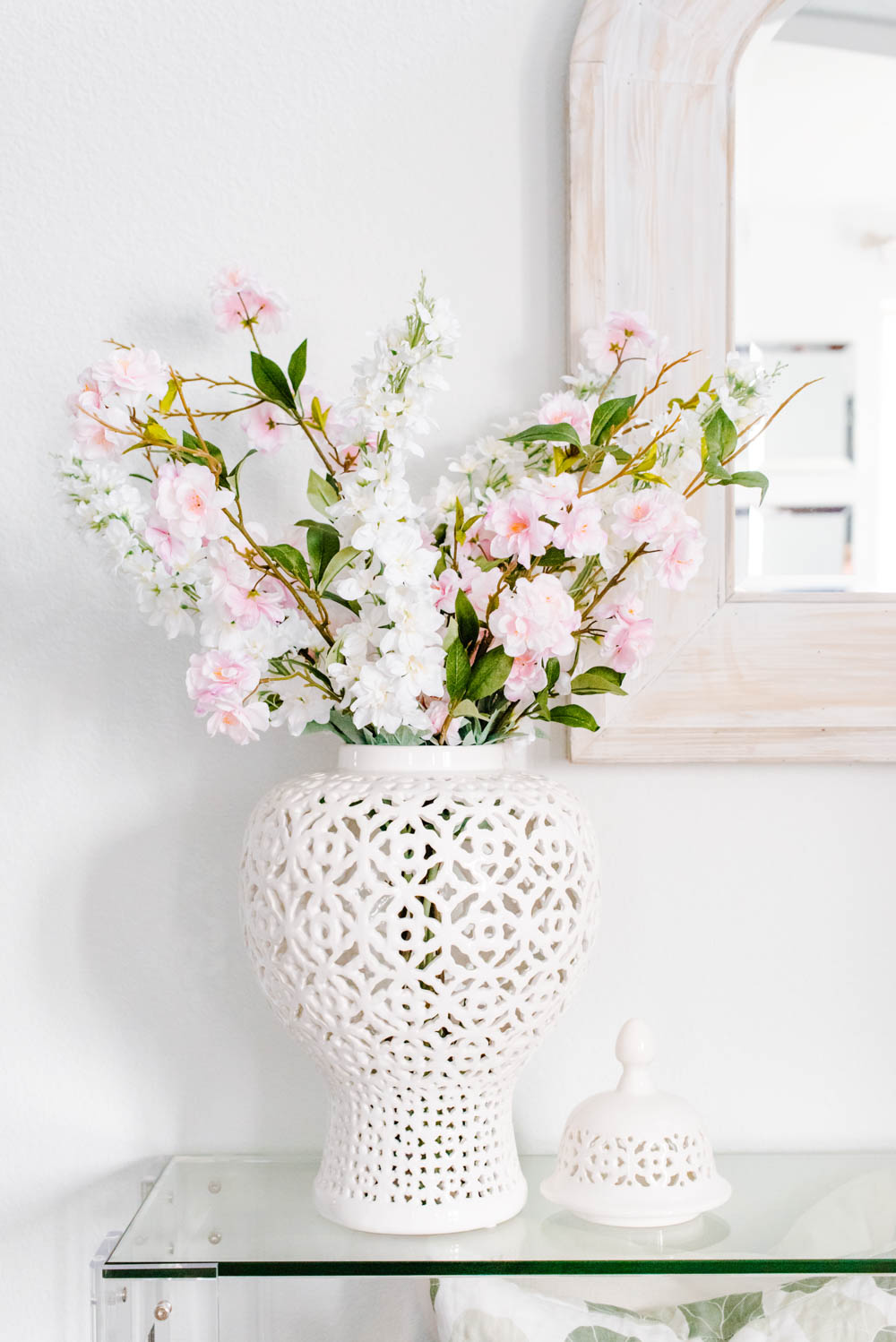 2. Faux florals for a pop of color
I have told you before I don't have much of a green thumb sadly.
I generally buy one plant in the late spring for the kitchen and that is about as much as I can handle!
But faux florals have come such a long way that there is a wider selection of good ones to choose from.
I've shopped a few of my favorites for you below.


This summer I selected a mix of pink cherry blossoms and delphinium stems in this oversized ginger jar.
The gorgeous pink is so cheerful and beautiful with the door color.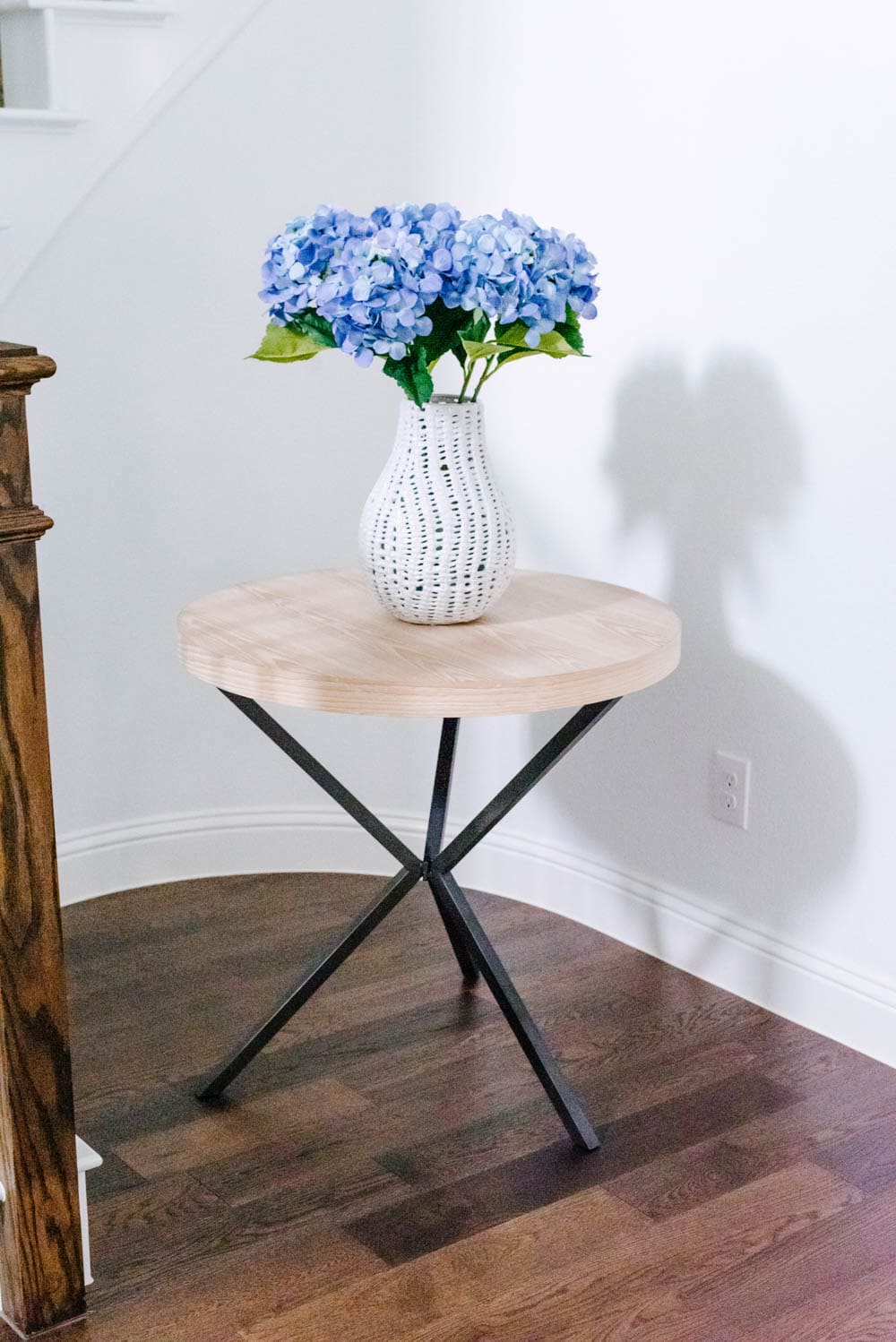 I also selected these lovely rich purply blue hydrangeas and placed them in a white lattice vase I found at Homegoods a while back.
I have still been searching for the right artwork for here.
I originally had a gallery wall here in the spring but want a more minimal look for the summer.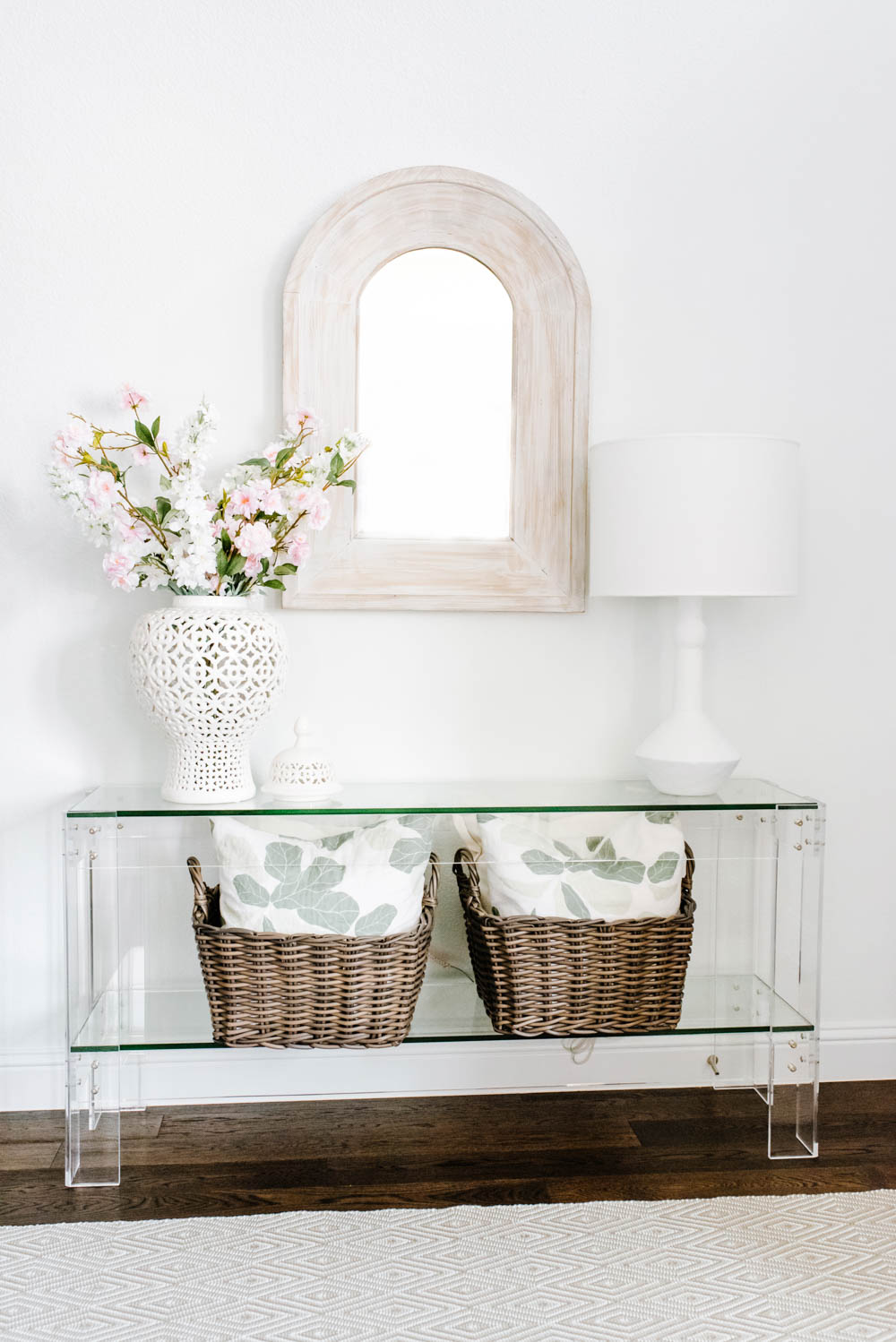 3. Light bright color combo
Using light and bright colors will bring a fresh feeling to your room.
This summer season I am using soft pinks and a sage green found in the pillows.
Both beautiful colors to not competing with the blue-gray of the front door.
If still not sure what colors to use, look to the outdoors.
What do you see in nature that is inspiring you at this moment?
A beautiful butterfly? Flowers from the garden? The shades of green found on your morning walk?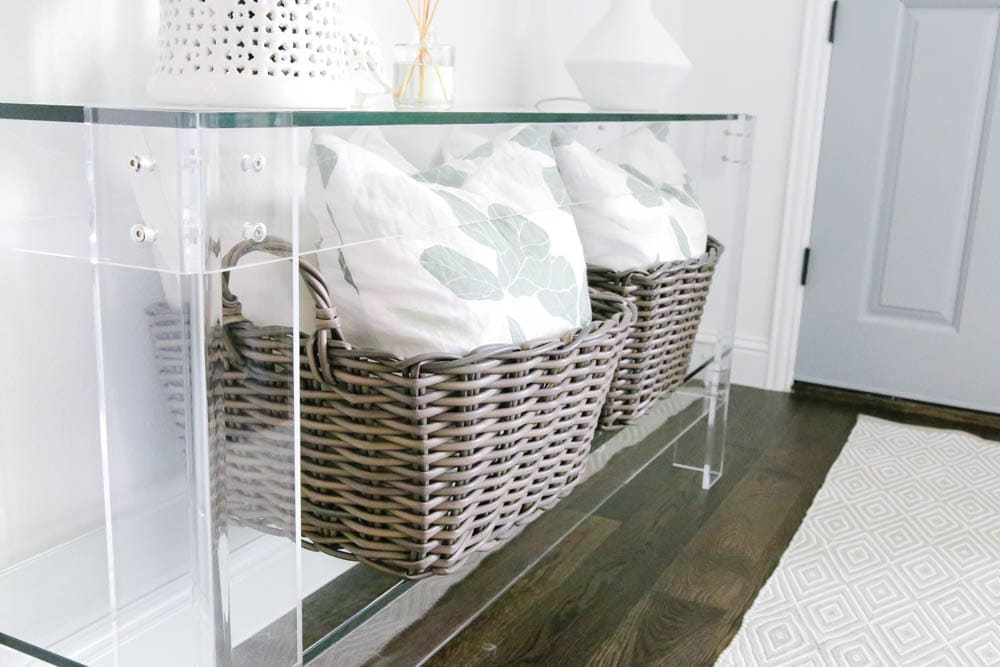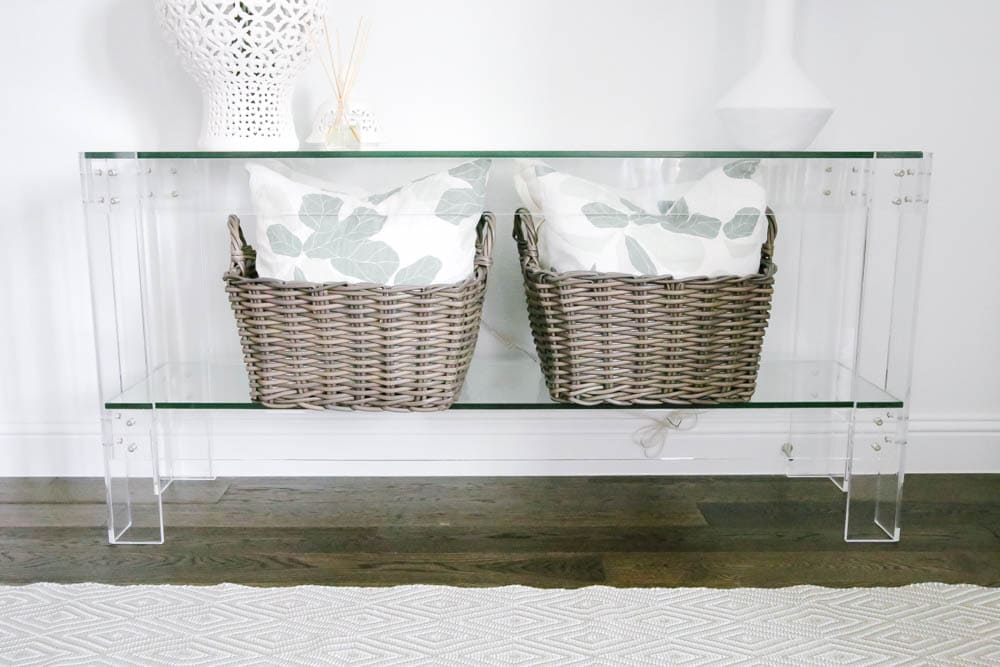 4. Add baskets with soft accents like pillows and throw blankets
I love using baskets just about anywhere and everywhere, especially in the entry.
They are just one of those things that are so function and beautiful.
I shopped a few of my favorites for you below.


I love to use them on the shelf of my lucite table to give some texture and add in some pillows or drape some blankets coming out of them.
You can use them though to store umbrellas or shoes by the front door.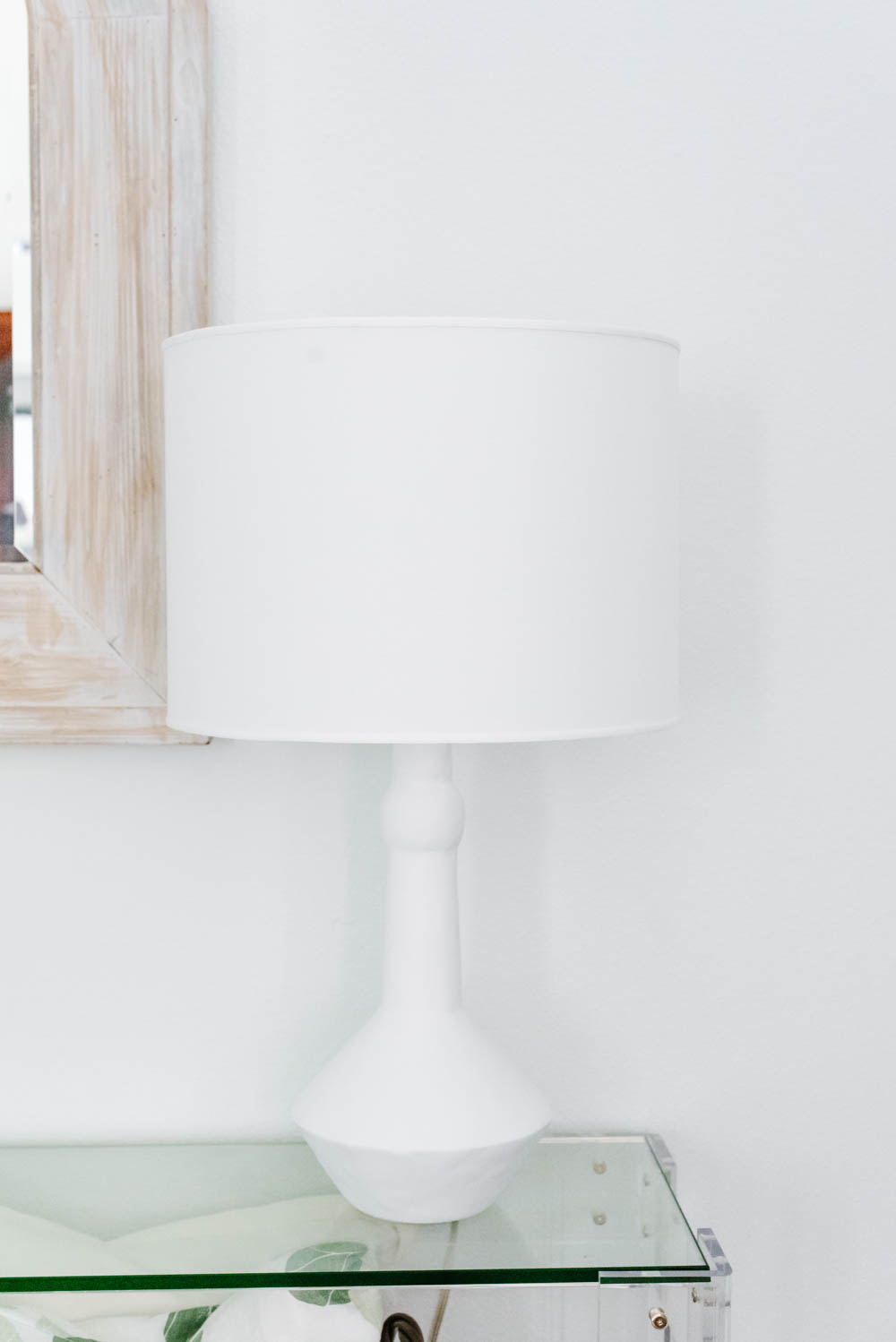 5. Have a table lamp on a timer set for summer evening hours
I recently updated the lighting in my entry with this gorgeous one from the Serena & Lily sale over Memorial Day weekend.
I love the modern clean lines of it.
I bought this outlet timer when we moved in so that I could set my table lamps here to go on and off in the morning and at night automatically.
During the year I adjust it depending on when it gets lighter and darker outside.
I have to tell you this is not only such a great safety feature for your home but I love that you can set it and forget it.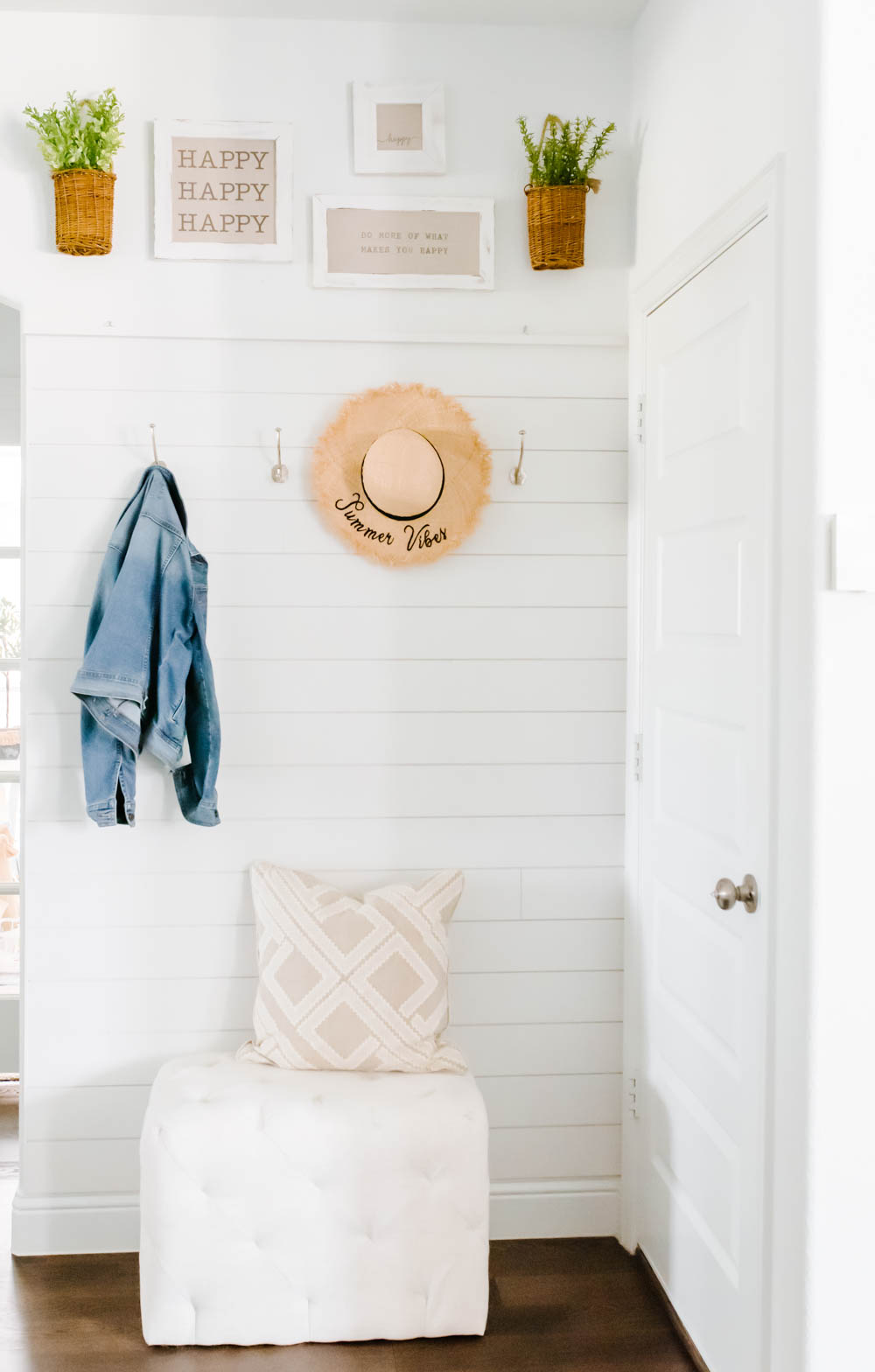 6. Freshen up your drop zone with a little bench and summer accents
This space near our garage door has officially become our drop zone for shoes, jackets and anything else that comes in the house from school and work.
Last fall we added shiplap to the all with some hooks which made this blank wall a lot more functional for our family.
Then recently I found this affordable tufted bench and now it is the perfect spot to take your shoes on and off.
Off course I had to add a little summer flare with this straw hat that is less than $10!
The HAPPY signs are from a local antique shop.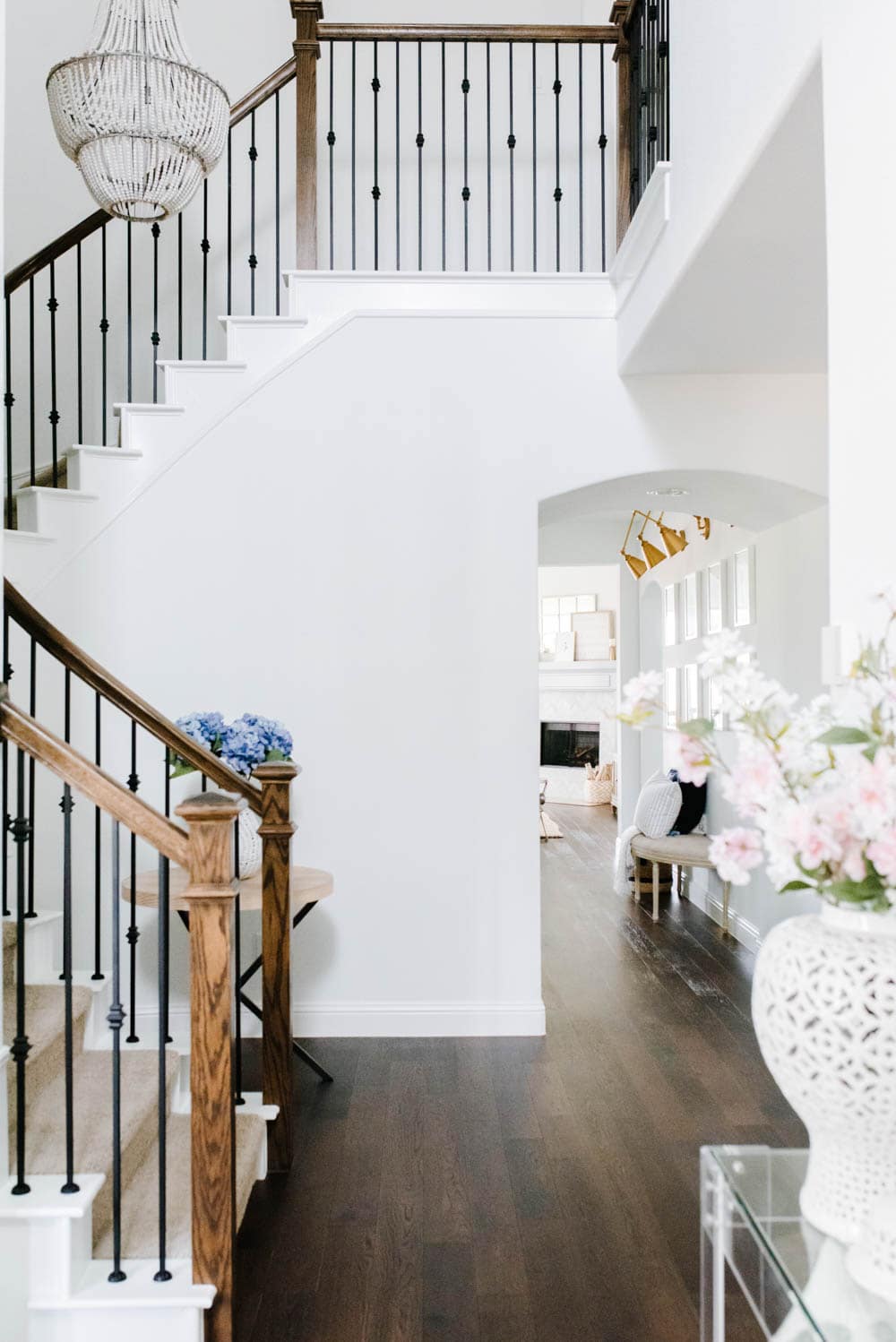 And there you have it!
Hope you loved my little BIG refresh to our entry for the summer season.
I will be sharing our kitchen and living room summer home tour in the coming weeks.



*Photography by Audrie Dollins