Simple Winter Refresh with Hobby Lobby
This post may contain affiliate links. Please read our disclosure policy.
This is a sponsored post written by me on behalf of Hobby Lobby. All opinions are 100% mine.
Christmas is just around the corner and now is the time to think about what to do with your home decor once the holidays are over. Whether you leave your holiday decor up through the new year or take it down the day after Christmas, organizing and refreshing your most-used spaces in your home are key to starting the new year off on the right foot!
I recently stopped into one of my favorite stores, Hobby Lobby, and was blown away by how many useful and beautiful decor and organizing pieces they had, which propelled me to give you some affordable ideas and finds for your own refresh. They have 50% off select home decor every week!
Hobby Lobby is not just a craft store, but has so much more to offer! Not only am I obsessed with their faux floral department, but there are also things to organize, update a piece of furniture, and/or redesign an elevated new vignette in your home. Every time I walk in I see something new.
I have a few key pieces for you to go look for in your own local Hobby Lobby store, so get your shopping list ready!
Simple Winter Refresh Tips:
1. Organize your papers
Do you feel like your home has been taken over by Christmas cards, school papers, bills, and magazines? I feel you because so has mine.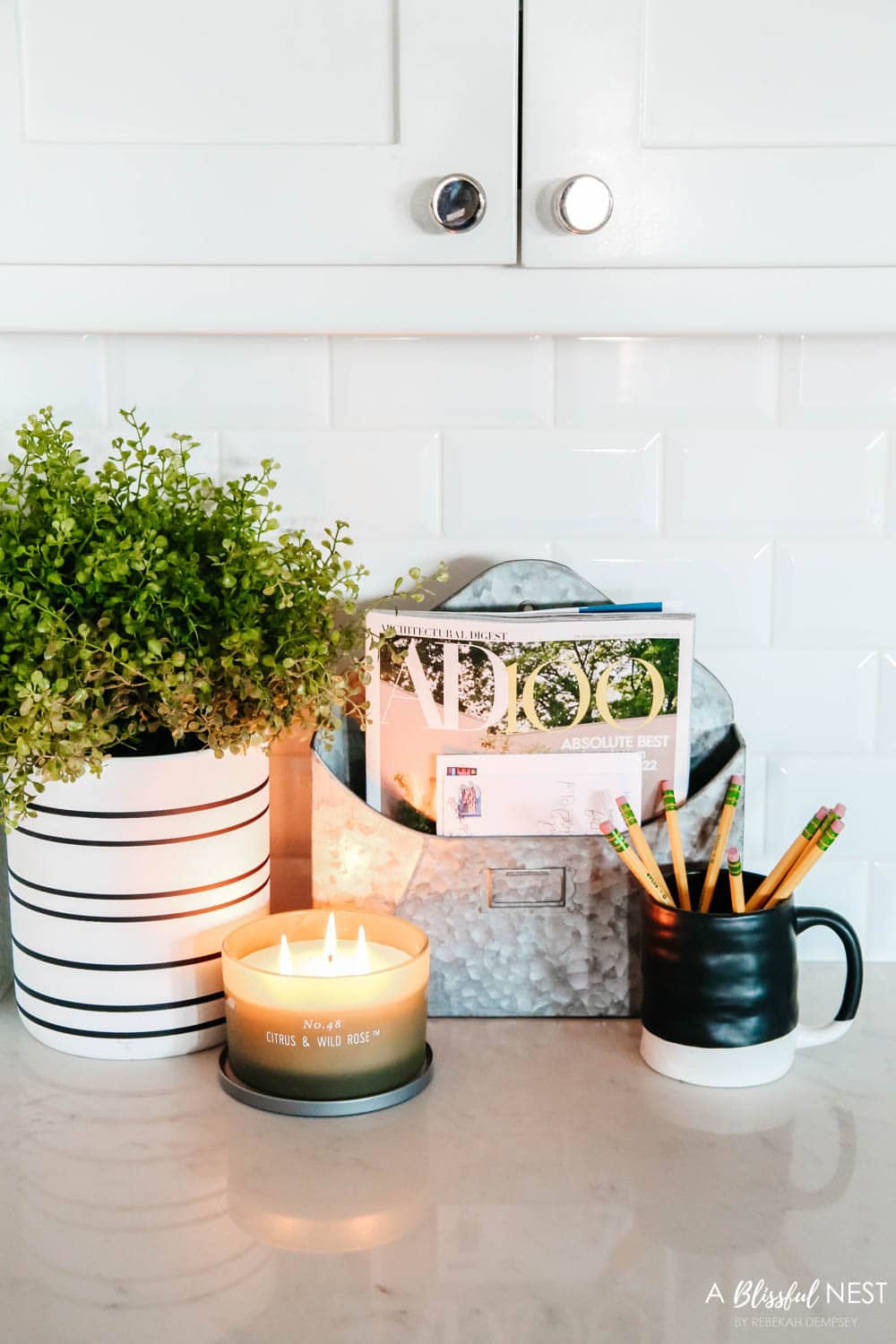 Create a spot on your kitchen counter or near your front door to collect these items to go through when you have time. Trust me, it is a lot better than them piling up on your counter in a huge mess.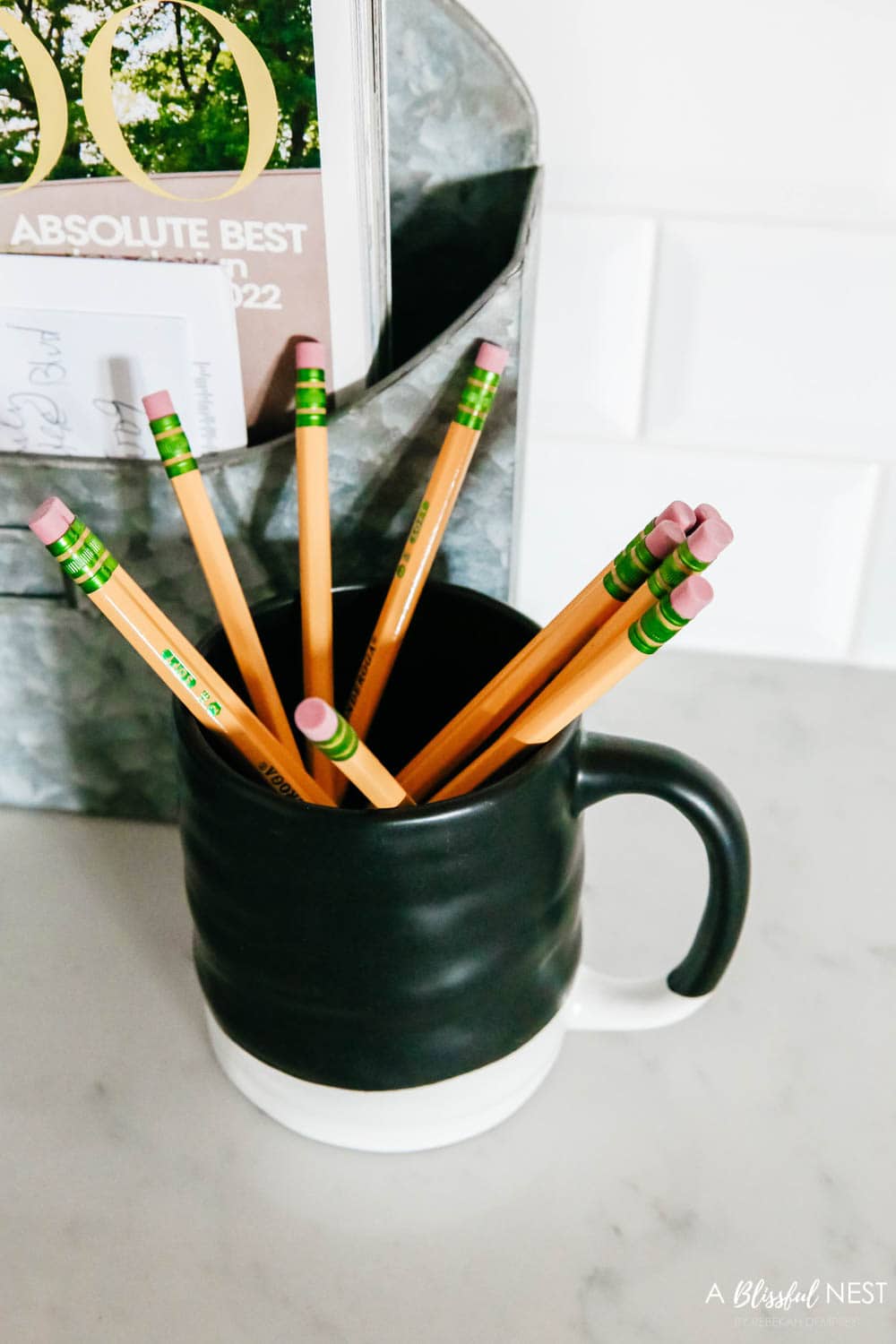 I added a cute black and white mug with some pencils so they were handy. This would also be a good spot to have your fresh new calendar for the new year.
Tuck in a pot like this gorgeous black and white stripe one and pop in some faux florals for a touch of greenery. It softens the vignette and screams spring!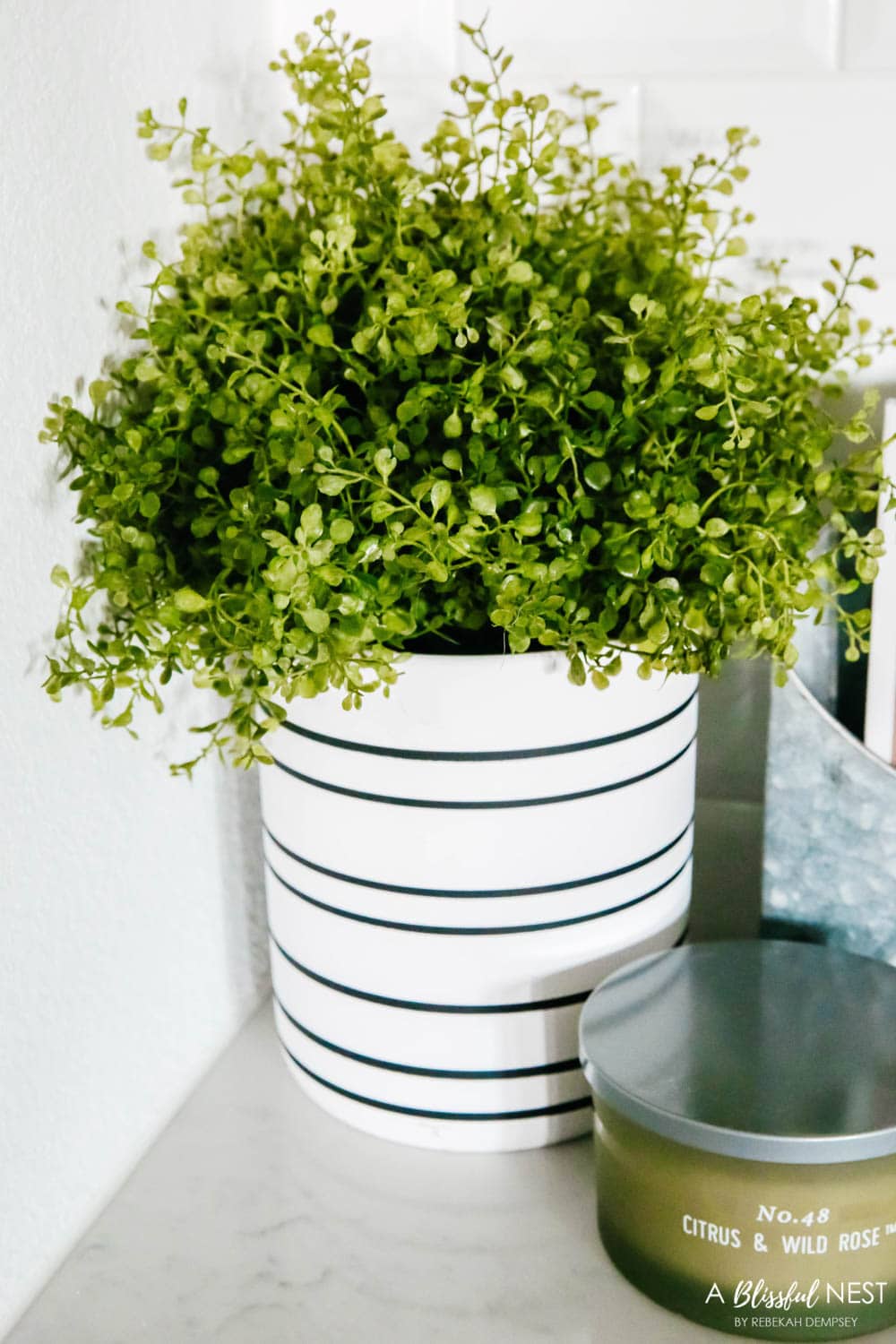 2. Refresh with a new candle
I always love to add a candle to my vignettes. They not only add a beautiful pop of color, but can trigger your senses as well.
I added this delicious smelling candle to my command space and love the vibrant green color. It is a citrus and wild rose scent and it reminds me of a warm spring day.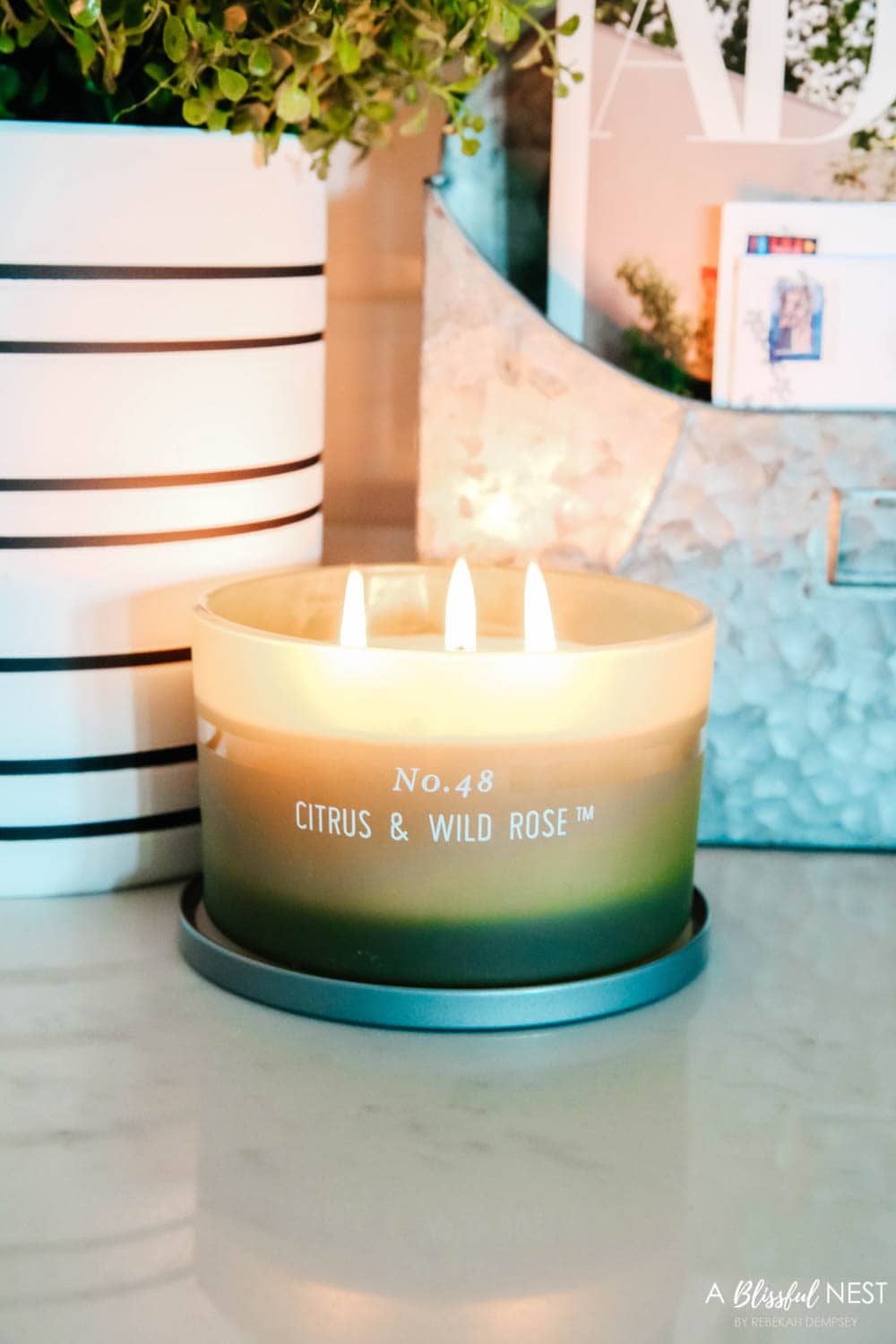 Hobby Lobby has melting waxes and gorgeous hurricane vases that you can use in place of a candle which will give you the same effect.
3. Freshen up the counters with organized baking essentials
I still love to bake well past all the Christmas season of cookies, cakes, and pies, and having my baking essentials like flour, sugar, and oats accessible is huge.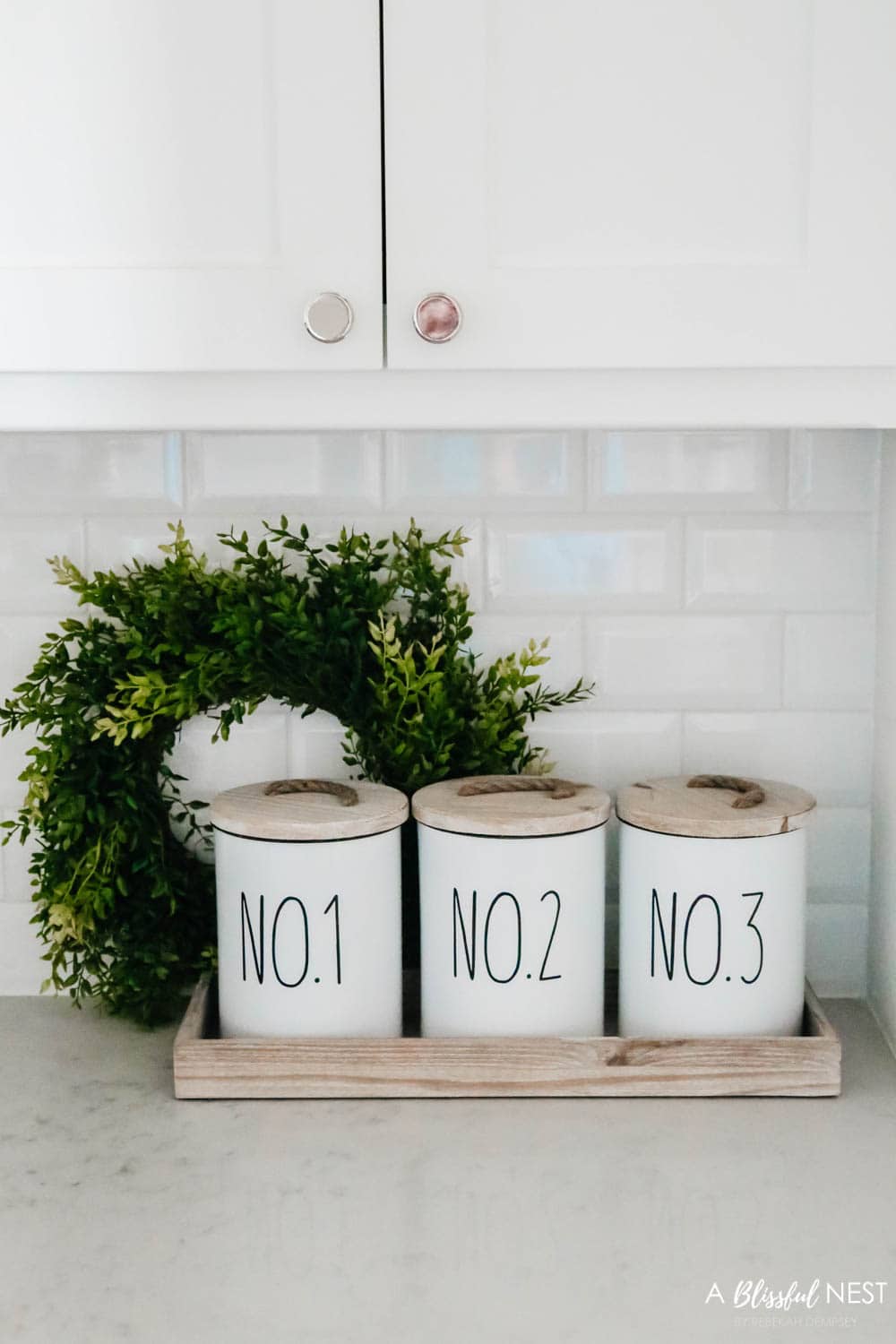 I found these adorable numbered canisters to use on my counter and replaced the sugar (since I don't use it as much after the holidays) with rice.
These canisters are metal and easy to clean. I love the rope detail on the lids!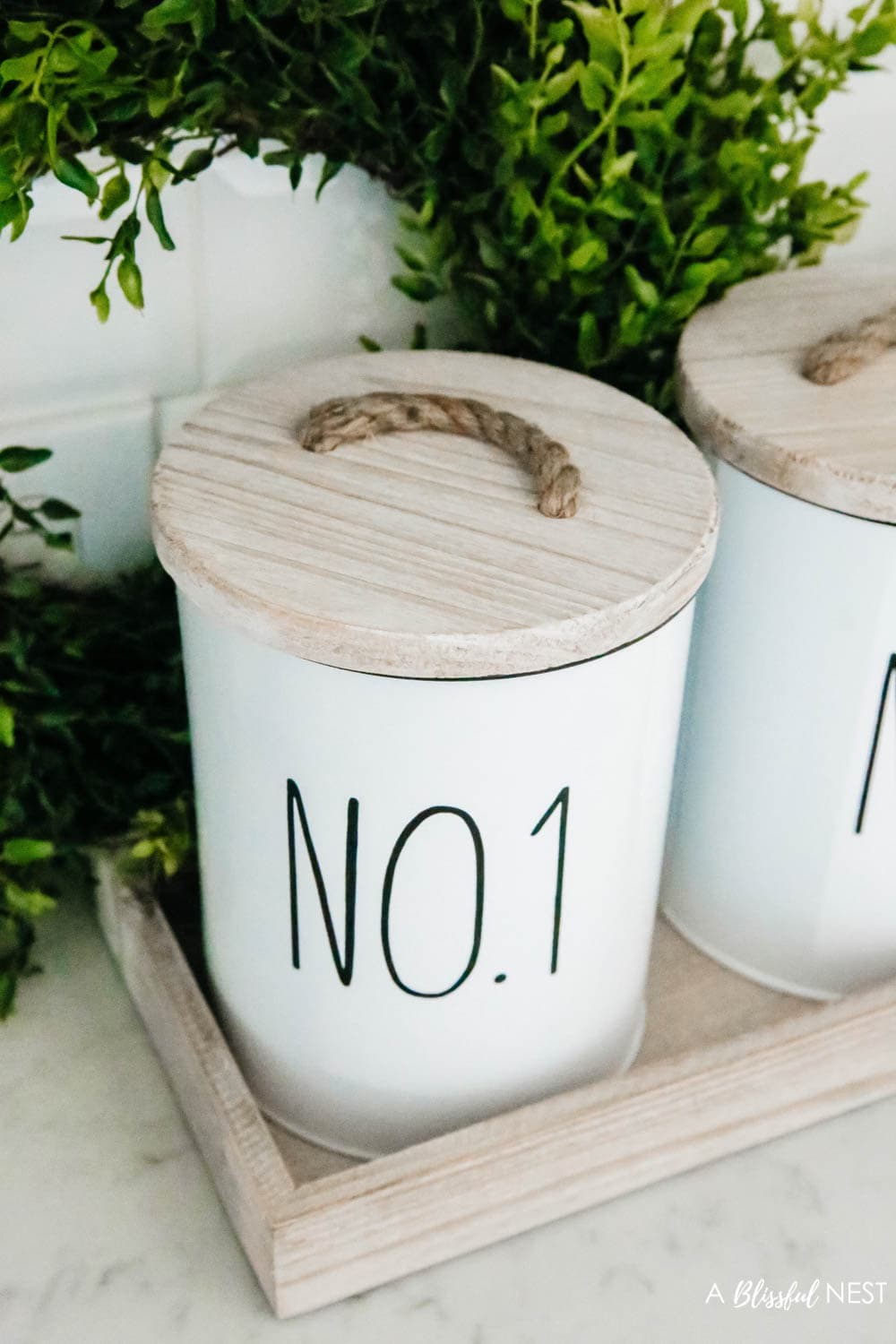 I tucked a little faux greenery wreath behind them for a little pop of color.
4. Reconfigure your dropzone
Do you have a dropzone in your home just inside your entry or garage door? I WISH we had a mudroom and it's one of my biggest regrets when we built this home. But over the last couple of years, I have realized that not everyone has a mudroom.
So I added this shiplap wall with hooks and created a mini dropzone right off of our garage door into the house.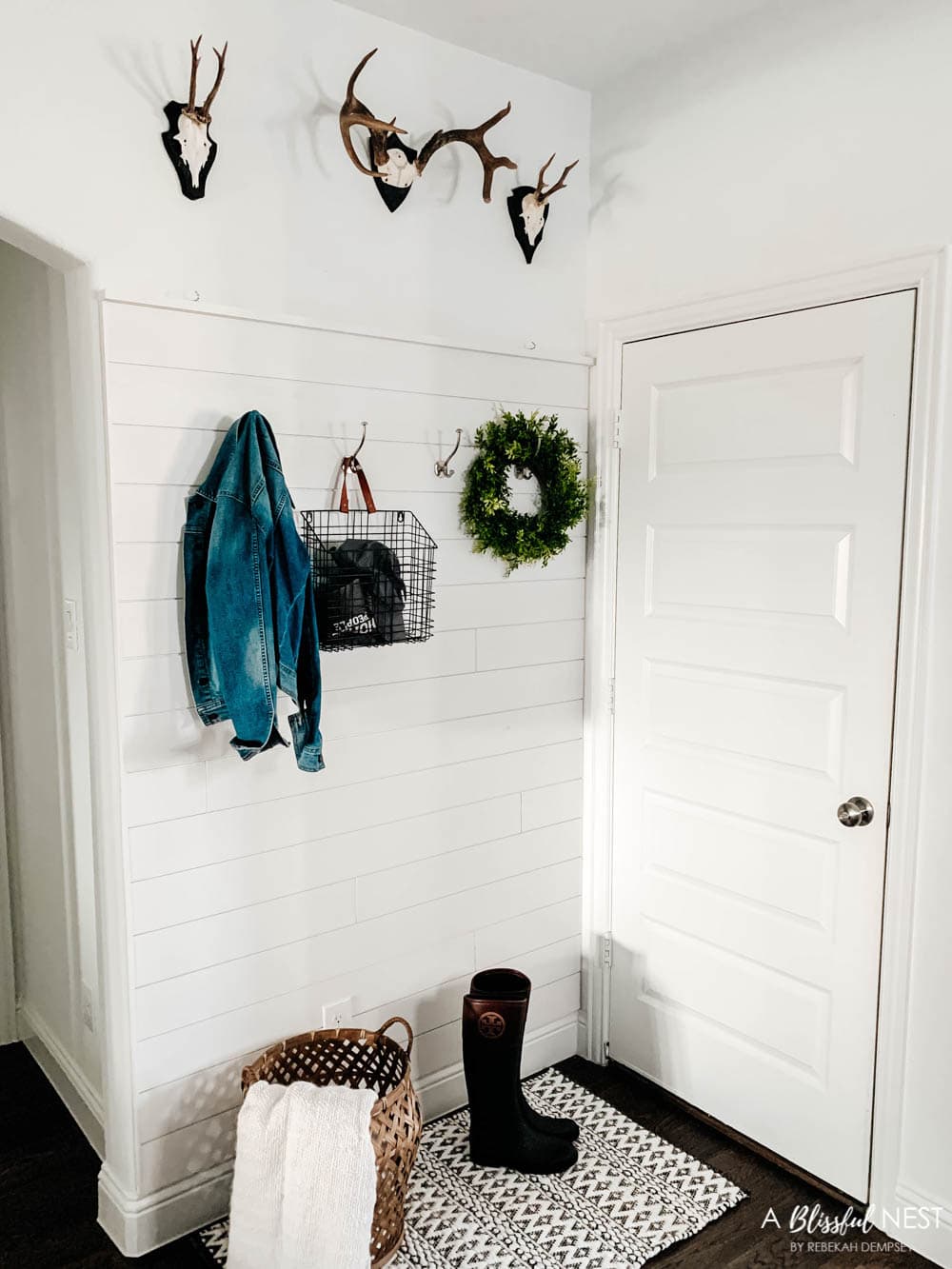 Shoes, jackets, sweaters, hats, and backpacks get dumped here. It can easily look like a train wreck.
I found so many great pieces at Hobby Lobby to help me keep this space organized for the new year.
Their baskets are amazing and I fell in love with this open woven one. I plan on using this for all the shoes that tend to pile up here.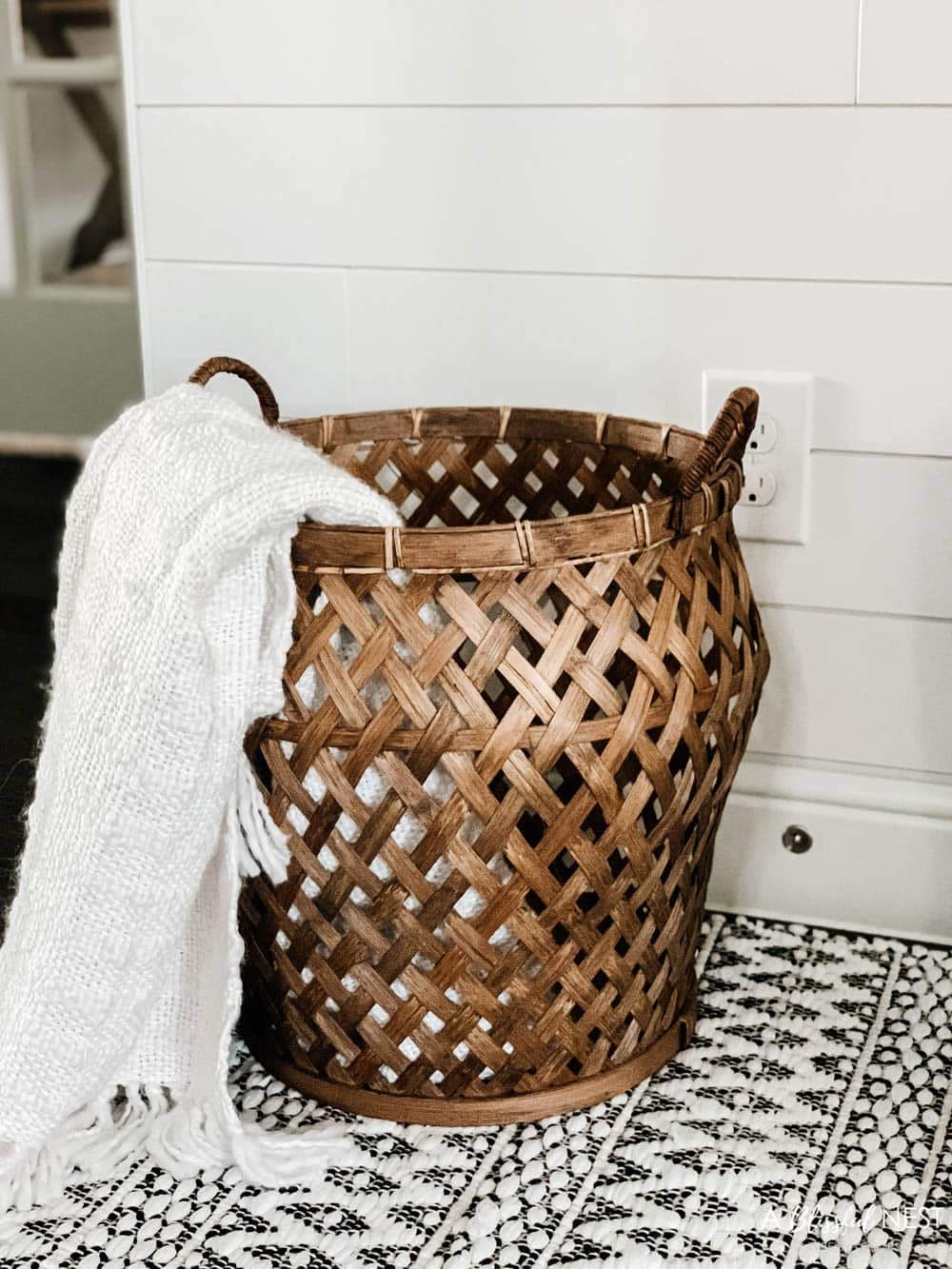 I layered this throw rug to ground it all and help to collect dirt. It's small and easy to throw in the wash when needed.
SO many hats get piled up on these hooks and it leaves no space for anything else. I love this wire basket with a leather handle. You can fit 20 hats and scarvesin here, and still have room to hang up all the sweaters and jackets. Such a win in my book!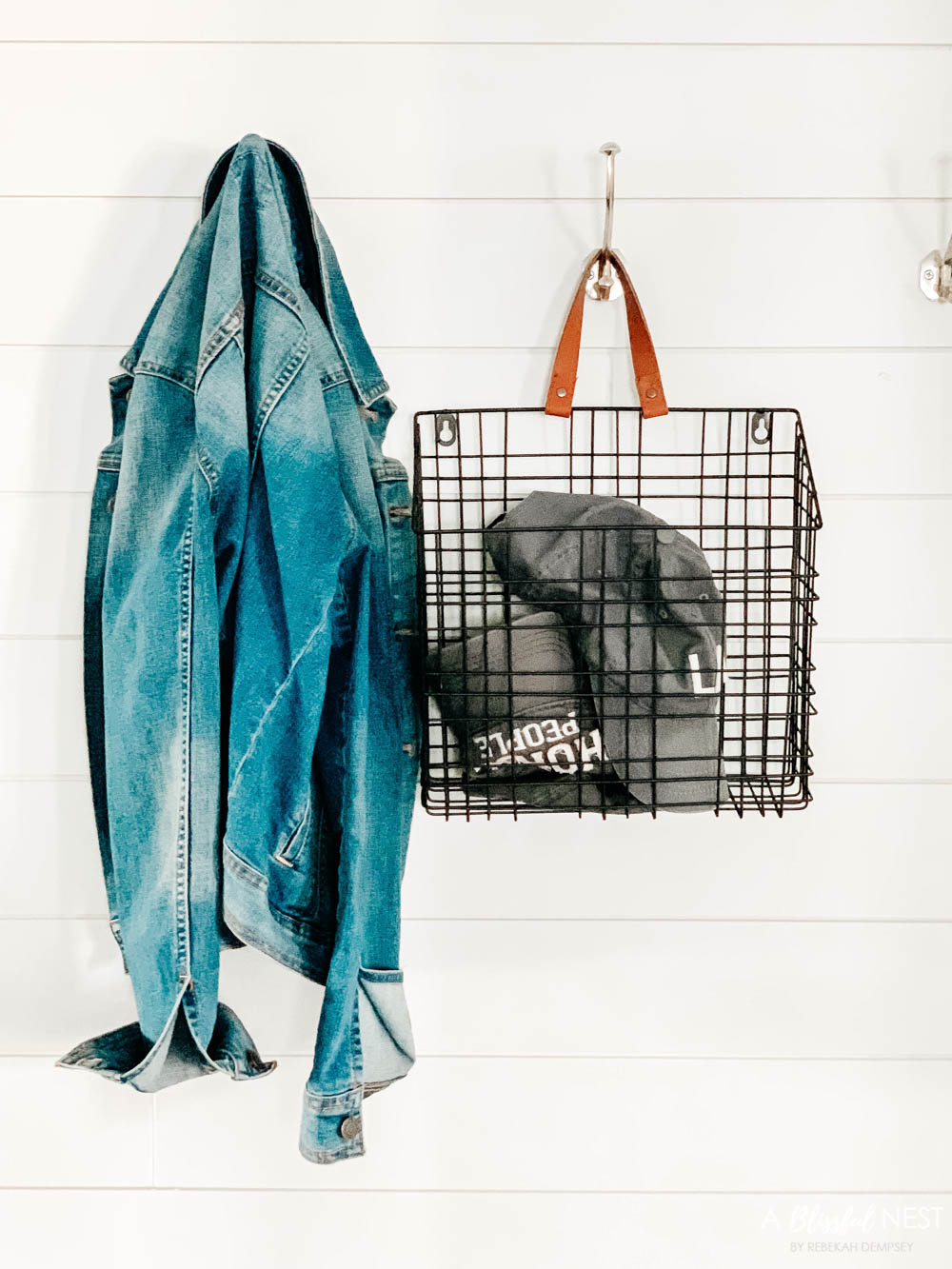 5. Use faux greenery to breathe new life into the space
I popped another one of these greenery wreaths for a little color too.
These are such a cute small size and easy to tuck and hang anywhere you need a little touch of color.
I tend to get a couple of them when I see ones I love because I always have a place for them.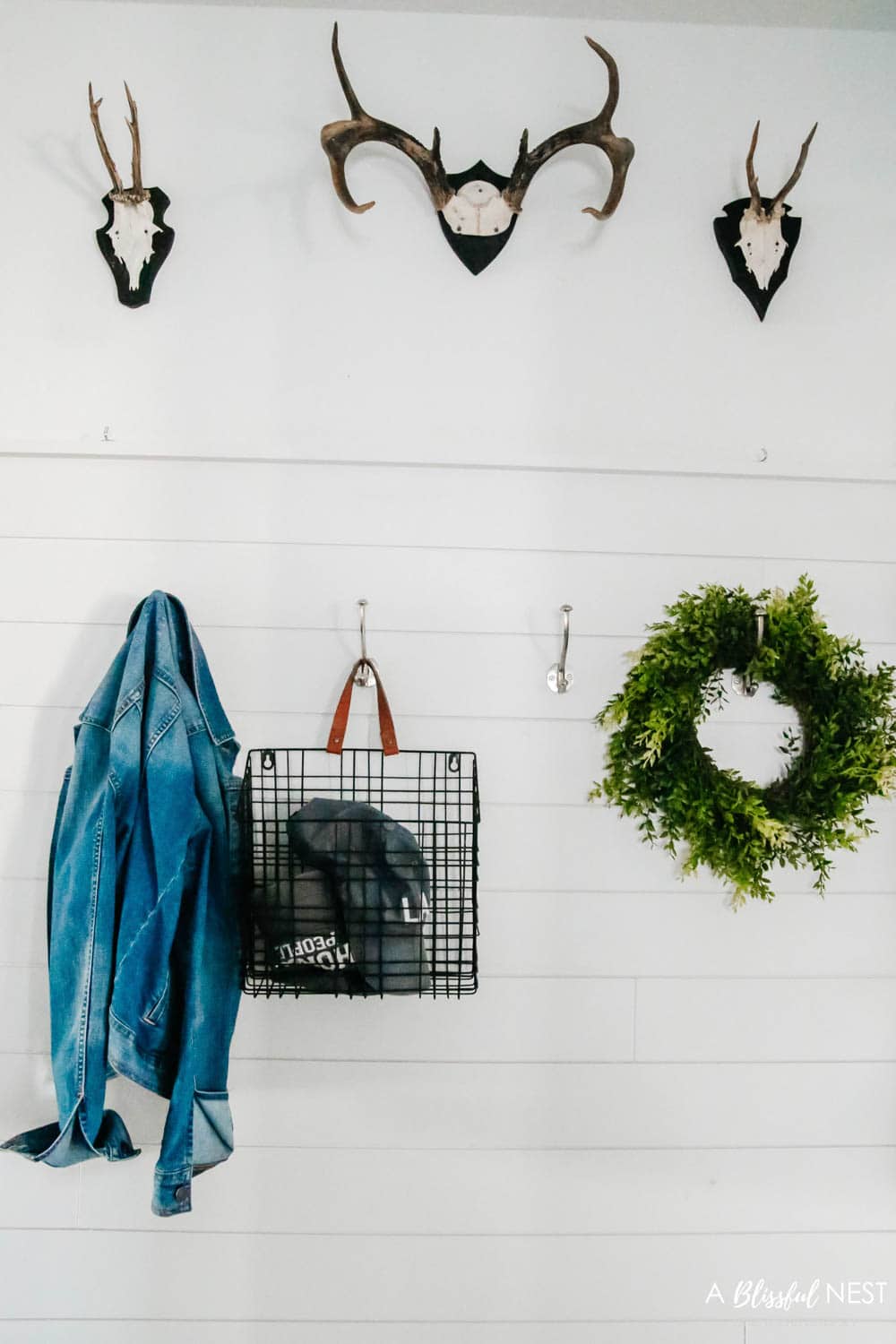 Winter decorating is here and I hope this helped to inspire you and get your list of items you need to start transitioning your homes here shortly for the new season.
Make sure to run on over to your nearest Hobby Lobby store and get your home set for the new year with these beautiful and functional home decor finds!
THIS IS A SPONSORED POST. A BLISSFUL NEST HAS RECEIVED PAYMENT, TRADE, AND/OR PRODUCTS FROM HOBBY LOBBY IN EXCHANGE FOR PROMOTING. HOWEVER, ALL OPINIONS STATED ARE OUR OWN.
Follow along to get more of my tips on home decor, DIY, and lifestyle on the following:
Pinterest | Instagram | Facebook | Twitter