Beautiful Christmas Tree Collars + Where to Buy Them
Sharing a collection of the most beautiful Christmas tree collars and where to buy them, along with how to use a tree collar, and some tree decorating tips.
I'm always looking for ways to spruce things up during the holidays and add as much beautiful holiday decor as possible to enjoy for the season.
If you're similar, I have the perfect thing for you!
Try adding a Christmas tree collar onto your tree this season. It adds a lot to your living area (or wherever you put your Christmas tree!) and really makes your tree POP!
The base of your Christmas tree plays a vital role in creating a picture-perfect holiday look for your tree.
If you're tired of the same old tree skirt and are looking to add a touch of elegance and sophistication to your holiday decor, then a tree collar is for you.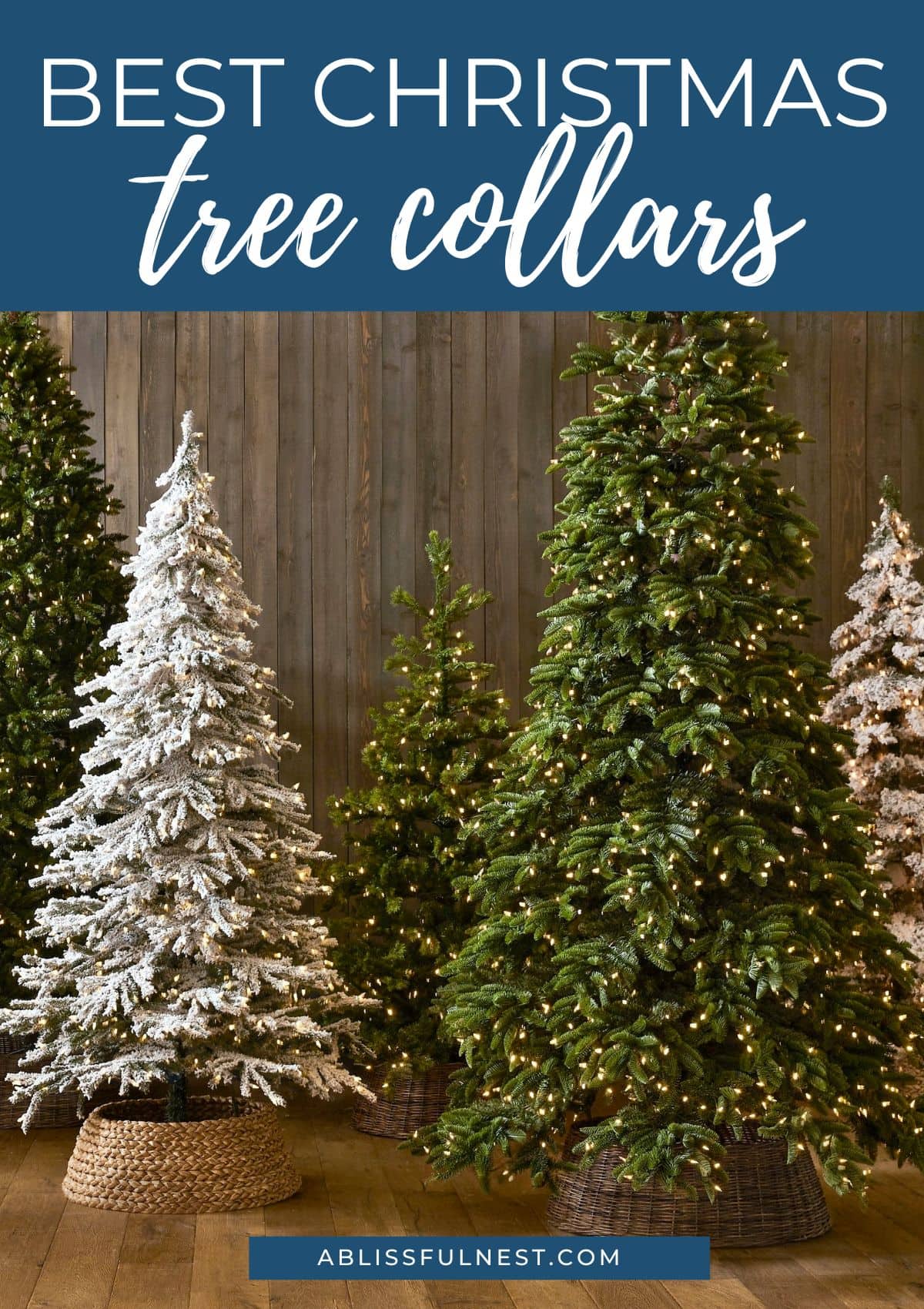 While the star of the show is undoubtedly the Christmas tree, it's the little details that can truly transform your home into a beautiful seasonal look.
Whether you're a traditionalist or a trendsetter, there's a Christmas tree collar for everyone, and I'm here to help you discover the best options for your holiday season.
This site contains affiliate links. Please read our disclosure policy. As an Amazon Associate, I earn from qualifying purchases.
What Is A Christmas Tree Collar For
A Christmas tree collar is a decorative piece that conceals the base of your tree. It wraps around the tree stand and forms a band to hide the stand and cords from the Christmas tree.
Generally, people like to use a tree collar in place of a tree skirt but I also love to layer them together. 
One of the most practical functions of a Christmas tree collar is to hide the often unattractive tree stand or bucket that holds your tree in place. It creates a more polished and cohesive appearance for your tree, making it look as if it's seamlessly rising from a decorative container.
While tree skirts also help with this, a Christmas tree collar can help contain loose needles that may fall off the tree, making post-holiday cleanup a bit easier.
Some tree collars are designed with a weighted base or added stability features, helping to prevent your tree from toppling over, especially if you have pets or children.
How To Put On A Tree Collar
Some Christmas tree collars slide on over the stand of the tree and others wrap around and hook in the back.
Start by setting up and securing your Christmas tree in its stand. Ensure the tree is straight and stable. Make any necessary adjustments to the tree's position.
Place the Christmas tree collar around the base of the tree. Ensure it's centered and positioned evenly. The collar should encircle the tree stand, concealing it entirely.
If your tree collar has any clips, latches, or fasteners, use them to secure the collar in place. This will help keep it in position and prevent it from shifting or falling.
Check that the tree collar is sitting evenly and at the desired height. You can adjust the collar's positioning to make sure it's covering the tree stand properly and that it's level all the way around.
And that's it!
What Sizes Do Christmas Tree Collars Come In
Christmas tree collars vary in size and height much like your tree does.
They can range in size from 20″ – 28″ in diameter and up to 12″ in height. If your tree is tall and full then you will want one that is wider.
If you have a tall and skinny tree, then look for one that is a smaller diameter and maybe a little taller. 
More Christmas Decorating Ideas + Inspiration
I've been on the hunt for all of the most beautiful Christmas tree collars so I rounded up all of my favorites that I've seen this season.
Here are the prettiest Christmas tree collars this season!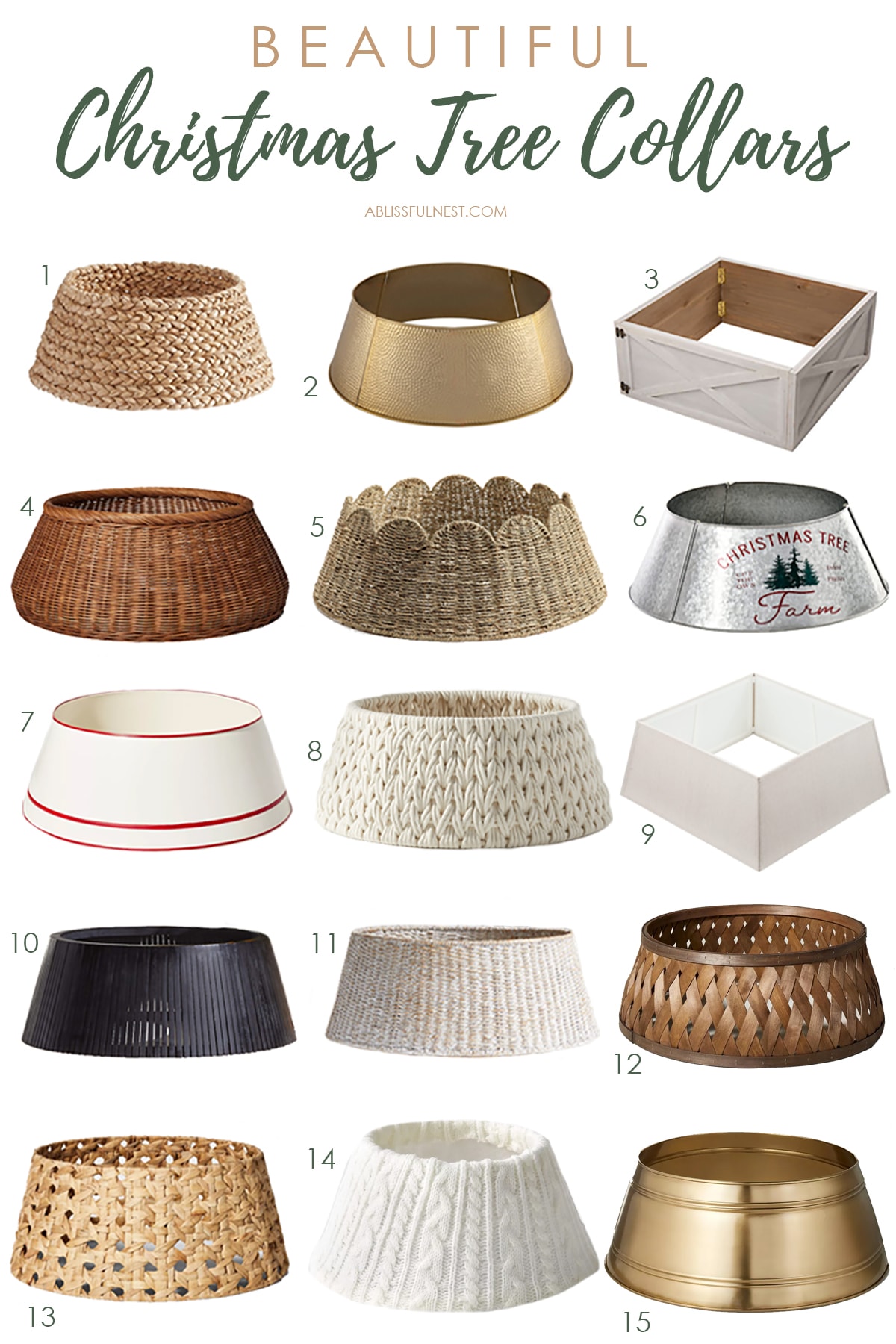 1 | 2 | 3 | 4 | 5 | 6 | 7 | 8 | 9 | 10 | 11 | 12 | 13 | 14 | 15
Beautiful Christmas Tree Collars
1. Beachcomber Basket Tree Collar: this natural Christmas tree collar is the prettiest woven collar and is so beachy and fun!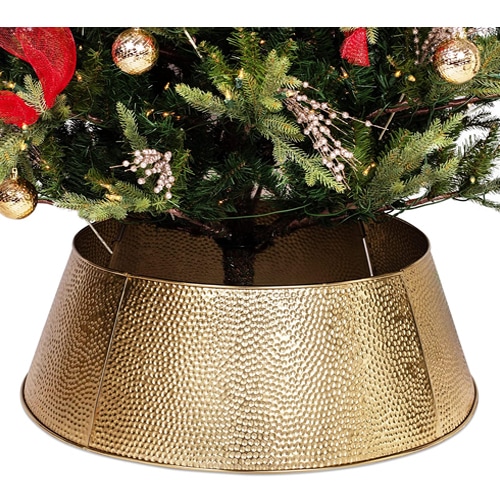 2. Hammered Gold Tree Collar: this gold Christmas tree collar is gorgeous! It's under $60 and the hammered look is perfect for the holidays.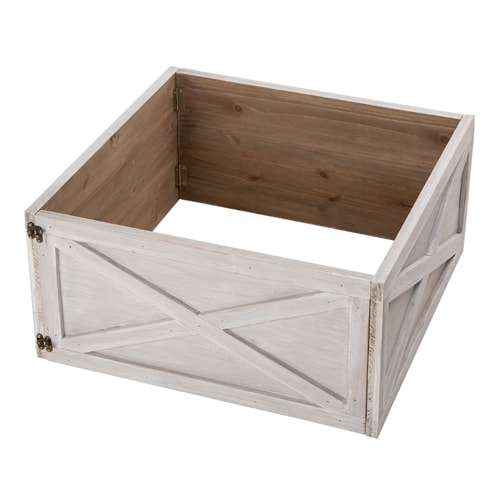 3. Washed White Wooden Tree Collar: this under $100 tree collar is so pretty! I love the washed wood look to it.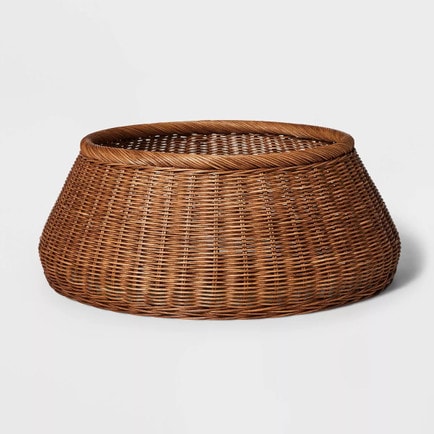 4. Rattan Cuffed Christmas Tree Collar: the coloring is what drew me to this tree collar! I love the style too and the "cuffed" look is so different. It's perfect to add to your tree this season!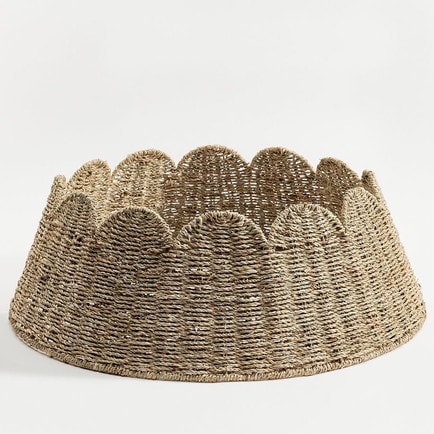 5. Woven Scalloped Tree Collar: this might be my favorite of the bunch! I LOVE this one! It's under $100 and a piece you'll love to pull out of storage and use every holiday season!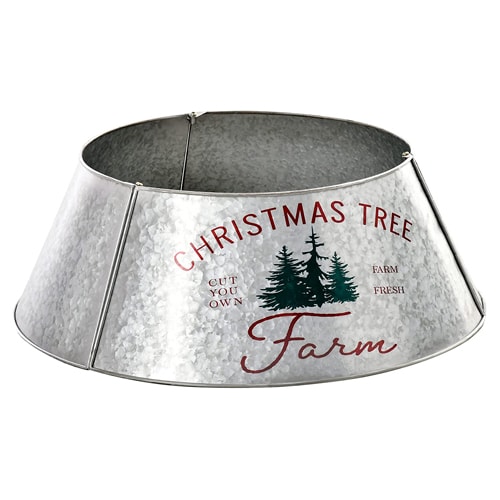 6. Steel Christmas Tree Collar: this farmhouse-styled tree collar is so fun and will add so much to your space this holiday season!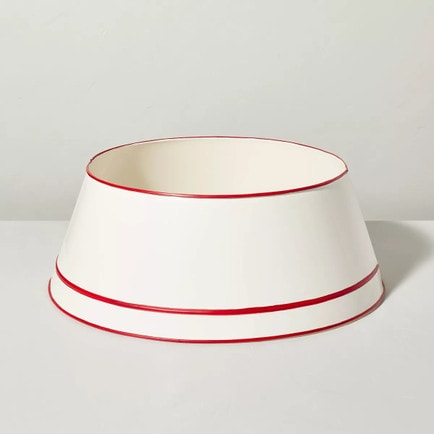 7. Red Metal Rim Christmas Tree Collar: this one feels a bit more classic and I love the pop of red! It's perfect if you're looking for a classic Christmas tree collar this season!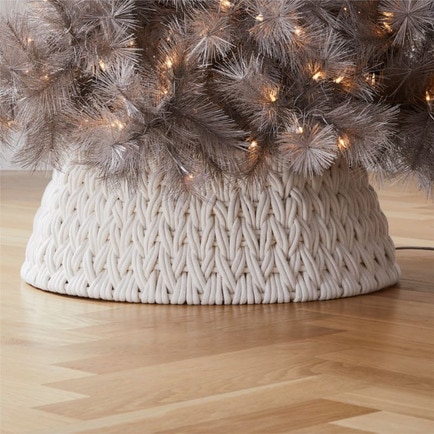 8. White Woven Christmas Tree Collar: another classic woven tree collar but this one has a whitewashed look to it and I LOVE it! These are all so fun but this one really makes a statement without being overdone. It'd look especially pretty with a flocked Christmas tree!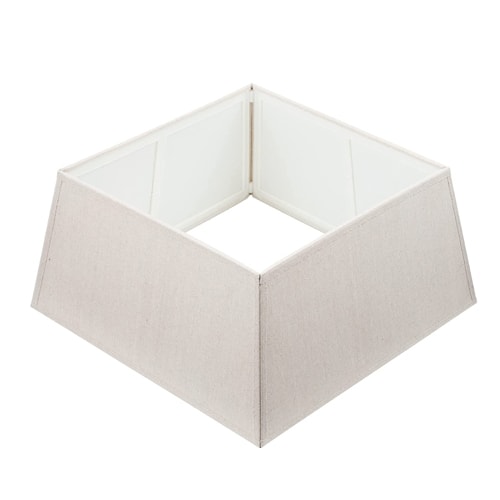 9. Square Basket Woven Tree Collar: here's a super different-looking Christmas tree collar! I love the style and how simplistic it is. Perfect if you have a busy, full tree or a lot of other busy decor during the holidays.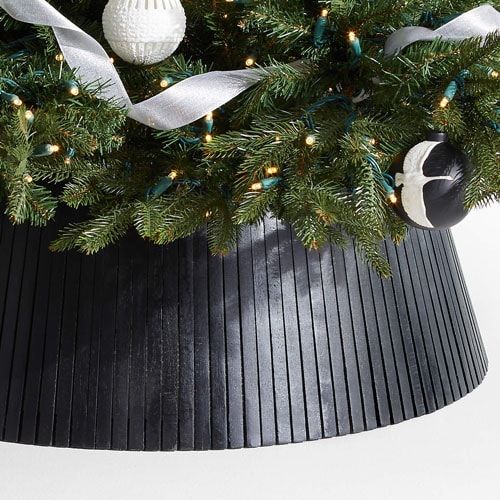 10. Skei Black Wood Christmas Tree Collar: this skei wood tree collar is so different than your typical Christmas tree collar! It comes in natural wood as well and it's a fun way to add some pop to your holiday decor.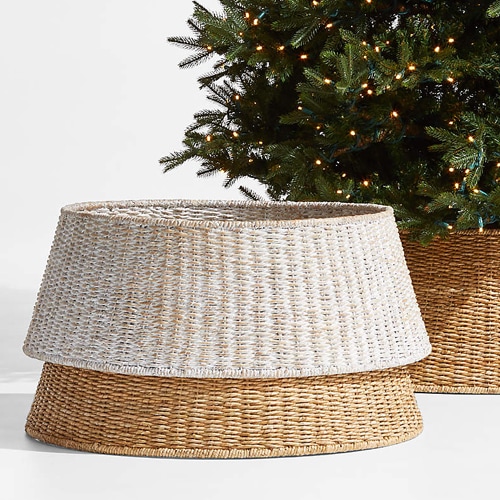 11. Whitewash Woven Christmas Tree Collar: this pretty tree collar is also a classic, but with a twist! The whitewashed look is also beautiful.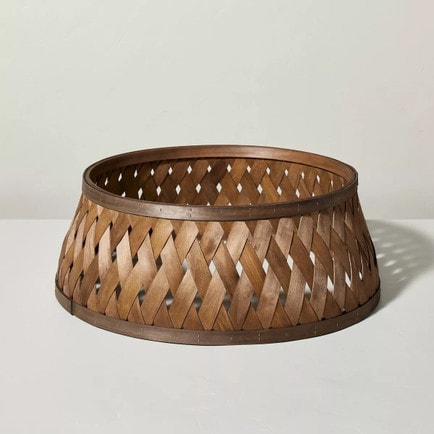 12. Wooden Lattice Christmas Tree Collar: the somewhat "burnt" look of this tree collar is so different! I think this one would be especially pretty with a classic, green Christmas tree. It's also under $70!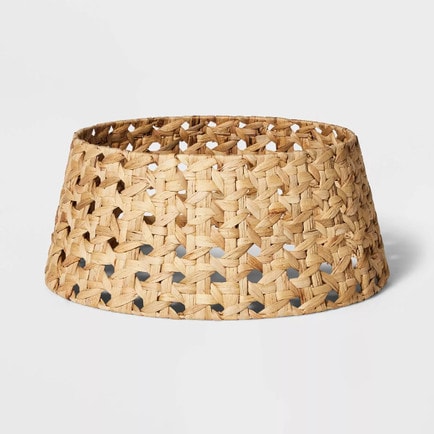 13. Open Weave Christmas Tree Cuff Collar: this woven tree collar is classic, beachy and perfect! You could pair it with any style/colored tree and it'll look SO good in your home this holiday season.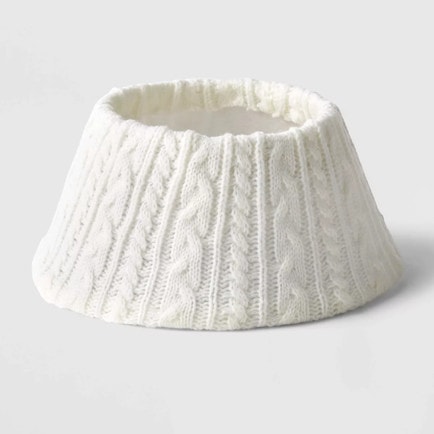 14. Cable Knit Mini Christmas Tree Collar: this is perfect if you have any sort of mini tabletop tree or a bedroom tree, etc. It's different, cozy and CUTE!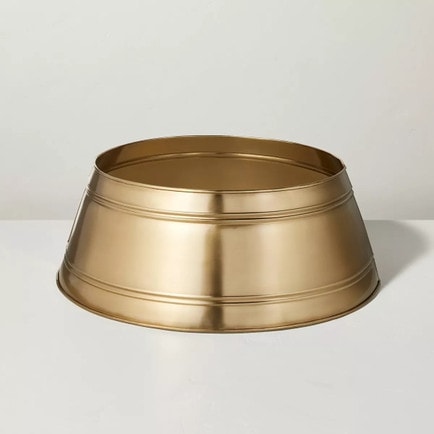 15. Antique Brass Banded Metal Christmas Tree Collar: this is such a classic looking tree collar and it'll go with every style tree that you decorate! It's under $60 and super sturdy. Add some glam gold to your holiday decor this season with this collar around your tree!
We hope these beautiful Christmas tree collars help you to find your newest decor addition this holiday season!
Click HERE to go to them!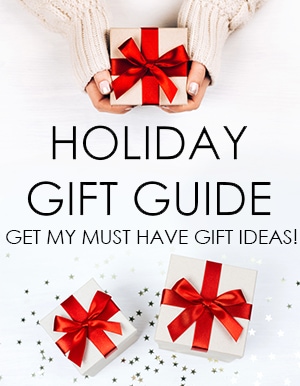 Follow along to get more of my tips on home decor, DIY and lifestyle on the following: