How to Decorate A Christmas Tree Like A Designer
This post is sponsored by Decorator's Warehouse, but all opinions are my own.
Are you feeling the crispness in the air? You know what that means, the holidays are fast approaching and it is time for holiday home tours. This year I am doing things a little backward and sharing my Christmas tree design with you first since I am seeing things sell out faster than normal this year. I want to make sure you have enough time to order everything you need to decorate for Christmas and not stress.
Now more than ever everyone is shopping online so I sourced everything online from one of my favorite stores for the holidays, Decorator's Warehouse. They have the largest selection of the most gorgeous holiday decor I have ever seen. You can also shop with them now through December 25th for 10% off all full-priced items. You can use code: ABLISSFULNEST.
Decorator's Warehouse also challenged a group of amazing influencers to share their unique creations in the "Home For The Holidays Christmas Tree Challange" which we all will be sharing tonight on Instagram. So make sure to check in over there this evening to see them all.
So with that said, here is my winter green and white Christmas tree this year and the inspiration for the rest of my holiday decor you will be seeing this year throughout my home.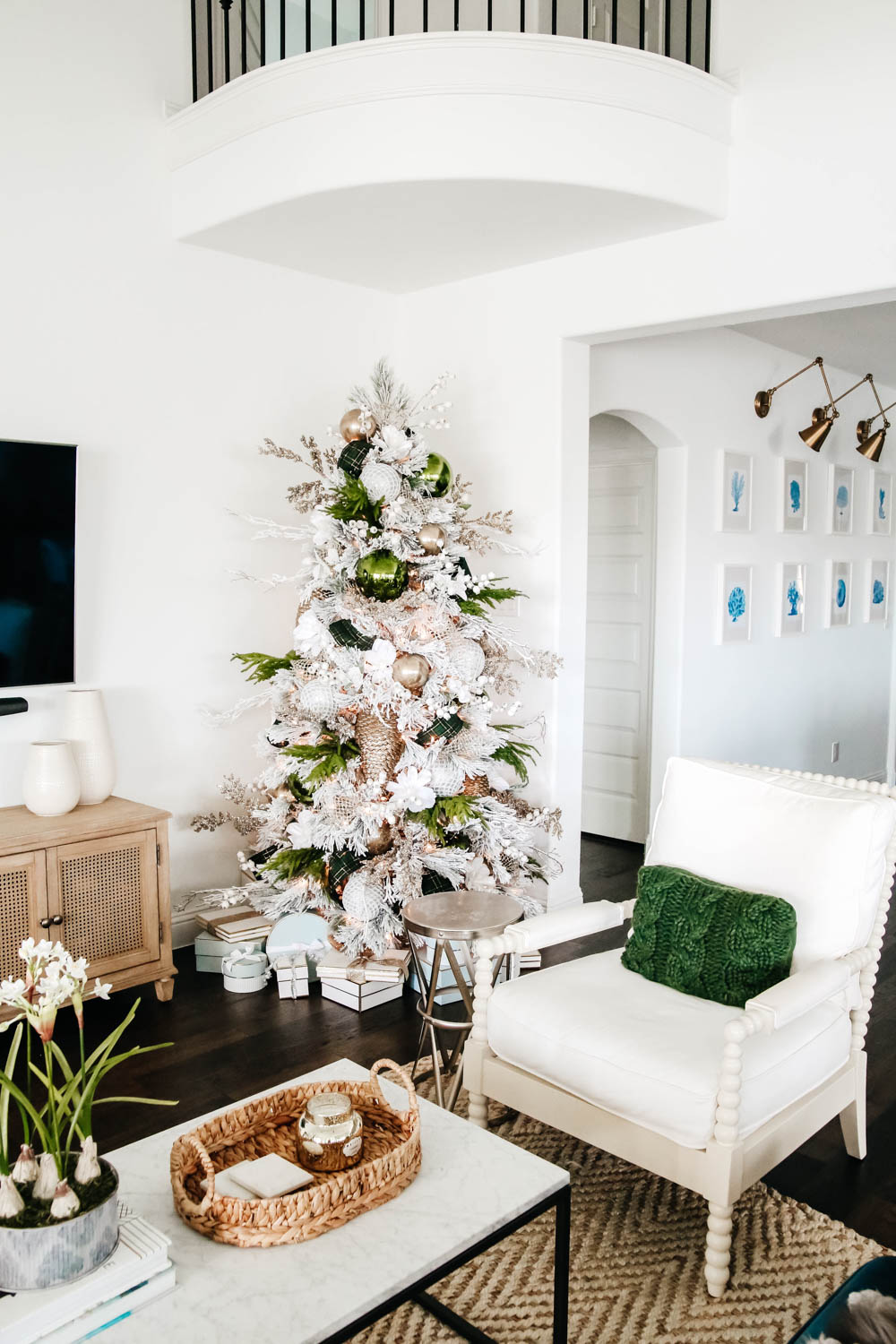 As you can see my color scheme is white and hunter green with touches of bronze gold. I am so inspired by all the beautiful green shades from the outdoors and honestly dreaming of seeing the gorgeous California forests lately. But I still wanted to glam it up a bit with some champagne gold.
This tree looks so different from last year's tree which had more neutral tones to it. I love to switch it up each year and make my Christmas decor feel fresh and new.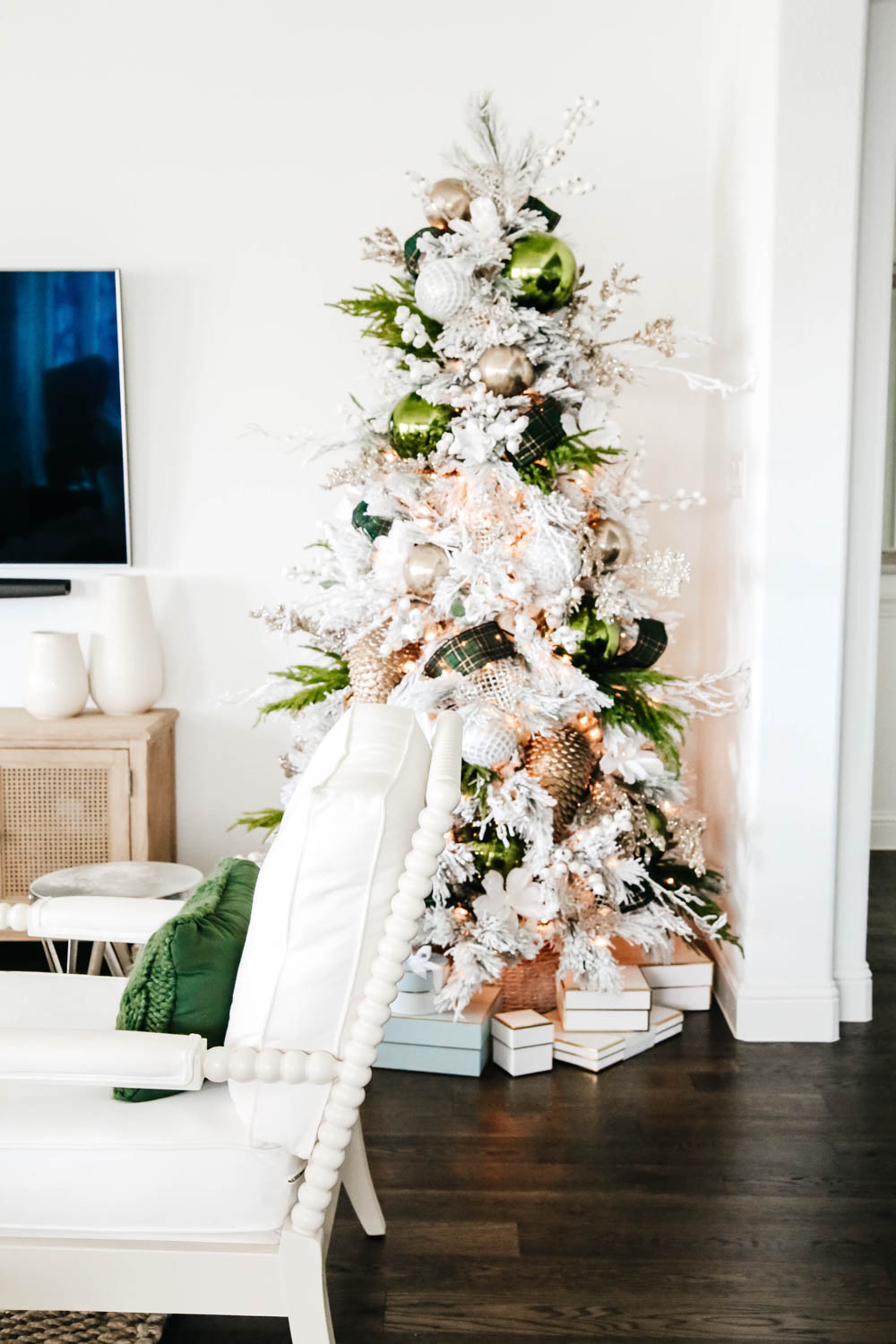 I chose four different floral picks to use this year and oversized (though varying) sizes of ornaments to add color and texture. I also am using the soft grey-blue shade found in our kitchen island and fireplace mantle as an accent and used gift boxes to add a little dimension.
I get so many questions on how I layer in my design on my Christmas trees that I thought I would give you a tutorial on how I decorate my trees as well as all the sources I used to do this.
How to Decorate a Christmas Tree Like A Designer
Fluff the branches
First things first, set your tree up and fluff the branches. I start at the bottom and I manipulate the branches to fill in the holes (dead space).
Fan out the branches. Usually, they have been pushed in to make it easier to store in the box. bring the branches back out horizontally. Spread the tips up and down to make some variation in the direction the branches are going in. Do this for each stick of branches and layer by layer until you finish at the top.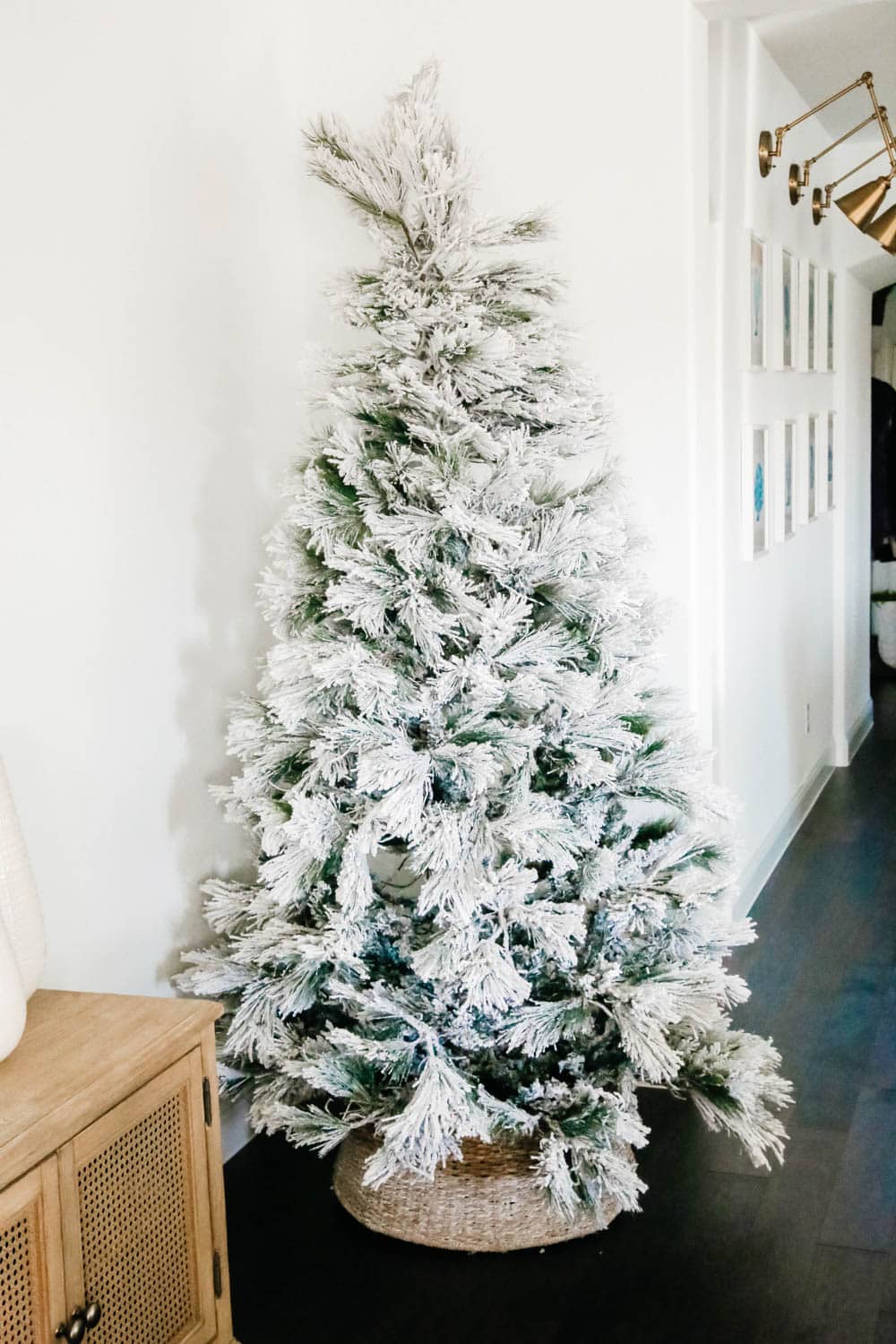 Turn on the lights
Next, plug your tree in. It is so much easier to work with the tree lights on so you can see where the holes are you need to fill in. Also, this will also help you to not put an ornament over the top of a light creating a dark space.
Add floral picks
Once your lights are on and your branches have been fluffed, it's time to add your floral picks. On this tree, I used four floral picks from Decorator's Warehouse. Generally, I add anywhere from 3-5 picks depending on my design. If I want to add more color or texture then I will add in more varying floral picks.

In this particular tree, I used a large pine pick that had little ice droplets on it. I loved the real-life texture and droopiness of it. It also is wired so I can manipulate the small branches of the pick. I can not stress this more – every floral pick you use you need to move the different pieces in different directions to create a fuller look. Otherwise, the floral pick will not fill in the space very much and will die into the tree and you may not see it.
Also, let's talk real quick about spreading our picks out. Create variance and move in triangles or a zig-zag to spread them out. I will add a pick and always step back to see if I have made a triangle or Z pattern. If not, pull it out and replace it's position.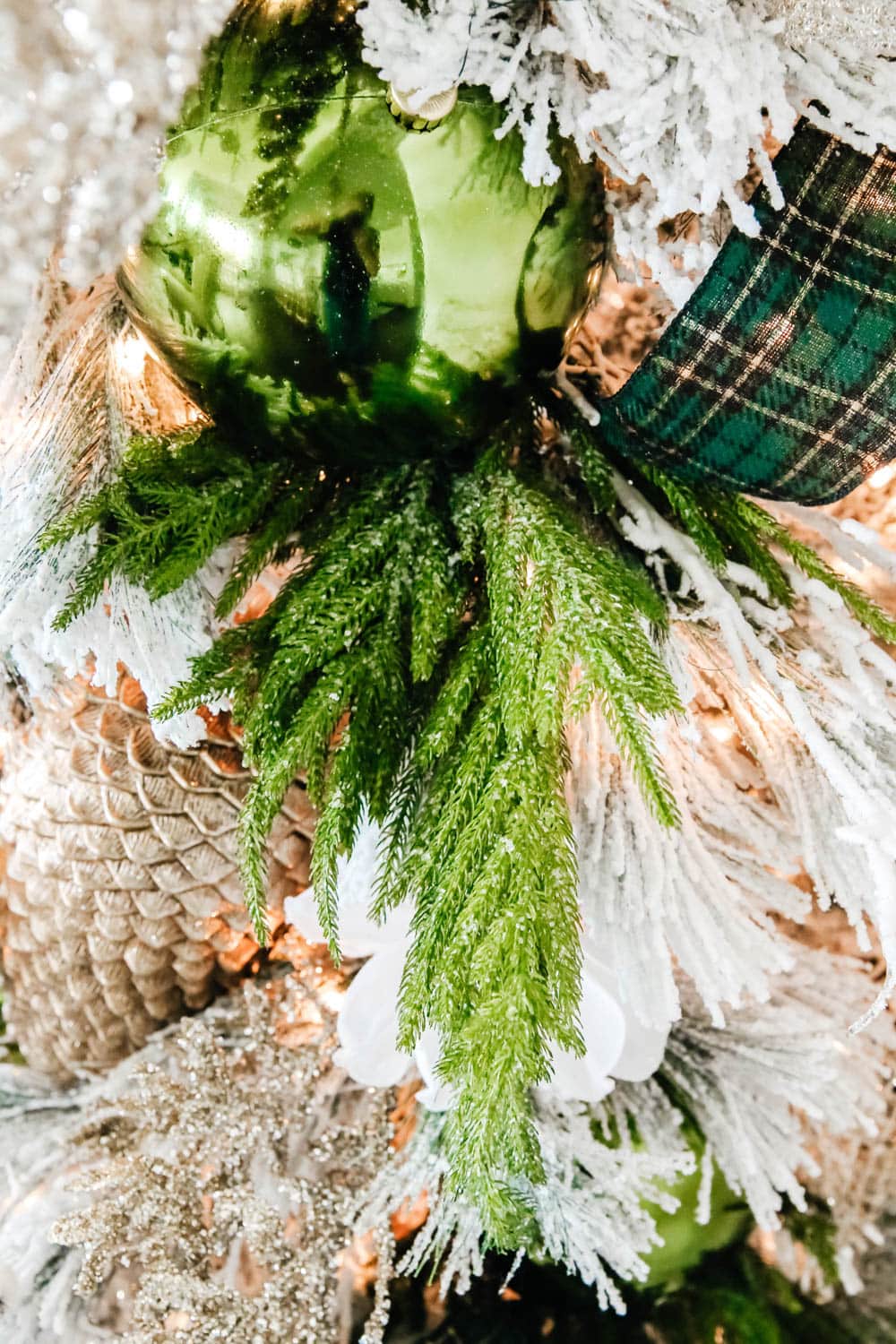 I then added these incredible glitter branches to add a little sparkle. Once again moving each leaf and branch to make it fill out the pocket in the tree I put it in.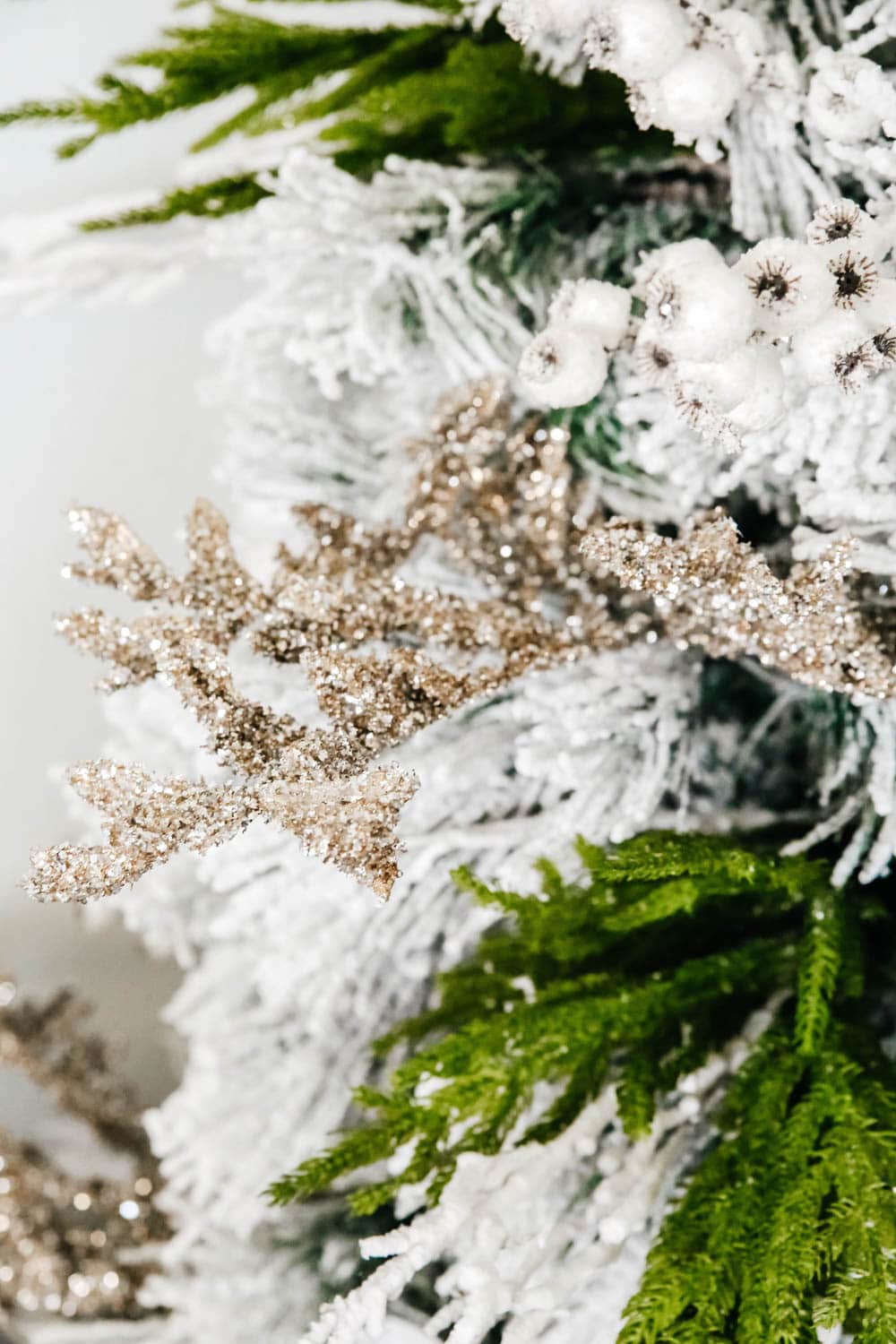 I then added these beautiful frosted white flowers. I love to use flower picks in my tree every year. They are beautiful and full and a great way to add color if you want a less monochromatic look. Make sure to fluff these as well before putting them in your tree. Move the leaves to make them look more realistic.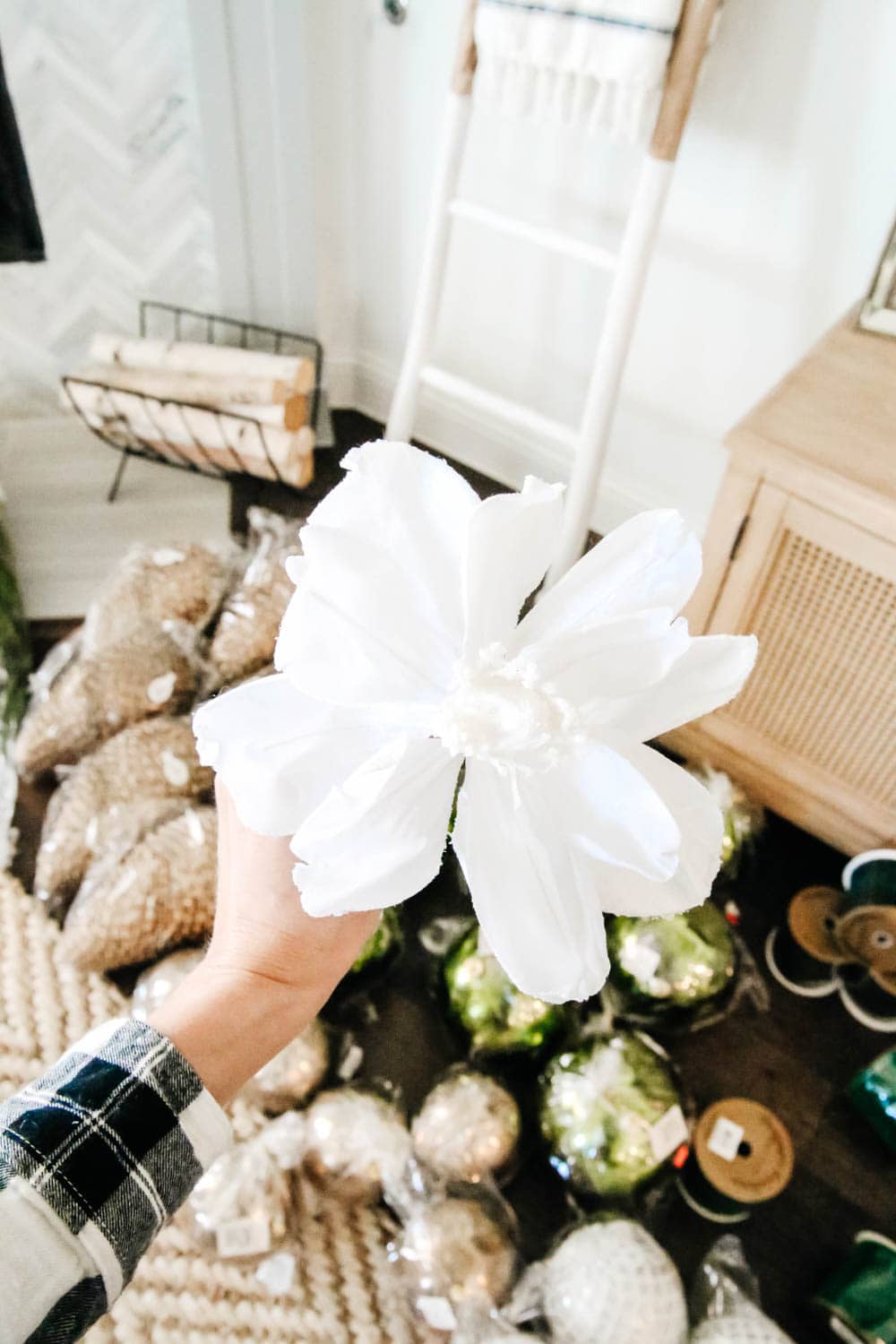 I always add my berry picks last. They are not as full as a branch and floral picks but I love the added texture they have. Decorator's Warehouse has so many beautiful ones to choose from.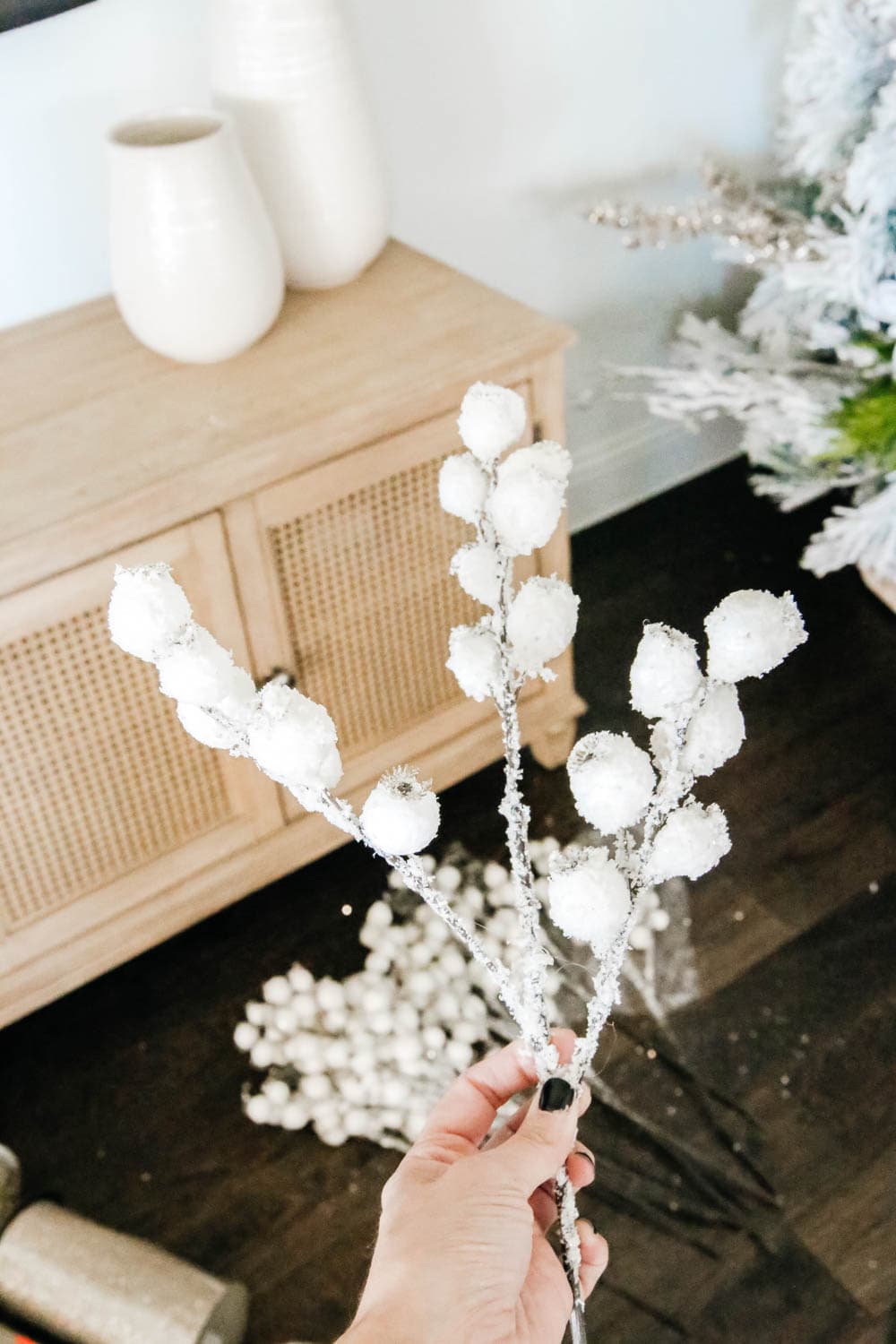 Always add your floral picks in a triangle or zig-zag to evenly disperse them. Take a moment to step back after you've added a couple to make sure you are on track.
Add ribbons
Many years ago, I used to go through the ribbon on one tree like it was running water. There was so much ribbon and I always tended to not have enough. Then somewhere done the road a few years ago I found a new method that made me save so much money.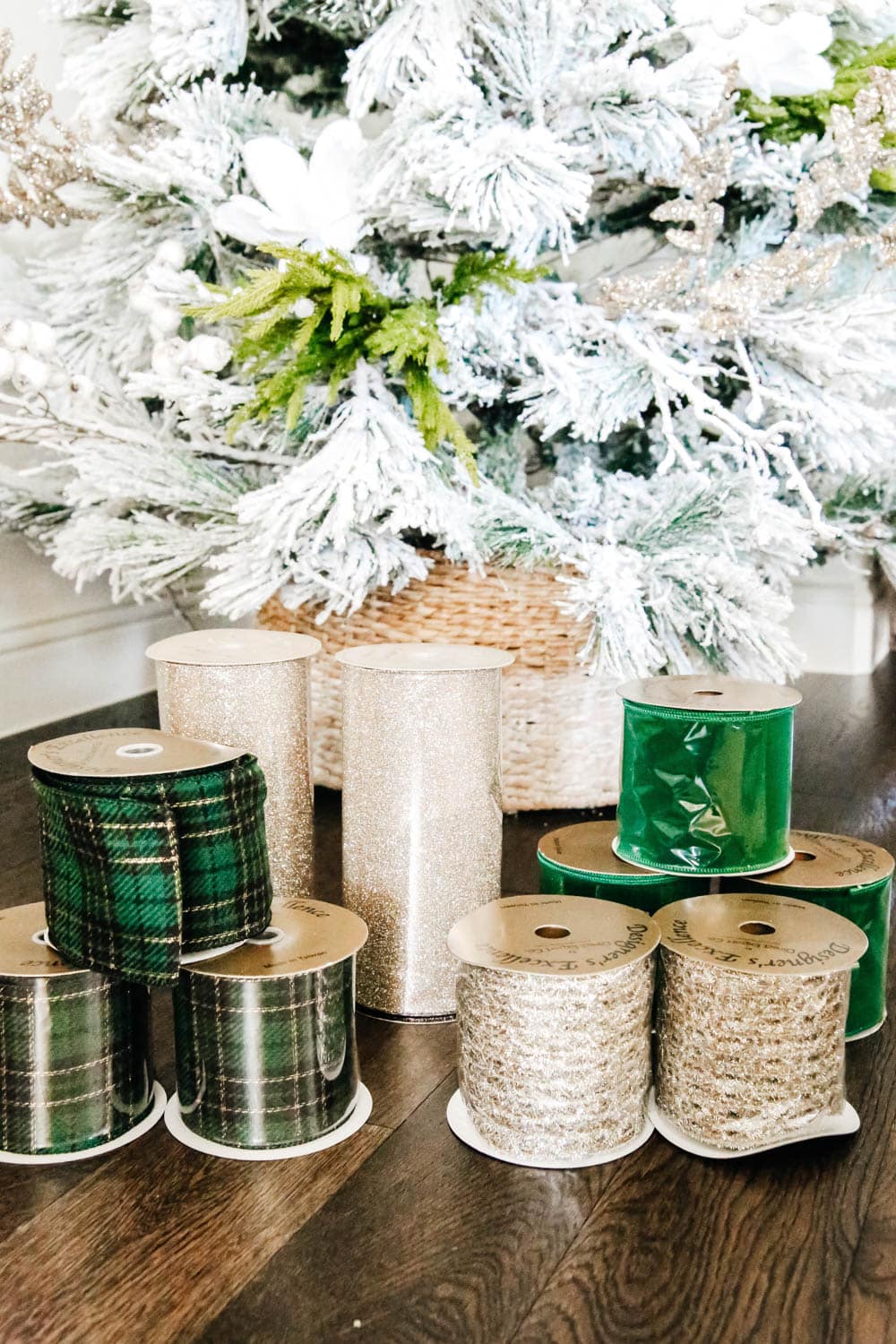 I typically like to use anywhere from 2-4 different Christmas ribbons on a tree. I love to use ones that are typically 4-6″ thick and have a wired edge. It makes it easier to manipulate them and they stay in place.
I cut about 12″ pieces and fold so the tips touch and bend the wire a bit. Then stuff each of the ends into the tree to create almost a bubble with the pice (see above). I like to angle my pieces so when I add another one, it makes it look like it is weaving in and out of the tree. You can attach each of the ends if you want with floral wire to the branches but if you are using a ribbon that has a wired edge then it should stay in place.
Create a waterfall of the ribbon going back and forth and up and down the tree again in a zig-zag pattern. This is what makes it look like it is being weaved in and out. Do this with multiple ribbons to create a dramatic effect with pattern and texture.
Organize your ornaments
Before you add your ornaments to the tree, lay them all out and group them. Group by color, style, and size so you can see everything and decide what will go on your tree first.

I do this with my floral picks as well just so I have a good plan of what will be added to the tree and when. I am such a visual person and like to take inventory first so I don't forget anything.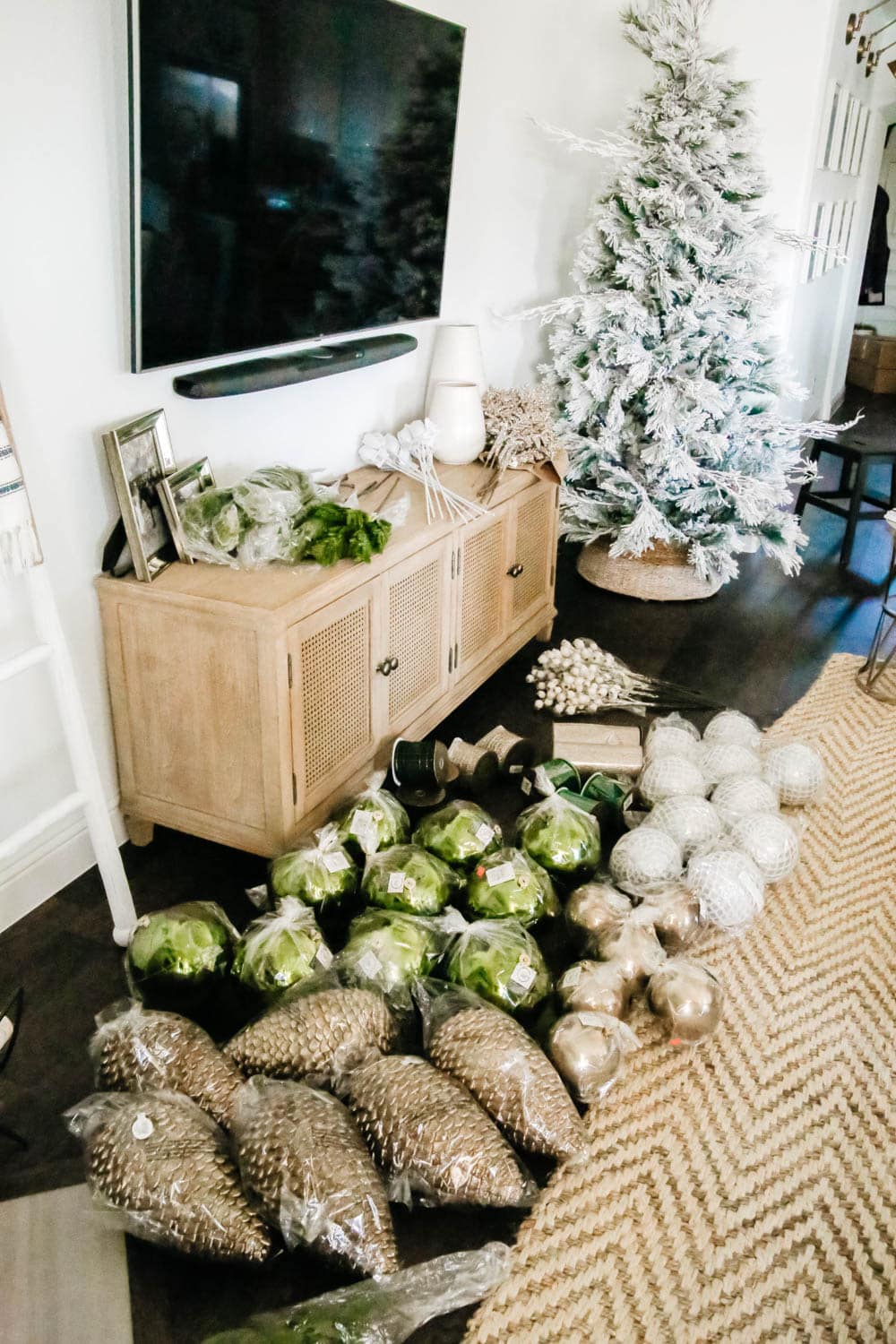 Add ornaments by size, color, and pattern
I start with the largest ornaments first and make my way to adding the smallest last. The larger ornaments like these pinecone ones, take up so much room and you want to make sure you have enough room first. I spread them out with the zig-zag method and then move onto the next size down.

These gorgeous green shatterproof balls add that pop of color and I tuck them back into the branches so they don't stick out too much. I do this so I can hang smaller ones closer and create more layers.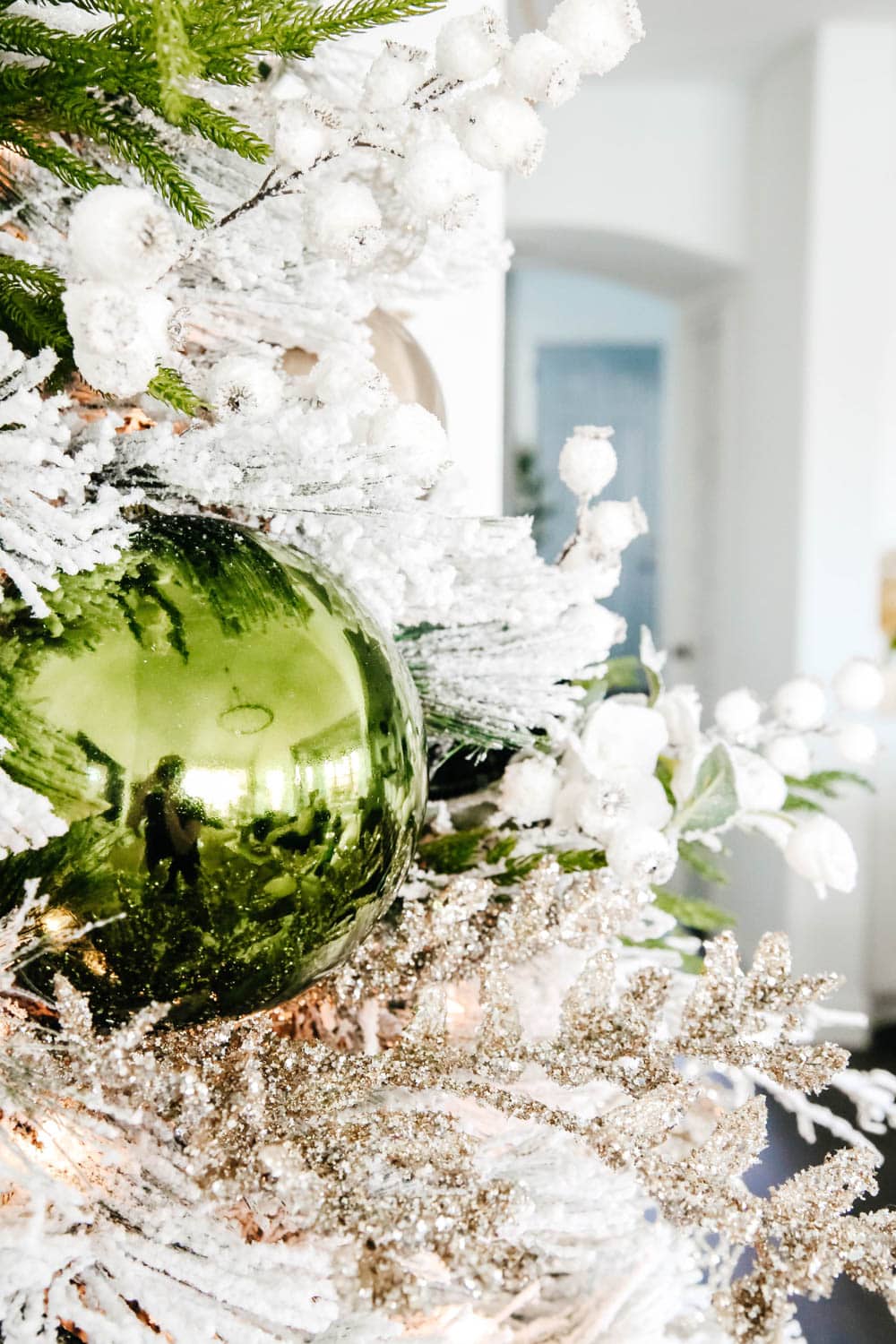 I always love to have ornaments that have texture to mix into my tree decor. It creates visual interest and makes your ornaments less plain looking. I chose these sparkly silver and white ornaments to add a little glitz. Just like in my interiors, I have no problem mixing silver and gold. I love the contrast they add to each other.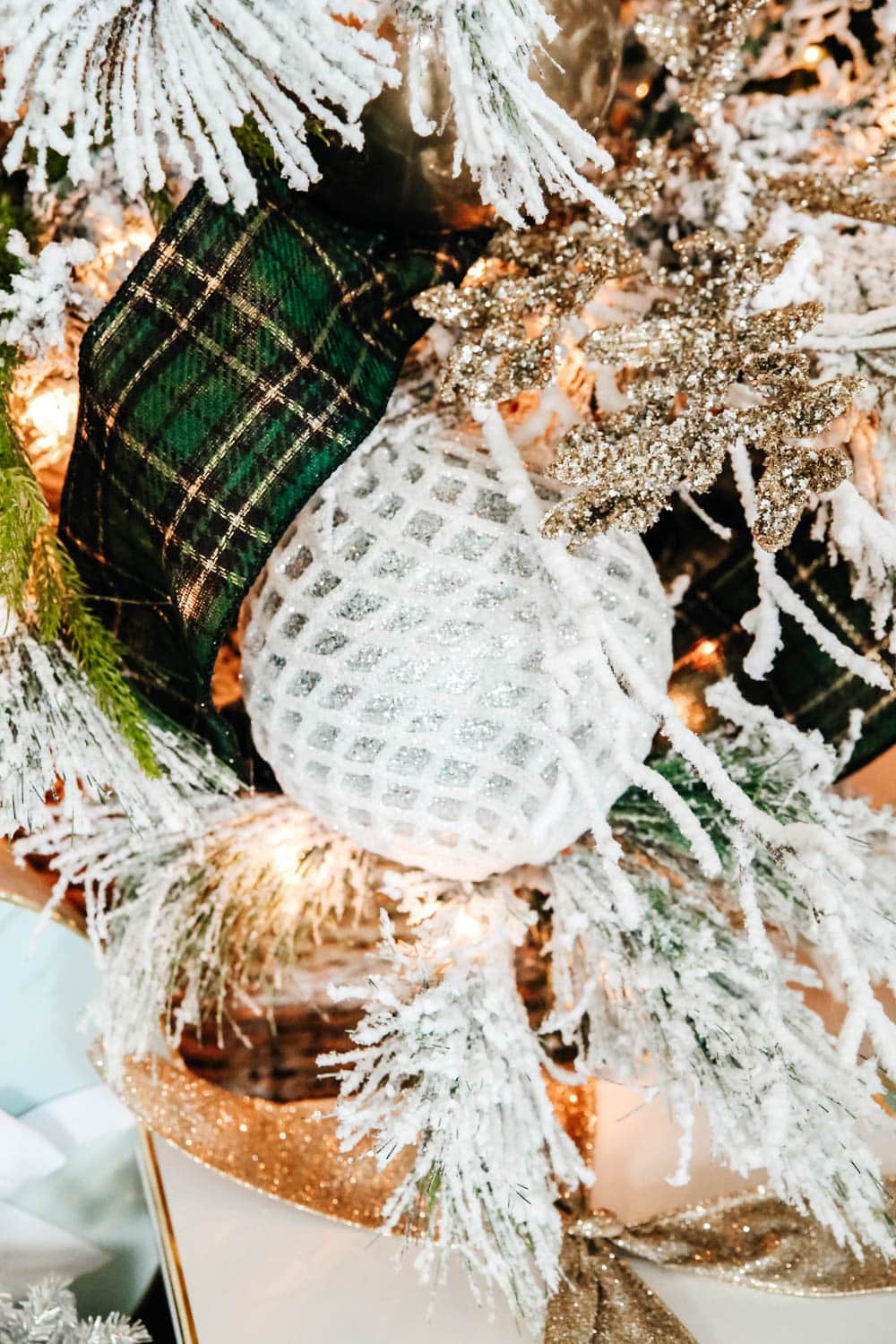 Add tree topper
Add a tree topper or something decorative to spruce up your top. This is when I will even add additional floral picks to elevate the height of my tree. I like to mix in ornaments and ribbons here to create even more fullness.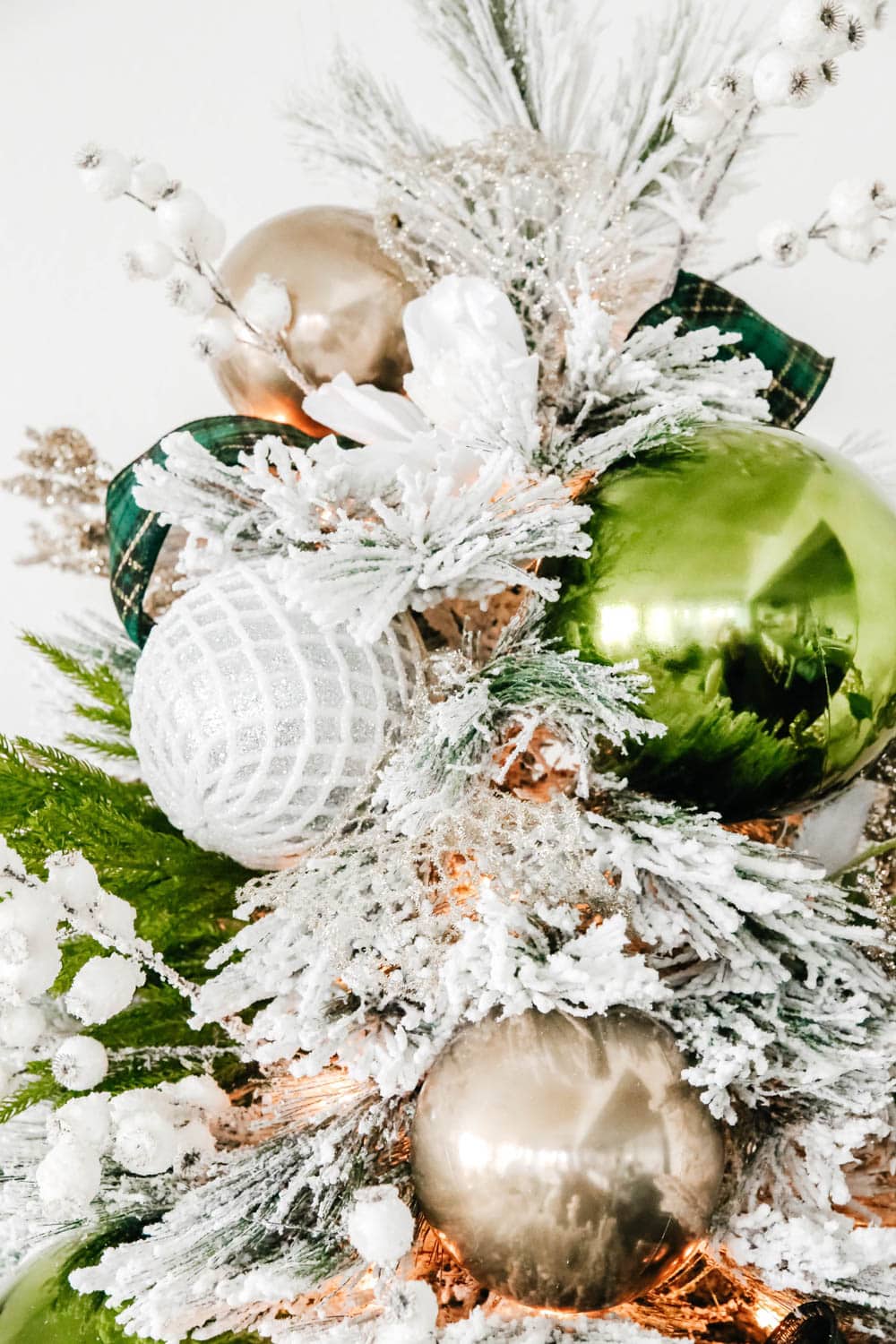 Tree skirt, tree collars, or a basket
Even though the base of your tree will get hidden by presents, you still need to cover that metal base because it will peek through. I love to use tree collars or even fluffy blankets. If you use a basket or collar, add it first when you put your tree up. If you use a blanket it should be the last thing you add from all the snow and glitter that will accumulate from the decorating process. It can be an utter mess!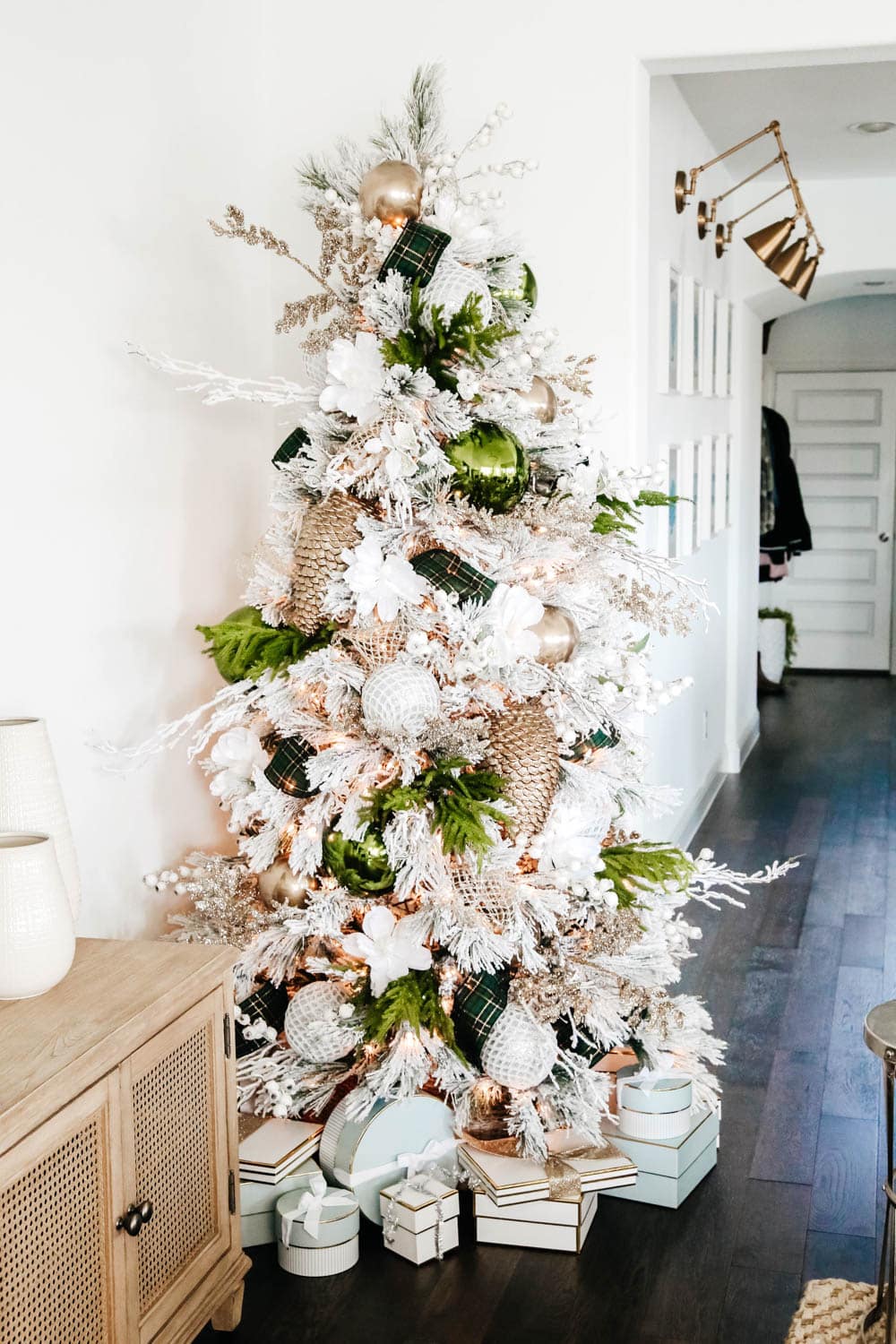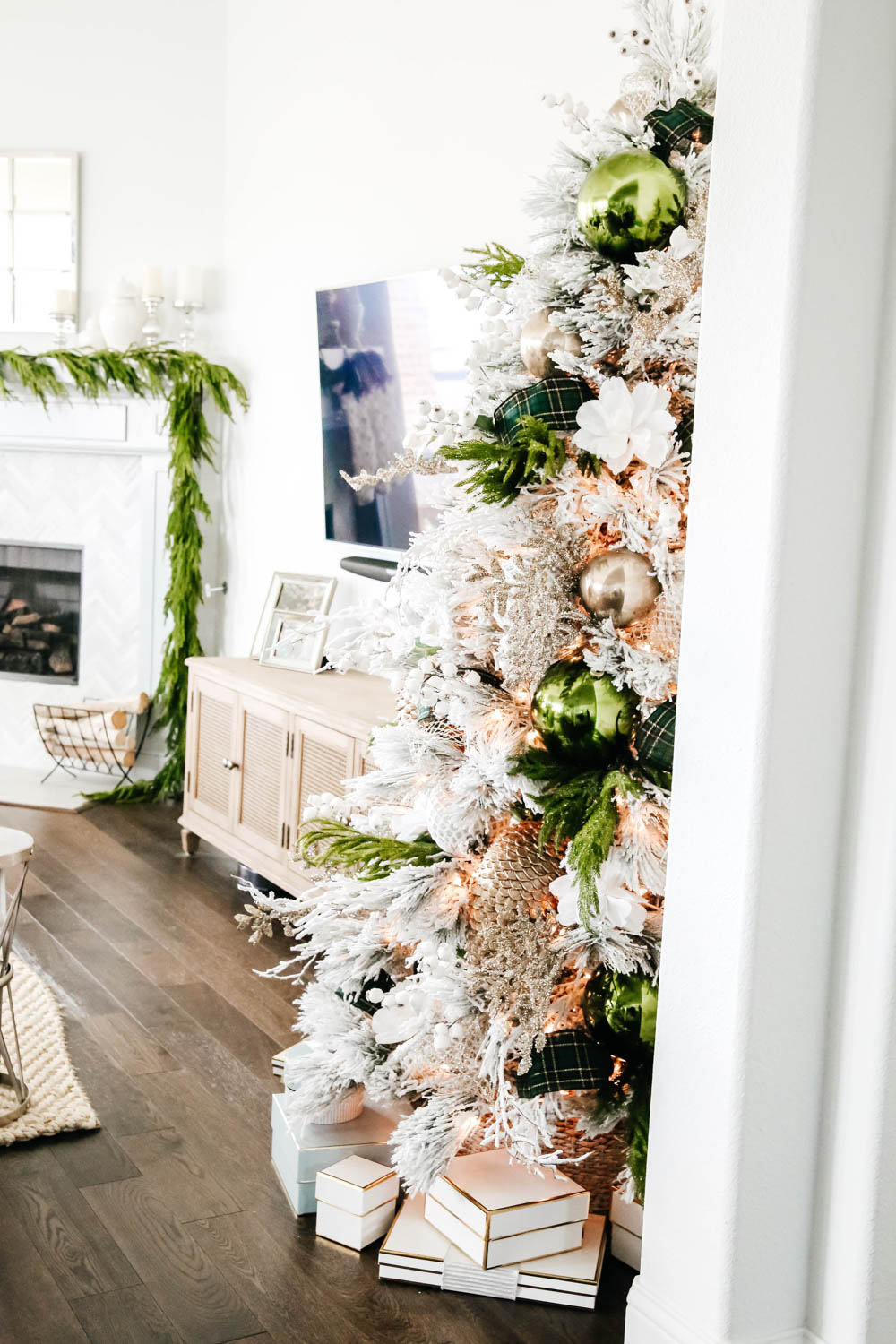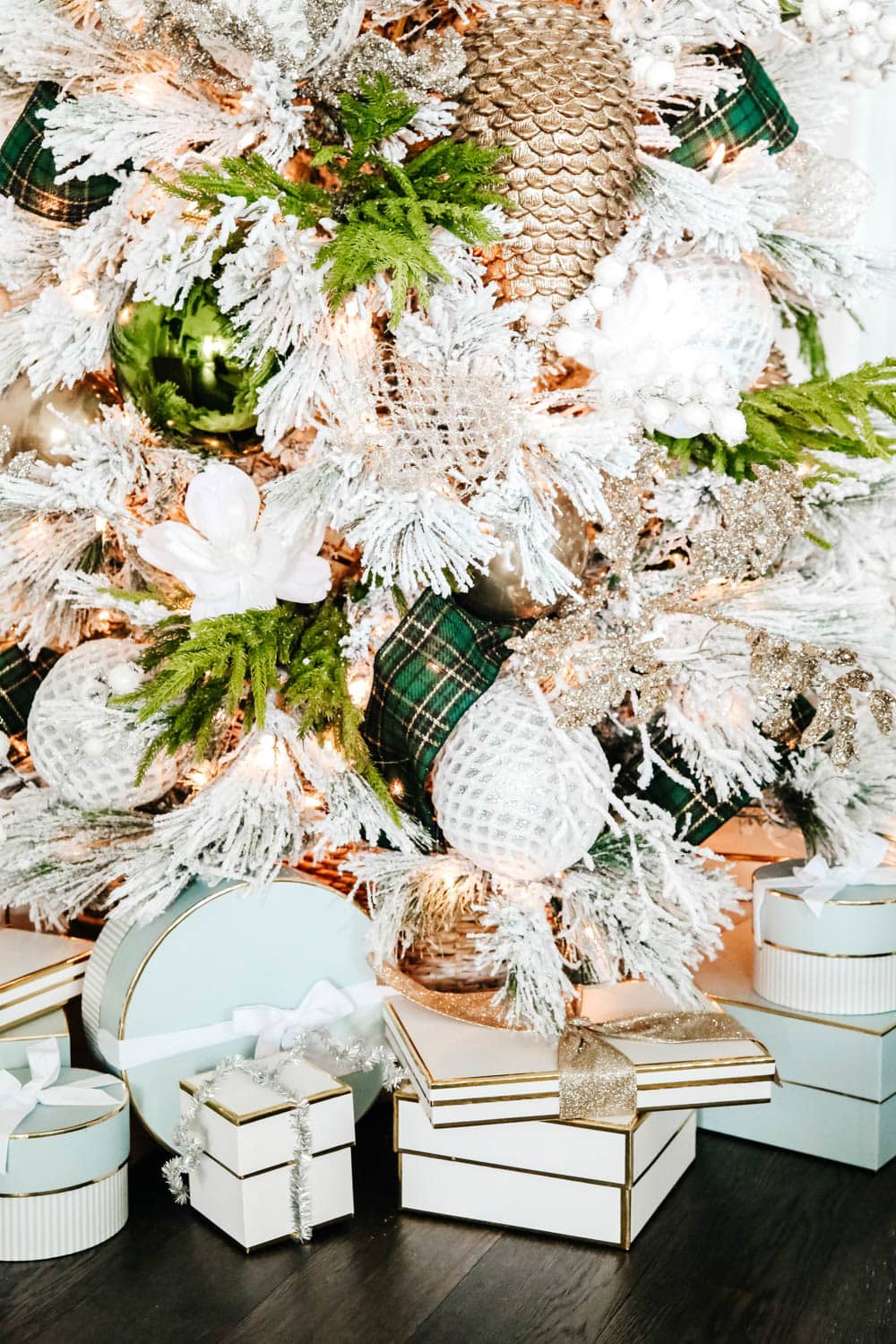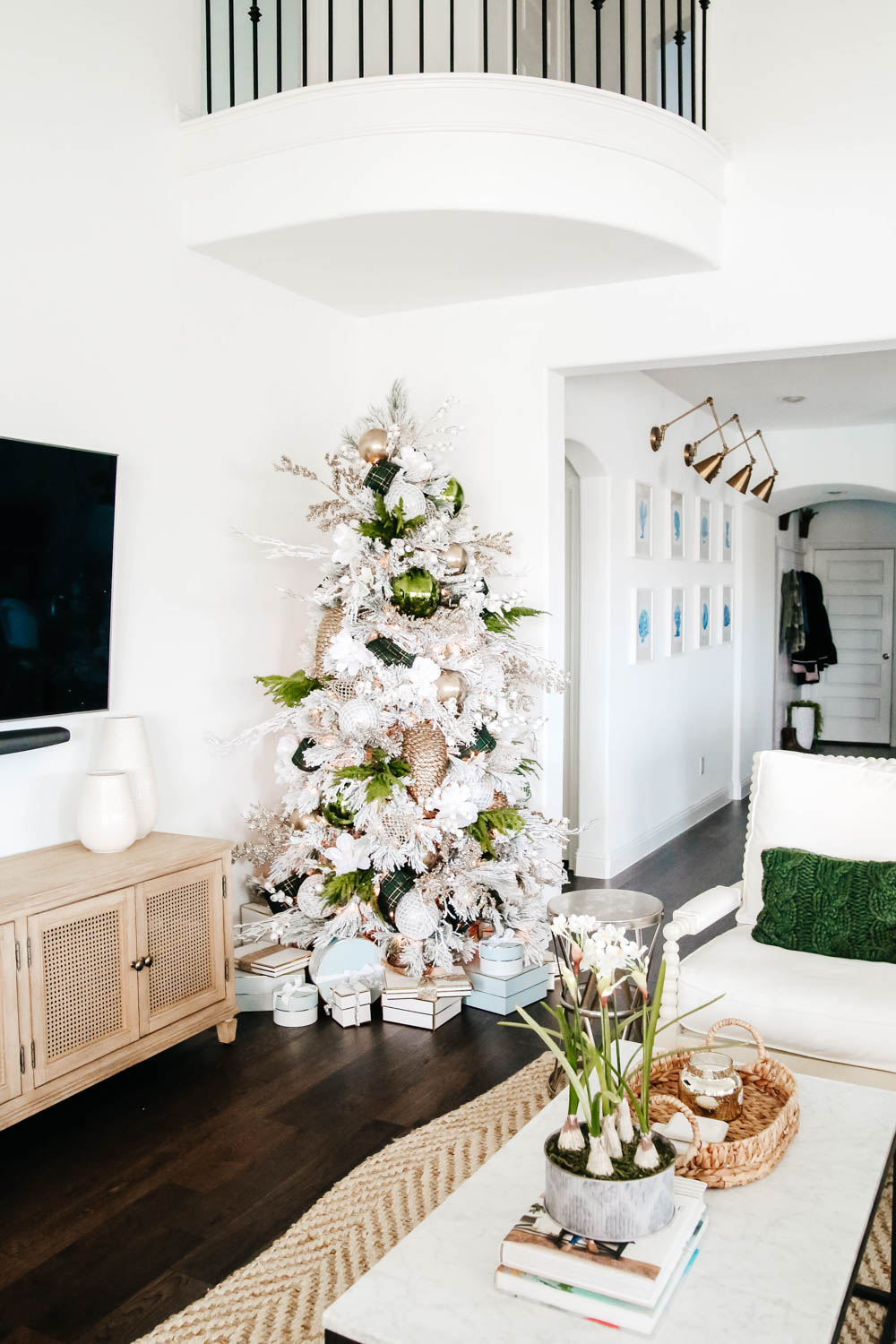 So there you have it! And make sure to check the other influencers trees out to get even more inspiration for your holiday decorating this year!
Rustic Wild Arrow | Start At Home | Giggles Galore | Blue Gray Gal
Just Destiny Mag | A Blissful Nest | Our Signature Swag | TX Sized Home
Megan Martin Creative | Life By Leanna | Live Sweet | Cuter Tudor
Shop my tree decor: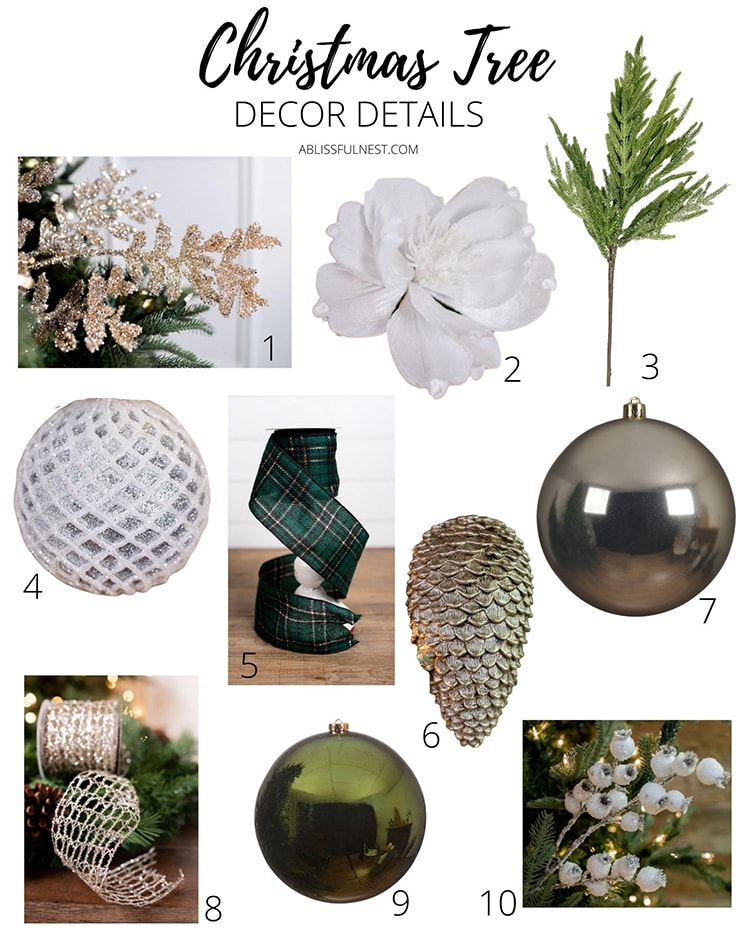 1 | 2 | 3 | 4 | 5 | 6 | 7 | 8 | 9 | 10
THIS IS A SPONSORED POST. A BLISSFUL NEST HAS RECEIVED PAYMENT, TRADE, AND/OR PRODUCTS FROM DECORATOR'S WAREHOUSE IN EXCHANGE FOR PROMOTING. HOWEVER, ALL OPINIONS STATED ARE OUR OWN.
Follow along to get more of my tips on home decor, DIY, and lifestyle on the following: