How to Hang A Holiday Garland Without Damaging Your Walls or Mantle
This shop has been compensated by Collective Bias, Inc. and its advertiser. All opinions are mine alone. #DamageFreeHolidayDecor #CommandDoNoHarm #CollectiveBias
I hope you loved my Christmas home tour yesterday! I am back today to share how I create my gorgeous holiday mantle decor and my no-fail secret tools that are damage free to your walls and mantle. This layered Christmas mantle is so full looking and has many pieces to it. I love creating a different mantle every year and it was fun do go in a different direction this year from last year's mantle.
Of course, the house still feels new to me especially decorating for the holiday season. This is our second Christmas here so all my holiday decor still feels fresh and new but there were some inexpensive new pieces I used this year from Walmart that made all the difference. Just take a look . . .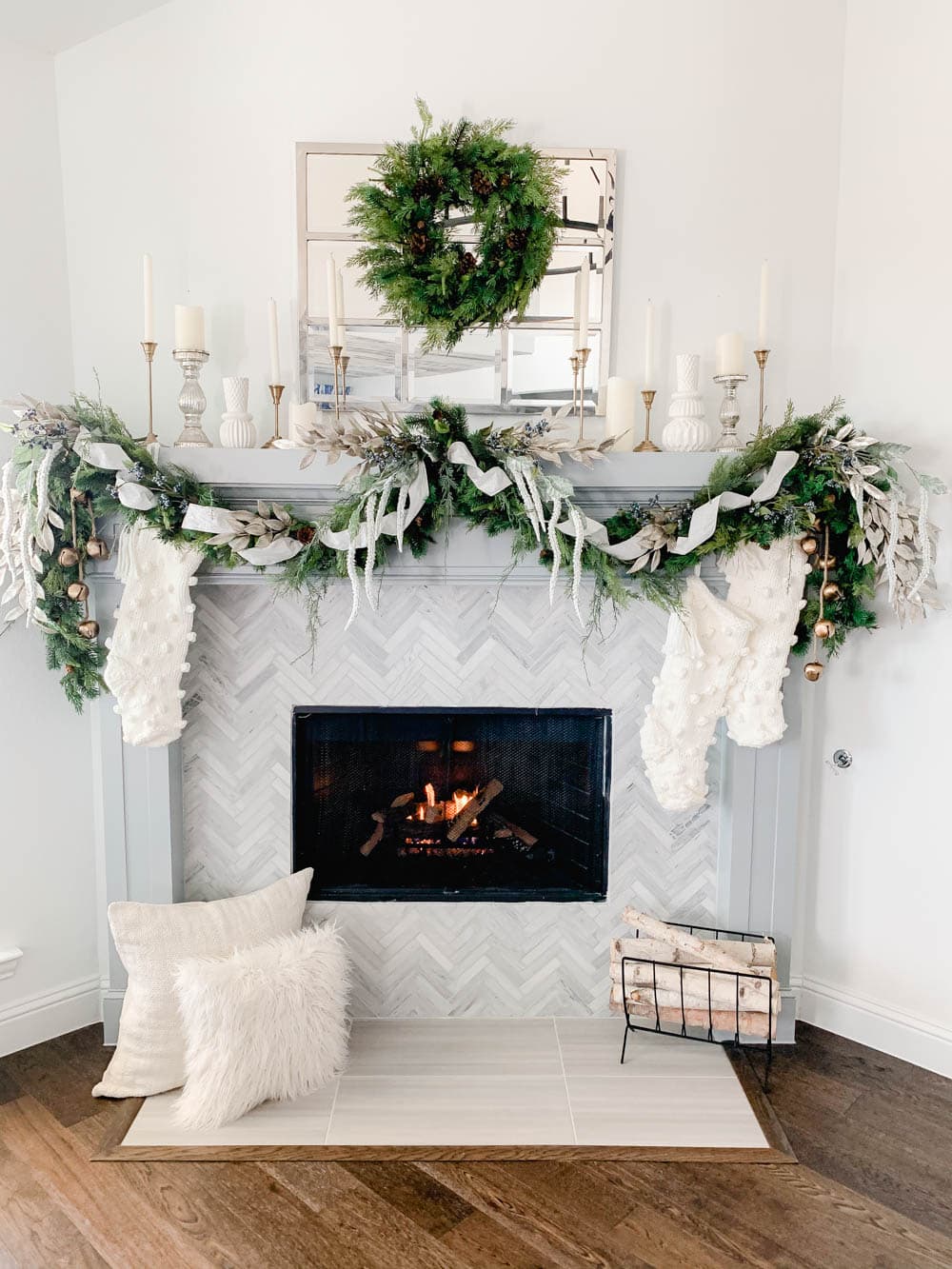 Are you ready to hear what my secret weapon is? If you've never used Command™ Products before then once you recreate this mantle you will be obsessed like I am. I have been using them for years and it takes a lot of stress out of the design process knowing you will not damage what you adhere to. Decorating damage-free has never been easier and you don't need any tools to use them. They are so easy to put up and so easy to take down!
So get your shopping list below and recreate my gorgeous mantle damage free!
This post contains some affiliate links for your convenience. Click here to read my full disclosure policy.
How to Hang A Holiday Garland Without Damaging Your Walls or Mantle:
Materials:
All these Command™ Products can be located at your local Walmart in the hardware department.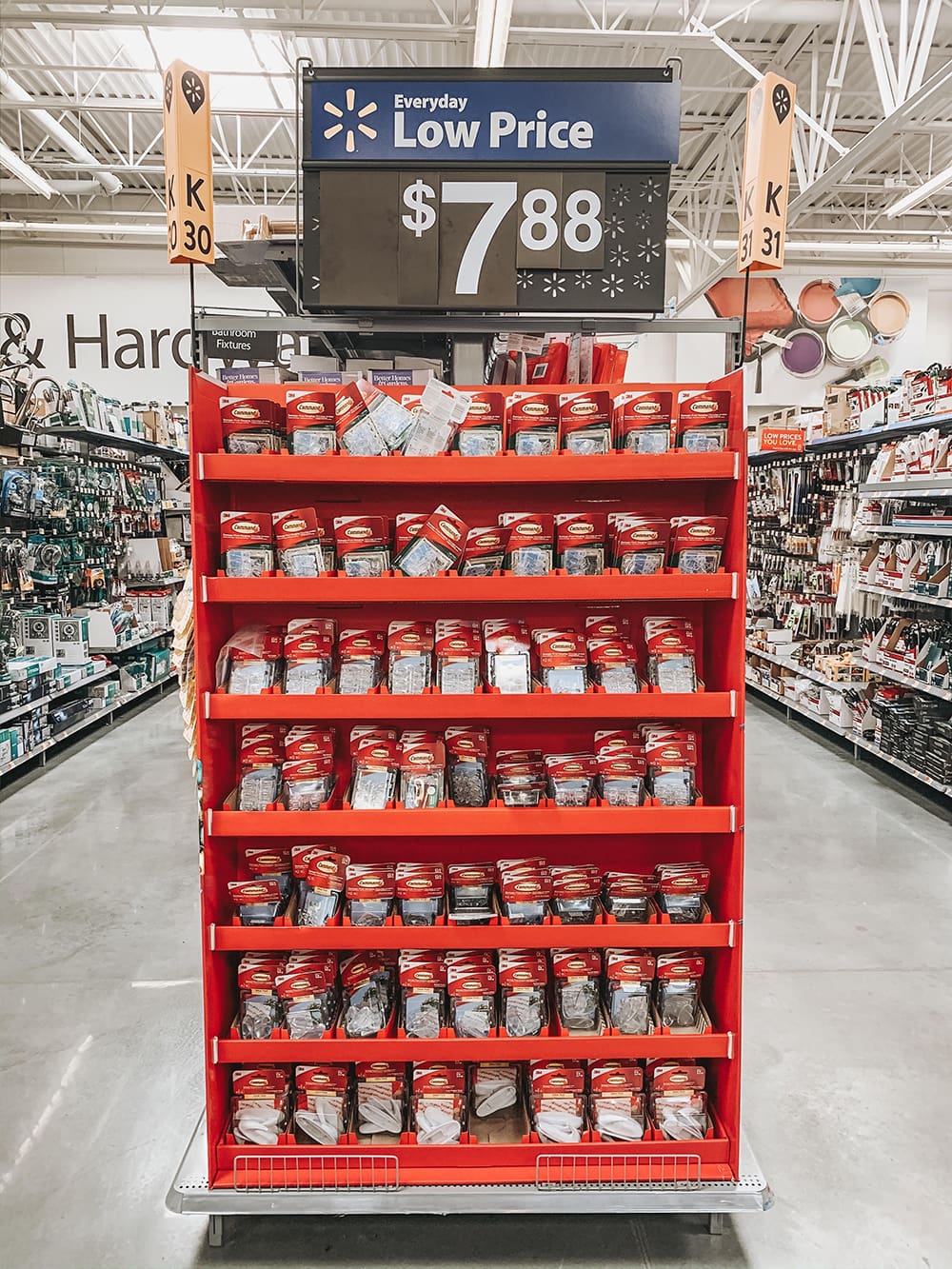 Hover over the image below to start shopping the items to create a gorgeous holiday mantle!
Directions:
Step 1: Hang the garland
The first step is to hang the garland. I start with Command™ Small Wire Hooks. These are my favorite because they are clear so you can see through them (easier to hide them in your designs) and the hook swings both ways to easily manipulate whatever it is you are hanging or attaching.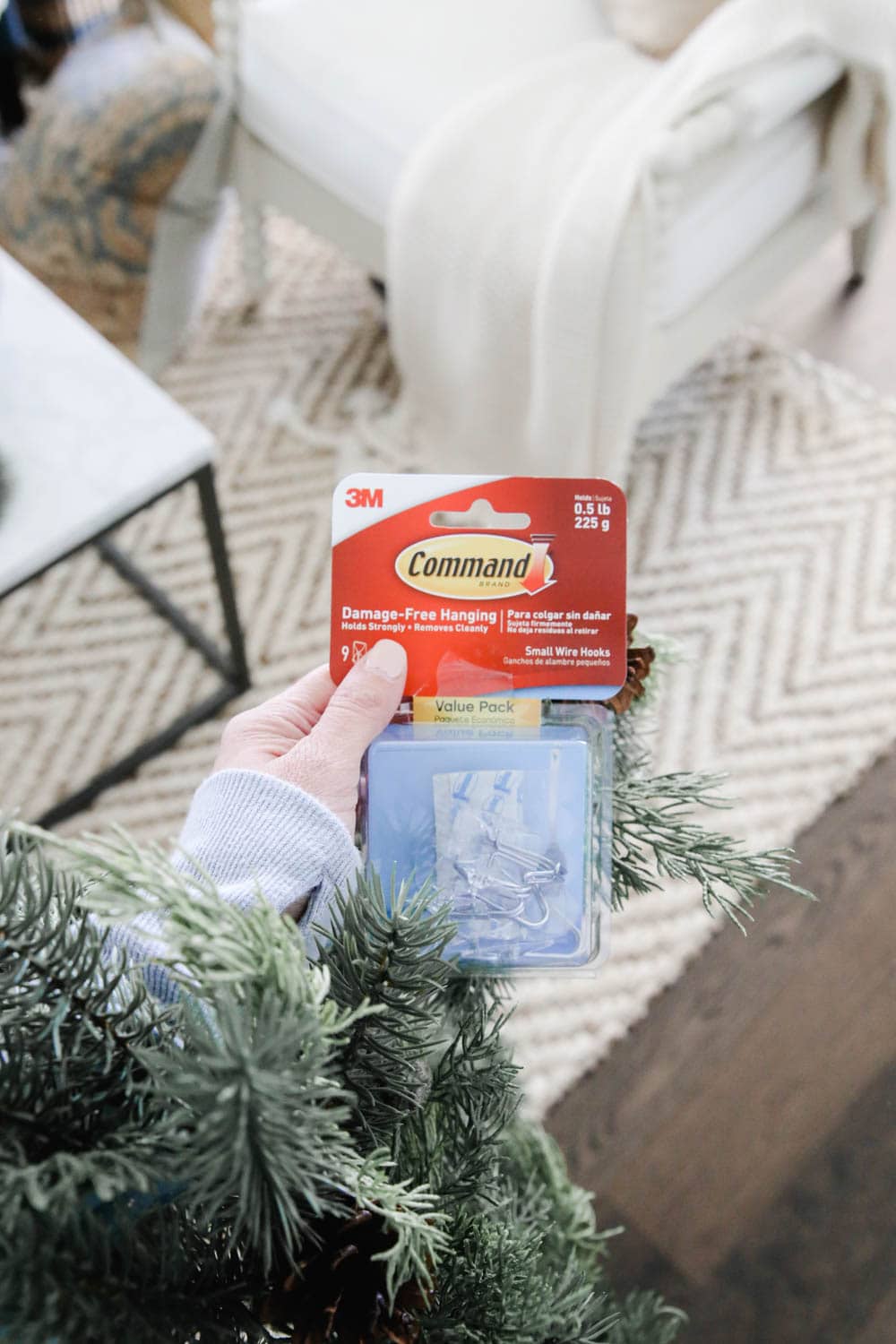 To hang the garland with a swag, place one Command® Small Wire Hook on each end and in the center of your mantle on the top. It is easier to hook the garland around it so you can't see the hooks when you place the hook on the top of the mantle.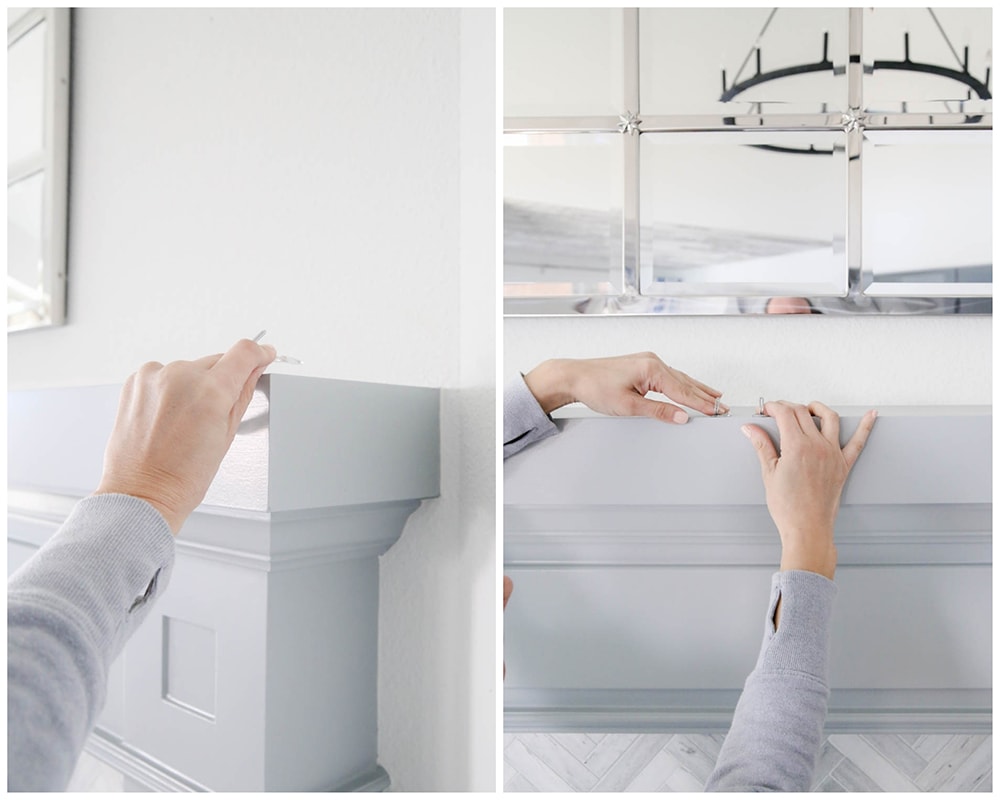 Use the first set of garlands. Take one garland and hook the end to the center hook and then create your drape. Swag the other end over the hook that is at the end of your mantle. You can adjust it after you do the garland on the other side for them to have identical swags.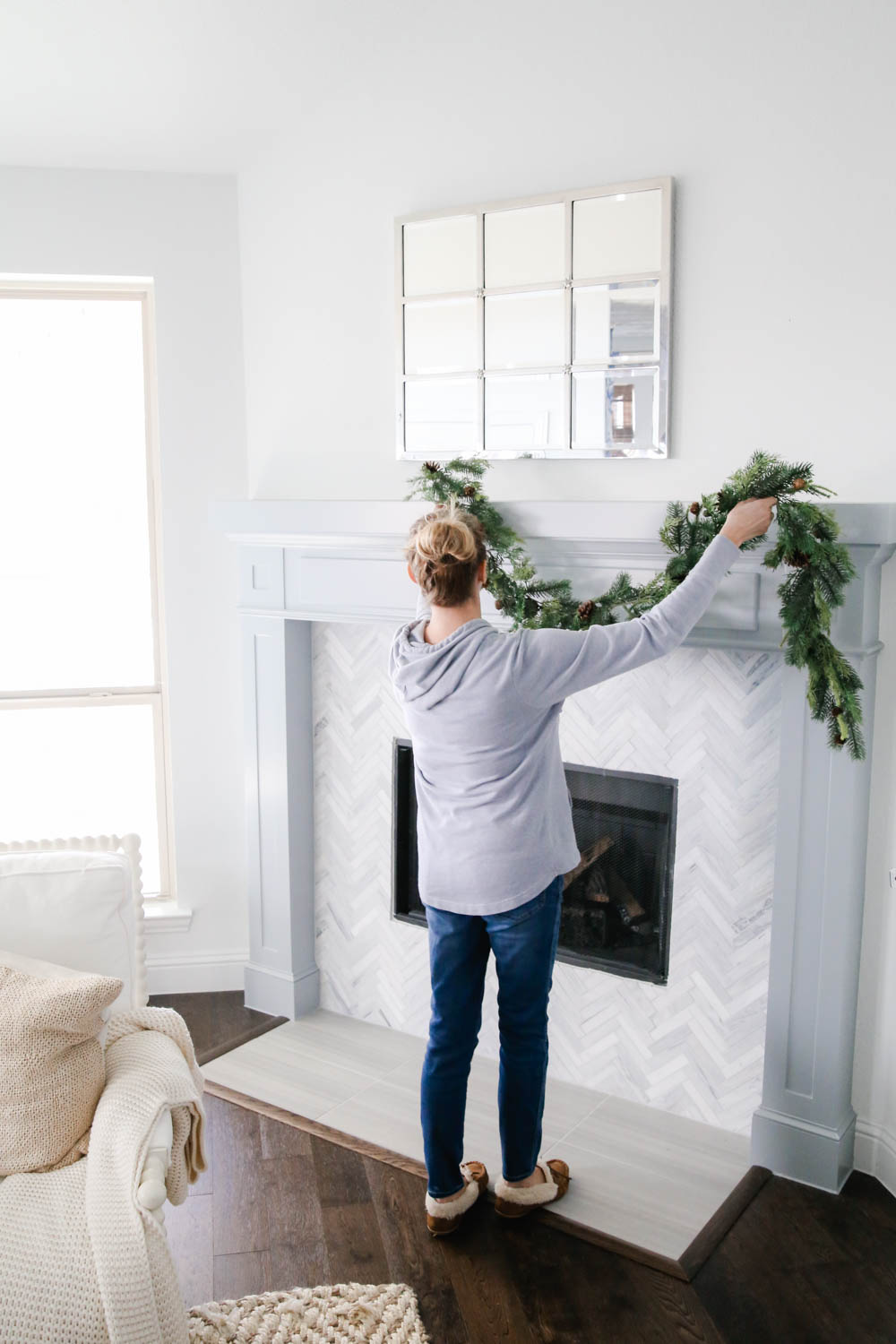 Step 2: Hang second set of garlands.
Now take your other set of garlands and wrap and tuck the end into the center hook on the mantle to secure it. Then wrap it around the first garland to make it look fuller, and tuck into the end hook and let the end of the garland drape with the other garland "tail".
You can see the difference the second garland makes. On the right is the two together and on the left is just the first garland. It definitely adds fullness and I love that they are both different.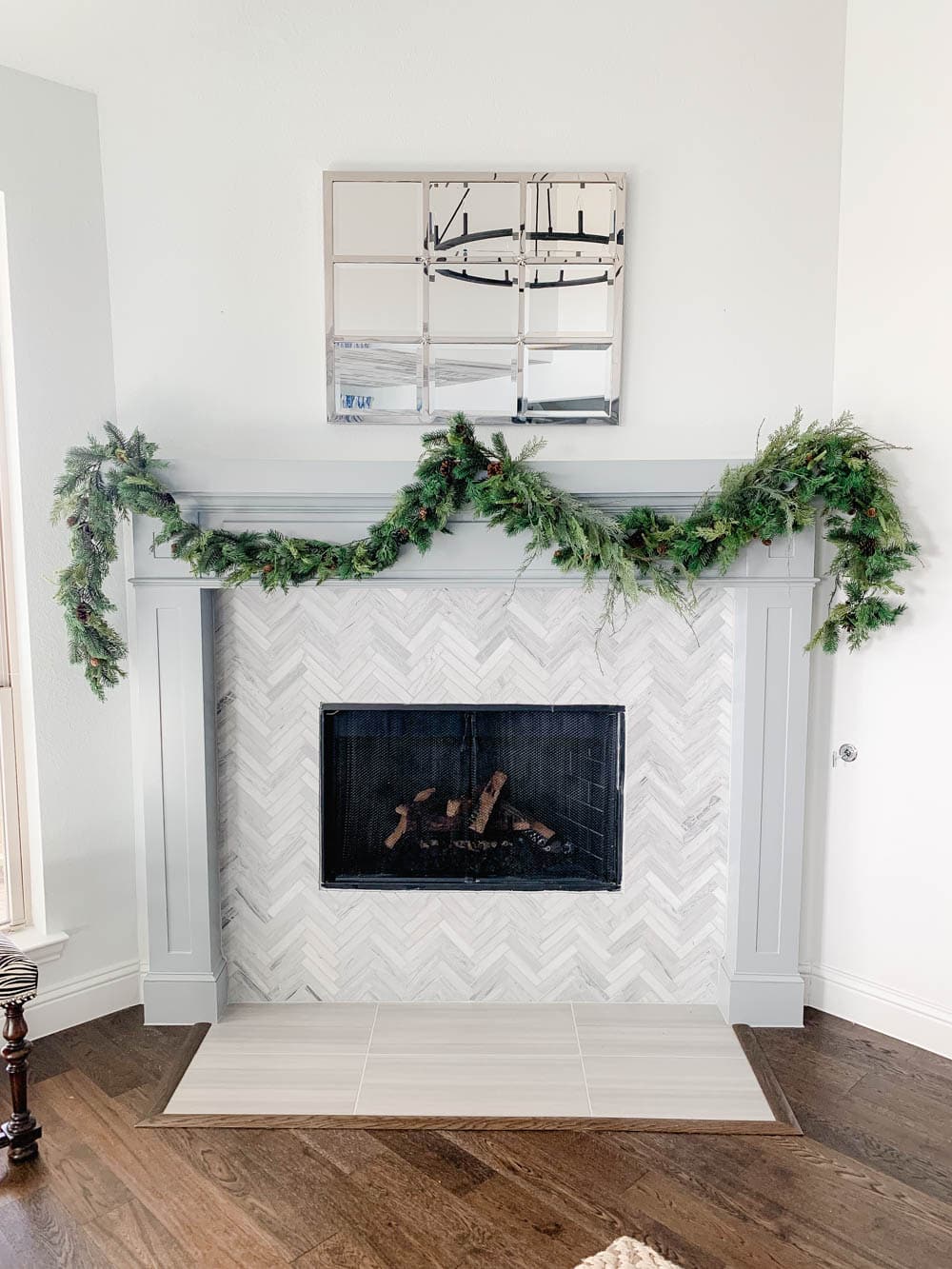 Step 3: Hang bells on each end.
Use Command™ Small Wire Hooks and place one on each end just a couple of inches in from the hooks holding the garlands. Place them on the top of the mantle so they are hidden by the garland. Then hang your string of bells.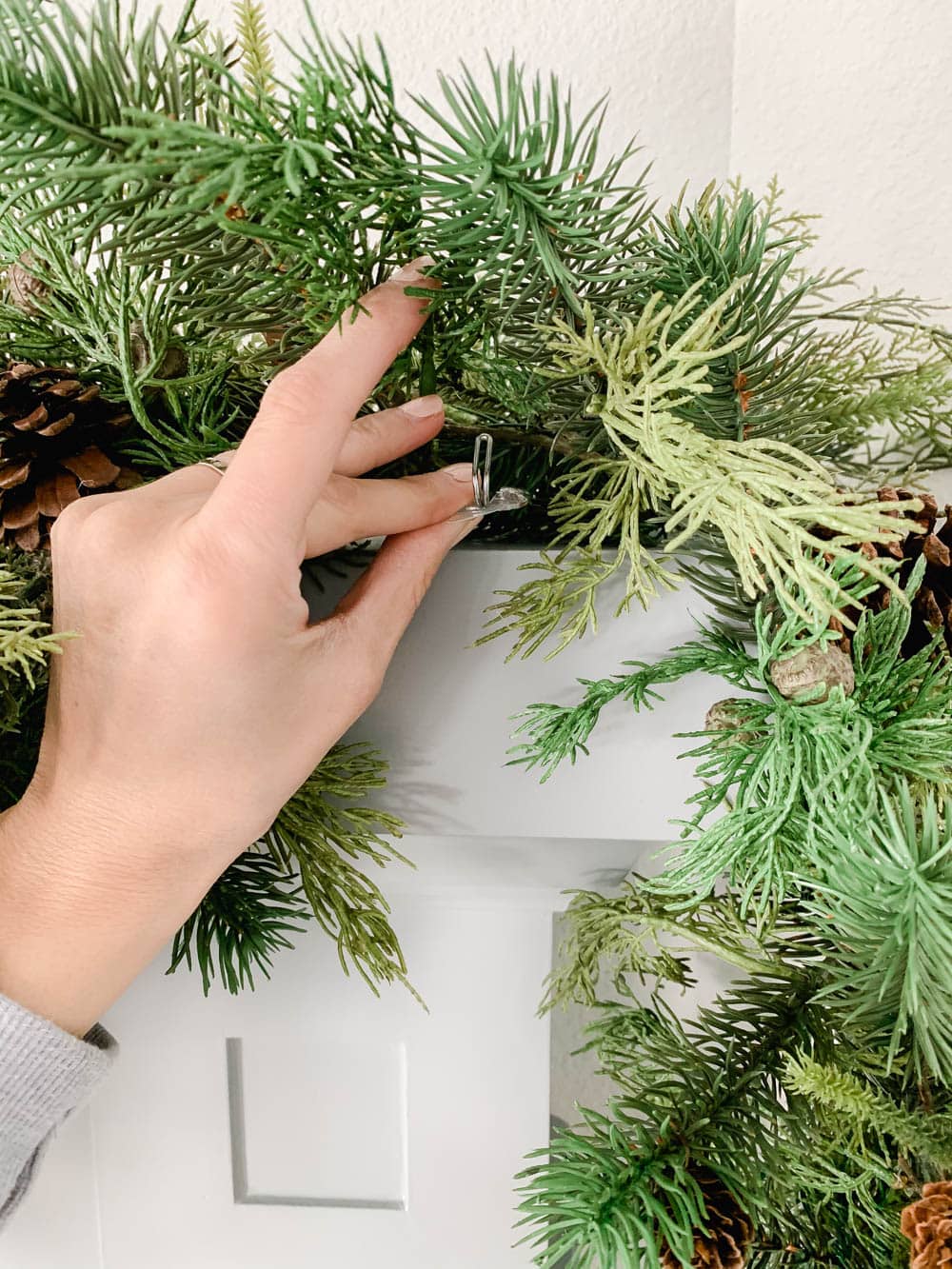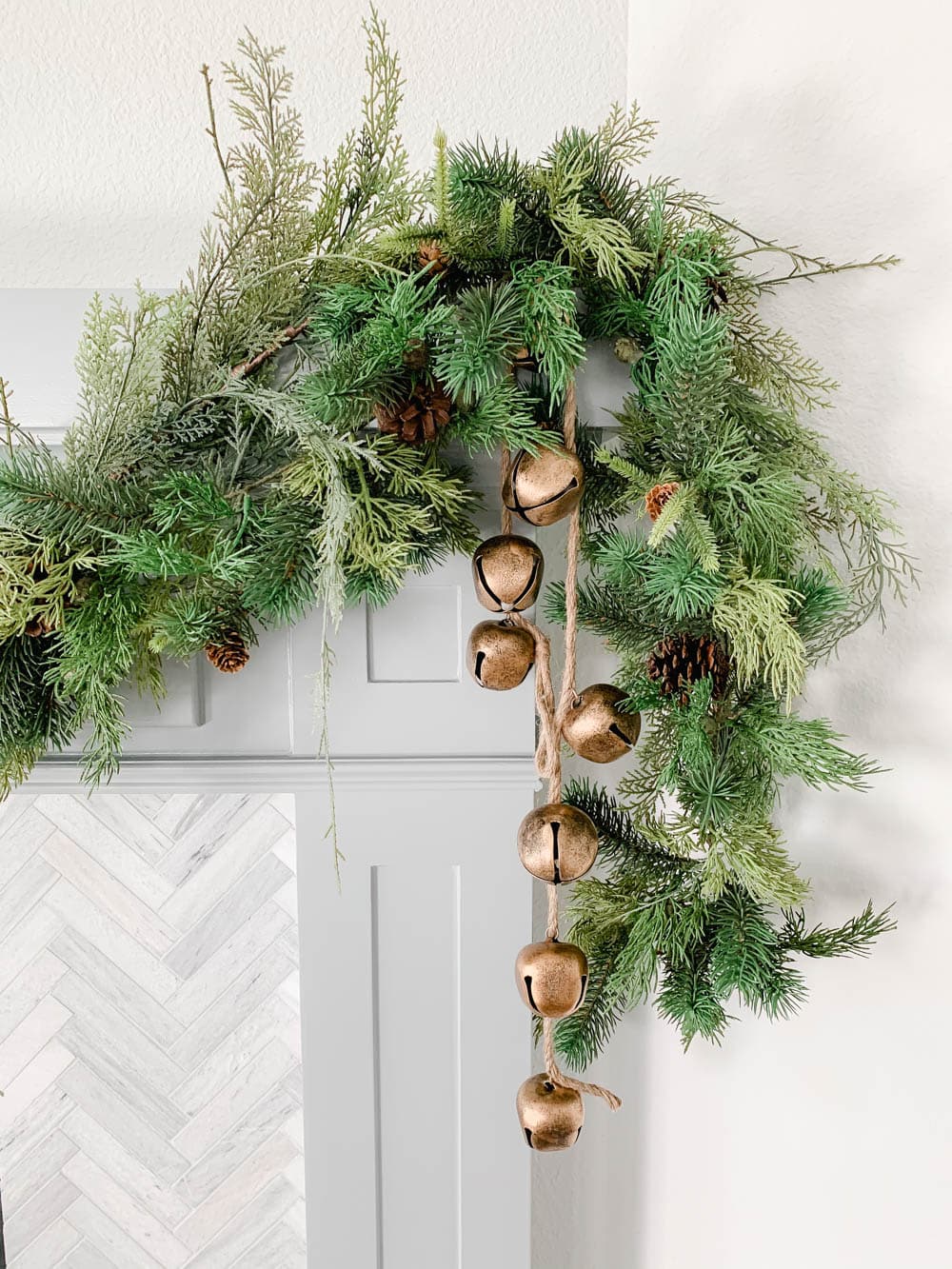 Step 4: Place floral picks.
Now it's time to add some decorative floral picks to your garland. You can use flowers, greenery, or glittery picks. Whatever you like to make it more full and add in some dimension.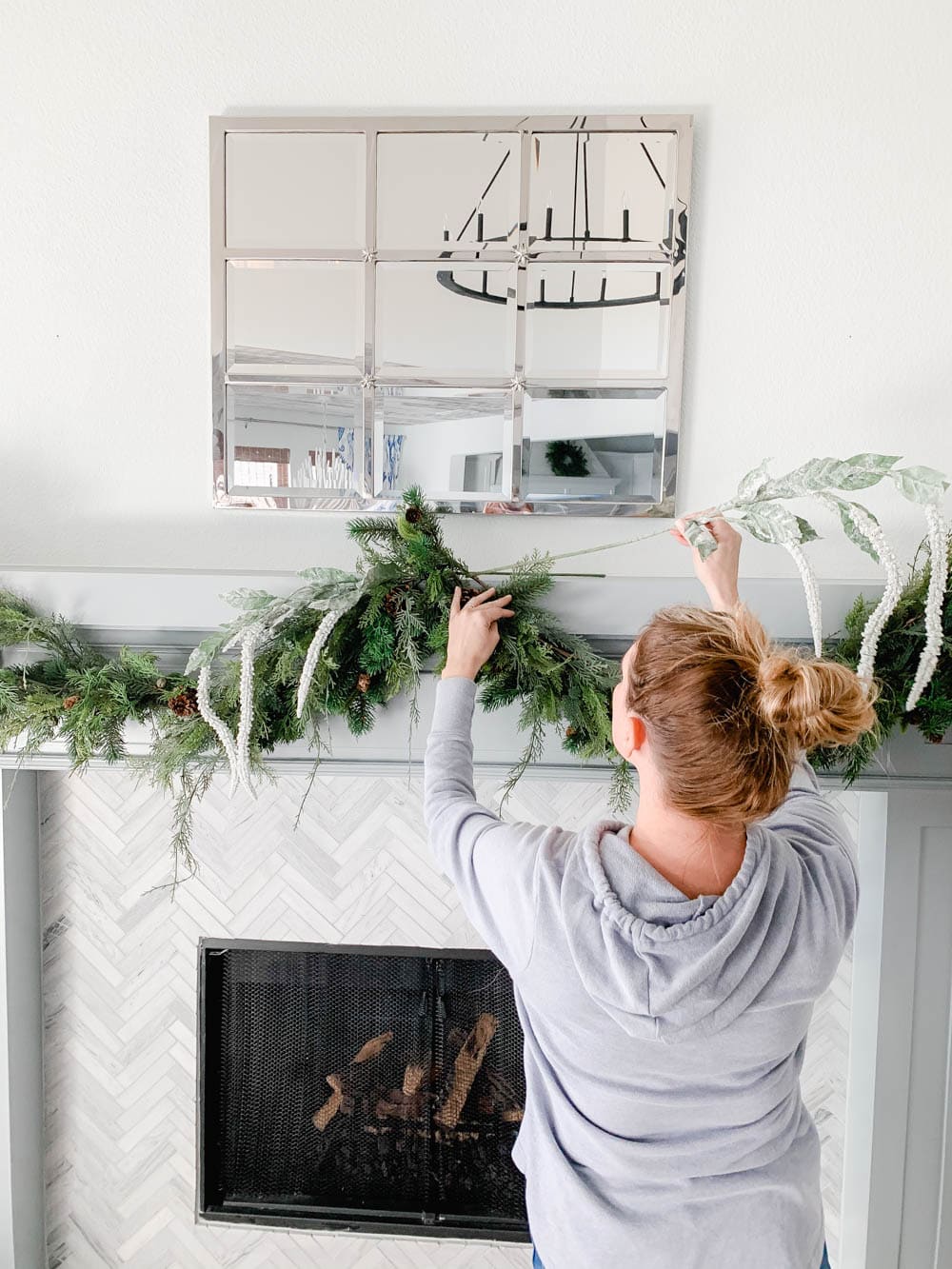 I just tucked them into the hooks that are holding the garland to secure them. I put them on either side of the center hook and then one on each end.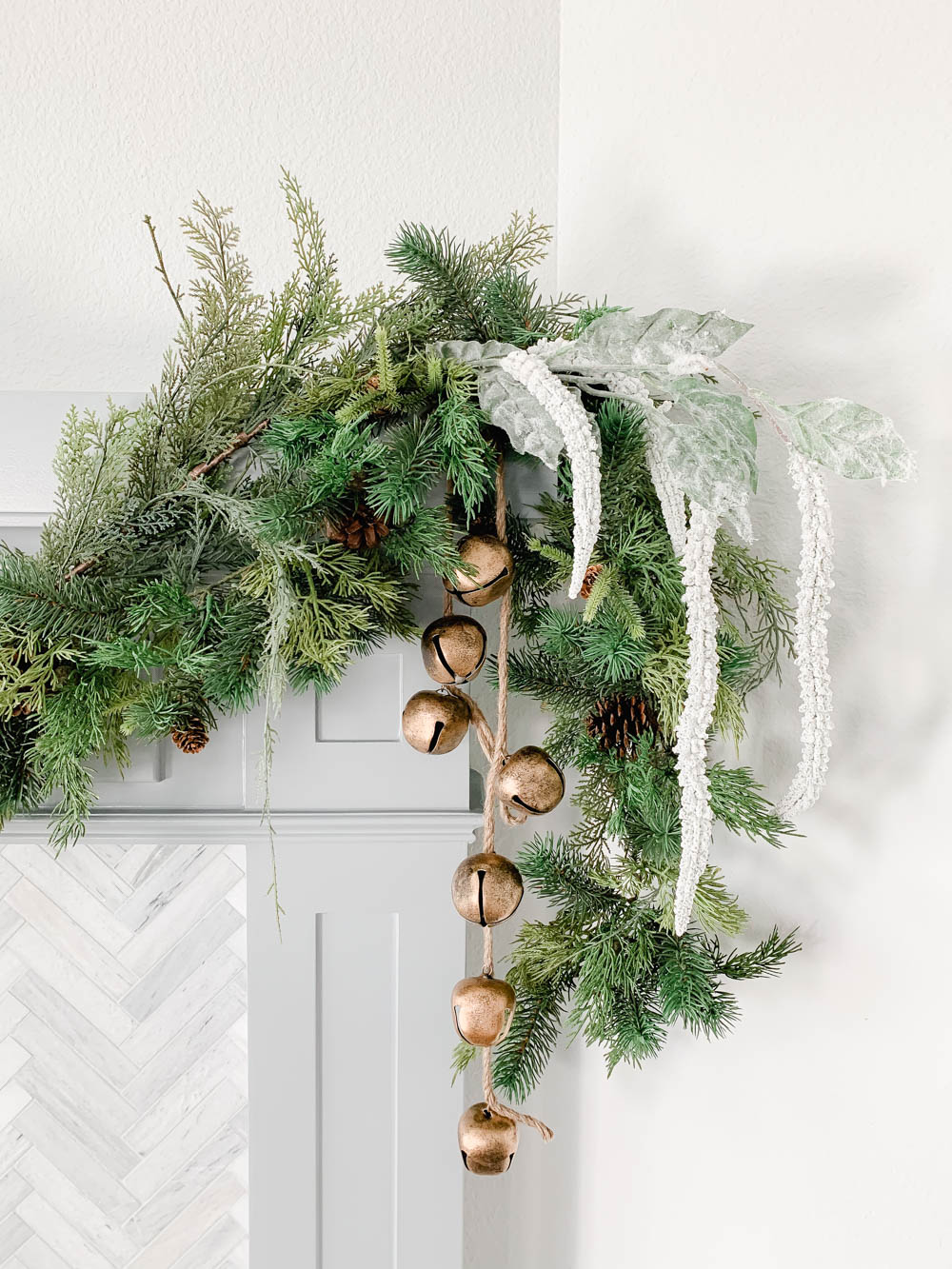 Step 5: Next add in ribbon
Use ribbon to your garland. I like to use ribbon that has wired sides so it holds it's shape a little better. I twist it like a curly cue and just tuck the ends in.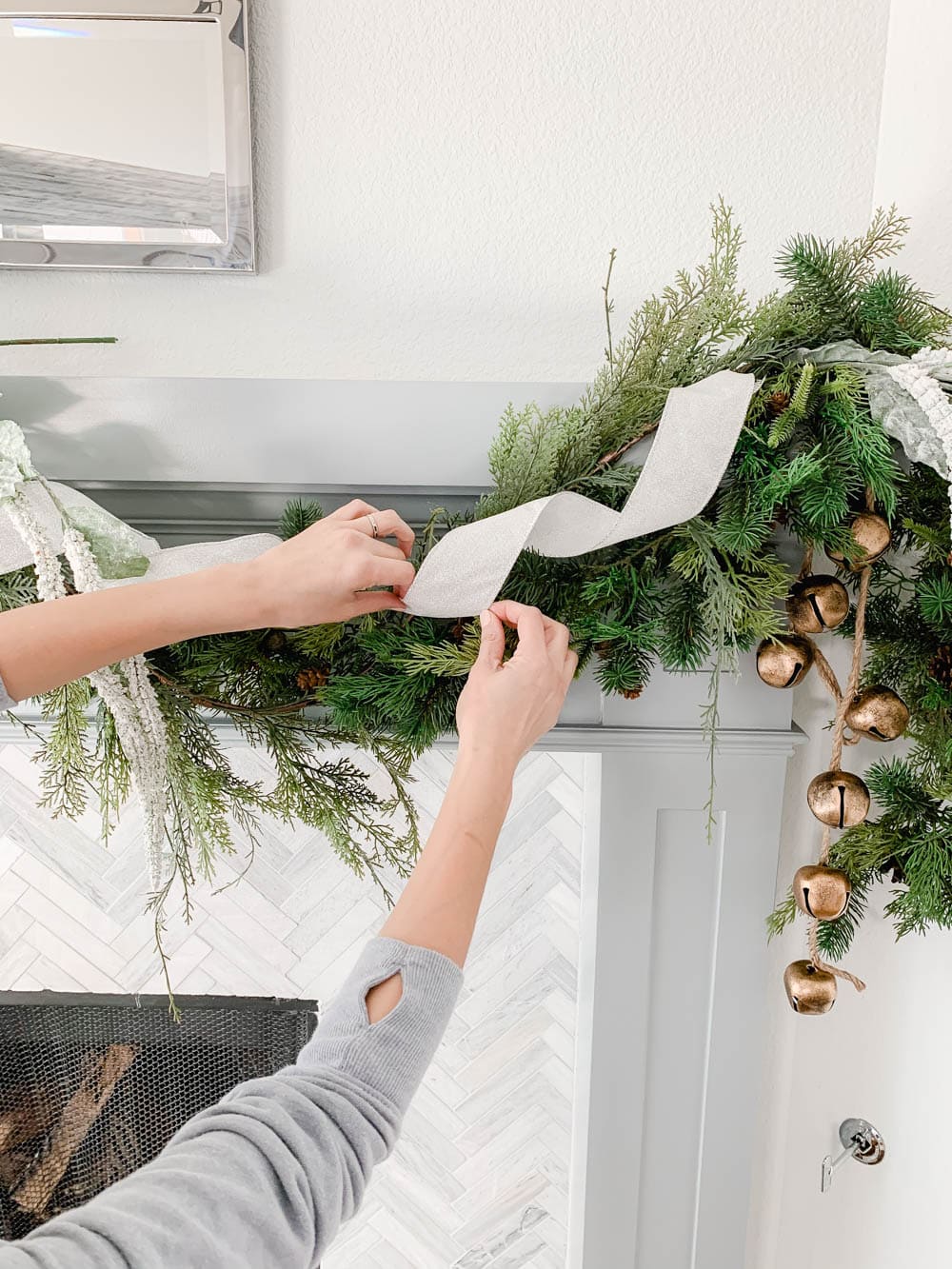 Step 6: Add glittery accents
I love to add some sparkle to my mantle decor. These beautiful silver glitter leaves are large and easy to break apart. I cut smaller pieces with a wire cutter and tucked them throughout the garland.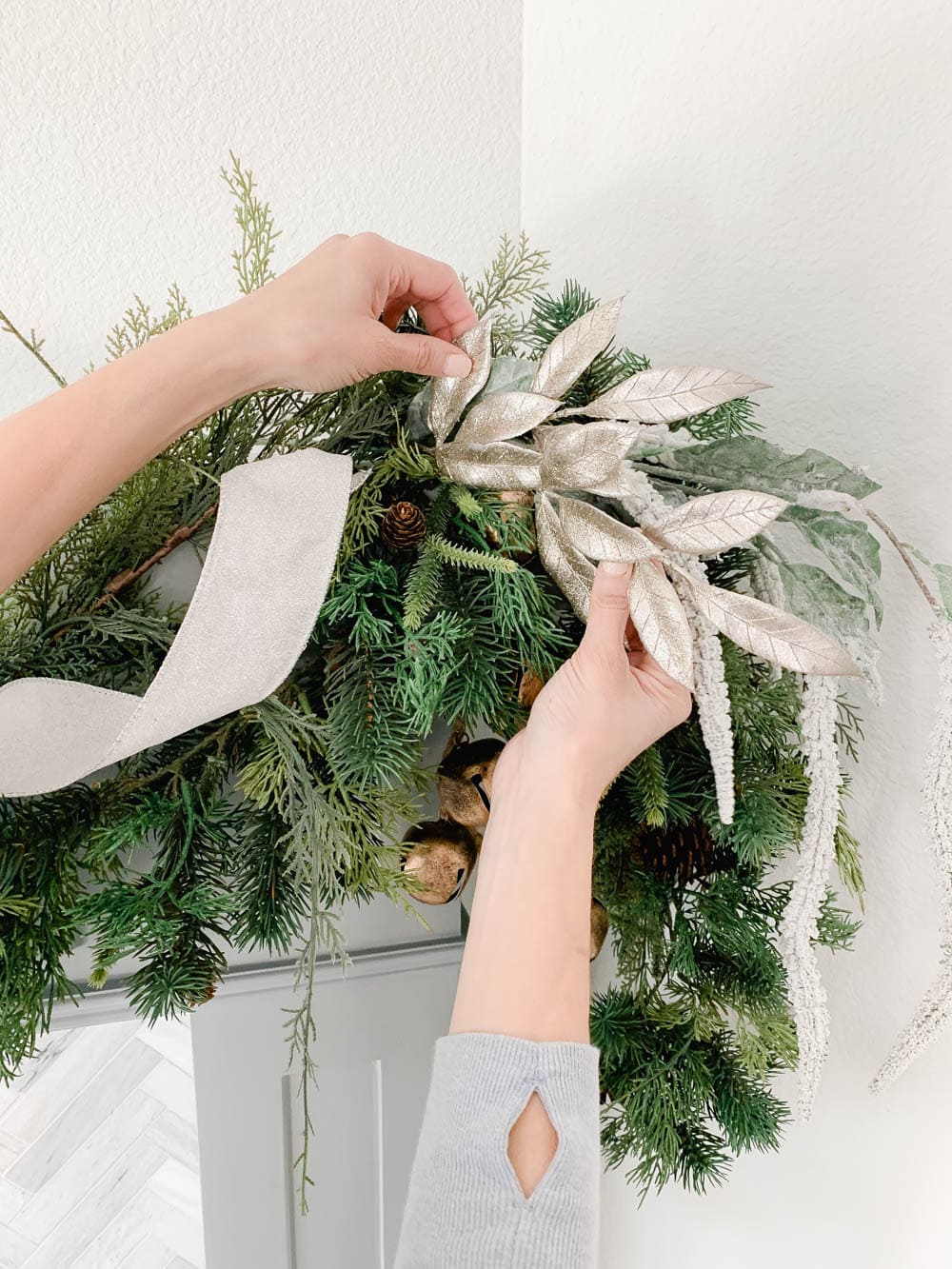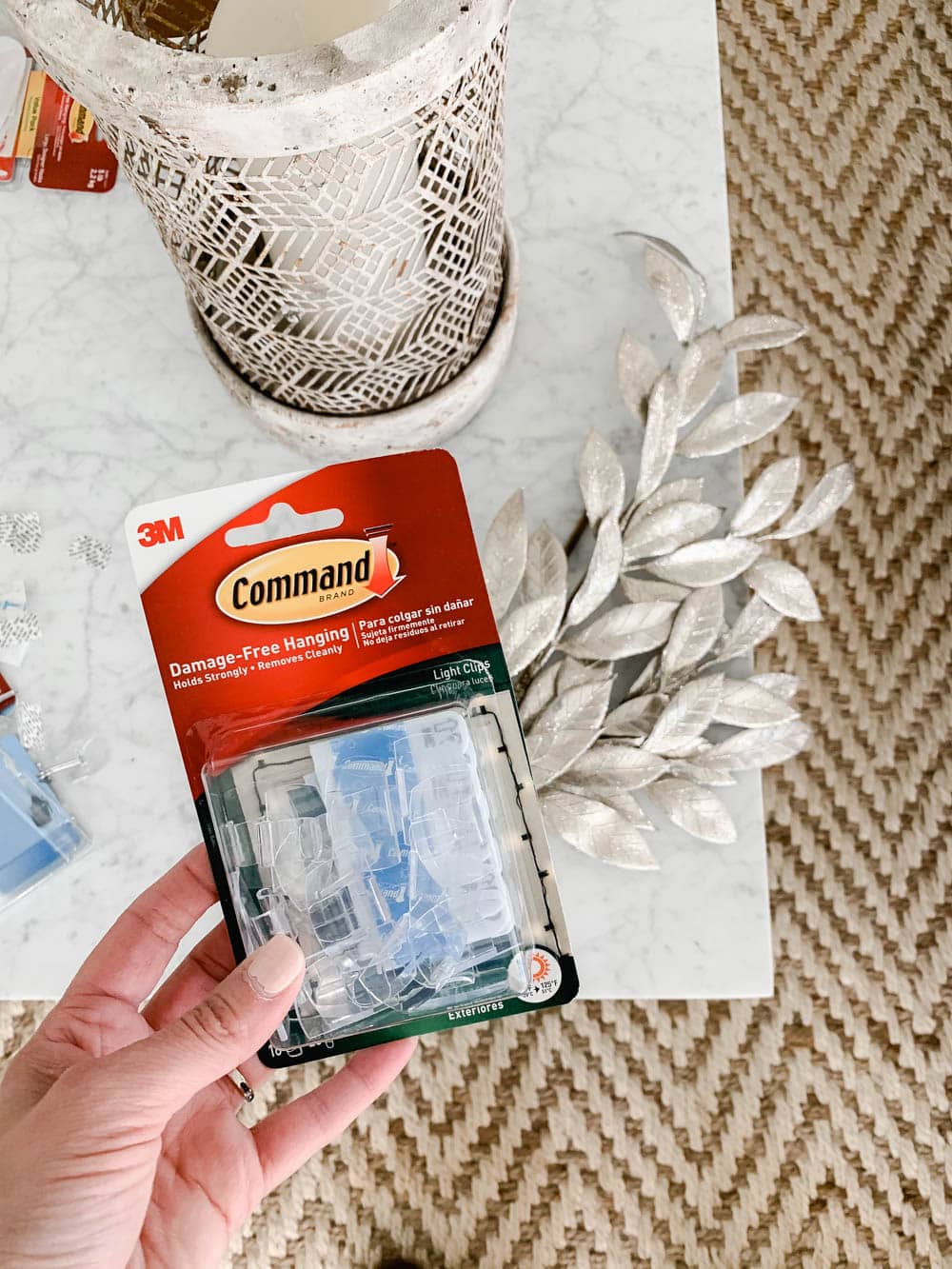 But the magic was using Command™ Indoor/Outdoor Light Clips (PS they can be used Indoors AND Outdoors) on each side of my mantle to hold larger pieces of it in place. I hid the hook behind the "tail of the garland on the side and then clipped in my glitter leaves.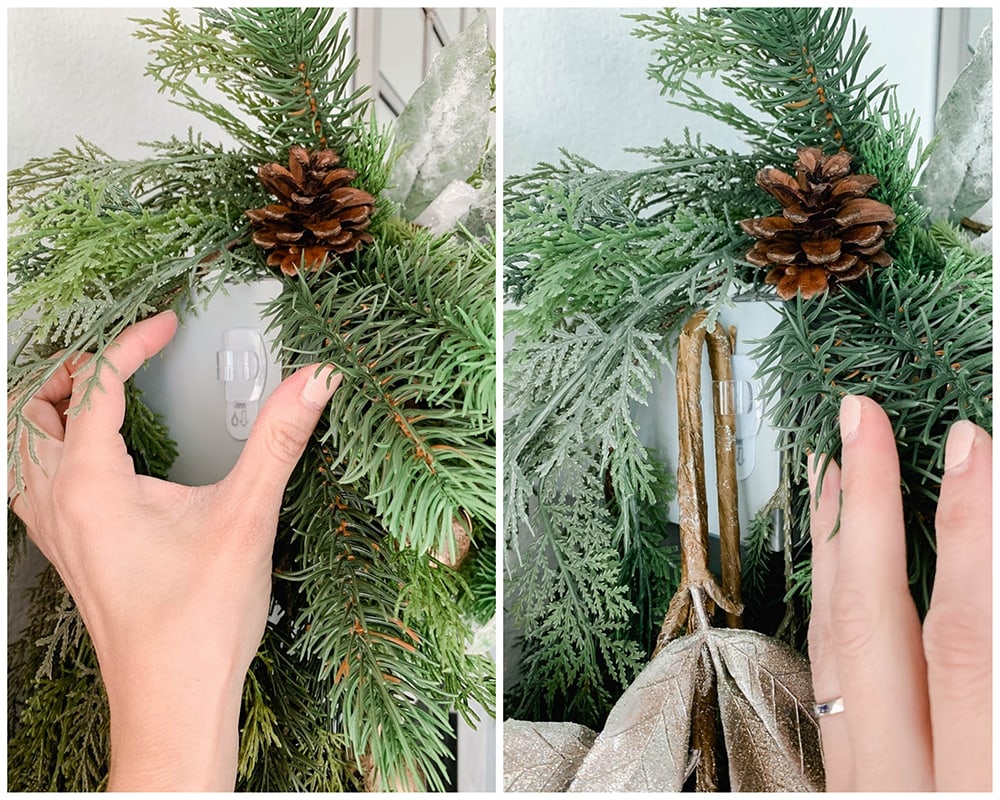 This made the side portion of my garland look fuller and have more depth.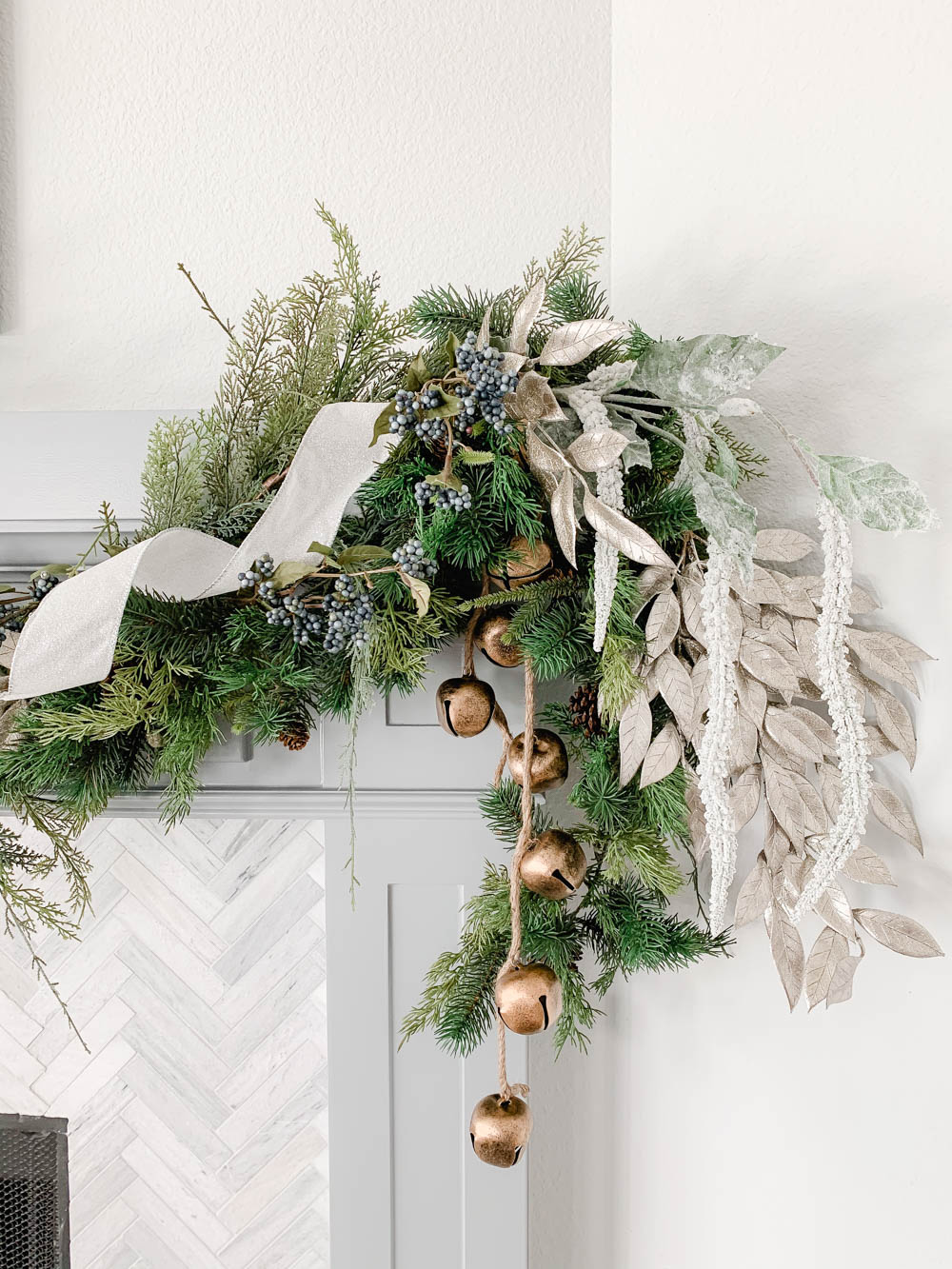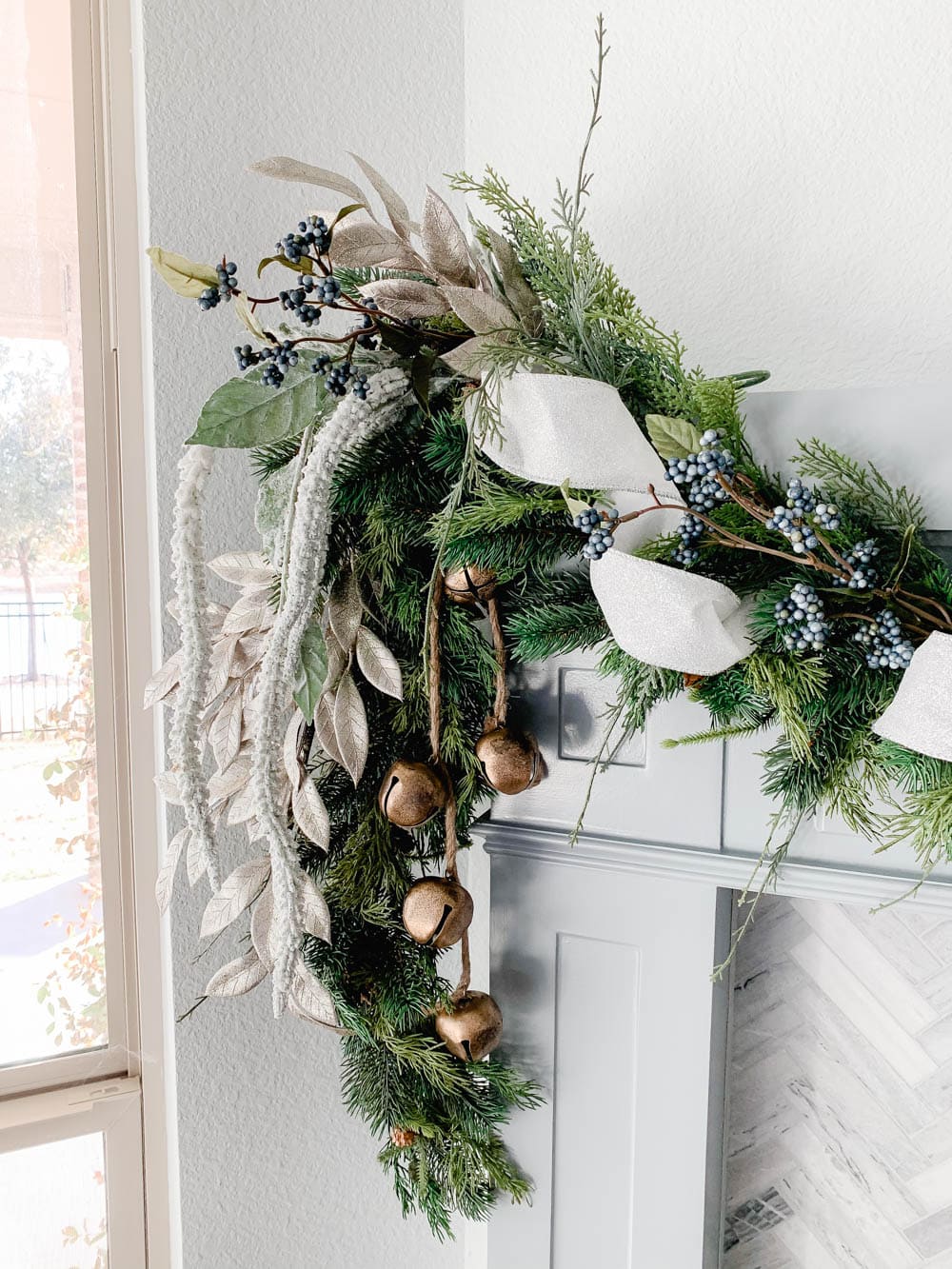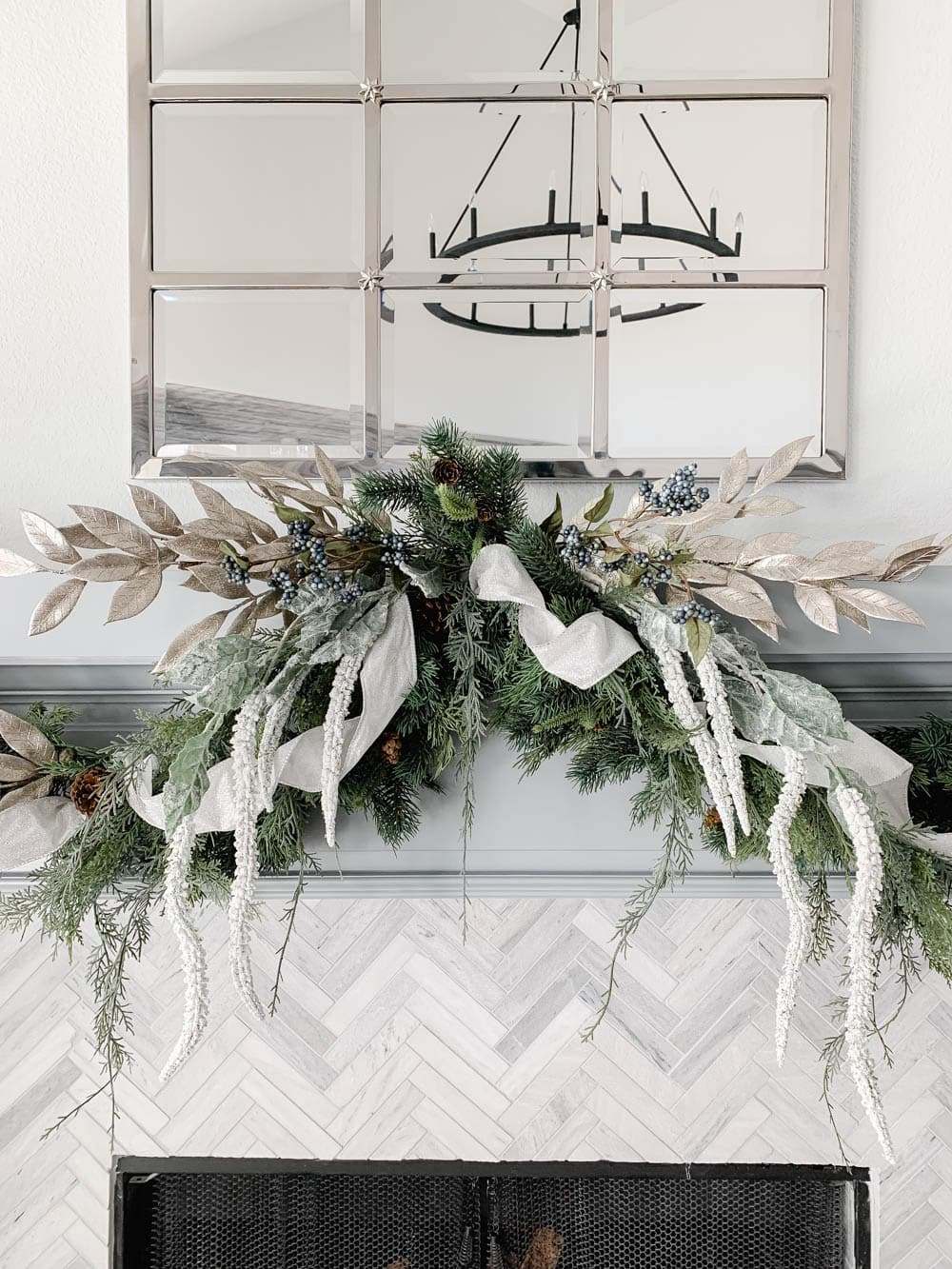 Step 7: Hang the wreath.
The last step is to hang a simple wreath in the center of the mirror or on the wall in the center of your fireplace wall. The Command™ Medium Designer Hooks are so strong and durable and don't damage the wall, making them the perfect thing to use to hang a wreath. I love to use these on my front door too in the entry.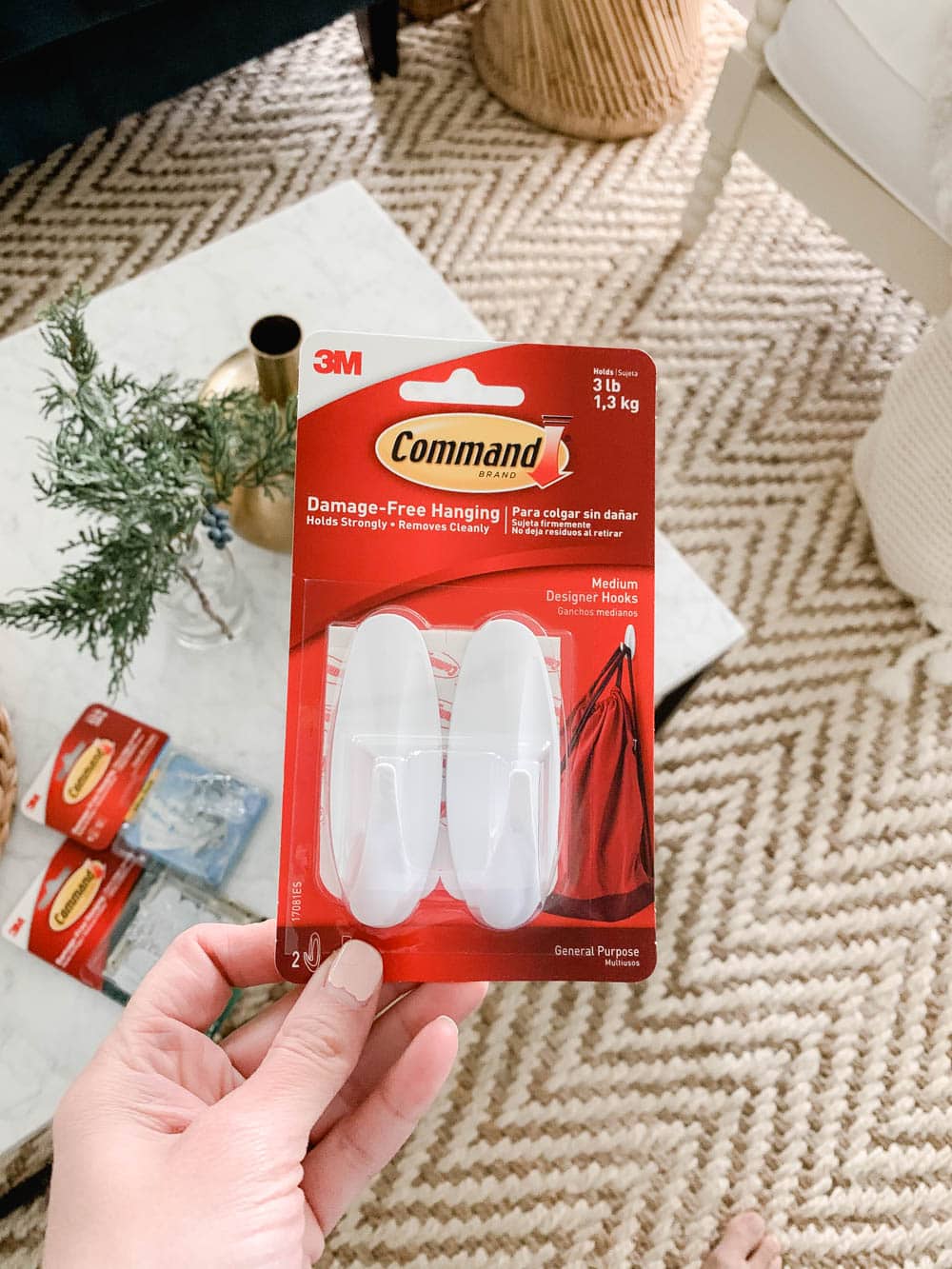 Simply peel the back off of the adhesive and apply with slight pressure. That's it!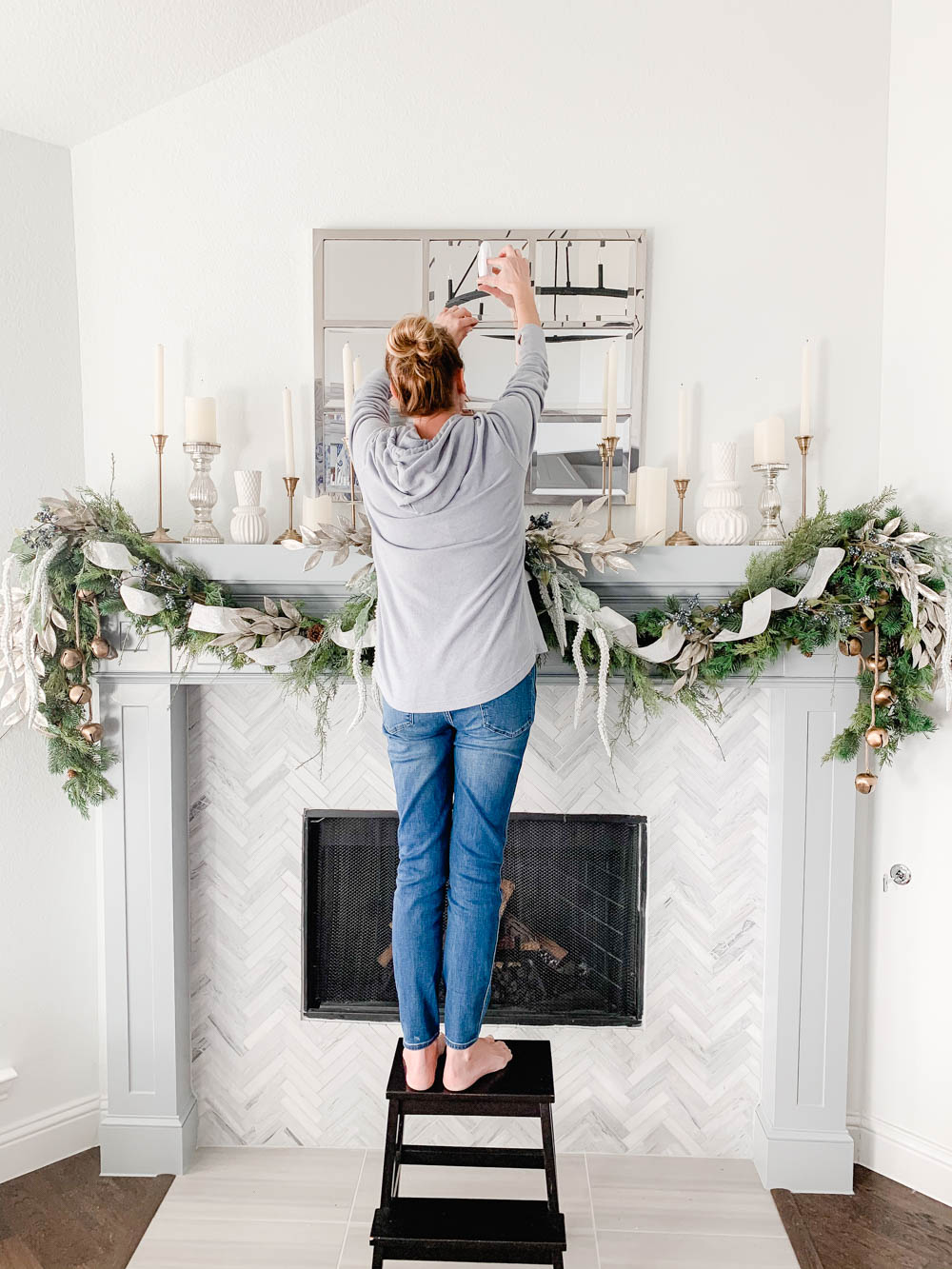 Then just hang your wreath up. So simple and I just love that these are so durable.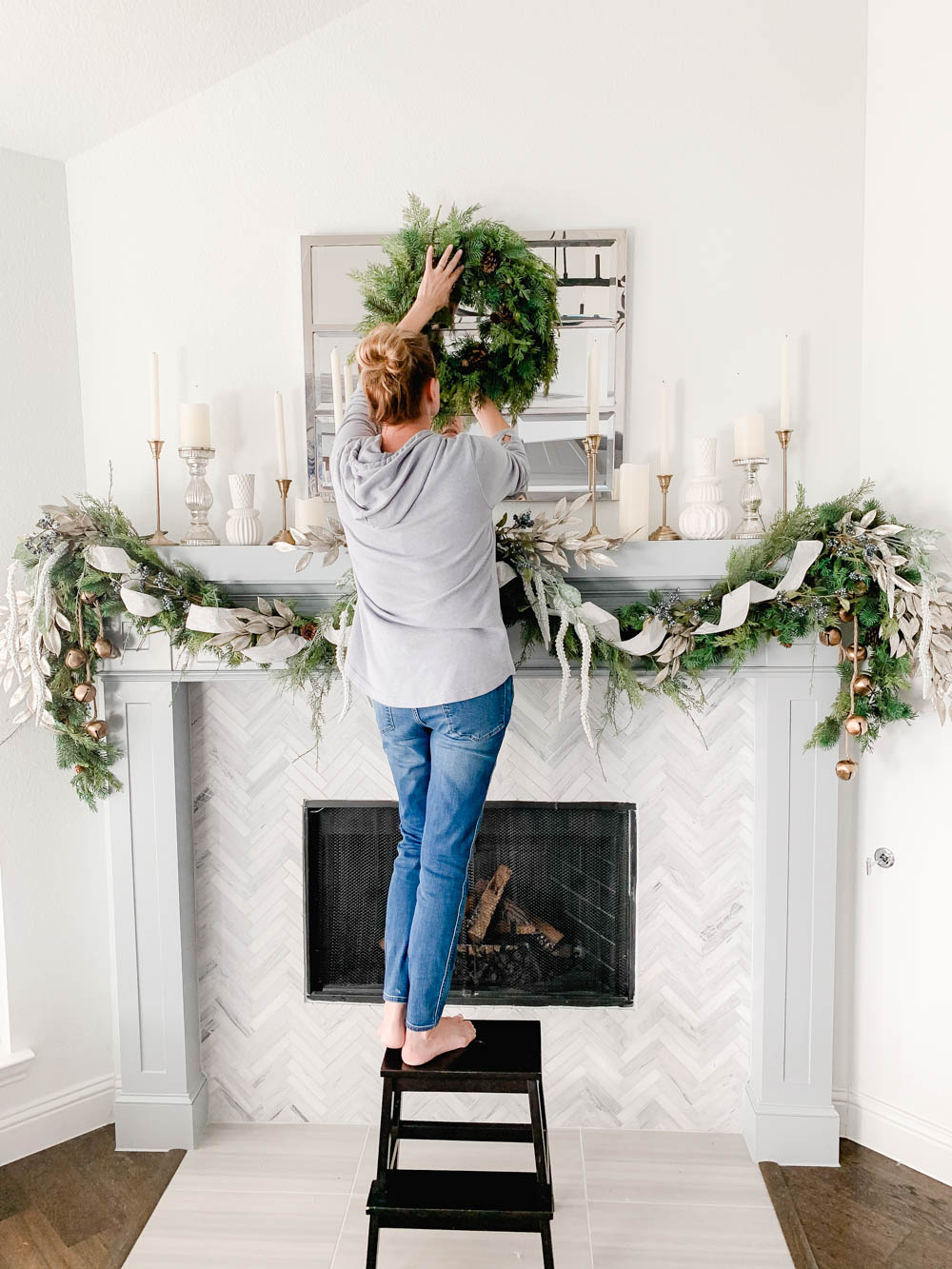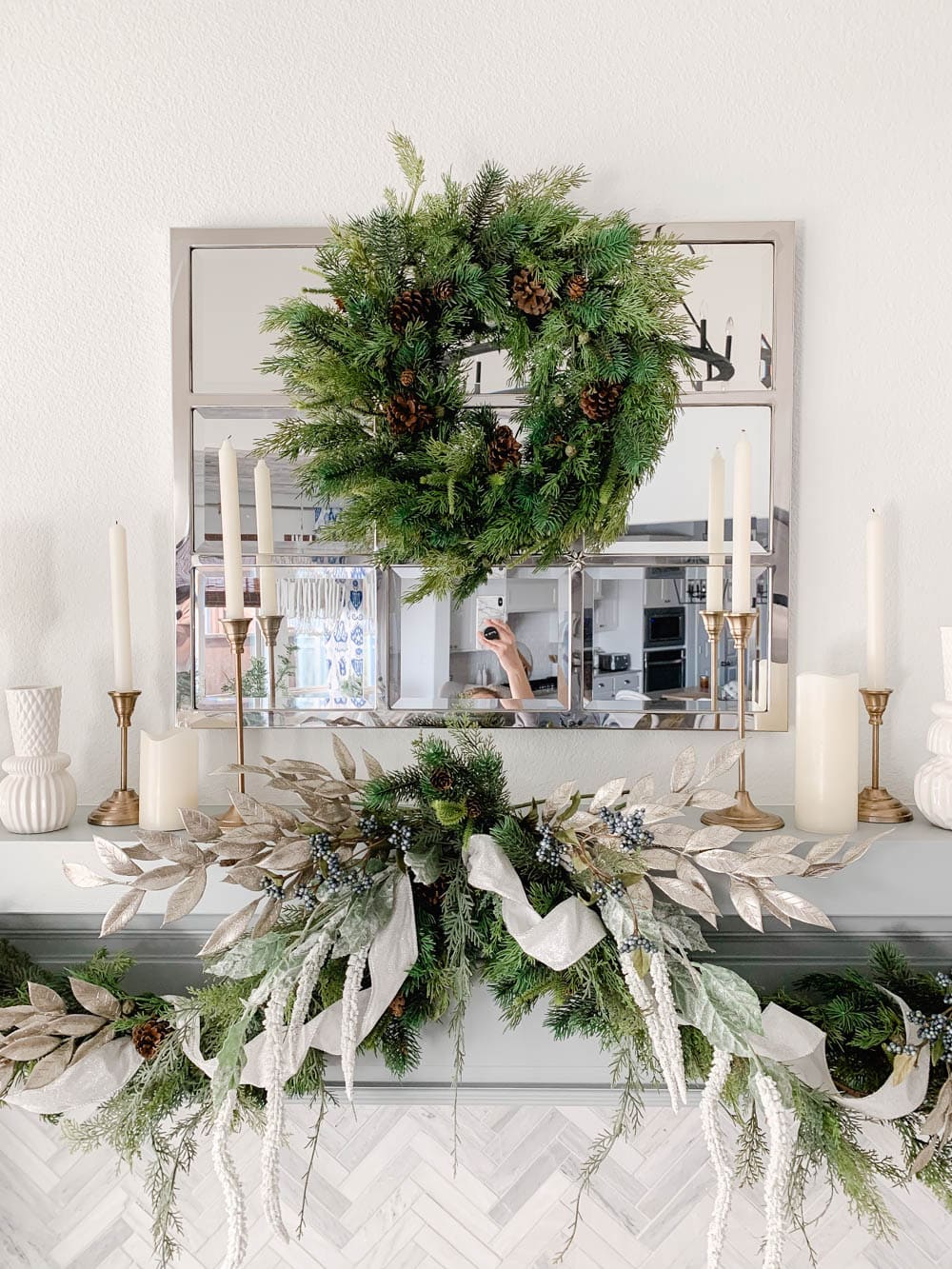 I just used candlesticks I already had in the house and piled them on the top of the mantle. I love the whimsical curated look they give. You can get these flameless candles and they even have a remote.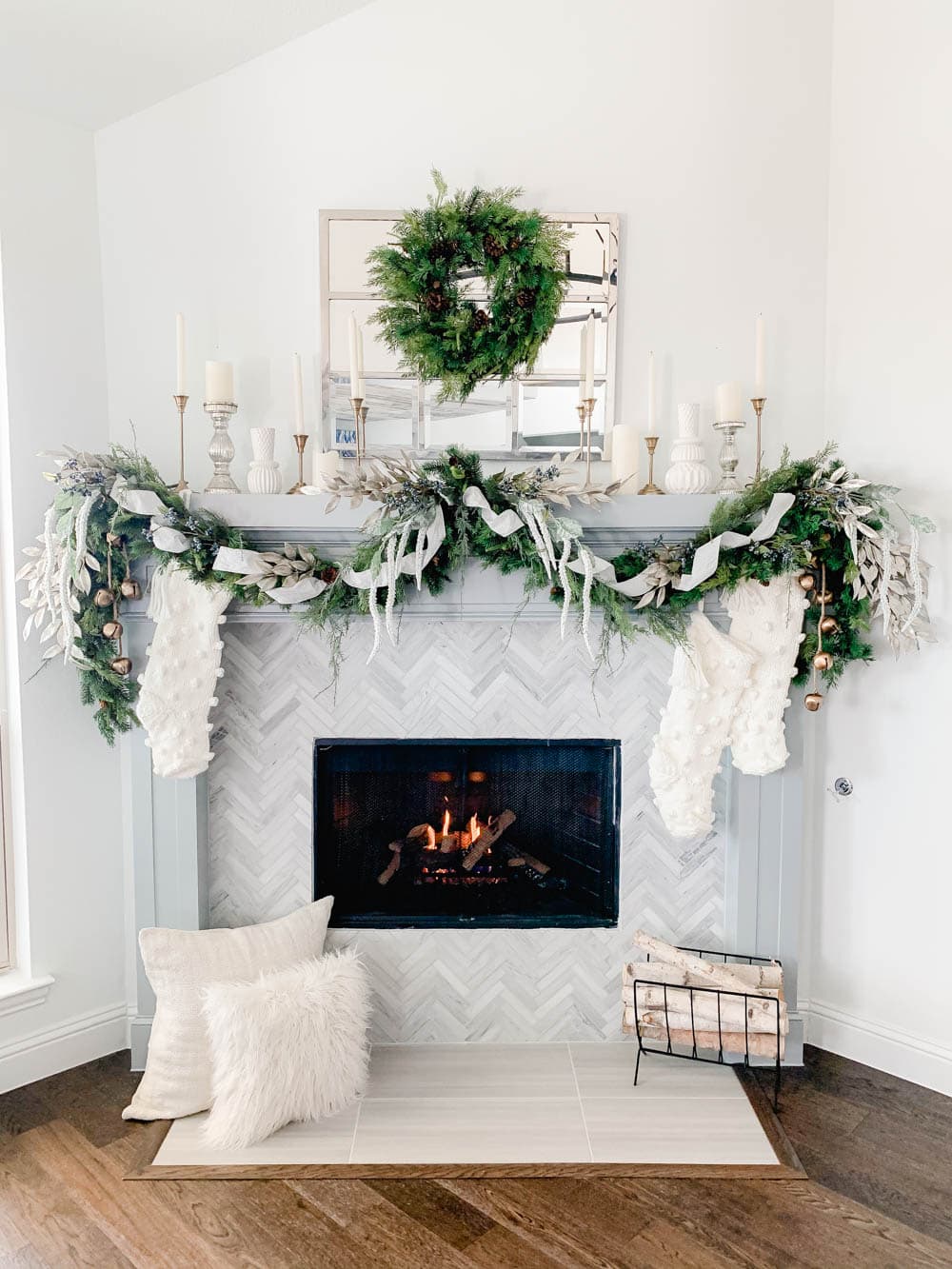 So I hope you loved this easy tutorial on how to hang a garland on your mantle without damaging your walls or your mantle using Command™ Products. They are my favorite! Learn more about Command™ products HERE. I would love to hear in the comments how you plan to use these this season.
THIS IS A SPONSORED POST. A BLISSFUL NEST HAS RECEIVED PAYMENT, TRADE, AND/OR PRODUCTS FROM Command™ Brand IN EXCHANGE FOR PROMOTING. HOWEVER, ALL OPINIONS STATED ARE OUR OWN.