The Best Artificial Christmas Trees That Are Beautiful and Affordable
This post may contain affiliate links. Please read our disclosure policy.
Sharing a collection of the best artificial Christmas trees that are very realistic looking and affordable as well as multiple heights depending on how tall you need your tree. Flocked as well as evergreen-looking faux Christmas trees that you can use in any room of your home.
I love the smell of real, freshly cut Christmas trees but I also really love having my holiday decorations up for as long as possible.
That being said, artificial Christmas trees are a great alternative, and they do of course make candles that smell like fir needles/balsam, which you can use to get that fresh-cut tree smell in your home.No mess of needles to clean up!
If you are on the hunt for a new faux Christmas tree this season that is beautiful, looks realistic, and still is affordable, I have you covered!
I've gone through tons of options online and rounded up some of the best Christmas trees to buy and I've also gathered the best ideas on how to decorate your Christmas tree.
Whether you're a fan of a traditional green tree, a flocked tree, or want a variety of heights in a tree, you're bound to find one you'll love that fits your space perfectly here!
This post contains some affiliate links for your convenience. Click here to read my full disclosure policy.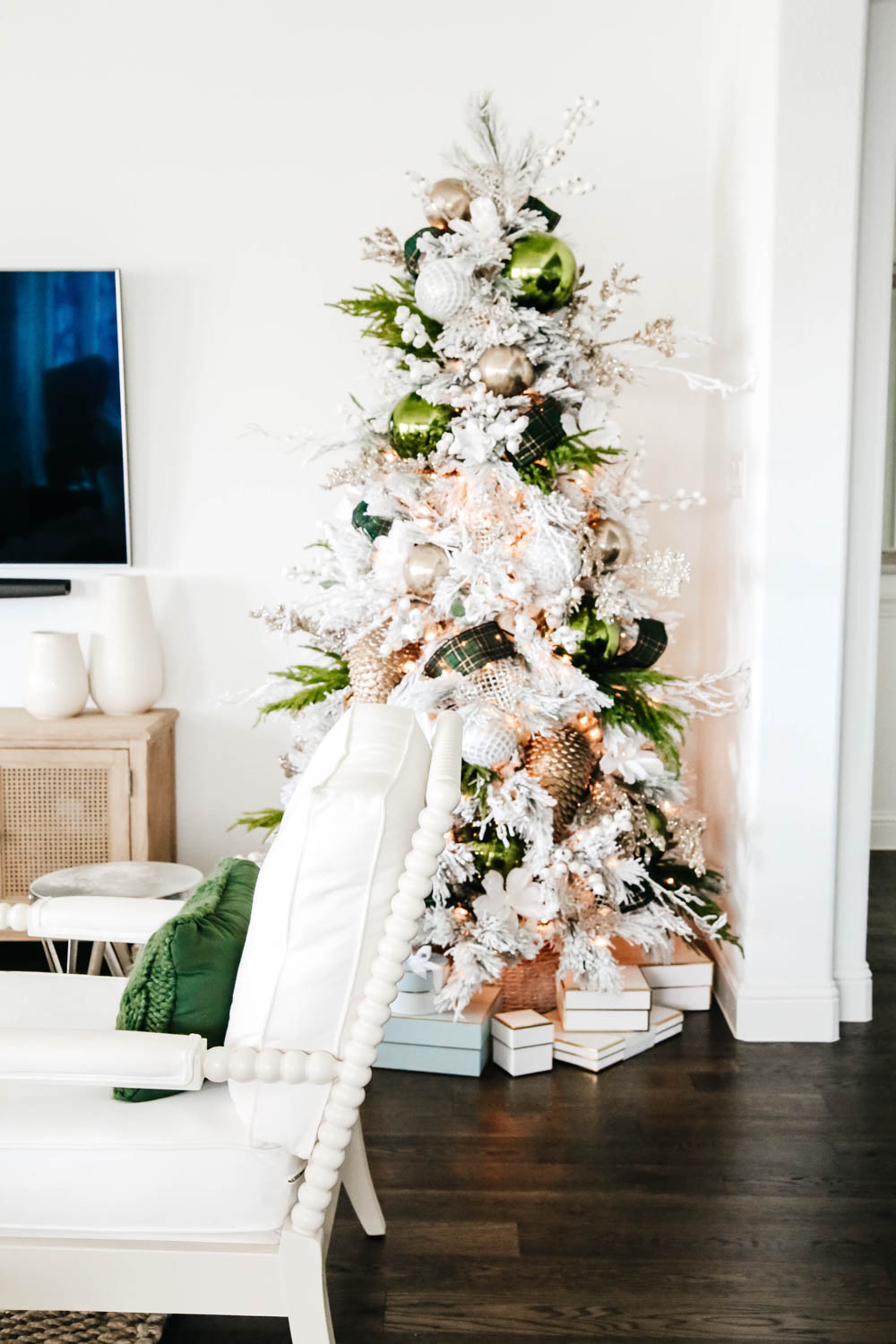 But first, let me answer a couple of commonly asked questions to help you make your decision even easier.
Are pre-lit trees worth it?
When taking into consideration if pre-lit Christmas trees are really worth it, there are a couple of factors to think about. First off, artificial trees last longer and you don't have to water them, which if you forget you will have dried sharp pine needles all over your house.
Also, now that there are LED lights, pre-lit trees can help with saving energy. Also, it is a bonus to not have to spend the time stringing the lights around the tree year after year, and on multiple trees, if you have more than one in your home for the season.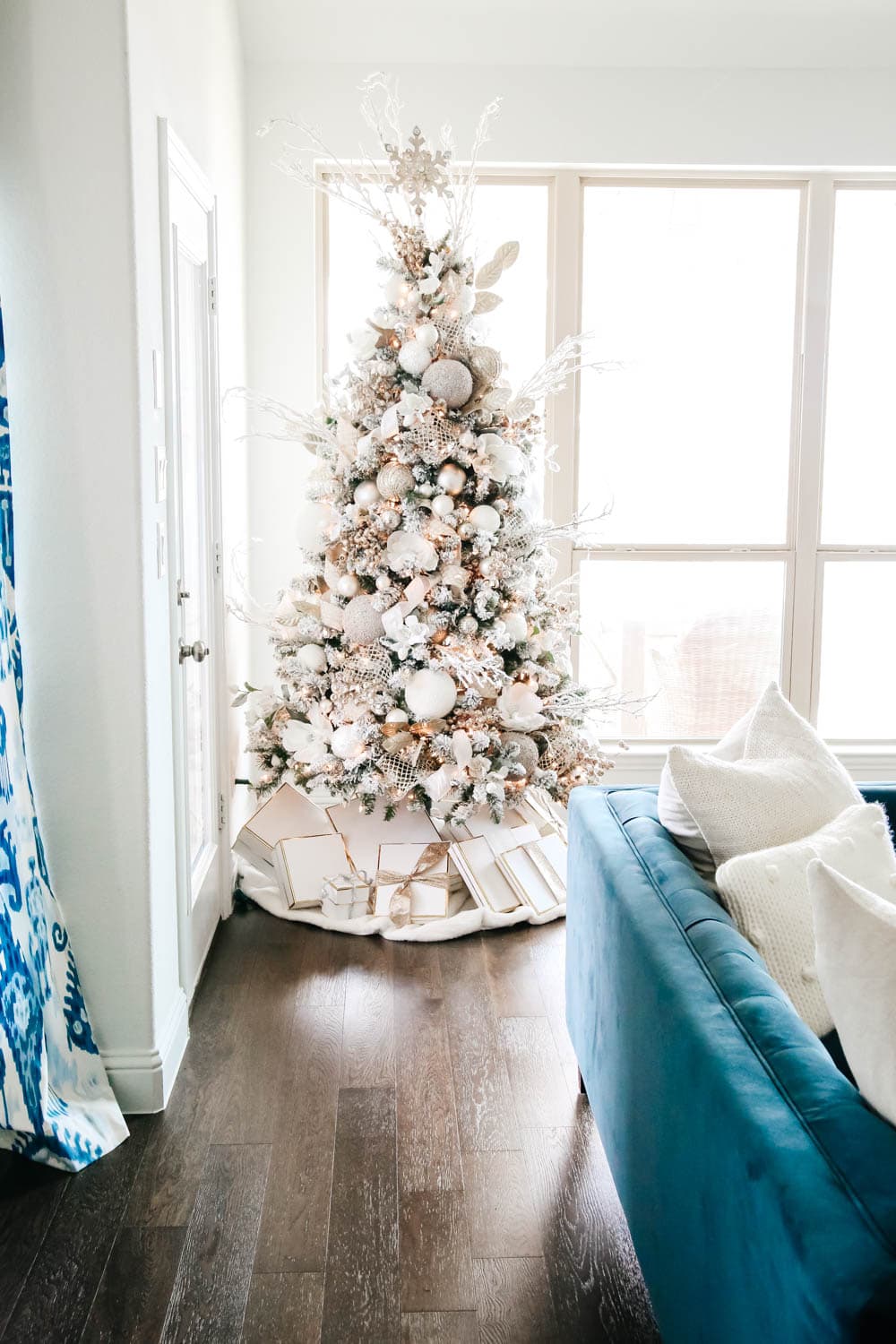 How long do artificial Christmas trees last?
Artificial Christmas trees can last longer than you think but this will depend on the quality of the tree you purchase. There are a few very reputable companies that are known for their amazing trees and we have included them below.
Typically if you have a good quality tree, store it properly in a sealed tight tree bag, and it doesn't get banged around in the attic, they can last anywhere from 6-10 years.
What is a good price for a faux Christmas tree?
A good price for a well-made faux tree can vary on the height of the tree as well. But typically they can range from $400 – $1500.
So who is ready to find the perfect artificial Christmas tree for their home??!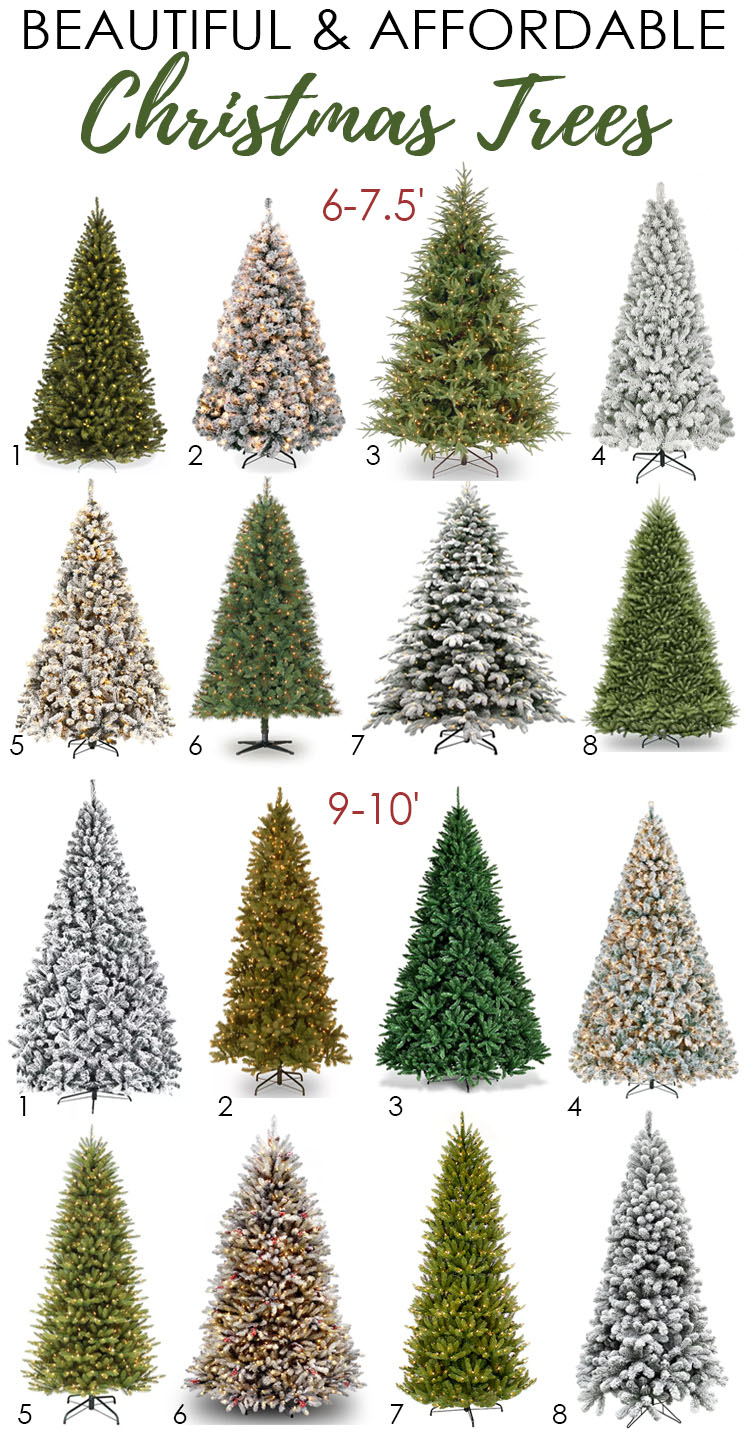 Sizes 6-7.5′: 1 | 2 | 3 | 4 | 5 | 6 | 7 | 8
Sizes 9-10′: 1 | 2 | 3 | 4 | 5 | 6 | 7 | 8
Beautiful and Affordable Artificial Christmas Trees:
Sizes 6-7.5′ Christmas Trees:
1. Pre-Lit 6ft Spruce Christmas Tree: this artificial Christmas tree comes in four sizes, with the 6ft sized tree under $130! It has great reviews and the full, fluffy branches make this the perfect tree.
2. Snow Flocked Pine Christmas Tree: this tree is pre-lit and comes in 6′, 7.5′, and 9′ and is such a beautiful tree! It has warm white lights which I just love and is super affordable.
3. Frasier Green Fir Pre-Lit Christmas Tree: there's something so pretty and different about the branches on this tree! It comes in 6.5′ and 7′ and is almost 50% off. I love that it's pre-lit and how real it looks!
4. Pre-Lit Flocked Virginia Pine Christmas Tree: this beautifully flocked 6.5′ Christmas tree is SO beautiful. It has just the right amount of flocking, is the perfect size and shape – you can't go wrong!
5. Pre-Lit Flocked 7.5 ft Christmas Tree: I find myself gravitating toward flocked trees because the look of snow makes the tree glisten and I LOVE that look! This is a super popular faux tree and it's very affordable – it comes in 6′, 7′, and 9′ and has such great reviews!
6. Pre-Lit Willow Pine 7ft Christmas Tree: this is one of the artificial Christmas trees that allows you to decide how full you want it… The more you fluff the branches, the fuller it appears! It also comes pre-lit and is said to take just minutes to put together.
7. Flocked Green Spruce 7.5ft Christmas Tree: I absolutely LOVE this tree. I think flocked trees are so different and beautiful! This is on the taller side (of the shorter bunch I'm featuring) at 7.5′ and is extremely full.
8. Jack Green Fir 7.5ft Christmas Tree: this artificial tree comes un-lit, but the beauty of that is you can choose your own lights to strand onto it! It's also one that will last season after season. It's the perfect, under $200 traditional Christmas tree.
Sizes 9-10′ Christmas Trees:
1. Snow Flocked 9 ft Christmas Tree: another super beautiful flocked tree! This one is very affordable considering the height and is super full. It's un-lit so you can get creative and add your favorite type of string lights to it!
2. Pre-Lit Slim Fir Christmas Tree: this is a great tree if you have a small or compact space but tall ceilings! It's pre-lit and is made with "feel real" branches so it has an extra realistic look to it.
3. Green Fir Christmas Tree: I LOVE the color of this tree. It's super natural looking, is 9′, and is just over $200. Such a good deal! You really can go any which way decor-wise with a tree as traditional and simple yet stunning as this one.
4. Pre-Lit Flocked Frosted Christmas Tree: this 9′ tree is another great deal! It's really full and beautiful, perfect for a taller tree.
5. Pre-Lit Slim 10 ft Christmas Tree: here's another slim tree but this one is 10′ – it's pre-lit and it's a great deal. The branches are super realistic looking and it's a classic-looking tree.
6. Green and White Fir Christmas Tree: how pretty is the flocking on this tree mixed with the red berries?! So different and beautiful! The flocking is VERY realistic looking and it comes in a couple of sizes.
7. Slim Frasier Fir Christmas Tree: this 10′, the pre-lit tree is over $300 off! SUCH a good deal and if you have the height, I'd highly recommend getting it. It's beautiful and while it's slim, it doesn't appear a super skinny tree. It's great for any living room!
8. Slim Flocked 10 ft Christmas Tree: here's a slim tree option that's flocked! It comes in 9′, 10′, and 12′ and each is so beautiful. It has a full silhouette while still being slim and great for a smaller or tighter space with tall ceilings.
Which of these artificial Christmas trees are you loving? We hope this gives you all of the inspiration you need to get your tree(s) up and decorated this season!
Click HERE to go to them!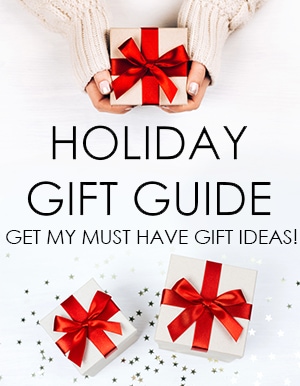 More Christmas Ideas + Inspiration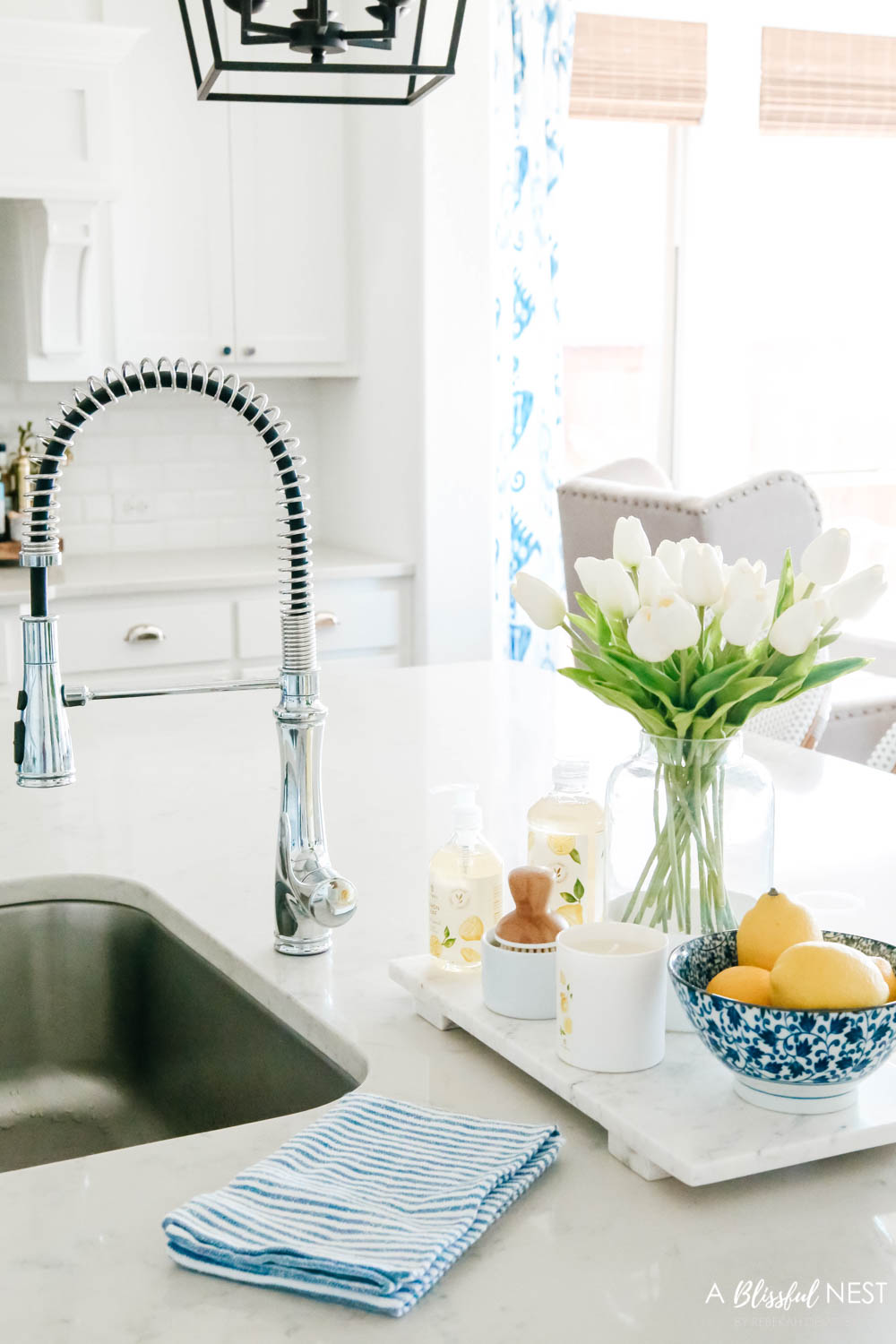 Shop My Amazon Finds
Shop my favorite products, finds for your home, and more only on Amazon.
Follow along to get more of my tips on home decor, DIY, and lifestyle on the following: