Metallic Christmas Home Tour 2021
This post may contain affiliate links. Please read our disclosure policy.
Sharing a metallic Christmas home tour 2021 with fresh winter green's and whites mixed in.
Friends this is a long one today so I hope you bare with me. I generally break up my Christmas home tour posts by room but I am late this year getting this out so I put it all together in one post this time. I also have broken it up into sections to make it easier to get through.
So welcome to my Full Christmas Home Tour!
This year I went with a more modern color palette of bronze and gold metallics that I carried through each space. I opted for a new tree this year (that isn't flocked) and I love the fresh look it gave me Christmas decor.
If you would like a look back at some of my other holiday home tours then check these out.
Christmas Decor and Home Tour Posts:
Get even more inspiration in some of these past posts.
With that said, let me walk you through each of the spaces in my home.
This post contains some affiliate links for your convenience. Click here to read my full disclosure policy.
Christmas Entryway:
My entryway has been made over a dozen times it seems but one of my most recent updates is this slim modern table.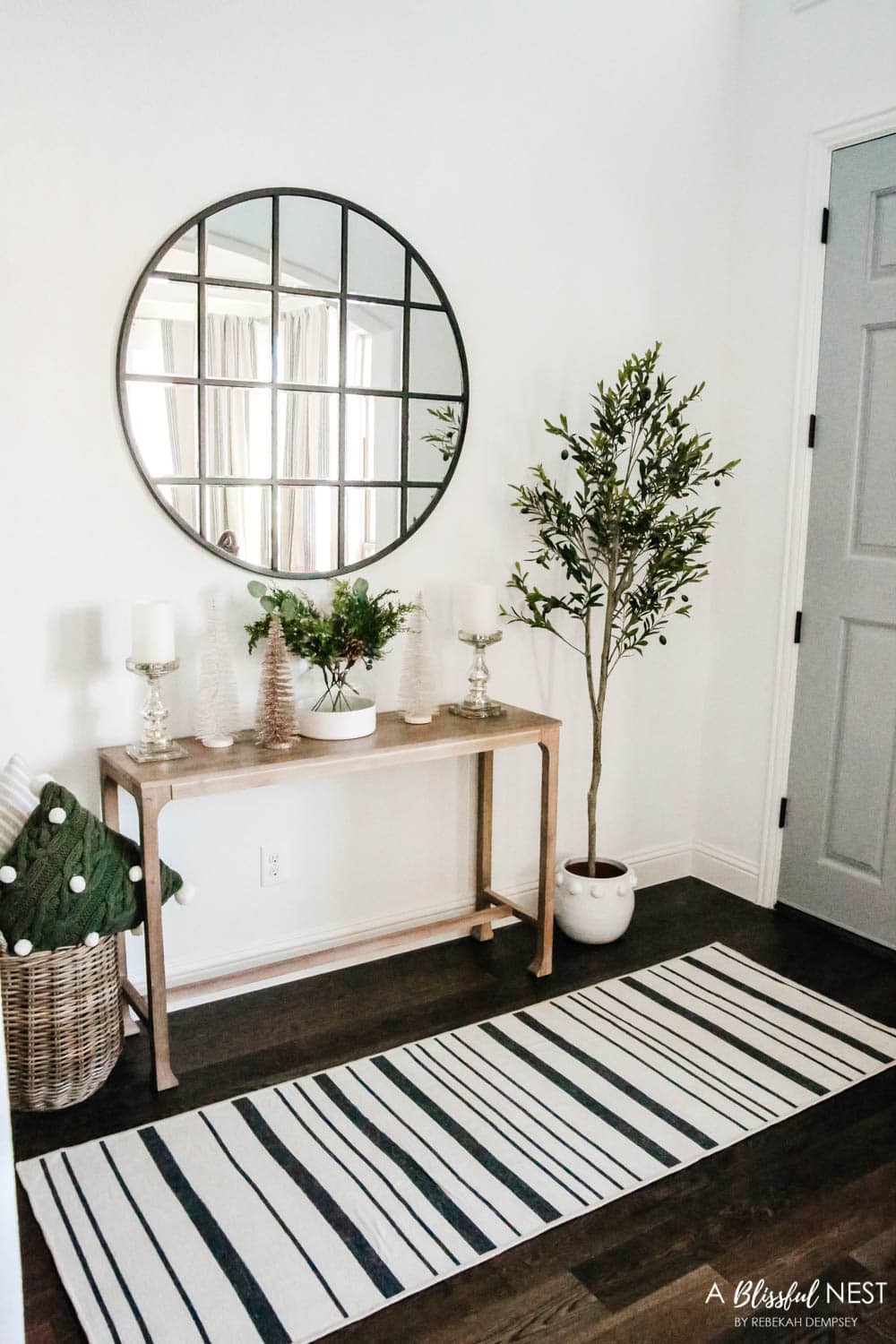 I kept our large oversized grid mirror and olive branch tree that I typically always have here and just updated the table decor and some fresh pillows.
This olive tree is one of my favorites and I have it also (not during the Christmas season) in our living room too. I love the height and the branches look very realistic.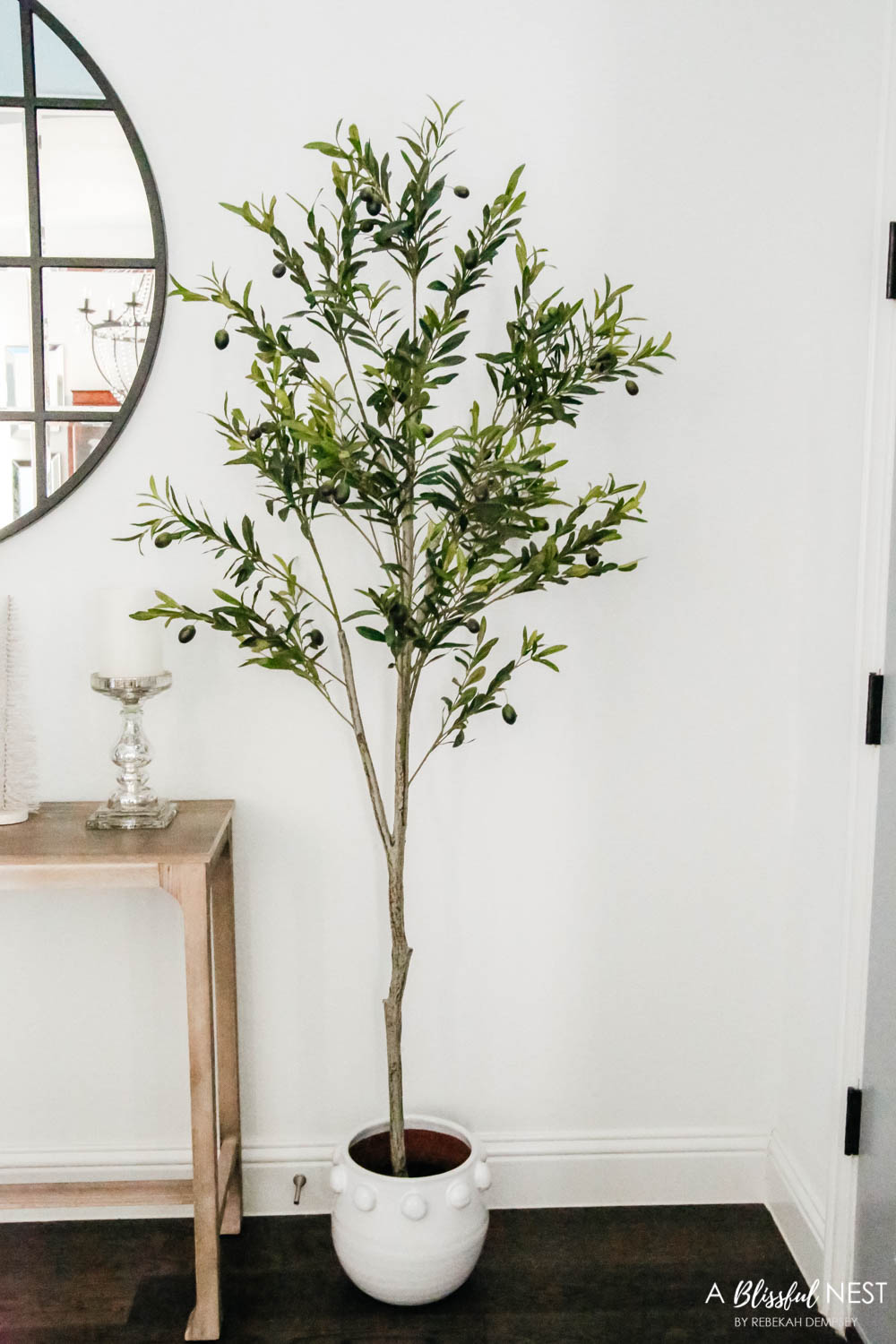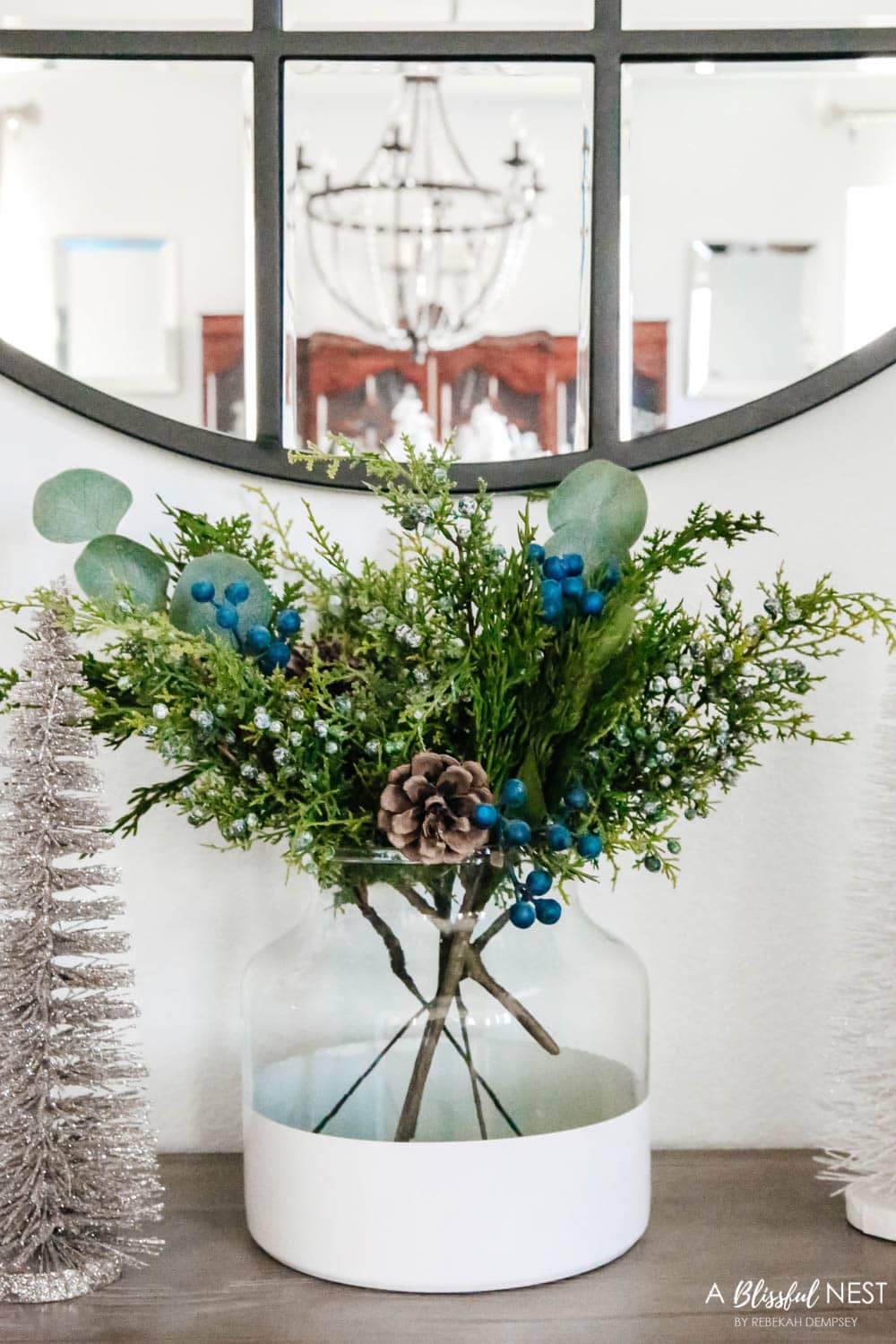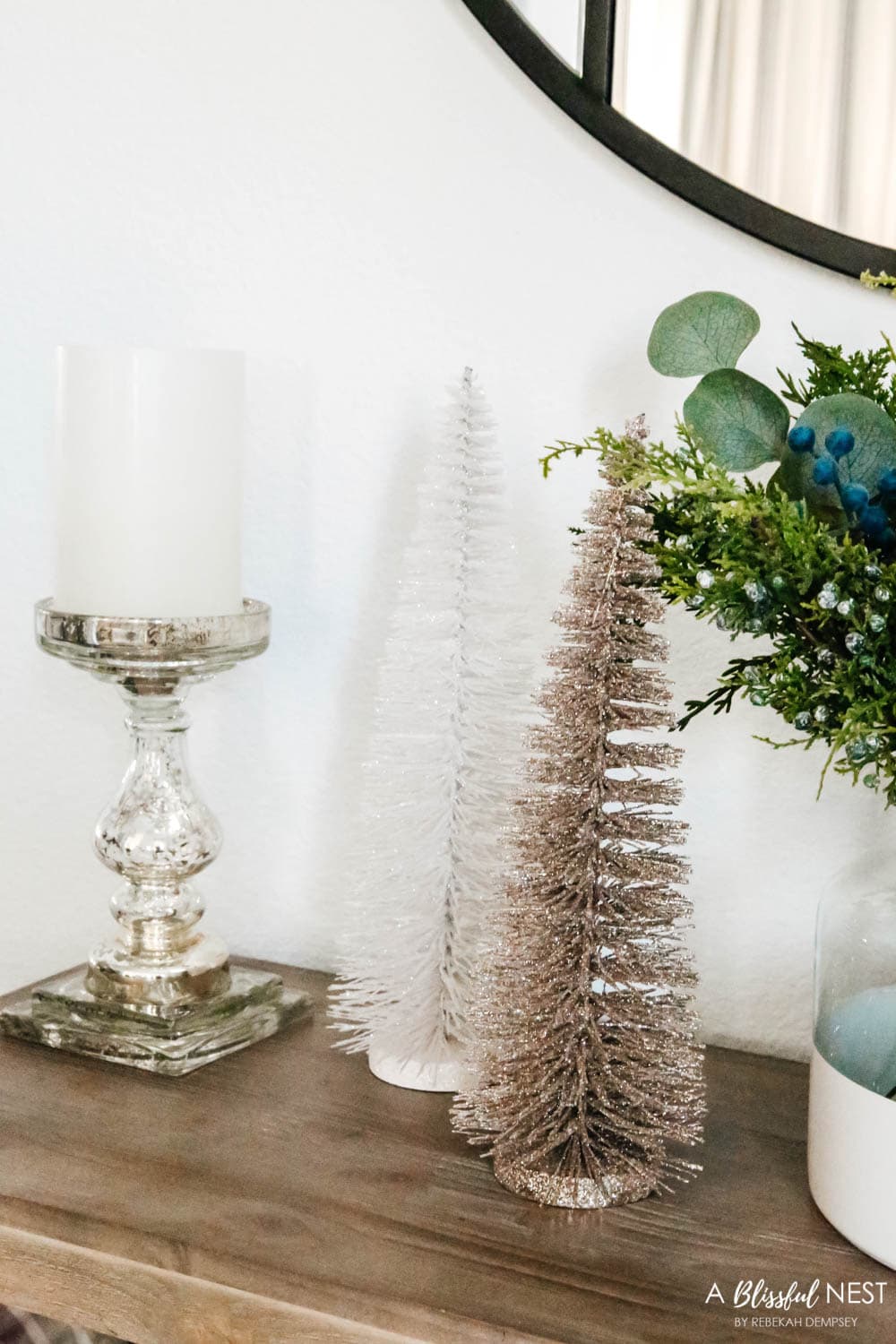 I am the pillow queen and never can have enough! I am obsessed with this green pom pom pillow and have it in another spot too (see below!).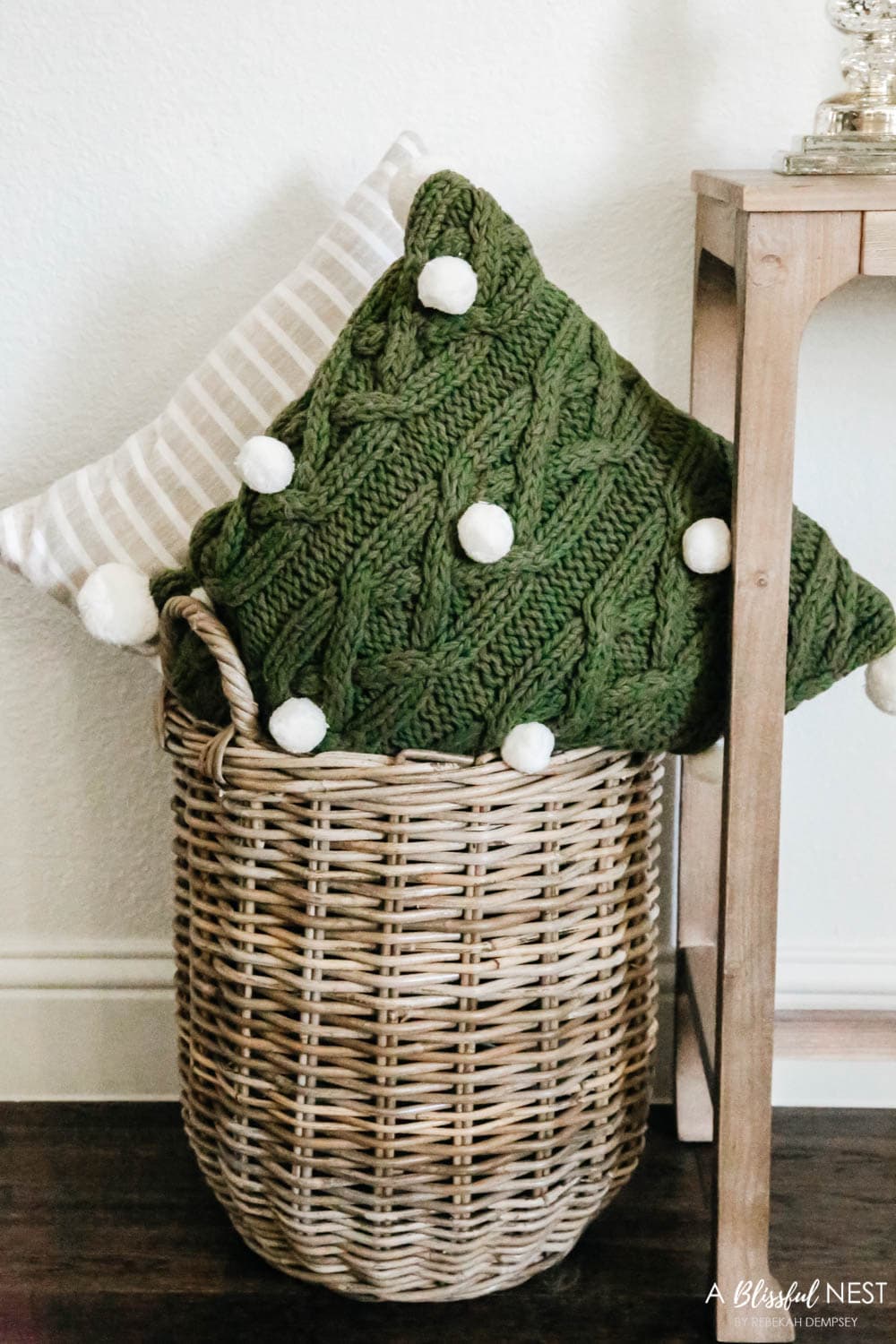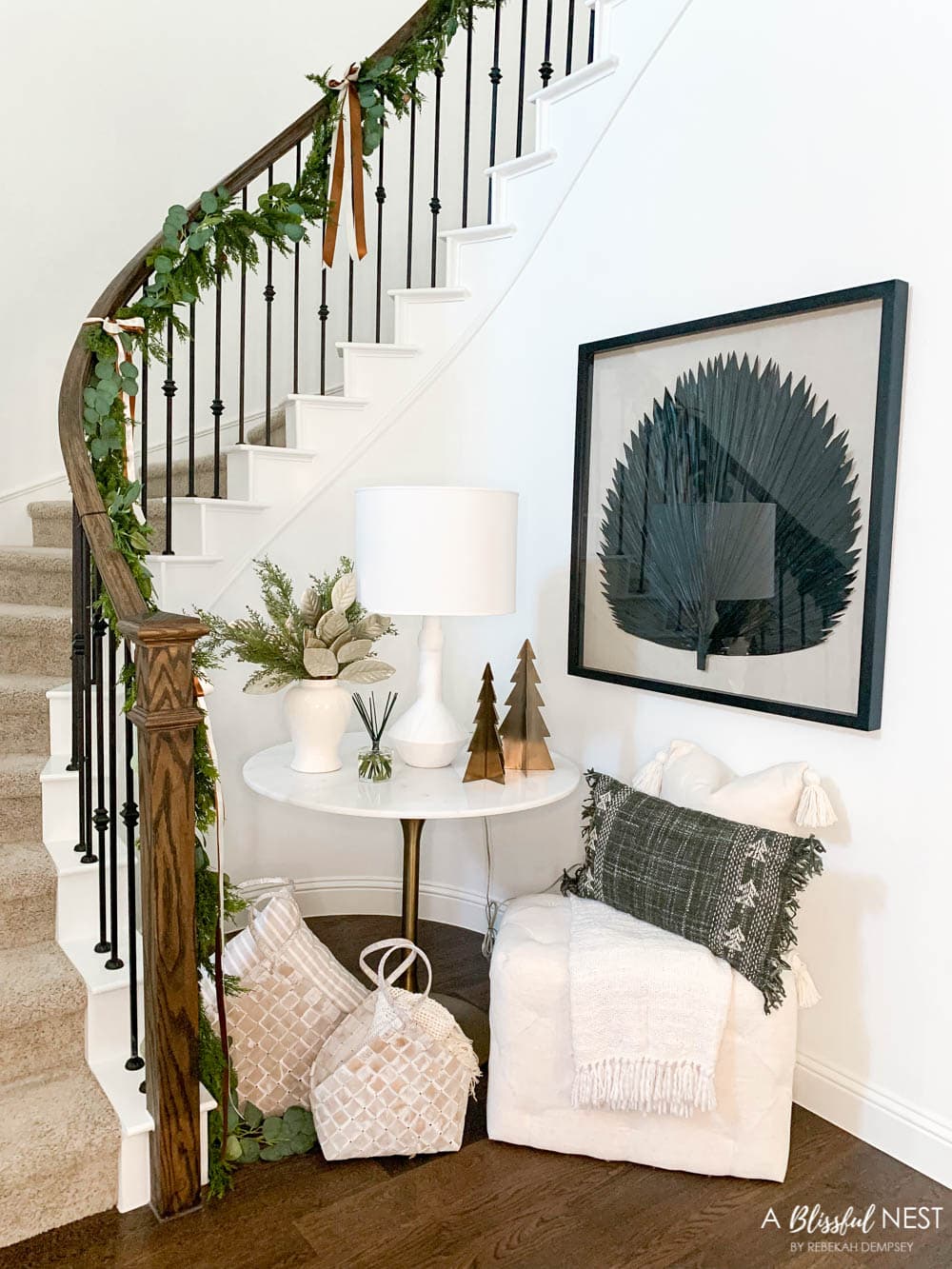 I lined my stairway with garland this year which I have never done and love it! I used this eucalyptus one and this cedar one. I added the cedar one first and attached them with zip ties and then added the eucalyptus one and wrapped it around the cedar one. Then I tied ribbons where the zip ties were for a color pop.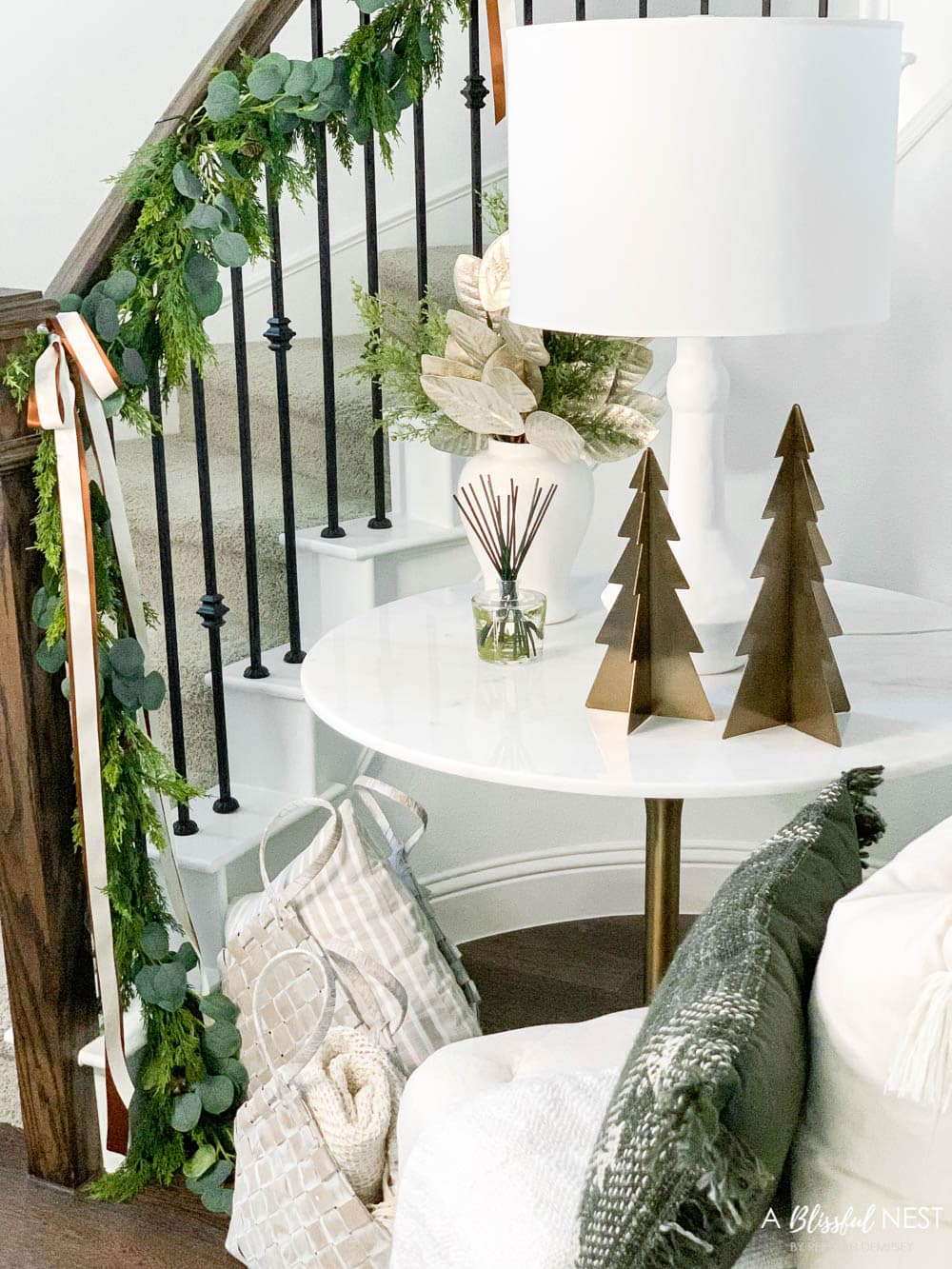 Our entry is small but I love the warm glow it has with all the metallic Christmas pieces.


Christmas Kitchen:
I typically don't add too much to the kitchen area since I need as much prep space as I can get with cooking, homework central, etc.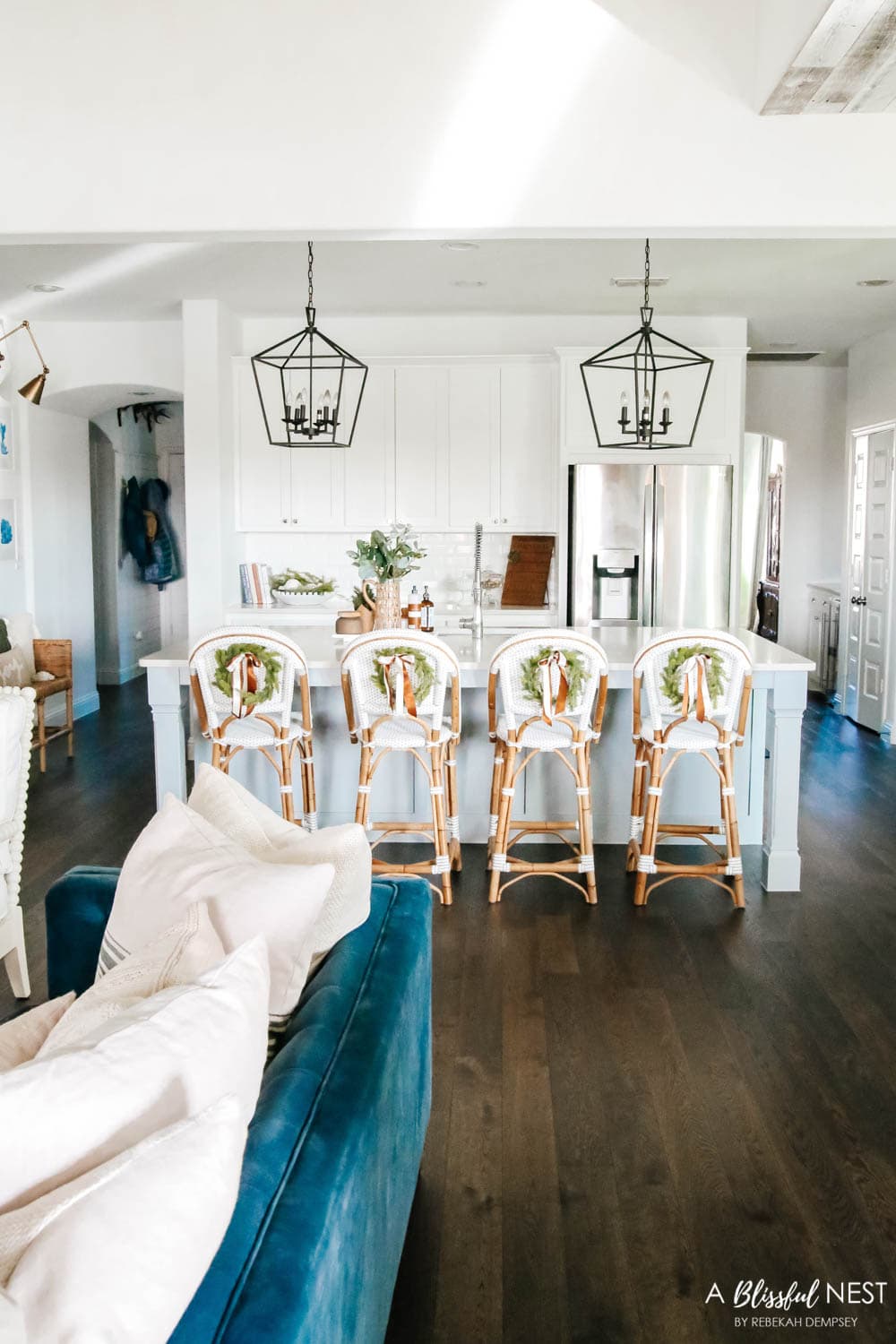 My favorite thing to do is add mini wreaths to our barstools every year. These are adorable and come in a set of 3. For a little added flair I added some cream ribbon and copper ribbon.
I attached these using floral wire and threaded them through the other side of the barstool, and then twisted the ends together to secure. So simple and doesn't damage the barstools.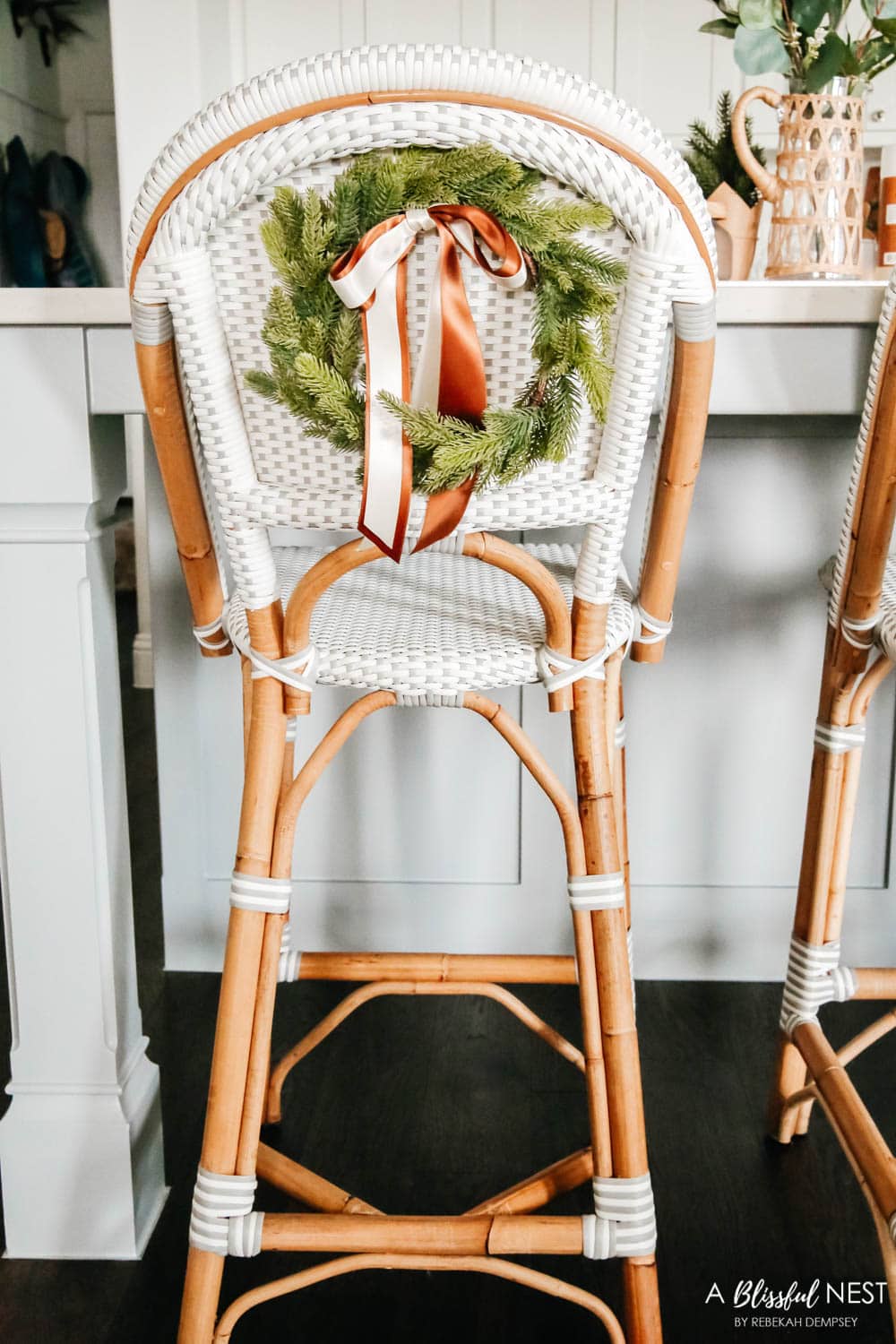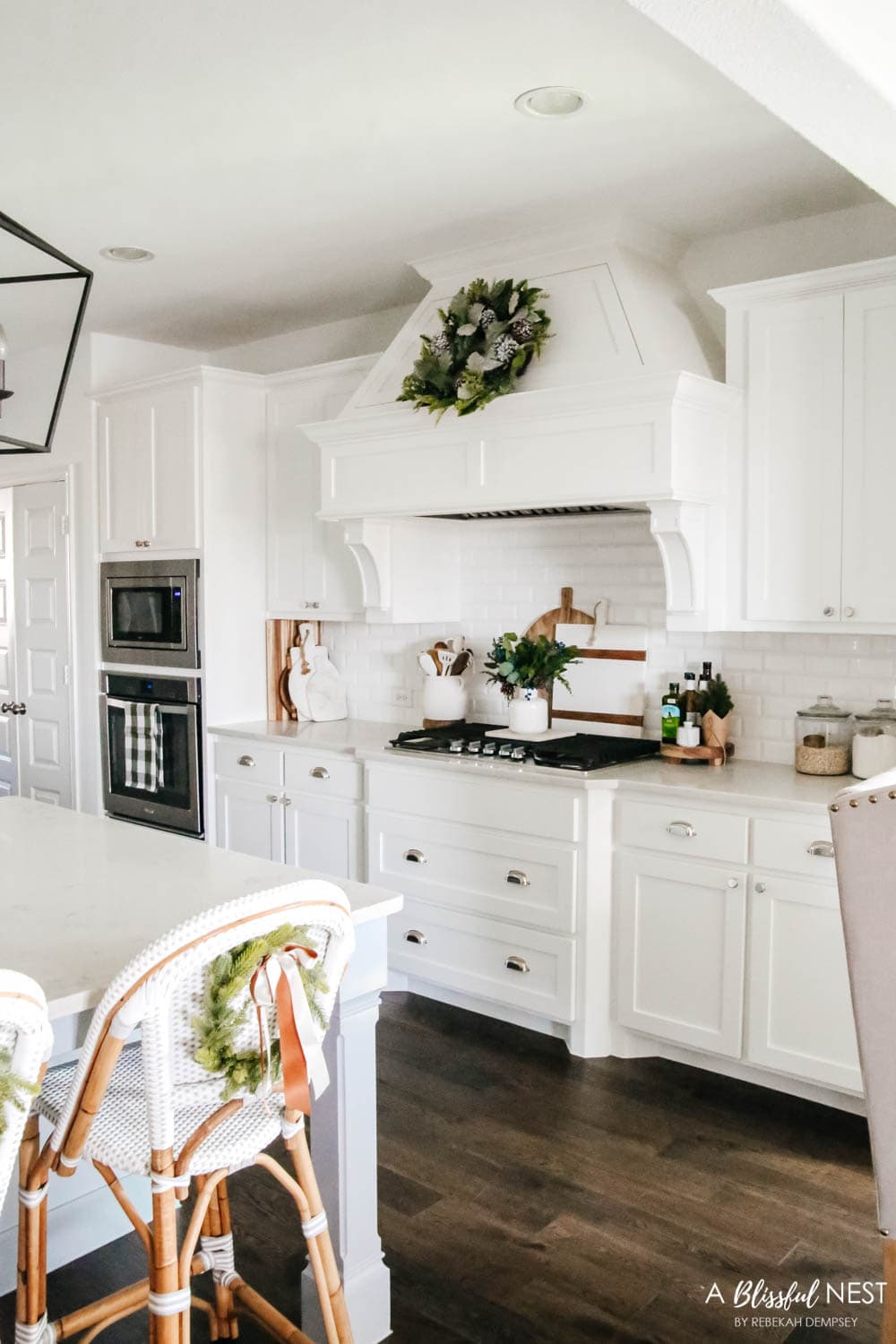 I generally add a wreath to my hood every year and love to keep it simple with just that and a pretty winter floral arrangement on the stove when we are not using it.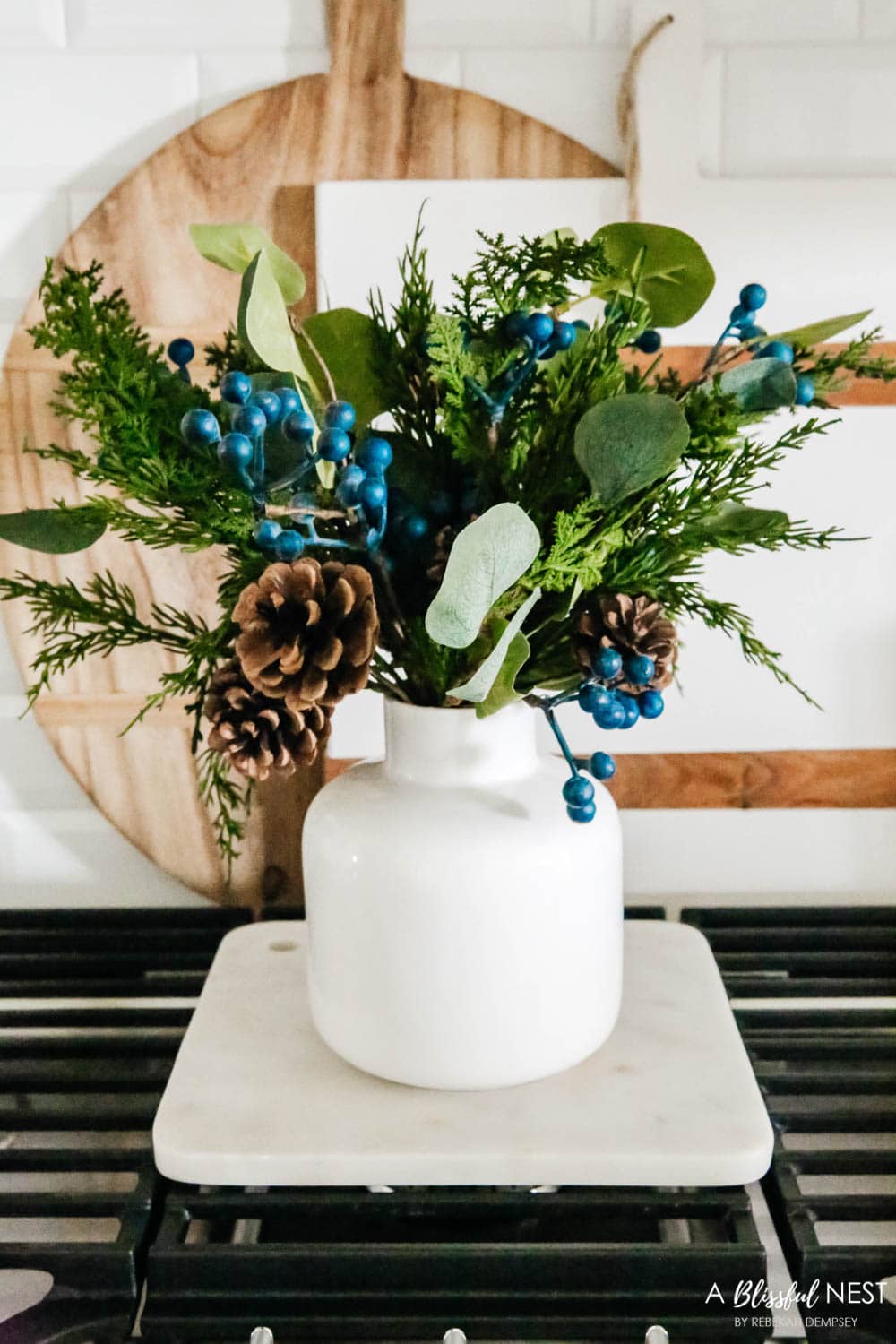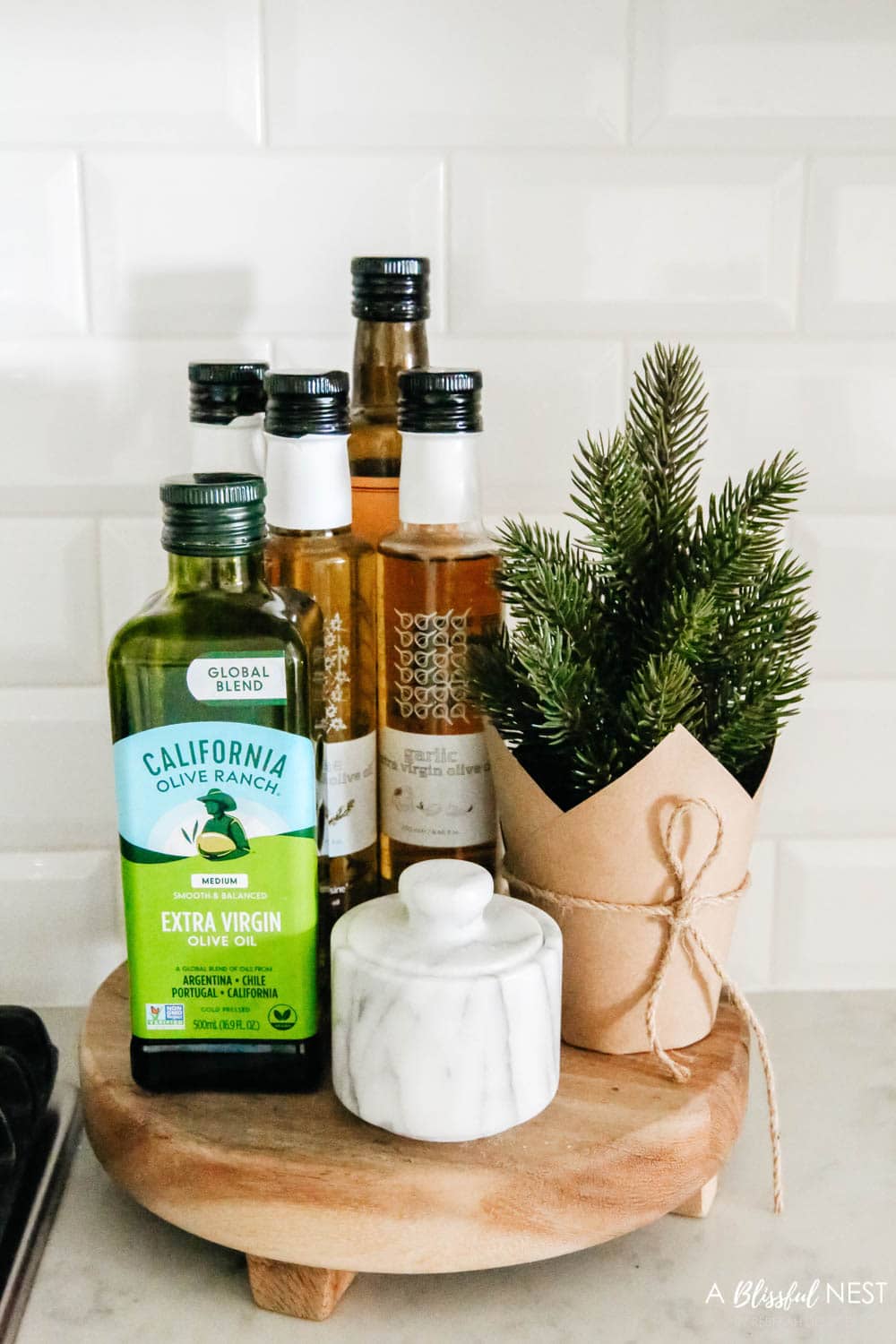 I always have my cooking oils and utensils on both sides of my stove for easy access and added a cute little pine tree.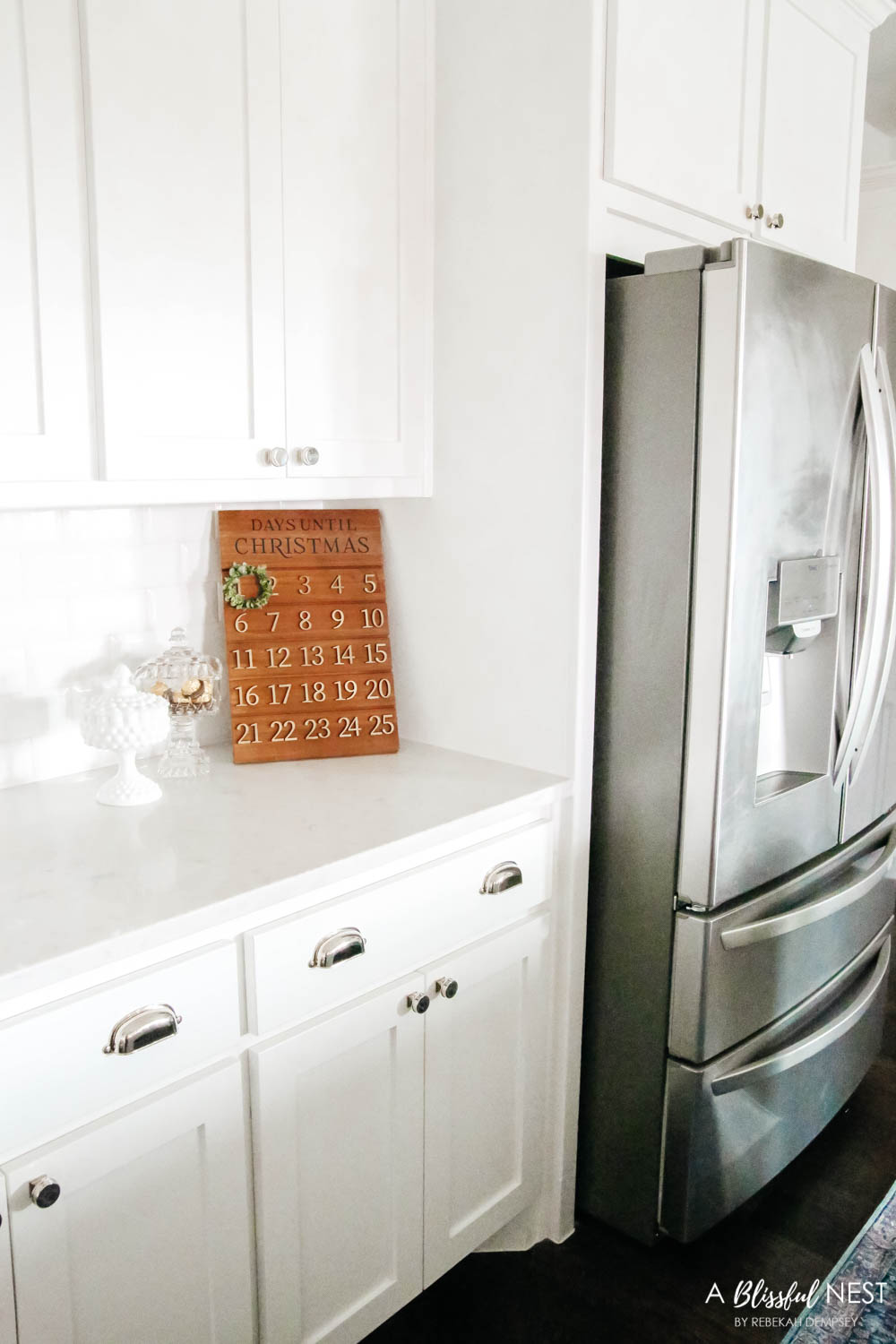 We love advent calendars. I mean we have a minimum of 3 in the house at this time of year. This one is my favorite though and I got it a few years ago at Target.
My grandmother always had candy dishes around and I love to have some vintage candy compotes with Christmas candy at this time of year.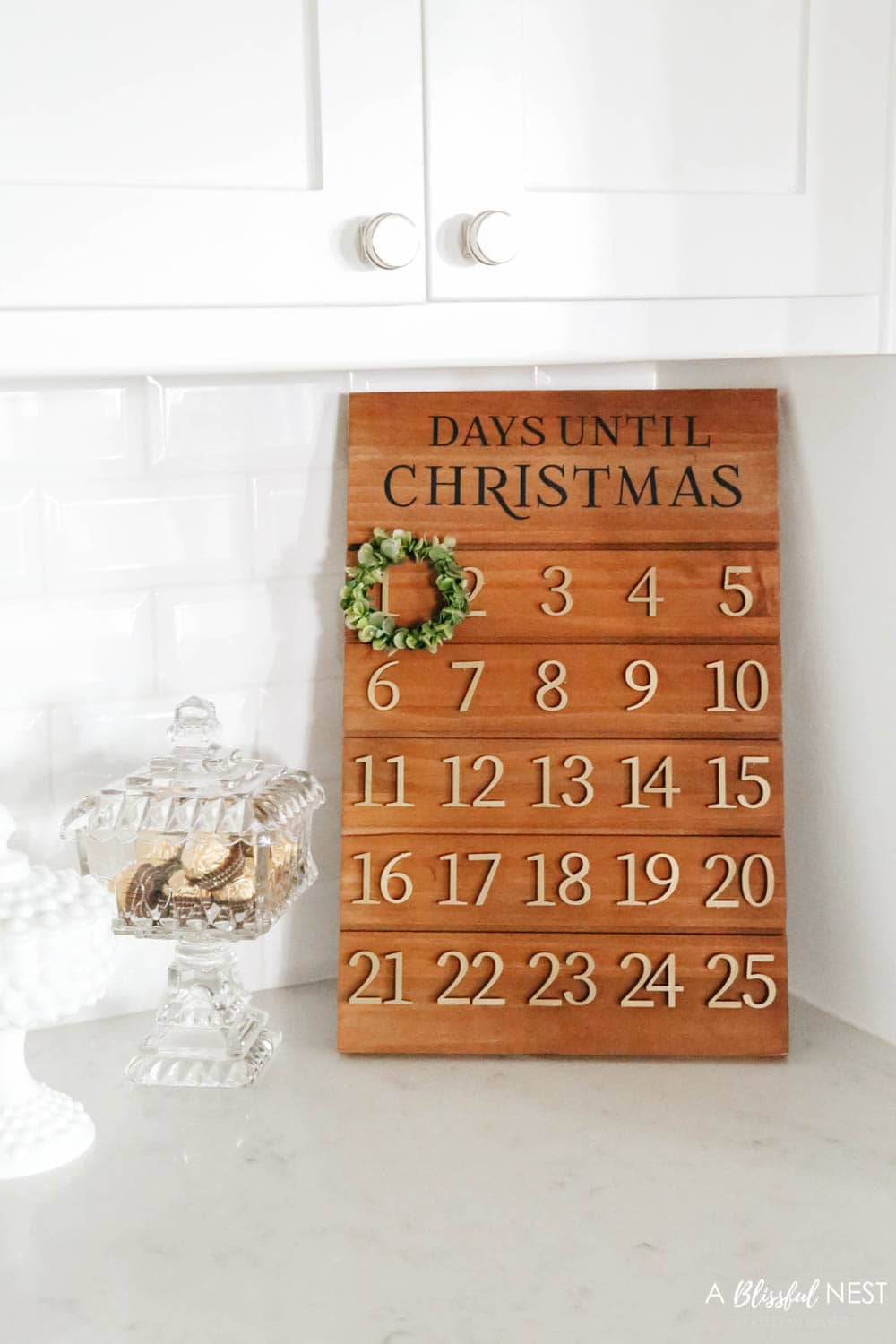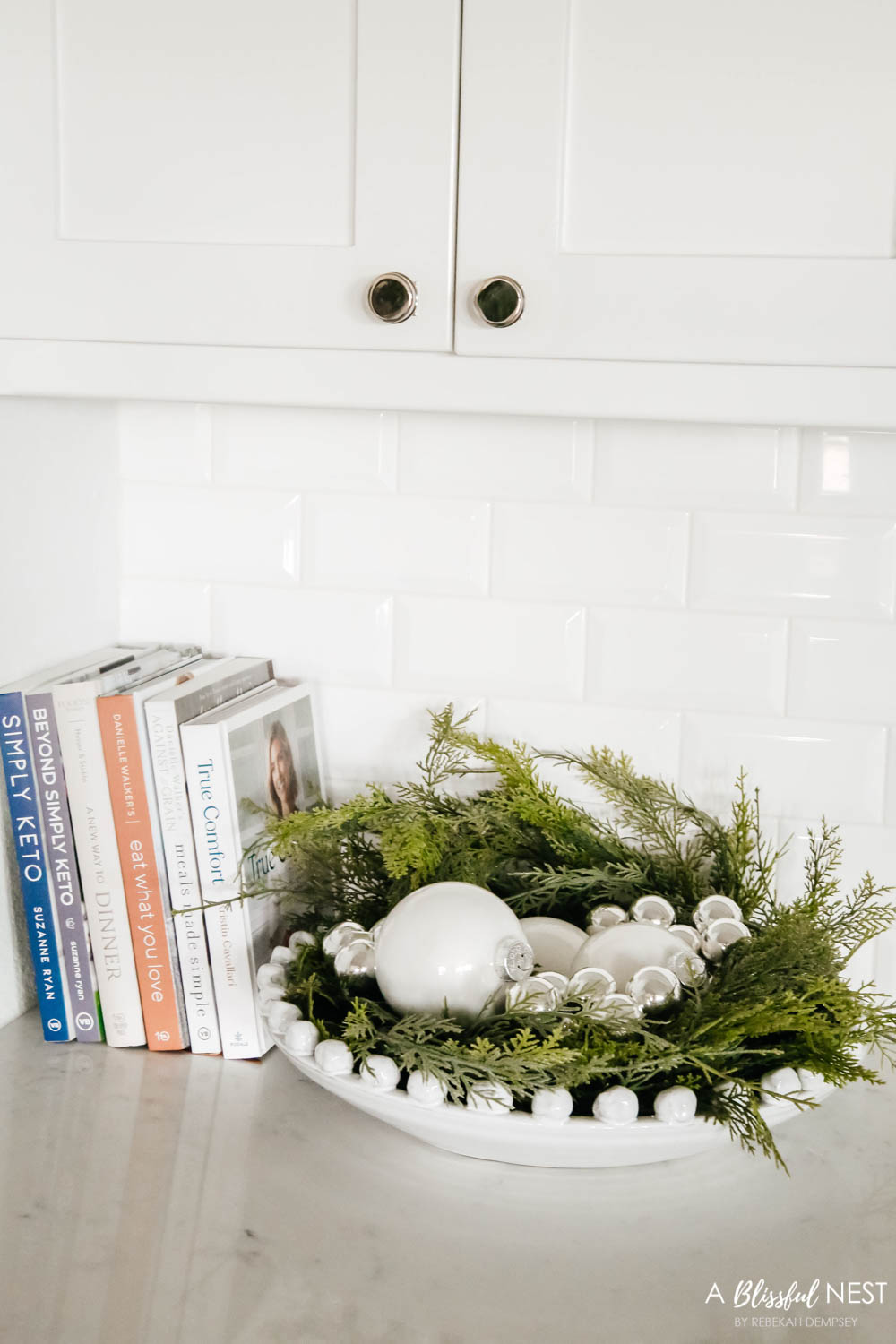 I also love to have my cookbooks out that I use regularly and these are my current favorites. You can check out more of my favorites HERE.
I usually use this large white bowl for fruit but added a plain green garland and some Christmas balls for a festive look.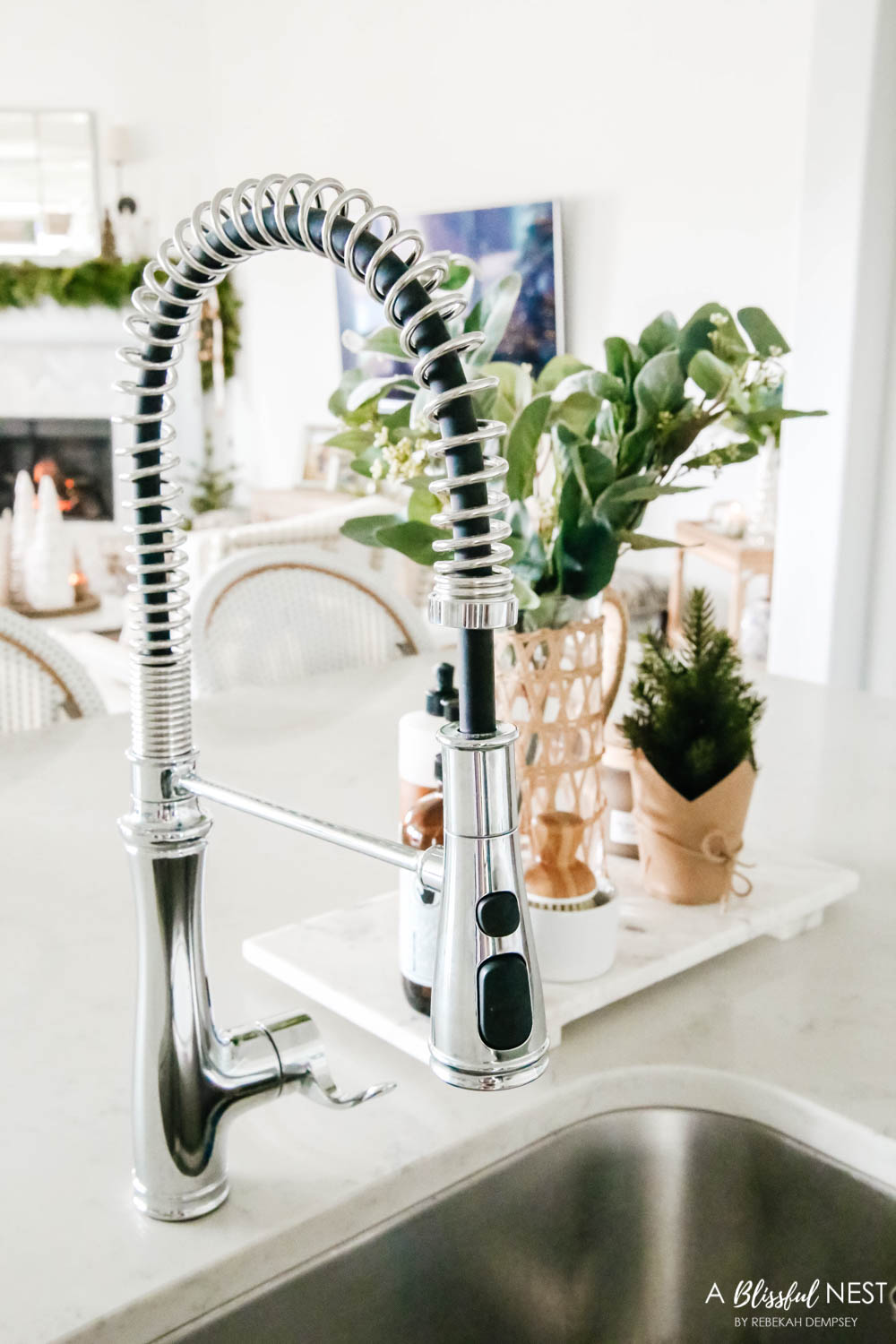 I recently added this marble tray from my new online shop and it seriously is the best thing to corral all my things here and keep it neat and tidy.
This is a new rattan vase that will be in the shop soon too! I just filled it with some faux eucalyptus leaves.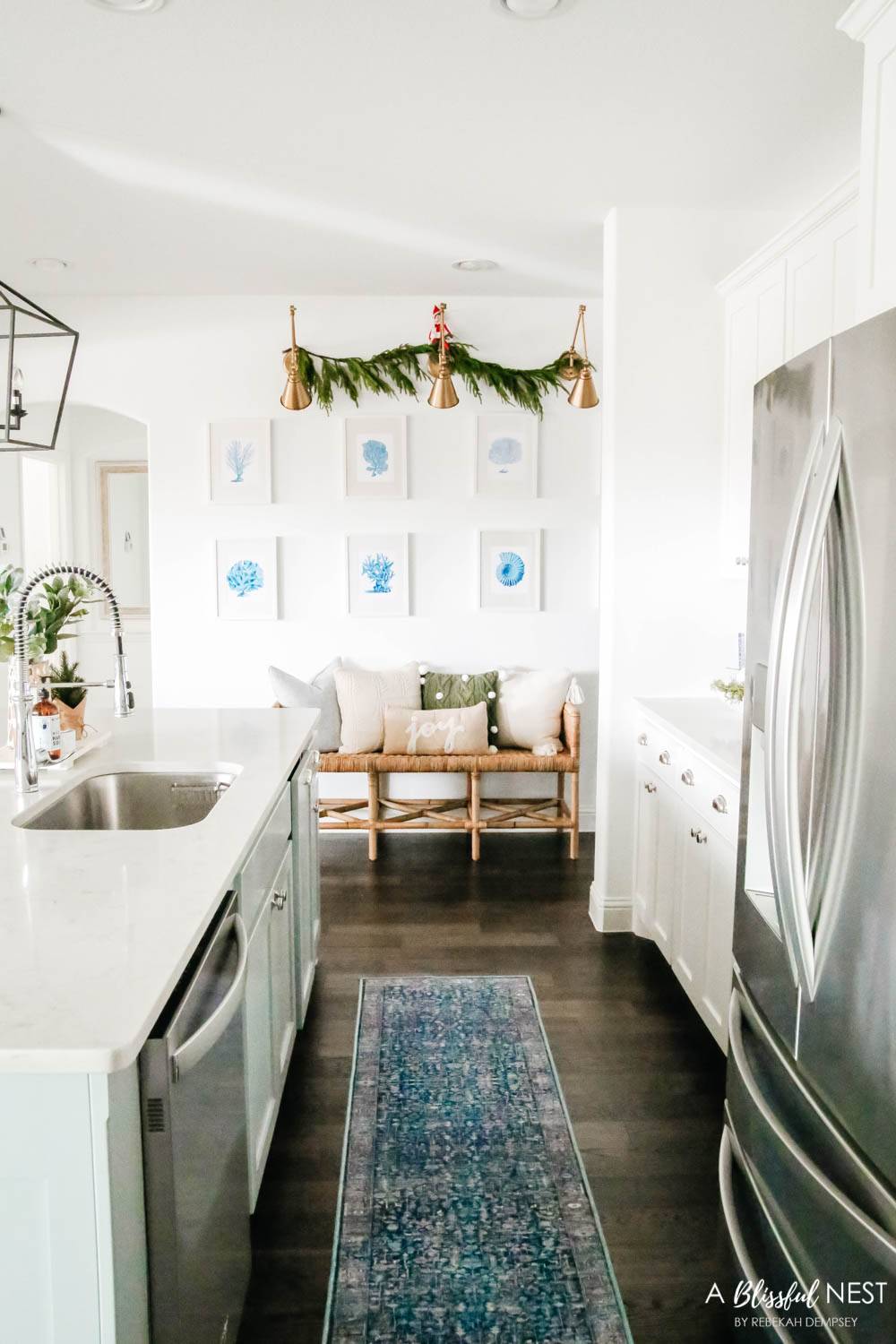 This has easily become over the years one of our most used spots. I love having a bench here in the kitchen area. I updated it with some cozy pillows and draped a juniper garland between the sconces.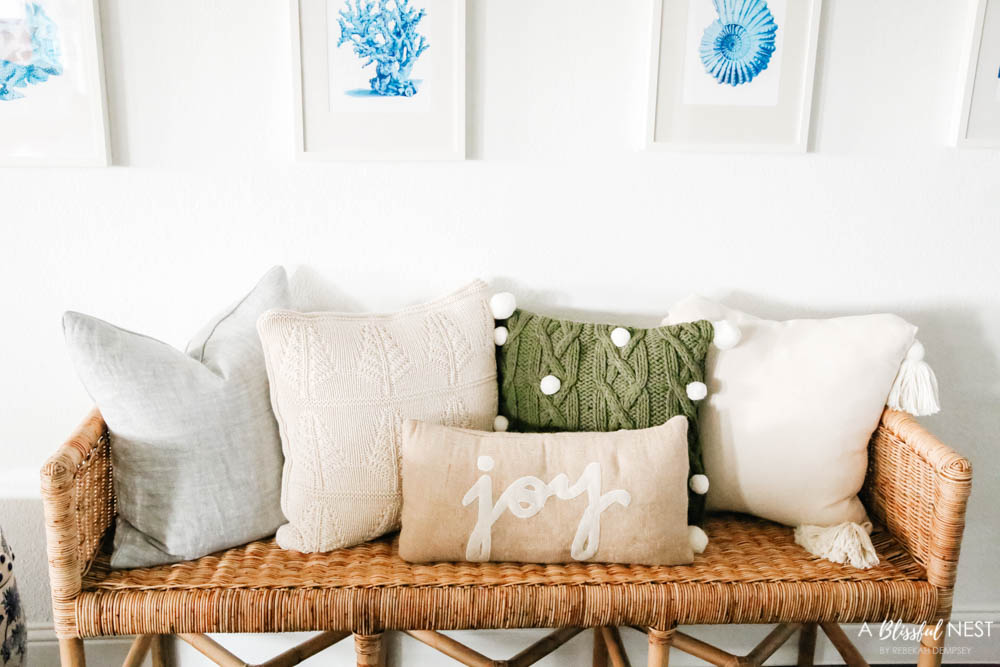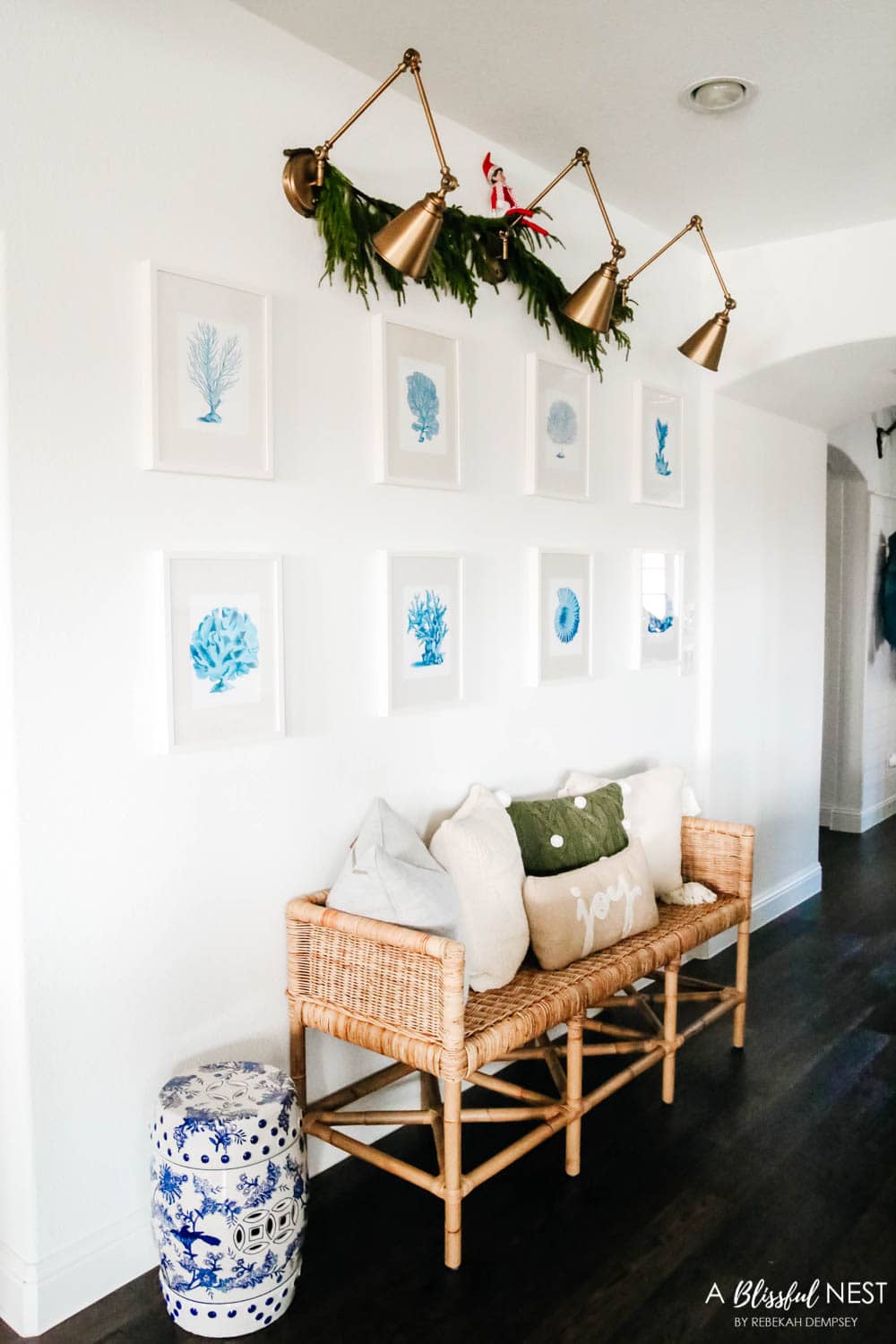 Can you see someone hiding up at the top? That is our elf Sparkle!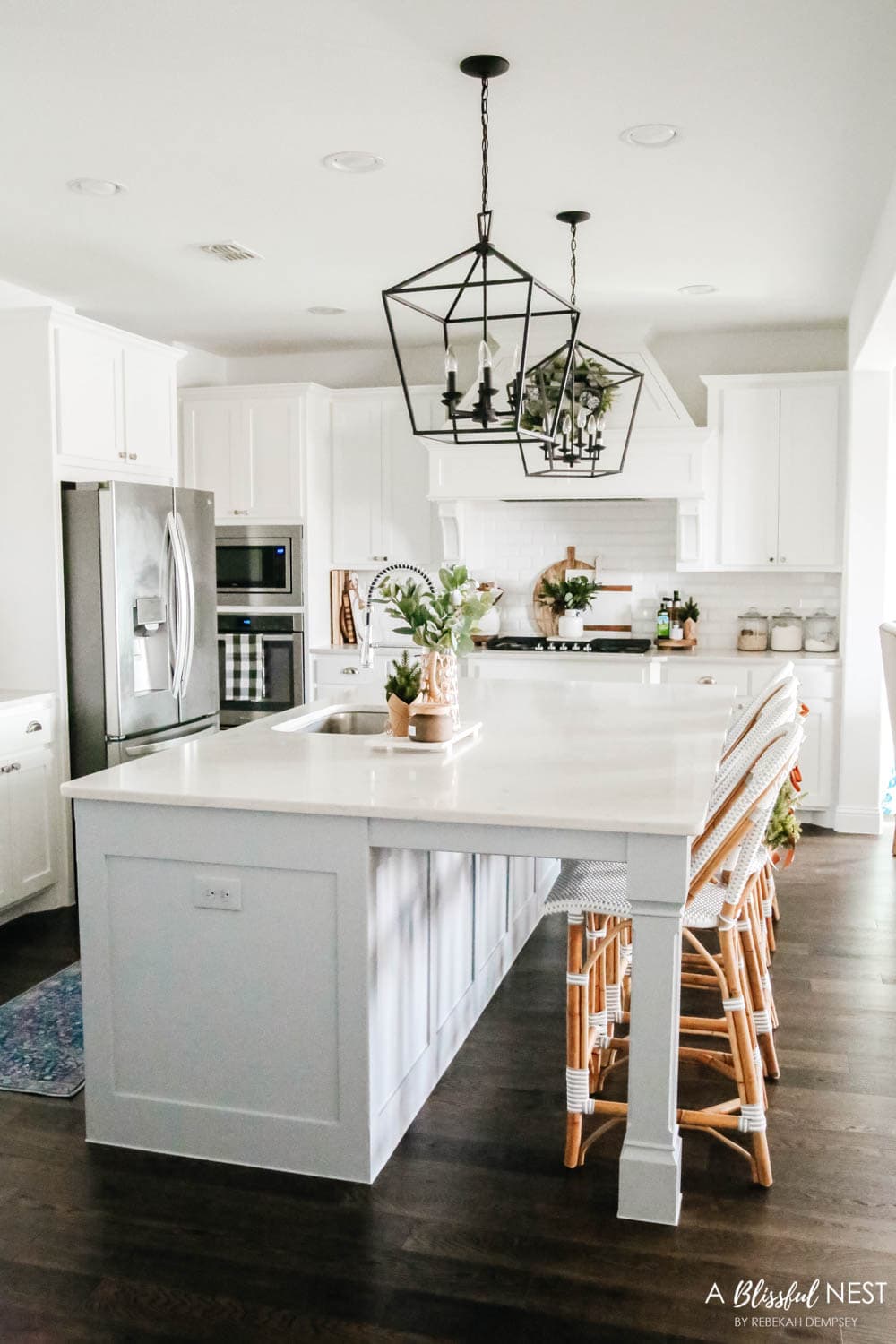 So it makes it easier for you to shop, I have broken these into sections and then have it all recapped at the bottom of the post.



Christmas Dining Room:
Our dining space is actually our breakfast room but we use it more like a dining room instead since we have such a large kitchen counter that we eat at most of the time.
When Christmas rolls around I will do a big Christmas spread but for most of the season we keep this table cleared with just this marble lazy susan, ginger jar with juniper leaves and some white candlesticks.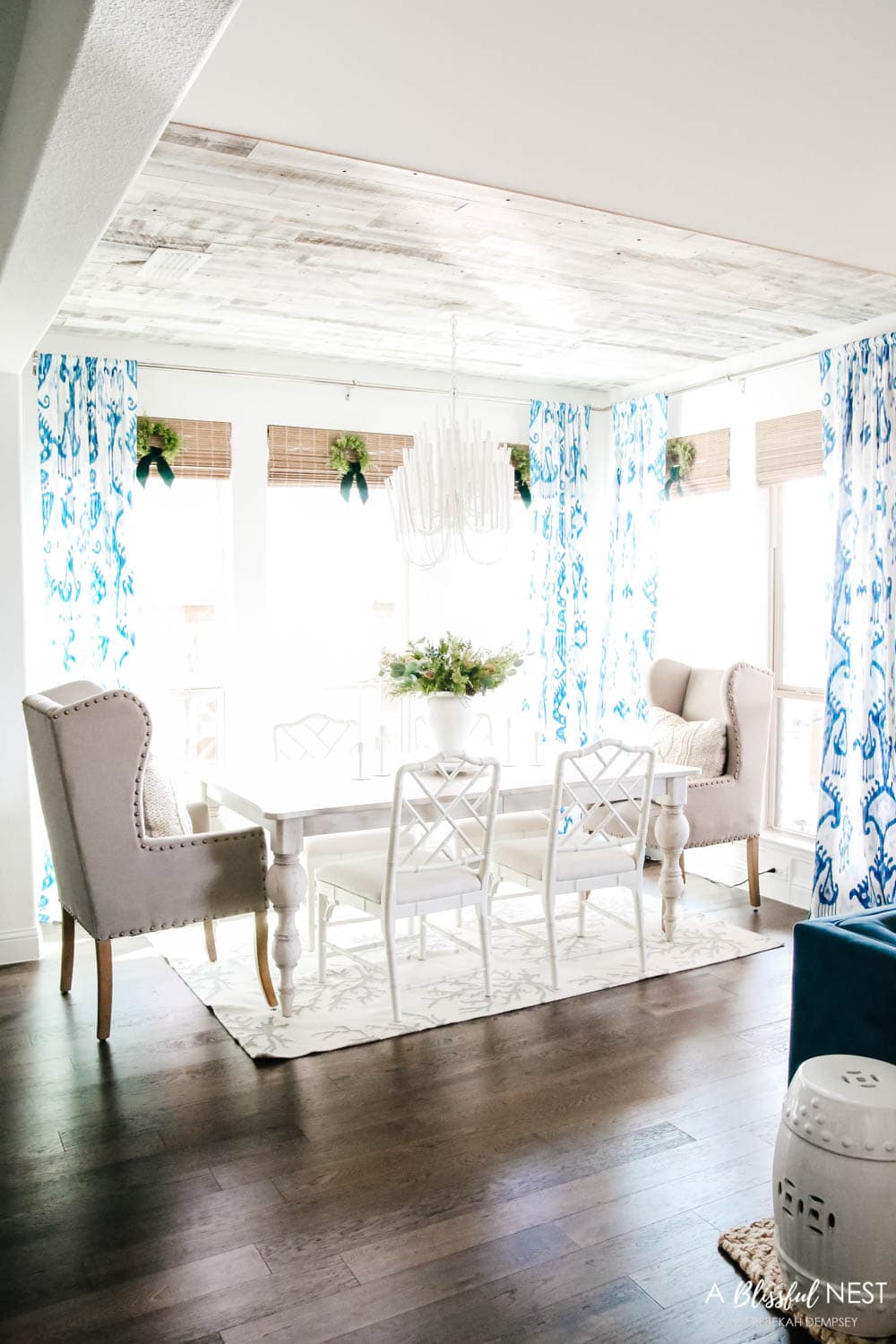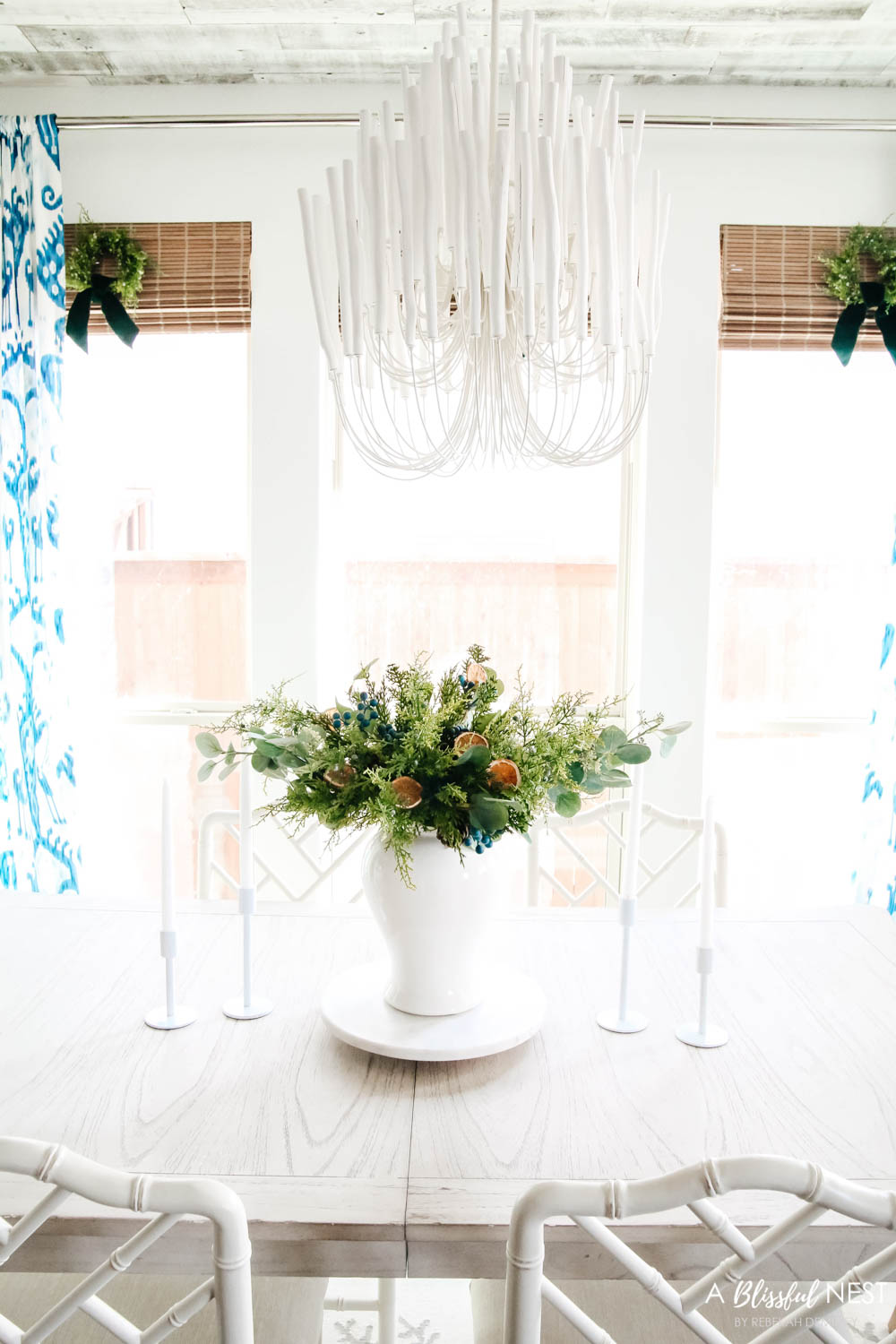 I thought it would be fun to add some citrus accents to this space so I placed these dried orange slices into the arrangement. I love the pop of color!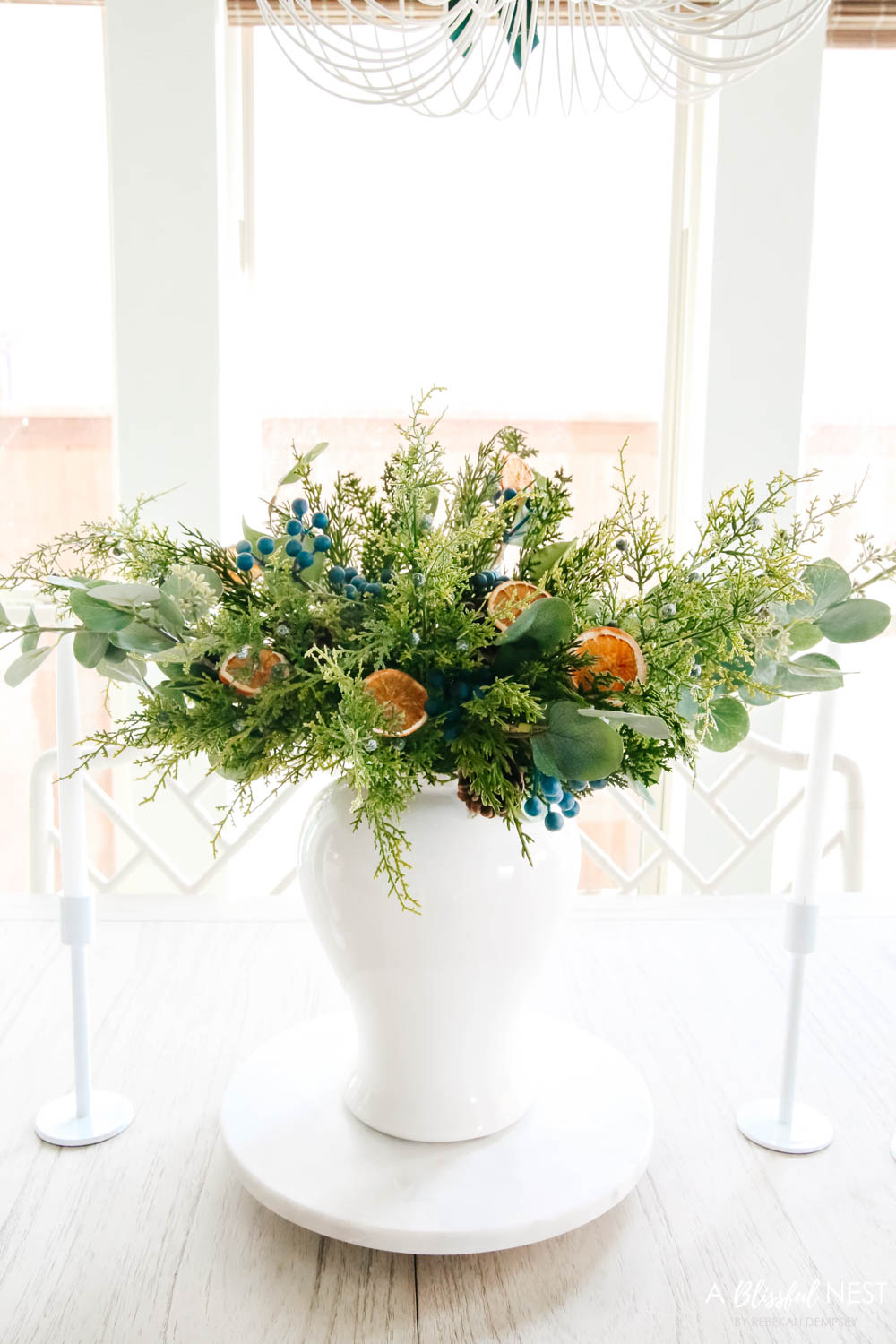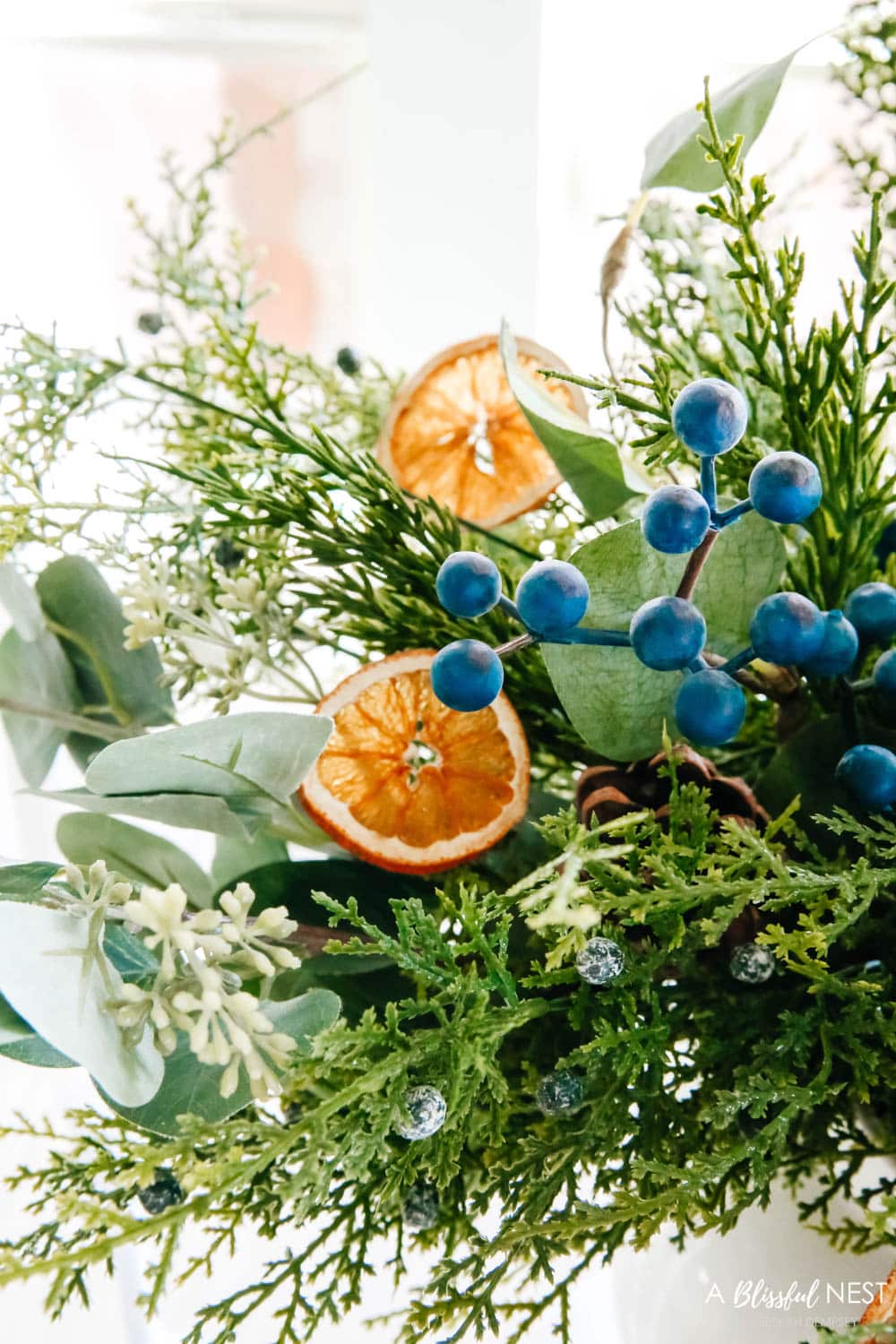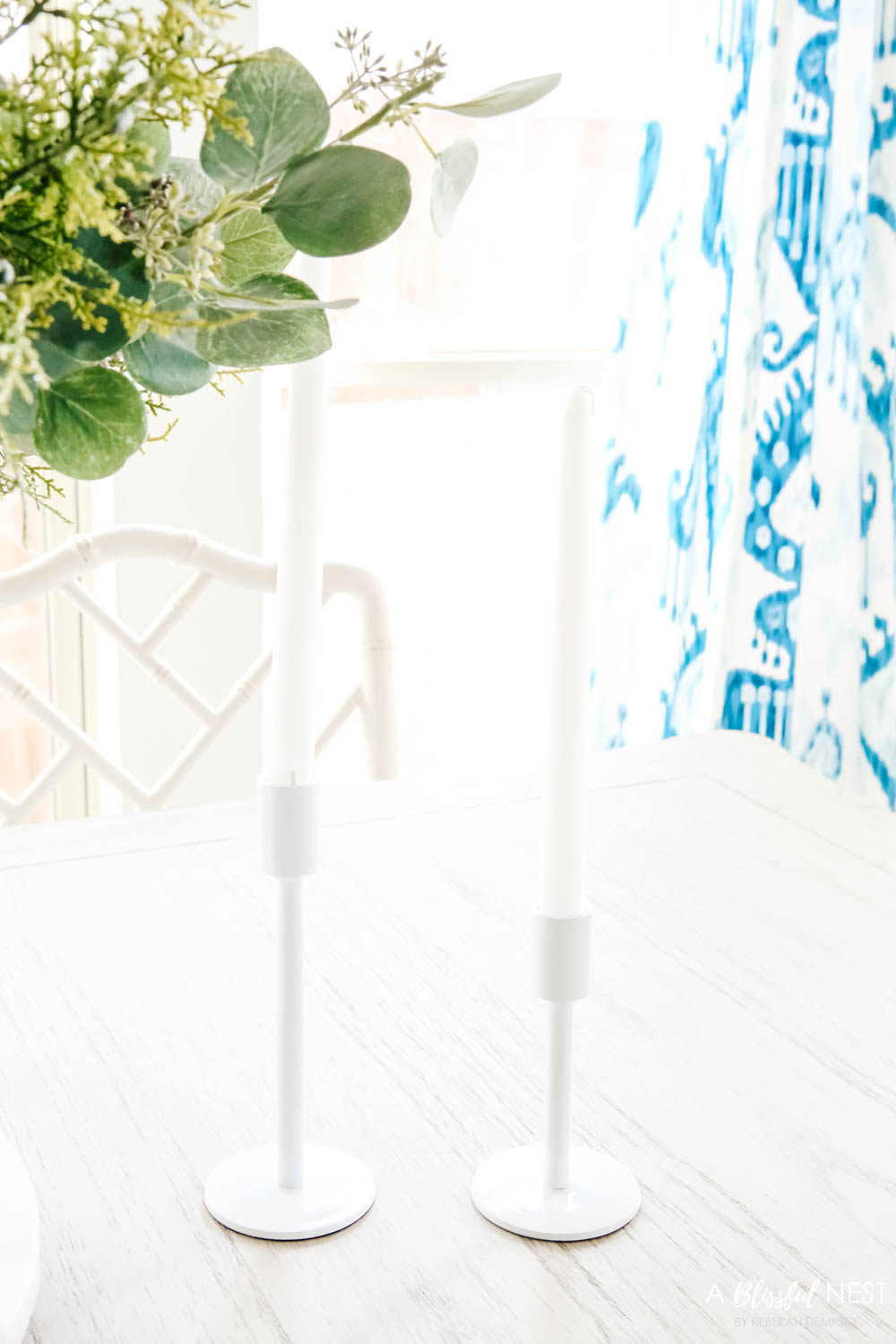 I used these mini juniper wreaths from last year and tied them with floral wire to our bamboo shades. They look so cute and are the perfect holiday touch to the windows.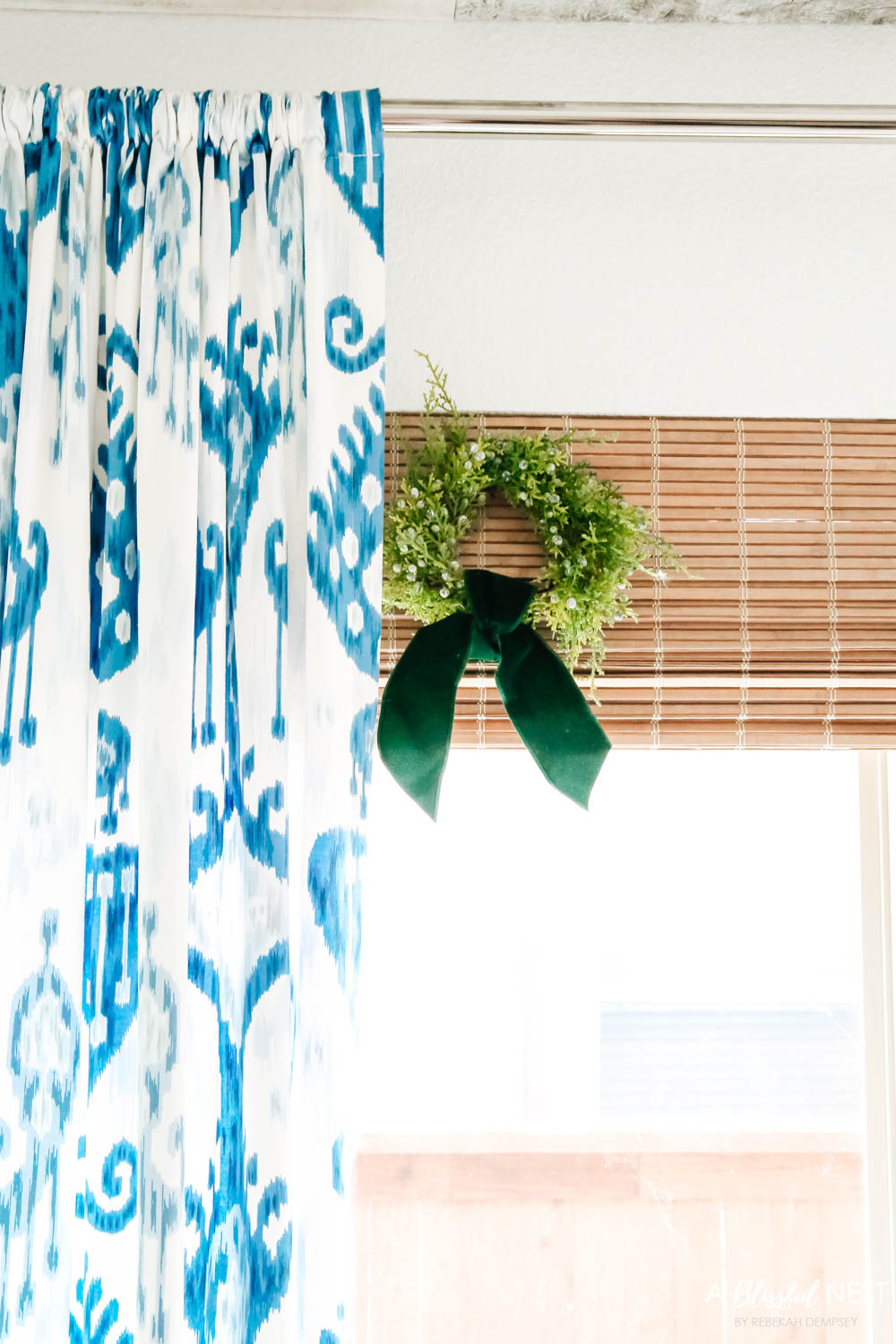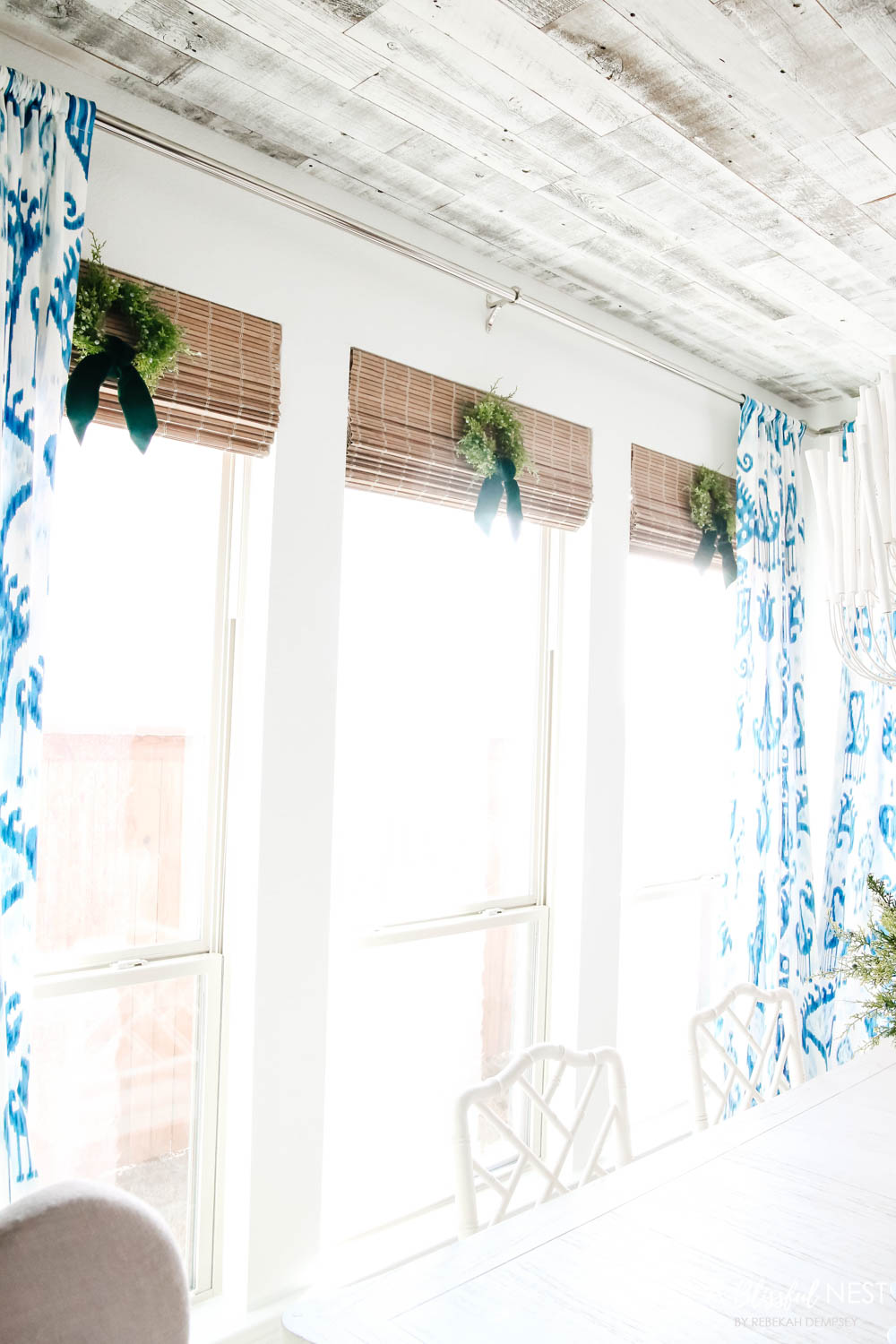 Christmas Living Room:
Our living room is definitely the most decorated space in our home.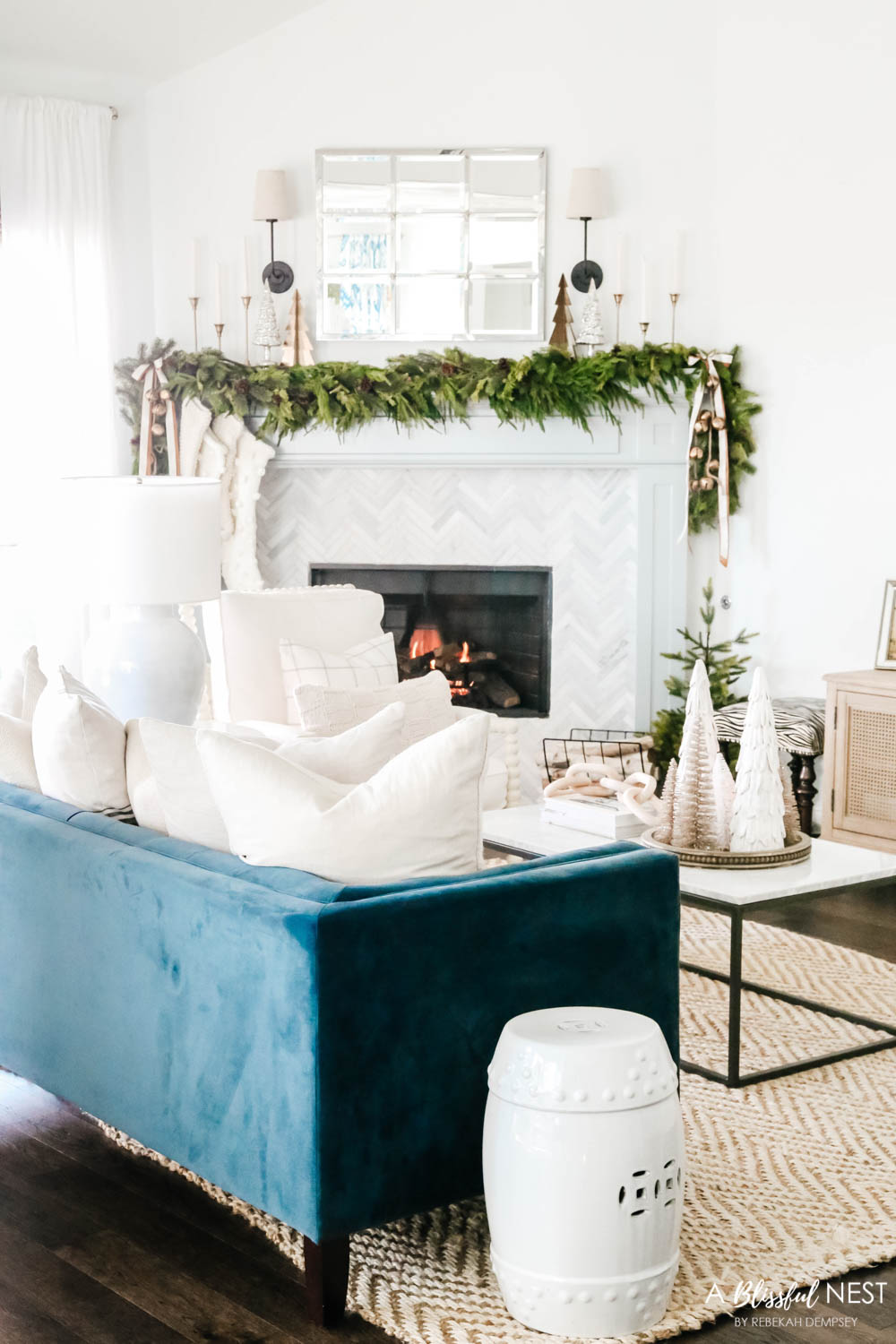 Garland is a must in my book for your mantle and I shared this super easy tutorial on how to hang garland damage-free so you won't ruin your mantle.
This year I used 2 garland types and 4 total garlands. I think it makes it look fuller and I love the variety of greenery.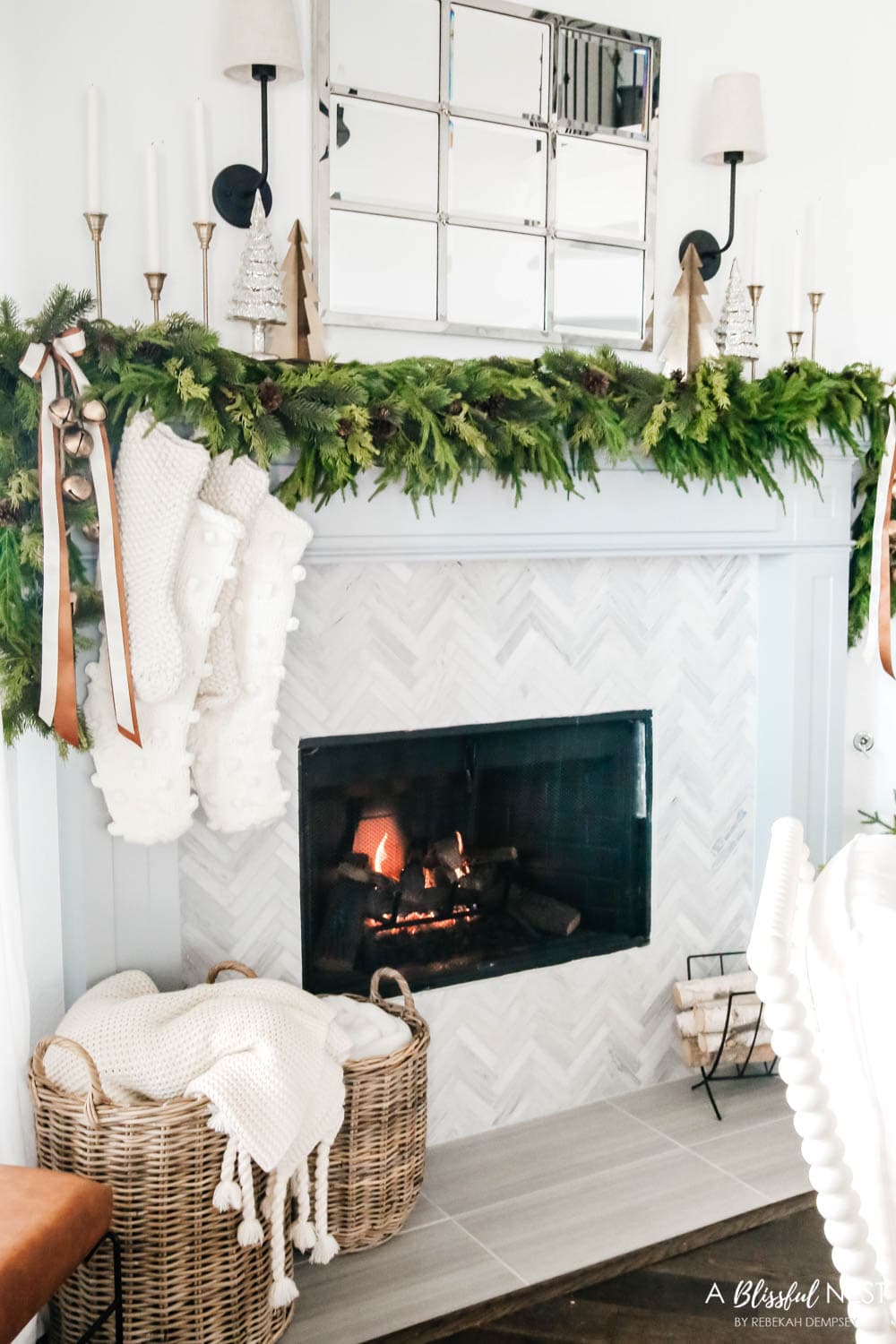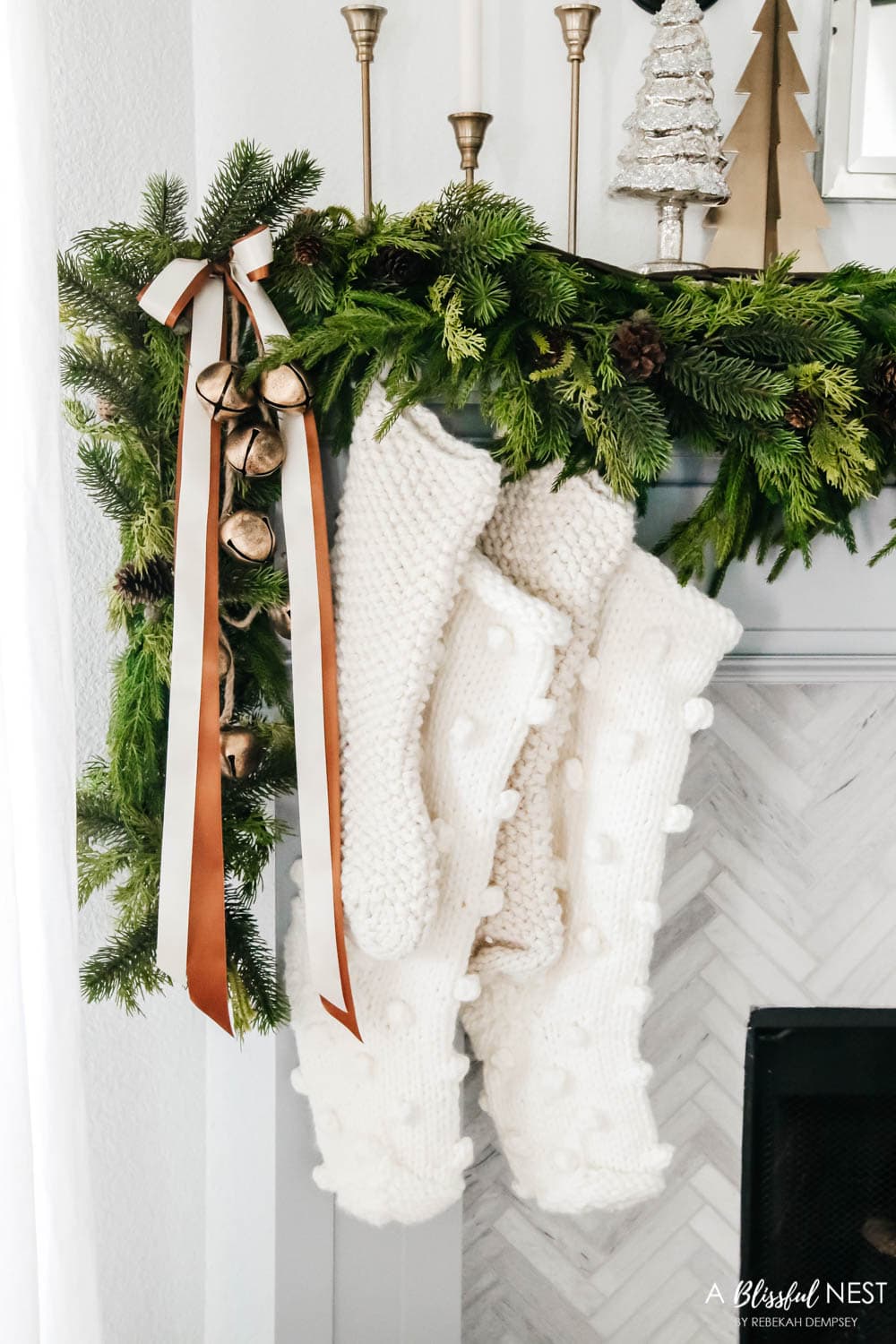 I add to my stocking collection each year so they are unique looking. I got these pom pom ones a few years ago (similar here) and got these chunky knit ones this year.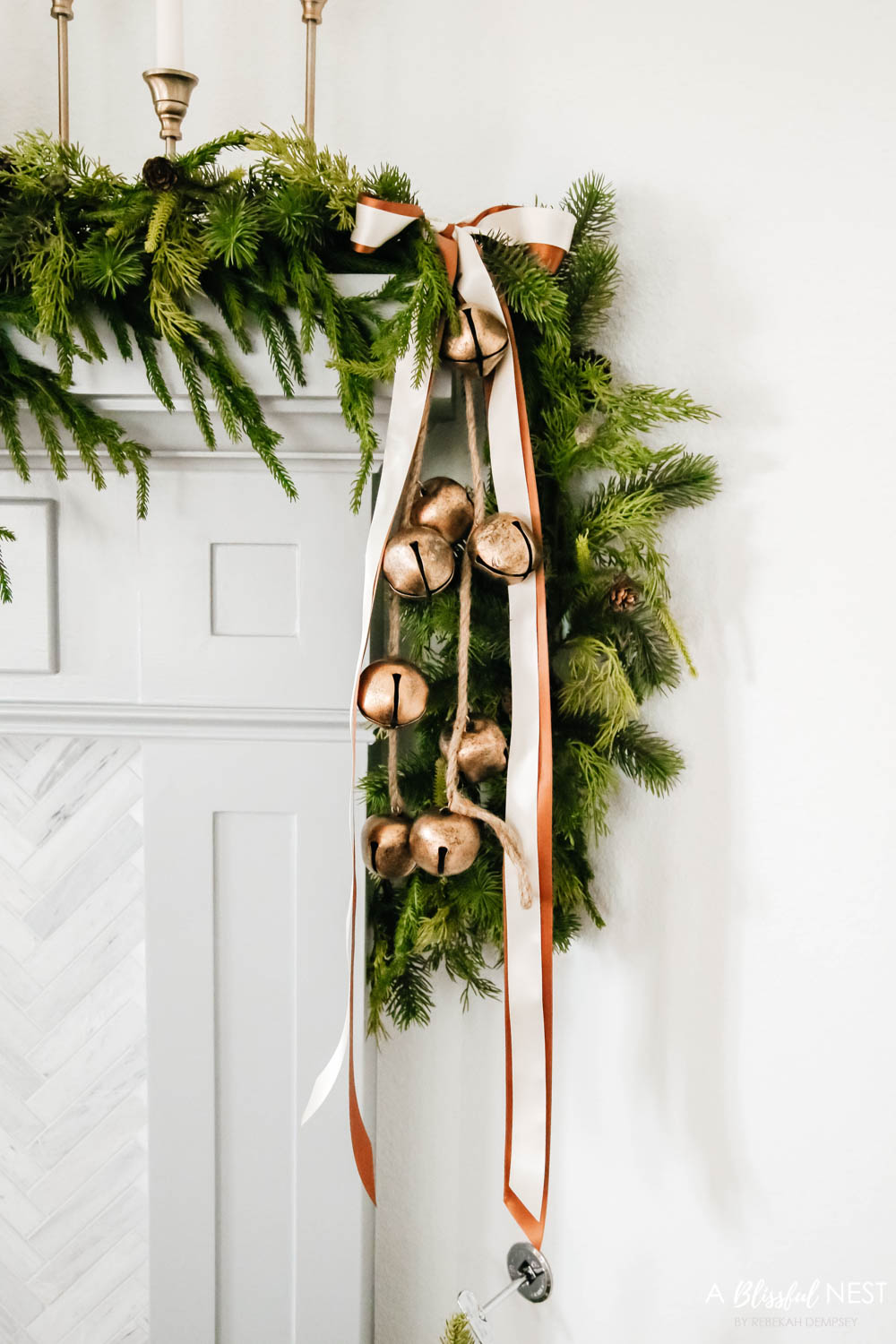 I also tied coordinating ribbons from the entryway and Christmas tree to the sides of my mantle garland and tucked in some strands of bells that I have had for years.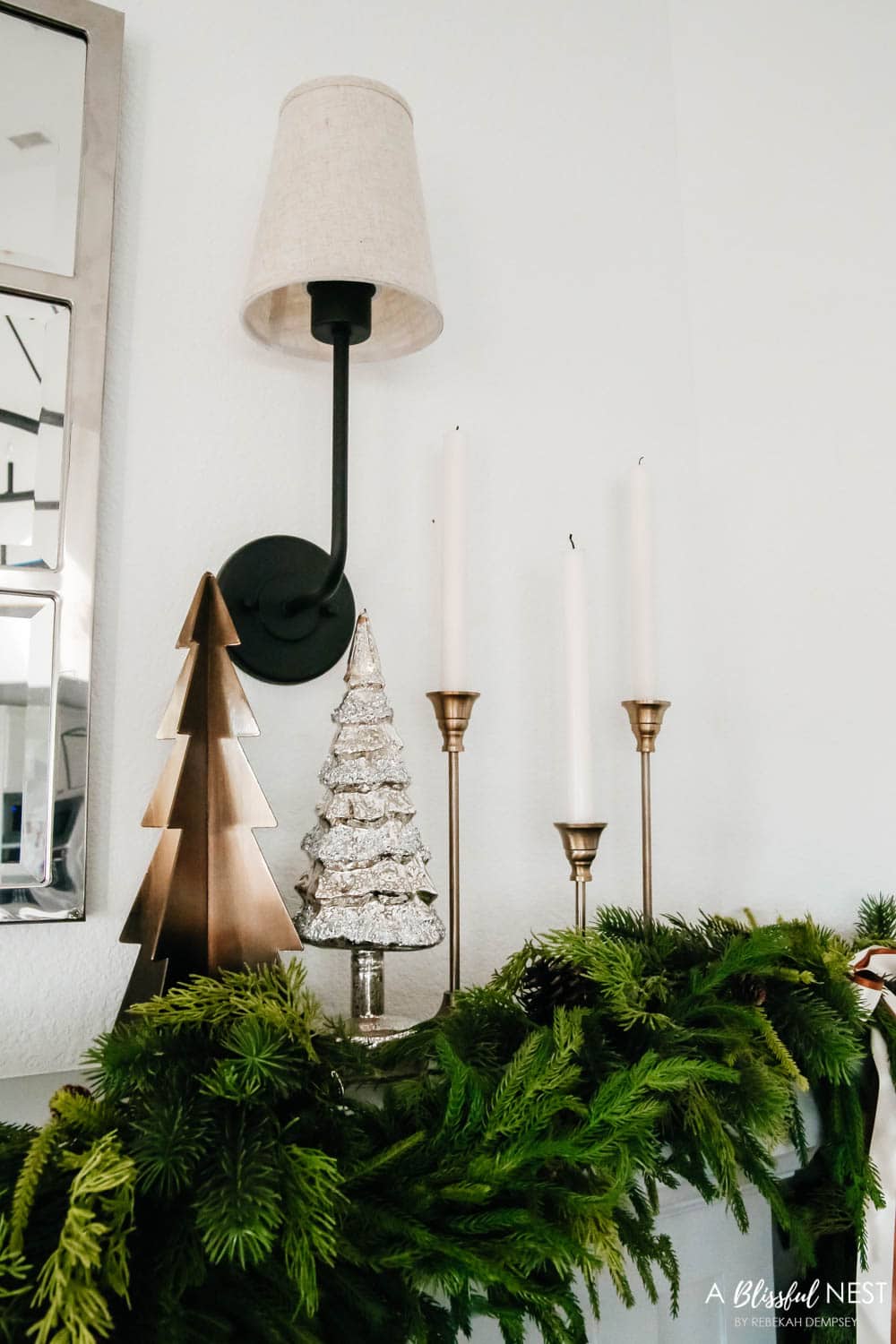 I also love to collect different types of small tabletop trees. These metal trees come in 2 sizes but run and see if you can still get them. I think they will go fast!
I mixed in some of my affordable gold candlesticks and that was it!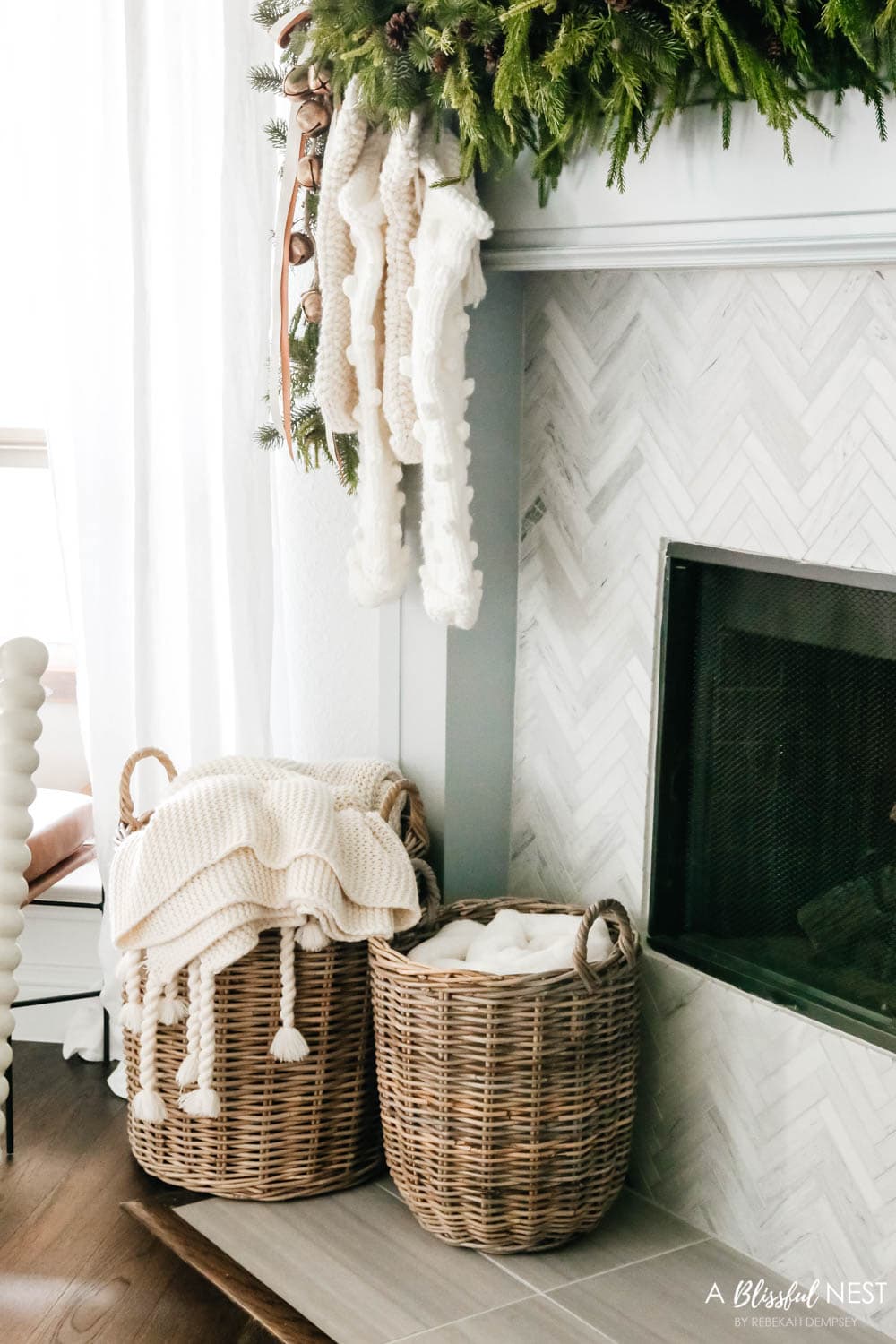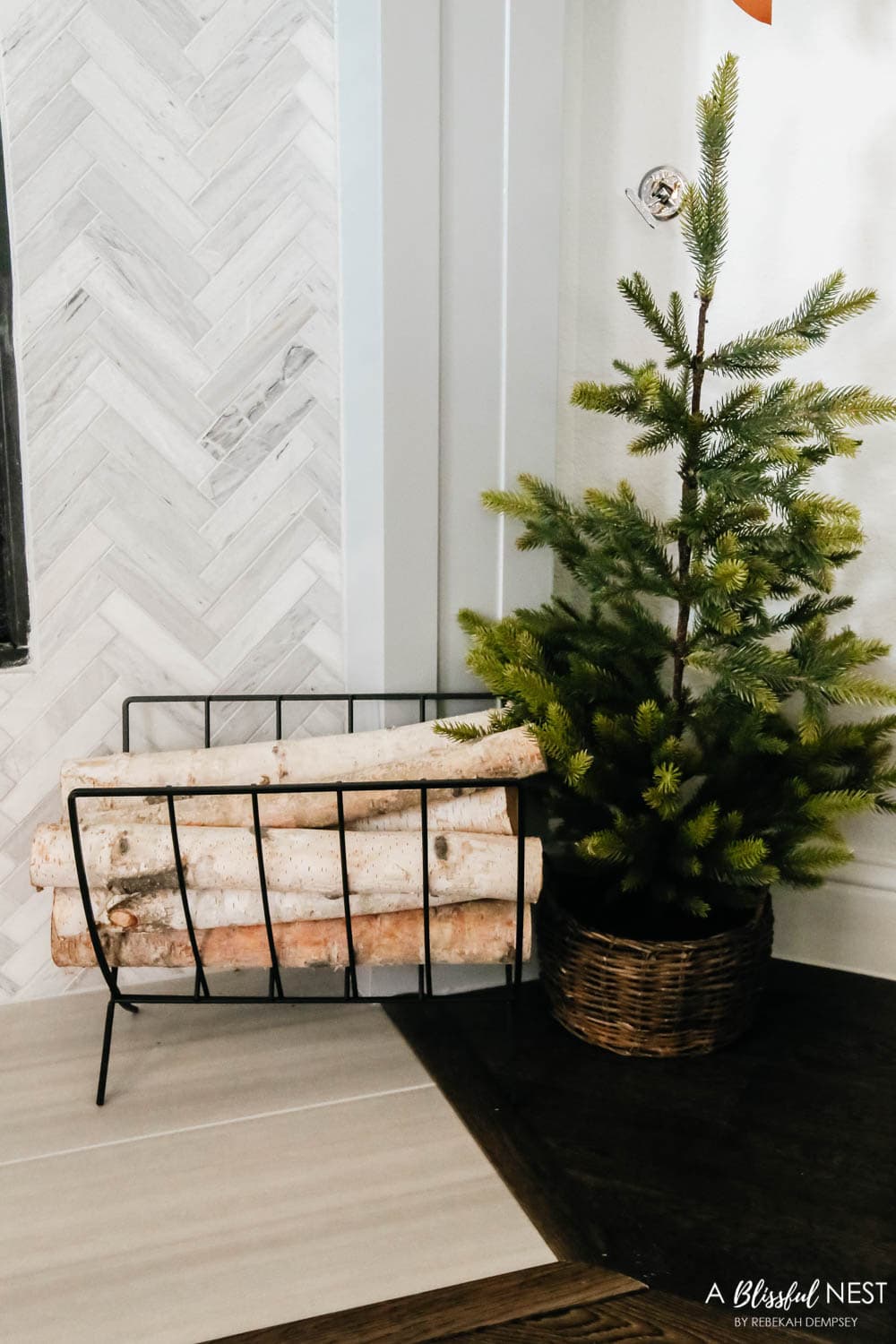 Okay on to the Christmas tree!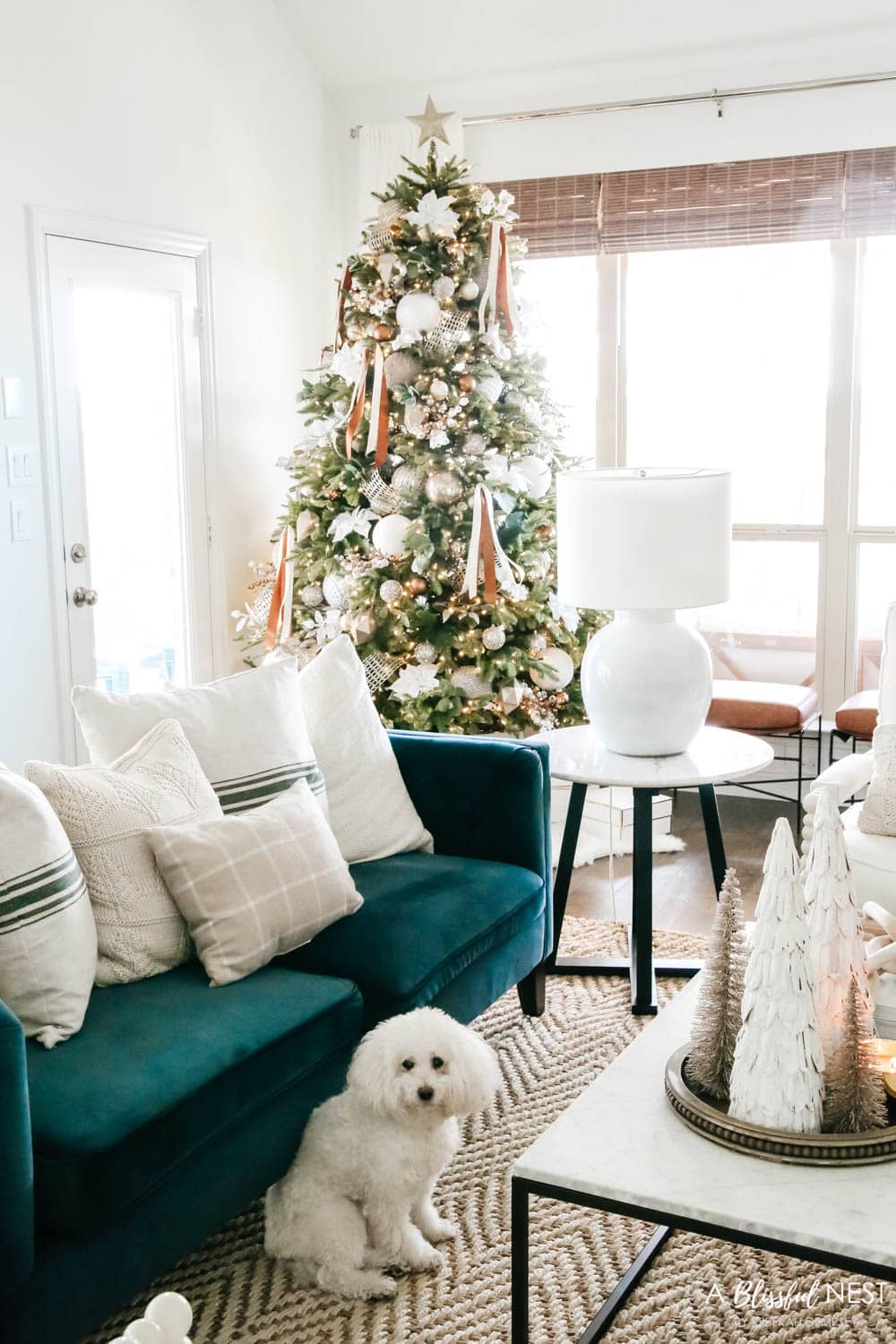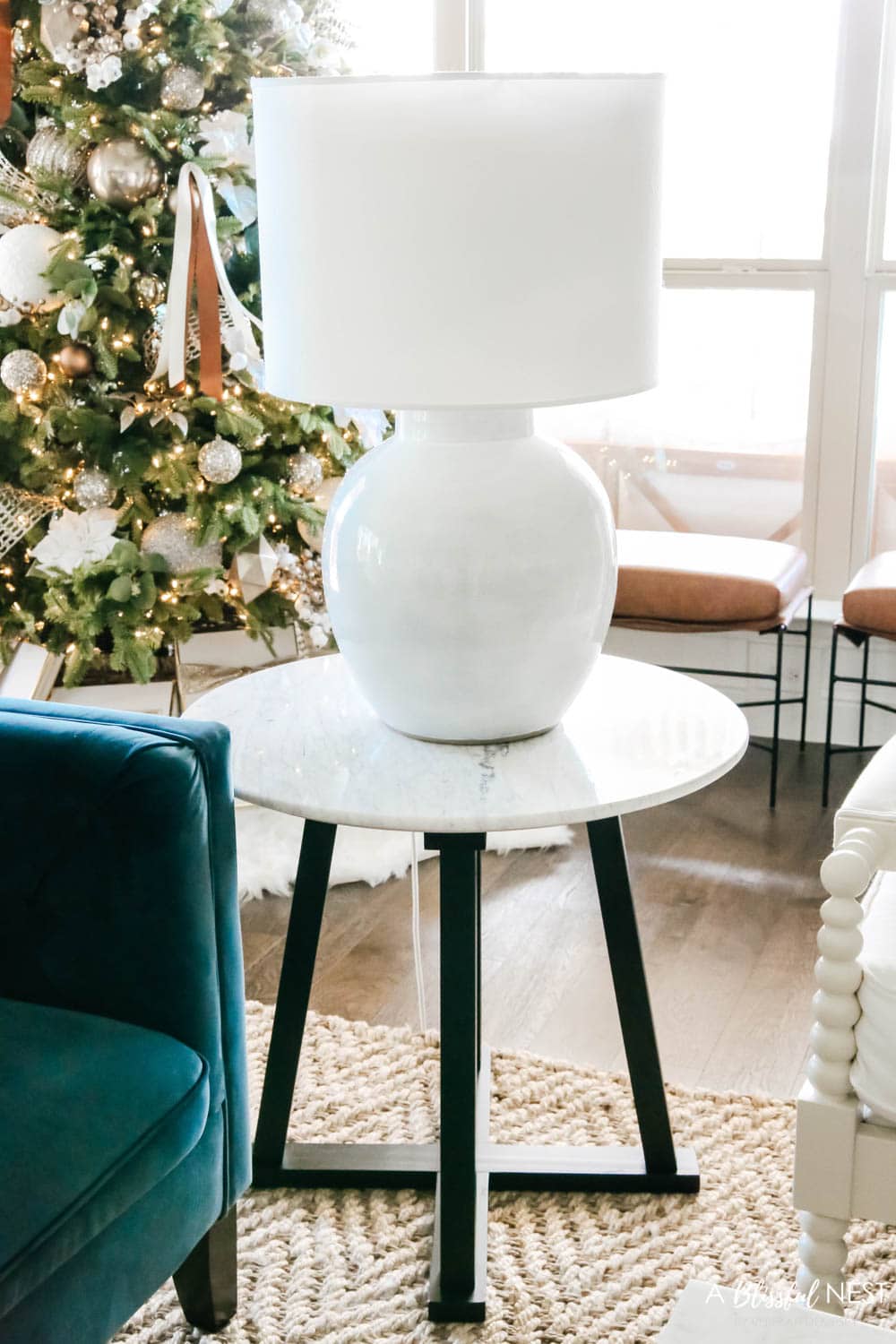 So I wanted to give you as many sources as possible for this tree so you can get a look very similar. It is always so hard because I collect ornaments over the years and generally I can not find the same ones but I can get close.
Last year I shared how I layer in my tree decor so if you want tips on how to style a Christmas tree then make sure to check it out!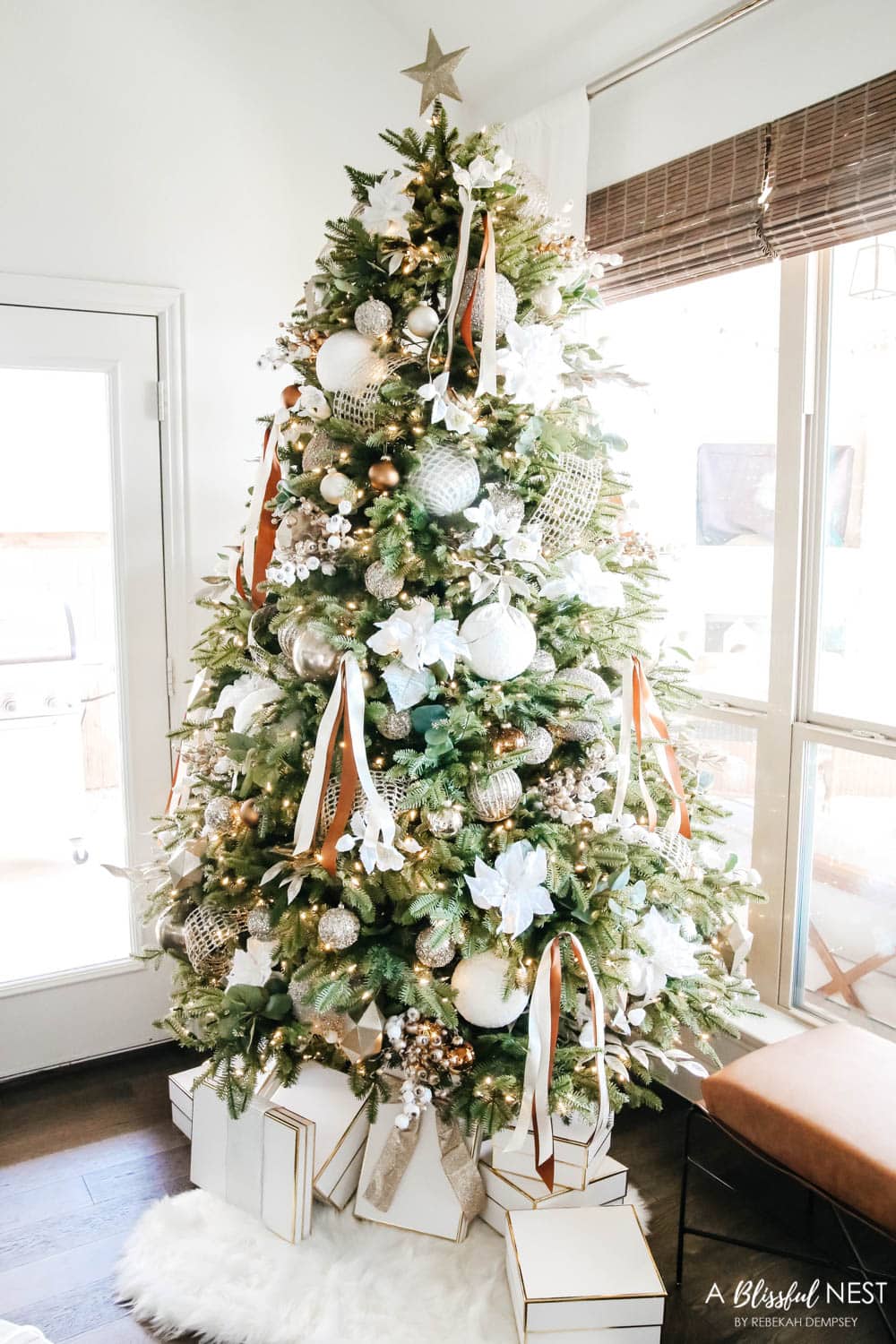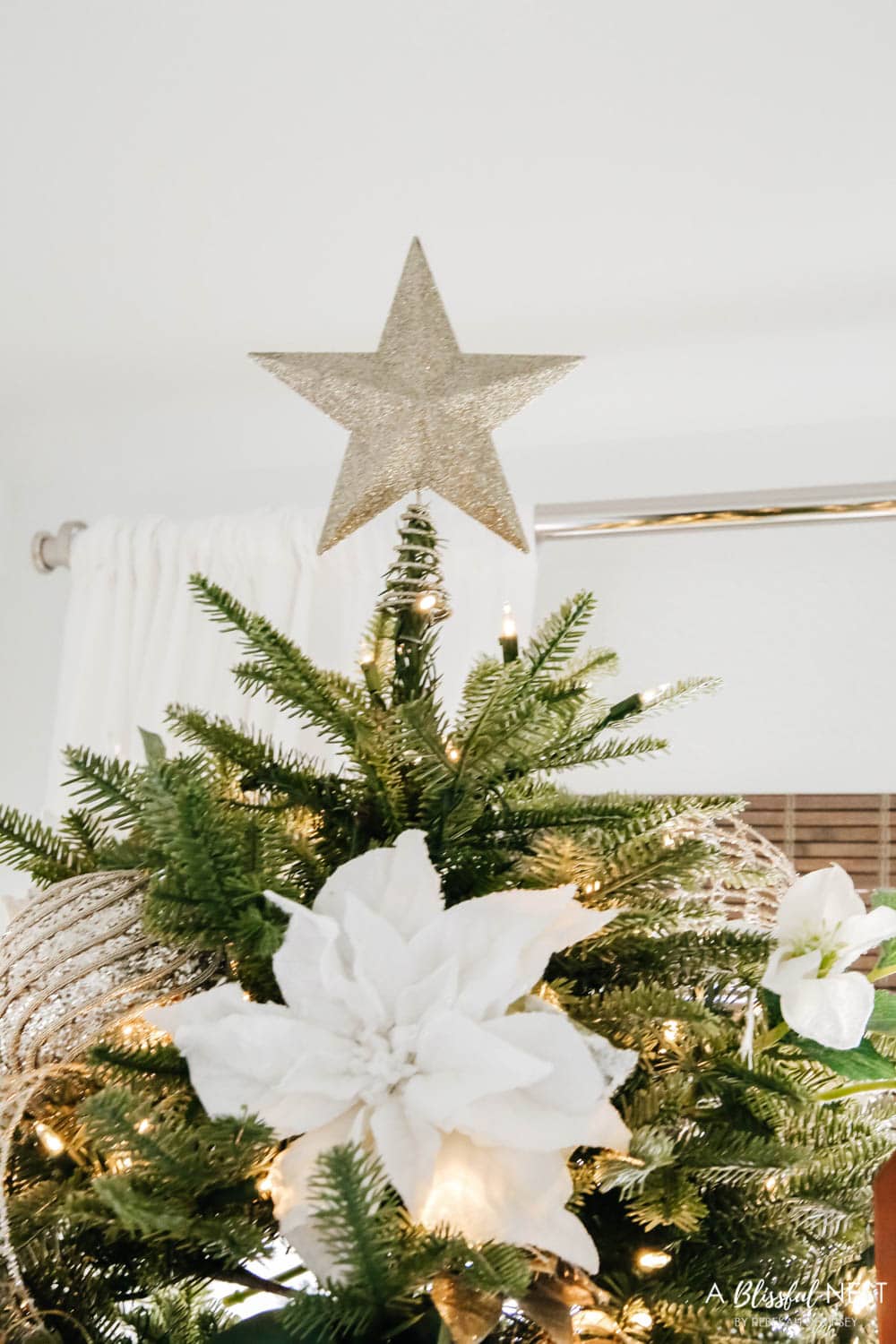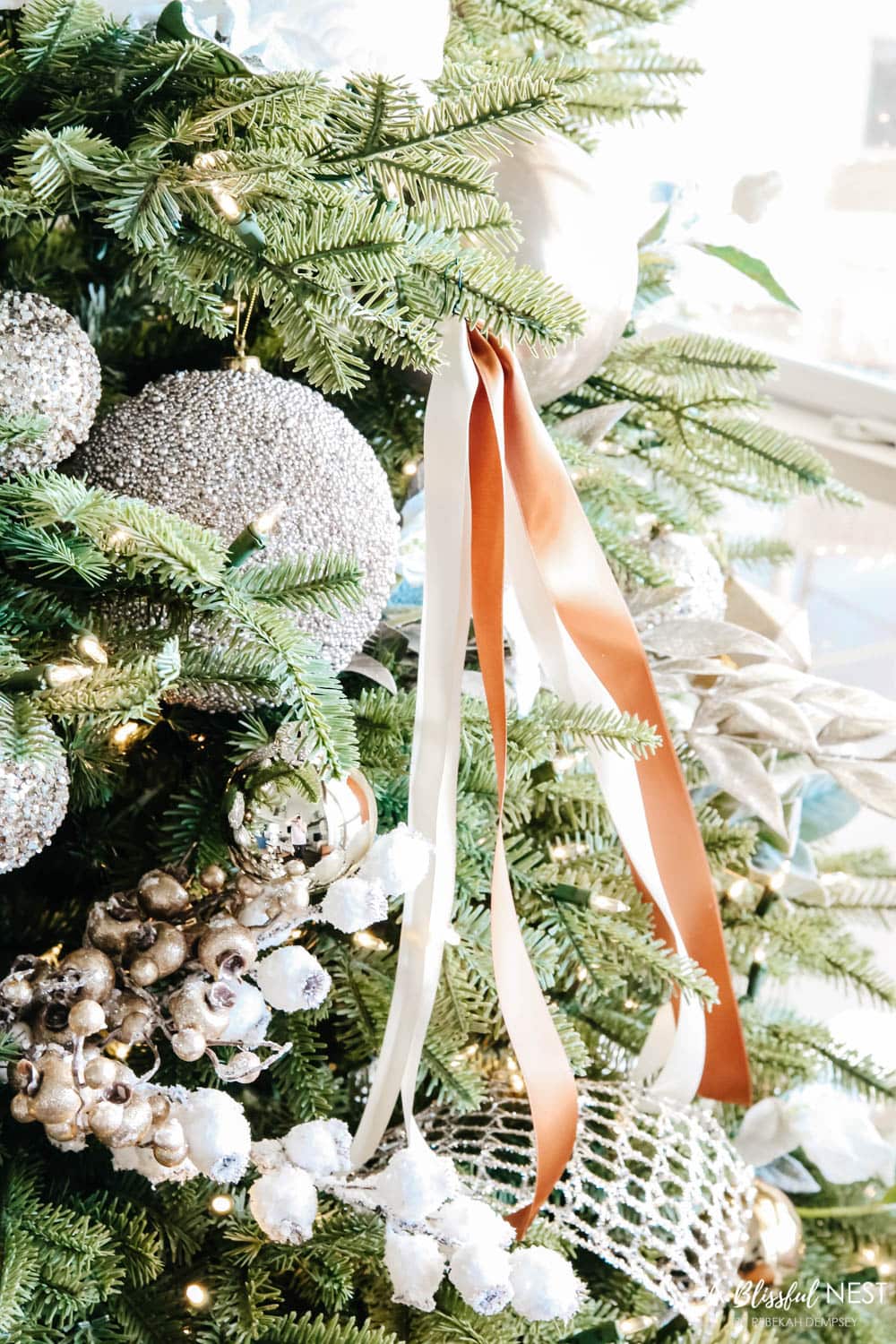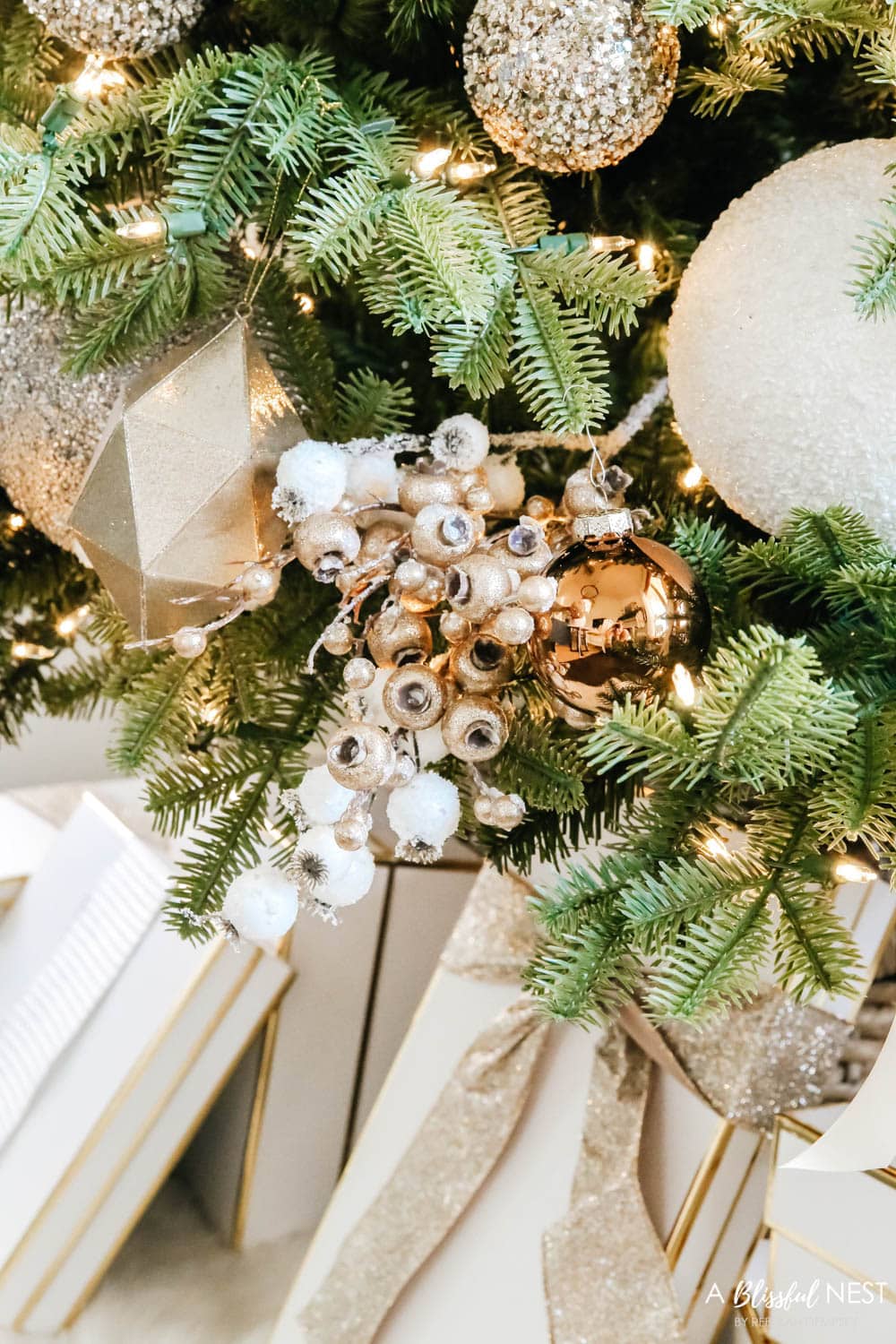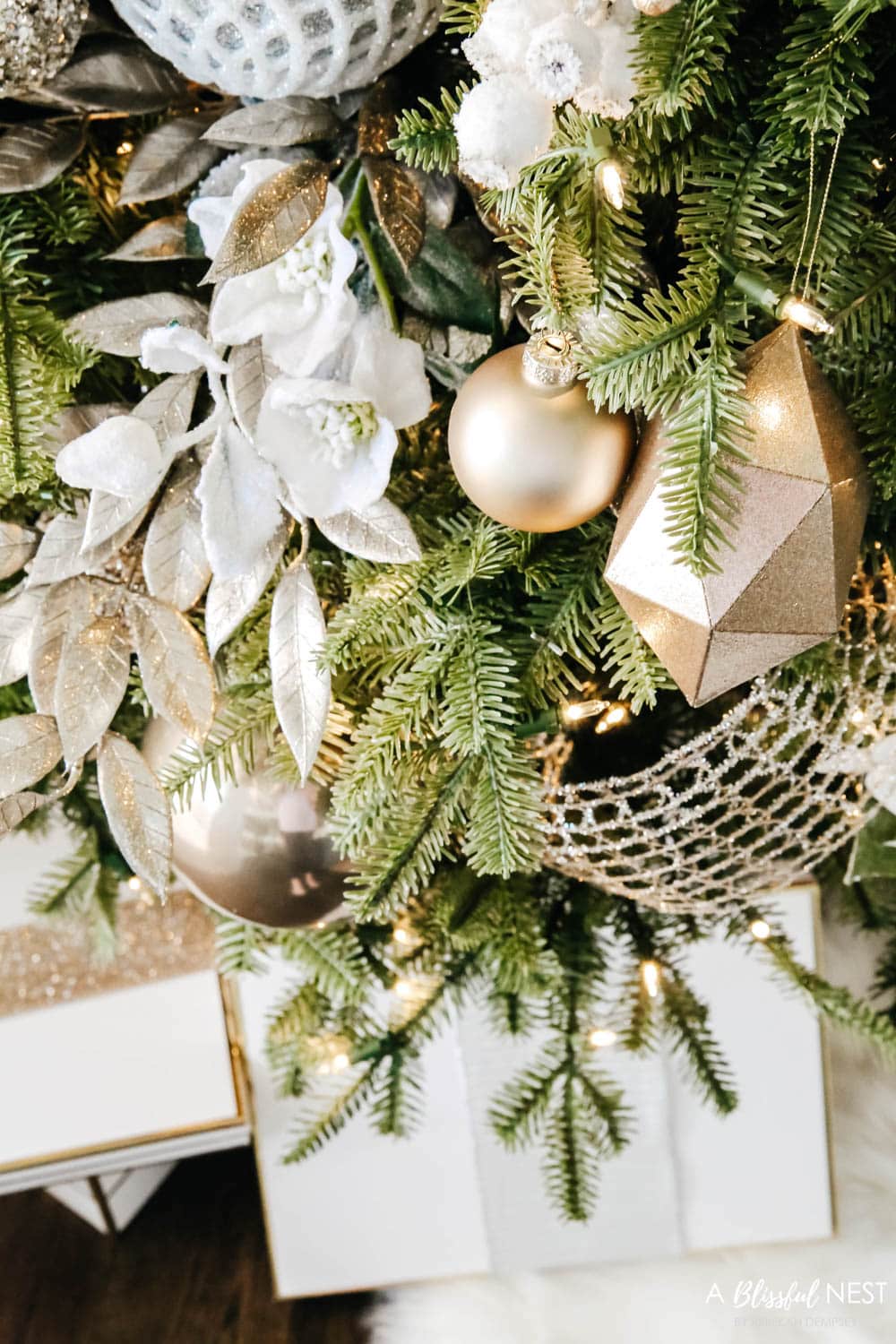 I use these white and gold boxes every year and typically they have them every year if you are looking for a few, I love to have them under my tree until I start putting the real wrapped presents underneath.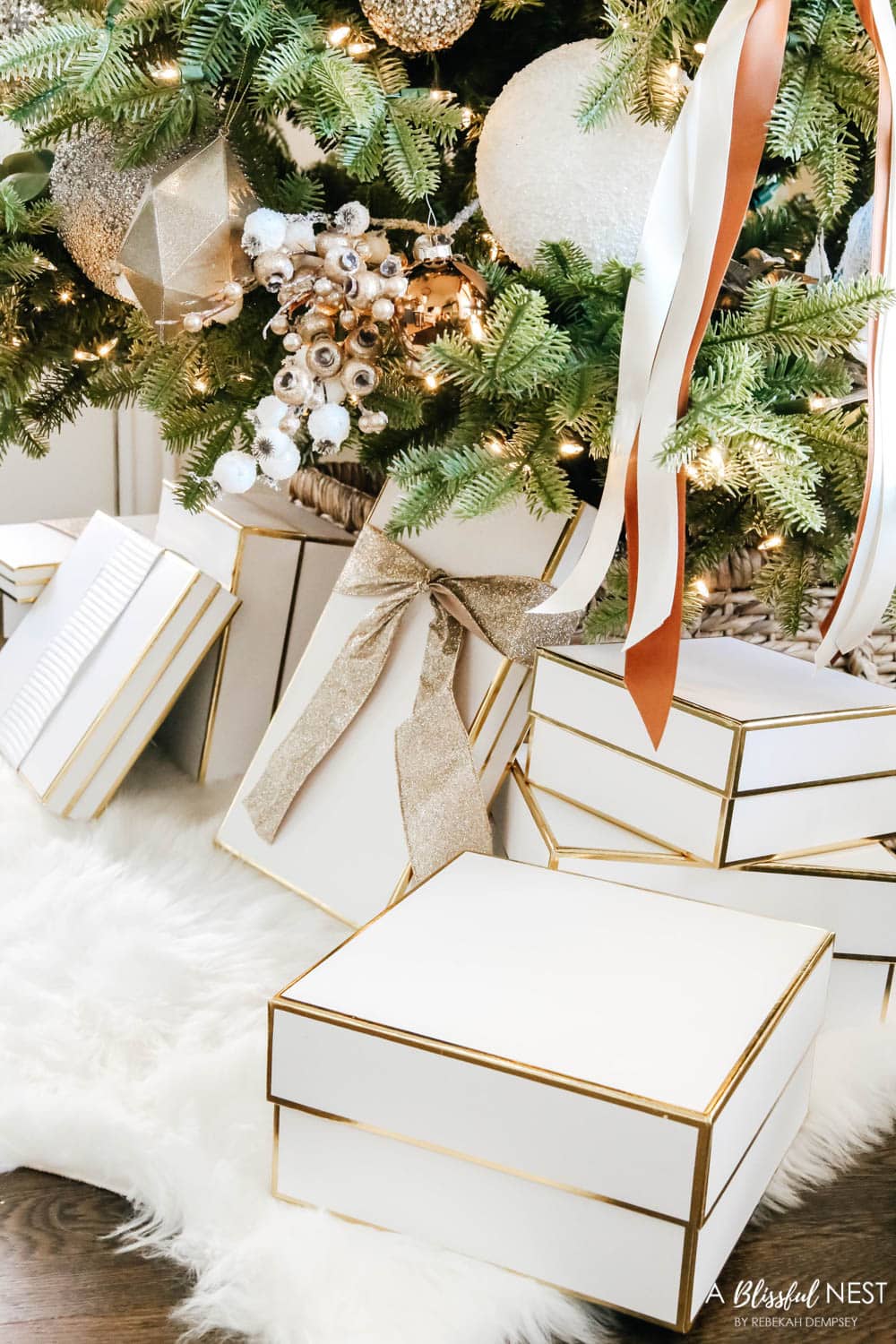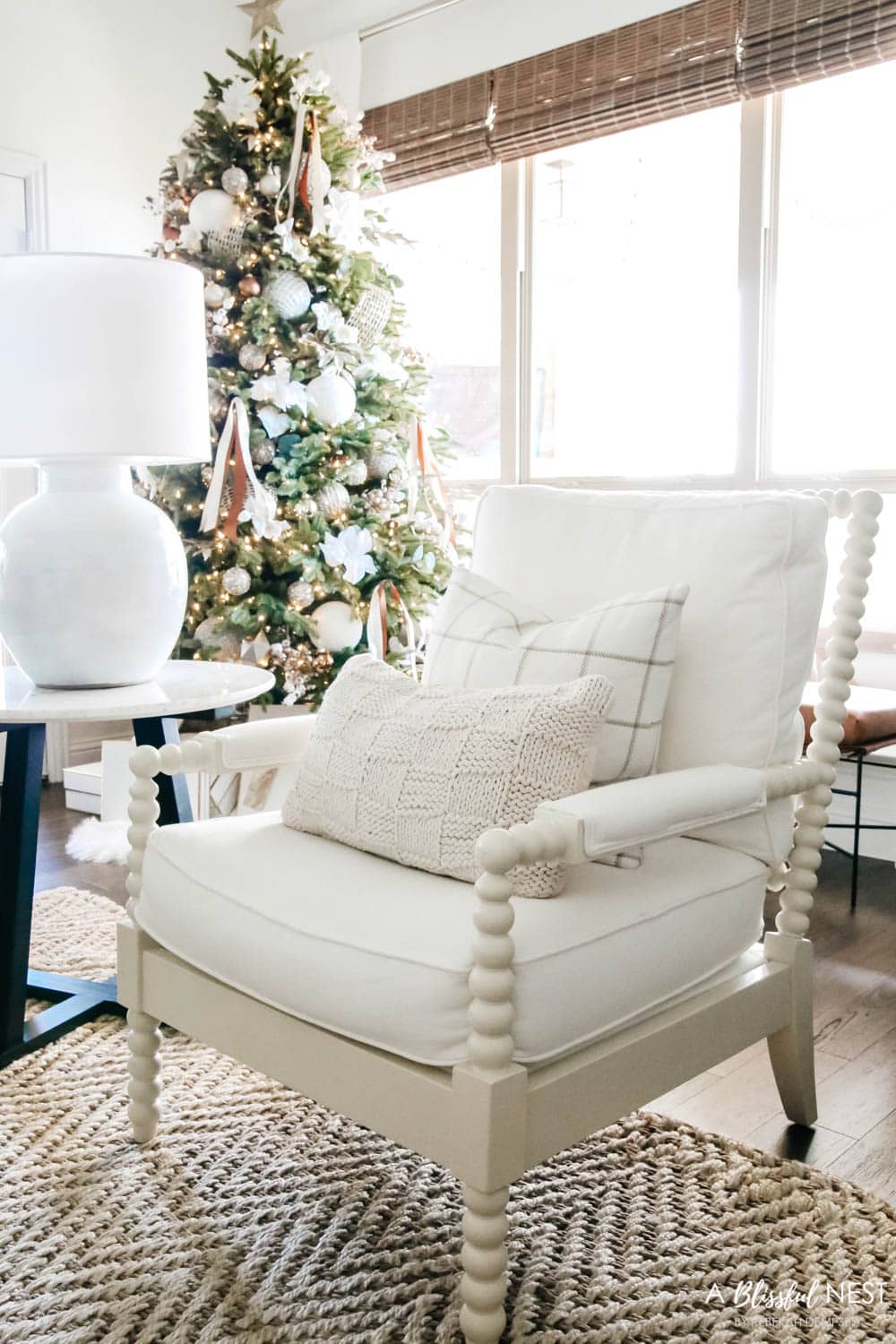 Next, I love good chunky knit pillows at this time of year and I found some good ones this year like these ones I put on our side chairs. I love the boxy pattern.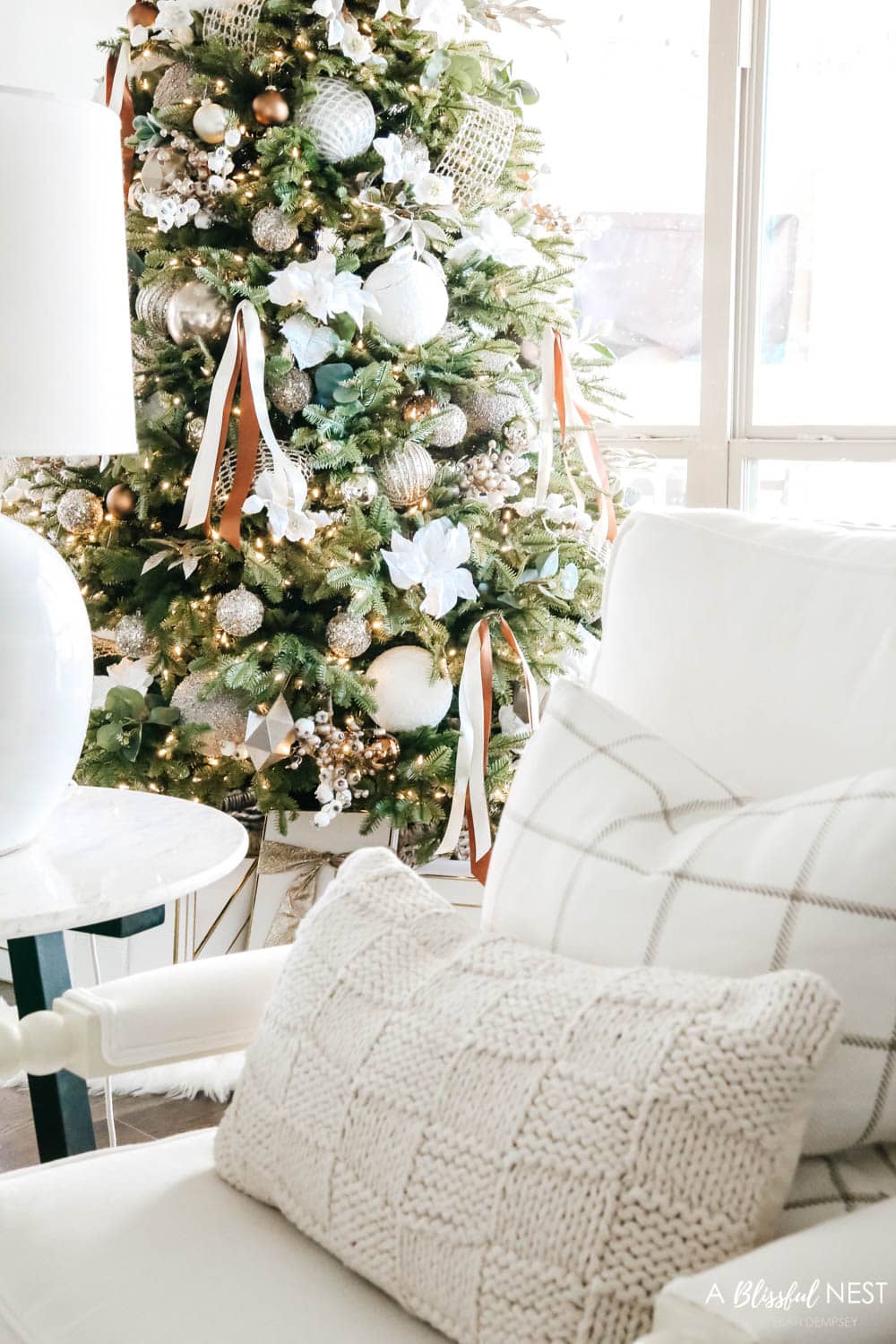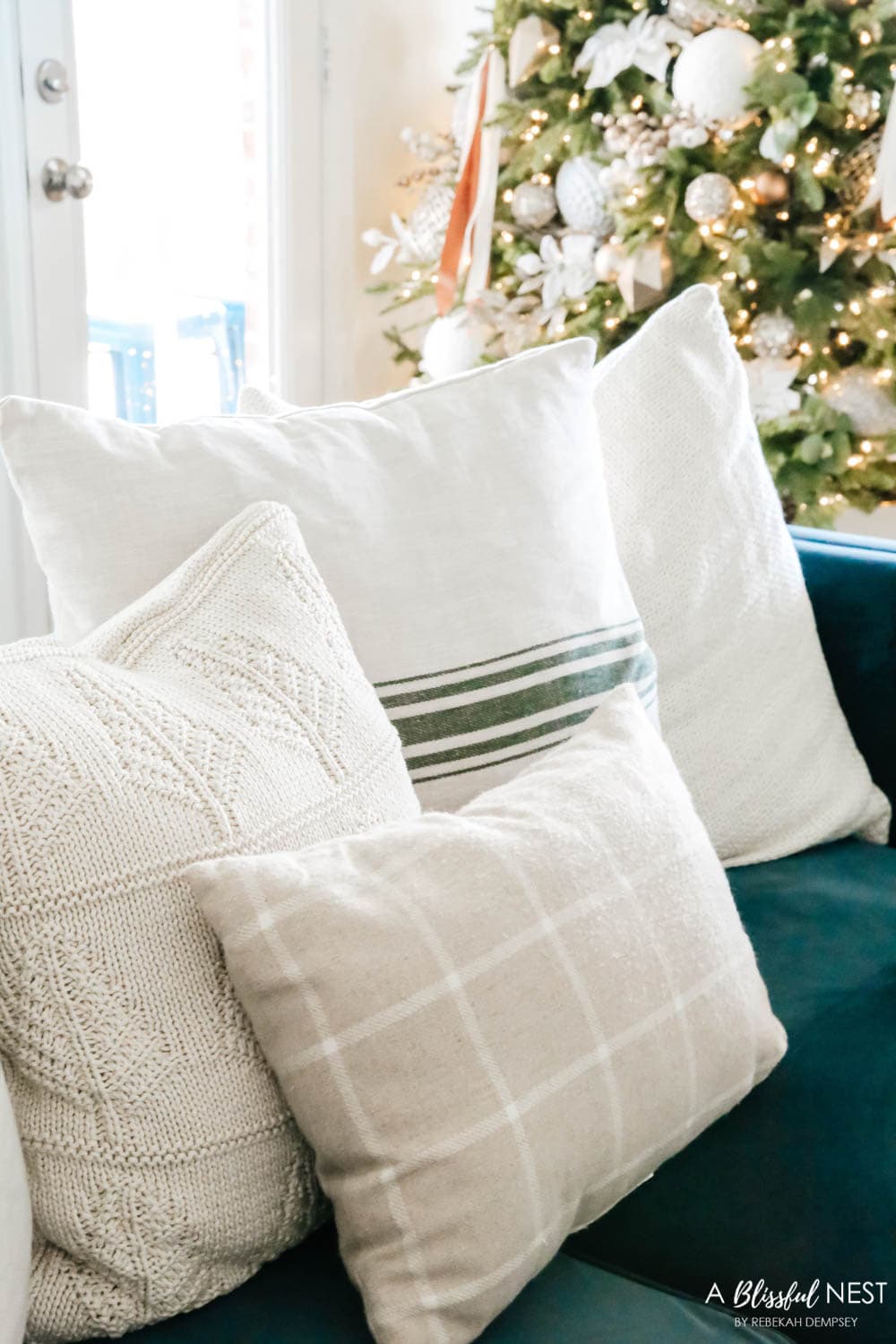 All of these are so cozy and I love that they add more texture and cool winter style so they can transition well into when the holiday season is over.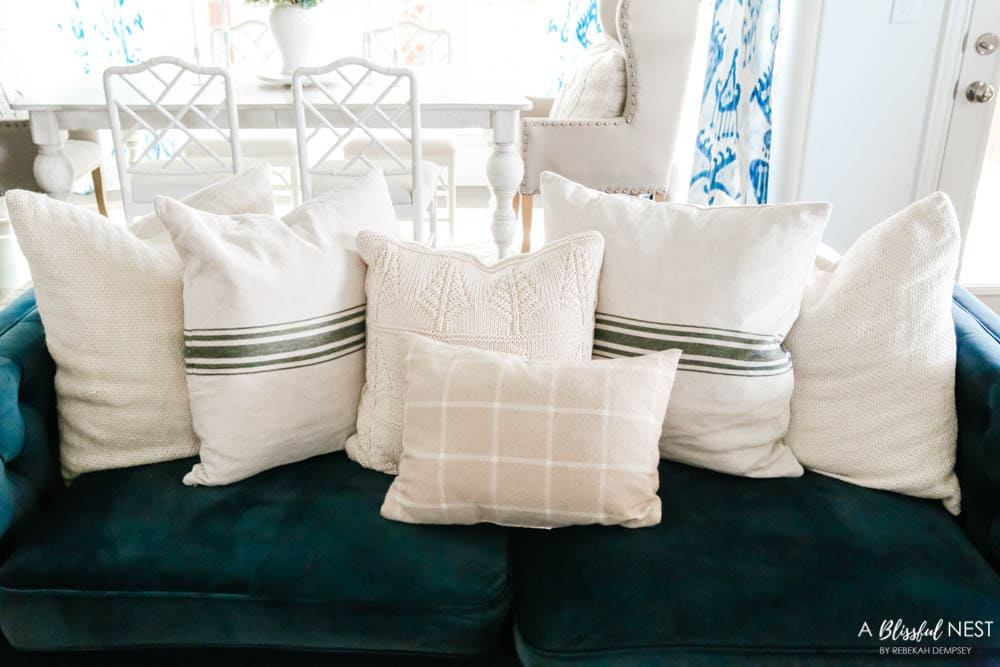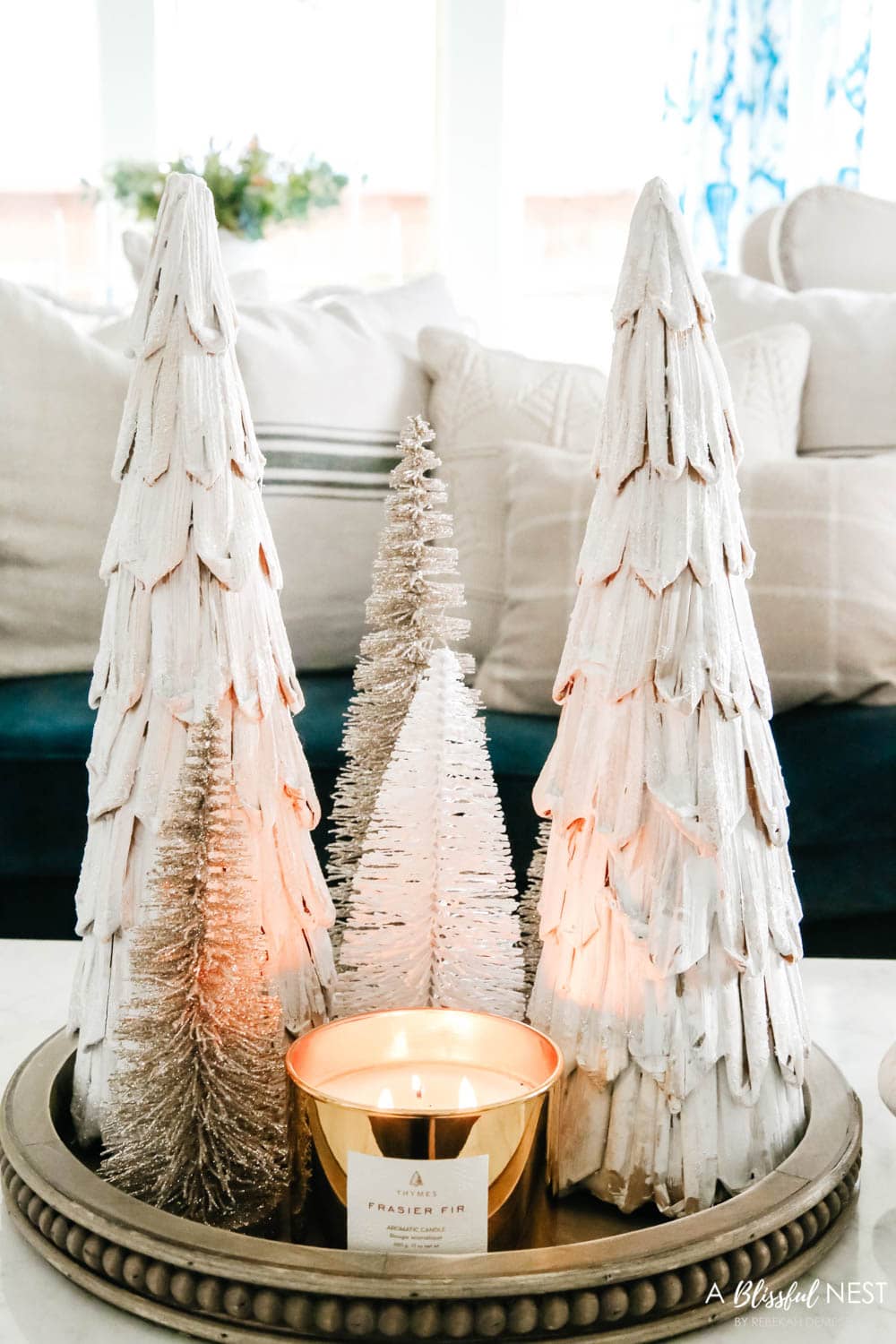 We have some amazing affordable decor pieces coming to our shop and this wood beaded tray and wood chain links are some of the ones coming soon.
Since the living room, kitchen and breakfast room are so open to each other that it is important to make the room's color schemes flow together as you can see.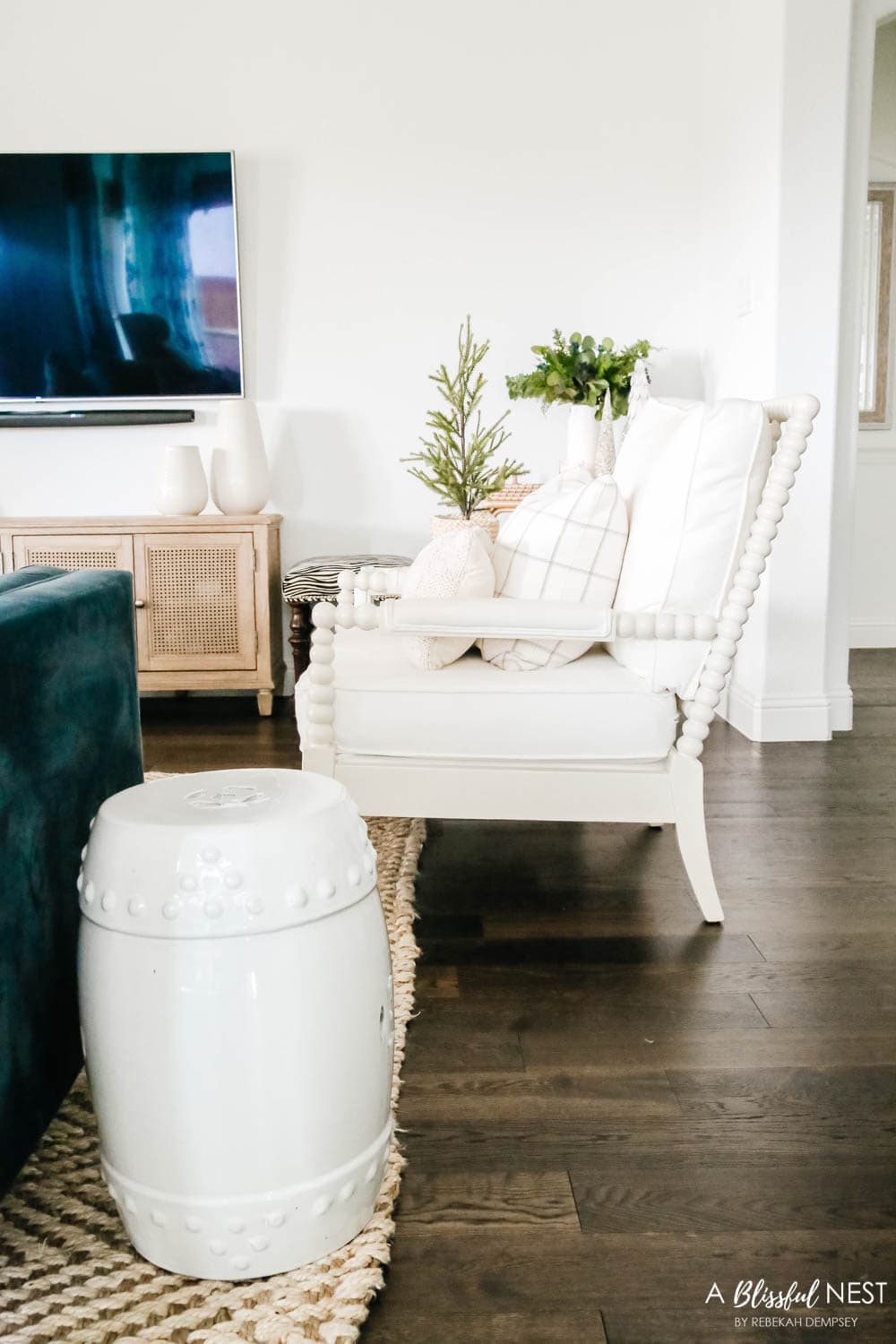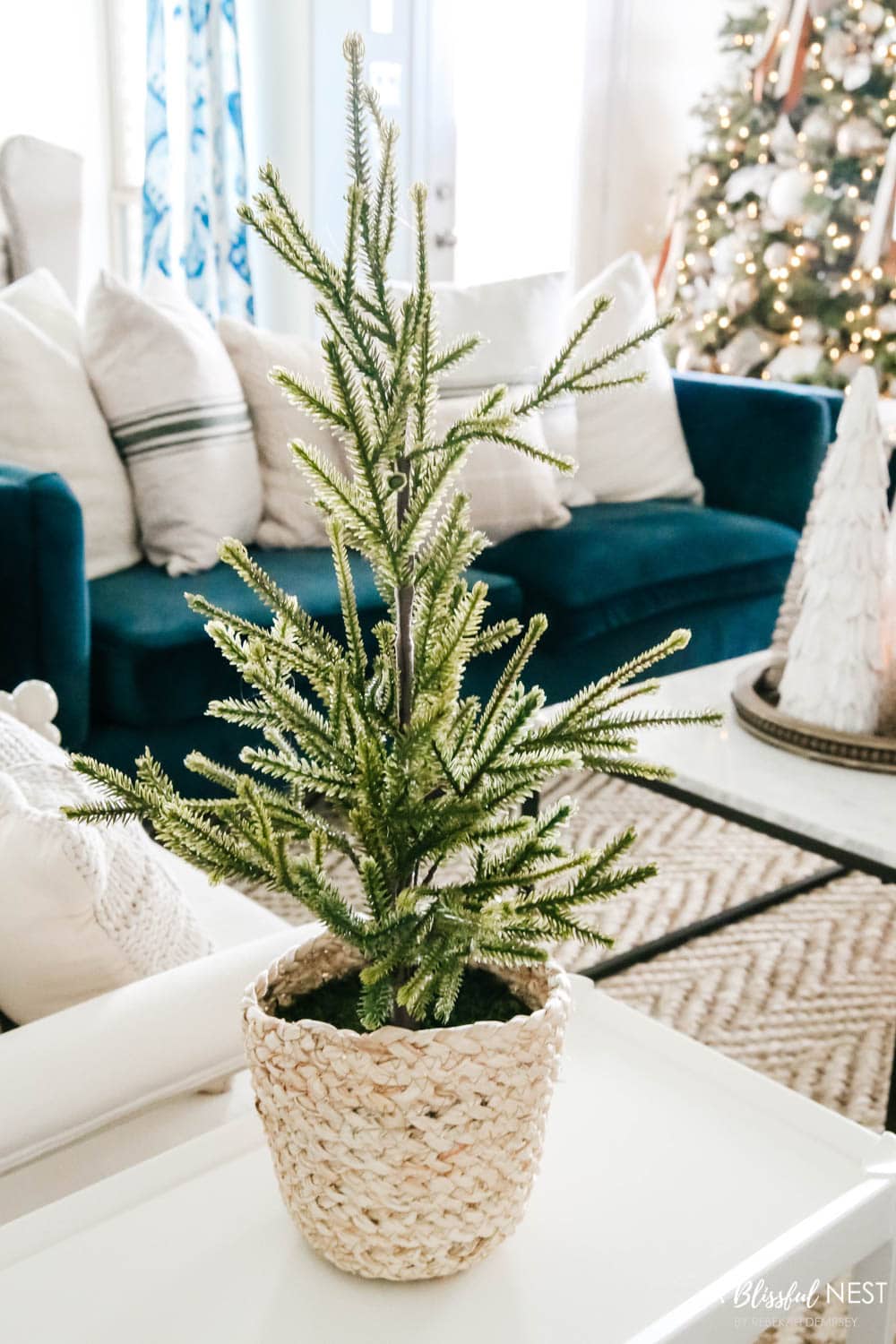 I have this little corner to the right of the TV where I have a rattan bar cart sitting. I use it for drinks when I am entertaining but otherwise, I keep it simple with a tray, some trees, and a candle.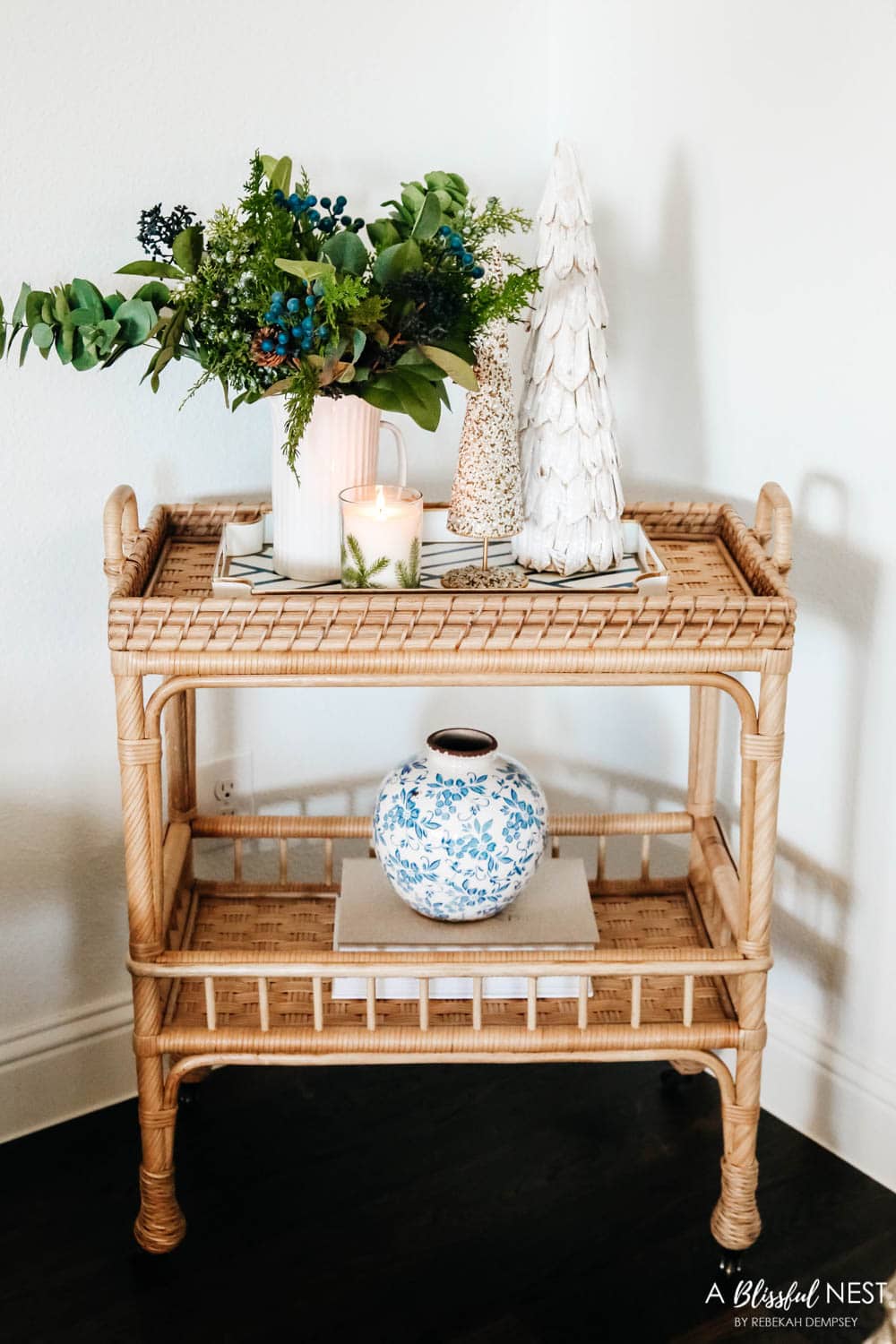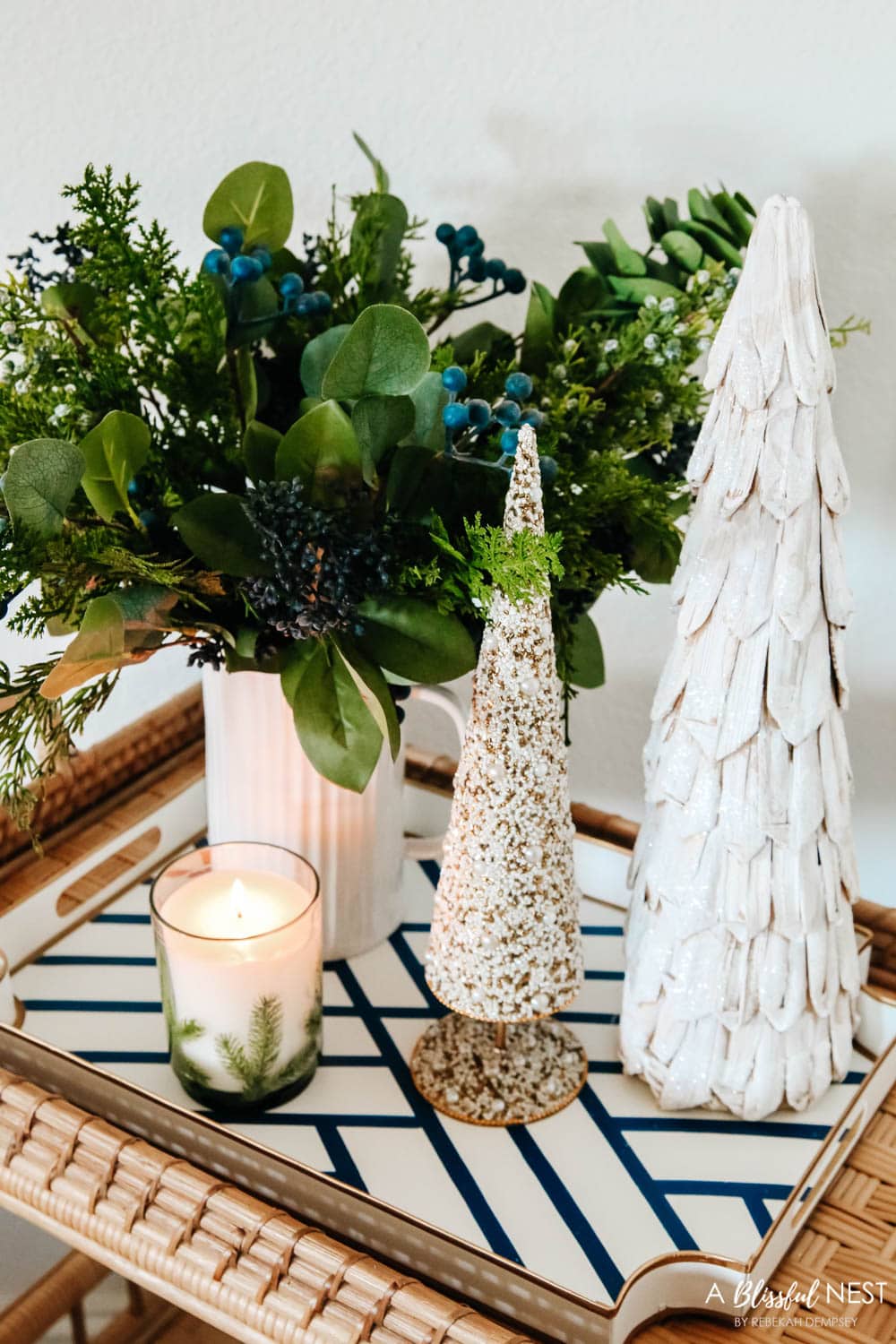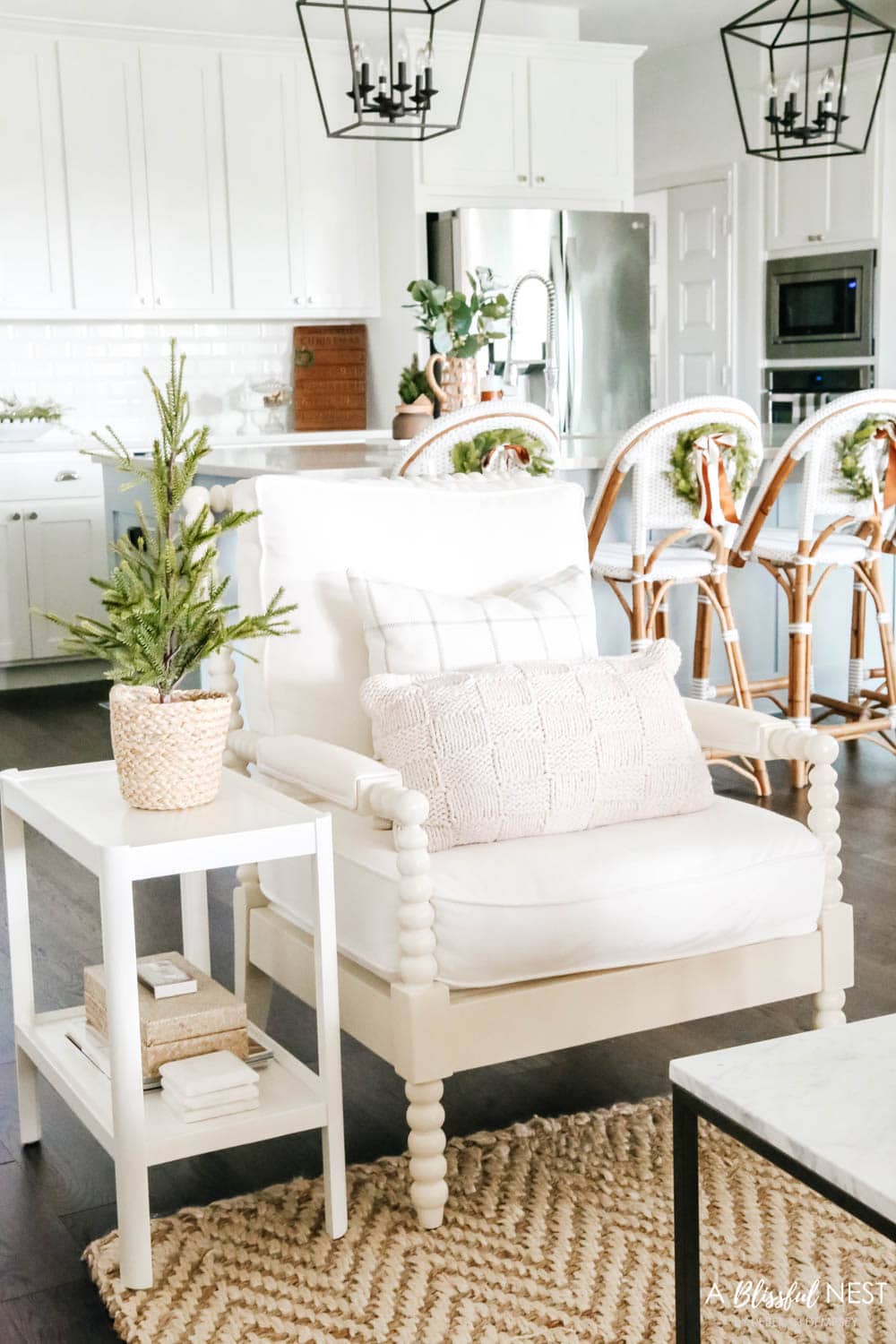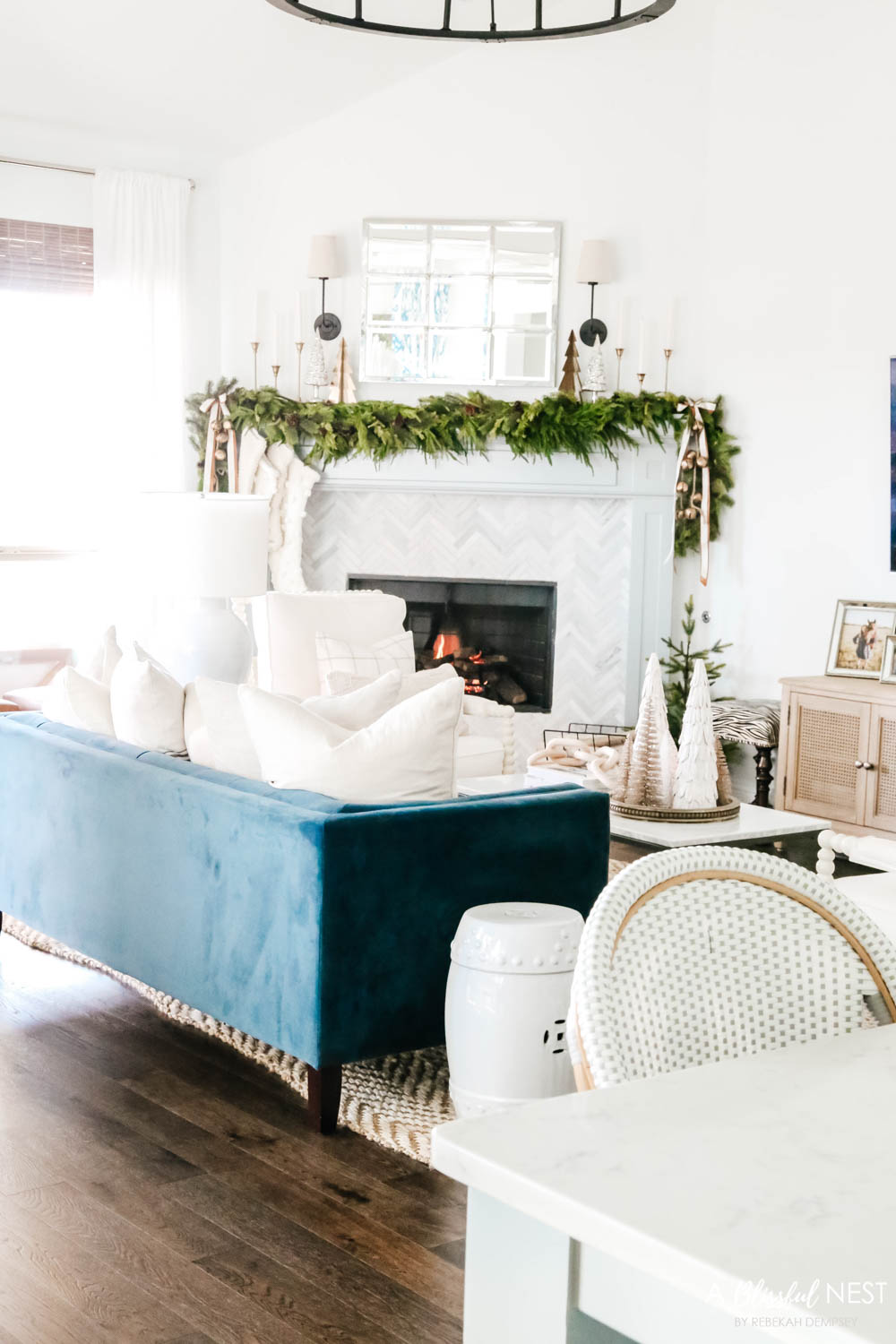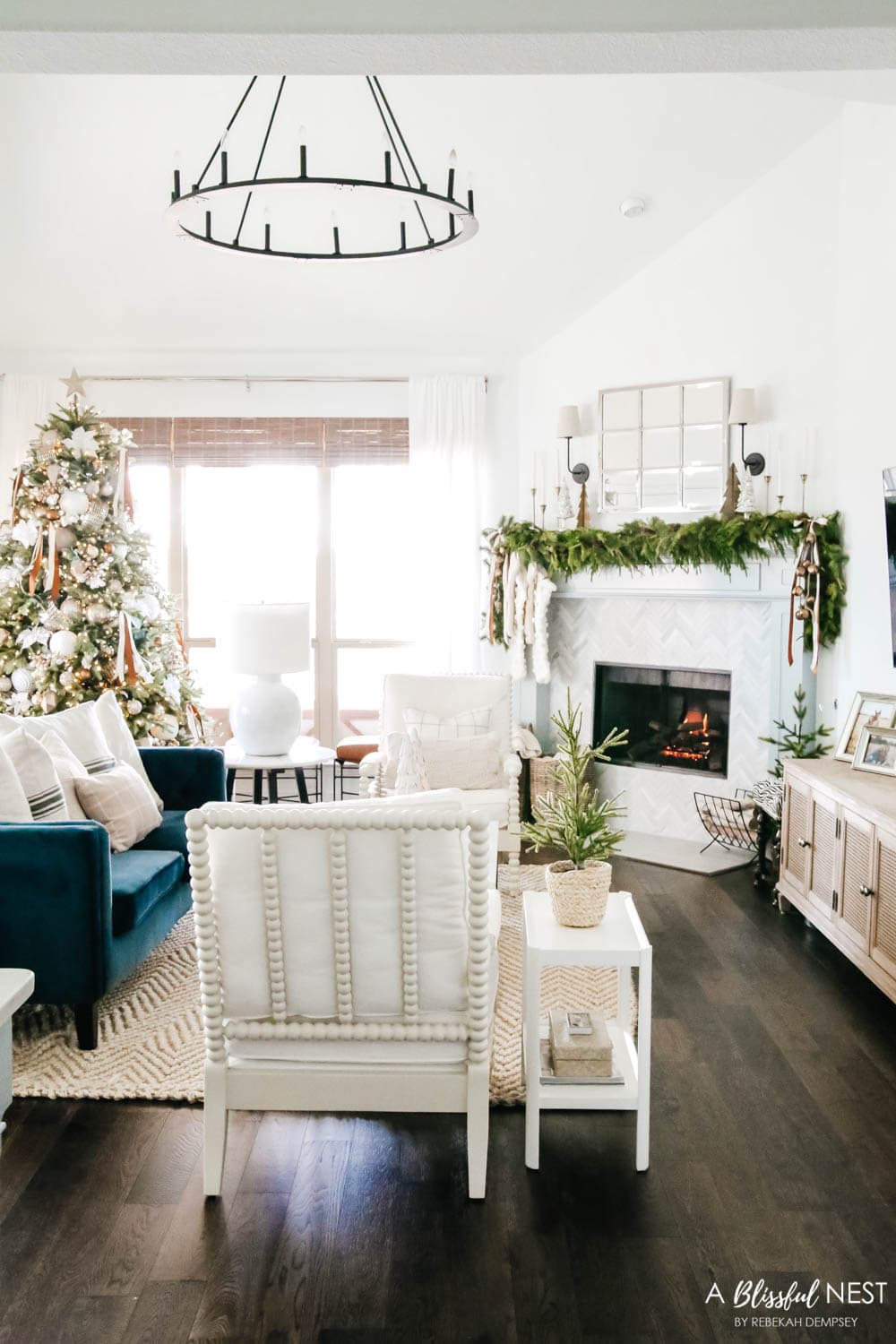 And that's it my friends! If you made it this far then you are amazing because this was one of my longest posts ever! But I wanted you to get all the inspiration you could and see all the little details that can get lost in the larger pulled back room shot photos.
You can shop all my holiday decor below!





For sources for the main pieces of furniture, you can check out this page for all the details.
Christmas Decor and Home Tour Posts:
Get even more inspiration in some of these past posts.
Follow along to get more of my tips on home decor, DIY, and lifestyle on the following: