The Ultimate Hot Cocoa Bar Idea + Last Minute Christmas Gift Ideas
This post may contain affiliate links. Please read our disclosure policy.
Sharing the ultimate coffee bar idea, including all the ingredients and steps to recreate it, and some last-minute gift ideas from Walmart.
This post is sponsored by Walmart, but all opinions are my own. This post contains some affiliate links for your convenience. Click here to read my full disclosure policy.
This coffee bar idea is just what you need to welcome guests and create cozy memories with your family this season!
I love to have a stocked coffee and hot cocoa station during the cold months and it is so fun to decorate it with fun affordable holiday finds.
You can change it up every year but there are some essential items I found at Walmart that pull it all together.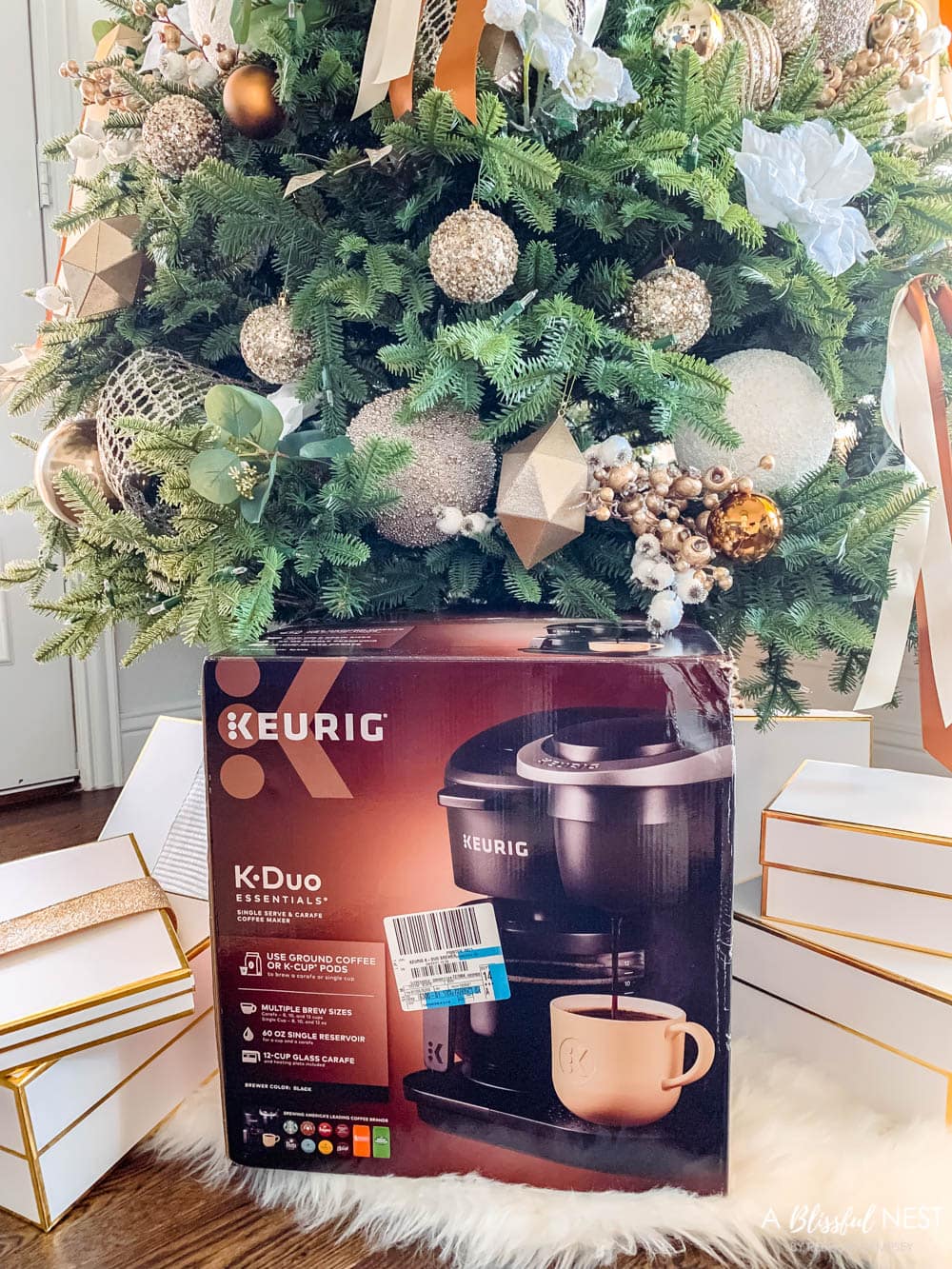 This Keurig K-Duo coffe maker is my latest obession. It not only takes K-cups but if your husband is like mine and loves to make a traditional pot of coffee then it has that too.
I was shocked at how reasonably priced this is at Walmart and this would make a GREAT gift for someone who makes coffee often.
It is super easy to set up and it heats up the water quicker than our last machine.
I am obsessed with the ease of shopping at Walmart and use their curbside pickup at least once a week. Have you tried it yet?? Especially with Christmas right around the corner, online shopping with them has never been quicker and easier.
What is a Hot Cocoa Bar?
So before I get started sharing how I created a hot cocoa station, there may be some of you that are wondering what a hot cocoa bar even is.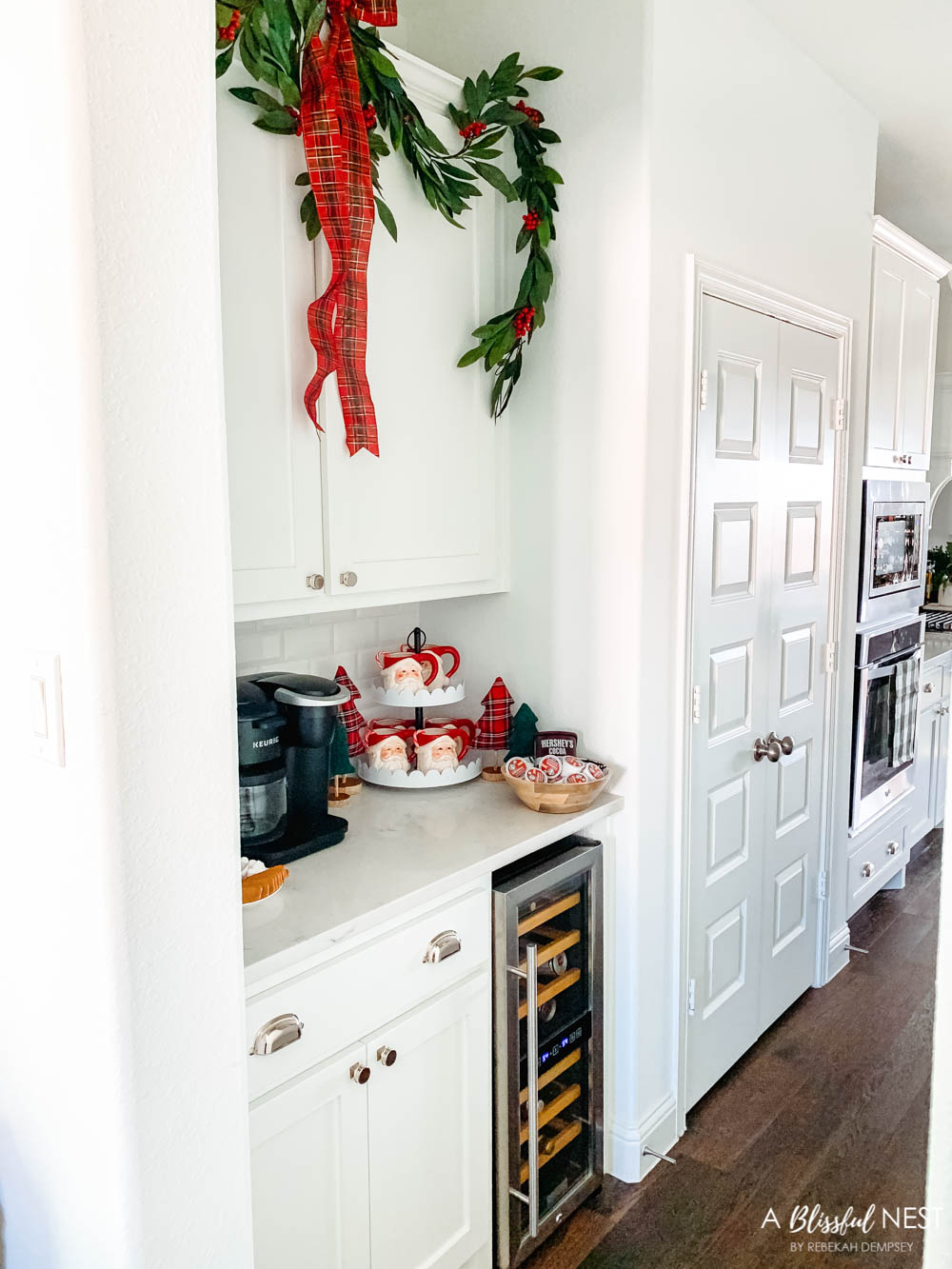 Typically a hot cocoa bar is a space in your home, it can be a designated spot on the counter or even a bar cart, and has everything you need to make a delicious cup of hot cocoa or coffee. I include coffee in mine.
This makes making a hot drink so much easier to have everything in one place and then you also know when you are out of things to add to your shopping list.
What Toppings to Include for Your Hot Cocoa Bar:
So I love to stock some specific ingredients on my hot cocoa bar from Walmart. They have everything you need and it is so easy to shop with them online and curbside pick it up.
This is a general list and you can add even more yummy treats and ingredients as you see fit.
Ingredient List:
Hershey's Hot Cocoa
K-Cup Coffee Pods
Candy Cane Spoons
Candy Canes
Hershey Chocolates
Mini Marshmallows
Biscotti
Whipped Cream
Sprinkles
Chocolate, Caramel, and/or Strawberry Sauce
Cinnamon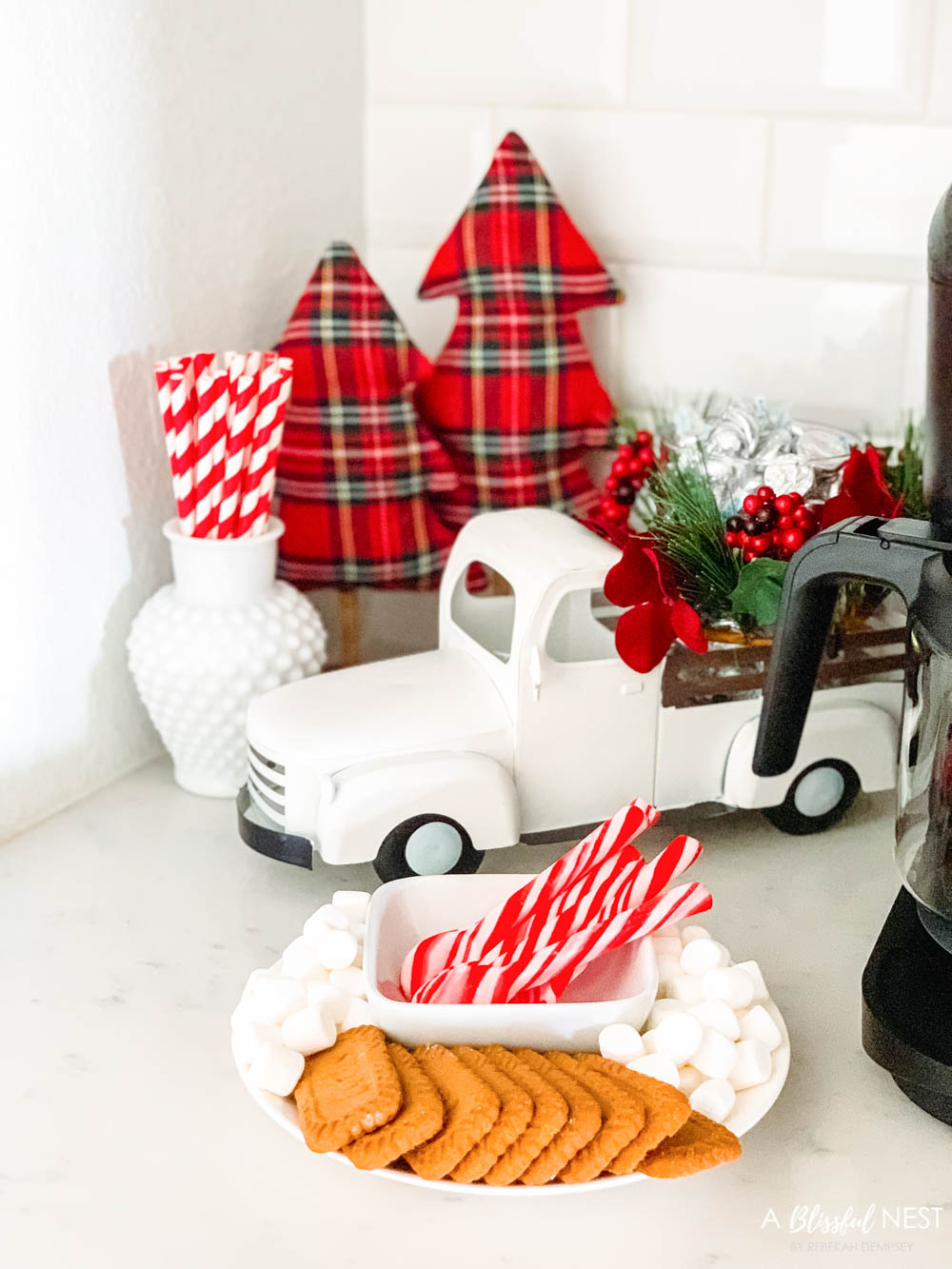 How to Set Up A Hot Cocoa Station:
Now, this is the fun part! Setting up your hot cocoa bar is more about using jars, trays, bowls, and other small containers to corral everything you have.
I also love to add paper straws and fun mugs that fit the season.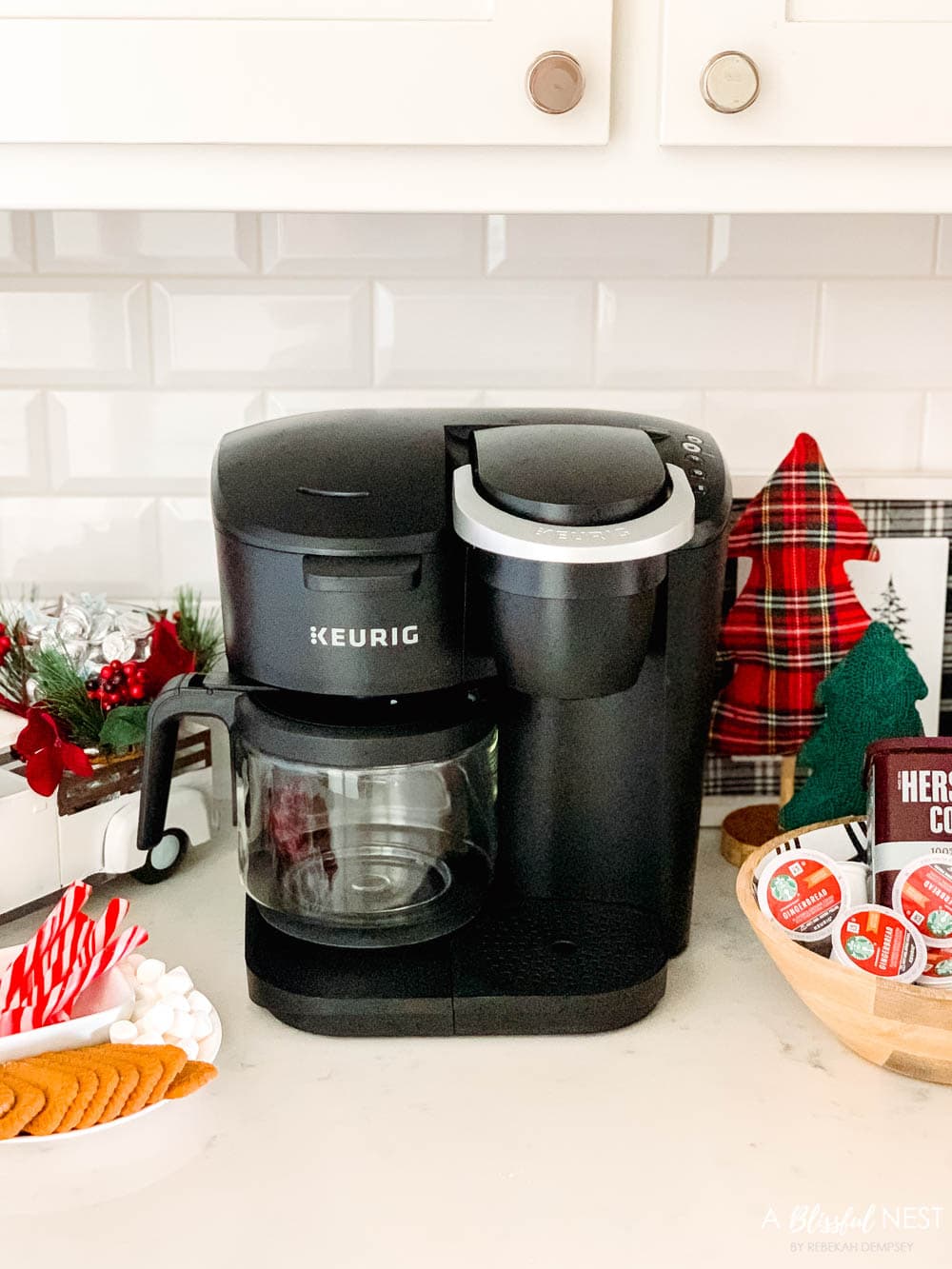 Typically I place my Keurig machine in the center or if you are not using one of these, then your container with milk or water and a way to warm it up in the middle of your display.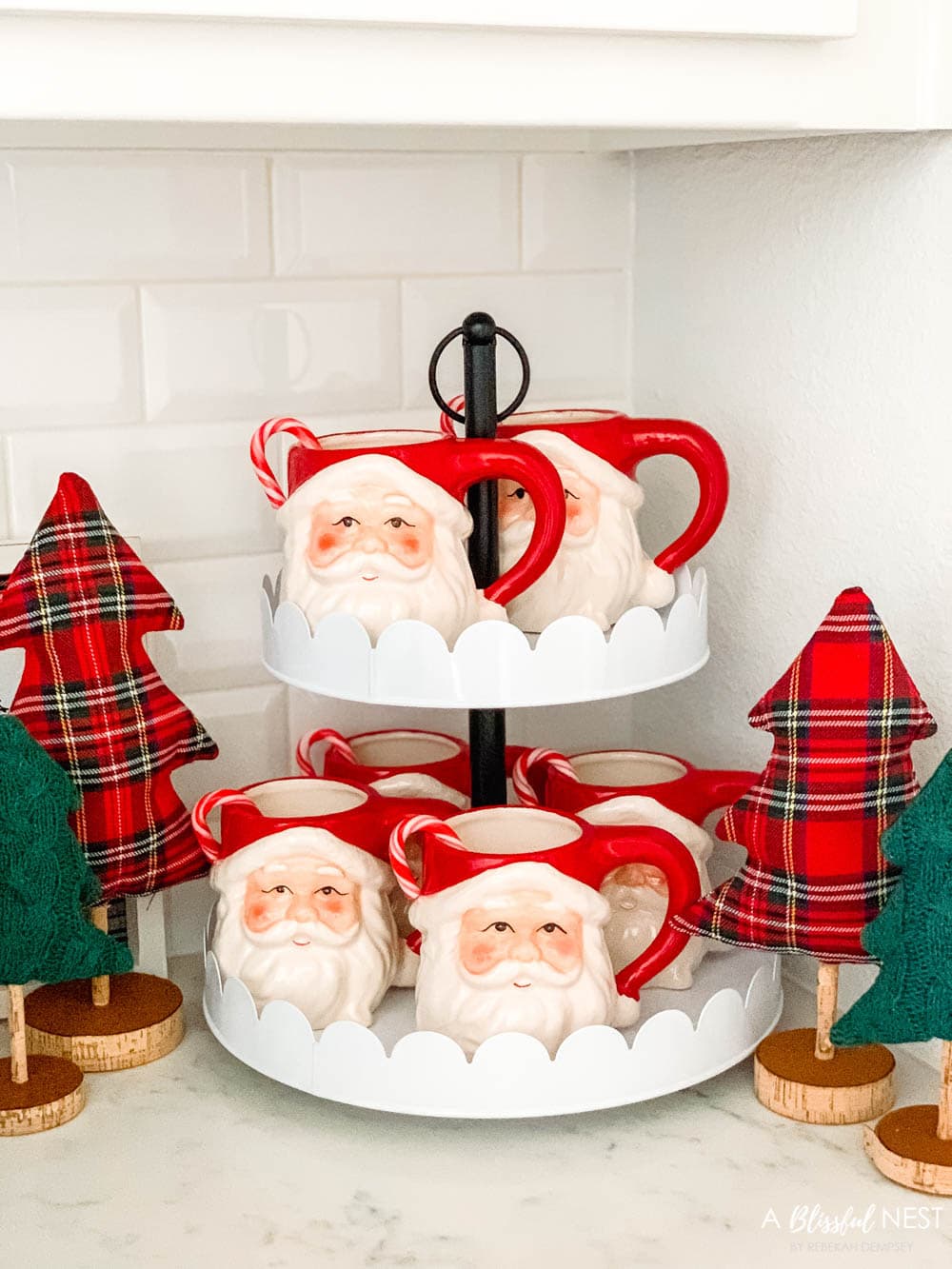 Then I like to have a tiered tray, this white stand from Walmart is easy to transition from season to season.
I use a tiered tray to house all my coffee mugs that I will use the most and it makes it easy to grab one.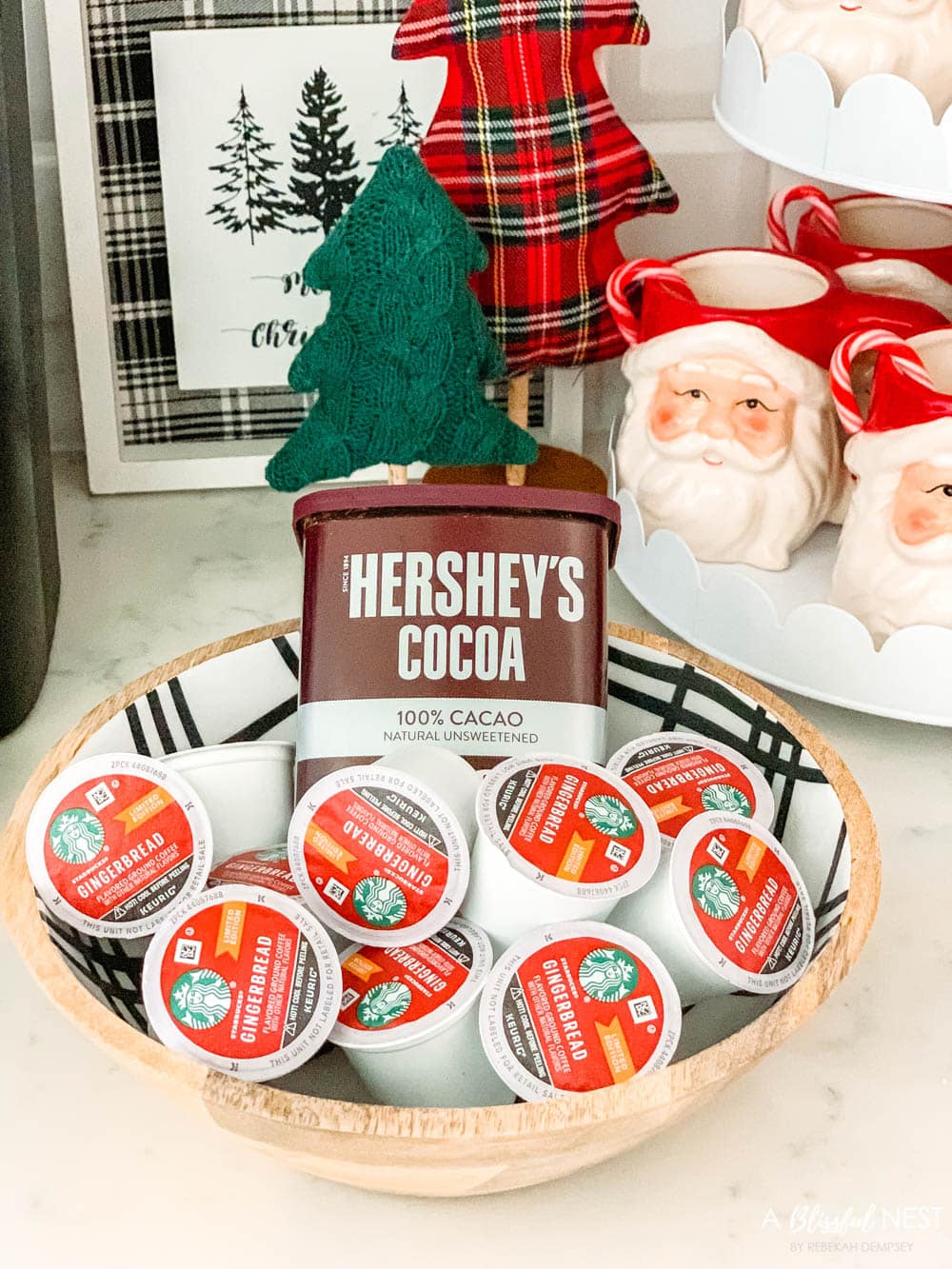 Then I have a bowl of all my K-Cups and cocoa mix next to my Keurig. I feel like it is much easier to have them in a bowl rather than in the cabinet and in a closed container. I love the black and white pattern of this wood bowl. It is an unexpected pop!
Remember the key is you want it to be fast and easy to make a hot drink.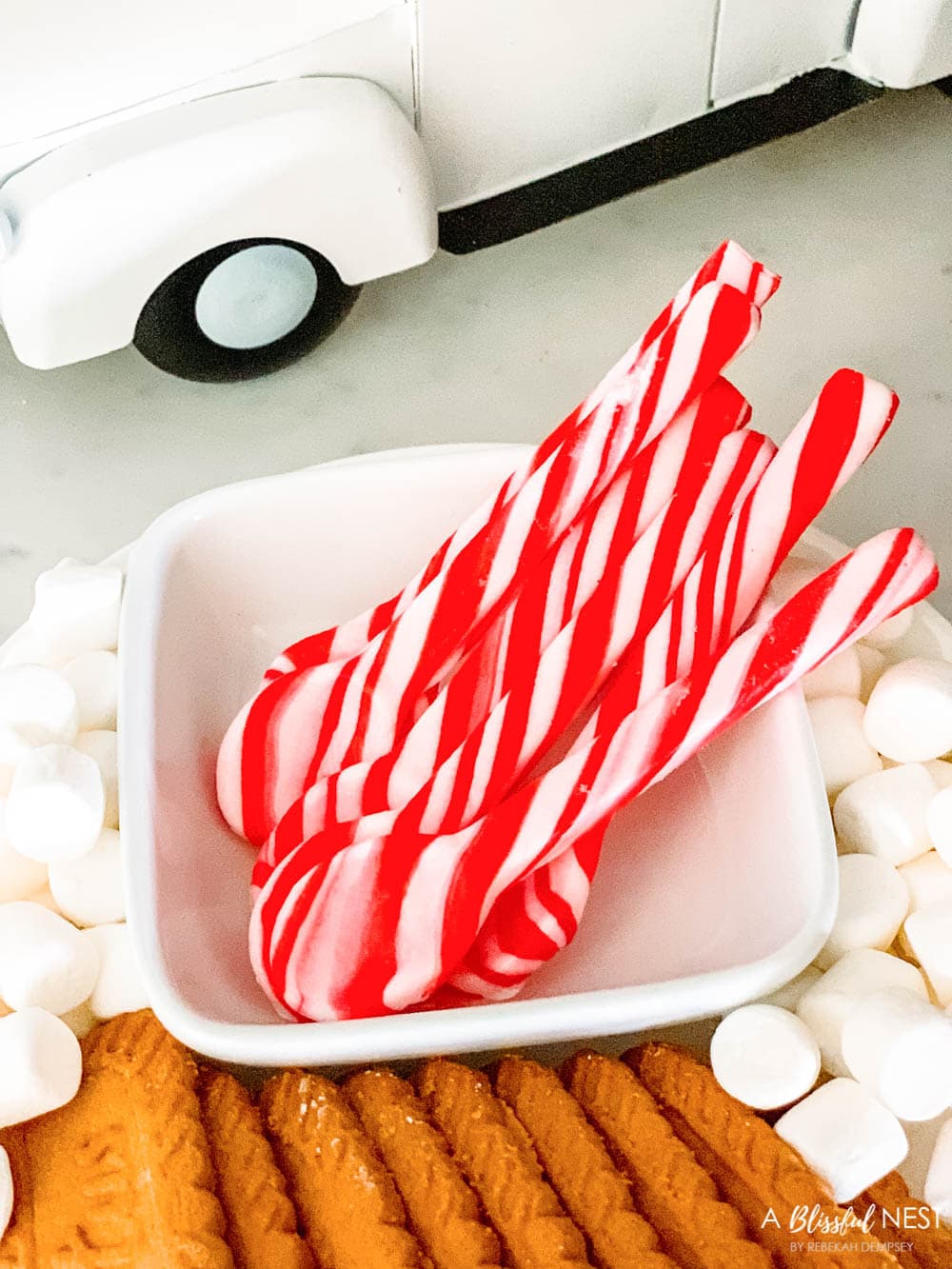 Then before making drinks, I like to have a small plate with some perishable items on it. You can layer your plate with a bowl to separate items.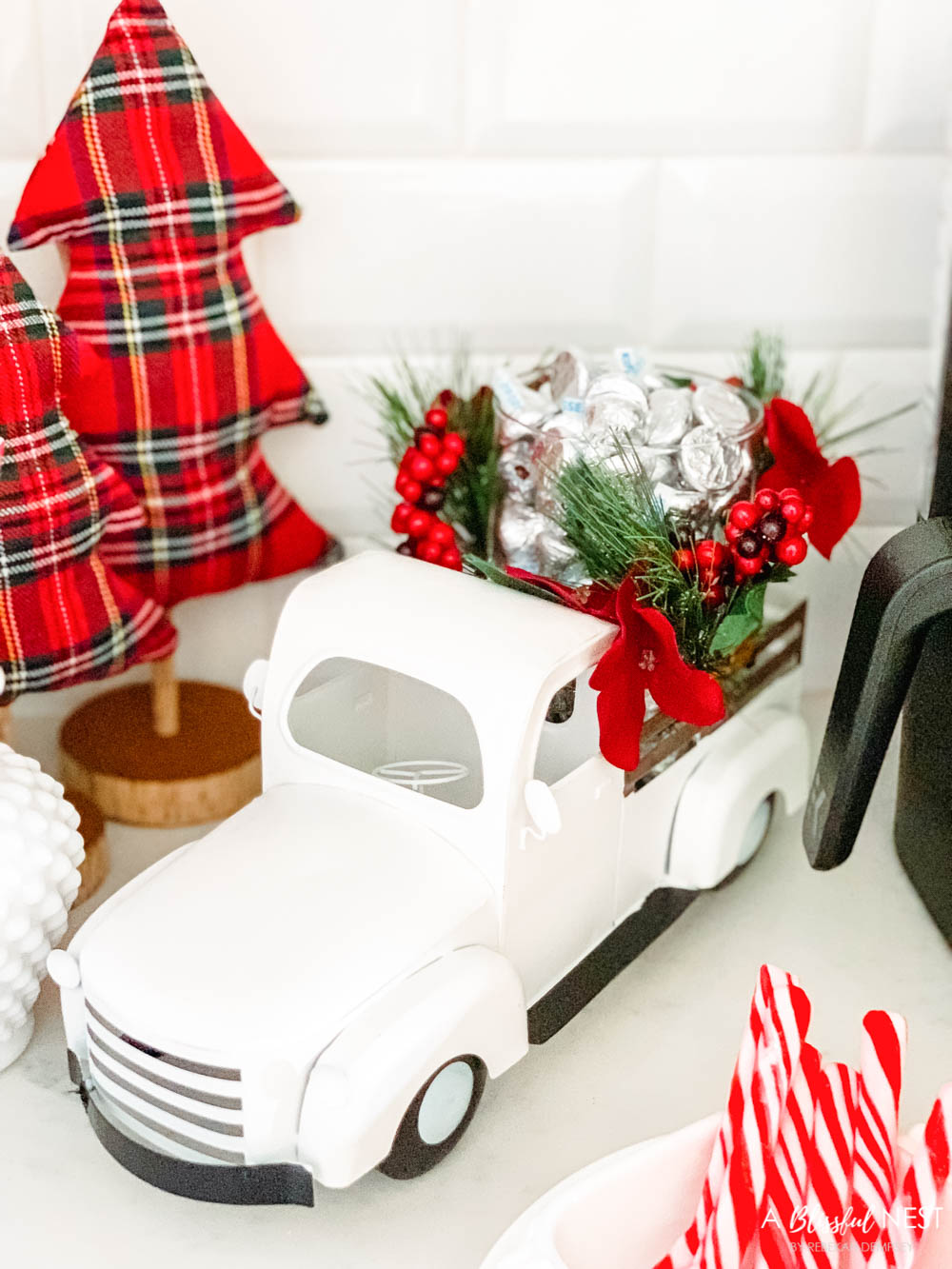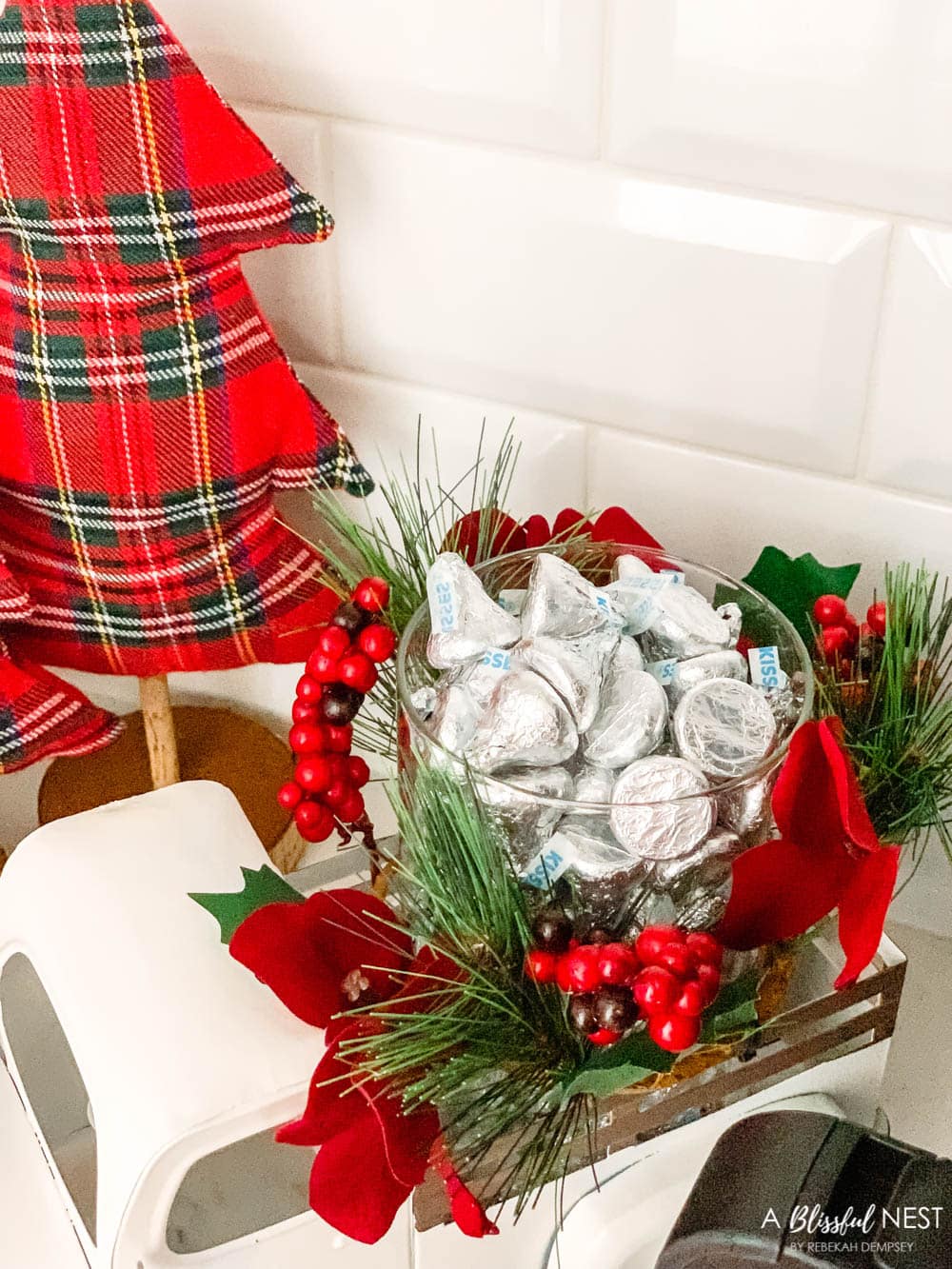 I found this adorable white holiday truck and filled the glass cylinder in the back, made for a candle, with Hershey chocolates. It's a fun and unexpected place to have them!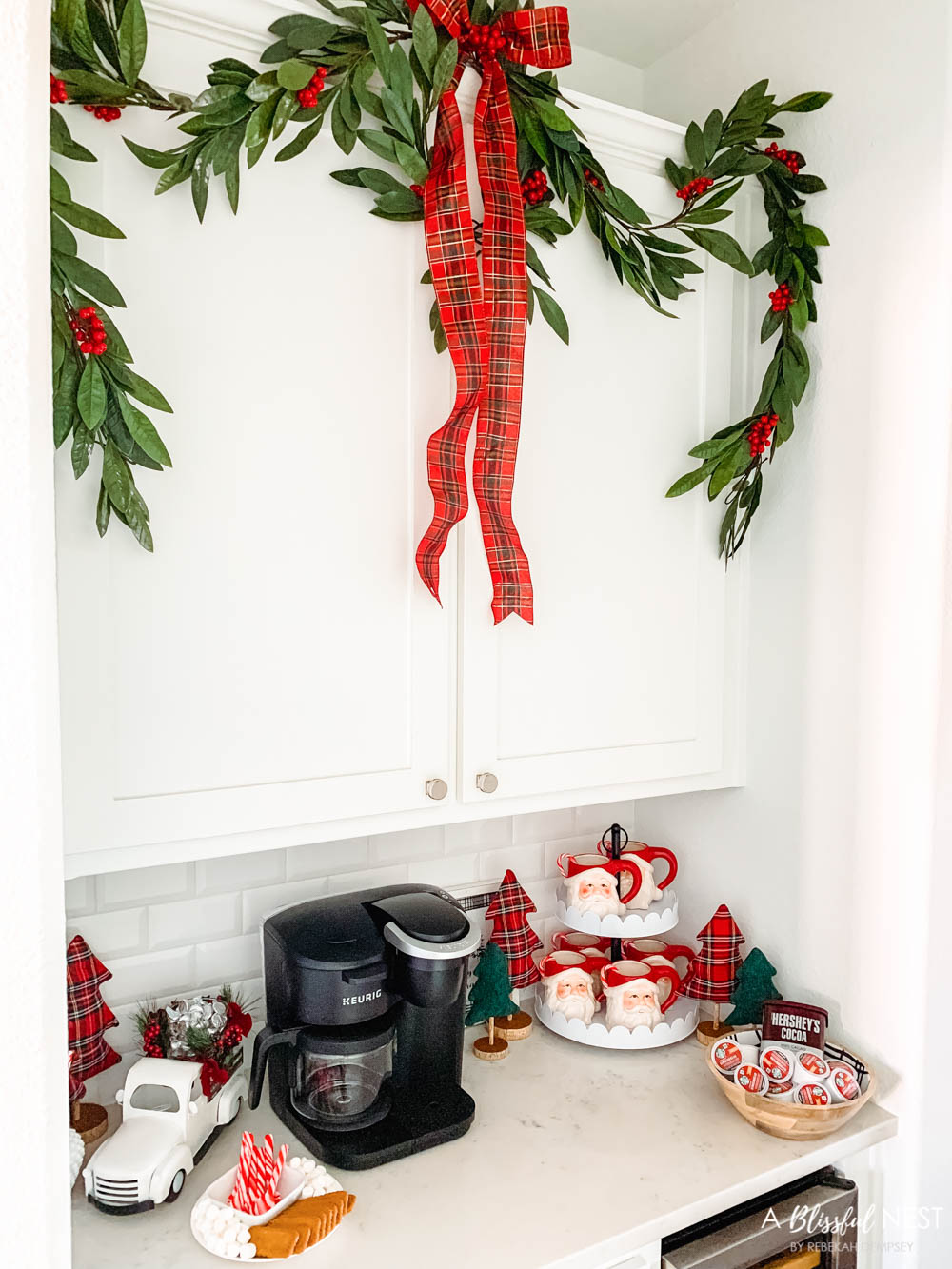 And that's it! I added other holiday decor from Walmart to jush it up a bit. I am in love with these plaid fabric trees and found green knit ones too.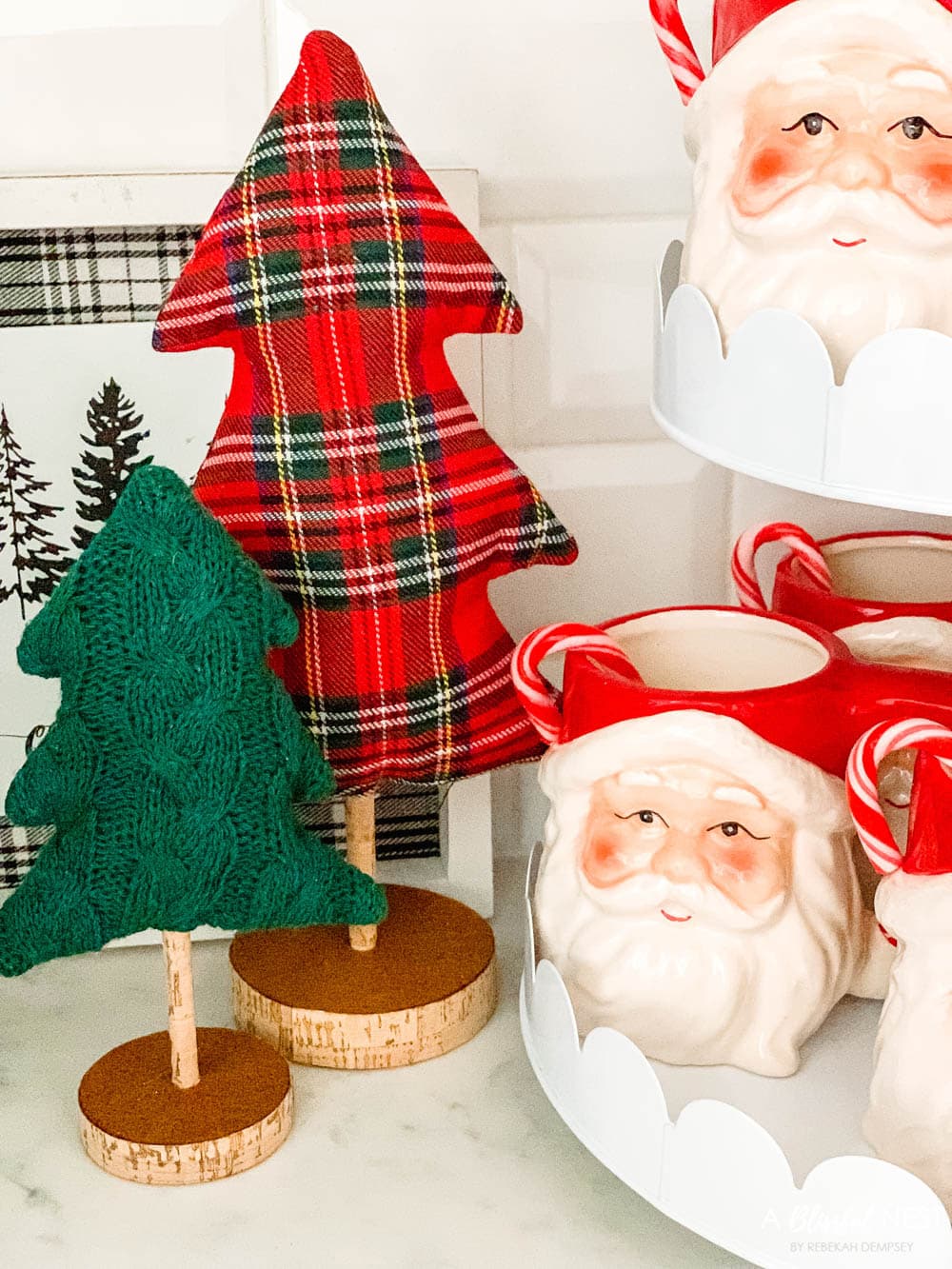 How to Make the Best Hot Chocolate.
So I think it is important to be able to tell your friends and family how to make the BEST cup of hot cocoa. There is an art to it. If you don't do it right it could be powder or worse lumpy.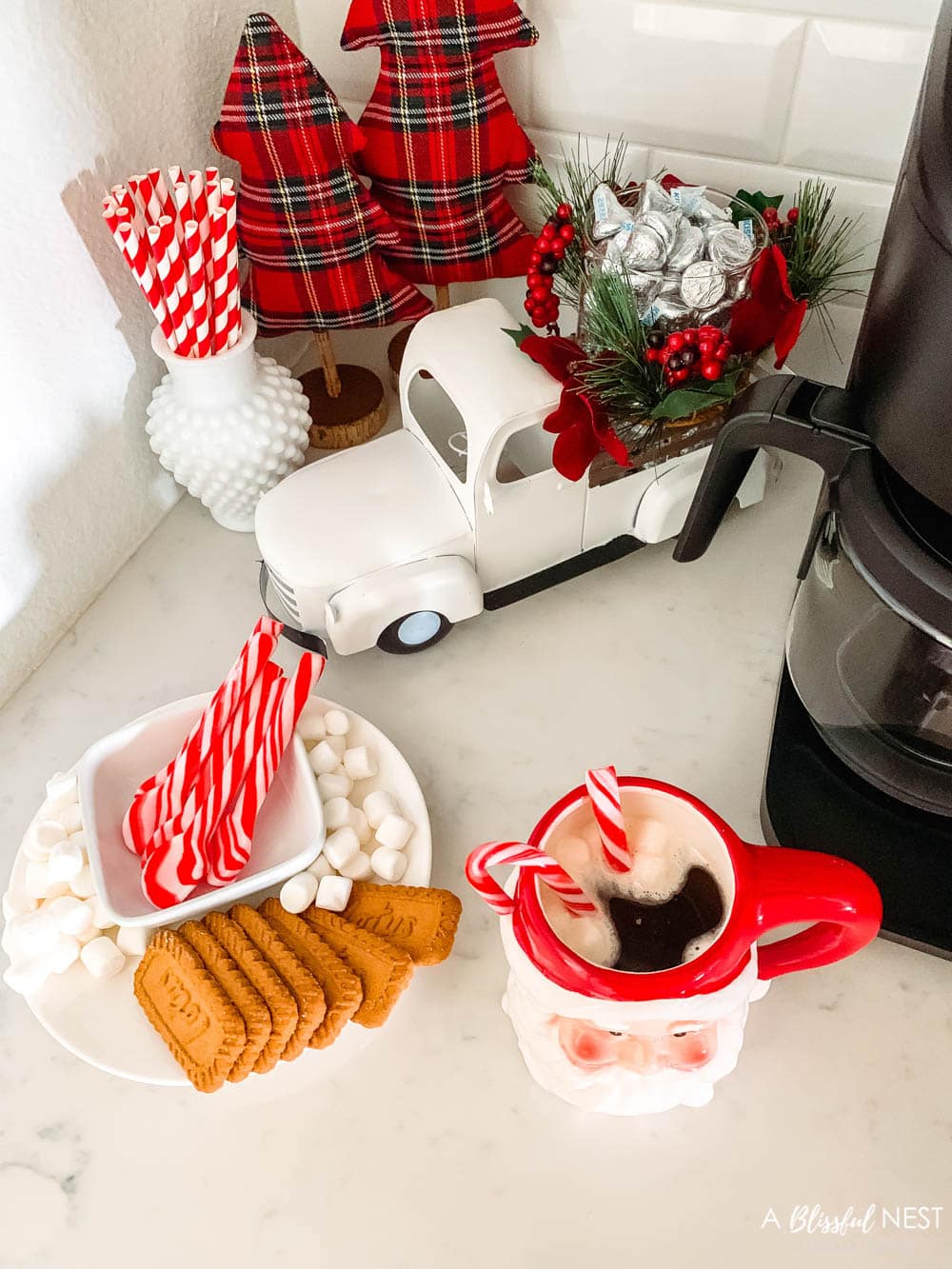 If you have a Keurig machine then you can add water or milk to the back carafe. I like to use milk for the hot cocoa.
It will heat the milk perfectly and you will add however much you want to your coffee mug. Then add 2 to 3 tablespoons of cocoa mix to the hot milk and use a whisk to stir. If you want it sweeter add some sugar. But whisking is the magic trick to blending it perfectly.
Then add all the toppings you like! I like to start with the whipped cream and pile on from there. Enjoy!
So obviously this new Keurig machine is my absolute favorite gift idea this season but I have rounded up some other amazing home decor gift ideas so you can finish up your holiday shopping!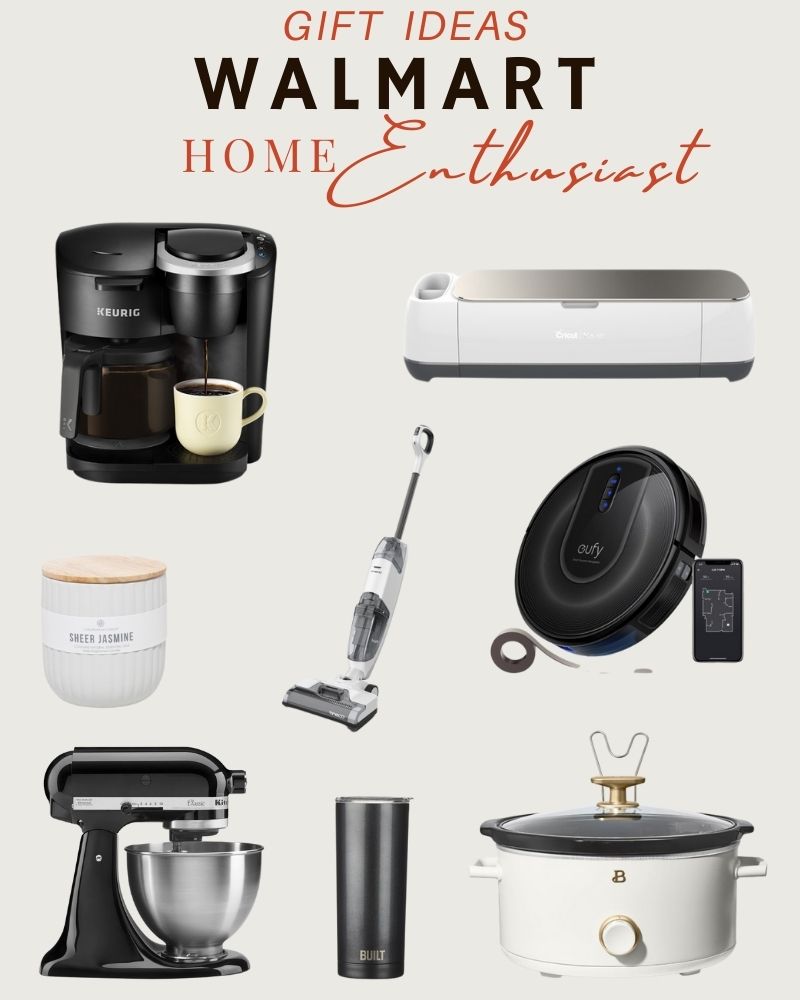 Hope you loved all these finds from Walmart and found some great gift ideas!
THIS IS A SPONSORED POST. A BLISSFUL NEST HAS RECEIVED PAYMENT, TRADE, AND/OR PRODUCTS FROM WALMART IN EXCHANGE FOR PROMOTING. HOWEVER, ALL OPINIONS STATED ARE OUR OWN.
Follow along to get more of my tips on home decor, DIY, and lifestyle on the following: