Christmas Kitchen Home Tour 2020
This post may contain affiliate links. Please read our disclosure policy.
Welcome to this year's Annual Blogger's Holiday Home Tour! Each year an amazing group of bloggers shares special rooms in their home during the whole week. Thank you to Jenny from Evolution of Style and Amy & Christy from 11 Magnolia Lane for hosting!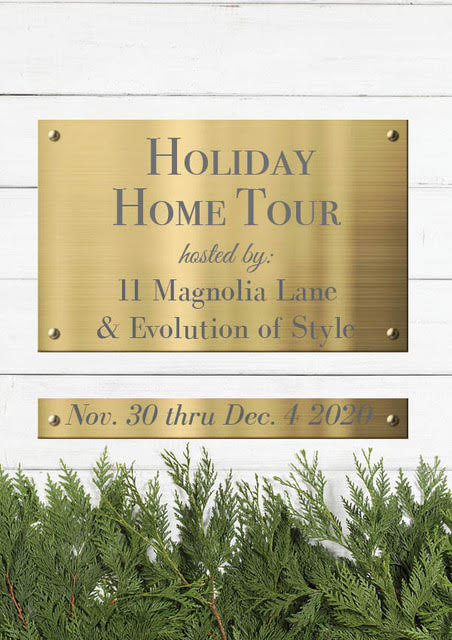 If you are coming over from Style House Interiors, welcome to my Christmas kitchen tour! Jen has the most elegant and beautiful home!
This year I wanted to share my Christmas kitchen for the tour. You can see the rest of my Christmas home tour from this year and my Christmas tree reveal to see the rest of our home decked for the holidays.
This post contains some affiliate links for your convenience. Click here to read my full disclosure policy.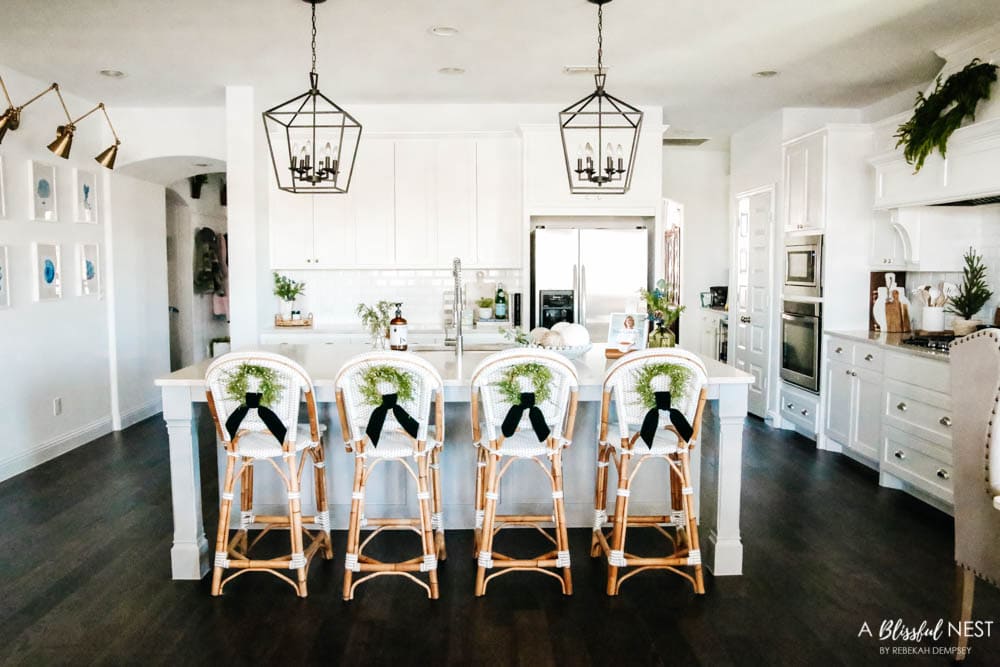 I love adding little wreaths to the backs of my barstools and I resued these beautiful juniper berry wreaths from last year. I shared how I attached them over on Instagram and saved it in my highlights if you want to pop over there and check it out.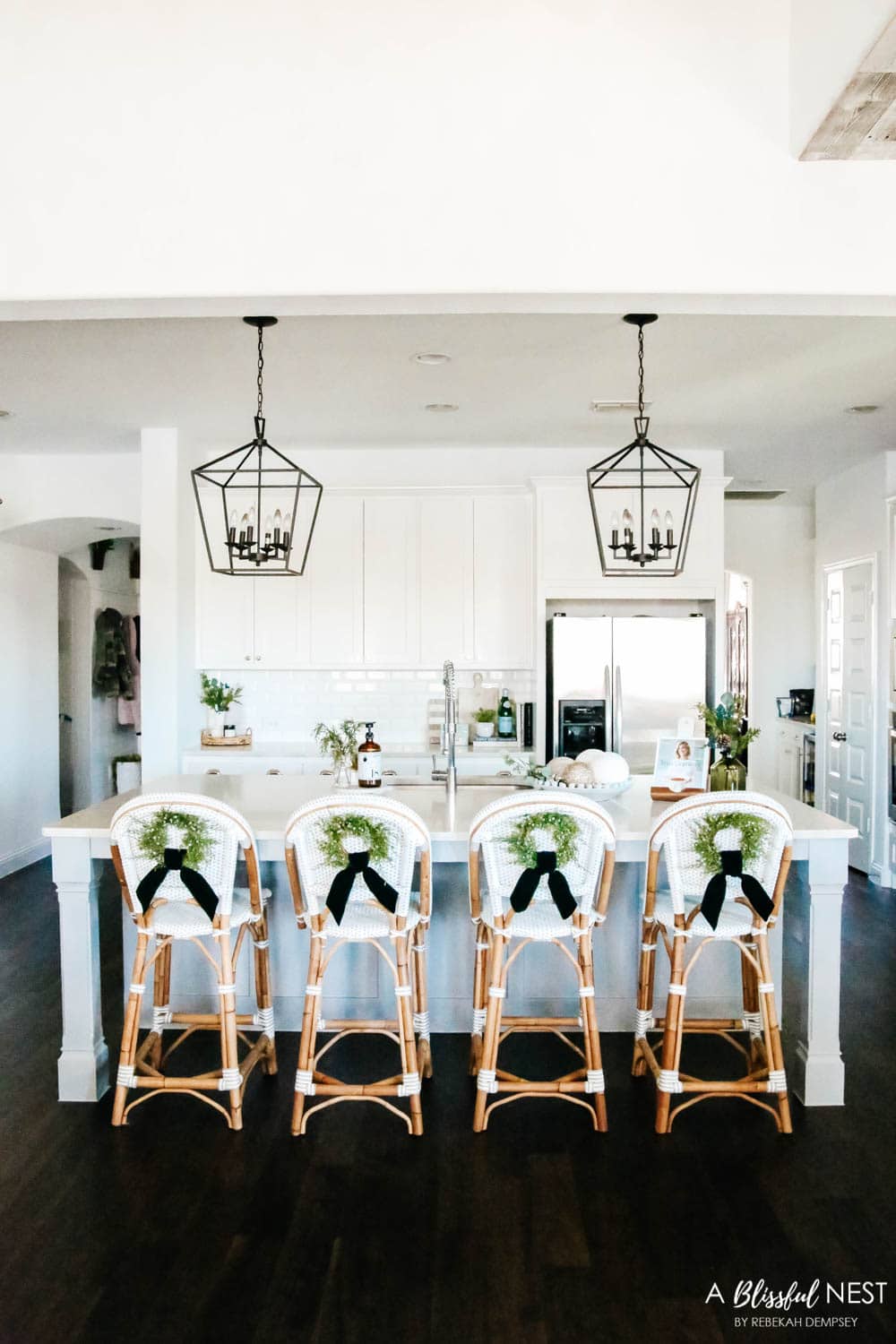 I used this gorgeous 2.5″ thick hunter green velvet ribbon and tied a simple loop around the bottom. I used this same green throughout our home this year and it is so rich and luxe looking.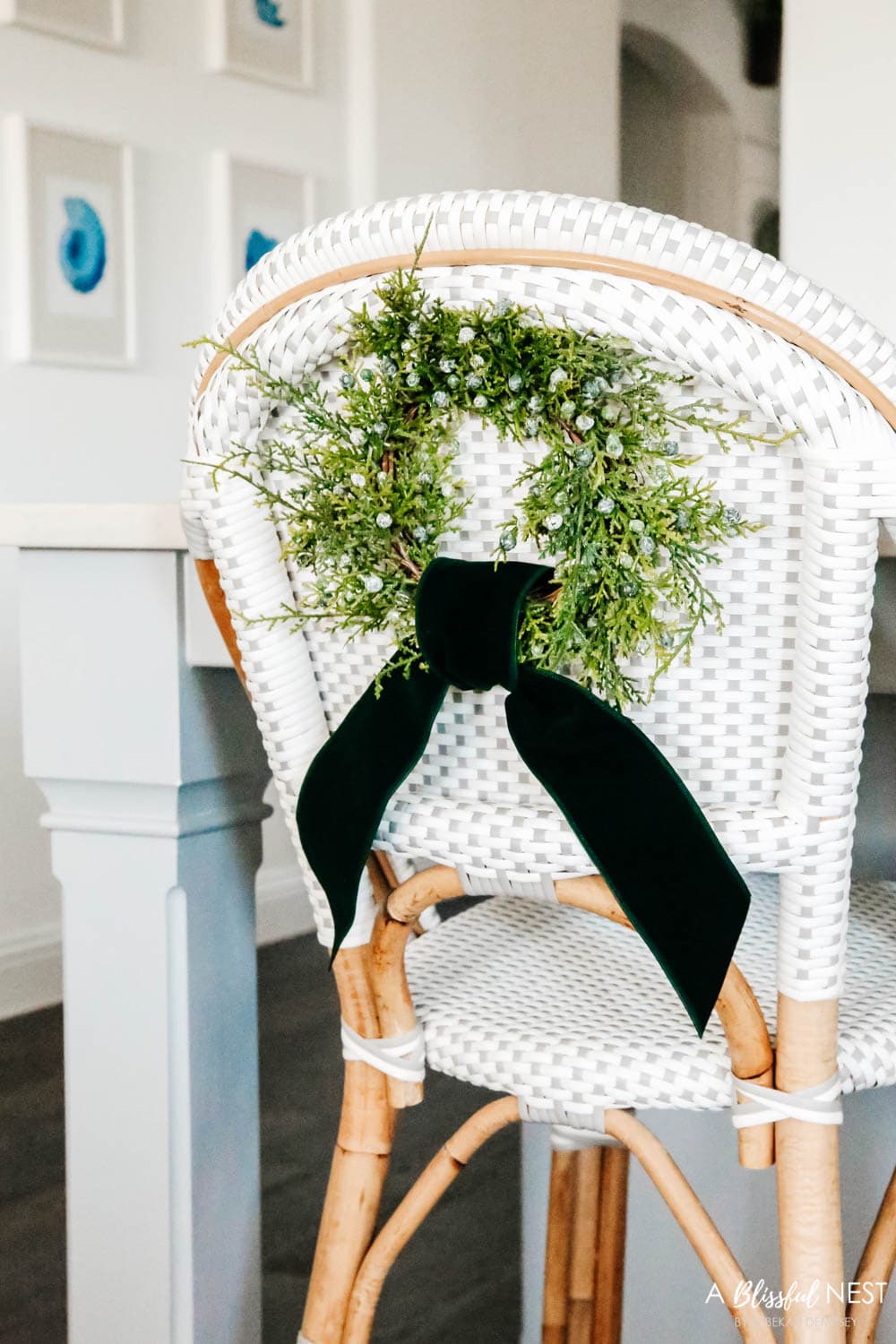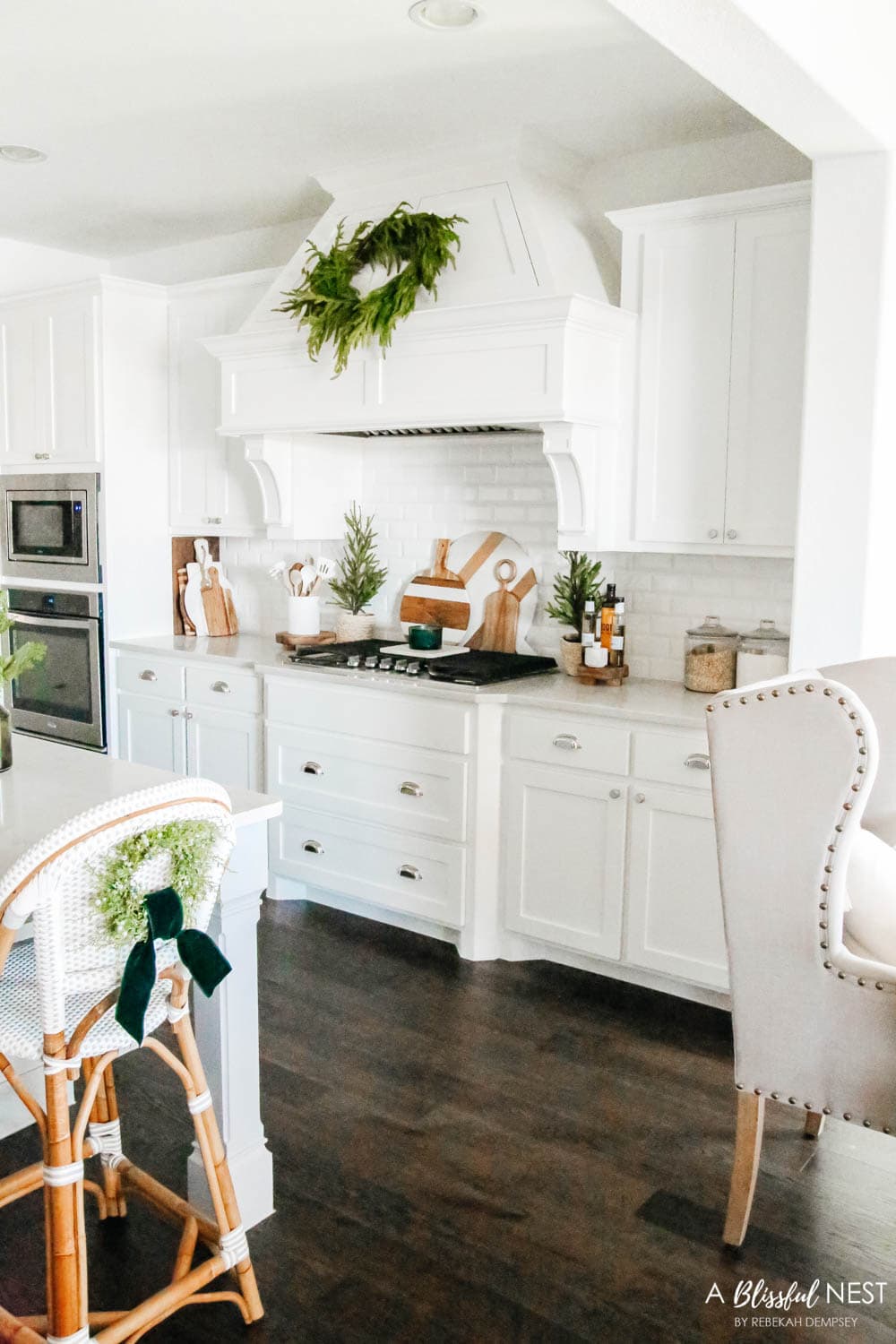 I am obsessed this year with this real touch Norfolk pine wreath. I used the garland on my Christmas mantle and I used the picks in my Christmas tree to tie it all together.
It drapes so beautifully and looks so real. I am going to try next year to snag some extra garland to use on my staircase. It sold out so quick this year but the wreath is still available.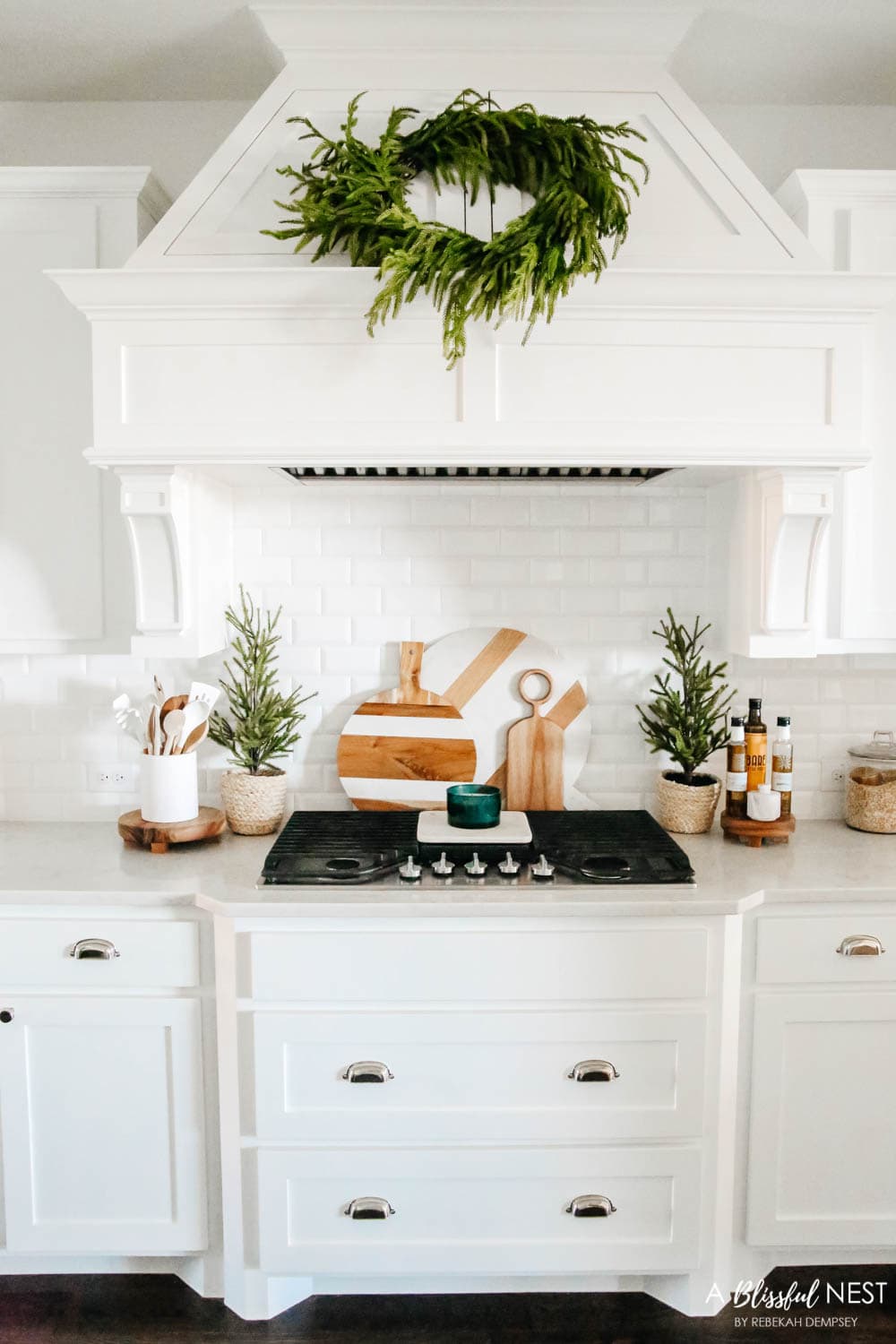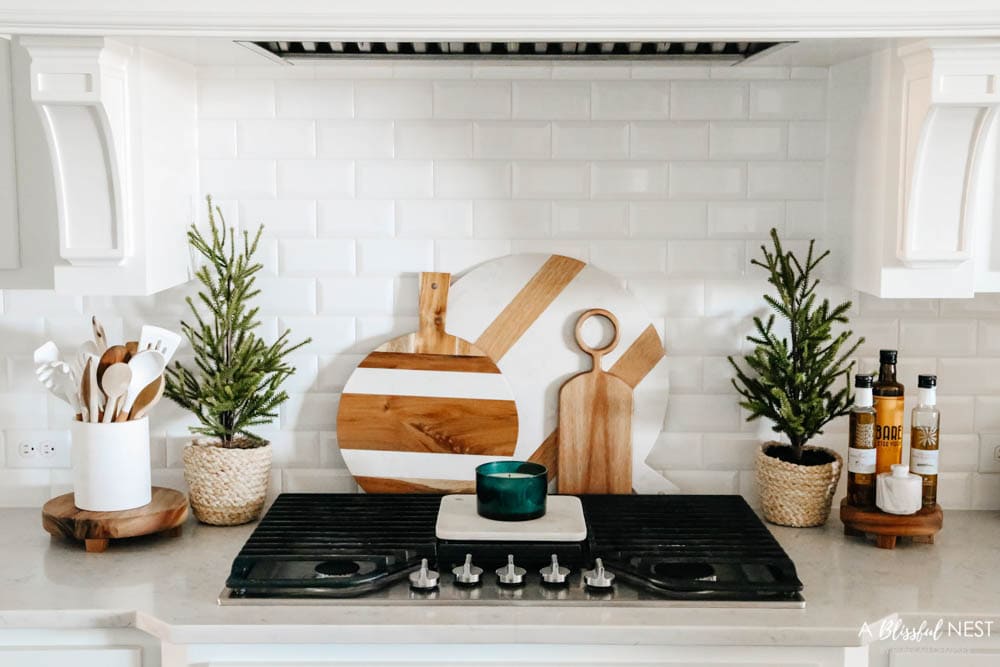 I found these cute little trees with these basketweave pots at Target this year. They are simple and go with my more natural simple look I went for this holiday season.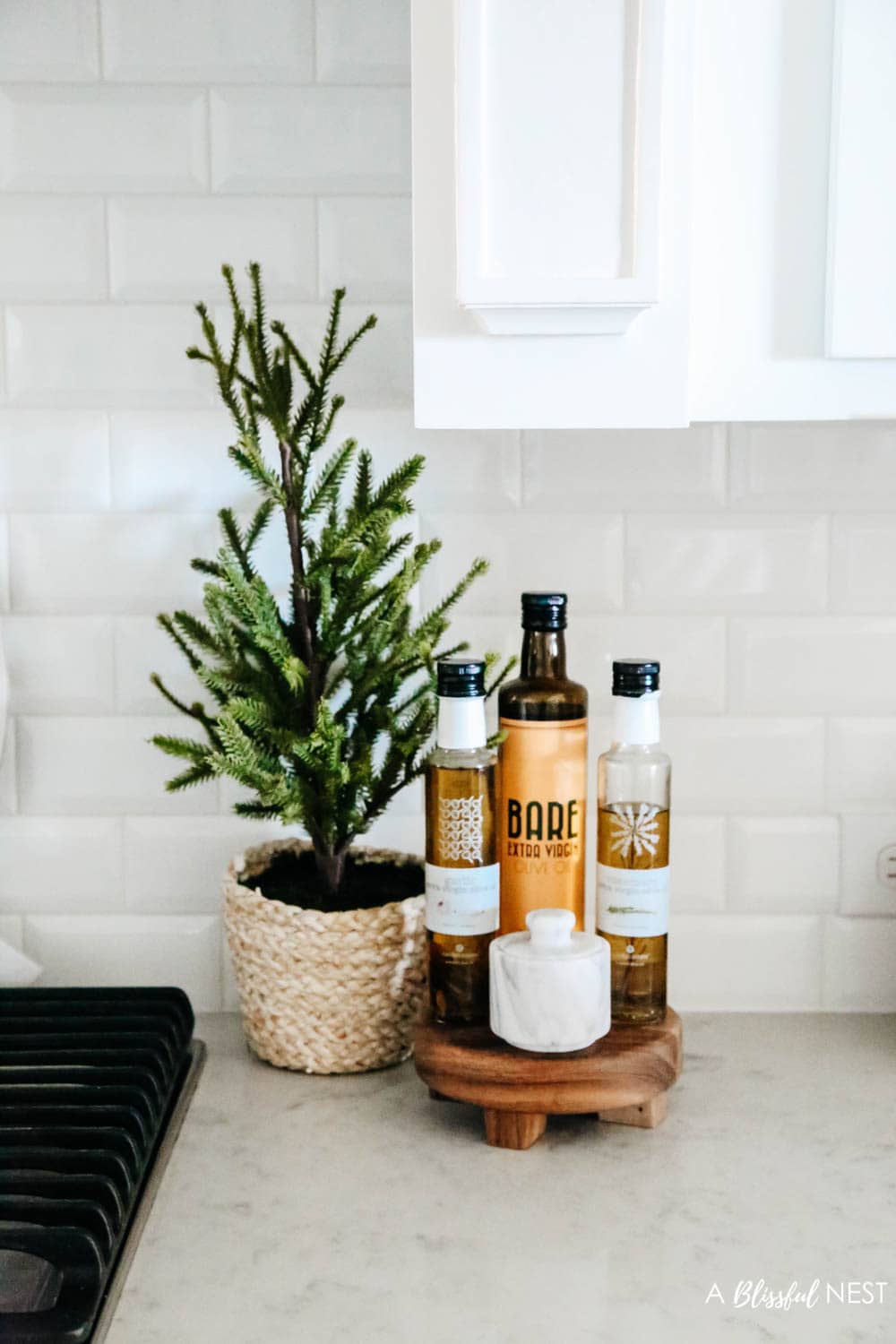 I love to keep a small collection of infused olive oils next to the stove for cooking. You can buy them premade or make them yourself.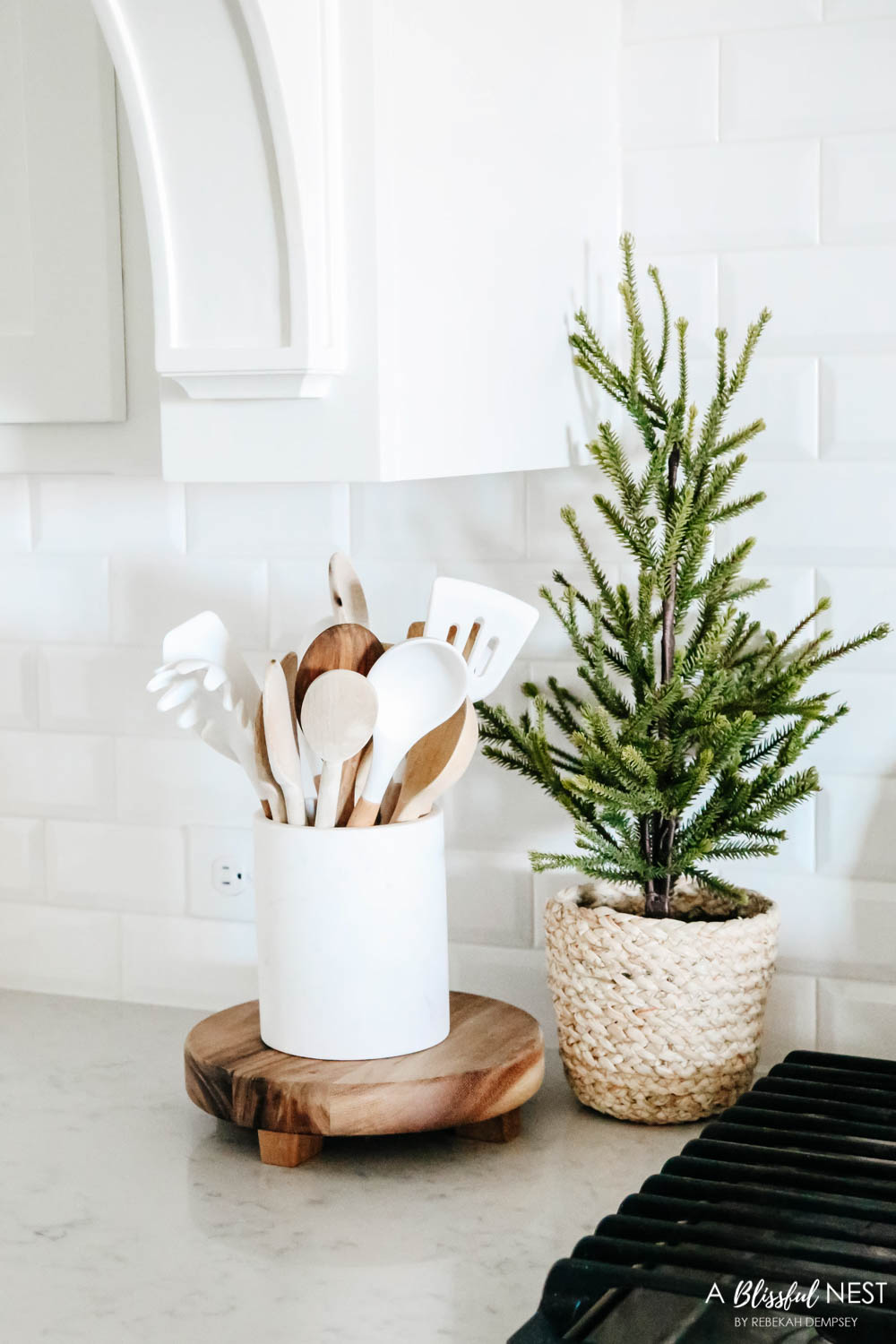 I also love to keep my wooden spoons and utensil set out for easy grabbing especially with all that holiday cooking. This white utencil set is my favorite and you get 7 pieces in the set. These would make such a great gift idea for the cook in your family!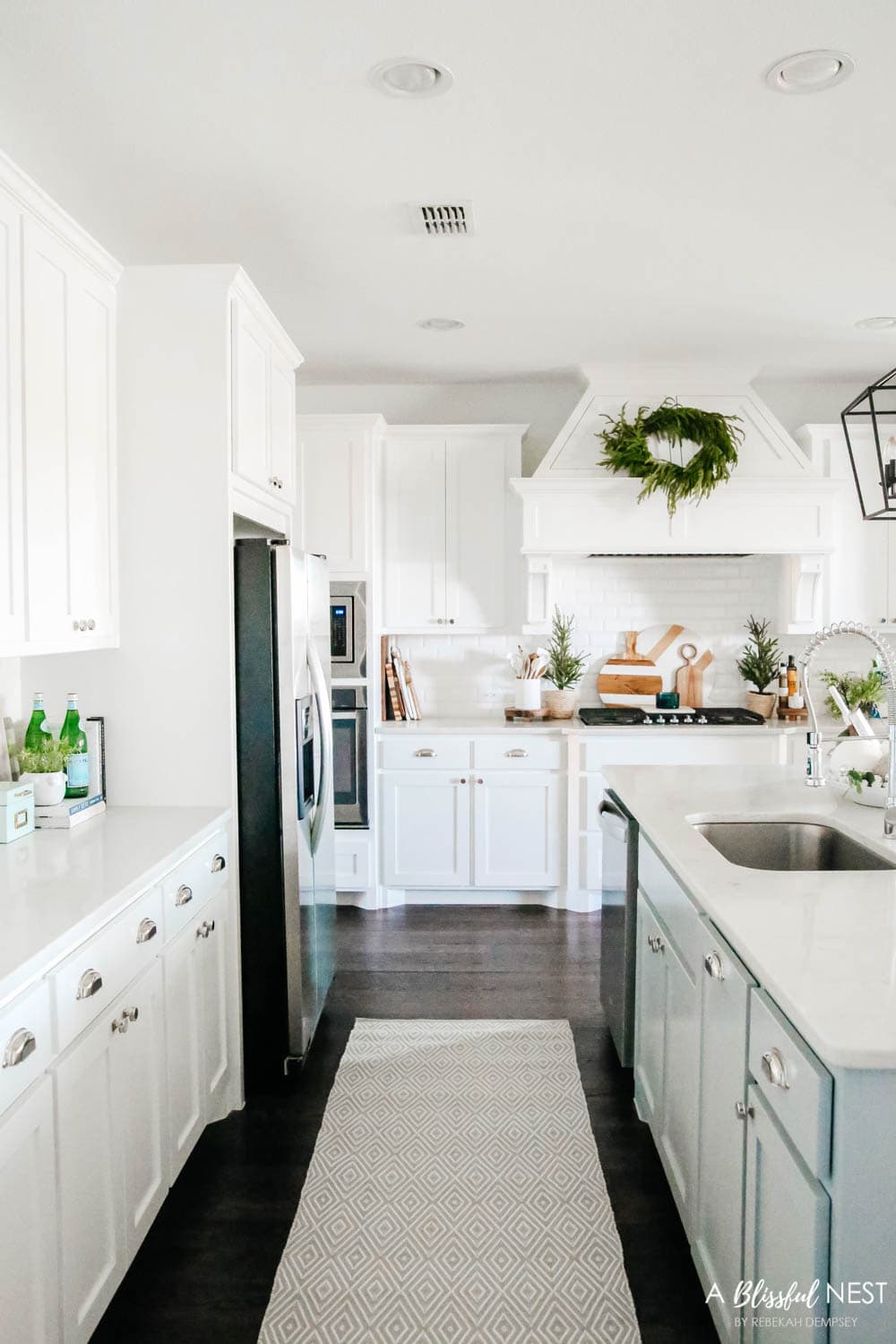 I switched up my runner and brought this one from our entry into our kitchen. It is one of my favorites and I love the neutral color and geometric pattern. I love a good runner that you can move around your home into different spaces to breathe life into it again.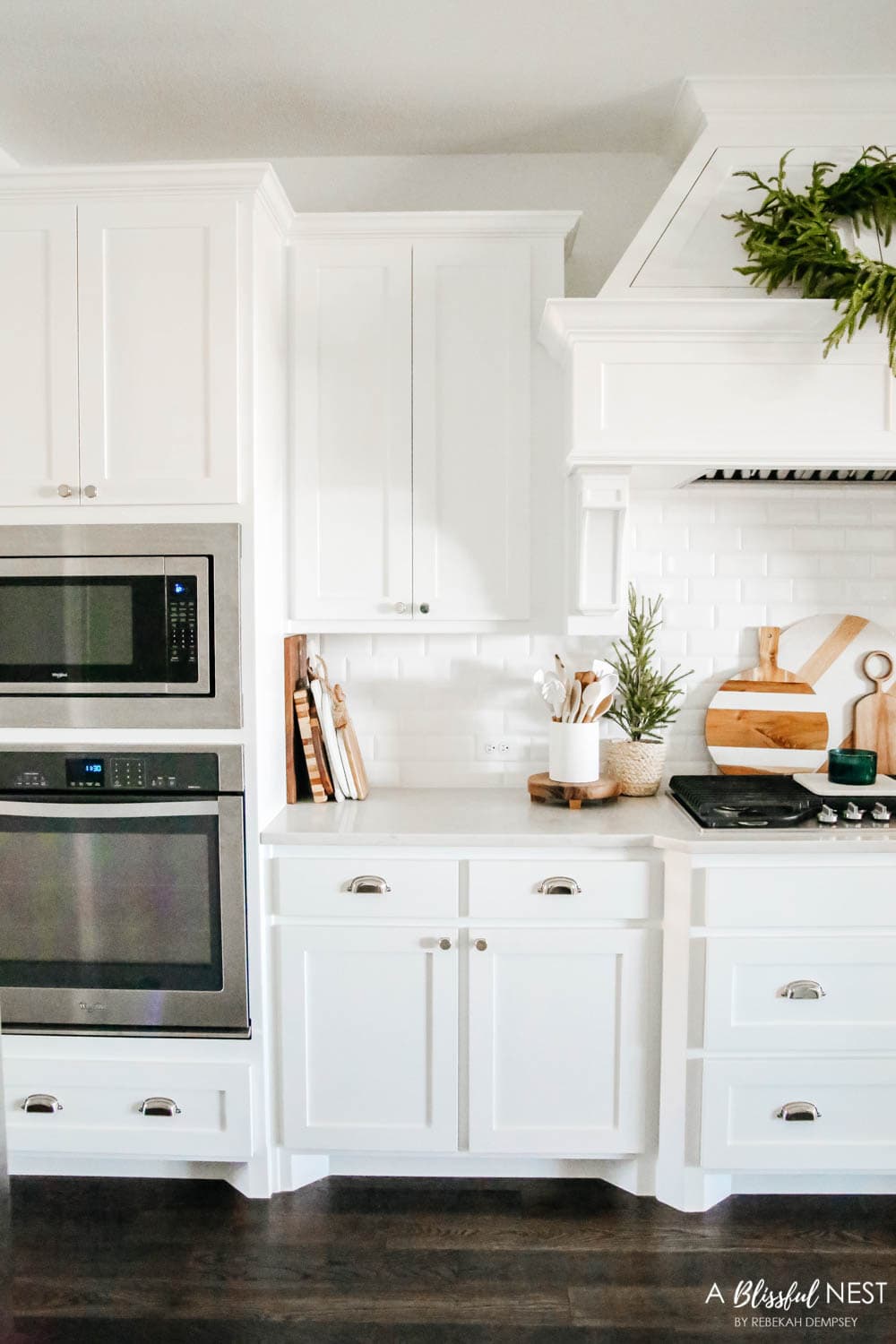 My sink area even got a few juniper berry springs. I got these last year but they are still available.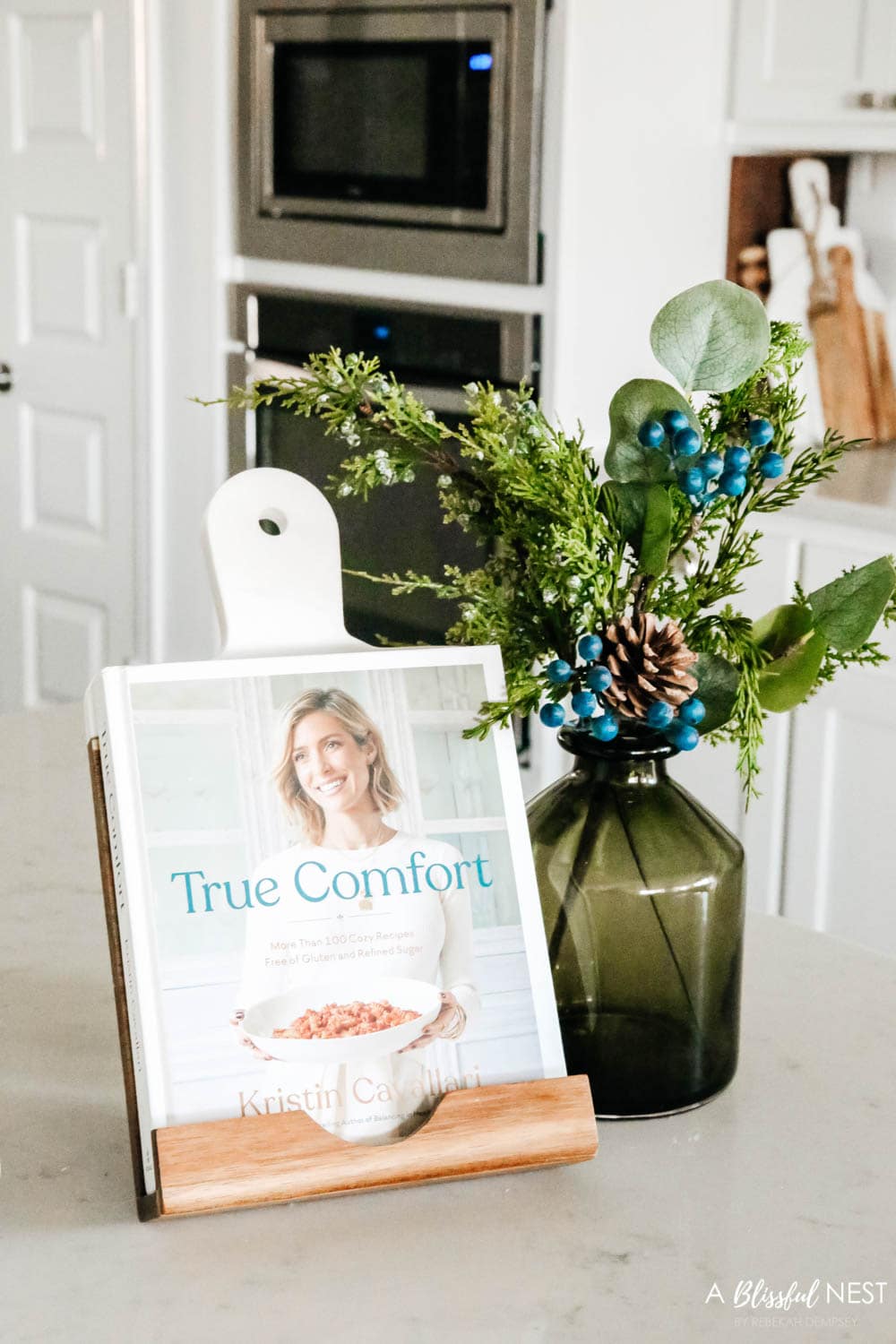 Another thing I love to do is have the cookbooks I am currently using out so I see them. My motto is, if you see it you will use it. This True Comfort book is one of my go-to's right now. I also have a post on all my favorite cookbooks that would make great gifts this Christmas.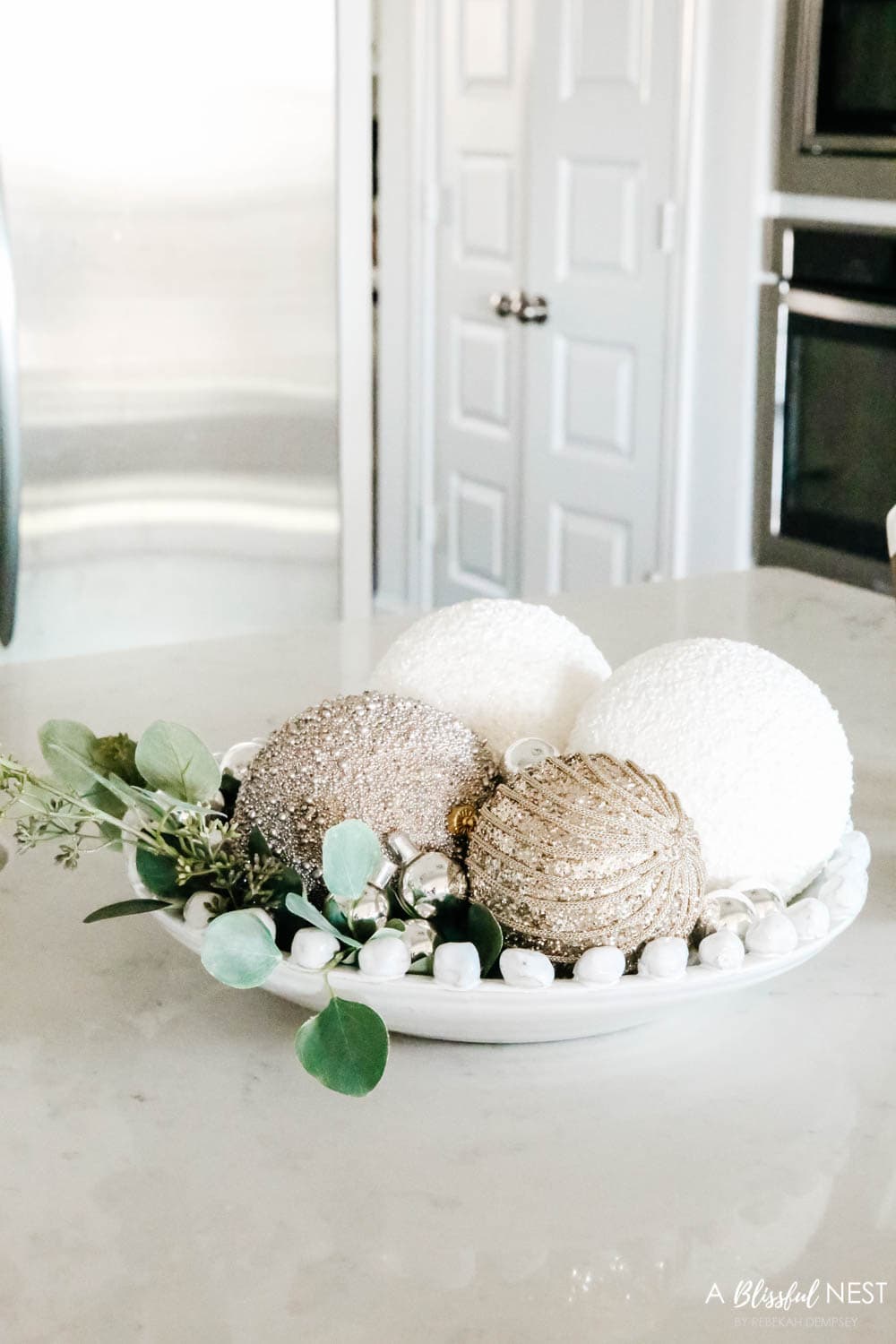 I got this large dotted edge bowl last spring and love having it in the kitchen generally for herding all the fruit but I relocated our fruit and now have it with a little eucalyptus stem and some Christmas balls pilled in for a festive display for our island.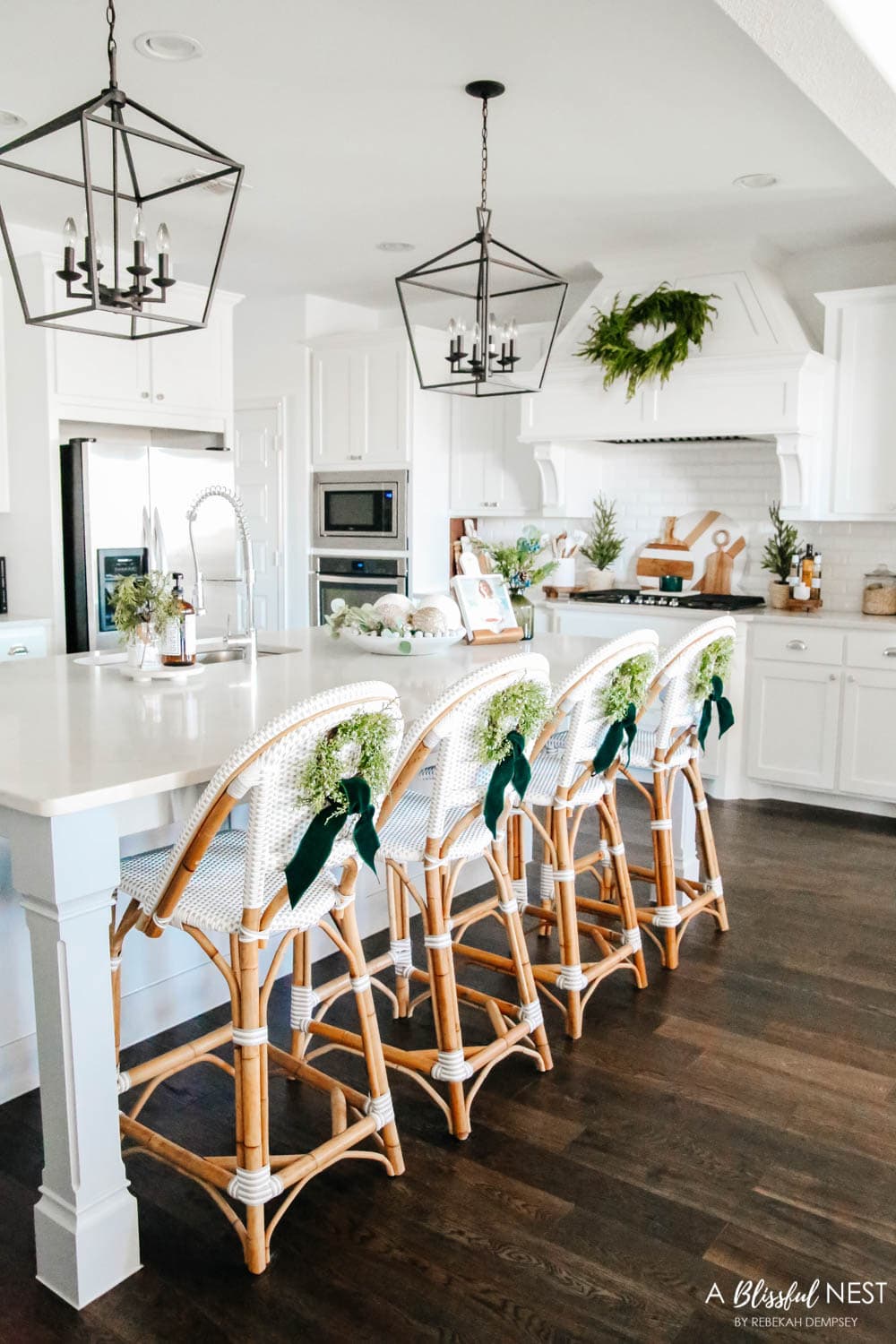 And that's it my friends! I hope you loved my Christmas kitchen tour and make sure to check out my Christmas Home Tour and my Christmas Tree Reveal posts for even more holiday inspiration!
More seasonal holiday ideas:
Just in case you want a little more inspiration in the holiday season, here are some amazing and inspiring ideas to get you started!



The next stop on our Christmas home tour is Kayla from Painted by Kayla Payne. Below is the schedule and blogger links for this week's tour! I will update links as home tours are posted.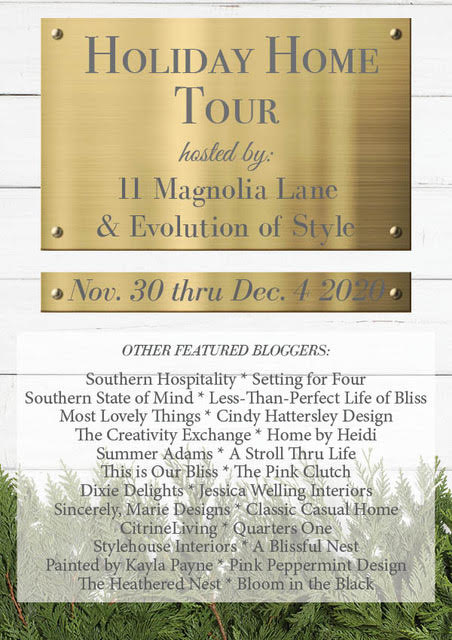 Monday, November 30th (Front Porch/Outdoor Spaces)
Southern Hospitality | Setting for Four | Southern State of Mind | Less Than Perfect Life of Bliss | Most Lovely Things | Cindy Hattersley Design | The Creativity Exchange
Tuesday, December 1st (Entries/Dining Rooms)
11 Magnolia Lane | Home by Heidi | A Stroll Thru Life | This is Our Bliss | Summer Adams
Wednesday, December 2nd (Living Rooms/Dens)
11 Magnolia Lane | Evolution of Style | Dixie Delights | Jessica Welling Interiors | Sincerely, Marie Designs | Classic Casual Home
Thursday, December 3rd (Kitchens/Laundry Rooms/Misc.)
Citrine Living | Quarters One | Style House Interiors | A Blissful Nest | Painted by Kayla Payne | A Stroll Thru Life
Friday, December 4th (Master Bedroom/Kid's Rooms)
Sincerely, Marie Designs | Pink Peppermint Designs | The Heathered Nest | Bloom in the Black | Evolution of Style | Dixie Delights
Follow along to get more of my tips on home decor, DIY, and lifestyle on the following: