5 Ways to Update Your Bedroom for The Holidays
This post may contain affiliate links. Please read our disclosure policy.
Sharing tips and ideas to transform your bedroom for the holiday season with 5 ways to update your bedroom for the holidays. Easy ways to incorporate items you already have and affordable finds to welcome the holiday season to your bedroom decor.
With the holidays almost here I am slowly prepping each room for the season. One of the rooms that can get forgotten is the bedroom, but you probably walk into this room more often than you realize, and making it warm and cozy for the season is high on my list as a must-do.
As I started to do this to my own bedroom the other day, I took some pictures and thought I would share these tips so you too can easily transform your space in the blink of an eye!
This post contains some affiliate links for your convenience. Click here to read my full disclosure policy.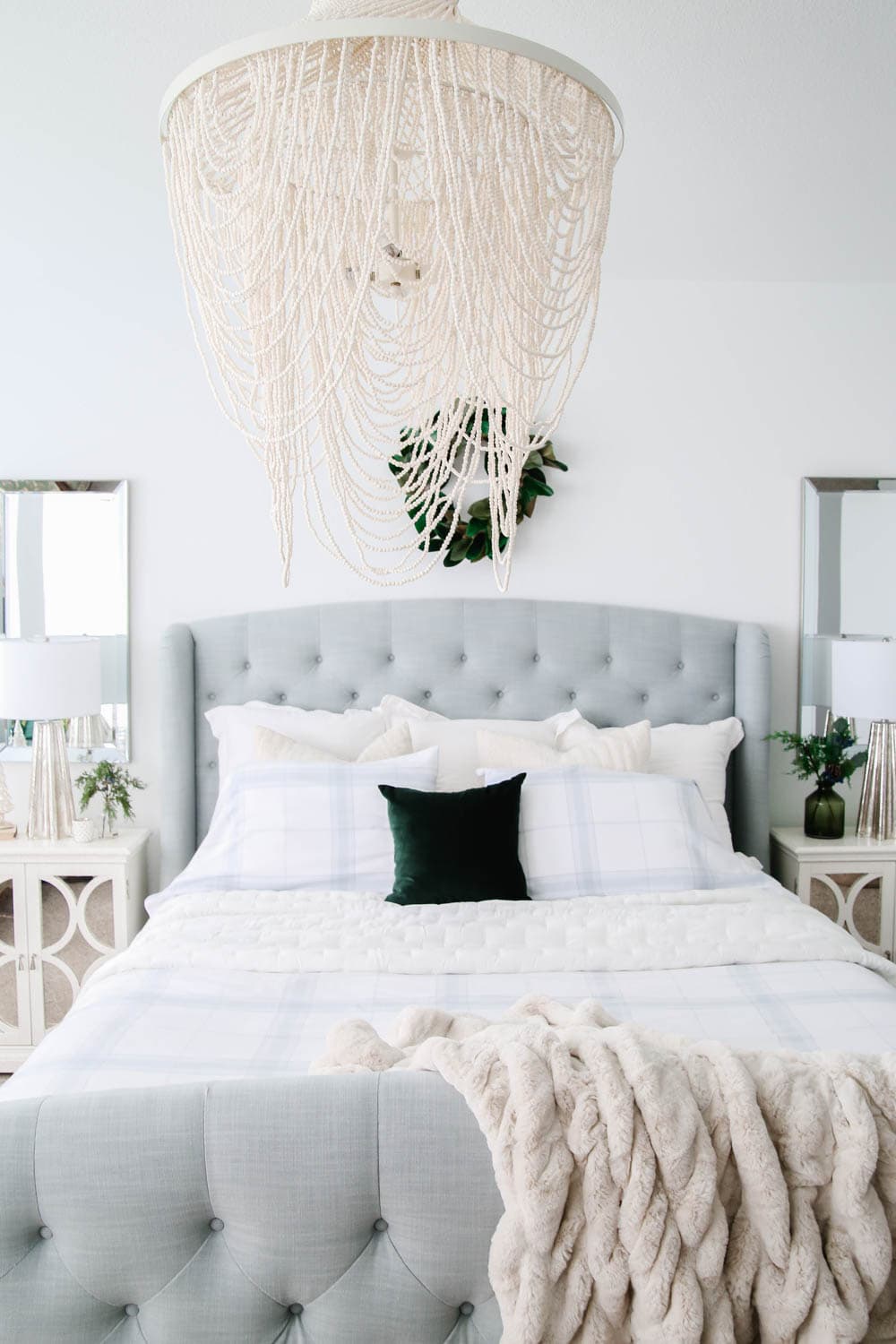 5 Ways to Update Your Bedroom for The Holidays:
These are items you may already own or have thought about getting and not sure which ones to choose. I have outlined my top 5 ways to transition your bedroom.
1. Holiday greenery
Do you have lots of floral picks in your attic like me? Well, pop into your decor closet or attic and grab some greenery!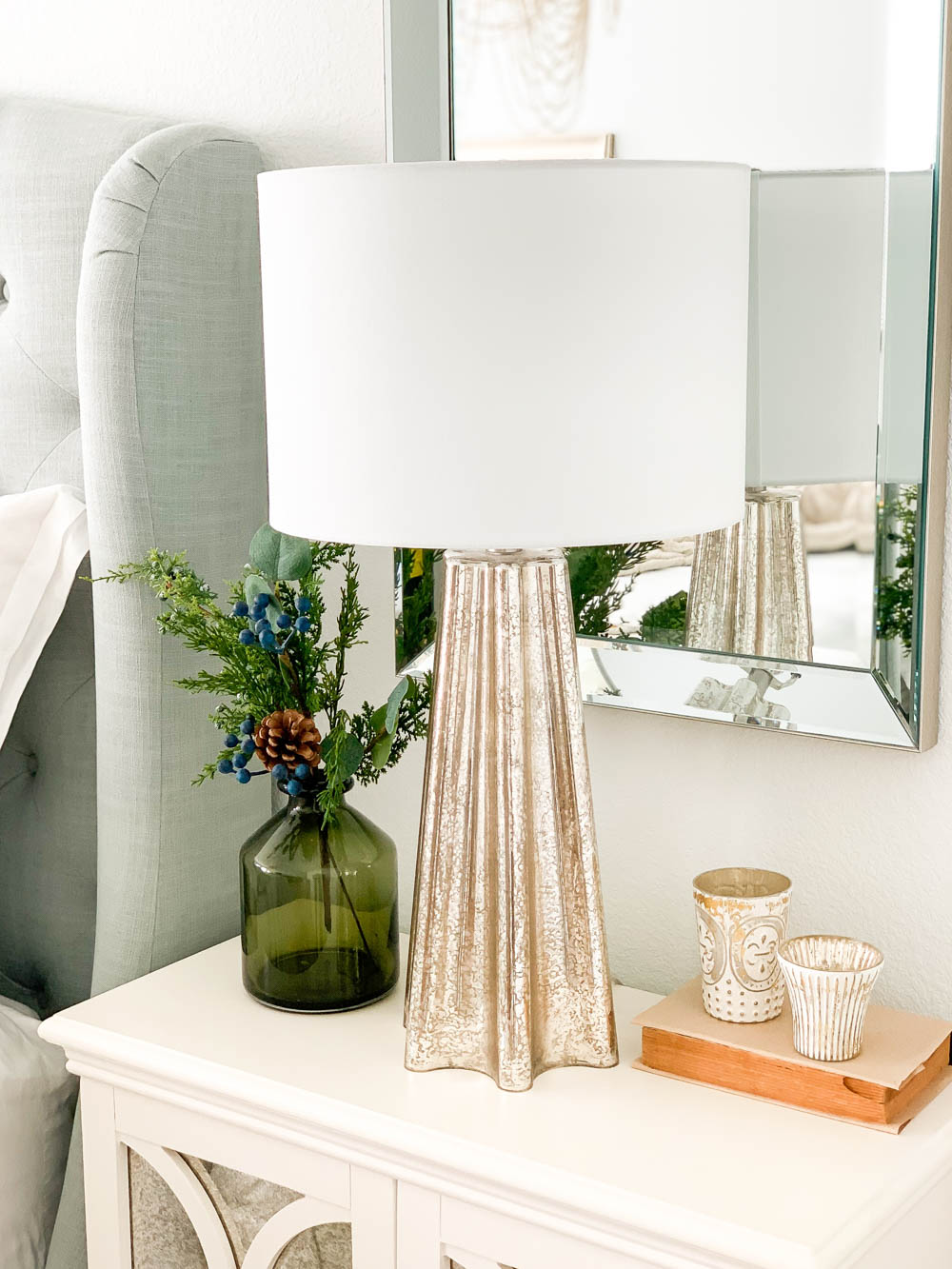 I shared these berry picks the other day and they are my new favorite affordable find for this winter. I added them to my mantle garland which I will share with you soon. They come in a pack of three so I have them sporadically spread out in vases and tucked here and there in my Christmas decor.
I grabbed a simple green vase and popped in a berry pick with a faux juniper stem and that's it. I love the color it adds and of course that little hint of blue.
2. Cozy blankets
Give me all the snuggly blankets! I am such a blanket hoarder and am a sucker for faux fur ones at this time of year.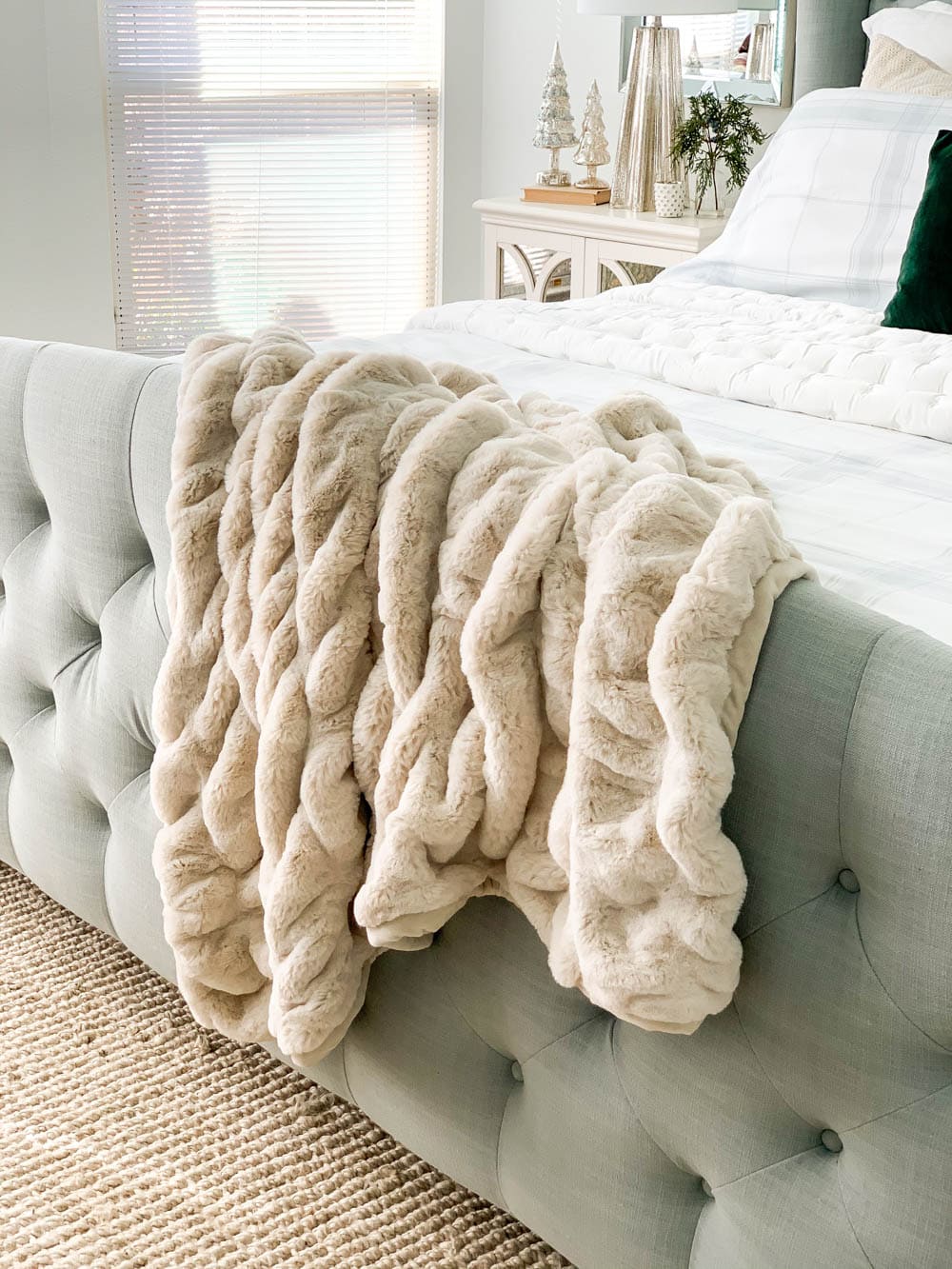 I just drape it at the end of my bed and have them even in baskets.
3. Cozy bedding
There is nothing like climbing into a soft and cozy bed especially in the cooler months. This is when I love to switch up my bedding and add layered duvets and quilts.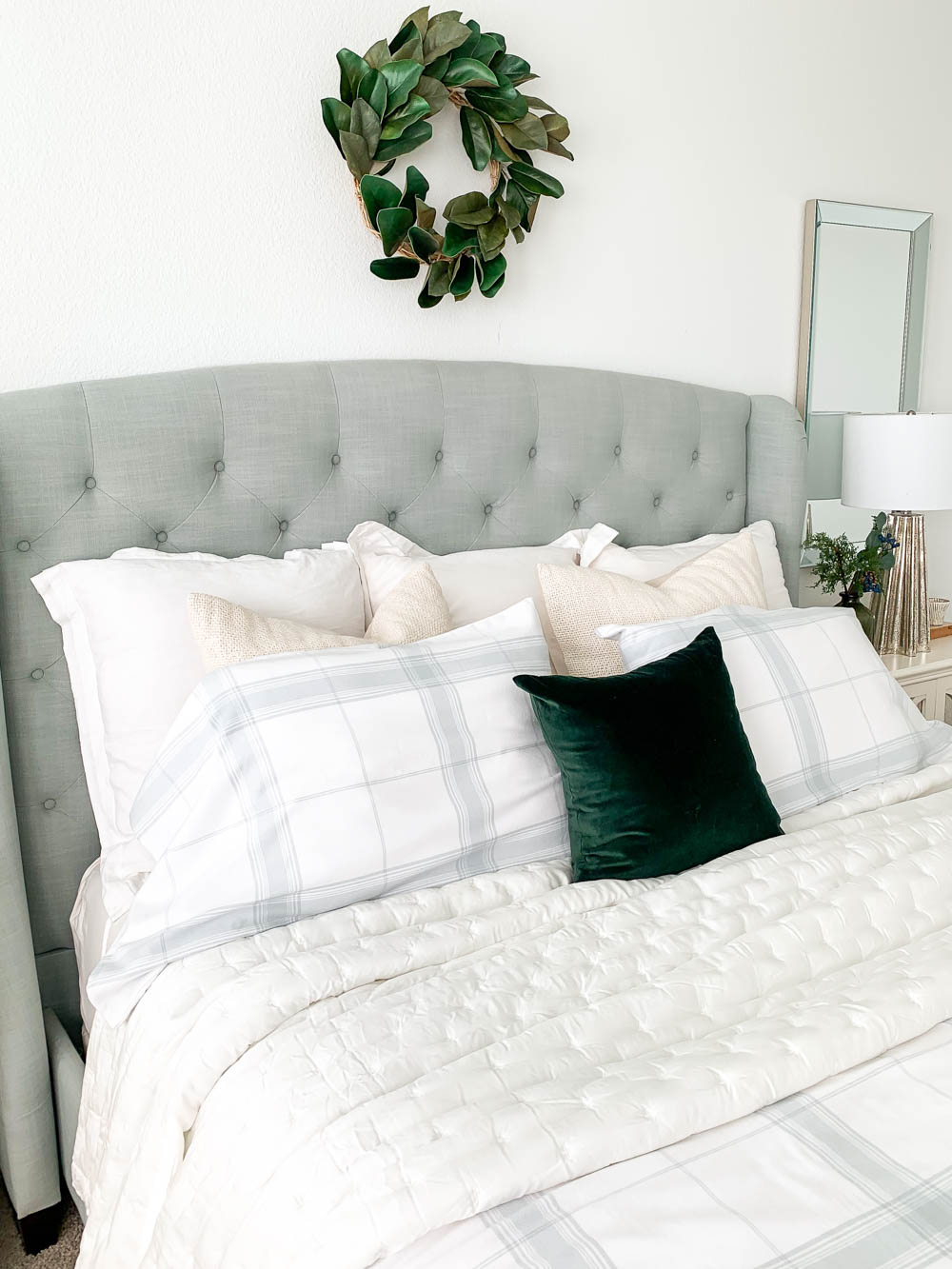 One of my go-to brands for bedding is Boll & Branch. They are known for their luxurious quality and 100% organic cotton bedding. I recently got this white and seafoam green plaid flannel duvet set and it is so luxe and soft. The colors pick up our headboard perfectly and it is easy to transition this set from the holiday season into the winter months once the holidays have passed.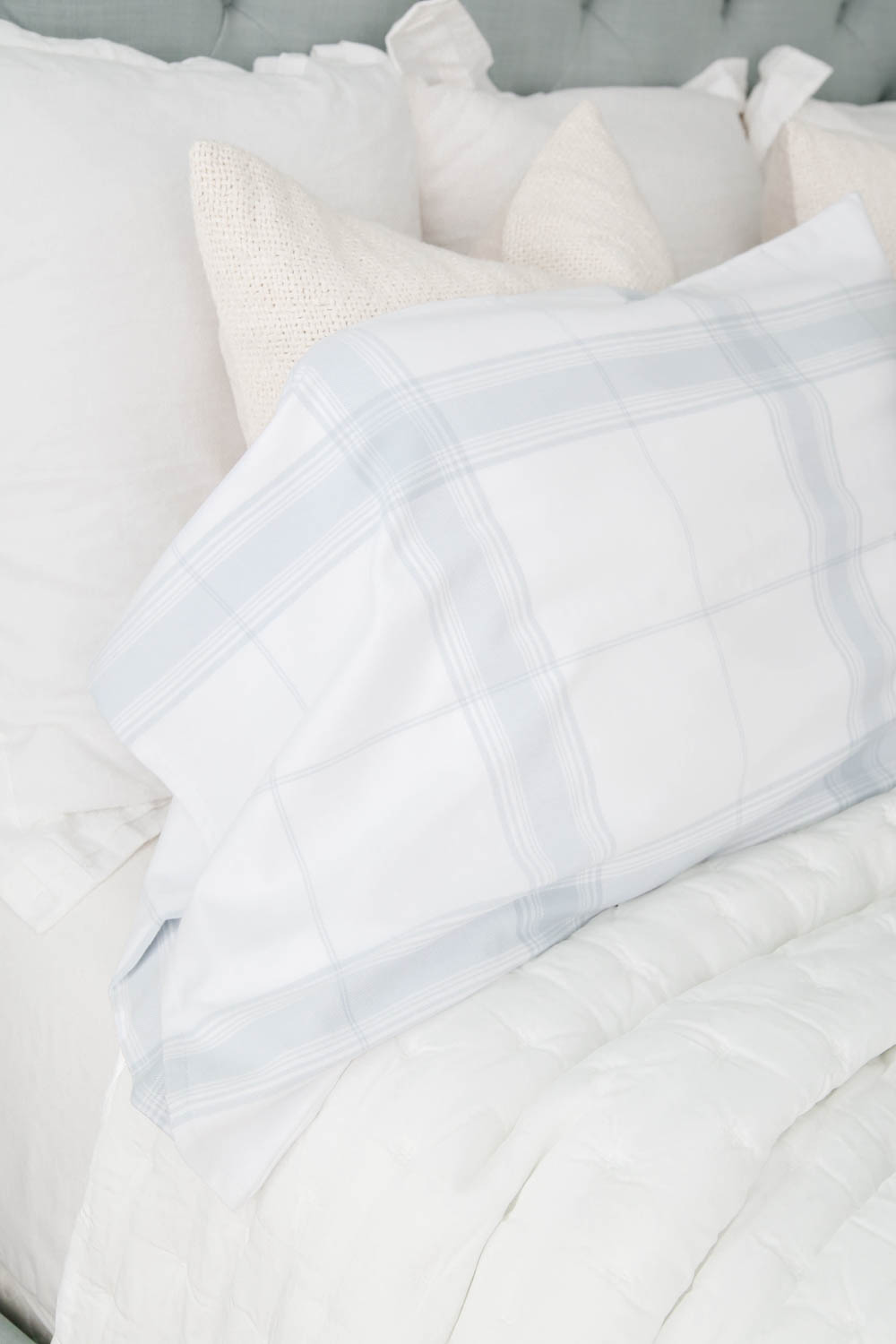 As I mentioned above I love to layer my bedding. So start with a beautiful duvet set and then add a quilt to create a fluffy full look to the bed. This is my biggest tip for creating a bed that looks like it was made by a designer. If you want to know how I make a bed and all the key components then check out my post on my detailed steps to do this.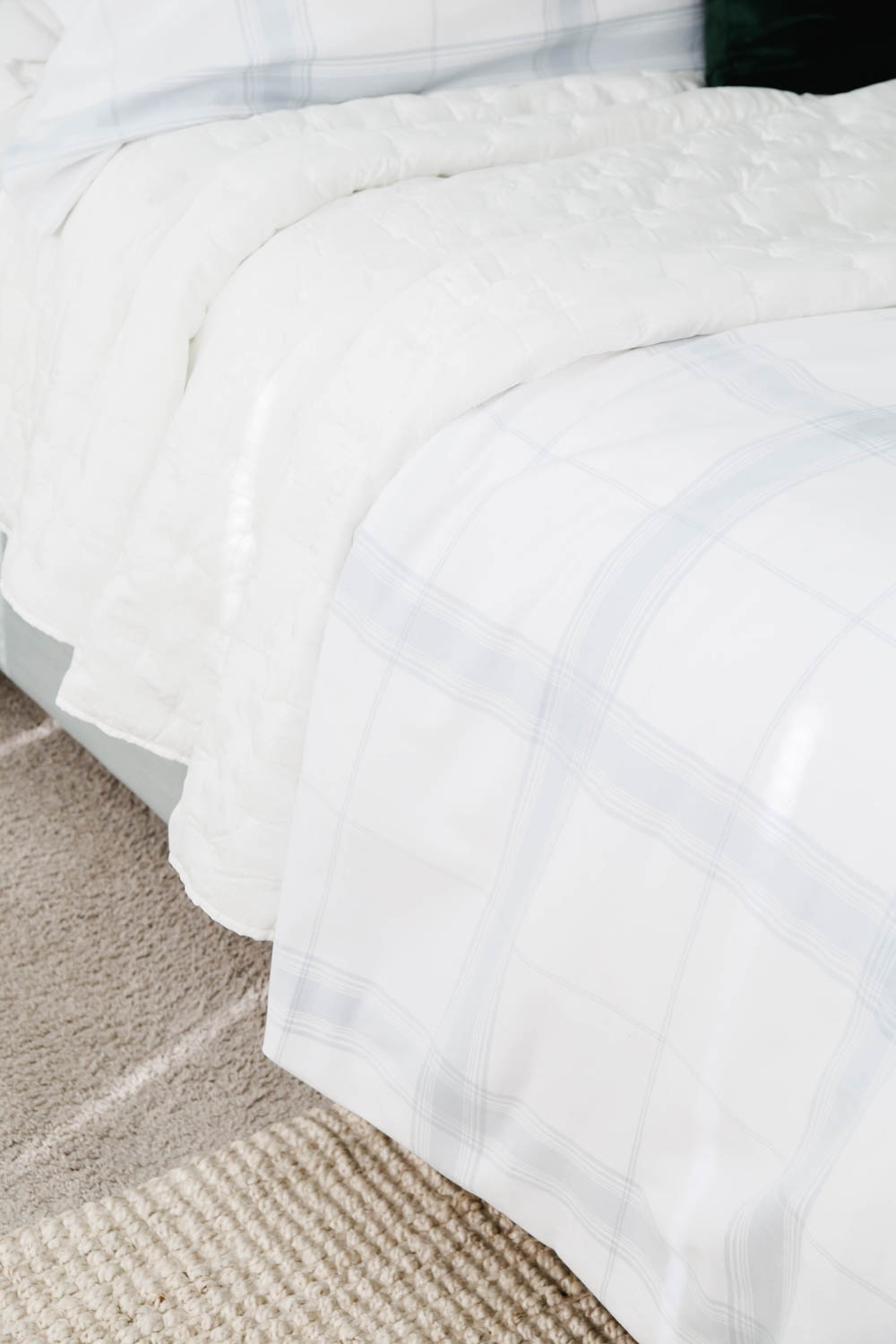 4. Seasonal wreath
Next, I love to add more greenery into my bedroom with a wreath. I think it is a fun festive touch and generally, most people have a couple of wreaths in their attic. Either grab one of those or go out and grab yourself a fresh new one.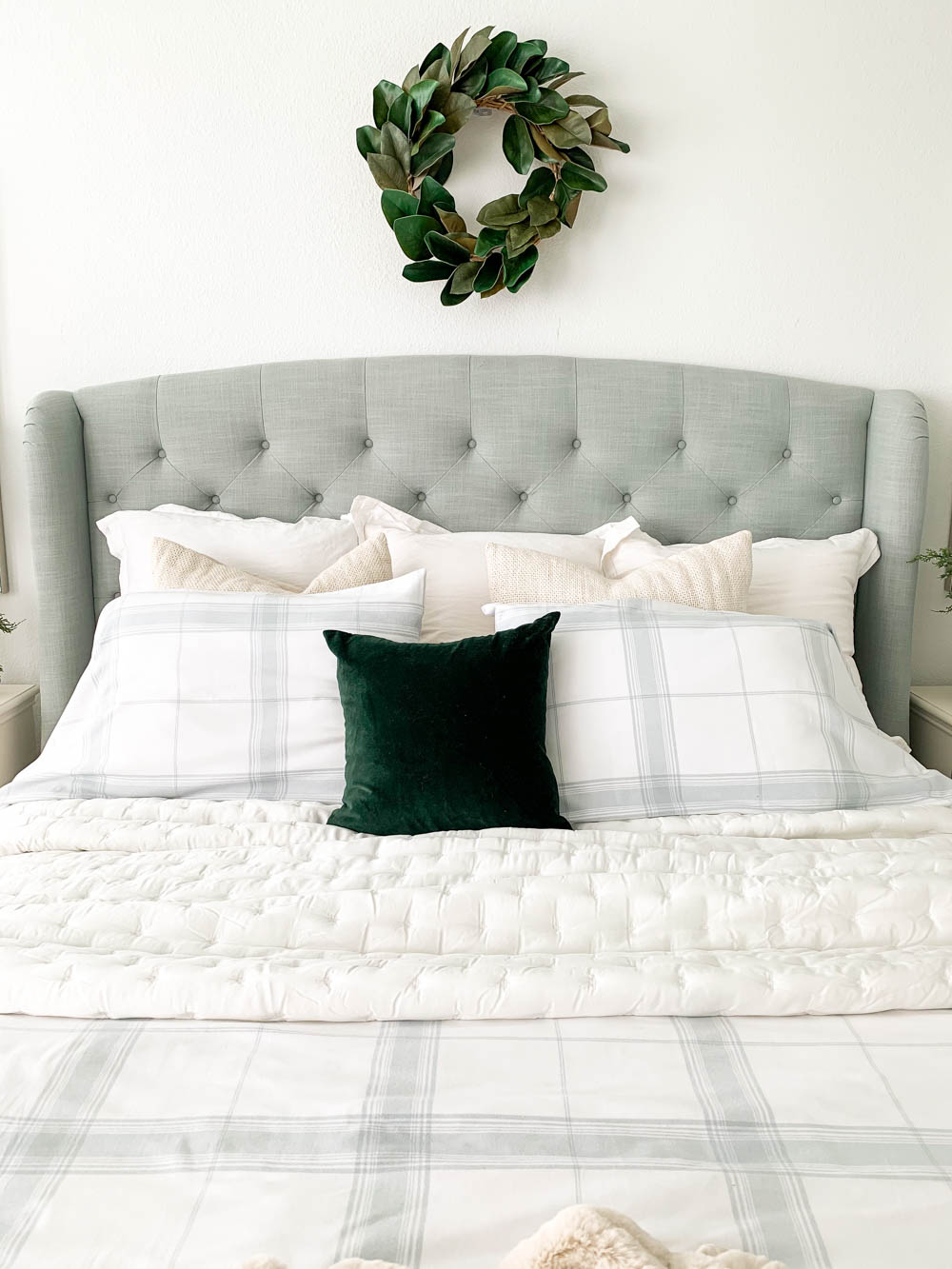 This year I grabbed this magnolia wreath I had up in the attic and just used a command hook to hang it. That way it doesn't damage my wall when I want to take it down. Such a simple and easy way to add some season flare!
5. Add touches of green for the holidays
Now I know I already told you to do this in floral picks and a wreath but I am obsessed with this rich green shade.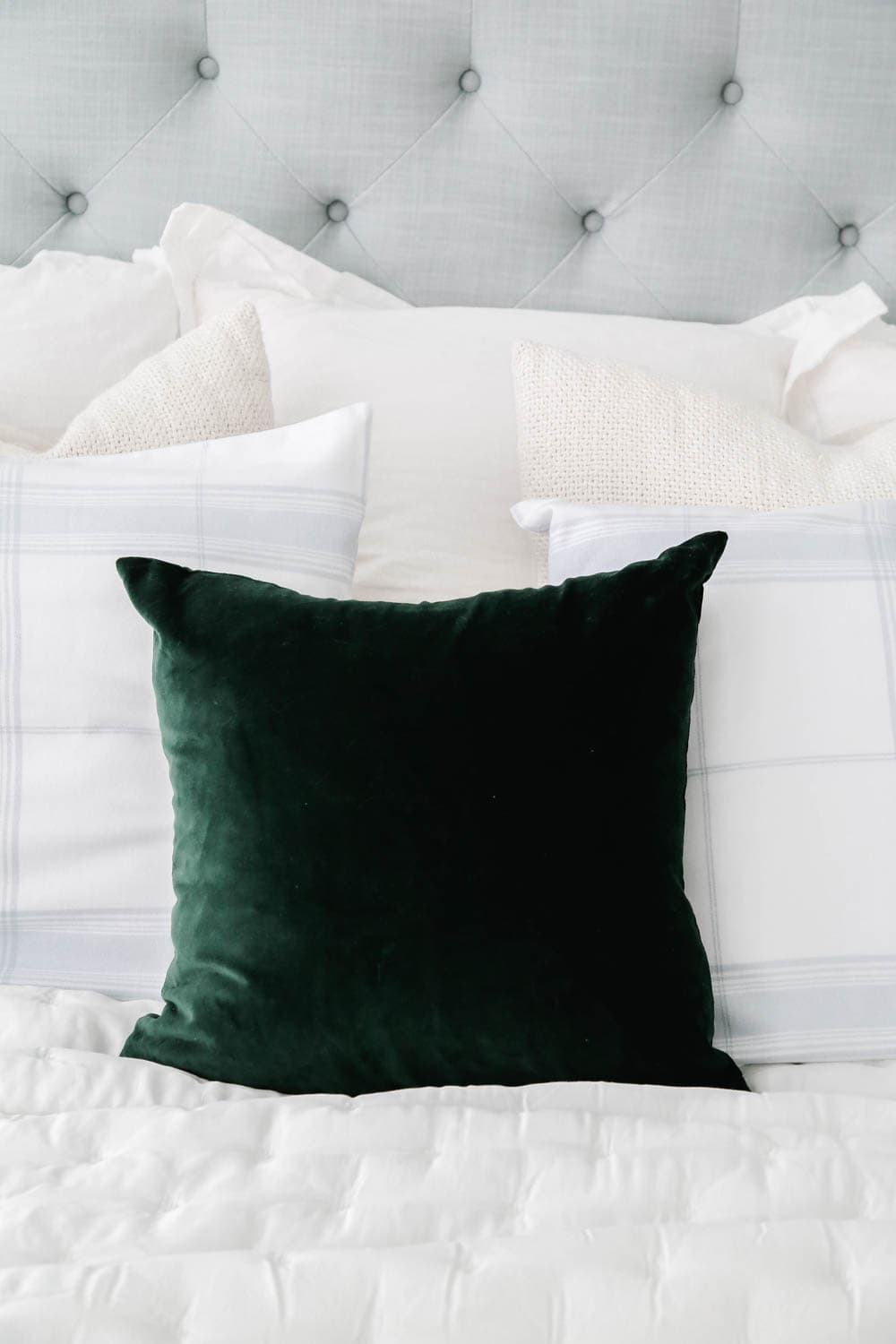 This rich green color is in my Christmas decor this year and it pairs so beautifully with the seafoam green colors in our bedroom. But I have to tell you that this deep green color would look great with just about any color which is why I am telling you to add it to your bedroom decor this season. I love this velvet pillow and it is so affordable.
My little guy is so cozy on our bed he doesn't even want to move!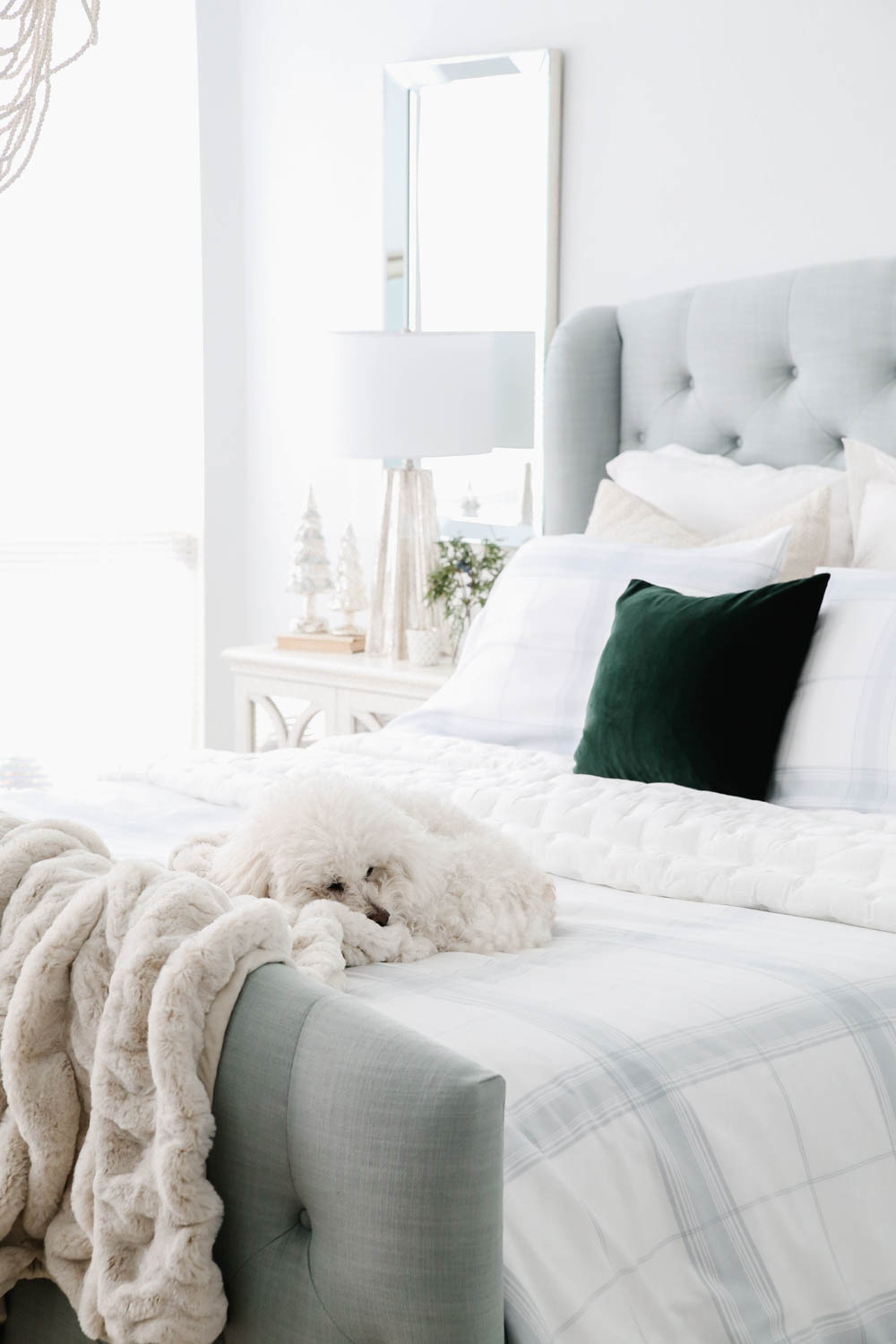 Okay so now you have my 5 quick tips to update your bedroom for the holidays and make it warm and cozy for the holiday season! Hope you got inspired and found some good things to spruce up your room.


Follow along to get more of my tips on home decor, DIY, and lifestyle on the following: