How To Layer Bedding For Warmth
As the temperatures begin to drop, there's nothing more comforting than crawling into a warm, cozy bed at the end of a long day.
The secret to this is learning how to layer a bed for warmth so you have all the right pieces of bedding to start.
There are many ways for how to layer a bed and it changes from season to season and based on personal opinions.
Layering allows you to adapt to changing temperatures. You can add or remove layers as needed, ensuring you're never too hot or too cold.
But there are some key pieces you want to make sure you have on hand for when the cooler temperatures start setting in.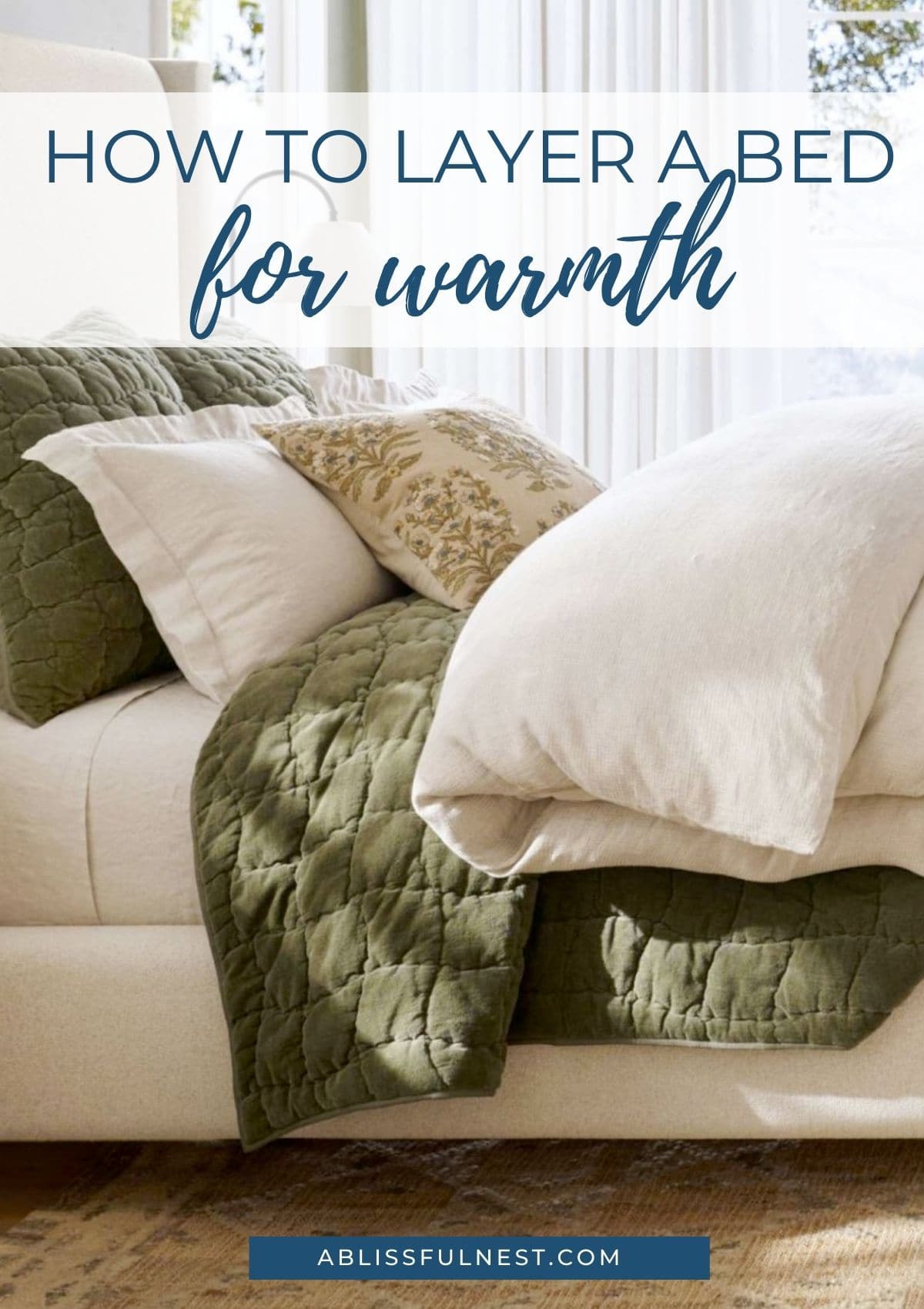 Layering a bed for warmth in colder months is important for several reasons.
It's all about staying comfortable and cozy during chilly nights and being prepared as the temperatures drop to get a good night's sleep.
A comfortably warm bed promotes better sleep quality. It helps you fall asleep faster and stay asleep throughout the night.
So let's dive in and get my guide on the pieces you need and how to layer a bed for a cozy and comfortable night of sleep in the winter months.
This site contains affiliate links. Please read our disclosure policy. As an Amazon Associate, I earn from qualifying purchases.
Tips To Make Your Bed Really Warm And Cozy
There are a few tips to consider to make your bed feel warm and cozy. These may even be pieces you already have on hand.
From blankets to the material of your sheets, you will love how these will make your bed look and feel.
Invest in Flannel Sheets: Flannel sheets are excellent insulators. They can trap body heat and keep you warm during the cold nights.
Use a Down Comforter: Down comforters are filled with feathers from ducks or geese. They provide a superior level of warmth and coziness.
Layer with a Quilt or Blanket: Add an extra layer of warmth by using a quilt or blanket between your comforter and sheets.
Top with a Throw Blanket: Decorative throw blankets aren't just for looks. They can add an extra level of warmth and are perfect for mid-night chills.
Don't Forget the Pillows: Pillows add another level of coziness. Choose pillows that are soft and snug for a comfortable night's sleep.
Consider a Mattress Topper: A mattress topper can add an extra layer of warmth, especially if you choose a down or memory foam topper.
Remember, the goal is to create a warm and inviting space for sleep. So, you might need to adjust these tips based on your personal preferences and the climate in your area.
Favorite Warm Bedding Pieces To Use
Layering a bed with soft, textured materials like blankets and quilts adds a sense of comfort and coziness, making your bed a welcoming spot during the winter months.
I have hand-curated my favorite bedding pieces to layer on to a bed that I personally use and recommend to my clients.
Tap Photos To Shop

How To Layer Blankets For Warmth
Blankets are a key layering piece to creating a snug and cozy bed in the colder months. But I have some tips and tricks to getting maximum warmth from them and to keep you comfortable so you can adjust them to the right temperature you need.
Use a warm and insulating blanket as your base layer. This can be a thick fleece or wool blanket. Spread it evenly over the mattress right over your flat sheet.
Place a lighter, but still warm, blanket on top of the base layer. This could be a cotton or microfiber blanket.
Next layer a quilt or a comforter on top of the lighter blanket. These provide extra warmth due to their thicker construction.
Lastly, for an extra touch of warmth and style, place a decorative throw blanket at the foot of the bed. This can be easily grabbed if you feel chilly.
Each of these layers can easily be removed or added as needed making it completely up to you and how you like to sleep.
How To Layer Bedding For Warmth
Using blankets is key in layering your bed but there are a lot of other layers that are essential as well. Layering bedding for warmth is a great way to create a cozy and insulated sleeping space during the colder seasons. So here is my step-by-step guide on how to do this.
Step 1: Start with a Fitted Sheet
Begin with a clean fitted sheet that provides a smooth and comfortable foundation for your bed.
Step 2: Add a Mattress Protector
If you have one, place a mattress protector over the fitted sheet. This adds an extra layer of insulation and helps protect your mattress.
Step 3: Choose a Warm Comforter or Duvet
Select a warm and fluffy comforter or duvet as your base layer. These are usually filled with down or synthetic materials, providing excellent warmth.
Step 4: Lay a Blanket Over the Comforter
Place a cozy blanket, such as a fleece or wool one, on top of the comforter. This adds extra insulation and a touch of softness.
Step 5: Include a Quilt or Coverlet
Layer a quilt or coverlet on top of the blanket. These add texture and style while providing additional warmth.
Step 6: Use Multiple Pillows
Have a few extra pillows on your bed. They can serve as insulation for your upper body when you sleep.
Step 7: Add Decorative Throw Pillows
For added style, toss some decorative throw pillows at the head of the bed. While they don't add warmth, they create a cozy look.
Step 8: Add A Decorative Throw Blanket
Use a throw blanket at the end of the bed so it is easily accessible in the middle of the night.
The key is to find the right balance of warmth and comfort for a restful sleep.
With the right bedding layers, you too can create a haven of warmth and comfort in your very own bed.
Remember, the trick to a warm bed isn't just about the number of blankets, but the quality, placement, and type of your bedding materials.
With these tips under your belt, I'm confident you'll have no trouble layering your bed for warmth.
So as the temperatures start to dip don't worry because you have the tools to create a snug, toasty retreat right at home. Stay warm, sleep well, and happy layering!