How To Layer A Bed Like Pottery Barn
This post may contain affiliate links. Please read our disclosure policy.
You will be shocked at how easy it is to learn how to layer a bed like Pottery Barn!
Everyone always looks to them as the leading expert in making a bed look stylish and comfortable.
Achieving the same look at home can seem like an impossible feat, but with a little guidance and creativity, it is definitely possible!
How to layer a bed is key to achieving that stylish and cozy look that Pottery Barn is known for.
But with so many options to choose from, it can be overwhelming to know what to buy and how to actually put it on your bed.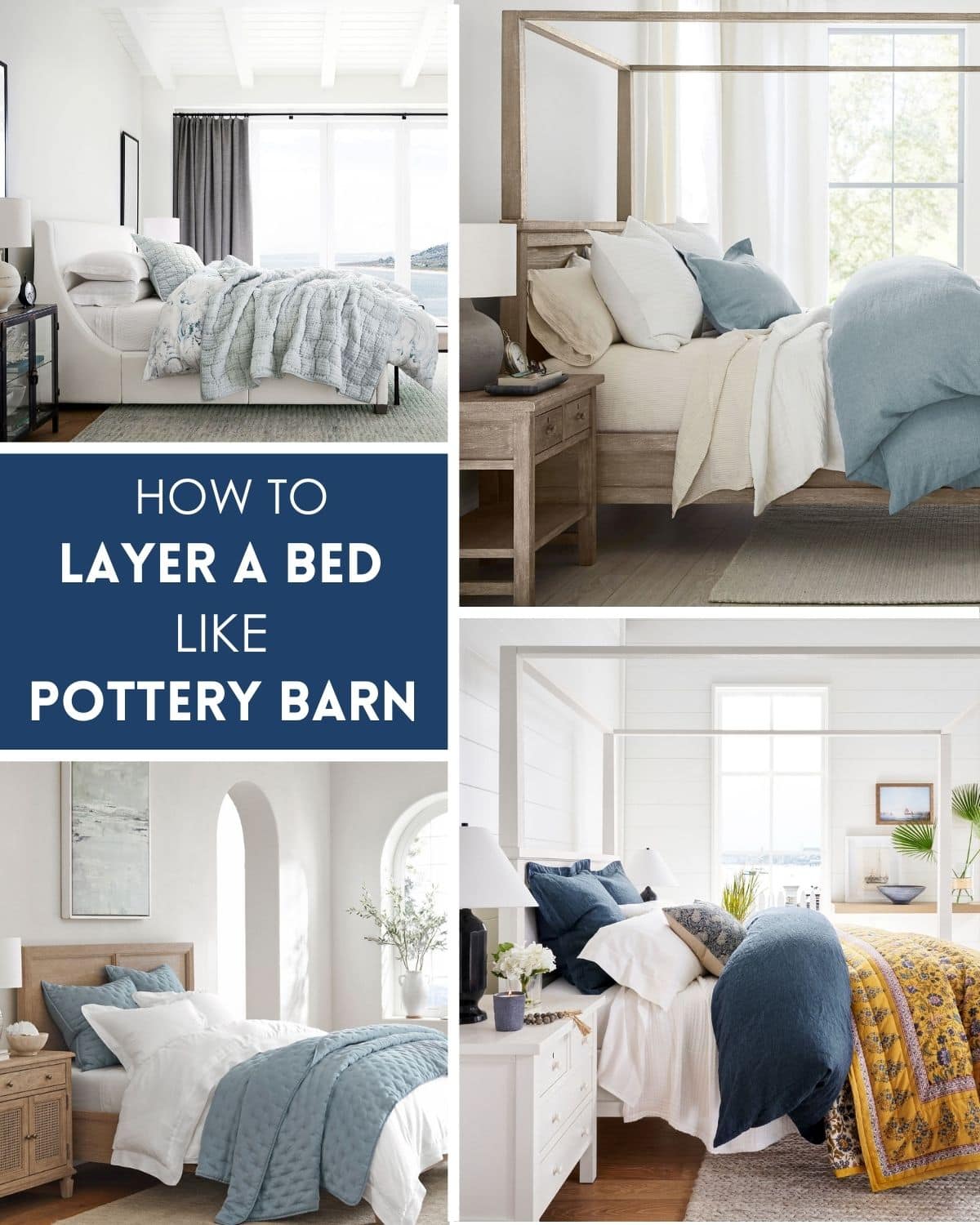 That's why I've put together a step-by-step guide to help you achieve the perfect Pottery Barn-inspired bed.
From high thread count sheets to coordinating throw blankets, I've got all the tips and tricks you need to create a bed that's not only stylish but that is super cozy!
Why Do People Like Their Bed To Look Like Pottery Barn
One reason why people like their bed to look like a Pottery Barn bed is because of the sense of luxury that it provides.
Pottery Barn's beds are often layered with multiple pillows, cozy throws, and beautiful bedding that create a look of comfort and indulgence.
Pottery Barn style is often seen as a symbol of good taste and sophistication. The brand's use of neutral colors, high-quality materials, and attention to detail creates a look that is both elegant and timeless.
People often look to Pottery Barn for inspiration because of the brand's versatility. The brand offers a wide variety of bedding, pillows, and accessories in different colors, patterns, and textures, making it easy for people to find something that suits their personal style.
Popular Pottery Barn Bedding Essentials
I have collected the most popular pieces of bedding from Pottery Barn that you see all over Instagram and Pinterest. I personally own some of these pieces and they are beautiful!

How To Layer A Bed Like Pottery Barn
Add Layers Of Bedding
One of the key ingredients to achieving a super fluffy and cozy looking bed is with layers of bedding.
And that's exactly why Pottery Barn adds layers upon layers of bedding to their displays and catalogs.
Not only does it look warm and inviting, but the added layers also provide practical benefits.
For instance, multiple layers help regulate your body temperature while you sleep, keeping you warm on chilly nights and cool during warmer temperatures.
Plus, with an assortment of textures and patterns to choose from, the layering technique allows you to experiment with different combinations and create a personalized look and feel for your bedroom.
Use High Thread Count Sheets
You may be wondering why Pottery Barn has high thread count sheets.
Well, it all comes down to the quality of the sheets.
A higher thread count means that the sheets are made with finer threads, resulting in a smoother, softer feel.
Plus, high thread count sheets are more durable and resistant to wear and tear, so they'll last longer.
Plus, these sheets are breathable, keeping you cool in the summer and warm in the winter.
Use Down or Down Alternative Inserts
It's all about the pillow insert. I swear it makes a big difference!
Pottery Barn uses either down or down-alternative inserts to stuff their pillows.
Down inserts are made from the soft and fluffy plumage found beneath the feathers of geese and ducks. These inserts are incredibly soft, lightweight, and provide excellent loft and support.
They also have a natural ability to regulate temperature, keeping you cool in the summer and warm in the winter.
Alternatively, down alternative inserts are made from synthetic materials like polyester and rayon, and are designed to mimic the softness and fluffiness of natural down.
They are hypoallergenic, which makes them an excellent choice for people who are allergic to natural down.
Use A Quilt And A Duvet
Pottery Barn is known for their beautifully styled beds, and one of the key elements that contribute to this look is the use of both a quilt and a duvet.
While it may seem like an unnecessary layering technique, there are several reasons why Pottery Barn chooses to use both on their beds.
When combined, a quilt and a duvet provide the perfect balance of warmth and comfort, while also adding texture and style to the bed.
The quilt serves as a thin layer that can be used on its own or with a sheet, while the duvet can be used as a top layer to add extra warmth and coziness.
This layering technique is not only functional, but it also allows you to mix and match patterns and colors to create a personalized and stylish look that is unique to your own taste.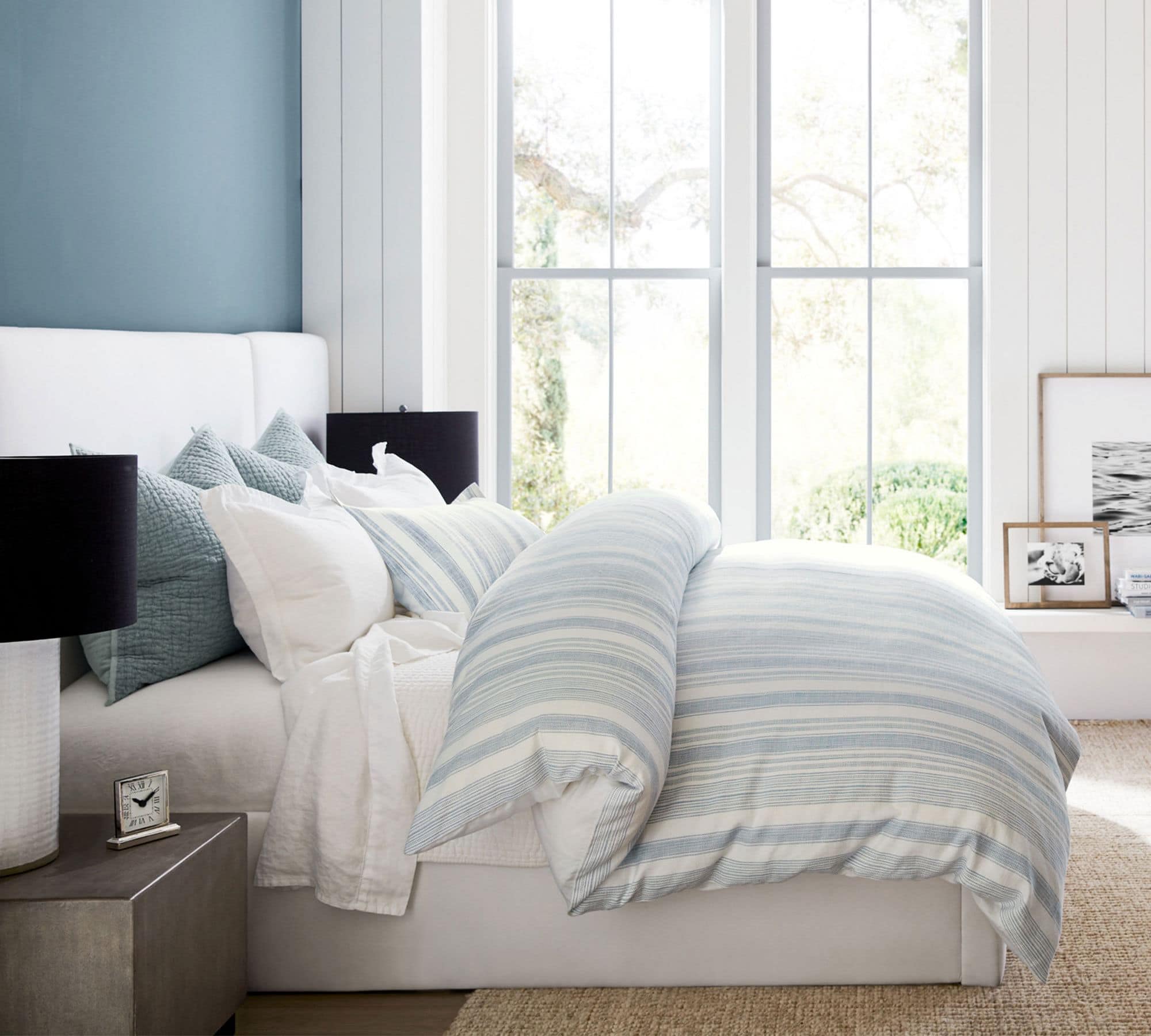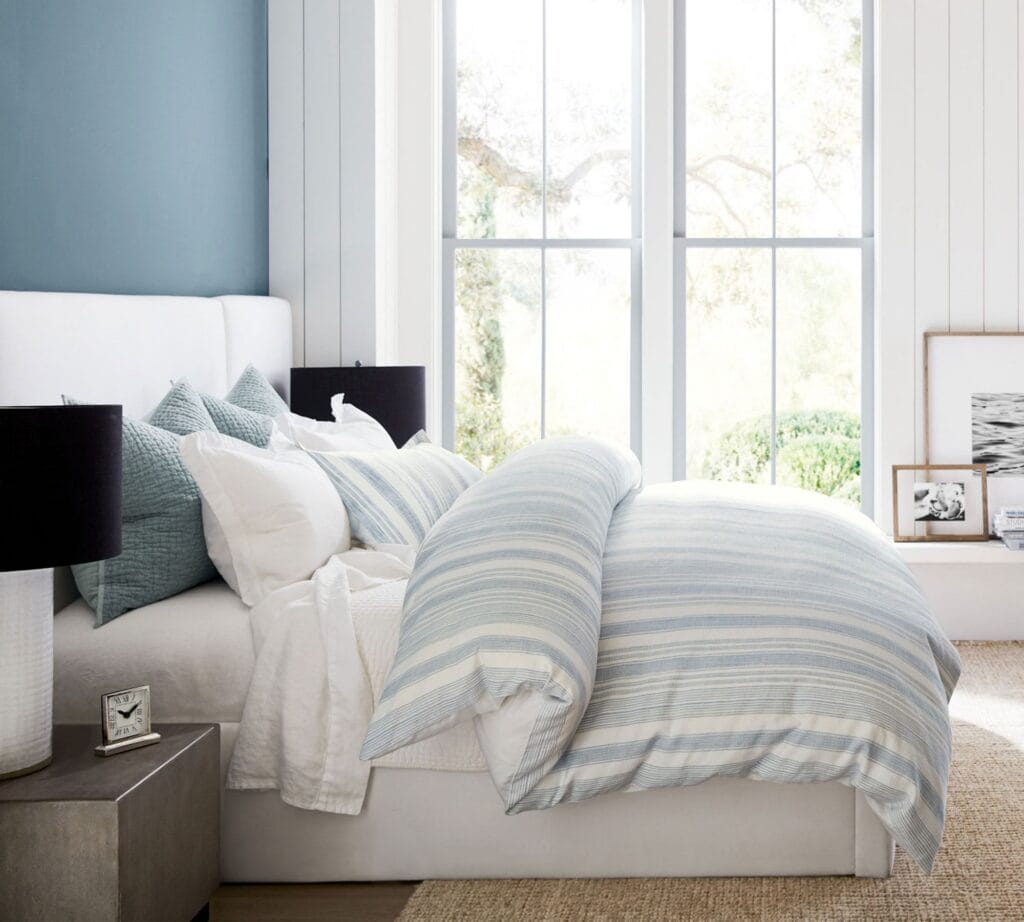 Stack On The Pillows
Using lots of pillows on a bed is a functional and stylish way to create a cozy and inviting bed.
Pottery Barn's expertly styled beds use lots of pillows and they are not only aesthetic but practical.
Decorative pillows add texture, dimension, and color to the bed, creating a visually appealing and inviting space.
Pottery Barn uses a mix of different pillow shapes, sizes, and textures to create interest and balance.
Having multiple pillows on the bed also allows for greater comfort and support.
Some pillows are used for sleeping, while others are purely decorative.
The decorative pillows can be used for propping yourself up while reading in bed, or simply for providing extra comfort and support while lounging.
Add A Coordinating Throw Blanket
Coordinating throw blankets are used to add texture, color, and pattern to the bed, creating a cohesive and inviting look.
Pottery Barn often uses blankets that match or complement the color and pattern of the bedding and decorative pillows.
This creates a cohesive and balanced look that is both stylish and comfortable.
In addition to adding to the overall look of the bed, throw blankets are also functional.
They can be used for extra warmth on cold nights, as a cover-up while lounging on the bed, or simply as a decorative accessory.
So there you have it, the secrets to layering a bed like the pros at Pottery Barn revealed!
By following these simple steps, you can transform your bedroom into a cozy and luxurious oasis.
Don't forget to invest in high-quality bedding materials like high thread count sheets and down or down alternative inserts to truly elevate your sleeping experience.
And don't be afraid to play around with patterns and textures to create a unique and personalized look.
With a little bit of creativity and a lot of comfort, you'll never want to leave your bed.
More Bedroom Design Ideas + Inspiration