Timeless Kitchen Cabinet Colors
I bet there are some timeless kitchen cabinet colors you never thought would be as popular as they are!
When it comes to designing the perfect kitchen, choosing the right cabinet color is one of the most important design decisions to make.
You want kitchen cabinet colors that not only complement your overall design aesthetic but one that will stand the test of time.
In fact, opting for a trendy color may seem like a good idea at the moment, but could quickly become outdated, leaving your kitchen looking tired and out of touch.
From countertops to appliances, every little detail plays a significant role in creating a space that is not only functional but also aesthetically pleasing.
So, what makes a kitchen cabinet color truly timeless?
With so many options available, it can be challenging to know where to start.
One way to simplify this decision is by selecting a timeless kitchen cabinet color that will stand the test of time.
These colors never seem to go out of style and can make any kitchen look both classic and modern at the same time.
This site contains affiliate links. Please read our disclosure policy. As an Amazon Associate, I earn from qualifying purchases.
What Makes A Paint Color Timeless
A timeless paint color is one that remains stylish and relevant across different design trends and eras. It's a color that doesn't go out of fashion and can stand the test of time. There are several reasons that make a paint color timeless.
Neutral colors like white, beige, gray, and taupe are often considered timeless because they provide a versatile backdrop for various design elements. They can adapt to different styles and aesthetics
Timeless colors are versatile and can work well in a variety of spaces and with different color palettes. They are neither too bold nor too dull, making them easy to complement with other colors and decor.
Timeless colors strike a balance between warm and cool tones. This balance ensures that the color can work with a range of furnishings and accessories.
Timeless colors are not overly trendy or tied to a specific period or design movement. They avoid overly bold or flashy hues that may fall out of favor quickly.
Why Pick A Timeless Kitchen Cabinet Color
There are a lot of reasons why you should pick a timeless cabinet color for your home.
Kitchen renovations can be expensive and time-consuming. By selecting a timeless cabinet color, you ensure that your kitchen remains aesthetically pleasing for years to come, reducing the need for frequent updates.
Timeless cabinet colors allow you to change other elements of your kitchen, such as countertops or backsplashes, without having to replace the cabinets.
If you ever decide to sell your home, a timeless kitchen cabinet color is more likely to appeal to potential buyers. It provides a neutral and universally appealing backdrop that allows buyers to envision their own style in the kitchen.
It provides a solid foundation for your kitchen's style while allowing for personalization and adapting to changing design trends.
Top Timeless Kitchen Cabinet Colors
These paint colors for kitchens have been popular for many years and continue to be the cabinet colors you see the most often in homes. They have classic appeal and can still feel modern and updated.
White
White cabinets are a classic choice that never goes out of style. They create a bright, clean, and timeless look in the kitchen. White cabinets can be paired with various countertop materials and backsplashes, making them incredibly versatile.
Cream
Cream or beige cabinets provide a soft and warm color option that works well in traditional and transitional kitchens. They create a cozy and inviting atmosphere.
Gray
Shades of gray, from soft and light grays to deep charcoal tones, are another timeless option. Gray cabinets work well with a wide range of color palettes and design styles, and they add sophistication to the kitchen.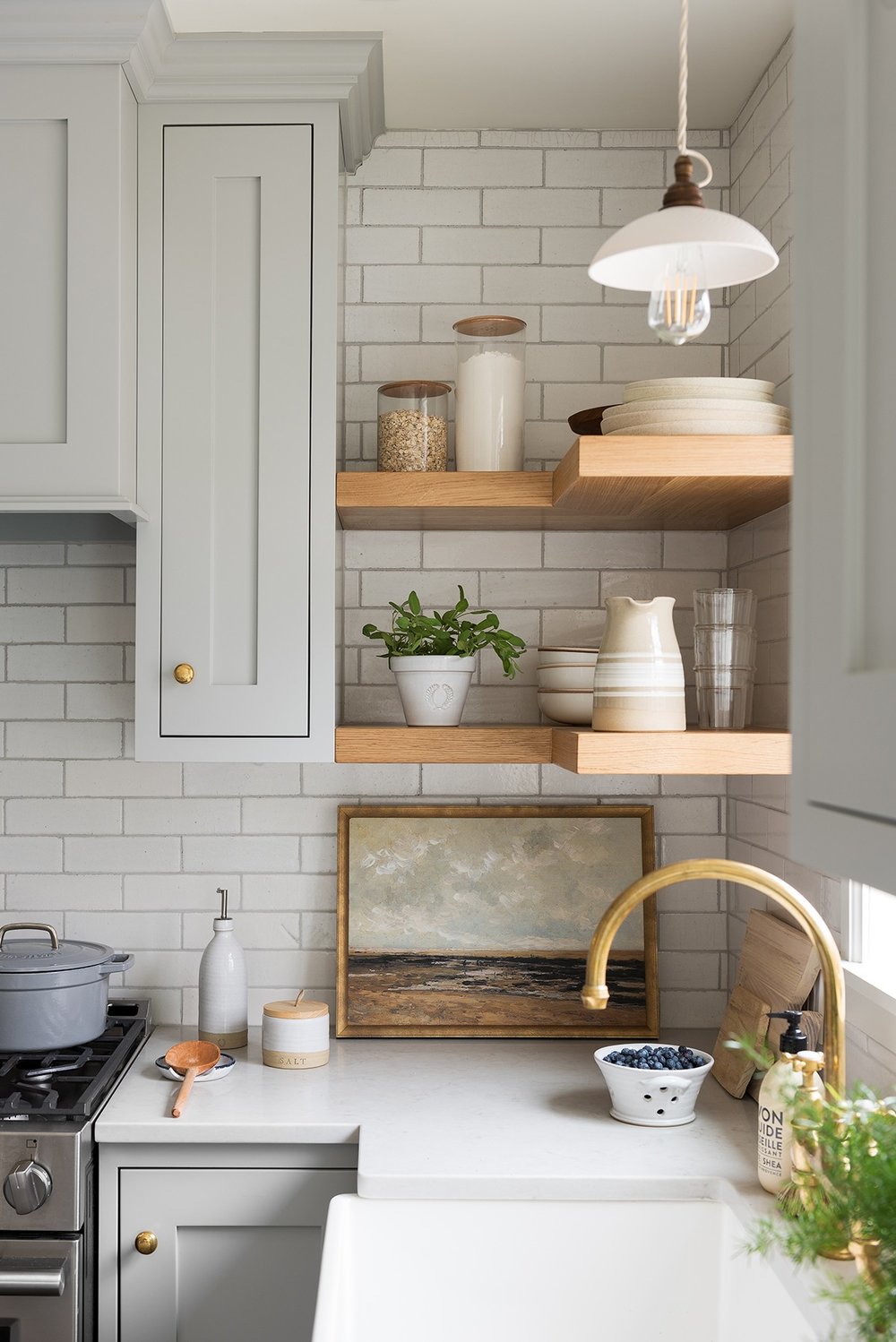 Greige
Greige, a blend of gray and beige, offers a neutral and timeless cabinet color. It strikes a balance between warmth and coolness and can adapt to various design schemes.
Navy
Navy blue cabinets have gained popularity in recent years and have proven to be a timeless choice. The deep, rich hue adds a touch of elegance and contrast to the kitchen. It pairs well with white or light-colored countertops.
Black
Black cabinets create a bold and dramatic look in the kitchen. While they may not be for everyone, when used tastefully, black cabinets can make a strong and stylish statement that stands the test of time.
Choosing a timeless kitchen cabinet color is a great idea for someone who wants a kitchen that will stand the test of time.
Timeless colors are those paint colors that remain popular year after year. From white to gray to navy blue, there is no shortage of options when it comes to choosing a timeless kitchen cabinet color.
A timeless color can make all the difference in the value and appeal of your home, and the right color can even make a small kitchen feel spacious and welcoming.
By selecting a timeless kitchen cabinet color, you can enjoy a kitchen that is stylish and functional for years to come.