Best Kitchen Cabinet Colors
When it comes to updating your kitchen, choosing the best kitchen cabinet colors is an essential decision.
The kitchen serves as a command center, a gathering place, and a source of inspiration for you and your family to enjoy and cook your favorite meals.
It's essential to ensure that your kitchen captures your desired vibe and atmosphere.
One of the best ways to do so is by sprucing up your kitchen cabinets – they are the main feature in any kitchen and can make or break the entire aesthetic appeal.
Whether you're looking for a clean and crisp look, a touch of sophistication, or a cozy home atmosphere, there are plenty of options to consider for the right kitchen cabinet colors.
With so many colors to choose from, it can be challenging to decide which ones to incorporate into your kitchen.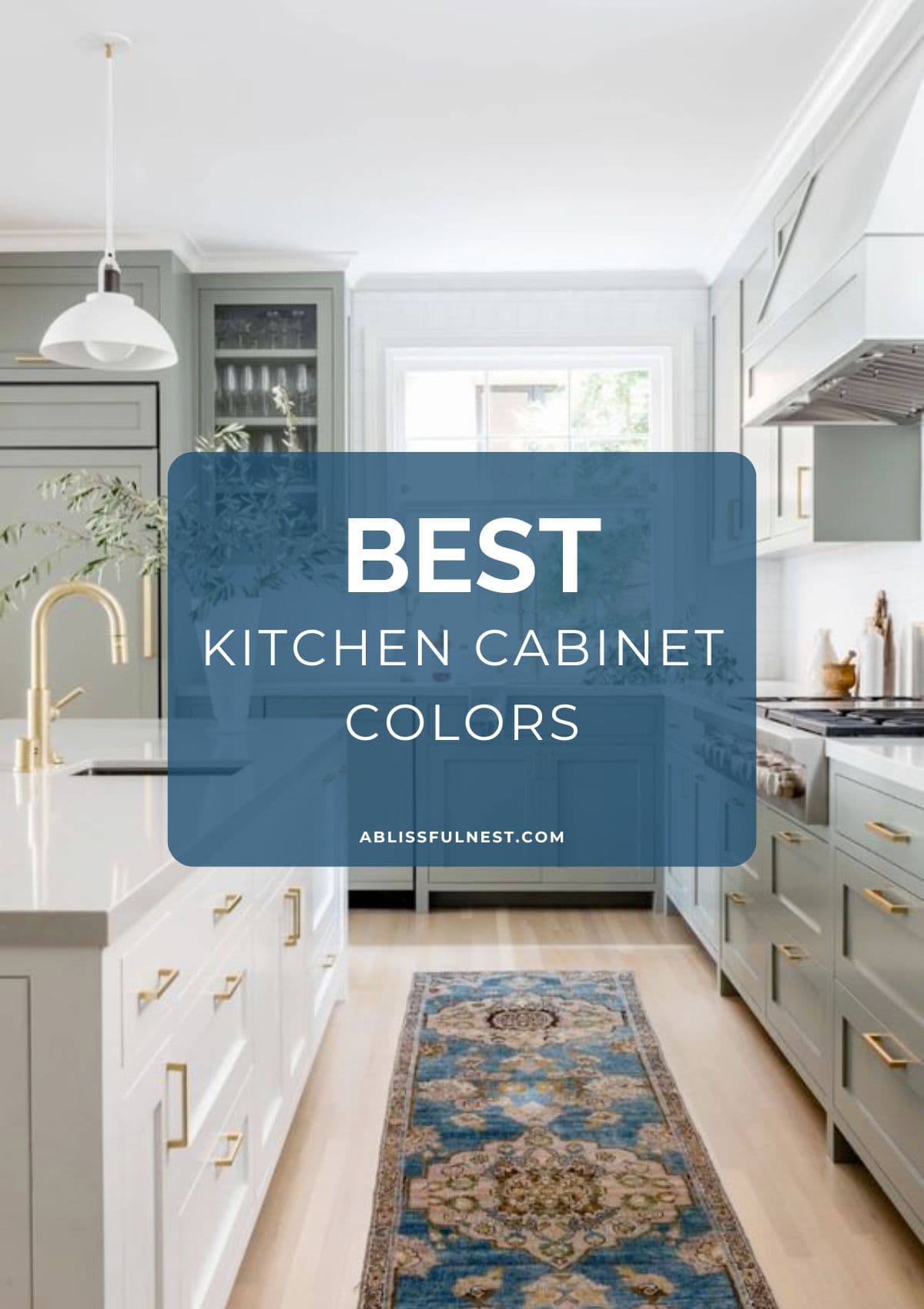 Kitchen cabinets are one of the most prominent features in a kitchen, and the color you select can set the tone for the entire space.
I've researched and compiled a list of the best kitchen cabinet colors currently on-trend, ranging from the timeless classic of bright white cabinets to the inviting warmth of creamy off-white cabinets.
I am excited to share the various color options available and hope that this will inspire you to design your dream kitchen!
This site contains affiliate links. Please read our disclosure policy. As an Amazon Associate, I earn from qualifying purchases.
Tips For Choosing The Perfect Kitchen Cabinet Colors
There are several factors to consider when deciding on the most suitable hue for your cabinets, including the kitchen's existing color scheme, lighting, and the size and style of your kitchen.
Existing Color Scheme

: it's essential to consider how it will blend with your current kitchen color scheme. For instance, if your kitchen has light, neutral tones, then opting for a bright, bold paint color could create a jarring contrast. Conversely, if your kitchen has bold colors on the walls, backsplash, or appliances, choosing a more subdued cabinet color could create balance.

Lighting

: Natural light brings out the truest hues in colors, while artificial lighting may have a dulling or yellowing effect. It would be best to sample paint colors in your kitchen under various lighting conditions to ensure you are satisfied with your final choice.

Kitchen Size

: Kitchen cabinets take up most of the visual space in your kitchen, meaning the color of your cabinets has a considerable impact on the overall appearance of your kitchen. If you have a small kitchen, going for lighter colors can create the illusion of space, while dark hues can make your kitchen look and feel smaller.

Style Of The Cabinets

: Cabinets with shaker or beadboard styles work best with neutral or light colors, while modern-style cabinets look excellent in sleek, dark hues.

Personal Preference And Trends

: While trends come and go, ultimately it is essential that you choose a color that you love and that suits your personal style. If you're not sure where to start, search for inspiration online or look through design magazines.
Don't Forget To Order Paint Samples!
No matter what a photo looks like or description, every paint color will look different in your own space. It is so important to test a paint color before you commit to it.

That's why I love buying these peel & stick samples.
It makes it so easy & affordable to test colors!

Best Kitchen Decor
I get asked a lot about how to decorate a kitchen so it looks timeless and not cluttered.
Here are my favorite kitchen decor pieces that you to easily incorporate into your own kitchen design.
Tap Photos To Shop

Bright White Cabinets – For A Clean, Crisp Look
Choosing white kitchen cabinet colors has several advantages that make it a popular and timeless choice.
White is a timeless color that never goes out of style. It provides a clean and elegant look that can stand the test of time, making it a safe choice for homeowners who want a kitchen that will remain stylish for years to come.
White cabinets can make a kitchen feel more open and spacious. They reflect light and create a sense of airiness, which can be especially beneficial in smaller or darker kitchens.
White cabinets can easily adapt to various design styles, from traditional to modern and everything in between. You can change the overall look and feel of your kitchen by simply updating the hardware, backsplash, or countertops while keeping the white cabinets as a neutral backdrop.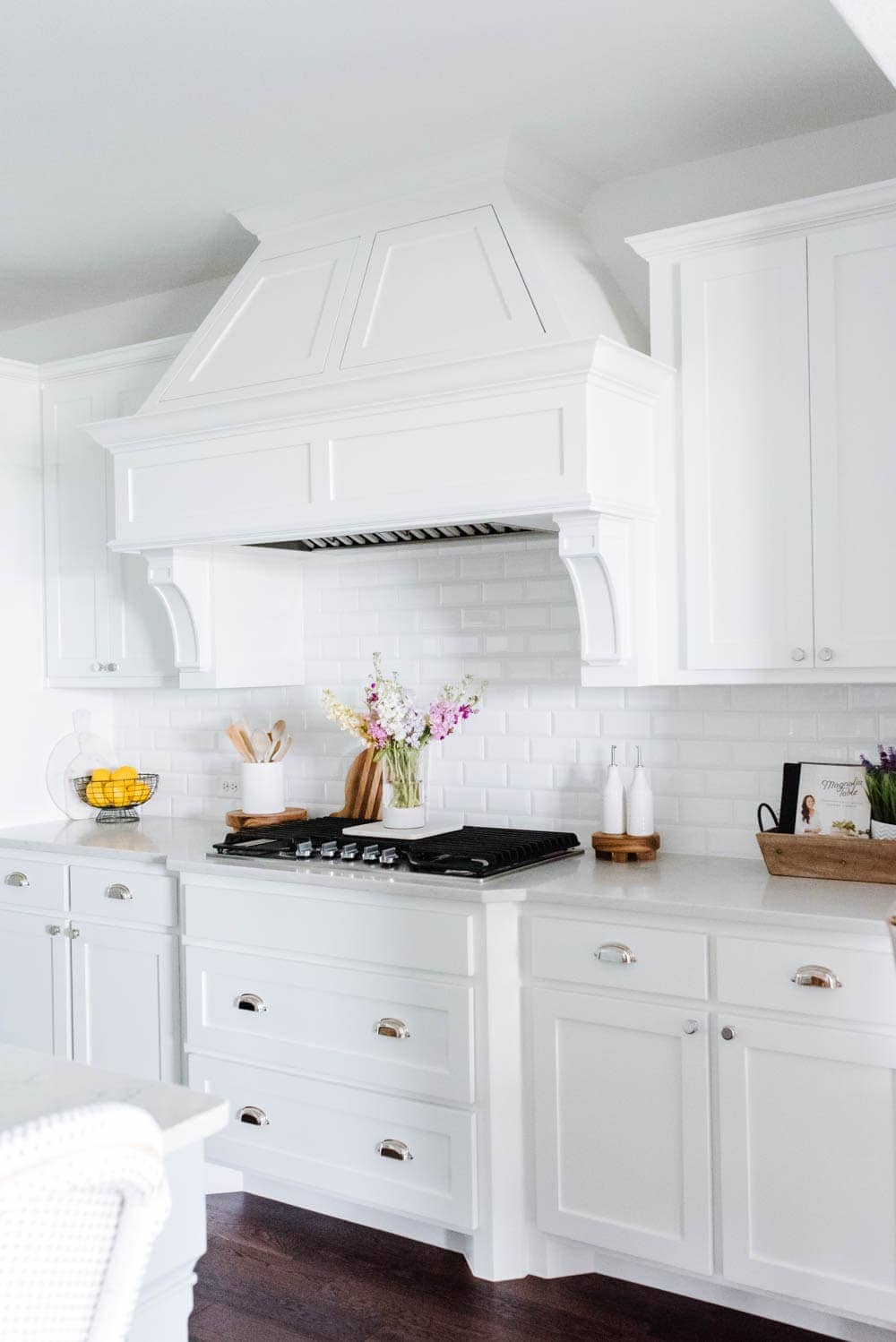 Navy Blue Cabinets – To Add A Touch Of Sophistication
Navy blue is a classic color that exudes elegance and sophistication. It can give your kitchen a high-end, polished look that stands the test of time.
Navy blue cabinets can serve as a bold focal point in your kitchen, making a strong design statement. If you want a kitchen that stands out and feels unique, navy blue is an excellent choice.
Navy blue can create a striking contrast when paired with lighter elements, such as white or light-colored countertops and backsplashes.
While navy blue is a dark color, it can still create a warm and inviting atmosphere in your kitchen when combined with the right lighting and accessories.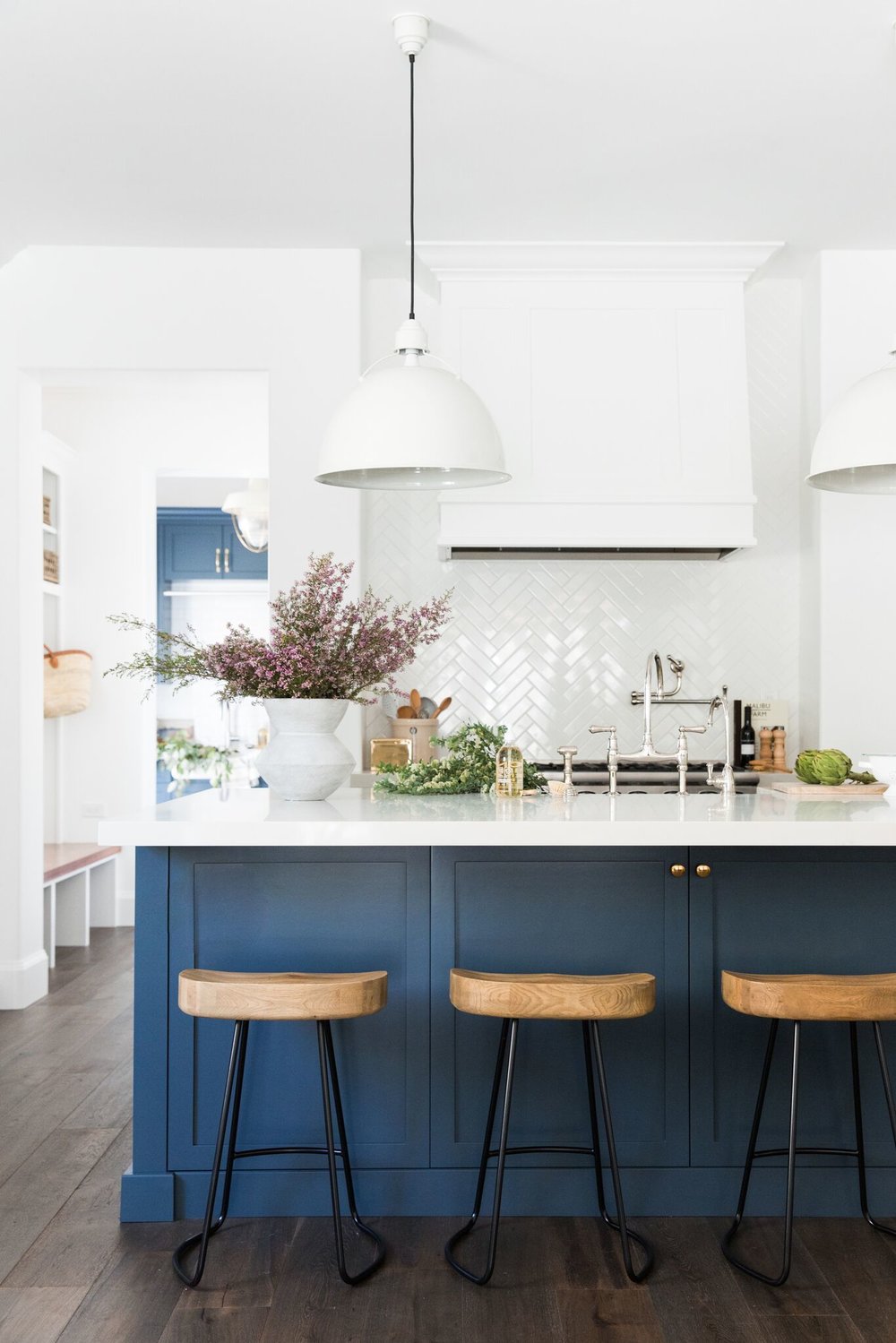 Creamy Off-White Cabinets – To Create An Inviting Home Atmosphere
Like white cabinets, creamy off-white cabinets exude a timeless and classic look. They provide a clean and sophisticated appearance that is classic.
Creamy off-white shades have a warm and inviting quality that can make your kitchen feel cozy and comfortable.
You can easily adapt and change other design elements in your kitchen without worrying about clashing with the cabinet color.
Off-white colors, including creamy shades, are good at hiding minor stains, scuffs, or wear and tear, making them a practical choice for busy kitchens.
Light Gray Cabinets – For An Airy Feel And Neutral Color Palette
Light gray cabinets are very versatile. They can be paired with various countertop materials, backsplashes, and flooring options, allowing for flexibility in your kitchen's overall design.
Light gray provides a subtle contrast to white walls and other elements in the kitchen, adding visual interest without being overly bold or dominant.
While gray is often associated with coolness, light gray tones can have a calming and cozy effect when combined with warm lighting and complementary colors.
Light gray provides a neutral backdrop, allowing you to introduce other colors through decor, kitchen accessories, or backsplash tiles.
Black Cabinets – To Create A Dramatic Effect
Black cabinets can create a strong contrast with other elements in your kitchen, such as white or light-colored walls, countertops, and backsplashes. This dramatic contrast can make your kitchen visually interesting and attention-grabbing.
Black cabinets often lend a modern and sleek aesthetic to your kitchen. They can give your space a sense of sophistication and luxury.
If you want your kitchen to have a bold focal point, black cabinets can serve that purpose effectively. They can make a strong design statement that sets your kitchen apart.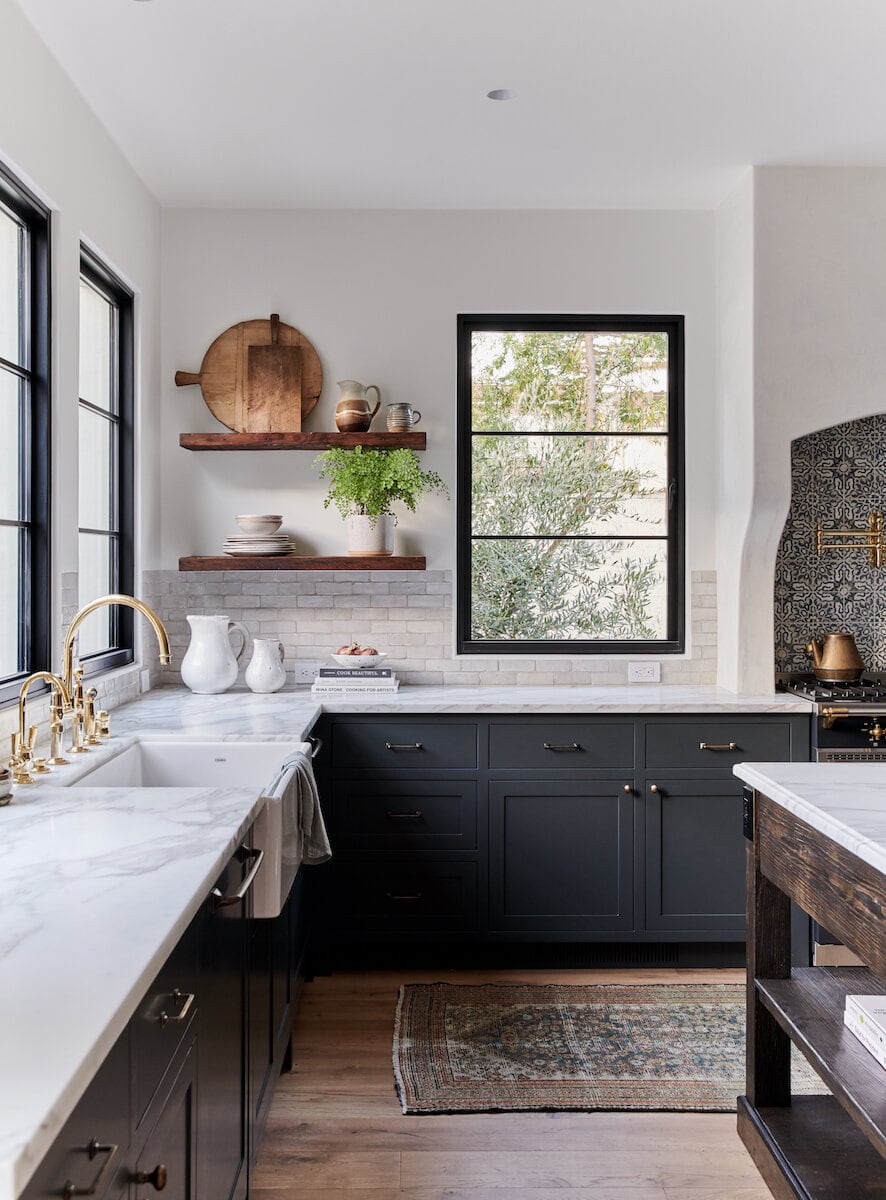 Sage Green Cabinets – To Bring In A Natural Element Into Your Kitchen
Sage green is a muted and earthy color that provides a timeless and classic look. It's not as trendy as some other colors, which means it won't quickly go out of style, ensuring your kitchen remains stylish for years to come.
Sage green is a versatile color that can work well with a variety of design styles, including farmhouse, cottagecore, traditional, and even some modern aesthetics.
While sage green is a calming color, it also exudes a subtle elegance. It can add a touch of sophistication to your kitchen without being too bold or overpowering.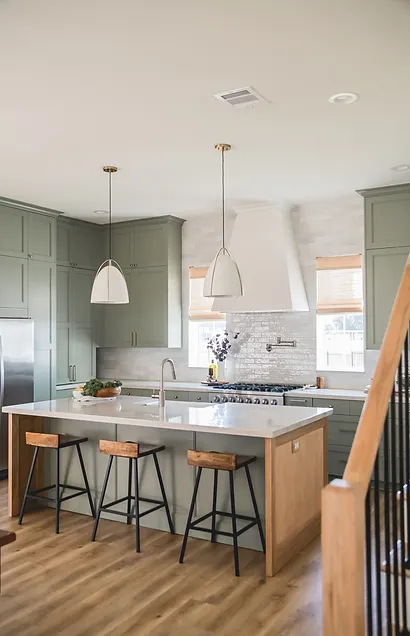 Your choice from these best kitchen cabinet colors to use in your home can drastically alter the overall look and feel of your space.
It's important to consider the style and atmosphere you want to create when making this decision.
Whatever your personal preference, there are many kitchen cabinet colors to choose from that can perfectly complement your home's style and personality.