Kitchen Cabinet Color Ideas
These kitchen cabinet color ideas are not only inspiring but also a great guide to narrowing down your design for your own kitchen.
When it comes to designing your dream kitchen, there are so many factors to consider – from the layout and appliances to the cabinetry and countertop material.
But one element that can have a significant impact on the overall look and feel of your culinary space is the color of your cabinets.
Whether you opt for classic white, bold black, or something in between, the hue you choose can set the tone for the entire room.
Kitchen cabinet colors are a key design element to the perfect kitchen design that reflects your personal style and the overall design of your home.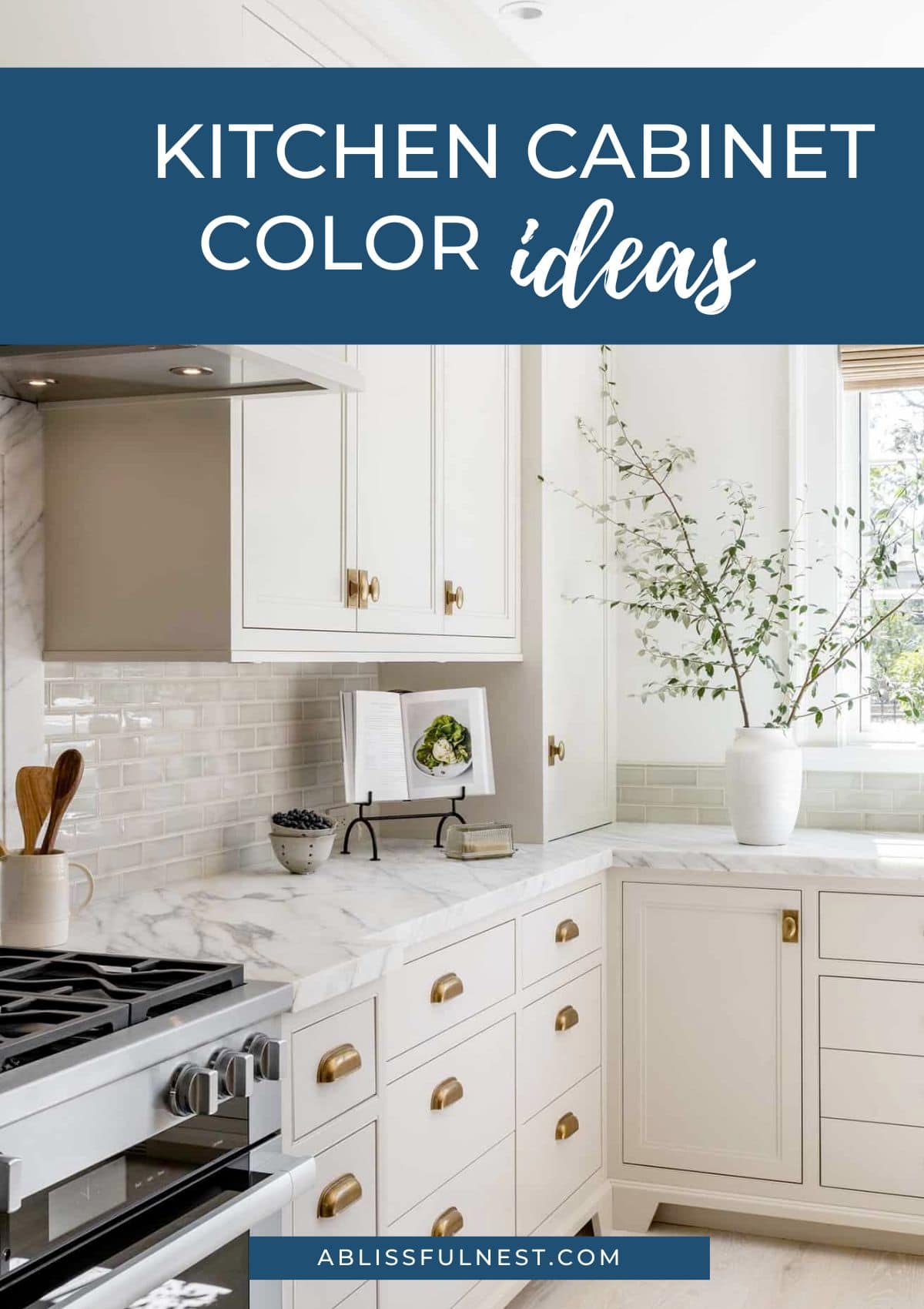 But with so many shades and finishes to choose from, how do you know which color will be the perfect fit?
From bold and daring to soft and subtle, I've got you covered.
Learn how to select the right paint color, tips to decorate with it, and the key factors of color shades you need to consider.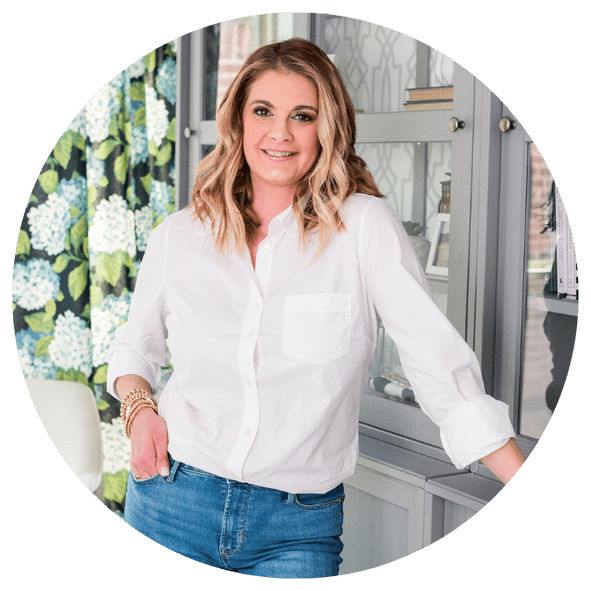 What To Consider When Selecting A Cabinet Color
• What is the overall style?
• Consider the size of the kitchen.
• What do you gravitate towards?
This site contains affiliate links. Please read our disclosure policy. As an Amazon Associate, I earn from qualifying purchases.
How To Select Kitchen Cabinet Colors
Selecting the right kitchen cabinet colors is an important decision because it can significantly impact the overall look and feel of your kitchen.
Start by identifying your kitchen's overall style. Do you want a modern, traditional, farmhouse, rustic, or contemporary look? Your cabinet color should complement the style you want to achieve.
Take into account the size and layout of your kitchen. Lighter cabinet colors can make a small kitchen feel more open and spacious, while darker colors can add warmth and coziness to a larger space.
Think about your personal style and preferences. Do you prefer light and airy colors, bold and dramatic shades, or something in between?
Lastly, it's a good idea to obtain samples of cabinet colors you're considering and place them in your kitchen. This allows you to see how they look in your specific lighting conditions and alongside other elements in the space.
Don't Forget To Order Paint Samples!
No matter what a photo looks like or description, every paint color will look different in your own space. It is so important to test a paint color before you commit to it.

That's why I love buying these peel & stick samples.
It makes it so easy & affordable to test colors!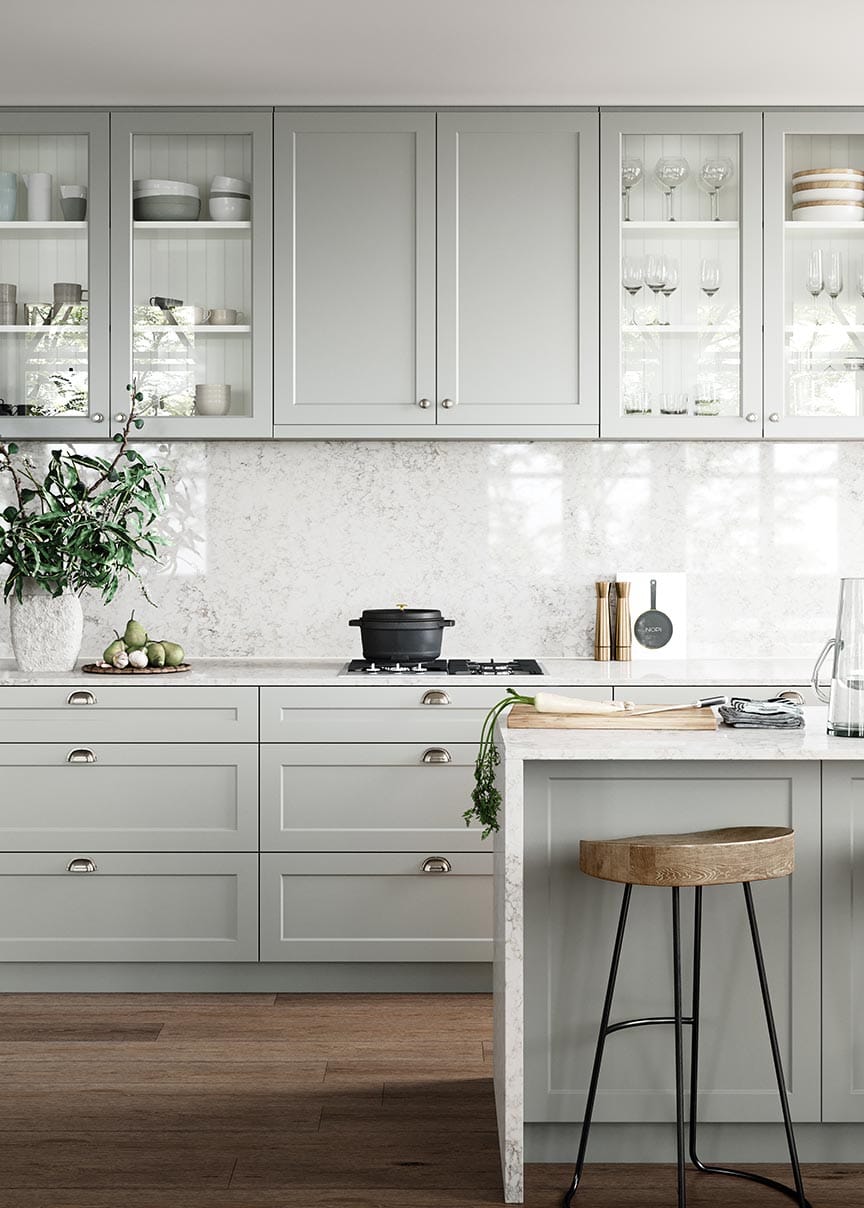 Tips For Decorating With Different Kitchen Cabinet Colors
One of my best tips for choosing decor for the kitchen is to use neutral pieces for the majority of them. Pops of color are great here and there but to create a cohesive timeless look, it is all about neutral decor pieces and texture.
So I shopped some of my favorite pieces for you below that I have in my own kitchen and I know you will love.
Tap Photos To Shop

Light Kitchen Cabinet Colors
Light kitchen cabinet colors can create a bright, airy, and inviting atmosphere in your kitchen.
Light colors, such as white, cream, light gray, or soft pastels, can make a kitchen appear larger and more spacious. This is especially beneficial for small kitchens, as the light tones reflect more natural and artificial light, creating a sense of openness.
Light cabinets can give your kitchen a clean and fresh look. They are excellent at hiding minor dirt and stains.
Light kitchen cabinet colors are considered classic and timeless. They tend to remain in style for many years, making them a safe choice if you're concerned about trends.
They work well in modern, traditional, transitional, and farmhouse kitchens, making them a versatile color choice for cabinetry.
When combined with the right design elements and lighting, light cabinets can create a bright and fresh feel to a kitchen.
Dark Kitchen Cabinet Colors
Dark kitchen cabinet colors can create a bold and dramatic look in your kitchen.
Dark cabinet colors, such as deep gray, navy, black, or espresso, can create a rich and dramatic ambiance in your kitchen. They can add a sense of sophistication and elegance to the space.
Dark cabinets can create a striking contrast when paired with lighter elements in the kitchen, such as countertops, backsplashes, and walls.
Dark cabinet colors are often associated with contemporary and modern kitchen designs which will help to create a unique elevated look.
Dark cabinets can make a small kitchen feel more intimate, which can be a positive or negative depending on your preference. In larger kitchens, they can add a sense of coziness.
Balance the dark cabinets with lighter elements in the kitchen to avoid a heavy or overwhelming feel. Lighter countertops, a reflective backsplash, and well-placed lighting can help.
When used thoughtfully and balanced with other elements, dark cabinets can make a strong design statement and give your kitchen a unique and elegant character.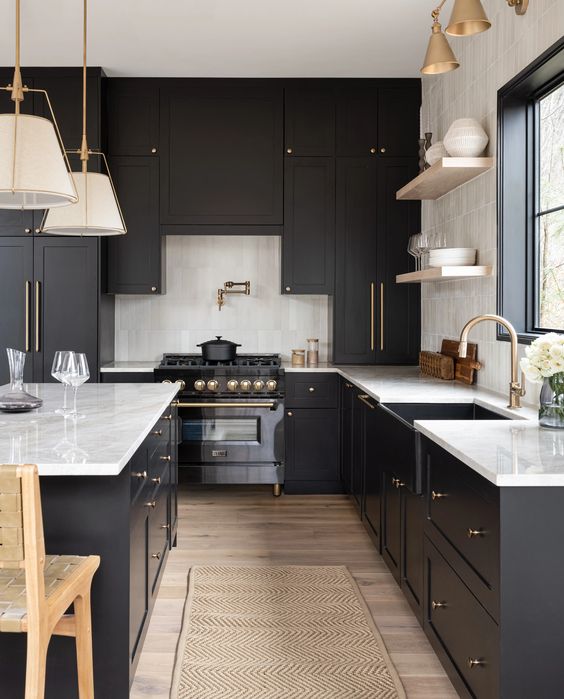 Kitchen Cabinet Color Trends
Kitchen cabinet color trends can change over time, and while it's fun to incorporate current styles into your kitchen, it's also important to consider your personal preferences and the longevity of your choices.
Trendy kitchen cabinet colors range from whites, navy, to blacks but they all have one thing in common. These colors create a versatile backdrop for other design elements and make the kitchen feel unique and special compared to everyone else's kitchens.
Trendy kitchens may introduce bold color accents through elements like cabinet hardware, backsplashes, or accent walls.
Adding texture to cabinet surfaces, such as shiplap, beadboard, or textured decor pieces, is a trend that adds depth and character to a trendy kitchen.
If you are wondering, these are the top 5 kitchen cabinet colors to use. Is there one that surprised you?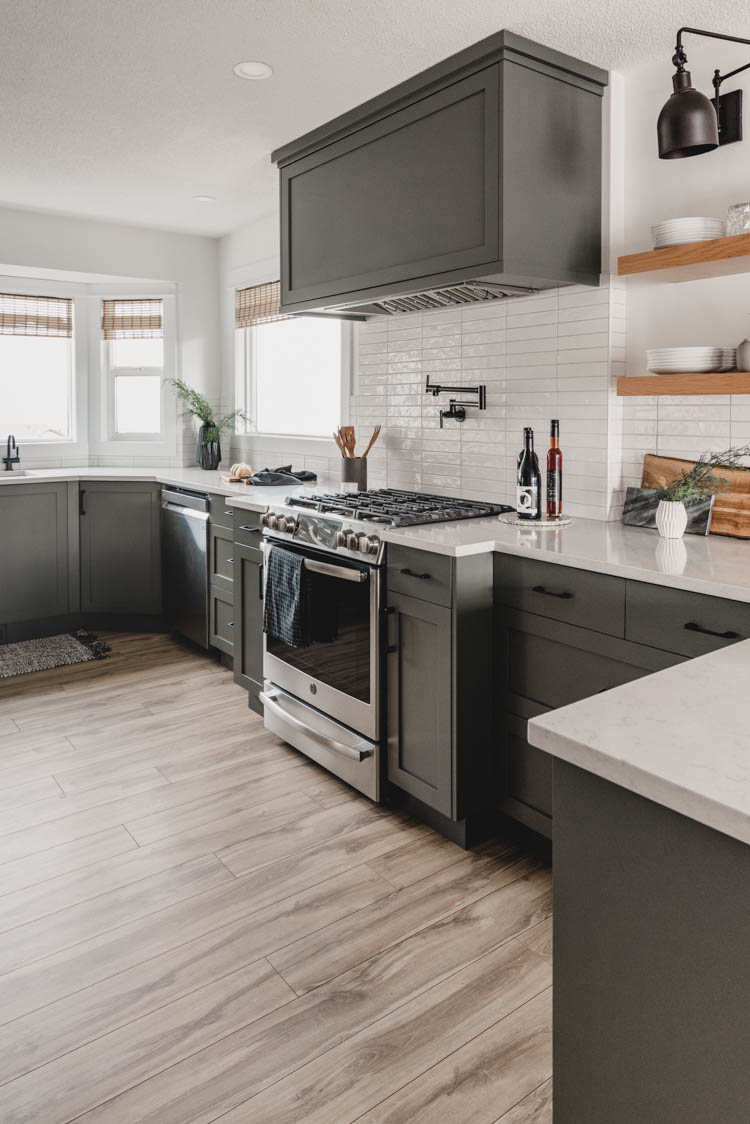 Choosing the right color for your kitchen cabinets can drastically transform the entire look and feel of your kitchen space.
Whether you opt for a classic white or a bold and daring navy blue, consider your personal style and the overall aesthetic of your home.
Additionally, don't be afraid to mix and match colors and materials, like pairing wood cabinets with a colorful island.
Keep in mind that the color of your kitchen cabinets can also affect the perceived size and brightness of the room, so make sure the color you choose enhances that feature.
With a wide range of paint options available, the possibilities are endless when it comes to creating your dream kitchen.
Take inspiration from these kitchen cabinet color ideas and let your creativity run wild!