Light Kitchen Cabinet Colors
When it comes to kitchen design, choosing the right cabinet colors can make all the difference.
Light kitchen cabinet colors, in particular, are known for their ability to create an airy and open feel in any kitchen.
Whether you're going for a traditional look, a modern aesthetic, or anything in between, kitchen cabinet colors are a great way to freshen up a space and elevate your kitchen design.
With light kitchen cabinet colors complementing a wide range of design styles, they truly are a versatile and timeless choice.
Choosing the right flooring and decor to match light kitchen cabinets can sometimes be challenging.
But there are plenty of options that can create a cohesive and aesthetically pleasing look.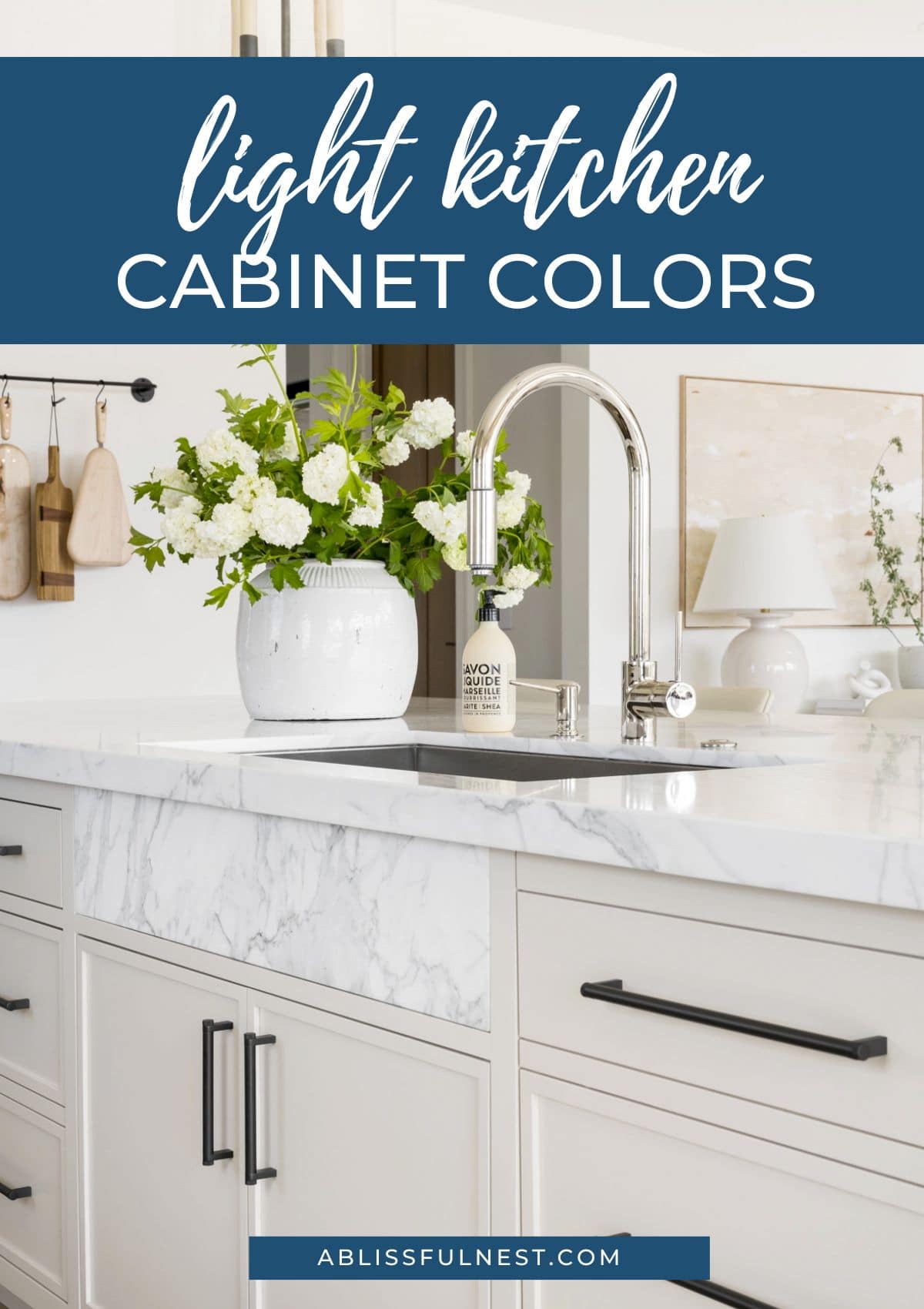 Light kitchen cabinet colors have been trending in recent years, and for good reason.
Not only do light colors brighten up the space, but they also create an illusion of more space, making it appear larger than it actually is.
This site contains affiliate links. Please read our disclosure policy. As an Amazon Associate, I earn from qualifying purchases.
What Design Styles Go With Light Kitchen Cabinet Colors
Light kitchen cabinet colors go with many different design styles. It is all about how you put it together with other elements and materials in the space. But here is an idea of how they work in some of the most popular design styles trending right now.
Modern: Light cabinets can work in a modern kitchen when paired with sleek, minimalist designs. Choose flat-panel cabinet doors, stainless steel appliances, and minimalistic hardware. Use bold, contrasting colors or textures for backsplashes, countertops, or accent walls to create a striking contemporary look.
Coastal: Light cabinet colors evoke a coastal or beachy vibe. Pair them with soft blue or seafoam green accents, blue & green decor, and natural textures like seagrass or bamboo. Incorporate glass-fronted cabinets to display beach-themed dishes or glassware.
Farmhouse: Light cabinets are a popular choice for farmhouse kitchens. Combine them with open shelving, a farmhouse sink, beadboard or shiplap backsplash, and rustic elements like reclaimed wood accents for a cozy, country-inspired look.
Industrial: Light cabinets can provide a nice contrast in an industrial-style kitchen. Pair them with exposed brick walls, concrete countertops, and metal accents. The light cabinets can soften the otherwise rugged aesthetic.
Cottage Core: Light cabinets are a great fit for cottage-style kitchens. Combine them with floral or gingham patterns, vintage-inspired hardware, and open shelving for a charming and cozy cottage atmosphere.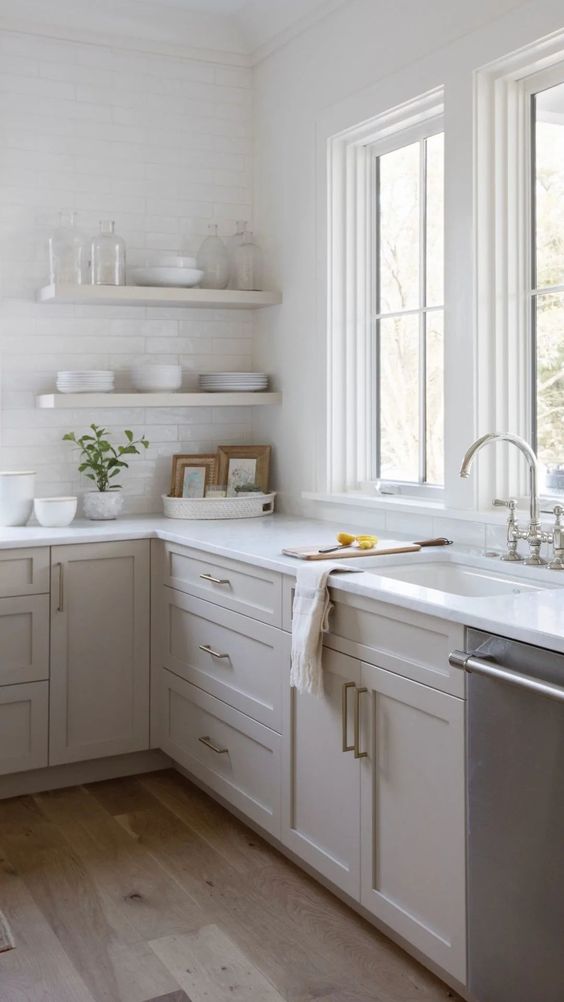 What Flooring Goes With Light Kitchen Cabinet Colors
Light kitchen cabinet colors offer flexibility when it comes to choosing flooring options. The choice of flooring can impact the overall look and feel of your kitchen.
Dark hardwood floors create a striking contrast with light cabinets, adding depth and warmth to the space. This combination is a classic choice for traditional and transitional kitchens.
Light or natural wood flooring can create a seamless and cohesive look when paired with light cabinets. This combination gives the kitchen a bright, airy, and timeless feel. It works well in Scandinavian, coastal, and modern designs.
Natural stone, such as marble or travertine, can add elegance and luxury to your kitchen. Light cabinets paired with stone flooring create a sophisticated and timeless look, which works well in traditional and Mediterranean kitchens.
When choosing flooring, consider factors like durability, maintenance, comfort, and the overall style you want to achieve in your kitchen.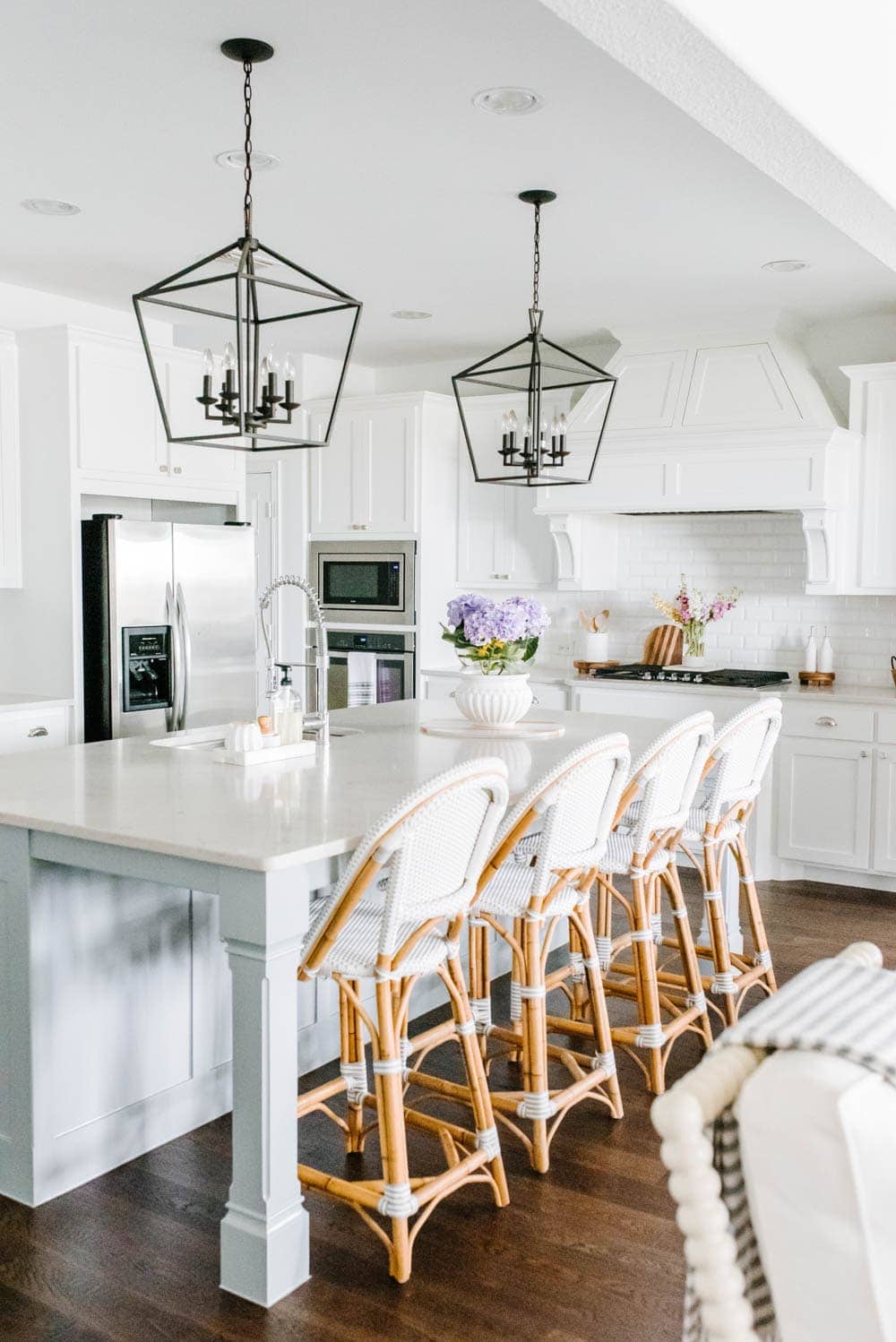 What Countertops Go With Light Kitchen Cabinet Colors
Light kitchen cabinet colors are very versatile for many countertop options.
Light cabinets paired with white, gray, beige, or even black granite can create a timeless and elegant look. This combination works well in traditional, transitional, and modern kitchens.
Engineered quartz countertops offer durability, low maintenance, and a wide array of color options. Light cabinets with a white or light gray quartz countertop lend to a clean and contemporary look.
Butcher block countertops, made of wood, add warmth and a touch of rustic charm to a kitchen with light cabinets. This combination works best in a farmhouse or cottage-style kitchen
Definitely get a sample of the countertop material you are selecting first to look at with your paint samples.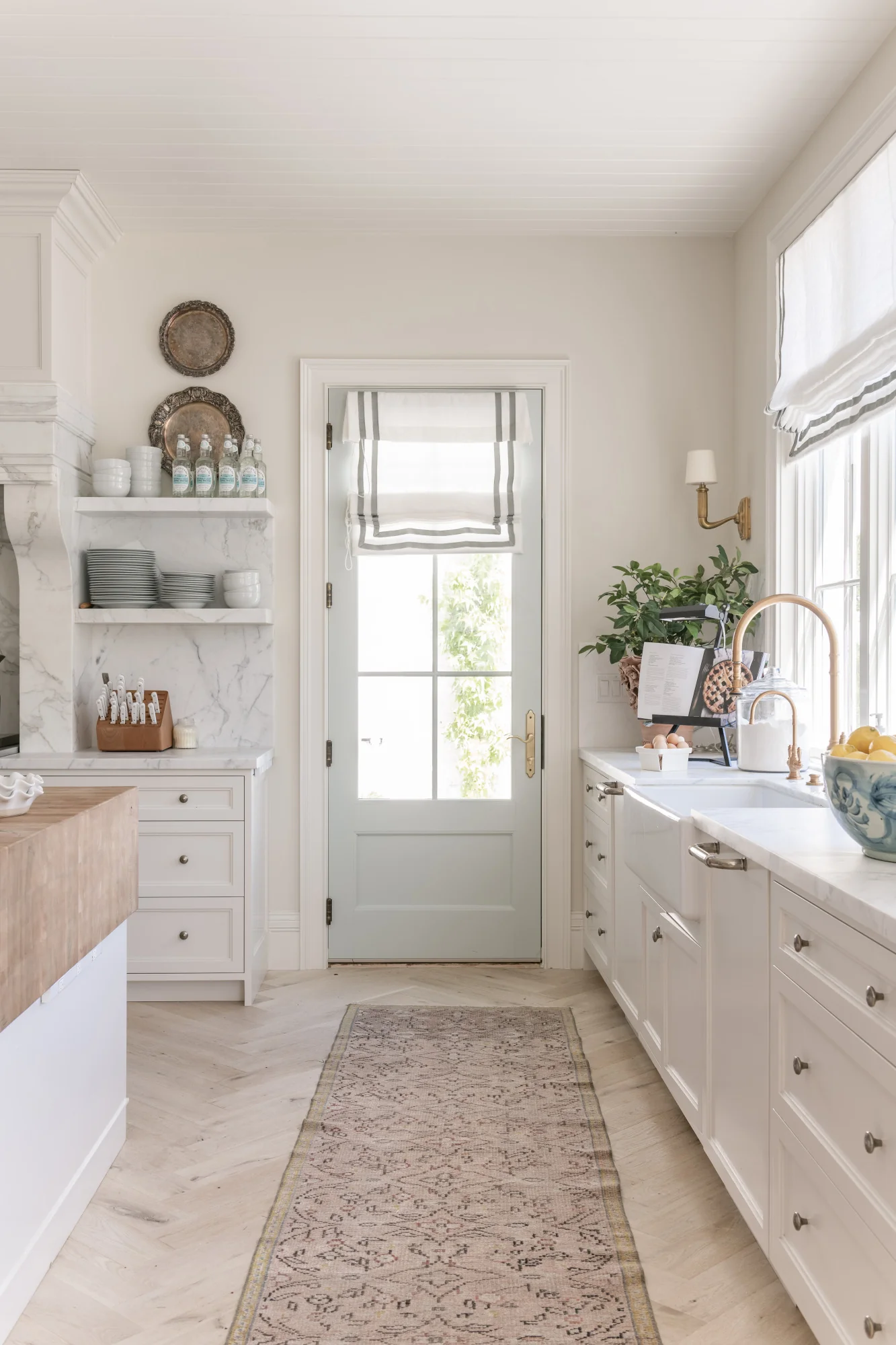 How To Decorate With Light Kitchen Cabinet Colors
There are so many great ways to decorate with light kitchen cabinet colors. This will greatly depend on the overall design style you are going for but adding lots of texture, layers, and pops of contrasting colors is gorgeous.
Here are a few of my favorite pieces to achieve this look.
Tap Photos To Shop

Don't Forget To Order Paint Samples!
No matter what a photo looks like or description, every paint color will look different in your own space. It is so important to test a paint color before you commit to it.

That's why I love buying these peel & stick samples.
It makes it so easy & affordable to test colors!

Best Light Kitchen Cabinet Colors
White
White cabinets are a timeless and classic choice that works well in virtually any kitchen style, from traditional to modern. They make the space feel bright, clean, and airy.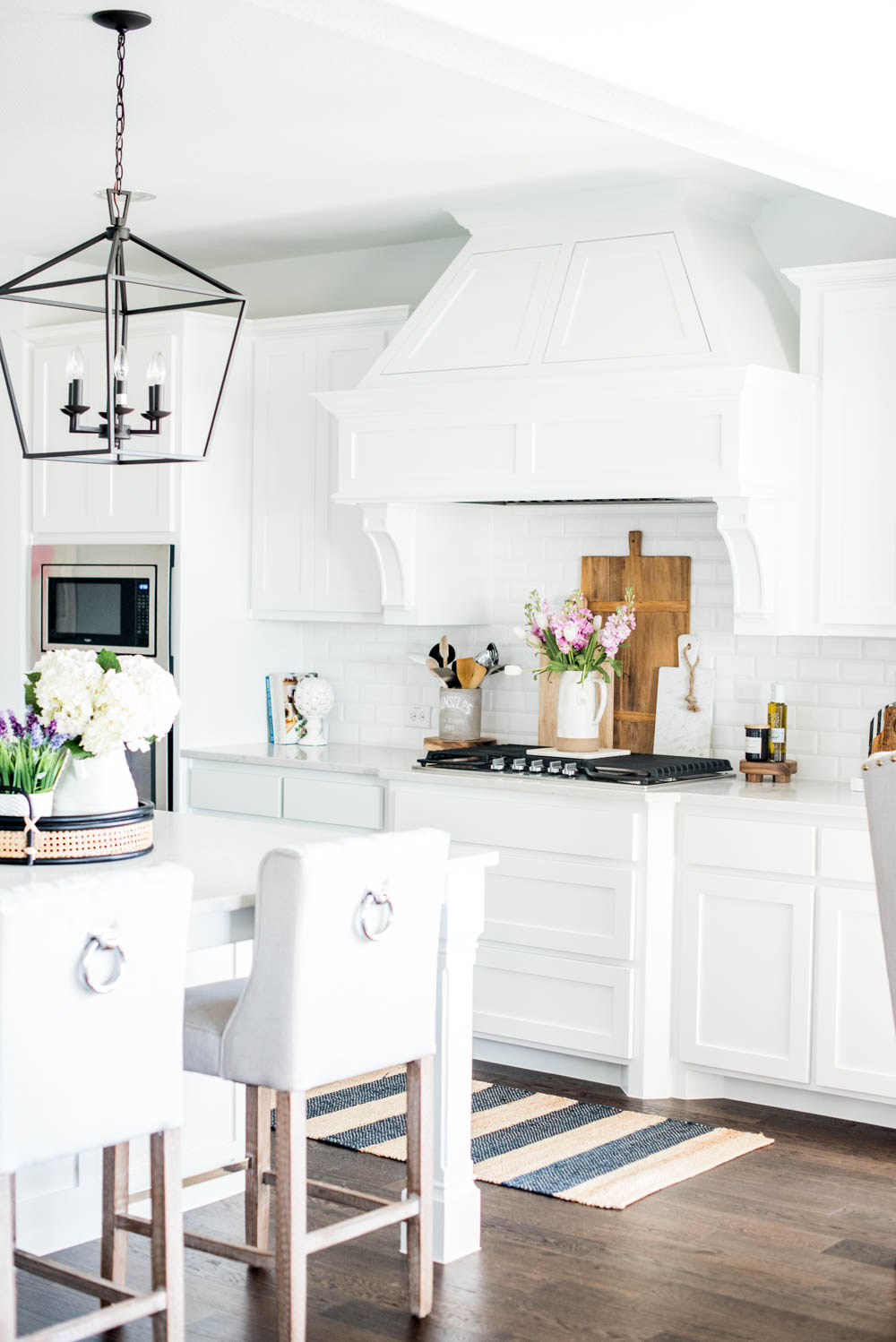 Cream
Cream or off-white cabinets are a slightly warmer alternative to pure white. They can add a touch of warmth and sophistication to your kitchen.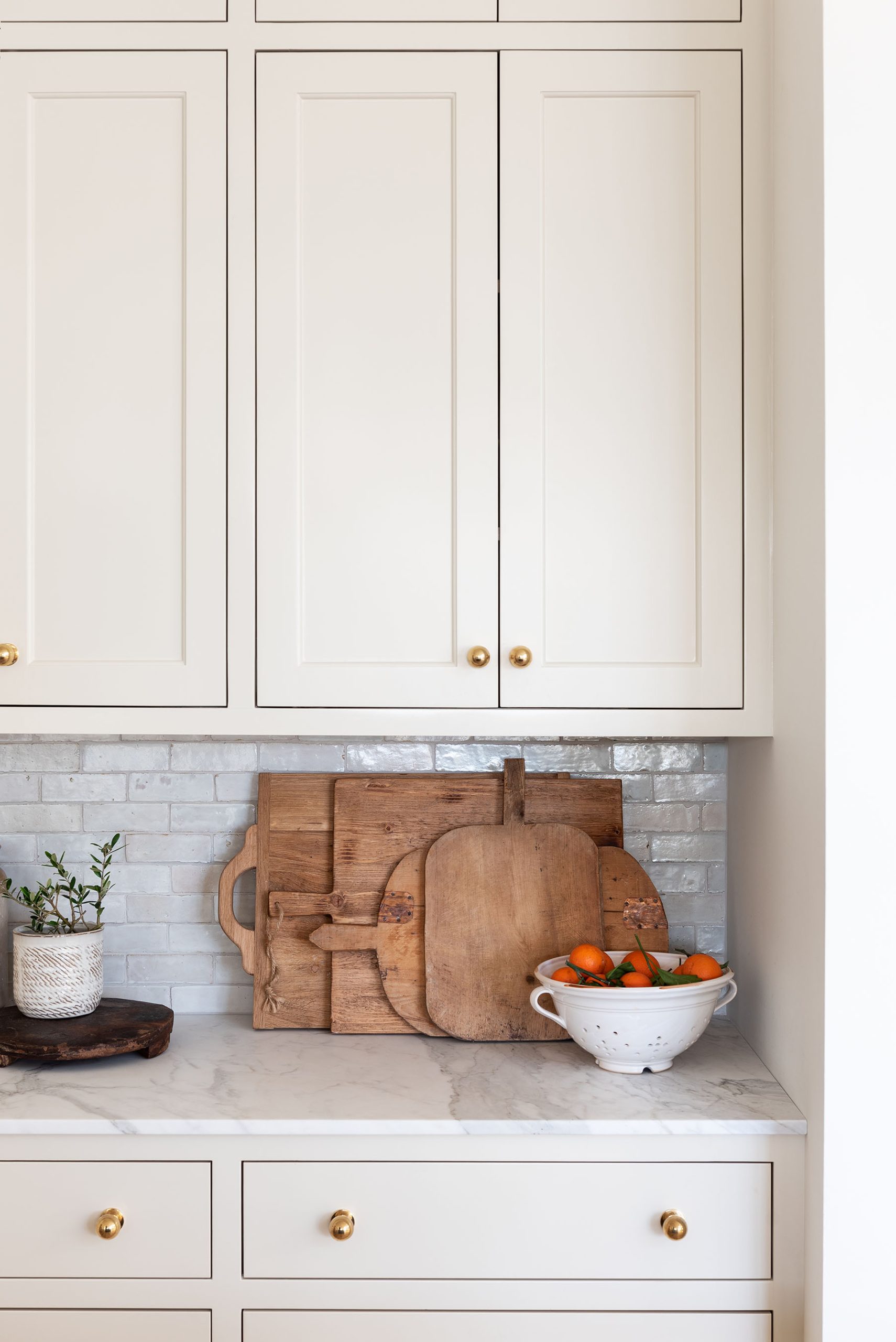 Light Gray
Light gray cabinets offer a subtle and neutral color that pairs well with a wide range of countertop and backsplash options. They can create a modern and elegant look.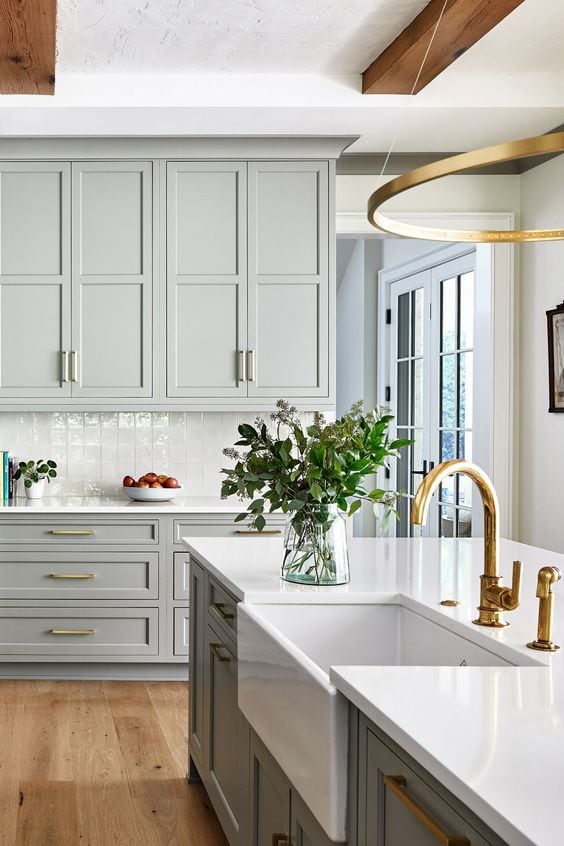 Pale Blue
Soft, pale blue cabinets can evoke a coastal or beachy feel in your kitchen. They work nicely with white or light gray accents.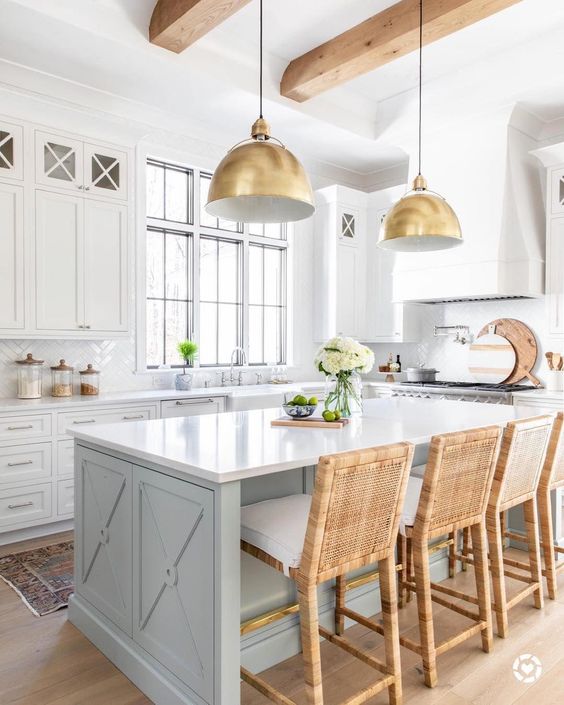 Greige
Greige cabinets provide a neutral backdrop for various design styles like farmhouse. They can create a warm and inviting atmosphere and are versatile in terms of decor choices.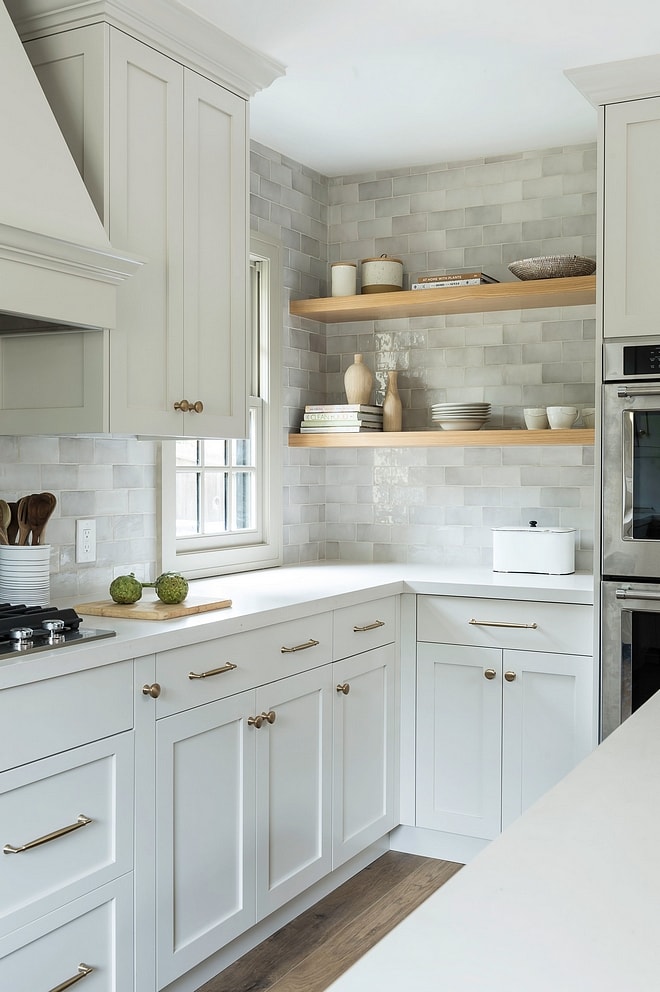 Light kitchen cabinet colors are a versatile and timeless choice that can easily complement any design style and flooring type.
While white remains a popular option, softer hues like cream, beige, and pale gray are also very popular paint colors for kitchens.
When it comes to flooring, light wood, tile or stone can help create a cohesive look.
Incorporating natural elements like plants or wooden accents can add warmth and texture to your kitchen.
When you decide on a cabinet color, opting for a light paint color is a smart investment that can elevate your kitchen's overall aesthetic.