Best Neutral Kitchen Cabinet Colors
This post may contain affiliate links. Please read our disclosure policy.
The best neutral kitchen cabinet colors provide a versatile and timeless look that can easily adapt to different styles and design preferences.
When it comes to kitchen cabinet colors, there are countless color options to choose from.
Neutral colors not only provide a clean and classic look but also offer the flexibility to incorporate pops of colors in other areas of the kitchen, such as accents or decor.
Learn the benefits of using neutral colors for your kitchen cabinets, share tips on how to choose the perfect shade of neutral, and provide maintenance tips to keep these colors looking fresh for years to come.
Additionally, I'll go over the ten most popular neutral colors for kitchen cabinets and give ideas and inspiration on how to incorporate color into your neutral kitchen.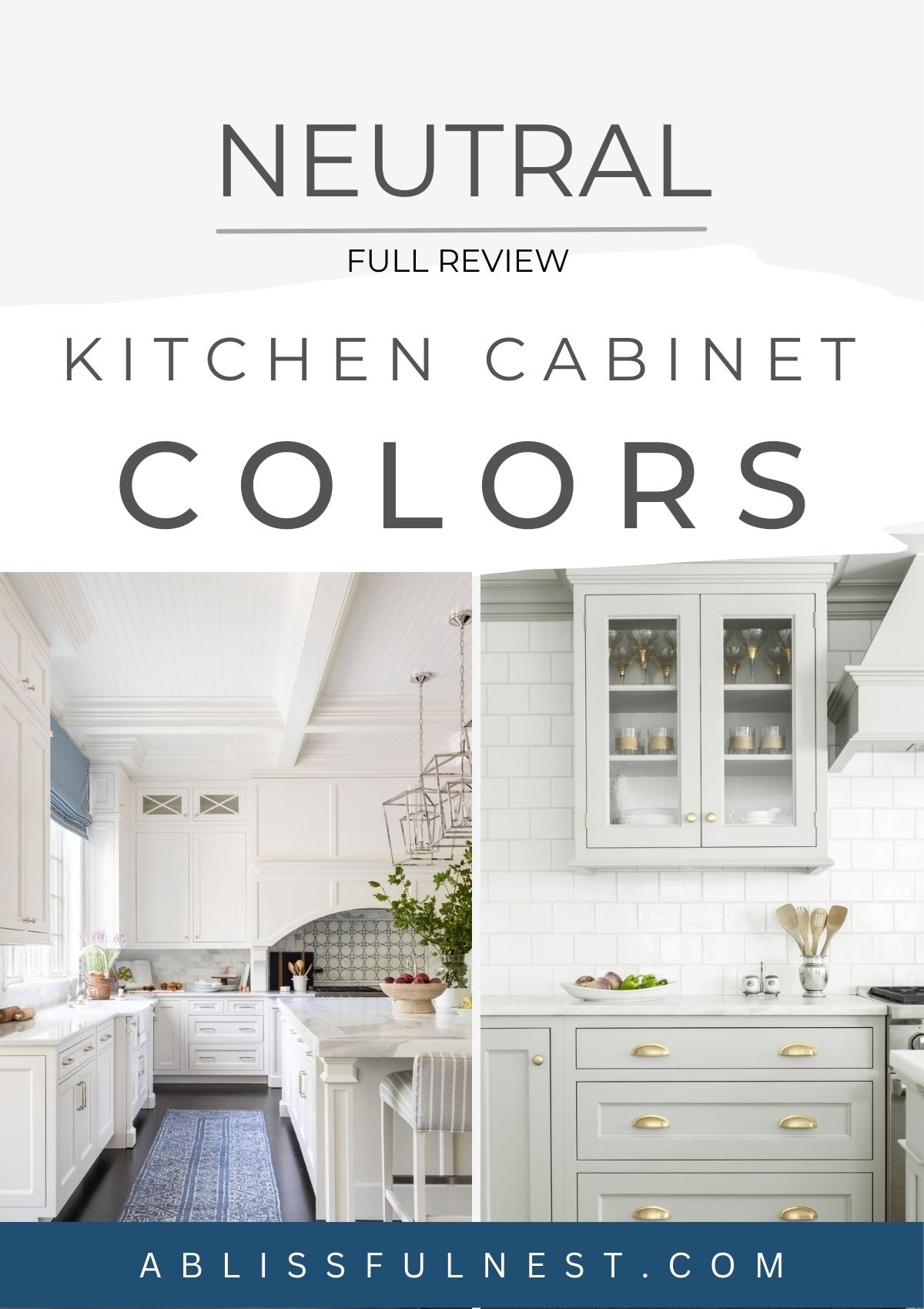 Whether you're remodeling your kitchen or simply looking for a fresh update, read on to learn how neutral colors can transform your space.
Neutral colors are a great choice for kitchen cabinets because they offer the flexibility to mix and match with other colors in your kitchen.
A neutral color palette allows you to incorporate pops of color throughout the space, such as vibrant countertops or bright backsplashes.
Neutral colors also work well with different design styles and won't overpower your decor like
How to Use Neutral Colors For Your Kitchen Cabinets
Adding neutral colors to your kitchen cabinets can dramatically change the look and feel of your space.
It's a classic choice that will stand the test of time, and the best part is it's easy to achieve.
Soft grays, beiges, and creams offer a subtle elegance that complements any kitchen style.
Don't be afraid to mix and match, either. Pairing light-colored cabinets with darker-colored countertops and backsplashes can create a stunning contrast that really makes your cabinets stand out.

To make the most of your neutral cabinetry, consider adding contrasting hardware, such as black or brass knobs and handles, or incorporating statement lighting fixtures above your island or dining table.
With neutral colors, the possibilities are endless, and you can create a space that's warm, inviting, and stylish.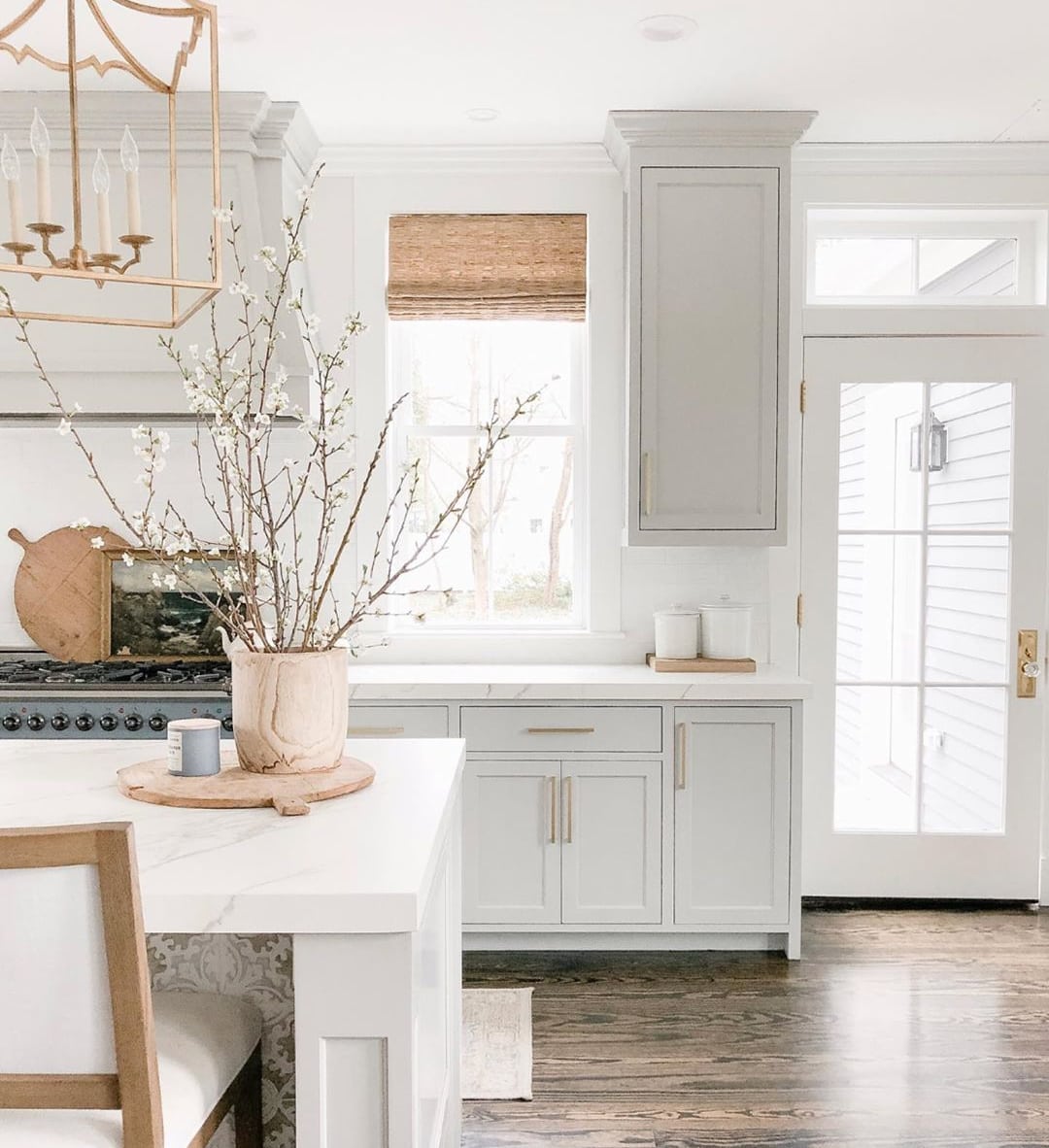 The Benefits of Using Neutral Colors for Kitchen Cabinets
When it comes to choosing the color for your kitchen cabinets, neutral tones may not be the first option that comes to mind. But let me tell you, there are so many benefits to using them!
First of all, neutral hues such as white, gray, and beige all have a timeless appeal that can make your kitchen look stylish for years to come.
Additionally, they create a classic backdrop that easily blends with a variety of other colors, allowing you to experiment with different accent hues in your kitchen accessories and decor. Neutral tones also have a calming effect on the eyes, making your kitchen feel serene and peaceful.
And finally, did I mention that they make your kitchen look more spacious and brighter? So if you're looking for a kitchen design that's both sophisticated and practical, go for neutral colors for your cabinets!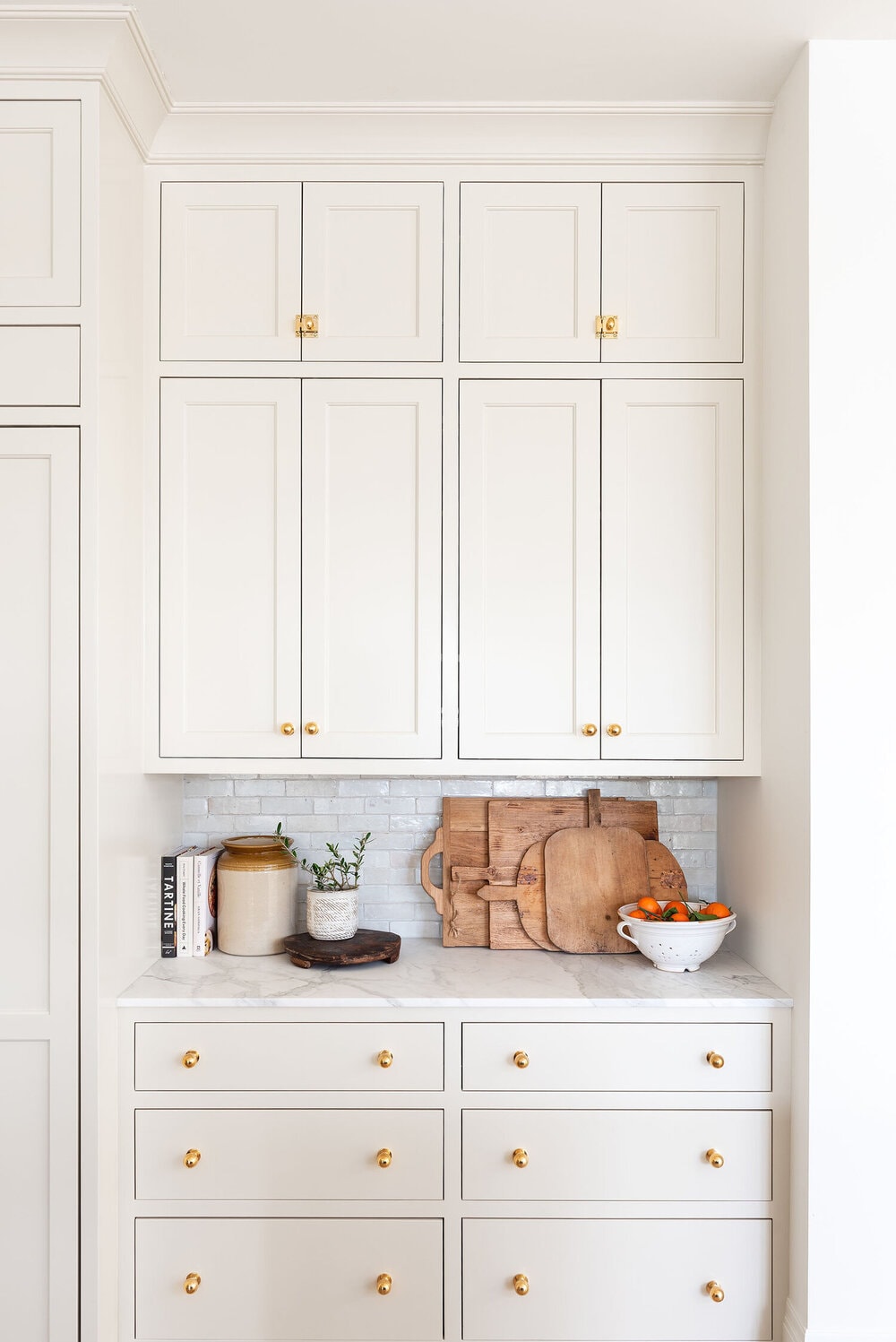 Tips for Choosing the Right Shade of Neutral Color for Your Kitchen Cabinets
Choosing the right shade of neutral paint color for your kitchen cabinets can be daunting.
With so many options to choose from, it's easy to become overwhelmed.
Fear not! There are a few tips to help make the process a breeze.
First, think about the overall style of your kitchen. Cool grays work well in modern or industrial-style kitchens, while warm beige or cream hues tend to complement traditional or farmhouse-style spaces.
Second, consider the lighting in your kitchen, as it can play a major role in the color's appearance. Natural light tends to make colors appear brighter, so opt for a lighter shade if you have an abundance of natural light. If your kitchen is on the darker side, choose a color with more depth and richness.
Finally, select a few colors you're interested in and test them on a small area of your cabinets to see how they look throughout the day.
Don't be afraid to take your time and make sure you find the perfect shade for your space.
Tips and Tricks on Maintaining Neutral Colors in the Kitchen Cabinet
Keeping your kitchen cabinets the perfect shade of white, beige, or gray can be a challenge.
One tip is to choose high-quality paint that is specifically designed for cabinets. This will ensure a smooth finish that is also durable and easy to clean.
Make sure to install hardware on your cabinets to keep sticky fingers off the finish. There are so many finish options that can elevate the look of your cabinets and be super functional in maintaining them.
Be sure to clean your cabinets regularly with a mild detergent and avoid harsh chemicals, which can cause discoloration over time.
Neutral may be the new black, but with these tips and tricks, your kitchen cabinets will look anything but boring!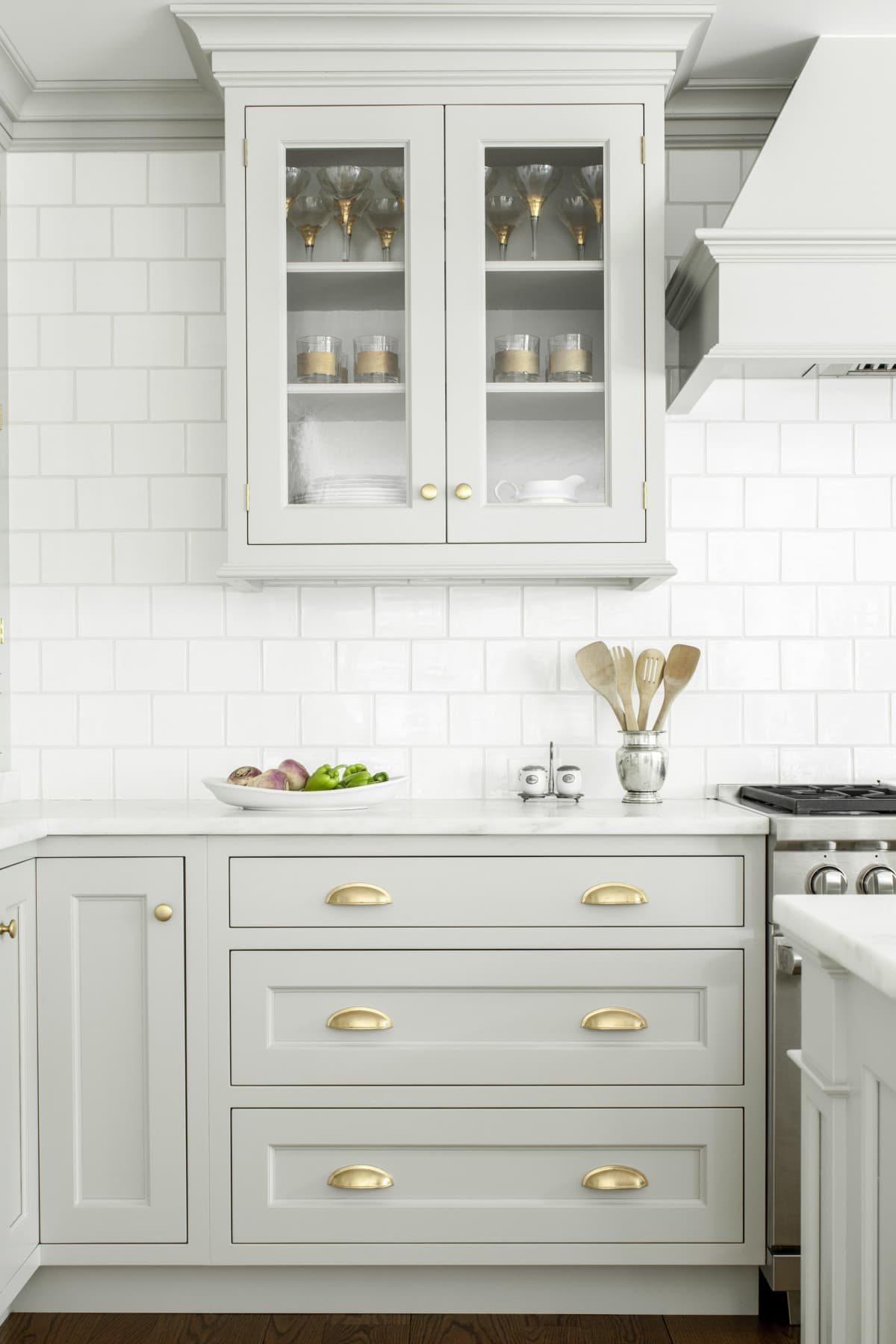 How To Incorporate Color In A Neutral Kitchen
A neutral kitchen can be a great space for showcasing vibrant colors. Whether you decide to layer on colors in subtle accents or make a more dramatic statement with your kitchen design, it's possible to successfully incorporate a color palette without cluttering the room.
Consider selecting an eye-catching backsplash that will serve as an attractive focal point of your kitchen. This could really add a wow factor to an all-neutral space.
Accents such as colorful barstools, backsplash tiles, or window treatments can bring in even more distinct hues without too much extra effort.
Incorporating different textures into your kitchen through material choices like wood grains and stone slabs will also help to add varied visual interest and modern flair as you work with shades beyond neutrals for your kitchen cabinet colors.
With careful planning and execution, these simple solutions can transform any neutral kitchen into one with pizzazz!
Ten of the Most Popular Neutral Colors for Kitchen Cabinets
Neutral Kitchen Cabinet Colors
Neutral kitchen cabinet colors are a timeless and versatile choice for any home.
These shades work well with any design style and create a warm and inviting atmosphere in the kitchen.
Plus, they offer a practical alternative to bold or trendy colors that may eventually go out of style. By using neutral hues, you can create a blank canvas that allows you to add different textures, patterns, and accents to your kitchen decor.
These colors also hide dirt and stains better than brighter hues, making them easier to maintain. Additionally, neutral shades can be paired with any appliance or fixture, making them an easy choice for those who like to mix and match.
Whether you go for a classic white or a trendy gray, neutral colors for kitchen cabinets are a smart and stylish option.