Best Beige Kitchen Cabinet Colors
Beige kitchen cabinet colors are a classic choice for those who want a neutral yet stylish look in their kitchen.
If you're planning to remodel your kitchen or just looking to give it a fresh new look, choosing the right kitchen cabinet colors can make all the difference.
The versatility of beige means that it can be paired with a range of other colors and materials, allowing for endless possibilities when it comes to decorating and designing your kitchen.
Beige lends itself to many different design styles and is a neutral hue which is a beautiful color to use in place of using white in a kitchen.
However, choosing the right color scheme, hardware, and flooring to complement beige kitchen cabinets requires careful consideration.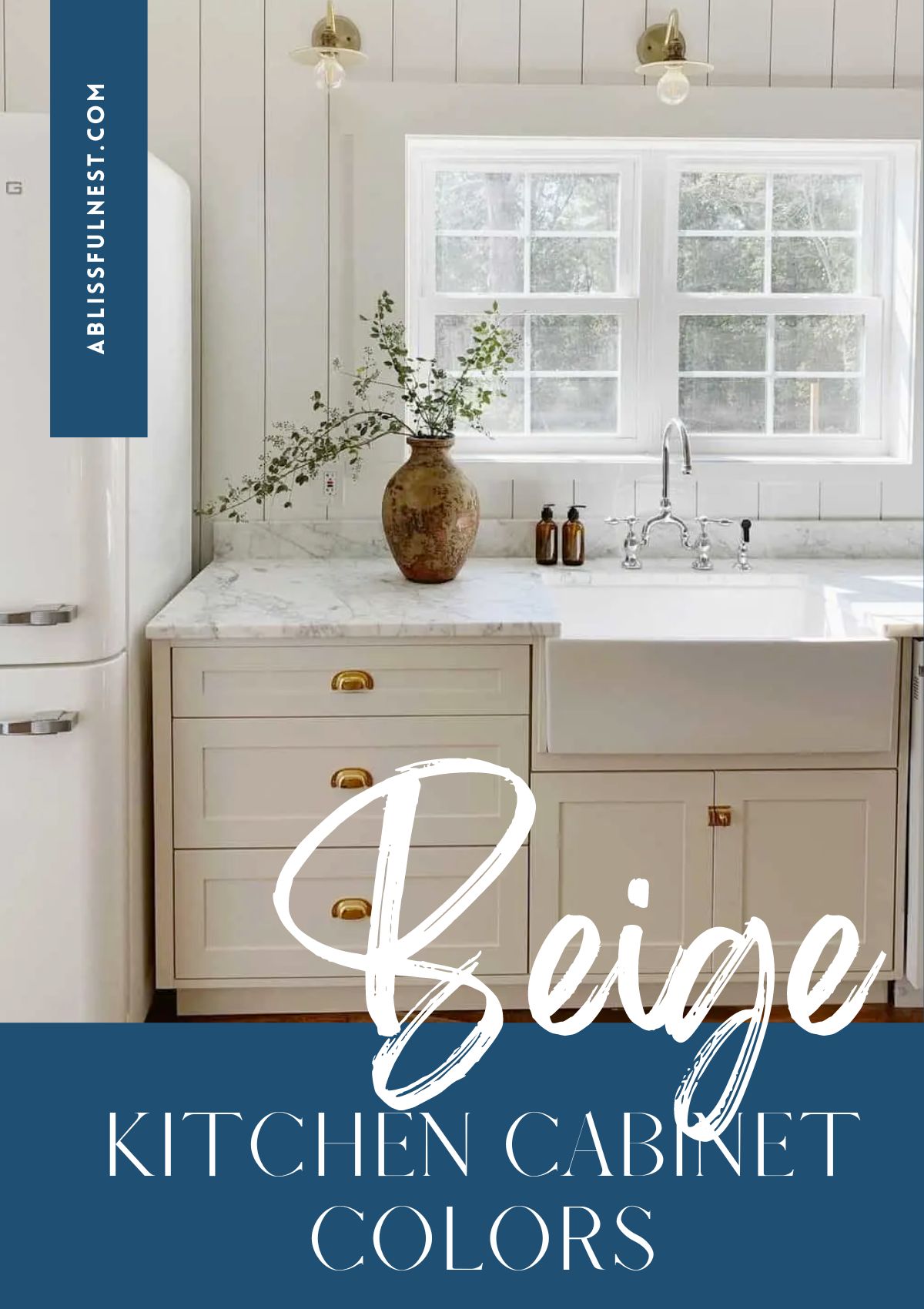 The color of your kitchen cabinets plays a big role in setting the ambiance and style of your home. Beige, with its timeless appeal and versatility, has become a favorite paint color choice for those who are looking to strike the perfect balance between warmth and designer flare.
Whether you're planning a complete kitchen remodel or just considering a fresh coat of paint, these gorgeous beige cabinet colors will elevate your space to a new level of sophistication and style.
This site contains affiliate links. Please read our disclosure policy. As an Amazon Associate, I earn from qualifying purchases.
What Color Goes Best With Beige Cabinets
Beige cabinets are a versatile paint color that pairs well with a wide range of colors, allowing you to create different aesthetics in your kitchen.
Mixing beige cabinets with warm wood tones, such as white oak or walnut, can create a cozy and rustic look. These wood tones add richness and texture to the space, balancing the neutrality of beige.
For a high-contrast, contemporary look, consider using black or charcoal gray accents. Black countertops, appliances, or cabinet hardware can make a bold statement against beige cabinets, creating a modern and sophisticated kitchen design.
Soft greens, especially sage green, can create a tranquil and natural ambiance in your kitchen when combined with beige cabinets. This combination often evokes a soothing, earthy vibe that works well in both traditional and modern kitchens.
Navy blue is a bold and striking choice that pairs exceptionally well with beige. It creates a captivating contrast and adds a touch of drama to your kitchen. Consider using navy blue as an accent wall, island color, or in decor items like curtains and dishes.
Remember that the specific shades and tones you choose within these color families can greatly impact the overall look and feel of your kitchen.
What Color Hardware To Use For Beige Cabinets
Choosing the right hardware color for beige cabinets depends on the overall look and style you want to achieve in your kitchen.
Antique brass hardware can bring a vintage or eclectic vibe to your kitchen. The warm, golden tones of antique brass pair nicely with beige cabinets and can create a cozy, nostalgic atmosphere.
Brushed nickel hardware has a soft, silvery-gray finish that complements beige cabinets beautifully. It provides a timeless and classic look while adding a subtle contrast.
Black hardware is a bold and trendy choice that can create a high-contrast, modern look when paired with beige cabinets. It adds a dramatic touch and makes a statement in your kitchen design.
When selecting hardware, consider the existing elements in your kitchen, such as your countertops, backsplash, and appliances, as well as your personal style preferences.
It's also important to maintain consistency in hardware finishes throughout your kitchen for a cohesive look. You can mix and match different types of hardware, like knobs and pulls, as long as they share a similar finish for a coordinated look.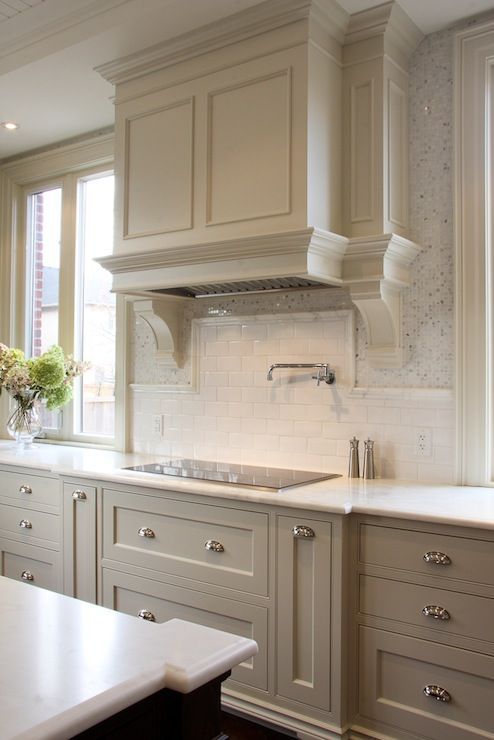 What Flooring Goes With Beige Kitchen Cabinets
Beige cabinets are versatile, so they can work well with a variety of flooring options.
Light hardwood floors, such as oak, maple, or hickory, create a warm and timeless look when combined with beige cabinets. The natural wood tones provide a pleasing contrast while maintaining a sense of cohesion and balance.
Dark hardwood floors, like cherry or walnut, can create a dramatic and luxurious appearance when paired with beige cabinets. This high-contrast combination adds depth and richness to your kitchen.
Natural stone flooring, such as travertine, limestone, or slate, can add an earthy and rustic charm to your kitchen. These materials bring texture and character to the space and pair well with beige cabinets.
When selecting flooring, consider factors such as durability, maintenance, and your personal style preferences. It's also important to ensure that the flooring complements the other elements in your kitchen, including countertops, backsplash, and wall paint.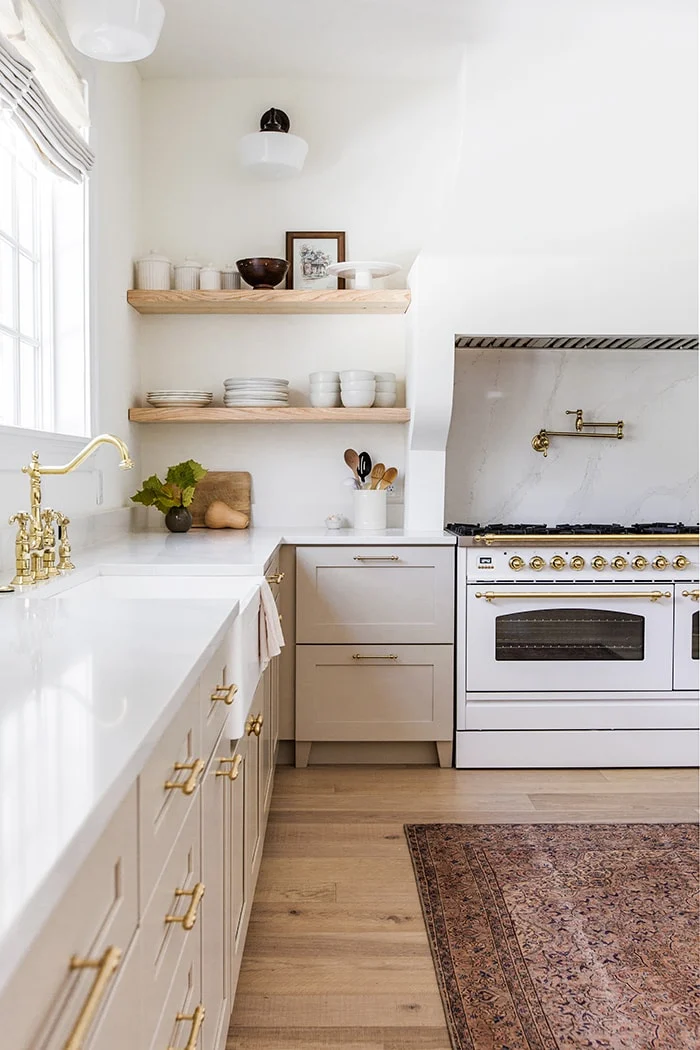 How To Decorate With Beige Kitchen Cabinets
Beige is a neutral color that provides a great backdrop for various design styles and allows you to incorporate different colors and textures to achieve the look you want.
Think about adding texture to your space through baskets, butcher block, vases, and other decorative items to add depth and interest to the space.
Beige cabinets provide a neutral canvas for colorful accents too. Consider incorporating colorful kitchen accessories, like dishes, pots, and utensils that reflect your style.
I've shopped a few pieces that can easily transition into a beige kitchen and work with many different design styles.
Tap Photos To Shop

Don't Forget To Order Paint Samples!
No matter what a photo looks like or description, every paint color will look different in your own space. It is so important to test a paint color before you commit to it.

That's why I love buying these peel & stick samples.
It makes it so easy & affordable to test colors!

Best Beige Kitchen Cabinet Colors
Whether you prefer a classic, modern, rustic, or eclectic look, beige cabinets can adapt to various design styles.
These gorgeous kitchens are examples of how to pick hardware, flooring, countertops, and decorate with beige kitchen cabinet colors.
Beige Kitchen Cabinet Colors
When it comes to decorating with beige kitchen cabinets, the key is to create visual interest and balance.
Sticking with neutral shades like creams, whites, and grays for walls and accessories can create a cohesive and elegant look.
Incorporating patterns or textures, such as woven baskets or patterned curtains, can add depth and interest.
Beige kitchen cabinet colors can create a fresh cozy backdrop to the other design elements in your home and add sophistication to your space.
Let me know which shade you select!