Coffee Bar Ideas For Kitchen Counter
If you love coffee then these coffee bar ideas for kitchen counter and small kitchens if for you!
Coffee lovers will agree that starting the day with a fresh, hot cup of coffee is essential.
And what better way to enjoy it than at your own home coffee bar?
Whether you have a small kitchen or a large one, a coffee station can be a great addition to your countertop.
But, with the abundance of choices and ideas online, it can be overwhelming to decide on the perfect setup that complements your style and space.
That's why with all these coffee bar ideas, I have narrowed down all the best options so you can decide which is the best for you.
You will be surprised at some of the things I found for you and hope it will make creating your own coffee station in your kitchen easier.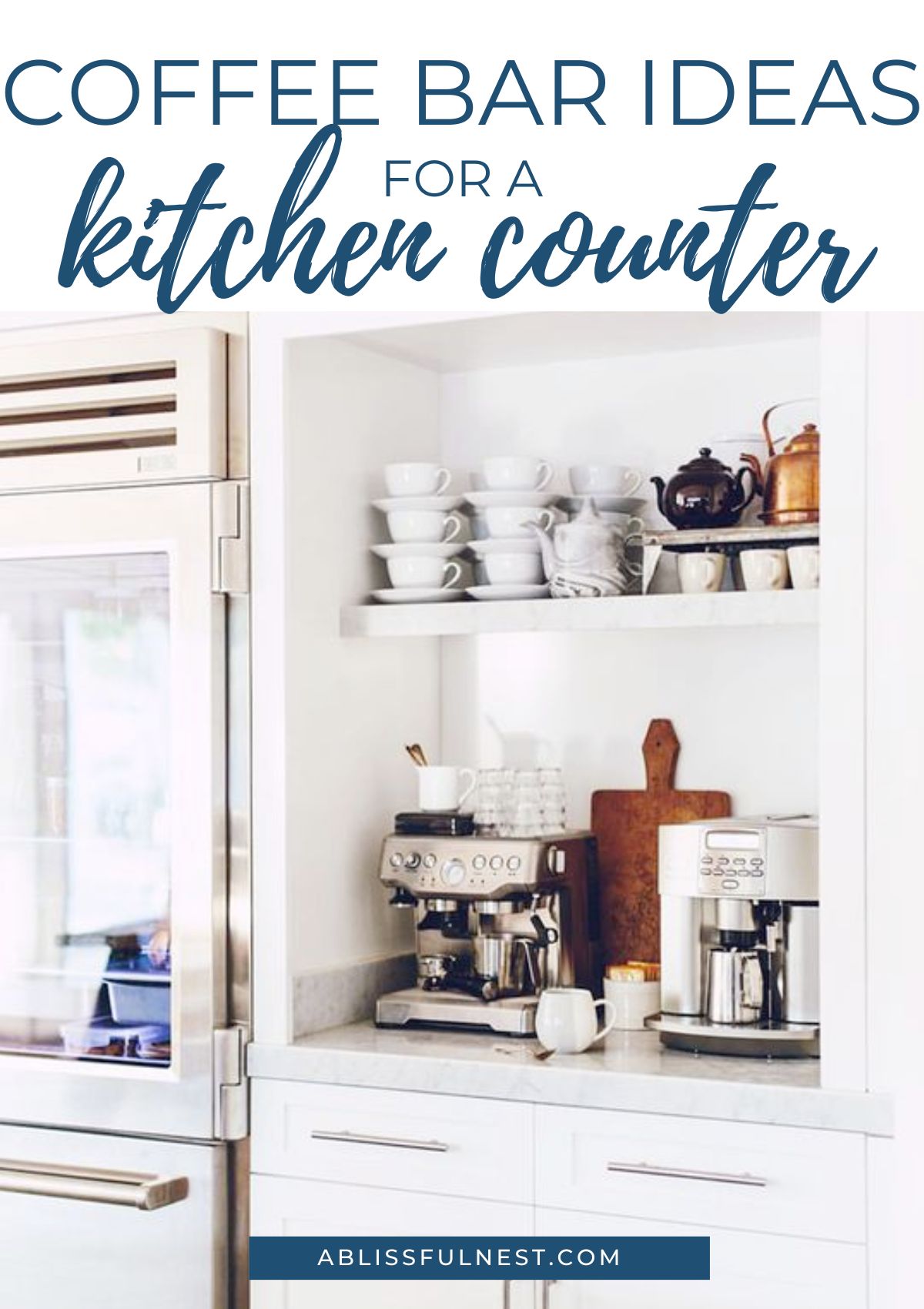 Not only does a coffee bar add a touch of style to your kitchen, but it also makes your morning routine a little easier.
Whether you're a coffee aficionado or just looking for an easy way to make a cup of coffee, I've got you covered.
More Coffee Bar Ideas + Inspiration
This site contains affiliate links. Please read our disclosure policy. As an Amazon Associate, I earn from qualifying purchases.
Where Should A Coffee Station Be Placed In A Kitchen
The placement of a coffee station in your kitchen can depend on many things, including the layout of your kitchen, your personal preferences, and how often you use it.
The most important factor is accessibility. You'll want your coffee station to be easily accessible, especially in the morning when you may not want to navigate obstacles or walk too far.
Ensure you have enough counter space for your coffee maker, grinder, mugs, and other accessories. Ideally, you want a flat, stable surface for preparing and serving coffee.
Ensure there are nearby electrical outlets for your coffee maker and any other appliances you use. You don't want to stretch cords across the kitchen.
Ensure there are nearby electrical outlets for your coffee maker and any other appliances you use. You don't want to stretch cords across the kitchen, creating a safety hazard.
There's no one-size-fits-all answer to where a coffee station should be placed in a kitchen. But consider your kitchen's layout and your daily routine to decide the most convenient and practical location for your coffee station.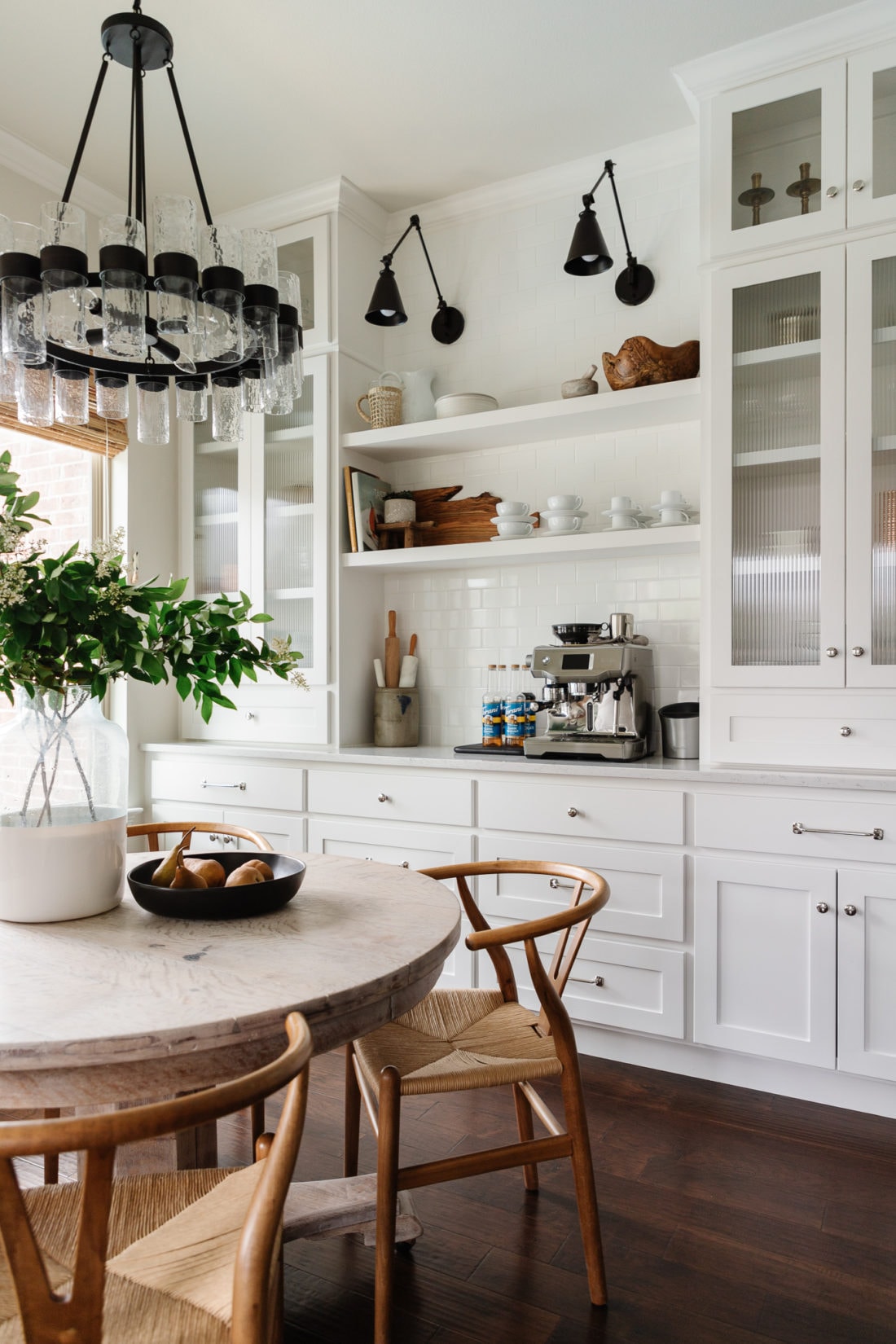 What Do You Put On A Coffee Bar In The Kitchen
There are a few things I always like to have on hand for my coffee bar. I even switch things out that are seasonal like syrups and spices. But a well stocked coffee station is life changing for when you want to spontaneously make a more unique coffee.
Tap Photos To Shop

Creative Coffee Bar Ideas For Kitchen Counter
Kitchen Coffee Station Ideas
Adding a coffee bar to your kitchen counter is a great way to create a cozy and inviting atmosphere in your home.
When deciding on the placement of your coffee station, it's important to consider the flow of your kitchen and how you can maximize counter space without creating clutter.
Also, adding functional elements such as storage for coffee beans, mugs, and creamer can make your coffee station not only visually appealing but also practical.
Lastly, incorporating creative elements such as unique coffee makers, chalkboard menus, and decorative accents can add a personalized touch to your coffee bar.
With these ideas in mind, designing the perfect coffee bar for your kitchen counter is sure to enhance your morning routine and making a cup of coffee relaxing and enjoyable.