Coffee Bar Accessories
This post may contain affiliate links. Please read our disclosure policy.
If you're like me, you know that creating the perfect cup of coffee is more than just popping a coffee pod in the coffee maker.
To truly elevate your coffee experience, you need the right coffee bar accessories.
From a good coffee machine to unique drinking vessels, there are various items that can take your coffee enjoyment to the next level.
With so many coffee bar ideas and accessories, it can be hard to decide what you need to add to your at-home coffee bar.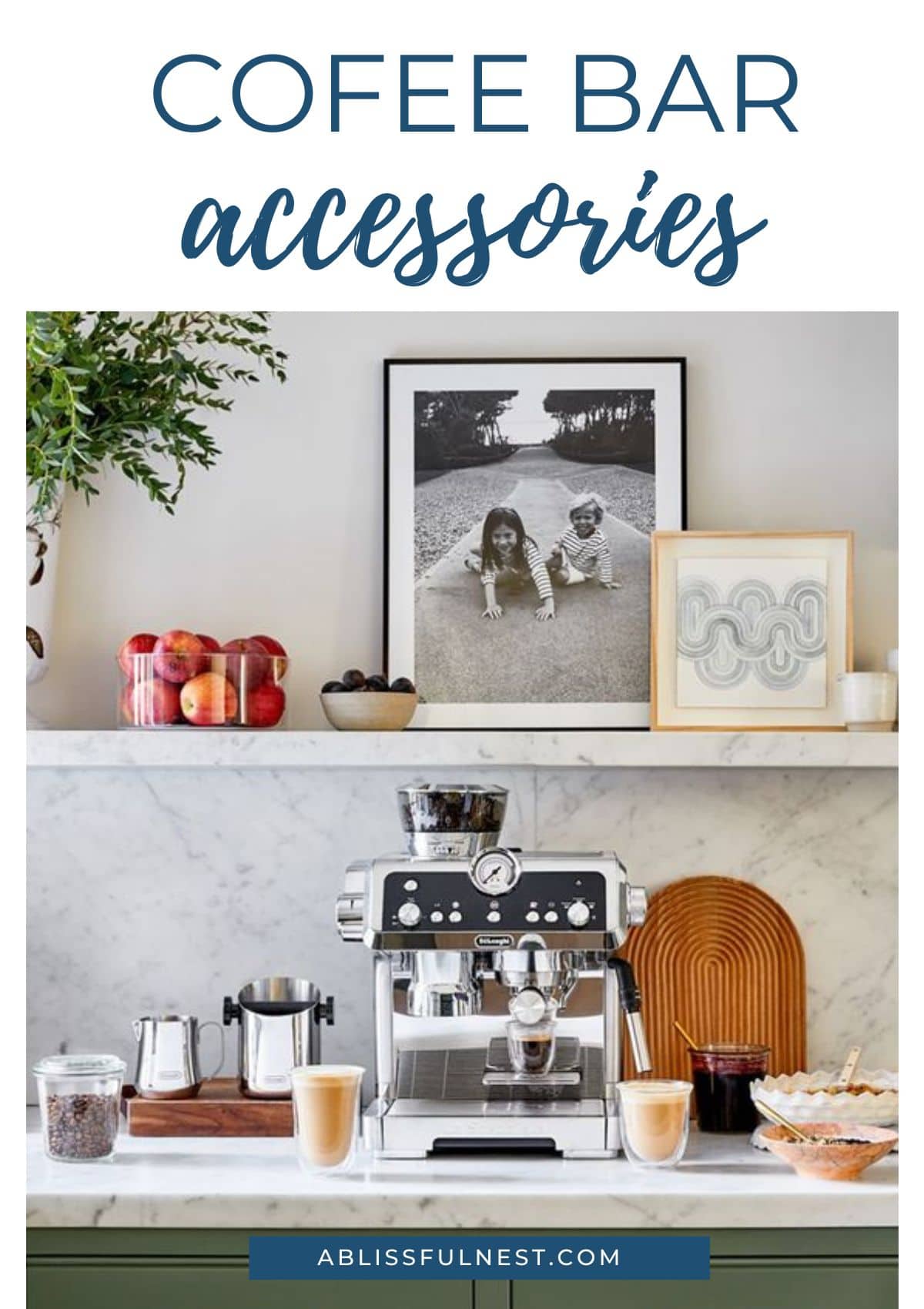 Whether you're a fan of lattes or just want a perfectly brewed cup of coffee, the right accessories can make a world of difference.
That's why I have compiled the ultimate list of everything you need to have on hand to make your favorite coffee drinks at home.
So get your caffeine fix on and discover the must-have items for your coffee bar!
Favorite Places To Shop For Coffee Bar Accessories
Here are the best places to shop for all your coffee bar accessories from machines to the best coffee beans. I personally love these stores and shop them often for my own coffee bar.
Coffee Bar Accessories You Will Need
1. A good coffee machine
Investing in a good coffee machine is essential. It is the backbone of any coffee bar and determines the quality of your brews. With so many options on the market, choose a machine that works best for the kinds of coffee drinks you love to make.
From regular coffee machines to espresso machines, there are some amazing ones that will make every drink you love.
Another thing to think about when investing in a coffee machine is overall savings. While high-quality coffee machines may require a significant upfront investment, they can help you save money in the long term.
Making your own coffee at home or in the office is more cost-effective than buying coffee from cafes every day.
2. Coffee mugs and cups
You'll need coffee mugs and cups to serve your coffee. These come in various shapes and sizes to accommodate different drink preferences.
Choose a design that complements your decor or a color scheme that reflects your personality.
Store them in a cabinet above your coffee machine or display them on a tray on the counter.
3. A milk frother
A milk frother is another must-have for any coffee lover. The frother adds an extra layer of texture and flavor to your coffee drinks, enhancing the overall experience.
A good milk frother also offers versatility in terms of the types of milk it can froth. Whether you're using dairy milk, almond milk, soy milk, or any other milk alternative, a quality frother can handle various types of milk and make your coffee turn out just the way you like it.
4. Coffee grinders
A coffee grinder is another essential accessory for creating a great cup of coffee. Grinding beans right before brewing enhances the flavor and aroma of the coffee. There are many types of grinders available, from electric to manual.
With a good coffee grinder, you have the flexibility to experiment with different coffee beans and brewing methods.
You can easily switch between different grind sizes, from fine for espresso to coarse for French press, enabling you to explore a wide range of flavors and brewing techniques.
Different brewing methods require specific grind sizes to extract the optimal flavors. Whether you're brewing espresso, pour-over, French press, or any other method, a good grinder lets you adjust the grind size according to your preference.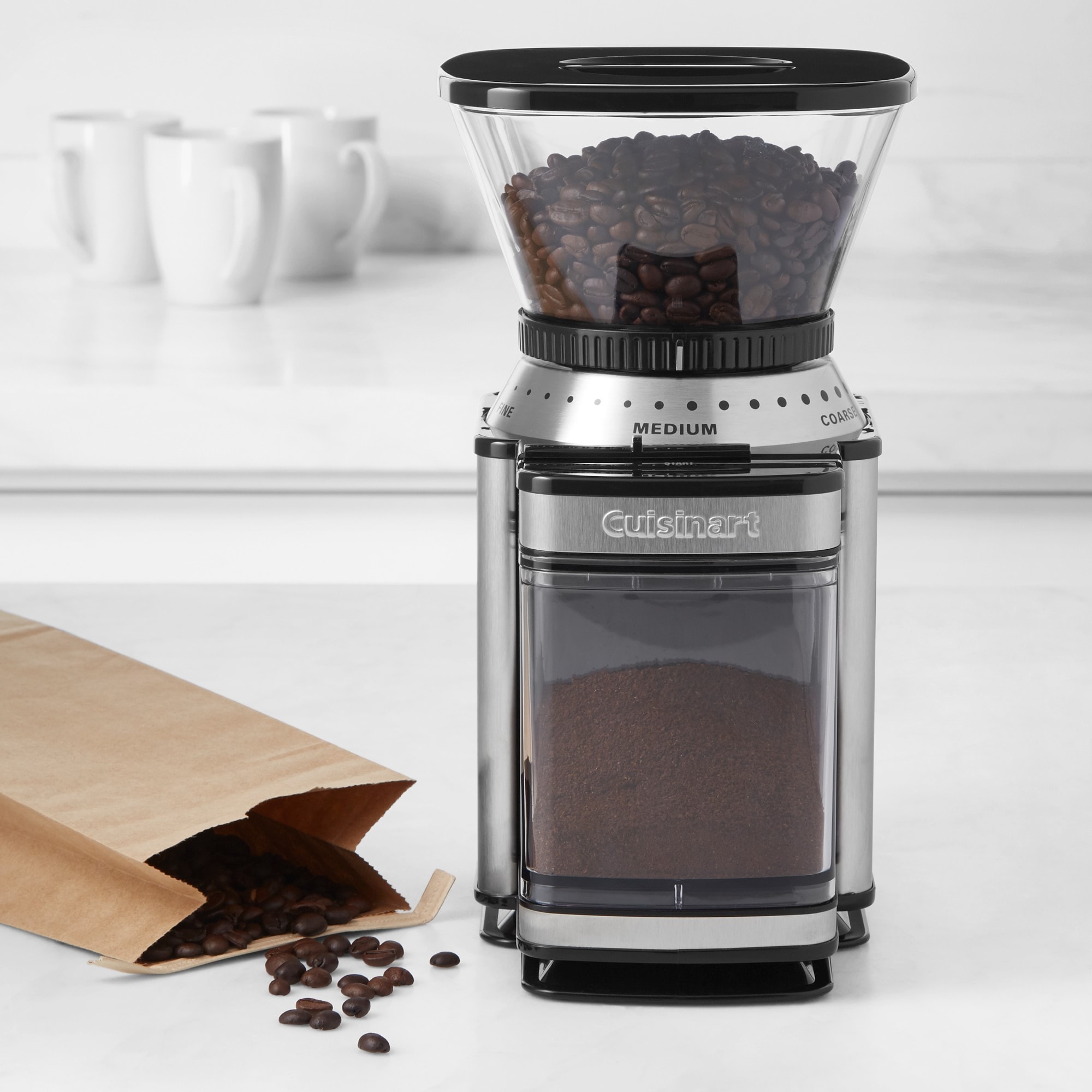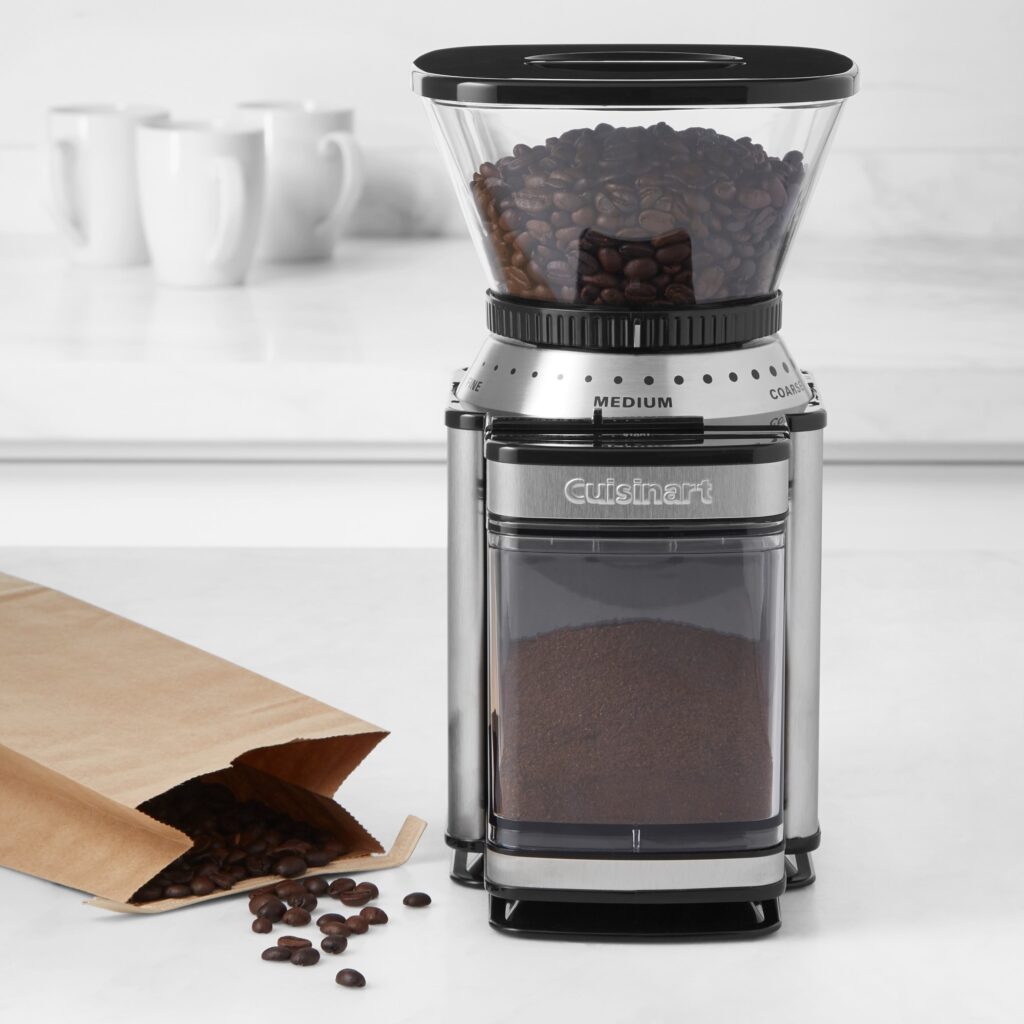 5. Other drinking glasses
Glasses, mugs, and tumblers are all excellent options depending on what type of coffee drink you are making.
Different coffee drinks have specific requirements that can be complemented by particular glassware. For instance, Irish coffee glasses typically have a handle to prevent the hot liquid from burning your hand, while espresso glasses are designed to concentrate the aroma and allow you to appreciate the crema.
Choose durable and high-quality glasses that can withstand the heat and pressure of your coffee drinks. Double-walled glasses, for instance, provide insulation and help maintain the temperature of hot drinks for a longer time while keeping the exterior cool to the touch.
6. Condiments
Condiments such as sugar, cream, and syrups add the finishing touches to any coffee drink. Having a variety of options allows you to customize your cup of coffee whenever you want a unique blend.
When you have guests over, providing a range of condiments allows them to customize their coffee according to their liking. Some guests may prefer their coffee black, while others may enjoy adding cream and sugar.
Also having some spices on hand are a delicious addition to your coffee bar, like cinnamon, nutmeg, and cardamom.
Best Coffee Bar Accessories
Tap Photos To Shop

More Coffee Bar Ideas + Inspiration
Having a well-equipped coffee bar with the right tools to use can make all the difference when it comes to creating a delicious cup of coffee.
With these coffee bar accessories, you'll be able to create barista-quality drinks in the comfort of your own home.
So stock up and start brewing your favorite coffee drinks and enjoy!