Home Coffee Station Ideas For Kitchens
Sharing the most creative and beautiful home coffee station ideas for kitchens and just about any space in your home.
You can organize your kitchen and create a unique home coffee bar to store and use your essential coffee-making accessories with ease.
Instead of dropping by a coffee shop each day, enjoy your steaming cup of brew from the comfort of your own home with these inspiring (and maybe jealousy-inducing) coffee bar ideas.
If you are a coffee drinker, chances are you probably make a cup (or two!) of coffee every day at home, rather than running to coffee shops and spending (way more) money on that sought-after cup of java.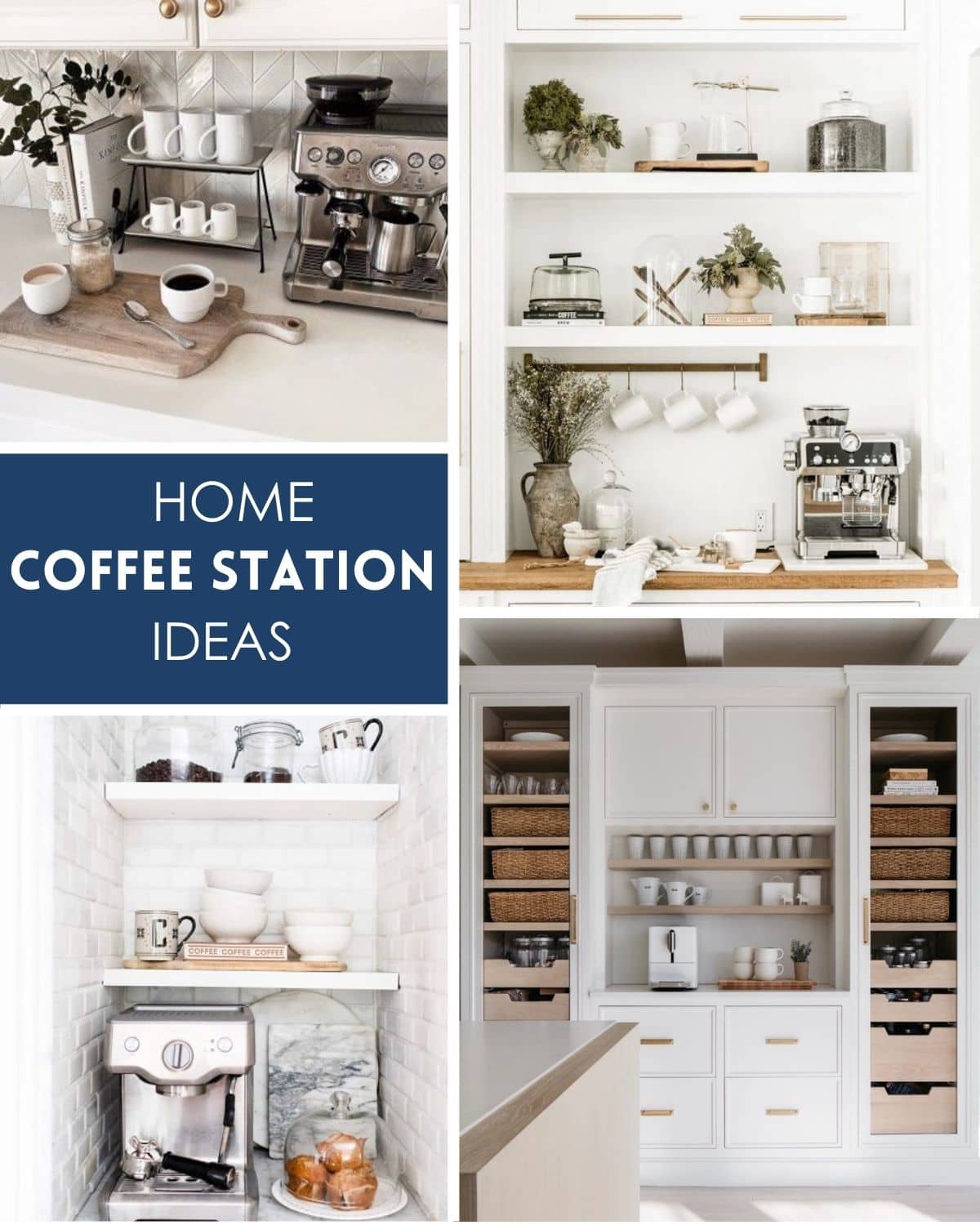 Did you ever consider that a home coffee station could be the perfect addition to your home?
Not only is a home coffee bar a practical spot to store all your coffee-making essentials, but it can also be a focal point in your kitchen as well.
Plus, it makes for a fun spot to serve groups of friends and family their favorite brewed beverage as well.
This site contains affiliate links. Please read our disclosure policy. As an Amazon Associate, I earn from qualifying purchases.
What Should Be Included In A Home Coffee Station?
For the coffee lover, there are many accessories that may potentially need to be part of a DIY coffee bar.
At the minimum, a home coffee bar has:
Coffeemaker

– there are so many different kinds of coffee makers but whether you love to French

press, one-pot, or use a Keurig

, you will need to be well-equipped!

Coffee mugs

– These can be stored in your cabinet or displayed on a cute mug rack but plan on having on hand a good amount so you aren't washing your cup every day!

Coffee bean & other coffee-making essentials

– think of canisters, small vases, trays, and more to house all the functional items you will need.

Sugar, sweeteners + stir sticks

– a well-stocked coffee station has plenty of ways to sweeten your coffee! Grab some special coffee syrups, sugar, and even some cinnamon to add to your coffee.

Small decorative items

– think of flowers, candles, and even a fun little sign to personalize your space.
However, many home coffee stations have much more than just the bare minimum basics.
In fact, I put together an entire post showing you exactly what you need on hand to stock your home coffee station, and here are some of my favorite items to stock your coffee station.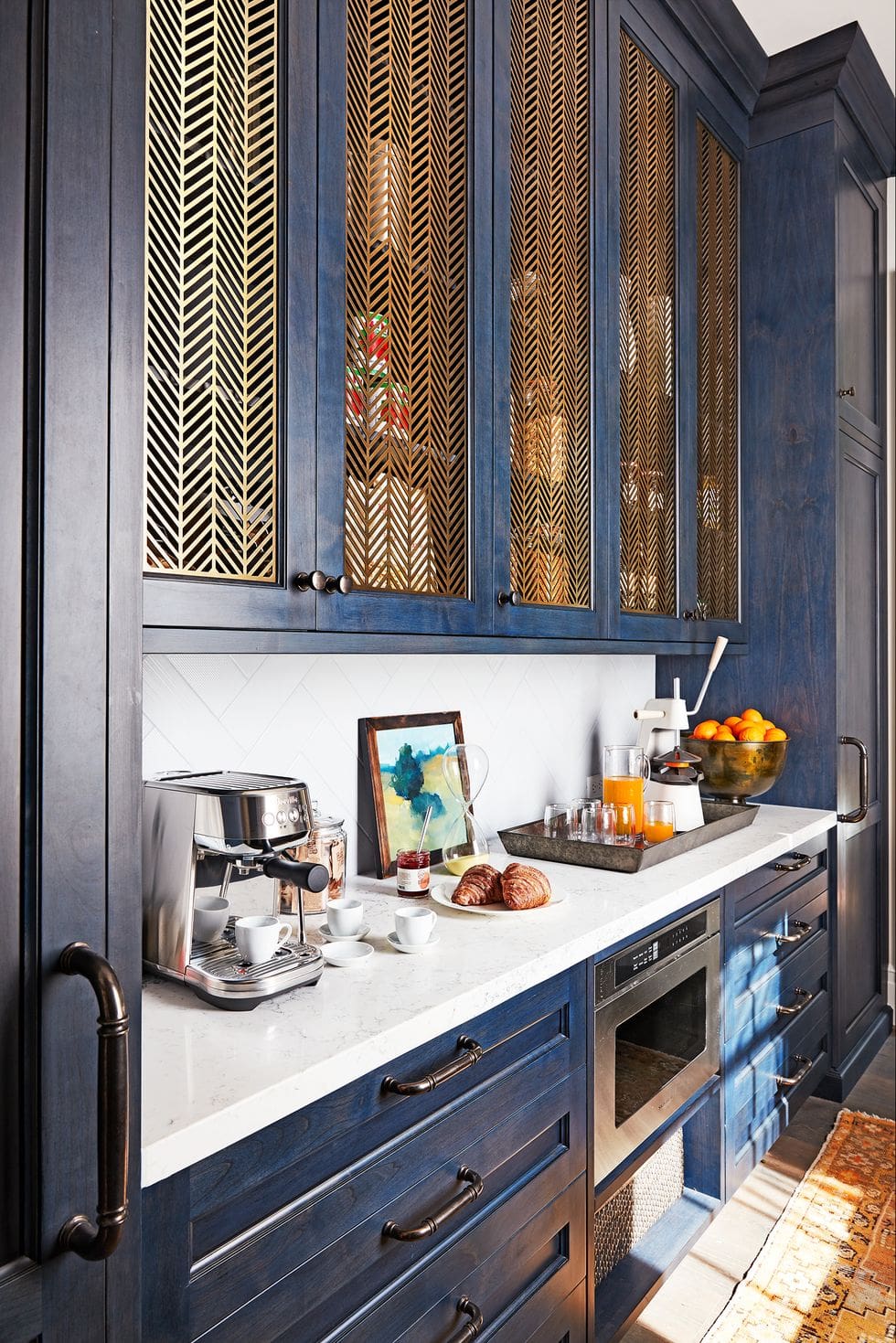 Does a Coffee Station Need To Be in the Kitchen?
Not at all! There is no rule at all that says you need to have a kitchen coffee bar.
I think home coffee stations tend to be in the kitchen most often because that way it is near a water source (and the dishwasher).
However, if you have a nice corner or area in a nearby sitting room, dining room, or even an office that would function well as your home coffee station, then utilize that space.
The best place for your home coffee bar will be in an area out of the way from the main cooking area of the kitchen so that coffee-making doesn't interfere with food creation.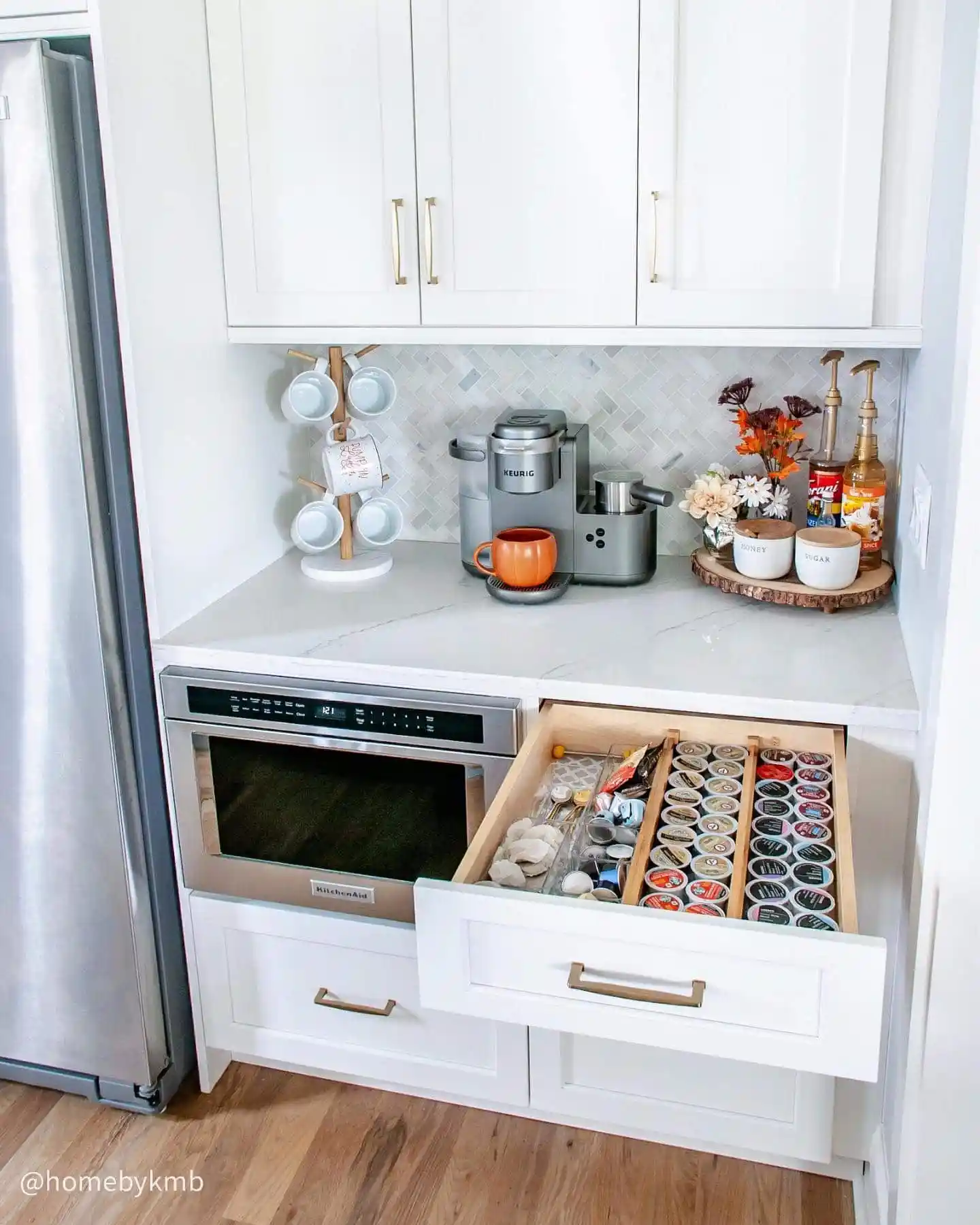 Here are some ideal placement ideas for your home coffee station:
A corner of the kitchen

Another out-of-the-way space in the kitchen, maybe a small counter area that is slightly removed from the main food prep area

Around the corner from the kitchen

In a nearby sitting or dining area just off the kitchen

Living room

Home office
Personally, I love the idea of adding a home coffee station in my office!
I spend a lot of time in there writing and working, so why not keep myself energized with some java? I've been toying around with adding a coffee bar on wheels too.
That way, I can have it in my office unless I'm entertaining, then I can roll it on out.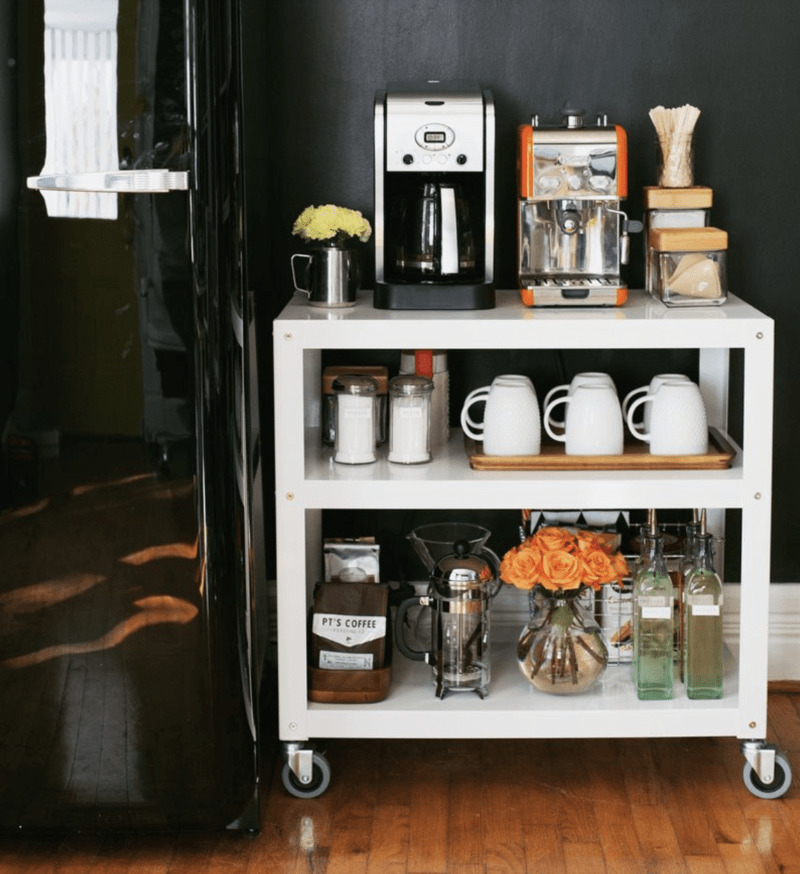 More Kitchen Ideas + Inspiration
Home Coffee Bar Ideas For Your Home
There are so many ways you can add a custom home coffee station to your home.
You can use a countertop, a side table, a cart, or a cabinet to create a DIY home coffee station that fits your needs and your space.
Additionally, you can opt to use the space you already have in a new and creative way to make a home coffee station that makes sense for your home.
This list includes ideas to help give you an idea of different coffee bar possibilities.
Think of this as a starting point, and use the images and ideas below to create your own unique area.
Here are a few examples to help you plan and style your very own home coffee station.
Home Coffee Station Ideas
Placing your home coffee station away from the main working area of the kitchen allows people to serve themselves without getting in the way of the cook.
I love how the dark wood of the coffee station makes it stand out and separate from the rest of the light, bright kitchen. 
Photo Credit: Handmade Haven
Here's a chic farmhouse version of a home coffee station that is even compact and portable. You could put this stand on a counter or hang it on a wall in a convenient, out of the way place.
Photo Credit: Angela Marie Made
Cute, portable, and perfect to take to the sitting room or even the back patio when you have guests over.
I love carts like this because you can take it where you have a need.
Photo Credit: Artsy Chicks Rule
With a little bit of creativity and design, you can repurpose an old piece of furniture (like a dresser) into a stylish DIY coffee station.
This type of setup is perfect for the ultimate coffee lover who has many accessories that need to be stored or wants to consolidate furniture.
A piece like this could become a real statement piece depending on how you decide to finish it: paint it a color to match your decor – or to stand out against it.
Photo Credit: Stylin by Aylin
If you want a temporary setup for an event, like a brunch, this is a terrific setup.
It would also work if you don't have a ton of kitchen counter space so the coffee bar doesn't take up space you need.
Photo Credit: My Sweet Savannah
This coffee station takes advantage of a narrow wall to make great use of a small space.
The main coffee-station cabinet has doors so you can tuck everything when needed.
The unit also has room to store mugs, glasses, vases, and additional coffee supplies
Photo Credit: DeBaker Design Group via Houzz
Chic and minimalist (but still with everything you really need), this coffee bar example shows just how little counter space is actually required when you have everything but the essentials tucked away into cabinets or drawers
Photo Credit: Margaret Rajic For Grand Traditions Home
Utilize an open shelf in virtually any space to create a minimalist home coffee station.
While the one below is situated in a kitchen, you could easily replicate this idea in any other room in your home.
Keeping the top of the shelf more decorative and the bar underneath more practical is a brilliant idea.
With these ideas to inspire you, let your creativity soar and create a home coffee station you can use daily and enjoy looking at!