Kitchen Coffee Station
This post may contain affiliate links. Please read our disclosure policy.
If you enjoy starting your day with a freshly brewed cup of coffee, then you will certainly appreciate the convenience of having a kitchen coffee station right at your fingertips.
Whether you are a busy parent, a work-from-home professional, or just someone who loves a great cup of coffee, a well-designed kitchen coffee station is sure to keep you energized throughout the day.
That's why all these coffee bar ideas are so creative and easy to recreate in your own home.
A dedicated coffee station not only adds style to your kitchen but also simplifies your morning routine.
With everything in one place, you won't have to worry about misplacing your coffee filters or forgetting to add sugar to your coffee.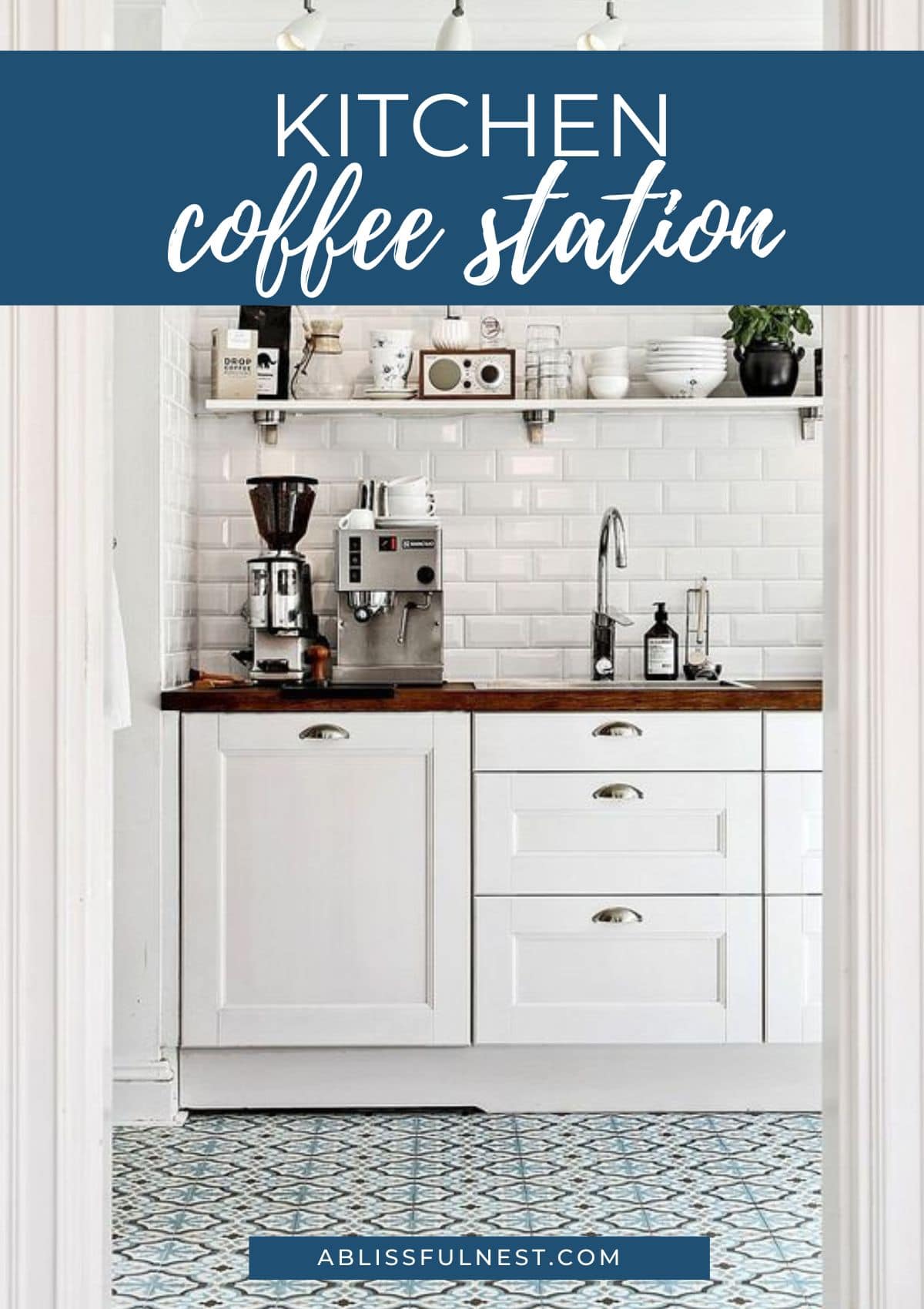 If you are a coffee lover like me then let me give you some practical tips on where to place your coffee station in your kitchen and what essential items you will need to get started.
I am also sharing my favorite accessories for a coffee station that can take your brewing experience to the next level.
I also have some amazing kitchen coffee station ideas that can inspire you to create your very own coffee oasis in your home.
Why Do You Need A Kitchen Coffee Station
The biggest reason why you would need a kitchen coffee station is to save time and money.
It also is one of the easiest spots in a home for easy access to water and has plenty of electrical outlets.
When your coffee station is in the kitchen, you can seamlessly integrate coffee preparation into your daily kitchen routine.
You can also utilize existing space with countertops and cabinets to store everything in.
And let's face it saving $5-$10 on a coffee each time really adds up.
More Coffee Bar Ideas + Inspiration
Where To Put A Kitchen Coffee Bar
There are a couple of options for where to place a coffee station in your kitchen.
The most obvious is the counter. Look for an area near an electrical outlet for your coffee maker or espresso machine. Ensure there is enough space for your coffee equipment, grinder, and other accessories.
If you have a kitchen island, it can serve as an excellent location for your coffee station. You can dedicate a corner or one side of the island for your coffee setup.
If you prefer to keep your coffee station hidden or have limited counter space, consider incorporating it into a built-in cabinet or pantry. You can have a slide-out shelf or a designated section with outlets for your coffee equipment. When not in use, simply close the cabinet doors or slide the shelf back in to keep the area neat and clutter-free.
If you have limited counter space, consider utilizing wall-mounted shelves for your coffee station. Install shelves at a comfortable height and arrange your coffee equipment, mugs, and supplies in an organized and visually appealing way.
What Do You Need For A Kitchen Coffee Station
There are a few essential items you will need to set up your kitchen coffee station. These are great to get your coffee station up and running!
Kitchen Coffee Bar Accessories
Here are my favorite coffee station accessories to use for setting up a coffee bar. Use these to add to any items you already have at home.
Tap Photos To Shop

Kitchen Coffee Stations
Kitchen Coffee Station Ideas
Having a kitchen coffee station is not just a trend but a necessity for coffee lovers.
A designated coffee station in your kitchen not only saves you time and effort but also adds a touch of style and convenience to your daily routine.
Now that you have a better understanding of why you need a coffee station in your kitchen, where to place it, the essential things you need, accessories, and ideas, it's time to get started!