Coffee Bar Ideas For An Office
Let's chat about some of the best coffee bar ideas for an office space!
In today's fast-paced world, a good cup of coffee is often the secret ingredient that fuels productivity in the workplace.
That's why the concept of a coffee bar in the office has become increasingly popular.
It's not just about providing a caffeine fix; it's about creating a welcoming and inspiring space where employees can recharge, connect, and collaborate.
Whether you're looking to revamp your existing office coffee setup or planning to set up a coffee bar for the first time, use this as your go-to guide for turning your office into a coffee lover's haven.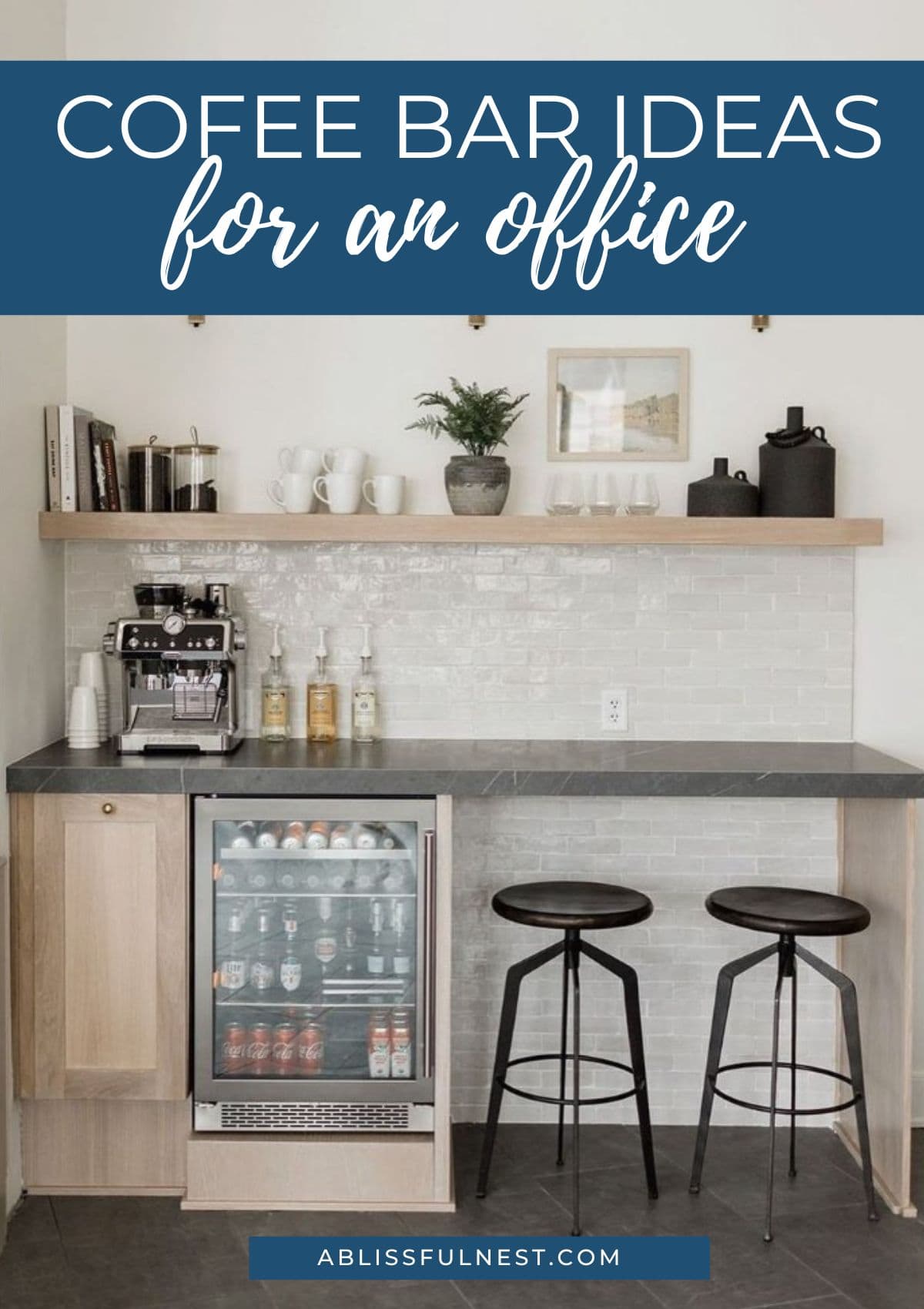 The goal is to make a super productive workspace so you are able to maximize the time you spend in your office.
Most people need a little caffeine pick me up especially in the afternoon so having a coffee bar in their office workspace is really convenient.
But there may be limited space, not a lot of money to put towards creating a spot like this, and some may not think it is worth it.
These creative coffee bar ideas for an office will help you overcome all that and give you a clear vision of how to dedicate a space in your office to a coffee bar.
This site contains affiliate links. Please read our disclosure policy. As an Amazon Associate, I earn from qualifying purchases.
What Makes A Great Coffee Bar For An Office
A great coffee bar for an office is a carefully curated space that goes beyond the basics of serving coffee.
There needs to be a variety of coffee options. Offer a range of ways to make coffee to cater to diverse tastes, including espresso, cappuccino, lattes, and various brew methods.
Install commercial-grade coffee machines, grinders, and milk frothers to ensure consistency and quality in every cup. Plus when machines are used a lot they need to be heavy duty so they don't break from wear and tear too quickly.
Make sure it is near a sink for easy clean up of spills and messes. Give them no excuses to clean up!
Have a variety of coffee on hand for different taste buds. Some like more robust coffees as others might like light and airy blends.
If this is a joint coffee bar with lots of people who will be using it then ask everyone what they would love to have in it to try to have something for everyone.
What To Put In A Coffee Bar At Work
There are a lot of things you could use for a coffee bar in an office. Having some good basics is a good place to start. I am sure as you use it over time you will see what does and doesn't work. But here is my staple list for stocking a coffee bar.
Tap Photos To Shop

What To Style A Coffee Bar With For An Office
You don't need many things to decorate a coffee bar at an office but a few decorative pieces can be functional too. Use trays to collect small items like spoons, sugar bowl, etc.
A tiered mug rack can help save some valuable cabinet space.
A quote coffee sign can personalize the space and make it feel warm and welcoming.
You can also use coasters and fun napkins to add a little flare to the coffee ar too. Even get festive and creative for the seasons and holidays!
Where Should You Put A Coffee Bar At Work
Deciding where to place a coffee bar at work is crucial so everyone uses it.
Choose a spot that gets a lot of traffic and is convenient to everyone who will use it. This could be common areas or employee break rooms, or if it is a home office it could be a little bar cart off to the side.
Make sure that there are electrical outlets nearby to power coffee machines, grinders, and other equipment.
Be mindful of noise levels where it is going to be. While coffee grinders and machines can be noisy, they shouldn't be disruptive to the people around them.
Here are some great examples of some coffee bars in an office setting.
Coffee Bar Ideas For An Office
Having a coffee bar in the office can elevate the overall work experience and convenience to make your favorite beverage whenever you want to.
By incorporating the right elements, such as quality coffee, comfortable furniture, and a well-designed space, you can create a coffee bar that everyone will love.
By offering a variety of brewing options, cozy seating, and an inviting atmosphere, your office coffee bar can become a hub for creativity and collaboration.