How To Make A Coffee Bar
This post may contain affiliate links. Please read our disclosure policy.
Are you a coffee lover and want to know how to make a coffee bar? Then I've got you covered!
A coffee bar is a perfect addition to your home, providing a cozy and stylish space to satisfy your caffeine cravings and impress your guests.
There are so many creative and great coffee bar ideas, and I know you will even come up with a few of your own after this!
Setting up a coffee bar is not just about brewing coffee but creating an ambiance that makes everyone want to come over for a cup of coffee.
From selecting the right location to stocking up on supplies, we want to ensure that you have all the necessary steps and key items to make your coffee bar perfect!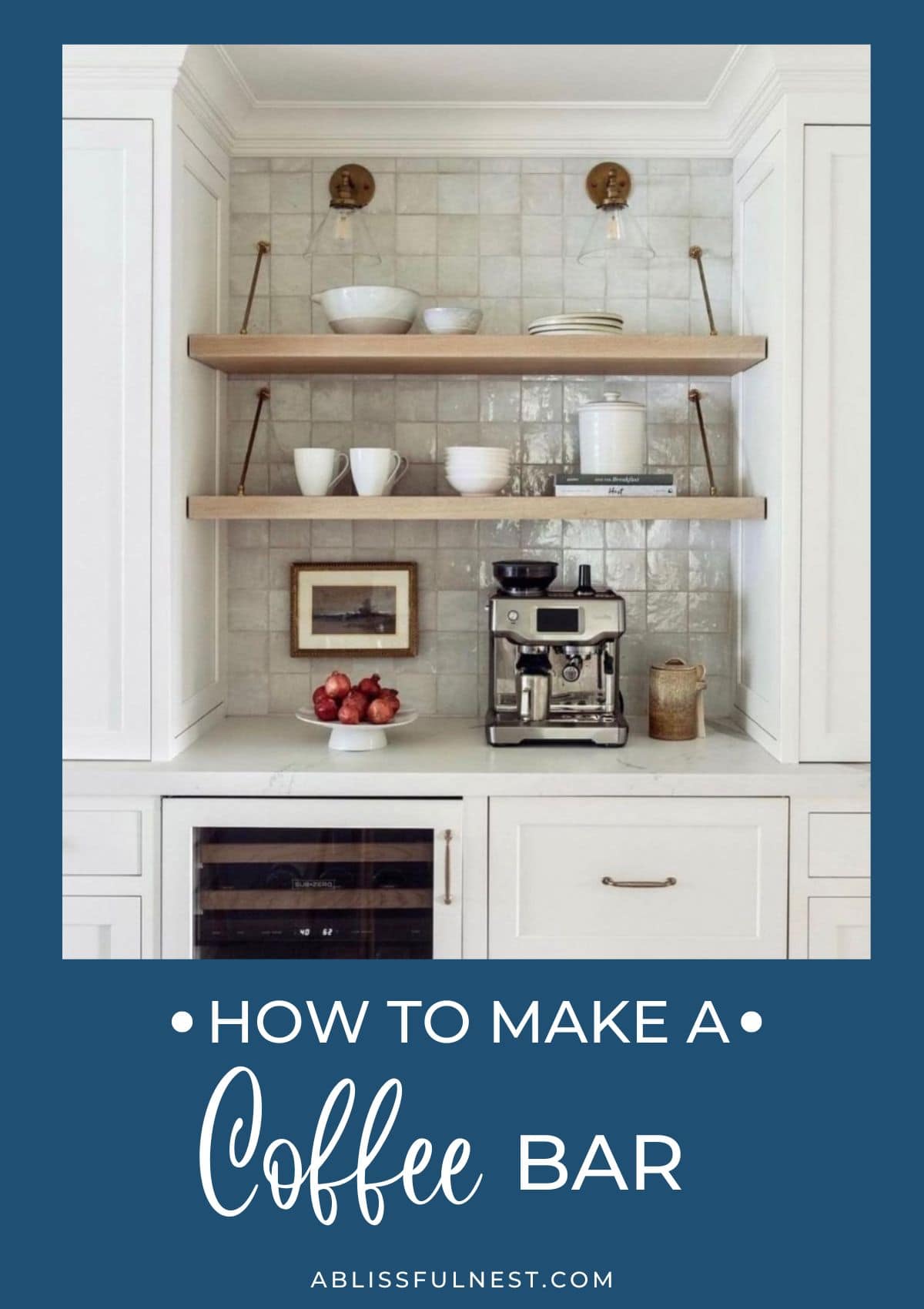 Whether you drink coffee all the time or just want a spot for when guests come over that is stocked and ready to serve, you will find everything you need to make it the perfect at home coffee station.
With the right equipment, supplies, and organization, you'll be able to brew up a delicious cup of coffee in no time.
So grab your favorite mug and let's get started!
Why You Should Have A Coffee Bar
Having a coffee bar at home is a fantastic way to indulge your love for caffeine while creating a cozy space to enjoy your favorite brews.
It's a convenient and enjoyable way to keep all your coffee essentials in one place, right near your coffee pot or machine.
The best part is that you have the freedom to design your coffee bar to resemble a trendy coffee shop without ever stepping out of your home!
Creating your own coffee nook is a fun and creative process. You can curate a collection of unique mugs, and explore various coffee flavors, syrups, and toppings, allowing you to personalize your coffee bar and make every cup unique.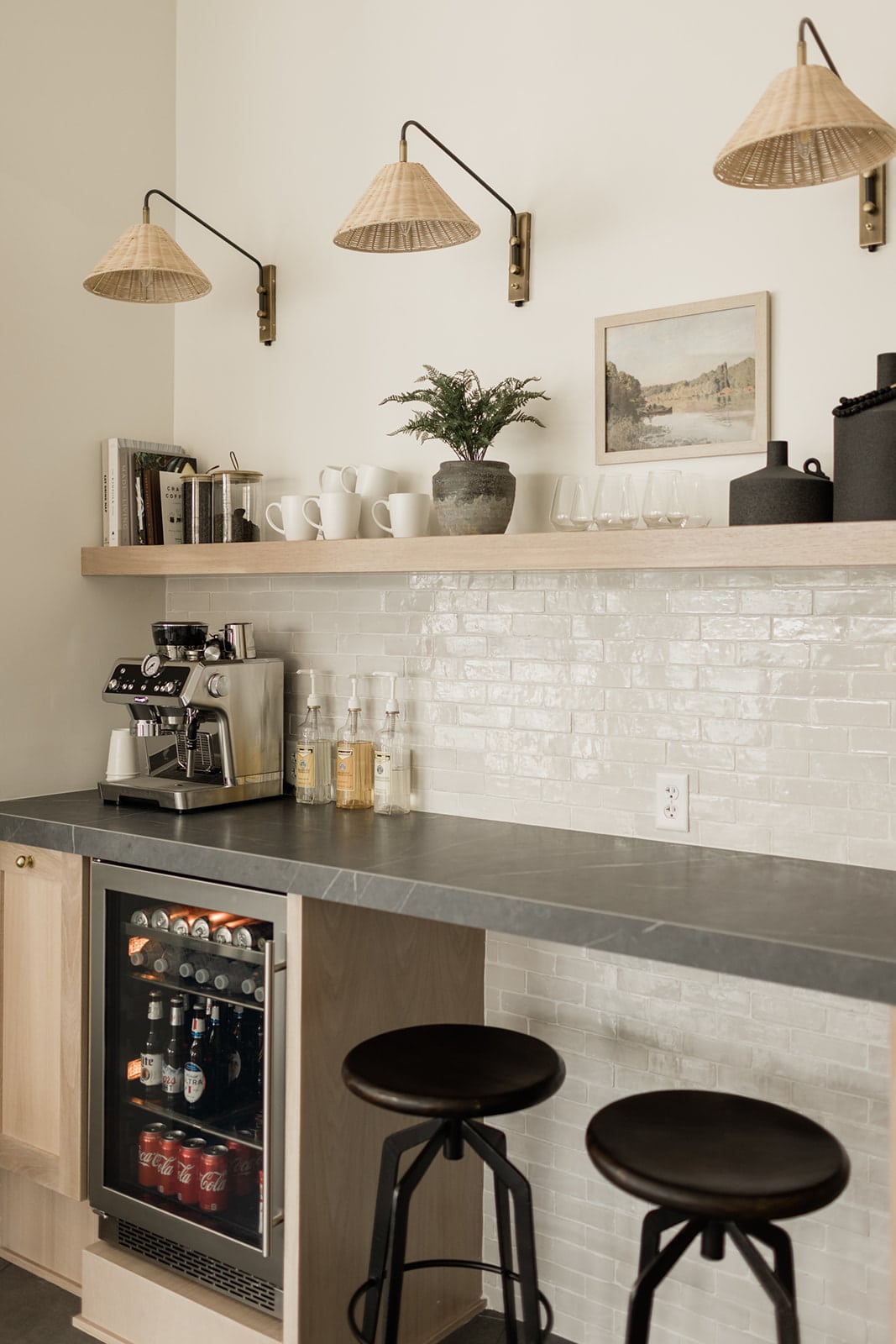 Favorite Items For A Coffee Bar
These are my favorite items to have on hand for a coffee bar and many of them are in my own coffee station.
Stock up so you have everything you need and then follow my guide to put it all together!
Tap Photos To Shop

How To Make A Coffee Bar
Make a coffee bar at home with just a few simple steps. This guide is easy to use for any space you decide to put a coffee bar in.
Choose A Location
When it comes to creating the perfect home coffee bar, the location plays a crucial role. You want to choose a spot that is easily accessible and convenient for your daily coffee routine.
The kitchen is a popular choice, with its close proximity to the coffee maker and supplies, but don't be afraid to think outside the box.
Maybe a corner in the living room with a cozy armchair or a small table in the bedroom for a morning pick-me-up.
Take into consideration the traffic flow of your home and pick a location that won't disrupt it.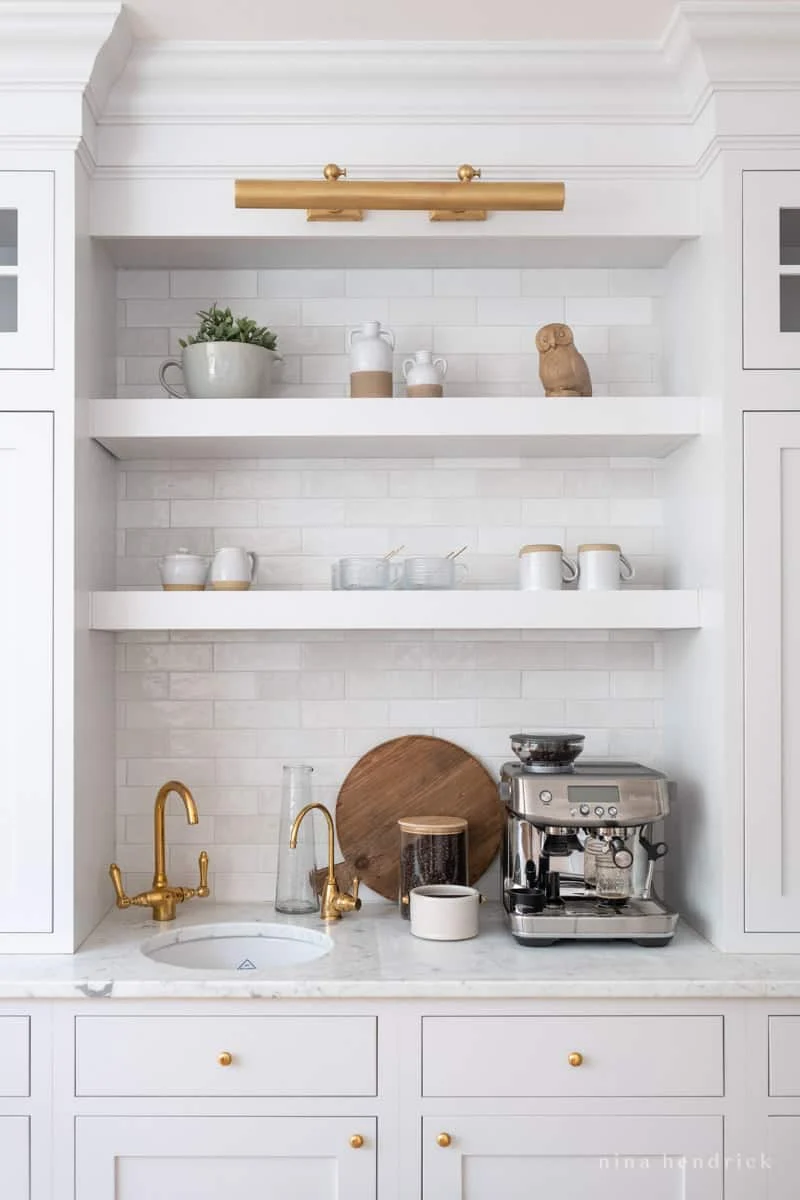 Determine The Setup
Decide on the type of coffee bar you want to create.
Consider whether you want a basic setup with just a coffee machine and some essentials, or a more elaborate setup with additional equipment like an espresso machine, grinder, and various brewing methods.
Also, consider the storage and organization of your coffee accessories.
Gather Essential Equipment And Supplies
It's extremely important to gather all essential equipment and supplies to make your daily coffee experience easier and more enjoyable.
With the right tools and ingredients on hand, you can try out different coffee-making methods and techniques.
Use my coffee bar essentials list to get everything you need before you set up your coffee station.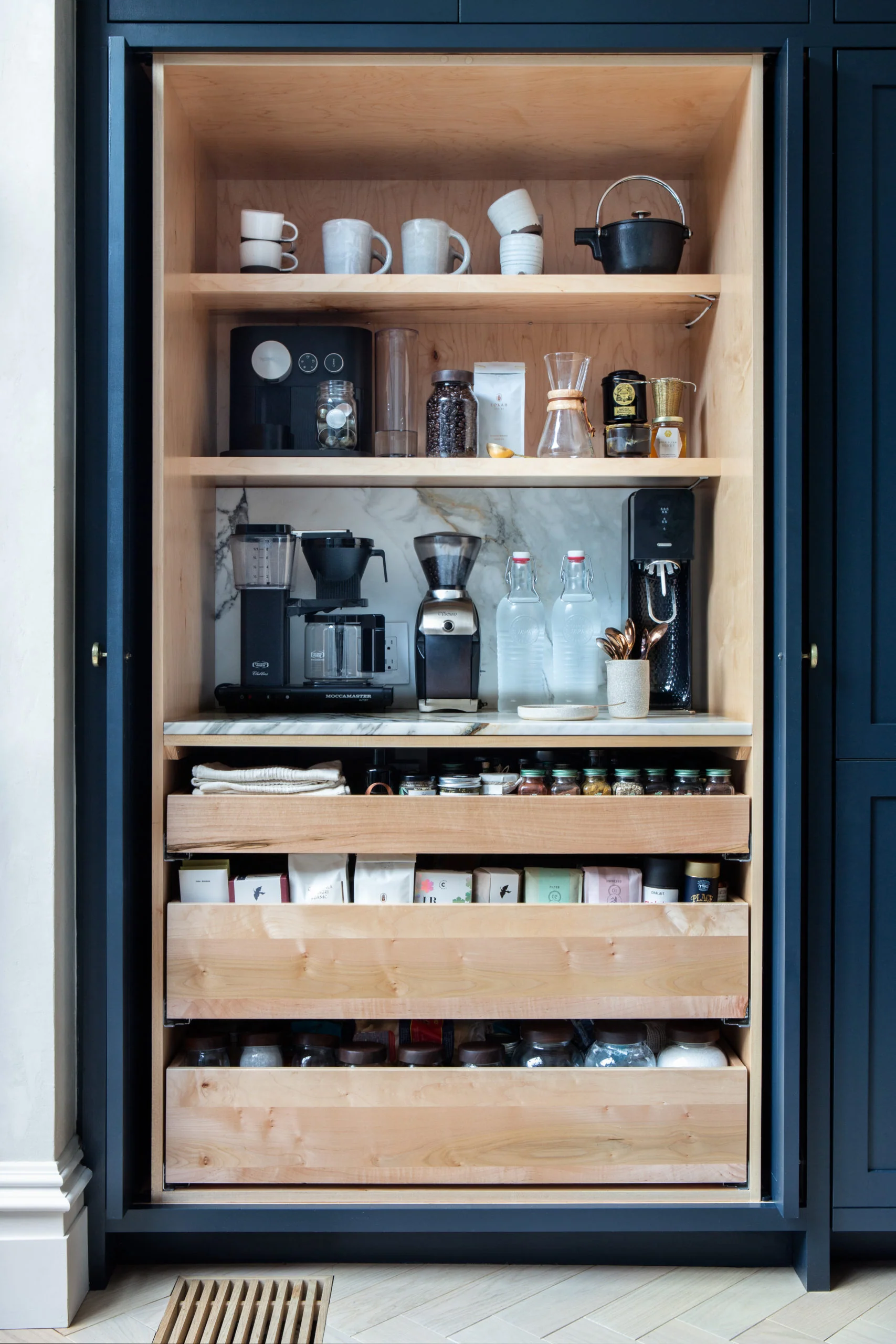 Organize Your Supplies
Gather all your supplies on the counter and categorize them: coffee beans, filters, creamer, sweeteners, mugs, and stirrers.
Use baskets or containers to keep everything in its place and label them accordingly.
Lastly, keep your favorite coffee-making tools, such as a French press or espresso maker, within reach.
Stock Up On Extras
Include additional items to enhance your coffee experience, such as flavored syrups, creamers, sugar, honey, and stirrers.
You might also want to provide some snacks or pastries to enjoy with your coffee.
I love to keep on hand biscoff cookies to dip in my coffee. They are so delicious!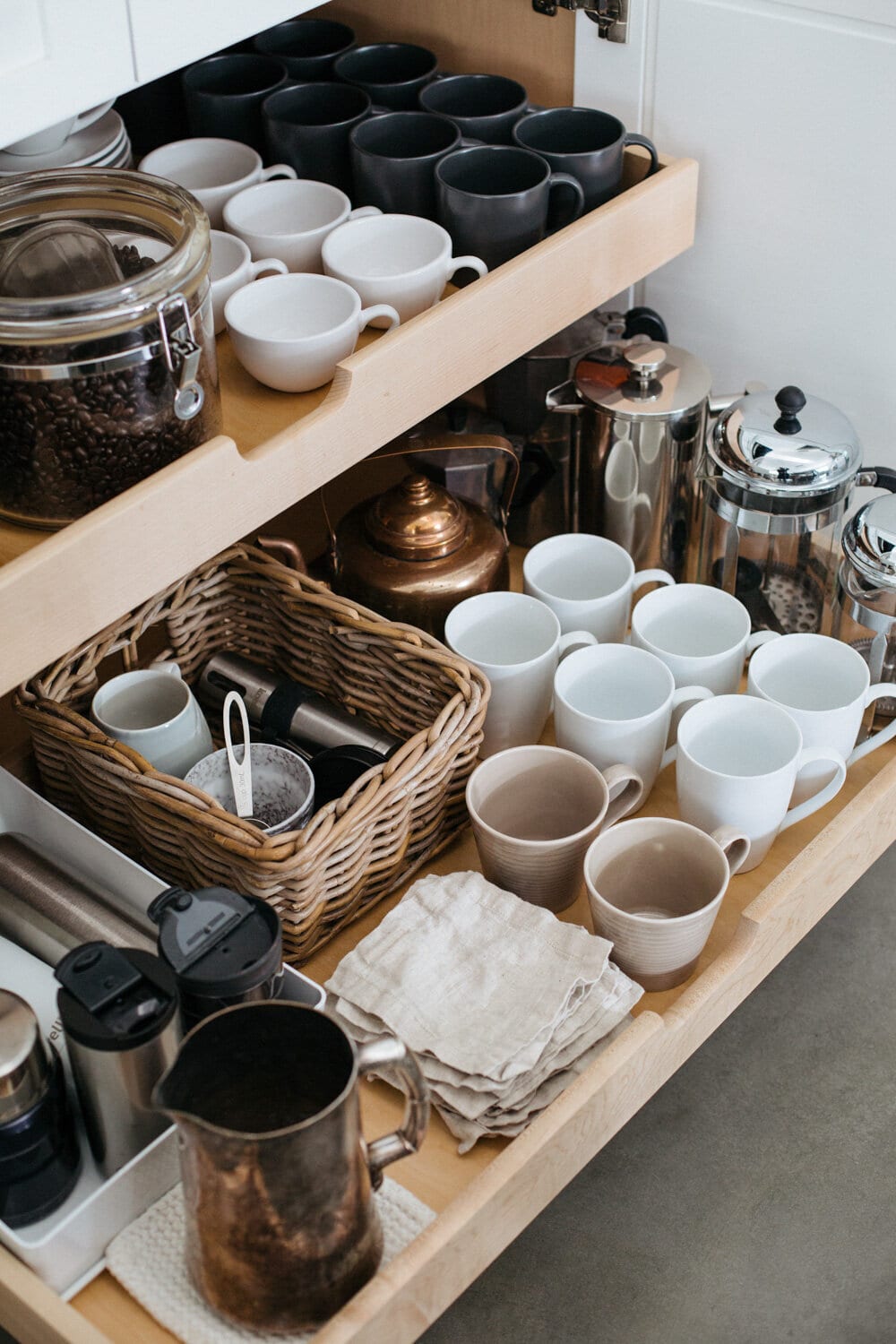 Personalize
Lastly, don't forget to personalize your coffee bar. Add cute signs, napkins, coffee-related books, etc to make your space feel like your own.
Adding personal touches to your coffee bar helps create a cozy and inviting ambiance.
This really allows you to showcase your personality and preferences, making the coffee bar an extension of your overall home decor.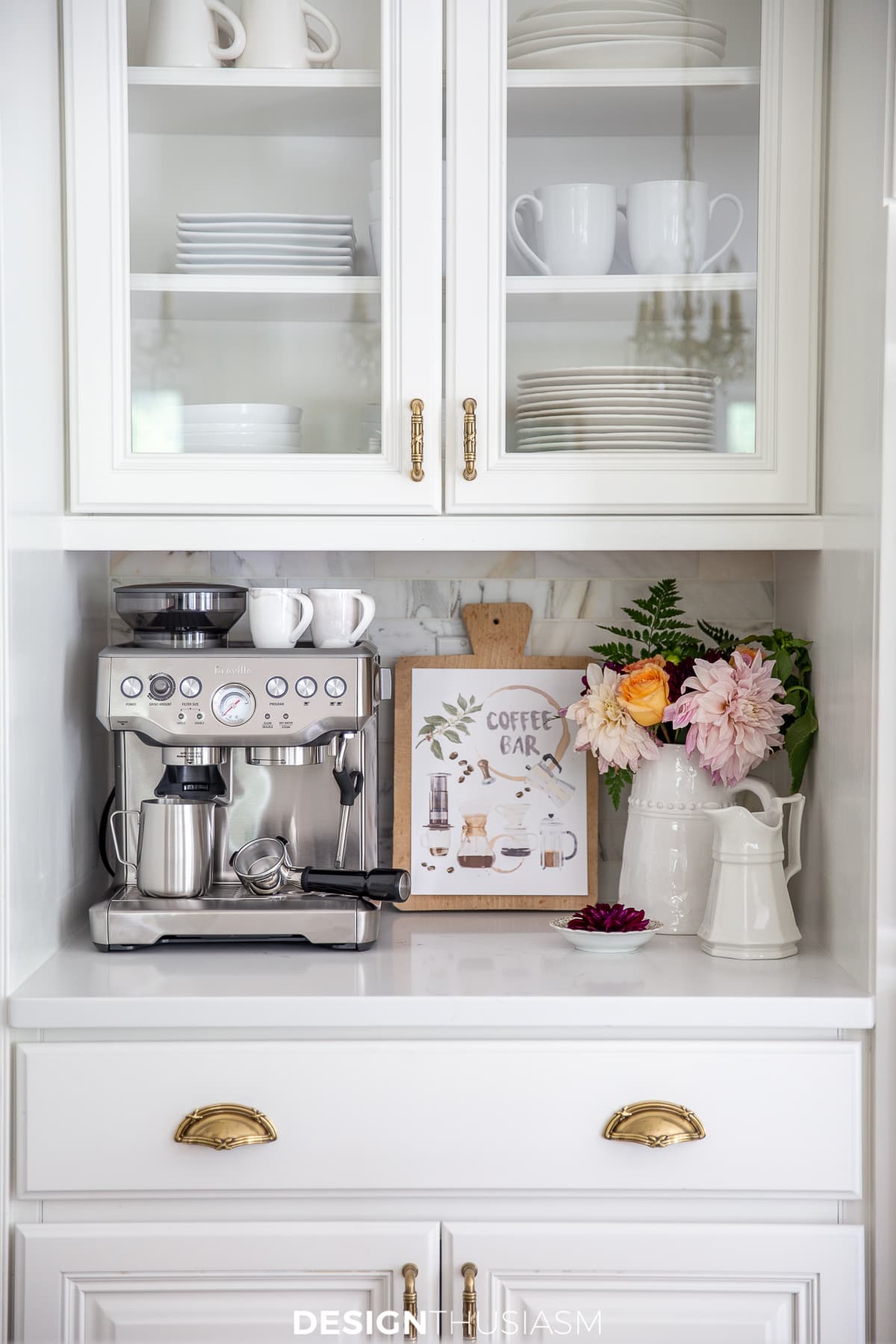 Creating a coffee bar is not difficult, but it does require a bit of planning.
Choosing the right location, setting up the bar with all the necessary equipment, organizing supplies, stocking up on extras, and personalizing the bar are all essential steps in creating a successful coffee bar.
One of the best things about creating a coffee bar is that it offers endless opportunities for being creative in your coffee making as well as having all the things you need to make your perfect cup of coffee whenever you want it.
Remember to have fun with it and enjoy brewing coffee at home!
More Coffe Bar Ideas + Inspiration