Coffee Bar Ideas
This post may contain affiliate links. Please read our disclosure policy.
There are so many coffee bar ideas floating around that it may be hard to decide which ones are the best for you and your home.
Well, I have all the best ideas from how to select what you need, where to put a coffee station, and how to get it all organized so you can start enjoying your coffee time at home!
As an interior designer for over 20 years, I started A Blissful Nest to help you tackle the littlest to the largest design problems in your own home, so let me help you get your coffee bar set up so you can enjoy it to its' fullest.
With limited space in your kitchen and endless things to add to your coffee bar, it is a challenge to decide what you really need.
Maybe there is a better spot than in your kitchen for a home coffee station. But no matter what, you know you love to have a delicious cup of coffee and enjoy it at home. So let's figure out the best solution for your problem.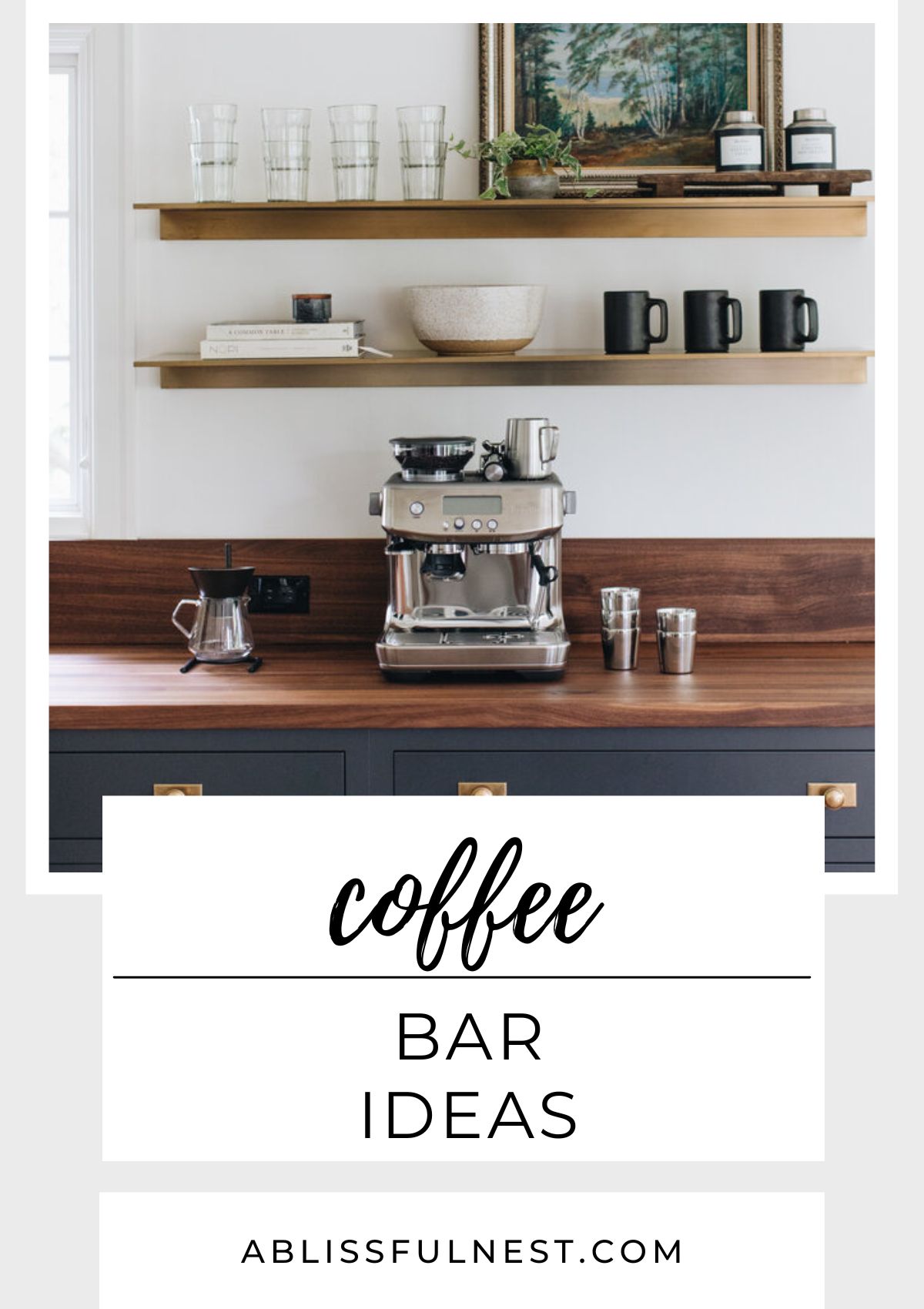 These coffee bar ideas will not only inspire you but will also give you the tools to create the perfect coffee station for you to enjoy.
There are some really creative ideas I bet you have never thought of and some key items you may not have on hand that you will want to grab!
Where To Have A Coffee Bar
Knowing where to put a coffee bar in your home can be a tough decision. There are a lot of less obvious but possibly more practical places to have one.
Use these ideas on where to have a coffee bar to help guide you through all the possibilities so you can make the right decision of where to have a coffee station in your home.
Favorite Coffee Bar Products
These are my favorite items to use to stock my own coffee bar at home!
Tap Photos To Shop

DIY Coffee Bar Ideas
Did you know you can DIY a coffee bar so it is the absolute best place to house your coffee essentials and be the most functional space in your home for it?
Use these guides on different DIY coffee bar ideas and get inspired to take on a new home project that you will love forever!
How To Organize A Coffee Station
Learning how to organize your coffee bar does not need to give you a headache and overwhelm you.
Use these guides on how to organize a coffee station so you have everything you need to set up and keep organized for your coffee making.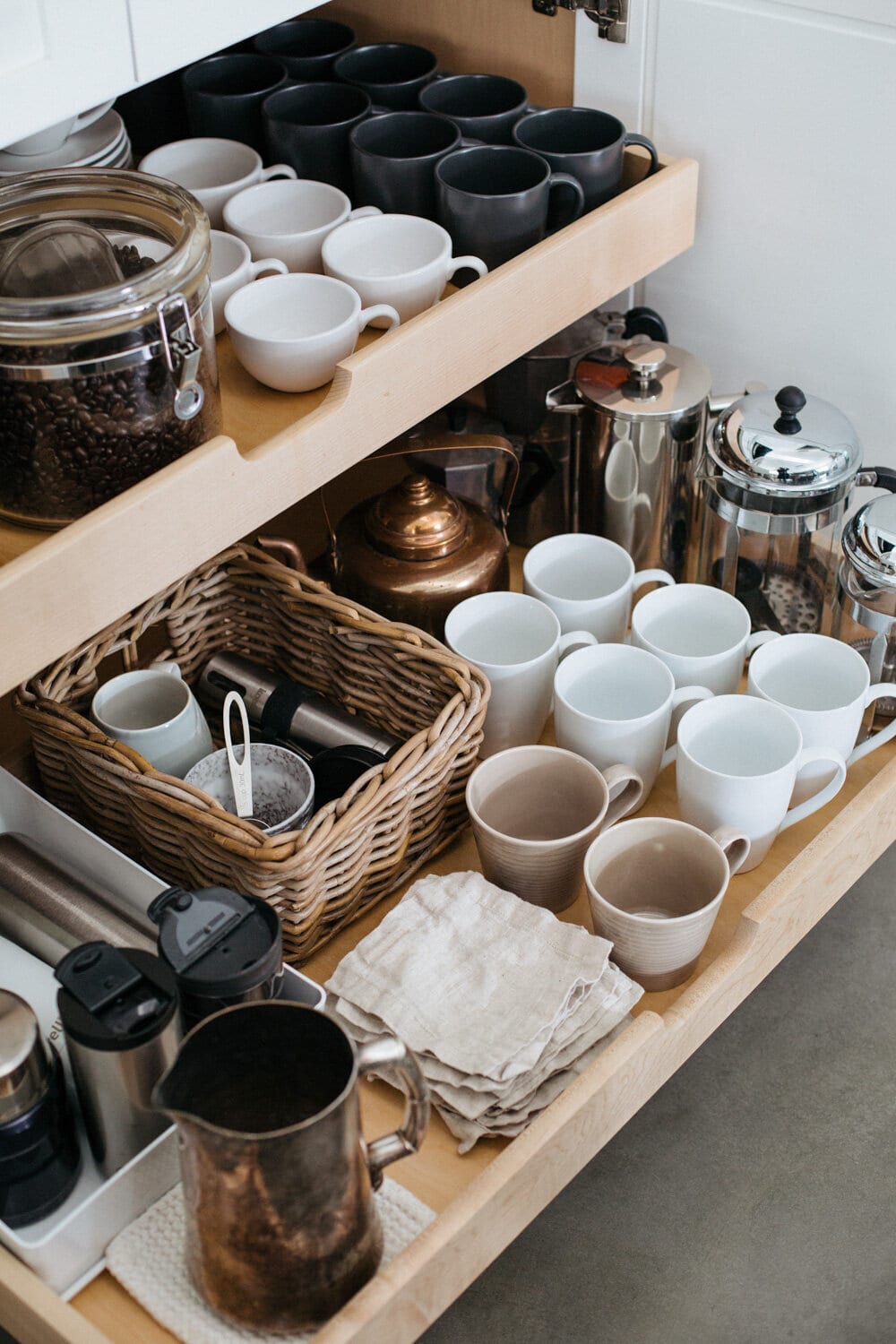 How To Set Up A Coffee Bar
There are a couple of different tips and ways on how to set up a coffee bar and I've got them all for you!
Use these guides to make a home coffee bar that is easy and organized, so you can start using it ASAP!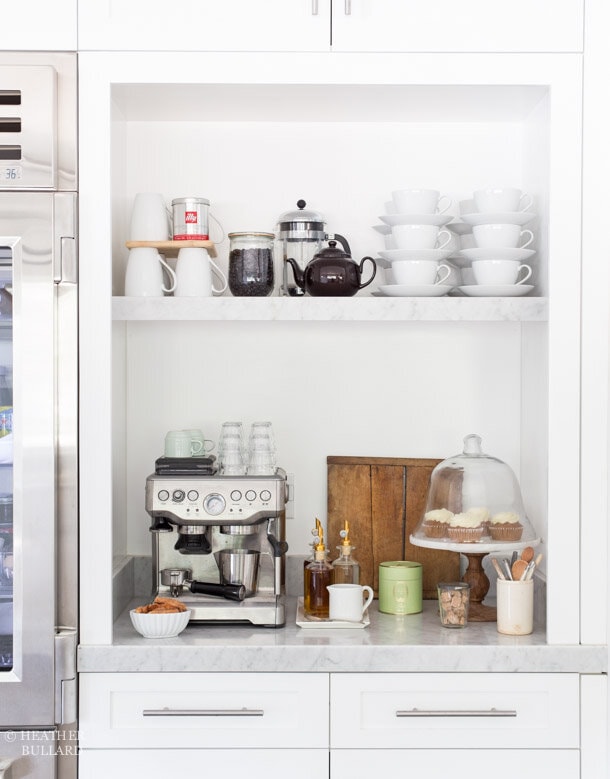 There are so many unique and creative ways to set up and decorate your own coffee bar at home. Whether you opt for a vintage or modern look, a small or large space, or an array of specialty beans or flavors, there is no limit to your creativity.
Not only will you be able to enjoy a fresh cup of coffee in the comfort of your own home, but you'll have a stylish and functional space to share with friends and family.
Plus, having a coffee bar set up at home can also help cut down on wasteful single-use coffee cups and save you money in the long run.
So, why not give it a try and see how your coffee bar can become the center of your home? Cheers to a perfect cup of coffee!