Coffee Bar Ideas For Small Spaces
If you're someone who loves coffee and enjoys experimenting with new flavors and brewing methods, but you have a small living space, don't worry because I've got you covered!
There are plenty of coffee bar ideas for small spaces that can be tailored to fit any size space.
Whether you have a dedicated coffee bar area in your home or you're looking to create a mini coffee station in your kitchen, there are plenty of ways to make the most of your space.
With the rise of remote work and studying from home, having a cozy and functional coffee bar can help you create a relaxing and energizing environment to help you start your day or power through your workload.
There are so many amazing coffee bar ideas but these are creative and specific ideas for small space coffee bars that are both stylish and functional.
From compact brewing equipment to space-saving storage solutions, I've got everything you need to create the ultimate cozy coffee nook.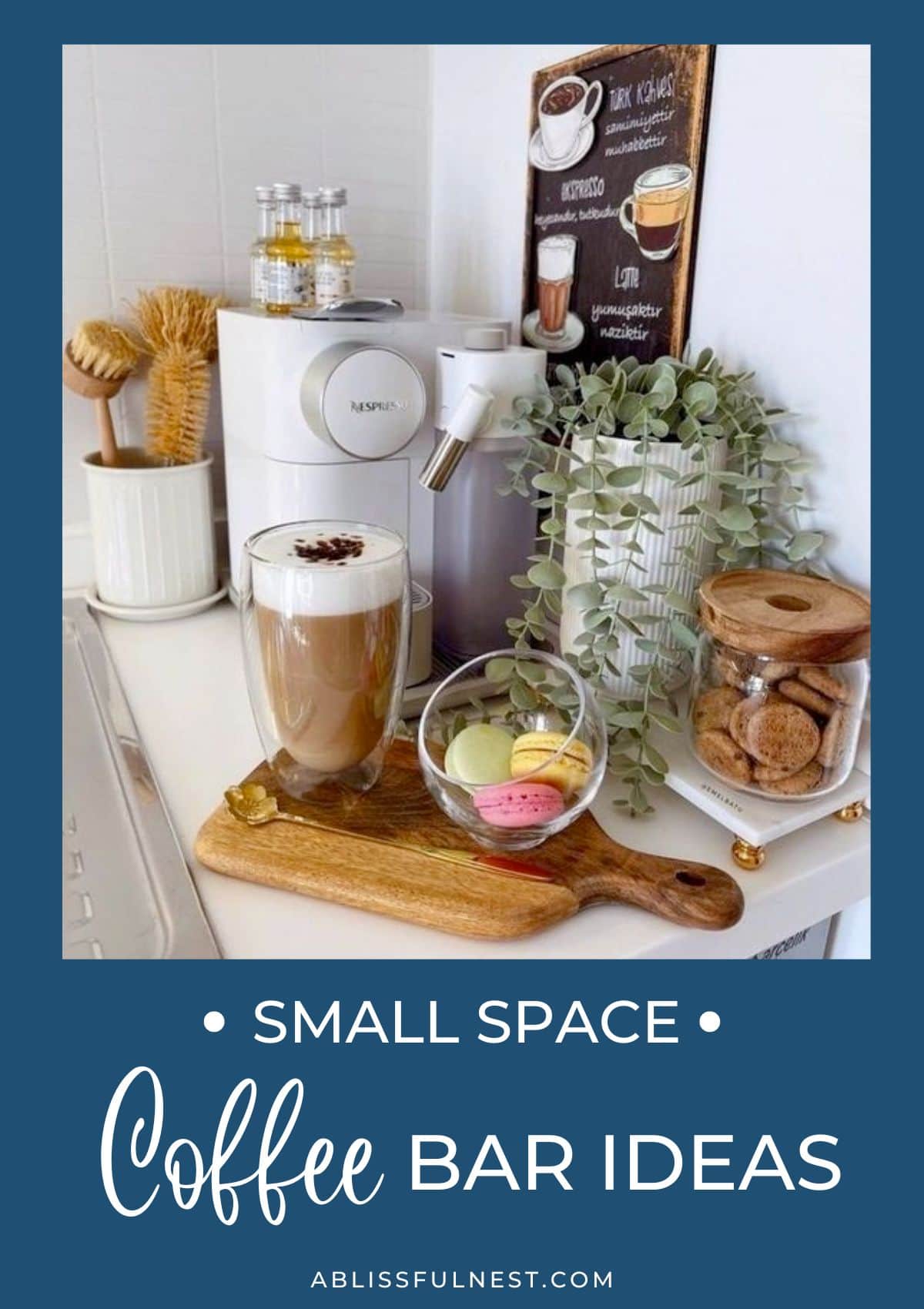 With ingenuity, resourcefulness, and some clever design ideas, you can transform even the smallest nooks in your home into the perfect spot for your morning cup of joe.
This site contains affiliate links. Please read our disclosure policy. As an Amazon Associate, I earn from qualifying purchases.
Tips To Set Up A Coffee Bar
Setting up a coffee bar in your home is such a fun small luxury to have if you are a coffee lover. There are a few tips and tricks to it to make it more convenient and maximize the space you dedicate to it.
First, it is really important to choose a location that is super accessible to the storage you will need and clean up after you are done. The kitchen counter is one of the most popular but maybe a moveable bar cart would make an even better coffee station in your home.
Next make sure you stock it with everything you generally use on a day to day basis to make your favorite coffees. From the machine to the coffee itself, there are lots of little pieces that go into a well stocked coffee bar.
Use labels and containers to house everything you need and make it easy to find. I love using printable labels that I can adhere right onto the containers.
Keep it functional. Make sure everything is arm's length apart so you can easily grab things fast.
Whether it's a small space or a larger area, hopefully, these tips will help you design a coffee bar that's both functional and beautiful.
What To Use For A Small Coffee Bar
Here are the best places to shop for all your coffee bar accessories from machines to the best coffee beans. I personally love these stores and shop them often for my own coffee bar.
Find below all the items I like to use on my coffee bar from machines to mugs!
Tap Photos To Shop

More Coffee Bar Ideas + Inspiration
Best Small Space Coffee Station Ideas
In smaller homes or apartments, space is limited. Small coffee stations make the most of limited space, allowing you to enjoy your daily coffee without taking up valuable countertop or floor space.
Small coffee stations keep all your coffee essentials in one compact area, making it easy to grab a cup of coffee and go about your day without navigating a cluttered kitchen.
They emphasize efficiency, organization, and customization while being budget-friendly and adaptable to various needs and spaces.
Here are some of the best small space coffee station ideas for your home.
Small Space Coffee Station Ideas
Designing a coffee bar for small spaces requires creativity and smart utilization of the available space.
The use of multipurpose furniture, modular shelving, and compact appliances can really help in attaining a functional yet stylish coffee bar in a restricted area.
With the right decor and equipment, you can create a cozy coffee bar in your home no matter the size.