Coffee Bar Ideas For Home
This post may contain affiliate links. Please read our disclosure policy.
The coffee bar ideas for home will inspire you to transform an unused space into your coffee dreams!
If you are a coffee lover then having a coffee bar at home is essential so use these coffee bar ideas and create a super functional and beautiful space for all your coffee.
Nothing beats waking up to the aroma of freshly brewed coffee, and having access to your own coffee bar at home means you can easily satisfy those caffeine cravings without having to leave the house.
Whether you have a dedicated space in the kitchen or a small nook elsewhere in your home, there are endless coffee bar ideas to help you create your own little oasis.
With the right set-up, you can have a coffee bar that will make you excited to go make a cup of coffee and create your own unique coffee drinks.
From clever cabinet ideas to a perfectly curated bar cart, there's something for everyone.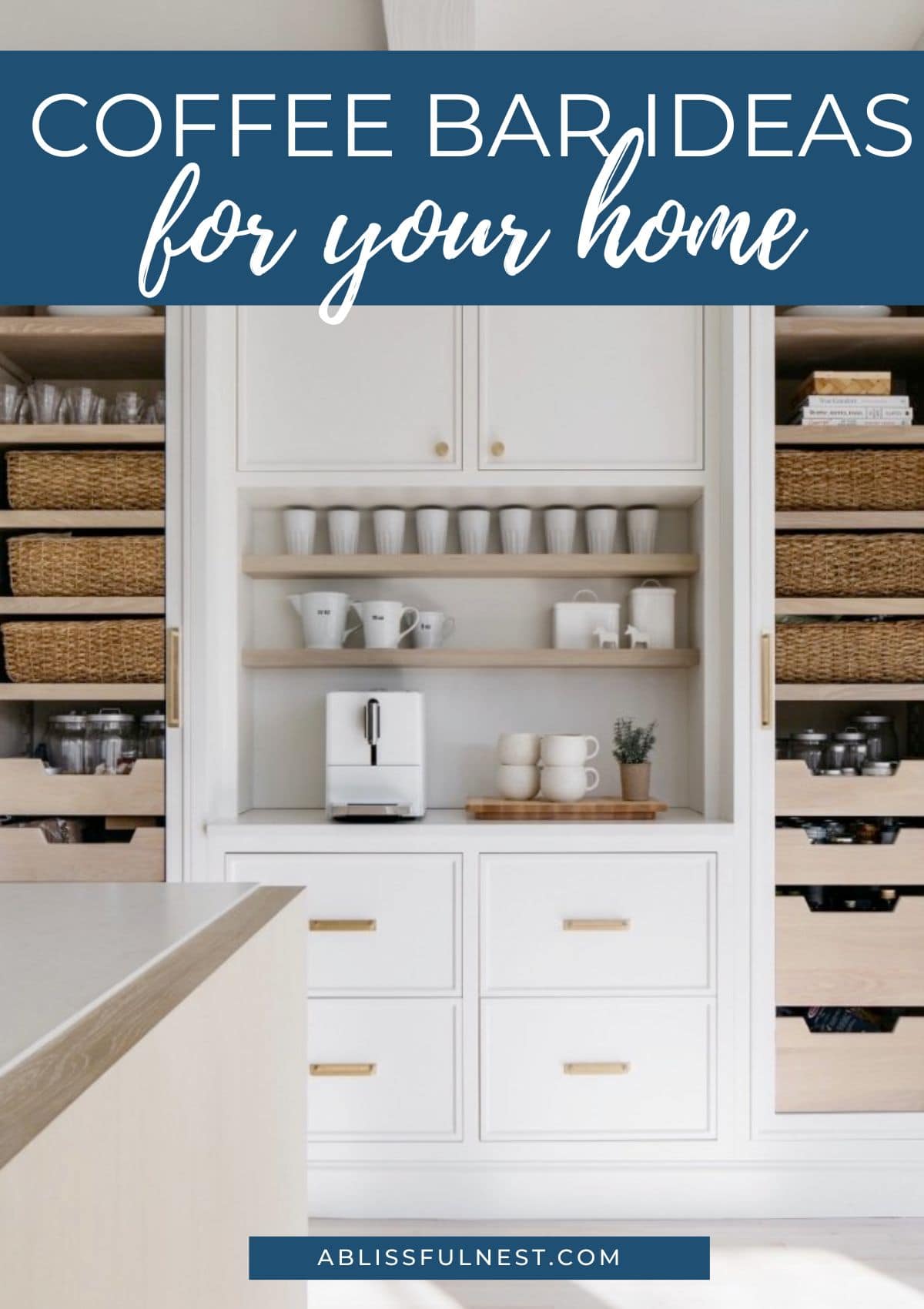 Whether you have a small space or a large cabinet, transform a spot in your home and get inspired with these unique and creative coffee bar ideas.
Make sure to design a coffee station that stands out and reflects your unique style because this just might become your favorite and most used space in your home.
Coffee Bar Essentials
Use these items to stock your coffee bar with everything you need to create your dream coffee station.
Tap Photos To Shop

Coffee Bar Ideas For Kitchens
Creating a coffee bar in your kitchen is probably the most common place to add a coffee station. It is accessible to everything you need that is in the refrigerator and the sink for water and dirty cups.
There are a few ideas for a kitchen that you might not have thought to utilize.
The most used is a cabinet above a coffee maker. It is closed to conceal all your supplies which means you don't always have to keep it tidy. It can generally hold a lot of items like cups, coffee beans, spices, smaller coffee-making machines, and more.
Another great spot in the kitchen for a coffee station is on the counter. Using a cute tray to corral your most used items is a great way to keep them pulled together and looking stylish. I love using a cup rack/stand to easily grab and display coffee mugs.
You can also use a small corner in the kitchen that is not being used for a small table display. This is a great way to not use up needed counter space in a kitchen. Use baskets and drawers to help house all the coffee essentials you use and keep it all organized.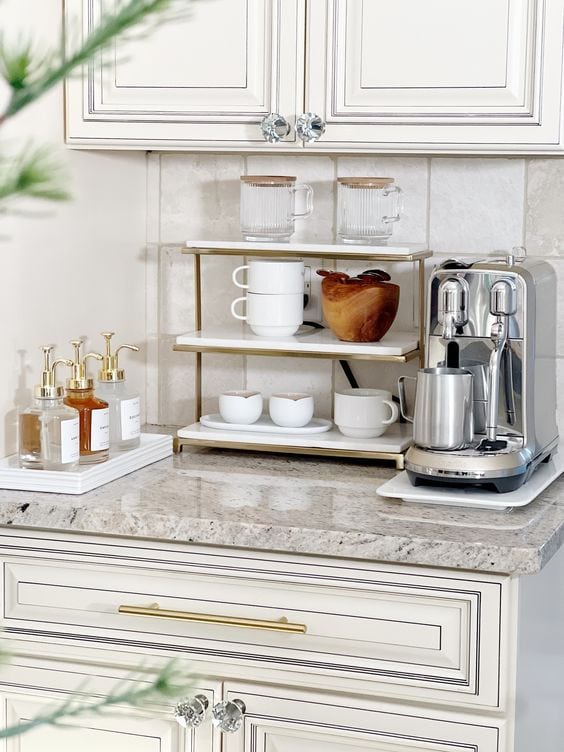 Coffee Bar Ideas Using A Bar Cart
Another popular idea for a coffee bar is to use a bar cart or a rolling table. I love this idea because you can essentially use this in any space in your home and move it whenever you like.
Bar carts sometimes have more than one shelf too giving you storage space. You can dedicate different shelves for your coffee maker, grinder, mugs, syrups, and other accessories.
Bar carts are typically compact and designed to maximize storage in a small space. If you have limited space, a bar cart allows you to create a dedicated coffee station without taking up excessive room.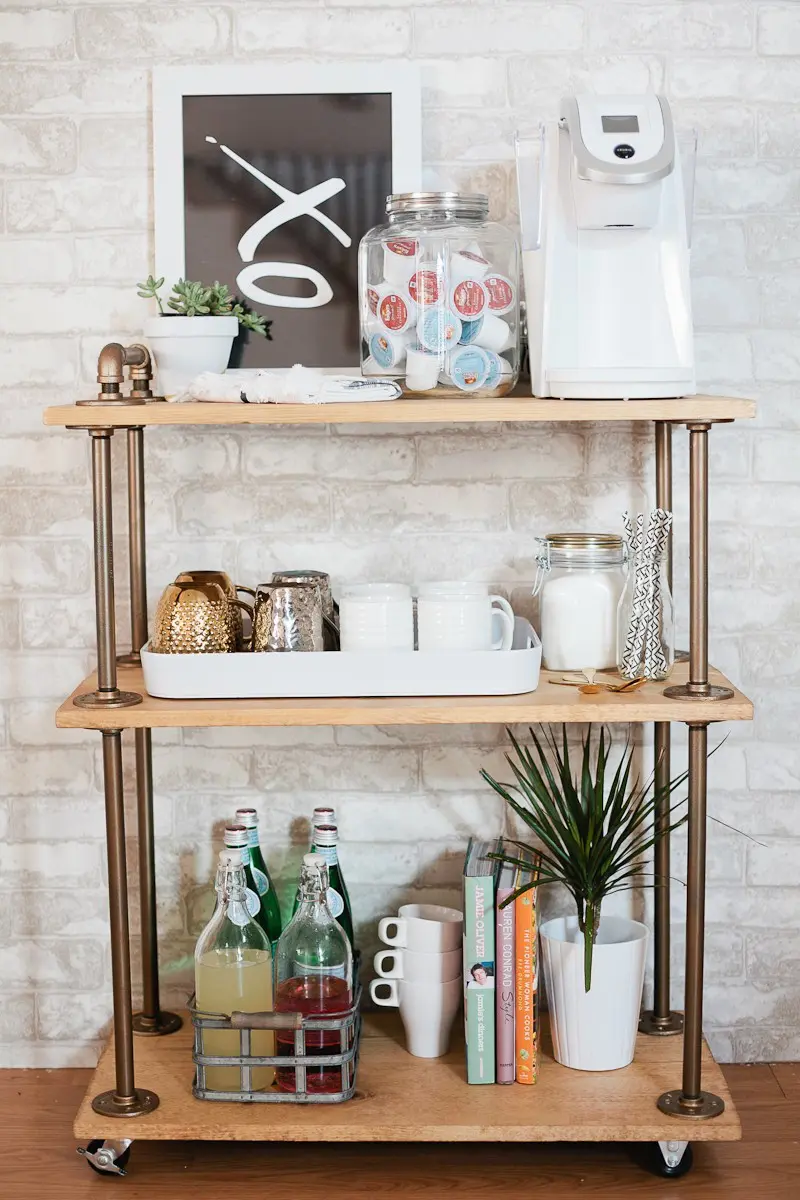 Coffee Bar Cabinet Ideas
There are so many great coffee bar cabinet ideas from built-ins to using unused cabinet space. The essential idea to keep in mind is organization.
Generally, when it is a closed cabinet it is easy for it to get cluttered. Having containers and small baskets to hold things will help battle the clutter.
When selecting which cabinet to use, pick one close to electrical outlets for your coffee machine. This allows you to easily plug in your coffee maker or grinder without the need for extension cords that could create safety hazards or clutter.
Coffee makers and other equipment generate heat during operation. It's essential to choose a cabinet with proper ventilation to allow heat to dissipate and prevent overheating or damage to your equipment.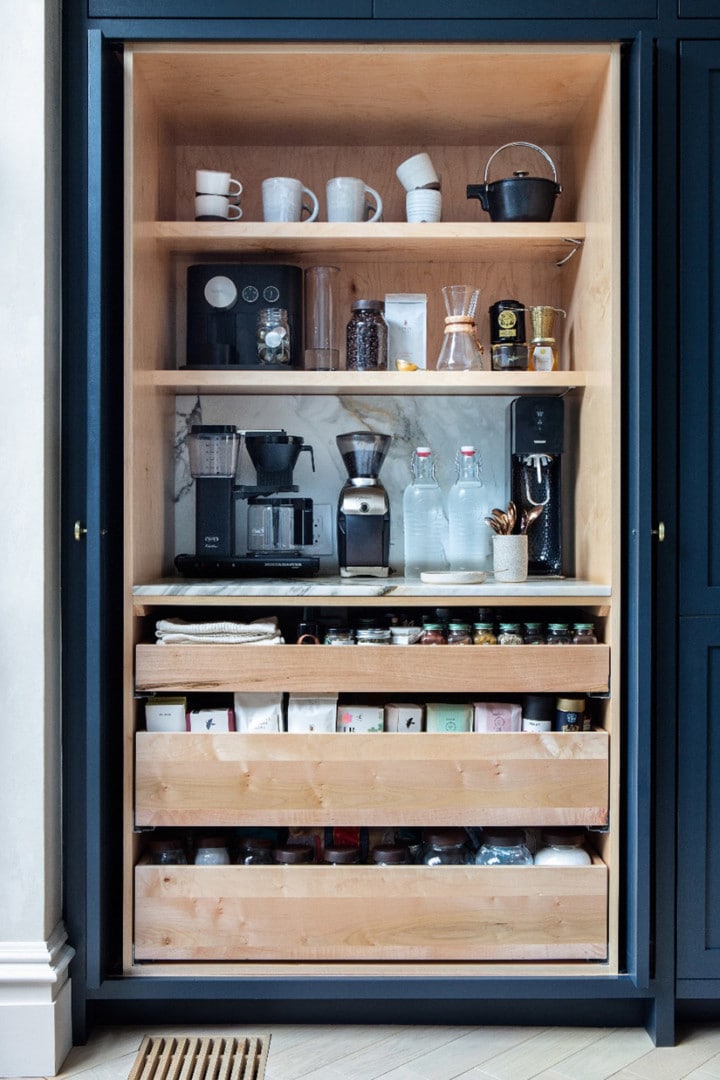 Coffee Station Ideas For A Home Office
Having a coffee station in your home office is such a luxury! It is a great way to keep your productivity up and rejuvenate yourself on a busy day.
This is another great spot to utilize a rolling cart or a small table off to the side of the room.
Make sure the chosen spot allows for storage and organization of coffee supplies, such as coffee beans, mugs, filters, and other accessories. Consider nearby shelves, cabinets, or drawers where you can keep your coffee equipment and supplies easily accessible and neatly organized.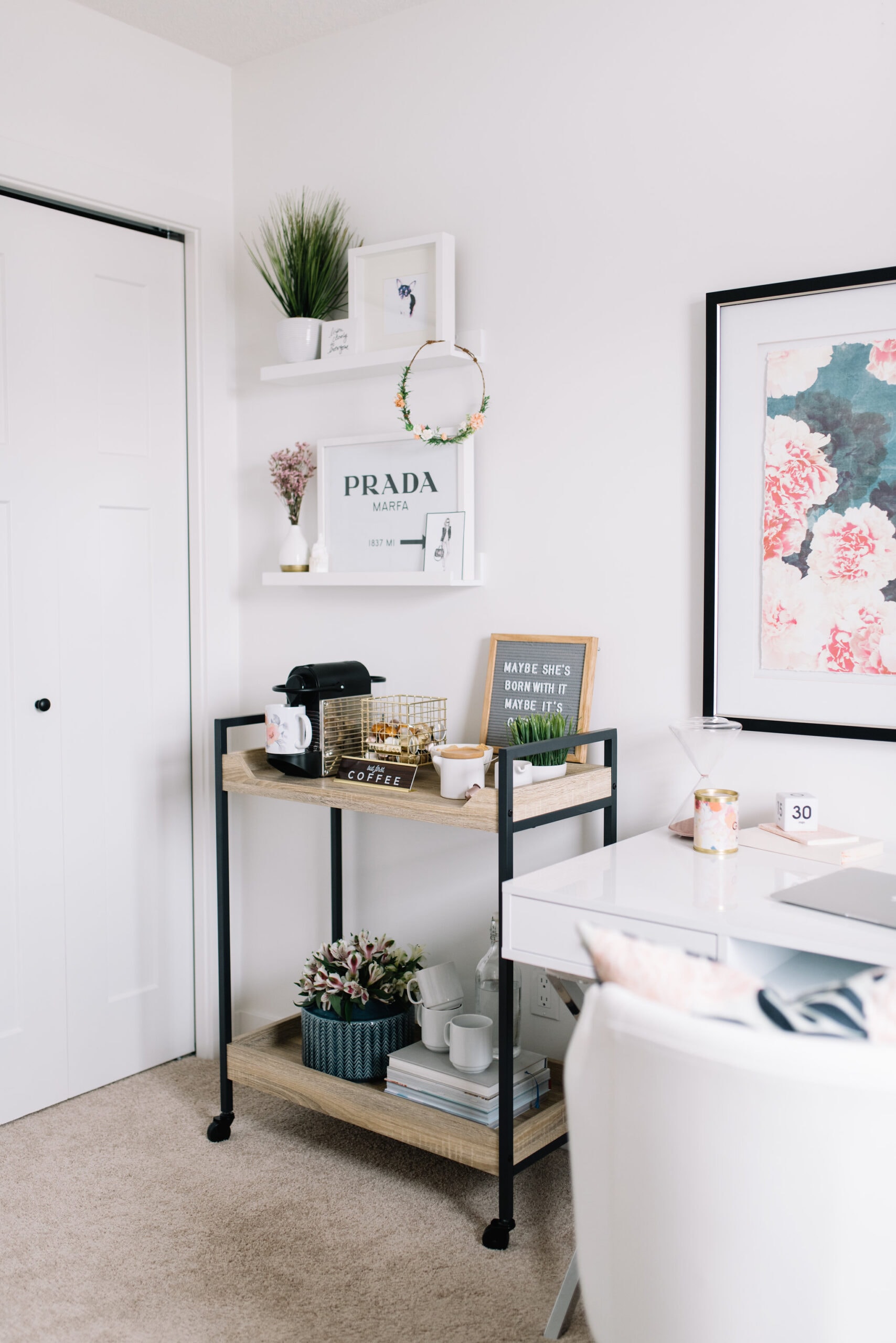 Coffee Nook Ideas
Using small spaces in your home can be a genius spot for a coffee bar.
Utilize a corner of your kitchen, living room, or dining area to create a coffee nook. Install floating shelves or a small cabinet to store your coffee equipment, mugs, and supplies.
You can convert a bookcase into a coffee station. You can also install hooks on the side of the bookshelf to hang mugs or coffee accessories.
If you have a patio, balcony, or garden space, consider creating an outdoor coffee nook. Set up a small table and chairs or a comfortable outdoor seating area. Add a portable coffee maker or a French press, along with outdoor-friendly mugs and accessories.
Having your own coffee bar at home is a game-changer when it comes to your daily caffeine fix. With a little creativity and some basic supplies, anyone can create their own personalized coffee station.
Whether you prefer a rustic feel or a sleek modern design, these coffee bar ideas for home will surely inspire you to take some action and create your own beautiful coffee station.
By adding some personal touches and acquiring quality coffee-making equipment, you can enjoy a delicious cup of coffee from the comfort of your own home.
So, put on your barista hat and start brewing!
More Coffee Bar Ideas + Inspiration