Home Coffee Bar
This post may contain affiliate links. Please read our disclosure policy.
Are you a coffee lover who wishes to enjoy a café-quality brewed coffee in the comfort of your own home?
Setting up a home coffee bar might just be the perfect solution for you.
Not to mention, having a home coffee bar can also impress your guests, making you a star barista in your own right.
But, where do you even begin? Don't worry, I've got you covered because I was once in the same boat, and why I put together all these coffee bar ideas.
After way too many trips (and dollars spent) to Starbucks, I thought it was high time I created my own little coffee station at home with everything to make my favorite drink.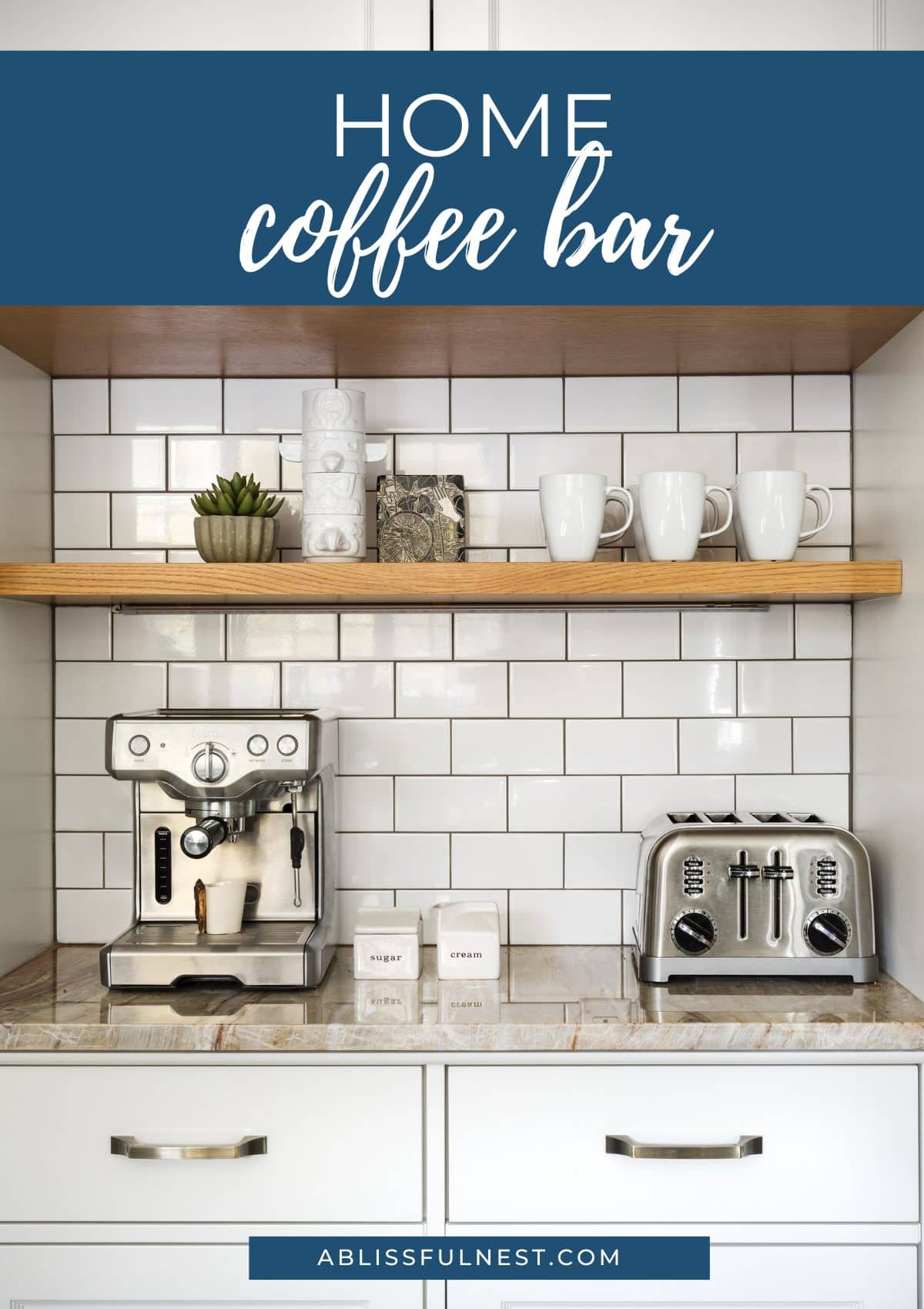 I'll share with you all the essentials of setting up a home coffee bar, including the best location for it, the necessary equipment you'll need, the accessories to add homey touches, and inspiring ideas to turn your coffee nook into one of the most used spots in your home.
A home coffee bar is so easy to create and you will have fun stocking it too!
What Is A Home Coffee Bar
A home coffee bar is a designated space within a home where you can create and enjoy your own coffee beverages.
It typically consists of a collection of coffee-making equipment, accessories, and supplies, organized in a way that mimics a coffee shop setup and is easily accessible to you.
A home coffee bar allows coffee enthusiasts to experiment with different brewing methods, so they can enjoy their favorite beans, and customize their coffee to just the way they like it.
Where To Put A Home Coffee Bar
There are so many options of where to place a home coffee bar that is less obvious than the kitchen.
The kitchen is a popular choice for a coffee bar due to its proximity to water, electrical outlets, and other kitchen essentials you may need. You can dedicate a countertop or a small area on a kitchen island for your coffee bar setup.
You can transform a corner or a sideboard in a dining room into a coffee bar. This is an easy spot for guests to use it.
You can integrate a coffee bar into your living room setup. You can use a bar cart, a side table, or a dedicated cabinet to store your coffee equipment and supplies.
If you have a home office or a study area, you can consider incorporating a small coffee bar into your workspace. It allows you to enjoy a cup of coffee while working or taking breaks.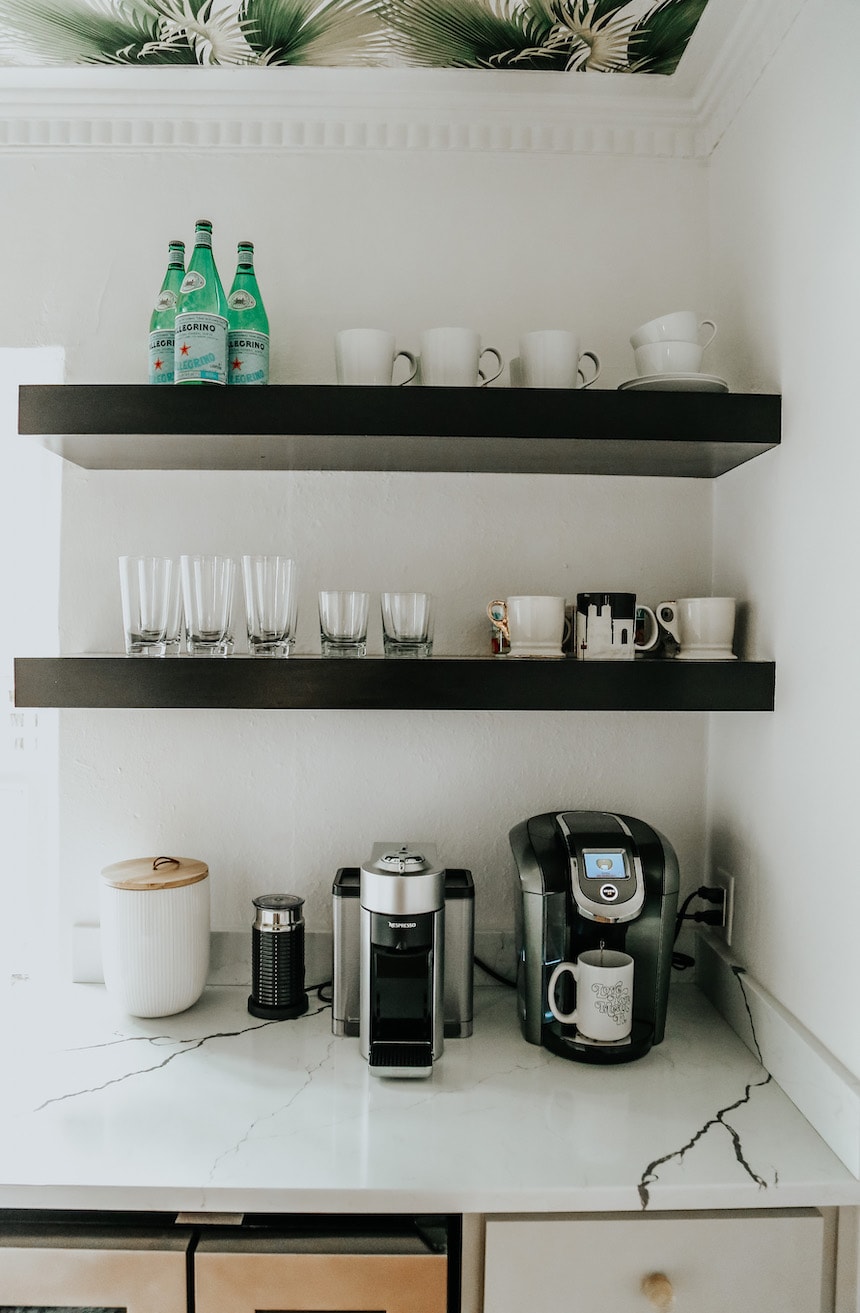 More Coffee Bar Ideas + Inspiration
What Do You Need For A Home Coffee Bar
There are a few essential items to stock your home coffee bar with and you may already have a few of these on hand.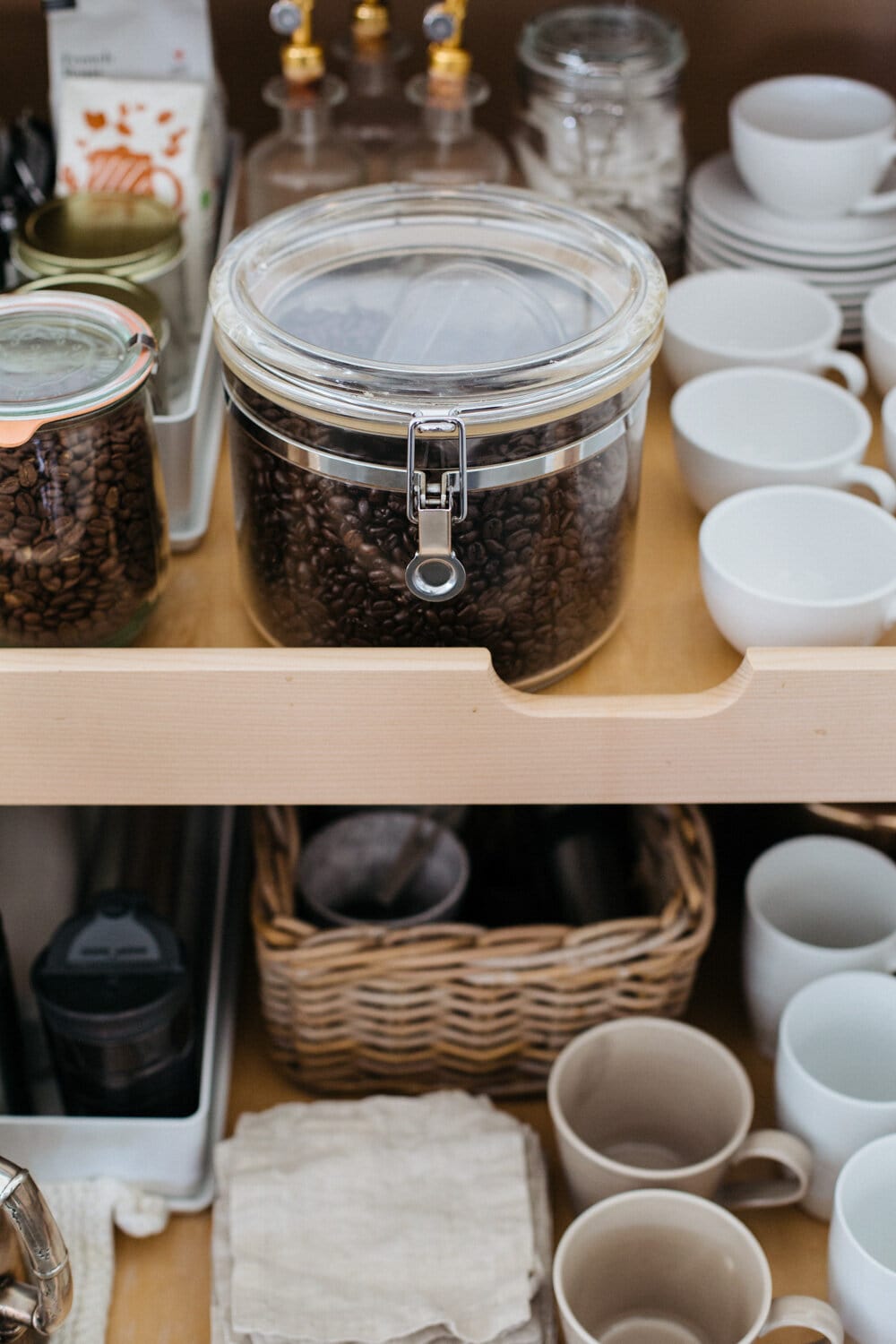 Home Coffee Bar Accessories
These are a few of my favorite coffee bar accessories to use and style my at-home coffee bar with.
Tap Photos To Shop

Home Coffee Bar Ideas
Having a home coffee bar is a great addition to any household.
Not only does it save time and money on visits to coffee shops, but it also allows for a personalized and customizable coffee experience.
With the right equipment and attention to detail, you can enjoy the perfect cup of coffee every day, without ever leaving your home.
So, get ready to savor the perfect cup of coffee anytime you want!