Coffee Bar At Home
This post may contain affiliate links. Please read our disclosure policy.
Whether you're a regular coffee drinker or just enjoy the occasional cup, having a coffee bar at home is a great way to create a cozy and inviting space for both yourself and friends and family.
A coffee bar not only adds charm to your home, but it also saves you money in the long run by reducing the number of visits to coffee shops.
However, setting up a coffee bar at home can be tricky, especially if you're on a budget or don't know where to start.
We have lots of coffee bar ideas that can help inspire you and give you the tips and tools to get your own started for your home.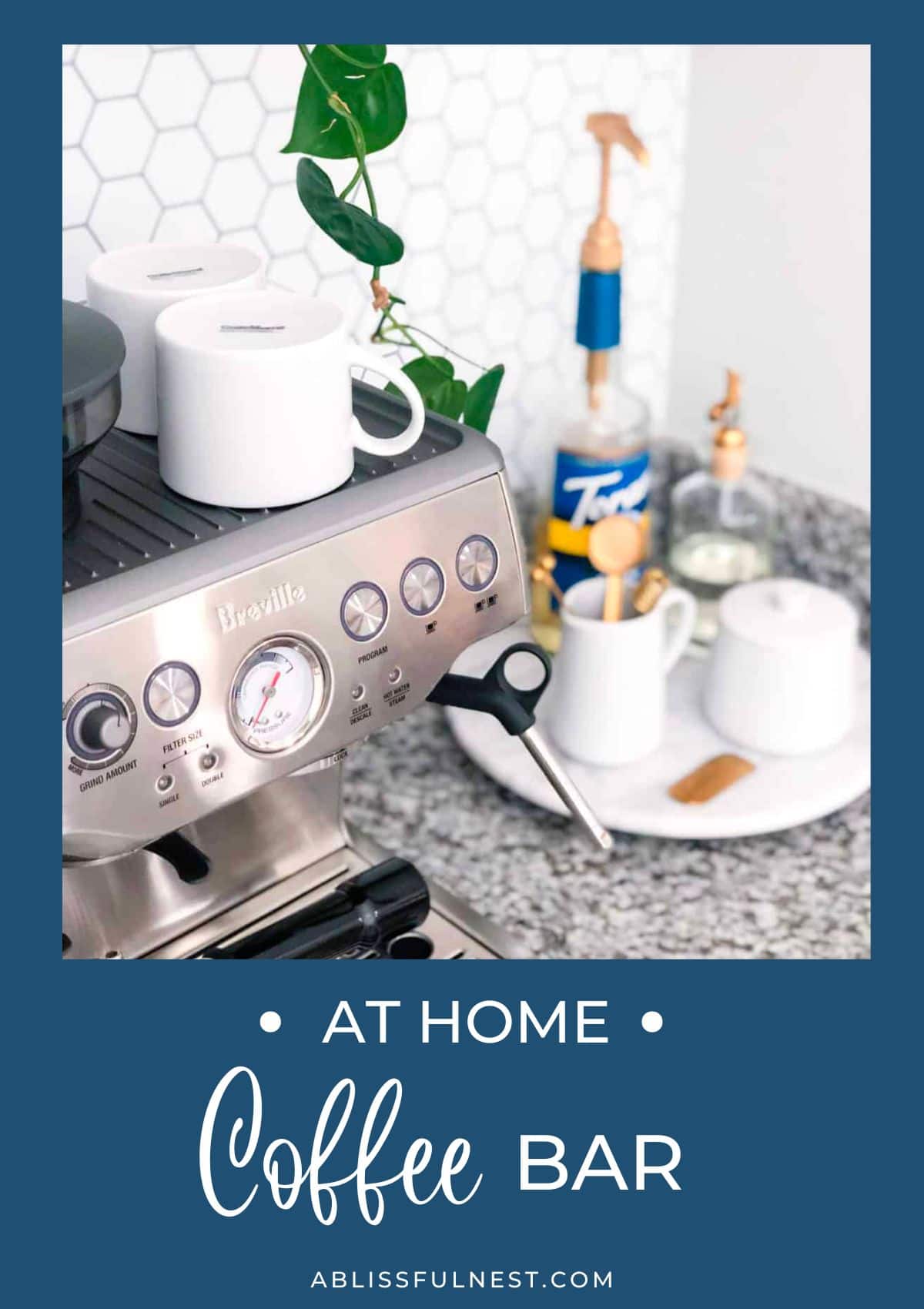 With a coffee bar at home, you can enjoy specialty drinks, experiment with different beans and blends, and impress your guests with your barista skills.
Whether you're a busy professional who needs a strong cup to start the day or a stay-at-home parent who savors the first few sips in peace, having a coffee bar at home can make all the difference.
So let's dive in and help you start a coffee bar at home!
Where To Put A Coffee Bar At Home
Deciding where to place your coffee bar at home depends on the available space and your personal preferences.
Consider things such as proximity to a water source, electrical outlets, and natural light when selecting the location for your coffee bar.
Additionally, ensure that the chosen space provides enough room for you to comfortably work and access your coffee equipment and supplies.
Here are a few favorite spots to place a coffee bar.
Kitchen countertop

: Placing your coffee bar on a kitchen countertop is a convenient choice, especially if you have limited space. It keeps your coffee station easily accessible and integrates it into your existing kitchen setup.

Dedicated coffee nook

: If you have a small unused corner or alcove in your home, consider transforming it into a dedicated coffee nook. This creates a cozy and separate area solely dedicated to your coffee setup.

Dining or living room

: If you enjoy entertaining guests or prefer a more relaxed coffee experience, you can set up your coffee bar in the dining room or living room area. This allows you to create a coffee station that seamlessly blends with your social space.

Home office

: If you have a home office or a designated workspace, incorporating a coffee bar within that area can be a great way to keep your caffeine fix close at hand while you work.

Built-in cabinetry

: For a more integrated and streamlined look, you can consider incorporating your coffee bar within built-in cabinetry or shelving. This option provides a neat and organized appearance while utilizing existing storage space.
What Do You Put In A Coffee Bar At Home
Shop and collect all the items you will need for your coffee bar. Here is my general list of what I like to stock mine with.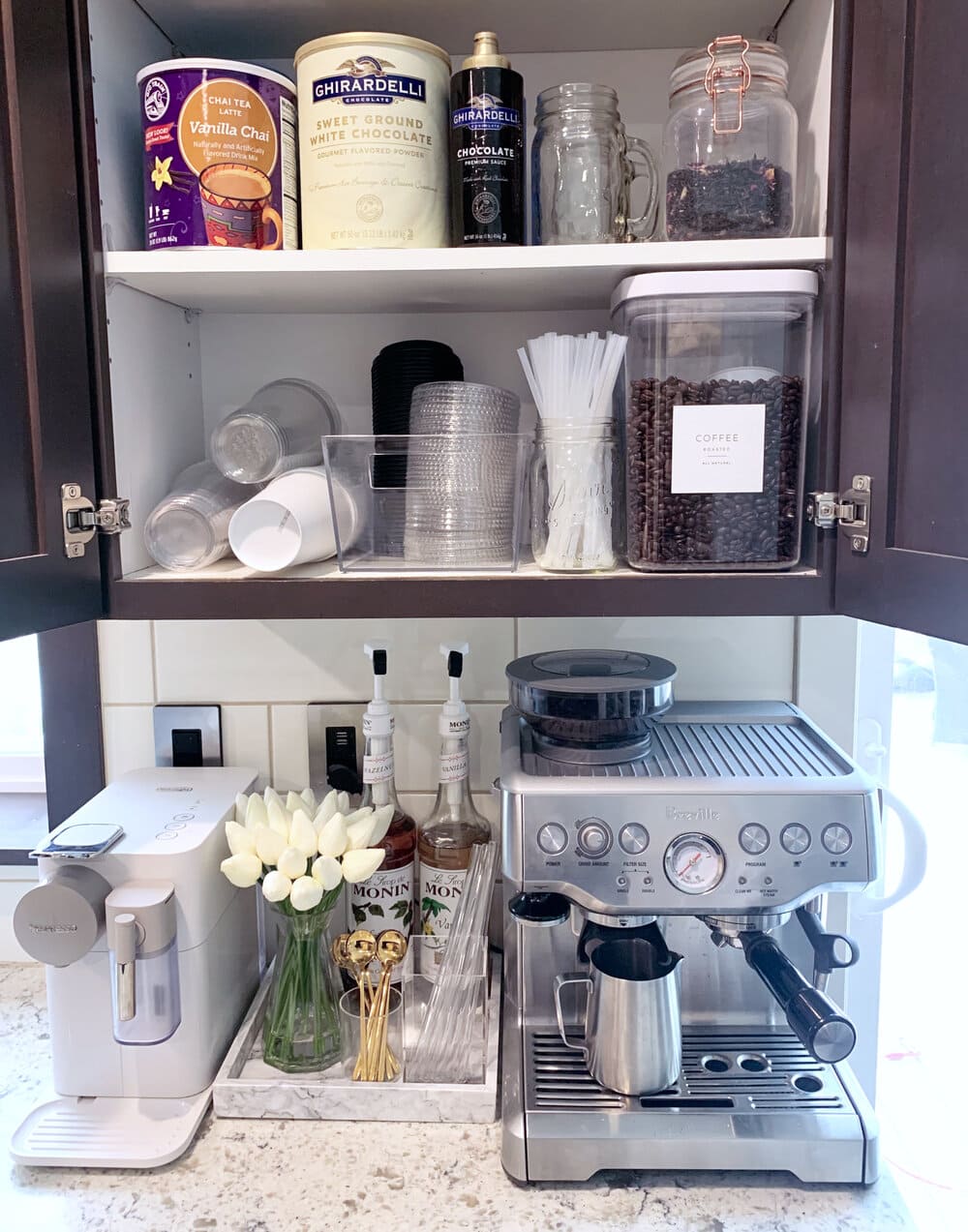 How To Make An Inexpensive Coffee Bar At Home
You can make a relatively inexpensive coffee bar at home with just a few key pieces.
First, decide on what coffee/espresso machine you will need. Think about the kinds of coffee drinks you like to drink and get a machine that will work best for those.
Next, decide on where you want to place your coffee bar in your home. Use my guide above to help you decide the best placement.
Gather coffee mugs and a tray or tiered stand to hold them on. If you have cabinet space above your coffee maker then that is a great place for them.
Then collect all the spices, syrups, and coffee pods/beans you would like to stock your coffee station with. Think of containers to put them in and either add them to your cabinet or tray.
That's it! As you use your coffee bar, you may add more things to make your coffee experience even better.
Creative Home Coffee Bar Ideas
You can get really creative with a coffee bar at home. So here are a few ideas to help your creative juices.
Think of using an antique piece of furniture or repurposing a piece of furniture you already have. An old bookshelf, side table, or console table can be transformed into a functional coffee station with some cleaning, paint, or minor modifications.
Get creative and tackle some do-it-yourself projects to save money. Build a coffee cart using inexpensive materials like plywood or repurpose wooden crates to create shelves or storage compartments.
Use floating shelves or hanging organizers to create additional storage.
Most of all have fun with it and add a little personality into your coffee bar!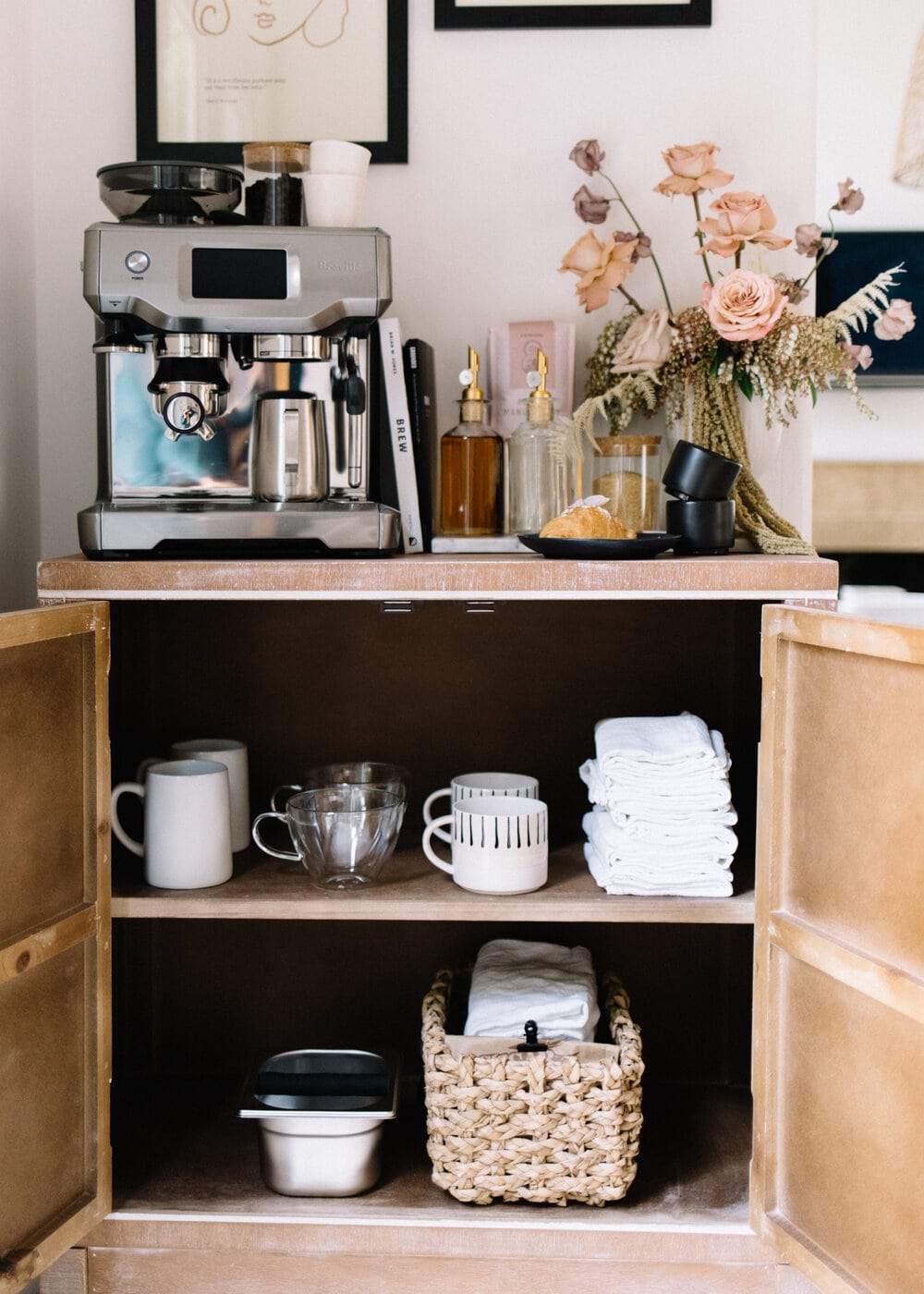 Creating a coffee bar at home is a fantastic way to indulge your love for coffee and save time and money.
With just a little bit of effort and creativity, anyone can transform an unused corner in their house into a charming coffee bar.
Not only does it add a touch of personalization to your home, but it's also perfect for entertaining guests and enjoying a cup of coffee any time of the day.
So go ahead and give it a try, and let your love for coffee shine through your own DIY coffee bar!